One item on many travelers' bucket lists is staying in an overwater bungalow!
While there are overwater villas all over the world, from the Caribbean to the Maldives to Panama to the South Pacific, the islands of Tahiti have some of the best overwater bungalows in the world.
I mean, it shouldn't come as a surprise — the now-famous overwater bungalow was literally first invented on the island of Raiatea, one of the Society Islands not far from Tahiti.
So how did this come about?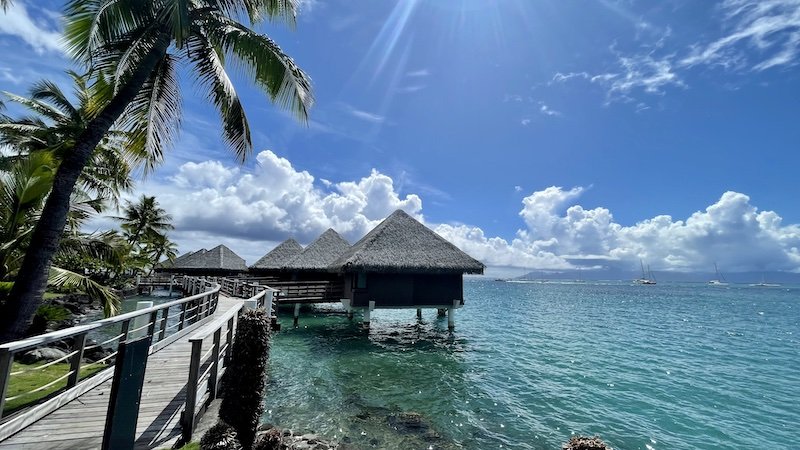 Note: This post contains affiliate links, which means I may receive a small commission if you purchase something through one of these links. Thank you for supporting the free content on this site! For more information on affiliate links and cookies, see my disclosure page for more details.
After three Americans built a hotel on the island of Moorea, they bought another plot of land for a hotel on Raiatea… but it had some drawbacks.
They found that without white sand beaches, it would be hard to lure travelers all the way out to outer islands like Raiatea, compared to the more accessible islands of Tahiti and Moorea.
While the land they bought in Raiatea didn't have a sandy beach for guests, what it did have was a beautiful lagoon with a stunning coral reef teeming with marine life right in front of it.
And from that, the idea of overwater suites with private terraces that offered direct access to the ocean was born!
Now, overwater bungalows have proliferated not only in the islands of Tahiti, but also all over the world, and are a honeymoon fan favorite.
My Top 3 Picks for Tahiti Overwater Bungalows
No time to read this post and just want my quick picks? I'll give them to you here!
Since this post is about Tahiti bungalows, I'm focusing on the overwater bungalows in Tahiti & Moorea, since no additional plane ride is needed.
I do also have a post on overwater bungalows in Bora Bora if you just want those picks!
⭐️⭐️⭐️⭐️⭐️
Intercontinental Tahiti Resort
✔️Personally approved!
✔️Minutes from the airport
✔️Amazing snorkeling outside the Motu bungalows
✔️Delicious on-site restaurants & a fine dining option
✔️Two incredible pools (one infinity pool) and a lagoonarium
Manava Beach Resort & Spa Moorea
✔️ Most lively location in Moorea, with great restaurants & shopping
✔️ Best option for divers with great house dive shop
✔️Beautiful infinity pool with overwater bungalow view
Tahiti or French Polynesia?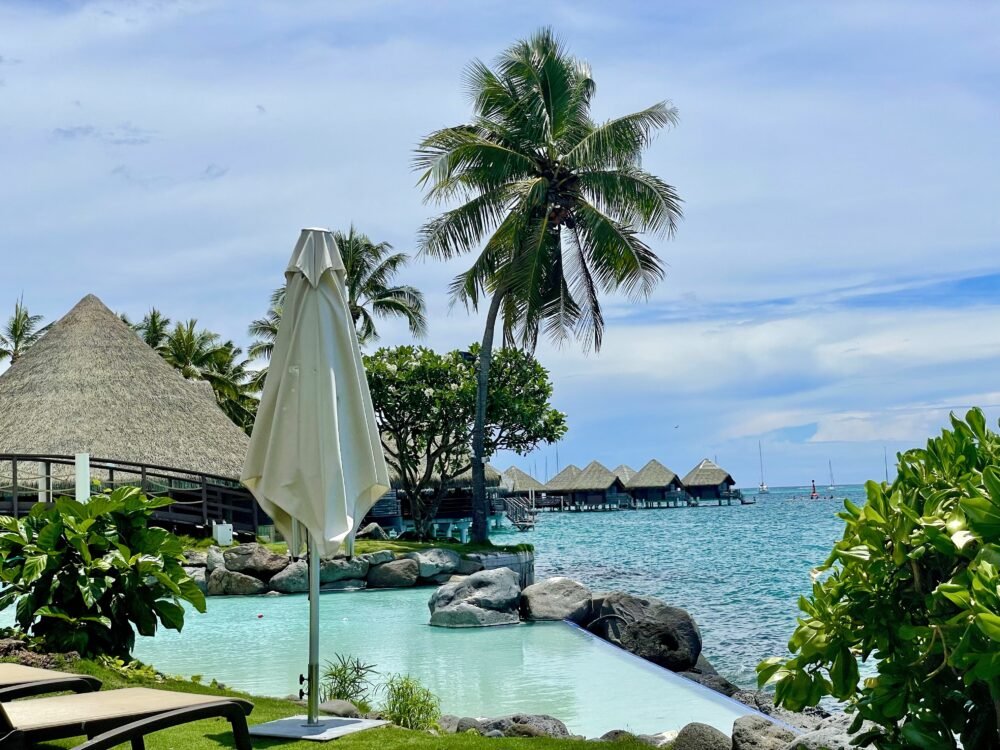 This post refers to the islands of Tahiti, also known as French Polynesia, and not strictly the island of Tahiti.
While Tahiti is considered the main island and home to the capital city of French Polynesia, it actually has relatively few overwater bungalow options.
This post focuses on all the islands of French Polynesia and their overwater bungalow options, since there are many more options than just Tahiti!
We'll cover Tahiti first, since it's home to the Faa'a International Airport from which all international flights land. Most U.S. flights to French Polynesia leave from either Los Angeles or San Francisco and arrive in the morning.
Plus, there are lots of great things to do in Tahiti, so it's worth a stop (we allocated 5 days of our trip to our Tahiti itinerary!)
It's also the only place with luxury overwater bungalows that I personally stayed at on my recent trip to French Polynesia, so I can speak firsthand about the main resort building, amenities, location, restaurant, etc.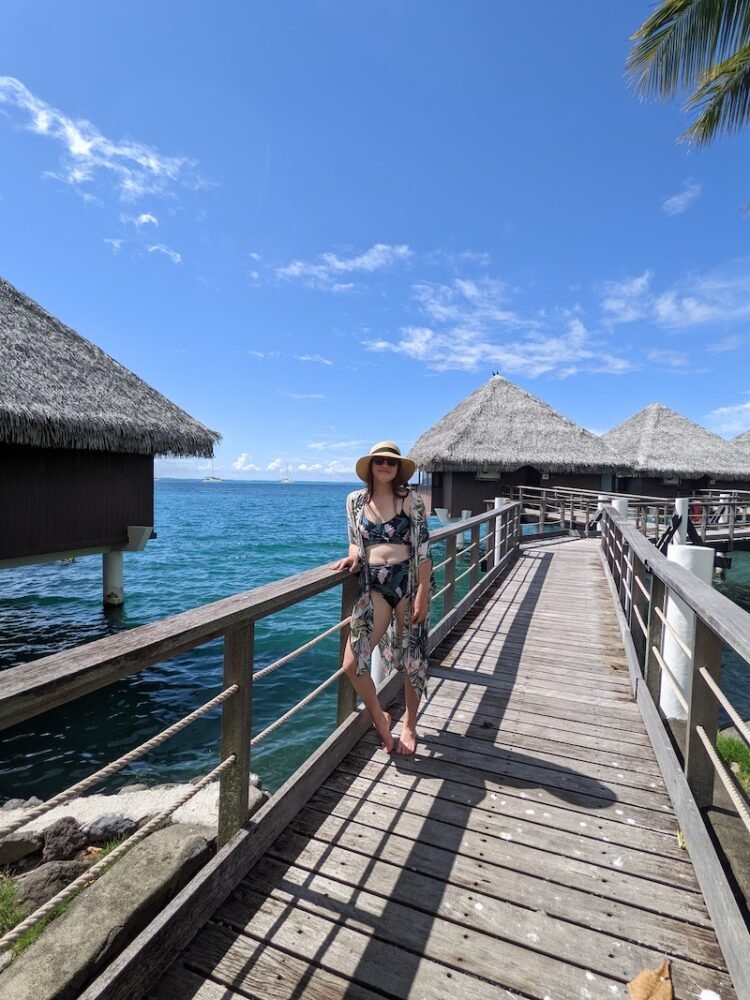 Next, we'll branch out to Moorea, where we stayed for 5 days on our trip.
While we didn't stay at a resort with overwater rooms during our stay, we did visit two resorts that had overwater bungalows and got a feel for the resort experience and vibe, and got to snap some pics with the bungalows!
Then, we'll cover the most famous island for panoramic overwater bungalows, Bora Bora!
This is where you'll find the most luxurious resorts in all of the French Polynesian islands.
However, it does take another flight from Tahiti, so it is not the most convenient, and the resorts here are some of the most expensive!
After that, we'll cover overwater bungalows on smaller islands in the Society Islands, such as Le Taha'a and Raiatea.
Next, we'll go further afield, outside of the Society Islands into the Tuamoto Islands, which include Rangiroa and Tikehau.
Before You Book Your Bungalow…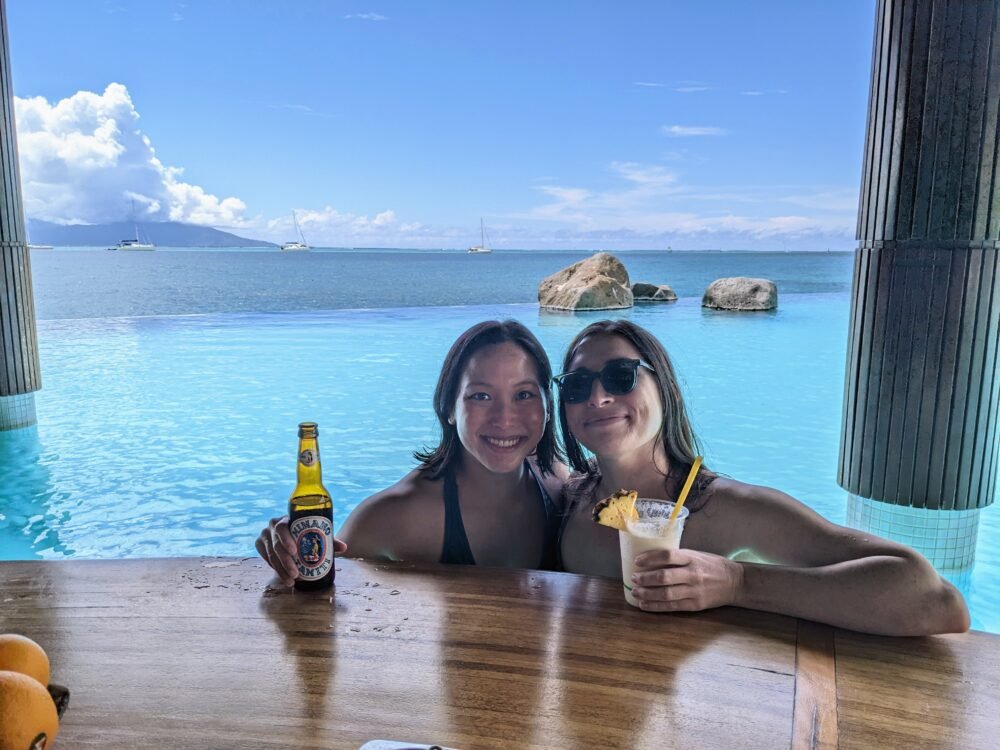 Before investing in an expensive trip like one to Tahiti, you'll want to make sure you consider travel insurance!
This is especially important if portions of your travel are non-refundable (as many overwater bungalows are).
With airline madness leading to delayed flights and lost luggage and the ongoing specter of the pandemic and its ability to disrupt travel plans, you'll be glad to have the peace of mind that travel insurance provides.
Plus, it's a minor investment on a very expensive trip. I paid just $18 USD to insure my 10-day French Polynesia trip, which cost me about $3,000 USD (see my trip cost breakdown here!).
I use SafetyWing to insure all my international trips — with plans starting around $42 for a 4 week coverage policy (or around $11 per week), it's an extremely affordable way to cover your trip.
SafetyWing is both travel insurance and travel medical insurance, so it covers everything from medical costs (including Covid coverage) to travel cancellation and/or disruption costs.
Get your free SafetyWing travel medical insurance quote here!
Overwater Bungalows on Tahiti
Intercontinental Tahiti Resort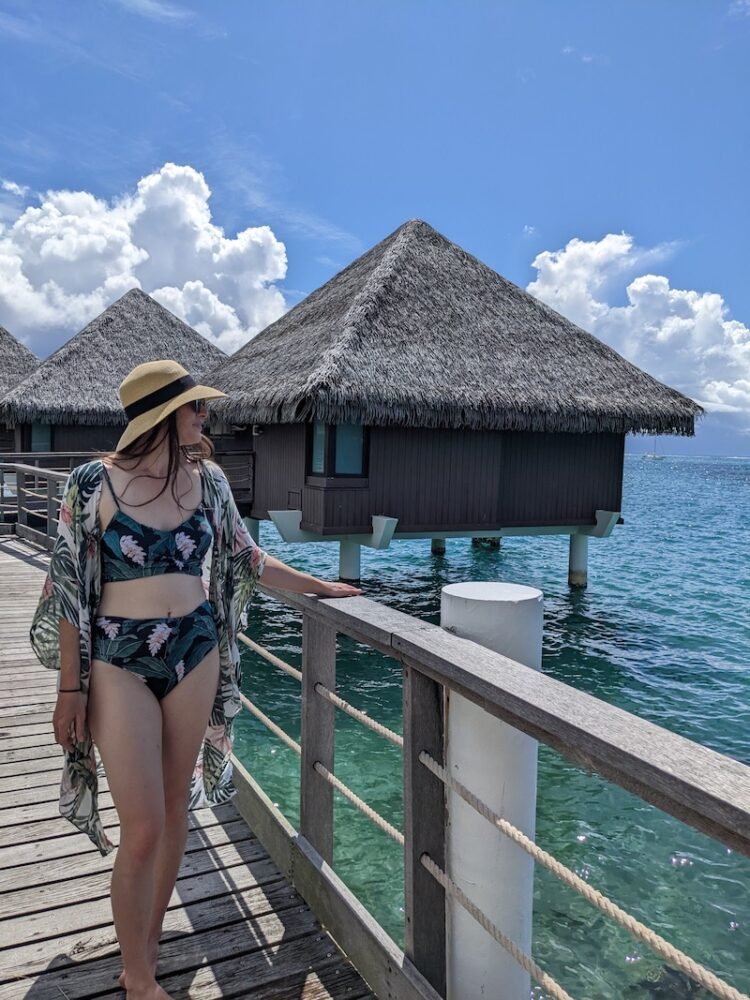 We stayed at the Intercontinental Tahiti during our trip to French Polynesia and loved our time there.
While we didn't stay in an overwater bungalow in Tahiti, we were able to walk around the property and admire the bungalows and enjoy all the amenities of the resort.
The resort features two pool areas, one with a larger pool with a waterfall feature (more child-friendly) and one with an infinity pool and swim up bar (more adult-friendly).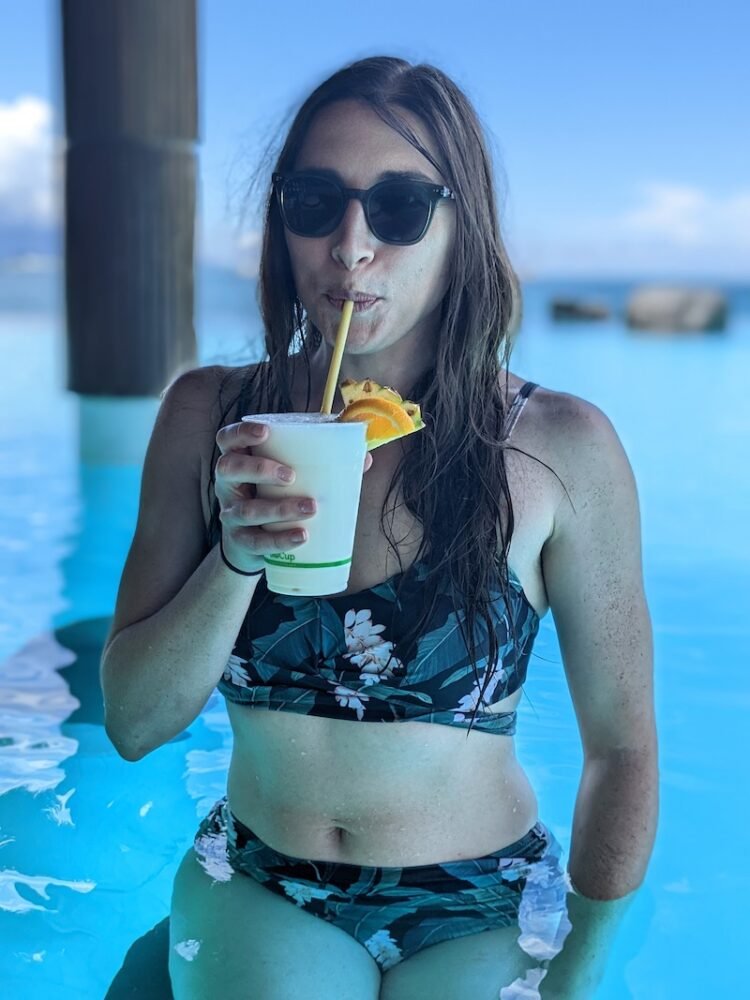 There's also a water sports center where you can book dives, rent kayaks or snorkeling gear, etc., and a concierge is also happy to help you book activities if you want to get out of the resort.
For extra relaxation, you can access the Deep Nature Spa for an additional charge (about $40 USD for a day pass, or included with a massage or treatment), which includes a hamam-style steam room, sauna, relaxation room, and plunge pool.
We only ate at the main restaurant, Te Tiare, but we loved all the meals we got, especially this stunner of a dish, the tuna carpaccio with a Thai-style shredded papaya and mango salad on top.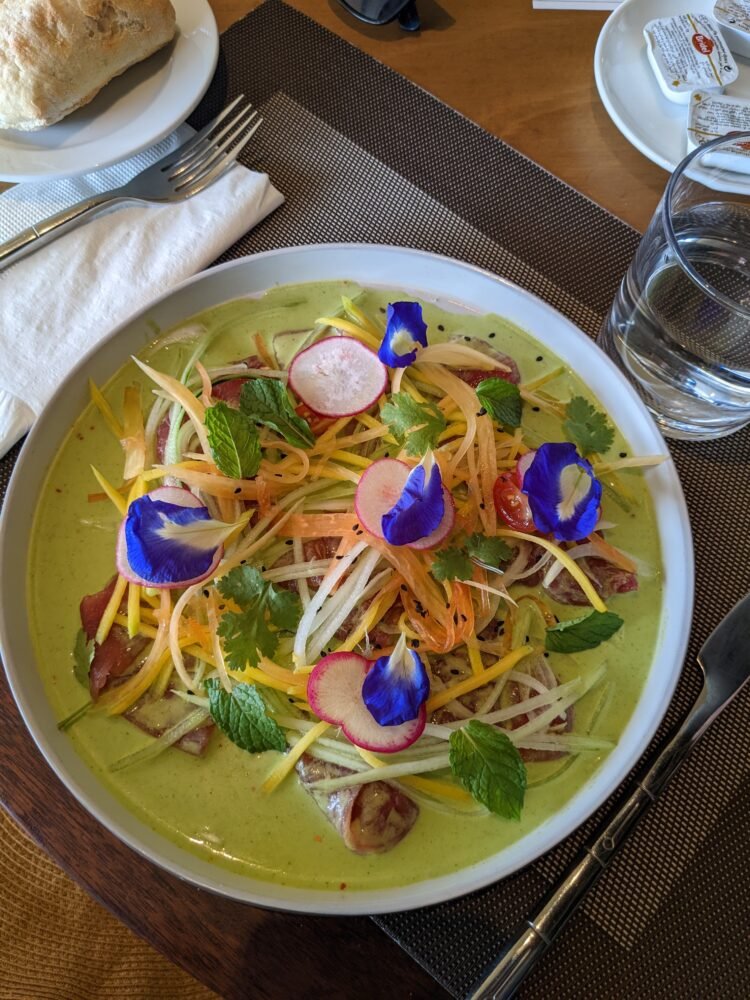 However, if you want to splash out, romantic dinners at Le Lotus can't be beat.
Located next to the Ocean View bungalows, Le Lotus itself is an overwater bungalow in restaurant form!
The fine-dining French cuisine menu was developed in partnership with Michelin-starred French chef Bruno Oger and carried out by another promising chef, Jacques di Guisto.
Meals there follow certain prix-fixe menus, where you can mix-and-match starters, entrees, and desserts for prices ranging from around $50 USD for a starter and dessert to $120 USD for the gastronomy menu with two starters, a main, and dessert.
That said, there is also a lot to do at the resort that is free!
We adored the snorkeling in the lagoonarium, which had an impressive variety of colorful reef fish to nerd out about!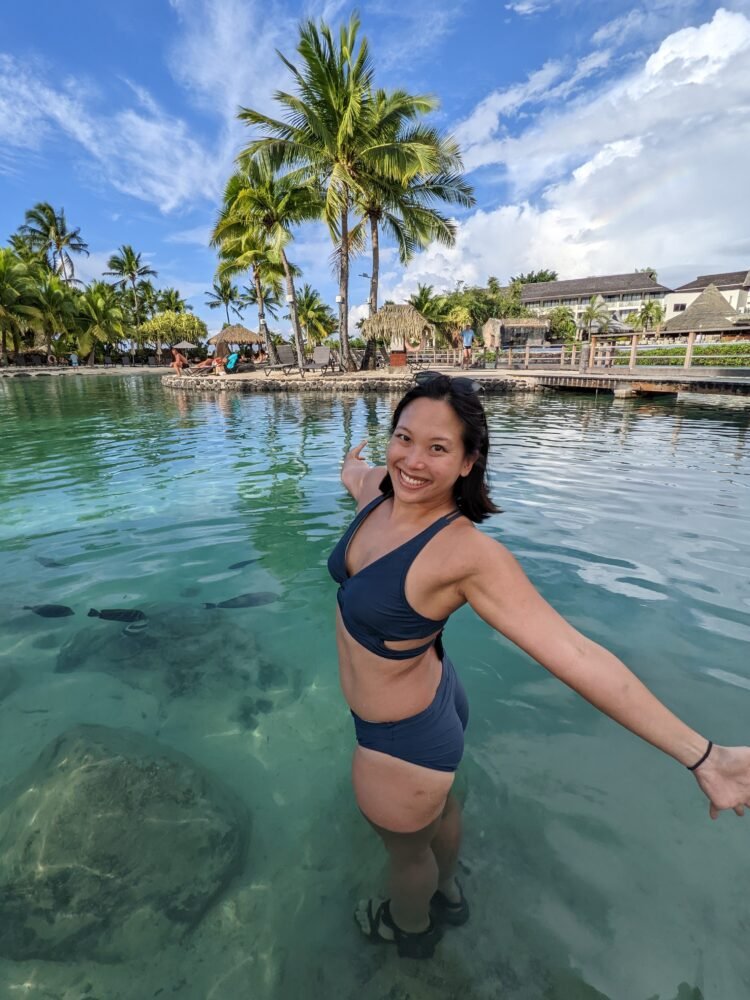 We also chatted with a couple who stayed in one of the Motu suites, who loved their experience — they saw sea turtles and even a spotted eagle ray while sitting on their overwater bungalow's terrace!
Taking their advice, we snorkeled in front of the overwater bungalows by the Motu suites and it was incredible!
We swam over from the area by the water sports area, which is easy enough to do if you are a strong swimmer and have fins.
The sea life here was so abundant!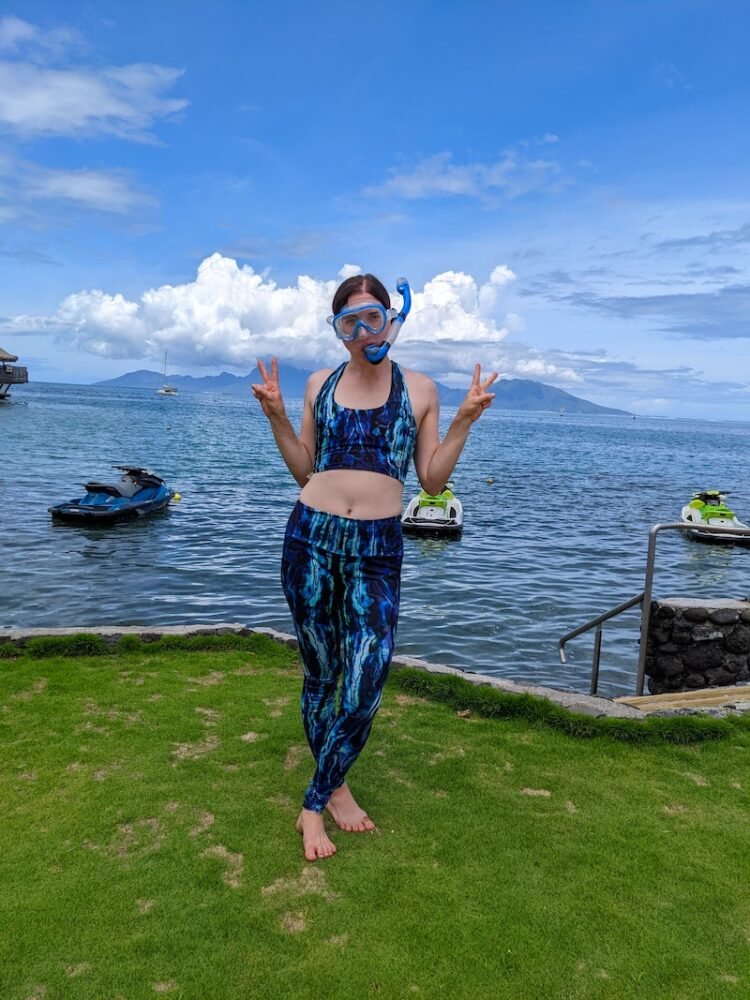 We stumbled across a beautiful cove with sea anemones protecting clownfish and domino damselfish, an octopus camouflaging itself during the daytime, and a curious moray eel who came out of its hiding spot in the reef not once but twice to get a better look at us.
Insider Tip: While the Motu suites are a tiny bit more expensive, I recommend them over the Ocean View suites. Why? The Ocean View suites are located in front of deeper water, where it's hard to snorkel and find the same quality of reef life. The shallow water in front of the Motu Suites are a better choice if you want to easy access to an incredible snorkel spot! If you don't plan to snorkel, though, the two types of overwater bungalows are roughly equal.
The Ocean View Suites are just under 400 square feet inside, with a nearly 150 square foot deck with a private ladder to the azure waters below you!
It's located near the Lotus infinity pool and Le Lotus restaurant, which are the more adult areas of the resort.
These suites can sleep up to two adults and two children (adults in a bed, kids in a sofa bed).
The Motu Suites are also about 400 square inside but have a larger terrace, nearly 350 square feet — nearly double that of the Ocean View suites!
This is the perfect place to jump into the crystal clear lagoon in front of you and go snorkeling in the coral garden right from your deck!
Overwater Bungalows on Moorea
I have a full post on the three overwater bungalow resorts in Moorea here that goes into more detail, but you can also read the below summaries.
Whatever floats your boat!
Sofitel Moorea Kia Ora Beach Resort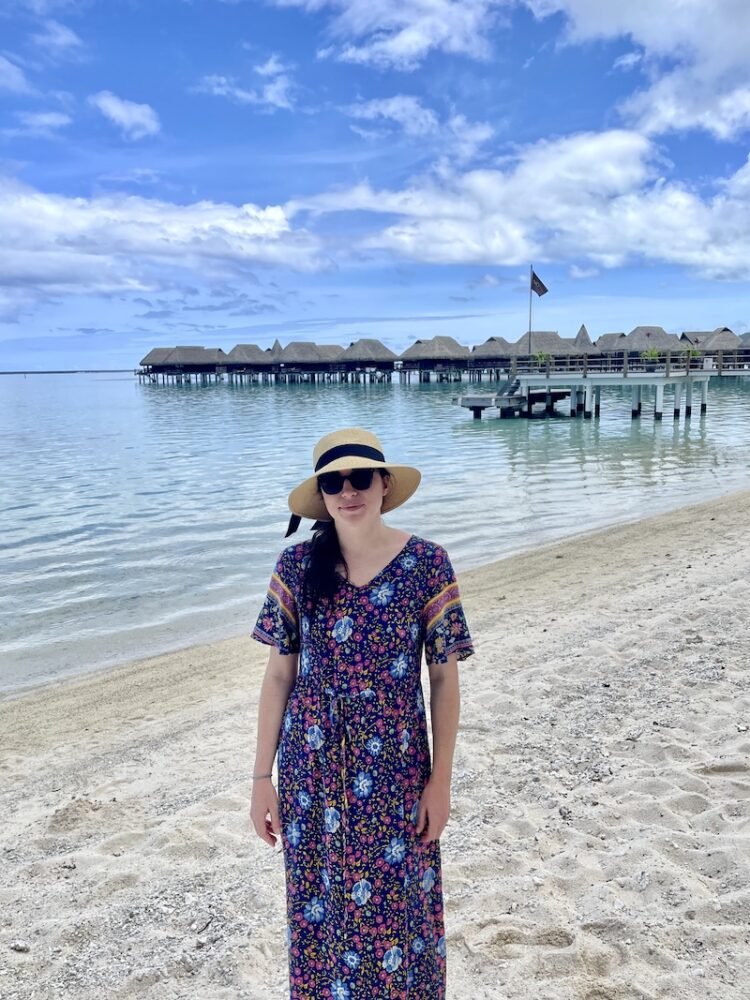 Located right next to Temae Beach, boasting one of the best coral gardens and snorkeling spots on all of Moorea, the Sofitel Beach Resort is an excellent place to stay in Moorea for a resort with overwater bungalows on Tahiti's sister island of Moorea.
We didn't stay at the Sofitel, but we did visit Temae Beach for off-shore snorkeling, and it was the best off-shore snorkeling we've ever done!
The coral here is impossibly beautiful and well-preserved (since this is a protected marine area) and the sea life is extremely abundant.
We also walked a bit on the grounds and thought the Sofitel would be an excellent place to stay on a future trip to Moorea.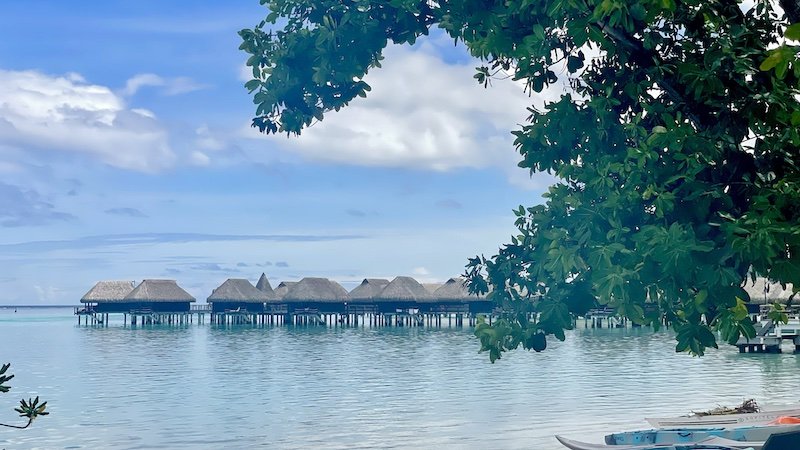 The overwater bungalows are undoubtedly set in one of the best locations in Moorea thanks to the beautiful coral gardens that surround them.
You can easily swim out to the coral gardens from the beach if you have good fins and snorkel gear, or if you're staying in an overwater bungalows, you can simply descend your own private ladder into the ocean below!
There are 38 overwater bungalows as well as over 60 beach and garden bungalows in case staying in an overwater bungalow is out of reach financially or if you want to only stay one night in a bungalow and then switch over to a more affordable room.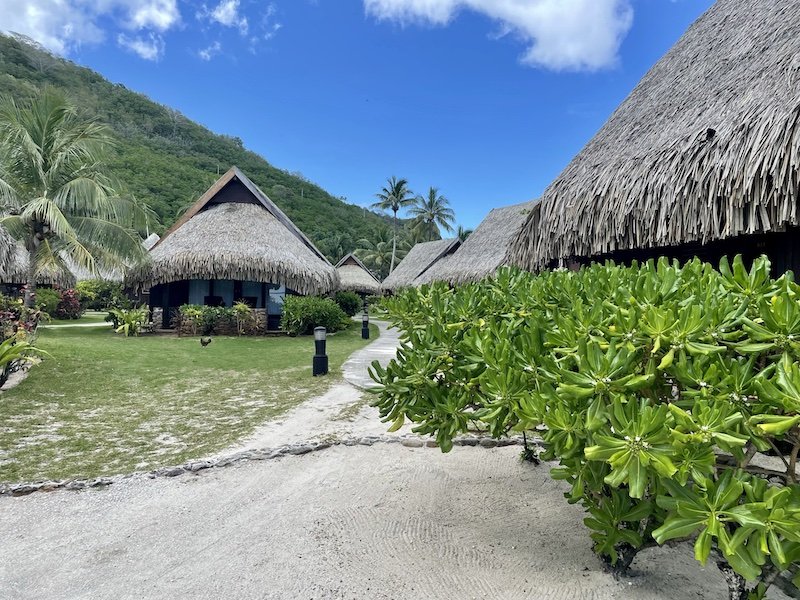 In addition to its beautiful beach and snorkeling, there's also a pool with a beautiful view of Tahiti.
The resort offers two restaurants and two bars for a variety of food options, though you could also leave the resort and dine at some of the great places in Moorea in Maharepa, like our favorite restaurant, Keiki.
The Sofitel offers two types of overwater bungalow, the Superior and the Luxury.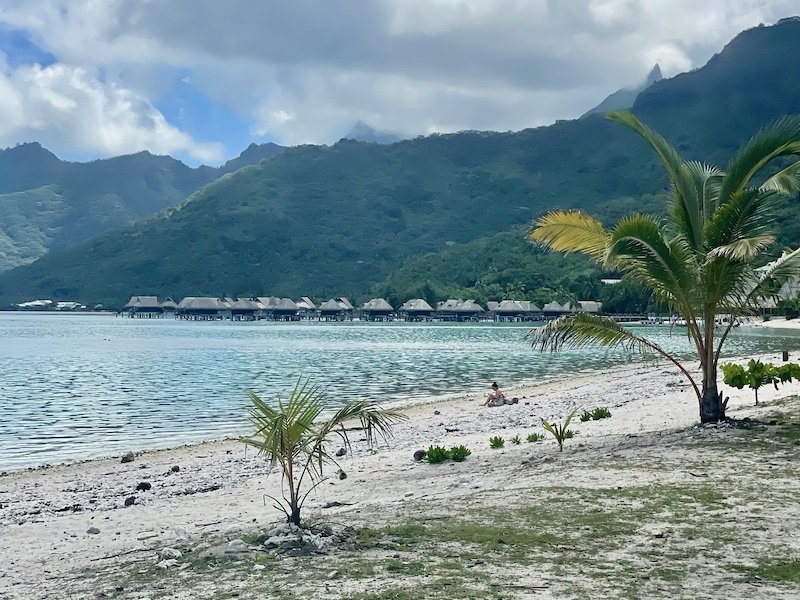 The distinction isn't clear from the name, but the Luxury bungalows are the largest — the largest on Moorea, in fact, at nearly 900 square feet!
Meanwhile, the Superior Bungalows are about 450 square feet, so about half the size.
All bungalows are air conditioned, have private terraces with direct lagoon access, a glass panel in the floor and a free minibar that is refilled twice daily.
The bathrooms feature lovely rain showers but do not have bathtubs, so that's something to note if a bathtub is important to you!
Manava Beach Resort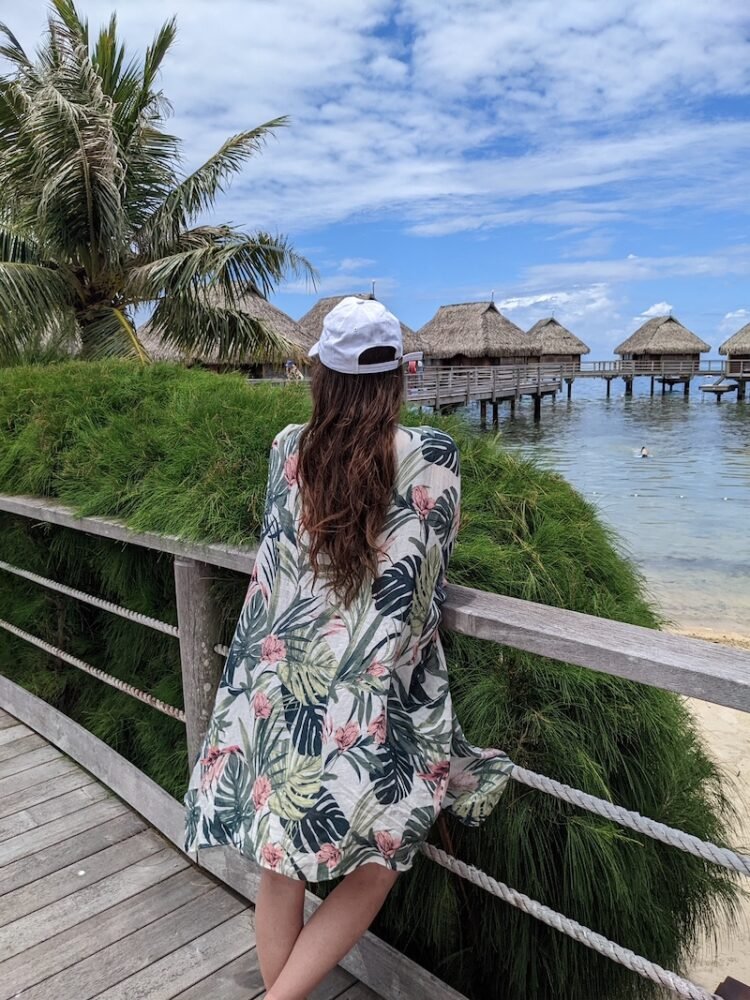 During our five days in Moorea, we ended up here a lot because we used the Moorea Blue Diving center, which is headquartered here.
We got to know the grounds and amenities of the Manava Beach Resort well and have only great things to say about it, and it's another place I'd strongly consider staying on a return trip to Moorea.
The infinity pool at the heart of the resort is absolutely beautiful and the view you get to enjoy of both the ocean and the bungalows will get you those envy-inducing Instagram vacation photos for sure!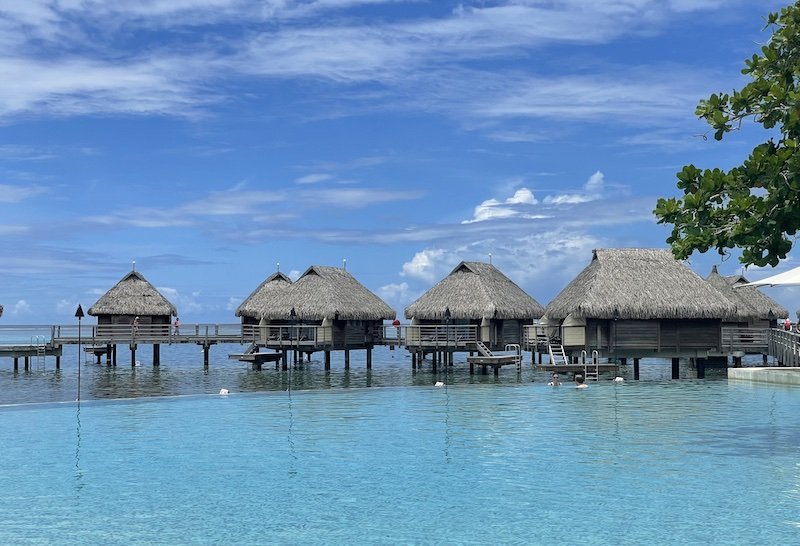 You can easily rent kayaks or stand-up paddle boards to explore the calm lagoon area and its marine life nearby the resort.
There's a small beach area that is also open to the public, but one thing to note is that the views are mostly blocked by the bungalows, so the view from this beach isn't quite as nice as from the Sofitel.
It's still pretty spectacular, though!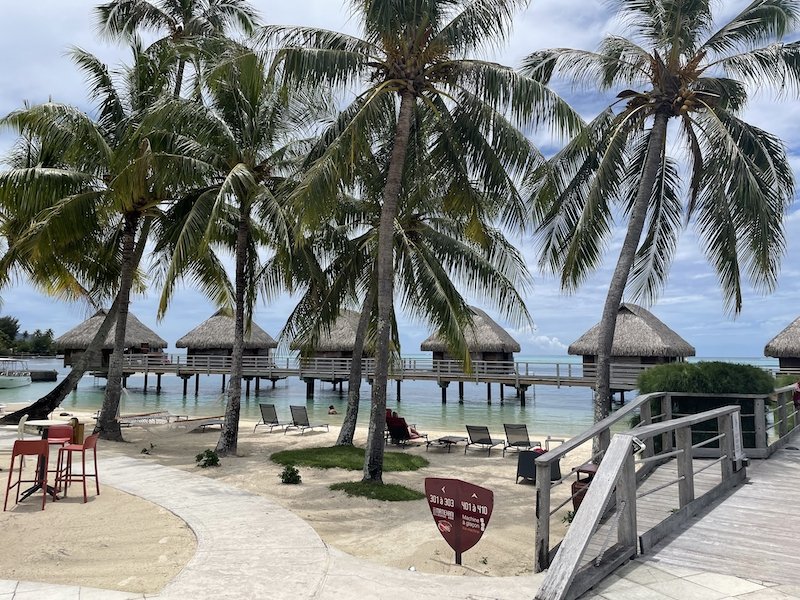 That said, Manava has a much more central location in the heart of Maharepa, so it's easy to explore the great restaurants of this part of Moorea, like Keiki, Rudy's, and Manua Grill.
On-site, there are two restaurants, one more casual one and one more upscale one, as well as a poolside bar.
Other resort amenities include the Manea Spa which offers luxurious but fairly reasonably priced massages for individuals and couples.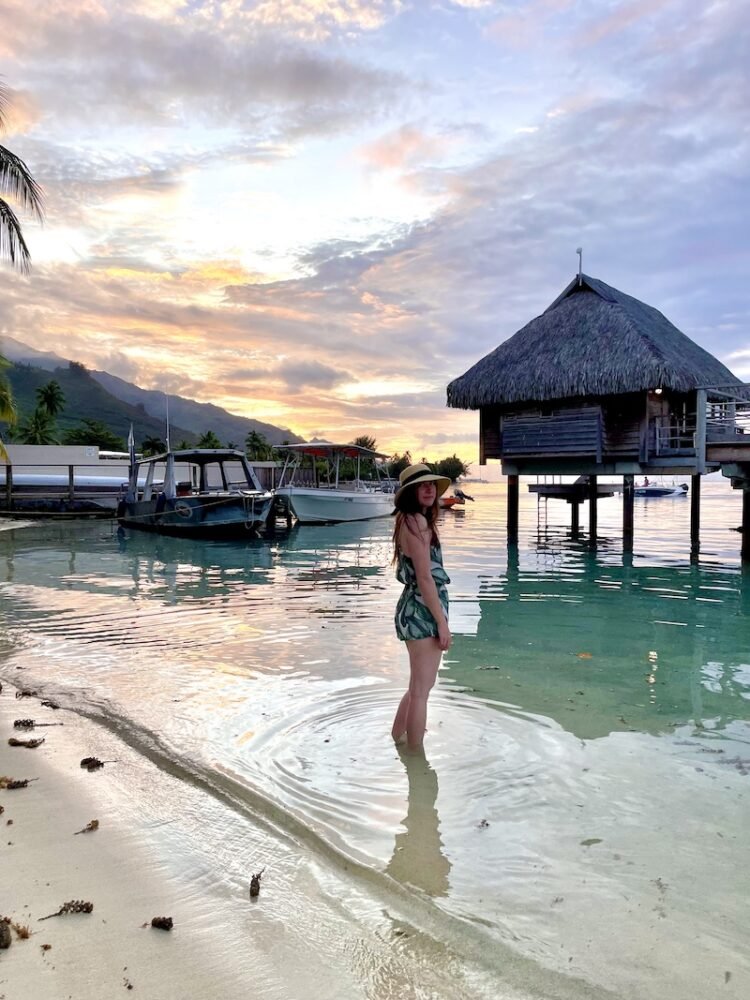 Bonus: the sunsets in this part of the island are also pretty spectacular as it's closer to the west side of the island!
There are a variety of room types at Manava Beach Resort, including more standard hotel-style rooms, beachfront bungalows with a private plunge pool, and of course, the overwater bungalows!
There are both Overwater Bungalows (facing the lagoon and mountains) and Premium Overwater Bungalows (facing the ocean)
All their overwater bungalows are 515 square feet and have lagoon and mountain views with a king bed, a bathroom with either a shower or tub, and sundecks that open directly to the lagoon.
The overwater bungalows are air conditioned and have a glass panel to see the sea life below you even while you're in the room!
Hilton Moorea Lagoon Resort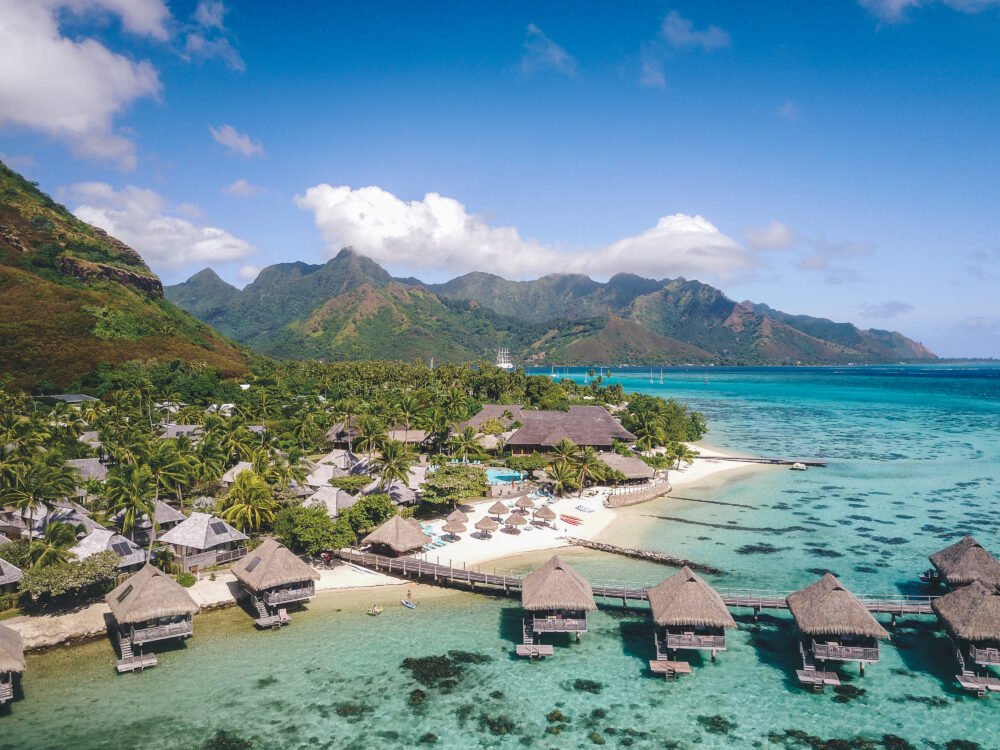 Located near one of the most picturesque parts of Moorea, 'Ōpūnohu Bay, the Hilton Moorea Lagoon Resort & Spa is another great option where it comes to French Polynesia overwater bungalows!
You'll find the standard things you'd expect of a beach resort with overwater bungalows, like a pool area, sandy beach area, spa center, concierge service, etc.
There are several places to dine at the resort, including an open-air restaurant with lagoon views, a waterfront bar & grill, a sunset view bar, and an overwater eatery where you can enjoy a drink or a crepe with sharks swimming beneath you!
When it comes to room types, there's a variety to suit a different array of budgets.
There are garden bungalows with and without private pools, as well as lagoon view bungalows that are on the beach but have a private ladder to the lagoon, as well as your standard overwater bungalows connected by a boardwalk.
The standard garden bungalows are fairly typical of hotel rooms, but the overwater bungalows are some of the most luxurious on Moorea!
We're talking bathrooms with clawfoot bathtubs and seating areas with a glass panel below you from which you can watch the underwater world go by.
The reef in front of the Hilton is also excellent — you'll find rays, sharks, and all sorts of fish life, a true underwater paradise.
However, this is also one of the more popular options on Moorea and the overwater bungalows tend to get reserved quickly, so book early!
Overwater Bungalows on Bora Bora
St. Regis Bora Bora Resort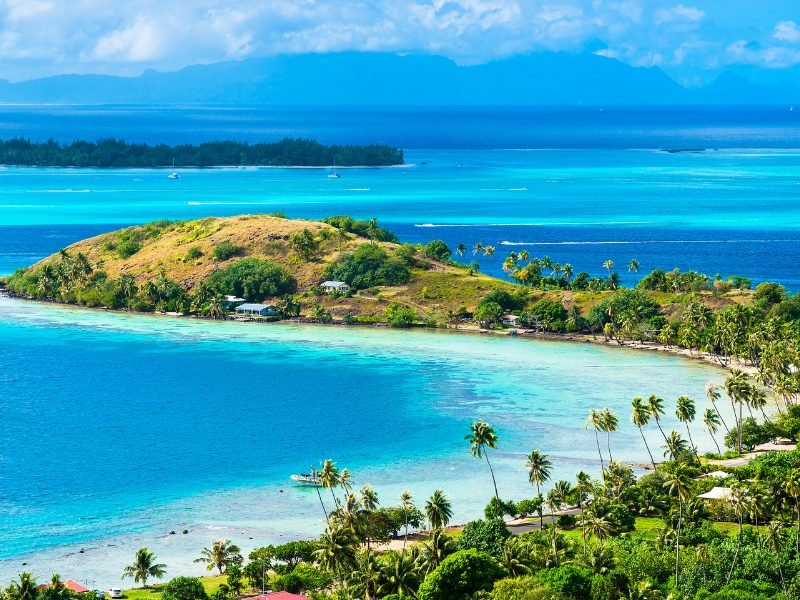 The St. Regis Bora Bora is one of the most luxurious resorts in French Polynesia.
They have the largest overwater villas in all of the Tahitian islands, for one, starting at 1,550 square feet!
For reference, most Tahiti overwater bungalows are about 500 square feet, or one third of the size.
The St. Regis also offers 24/7 butler service — any request you have, large or small, will be carefully attended to by the staff.
How's that for fancy?
In terms of amenities, there's a main pool with a swim-up bar as well as an adults only pool that has private cabanas, as well as their famous Iridium Spa on an island in the middle of the lagoonarium.
But perhaps the coolest feature is its lagoonarium (a safely enclosed lagoon full of aquatic life where you can snorkel safely with all sorts of fish, including the wildly impressive Napolean wrasse!).
One of the best things about the rooms at the St. Regis is that they have glass panels on the floor so you can watch tropical fish and sea life swim underneath your feet!
In fact, they even have a signature glass coffee table with a glass panel beneath, so you can watch the fish underneath your morning coffee!
For those who can't quite afford the overwater bungalows, they also have garden guest rooms and beachside bungalows.
Food quality matches the high standard set by the accommodations: the Lagoon Restaurant features a menu by celebrity chef Jean-Georges, with a stunning view of Mt. Otemanu in the background.
There are also Asian, Polynesian, and Italian restaurant options, as well as elevated bar dining options with tapas, cocktails, and other light fare.
Check availability and rates at the St. Regis Bora Bora here!
Four Seasons Resort Bora Bora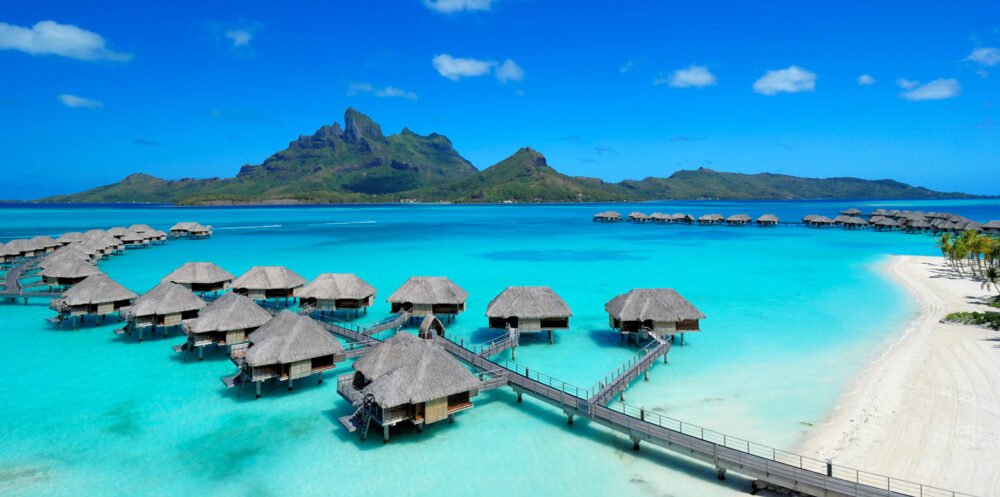 Located in the stunning Motu Tehotu, a private islet off of the main island, the Four Seasons Resort Bora Bora is a dream worthy of a honeymoon — or any occasion to celebrate, really!
The Four Seasons is one of the best designed overwater bungalow resorts in all of French Polynesia!
It was inspired by the look of traditional Polynesian village houses and incorporates Polynesian craftwork and design elements as much as possible for an authentic feel.
The whole resort has been given the indoor-outdoor design treatment with the coordinated expertise of French and American architects and interior designers.
That said, you'll still find all the traditional resort amenities you'd expect of a hotel of this caliber: a gorgeously Instagrammable infinity pool, a fitness center with yoga classes, and four fantastic dining options (including in-bungalow meal service).
Speaking of in-bungalow meals, you'll be able to have the most unique breakfast in bed experience there is!
The Four Seasons offers a special service where your breakfast is brought to you in your overwater bungalow by a traditional Polynesian canoe, decorated in flowers! It doesn't get more special than that.
And of course, the Four Seasons has a world-class spa, Te Mahana, which offers a variety of sublime wellness experiences using traditional Polynesian botanical ingredients and wellness techniques.
There is a variety of types of overwater bungalows in this Bora Bora resort, so you can pick the best one for your budget — though all are definitely going to make your eyes water!
The most luxurious are the 2-bedroom overwater bungalow suites, many of which feature their own private plunge pools.
At a massive 2,228 square feet, these bungalows are practically ready to move into (I feel envious as I write this from my 525 square foot apartment!)
These bungalows are also great for families or friend groups — they can comfortably fit 6 adults, or 2 adults and 4 children.
There are also 1-bedroom overwater bungalows with plunge pools, which are more in the 1,000-1,500 square foot range — still quite large, but only suitable for a maximum of 3 adults or 2 adults and 2 kids.
There are also overwater bungalows that don't have private pools, but they're still quite luxe — think bathtubs you'll never want to leave with a direct view of the crystalline waters of the lagoon and spacious lounge seating.
Intercontinental Bora Bora & Thalasso Spa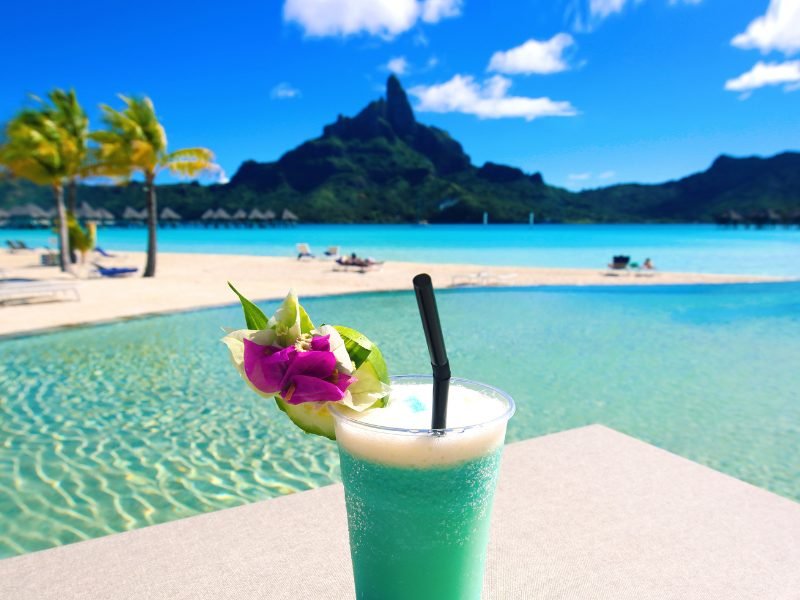 There are two Intercontinental resorts in Bora Bora: the more luxurious Intercontinental Bora Bora & Thalasso Spa as well as the more affordable Le Moana.
We'll cover the former here, but you can also check out more about Le Moana here if you're looking for a more affordable Bora Bora option.
Located on the small motu of Piti Aau, this stunning 5-star Bora Bora resort has everything you'd ever need — and then some.
You'll find two main restaurants, Le Reef and Le Sands, as well as the famous Thalasso Spa on-site where you can take your relaxation to the max.
This resort only offers overwater bungalows, but you can choose between different sizes, views, and whether or not you have a private pool on your terrace.
All the bungalows have direct lagoon access, glass panels to watch the sea life in your villa, sundecks with ladders leading to the lagoon so you can walk right into the water, and lovely bathrooms with soaking tubs.
Overwater Bungalows on Raiatea & Nearby
Le Taha'a Island Resort & Spa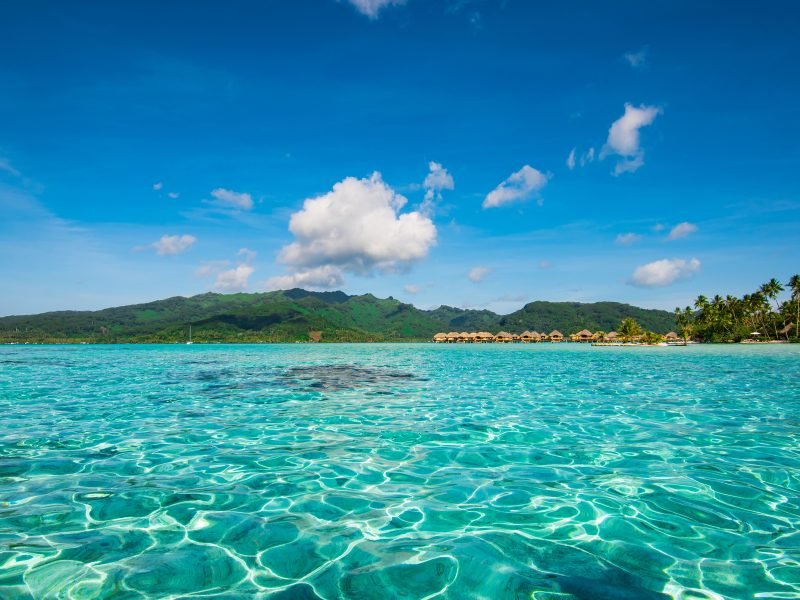 Tahiti overwater bungalows don't get any more remote on an islet off of a small island of Taha'a off the island of Raiatea!
There is definitely some effort involved in getting to the beautiful Le Taha'a by Pearl Resorts, but it'll be worth it.
If you're first arriving in Tahiti, you'll have to fly to Raiatea and then take a 35-minute resort shuttle ride to the resort.
You can also fly via helicopter if you're coming from Bora Bora — it's a stunning 15-minute flight over some of the most beautiful water you'll ever see.
Once on the resort, you're basically on your own private island: the entirety of Le Taha'a by Pearl Resorts is on its own motu (islet).
That said, you're not totally in desert island mode. If you want to explore the island of Taha'a, you can take one of the resort shuttles — you'll be in the charming village of Tapuamu in just 5 minutes.
One of the coolest things about Le Taha'a's location is that it's located in between two beautiful islands: Taha'a and Bora Bora, and you can pick an overwater bungalow facing either.
And of course, there's beautiful lagoons and reefs to explore and enjoy in between these two stunning South Pacific islands.
There are three spectacular restaurants offering a variety of dining options so you won't get bored, and of course, you can always head to the main island if you wish to dine off the resort and get a little taste of French Polynesia outside the resorts.
The resort is small and intimate, with just 58 rooms and villas, all done in a traditional Polynesian style, constructed in an eco-friendly way with organic resources from all the nature these verdant islands generously offer.
There are two main types of room available at this property: overwater bungalows and beach villas with their own pools.
Some overwater bungalows have a view of Taha'a nearby, and others have a view of Bora Bora in the distance.
The overwater bungalows are generously sized at 969 square feet, sleeping 3 adults (or 2 adults and one child).
The pool villas are larger at 1,937 square feet (or 2,800 square feet for the royal villa) but won't have the overwater bungalow vibe.
Overwater Bungalows on the Tuamoto Islands
Le Tikehau by Pearl Resorts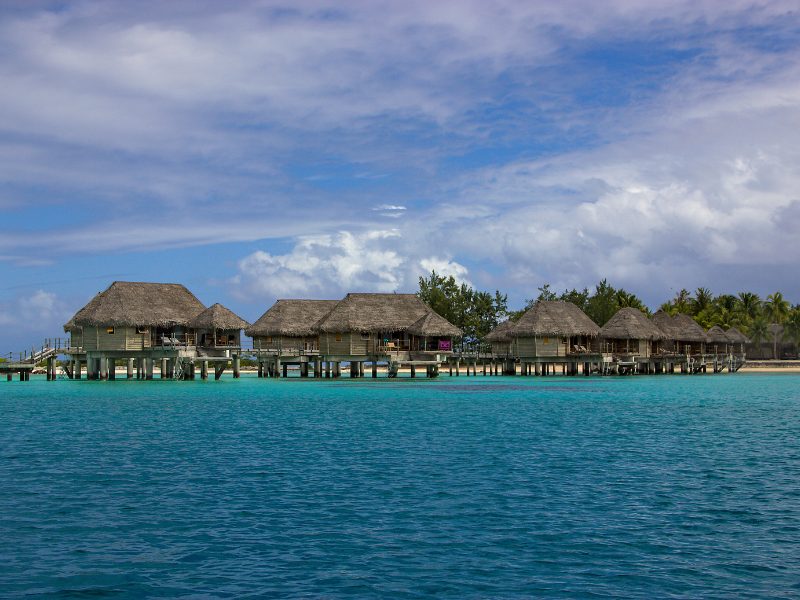 Another property by Pearl Resorts, Le Tikehau is another beautiful and remote option for overwater bungalows in Tahiti's outer islands.
Tikehau is part of the Tuamoto Islands, a remote archipelago that offers some of the best snorkeling and diving in all of French Polynesia.
As remote as Tikehau already is, Le Tikehau is located on the small islet (motu) of Tiano about a 15-minute boat ride from the main village.
With just 37 bungalows, villas, and suites, Le Tikehau is an intimate resort where guests easily get individualized attention.
The resort's setting alone is unrivaled: surrounded by coral reefs, fringed with pink sand beaches that bleed out into turquoise blue lagoons, with dense coconut groves hiding private tropical gardens to lose yourself in.
You'll also have a beautiful pool to relax in or beside when you're not enjoying the beaches or taking out the free kayaks for a paddle.
There's also the Tavai Spa to relax at, and one bar and one restaurant located on the resort.
Overwater bungalows are the focus at Le Tikehau, with smaller ones starting at 594 square feet and larger ones going up to 1,001 square feet.
There are also beach bungalows that aren't overwater (592 square feet) and one pool beach villa (1,290 square feet) that is extra private.
Note that a handful of the overwater bungalows (the standard ones) do not have their own ladder to access the lagoon, because they are located on a part of the islet with a lot of coral as well as a strong current.
However, you can still enjoy the stunning views from your private deck and have the overwater bungalow experience, and you can see the water from your own glass table that has a panel to see the sea life below.
The next tier up, the premium overwater bungalows, have direct sea access with a private ladder.
However, neither of these overwater bungalows offer air conditioning, though they do have high roofs with thatched material and fans to keep air circulating.
Only the overwater suites have air conditioning, so if that's a priority, pick that!
Hotel Kia Ora Resort & Spa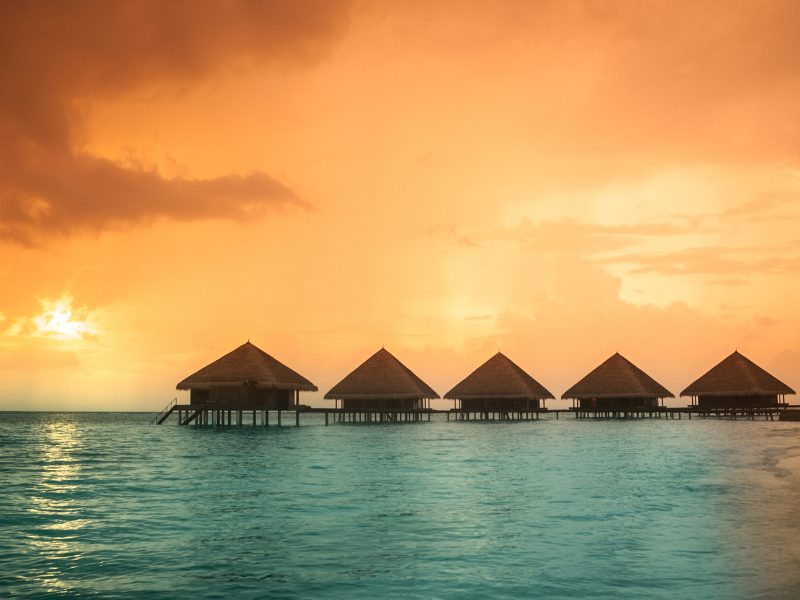 Rangiroa is known for its diving — in fact, its massive lagoon is literally the size of the island of Tahiti!
It's part of the Tuamotu archipelago and it's a bit further afield from Tahiti but its isolation what makes it so spectacular.
Hotel Kia Ora in Rangiroa offers overwater bungalows with stunning lagoon views where the turquoise water melds seamlessly into deep blue at the horizon.
The bungalows feature separate bedrooms and lounge areas, with a stunning bathroom that has both a bathtub and a luxe shower.
The lounge area is especially epic because it has glass panels in the floor where you can admire the fish swimming in the lagoon below you, while sitting on a comfortable sofa!
The overwater bungalows are rather spacious, with an interior dimension of about 485 square feet and an additional 315 square feet in the outer lounge area, with two sun loungers and a table for enjoying your morning coffee or breakfast.
The bungalows are air conditioned and have all the amenities you'd expect of a standard hotel room, like a flat-screen TV, WiFi, minibar, etc.
Because Rangiroa is a little more off the beaten path, these are some of the more affordable overwater bungalows in French Polynesia, starting around $700 per night.
Allison Green is a former educator turned travel blogger. She holds a Masters in Teaching and a B.A. in English and Creative Writing. Her blog posts merge her educational background and her experience traveling to 60+ countries to encourage thoughtful travel experiences that both educate and entertain. She has been a speaker at the World Travel Writers Conference and her writing, photography, and podcasting work has appeared in National Geographic, CNN Arabic, CBC Canada, and Forbes, amongst others. Now based in the San Francisco Bay Area where she grew up, she has also lived in Prague, Sofia, and New York City.