Born a California girl, I was spoiled with the beautiful, mild Bay Area winters growing up…
… and then when I was 17, I moved to New York City to attend college and I was promptly educated in the fact that California's climate was an extraordinary exception.
Let's face it — in many parts of the United States, December can be a rough month.
Between the freezing weather that can't seem to make up its mind between snow and rain, the strain and expectations that holidays place on you, and the sense of a year coming together and finishing up… December can be a lot.
So I wouldn't blame you if you wanted to escape for a little bit and get away from it all.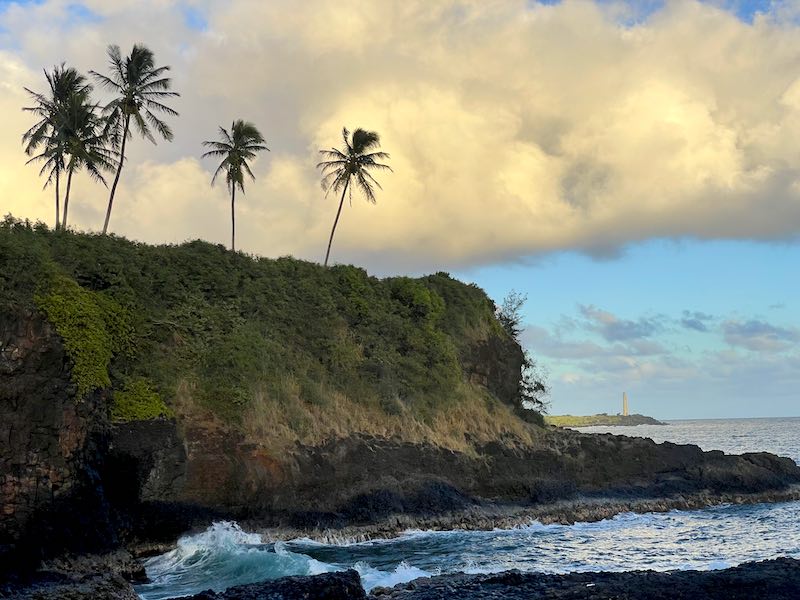 Note: This post contains affiliate links, which means I may receive a small commission if you purchase something through one of these links. Thank you for supporting the free content on this site! For more information on affiliate links and cookies, see my disclosure page for more details.
Luckily, there are plenty of fantastic places to visit in the USA in December that will help you either escape the cold or embrace the winter spirit!
Asking around amongst fellow travel experts, I've curated this guide to the best US travel destinations in December.
In this guide, we'll cover both warm weather getaways as well as snowy escapes that embody the Christmas and holiday festive mood!
Let's go — here are our favorite US destinations to visit in December! We'll start off with warm spots, and then we'll move onto snowy destinations.
Warm Places to Visit in the US in December
Kauai, HI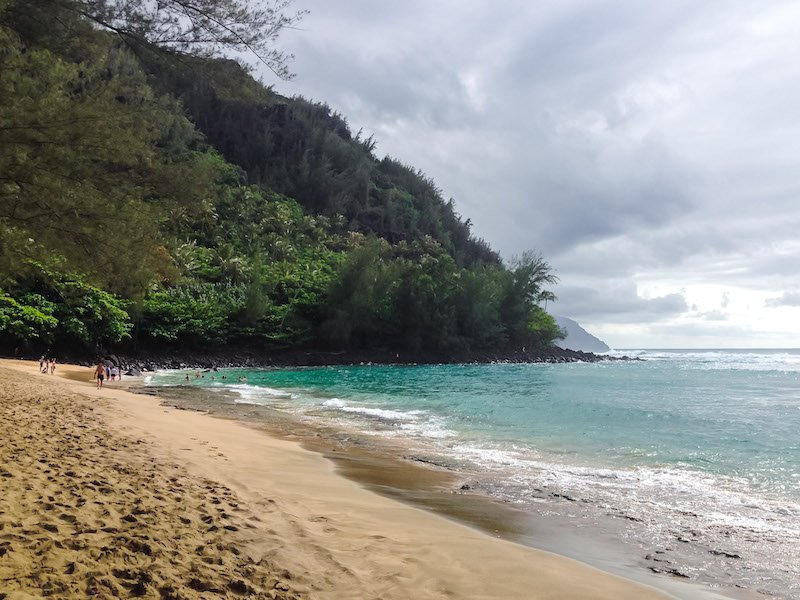 Contributed by Sierra of Island + Alpine
If your idea of a magical holiday vacation includes swaying palm trees, sandy beaches, and aqua waters, then Kauai is the perfect place to visit in December.
The mild temperature in Kauai means that low temperatures are in the high 60s and daily highs in the high 70s.
North Shore Kauai is beautifully lush and green but it can also rain more days than not in December, so visitors might consider staying on the south shore and taking day trips to the North Shore when the weather is just right. 
Snorkeling in Kauai offers many opportunities for viewing marine life. The south shore tends to be calmer in the winter months, so Poipu Beach Park and Lawai Beach are both great spots to put on your list.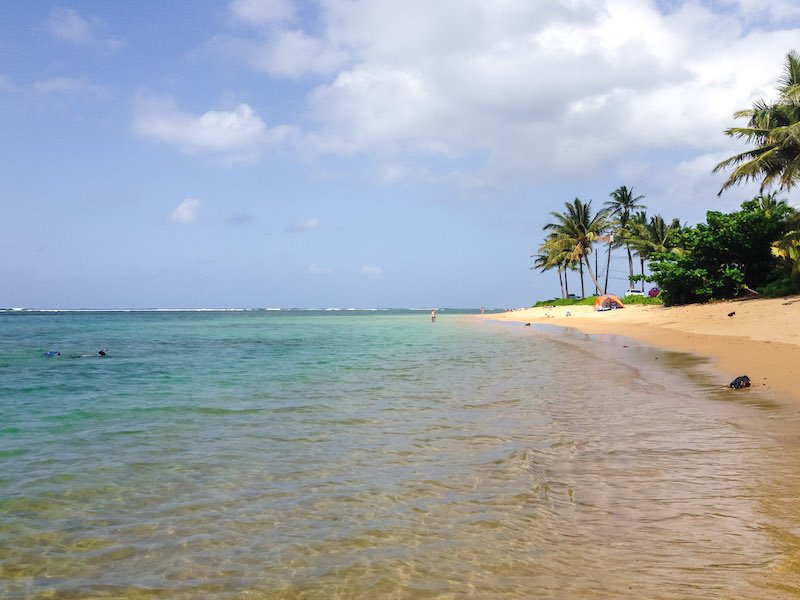 Maha'ulepu Heritage Trail is an excellent choice for a fairly easy hike that is often too hot for summer visitors, but perfect on a mild December day. Hiking along the coastline gives 360° beautiful views.
Watching the humpback whales migrate during the winter months just might be the highlight of your trip.
Shipwreck Beach is a lovely spot for sitting in the sand and watching the water, but a whale watching tour is a great way to see them up close and personal. 
Visitors on Kauai on New Year's Eve will love the free firework show on Poipu Beach!
The Festival of Lights in downtown Lihue is also a must-do Christmas activity.
Palm trees are decked out with twinkling lights, and Santa's Hawaiian shirt attire and outrigger canoe in lieu of a sleigh are a delight to see!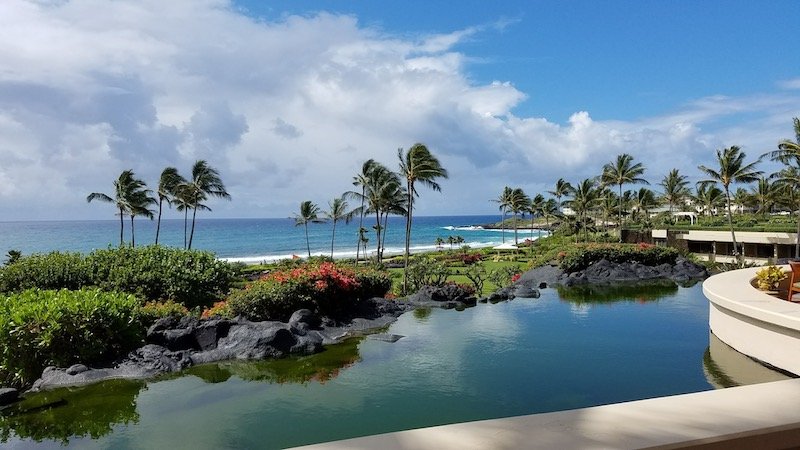 Where to Stay in Kauai
One of the best places to stay is the Grand Hyatt Kauai.
With a saltwater lagoon, beach side swings, beautiful lazy river with waterfalls, activities like nightly entertainment, lei making, and hula lessons, you will certainly enjoy your stay!
Maui, HI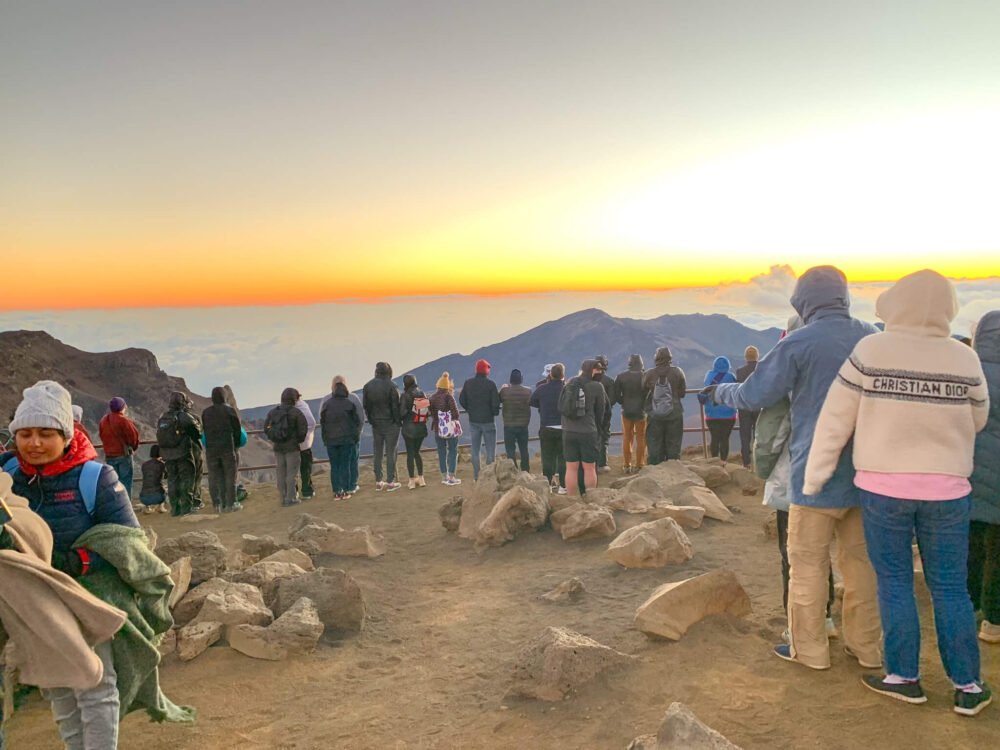 Contributed by Marcie of Hawaii Travel Spot
One of the best places to visit in December is the Hawaiian island of Maui.
While any island in Hawaii is lovely during the winter, Maui is especially amazing because of the plentiful whale watching opportunities.
Humpback whales swim right by Maui and it's hard to miss them!
A Maui whale watching tour is the best way to go, but you can also see them on the Maui-Lanai ferry (which is cheaper than a tour) or even sitting at the beach (if you have binoculars).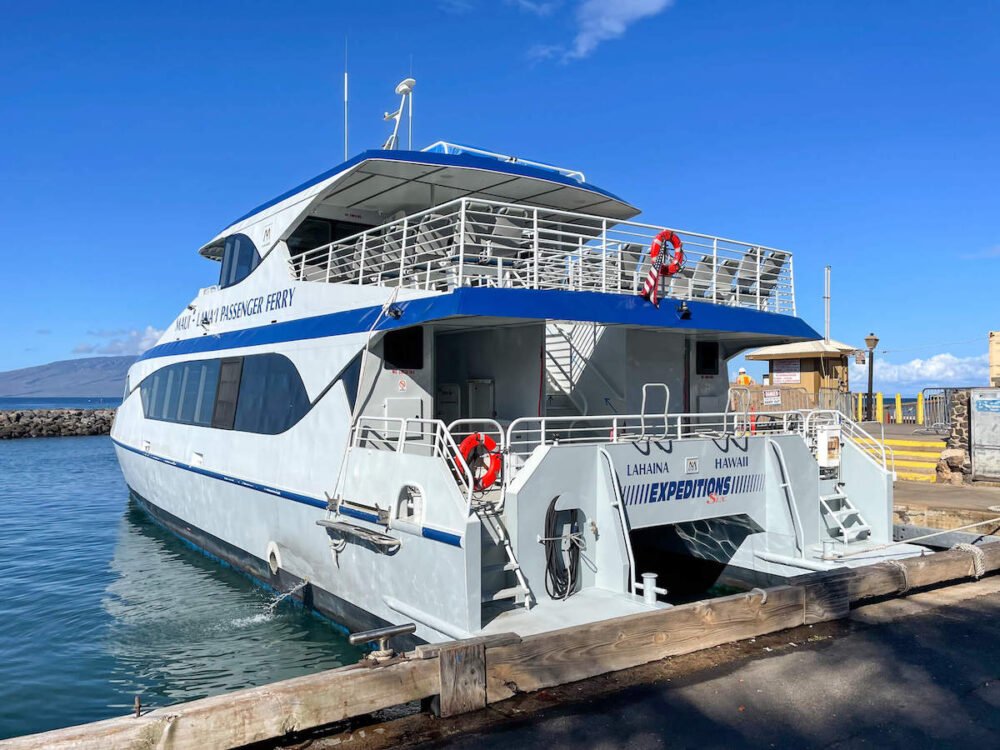 Speaking of beaches, Maui beaches are slightly less crowded in the winter than the summer and it's the best time of year to see professional surfers in the ocean.
December is also when Maui gets into the holiday spirit with Christmas decorations at hotels and at shopping centers. You'll even get to hear Hawaiian Christmas music in shops and restaurants.
The weather in Maui in December is quite comfortable. It's typically 65-82 degrees with a chance of rain. And most of the rain happens on the North Shore, so you can head to the West or South shores for drier weather.
Another bonus of visiting Maui in December is that the sun rises later so you can sleep in a tiny bit if you want to catch the Haleakala Crater sunrise.
Luaus also usually start and end earlier so you'll be able to stay awake easier! 
Where to Stay in Maui
One of the best Maui resorts worth staying in is the Hyatt Regency Maui.
They have an amazing pool area with a waterfall and swim up bar. Plus, there's an on-site luau, shave ice, and lots of tasty restaurants!
Old San Juan, PR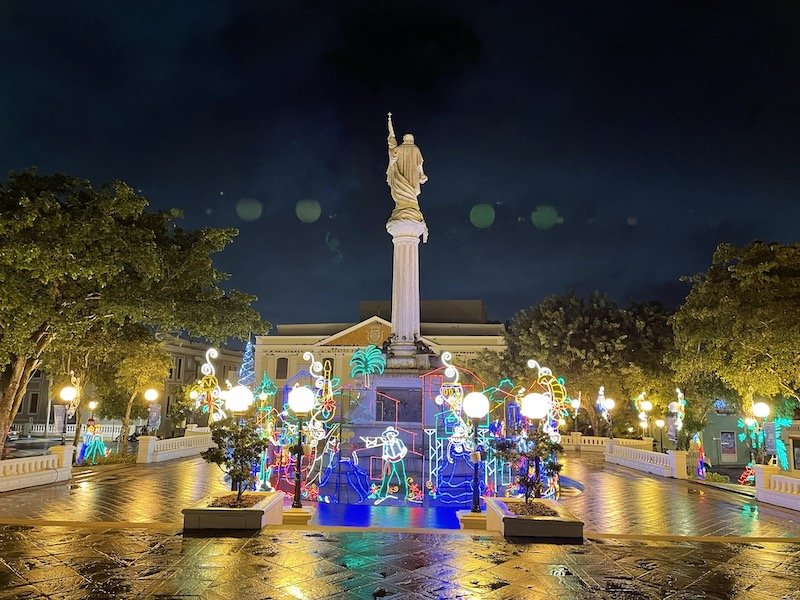 Contributed by Merry Allison of Virginia Vacation Guide
Also known as Old San Juan, Viejo San Juan in Puerto Rico is a fun and festive US destination in December.
During December, the historic district of Old San Juan is decorated with many colorful displays celebrating the Christmas season.
You can take a stroll down the Avenida de la Constitución to see brightly decorated Christmas displays and nativity scenes in front of many major buildings in the historic district, including the Antigua Escuela de Medicina Tropical.
The prominent Plaza Colón is festooned with strings of bright lights and Christmas scenes, which are especially dazzling at night when the lights are lit.
Old San Juan itself features an abundance of historic sites that are within easy walking distance of each other.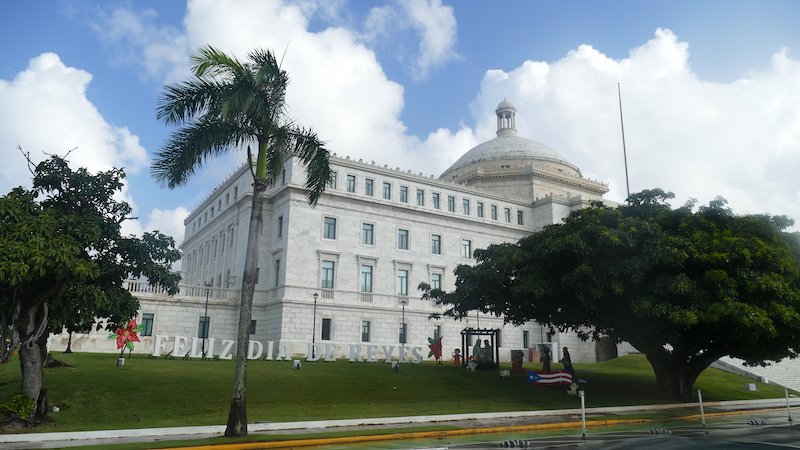 There are two fortresses in the old town (Castillo San Cristobal and Castillo San Felipe del Morro).
The latter features sprawling open fields that are popular spots for parties, picnics, dog walking, and even outdoor meditation and yoga classes!
You can easily take advantage of all of these outdoor activities in December due to the warm Caribbean climate.
December temperatures generally range from 73 to 84 degrees Fahrenheit, though being a tropical climate, you may experience some periods of rain and clouds.
Where to Stay in Old San Juan, PR
One excellent place to stay in Viejo San Juan is Casa of Essence. It does not have an official reception area, and so it resembles an actual apartment as opposed to a hotel.
It is conveniently located within a short walk to Plaza Colón, and it is also within walking distance to many restaurants and attractions.
The rooms are very spacious, often including a separate living room and bedroom. Each room is also brimming with colorful, creative decor and personality — just like Old San Juan itself!
Savannah, GA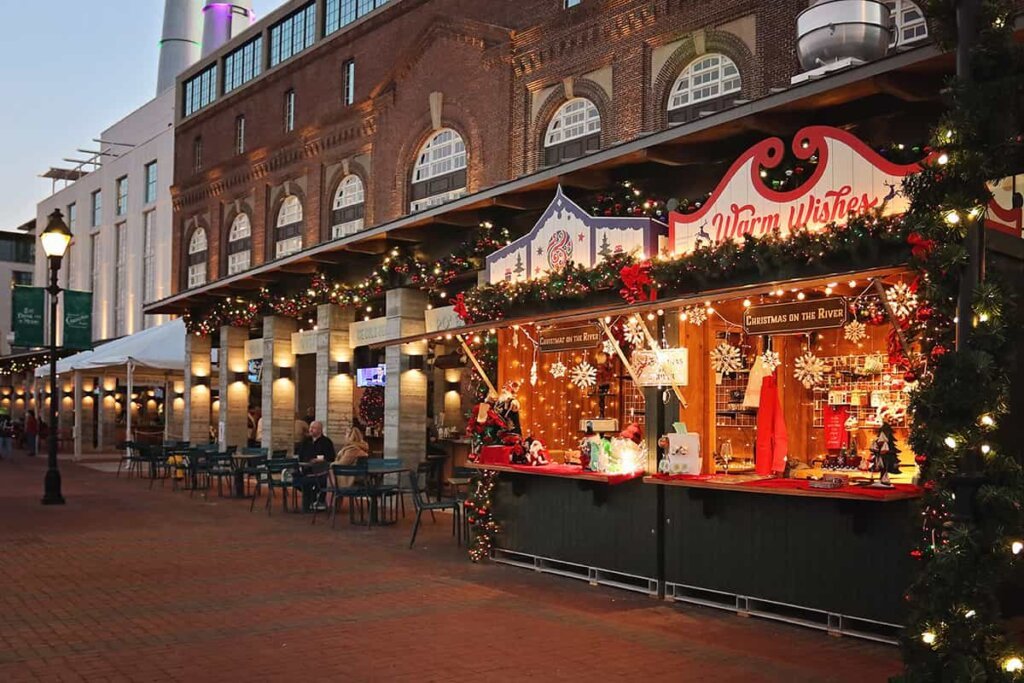 Contributed by Erin of Savannah First-Timer's Guide
December is an ideal time to visit Savannah, Georgia, for several reasons.
The temperatures are usually mild during December, with average lows in the mid-40s and highs ranging from the 60s to 70s.
You won't need to pack bulky winter coats or heavy sweaters – just toss some gloves and lightweight layers into your suitcase! Snow is practically unheard of and rain almost equally as rare.
The city looks incredibly beautiful during the holidays – especially in the Historic District!
That's where homeowners decorate historic mansions with traditional holiday décor such as Southern-style magnolia swags and candles in every window.
In fact, Christmas in Savannah is one of the prettiest times of year to visit!
The Cathedral Basilica of St. John the Baptist is a must-see landmark since parishioners fill the sanctuary with hundreds of red poinsettias.
(Please note that it's an active place of worship and be respectful towards those visiting for that reason.)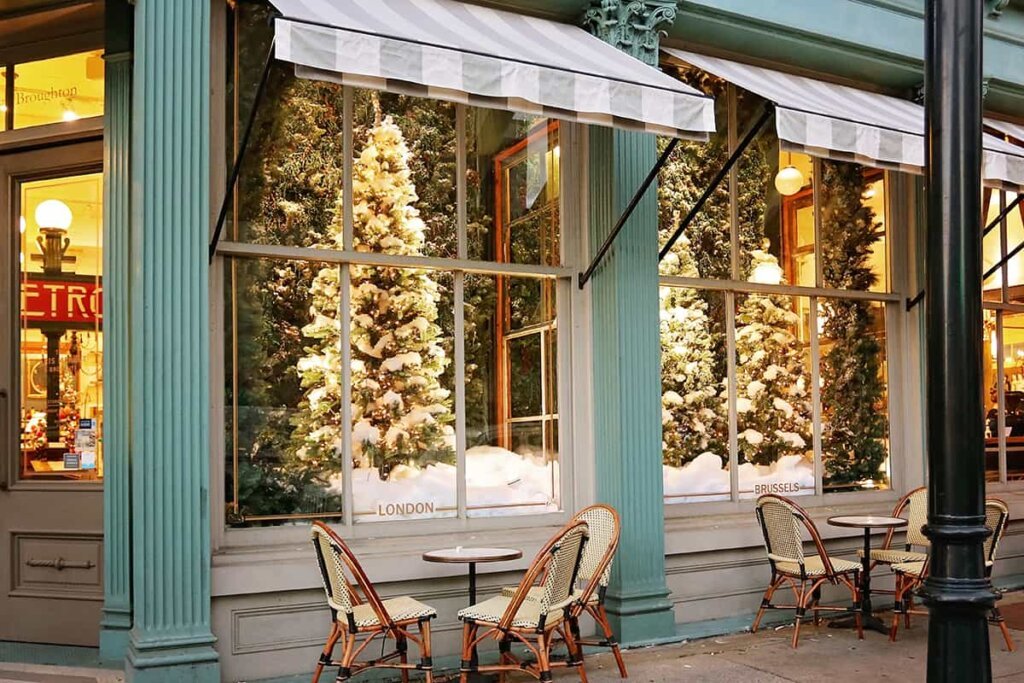 A few of the most popular events in Savannah during December include the Holiday Tour of Homes, "Christmas for Kids" in City Market, and Christmas caroling throughout the Historic District.
It's truly a "Hallmark Christmas Special" type of city!
If you need to shop for last minute gifts, head to the Design District along Whitaker Street to shop for home goods or to Broughton Street, which is considered the main shopping zone for the downtown area.
The entire street is draped in twinkle lights during the holiday season and many of the shops decorate their windows with elaborate window displays.
The official city Christmas tree is located at the intersection of Broughton and Bull streets.
Where to Stay in Savannah
The JW Marriott Plant Riverside makes an excellent place to stay since it's home to the Savannah Christmas Market.
It's within easy walking distance to entertainment options, restaurants, and historic landmarks.
Virgin Islands National Park, USVI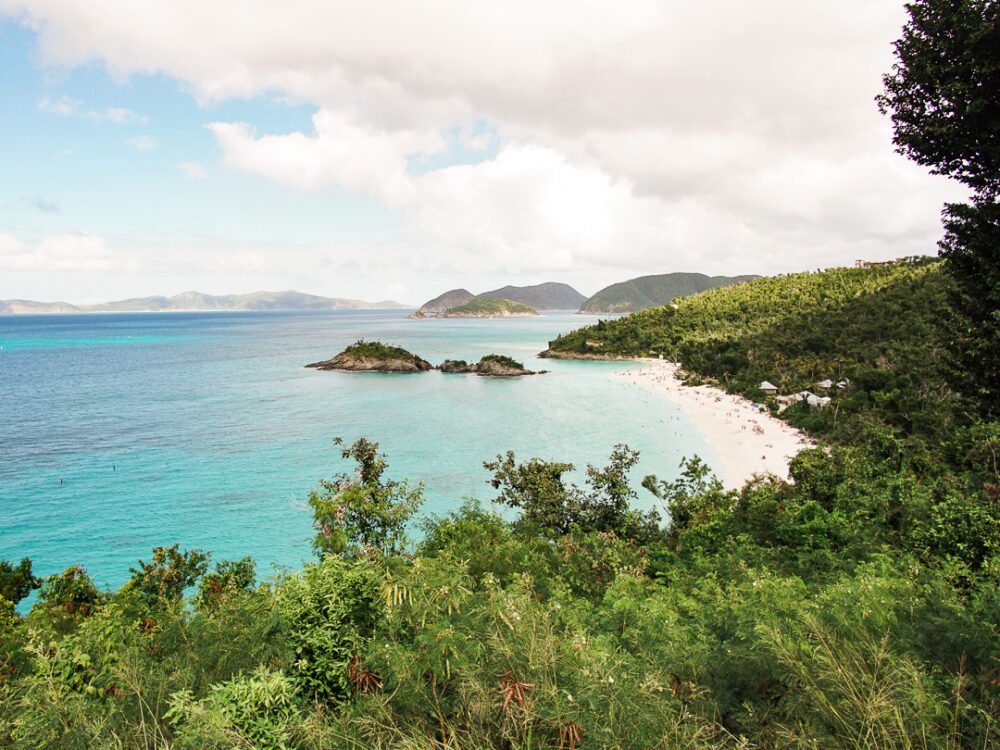 Contributed by Theresa Fueled by Wanderlust
Located on the Caribbean Island of St. John in the US Virgin Islands, Virgin Islands National Park is the perfect tropical December getaway without leaving the USA.
In December, this paradise sees average highs of 79 and lows of 68 degrees Fahreneit, as well as short, intermittent rainfalls averaging 4.3 inches.
With the backdrop of white sands and turquoise waters, the island of St. John gets into the Christmas spirit with Santa Claus decorations at restaurants and steel drum renditions of familiar Christmas hits on the radio.
The holiday season also brings mega yachts to the beaches of Virgin Islands National Park, which arrive in time for New Year's Eve.
In December, visitors can also bask in the gorgeous nature of Virgin Islands National Park, especially on the pristine beaches of North Shore Road.
With Kool-Aid blue water, some beaches see winter swells, with seafoam crashing along the shore.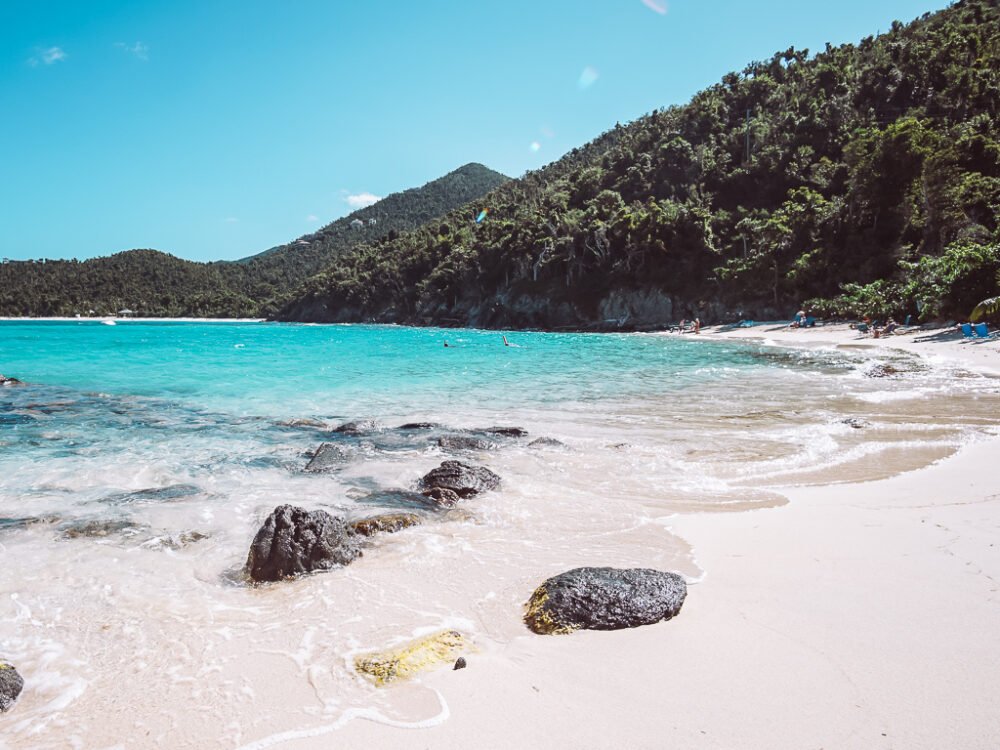 At the same time, beaches like Maho and Francis have hardly any waves and are a dream for snorkeling and stand-up paddle boarding.
December is also a great time for doing one of over twenty hiking trails at Virgin Islands National Park.
Unlike the stifling heat of summer, December's cool tropical breezes make hiking much more comfortable so you can focus on the scenery.
Either hike to a North Shore beach, such as Solomon or Honeymoon on the Lind Point Trail, or climb to sweeping views on the America Hill or Peace Hill trails.
Where to Stay in USVI
The best hotel near Virgin Islands National Park is The Westin in Cruz Bay.
The hotel is ideally located just 5 minutes by taxi or rental car from Cruz Bay's shops, restaurants, and ferries.
It is also very easy to catch a taxi for transporting between The Westin and various beaches and hiking trails, rendering an expensive rental car unnecessary.
Miami Beach, FL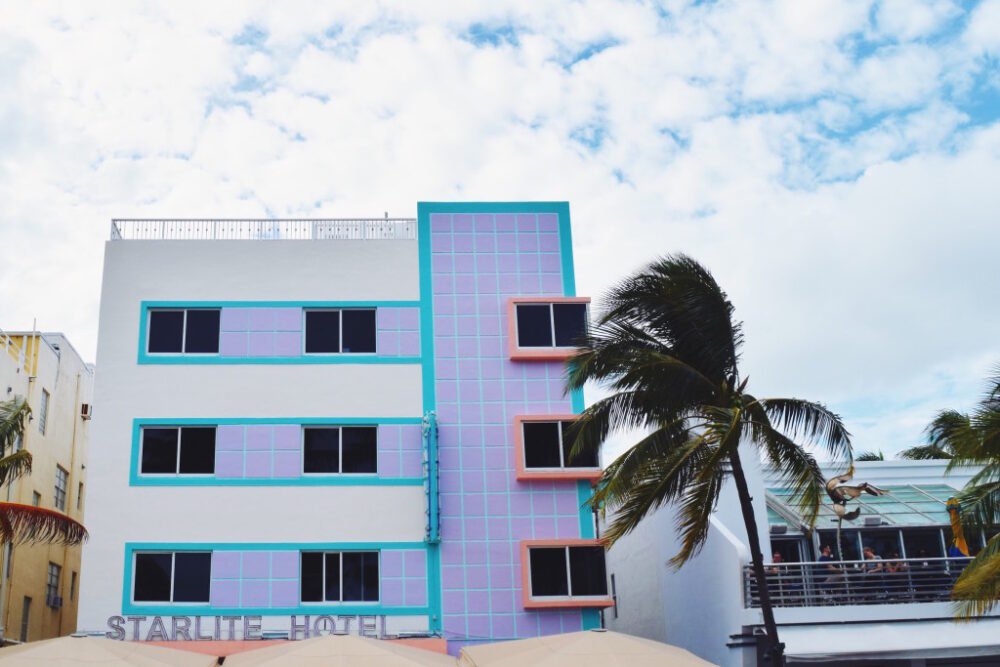 Contributed by Victoria of Culture Travel
Miami Beach is the perfect place to escape the cold while still staying in the United States this December.
The weather reaches a balmy 74° on average in January, and falls to an average low of 63° overnight.
There's typically no more than 4 rainy days in the month, so rain will rarely ever interrupt your plans!
For the warmer days, there's nothing nicer than a swim in the Atlantic Ocean followed by a relaxing lounge on a beach chair.
If you're feeling more active, why not rent a jet ski and ride around the ocean, admiring the South Beach skyline from the water?
If you're a sports fan, don't miss a Miami Heat game – a great activity for the rare rainy Miami day in winter.
A quick cab ride down Collins Avenue takes you straight to the nightclubs if you want to dance all night long.
Miami Beach welcomes some of the best DJs in the world each year so check out places like LIV and Story ahead of time to see what the lineup will be!
December and January are great months to visit Miami Beach and escape the cold winter weather much of the rest of the country has to endure! 
Where to Stay in Miami Beach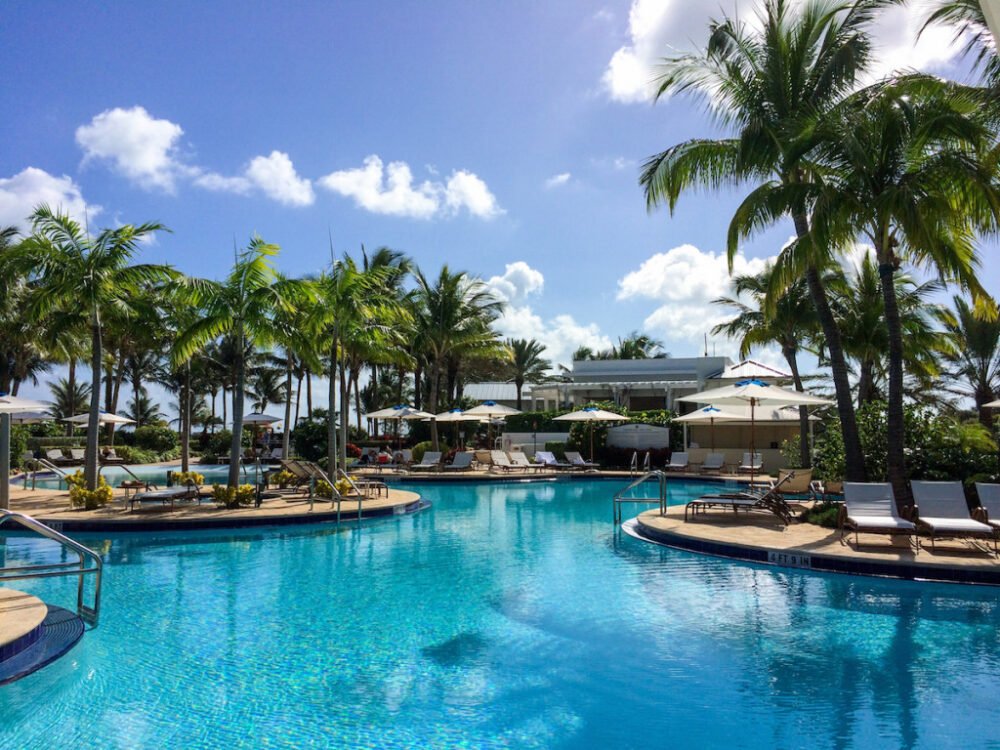 The Mid-Beach area of Miami Beach is the best place to stay — it keeps you close to all the action of South Beach, yet far enough to not be disturbed by the noise and partying. 
The best mid-range hotel is the AC Miami Beach Hotel which is one block away from the beach and has a rooftop pool with restaurant service.
Beach chairs are included in your stay too! For a more luxury option, go for the swanky Edition Hotel, just across the street.
Nashville, TN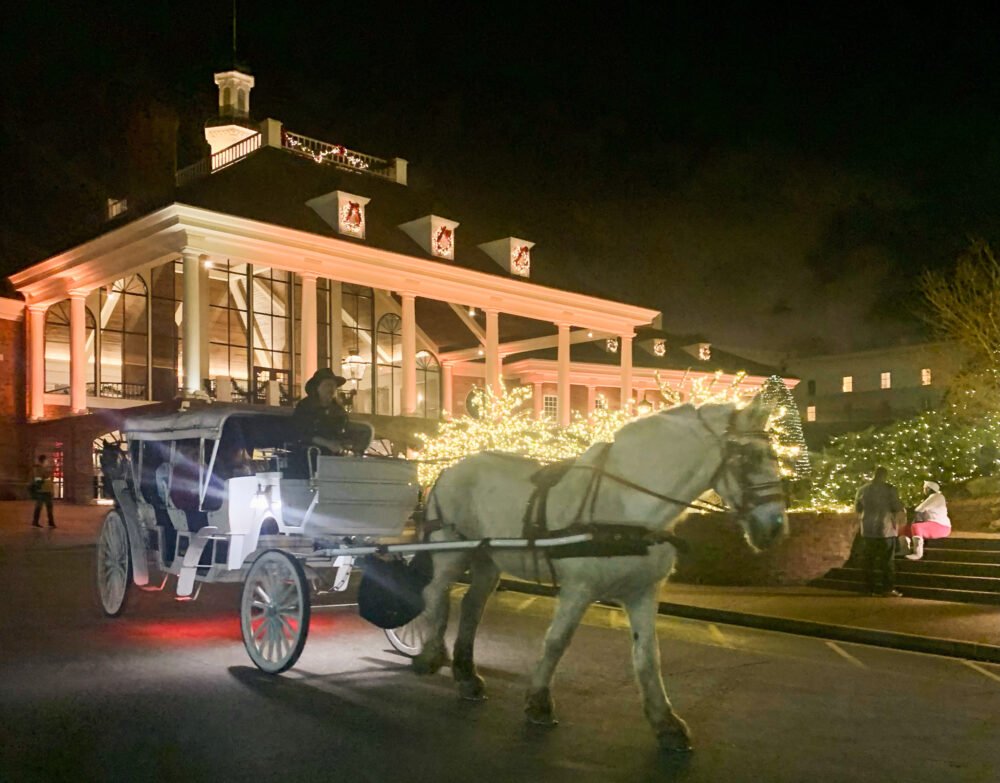 Contributed by Tori of Tori Pines Travel
Nashville might be known for its summer nights listening to country music at a festival, but there is so much more that this city offers in the colder months.
A trip to Nashville is one of the best places to visit in the USA in December. The weather is pleasant, with an average high of 51 degrees and low of 32 at night and the average rainfall of 8 days this month.
This means you can wear all of your cute winter sweaters and leg warmers without freezing while you're out exploring the city!
You don't have to spend your whole trip listening to country music on Broadway. In fact, you don't have to listen to a single country song if you don't want to!
One of the best Christmas things to do in Nashville includes a visit to the Gaylord Opryland. It's a massive hotel with large indoor atriums filled with plants, flowers, restaurants, and a river that you can actually ride around!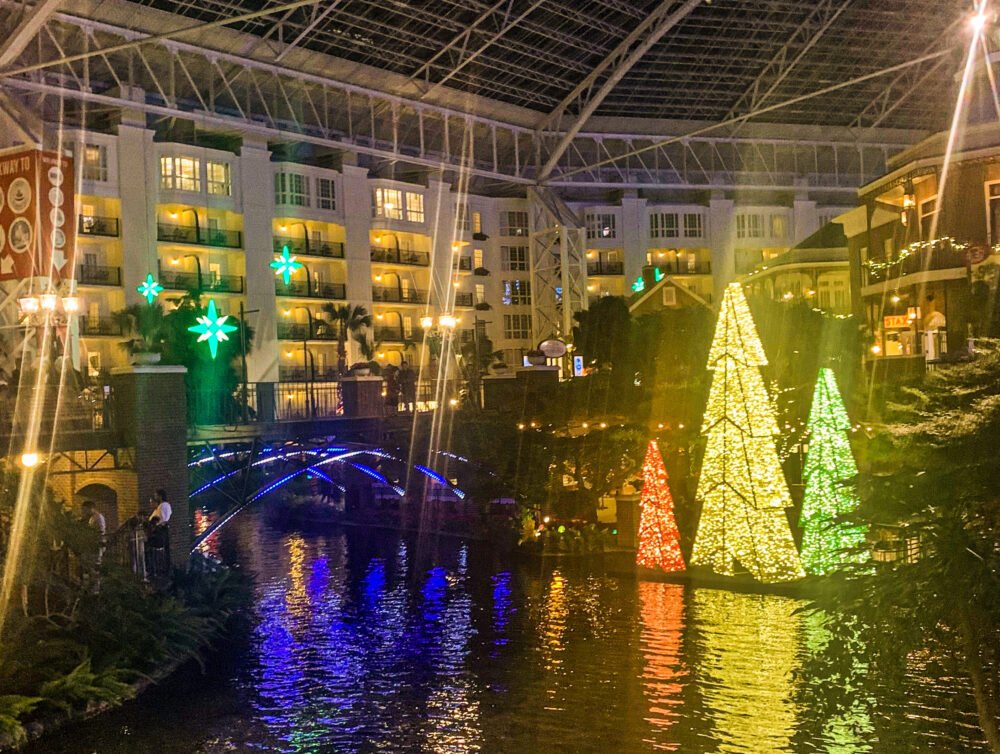 The place is especially magical in December as every inch is decorated for the holidays. Wander around, hot cocoa in hand as you listen to the holiday music and enjoy the lights.
Spend another evening on the General Jackson Showboat, where you'll have a 4-course dinner and a show while riding down the Cumberland River.
The river runs through downtown so you'll get the best views of the city. This is especially fun if you'll be visiting for New Years Eve, so book tickets and watch the fireworks go off over the city as you count down the new year.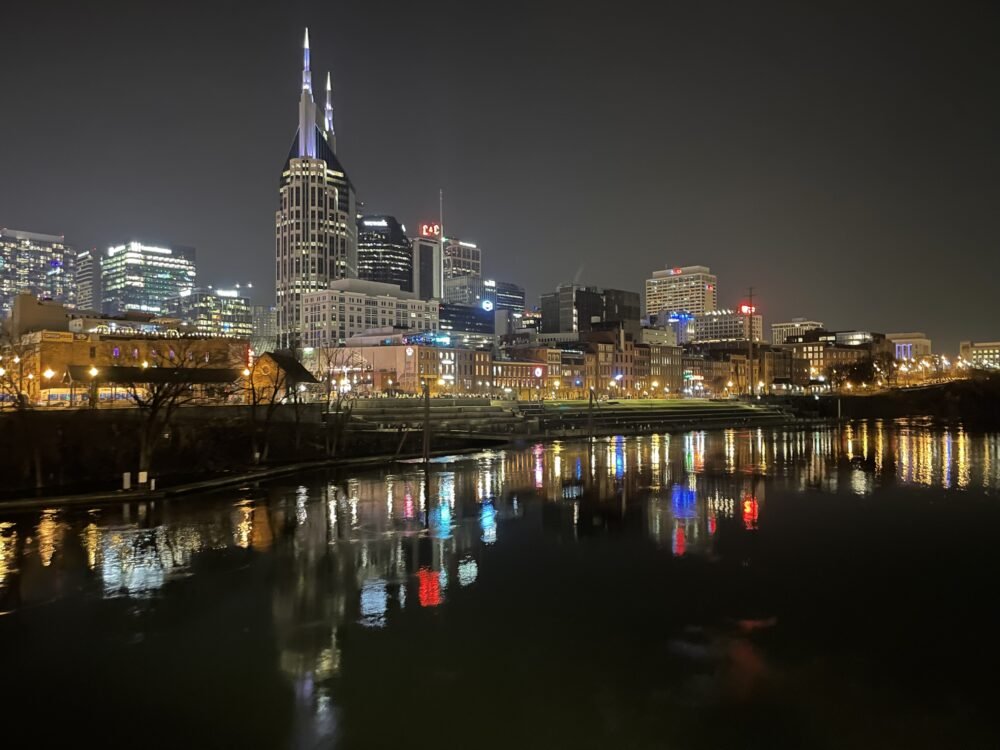 Finally, check out some of the city's pop-up bars that show up during December!
These temporary holiday themed bars are intricately decorated and have the most fun cocktails. The themes change, but often you'll see Home Alone, Misfits, and Nightmare Before Christmas to name a few.
Where to Stay in Nashville
With all of these things to do in Nashville during December, you'll need to find the perfect place to stay to fully immerse yourself in the experience.
Book a few nights at the Bobby Hotel where you will have a comfortable and luxurious room, and will be within walking distance to everything downtown.
The best part? The rooftop of this hotel turns into a winter wonderland this month with igloos and holiday themed drinks. You won't even want to leave your hotel!
Key West, FL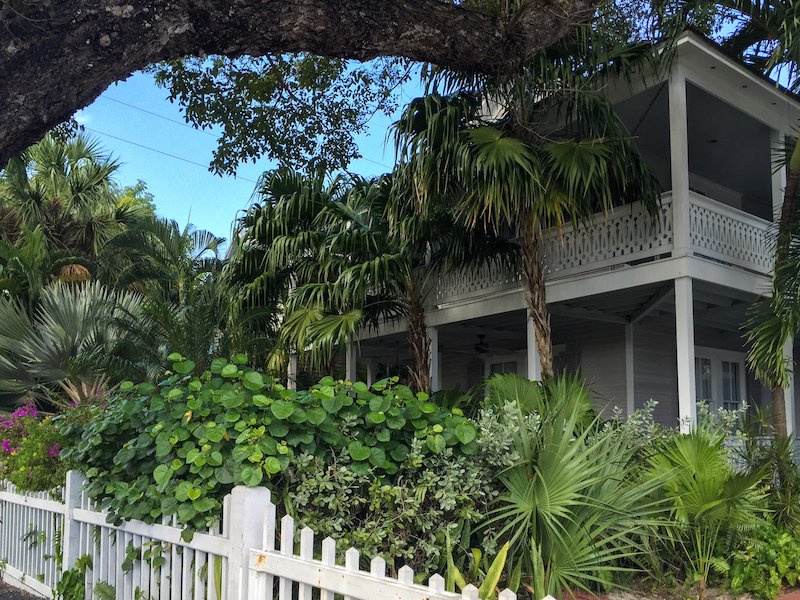 Contributed by Megan of Megan & Aram
If you're after one of the best warm weather spots to visit in the US during December, Key West is a fantastic choice!
The island sits at the end of the Florida Keys archipelago and is a 3-3.5 hour drive from Miami without stops.
Getting to Key West is half the fun so be sure to stop at Islamorada, Key Largo, Marathon (some of the Keys' best snorkeling), and Bahia Honda State Park on the drive. Alternatively, you can fly there from various parts of the US!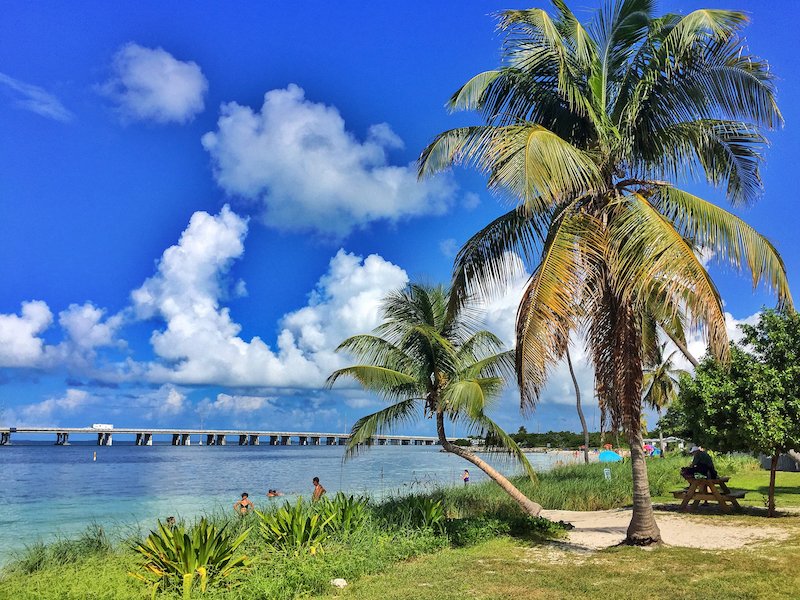 Key West's average high is 77F (with lows of 70F) during December but what makes the destination particularly attractive is that the tropics have quieted down and the month only averages 3 rainy days.
And in Florida, fewer rainy days means fewer mosquitoes!
During December, you will find plenty of seasonal things to do such as go on a Holiday Historic Inn Tour, check out the annual Lighted Boat Parade, or attend the I Love Stock Island Festival.
New Year's Eve is a popular time to visit the island and there are events all across Duval Street, including a conch shell lowering at midnight at the famous Sloppy Joe's Bar.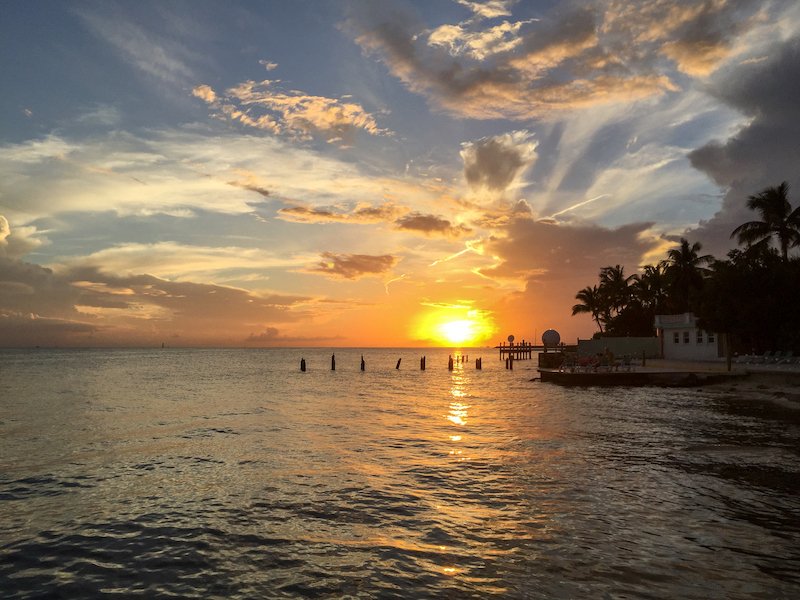 No trip to Key West is complete without going on a snorkeling tour or a day trip to Dry Tortugas National Park.
Be sure to book the Dry Tortugas trip in advance as it fills up quickly during this time of the year. 
This is also the prime time to go on the search for the best key lime pie in Key West!
Where to Stay in Key West
You'll find a range of great accommodation options from the luxurious Opal Key Resort & Marina to the budget-friendly Southwinds Motel.
Key West will definitely cure you of the winter blues during December!

Mount Dora, FL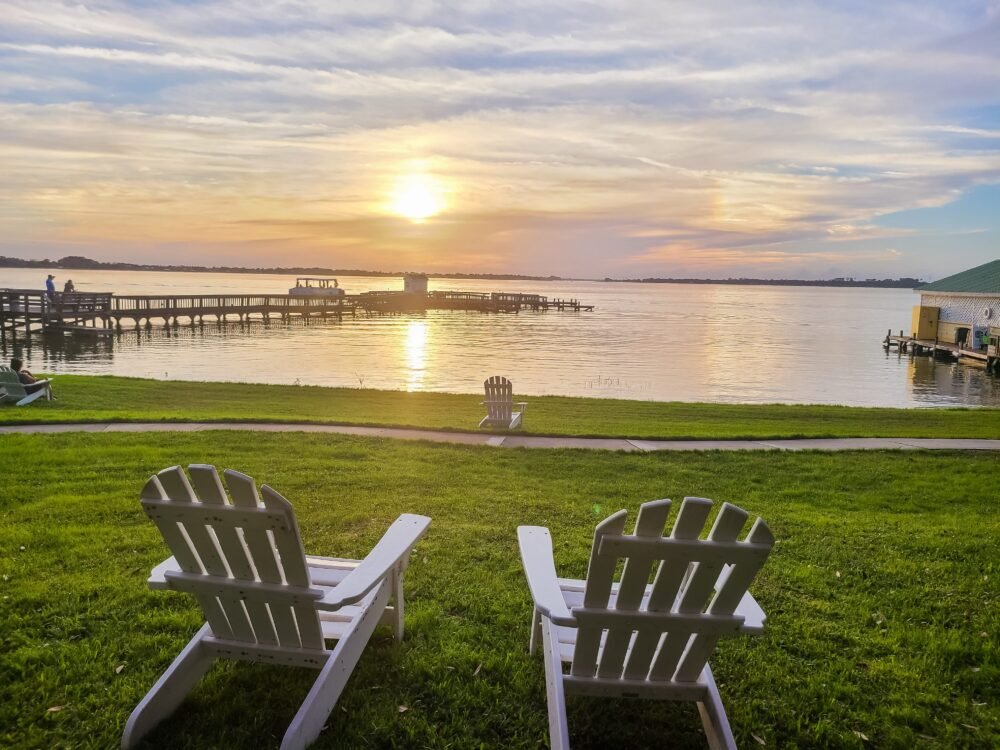 Contributed by Erin at Super Simple Salty Life
Mount Dora is an adorable lakeside town located in central Florida just 30 minutes from Orlando.
Hosting over 30 festivals a year, this small yet lively town loves to celebrate with events such as wine walks, art strolls, antique shows, and craft beer festivals.
It is no wonder Mount Dora was voted one of the friendliest small towns in Florida!
While a visit to Mount Dora is always a good idea with Florida's temperate climate year-round, planning a trip in December is truly a treat.
With average highs around 72°F and lows in the mid-50's and very little rain, winter is the perfect season to escape the colder climates up north.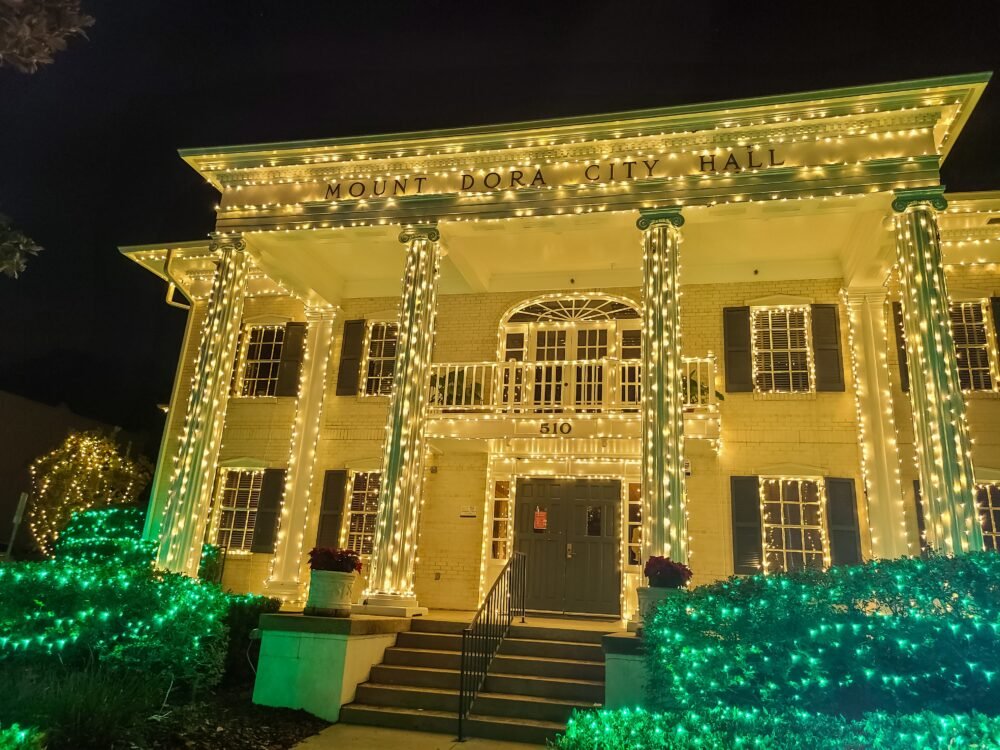 And this quaint town knows how to go all out for the holidays! Every historic building, local shop, window display, and bed and breakfast gets decked out in thousands of twinkling lights.
City Hall is a masterpiece of holiday cheer, and multiple weekends in December a sledding area is roped off in the downtown square complete with blown-in "snow"… without the cold chill!
Because of the mild weather, and with the town being situated right on the shores of beautiful Lake Dora, a boat tour is another great way to experience the area.
There are also fishing charters, kayak launches, and hiking trails around the lake right outside of downtown.
Where to Stay in Mount Dora
Since Mount Dora dates back to the 1800's, there are many historical Victorian-style buildings still present and currently operating as unique bed and breakfasts.
The most popular place to stay in town is the Lakeside Inn, the oldest Victorian-era hotel still operating in Florida.
With 90 guest rooms, a lakeside swimming pool, and docks leading out over Lake Dora, it is a spectacular place to watch a famous Florida sunset!
New Orleans, LA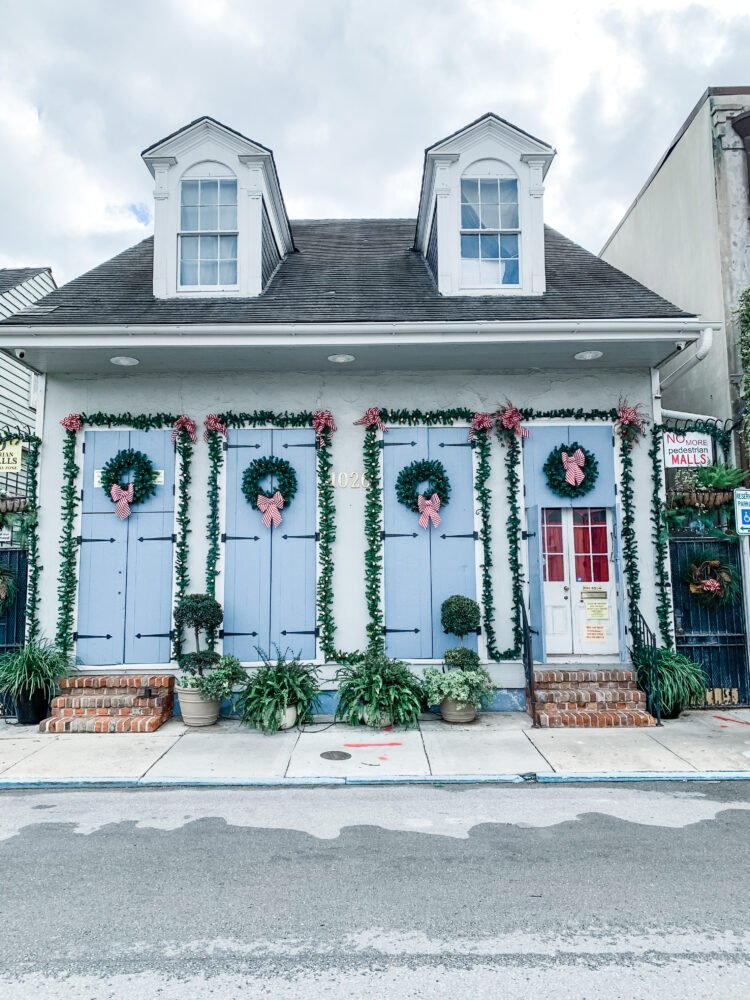 Contributed by Mallory Lindsly from Plaid Shirt Yoga Pants
New Orleans is a great place to visit in December because the weather is cooled off – yet not freezing!
There are so many holiday events in December that your whole week will easily get filled.
Winter in New Orleans is mild. During December, the temperatures range from 46-65 degrees, making it the perfect destination to get out of snow but still feel a chill in the air.
New Orleans is known for throwing parties, and the predominantly Christian area loves to celebrate Christmas and all of the traditions surrounding the holiday.
Many New Orleans hotels decorate their lobbies with extravagant Christmas and holiday lights.
Multiple bars also create holiday-themed drinks and serve them in adorable cups. You could spend a whole day exploring the French Quarter lobby and bar hopping.
Of course, you cannot visit New Orleans without thinking about food!
Each December, some of the top restaurants host a Reveillon Dinner to celebrate the season.
Reveillon dinners are typically celebrated the day before Christmas, after midnight mass, but the tradition has evolved with true New Orleans fashion.
Instead of waiting for one day to have a Reveillon Dinner at home, you could go and enjoy an intimate tradition for the whole month of December.
Where to Stay in New Orleans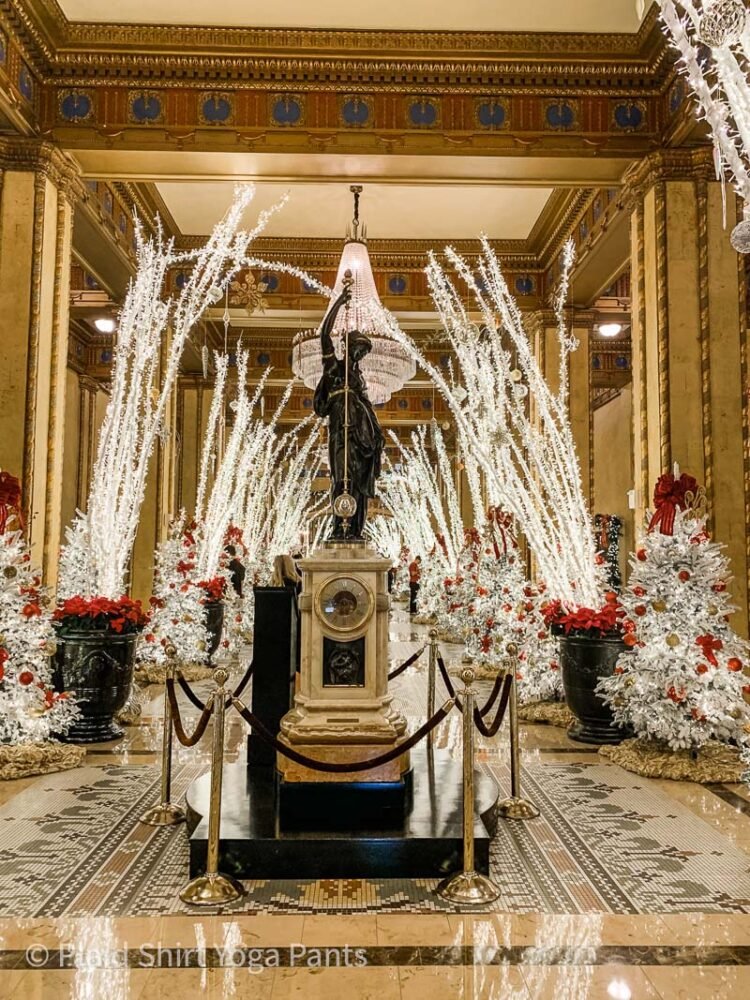 The best hotel to stay in is the Roosevelt New Orleans – A Waldorf Astoria Hotel.
Waking up each morning to see the lobby in the dazzling Christmas lights will get you in the spirit!
Not only is The Roosevelt one of New Orleans locals' favorite hotels, it's also just a fantastic place to stay with many wonderful amenities.
Pensacola, FL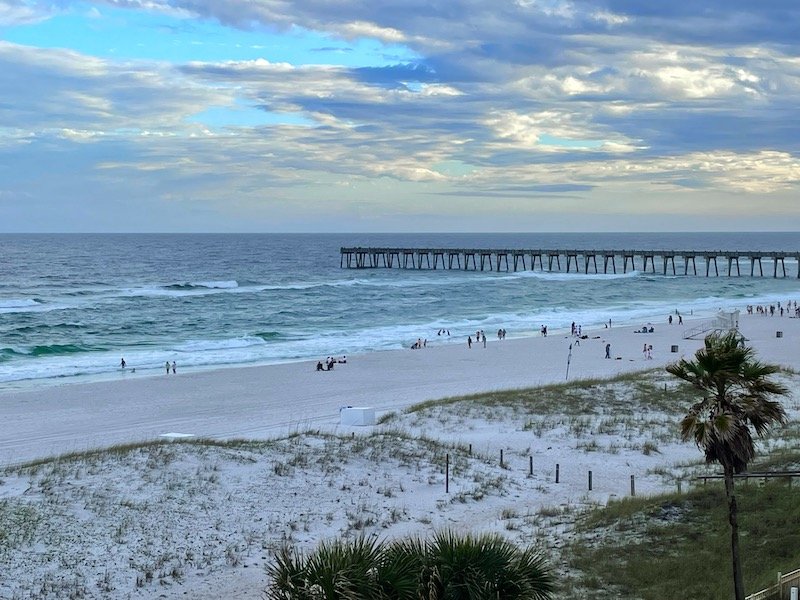 Contributed by Roshni from TopTreehouses.com
If you're looking for a festive warm weather destination then Pensacola in Florida is the perfect spot.
Located along the Panhandle in Northwest FL, Pensacola is relatively quiet during December.
However, since the temperature remains in the mid 60s and hurricane season is well and truly over, it's perfectly comfortable for enjoying the landscapes and outdoor activities available.
From dolphin watching off the Gulf of Mexico, exploring the US' most visited National Seashore at Fort Pickens to glow paddle boarding along the bay, there's plenty to do.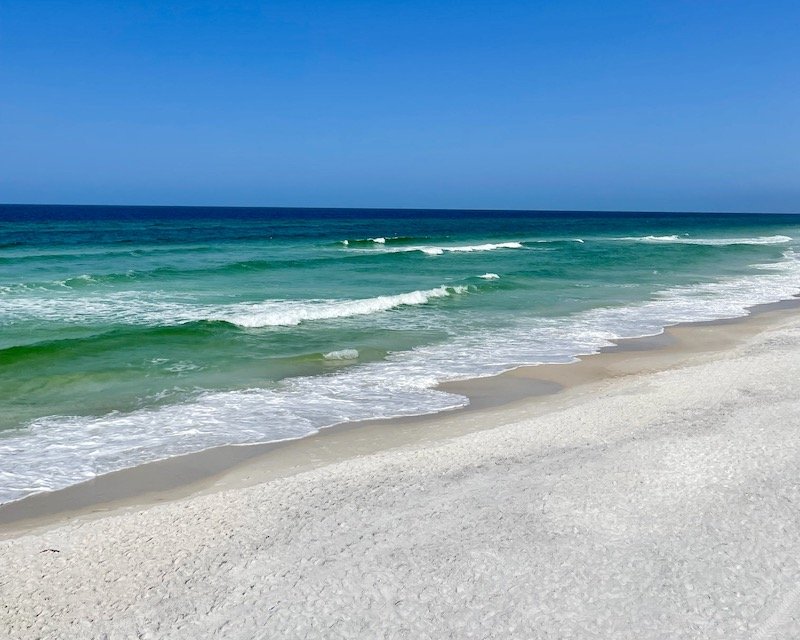 However if you are looking for more of a festive escape, head downtown to the Pensacola Christmas Parade.
Expect bands to be playing, the well known Blue Angels flight team to be soaring in the skies, and all profits from the event go towards local high school bands!
For even more festive fun, head over to Pensacola Winterfest. Here you can meet Santa (or the Grinch!), ride the Polar Express, and go on a tour with Scrooge.
Where to Stay in Pensacola
One of the best places to stay in Pensacola is at the seafront Hampton Inn Pensacola Beach.
Not only will you have a view of the emerald green oceans that make this coastline so popular but it is also within walking distance of the Gulf Pier and plenty of restaurants and bars.
Orlando, FL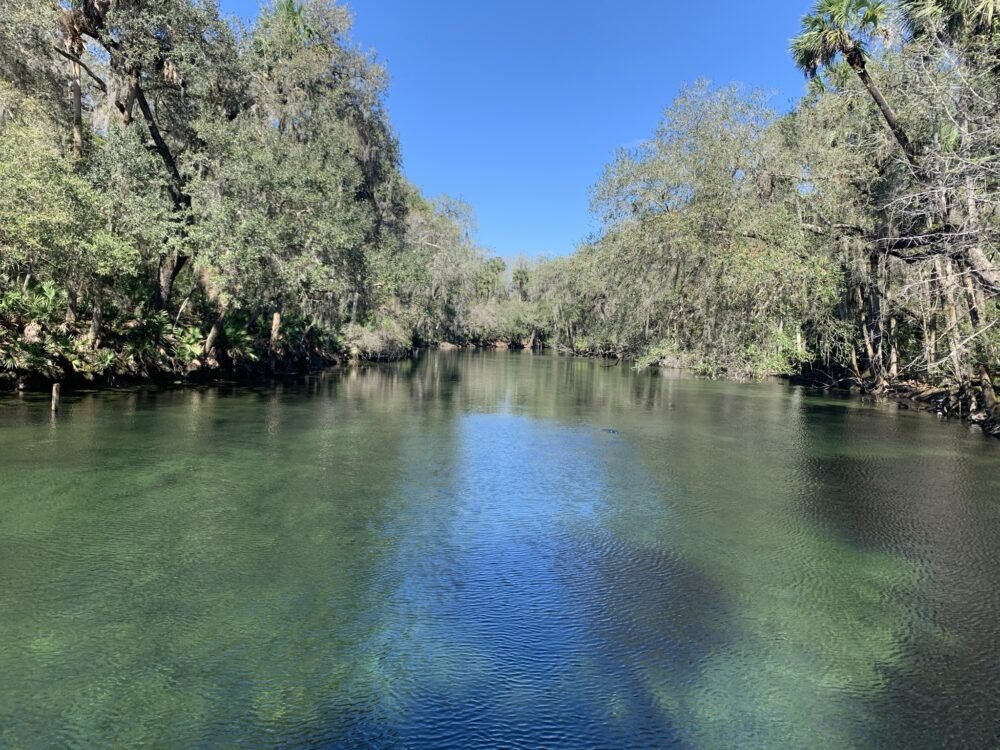 Contributed by Candice of CS Ginger
Orlando, Florida is a great place to visit in the USA during December.
Orlando is a beautiful and fun destination throughout the year, but in December, you get some of the best things it offers. You have the best weather combined with some of the best decorations and experiences.
The weather is perfect for spending time outdoors, and there are plenty of activities to enjoy. 
The average high temperature in December is 75 degrees, and the average low is 55 degrees.
If you're looking for a festive atmosphere, you can't go wrong with Orlando's many Christmas events. 
If you're craving some sun and sand, the city's beaches are just a short drive away. No matter what your interests are, you're sure to find something to love about Orlando in December.
There are endless activities, whether you are visiting the theme parks or visiting fun day trips like the Kennedy Space Center of the natural springs where you can see the manatees.
The many theme parks always have great Christmas décor, which really makes you feel the spirit of Christmas. You will love all the great Christmas themes and decorations. 
Where to Stay in Orlando
If you are looking for a luxurious and unique place to stay in Orlando, you should stay at Disney's Animal Kingdom Lodge.
The lodge makes it feel as though you are staying on an African safari!
You will see hundreds of different animals like zebras, giraffes, and beautiful birds inside the Safari Park. 
Naples & Marco Island, FL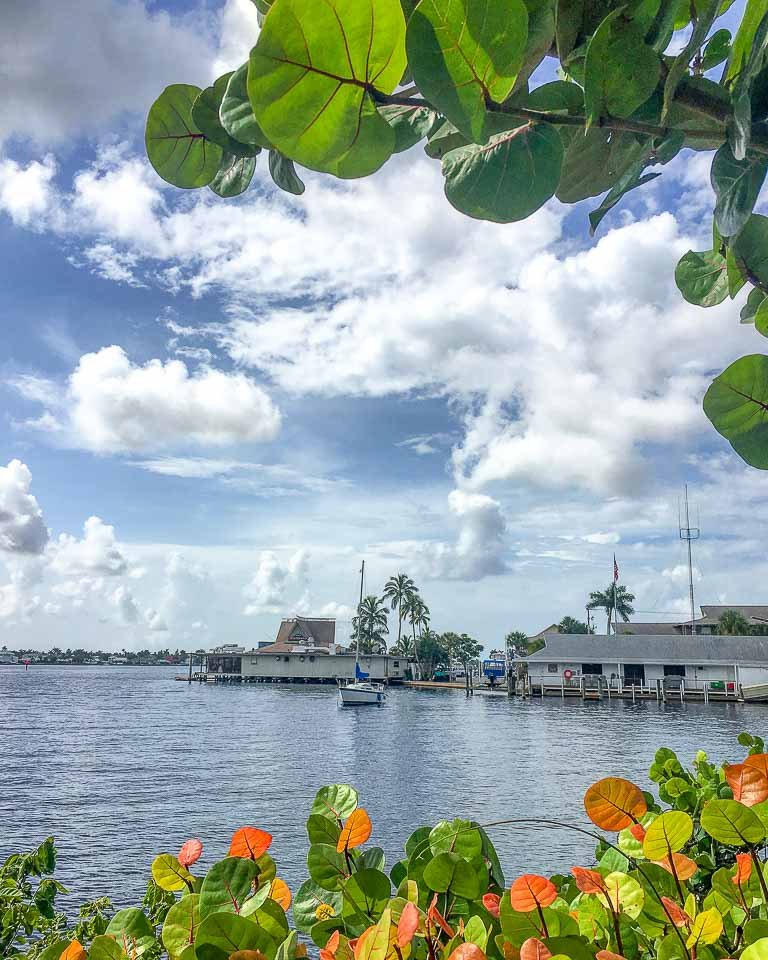 Contributed by Lori of Naples Florida Travel Guide
When you want to escape the cold up north, the Paradise Coast in southwest Florida is the perfect place to go. Naples and Marco Island offer everything you could want in a tropical destination without leaving the US!
The winter months of December through March are the dry season so the chances of rain are slim to none, and average daytime temperatures are a pleasant 78 degrees. 
The festive event Christmas Naples, the annual Christmas tree lighting on 5th Avenue heralds the start of the holiday season.
In the following weeks, you'll enjoy dozens of Christmas boat parades in Naples and Marco Island. Boats of all sizes show-off their festive holiday lights and costumes as they pass by playing holiday music and vying for prizes. 
With clear blue skies there are an endless array of activities centered around the warm waters of the Gulf of Mexico and beautiful uncrowded white sand beaches.
Rent a boat, jet ski, stand-up paddle board, or kayak to Keewaydin Island, an island between both cities that's only accessible by boat. There are countless tours to see dolphins and manatees, or go looking at seashells and fishing.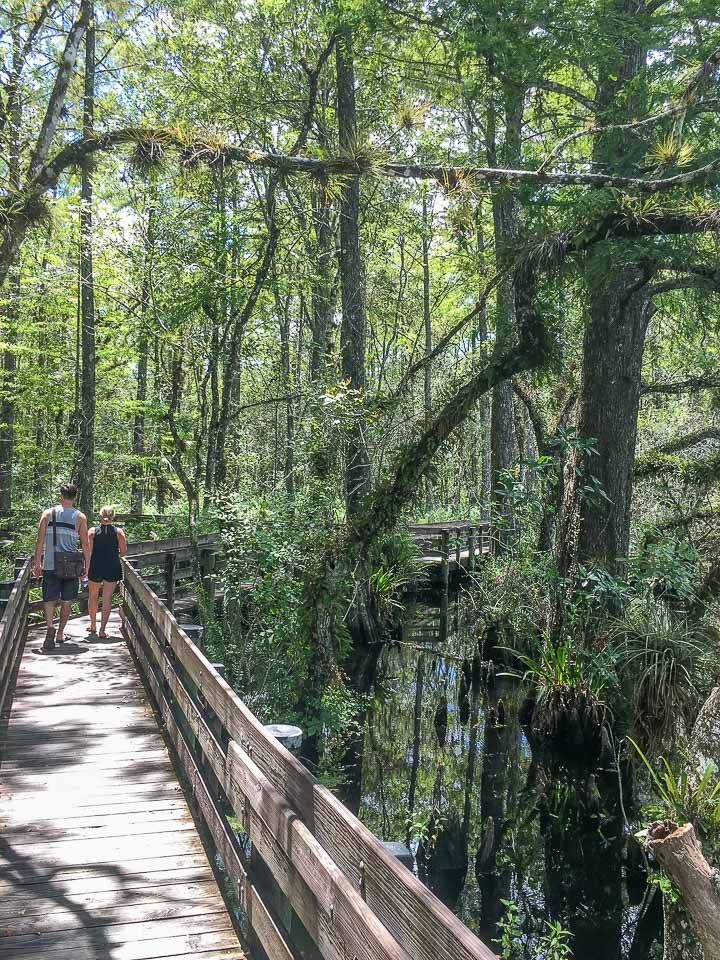 For a taste of nature, the Everglades are just minutes from both cities where air boating and hiking are great activities in December.
But for many, a relaxing day sunbathing and beach combing at any of the beautiful beaches will be just right for a December US getaway!
Where to Stay in Naples
For accommodations, the Naples Grande Beach Resort is one of the best beachfront hotels in Naples with an elevated boardwalk through the mangroves to the beach.
There are plenty of activities and an insane outdoor pool perfect for families. On Marco Island, the JW Marriott is the premier place for families with every beach amenity you can imagine.
Disneyland, CA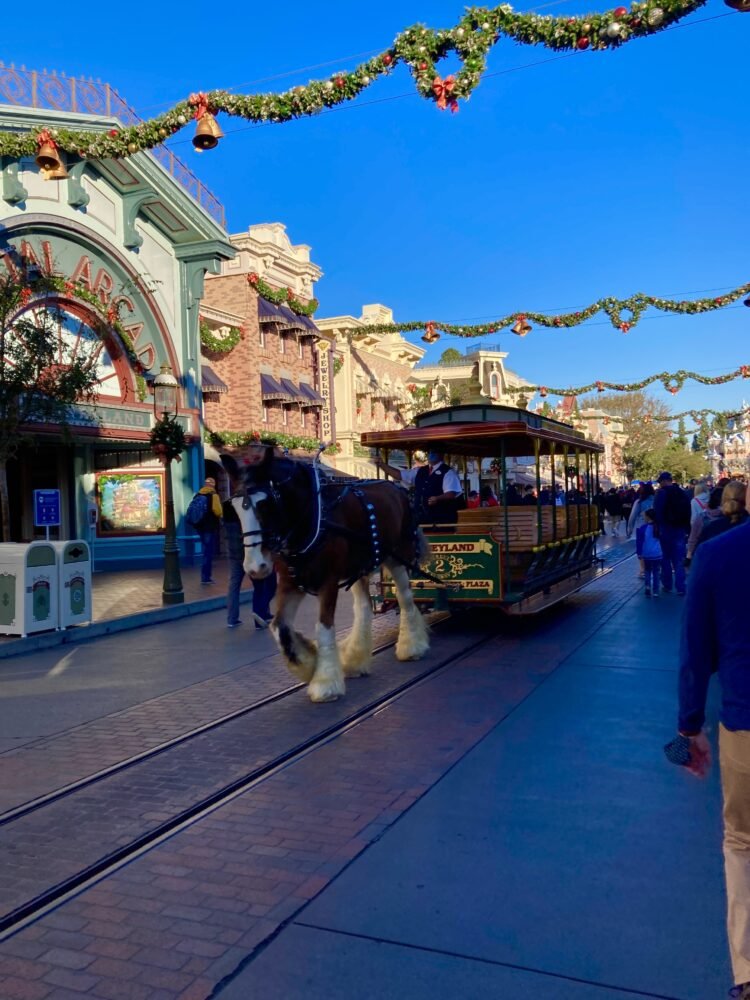 Contributed by Faith of 3 Tickets Please
While Disneyland is… yes, magical year-round, nothing can put you in the holiday spirit quite like a few days in the park in December!
From holiday inspired treats to special shows and events, December at Disneyland is for the kid in all of us.
Disneyland is decorated for the holidays from Mid-November through the beginning of January.
The halls are decked at both Magic Kingdom and California Adventure.
However, by far the most impressive holiday decoration is Sleeping Beauty's Castle.
With over 120,000 LED lights, the castle's transformation as dusk turns to night is awe inspiring.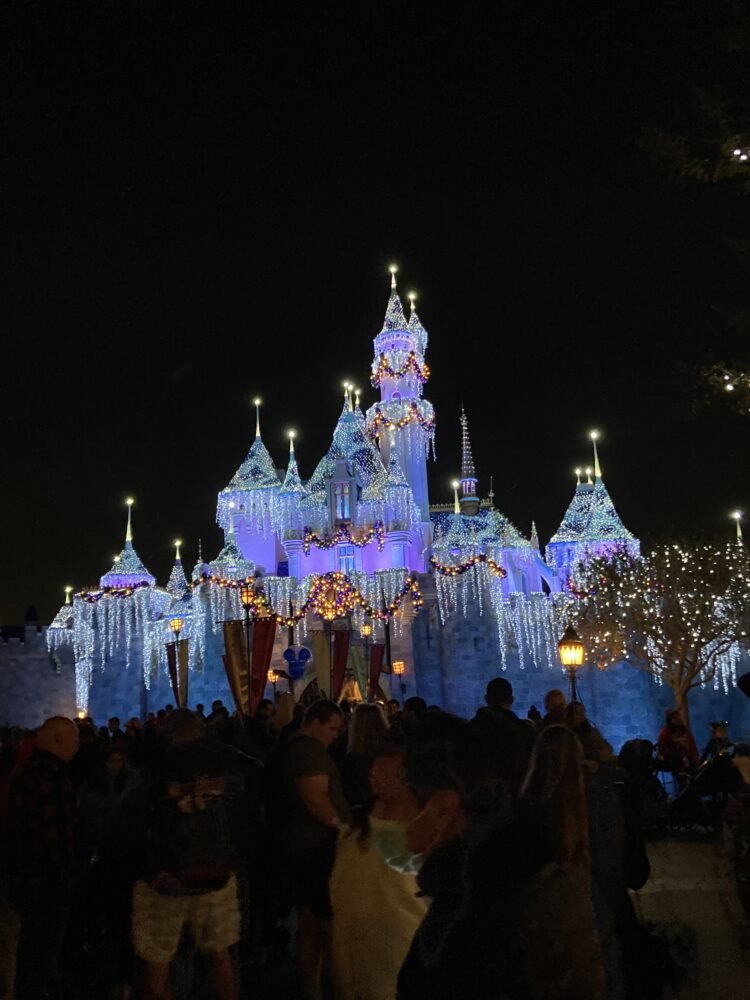 At California Adventure, mid-November through January also brings the Festival of Holidays.
A celebration of diverse cultural festivities and food, the event offers a unique food marketplace that is only available during the holiday season. 
If Disneyland itself is not enough, the weather is another perk of any December trip to Anaheim.
With average high temperatures of 68 and lows of 48, mornings and evenings at the park are brisk but not chilly, and afternoons with Mickey are truly glorious!
Where to Stay near Disneyland
Those with a bigger budget may want to stay on property at one of the three Disneyland property resorts. But our time at Disneyland is always on a budget. For budget travelers, we recommend the Clementine Hotel.
Less than a mile from the park, but with a full kitchen to make some of those meals that would cost a fortune in the park, the Clementine is a great option for your December trip to Disneyland. 
San Diego, CA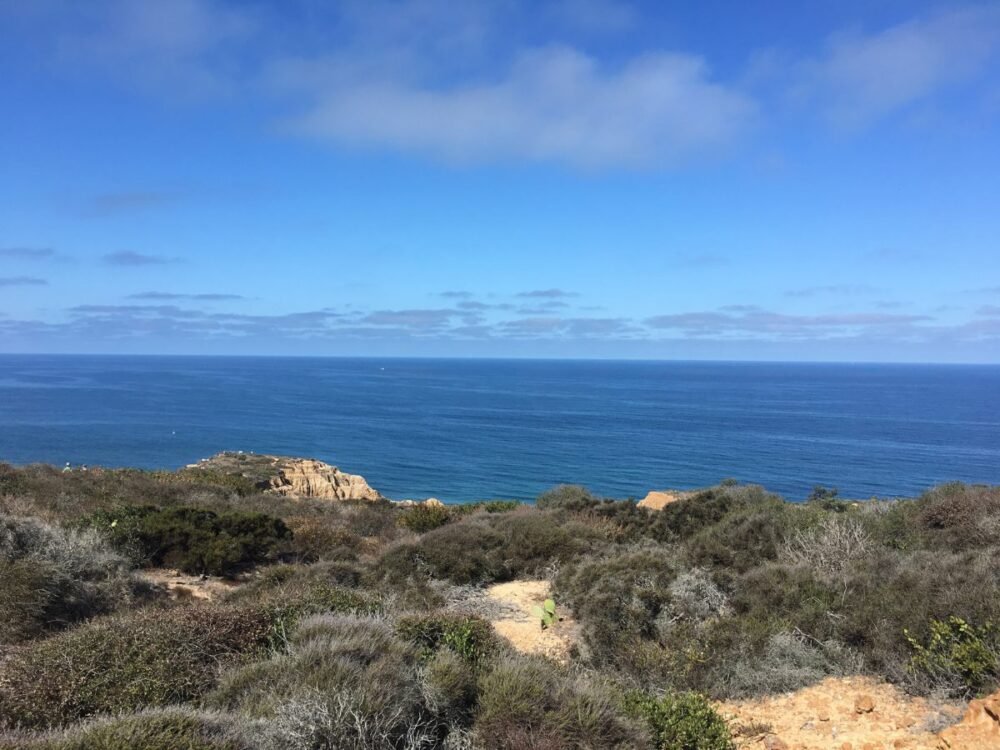 Contributed by Kristin Lee of Global Travel Escapades
Dreaming of a sunny beach vacation when most everywhere else in the country is battling the cold?
Look no further than sunny San Diego in Southern California!
With an average high temperature of 66°F, an average low of 49°F, and only 4 days of rain, San Diego is the perfect place to escape the winter blues.
And what's a beach vacation without some surfing? San Diego is globally recognized as one of the best places in the world to surf!
Therefore, be sure to bring your surfboard, rent one, or take some lessons if you're interested in surfing in San Diego!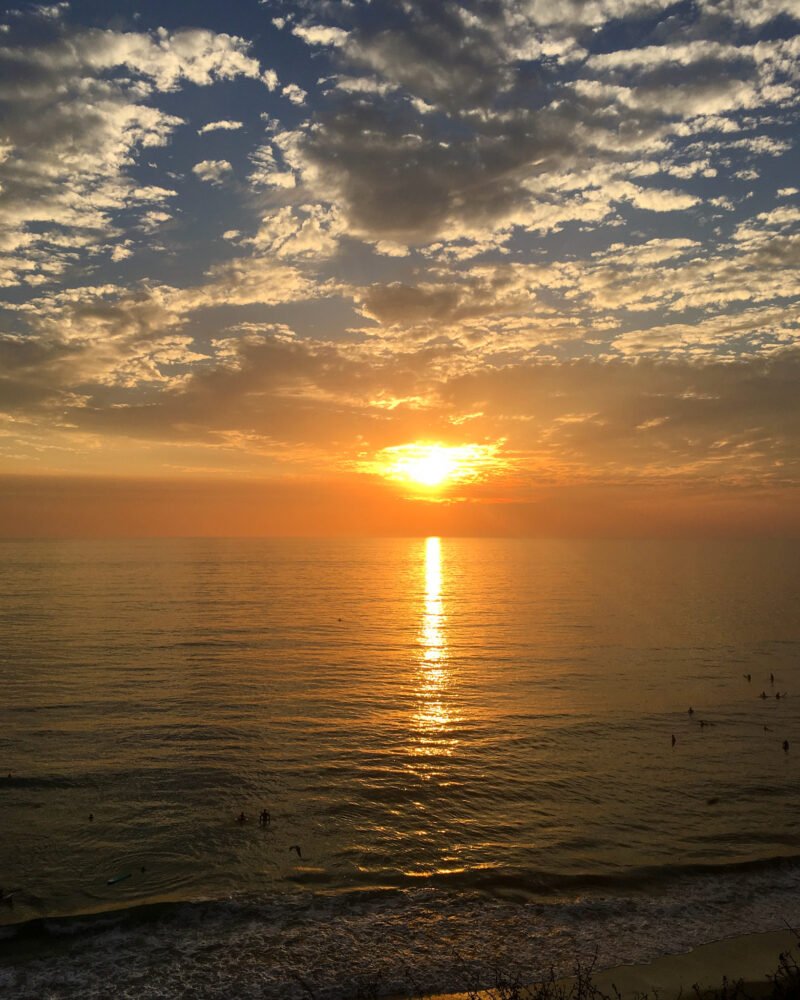 Another popular activity that will undoubtedly take your breath away is whale watching.
December through April is peak season for whale watching in San Diego!
In fact, over 20,000 gray whales migrate along the California coast, so you definitely won't want to miss the opportunity to see these majestic creatures pass by!
So if you're ready for a warm holiday getaway, head to gorgeous San Diego!
Where to Stay in San Diego
When you're ready to relax after a day of exploring, head back to your room at the Sheraton San Diego Hotel & Marina.
This hotel is right next to the harbor, offers guests stunning waterfront views, and has all the amenities you need for a comfortable stay.
San Antonio, TX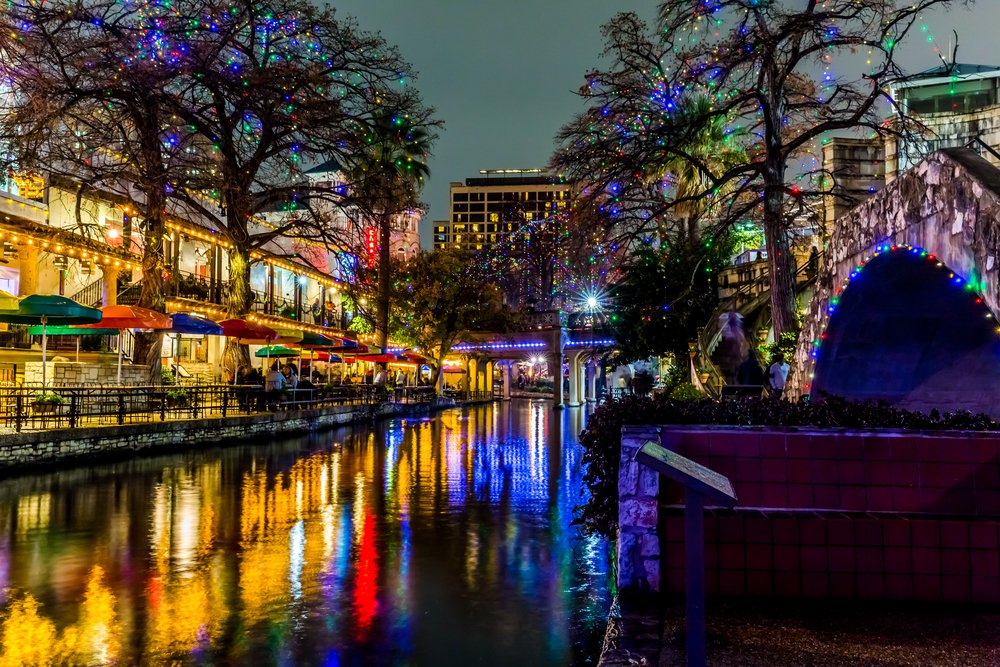 Contributed by Victoria of Texas Travel 365
One of the best places to visit in the USA in December is San Antonio, Texas.
After all, the vibrant Riverwalk comes alive with holiday cheer since it hosts its very own Christmas Parade!
Explore this incredible area and admire twinkling lights as you see boats full of Christmas carolers glide by. 
Additionally, another great place where you can enjoy fun holiday activities are the historic Spanish Missions. In total, San Antonio has five of them, including the famous Alamo.
They all get decorated for the holidays, in addition to hosting a wide array of events that include Holy Day Feasts, Christmas vigils, and mariachi masses!
Just arrive early and be prepared for crowds since the Spanish Missions are quite busy at this time of year.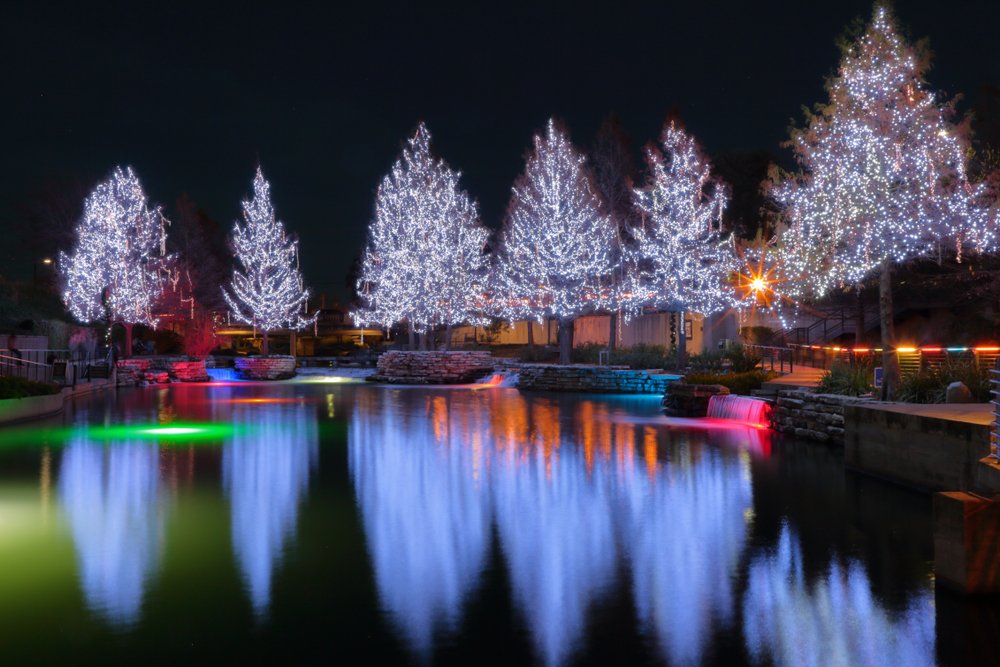 Whatever you do though, don't leave San Antonio without driving through Elf Acres.
It is easily one of the best ways to enjoy Christmas in San Antonio since you get to drive through 20 acres of vibrant Christmas lights.
There's even a Santa's Village and a spot for you to grab some hot cocoa before grabbing a pic with Santa himself. 
You'll also love that December is pretty mild in San Antonio. In fact, daily highs are around 65 F while daily lows get down to 40 F.
Therefore, all you'll need is a warm, waterproof jacket since you can also expect four days of rain during the month. 
Where to Stay in San Antonio
When you're ready to call it a night, spend the evening at the Hyatt Regency on the San Antonio Riverwalk.
It's a beautiful, 4-star hotel that has a pool and spa on-site for guests to enjoy. The Q Kitchen Bar is also on the premises and serves some great Texas-style BBQ!
St. Augustine, FL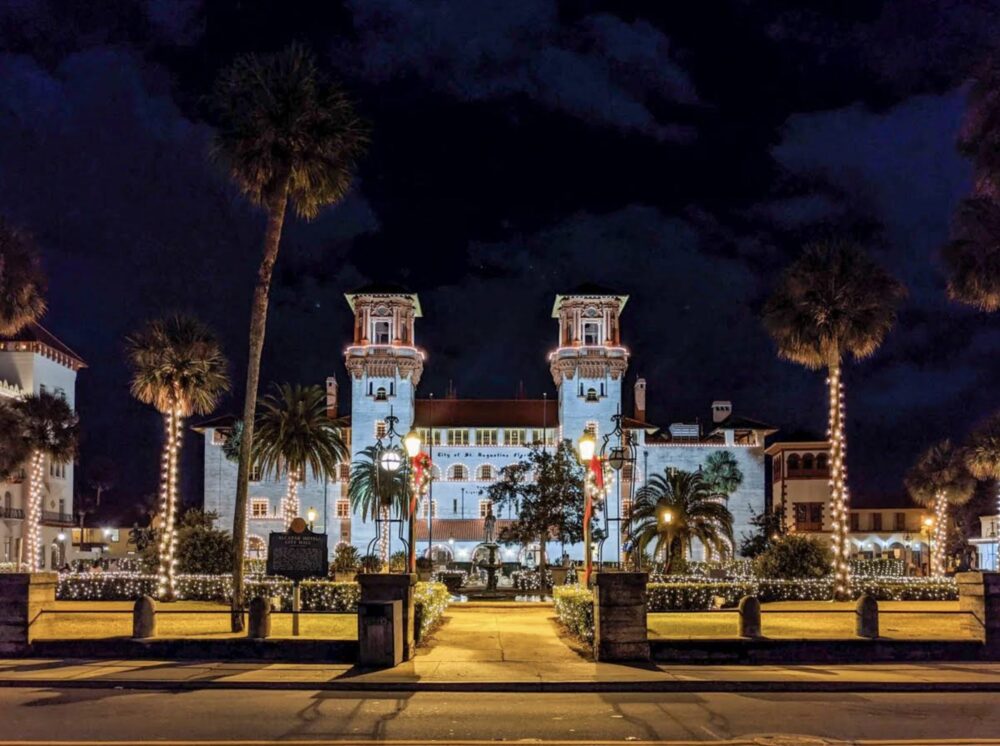 Contributed by Kita Roberts of RomanticWeekendGetaways.com
St Augustine, Florida, is a magical US destination to visit in December!
Its celebrated Nights of Lights illuminates the historic city in millions of bedazzling holiday lights, outlining the facade of buildings throughout the city.
It absolutely dazzles, and with temps that average a moderate high of 70 and lows in the high 40s through January, you can walk around without the blazing Florida sun or humidity and far fewer crowds!.
When you arrive, hop on an Old Town Trolley Tours that point out local attractions and get an overview of St Augustine's rich history, and if you're lucky, you can have one hosted by the Grinch or even Santa himself!
Check the local amphitheater for live music and seasonal farmers markets (a great place to pick up hand made gifts) and be sure to check out the top-notch culinary scene all within the incredibly walkable cobblestone streets.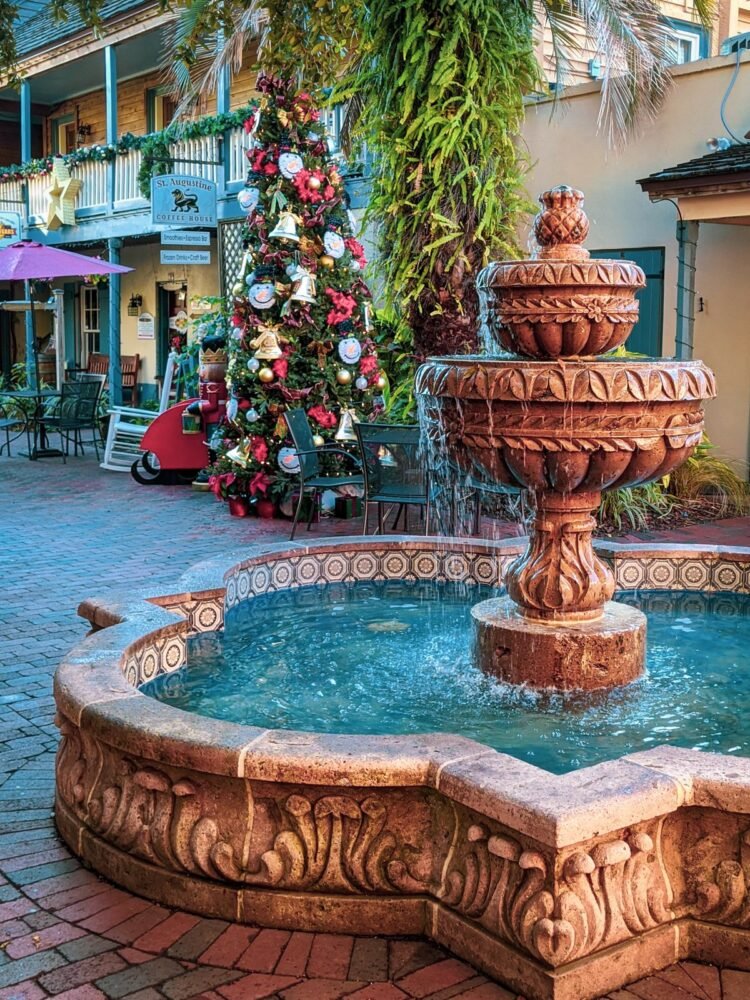 And if you're feeling adventurous, a morning out admiring shells on Anastasia Beach (where you may spot a local turtle) or paddle boarding are also an option before you head back into the beautifully manicured historic city.
Highlights we recommend not missing include a tour of the opulent Flagler Museum and doughnuts at Swillerbees Craft Doughnuts.
Be sure to stop for a moment to immerse yourself in the history of the Civil Rights trial and walk the steps of Andrew Young.
St. Augustine is a place that is ripe with history, and beauty and perfect for a winter holiday getaway!
Where to Stay in St. Augustine, FL
We love the charm of St George Inn located right in the historic city. With large rooms nestled overtop shops, daily breakfast, and a wine bar, it's the perfect spot if you want to be right in the center of it all without a car.
Branson, MO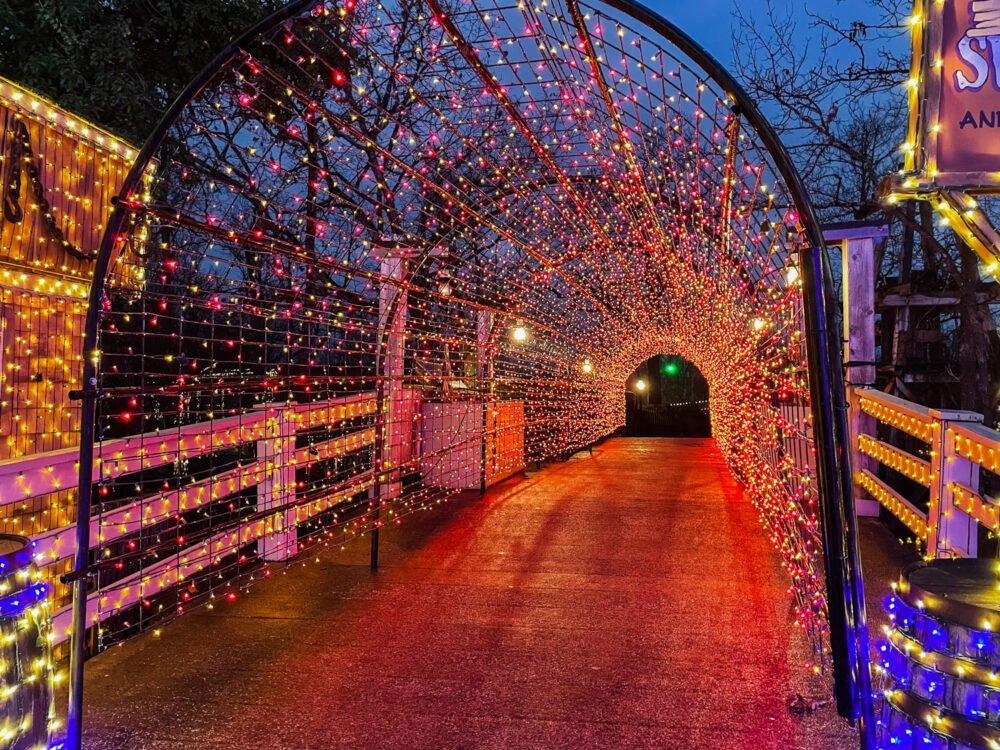 Contributed by Caitlin of Twin Family Travels
Branson, Missouri is a great December destination in the USA!
There are an incredible number of things to do in this enchanting small town including light displays, shows, concerts, and more. 
Branson is popular for having top-notch shows and concerts. In December, these shows are filled with holiday spirit and Christmas-themed songs.
Dolly Parton's Stampede, Sight & Sound Theatres' Miracle of Christmas, and Showboat Branson Belle's dinner cruise are all great options.
Other popular attractions include riding the Polar Express train and ice skating near the Branson Ferris Wheel.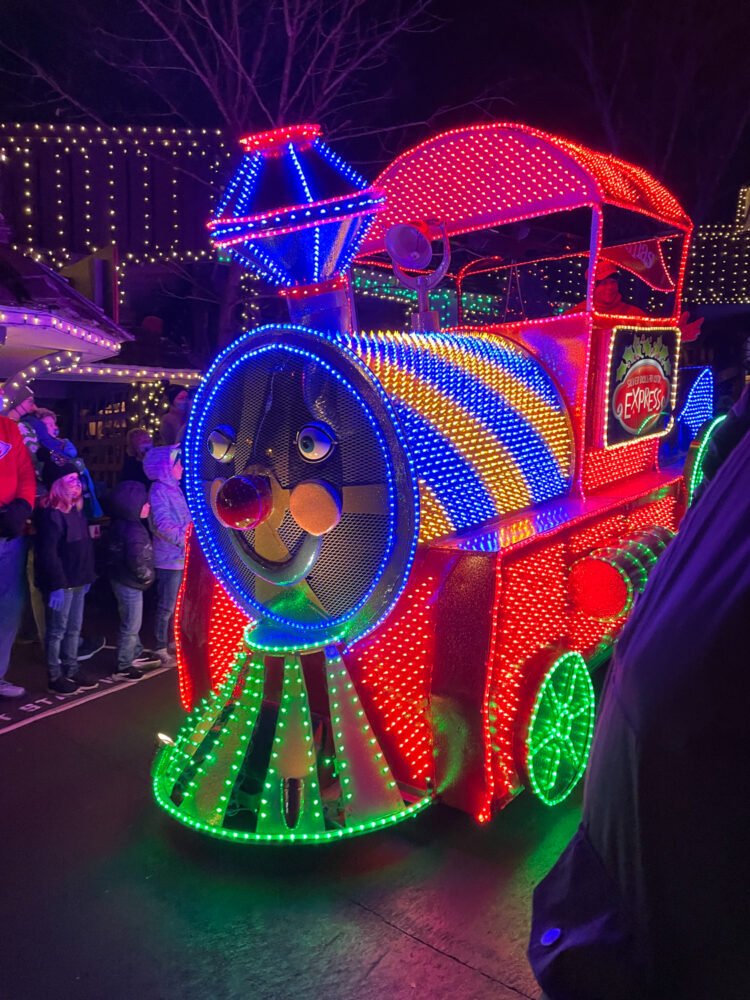 Silver Dollar City is, without a doubt, a must-see sight in Branson. During the Christmas season, Silver Dollar City goes all out with over 6.5 million lights illuminating the park.
Not only are there special performances to enjoy, but seasonal food and drinks and a holiday light parade as well! These are all in addition to the typical roller coasters, rides, and cave tours offered at the theme park.
There are plenty of Christmas light displays to enjoy in Branson, as well as opportunities for shopping and dining. Head to the Branson Landing to shop, eat, and view their spectacular illuminated Christmas tree.
The temperatures in the winter can vary widely, with average highs in the 50s and average lows in the 20s. Rain or snow commonly happens a few times a week.
Where to Stay in Branson
The most spectacular place to stay in Branson is Chateau on the Lake.
In addition to the luxurious rooms and gorgeous Christmas decorations, Chateau on the Lake creates an entire gingerbread house village in the lobby.
Relax at the spa, take a dip in the indoor pool, and enjoy the variety of fine dining options offered at the resort. 
Solvang, CA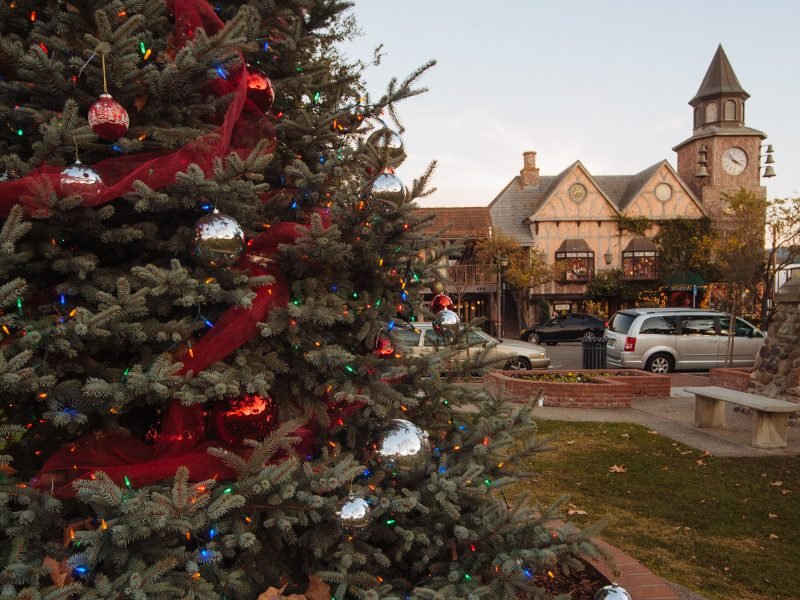 Contributed by Janelle of Make the Trip Matter
The quaint little town of Solvang is a treasure trove for any visitor to the West Coast, especially in December when it comes alive for the holiday season!
The village was founded in 1911 by a group of Danish-Americans who wanted somewhere to practice their traditional culture. 
It still feels like you're walking through an old Danish town, complete with European-style buildings, windmills, and traditional cuisine and flare! 
From November 27th to January 1st, Solvang hosts an annual Julefest Christmas Celebration. 
Time Magazine has even named Solvang as one of the "Most Christmassy Towns in America," as the whole town feels like a magical winter wonderland at this time!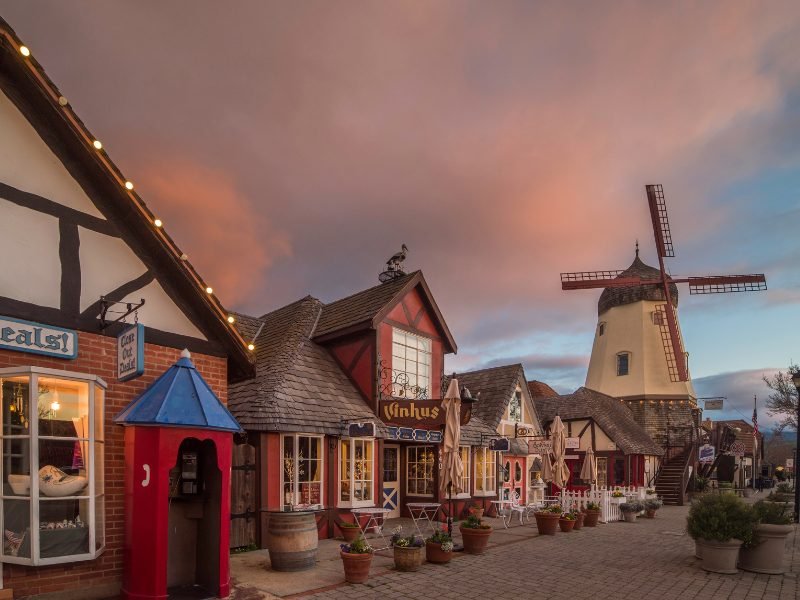 Christmas in Solvang is a must for all families. The Tree Lighting Ceremony and Julefest Parade will keep you entertained, and there is plenty of delicious food available from local restaurants.
Make sure to bring your little ones to meet Santa in his village (open every Saturday up through Christmas Day). 
Beyond the holiday activities, try out some of the famous Danish pastries and shop in the many antique stores.
Solvang is surrounded by beautiful nature to explore, including vineyards where you can enjoy tasty wines. Or, take the kids to OstrichLand USA to feed the big birds.
During December, you can expect the weather to be fair with little rain. The temperature typically ranges from about 40°F to 67°F. 
Where to Stay in Solvang
Solvang offers many adorable boutique hotels and Inns in town, such as the lovely Mirabelle Inn.
Just a five minute walk from downtown and the Hans Christian Anderson Museum, this inn features an upscale restaurant with excellent local cuisine. 
Otherwise, many people visit as a day trip from Santa Barbara, as Solvang is just a one hour drive to the north of Santa Barbara or 2.5 hours north from Los Angeles. 
Cold & Festive Places to Visit in the USA in December
Woodstock, VT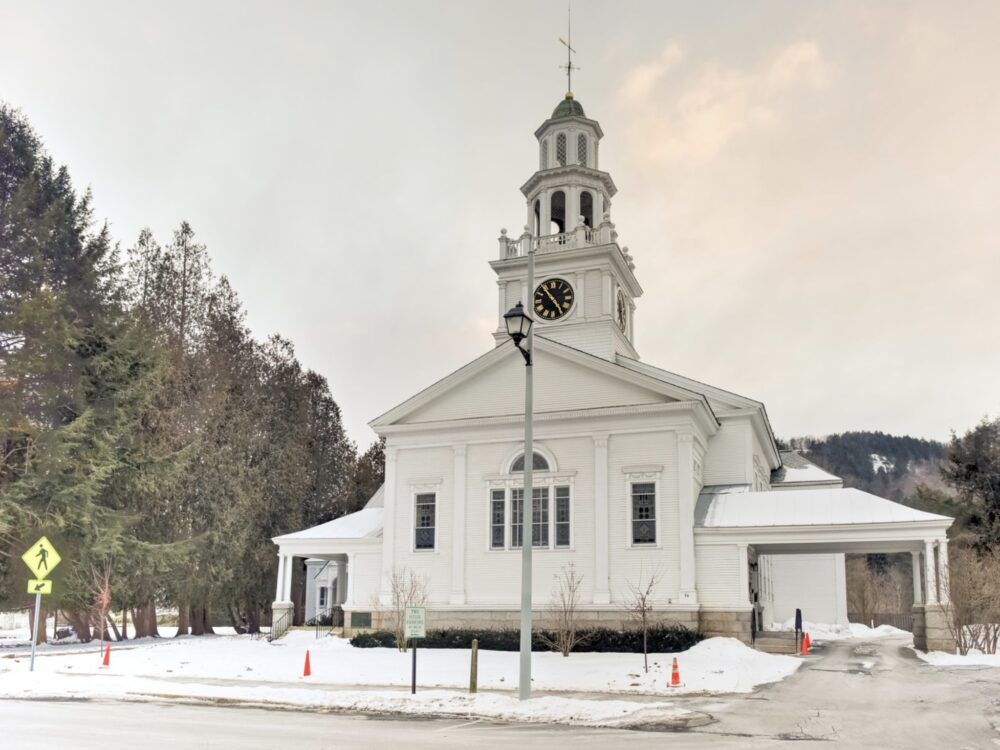 Contributed by Samantha of New England Wanderlust
One of the most charming towns in all of New England is Woodstock, VT, and it's especially magical in December!
If you're looking for a winter getaway in a quaint and cozy town that could be the set of a Hallmark movie, this one's for you.
Here, you'll find garlands and wreaths hung on almost every house and storefront, twinkle lights all over town, and plenty of holiday cheer to go around. 
One of the most fun things to do in Woodstock in December is to experience Wassail Weekend, a Christmas celebration that includes the lighting of the community yule log, caroling, sleigh rides, a parade, and of course, wassail punch. 
If you're looking to get a jump start on your holiday shopping, you'll want to grab a cup of hot cocoa from Mon Vert Cafe and head to town center.
Spend your afternoon strolling through the charming streets, and pop into shops like Vermont Flannel Company, the Yankee Bookshop and Woody's Mercantile.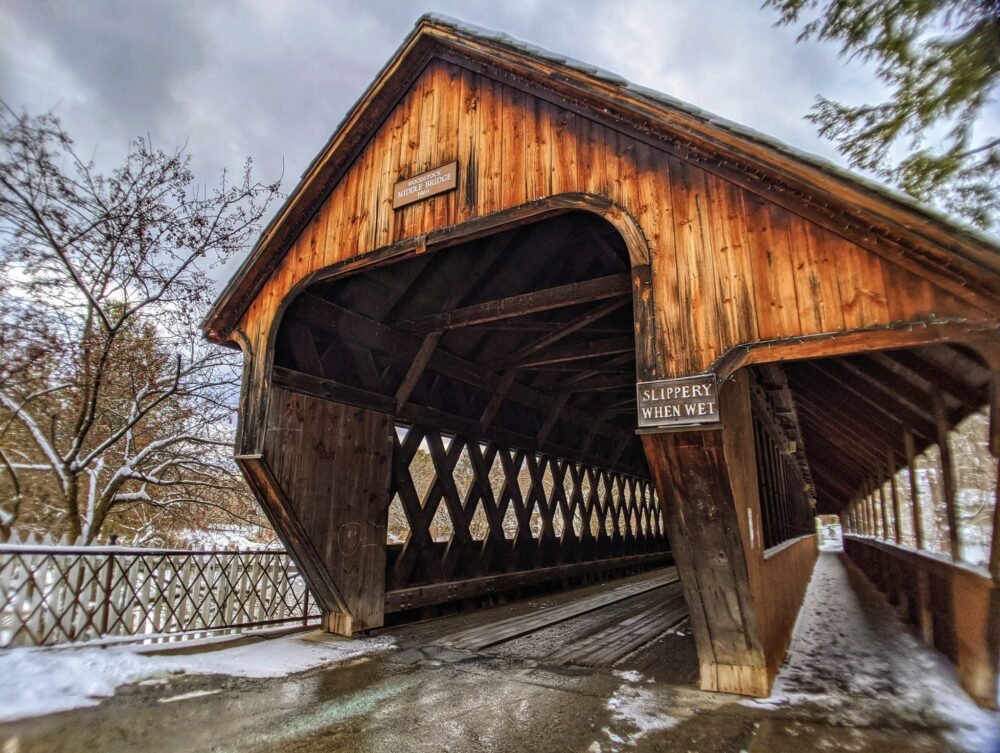 During your walk through downtown, don't miss seeing Middle Covered Bridge, which makes for a beautiful photo opportunity. 
Be sure to bundle up for your winter getaway in Woodstock! December weather can sometimes bring snow, so you'll want to pack some warm boots for your trip.
The average highs can be in the 30-35°F range, and average lows can be between 15-20°F, so bringing a warm parka, a hat and gloves is also a good idea. 
Where to Stay in Woodstock
One of the best places to stay in Woodstock is the Woodstock Inn & Resort, which is located in the heart of town center and walkable to lots of shops and restaurants.
This inn makes for the perfect New England winter getaway in December with amenities like an on-site spa, restaurants, beautiful Christmas decor and luxury accommodation.
Anchorage, AK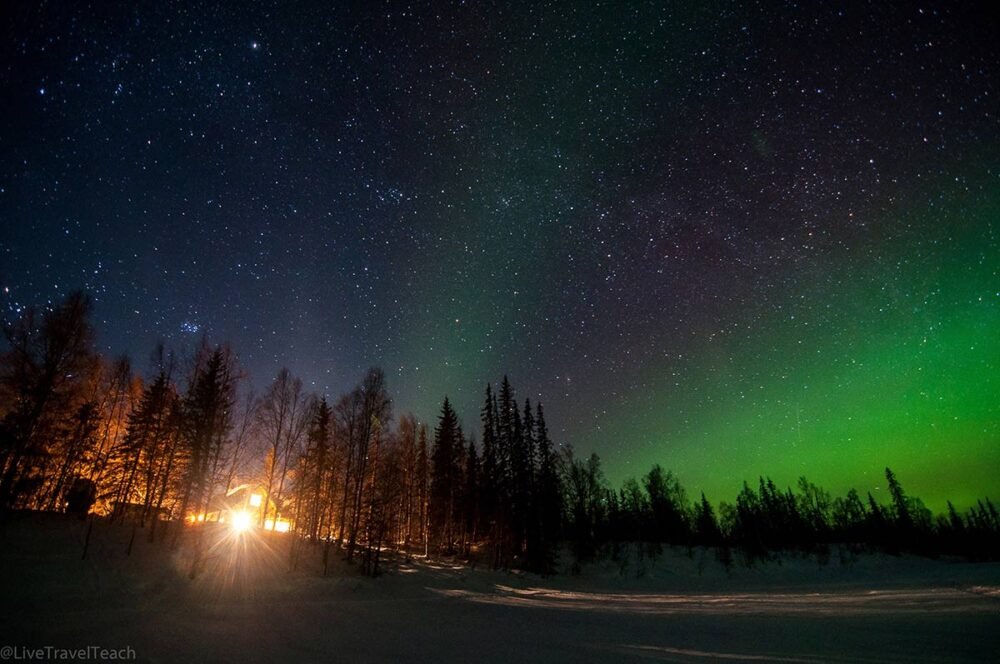 Contributed by Mike Still of LiveTravelTeach
Anchorage is an incredible destination to visit in the US in December.  You're guaranteed to have a White Christmas and you have a good chance to see the northern lights in Anchorage, Alaska! 
Anchorange also has tons of free Nordic ski trails and multiple resorts for downhill ski or snowboarding. 
You can find backcountry hot spots in nearby Hatcher and Turnagain Passes.  Heli skiing out of Girdwood is widely popular as well.  
Non skiers can enjoy a Nordic spa or find frozen waterfalls at the end of a snowy hike! 
There are lots of frozen falls along the Seward Highway and the Turnagain Arm has beautiful icescapes as the tide rolls sea ice in and out.  
Inside the city limits, you'll find and large ice skate rinks plowed on Westchester Lagoon and other neighborhood lakes. 
Speaking of in town, there are countless miles of groomed trails thanks to the Nordic Ski Association of Anchorage. 
From Kincaid to the Tour Trail and Hillside, you can enjoy trails from one neighborhood to the next. 
You should expect the weather to stay below freezing the whole month and it could reach -10F or colder, especially with the wind chill. 
Dress in layers and know that any restaurant or hotel you go in will have a solid heating system. 
An adventurous traveler could ski out to a dry cabins and use the wood stove to heat up your sleeping quarters while you go out looking for the aurora borealis!
Steamboat Springs, CO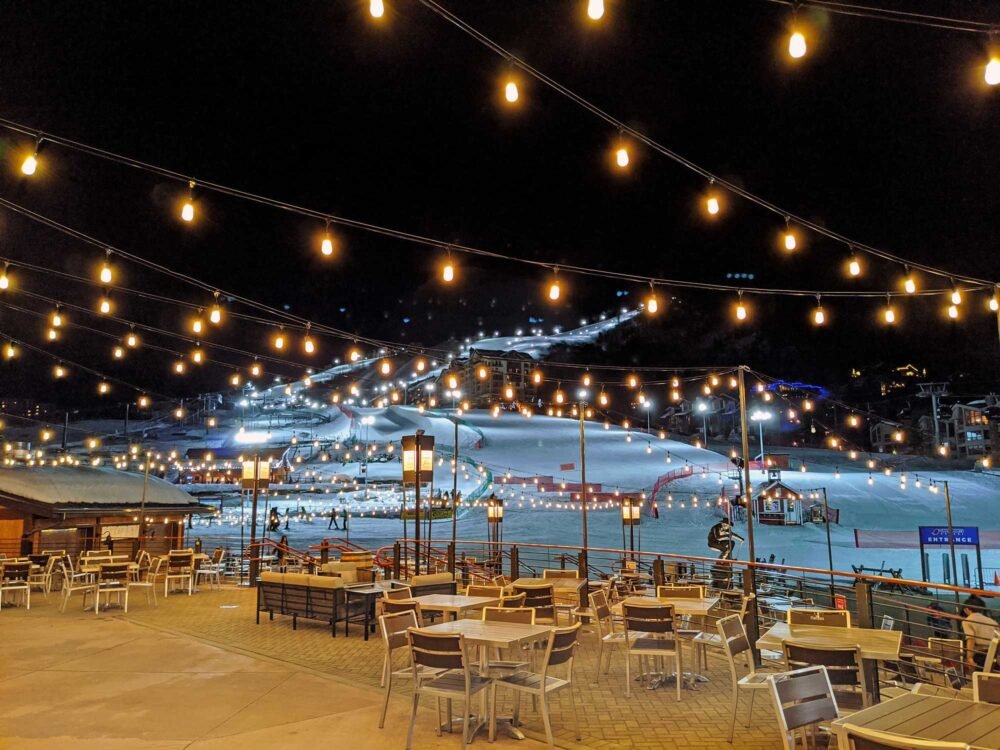 Contributed by Melissa of Parenthood and Passports
Steamboat Springs in winter is a snowy paradise!
Known as Ski Town USA, the Colorado mountain town is a popular destination for a skiing or snowboarding vacation in December.
Unlike many resorts that lack enough snow coverage in December to fully open the mountain for skiing, Steamboat is one of the rare resorts in the Rockies that tends to open early with an ideal snow pack for winter sports.
With high temperatures right around freezing and averaging about 9-10 inches of fresh snow each week in December, the weather is perfect for a day on the slopes.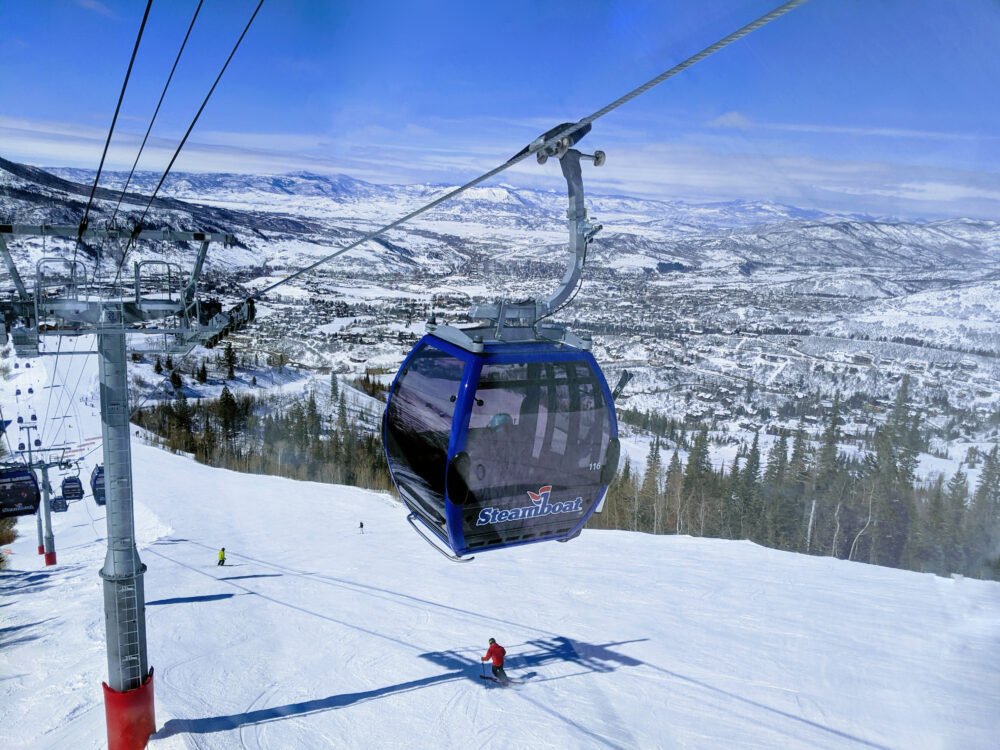 At Christmas time, warm white lights, garland, and wreaths drape across the streets and illuminate the walkways at the mountain resort.
If you time your December visit right before the Christmas holiday, you might even see Santa Claus ride through the town on horseback. 
But don't worry, if you miss his grand arrival, you can often find Ol' Saint Nick greeting kids in stores around town. And you'll be sure to spot a Santa hat or two on the slopes, as well!
Where to Stay in Steamboat Springs
For a cozy winter holiday with easy access to the mountain, book a stay at the Steamboat Grand!
This hotel offers both hotel-style rooms, as well as accommodations with a full kitchenette and living area for those who prefer to have amenities of home while on vacation. 
Leavenworth, WA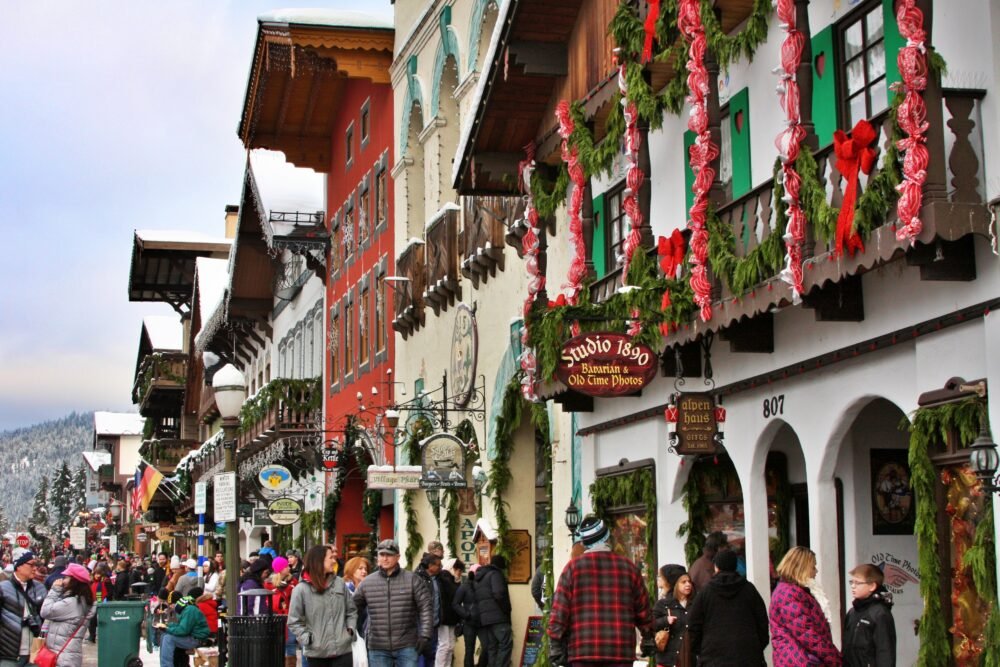 Contributed by Debbie Fettback from WorldAdventurists.com
Leavenworth, Washington is a small town with a big heart – and an even bigger holiday light display!
Every year, the town comes alive with over half a million lights during the Christmas season.
Visitors can stroll through the picturesque streets, admire the light displays, and enjoy all the German-themed Christmas cheer.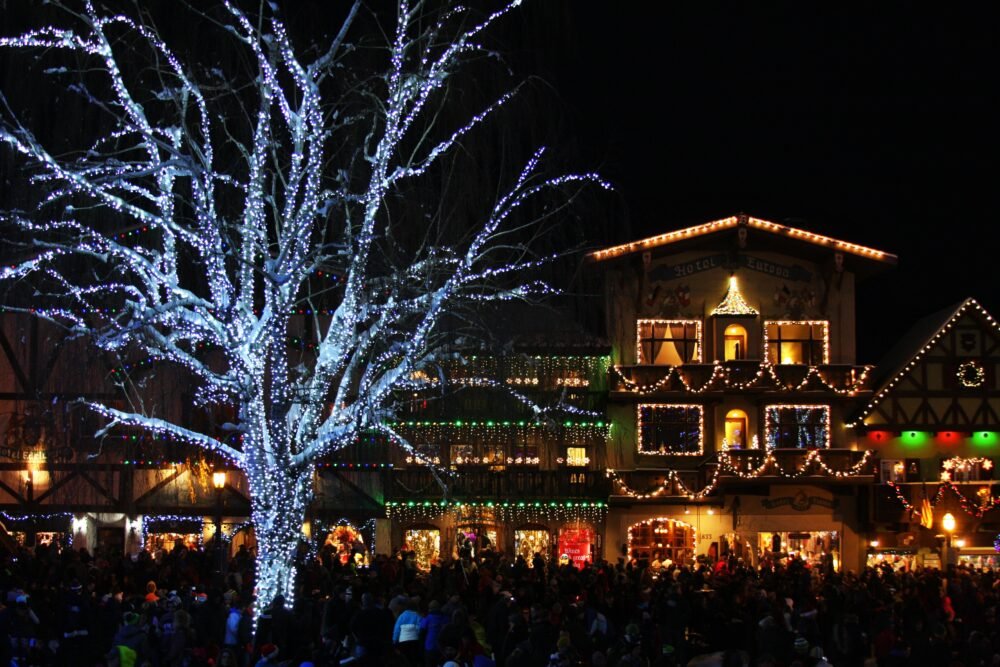 There are also plenty of shops and restaurants to explore, making it the perfect place to find unique gifts and delicious German holiday treats. 
Take a horse-drawn carriage ride, go for a sleigh ride, visit the Leavenworth Reindeer Farm, listen to carolers, and enjoy an authentic German meal at Andreas Keller.
The average temperature in Leavenworth during December has a high of 31°F (-1°C) and a low of 19°F (-7°C).
Usually, you can expect to have snow in town for the light festival, so dress in layers and you will stay warm as you enjoy the festivities.
Where to Stay in Leavenworth
Because the Enzian Inn is situated close to Leavenworth's center, it is one of the town's most popular places to stay.
When you stay at this hotel, the hand-painted artwork and wood paneling will make you feel transported to an Austrian film set.
With two swimming pools and large rooms, this property is perfect for families or groups. 
Helen, GA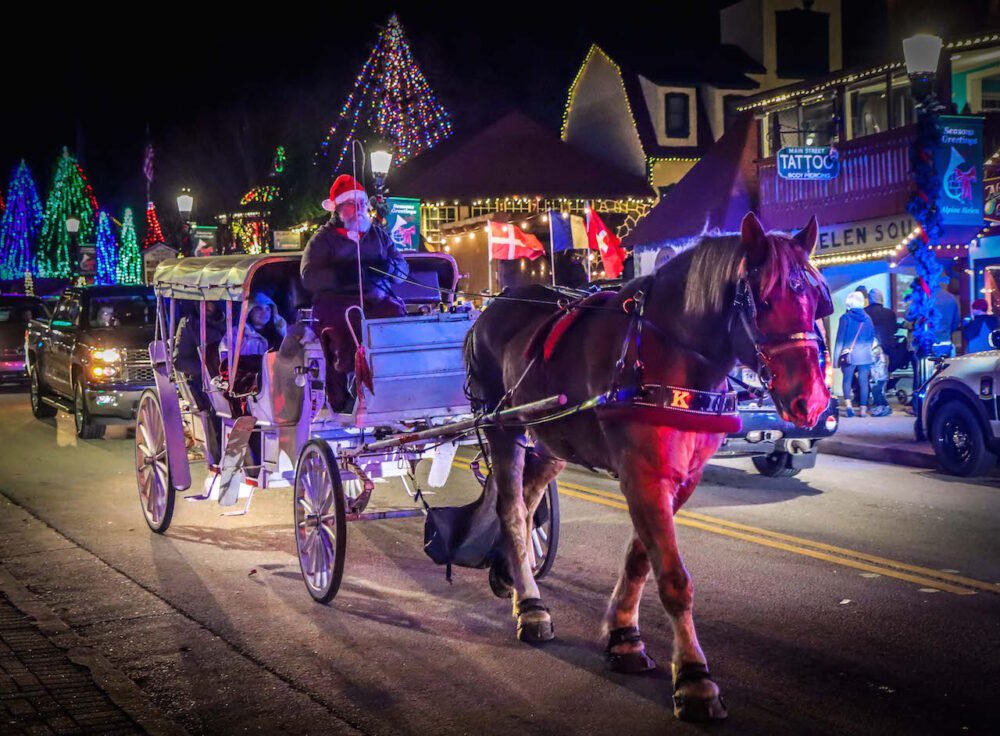 Contributed by Bret Love & Mary Gabbett of Blue Ridge Mountains Travel Guide
If you've never been to Helen, Georgia (a.k.a. Alpine Helen), you may not be familiar with the mountain town's quirky mixture of Bavarian-inspired architecture, German food (and beer), and down-home Southern hospitality.
But after being named the "Top Christmas Town in America" by MSN.com and listed as one of Southern Living's "Best Christmas Towns in the USA," it's safe to say the tiny town (population: 546) probably won't remain a secret much longer.
It's easy to see why location scouts for Lifetime and Hallmark holiday films love Helen: Even in early December, the moderate temperatures can reach highs of 70-77ºF and rarely dip below 40º.
And the town is surrounded by the natural beauty of the southern Blue Ridge Mountains, with myriad hiking trails (including the Appalachian Trail), waterfalls, wineries, and breathtaking scenic vistas.
While there are countless fun things to do in Helen GA at almost any time of year, December is truly the most magical time to visit.
When the town is all covered in twinkling Christmas lights and festive holiday cheer, it really becomes a whimsical winter wonderland, with all sorts of unique attractions and activities.
The Helen GA Christmas celebrations begin with the annual Lighting of the Village ceremony, which usually takes place the day after Thanksgiving.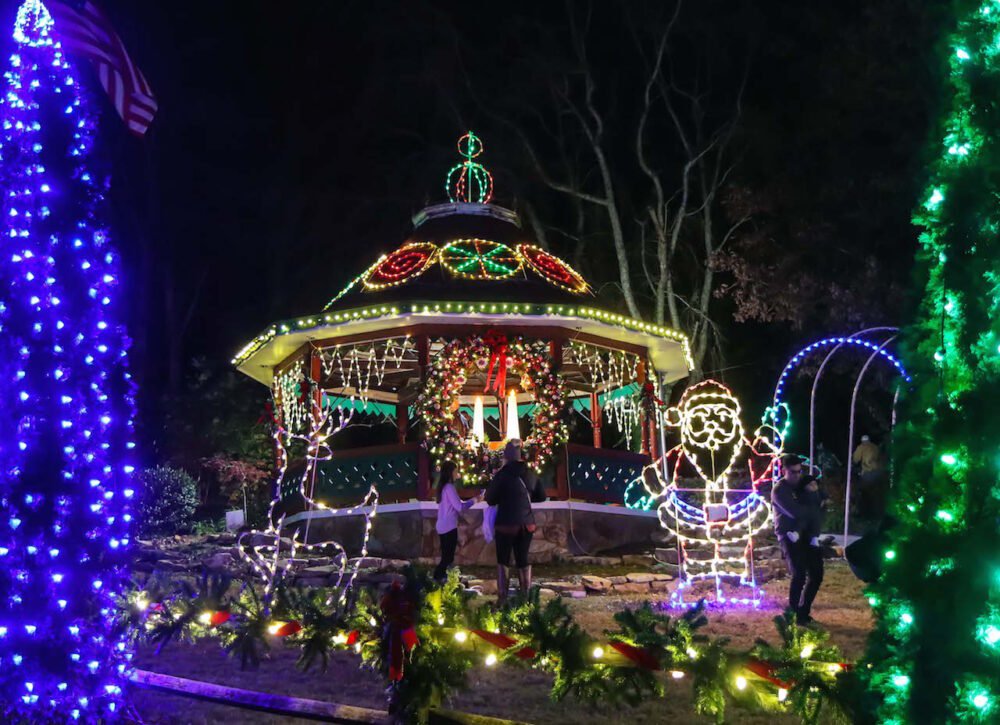 Locals and visitors alike show up to hear local choirs perform before the downtown Helen Christmas lights are unveiled, and Santa and Mrs. Claus arrive to pose for free photos in the charming Riverside Park.
The Christkindl Traditional German Market also opens on Thanksgiving weekend, offering great holiday shopping opportunities.
Then the annual Helen Christmas Parade comes through the streets of downtown in early December, with families lining the sidewalks to see an array of costumed characters, marching bands, and festive floats.
You can also shop at Christmas & More and The Christmas Shoppe, experience a Victorian-style holiday celebration at the Hardman Farm State Historic Site, and see more Xmas lights at the picturesque gazebo in Unicoi Hill Park.
Where to Stay in Helen, GA
Many people drive up from Atlanta (or from other parts of the North Georgia mountains) for day trips to explore Helen in December.
But if you want to make a weekend of it and experience even more of the area's unique offerings, check out the unusual barrel-shaped cabins available for rent at nearby Unicoi State Park.
Built back in the 1970s, these retro-funky cabins were recently renovated with modern appliances, but still retain an old school charm and offer easy access to hiking trails around Unicoi Lake, along Smith Creek, and to the nearby Anna Ruby Falls
Washington, DC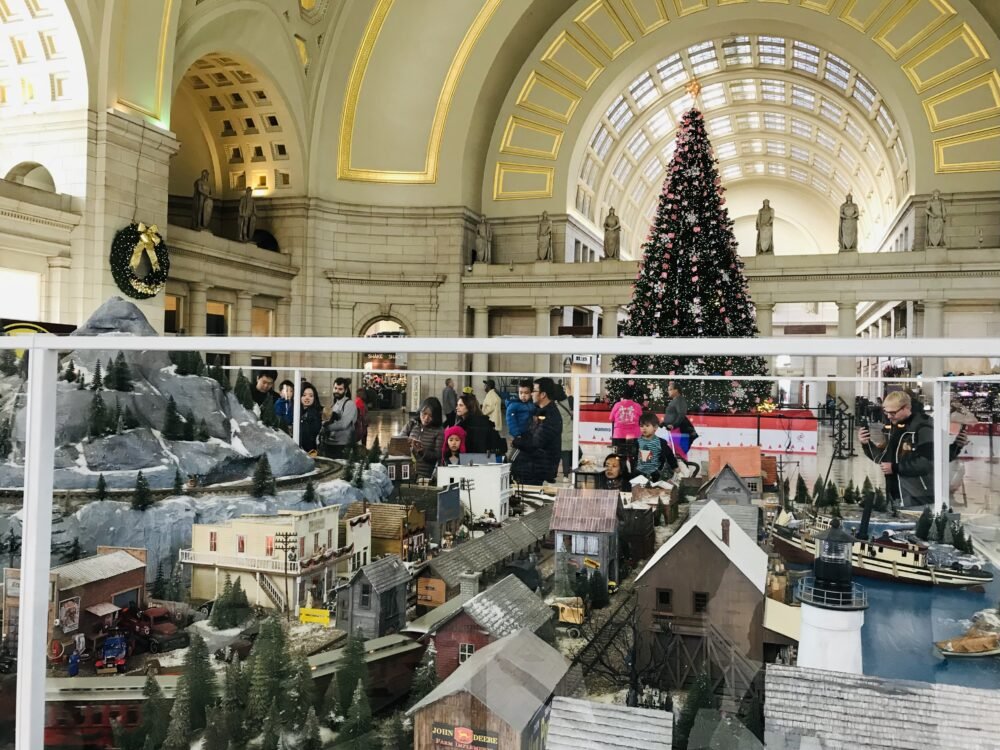 Contributed by Julie of Fun in Fairfax VA
The holiday season in Washington DC brings fun festivals and markets to the United States capital.
December is a great time to visit DC, with festive, and mostly free, celebrations throughout the downtown area.
At one end of the National Mall, visitors can see the giant Capitol Christmas Tree which is lit nightly.
Nearby, the United States Botanic Garden hosts a beautiful display of DC's museums and monuments recreated from natural flora along with a huge model train display.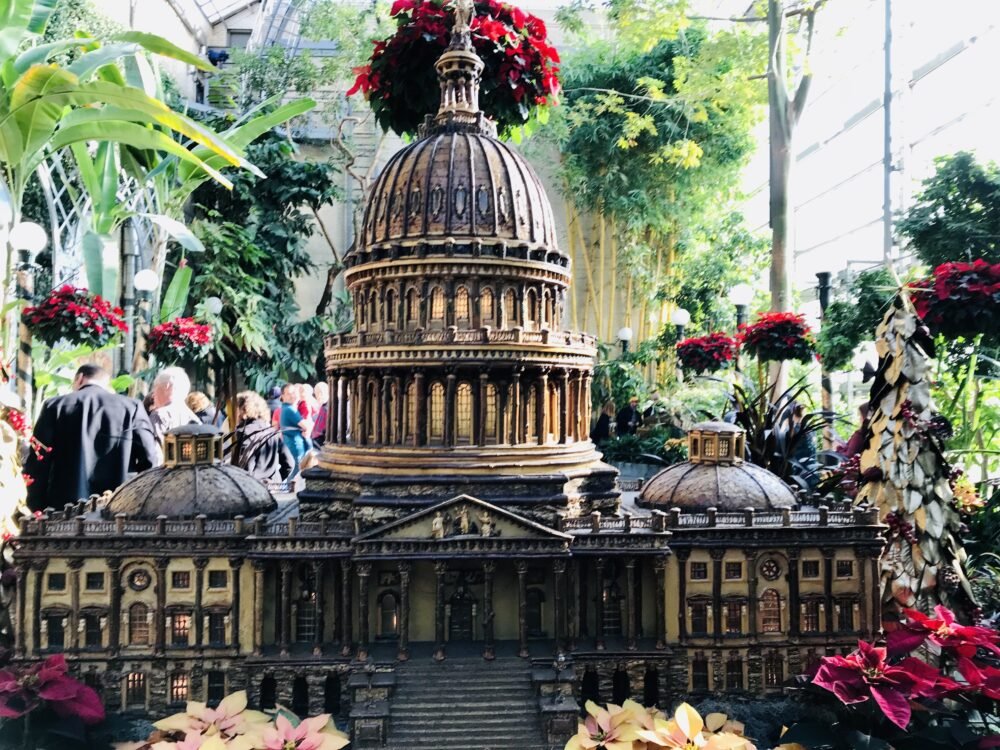 On the Ellipse, the White House Christmas tree is lit nightly, accompanied by the National Menorah and the Pathway of Peace, a display of 56 trees from each U.S. state and territory.
Other festive December events include the Downtown DC Holiday Market, ZooLights at the National Zoo, and ice skating in the Sculpture Garden.
DC weather can be chilly in December, with daytime temperatures in the upper 40s degrees dropping into the mid-30s at night.
Snow is possible, but you're more likely to encounter a rainy day.
Fortunately, you can always pop into one of the many free Smithsonian museums to warm up!
Where to Stay in DC
There are many hotels to choose from in DC, but we favor one of the Kimpton boutique hotels.
Stay in the Kimpton George Hotel and you'll be close to the Capitol Building and Union Station (which also hosts a large train display and Christmas tree).
They host an evening wine hour and offer loaner bikes and other amenities.
Kimpton Hotel Monaco is another good choice close to Smithsonian museums and the National Mall.
Mammoth Lakes, CA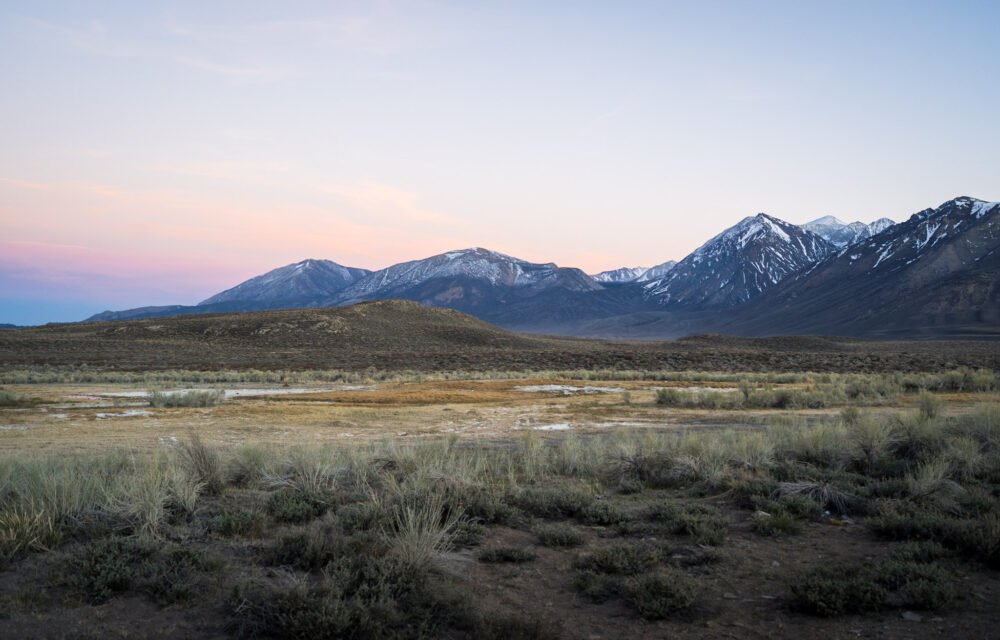 Contributed by Jessica of Uprooted Traveler
Mammoth Lakes, California is a charming ski town, tucked away in the towering eastern Sierra Nevadas.
Come December, Mammoth has plenty of wintery activities, making this the perfect destination to close out your year.
Mammoth's weather in December is perfect for exploring its incredible natural scenery, while still feeling quite wintery.
During the day, the temperature usually gets up to around 40 degrees, but the nights are chilly, with temperatures dropping down into the teens.
You also have a pretty good chance of getting a white Christmas here- Mammoth can get a decent amount of snow, especially later in the month as you approach the holidays!
And perhaps that's no surprise- Mammoth is, in fact, best known for its world-class ski resorts, including Mammoth Mountain and June Mountain.
In December, these resorts will have some of their best snow of the year, with over 200 slopes to shred on while taking in breathtaking views of the surrounding Sierras. 
If downhill skiing or snowboarding isn't your jam, there's plenty of other ways to enjoy Mammoth's winter wonderland, including snowshoeing across 140 miles of trails in the neighboring Inyo National Forest or strapping on your Nordic skis and exploring 19 miles of trails at the Tamarack Cross Country Ski Center.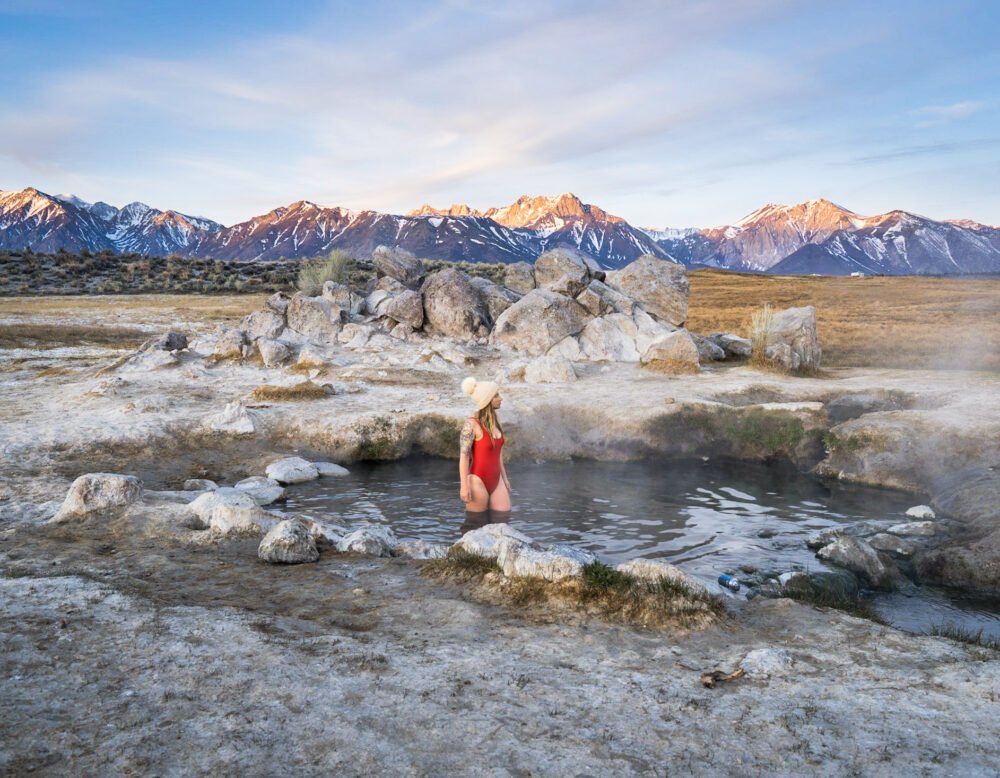 After all that playing in the snow, Mammoth has the perfect way to soothe those aching muscles- by relaxing in one of the many hot springs sprinkled around the area.
One of the best ones is Wild Willy's Hot Spring, which offers both a heart-shaped natural pool or a thermal river for you to kick back and soak in those steamy waters- and the panoramic views of the snow-capped mountains surrounding you!
Where to Stay in Mammoth Lakes
During your stay, consider staying at the Juniper Springs Resort.
It's one of Mammoth's only ski-in, ski-out resorts, in-suite fireplaces and a whopping six outdoor hot tubs to warm up from the crisp mountain air.
Minneapolis, MN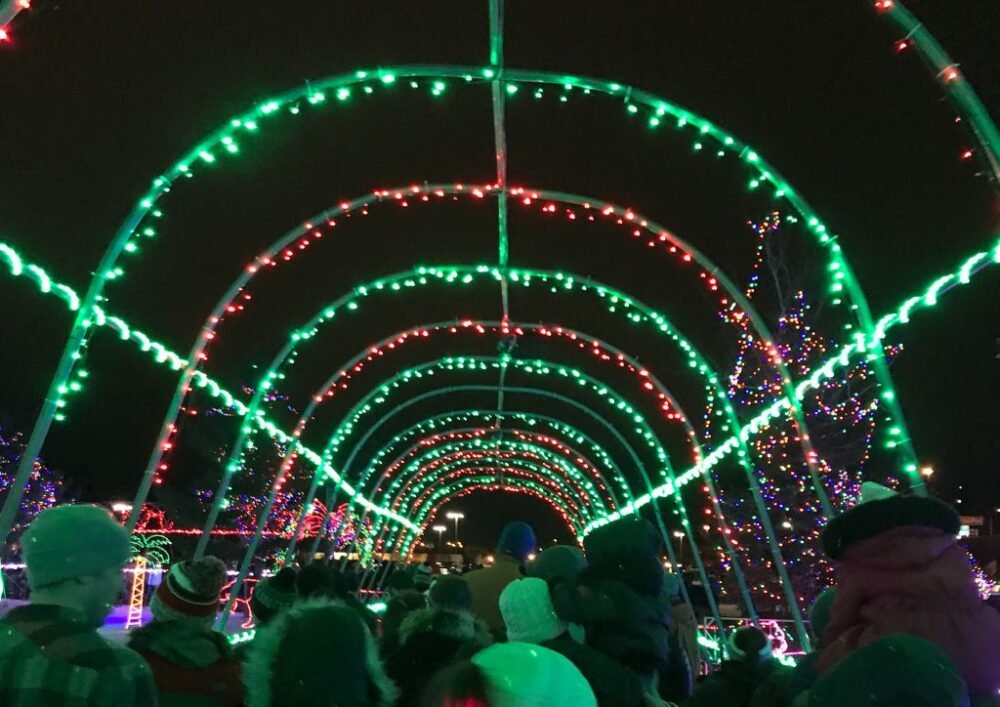 Contributed by Kassidy of Kassidy's Journeys
With a layer of freshly fallen snow and holiday lights strung on every building, Minneapolis is a beautiful city, come December.
The holiday cheer is abundant in the city, and there's no doubt that Minnesotans everywhere will be celebrating with a white Christmas.
From holiday markets to light festivals, there are so many great activities to fill your visit to Minneapolis, Minnesota in December.
When the holiday season rolls around, the state fairgrounds become magical at the GLOW Holiday Festival. Thousands of lights and displays are hung for visitors to enjoy while they stroll through the grounds with a cup of hot cocoa.
Another fun holiday event, called Holidazzle, is held each year in Loring Park. With games, visits with Santa, light displays, food, and local vendors, there is plenty to do at this event.
Get your holiday shopping done at the European Christmas Market, where you'll find local vendors selling all of their beautiful crafts and yummy home-baked goods.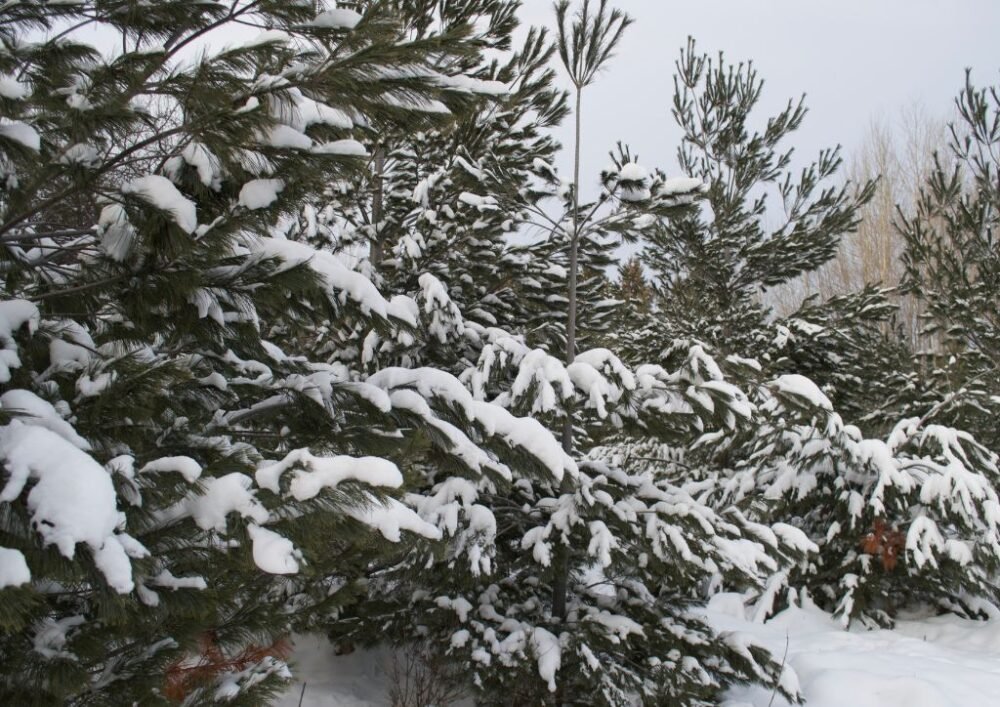 Although the weather is chilly, averaging a high of 28 F and a low of 15 F, bundling up will help keep you warm.
And with an average of 50 inches of snowfall each year in Minnesota, winter sports are in abundance, from downhill skiing to snowshoeing to snowmobiling.
All of these fun sports can be done all over Minneapolis!
Where to Stay in Minneapolis
When it's time to call it a night, head on over to the modern and sleek Aloft Minneapolis.
This beautiful hotel is found right in Downtown, just minutes from some of the city's best activities and attractions.
It has great views of the city, an on-site bar, and a pool to relax in after a long day of exploring!
Allison Green is a former educator turned travel blogger. She holds a Masters in Teaching and a B.A. in English and Creative Writing. Her blog posts merge her educational background and her experience traveling to 60+ countries to encourage thoughtful travel experiences that both educate and entertain. She has been a speaker at the World Travel Writers Conference and her writing, photography, and podcasting work has appeared in National Geographic, CNN Arabic, CBC Canada, and Forbes, amongst others. Now based in the San Francisco Bay Area where she grew up, she has also lived in Prague, Sofia, and New York City.