As a native Californian who spent 9 long winters shivering in New York City, I get it: sometimes, you just need to escape the cold and go visit one of the best warm weather destinations in the USA.
In fact, January is the best time to escape to some of these warm weather spots in the USA.
What better time to take a trip then after the holiday spirit has subsided and you're still looking at several months of cold ahead?
Plus, accommodation and airfare prices to these warm weather vacation spots are almost always more reasonable than they are in December!
Best of all, you won't need your passport to enjoy these warm destinations in the USA in January!
Here are bloggers favorite warm weather getaways in the US to enjoy in January… I hope you find something that inspires you!
Warm Weather Destinations in the USA in January: Hawaii & Caribbean
St. Thomas, USVI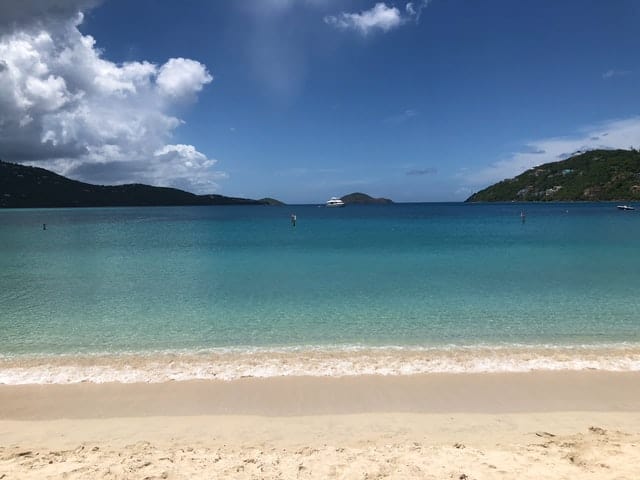 Note: This post contains affiliate links, which means I may receive a small commission if you purchase something through one of these links. Thank you for supporting the free content on this site! For more information on affiliate links and cookies, see my disclosure page for more details.
Contributed by Brodi Cole of Our Offbeat Life
The US Virgin Islands are a great place to visit in January because the weather is perfect for spending time outdoors.
The average high temperature is 81 degrees Fahrenheit and the average low is 71 degrees, so you can expect comfortable weather throughout the day!
January is also one of the driest months on the islands, with an average of only 3.9 inches of rain.
There are plenty of activities to enjoy on the US Virgin Islands in January. Many people take advantage of the warm weather to go hiking, biking, or kayaking.
The islands are also home to some of the best beaches in the world, so you can spend your days relaxing on the beach or swimming in crystal-clear waters.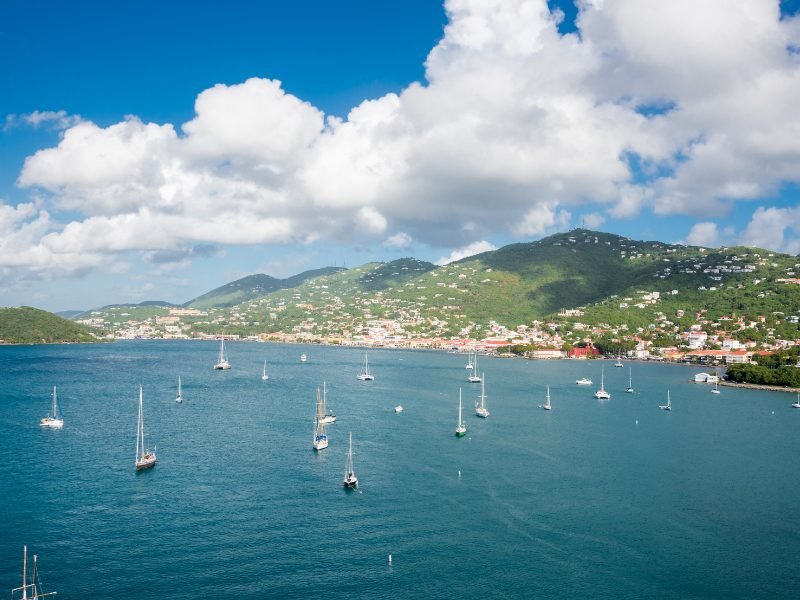 St. Thomas especially is well known for its world-class snorkeling!
There are many snorkeling spots around the island, but one of the best is Coki Point Beach, which is known for its clear waters and vibrant coral reefs.
However, Sapphire Beach also has very good snorkeling if Coki Beach is too crowded.
Where to Stay on St. Thomas
If you're looking for a place to stay, the Marriott Frenchman's Cove is a very popular hotel on the island of St. Thomas.
Located on the east end of the island, this hotel offers stunning views of the Caribbean Sea.
The hotel also has its own beach, so you can enjoy the best of both worlds!
Maui, HI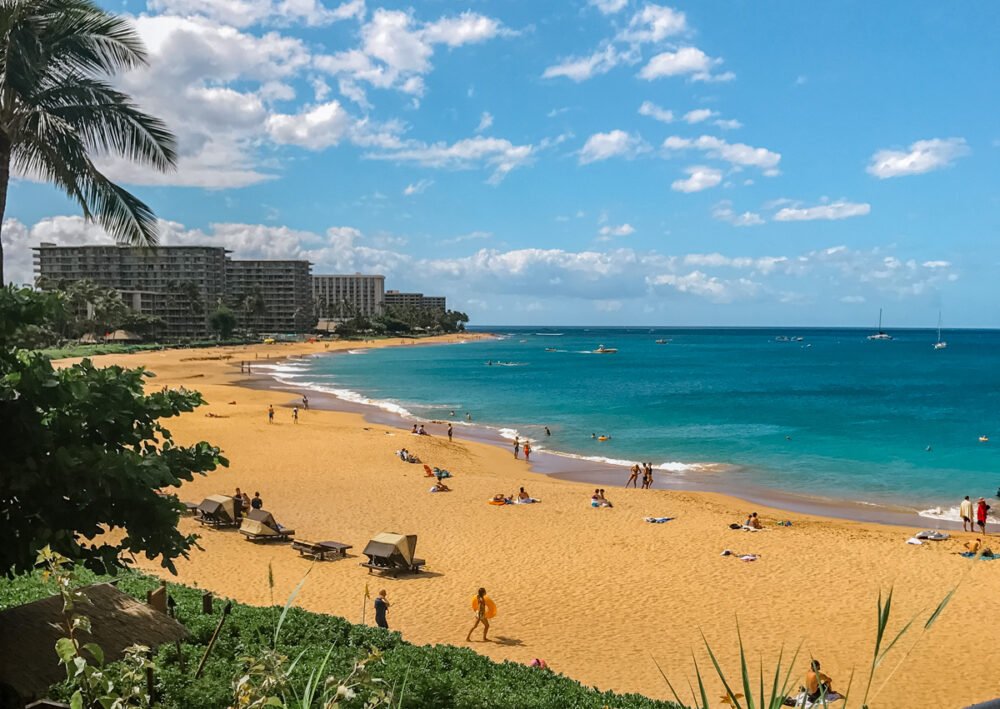 Contributed by Sam Opp from Find Love and Travel
A great place to visit during January in the USA is the tropical island of Maui, Hawaii.
The average temperature ranges from the mid 80s during the day and 60s at night making for the perfect winter getaway at the beach!
Although January is one of Maui's wetter months, this island receives less rainfall than most, and there will still be plenty of sunshine to enjoy.
There are tons of excellent things to do when visiting Maui. One of the most notable things to do in Maui is driving the Road to Hana.
This incredible drive brings you through lush rainforests, waterfalls, black sand beaches, bamboo forests, and so much more!
The drive takes a full day, so it is best to start early in the morning with a full tank of gas!
Another great thing to do during January is whale watching. January is a part of the peak months to see humpback whales just off the coast of the Hawaiian shores.
There are tons of tours around this time to be able to see some whales up close and personal via boat.
Snorkeling and relaxing on the beach is another must while in Maui. With many pristine beaches across the coast, you will be spoiled with choice.
For the ultimate snorkel experience, consider going out to Molokini Crater which is known for its diversity of fish and even sea turtles that can be seen.
Where to Stay on Maui
A great place to stay on the island of Maui is the Sheraton Maui Resort and Spa. The resort is beautiful and located on Black Rock Beach!
There is great snorkeling by the Black Rock, and you will be close to Lahaina for shopping and restaurants.
Warm Destinations in the USA in January: California
Catalina Island, CA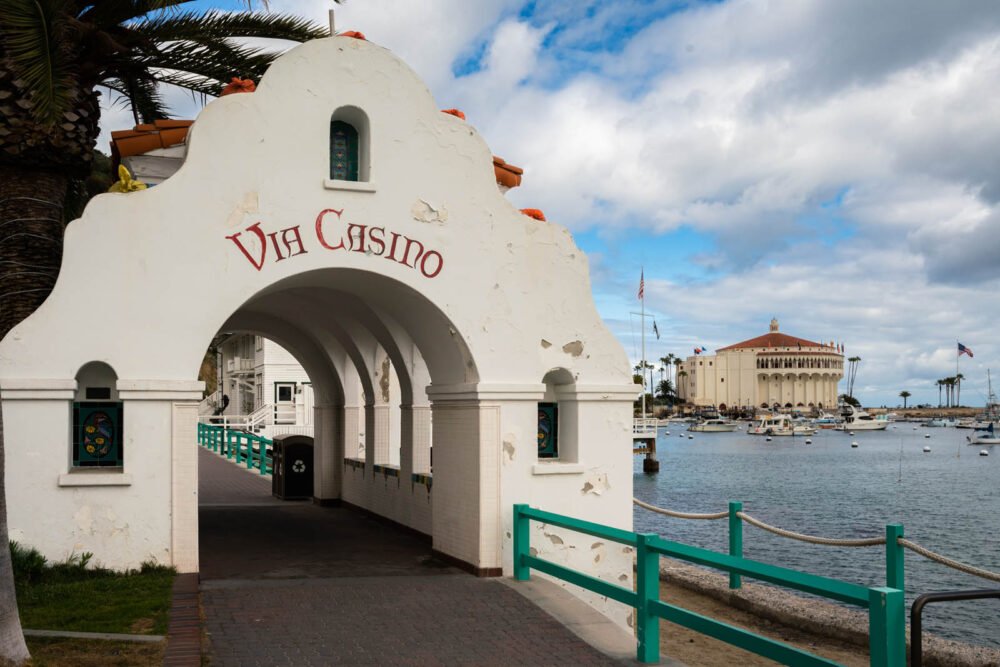 Contributed by Megan of Bobo & Chichi
One of the best warm weather place to visit in the US in January is located 26 miles off the coast of sunny Southern California: Catalina Island!
Southern California is one of the best places in the winter because they have one of the most mild and comfortable climates year-round in the world.
In January, while the rest of the country is dealing with snow, Catalina Island averages a high of around a comfortable 60 degrees Fahrenheit!
While you won't be in your bathing suit, you can enjoy the comfortable, Mediterranean like weather by wearing a light jacket.
Not to mention, January is a great time to visit Catalina Island because it's not peak season.
Chances are you'll enjoy some of the best attractions like Wrigley Memorial Botanical Garden, tour the famous Casino, renting and exploring the island by golf cart, and spots like Descanso Beach Club all to yourself.
And believe it or not, you can even snorkel in the winter!
The tour operators provide winter wet suits so that you're comfortable snorkeling around the turquoise shores spotting the bright orange Garibaldi fish that the island is famous for.
Where to Stay in Catalina
While you can easily visit Catalina Island on a day trip, spending the night is the best way to enjoy the many activities on the island.
Try staying at Bellanca Hotel, one of the newest additions to the island that has a great location right along the waterfront on Crescent Avenue.
You can enjoy drinks or breakfast on their terrace with an ocean view!
South Bay Los Angeles, CA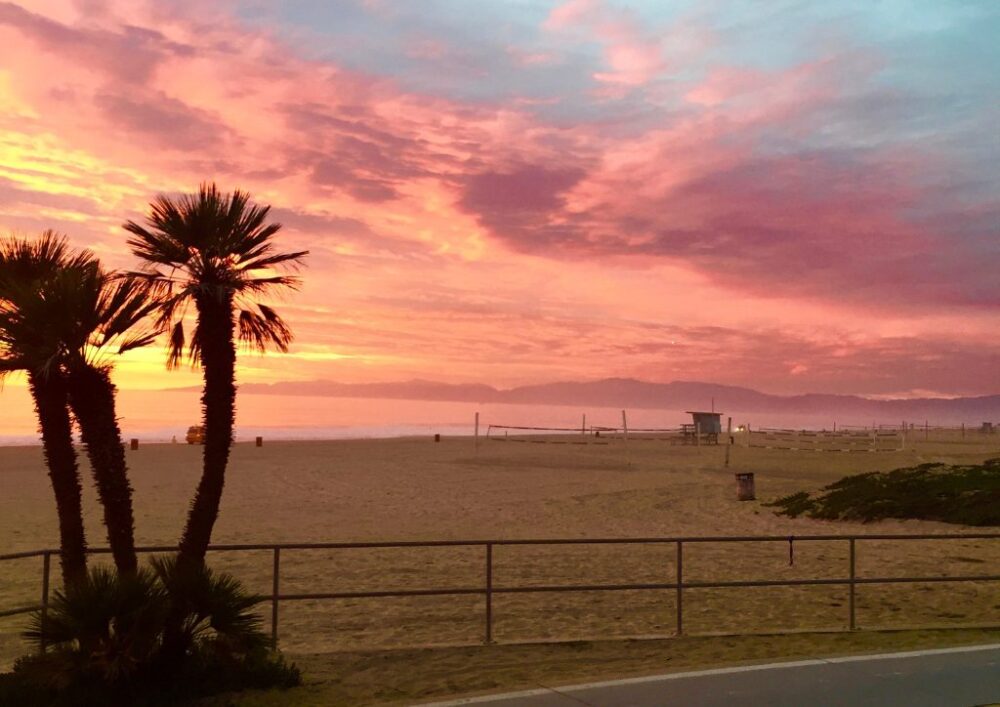 Contributed by Janelle of Make the Trip Matter
January is a fantastic time to visit the sprawling city of Los Angeles, but one of the best places to spend a day is the hidden gem region known as the South Bay LA.
Starting just south of LAX, the beach cities in the South Bay will be mostly empty for the winter, but the weather is mild and there are plenty of activities to enjoy.
In January, the daily temperature averages around 60-65°F, with a low rarely falling below 57°F and a high hardly ever going above 76°F.
However, you shouldn't get very much rain and if you're lucky, you might even get a few nice days in the 70s°F!
The South Bay is known for its beautiful, expansive sandy beaches!
In January the best activities are to bike or rollerblade down the beach path known as "the Strand" that stretches from the peninsula all the way up through Santa Monica.
Alternatively, beach volleyball is popular year-round if you feel like playing a friendly game!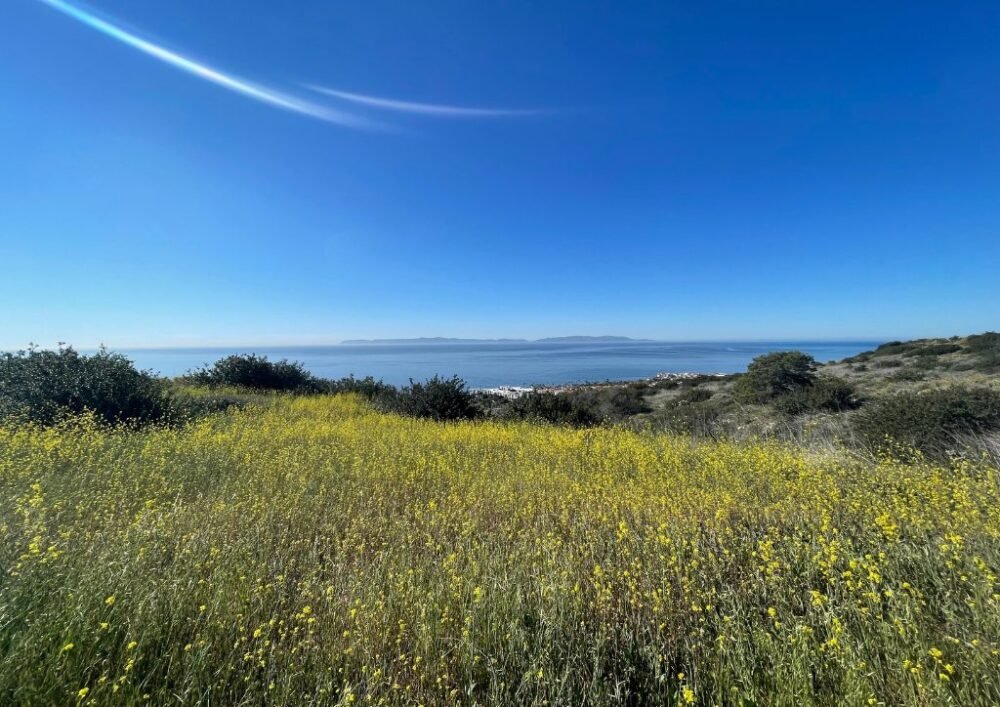 One of the best things to do on the Palos Verdes Peninsula is to explore the many hiking spots while the weather is cool.
Head to the Portuguese Bend for multiple trails with stunning panoramic ocean views.
If you prefer indoor winter activities, there is plenty of fantastic shopping in the South Bay.
Visit the Del Amo Mall in Torrance (one of the top 10 biggest malls in America) for a variety of high-end to standard stores.
Alternately, Hermosa Beach Pier, Manhattan Beach Pier, and the Redondo Beach Riviera are all full of adorable boutique shops and delicious restaurants to rest in after.
No matter how you decide to spend your time, January will be a lovely month to visit the South Bay LA.
Where to Stay in the South Bay of Los Angeles
The best place to stay in the South Bay is the Terranea Resort on the Palos Verde Peninsula.
This resort is perfect for a high-end stay with lovely views, a spa, and high-end dining and golf course.
Check accommodations in South Bay LA here!
San Diego, CA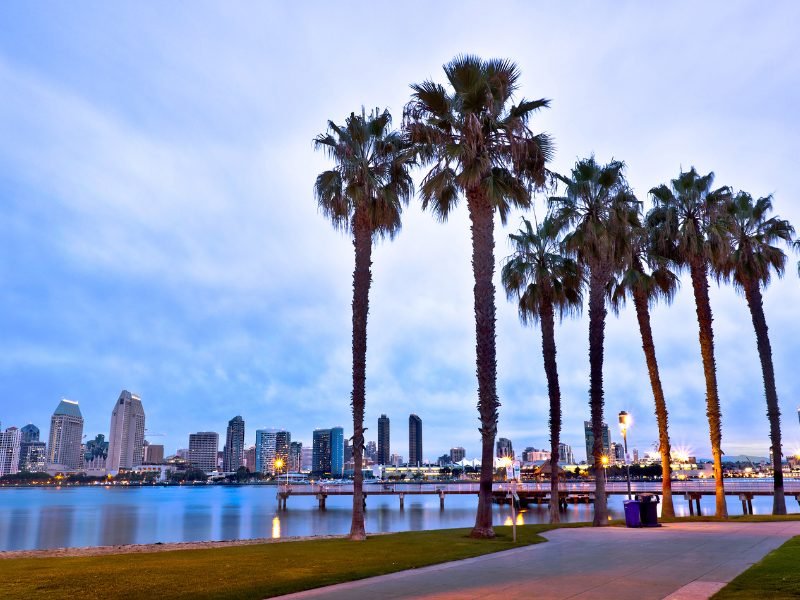 Contributed by Patricia of Ze Wandering Frogs
January is a great month to visit San Diego, as the temperatures average around 65°F, though it can even reach over 75°F or drop to around 50°F some years.
Those temperatures are simply perfect for exploring this Southern California coastal city!
However, the winter month still brings some precipitations in, with roughly 2 inches of rain through January.
Though the ocean temperature might be somewhat too cold for surfing, the warm outside temperatures are perfect for outdoor activities. Go tide-pooling as you explore the beaches at low tides.
Coastal walks, including La Jolla Coast Walk, are also fantastic for exploring the area and one of the cool outdoor activities in San Diego.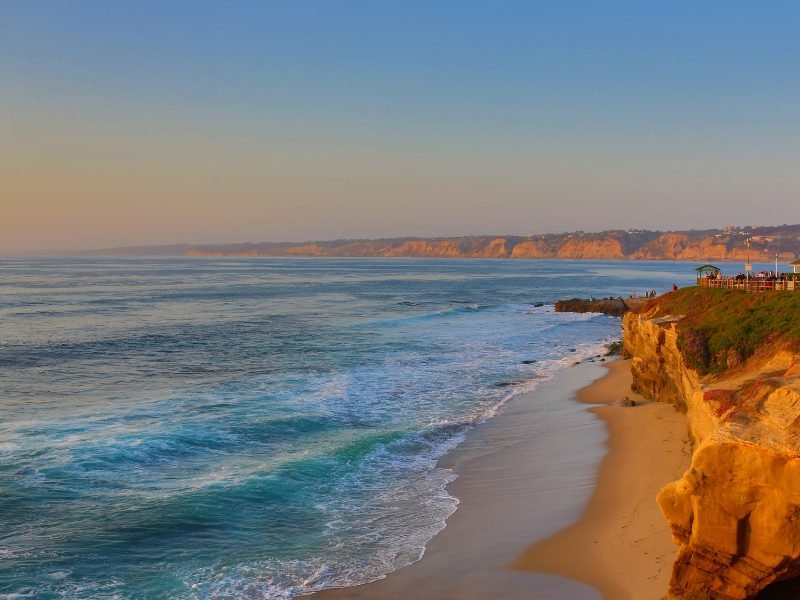 Kayaking is another popular activity to explore La Jolla Cove, a terrific way to do some watersports without actually getting wet!
From December to April, gray whales can be spotted along the Pacific Ocean as they travel from Alaska to Baja California.
From San Diego, board one of the numerous whale watching tours for a chance to spot the gentle giants.
The San Diego Brew Fest is among several festivals in San Diego in January, in addition to the San Diego Black Film Festival.
Other things to see include the famous Balboa Park, Old Town San Diego State Historic Park, and the Gaslamp Quarter.
Where to Stay in San Diego
The Hotel del Coronado is one of San Diego's most iconic hotels!
Not only the beautiful architecture right on the beach makes for incredible photos, but the hotel was made famous when it was featured in the 1958 movie Some Like It Hot with Marilyn Monroe.
Palm Springs, CA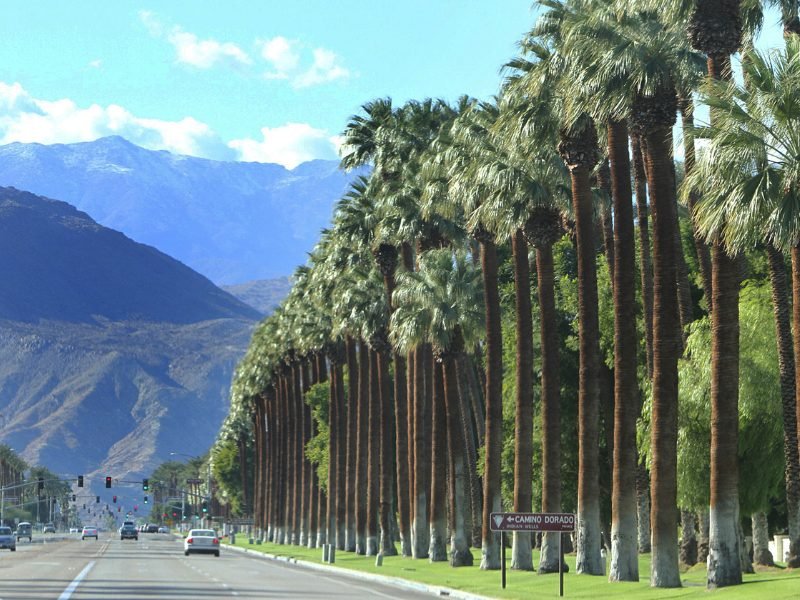 Contributed by Kristin Lee of Global Travel Escapades
If you're looking for places to escape the cold, then consider a trip to Palm Springs, California.
The desert region is normally known for its blistering hot temperatures during the summer, but in January, visitors can expect sunny days with an average high of 71°F and average low of 45°F.
These are ideal conditions to set out on a hike, ride the Palm Springs Aerial Tramway, or explore the city.
One crowd favorite activity is to spend the day at the Living Desert Zoo and Gardens.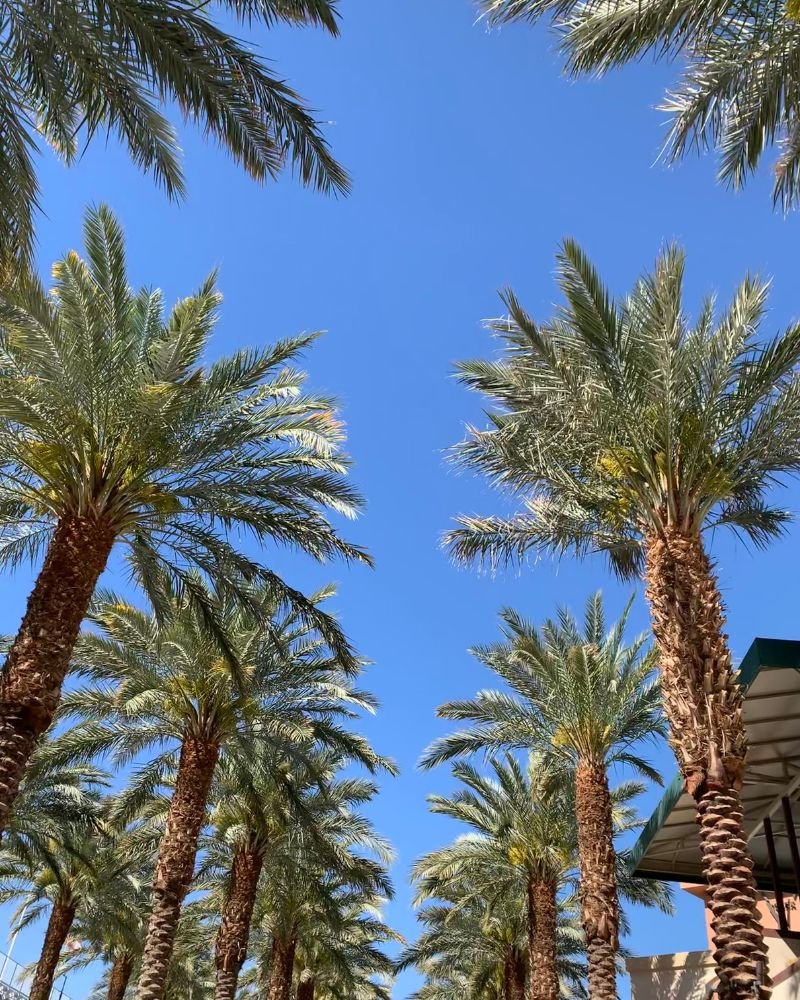 The Living Desert Zoo is on the smaller side but offers a wide assortment of desert animals for visitors to see, including black rhinoceros, bighorn sheep, and so much more.
In addition, the zoo provides visitors with plenty of opportunities to see and interact with the animals up close. For example, visitors can help feed and groom Nigerian dwarf goats in the petting kraal.
If you're in Palm Springs, be sure to pay a visit to the Living Desert Zoo and Gardens to have a memorable experience with the animals!
Where to Stay in Palm Springs
For places to stay in the area, consider the lovely Wescott Boutique Hotel.
It's located only 3 miles from the Palm Springs Airport and 2 miles from downtown.
The cozy hotel provides excellent service, offers a delicious breakfast, and is a great choice for a weekend getaway!
Warm Vacation Spots in the USA in January: Southwest
Sedona, AZ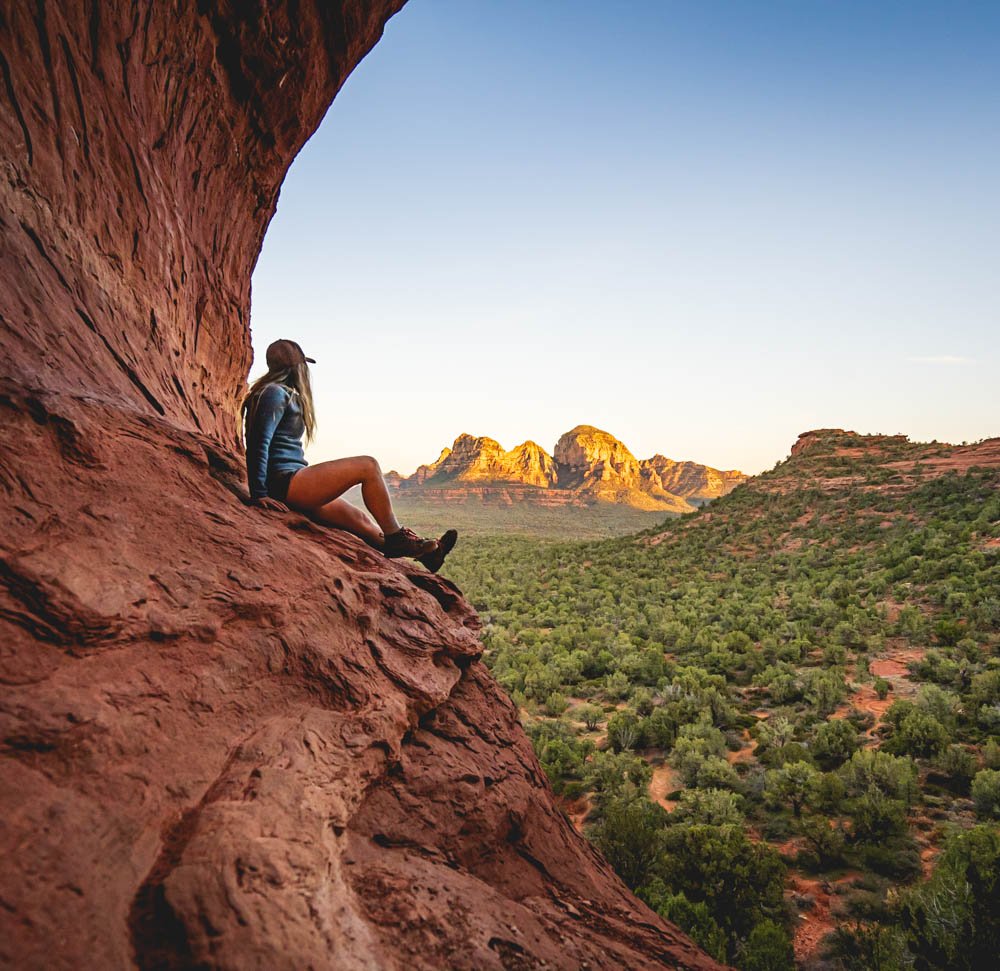 Contributed by Jessica of Uprooted Traveler
Known for its jaw-dropping red rock mesas and endless ponderosa pine tree forests, Sedona is an awesome warm weather getaway in January.
While the nights here definitely get a bit chilly, you'll enjoy daytime highs in the low 60s, which is perfect for exploring Sedona's epic landscapes.
And better yet, while the town sees a huge influx of tourists during the spring and fall, the crowds will be minimal in January, allowing you to snag better deals on accommodations and enjoy the outdoor activities all to yourself.
One of the best things to do in Sedona is hit up any of its incredible hiking trails!
For example, the Soldier Pass Trail will take you past an enormous sinkhole, the Seven Sacred Pools (a series of naturally carved pools that can form a stunning cascade if you happen to visit during a particularly rainy period), and even a hidden cave to explore!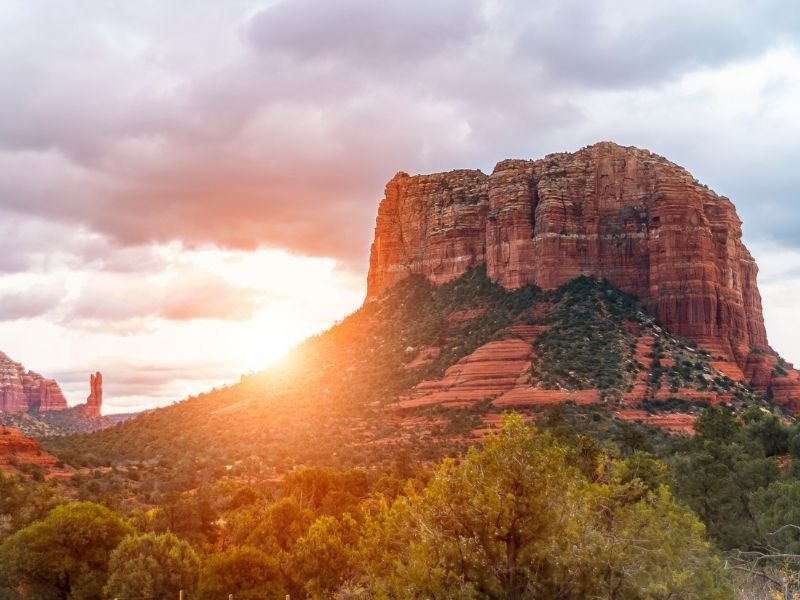 If you're more of an adrenaline junkie, consider renting an ATV for the day- there's tons of offroading trails that criss-cross through Sedona's desert, where you can zip across the dusty roads and take in the surrounding desert views.
Sedona is believed by some to have "energy vortexes" and thus, has developed a rather quirky, New Age-y vibe.
Be sure to carve out some time during your visit to explore its eclectic downtown, that's bursting with everything from standard souvenir shops to crystal stores and reiki healers.
Where to Stay in Sedona
Sedona is a spa town and it's the perfect place to splurge on a resort stay! We recommend Amara Resort and Spa in Uptown Sedona.
While everything downtown is within a short walking distance, the resort is very peaceful, tucked away off the street in an oasis of trees along Oak Creek.
The rooms and grounds are beautiful, with balconies looking onto the gardens and oversized Adirondack chairs to relax in. You can also take a dip in the infinity pool!
Search Sedona accommodations here!
Tucson, AZ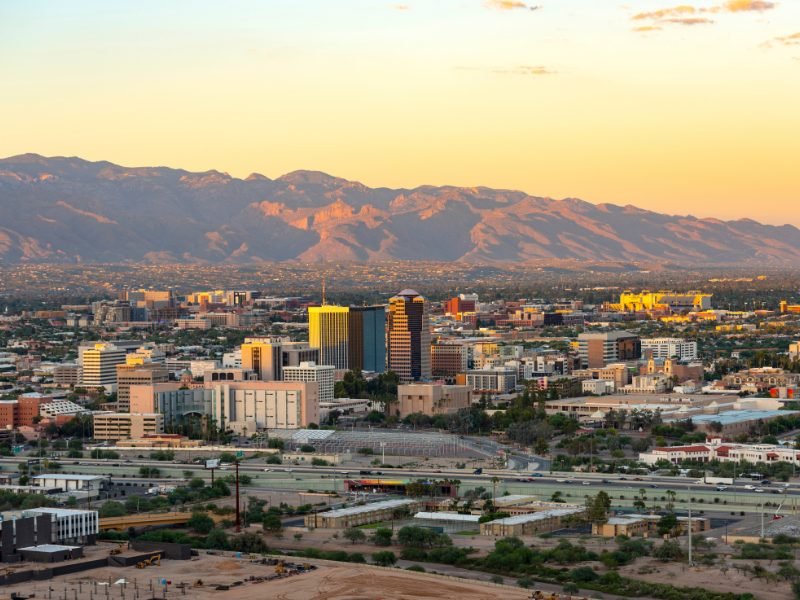 Contributed by Lisa Garrett of Waves and Cobblestones
Looking for a warm US travel destination in January? Sunny Tucson, Arizona is a great choice!
January high temperatures are in the upper 60s with lows in the upper 30s — perfect weather for exploring Tucson's many attractions.
With only three days of rain, January is a fantastic time to enjoy some of Tucson's best outdoor activities.
Hiking aficionados will enjoy Tucson's great hiking trails. Local favorite hiking locations include Mount Lemmon and Sabino Canyon.
Venture a little further afield to Madera Canyon for some excellent bird watching opportunities. Many migratory species use Madera Canyon as a resting place on their migration routes.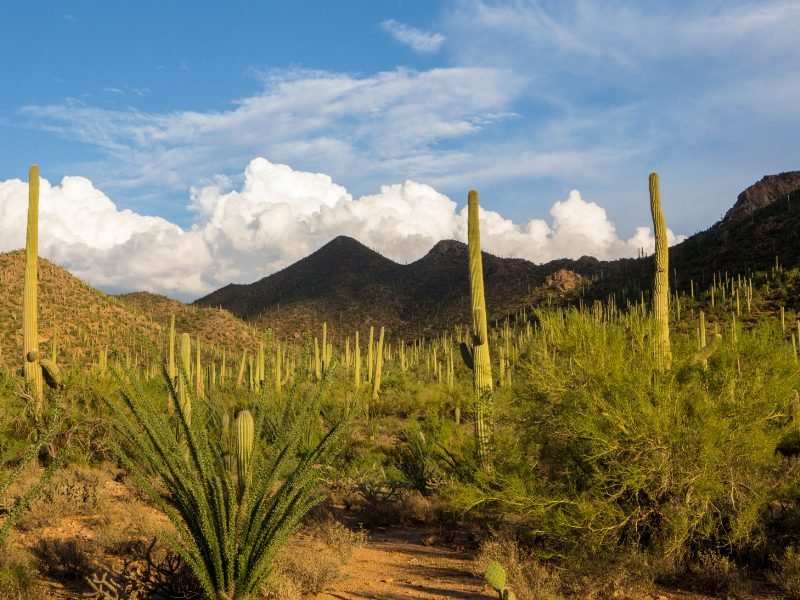 Not a hiker? You can still enjoy nature at the Tucson Botanical Garden, or visit the Saguaro National Park for some quintessential Arizona desert scenery.
Alternately, you can explore the unique underground formations at Colossal Cave, located just 15 minutes from Tucson.
Tucson boasts many great museums and art galleries, including the Tucson Museum of Art, the Arizona-Sonora Desert Museum, the DeGrazia Gallery in the Sun, and the quirky Mini Time Machine Museum of Miniatures.
Don't miss the Pima Air and Space Museum, a top-notch aerospace museum. Here you can view nearly 400 historic aircraft (including a Wright Flyer) on display over 80 acres and six indoor exhibition hangars.
Where to Stay in Tucson
Stay in downtown Tucson at the Hotel Congress.
This historic hotel has a unique 'rock 'n' roll' vibe with a nightclub, bars, and music venue.
Hotel Congress is also known for being the location where the infamous gangster, John Dillinger, was captured — great for fans of history!
Phoenix, AZ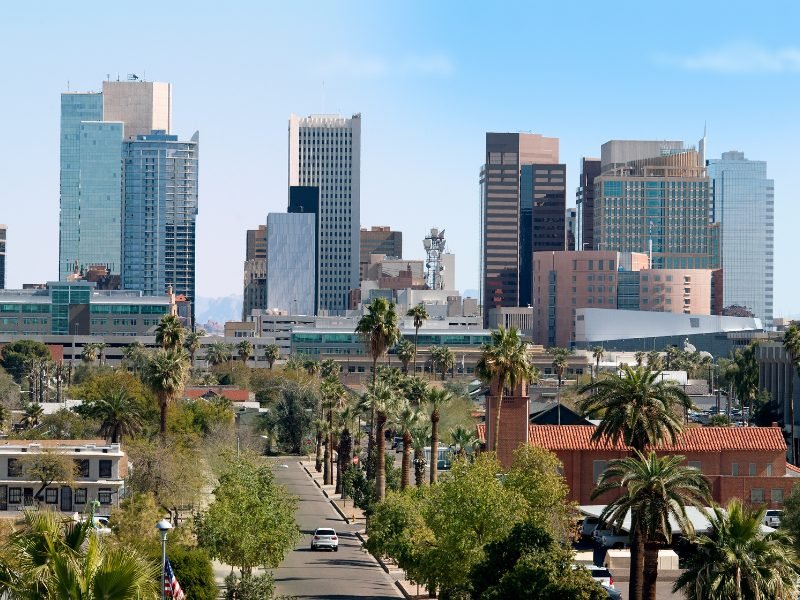 Contributed by Dymphe from Dymabroad
Phoenix is one of the best warm weather places to visit in the United States in January!
During that month the average high temperature is 67°F, and the average low temperature is 46°F.
Also, it rains for about 3 days during that month, which makes the place very comfortable to visit — you'll rarely get rained out!
There are a lot of things to do in Phoenix in January.
For example, you can attend the Arizona Fine Art EXPO, which is an annual multi-week festival where you can see many types of fine art.
Another activity that is great in January is visiting ZooLights at the Phoenix Zoo. There, you can see beautiful light displays, light shows, and sculptures of animals.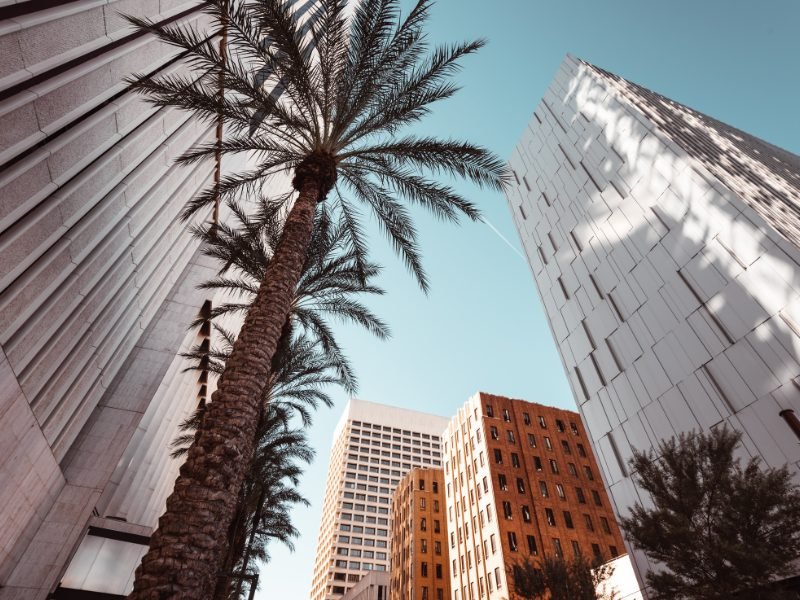 Also, January is the perfect month for outdoor activities. For example, you could join a guided hike and explore the beautiful landscape of Phoenix.
Another great activity during January is attending the Gold Canyon Arts Festival. This festival takes place at the end of the month, and during it, you can see art, listen to music, and taste great food.
Finally, the Regional Unity Walk takes place in January. This is a walk that celebrates the unity of the different cities in the Phoenix metro area.
During the walk, each city organizes very diverse performances, shows, and other events that are fun to attend.
Where to Stay in Phoenix
Also, a great hotel for a stay in January is the Rise Uptown Hotel.
This is a modern boutique hotel with beautifully designed rooms located in Uptown Phoenix.
Moreover, the hotel has a lovely rooftop lounge where you can relax and enjoy the lovely January weather!
Las Vegas, NV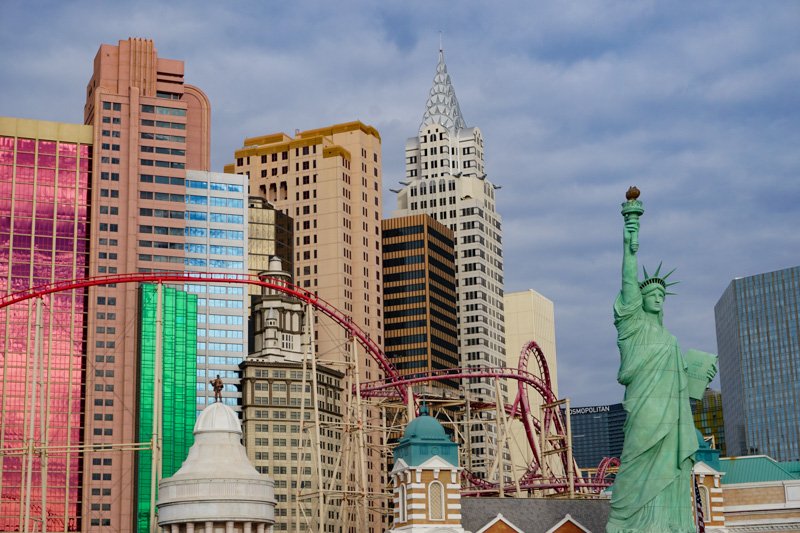 Contributed by Dhara from It's Not About the Miles
With a multitude of fun things to do, Las Vegas makes for an epic getaway any time of the year, but January is a particularly nice time to visit!
In January, you'll find crowds thinning out a bit after New Year's, cheaper flights, and the possibility of scoring a deal on a nice resort room.
With daytime highs usually in the low 60s Fahrenheit, you can wander around comfortably during the day.
Nighttime lows do drop into the mid-30s though, so bring a warm jacket for early and late in the day!
The potential for rain is very low (on average 3 days during the month), so expect plenty of sunshine on your January Las Vegas getaway, and bring your swim wear to lounge by the pool in the afternoons!
Visiting the Bellagio Conservatory is one of the top free things to do in Vegas, as is watching the Bellagio Fountains dance to light and music after dark.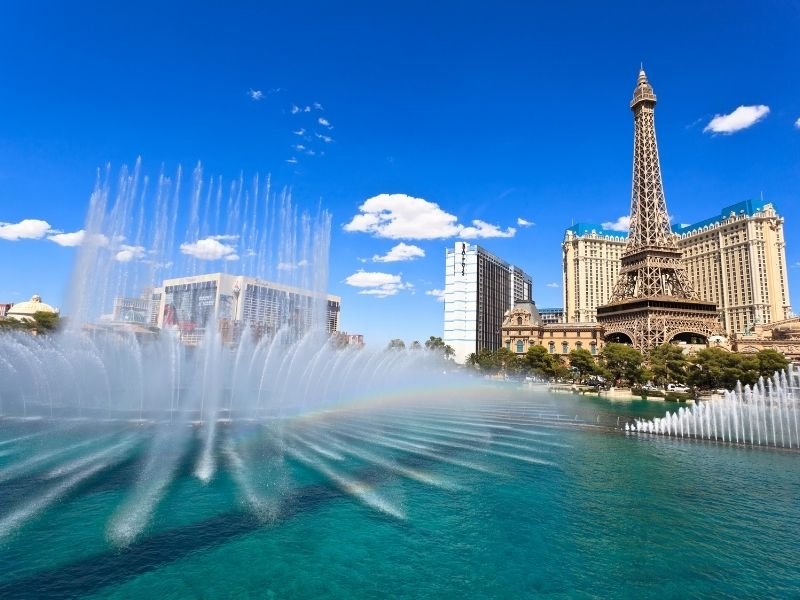 And of course, you have to walk the famous Las Vegas Strip to tour the larger-than-life resorts.
If you do run into inclement weather, check out the many fun museums in Vegas, from the Neon Museum to the Mob Museum.
January is a great time to explore the outdoors around Sin City, from the beautiful red rocks of Red Rock Canyon and Valley of Fire to the majestic landscapes of Death Valley National Park or Grand Canyon National Park.
The weather is too hot to visit these sights at many parts of the year, but in January, the weather will be just right!
Where to Stay in Las Vegas
When visiting Las Vegas, you simply have to stay on The Strip — it's where all the action is!
Stay at the Bellagio Resort, located in the midst of all the action on Las Vegas Boulevard.
And be sure to get a room with a view of the famous fountains!
Warm Places to Visit in the USA in January: Texas
Austin, TX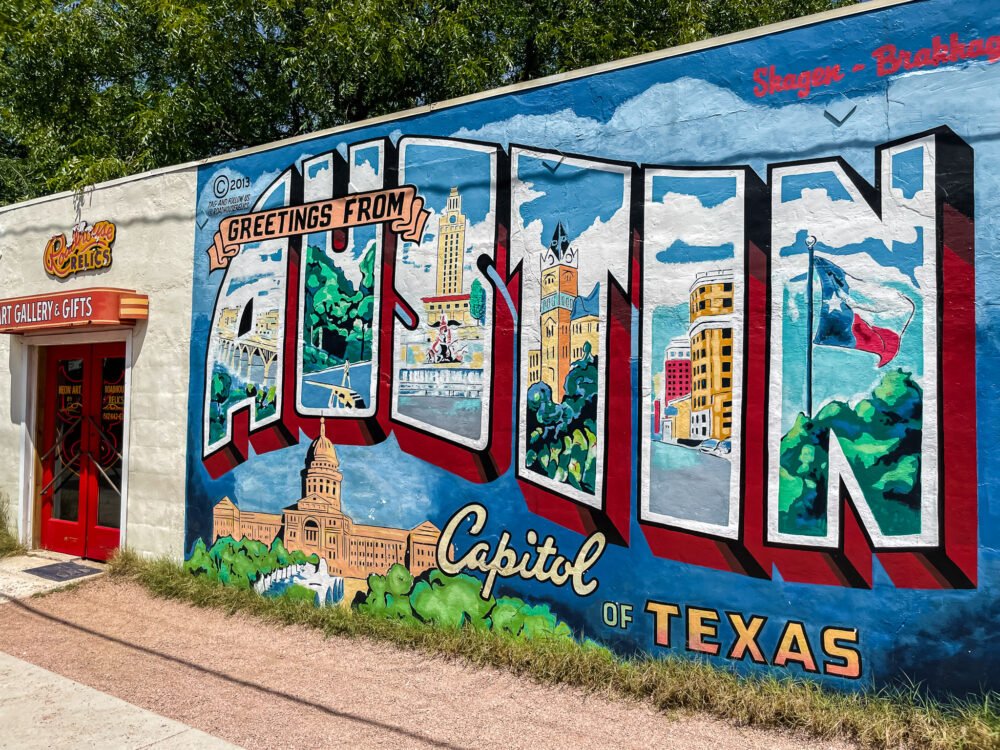 Contributed by Sierra of Very Truly Texas
The Central Texas city of Austin is a fun, active, and warm place to visit in the US in January!
When most of the country is bundled up in its winter best, the temperatures in Austin hover just above 60 degrees, making for perfect outdoor weather for hiking and exploring.
McKinney Falls State Park and the Barton Creek Greenbelt both offer several easy hiking trail options with waterfall views and plenty of spots to stop for a picnic.
Mount Bonnell will give you the best overlook view of Lake Austin and the Austin skyline.
To experience another lake in Austin, you can also walk the downtown path in Zilker Park along Lady Bird Lake or rent a kayak and float along the edge of the city for an up close experience.
January brings an exciting event to the city for music lovers. Free Week gives visitors the opportunity to see a number of bands completely for free in the Red River Cultural District.
South Congress is a popular street for dining and shopping, and Rainey Street is another option for food trucks and music.
If you find yourself with a rainy day, which only happens a few days out of the month in January, take a tour of the Texas Capitol Building to learn more about the history of the state.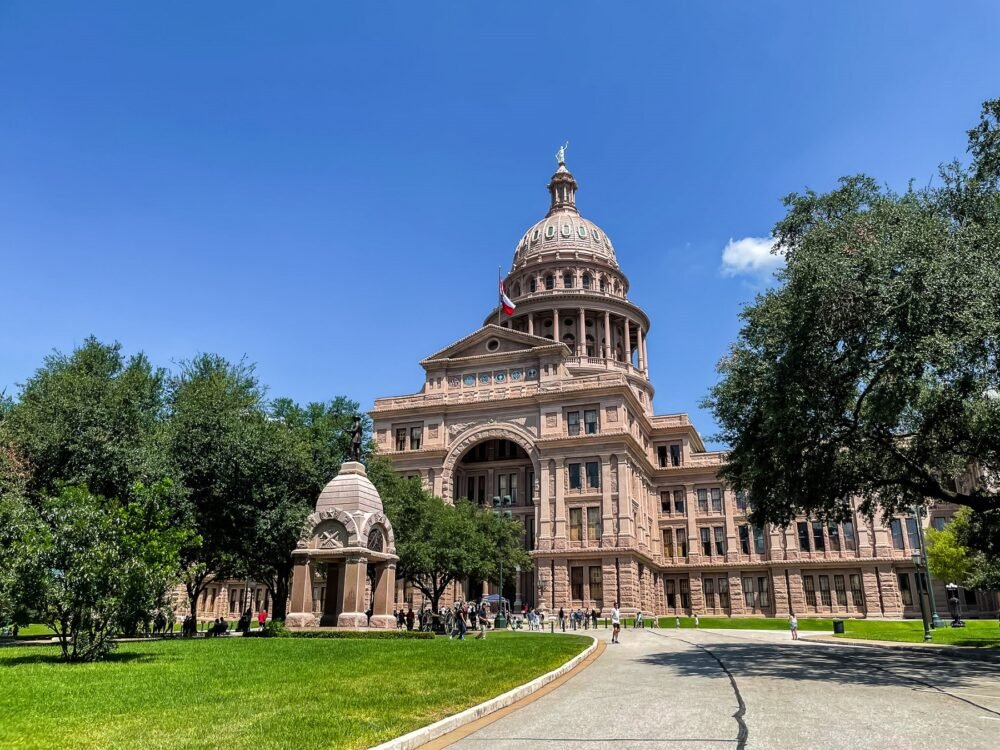 No one should leave Austin without trying breakfast tacos and BBQ! Veracruz All Natural and Terry Black's Barbecue are both highly recommended to check both of those boxes (respectively!)
Barton Springs is a popular natural swimming spot in the summer months, but it is actually open year-round and hosts the Polar Bear Plunge on New Year's Day for those brave enough to face the 68-degree water!
Where to Stay in Austin
Staying downtown will give you the best opportunity to experience Austin fully!
The Fairmont Austin is in the perfect location to visit many of the sights and restaurants.
With a beautiful pool and rooftop bar, this modern and upscale accommodation is a great choice.
South Padre Island, TX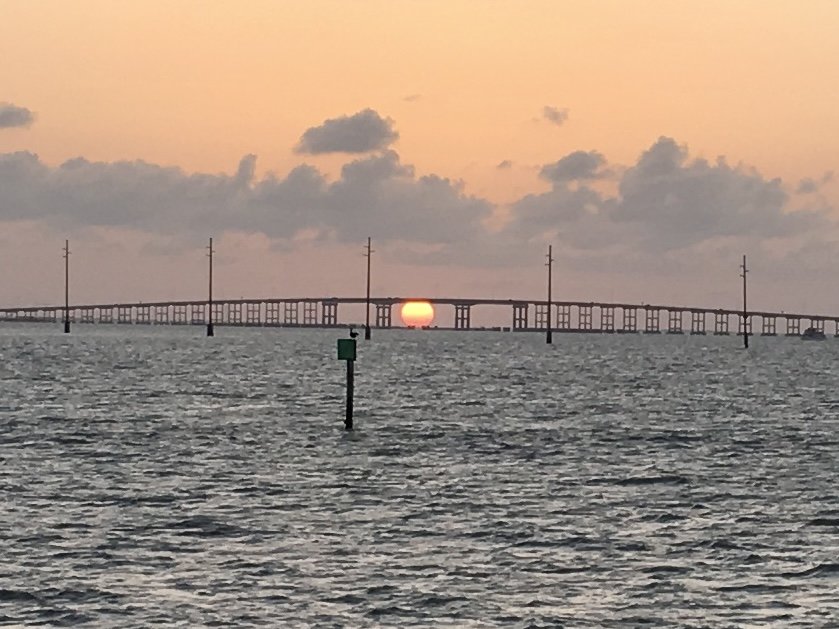 Contributed by Charles of US Gulf Coast Travel
South Padre Island is so desired by people escaping cold weather from northern US states (and Canada) that "Winter Texan" is a well-used local term created to describe them!
Winter Texas season typically begins in early November, but January is the peak month for the snow bird presence in Tropical Texas.
January in subtropical South Padre means comfortable and enviable average temperatures in the 60s and 70s with little rain to interrupt your outdoor plans.
Outstanding nature, wildlife, and outdoor activities along with plenty of fresh Gulf seafood makes South Padre Island a draw for Winter Texans and shorter term vacationers alike.
Some of the favorite things to do in South Padre Island in January include bird watching and fishing.
Bird watching in South Padre peaks in January. 500 different species of migrating birds use two major migratory flyways—Mississippi Flyway and Central Flyway pass right through the Rio Grande Valley and South Padre.
Superb fishing opportunities in January in Gulf of Mexico and Laguna Madre attract aficionados from all over the world.
The SPI Kite Fest is held on the last weekend every January is one of the most popular annual events on South Padre Island.
Many snowbirds and vacationers (any time of the year) love visiting South Padre for a "two-nation vacation," with easy access to Mexico for shopping, medical procedures, and authentic food and drink.
Where to Stay in South Padre
One of the most popular places to stay in South Padre is Isla Grand Beach Resort.
Isla Grand is a classic beach resort and in a convenient South Padre location, right across the causeway from the mainland.
Onsite features include swimming pools and hot tubs, beach volleyball courts, a fantastic nightclub, and several places to eat and drink.
Big Bend National Park, TX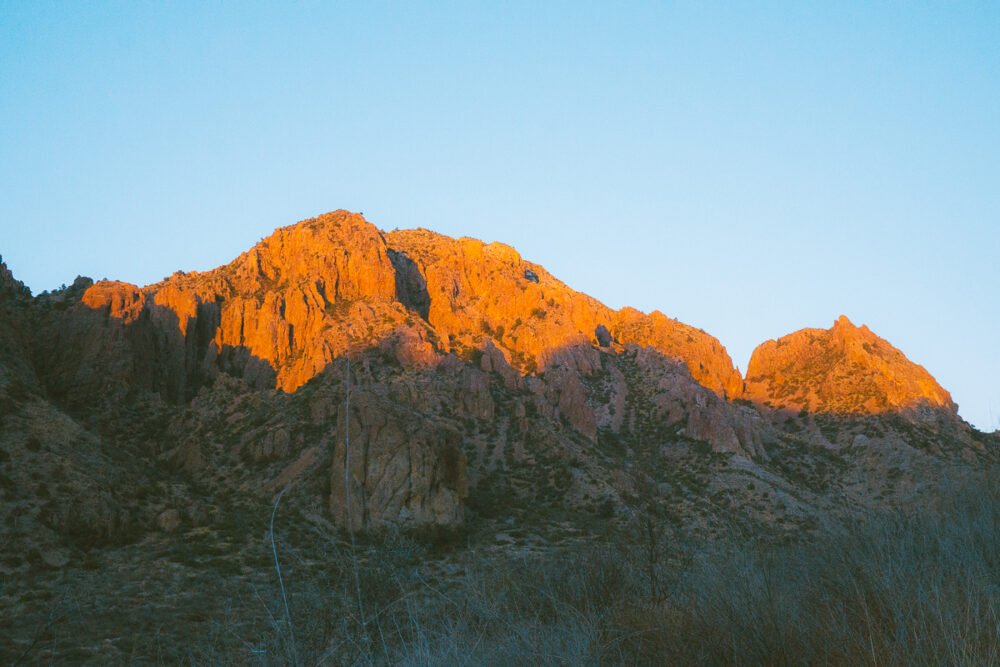 Contributed by Michelle of The Wandering Queen
One of the best places to visit in the USA in January is Big Bend National Park!
It is best not to see this national park in the summer as they close some of the visitor centers due to hot temperatures, so winter is a great time to visit to have cool weather while hiking in the sun.
The temperatures range from 58° highs to 39° in the lower temperatures, and on average, it might rain two days in January.
Bring sunscreen because, more than likely, it will still be sunny.
Some of the best things to do in Big Bend National Park is to hike. Some popular hikes include Santa Elena Canyon, The Lost Mine Trail, and the Boquillas Canyon Trail.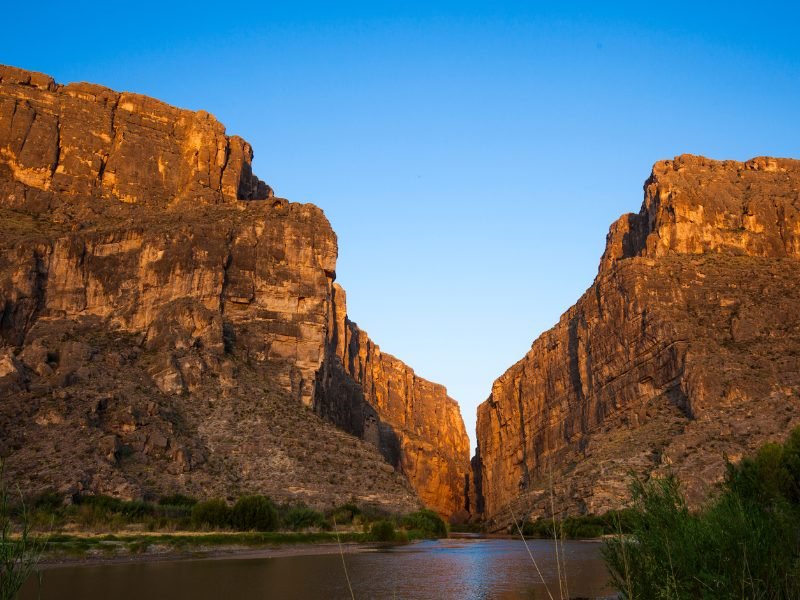 Both canyon trails are fantastic if you want to see the famous Rio Grande!
Another incredible activity to do, especially in the winter, is to soak in the hot springs.
The warm hot springs are located right on the beautiful Rio Grande. And if you get there right at sunrise, you might miss the large crowds.
There are so many unique outdoor activities in Big Bend National Park, and it is best to do it in the winter when it is not blistering hot outside, which is why it is best to visit in January.
Where to Stay in Big Bend
If you decide to visit this lovely park in Texas, make sure to stay at the hotel Chisos Mountain Lodge.
It is the only hotel in the national park and is centrally located to all the beautiful hikes!
San Antonio, TX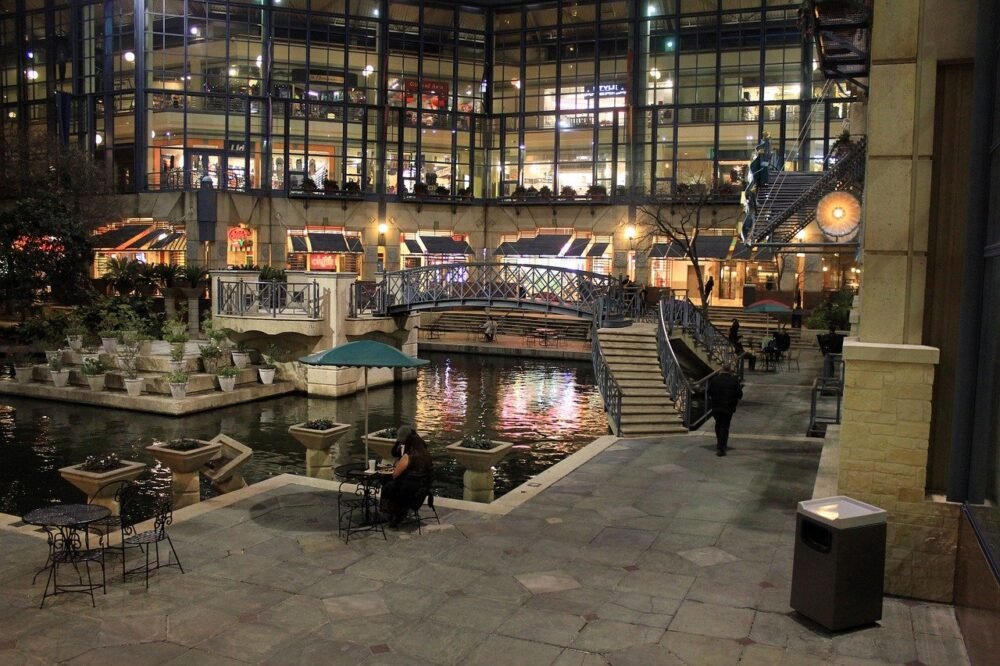 Contributed by Rachel of WanderU
San Antonio is a vibrant city in southwest Texas that offers year-round sun and activities everyone in the family will enjoy – especially if you're looking for a warm getaway in the USA in the winter months.
On average, it usually only drops to the mid-40s at the lowest in winter, and it can still get up into the 70s even in January.
It's also typically the driest month of the year for the Alamo City, so you can get out and enjoy the city with no umbrella needed.
If it's your first time visiting, your first stop has to be the Alamo. It's the most well-known landmark in the city, and it easily qualifies as one of the best free things to do in San Antonio.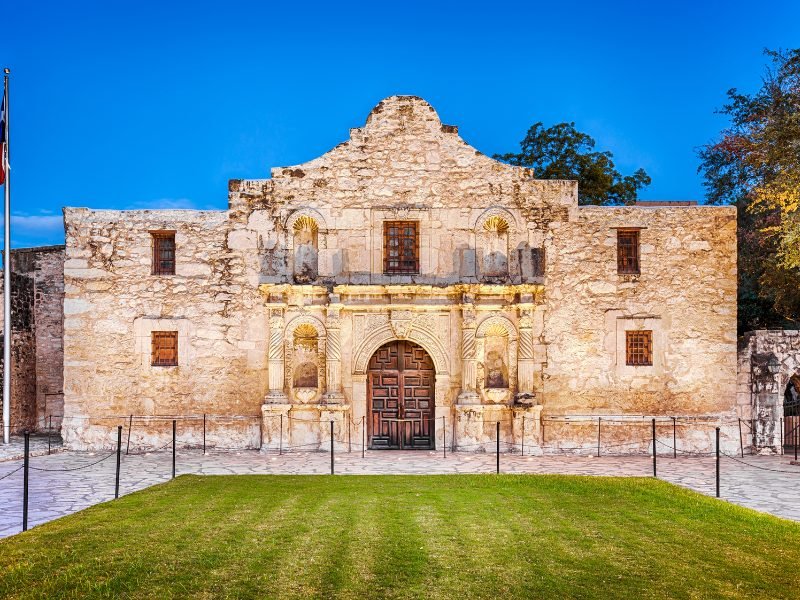 You can view historians recreating scenes from typical life during the Texas Revolution or simply walk around the site on your own to see artifacts such as a 2,000-pound cannon last fired in 1836.
The next must-see is the San Antonio Riverwalk, which has paved paths alongside part of the San Antonio River. There are plenty of unique shops, delicious restaurants, and of course, tasty margaritas!
You can also grab a ticket for a river cruise, which is a great way to see the area while learning about its history — and you'll probably end up with a few recommendations of things to do or see from your guide.
San Antonio is a nice, warm destination all through winter, but anyone coming in late January can enjoy a special treat: Restaurant Week.
For this event, the restaurants around the city create a fixed menu of the best each establishment has to offer. Restaurant Week is typically the third week of the month, but double-check the dates before your trip.
Where to Stay in San Antonio
If you want to stay in San Antonio to experience all these activities, check out the Wyndham Garden Riverwalk Hotel!
It overlooks the Riverwalk, giving you amazing views and a convenient location for a reasonable price.
Warm Weather Getaways in the USA in January: Southeast
Gulf Shores, AL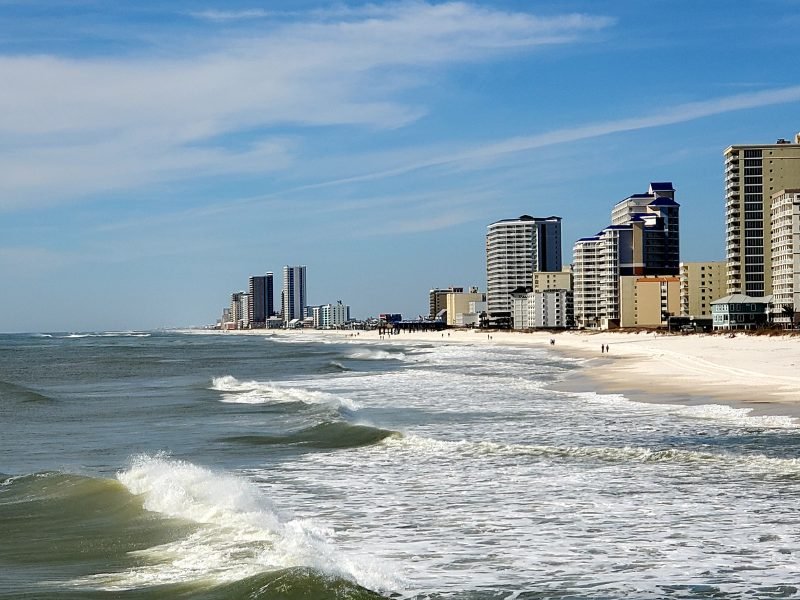 Gulf Shores is an underrated destination to travel to in the US during the winter.
This Alabama city averages a high of 63F in January (with lows in the mid 40s) and while it is not "swimming" weather, you will find plenty of activities in the city on the Gulf of Mexico that allow you to escape the winter blues for a bit!
The high-season in Gulf Shores is during the summer months, so the crowds will be gone and you will have some of the best places to yourself – like Bon Secour Nature Preserve and Gulf State Park.
The weather is mild and hiking trails like the Hugh S. Branyon Backcountry Trail and the Jeff Friend Trail are less-trafficked and perfect places to enjoy the outdoors.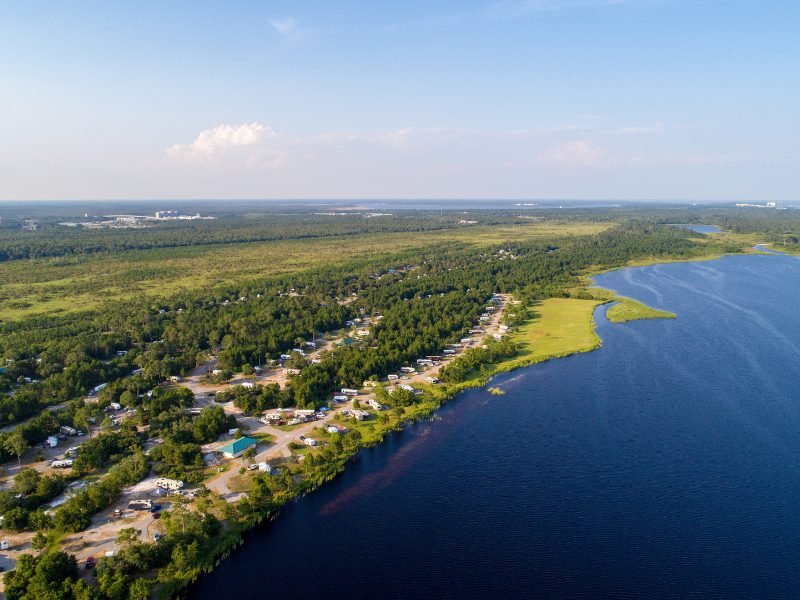 If you end up in Gulf Shores on one of the seven rainy days the city averages in January, there is still plenty that you can do indoors.
There is an exciting craft beer scene in Gulf Shores with names like Liquid Latitude and Big Beach Brewing offering beer lovers a drink regardless of the season.
Oyster season is at its prime in January, and you can indulge at Original Oyster House Boardwalk or Acme Oyster House close to the water.
For those looking for an extended Christmas or the winter spirit (without the frigid temperatures!), you can check out the Magic Christmas in Lights Festival at Bellingrath Gardens and Home that runs all the way until the end of January annually.
Alternatively, you can take a day trip to nearby Orange Beach to enjoy ice skating at The Wharf which runs until mid-January each year.
Gulf Shores has a reputation for being a family summer hotspot or a spring break destination, but winter really has a lot to offer those looking to escape the cooler temperatures of the north for something a bit milder!
New Orleans, LA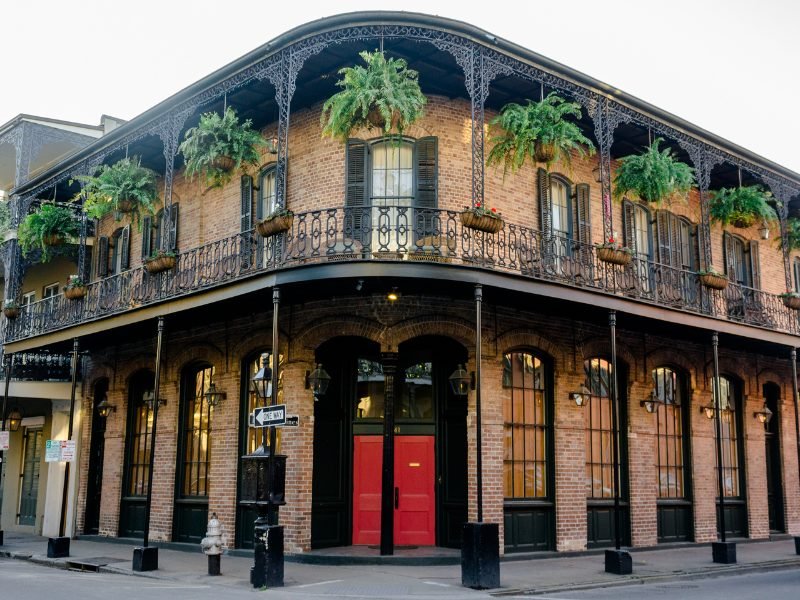 Contributed by Nicole of Go Far Grow Close
New Orleans is a vibrant and exciting warm place to visit in January in the USA.
It has a rich history that blends African, French, Spanish, and Creole elements. This means it offers architecture, food, and history that is distinct from anywhere else in the USA.
It is also wonderfully warm in January, with average highs hitting around 63 degrees Fahrenheit and night time lows averaging around 48 degrees Fahrenheit.
On average, you will only experience around 9 days of rain with a total of 4.8" throughout the whole month.
January also welcomes the annual celebration called Twelfth Night or Epiphany. This marks the official end of the holiday season and the start of Carnival season.
It also means the start of the first parades of the Mardi Gras season!
You can also attend Krewe de Joan d'Arc, a medieval-themed parade through the French Quarter that honors St. Joan of Arc's birthday and New Orleans' French heritage.
When not celebrating or watching parades, consider exploring the French Quarter, where you can learn about the fascinating history of New Orleans, appreciate its beautiful architecture, listen to some amazing street performers, and do some fantastic shopping.
If looking to add to your New Orleans itinerary, then head to the National WWII Museum.
This amazing interactive museum takes visitors through the history of the United State's participation in both the European and Asian offensives that helped end WWII. It is simply fascinating, and visiting is one of my top New Orleans tips!
Where to Stay in New Orleans
For those looking for a great hotel, consider the Omni Royal Orleans which is right in the center of the French Quarter.
The location is amazing and the hotel is beautifully decorated and comfortable.
Savannah, GA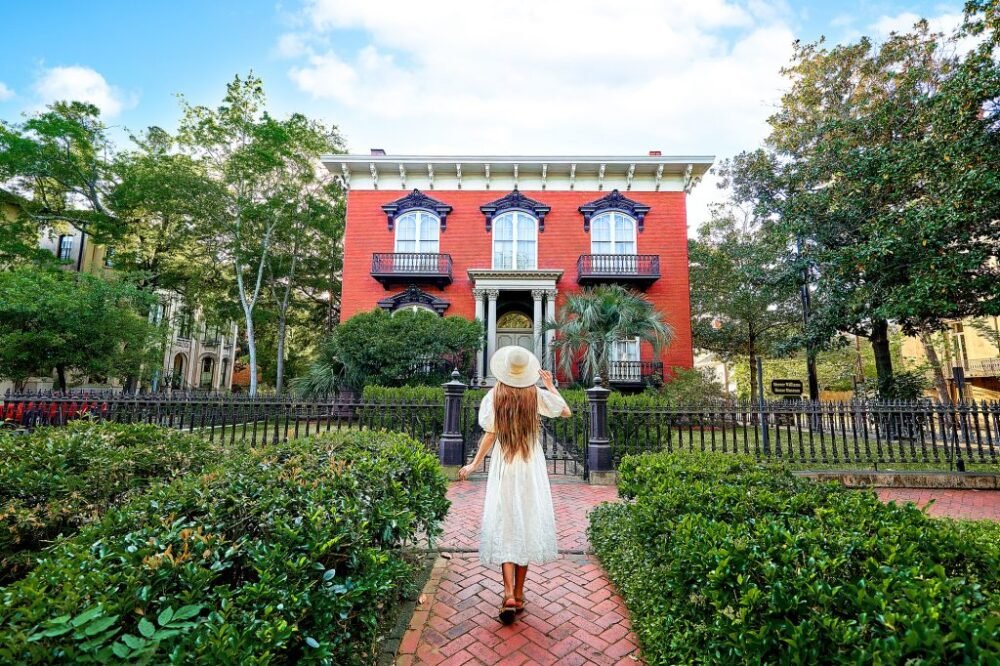 Contributed by Victoria of Southern Trippers
Savannah, Georgia is a perfect pick for one the best warm-weather destinations in the USA in January.
After all, daily highs hover around 62F while daily lows 40F. So, be sure to bring a warm, weatherproof coat since January also means around 6 days of rain monthly.
Be sure to book a place to stay in the Historic District, which will allow you to easily enjoy some of the best things to do in Savannah, Georgia.
For example you can visit the Cathedral of St. John the Baptist and explore the 30-acre Forsyth Park.
If you can, stop by Forsyth Park on a Saturday since this area hosts a great farmer's market from 9:00 am to 1:00 pm.
Next, take a tour of the Mercer Williams House, which was was first built in 1868. Now it is a fantastic museum that features original furnishings, flooring, and stained glass windows.
The former home is also filled with Chinese porcelain, 18th and 19th-century Regency and Empire furniture, 18th and 19th-century portraits, and more.
If you can, try to time your visit to enjoy fun January events like the Waterfront New Year's Celebration and an annual Dr. Martin Luther King Jr. Parade that takes over the downtown area around January 16th.
Where to Stay in Savannah
When you need to escape the winter cold, book an exquisite room at The Marshall House. It's a historic home that was first built in 1851 and that served as a hospital during the Civil War.
Today though, it is easily one of the best boutique hotels in the city since this establishment features expansive rooms with stunning, decorative fireplaces as well as complimentary and daily breakfast.
Charleston, SC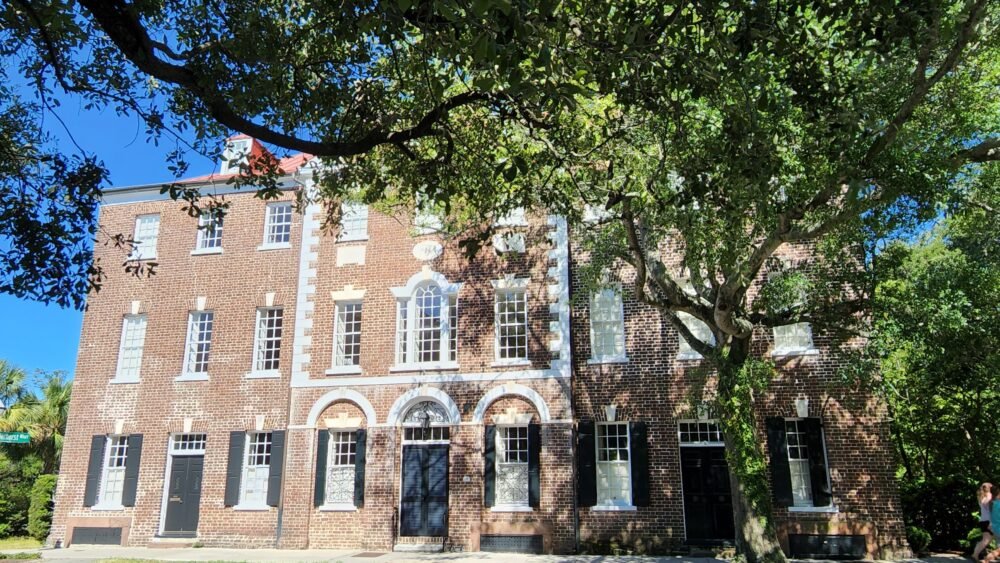 Contributed by Yukti of Travelwithme24x7
To escape the freezing chill weather of the Midwest and Northeast, Charleston, SC, is the best place for a warm weather getaway in the USA during January.
There are many exciting things to do in Charleston, SC, as it has historic vibes and a lovely food scene.
All landmark homes and museums are open throughout the year; therefore, it would be great to visit them, especially if you get a rainy day.
Charleston's Historic District is walkable; with average winter temperatures of around temperature of 60 F, it is easy to go for a walking tour of the city and appreciate the scenery around you!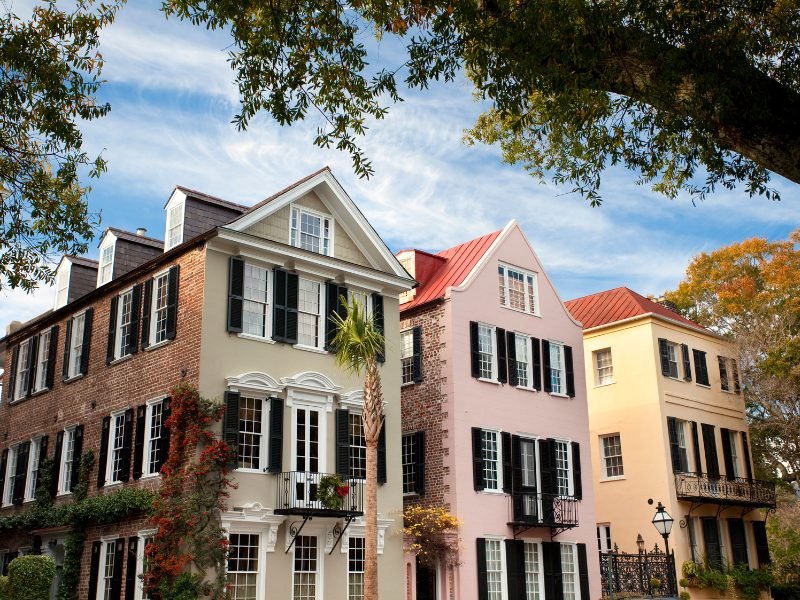 Not only this, but there are some unique events held here. January is the best month to witness the Oyster Harvest.
To celebrate this, they have an annual Lowcountry Oyster Festival, considered the largest oyster festival in the world!
Being a foodie city, Charleston also hosts a winter Restaurant Week at Folly Beach, celebrating all the great Folly Beach restaurants!
Where to Stay in Charleston
Hotels in Charleston are expensive throughout the year. But January seems to be the best chance for getting good deals!
Always book a hotel in the Historic District of Charleston due to its proximity to many historic attractions.
Embassy Suites by Hilton Charleston Historic District is an excellent place to stay with grand historic style buildings and walkable to all landmark homes & museums.
Warm January Destinations in the USA: Florida
Orlando, FL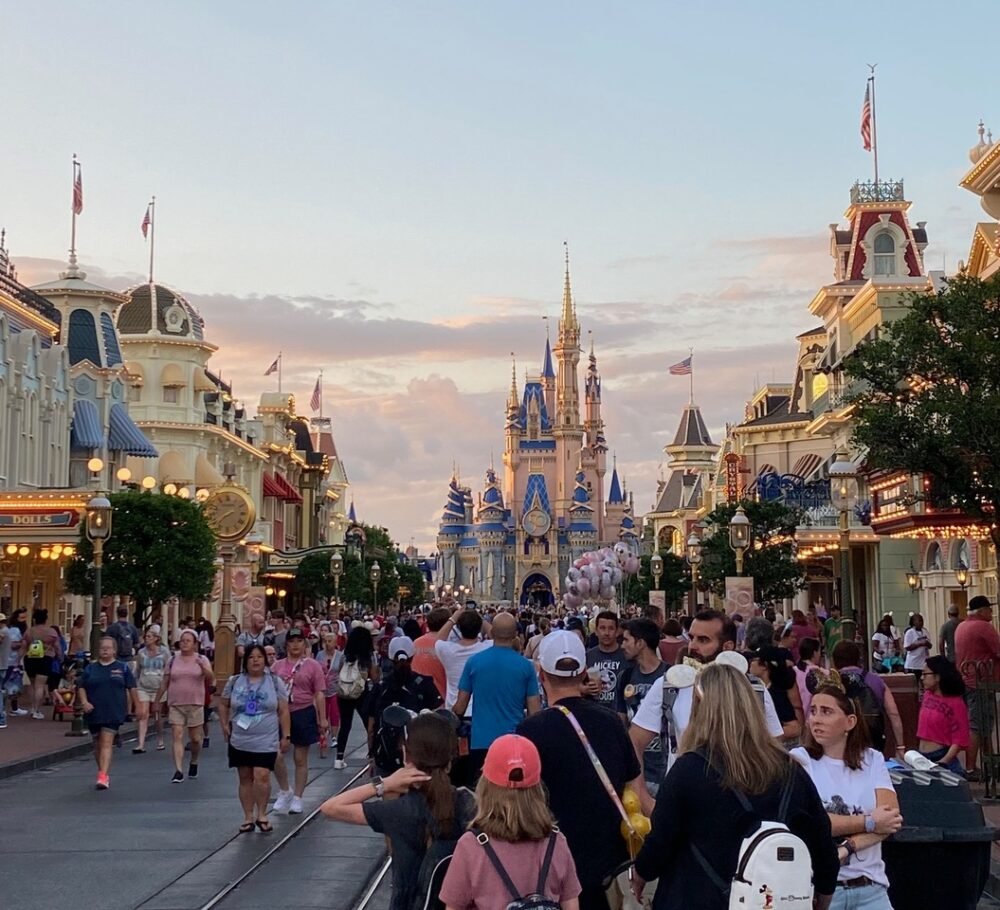 Contributed by Katie from KatieCafTravel.com
Orlando, Florida is the perfect place to escape dreary winter weather in January.
Sporting highs of 72 degrees Fahrenheit, January is one of the most temperate times to visit America's theme park capital. Get your Disney countdown going!
January is actually one of Orlando's driest months, with only 4-5 days of rain during the month on average. So it's a great time for theme park goers who don't want to get caught in the rain!
Nights in January can get a bit chilly, with average lows of 52 degrees Fahrenheit, so don't forget a jacket!
Even though it's not necessarily warm enough to visit the beach in January in Florida, you can still enjoy Orlando's many waterparks.
Disney's Blizzard Beach, Typhoon Lagoon, and SeaWorld's Discovery Cove are all open year-round and fully heated.
There are also over a dozen traditional theme parks in Orlando – No trip would be complete without a visit to Universal Studios, SeaWorld, or one of Disney World's 5 signature theme parks.
Plus, it's easy to get around these parks with the Minnie Van service at Disney World.
Orlando is known as the "city that Disney Built" because it was the first theme park to open in the area all the way back in 1971.
Before that, Orlando, Florida was mostly just an Airforce base!
Now that Orlando is a big deal because of Disney, it can be a bit of a pricy destination to visit, so be sure to figure out how much spending money you need for Orlando (whether or not you visit Disney!).
Plus, Orlando is a great gateway to other destinations, like the Abaco Islands in the Bahamas if you find yourself wanting to use your passport!
Where to Stay in Orlando, FL
If you're visiting Disney World you can't go wrong with staying at one of Disney World's 32 resorts in Orlando.
One of the best Disney World resorts you can visit in Orlando is the Boardwalk resort.
The Boardwalk is one of the most popular Disney World resorts because it's one of the only hotels within walking distance to the Epcot theme park, perfect for people who want to make the most of their trip!
Anna Maria Island, FL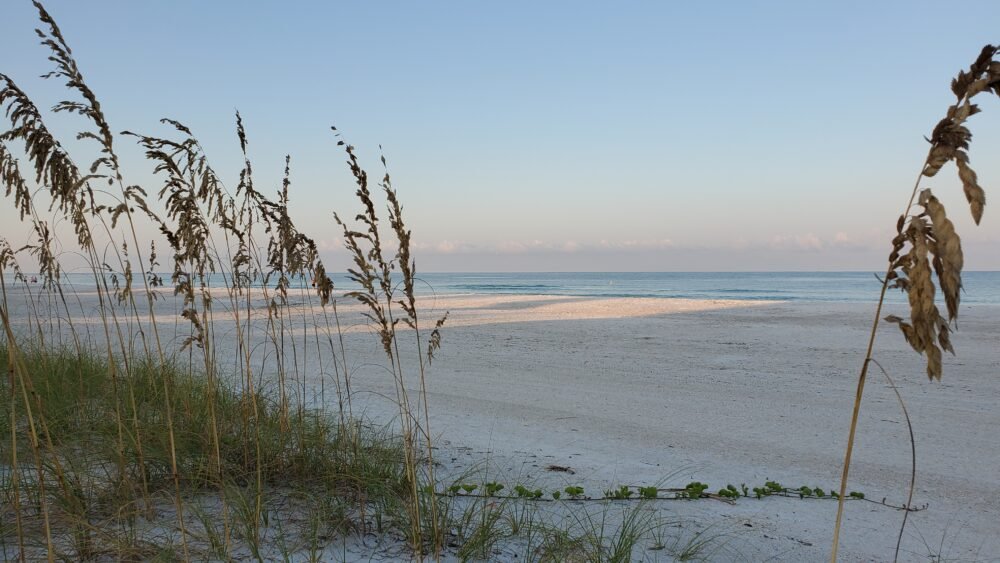 Contributed by Paula of Paula Pins the Planet
If you are searching for perfect warm weather to visit in January in the US, most likely Florida will come to the top of your list, and for a good reason!
The Sunshine State is an amazing option for fun and sun, including during wintertime.
One of the best places to plan a warm vacation, while enjoying incredible pristine beaches, and the feeling of old Florida is Anna Maria Island.
Anna Maria Island has amazing things to do, and it is a great destination for anyone!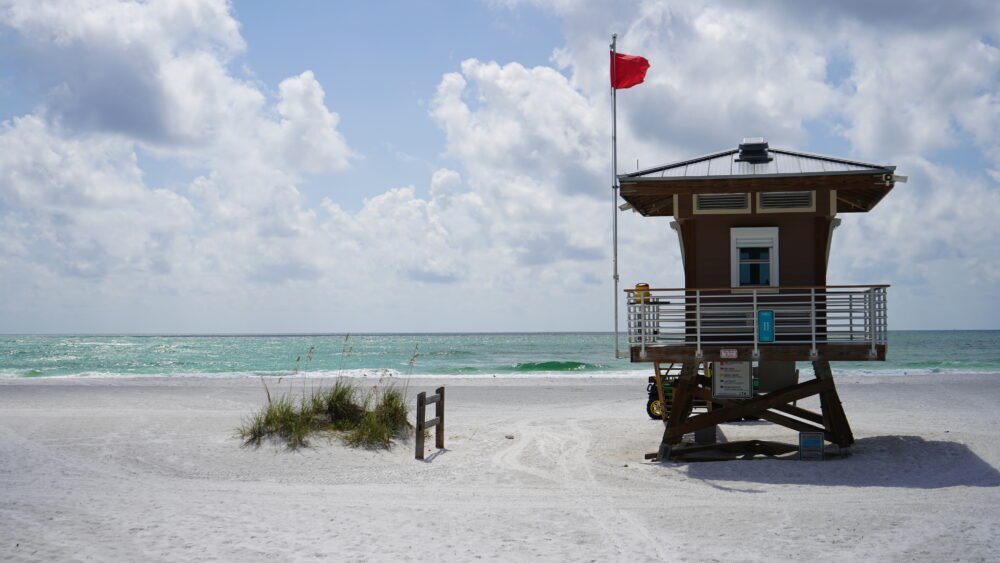 If you are looking for some relaxing time with your family or friends, you will be able to explore stunning beaches with powdery sand and turquoise water color.
Now if you love the outdoors and adventure, Anna Maria offers a great variety of outdoor activities such as hiking, kayaking, and bicycling.
Anna Maria Island is a great destination all year long, but during winter the temperatures are cooler with average temperatures reaching a high of 77 degrees and a low of 65, with the humidity being lower during winter months.
It is also considered the low season you will have will find amazing things to do, without having to share it with crowds that normally visit during summer and spring, plus you will be able to find better deals on the accommodations.
Where to Stay in Anna Maria Island
There are several great options for accommodations at Anna Maria Island, such as the Compass Hotel by Margaritaville Anna Maria Sound.
It is a great option offering breathtaking views, a great outdoor swimming pool with a bar, and you can enjoy the restaurant serving fresh seafood and a fantastic breakfast.
Naples, FL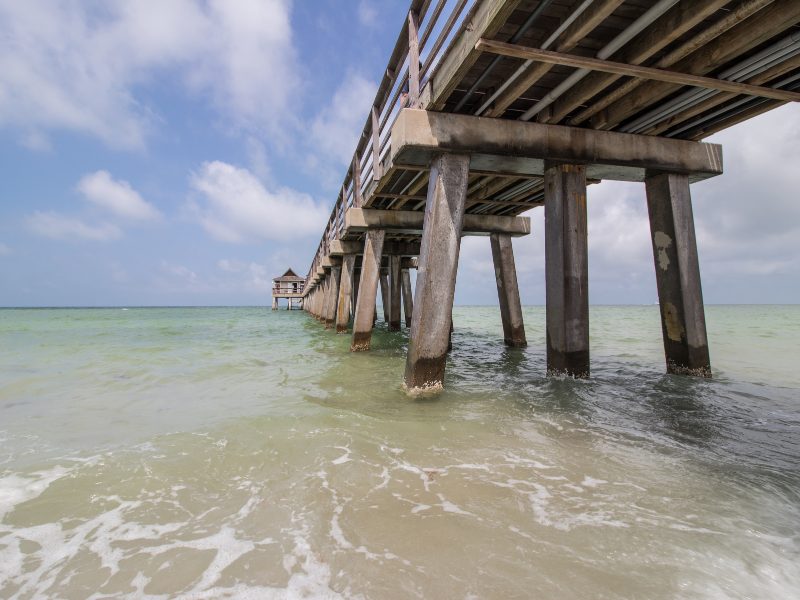 Contributed by Victoria of Florida Trippers
If you're looking for one of the best warm-weather destinations in the USA in January, then you can't beat Naples, Florida.
After all, January's average daily highs are a pleasant 75 degrees F while average daily lows only dip to around 55 degrees F.
Plus, this iconic Florida destination only receives around three days of precipitation throughout the month.
So, visitors can take advantage of the great weather as they enjoy fun annual events like the Naples Boat Show at Sugden Regional Park.
And if you're not into boats, January is always a great time to escape the crowds and enjoy some of the best things to do in Naples.
In particular, visitors will love exploring the mangrove-filled estuaries of Marco Island. Just don't leave without looking for seashells!
Also be sure to check out the incredible ruins of the Caxambas Clam Colony and the Witch Watchtower while you're here.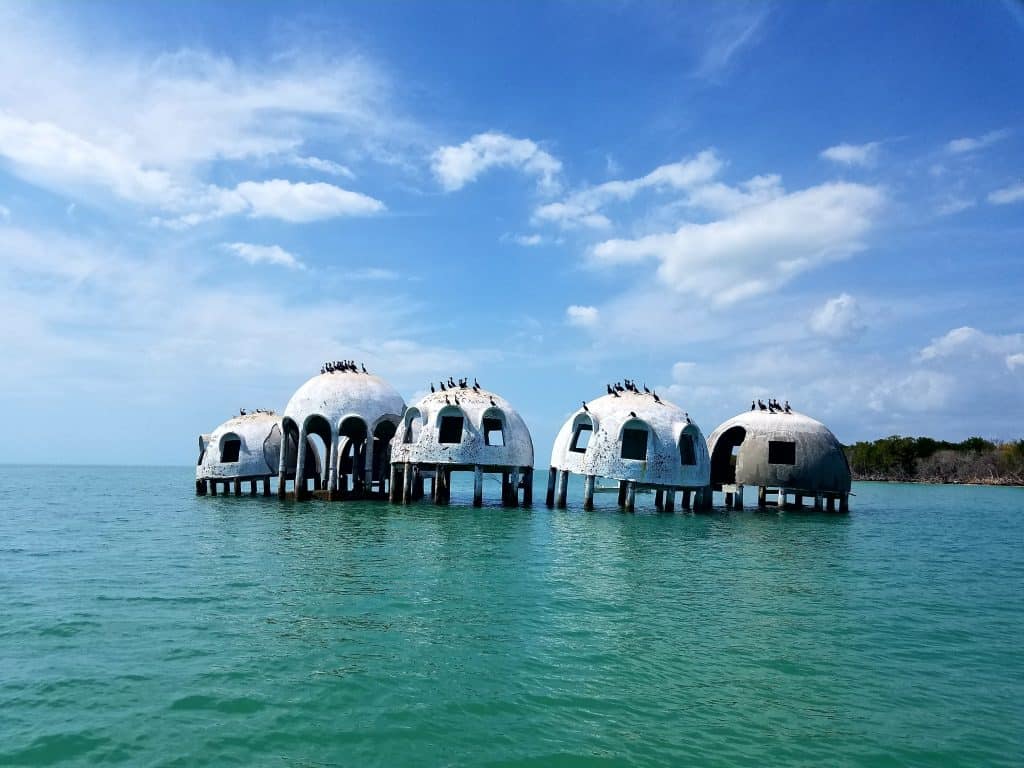 You'll even find the Florida Domes here which are an amazing hidden gem that can only be seen by boat and that are actual remnants from a millionaire's residence in Cape Romano.
Now, when you start to feel a bit hungry, dig into a decadent meal at The Turtle Club Restaurant that includes their iconic oysters turtlefeller, coconut fried shrimp, and roasted lobster tail with petite filet.
Where to Stay in Naples
When you're trying to find a place to stay in Naples, I suggest you unwind for the night inside a luxurious room at the Ritz Carlton Naples.
This incredible hotel sits right on the beach, has two outdoor pools, a sauna, and a spa for you to enjoy.
Plus, you'll have access to your own private balcony as you snuggle into your plush complimentary robe and slippers
Clearwater, FL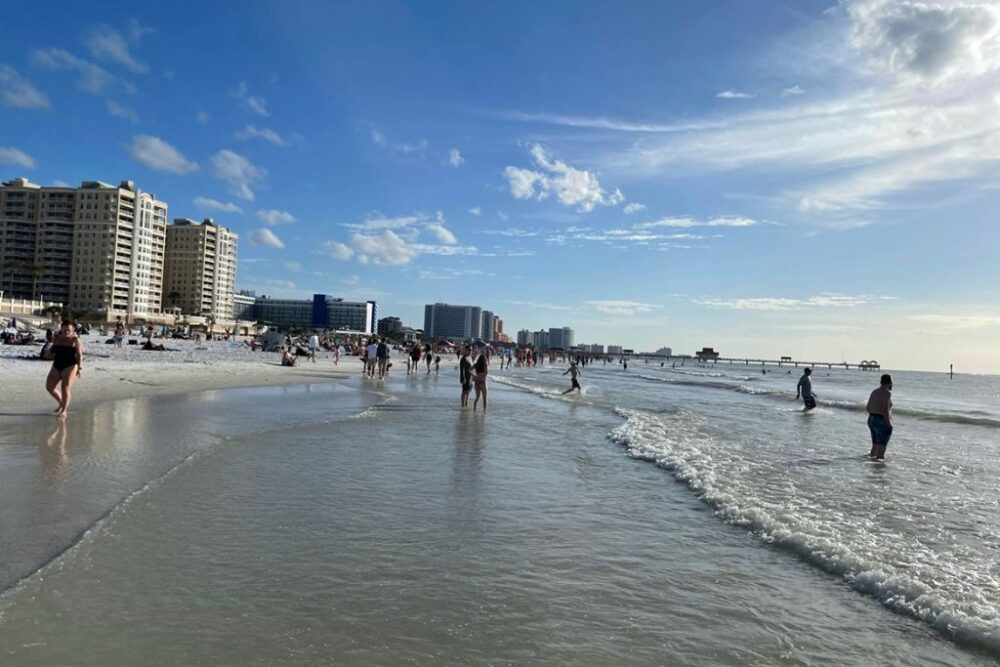 Contributed by Wayne of Always on the Shore
Clearwater Beach is an ideal warm place to visit in the US in January because of the nice weather and activities.
The average high temperature in Clearwater Beach in January is 69 degrees, with an average low of 56 degrees!
This makes it the perfect time to enjoy the beach without having to worry about the heat!
The beach has Pier 60 with street vendors and activities for kids, while there are also great seafood restaurants, right on the beach, such as Frenchy's Rockaway Grill and Palm Pavilion.
Additionally, Caladesi Island State Park and Honeymoon Island are just north of Clearwater Beach with beautiful secluded beaches and are great for hiking, and camping.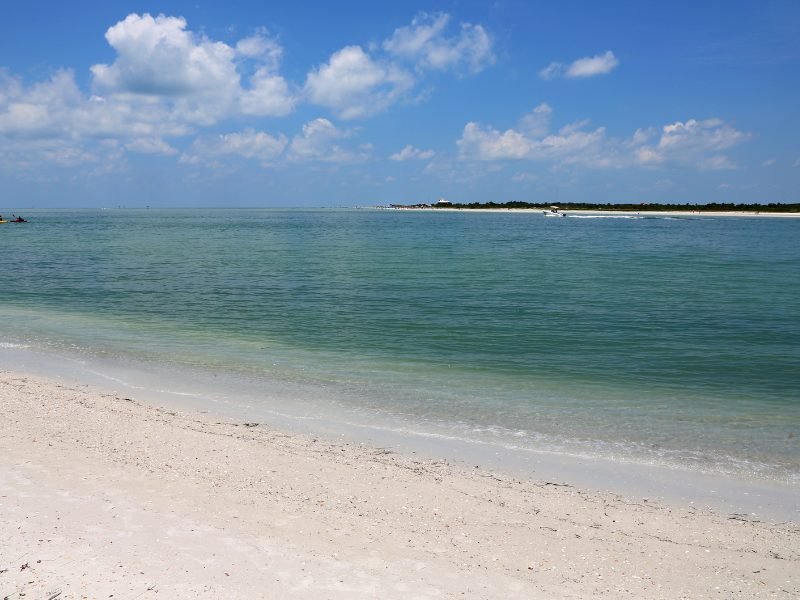 You can only get to Caladesi Island State Park by boat or ferry so it's a nice choice to get away from the larger crowds in the city and enjoy nature.
Clearwater also has a number of events happening in January, including the Clearwater Marathon and Running Festival, which has races 5k races for lower-level runners, all the way up to a 50k run!
Next door to Clearwater in St. Pete is the St. Petersburg Shrimp and Music Festival that takes place in January.
Here you can taste seafood and vegetarian dishes while checking out some of the best local and regional bands!
If you're looking for a great place to relax and enjoy yourself, Clearwater Beach is the place to be in January.
Where to Stay in Clearwater Beach
Pier House 60 is a good place to stay that's right in the heart of Clearwater Beach.
One of the most well-known beaches around, this hotel has amazing beach views and is within easy walking distance of all the fun spots in the city.
They offer a free breakfast and you can enjoy a drink and the views at their rooftop bar.
Cedar Key, FL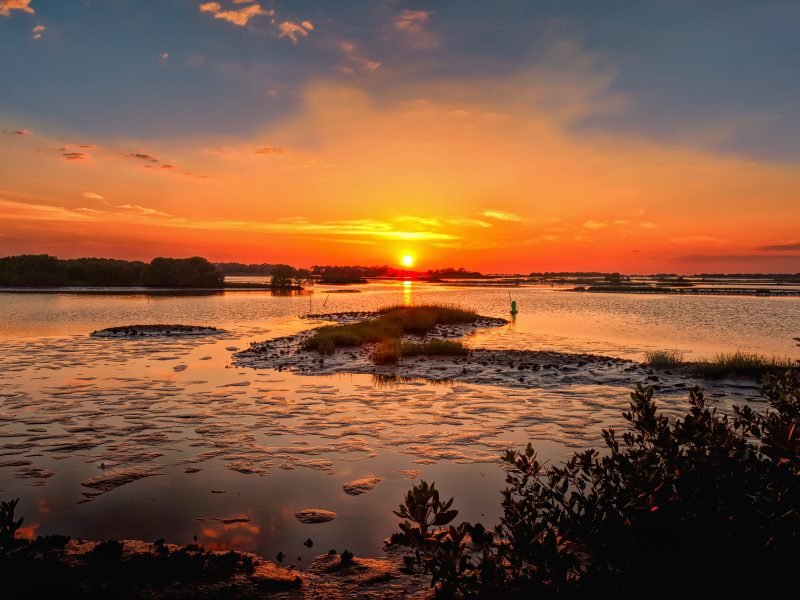 Contributed by Jillian Michelle from Adventure Dragon
Cedar Key is a lesser-known place in the USA that is perfect for spending a warm weather vacation in January!
It's Florida's second oldest town, but it's one of the last few remaining beach towns in the state where tourists haven't yet oversaturated the area.
During January on a Cedar Key trip, expect average daily temperatures to reach as high as 64 degrees Fahrenheit and rarely drop below 47 degrees.
It's one of the driest months of the year, with only 3 inches of average rainfall, so it's the perfect time to enjoy the outdoors in comfort.
January is a popular month for boating activities in Cedar Key. Coastal island tours and sunset tours are both high-rated choices.
If you're a lover of history or nature, you can take a ferry a half a mile away to Atsena Otie Key.
It's the original settlement of Cedar Key, but today all that remains are ruins to explore and a 145-year-old cemetery.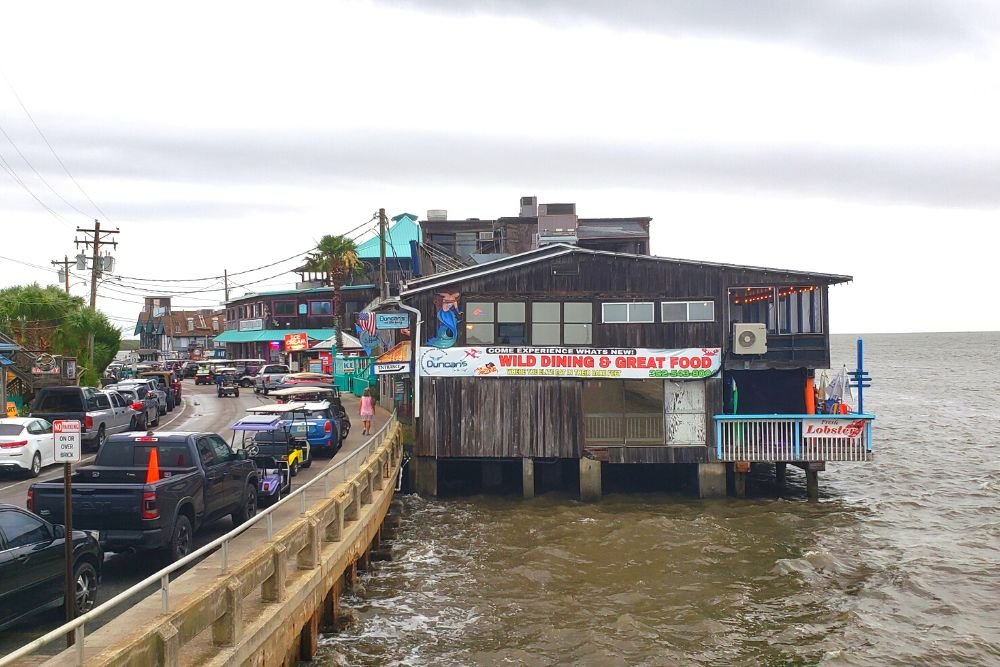 Dock Street is the busiest area in the town, and the entire street is lined with waterfront restaurants overlooking the Gulf.
Sit on a private deck at Steamers Clam Bar, and then watch for dolphins swimming in the water below!
Where to Stay in Cedar Key
When you're ready to settle in for the night, stay at the Island Hotel.
This unique bed and breakfast is one of the oldest places to stay in Florida, dating back to 1859!
It housed soldiers during the Civil War and is even said to be haunted by the ghosts of at least thirteen former inhabitants.
There's a restaurant with lounge seating on-site, and breakfast is included with every stay!
Key West, FL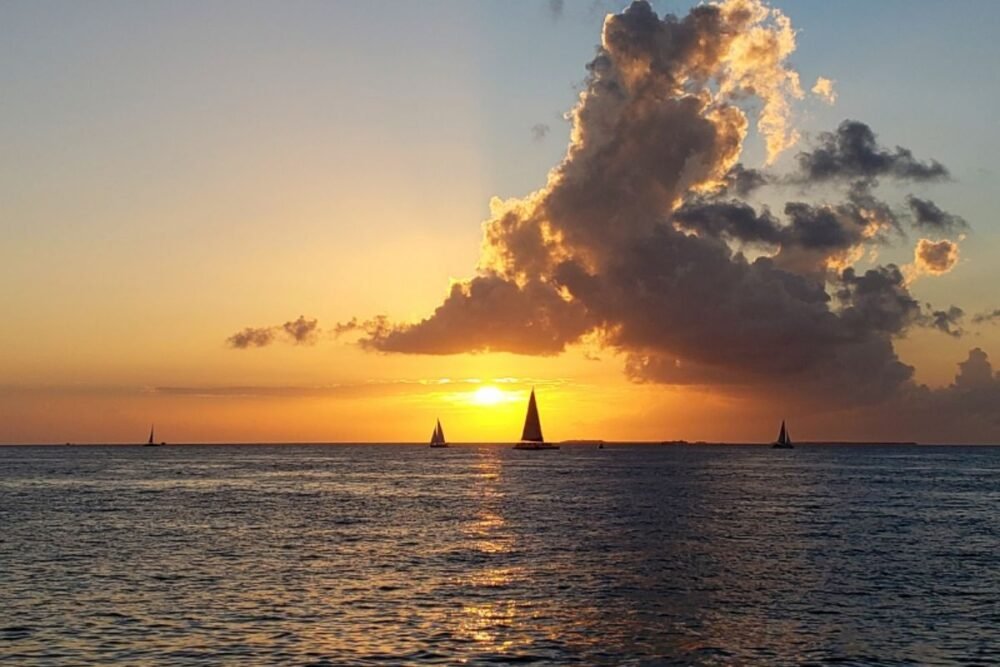 Contributed by Vicky of Buddy The Traveling Monkey
One of the best warm weather places to visit in the US in January is Key West, Florida!
The weather is fantastic, with an average high temperature of 75°F and average low temperature of 64°F.
Also, it isn't hurricane season at that time, so you don't have to worry about a storm ruining your trip.
There are fun things to do in Key West year round, but January is especially fun!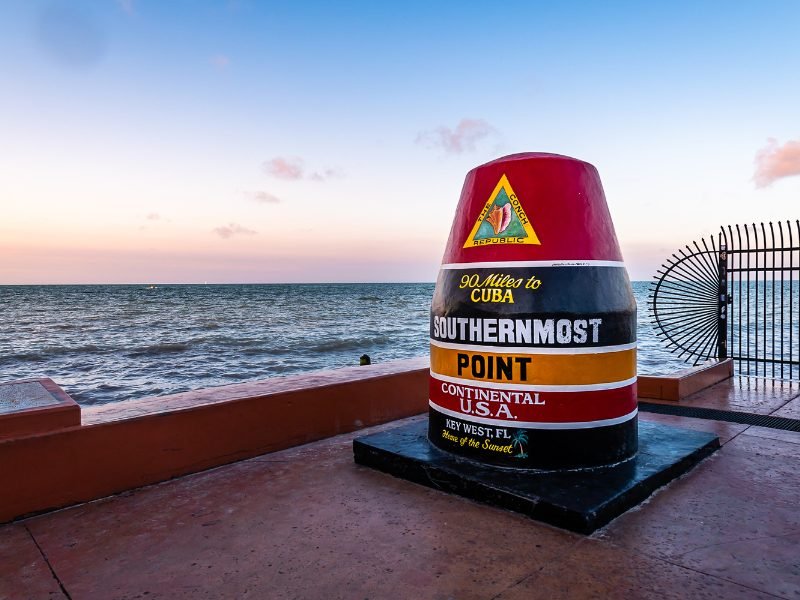 Events that take place in January include the Annual Key West Half Marathon & 5k Run, the Annual Florida Keys Seafood Festival, and the Key West Food and Wine Festival.
When you're not running, eating, or drinking, stop by one of many popular Key West attractions.
First, head to Duval Street. It's the main street that everyone walks along and has bars, restaurants, shops, art galleries, and museums.
Another popular attraction is Ernest Hemingway's home. Learn about his life in Key West, his many wives, and of course, his six-toed cats.
End each evening by seeing the sunset from Mallory Square.
Where to Stay in Key West
A great hotel for your stay is the Douglas House!
This adult-only inn is just a few minutes' walk from many attractions.
It also has a pool, free WiFi, and free private parking.
Key Largo, FL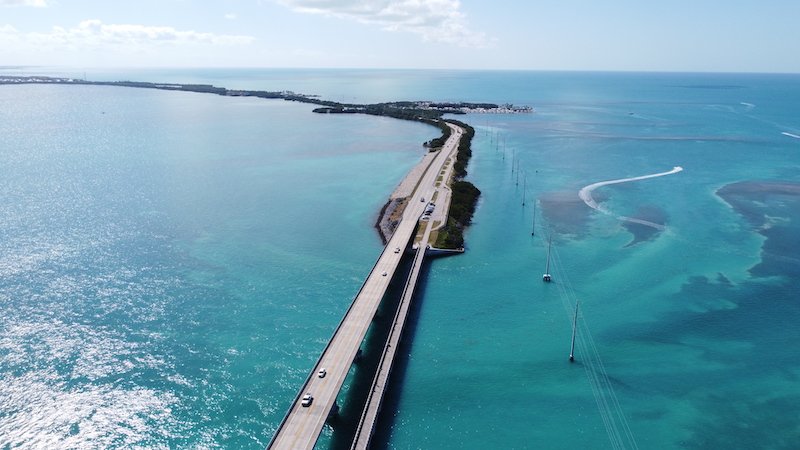 Contributed by Candice of CS Ginger
If you are looking for a warm weather trip in January, Key Largo is a beautiful place and should be on the top of your destination list!
The weather is amazing, and you should expect little rain. The average temperature in January ranges from 73 degrees Fahrenheit to 67 degrees F.
Plus, there are only about 3 days of rain in January in Key Largo, so you can be pretty sure you won't get rained out!
This means you will be able to spend all your time experiencing many of the fun adventures that Key Largo has to offer, like riding jet skis in the Keys, snorkeling, fishing, and relaxing at the beach.
The ocean is so beautiful and all of the activities are great for families and couples alike.
Where to Stay in Key Largo
On your visit to Key Largo, you will enjoy staying at the Reefhouse Resort & Marina.
It is reasonably priced and has lots of great reviews. The staff is highly rated as being very welcoming and friendly.
The resort has everything you would want for your stay!
Everglades National Park, FL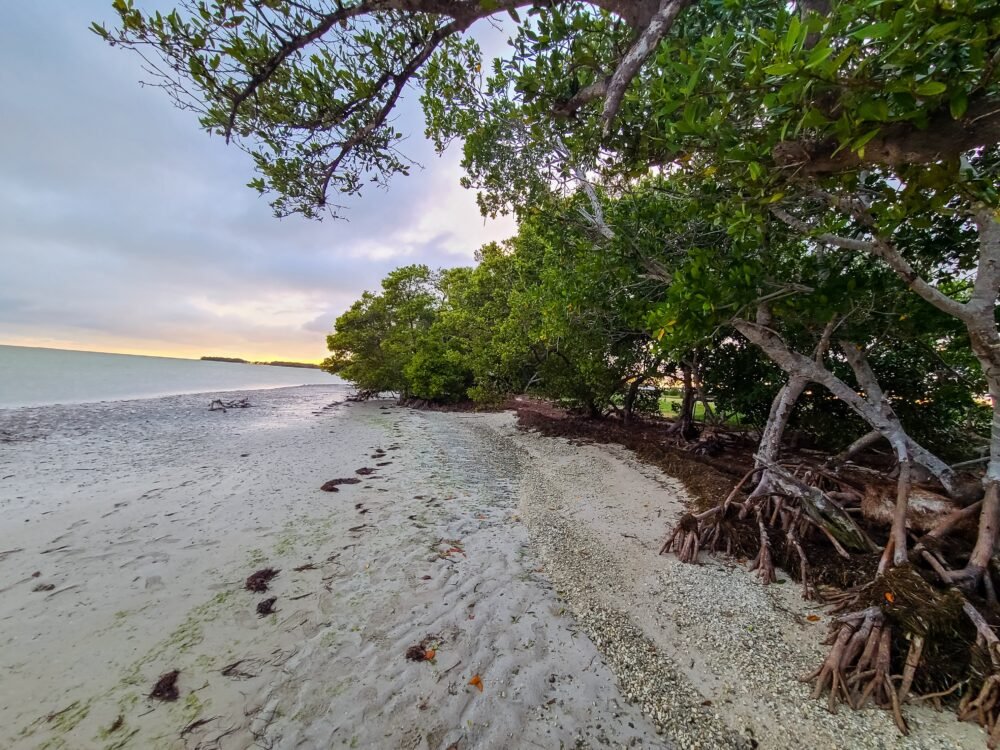 The Everglades National Park is located at the southern end of Florida with entrances near Miami.
The park is filled with dense tropical forests made of mahogany, mangroves, and Gumbo Limbo trees.
Under the canopies are lush fields of grass, marshy swamplands, deep freshwater canals and saltwater beaches.
Wildlife is abundant in the Everglades, and visitors often spot alligators, manatees, large tropical birds such as anhinga, osprey, and herons, and even the elusive saltwater crocodile.
South Florida boasts a warm temperate climate year-round, with January highs in the mid-70's during the day and lows around 65°F at night.
During the summer months the Everglades can be hot, humid, wet, and sticky. But in January the crowds are gone, there are little to no mosquitos buzzing around, and the cool breezes off the Florida Bay create a tropical paradise.
Very low humidity and little rain mean visitors can experience all of the outdoor activities that the Everglades National Park has to offer without worrying about the weather affecting any plans.
With the right itinerary this park can be explored in one day, but since it is the third largest national park in the continental United States, several days are best to really see what the park has to offer.
There are family-friendly hiking trails, miles of waterfront for kayaking, and boat rentals and tours through the park.
Just outside the park in Homestead, travelers can reserve airboat rides through the swampy lands, to see just why the Everglades are referred to as the "River of Grass".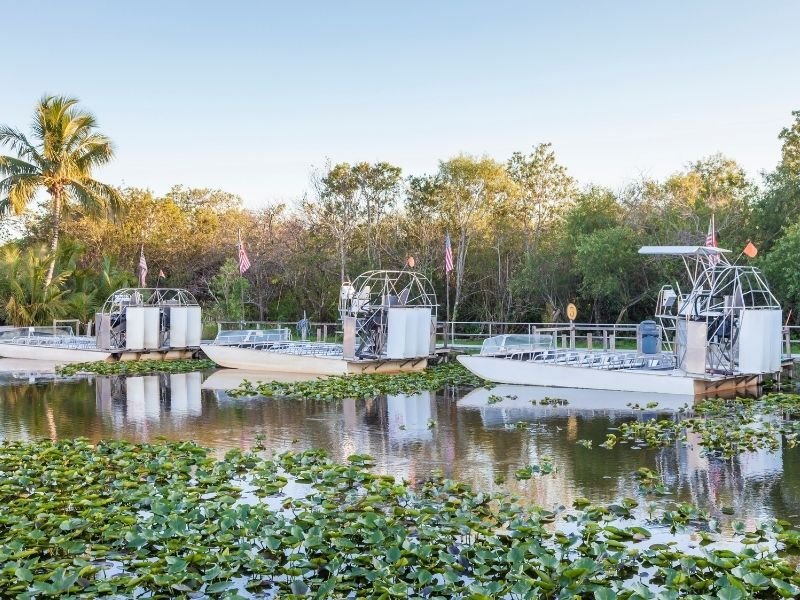 Where to Stay in Everglades National Park
Homestead is the closest city to eastern side of the national park!
The Hampton Inn Homestead-Miami South is less than 30 minutes from the main entrance of the Everglades, 20 minutes from Miami Beach, and only 15 minutes from the Florida Keys.
Offering a large pool, free parking, and free breakfast, it is a great hotel option when visiting south Florida and the Everglades.
Check accommodations near Everglades National Park here!
Allison Green is a former educator turned travel blogger. She holds a Masters in Teaching and a B.A. in English and Creative Writing. Her blog posts merge her educational background and her experience traveling to 60+ countries to encourage thoughtful travel experiences that both educate and entertain. She has been a speaker at the World Travel Writers Conference and her writing, photography, and podcasting work has appeared in National Geographic, CNN Arabic, CBC Canada, and Forbes, amongst others. Now based in the San Francisco Bay Area where she grew up, she has also lived in Prague, Sofia, and New York City.