With every curve in the road, driving Provence offers a panorama of scenic views in a rainbow of colors.
From the deep purple of lavender fields to the canary yellow of summer sunflowers to the turquoise waters of its lakes and rivers, Provence is full of natural and man-made wonders.
And traversing it by car is the best way to make sure you don't miss a thing!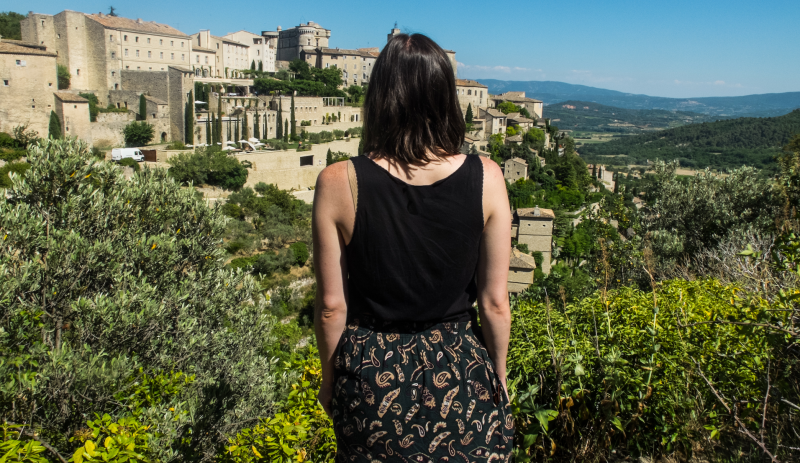 Note: This post contains affiliate links, which means I may receive a small commission if you purchase something through one of these links. Thank you for supporting the free content on this site! For more information on affiliate links and cookies, see my disclosure page for more details.
Winding from countryside towns to town, the picturesque hilltop villages dot the landscape, with their honey-colored stone houses spilling down the landscape's rugged edges.
Renting a car in Provence is not merely a means to an end, but the end itself.
Journeying from lavender fields to serene riverside towns to ancient hilltop towns to hidden monasteries on a Provence road trip, the moments on the road is part of the experience.
That said, it's not all lavender fields and good vibes — driving in Provence does come with some of its own unique challenges, especially in the hill towns, built long before the modern car was even a mental possibility.
Having made a handful of mistakes and had my fair share of surprises while renting a car in Provence, I hope you learn from me.
That way, your trip to this marvelous region of France is as smooth as a freshly paved road!
Tips for Renting a Car in Provence
Choose the right car.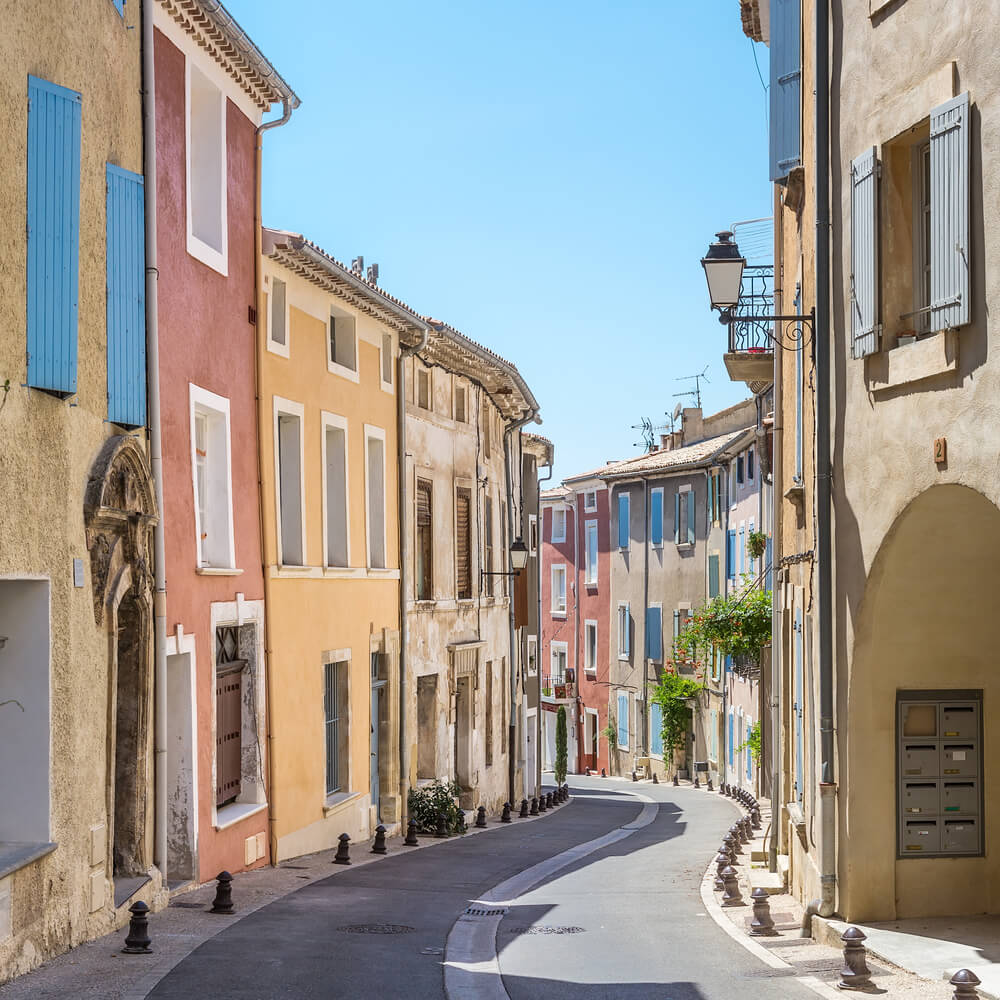 In general, both European roads and European cars tend to be smaller.
Whenever possible, consider the size of your group and your luggage and go with the smallest feasible car for your group.
Face it: the best parts of Provence require driving in narrow village streets, up steep hills, and wrapping around beautiful coastline.
A smaller car is the ticket to a less stressful trip — I get a cold sweat just trying to imagine an SUV down a Provençal lane.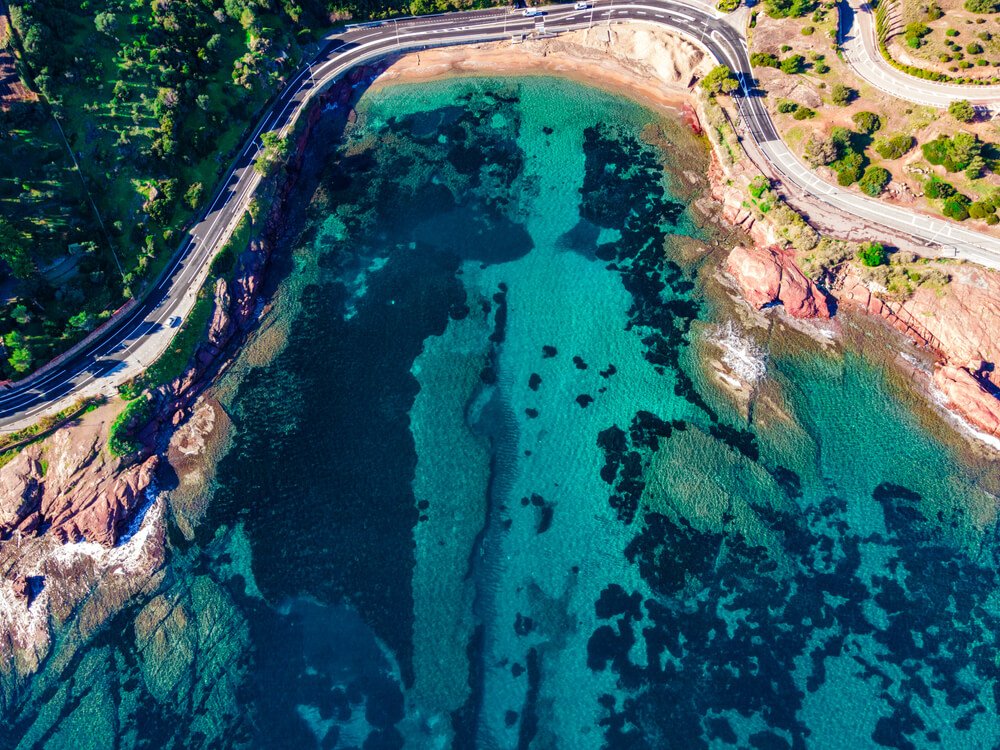 Also note that manual cars are also more common in Europe and are usually cheaper to rent, so it's easy for unsuspecting travelers to accidentally select a manual car.
If you're at all uncomfortable driving stick shift, be sure to filter your search so that you are only looking at automatic cars (you can do this easy on Discover Cars, which has a very easy-to-navigate filter system).
Yes, you will pay more, but it'll be worth every penny.
Consider the rental company.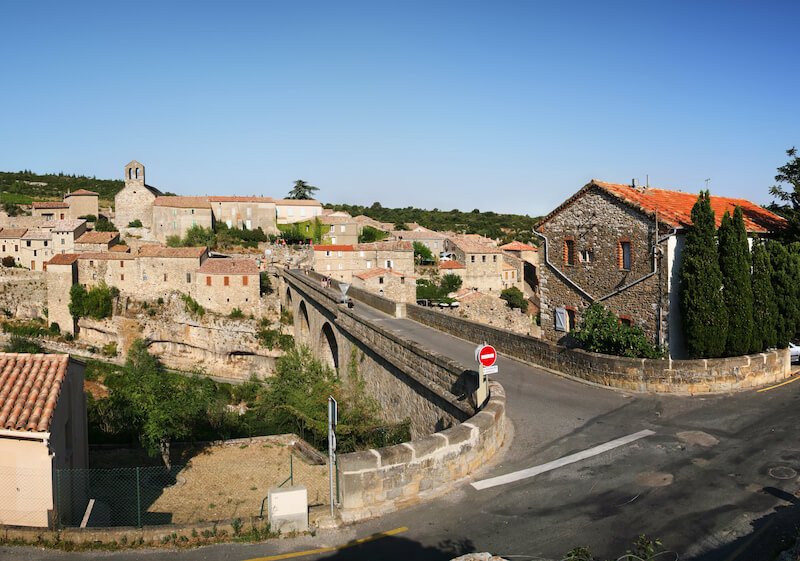 It may be tempting to go with well-known, international chains like Hertz, Enterprise, and Avis, which are pretty reliable and have offices throughout France.
That said, while these companies are pretty famous, they are not necessarily the most scrupulous.
I once dealt with Hertz forwarding me three different 45 euro traffic violations from renting a car in Italy… and charging me 50 euros per "processing fee", more than doubling what I owed Italy for making a simple traffic error. (Yes, I'm still bitter).
However, local agencies can sometimes offer better deals (while also being less predatory than these big companies).
I use a search engine like Discover Cars to check out all available options (they search over 500+ companies, including local ones that other search engines miss.)
Whenever possible, book your car rental pickup at the airport, as these often are the most convenient rentals and have the best prices. Marseille and Nice will be your cheapest options.
Whenever I'm dealing with unknown local agencies, I always be sure to read reviews and check the terms carefully before I rent, to ensure I'm not renting something that has restrictive mileage limitations or a really insanely high deposit fee.
Luckily, Discover Cars is one of the more straightforward car rental aggregators, which lays out their pricing and inclusions quite clearly, which is why it's my tried-and-true choice for renting cars in Europe.
Prepare your insurance documentation beforehand.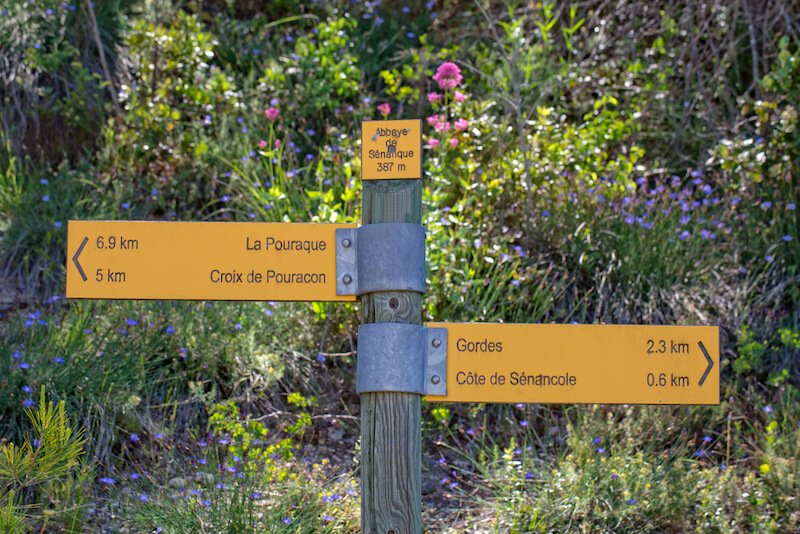 Make sure to understand the insurance options offered by the rental company and what you need vs. what is offered.
When you rent a car in Provence (or anywhere in France), it is mandatory that you have third-party liability insurance — that will almost certainly be included in the price of your rental, but be sure to dig into the terms and check.
For Americans (and perhaps citizens of other countries, but I can only speak to my own experience here), most credit card companies offer supplemental rental car insurance.
Make sure your coverage applies abroad, and make sure you do what is required in order for your credit card to cover it.
For most credit cards, this means fully waiving the rental company's policy, typically the Collision Damage Waiver (CDW).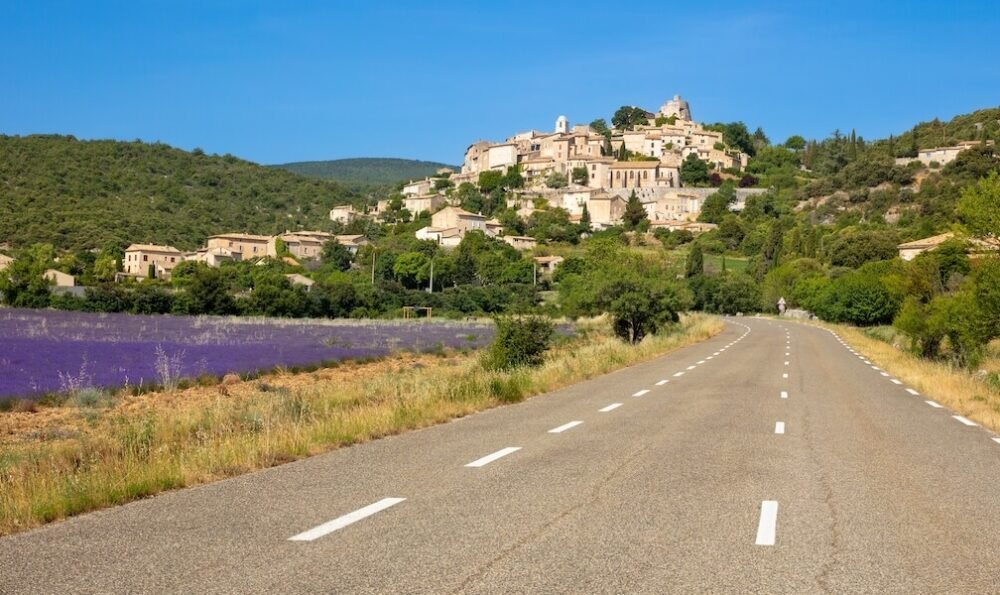 I can guarantee you that no matter where you go in the world, the rental company either won't understand how this works or will play dumb and try to get you to get their insurance policy.
This happened to me recently in Costa Rica, and I was able to get them to waive one part of the rental insurance, but they won't budge on another part, one I later found out that my credit card should have covered.
In the case I mentioned above, they said I should have a letter from my credit card company with my name on it specifying the details of the policy and what policies I was waiving.
What I will recommend, though, is purchasing supplemental full coverage insurance when you book your rental car.
There are lots of little things that can go wrong with your rental — dents in the car, scrapes along the doors, windshield cracks, your car getting keyed (yup, this happened to me before too!) — full coverage covers everything that third party liability and CDW doesn't.
That means minor cosmetic damage as well as big things like theft and vandalism are also covered.
Every single time I've rented a car in Europe, I've found it was cheaper to book my full coverage insurance with the rental car instead of at the counter.
It's a difference of typically around $7/day with Discover Cars vs. $20/day with other major companies.
Book your Provence car rental in advance, especially in summer.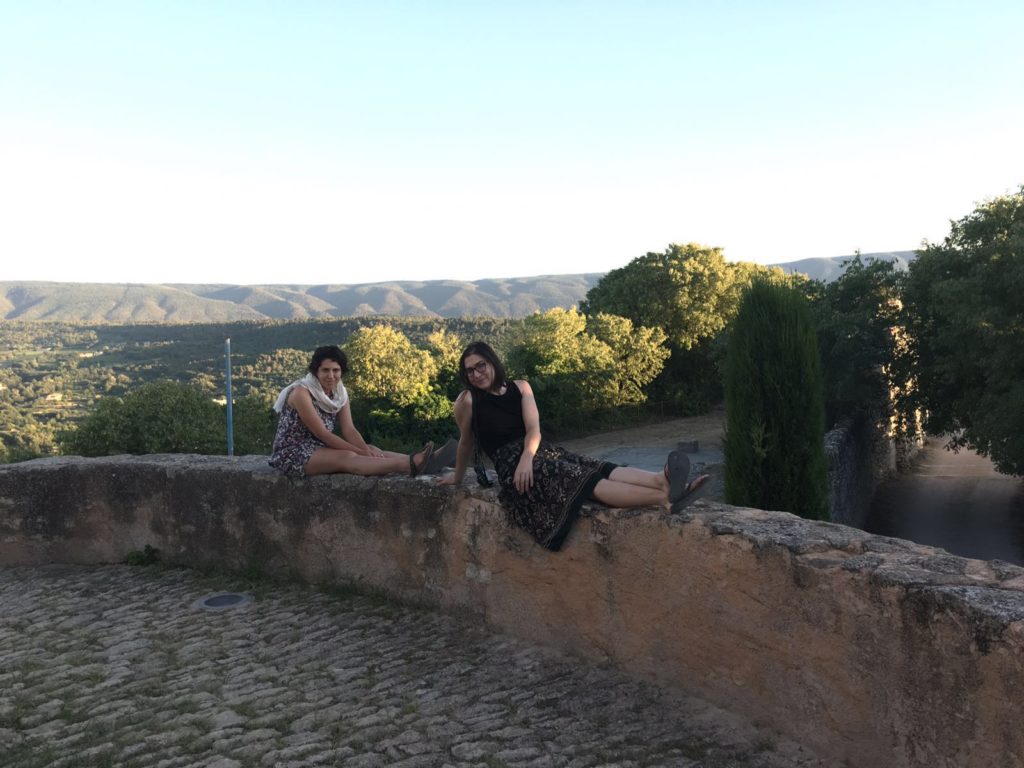 Summer is high season in Provence, whether it's people visiting the French Riviera or the lovely Luberon villages or the many other scenic parts of this wide and varied region.
If you know you need to be renting a car in Provence in order to carry out your itinerary, don't wait.
Renting your Provence rental in advance is almost always cheaper and ensures that you have a good selection of vehicles, which is essentially key for those who don't know how to drive manual cars and need automatic transmission cars.
In peak seasons, the availability of rental cars (and particularly automatic small cars and sedans) can be scarce, so don't waste any time if your trip is approaching.
Generally, you can have free cancellation with your car rental if you book through a company like Discover Cars, so book as soon as you know you want to go, and make changes or cancel as needed.
Check if you need an International Driving Permit (IDP).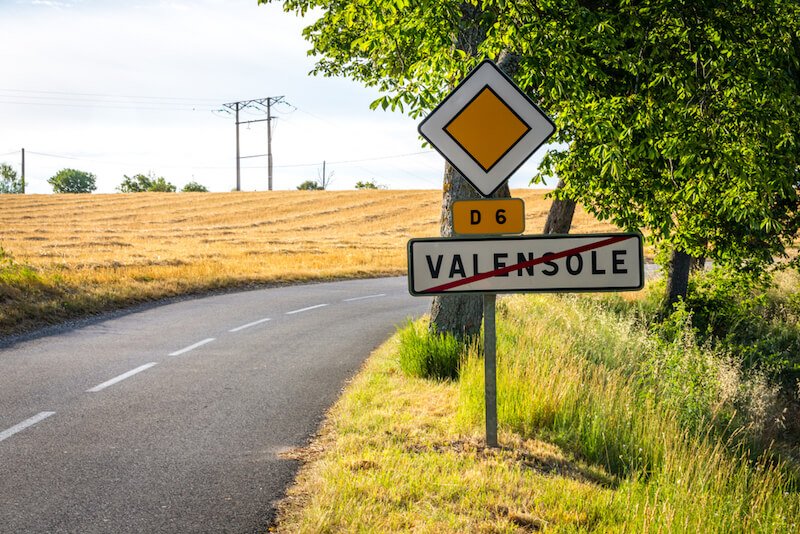 France does not require an IDP for many countries, but it's a good idea to check whether you might need one before you go, in case your country is an exception.
For Americans and British travelers, an IDP is not needed; for Australians, an IDP is needed.
Why? I have no idea, but you'll want to google your specific country + France + IDP to see if it is required.
Generally, EU citizens do not need an IDP to drive in France (or anywhere in the EU) so long as they have a EU license.
Have your navigation system planned (and have it backed up, too!).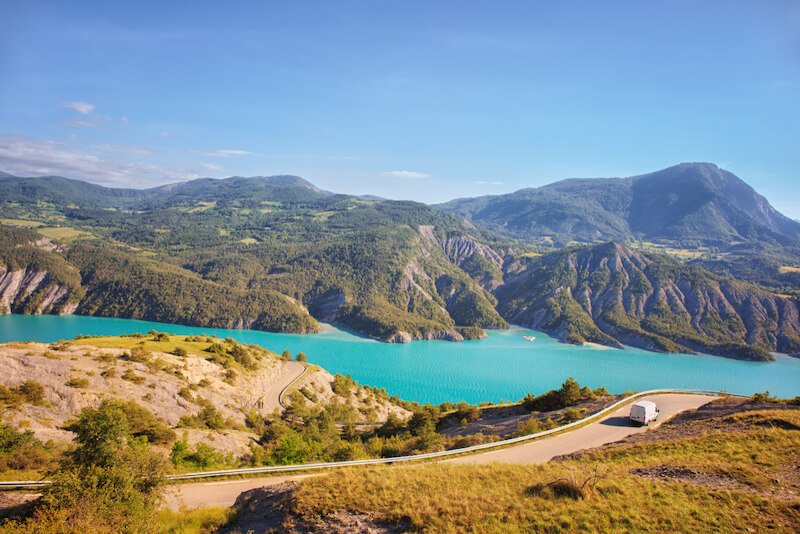 While renting a car in Provence, a GPS system can be quite helpful — luckily, that's basically every smartphone these days.
Just remember to have an international plan set up for data usage so that you can use it on the road, or you can download offline maps on Google or Maps.me before you go.
I still always recommend having an international plan with data, though, as you'll want to be able to check things and make calls in case of an emergency.
Familiarize yourself with parking plans before you go.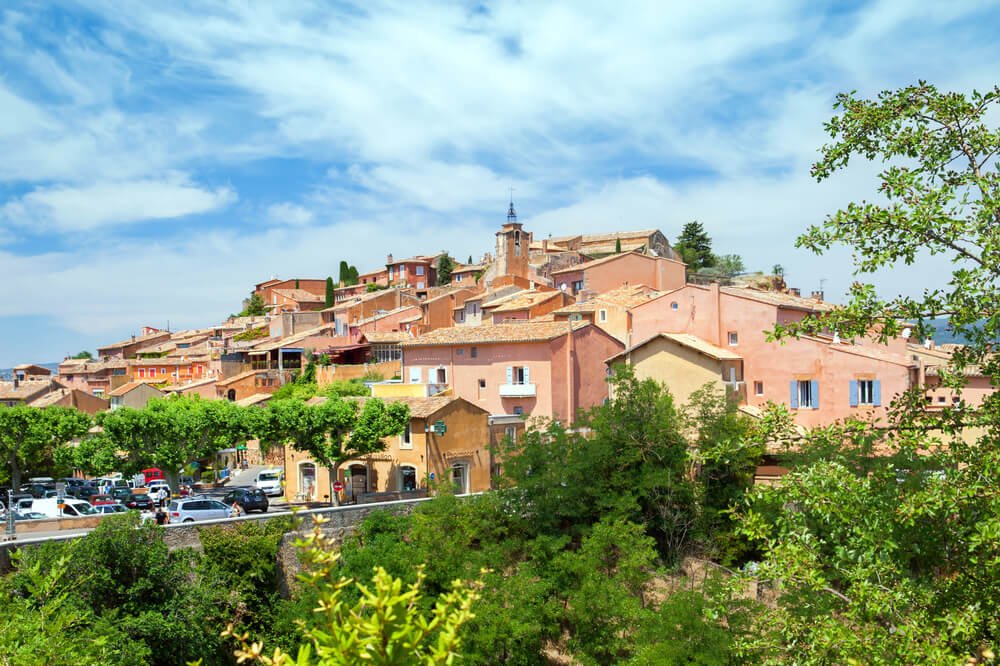 In many Provence villages, parking can be challenging and cars are not allowed in the main town center.
Research where to park in advance, especially in high-traffic tourist areas.
Generally, there will be a parking area outside of these car-free town centers, which generally are free but sometimes require payment.
Many towns in Provence have "Blue Zones" where parking is free but limited to a certain duration, which requires a disk (disque) indicating your arrival time.
The disk can typically be obtained from tourist offices or tobacco shops — learn more about the system here.
In Provence, as in the rest of France, parking rules can vary based on the city or town you are in, but here are some general rules and tips.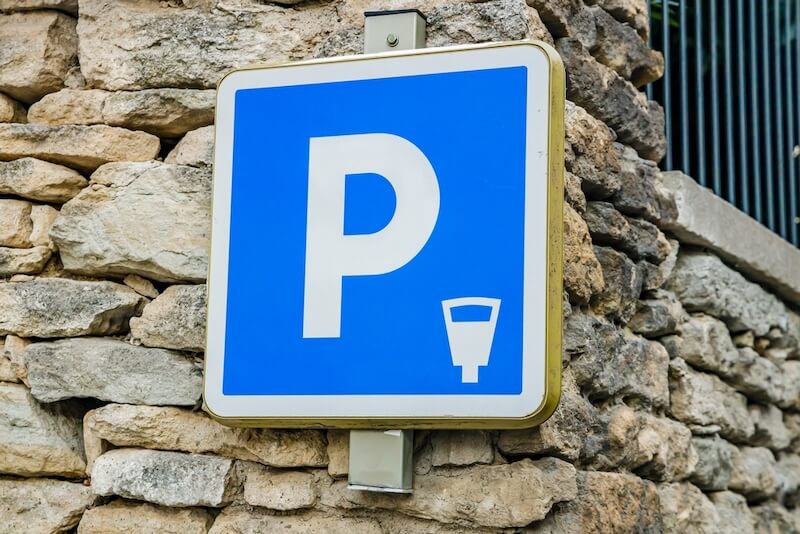 Blue Zones ("Zone Bleue"): These zones allow for free parking but have a time limit, usually an hour and a half. You need to display a blue parking disc showing your arrival time.
"Payant" Zones: In larger towns and cities, you often must pay for a ticket and display it in your windshield. The rate and maximum allowed time can vary. That said, it helps to read French here, as parking is free during certain hours (such as lunchtime or after a certain time in the evening, or on Sundays).
Yellow Lines: Yellow lines along the curb generally indicate no parking or stopping at any time, similar to a red line in the USA.
White Lines: Parking spaces are often marked by white lines, similar to the USA. If there are no colored signs or payment machines nearby, it's usually safe to assume that parking is free.
Multi-Story Car Parks: In larger towns or cities like Aix-en-Provence or Avignon, it helps to use designated car parks, especially for longer stays such as if you're spending a few days in the city and don't want to use your car while you're in the town. Rates are reasonable and they are easy to navigate.
Disabled Parking: As in most countries, disabled drivers with the appropriate badge can park for free and without time limits in most parking zones. Be sure to inquire with your rental agency if this applies to you, as you may be required to provide some form of documentation.
Be aware of the toll system.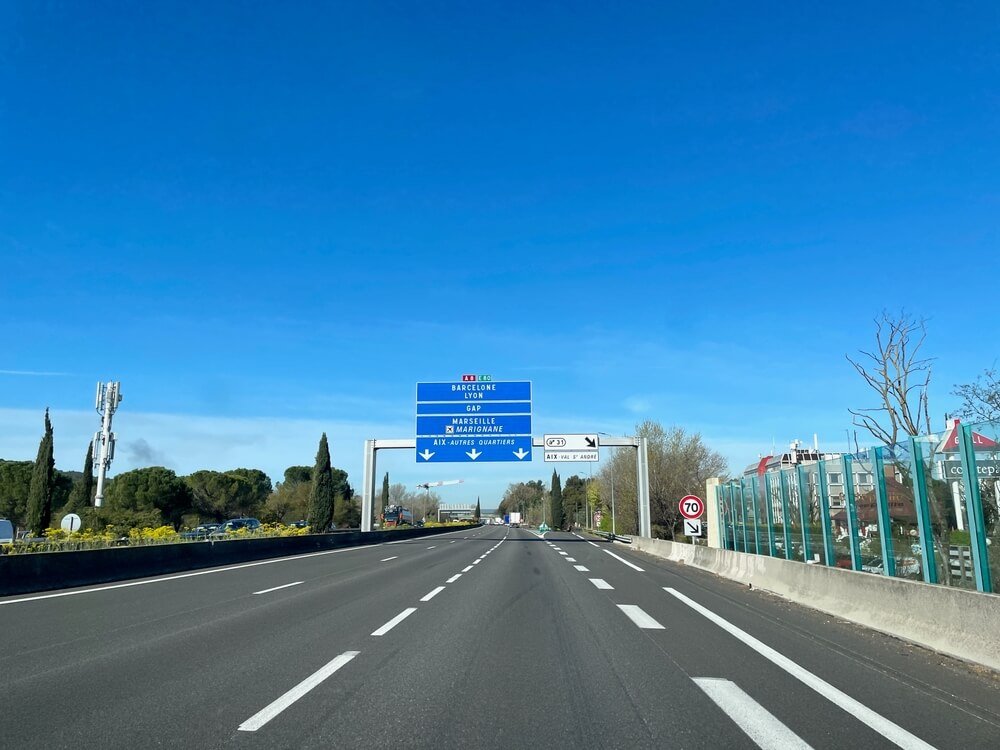 Many of the autoroutes (freeways) in France are toll roads where you have to pay to use the road.
Be prepared for this expense, and keep some cash on hand just in case a credit card reader doesn't work with your card for some reason.
Some cars may come with a toll tag that automatically charges your credit card — you may want to ask about this, as it's not necessarily included in your rental.
It'll help you skip some traffic lines, too!
You can check to see what your tolls will be driving from one point to another using the Autoroutes.fr website.
For example, I calculated that going from Marseille to Aix-en-Provence would incur a 4.08 euro toll.
Get ready for Provence's driving culture.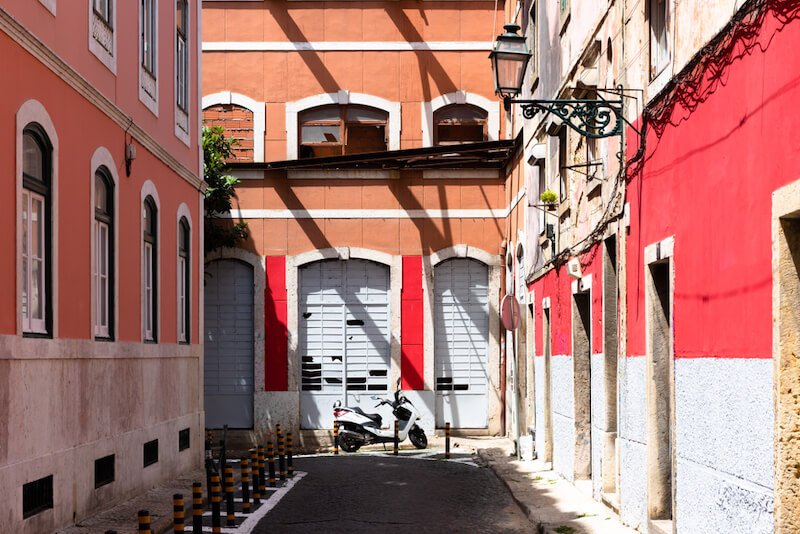 While not common in some places like the United States, roundabouts are common in France.
It's not too complicated: basically, cars already in the roundabout have the right of way, and you have to enter with the flow of traffic.
Always signal when entering and exiting a roundabout.
Plus, we can't talk about Provence without talking about its narrow streets. While some town centers don't allow cars, others do.
These streets can be a challenge, particularly for larger cars (remember why I told you to pick a small car!).
Take your time and be prepared to reverse or carefully maneuver your way around in tight spots. Be patient!
Respect alcohol limits.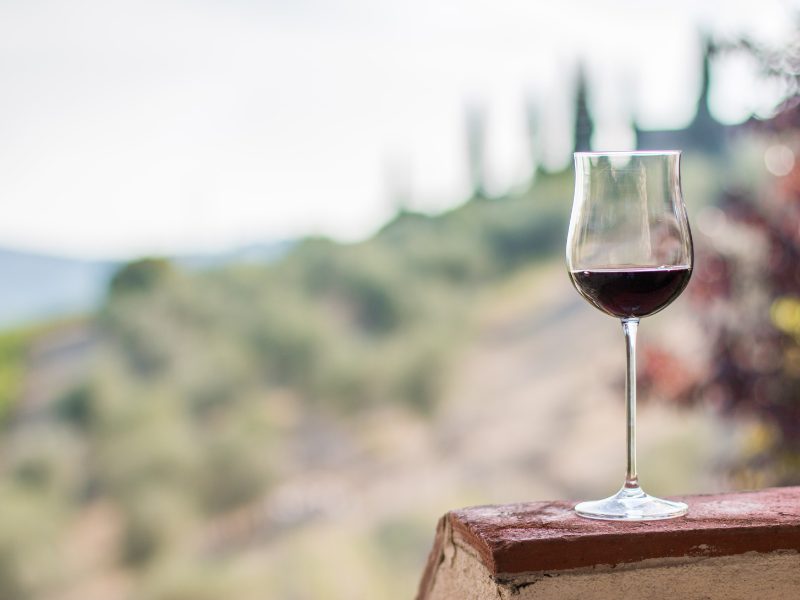 Despite its reputation for wine at lunchtime, France has strict drinking and driving laws.
The legal limit is 0.5 grams per literin your blood, (equivalent to the US metric of a 0.5 BAC).
For example, the US has a 0.8 BAC limit, so that's quite a significant difference, where France is much stricter.
If you want to visit wineries, either have a designated driver or book a winery tour to avoid any issues with the law (and to keep everyone safe, of course).
Be prepared to pump your own gas.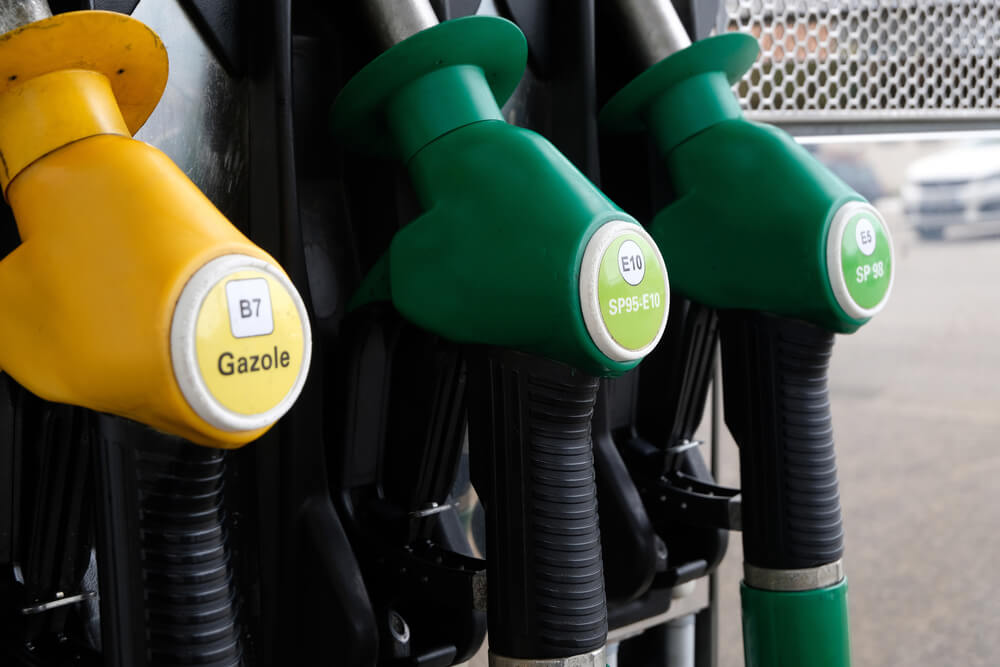 Many gas stations in France are self-service (people from states like New Jersey where you can't pump your own gas… study up! Kidding, it's really not that hard, but you do need to know how to do it).
Also, be aware that unlike in many countries, the color indicator for diesel is yellow, not green. In France, green pumps are actually for unleaded gas.
(We may have learned this the hard way on a family trip to France when I was 12; I am forever traumatized and am always super careful to inquire about what kind of gas the car takes from now on).
Diesel is known as 'gazole' and is indicated with a B and a number. Unleaded gas is indicated with an E (for ethanol, indicating the percentage permitted) followed by a number, and is green.
You'll want to inquire with your rental car agency in Provence about what type of gas your car requires.
While you can sometimes pay with cash, many gas stations do not have an attendant and thus require a credit card with a chip.
If you have a chipless older model of credit card, or rely only on cash, you may have some trouble here.
Also, keep in mind that in small towns, gas stations might close at night and during lunchtime… or anytime they want, really, because this is Provence and life moves slowly here.
Best Places to Go with a Rental Car in Provence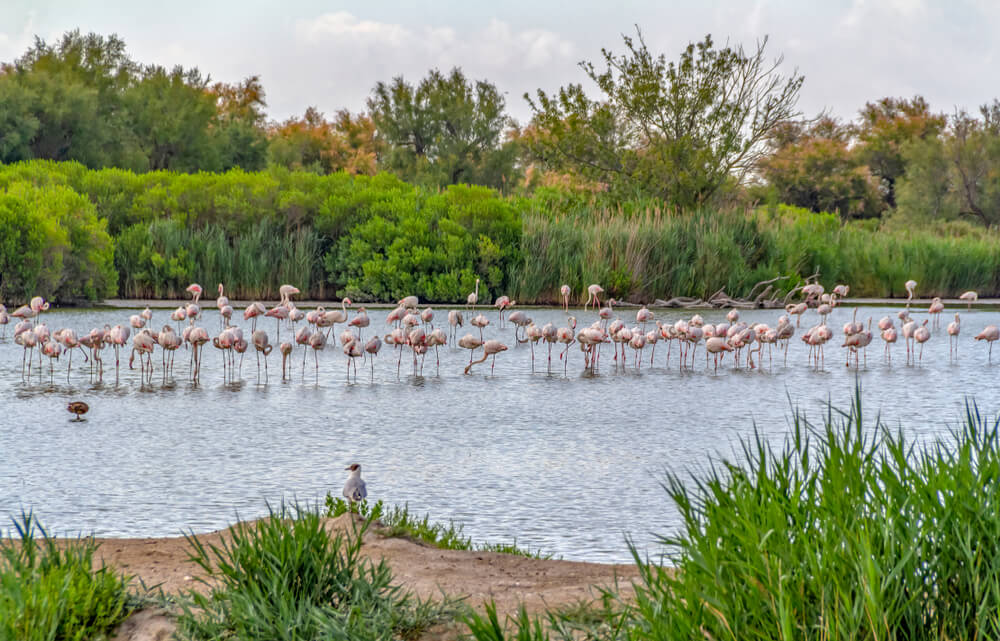 While public transportation can get you to many of the larger towns and cities in Provence, having a car can open up many more possibilities for exploration, especially if you want to experience some of the less crowded and more remote locations. Here are a few:
The Luberon Villages: This collection of hilltop villages, including Gordes, Roussillon, and Bonnieux, is quintessential Provence. While some are reachable by public transport, having a car makes it easier to hop from one to another at your own pace.
The Verdon Gorge: Nicknamed the "Grand Canyon of Europe" by some (though the Tara Gorge in Montenegro also gets this distinction!), this breathtaking part of Provence offers ample hiking, kayaking, and rock climbing for those with experience. It's tough to get here without a car, but the drive is well worth it.
Plateau de Valensole: This is the place to go if you want those iconic photos of lavender fields. It's quite remote and not easy to get to without a car.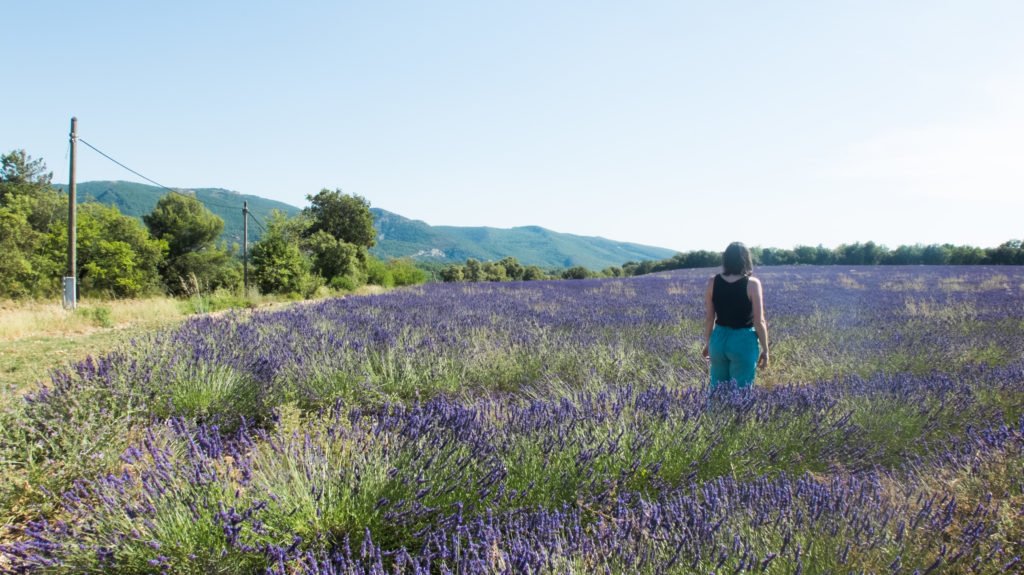 Les Baux-de-Provence: This tiny village and its ruined castle sit atop a rocky outcrop and the views are breathtaking. You can get a bus here, but having a car gives you much more flexibility.
Camargue Natural Park: This large natural reserve is home to flamingos, wild horses, and bulls. There are some bus tours, but having your own car allows you to explore the area at your own pace.
Sénanque Abbey: This beautiful abbey is located in a rather remote valley and is most famous when its lavender fields are in bloom.
Cap Canaille, Cassis: The highest sea cliffs in France offer beautiful views of the Mediterranean. They're most easily reached by car.
Allison Green is a former educator turned travel blogger. She holds a Masters in Teaching and a B.A. in English and Creative Writing. Her blog posts merge her educational background and her experience traveling to 60+ countries to encourage thoughtful travel experiences that both educate and entertain. She has been a speaker at the World Travel Writers Conference and her writing, photography, and podcasting work has appeared in National Geographic, CNN Arabic, CBC Canada, and Forbes, amongst others. Now based in the San Francisco Bay Area where she grew up, she has also lived in Prague, Sofia, and New York City.