The Dillon Ice Castles are a magical place to visit! Located in the heart of small-town Dillon, the Ice Castles are a must-see. 
They are a great place for a romantic date night out, a night of family fun, or a great place to visit with friends.
The Ice Castles are the main attraction in Dillon in the winter months, and it's a popular winter Denver day trip!
Dillon is just one of the four locations in the US that hosts the construction of these gorgeous man-made ice castles.
How Are the Dillon Ice Castles Made?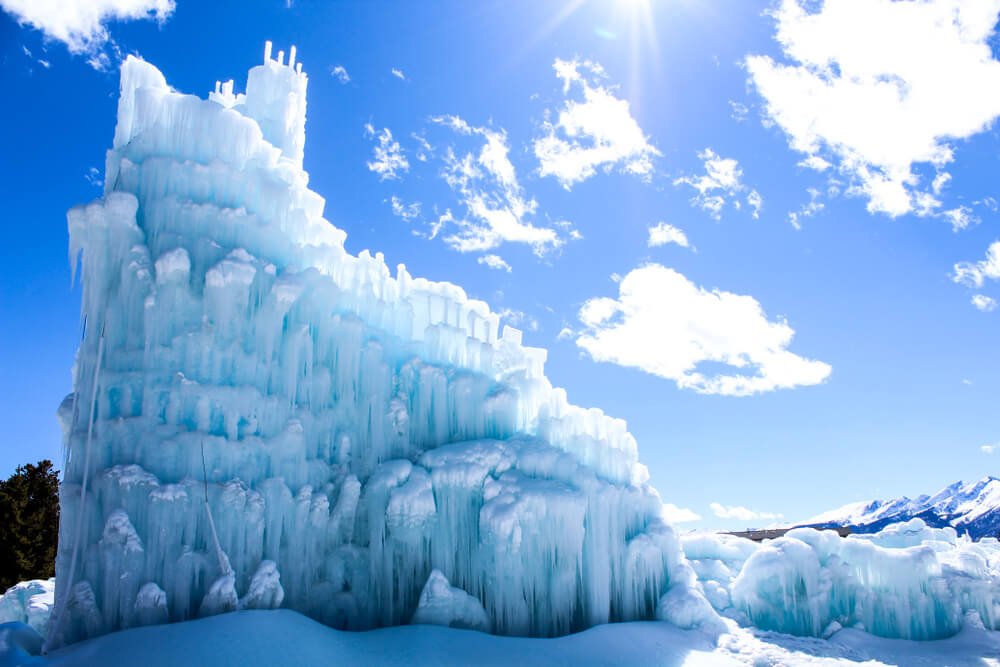 Note: This post contains affiliate links, which means I may receive a small commission if you purchase something through one of these links. Thank you for supporting the free content on this site! For more information on affiliate links and cookies, see my disclosure page for more details.
The Ice Castles are hand-built by ice architects! These masters grow then place icicles one by one in the design they want. After, these icicles are sprayed with water. 
They repeat that process many times over the span of two months until the castles grow to the size of their liking. Typically, this requires about 25,000 tons of ice!
Where Are the Dillon Ice Castles?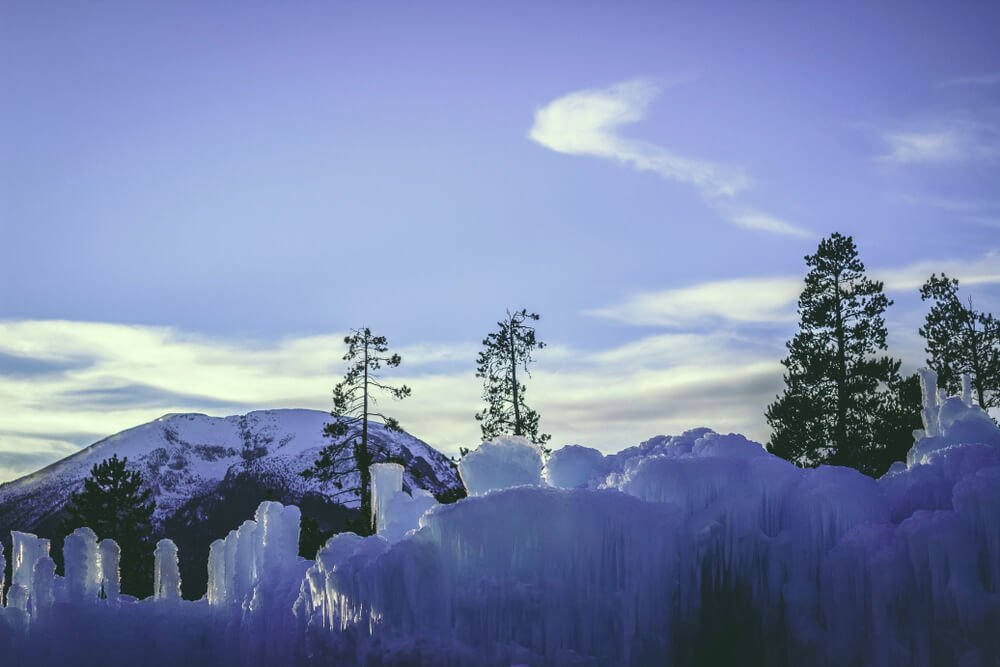 The Ice Castles are located off of Highway 6, on Lake Dillon Drive in the Dillon Town Park. 
The outside of this attraction can be seen from the streets throughout town, but the inside will blow you away!
From a distance (in the daylight) the castles will look blue because of their density, but as you get closer the intricacies will have you taking a second look. 
Once you walk inside, you enter into another world!
In this article, I am going to give you some tips to make visiting the Ice Castles a smooth trip!
7 Tips for Visiting the Dillon Ice Castles
Get your tickets online in advance.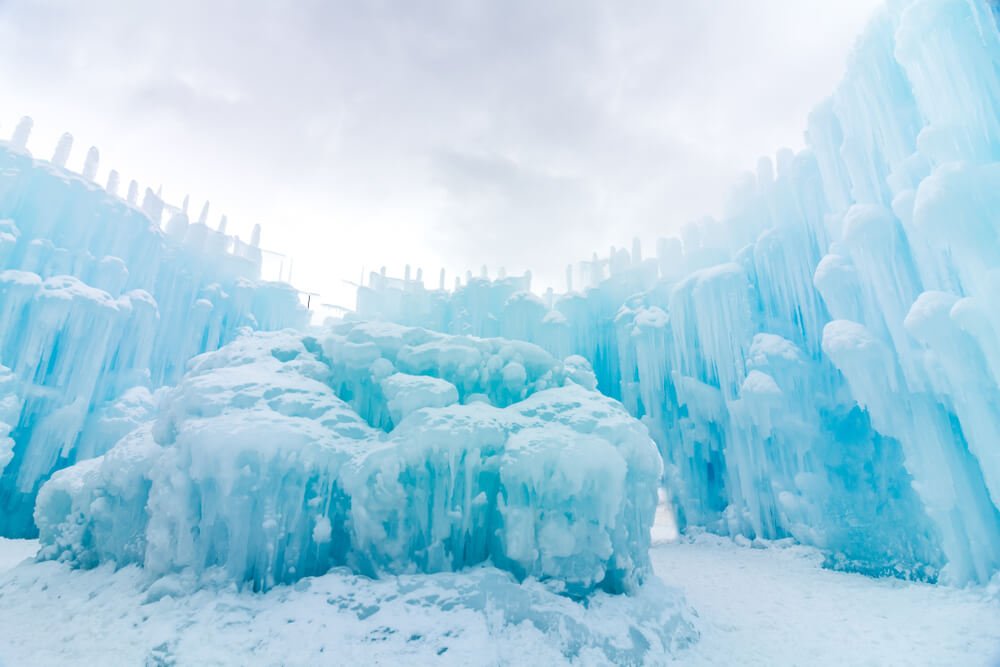 Getting your tickets online in advance will guarantee you entry into the Ice Castles on the day you want. It is $17.99 to get in during the weekdays and $22.99 Friday through Sunday. You can buy tickets online on their website here.
There are lower prices for children's tickets as well and children under 3 are free. If you buy tickets the day of, the prices are typically more expensive, and there is no guarantee they won't be sold out.
When you purchase tickets, you are not only purchasing a ticket for the date you want, but for the time you want to go as well. No matter what arrival time you purchase tickets for, you can stay as long as you want.
Opening and closing days do vary each year at the Ice Castles due to weather conditions.  Getting tickets online will also ensure that the Ice Castles will be open.
Typically in Dillon, the castles open in late December or early January and close at the end of February or in the first few weeks of March.
Arrive early.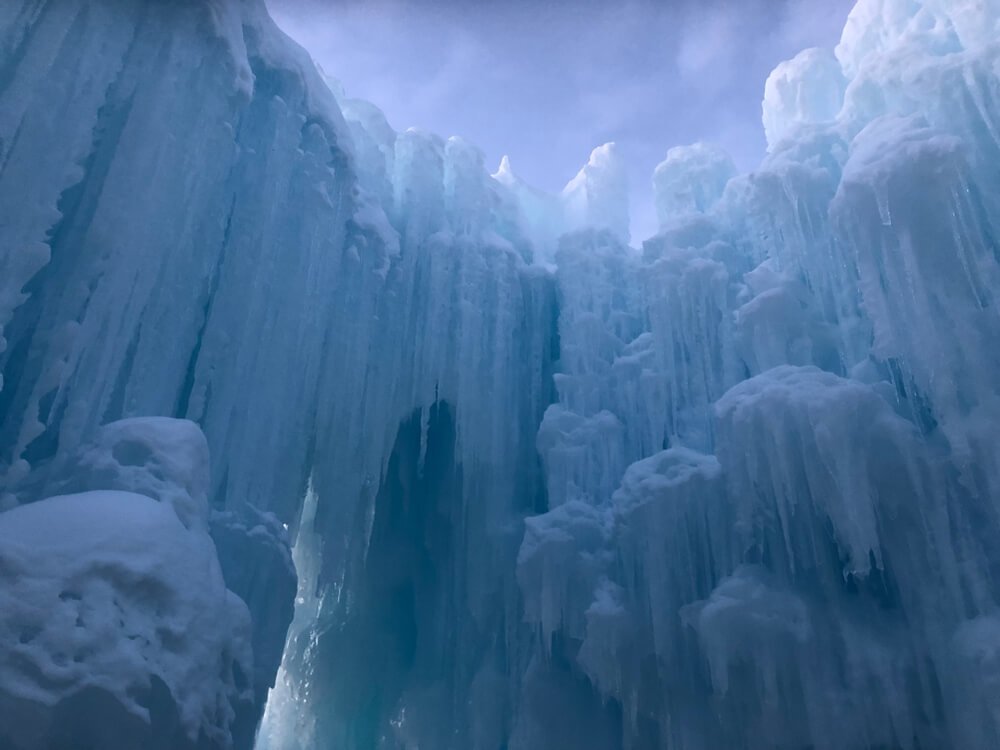 When you purchase a ticket for the Ice Castles, you are buying an arrival window.  For example, if you purchase an arrival window from 5 PM – 5:30 PM, you can enter the castles anytime between those times and stay as long as you want.
If you arrive before your time slot, you will just have to wait to enter. If you arrive after your time slot, you may lose your ticket and not be able to enter at all. 
You may have to wait in line to enter into the Ice Castles during the more popular times from 4:30 PM – 7:00 PM, so arriving early will ensure you have enough time to wait in line and still enter during your arrival window.
It is also important to arrive early because parking can be scarce. There is a pretty large parking lot right on Buffalo Street in front of the Ice Castles. This is prime parking and it fills up very quickly!
If that lot is full, there is some overflow parking in the Town Hall parking lot. If both of those lots are full, you can find some parking along Lake Dillon Drive, which will leave you a short walk to the castles. Make sure to obey all parking signs in town and only park in designated areas.
If you are looking to avoid the parking situation, look into taking the free Summit Stage Bus from anywhere in the county. The Summit Stage bus drops you off and picks you up right on Buffalo Street.
You can get off at stop number 193 on the schedule if you're taking the bus from Silverthorne or Keystone. Typically the bus comes every 30 minutes and runs on time.
If you are taking the bus from Frisco or Breckenridge, be sure to check out the Summit Stage schedule online.
Dress appropriately.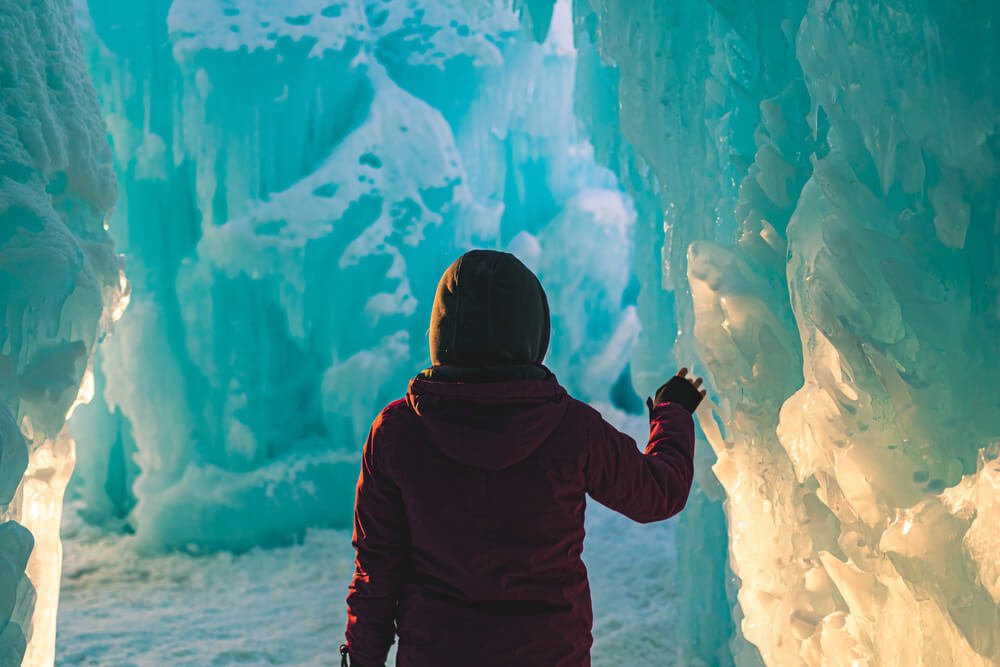 The winter months in Colorado can be frigid! When visiting the Ice Castles, be sure to wear the correct clothing to ensure your comfort.
I recommend that everyone in your party wears snow pants, base layers (like this merino wool top and bottoms) and mid-layers (like this North Face fleece, one of my winter staples), a winter jacket (I also suggest a North Face parka), and a hat and gloves.
The Ice Castles hardly shut down due to adverse weather so be prepared for anything!
You will be standing on cold snow and ice mixture the whole time, so wearing warm winter socks and boots will help you stay warm. The only kind of boots that will keep your feet sufficiently warm is snow boots (I love these Sorel boots), which will be perfect for the 30-60 minutes you may be in the castles.
Packing some hand warmers in your pockets will allow you to enjoy your stay longer if you do start to get cold! I suggest these Karecel rechargeable hand warmers as they are less wasteful than the disposable ones, and they're very affordable!
Bring a nice camera.
I know that many of us have really nice cameras on our smartphones that we bring everywhere!
If you really want to capture the intricate details though, I recommend bringing a nice camera and visiting the castles in the daylight to capture each individual icicle in a photo that will last forever.
If you plan to arrive around 4:00 PM, you will be able to see the castles in the daylight, catch the sunset over Lake Dillon, and enjoy the ambiance that darkness creates!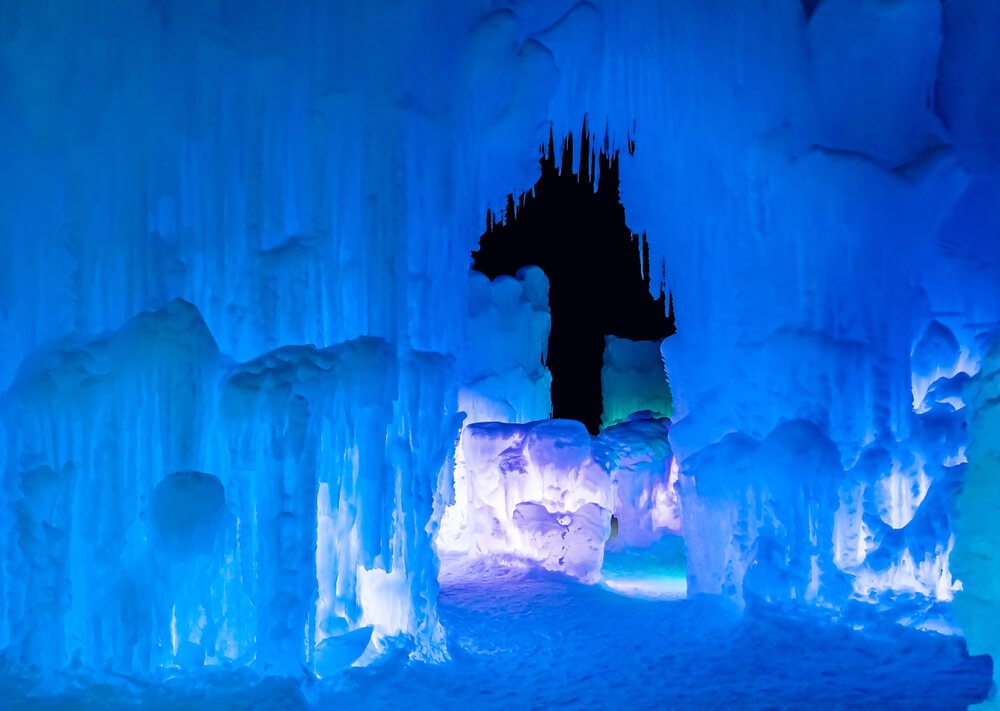 Take care of your bodily needs before you enter!
As a ski instructor, we always say "NO PEE, NO SKI" before we take the kids outside to ski. Well, the same goes for the ice castles!
Even though you aren't going skiing, it's almost the same in my eyes because there are no bathrooms inside. 
There is also no reentry allowed if you have to leave to use the bathroom. I am just trying to say that you should plan ahead!
No food is allowed inside.
Unfortunately, food is not permitted inside the Ice Castles. Plan to have eaten before you go inside, or plan a meal for afterward. 
Your journey inside can last a long time, especially if you're into photography and capturing every last detail, so be prepared for anything! 
If you are planning to eat in Dillon afterward, both Pug Ryan's and Arapahoe Cafe are within walking distance of the castles and have great offerings.
Take your time inside.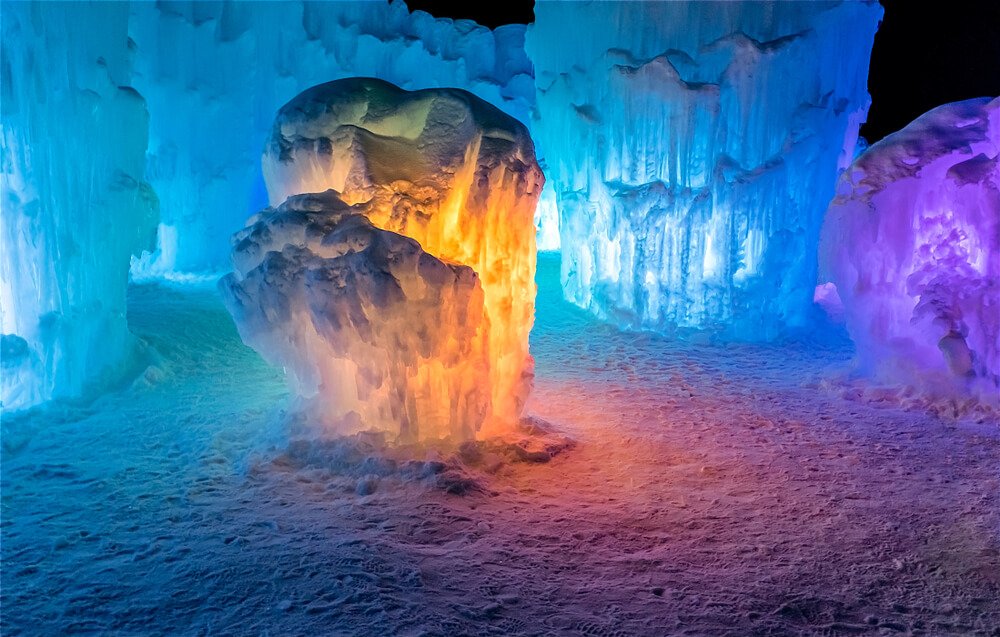 As soon as you walk into the castles, you will be greeted with so much to look at: beautiful walls, archways, rainbow-colored lighting, and carved ice sculptures!
There are many different rooms to explore all with something different to offer. The castle is lit up with all different colors inside creating a different ambiance in each room.
Insider Tip: If you are looking for a nice romantic or private getaway, be sure to book a VIP experience in a private alcove!
If not, you can explore multiple different rooms, ice slot canyons, and walk under the many arches. Be sure to look up when you're under the arches, to see what looks like a beautiful ice chandelier!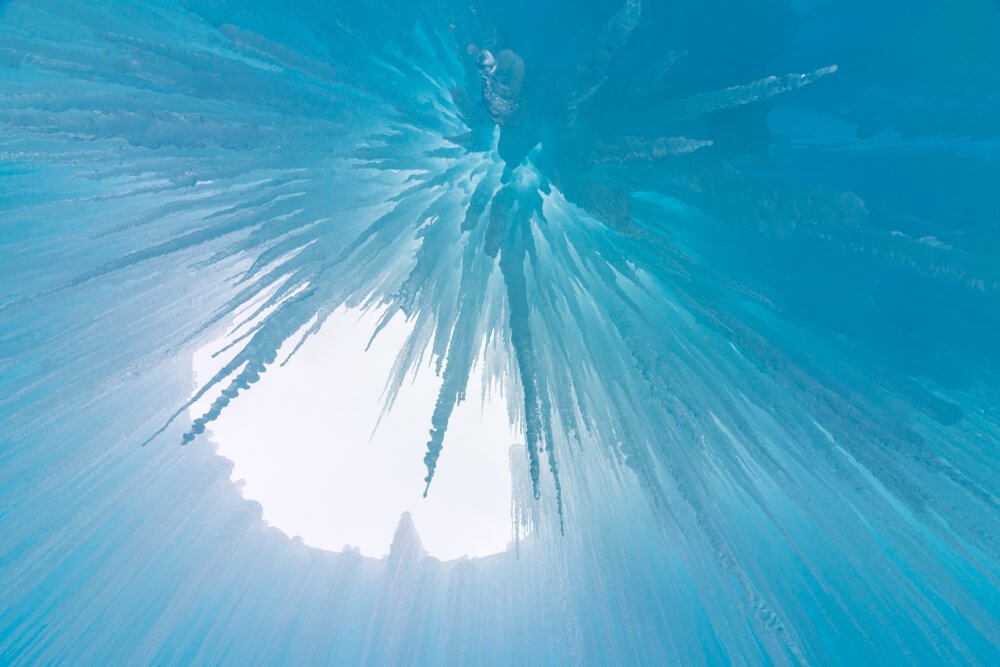 Don't forget the ice slides.
If you're looking for more action, make sure to visit the ice slides inside.  There are ice slides of different sizes throughout the castle.  Believe it or not, many slides are both adult and kid-friendly!
The lines can get long at the slides so make sure to keep your eyes on it. Visiting during the middle of the week and at unpopular times can help you avoid these lines.
If you're not seeking the adrenaline rush the slide has to offer, you can slide your way through ice tunnels of all different sizes!
They are adult and kid-friendly as well.  As the darkness sets in, the tunnels will light up with all different colors.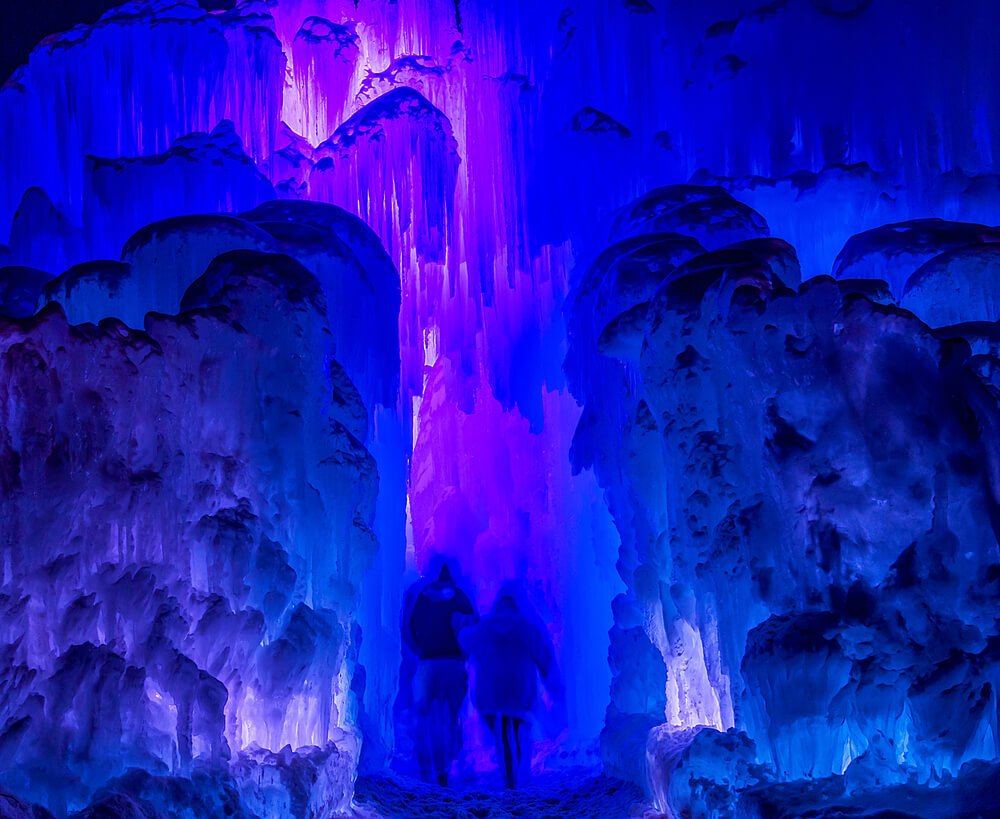 If traveling with kids…
If you have young kids, I recommend bringing a sled to tow them around!
Strollers are not permitted in the castles and would be extremely hard to push through the snow. Bringing a sled will allow you to stay longer even if the young ones start to get tired.
***
No matter how you choose to enjoy the ice castles, it will be a great time! 
The Ice Castles are so easy to look at, that you may spend hours wandering around looking at every little detail. 
The architects do an amazing job every year creating these castles bringing something new and different each year to the design. 
I highly recommend planning some time for the Dillon Ice Castles when you are planning your trip to Denver in winter.  This is an experience like no other!