Given the mega-popularity of my post on all the amazing things there are to do in Belize, I get countless requests from people to help them plan their Belize vacation.
Probably the most frequent question I am asked is which island is better for a first-time traveler to Belize: San Pedro or Caye Caulker?
I've been to San Pedro three times and Caye Caulker twice, and after I've written so many emails about the pros and cons of each island I figured I'd save myself the trouble and list them all out here!
So, in case you're weighing your options between San Pedro vs. Caye Caulker, I've got your back!
First though: let's quickly talk visiting Belize in 2022 (because the world has changed!) and when is the best time to visit either San Pedro or Caye Caulker.
Visiting Belize Requirements in 2022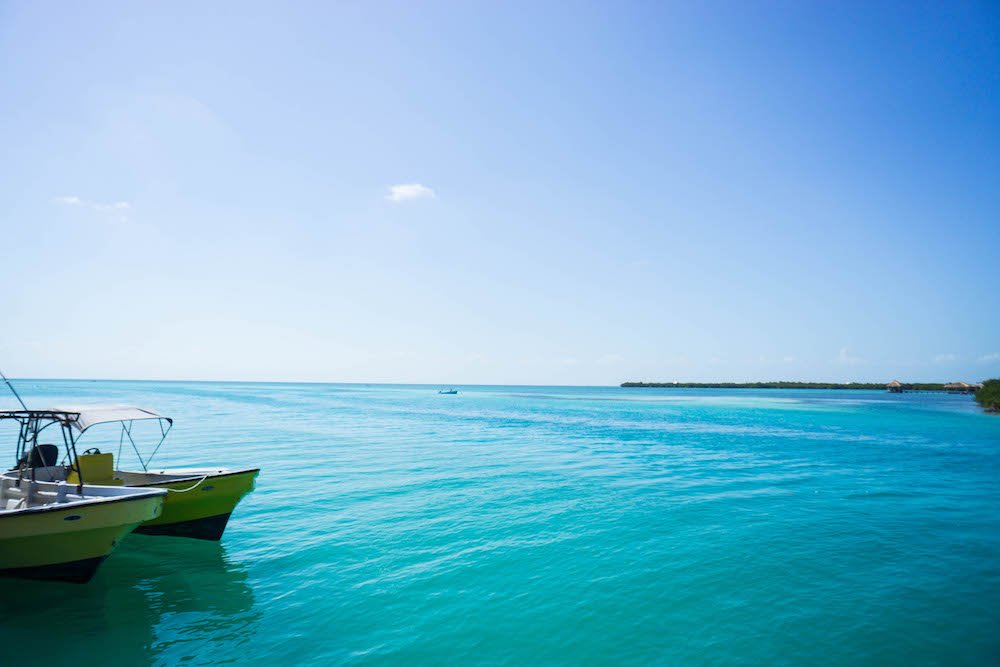 Note: This post contains affiliate links, which means I may receive a small commission if you purchase something through one of these links. Thank you for supporting the free content on this site! For more information on affiliate links and cookies, see my disclosure page for more details.
This post was updated May 23, 2022 and is up-to-date as of that day. However, policies may change in the future, so always check with the official Belize website.
Here are the current requirements:
Fully vaccinated travelers do not need to show a negative test to enter Belize, but they must show proof of vaccination.
Unvaccinated travelers must show a negative PCR result from a test taken within 72 hours of arrival or a negative antigen result from a test taken within 48 hours of arrival.
Tests can be administered upon arrival for $50 USD cash — but if you test positive, you will have to enter mandatory quarantine in Belize.
All travelers must purchase Belize travel insurance which you can do so here. It costs $18 USD for 21 days of coverage.
Follow all Belize laws, such as masking in public and adhering to the curfew
Follow any requirements that your home country requires for reentry
Best Time to Visit Belize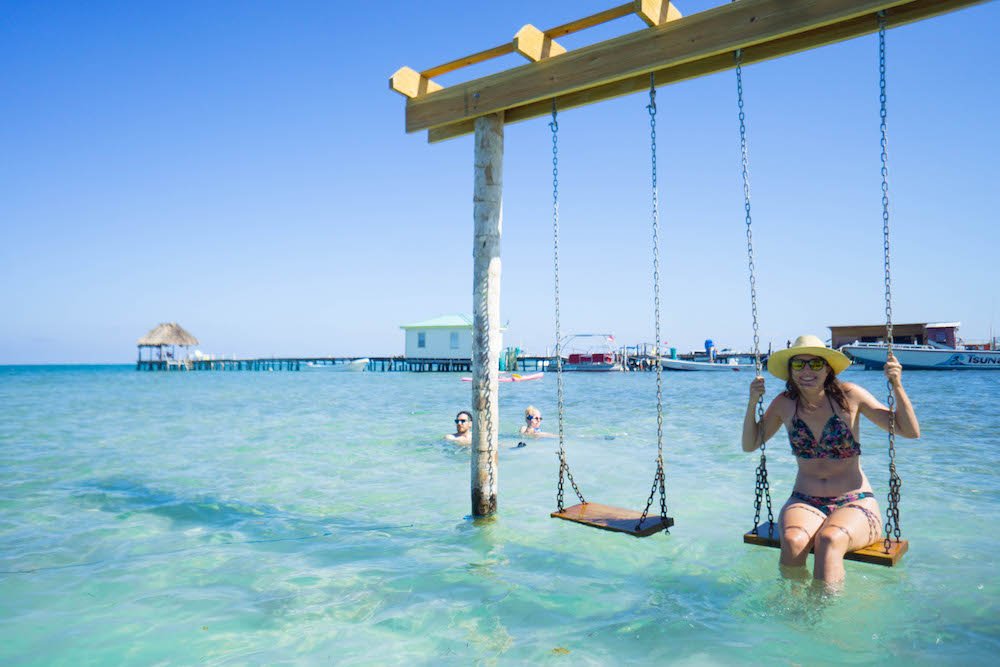 Being a tropical country, Belize has a rainy season and a dry season as opposed to the typical "4 season" model of non-tropical countries.
The wet season is between May and October, where you can expect rain about half the days and scorchingly hot temperatures.
I really don't really recommend traveling Belize during the wet season!
Not only can the rain be a pain, it can also disrupt a lot of tours and activities, such as snorkeling/diving tours and cave tours, due to unfavorable conditions.
Hurricanes can also happen during this time of the year.
Between November and April, it is the dry season in Belize. This coincides with much of Belize's peak travel season.
While there will still be occasional rainfall, storms will be much more dispersed, plus you'll experience shorter periods of rain that are less disruptive to your plans.
Note that Belize can be incredibly popular (and expensive) over Christmas and New Years.
I suggest going during January through March for a better balance between good weather and good prices.
San Pedro
San Pedro is actually the name of the town on the island of Ambergris Caye. San Pedro is a big town by Belizean standards… in fact, it's the second-largest town in Belize district (the first being Belize City).
It's a favorite amongst divers and people in search of a relaxed beach holiday, and it's my top pick for families and couples who visit Belize – though I can definitely also say it works great as a solo trip or a girls getaway.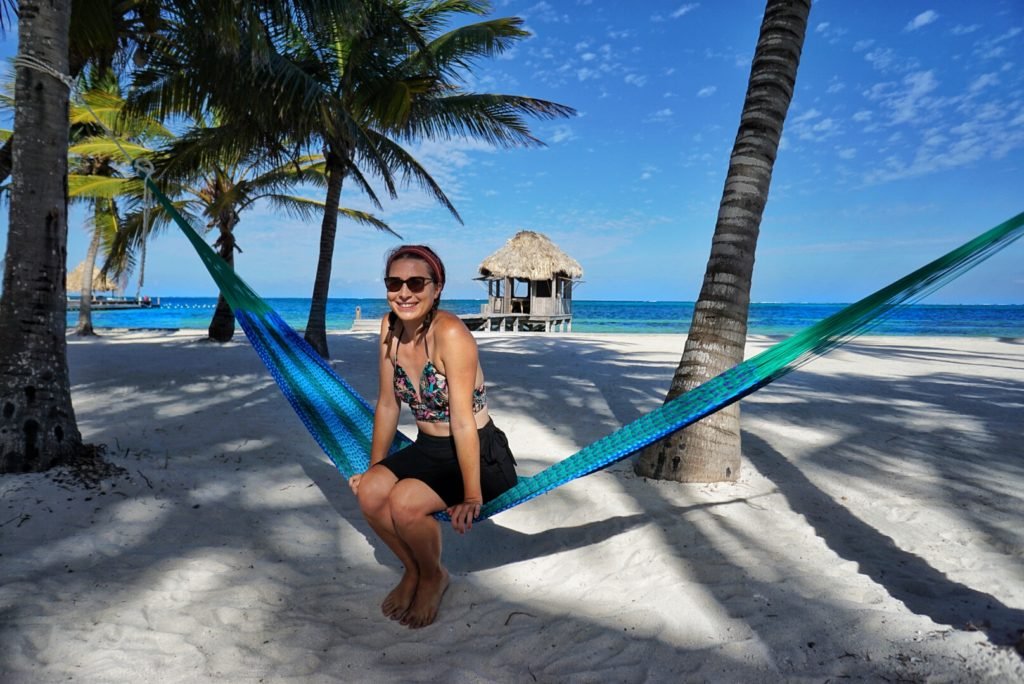 Pros of Staying on San Pedro
It's more local. Being a somewhat large town, San Pedro has a bigger mix of locals, expats, and tourists.
If you're looking to settle down for a bit and have the feeling like you "live" somewhere, San Pedro can definitely deliver that in a way that Caye Caulker cannot; there's simply more to do there.
As a result, you can have some interesting experiences like the "world famous" Chicken Drop gambling game in every Thursday night.
There's more diversity of food. Being a bigger island, there are more choices of what to eat, with a wider variety of food.
I had delicious Salvadorean pupusas in town (if you haven't tried them, you've simply got to!) and some of the best jerk chicken of my life at Randy's near Victoria House.
The wood-fired pizzas at Sandbar are also fantastic, and there's a taco truck at the 'secret beach'.
Meanwhile, the food on Caye Caulker was just fine, but I found the choices to be much more limited than on San Pedro.
There are more upscale accommodation options. If you are looking for a luxury experience, San Pedro is definitely the choice for you.
It doesn't even come close — there are virtually no luxury digs on Caye Caulker and even the nicer guesthouses won't have a luxury feel.
It was fine for me as a pretty low-key traveler, but if you are going to Belize for a special occasion I'd recommend San Pedro hands down.
I stayed at the amazing Victoria House hotel and it was easily one of the top 5 hotels I've ever stayed in in my life!
There's an airport. If your time is limited or you just hate boats, it can be really convenient to fly into San Pedro with Maya Island Air.
The prices are relatively reasonable and honestly, I think it's worth it because you get amazing views as you fly. I recommend doing it at least one way if your budget allows.
When I visited San Pedro the first time, I flew into Belize City, took a taxi to the ferry and took the ferry to San Pedro, then when I went back I took the plane to Belize City airport.
It caused me less anxiety that I'd be late and meant I didn't have to deal with Belize City again. Also, these views: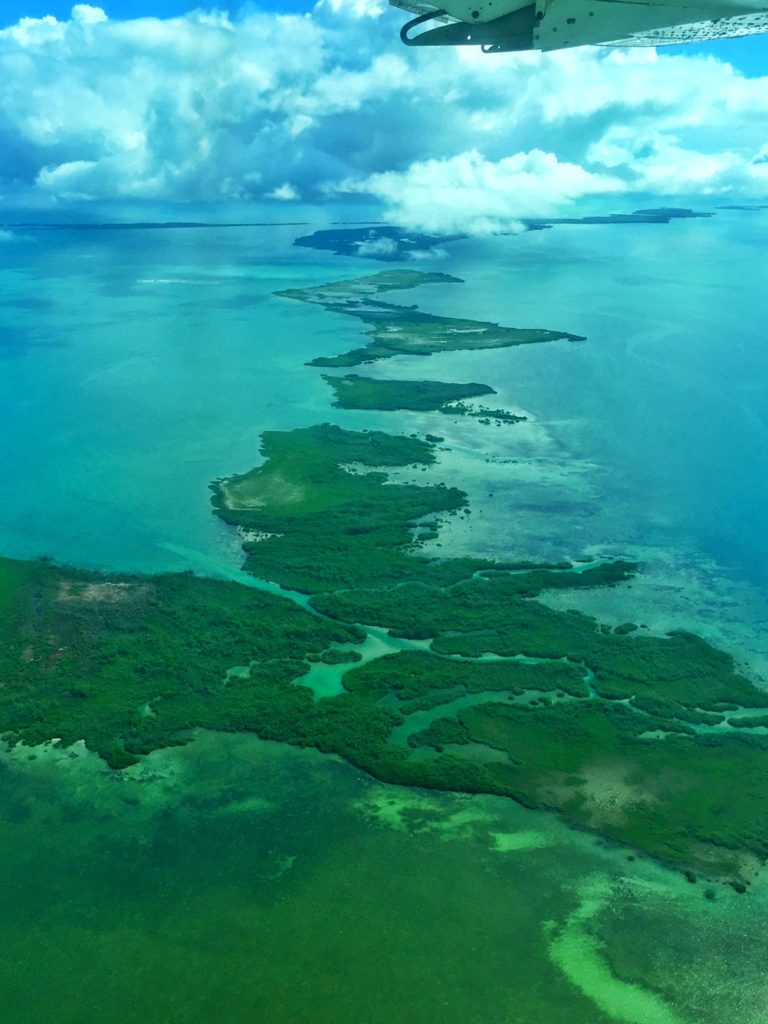 Cons of Staying on San Pedro
It's more crowded. San Pedro is busier, which means that you'll actually encounter real cars on the island (but mostly you'll find golf carts).
While I found this to dilute the island atmosphere just a bit, many people won't mind this, and with the crowds come benefits like more restaurants and bars.
It's pricier. Ambergris Caye is generally a tad more expensive than Caye Caulker, which caters to a more backpacker crowd.
While this is fine if your trip to Belize is a splurge or for a special occasion, if you're looking to save money this is not the island for you. However, if you do want luxury — definitely pick Ambergris Caye!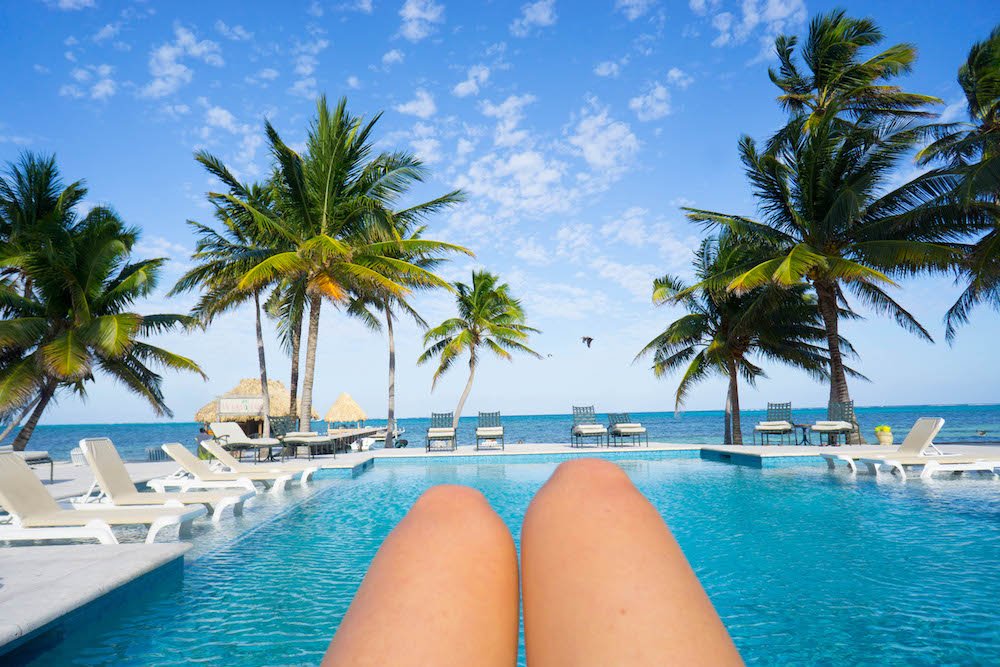 It's harder to see the sunset. Most of the accommodations in San Pedro are located along the east side of the island, making it fantastic for sunrise…. but you tell me if you want to see the sunrise after an afternoon spent in an inner tube guzzling rum punch?
Meanwhile, because of how big San Pedro is, it's kind of a pain (though not impossible) to get yourself to a good sunset spot.
Despite spending more than two weeks of my life on San Pedro, I've still never seen a sunset there. Meanwhile, I forced myself up for several sunrises #forthegram.
Read Next: Your Complete Belize Packing List
Caye Caulker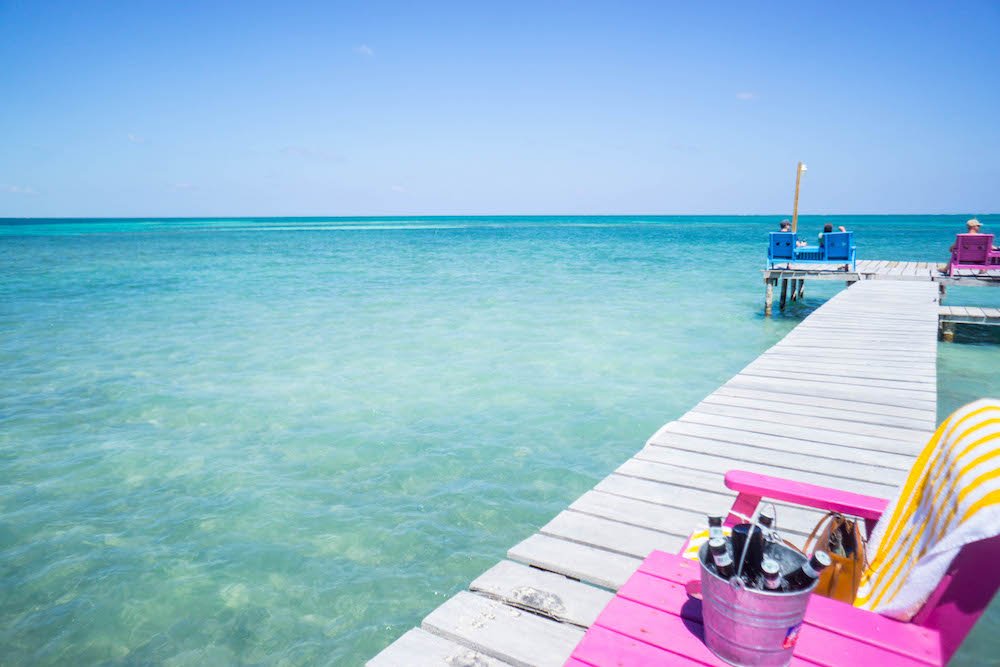 Caye Caulker is one of the smallest islands I've ever been on!
It's so narrow that you can walk from one edge to the other in about five minutes, and you can walk end to end in less than an hour.
While both islands are touristic, Caye Caulker's smaller size means that the entire island runs off of tourism, whereas there's more of a mix in San Pedro.
I love Caye Caulker's relaxed vibe (its motto is "Go Slow" and the locals take it as more of a law than a suggestion, quick to tell off anyone who they deem to be walking too quickly) and its gorgeous sunsets.
It's a place where time can just melt away a little too easily!
Pros of Staying on Caye Caulker
There are better tours (with better prices). Caye Caulker is set up to be the more touristic of the two islands, as opposed to San Pedro being more of a mix of tourist and local.
As a result, I found more tour and activity options there, though you can certainly find plenty of activites to do in San Pedro as well. I did an amazing snorkeling and sailing tour in Caye Caulker!
While unfortunately, I didn't have the budget at the time to swim and snorkel with the manatees, I wish I would have splurged and done it on my last trip, as it looks like a truly amazing experience to get to swim with these gentle giants.
There are precious few places in the world you can swim with wild manatees that is ethical and done with an eye on conservation and preservation, so I'd jump at the chance to do it when I return.
Check out this 7-stop snorkeling tour which includes a stop to see the manatees!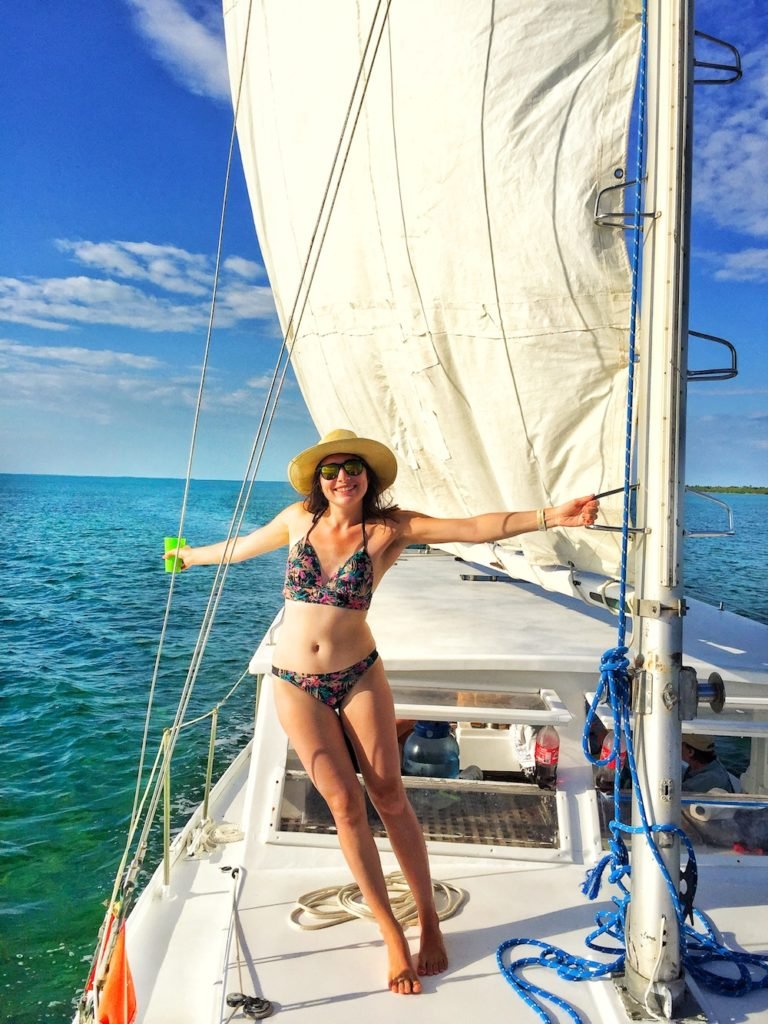 It's a younger crowd. Caye Caulker is generally a more backpacker-friendly vibe than San Pedro, which is also great for couples and families.
I enjoyed the laidback vibe, though I get how other people could find it obnoxious. It isn't a crazy party destination, but it definitely is more set up for backpackers than any other kind of traveler.

It's cheaper. While Belize on the whole is not a great budget destination, I found Caye Caulker to be way more affordable than San Pedro.
Accommodations in Caye Caulker offer an especially good deal – you can find a decent guesthouse for $30-40 a night pretty easily, which is hard to find on Ambergris Caye.
My default choice when I travel now is low-key but private, and Caye Caulker was perfect for my needs.
Sunsets couldn't be easier to get to. Given that the island is probably 500 meters wide at its widest point, you can easily get yourself over to the west side of the island to take full advantage of the gorgeous sunsets.
Grab a Belikin, sit in the sand, and enjoy that view.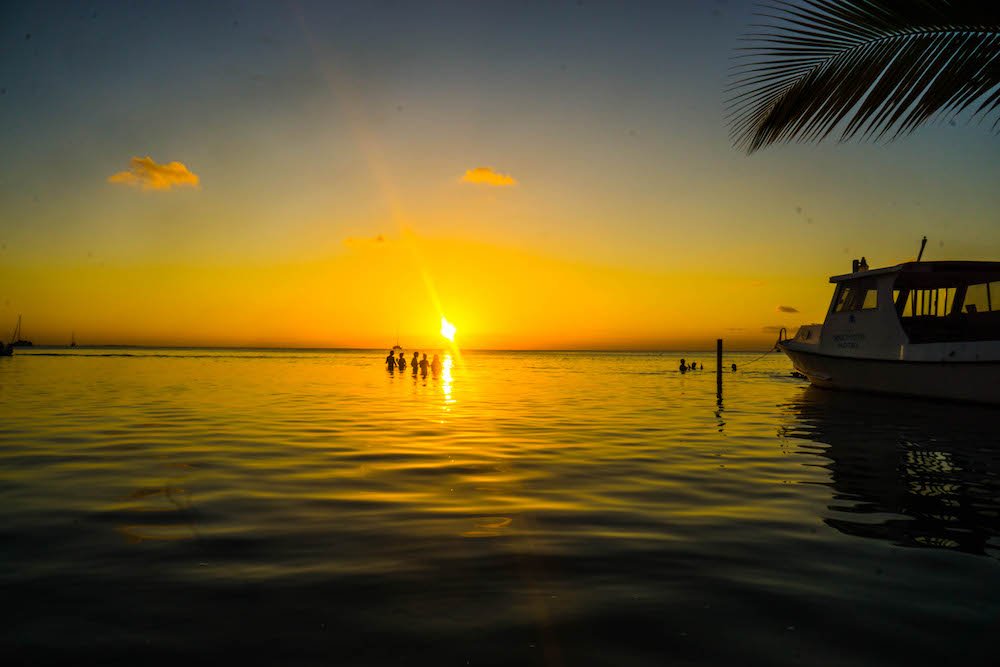 Better bars. Sip n' Dip Bar has got to be one of my favorite bars in the world!
While I enjoyed Palapa Bar in San Pedro quite a bit, I loved that I could swing in the water (and drink), sit in an inner tube in the water (and drink), and sit in a hammock over the water (and drink). Plus buckets of beer were cheaper here!
The Split is also a great place to drink and while away the time.
More beach dogs. I guess this could be a con for some people, but I loved all the beach dogs running around owning the hell out of Caye Caulker.
Most of the dogs have homes, actually, but their owners just let them hang out and be dogs during the day.
There's also a great animal shelter that does excellent work at keeping the dogs well-fed and in good shape and helps adopt out dogs and cats to forever homes.

Cons of Staying on Caye Caulker
It's a younger crowd. The median age at Caye Caulker ended up being fine for me and what I was in the mood for.
However, if you're not into partying and lounging at bars, I can easily see how you'd run out of things to do in Caye Caulker after some time.
Meanwhile, San Pedro is bigger and has a more diverse age range it serves, so it's easier to find a vibe that's more suited to what you're after.
I definitely wouldn't recommend it for families, and while it's fine for laidback couples I wouldn't think of it as a romantic destination the same way I would think of a resort on Ambergris Caye.
The catcalling is slightly worse. Both San Pedro and Caye Caulker are annoying to travel on if you're a solo female traveler, as you will inevitably get harassed every few minutes by the local men.
While I didn't feel like my safety was threatened, I was annoyed constantly at how much the men talk to you and get annoyed when you don't respond.
It's more sales-y. In addition to the catcalling, people are more likely to call out to you to try to sell you a coconut, get you to look at their tours, etc. than on San Pedro.
While it's easy enough to ignore, sometimes you just want to walk unimpeded – it's easier to do this on San Pedro (although sales-y pitches still happen, it's less frequent and easier to avoid).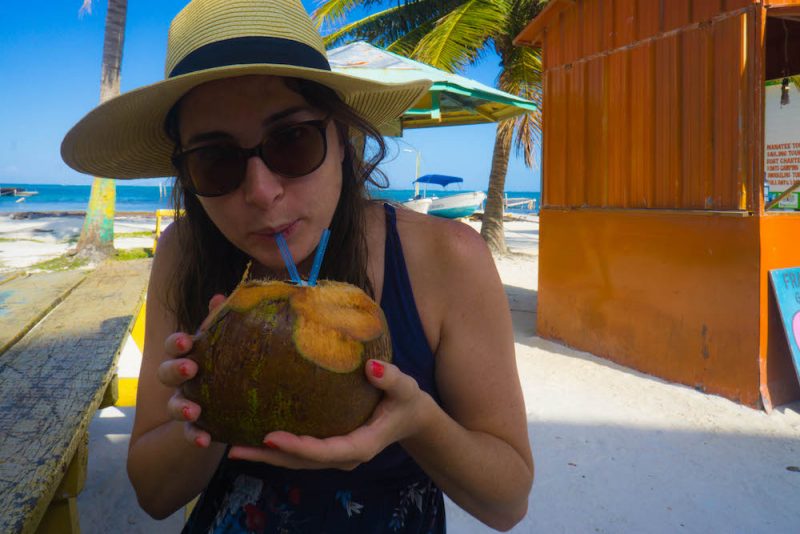 The food is fine but nothing special. You'll have better choices in San Pedro (and San Pedro also has its very own local chocolate shop!)
Read Next: The Belize Bucket List: 21 Epic Things to Do in Belize
Overall Verdict: San Pedro vs. Caye Caulker
While I don't think there's one better island, I would say that San Pedro is better for families, couples, and people who prefer a bit more of a town vibe than a beach vibe.
Meanwhile, Caye Caulker is perfect for solo travelers, backpackers, and young couples on a budget.
San Pedro is also better if you have limited time due to the fact that they have an airport which can speed up transfers; Caye Caulker is better for people counting their coins.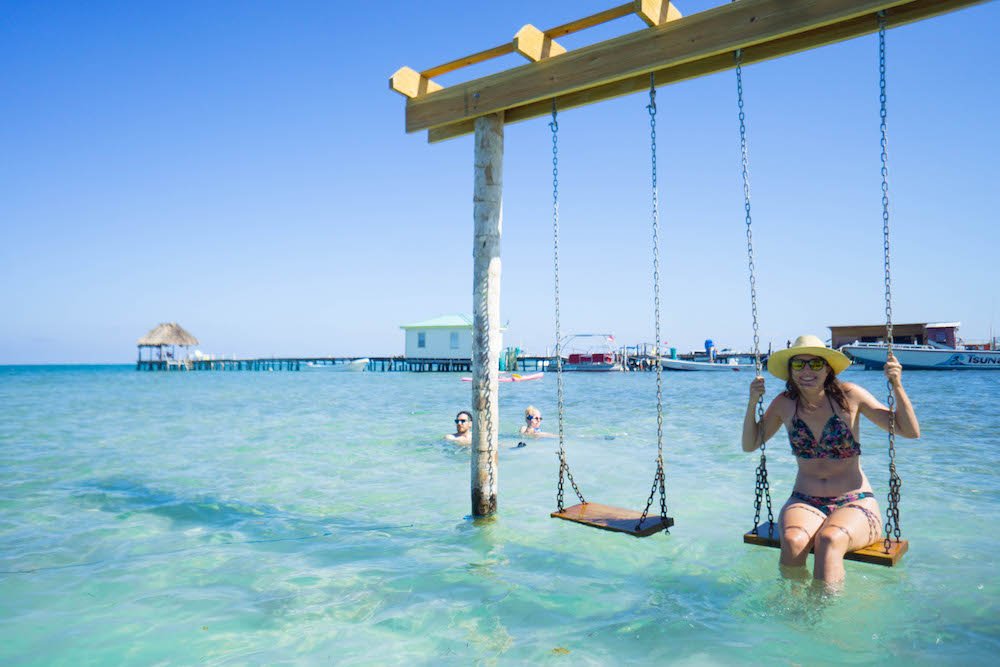 Where to Stay in San Pedro
If you've decided on San Pedro, I have two excellent recommendations that I've stayed in firsthand, which span pretty much the entire gamut of prices you can expect in Ambergris Caye.
For travelers on a budget, Sandbar Hostel is an excellent choice.
The hostel is impeccably clean (they sweep the sand out of the dorm rooms seriously every few hours, which is a really nice touch for people like me who really dislike sand) and it has a nice downstairs bar to socialize at.
The restaurant is good, though slightly overpriced, and it has a sandy beach in front with some nice sun loungers, although the water is really shallow and not good for swimming.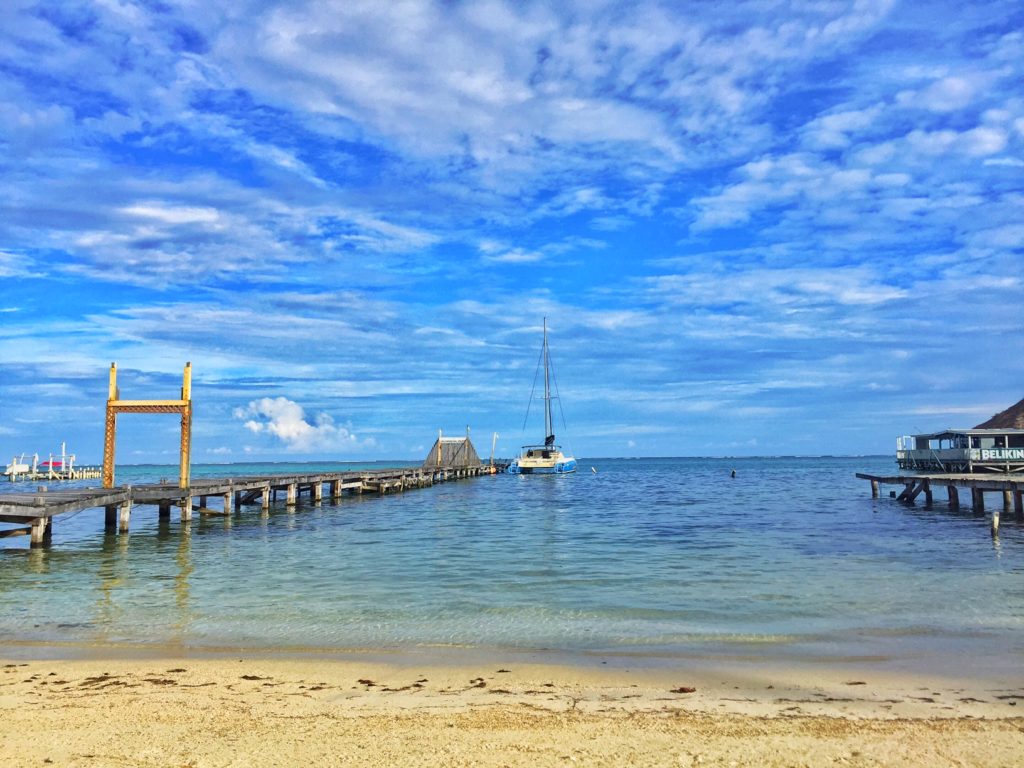 For travelers who want something truly special, I can't rave enough about Victoria House. The villas are insanely luxurious, the staff is wonderful, and the views of the Caribbean couldn't be more spectacular.
I also loved the two pools and found it an amazing place for sunrise. If you're looking for a special, romantic place, this is the best place to pick in Belize.
Check prices, reviews, and availability here, and be sure to book early as rooms here often sell out. It is pricy, but there are often good deals on the cabaña rooms.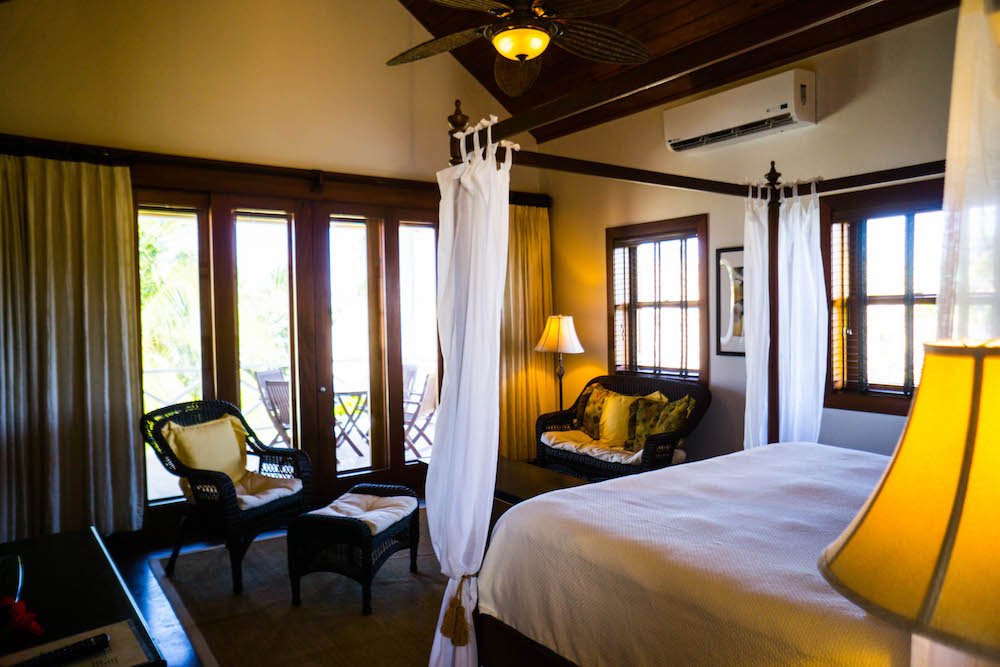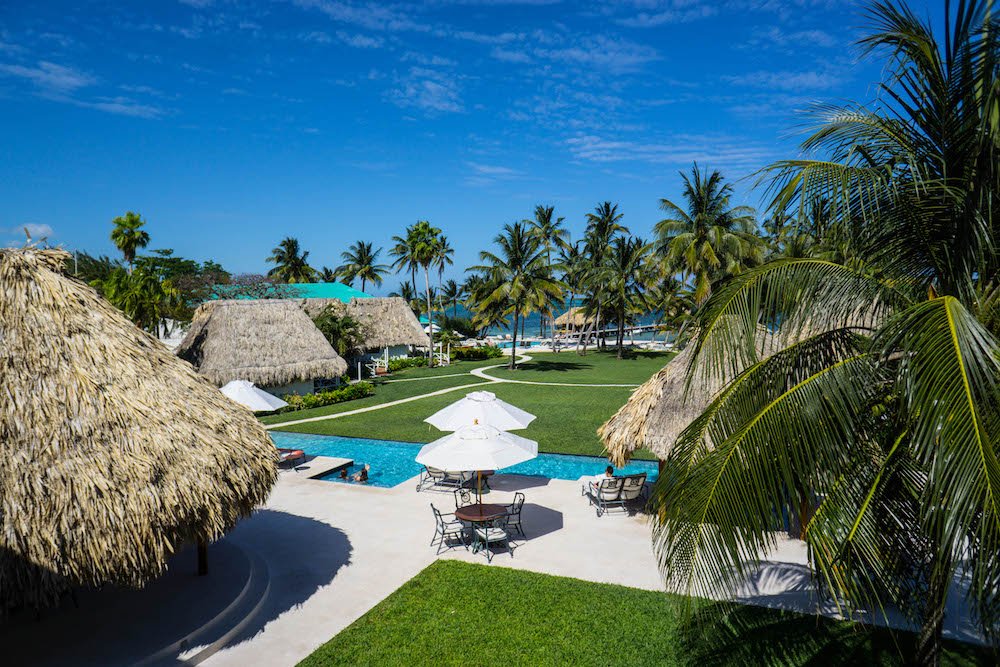 Where to Stay in Caye Caulker
If you've settled on Caye Caulker, I have some thoughts.
I stayed in Sea & Sun Guest House and loved it. The wifi was excellent (for an island), the rooms were spacious and clean, although my room didn't have its own bathroom but rather a shared one.
There is no AC but it wasn't too hot with the fans.
I loved that the guesthouse included free bike and kayak rentals, which is a really nice touch. However, they don't have dorms so if you are a solo traveler it's not a great choice.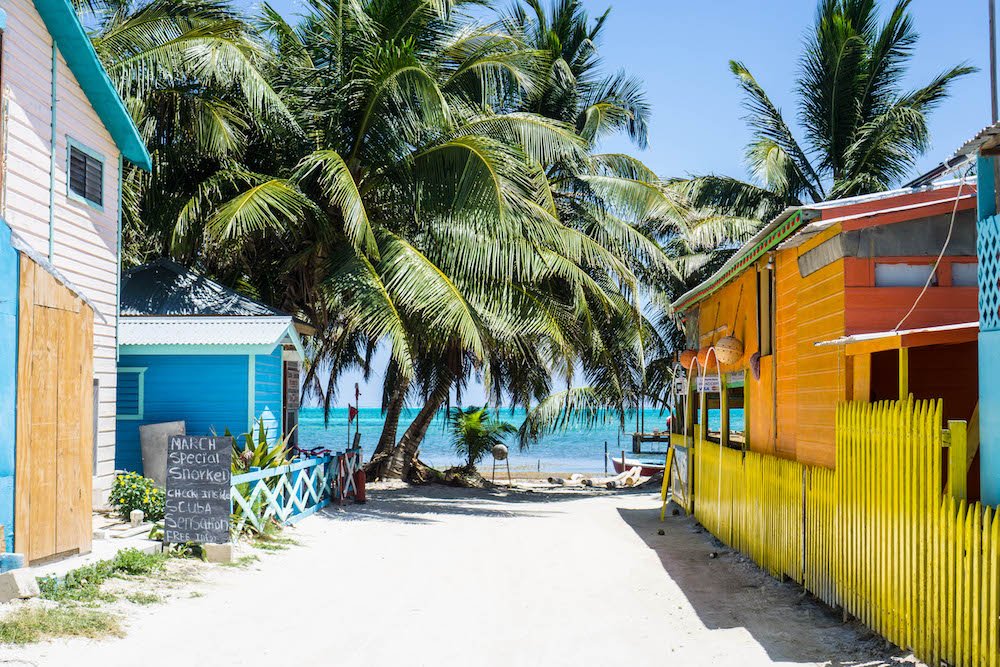 If you're looking for a hostel there are a few, although I can't say I'd recommend all of them. Go Slow is what I tend to recommend to people!
Read Next: The Best Snorkeling in Belize
7 Things You Must Pack for Belize
I've written an entire Belize packing list but if you just want the essentials, here's what I think are the absolute essentials.
Mosquito repellent & after-care: Belize has a tropical climate with mosquitos year-round, particularly in the rainy season. Zika, dengue fever, malaria, and chikungunya have all been reported there. While there's no reason to cancel your trip on account of it, protect yourself with mosquito repellent (as a back-up, I carry around a few mosquito repellent wipes with me in my purse in case I forget to apply spray before leaving or that I can apply after swimming). It's also inevitable that you won't leave without a few bites, so bring some after-bite relief too (this is hard to find in Belize).
Full-size travel towel: This travel towel is full-size so it's big enough to use as a beach towel, thin enough to pack up super small for your luggage, and it dries super quickly in Belize's humid climate.
A guidebook: I use travel blogs a lot when I'm on the road but I also love having a guidebook to give me more specific, thoroughly researched information. Lonely Planet is my go-to guidebook and Lonely Planet Belize is no exception. I usually buy the Kindle version, but paper versions are also great fun to peruse.
Reef-safe sunscreen: If you are planning to do any water activities, such as diving or snorkeling or even swimming, please use a reef-safe sunscreen like this one. The active ingredients in sunscreen are killing off coral in huge numbers. The Belize Barrier Reef is the second largest in the world and is under threat. So please don't use normal, chemical-laden sunscreen in Belize's fragile ocean ecosystem!
Filter water bottle or Steripen: Belize's tap water is not drinkable anywhere in the country. I recommend traveling with a water bottle with a built-in filter that filters out nasty bacteria and viruses like this awesome LifeStraw bottle so you can reduce your plastic waste. Alternately, you can use a Steripen which sterilizes water using UV light. A great investment if you travel frequently and want to reduce your plastic bottle consumption!
GoPro: If you go snorkeling or cave tubing or ziplining, you're going to want a way to capture all of that action! A GoPro Hero 6 is currently the highest-quality option, but if you're on a budget, the GoPro Session is also an excellent choice. Be aware that you need to buy protective casing if you want to take either of these cameras diving. They are only waterproof to 10 meters, and you'll exceed that if you dive (most dives are at least 15 meters or so).
Finally, don't forget travel insurance! Whether you're scuba diving, caving, ziplining through the jungle or just relaxing on the beach, don't forget to purchase travel insurance! It'll protect you in case of accident, injury, lost luggage, theft, or any other disaster that could befall your trip. I have been a paying customer of World Nomads for two years and recommend them highly. I've included a way to get a free quote below.
Note: I received a complimentary media stay at Victoria House, but all opinions are entirely my own.
Was this post helpful? Pin it for later!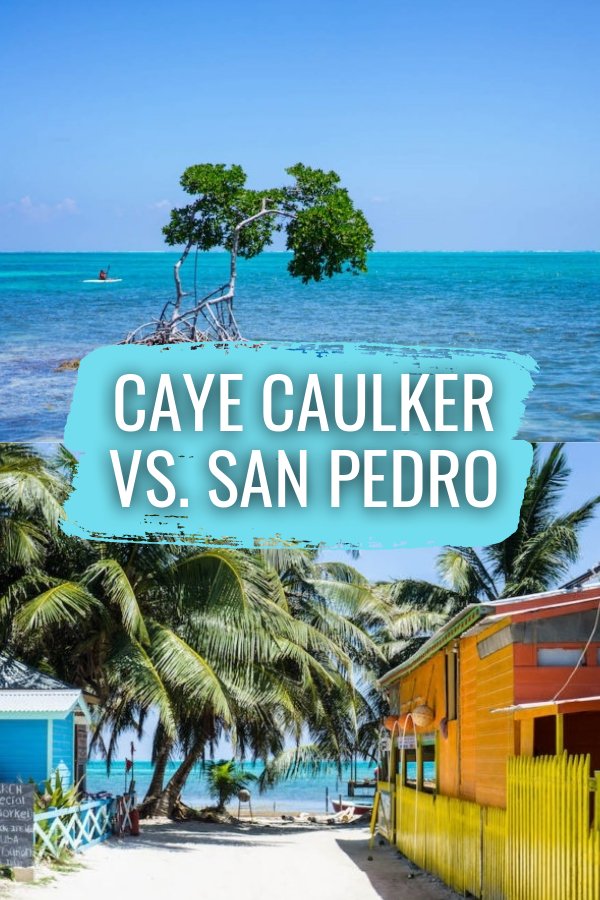 Allison Green is a former educator turned travel blogger. She holds a Masters in Teaching and a B.A. in English and Creative Writing. Her blog posts merge her educational background and her experience traveling to 60+ countries to encourage thoughtful travel experiences that both educate and entertain. She has been a speaker at the World Travel Writers Conference and her writing, photography, and podcasting work has appeared in National Geographic, CNN Arabic, CBC Canada, and Forbes, amongst others. Now based in the San Francisco Bay Area where she grew up, she has also lived in Prague, Sofia, and New York City.