Belize is famous for its Mayan ruins, exciting adventures, underwater life, and epic Caribbean sea views. If you're into snorkeling or diving, there is no doubt you will want to visit Ambergris Caye while you are in Belize. And if you want to punctuate your time underwater with some luxury on land – there's absolutely no better place to do that than Victoria House in San Pedro — easily the best boutique hotel in Belize.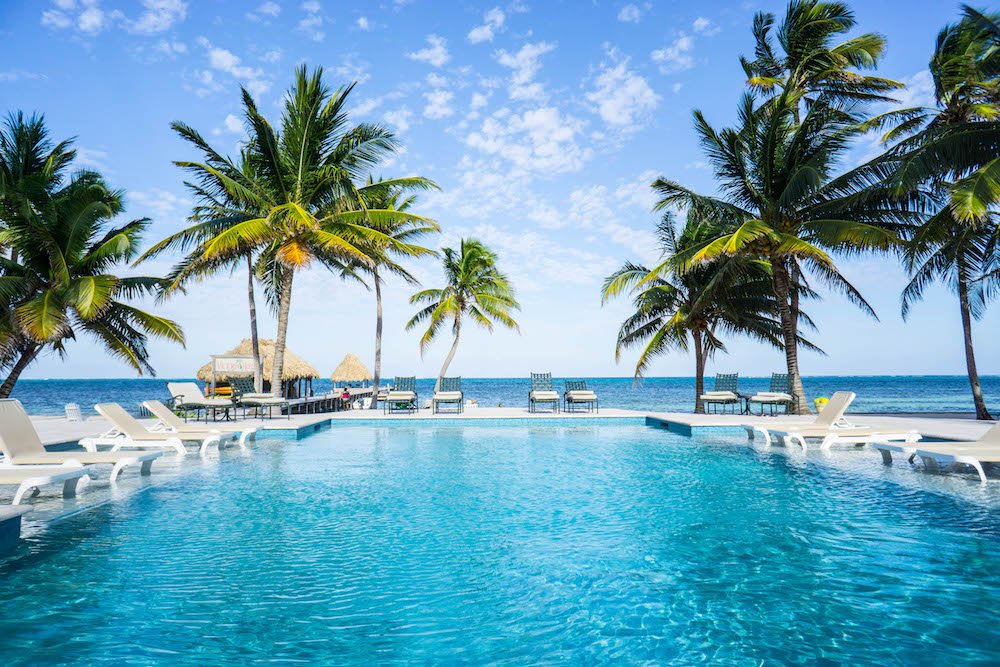 Note: This post contains affiliate links, which means I may receive a small commission if you purchase something through one of these links. Thank you for supporting the free content on this site! For more information on affiliate links and cookies, see my disclosure page for more details.
From the pool that looks out over the Caribbean Sea to the well manicured grounds shaded with palm trees, Victoria House is an oasis of peace and quiet in San Pedro. I loved relaxing on one of the loungers in the pool and sipping on a Belikin (Belize's beer of choice) looking out at this view – I could do it all day!
The Victoria House offers a private beach of sorts, with hammocks and loungers spread between the palm trees overlooking the ocean. While the water and marine life are stunning, the islands of Belize are not known for their sandy beaches. That said, Victoria House has created something out of nothing, with a sandy 'beach' giving way to a seawall.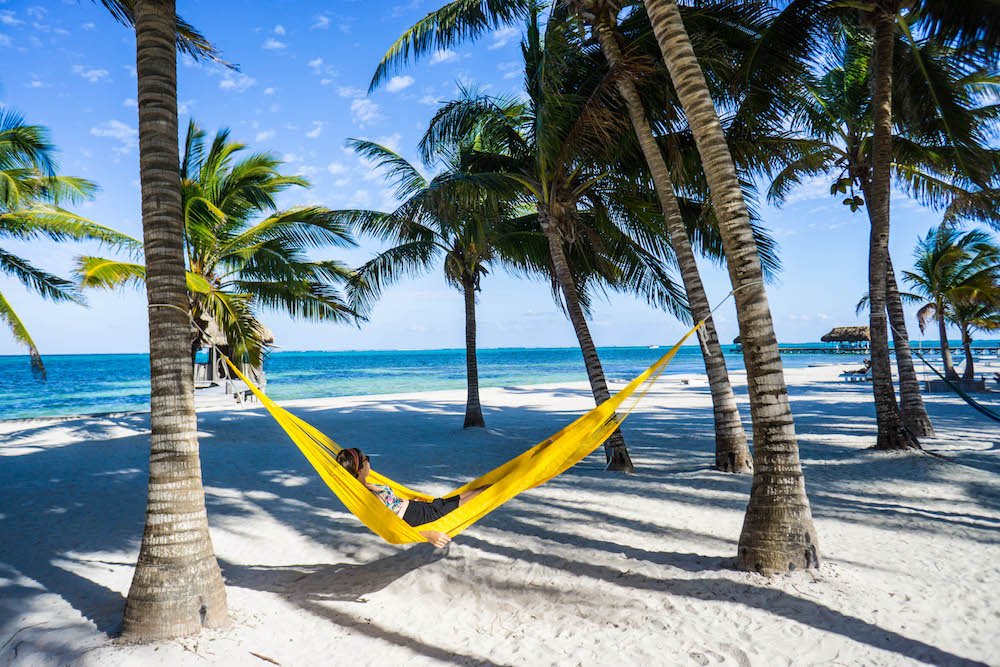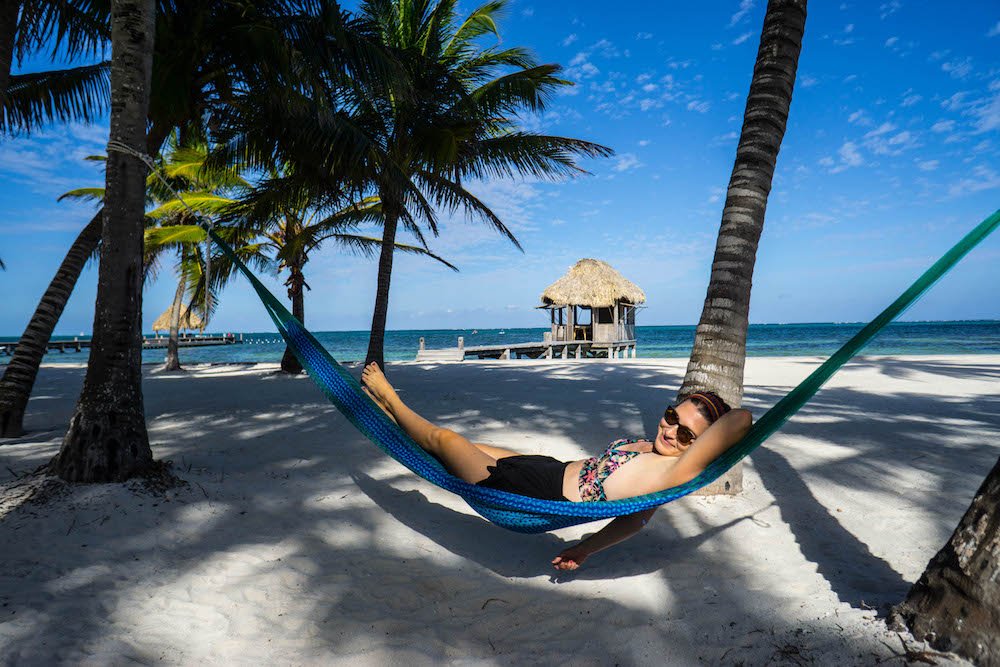 Of course, I had to test out all the hammocks at Victoria House. For research.
I'd never let you down.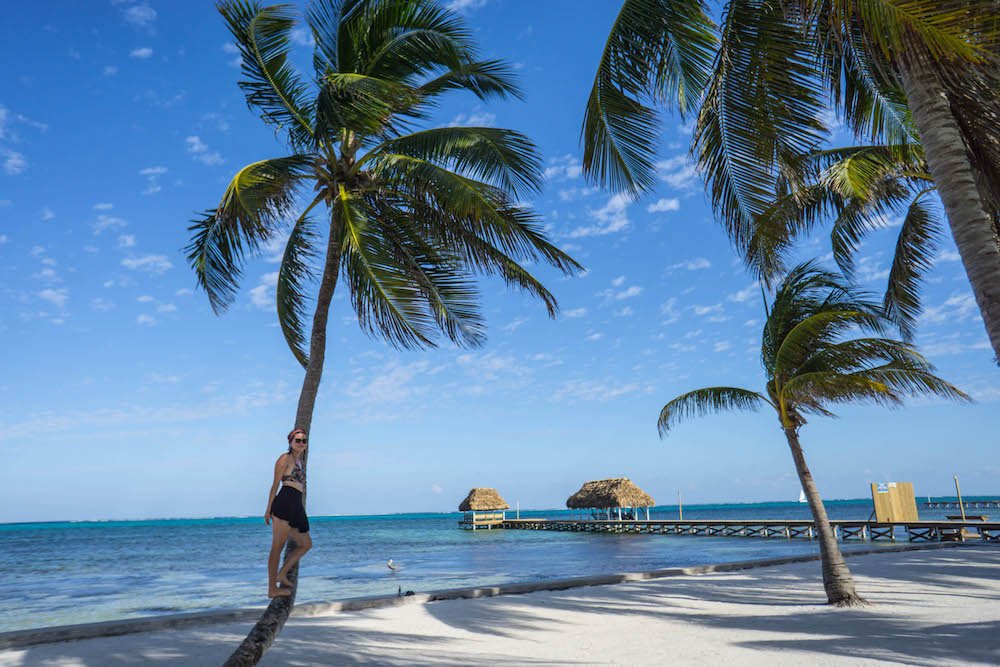 When I wasn't scaling palm trees channeling my inner Mowgli from The Jungle Book (my favorite movie until I was like 9), lounging poolside, or methodically researching hammock comfort… I was enjoying the luxury of our Infinity Suite, a two-story apartment complete with pool views and a fully functioning kitchen.
Yeah, a full kitchen in our boutique suite! My inner New Yorker died a thousand deaths when I saw this kitchen and realized I wouldn't be making use of it.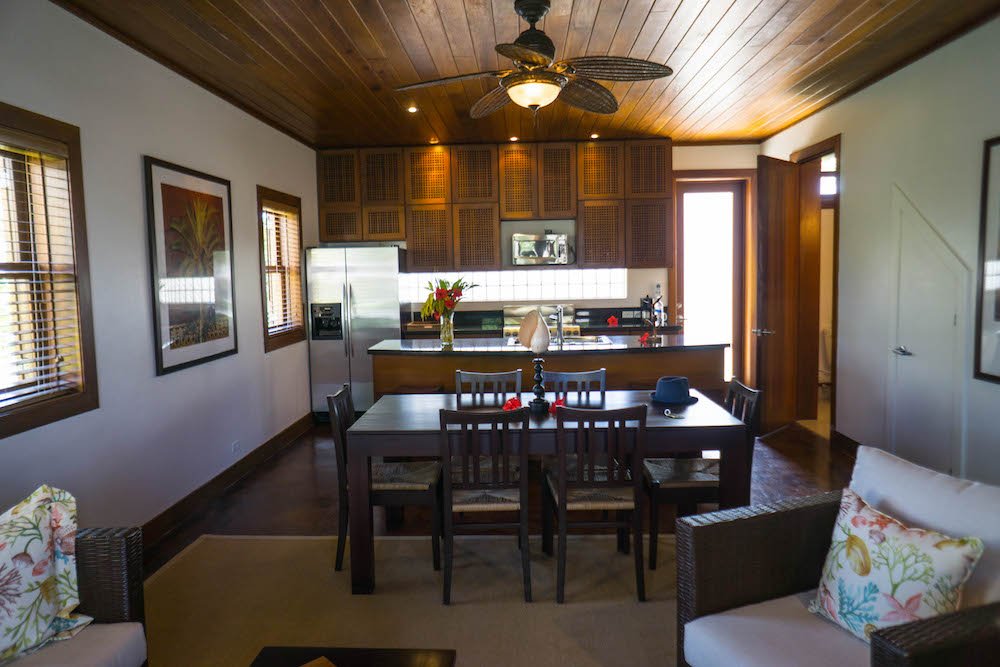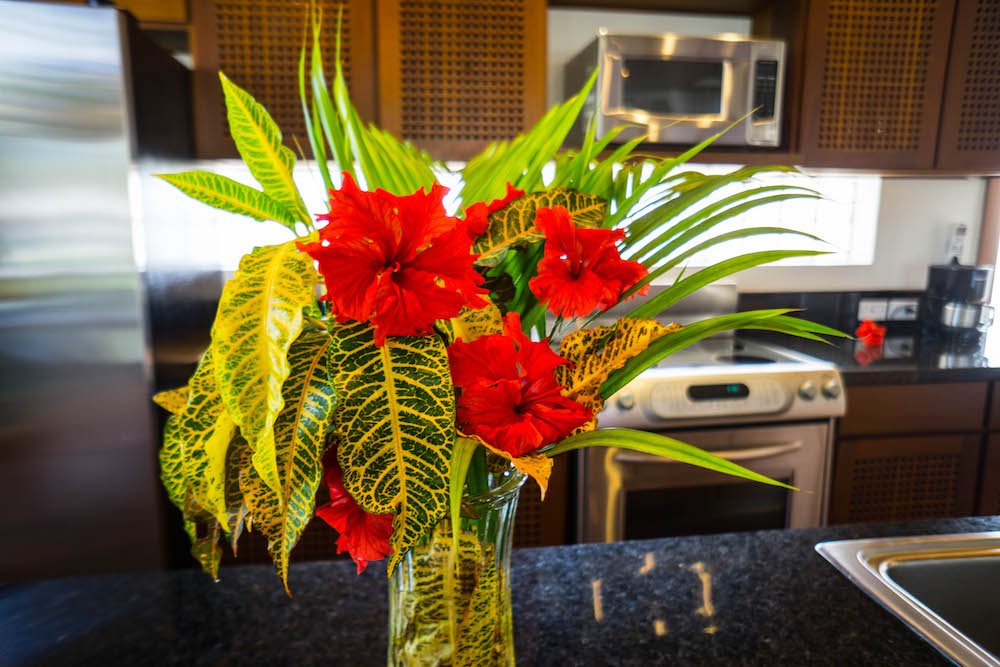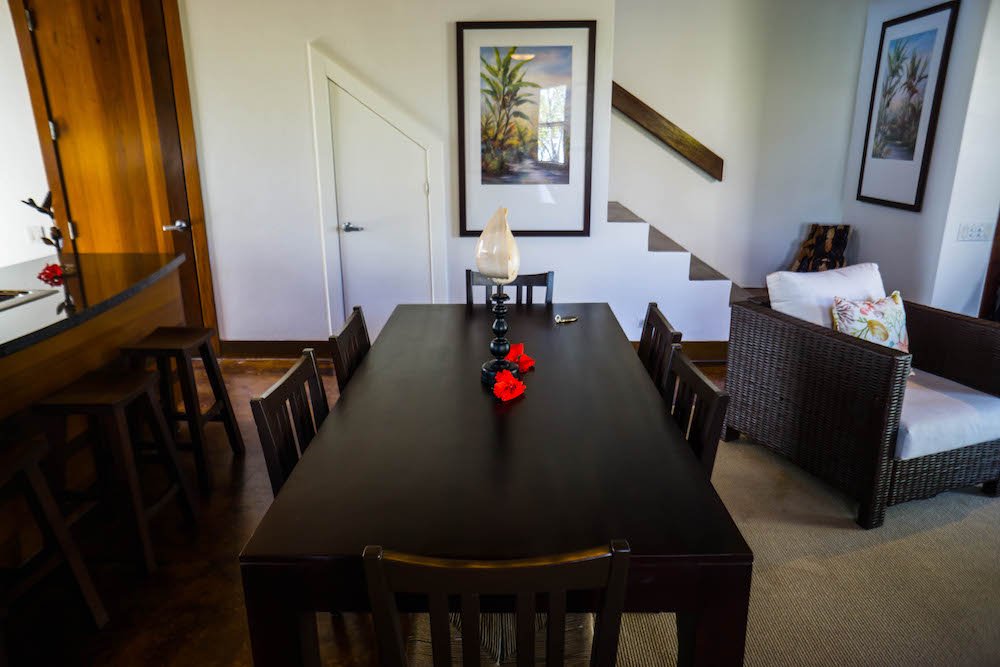 In addition to the full kitchen and what I lovingly called our "mini fridge," we had not one or two but four separate outdoor areas.
Including an outdoor shower, because apparently this is my life now.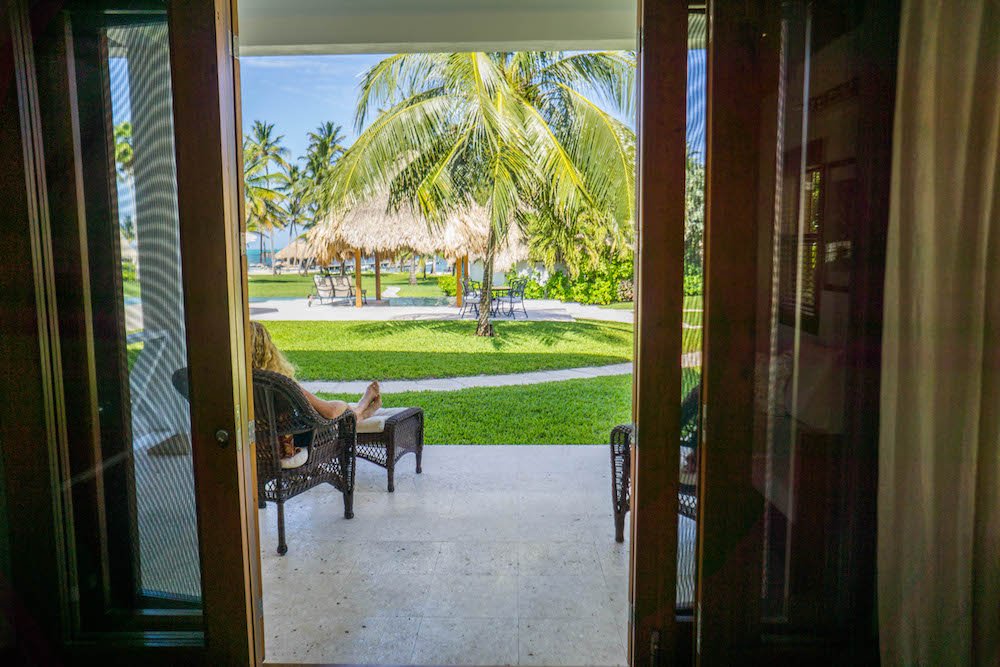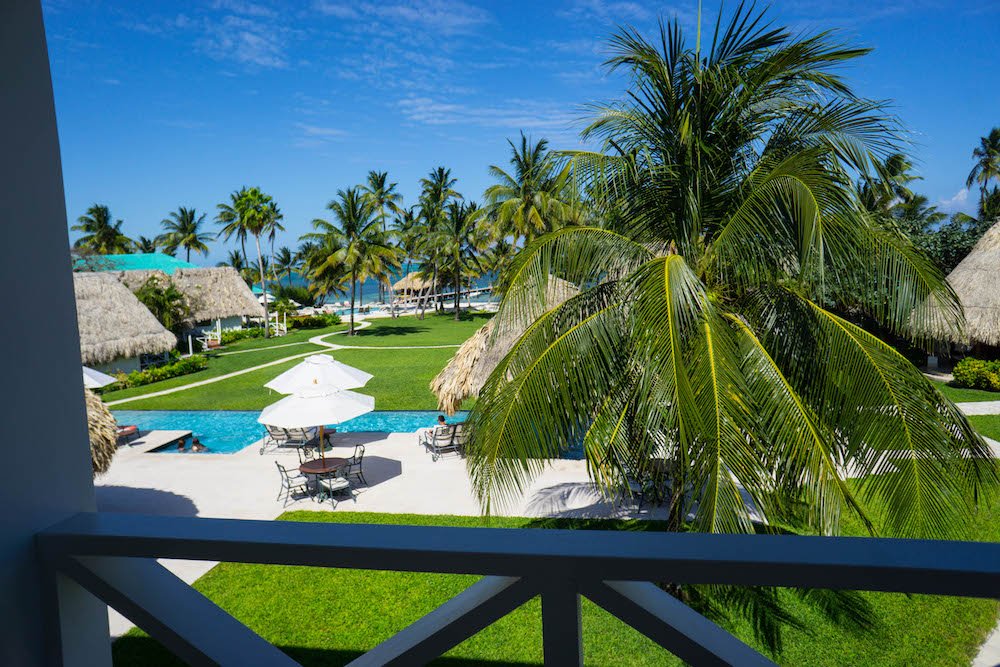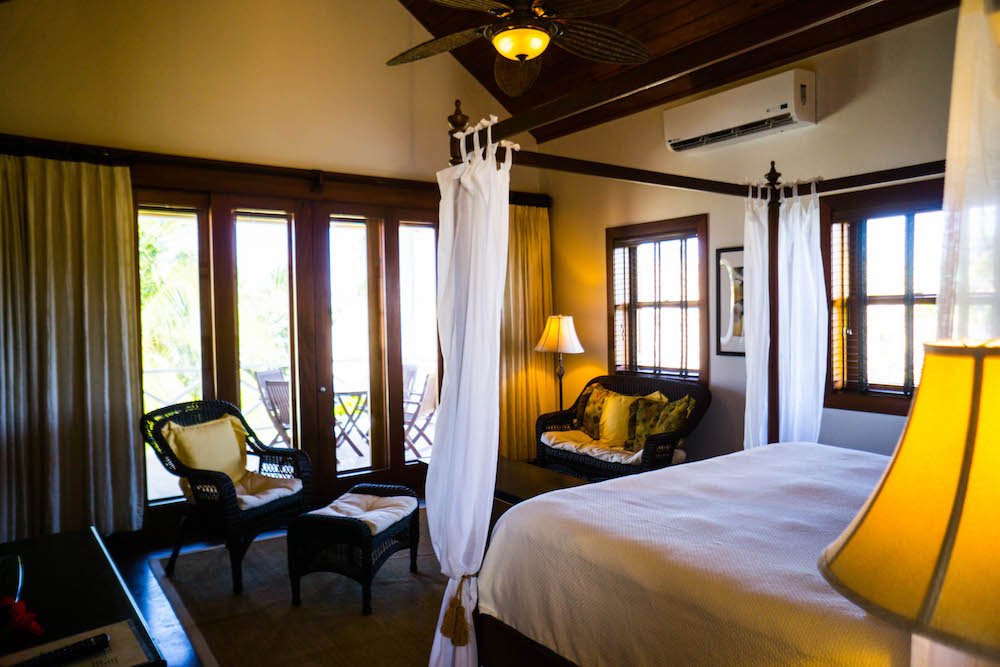 Because Victoria House faces east, you'll want to rouse yourself from your insanely comfortable bed long enough to catch at least one of the epic sunrises over the Caribbean.
Nothing beats the peace of watching the sunrise from a private beach or infinity pool at your luxury boutique hotel!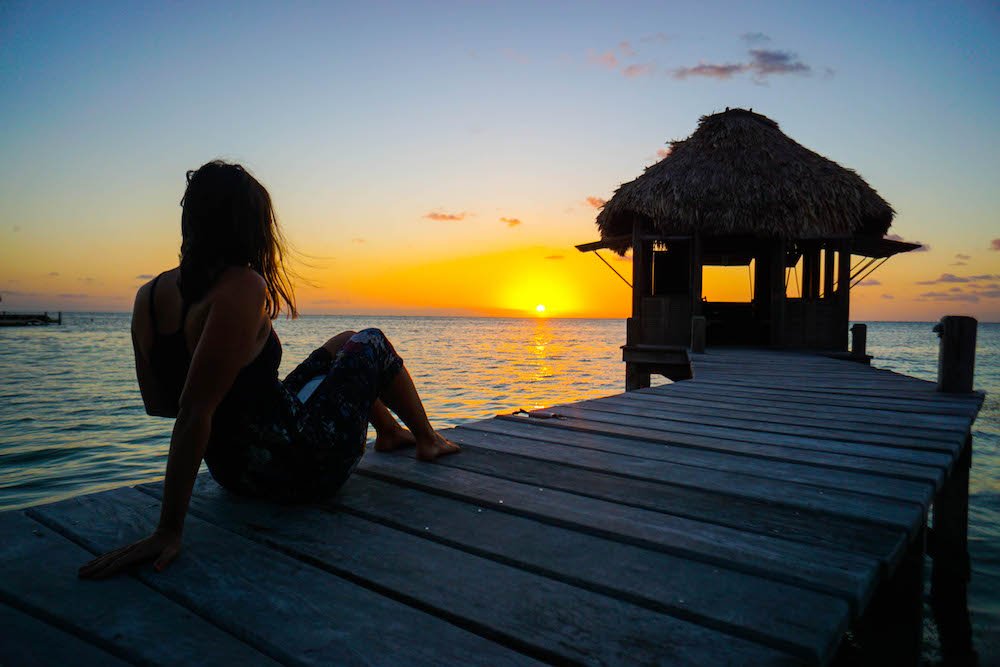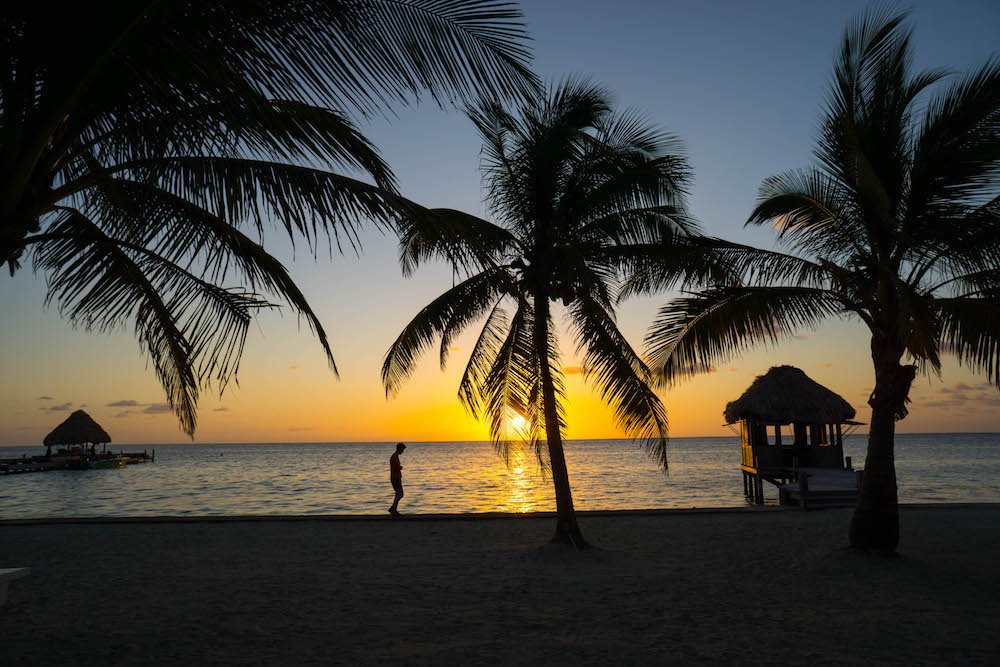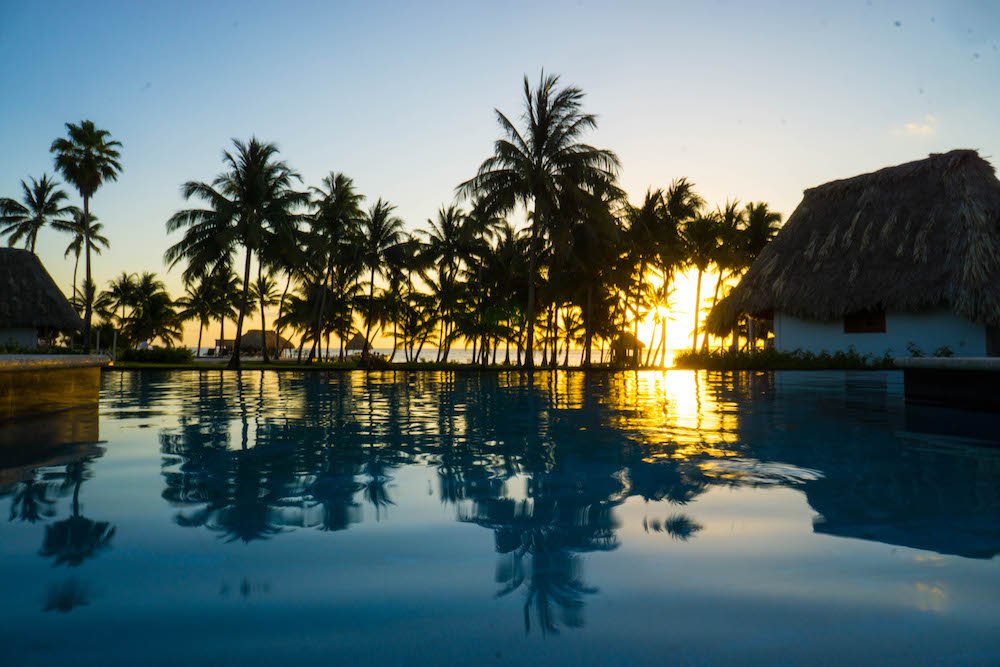 If you tire of lounging by the pool I don't understand you don't fret, there's plenty to do in and near Ambergris Caye!
Why not snorkel with sharks, rays, and sea turtles in the beautiful Belize Barrier Reef, which is the second biggest reef in the world? Or visit some Mayan ruins or go on a caving adventure on the mainland?
You can also rent complimentary bicycles to ride into town or borrow a kayak to take for a paddle out on the beautiful Caribbean waters.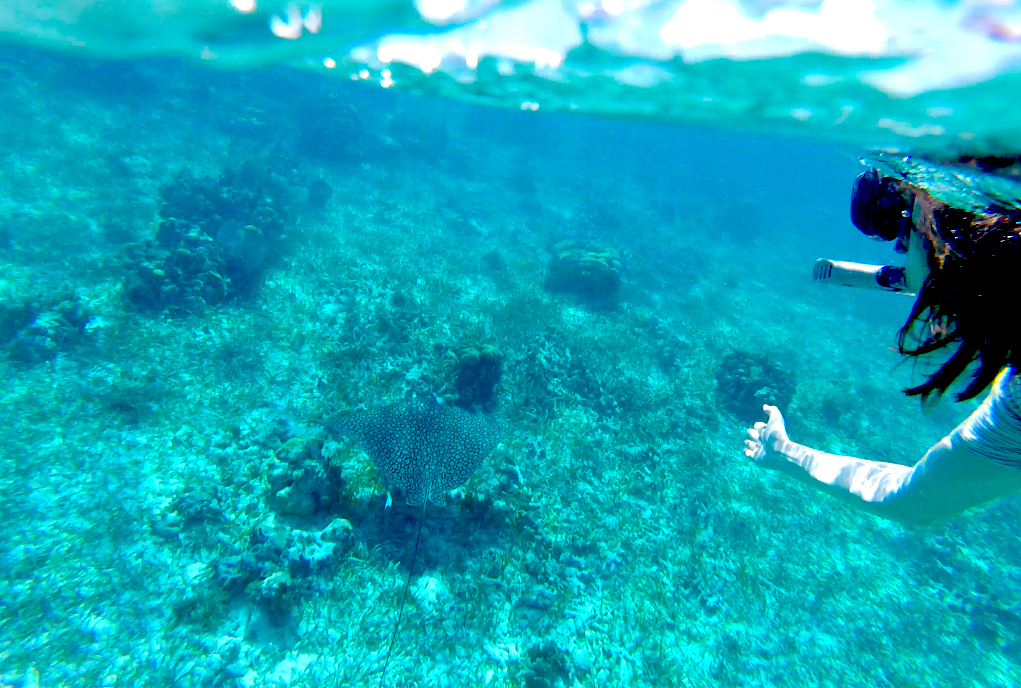 Victoria House offers a wide range of boutique hotel accommodations spread across 42 rooms. If you really want to ball out, there are luxury suites like the one Janet and I enjoyed, and for the truly epic amongst us there are also beachfront villas with private pools that can house up to 10 people. Talk about an epic destination for a wedding or bachelorette party!
From the more affordable staterooms which start at $205 to the cute little casitas starting at $299, there are also plenty of options that offer boutique Belize luxury on a realistic budget.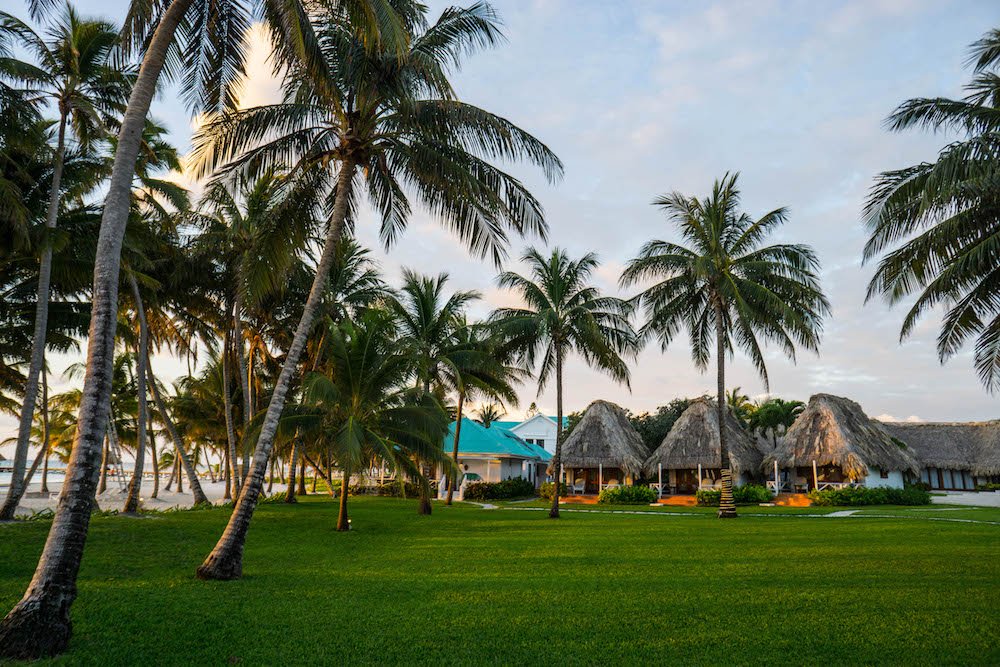 I loved every minute of my stay at this stunning seaside boutique hotel. Victoria House's grounds are so spacious that even when there are other people there you somehow feel as if you have the whole place to yourself. During the day, most of the guests are off diving or on tours, so even in the high season I was often the only one in the pool! The place comes alive at dinner when everyone comes home from the tours and dines in the acclaimed Palmilla Restaurant on site.
If you're looking for a taste of luxury on your Belize island getaway, look no further than Victoria House!
7 Things You Must Pack for Belize
I've written an entire Belize packing list but if you just want the essentials, here's what I think are the absolute essentials.
Mosquito repellent & after-care: Belize has a tropical climate with mosquitos year-round, particularly in the rainy season. Zika, dengue fever, malaria, and chikungunya have all been reported there. While there's no reason to cancel your trip on account of it, protect yourself with mosquito repellent (as a back-up, I carry around a few mosquito repellent wipes with me in my purse in case I forget to apply spray before leaving or that I can apply after swimming). It's also inevitable that you won't leave without a few bites, so bring some after-bite relief too (this is hard to find in Belize).
Full-size travel towel: This travel towel is full-size so it's big enough to use as a beach towel, thin enough to pack up super small for your luggage, and it dries super quickly in Belize's humid climate.
A guidebook: I use travel blogs a lot when I'm on the road but I also love having a guidebook to give me more specific, thoroughly researched information. Lonely Planet is my go-to guidebook and Lonely Planet Belize is no exception. I usually buy the Kindle version, but paper versions are also great fun to peruse.
Reef-safe sunscreen: If you are planning to do any water activities, such as diving or snorkeling or even swimming, please use a reef-safe sunscreen like this one. The active ingredients in sunscreen are killing off coral in huge numbers. The Belize Barrier Reef is the second largest in the world and is under threat. So please don't use normal, chemical-laden sunscreen in Belize's fragile ocean ecosystem!
Filter water bottle or Steripen: Belize's tap water is not drinkable anywhere in the country. I recommend traveling with a water bottle with a built-in filter that filters out nasty bacteria and viruses like this awesome LifeStraw bottle so you can reduce your plastic waste. Alternately, you can use a Steripen which sterilizes water using UV light. A great investment if you travel frequently and want to reduce your plastic bottle consumption!
GoPro: If you go snorkeling or cave tubing or ziplining, you're going to want a way to capture all of that action! A GoPro Hero 6 is currently the highest-quality option, but if you're on a budget, the GoPro Session is also an excellent choice. Be aware that you need to buy protective casing if you want to take either of these cameras diving. They are only waterproof to 10 meters, and you'll exceed that if you dive (most dives are at least 15 meters or so).
Finally, don't forget travel insurance! Whether you're scuba diving, caving, ziplining through the jungle or just relaxing on the beach, don't forget to purchase travel insurance!  It'll protect you in case of accident, injury, lost luggage, theft, or any other disaster that could befall your trip. I have been a paying customer of World Nomads for two years and recommend them highly. I've included a way to get a free quote below.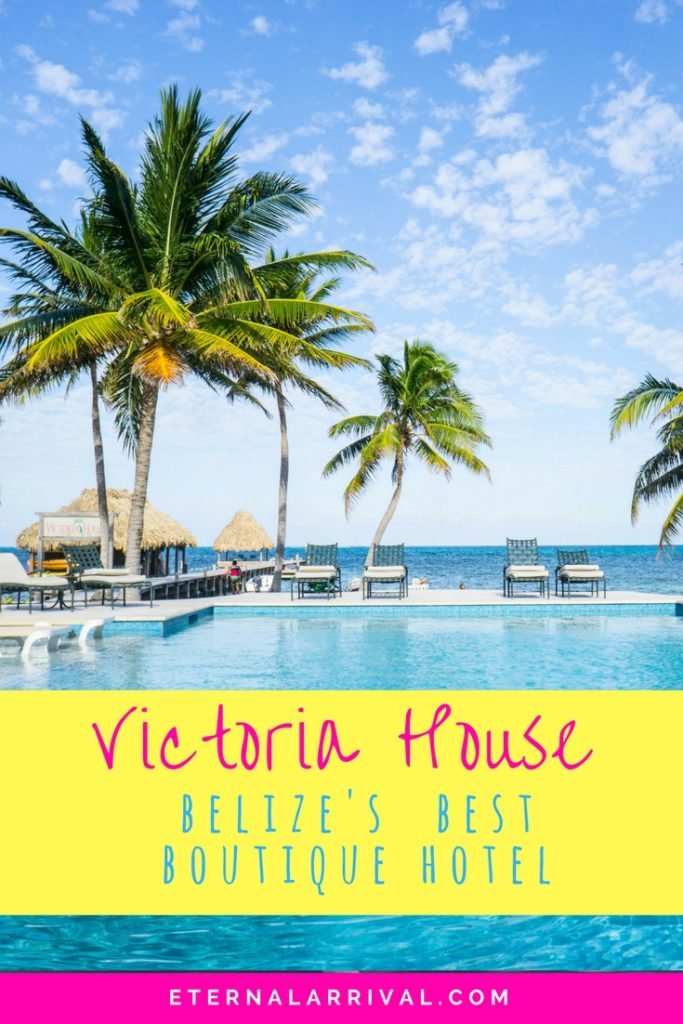 Note: I was provided with two nights' complimentary accommodations at Victoria House in order to review it. All opinions are my own, as always! This post contains affiliate links, which means I may receive a commission if you book a stay using my link.
Allison Green is a former educator turned travel blogger. She holds a Masters in Teaching and a B.A. in English and Creative Writing. Her blog posts merge her educational background and her experience traveling to 60+ countries to encourage thoughtful travel experiences that both educate and entertain. She has been a speaker at the World Travel Writers Conference and her writing, photography, and podcasting work has appeared in National Geographic, CNN Arabic, CBC Canada, and Forbes, amongst others. Now based in the San Francisco Bay Area where she grew up, she has also lived in Prague, Sofia, and New York City.