I had first heard of Taichung from a girl I met while I was traveling in Greece, who had taught English there for two years.
The way she described the city made me fall in love with it before I had even visited. Close to hikes and lakes, full of cafés and streets jammed with street food each night: it basically sounded like a perfect synthesis of all my favorite things.
When I arrived in Taichung, though, I found that all the sights in the city were very spread out, and it was actually a bit hard to plan my Taichung itinerary.
We wasted a lot of time backtracking and, having not really planned much, found Taichung was a bit difficult to be spontaneous in, especially compared to Taipei.
Whereas Taipei has the super-simple MRT, I found Taichung's public transportation network of buses a little more inscrutable as a quick visitor to the city with only 2 days in Taichung planned.
I've organized this post so that you can learn from the slight troubles we had in organizing our time in Taichung, so that you can maximize however many days you have on your itinerary for Taichung.
I've optimized this for two days; however, you could squeeze it all into one day if you must – but you'd need to get an early start.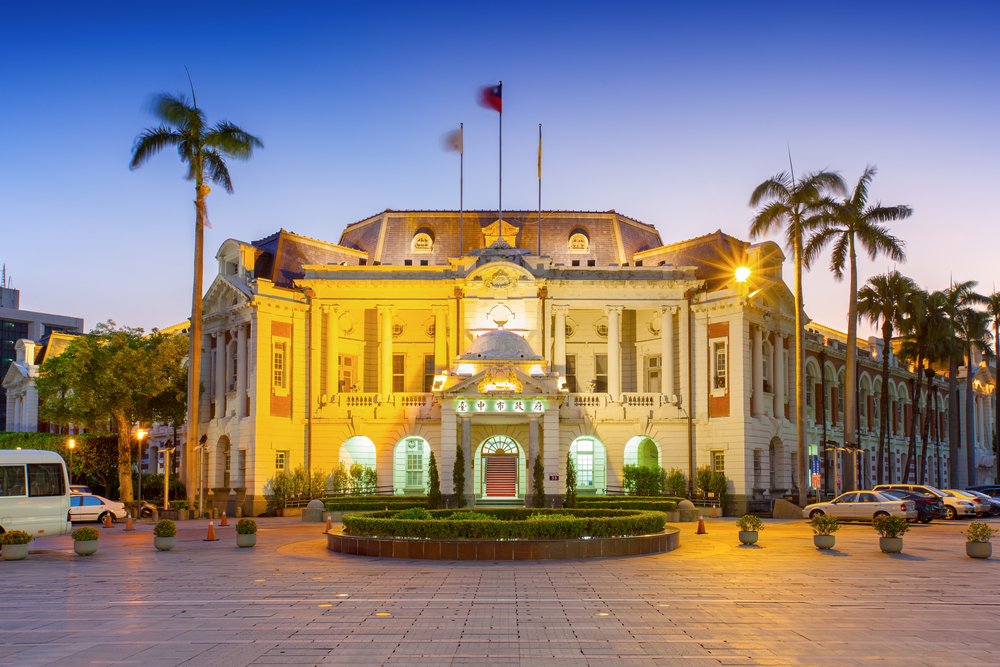 Note: This post contains affiliate links, which means I may receive a small commission if you purchase something through one of these links. Thank you for supporting the free content on this site! For more information on affiliate links and cookies, see my disclosure page for more details.
Taichung Itinerary: Day 1
Start with a wander through Taichung Cultural and Creative Industries Park
Taiwan is the only place in the world I've been where they have "creative parks."
There's nothing I can really compare it to: these parks are probably best described as a combination of your standard urban park and an open-air network of pop-up boutiques and "selfie areas" where you can pose with your favorite cartoon figures (this is Taiwan, after all).
I had gone to two creative parks in Taipei and found them super interesting, so I made sure to pop into Taichung's creative park.
Due to the pop-up nature of these creative parks, what you'll find will change. When we went, there was an "umbrella alley" perfect for Instagram, some cool walls to pose with, a sake brewery, and a DIY customizable umbrella shop.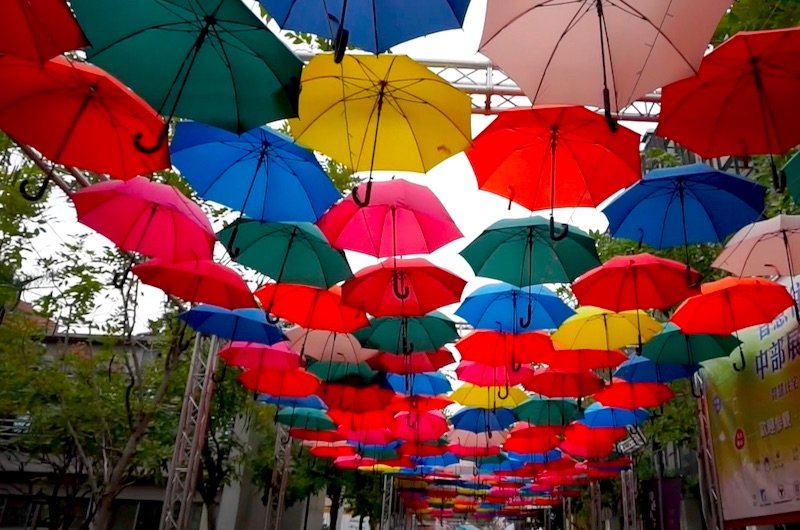 Have a bubble tea at its birthplace, Chun Shui Tang
From the creative park, walk 10 minutes to the original bubble tea shop, Chun Shui Tang, who hold the claim to being the first people to invent bubble tea. If you haven't had bubble tea, you simply need to try it when you're in Taiwan.
It's a bit of an acquired taste for some: the tapioca pearls, aka the "bubbles", are pretty tasteless but incredibly chewy. I personally love the chewy, stretchy texture, which is common in Taiwanese food. However, my friend Janet was not a big fan of bubble tea!
You can get a variety of flavors and teas, whether you want black or green tea or you prefer a juice or smoothie instead of a tea. I prefer my bubble tea iced, milky, and slightly sweet, but you can specify how you'd like it and they'll make it to order.
Stop for lunch at Taichung Second Market
After you've had dessert first, why not eat at Taichung's Second Market? Just another 10 minutes' walk, the Taichung Second Market is the daytime version of the popular outdoor Fengjia Night Market.
The Second Market is less touristy than the night market, and you'll find lots of traditional Taiwanese favorites like pork rice, xiao long bao, and of course, the hit-you-in-the-face-with-its-stench stinky tofu.
Overwhelmed on what to eat? Check out this YouTube clip:
Stroll along the Liuchan Riverside Walk
The Liuchan River is not that big, but it does make for a really nice walk through central Taichung. I always love being around water when I'm in a city, and Taichung is no exception.
While I wouldn't necessarily make a point of visiting it unless I was already in the neighborhood, since you'll be located near here if you're following my Taichung itinerary, it's definitely worth walking along this street.
Dip into Painted Animation Lane
Just a 1-minute detour on your Riverside Walk, you'll find Painted Animation Lane. It's a cutesy collection of murals featuring characters like Mario. I thought it was interesting for a brief, 5-minute stop.
It's definitely nothing special, but if you're passing it anyway and you want a funny quirky selfie, go for it.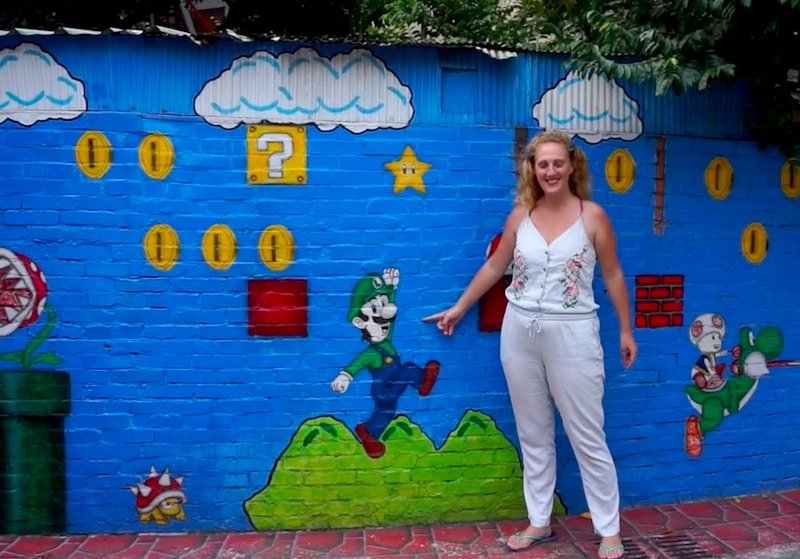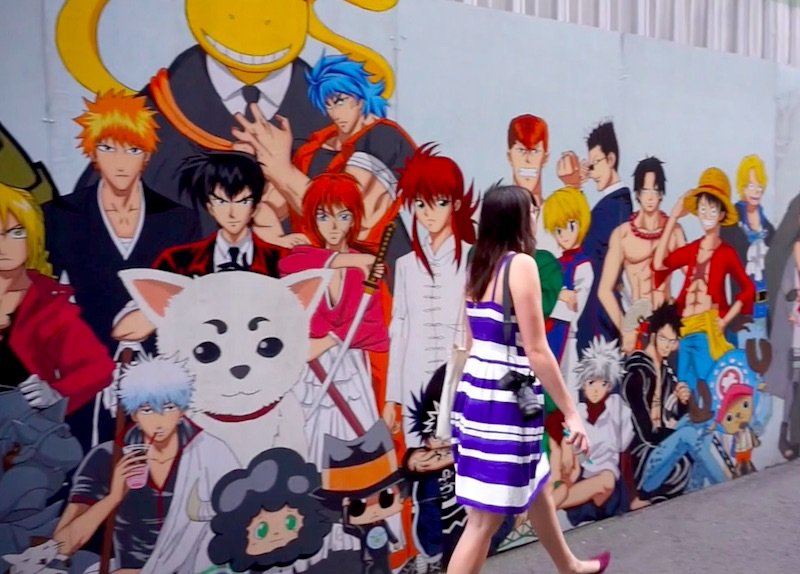 Rest your legs
You've been walking quite a bit with this itinerary, so take a little break at either one of the city's many parks or back at your hotel.
I'd recommend the Calligraphy Greenway if you are looking for a place to sit and relax outside.
Fengjia Night Market
Let's be honest, this night market is probably the whole reason you are going to Taichung!
The biggest night market in Taiwan, Fengjia is where new street food ideas are given a trial run before making it to the rest of Taiwan, and even the world.
Apparently, if it's good enough to make people queue for it in Taichung, it's good enough to sell on the rest of the island!
A few of my favorite things I ate at Fengjia: chopped fried giant squid with sweet chili sauce, octopus takoyaki balls, pork xiao long bao, and enormous extra-long french fries with wasabi mayo.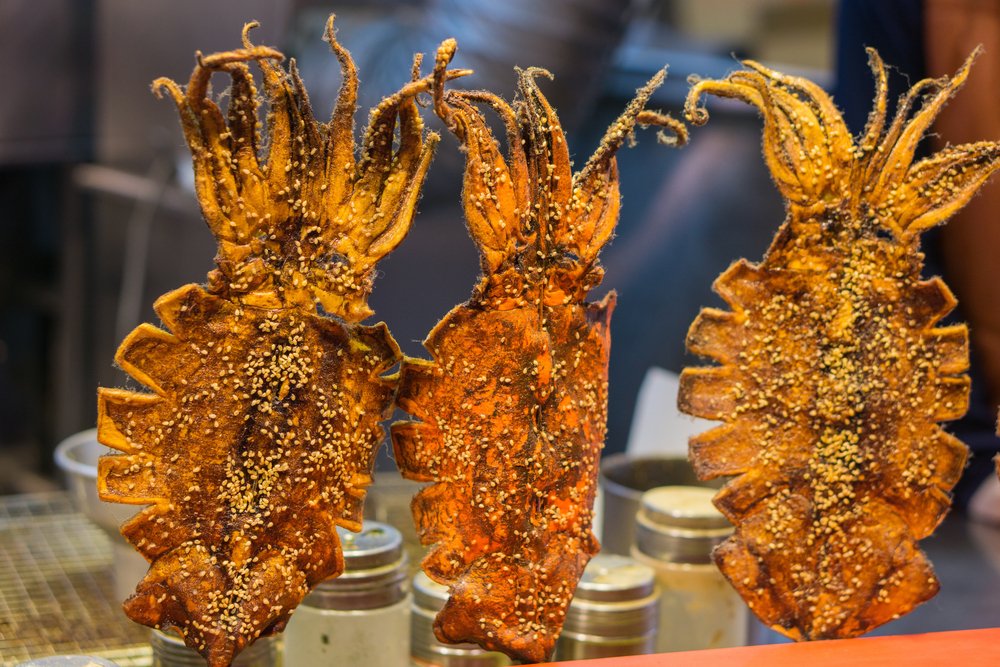 Taichung Itinerary: Day 2
Go to Rainbow Village early in the morning
This is one of the most popular spots in Taichung so I highly recommend setting an alarm and getting an early start before everyone else does!
This painted village in Taichung is vibrant. In today's day and age, it would be an Instagram gimmick, but the story behind it is much deeper and much sweeter.
The "village" (which is really about two or three blocks painted in a small area) was painted entirely by one man, a man in his 90s named Huang Yung-Fu, nicknamed Rainbow Grandpa.
He used to be a soldier in the military and lived in this "veteran village" which was used to house former Kuomintang soldiers upon returning from battle in mainland China.
However, forces of gentrification are at work everywhere, and Taiwan is no exception. These "veteran villages" are disappearing from Taiwan's landscape, as developers are using the land to build new apartment buildings.
The story goes that Rainbow Grandpa was getting bored of living alone in his village; everyone else had already moved away, bought out by developers. Rainbow Grandpa didn't want to leave his home, and he started to paint to kill time and be less bored.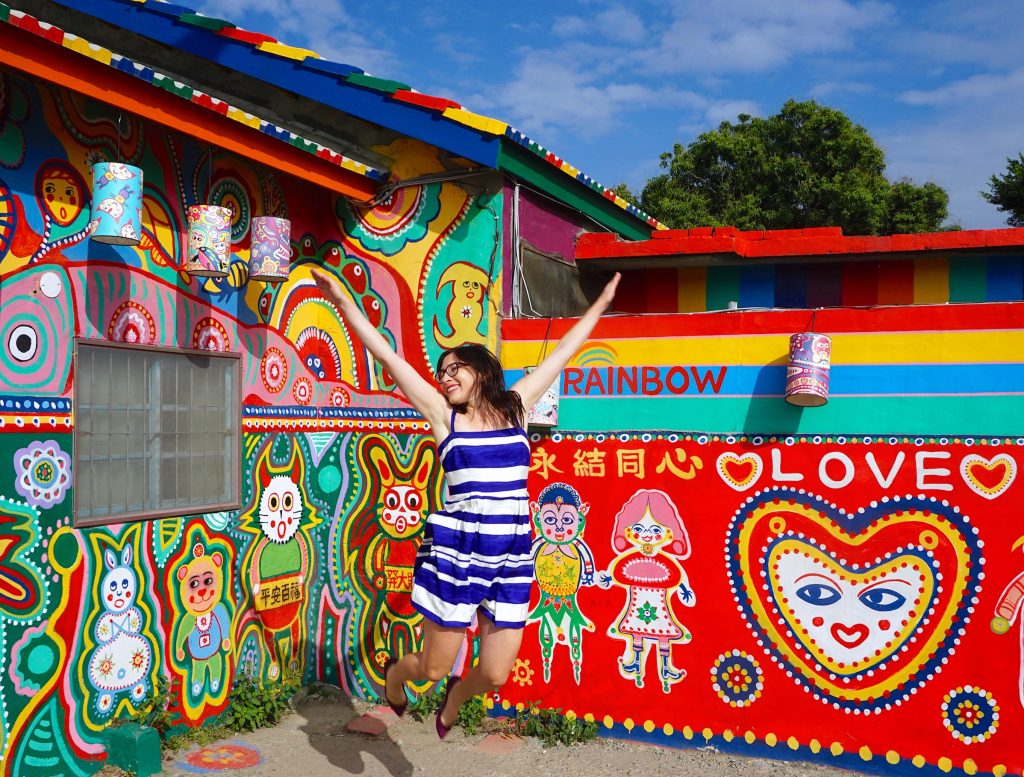 He painted a bird, then a cat, and then just kept going until eventually all the walls and floors were covered in vibrant paintings.
A group of students heard about what he was doing and petitioned the government to turn it into a cultural village, and the government obliged.
Rainbow Village is now protected as a designated cultural village and will be preserved for generations to come.
Admission to Rainbow Village is free, but you should support its upkeep by making a small donation by purchasing a print or souvenir in the shop.
It's possible to get here by bus but I found that it was easier just to use Uber to and from Rainbow Village as it was pretty inexpensive.
Marvel at the Miyahara building
Housed in a former eye hospital, the Miyahara building is an incredibly fancy place to buy sweets, including the traditional pineapple tart that it's famous for.
But the Miyahara building is also a great place to go for photography and Instagram photos. It actually kind of reminds me of a Hogwarts-esque library!
I didn't end up eating here as there is a minimum spend of about $13 USD per person and it always annoys me to have to spend a minimum — even if I know I would hit it, it's just the principle. I know, I'm weird.
But if you want to get good photos on the stairway and to capture the building, you will have to pay up. What can they say… Taiwan knows how to profit off Instagrammers!
There's also a famous ice cream shop on the ground floor, with lines stretching down the block.
I'm not one to wait nearly an hour for an ice cream but if you're more dedicated than I am, give yourself some time here!
Taichung Park
This pretty little urban park is about a 10-minute walk from Miyahara and is well worth a quick visit. It's the oldest park in Taichung and was created when the island was under Japanese occupation.
Today, the park is known for its lake – you can rent a boat and paddle around on a hot day. It's also just a nice place to sit and rest your legs after walking around for a bit.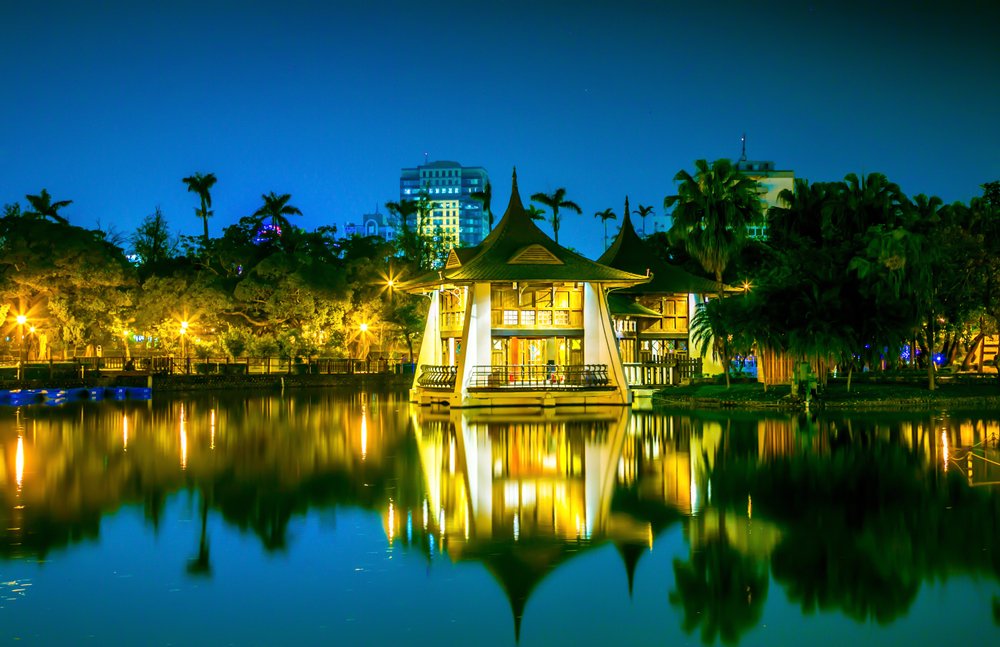 Taichung Confucius Temple & Martyr's Shrine
I love visiting different religious sites when I travel, and Taiwan is no exception. I didn't have time during my trip to make it out to the Taichung Confucius Temple but I wish I had as it's quite beautiful.
It uses traditional Chinese design elements and balances simplicity and elegance in a really nice way.
I visited Longshan when I was in Taipei and loved it, so this temple is on my list to visit in Taichung when I return.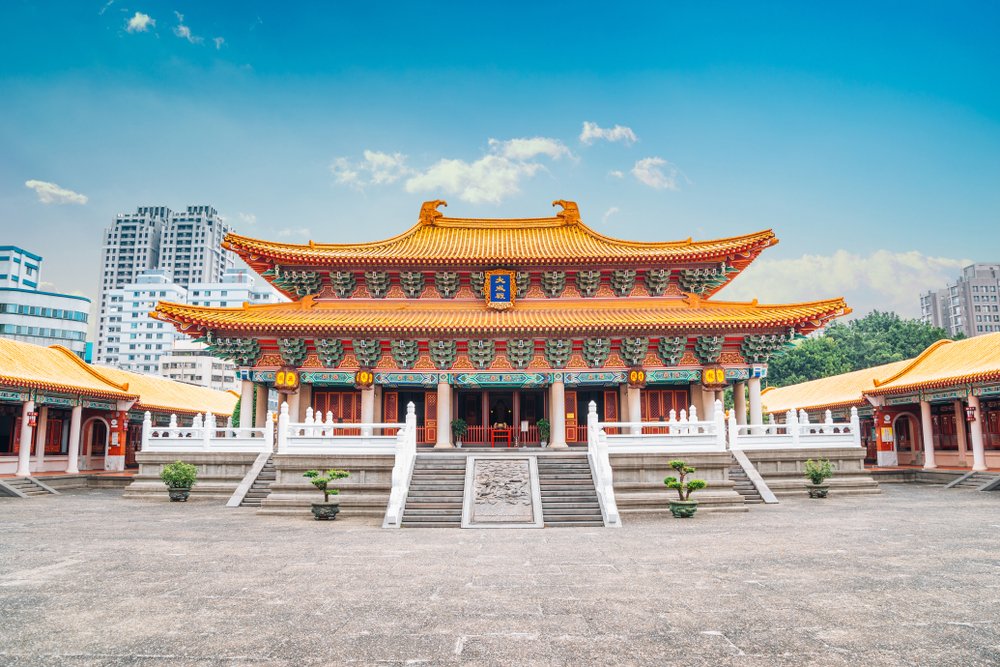 CMP Block Museum of Arts
At this point I recommend you take another Uber as you've gotten a bit outside the city center and you'll want to head back to the middle of the city.
The next place I recommend including on your Taichung itinerary is the fascinating open-air CMP Block Museum of Arts, which has rotating, frequently changing exhibits that you can interact with (and of course, photograph yourself with).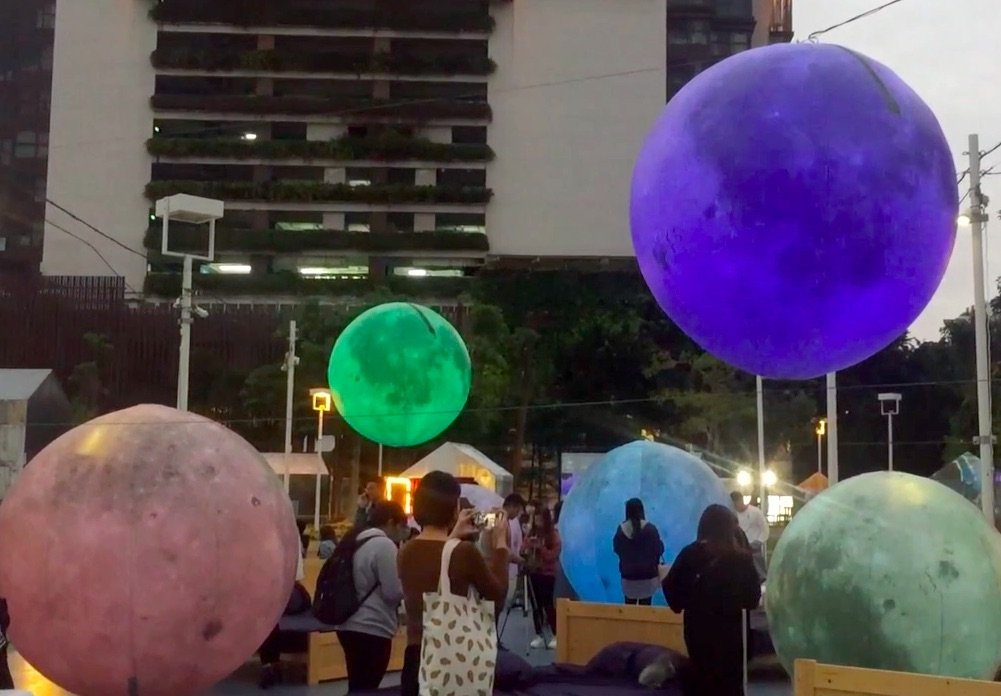 When I was there, there was an installation that included planets whose lights changed colors and beds you could sit on and pose with (this would never fly in NYC – the beds would be riddled with bedbugs by the end of day 1)
If you're in the mood for a snack and a selfie, the beloved ice cream shop I'm Talato is not far away, so pop in and join the queue of Instagrammers.
Return to the night market
Fengjia Night Market is so big that I think it'd be a mistake to only go once!
Wander around a different area and try all the foods that you didn't have room for on your first go-round.
If you're really brave, you could always go for the stinky tofu!
Day trips to add to your Taichung itinerary
If you have more than 2 days in Taichung, here are a few recommendations of where you could go next.
Sun Moon Lake: One of the most popular additions to Taichung itineraries, this gorgeous alpine lake in the mountains is beloved by many. I intended to go but we had rainy weather on the day I wanted to go.
Lavender Cottage: If you're a fan of lavender, this pretty retreat in the mountain has lavender and flower fields and is a great city escape
Zhongshe Flower Market: Another popular destination for Instagrammers, this flower market not only sells flowers but has lots of landscaped flower beds and quirky things like a white piano in the middle of a lavender field to appeal to photographers.
Where to Stay in Taichung
My friend Janet and I opted to stay in an Airbnb close to the Fengjia Night Market. While that was great for dinner, it did mean we were a good distance away from all the main sights.
If I go back to Taichung, I will probably stay in a more central location to have easier access to other places, especially as I had trouble figuring out how to use the bus system and relied heavily on Uber during my stay.
Budget: If you're on a budget or traveling solo in Taichung, there are a few hostels in Taichung. Stray Birds has excellent reviews for a hostel (9.2 on Booking.com with over 100 reviews) and has a prime central location. The design is gorgeous and cozy, a true boutique hostel option. If I was solo traveling, this would be my top hostel choice. Check rates, reviews, and availability here.
Mid-range: Taiwan is not cheap, nor is it crazy expensive, and you really get the best bang for your buck when you opt for mid-range accommodations in Taichung, which I define as under $100 per night for a double room. I'd recommend either choosing an Airbnb like we did or picking one of Taichung's boutique hotel options. My absolute favorite find is Lavie Inn, which combines gorgeous design elements with comfortable amenities without luxury pretense. Check rates, reviews, and availability here.
Luxury: Taichung definitely has a few luxury options though of course nowhere nearly as much variety as Taipei. The Splendor Hotel in Taichung is the best combination of luxury and value. The lobby is glamorous, the rooms are spacious, the views over Taichung are insane, and hello – some of the rooms have an in-room jacuzzi. If you can afford the good life, Taichung is a great value. Check rates, reviews, and availability of The Splendor here.
Allison Green is a former educator turned travel blogger. She holds a Masters in Teaching and a B.A. in English and Creative Writing. Her blog posts merge her educational background and her experience traveling to 60+ countries to encourage thoughtful travel experiences that both educate and entertain. She has been a speaker at the World Travel Writers Conference and her writing, photography, and podcasting work has appeared in National Geographic, CNN Arabic, CBC Canada, and Forbes, amongst others. Now based in the San Francisco Bay Area where she grew up, she has also lived in Prague, Sofia, and New York City.