At the top of a hill overlooking the Mediterranean Sea, Taormina is a small but picturesque town on Sicily's eastern coast.
Home to the spectacular Ancient Greek Theater, gorgeous coastal views, lovely beaches, and the imposing sight of Mount Etna in the background, Taormina is certainly a town worth discovering.
I visited Taormina twice on my two trips to Sicily while living in Italy.
The first time wasn't enough: I had to go back for a second visit!
After traveling the entire island, I can safely say it's one of Sicily's most beautiful coastal towns!
Trust me: it's impossible not to fall in love with the breathtaking coastal views, the history, and the flavors of Taormina.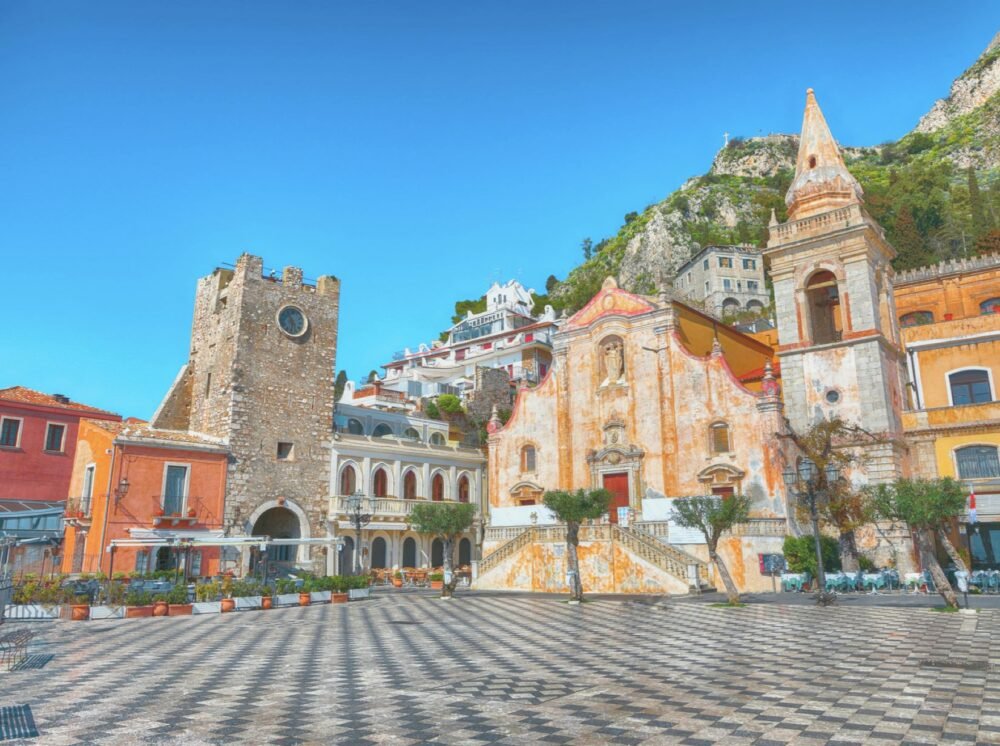 Note: This post contains affiliate links, which means I may receive a small commission if you purchase something through one of these links. Thank you for supporting the free content on this site! For more information on affiliate links and cookies, see my disclosure page for more details.
In this short guide, I'll give you an idea of how to structure a 2-day Taormina itinerary.
Don't worry, even with just 2 days in Taormina, you can accomplish a lot: we're talking historical sites, beautiful beaches, delicious food, and a memorable hike on Europe's highest active volcano!
What to Know Before Visiting Taormina
Before diving into this 2 day Taormina itinerary, there are a few things to know to help you plan your trip.
Here are a few practical tips — plucked from my on-the-ground experience! — to help you plan the perfect trip to this lovely Sicilian town.
The Best Time to Visit Taormina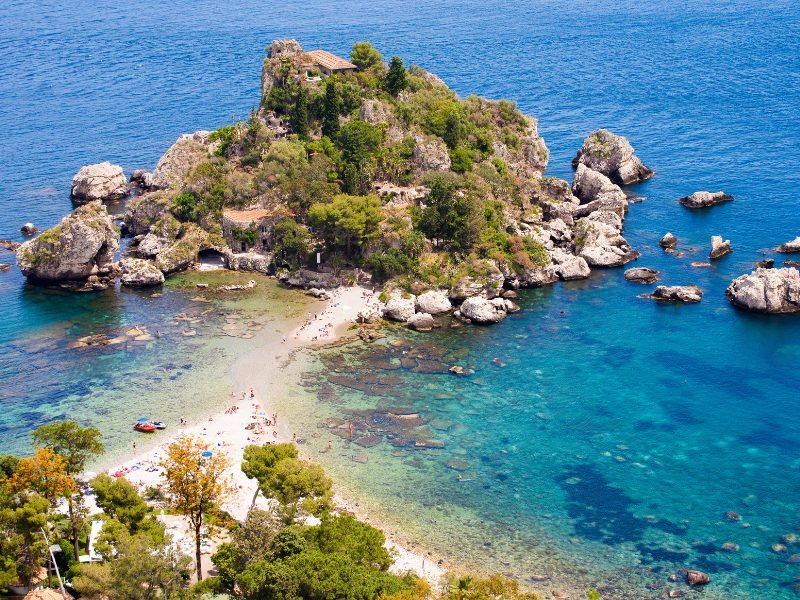 Sicily has the fortune of pretty good weather year-round, which makes it an enticing destination all year.
In winter, temperatures rarely go below 15°C (59°F), so you can take advantage of the smaller crowds (and lower prices) to enjoy a low-season vacation in Sicily.
However, with that, there are some downfalls: for one, you won't be able to enjoy the beaches, which are a big part of the island's charm.
Plus, hiking Mount Etna in winter isn't always possible, so you must also keep that in mind!
If you don't enjoy crowded beaches and attractions, I would advise against visiting Taormina (and Sicily in general, to be honest), between late June and early September.
The island is a popular beach destination among Italians and foreigners, so it can get overwhelming in summer!
Late spring and early autumn would be ideal if you can time your vacation for one of the shoulder seasons.
The weather is pleasant, you can still swim in the crystalline waters, and yet you'll escape the unbearable crowds and the summer heat!
How to Get to Taormina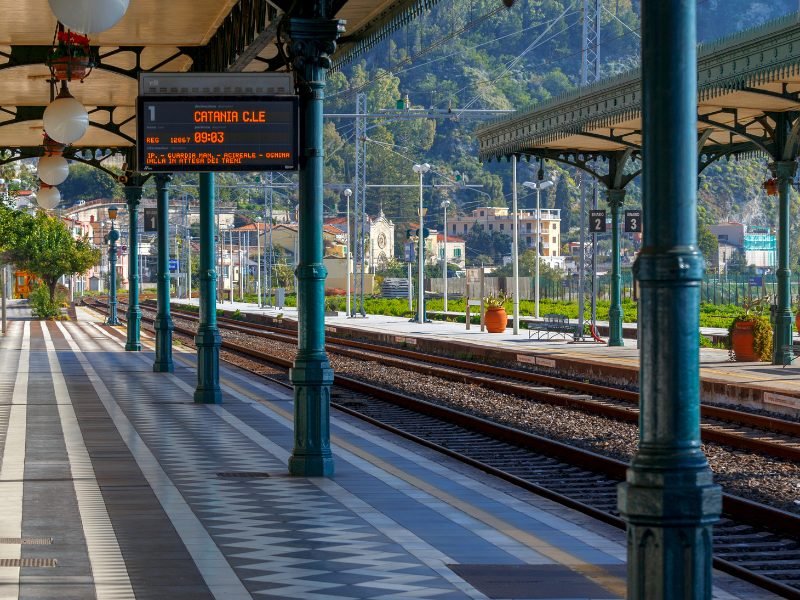 The closest international airport to Taormina is the one in Catania, roughly one hour by car.
You might be relying on public transport during your time in Sicily. In that case, you can catch the bus from the airport to Catania center and then the train to Taormina, which only takes about 35 minutes.
If you've chosen to rent a car during your time in Sicily — which I strongly recommend — you can pick it up at the airport in Catania and drive to Taormina.
As for flying into Palermo, I don't recommend it. It's quite far and not well connected to Taormina.
It can take three to four hours to drive there and over five hours with public transport!
Another way to get to Sicily is from mainland Italy. In that case, you'll cross the Strait of Messina by ferry, arriving at the port of Messina.
From Messina, it takes less than one hour to drive to Taormina and just over one hour by train.
How to Get Around Taormina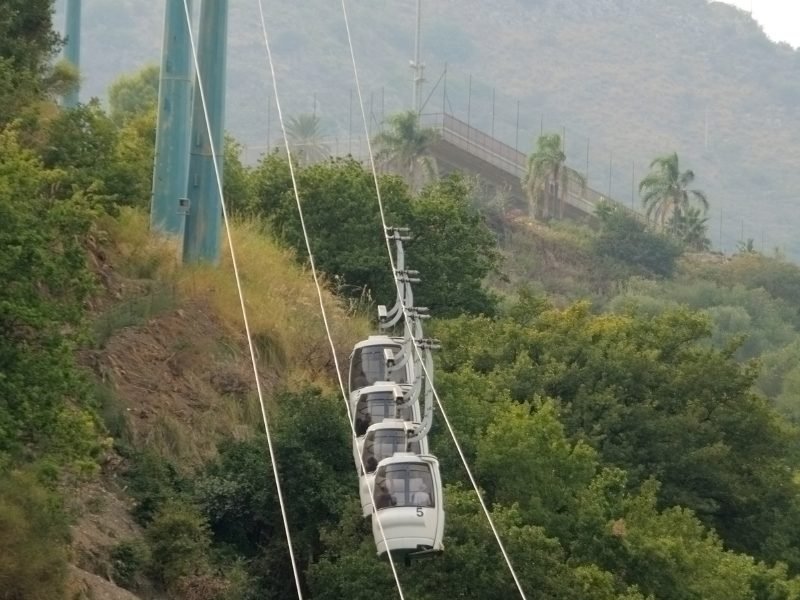 Taormina is pretty small, so you can easily walk almost everywhere!
However, you can also catch public buses to the train station, which is a bit far away on foot, or to the beach in Mazzeo, just north of Taormina.
Within the historical center, however, there is no need for public transport! Everywhere is within walking distance.
You can also catch the cable car from the center of Taormina to Mazzarò, the beach right below Taormina.
The cable car is more than just a convenient means of transportation; it's also a great way to admire the spectacular coastal view!
If you're traveling around other parts of Sicily as part of a larger itinerary, it makes sense to rent a car in Sicily (but before you do, read my guide here).
Driving in Italy isn't as scary as it may seem, and it gives you a ton of freedom.
I always use Discover Cars when renting a car and recommend them highly.
🚗 Best Sicily Rental Car Prices: Discover Cars

This search engine not only looks at the typical rental car agencies (which can be $$$), it also looks at local, small Sicilian agencies that may offer better deals. Their pricing is straightforward (no bait-and-switches) and they offer free cancellation if you need it.

➜ Check rental prices in Sicily with Discover Cars here!
However, if you're just staying in Taormina, there's no need — you'll barely use your car, trust me.
Unless you plan to visit a lot of Taormina area beaches, or move onwards to explore some of Catania's beaches too, a rental car will be more trouble than it's worth.
How Many Days to Spend in Taormina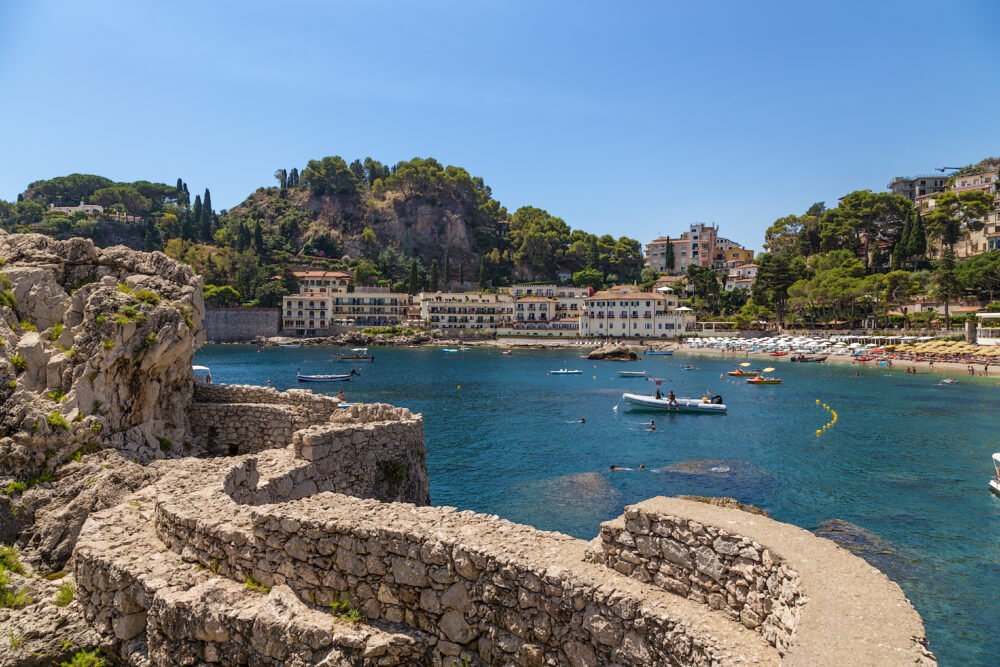 The time you should spend in Taormina depends on the season you visit and whether you plan to visit other places in Sicily.
If you visit the Sicilian town in summer, you can easily spend one week discovering the many beaches around Taormina.
In the low season, a couple of days are enough, since beach time is less appealing.
If Taormina is just one stop in a longer itinerary around Sicily, you could even spend one day in Taormina seeing the highlights, and skipping Mt. Etna on the second day.
We've chosen two days in Taormina for this itinerary because it's the ideal length of time to both explore the city and its beaches and hike on nearby Mount Etna.
This two-day itinerary will focus on exploring Taormina's most important landmarks on the first day and hiking Mount Etna on the second.
Day 1 of Your Taormina Itinerary
Explore the stunning and historic Greek Theater.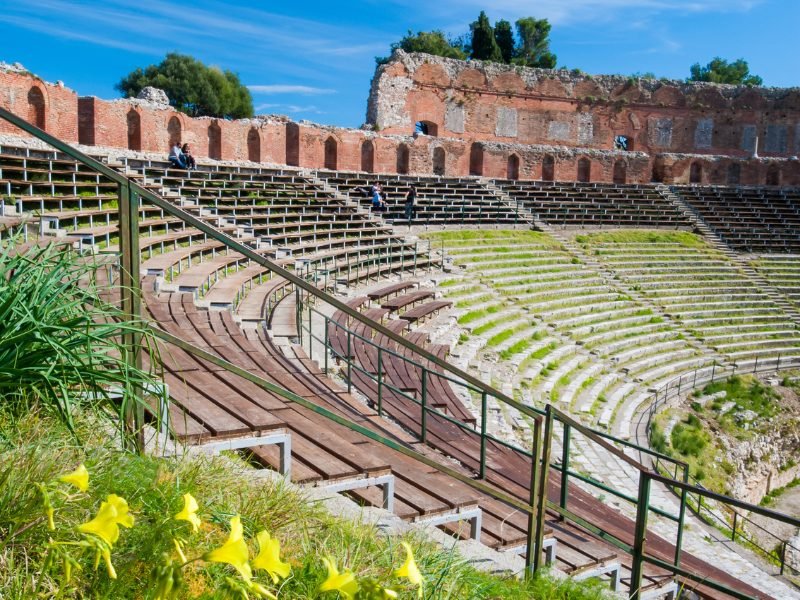 Start your first day in Taormina with breakfast followed by a visit to the most significant landmark in Taormina, the Greek Theater or Teatro Antico di Taormina!
The stunning archaeological site combines history, art, and natural landscapes in a unique location that allows you to admire the coast and Mt. Etna in the distance!
Ancient Greek inscriptions allowed archaeologists to determine that the theater's origins date back to when Sicily was a Greek colony.
However, Taormina's theater also presents typical Ancient Roman features dating back to its enlargement in the 2nd century CE. At the time, the theater could host more than 10,000 spectators!
During the Greek period, the theater was used for classic spectacles. During the Roman Empire, like many other theaters such as the Colosseum in Rome, this was also used as an arena for the venationes (fights between gladiators and ferocious beasts).
The theater attracted many visitors from the 17th to the 19th centuries, especially as part of the so-called "Grand Tour" that European aristocrats were undertaking at the time.
Even personalities of the likes of Goethe visited the Taormina Theater!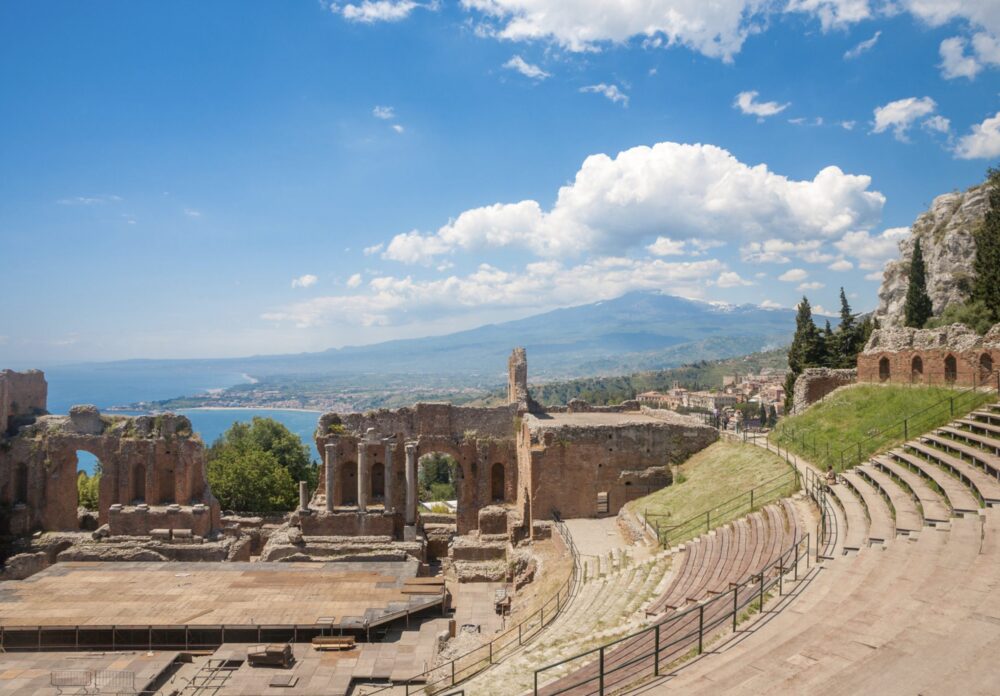 In recent years, the theater served as a stage for awards ceremonies and political summits.
Today, Taormina's Greek Theater is still an important cultural site. Every summer, from late June to early July, it hosts the Taormina Film Fest!
You can visit the theater daily from 9 AM until late afternoon or evening, depending on the season.
In the winter, the theater closes as early as 4 PM, while it stays open until 7.45 PM in summer.
You can get your tickets on-site or online. The latter is a better option if you visit during peak tourist season because it includes the option to skip-the-line.
If you are in Taormina on the first Sunday of the month, you can visit the theater for free!
If this is the case, you need to collect your free-entry ticket on-site; you can't book ahead. You can also get an audio guide when you get there.
Plan to spend at least one hour wandering around and enjoying the spectacular views!
Stroll around Villa Comunale di Taormina.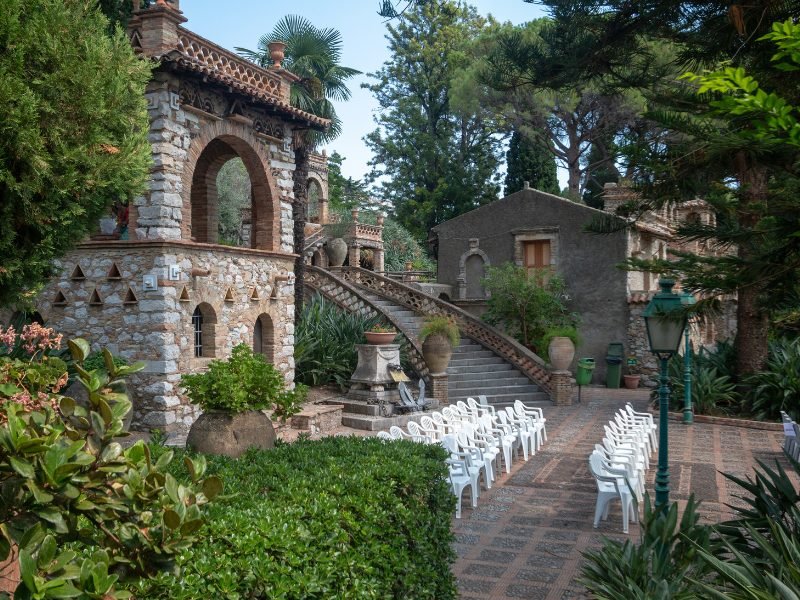 After visiting the Greek Theater, spend some time wandering around the gorgeous Villa Comunale.
The public garden is only a five-minute walk from the theater and is free to visit!
Check out the beautiful villa, enjoy the shade of the many trees, and stop for a while to admire the panoramic coastal view.
Explore Taormina's historic center and have a lunch break.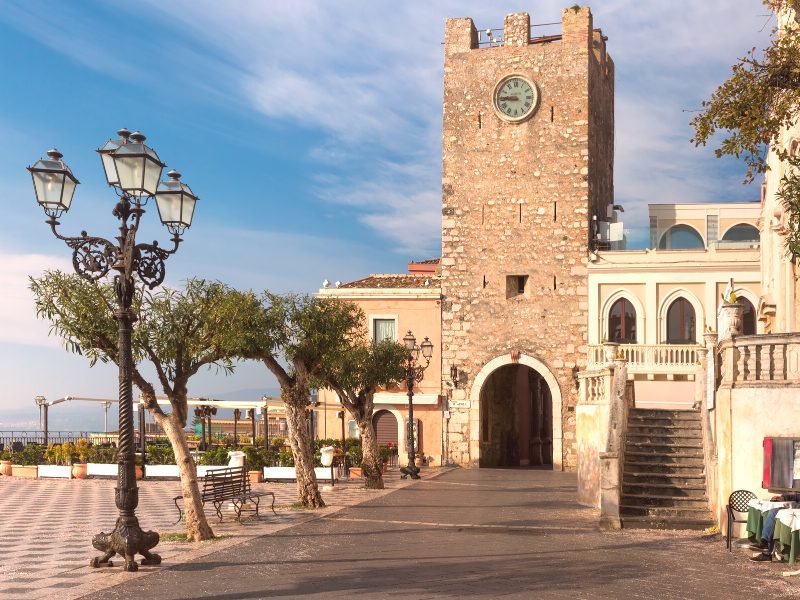 Spend the time before lunch exploring the historical center of Taormina.
One place you can't miss is the charming Piazza IX Aprile with its clock tower and panoramic viewpoint!
You should also visit the beautiful churches of San Giuseppe and San Pancrazio.
Don't miss the opportunity to stroll along Corso Umberto until Porta Catania, as it's one of the most stunning stretches of Taormina.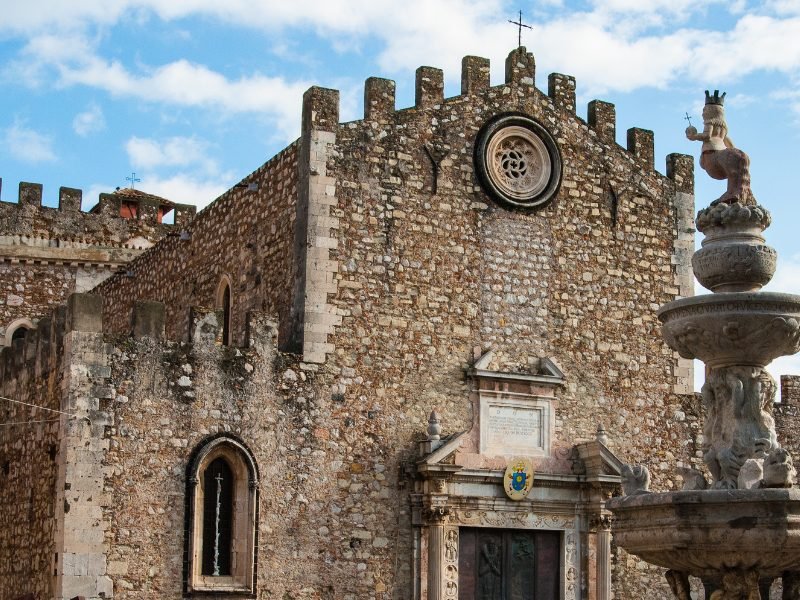 Finally, be sure to save time to check out the beautiful cathedral, the Duomo di Taormina.
For lunch, have a delicious pizza at the charming Pizzeria Villa Zuccaro, or try a delightful seafood pasta or fish dish at Malvasia.
Both places are smack-dab in the center of Taormina, less than five minutes walking from the cathedral!
Explore the beaches of Mazzarò and Isola Bella.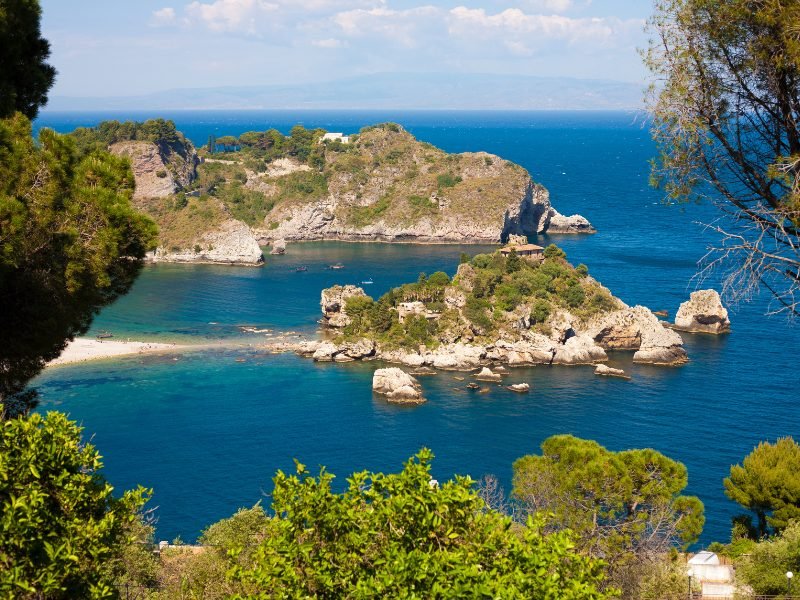 After lunch, catch the cable car from Taormina to Mazzarò to enjoy the beach as well as the lovely Isola Bella.
The cable car departs from the center of Taormina, just a short walk from the restaurants.
A one-way ride is only €3, a small price for the stunning coastal view from above!
If you'd rather walk down and take your time admiring the view, take the stairway that starts right next to Belvedere di Via Pirandello.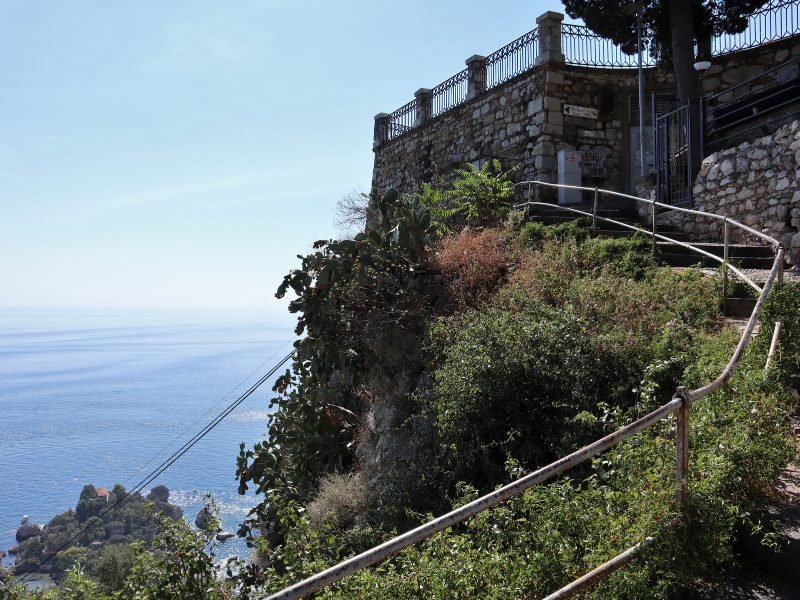 This is a gorgeous viewpoint worth checking out for its spectacular panoramic views!
Once you reach Mazzarò, you have a few options.
You can stop at the beach just across the street from the cable car station, or start your walk to Isola Bella Beach, which faces the tiny islet of Isola Bella.
Spend a few hours sunbathing or swimming at either of these destinations.
If the tide is low, you can walk on the narrow path to Isola Bella and explore the stunning nature preserve!
Hike to the Taormina Castle and Chiesa Madonna della Rocca.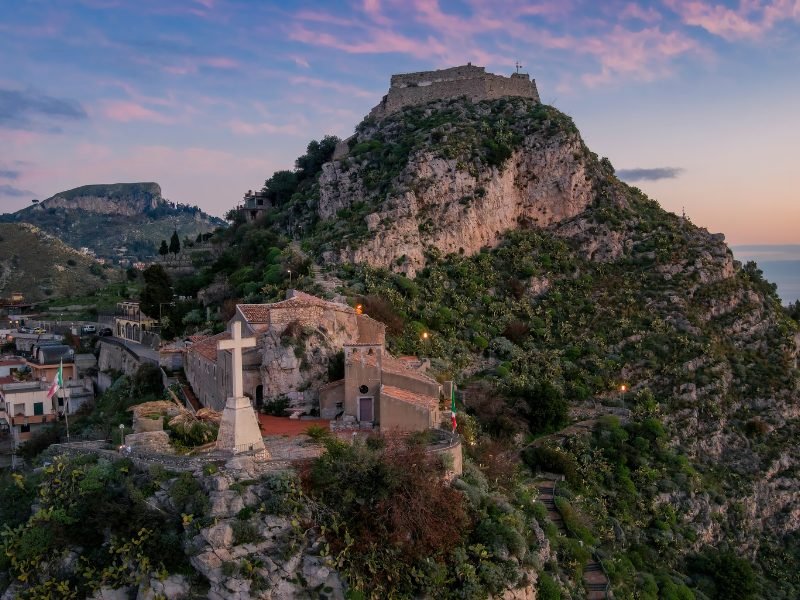 Catch the cable car back to Taormina's historic center in the late afternoon.
Have an afternoon pick-me-up at Bam Bar to enjoy a delicious granita and a traditional brioche before your next activity, which will require extra energy!
From the center of Taormina, just two minutes from Piazza IX Aprile, start climbing the stairs that lead to the hilltop castle.
I suggest you start climbing roughly one hour before sunset, so you can enjoy the beautiful splash of sunset colors from above the town!
Before reaching the castle, you'll come across a historic chapel built into the side of the mountain, called the Chiesa Madonna della Rocca.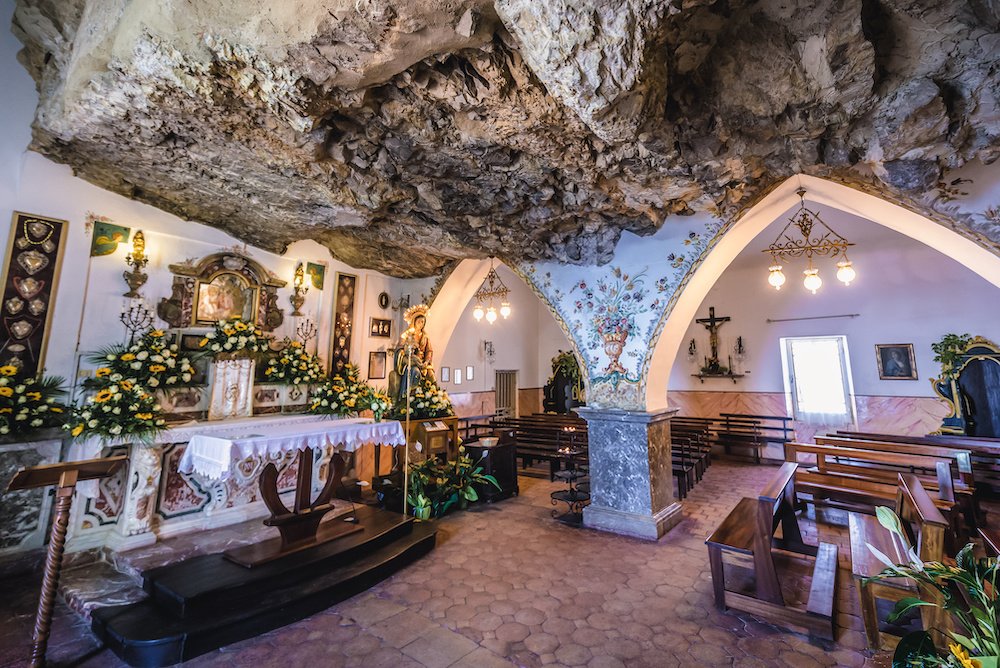 Don't skip visiting this charming little church before continuing your climb to the castle!
Unfortunately, the castle has been closed for many years, despite various attempts to open it to the public.
Regardless of whether you'll find the castle open, the view from above is spectacular.
If you can't visit the castle, stop at the viewpoint next to the church to admire the view and watch the sunset.
Have dinner and enjoy Taormina by night.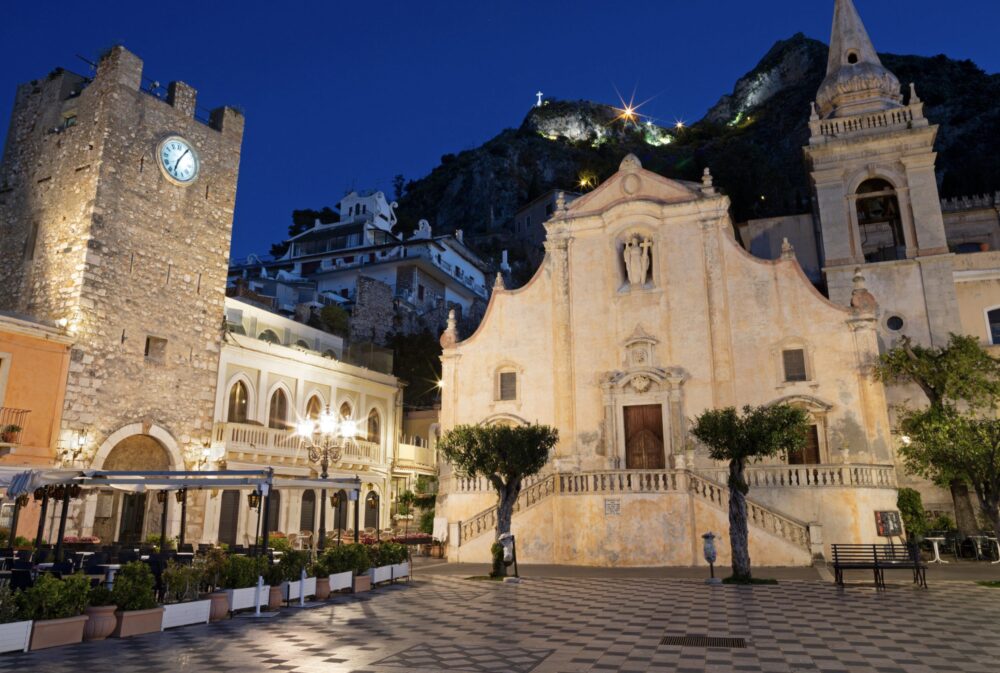 After sunset, you can stay in the area for dinner and enjoy delicious Sicilian dishes with a spectacular view from the terrace of Ristorante Pizzeria Al Saraceno.
The restaurant is right next to Chiesa Madonna della Rocca, so you won't even have to walk!
Alternatively, you can descend back to the center of Taormina for a satisfying dinner at Trattoria Da Nino.
The fish dishes and pasta are delicious here, and the atmosphere is laid-back yet lively.
After dinner, enjoy a stroll around Taormina and admire the beautiful views by night.
For great night-time views, I suggest you walk to Belvedere di Via Pirandello or enjoy the view from Piazza IX Aprile.
Day 2 of Your Taormina Itinerary
Explore Mount Etna — one of three ways!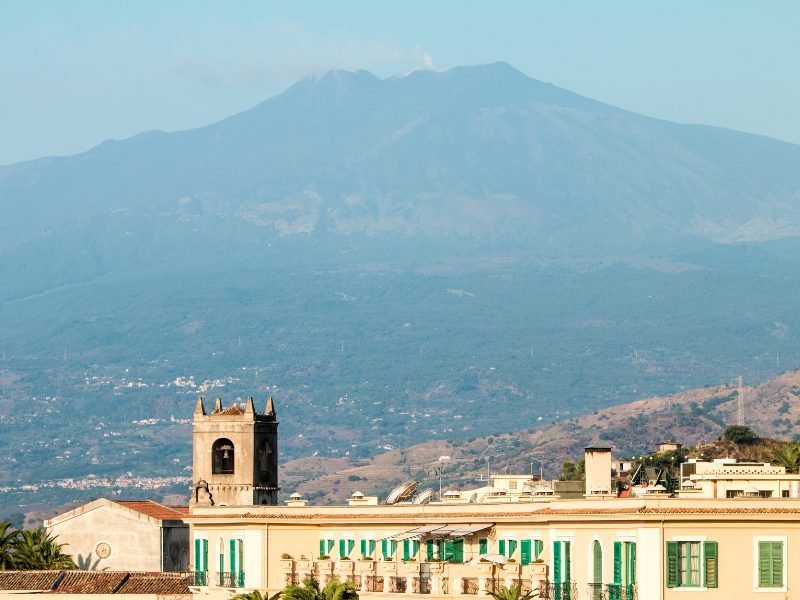 On your second day in Taormina, take a day trip to Mount Etna.
The volcano is only an hour's drive from the coastal town, so many tours depart from here as it's the most convenient starting point!
At over 3,300 meters above sea level (roughly 10,900 feet), Etna is the highest active volcano in Europe!
Etna has erupted frequently, even in recent years, the latest eruption lasting from late 2022 to the beginning of 2023.
However, there is no reason to worry as long as you do the hike with expert guides, who will only do the hike if it's safe.
This is one of the main tourist attractions on the island, so you shouldn't miss it!
Since Etna is best experienced with a guide, there are several ways to explore it on a tour, each with a unique focus.
Whether you just want to hike or prefer combining this activity with food or wine tasting, you'll find the perfect tour for you.
Here are three great guided tour options I'd recommend.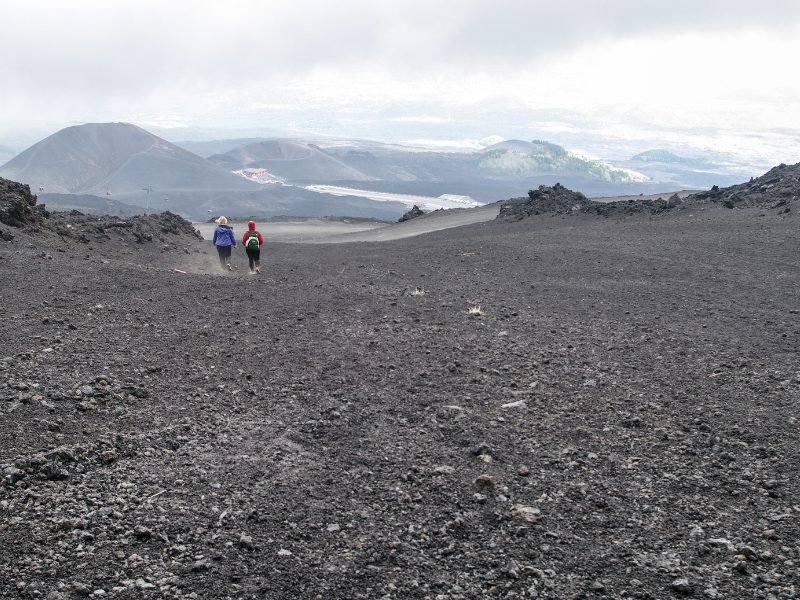 This tour mainly focuses on the hiking experience, but it also includes a light lunch.
You'll depart at 8:30 AM from Taormina to the foothills of the Etna, where you can hike for around one hour and a half with your expert guide.
You'll reach an altitude of roughly 2,000 meters above sea level (6,500 feet), where you get to see extinct craters and lava fields and learn about the geology and history of the volcano.
At the end of the hike, you'll even explore an ancient lava cave!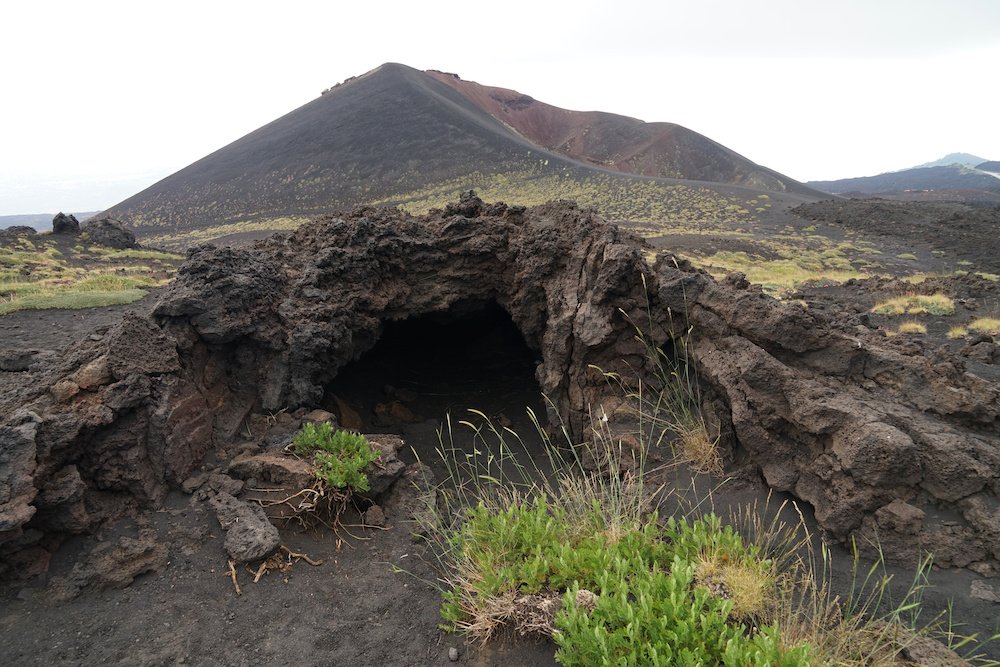 Afterwards, you'll have a light lunch at a local café, where you can sample almond wine, a traditional Sicilian wine.
Finally, they'll transfer you back to Taormina, getting back in the afternoon.
This tour includes the transfer, necessary equipment, insurance, light lunch, and an expert guide.
You can also rent hiking boots, walking sticks, and snow shoes if you visit in winter.
This tour combines both hiking on Etna and traditional Sicilian flavors.
Your first stop will be in the small town of Zafferana, better known for its honey production.
Here, you'll sample local honey, olive oil, and wine while visiting an organic farm.
Next, you'll explore a lava cave and learn about the formation of lava flows.
From the cave, you'll head to the Sapienza Refuge, where you can see old craters and traces from recent eruptions.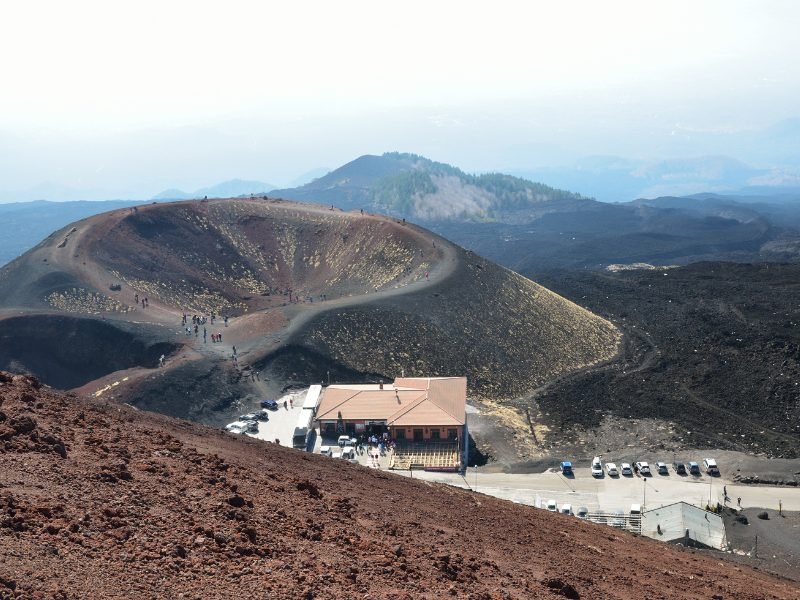 A short trek along a path will allow you to take in the spectacular views before returning to Taormina.
You can also choose the alternative option of taking the cable car and the jeep bus to reach 3,000 meters of altitude and enjoy the stunning landscape. However, this option has an additional cost.
Note that while this tour includes the guide, transfer, a light food tasting, and necessary gear for the lava cave, it does not include a full lunch.
You can either bring lunch or buy something at the refuge.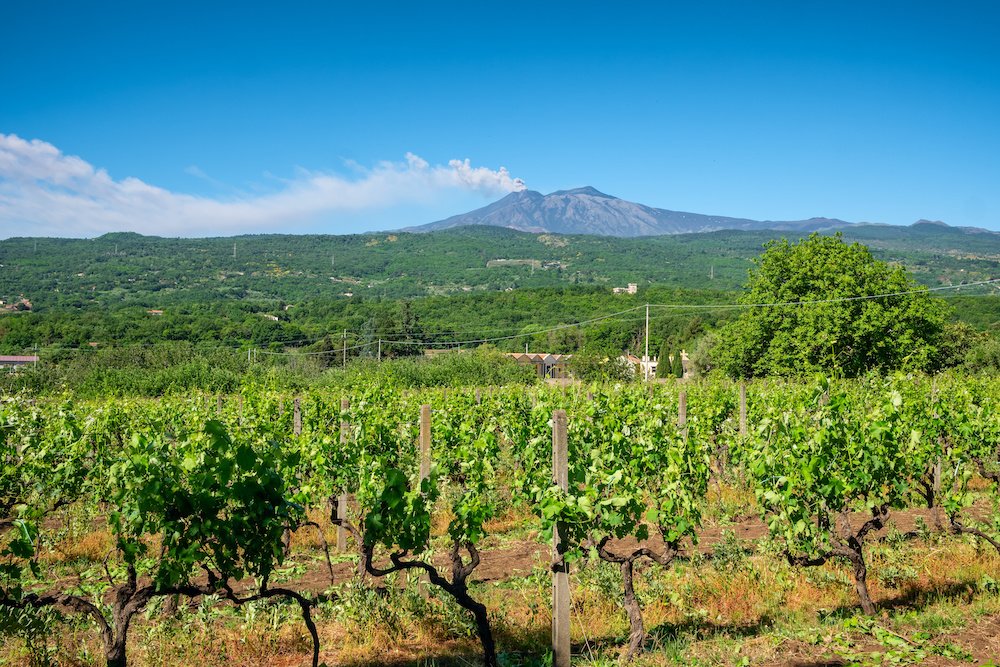 Try this half-day tour for a memorable food and wine tasting on Mount Etna, with no hiking involved!
After driving through picturesque landscapes and learning about the wine production in the volcanic area of Mount Etna, you'll reach your first stop for the day, a family-run winery welcoming you with a glass of sparkling rosé.
You'll visit the wine cellars and enjoy a wine tasting accompanied by cold appetizers such as cheese, cold cuts, and local vegetables.
Since you're on a volcano, the tasting will take place in an impressive lava stone amphitheater!
For your next stop, you'll visit a farmhouse and sample more food and wine on a terrace while admiring the vineyards.
The tasting includes ricotta cheese with marmalade and pasta made with local ingredients.
End your tour with a taste of homemade limoncello before driving back to Taormina.
The tour includes everything from the transfer and guide to the food and wine tasting. You are welcome to leave a tip at the end of the tour!
Explore more of Taormina and have dinner.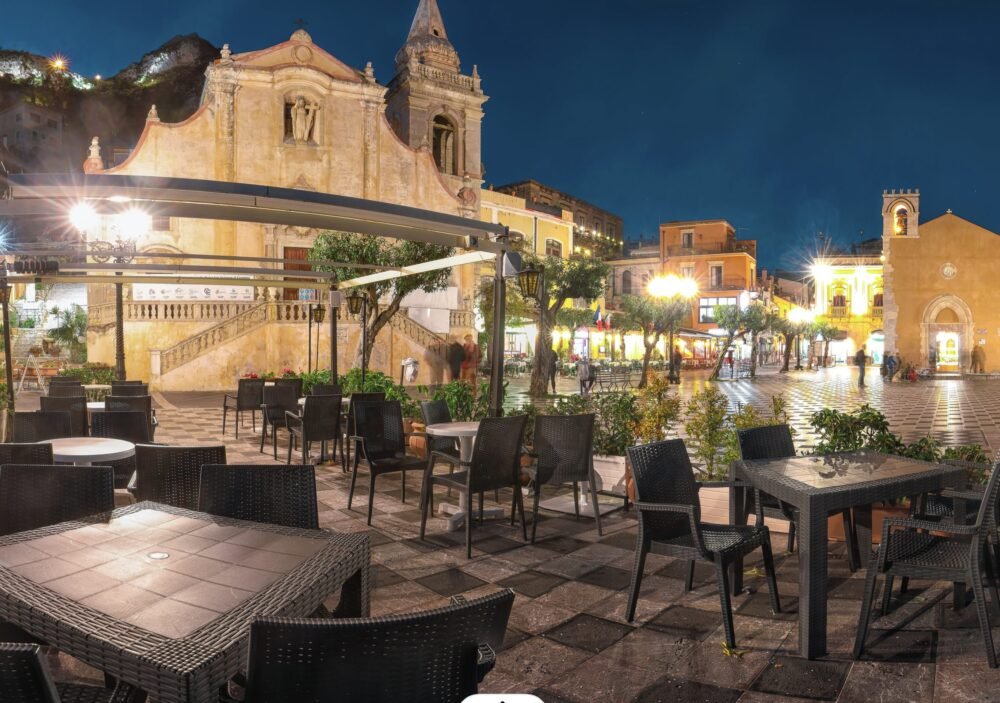 If you're not too tired after the hike, you can spend the rest of the afternoon exploring more of Taormina, either returning to your favorite spots or discovering new viewing points and landmarks.
Some options include checking out whatever exhibition is on at the Palazzo Corvaja, or maybe you'll want to catch a show at the Opera House.
Finally, have one last delicious dinner in Taormina!
Discover more Sicilian dishes on the lovely terrace of CutìLuDissi, or treat yourself to a fancy dinner in the sophisticated Ristorante Baronessa.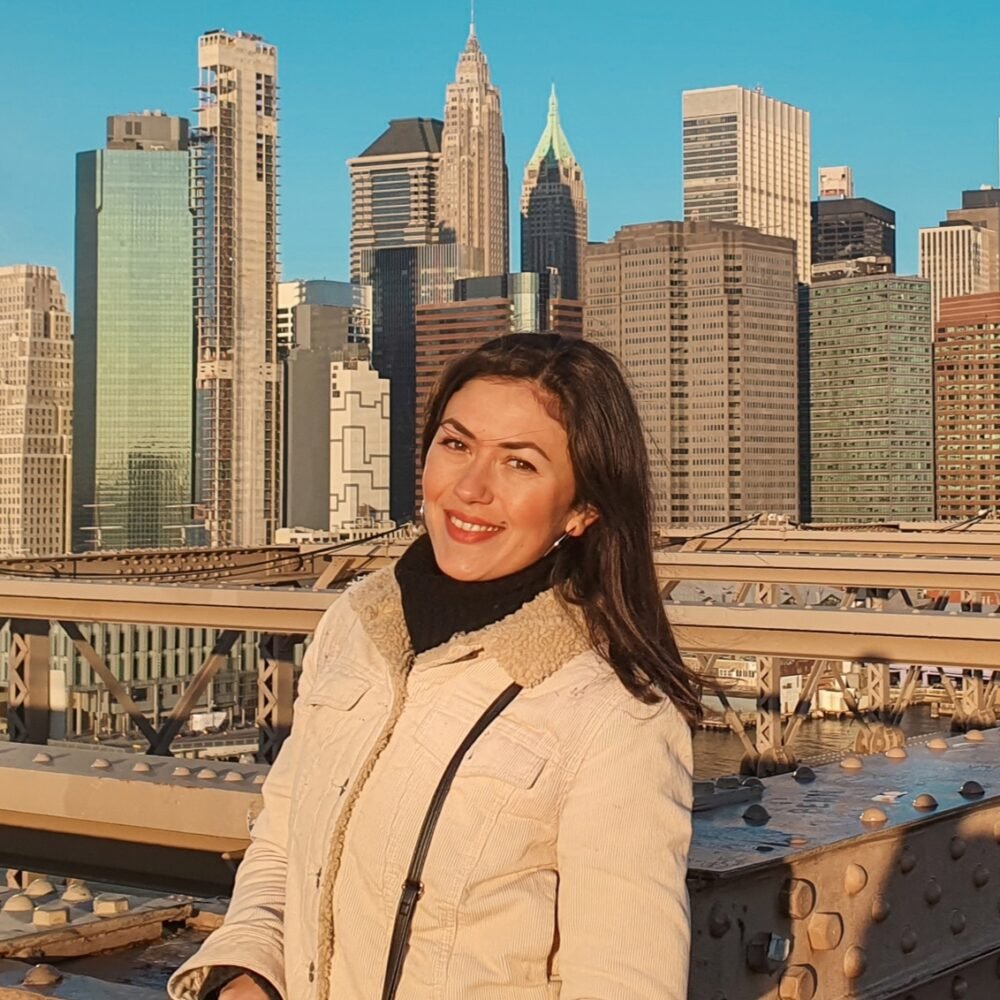 Roxana is a Romanian-born freelance travel writer who has lived in Italy for over 15 years. She has a Master's in Journalism and a Bachelor's in Film Studies, and she studied at Università degli Studi di Roma Tre. Besides her native Romania, Roxana has lived in Rome, Lisbon, and Berlin, and she has traveled through much of Europe in search of hidden gems, history, and culture.