Baku is a tough city to put your finger on. It's a blend of the old and new, a place where 15th-century palaces jut against some of the most jarringly innovative examples of 21st-century modernism.
After being the spot of convergence for several empires (Ottoman, Persian, and Russian/Soviet, for starters), Azerbaijan has absorbed a lot.
At the same time, it's still something of its own – something that it seems it's still in the process of discovering. What you can't deny about Baku, however, is that it is a city willing to make a loud statement about itself.
A sudden jolt of oil money after Azerbaijan's independence from the USSR meant modernizing Baku and modernizing it quickly. As a result, it's developed at an odd rate, in patches here and there.
From the streets, you'll often catch a peek of the $350 million Flame Towers, one of Baku's icons — but don't look up too long, as you might find yourself stepping into a hole in the sidewalk the next.
At times, the architecture feels like a new Dubai, equal parts gaudy and daring. Other times, it feels quietly traditional, even understated.
Despite its contradictions, or perhaps partly because of them, I really enjoyed my time in Baku while traveling Azerbaijan. I spent 4 days there, mostly in central Baku around the Old Town, though we spent one day renting a car and exploring some of the sights outside the city.
Despite the short duration of my time in Baku, I was able to do quite a bit — mostly because I entered with a plan and used Uber to get around between sights quickly.
25 Unique Things to Do in Baku
Visit the Palace of the Shirvanshahs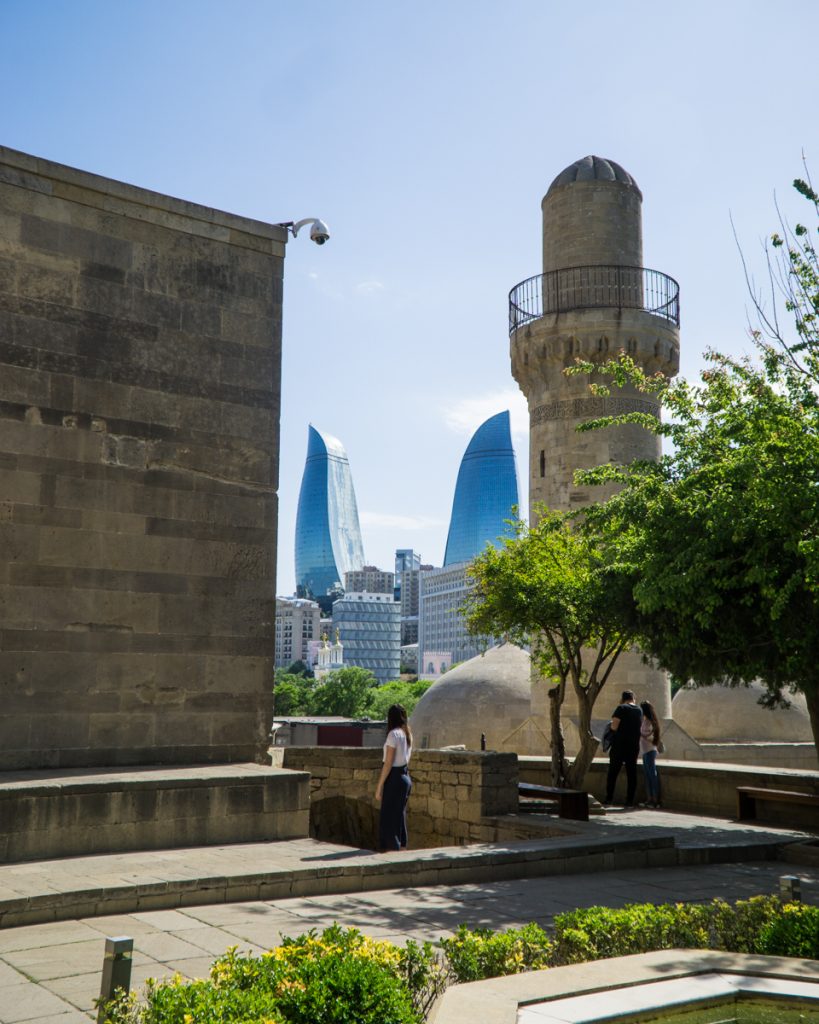 Note: This post contains affiliate links, which means I may receive a small commission if you purchase something through one of these links. Thank you for supporting the free content on this site! For more information on affiliate links and cookies, see my disclosure page for more details.
One of the most striking places to visit in Baku's walled Inner City is the Palace of the Shirvanshahs. Built in the 15th century and restored (some say too much) in the early 2000s, the palace is composed of a series of sites, including a hammam, a minaret, a mosque, a mausoleum, and a living quarters.
Be sure to turn around when in the courtyard for an intriguing view where modern meets medieval, and you get a glimpse of the Palace and the iconic Flame Towers all in one shot. This is Baku in a nutshell: tradition mashing up against modernity, for better or worse.
I found the exhibits to be really nice and well-presented, with enough information written in English for me to understand a bit about the history and artifacts. I thought it was well worth the 10 manat ($6 USD) entry fee.
Photograph the ultra-modern Heydar Aliyev Center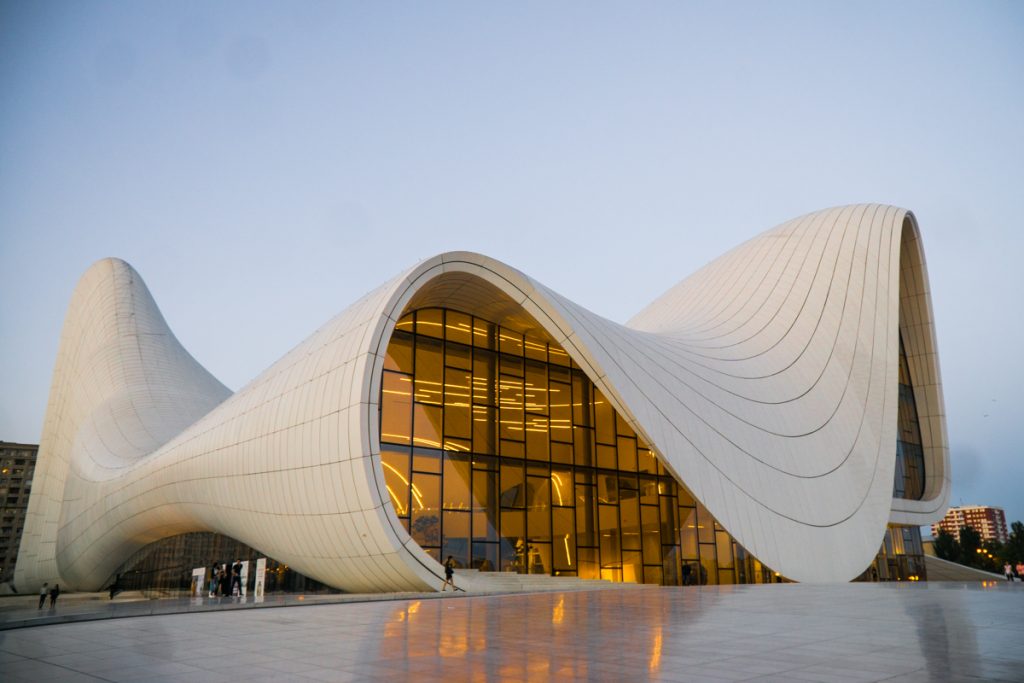 Aside from the Flame Towers, the Heydar Aliyev Center is one of Baku's most iconic pieces of architecture. It's probably my favorite example of modernist architecture in the world, truly innovative and impressive.
It was designed by Iraqi-British architect Zaha Hadid, who was the first female architect to win the prestigious Design Museum's Design of the Year Award for designing the Center – one of many interesting Azerbaijan facts!
What I loved most about the building was the way it seemed to fold in on itself, leaving no sharp angles but rather waves of undulation. It truly is a feat of engineering and well worth a visit despite being slightly out of the way. One of the most convenient things about traveling in Baku is that Uber rides are incredibly cheap (no doubt thanks to the extremely low cost of fuel in Azerbaijan). Even though this is located about halfway between the city center and the airport, visiting the center only costs a few manat ($1-2) by taxi.
Be careful visiting in the middle of the day if it is a hot day out. We visited twice to capture the Center in different lights, and while the building was easier to photograph in daylight, the daytime temperatures of 90 F/32 C felt way closer to 100 F / 38C due to the reflection of all the white light. Bring water and limit your time outside the center if it's a hot day — I started to feel ill and had to sit down after grabbing a few photos because I wasn't well-hydrated.
Check out the modern art exhibit inside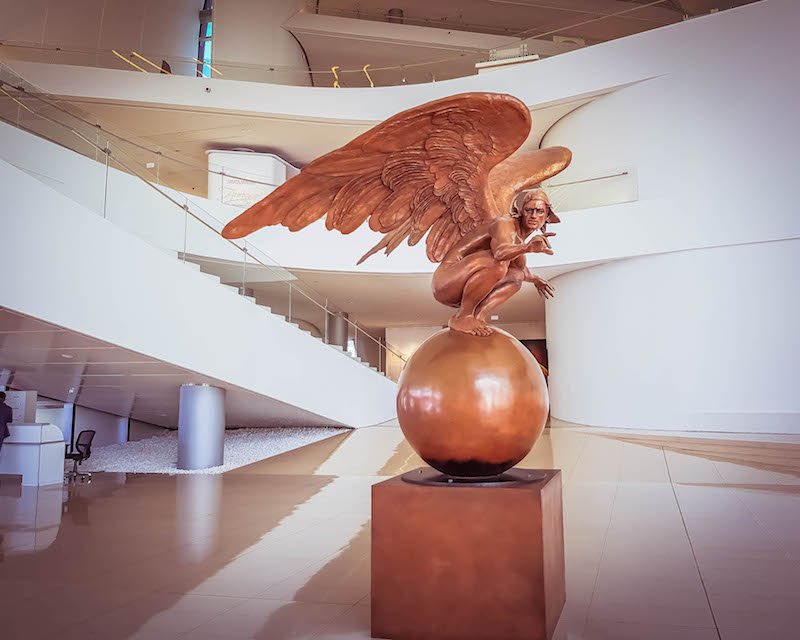 I was feeling like I was starting to get heat stroke due to the hot weather and not being properly hydrated, so I didn't actually go inside the museum myself. However, my friend Stephanie went inside the Heydar Aliyev Center and said it was well-worth a visit.
Amidst the exhibits, there was information about Heydar Aliyev (naturally) as well as meeting areas and a café. Entry was 15 AZN.
Climb the Maiden's Tower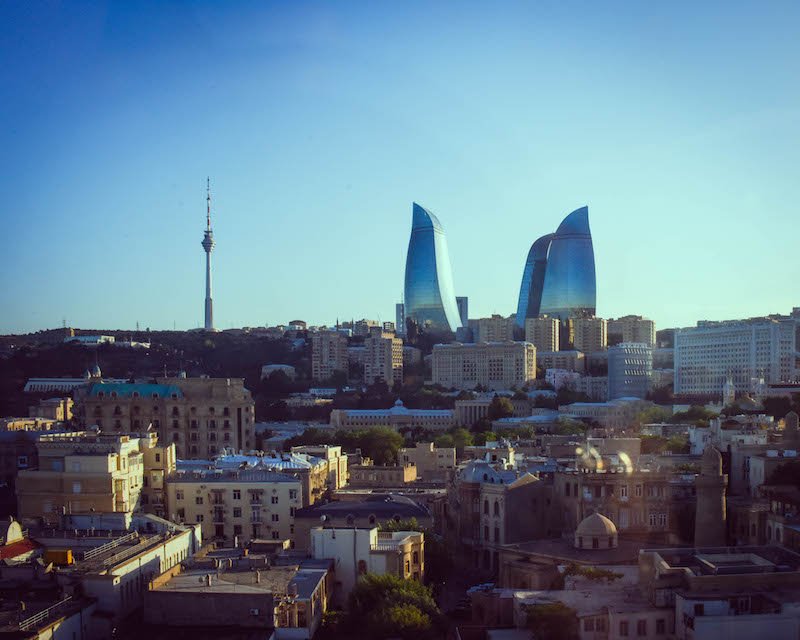 The Maiden's Tower is one of the oldest buildings in Baku. Its exact construction is hard to pinpoint, but it likely existed in some form as early back as the 700 BCE and was one part of a Zoroastrian fire temple (more on that in a bit). However, its current structure was formed closer to the 12 century CE.
Its exact purpose is far from clear, and its origin is still the stuff of legend today. I won't pretend to understand its purpose; but I do know two things: it is super difficult to photograph properly, and the view from above is gorgeous and well worth the 10 AZN (~6 USD) entry fee to climb to the top.
Walk the streets of the Old City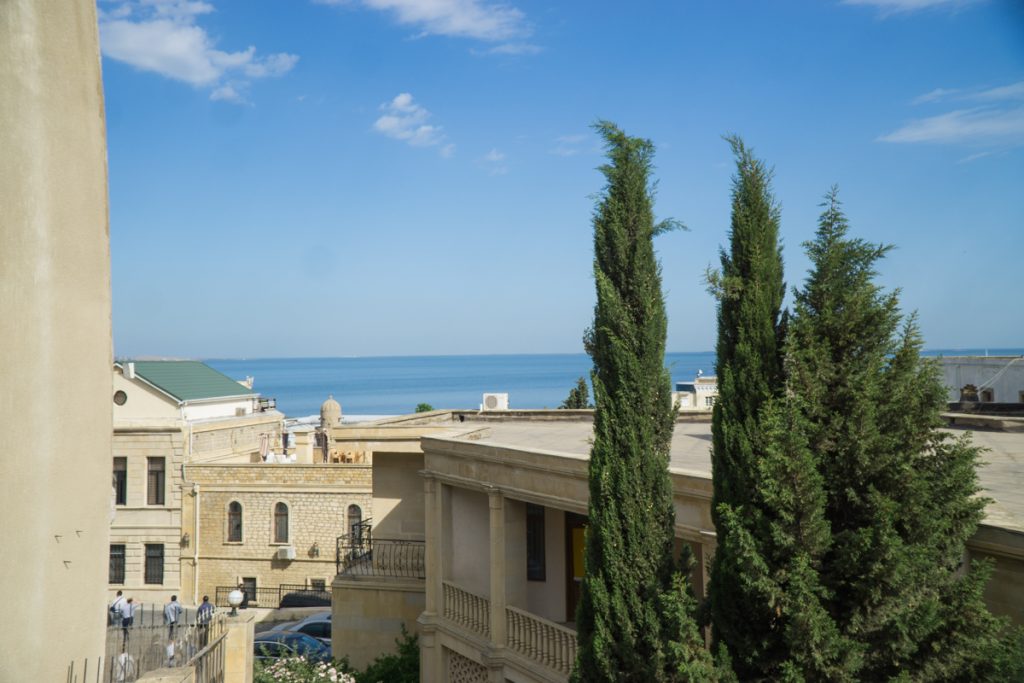 The Old City of Baku goes by a few names: the Inner City, the Walled City, or Icheri Sheher in Azeri. The Old City of Baku used to be the entire city of Baku, numbering a mere 7,000 people. In the early 1800s, however, under the thumb of the Russian empire, Baku began to expand outwards until it became the 4-million person strong metropolis it is today.
However, walking around in the Old City, you'll almost forget you're in the largest city in the Caucasus as you pass by historic mosques-turned-museums, former palaces, and the odd souvenir shop here and there. It's touristy for sure, but definitely one of the top things to do in Baku.
Check out the adorable Baku Museum of Miniature Books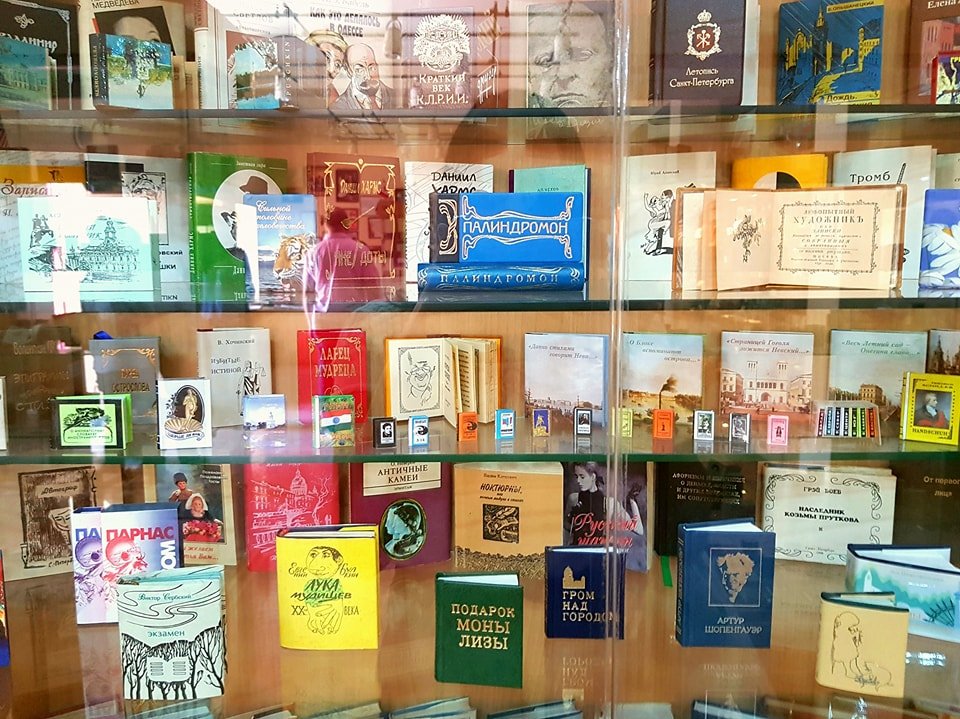 Certified by Guinness (the certificate of which is proudly displayed on the museum walls), the Museum of Miniature Books is the largest collection of miniature books in the world. When I heard about this museum, I immediately assumed it was a gimmick. However, I later learned that in actuality, the history of miniature books goes back quite a long ways in Azerbaijan, part of the tradition of Persian miniature painting that has been popular for centuries.
The Baku Museum of Miniature Books is free to enter. Since it's located in the Old Town, it's almost inevitable that you'll stumble across it; give yourself at least 10 or 15 minutes to explore it. The museum contains well over 6,500 books from 64 different countries, including three smallest books in the world that measure just 2 millimeters by 2 millimeters and require a microscope to read (perhaps to be expected, I managed to miss this until doing research for this article).
See the gorgeous Bibi-Heybat mosque
Built in the early 1990s after Azerbaijan gained independence from the crumbling USSR, the Bibi-Heybat mosque is a re-creation of a historic mosque that was blown up by Soviet forces in 1936. As a result, the architecture of the mosque is quite unique, with several highly-reflective windows that mirror the Caspian Sea just ahead of it, but the rest of the mosque is quite understated.
However, the inside is a whole different story, with a carpeted prayer room and an ornate separate room that serves as a mausoleum of Ukeyma Khanum, who was one of Muhammad's descendants. The mausoleum is an important site of pilgrimage for Shia Muslims in the region.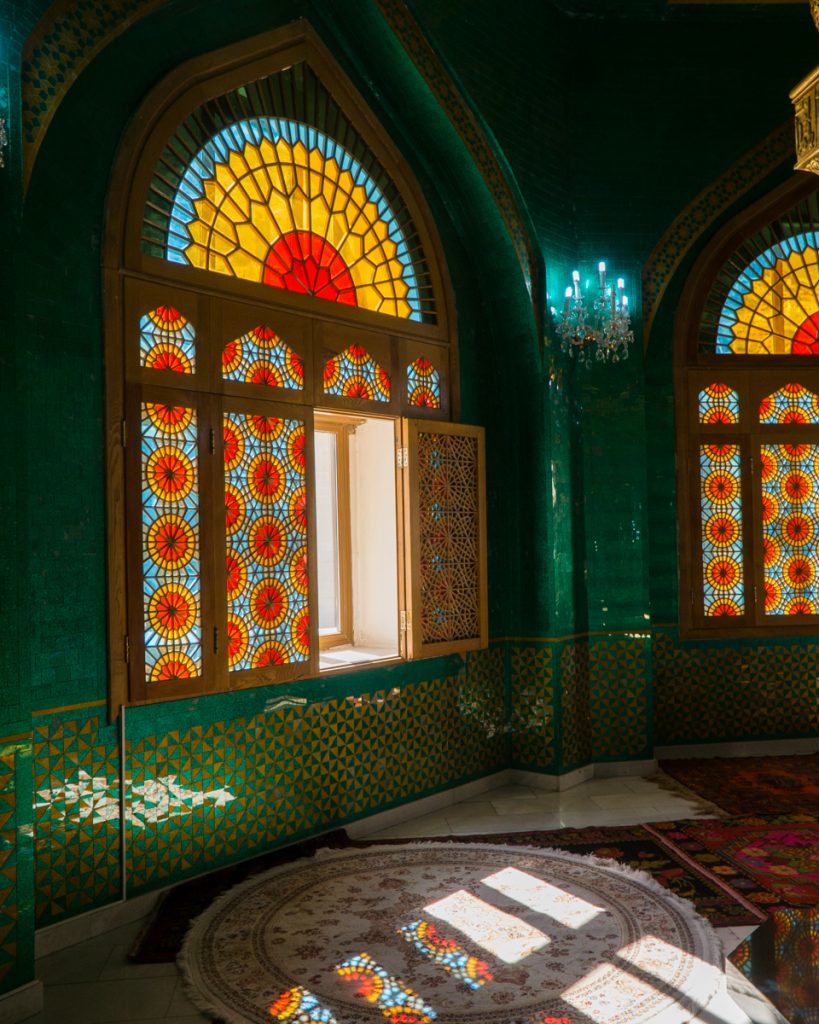 While I'm not religious, I love visiting mosques and I found Bibi-Heybat to be one of the more unique examples of a mosque I had seen. I found the inner room to be incredibly beautiful and peaceful with its jewel green walls and gorgeous stained glass windows. Its stained glass is unique, done in the Sheki style called shabaka, made without nails or glue, with the pieces fit together like a puzzle.
While the Bibi-Heybat mosque is located slightly outside the city center, it is a very cheap 10-minute Uber ride to get there – expect to pay about 3 manat (less than $2) to get there.
See ancient rock art at Gobustan National Park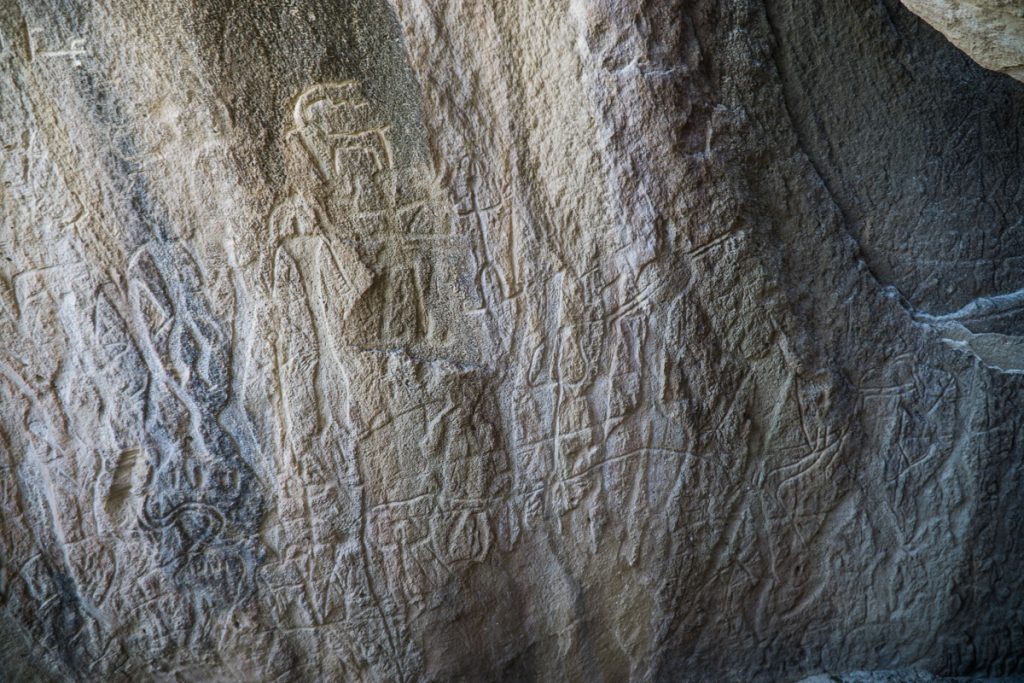 The Caucasus has been an important region in the development of human history, and nowhere is that more obvious than at Gobustan (also written Qobustan in Azeri) National Park, where the oldest rock art dates back at least 20,000 years. The rock carvings amazingly well-preserved, and you're able to see the forms of men and women, people hunting, people in boats, and even some goats!
We went by ourselves with a rental car, and it was easy enough to get there, although we missed the exit the first time as there were no markers saying it was the exit for Gobustan (they don't seem to believe in highway signs in Azerbaijan) and we were having issues with Google Maps navigation, despite having Azeri SIM cards. Still, upon arrival it was easy enough to get there. If you don't want to brave Azeri drivers who don't believe in lanes, I recommend a guided tour like this one.
There is also an excellent-looking museum, but due to insanely large and boisterous school groups (we happened to be traveling on a national holiday, when museums were free all day), we quickly booked it out of the museum. I'm not sure how busy it would be on a normal day, though. There is usually a 4 AZN ($2.50 USD) entrance fee, but we visited on a free day.
Be sure to check out the gorgeous views of the Caspian Sea, with its vibrant blues and turquoises, from a vantage point in Gobustan.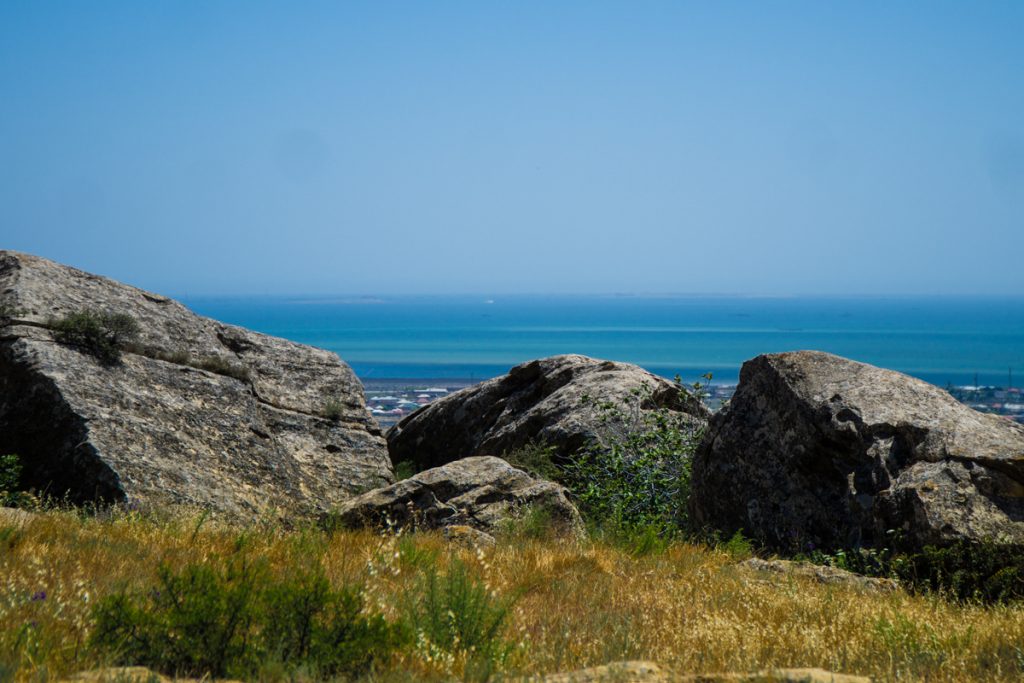 Check out the gurgling mud volcanoes near Gobustan
I'll admit it — we messed up here by trying to go with our own car. Google Maps wasn't able to give us any directions, as it's not a proper road but rather a dirt path, and unable to get correct directions from anyone due to not speaking sufficient Russian/Azeri. We had to return our car by around 4:30 PM in order to be on time for our flight out to Nakhchivan, so when we hit a roadblock in finding our way to the mud volcanoes, we quickly scrapped it in lieu of seeing other things on our itinerary (which I'll go into more detail on in a bit).
I've heard it's better to go with an organized tour, especially as the dirt road to the mud volcanoes can often get washed out if there's been a lot of rainy weather. This tour on GetYourGuide has excellent reviews and includes the petrogylphs, mud volcanoes, and Bibi Heybat mosque.
Enjoy Fountain Square
Fountain Square is one of the favorite walking and meeting places in Baku. We happened to book a hotel right by Fountain Square, so we found ourselves passing through here a lot. There were always families, couples, and groups of friends walking around, making it a great place to people watch.
I recommend eating at Fisincan if you'd like to try traditional Azeri cuisine in Fountain Square with a nice atmosphere – we enjoyed the dushbara and the kyufta-bozbash, and the lula kebab was quite nice also (the plov was fine, but nothing too special).
Try classic Azerbaijani cuisine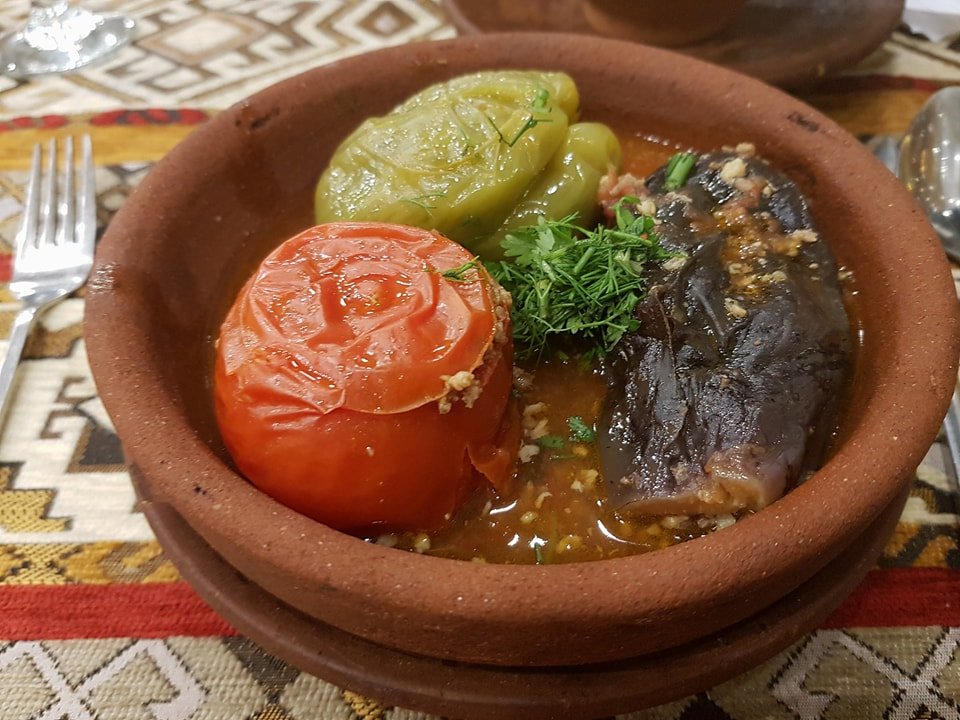 Azeri cuisine is a blend of traditional Caucasian cooking, but also touched by the Turkish, Persian, and Russian influences that have shaped its history and thus its food as well. While I wouldn't put Azeri cuisine in my list of top favorites, I found it pretty easy to find something I liked at every restaurant.
My biggest tip: Azerbaijan really excels at soups. In my two weeks in Azerbaijan, I literally never once had a bad soup. While I found a lot of the main dishes to be lacking one component, the soups were always well-balanced and full of flavor. My favorites were dovga (a yogurt and herb soup), kyufta-bozbash (a lamb meatball and vegetable soup), and merci (a lentil soup quite similar to Turkish mercimek)…. though even their simple chicken (toyuq) soups were always delicious as well.
Always get the soup.
In terms of the food, I found kebabs to be quite reliable in Azerbaijan. I never quite enjoyed the plov they offer, but others may disagree with me. Generally, I found the chicken dishes to be tastier than the meat dishes, probably because I found the lamb in Azerbaijan to be quite gamey (and I'm usually a fan of lamb).
Break for cay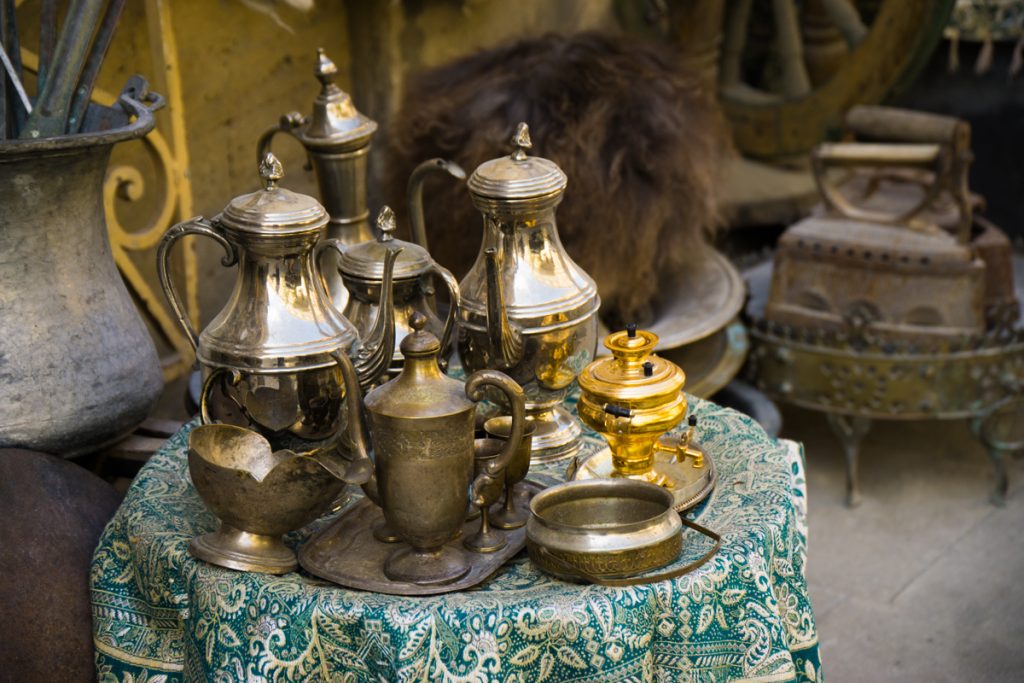 Tea culture in Azerbaijan is huge, and it's not uncommon to take an hour-long (or longer) break in the middle of your day to relax, sit with friends, and enjoy several rounds of tea, perhaps with a side of shisha.
Azeri tea is served in a fashion similar to Turkey, with tulip-shaped glass cups with no handle, so that you have to hold the cup near the lip to avoid burning your fingers. I found Azeri tea to be quite enjoyable, milder than Turkish tea but still quite flavorful. I recommend picking up some Azeri cay as a souvenir!
Visit the Ateshgah Fire Temple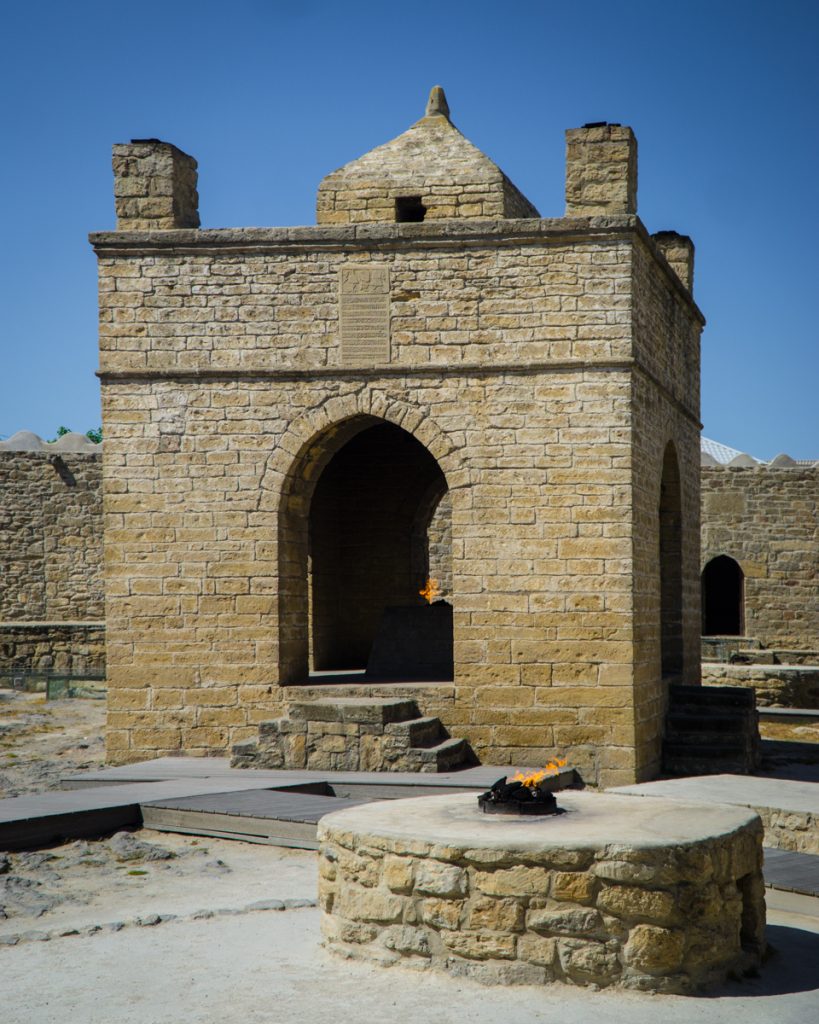 Azerbaijan sits atop a seemingly endless reserve of petroleum — so much so that in certain places, when fires have started, they just haven't stopped. These "eternal flames" last for decades (and maybe even longer), burning constantly but not destructively. So it's no surprise that Azerbaijan was the birthplace of fire-worshipping religions, and that to this day Azerbaijan has the nickname "The Land of Fire."
One of the prime examples of a fire-worshipping temple can be found just outside of Baku at the Ateshgah Temple. While the temple itself only dates back to the 17th century, the site where it was built has been a holy site of Zoroastrian origin for millennia, pre-dating the arrival of Islam in Azerbaijan.
Zoroastrianism is widely misunderstood to be all about the worshipping of fire, but that's not necessarily true. Fire is but one of the elements significant to Zoroastrians, and rather is a symbol of purity and truth, respected but not worshipped per se.
Anyway, when Islam arrived in Azerbaijan, the Zoroastrian temple that used to be where Ateshgah Temple now is was destroyed. It wouldn't be rebuilt until centuries later, when fire-worshipping Hindus arrived in the area and built the present day temple. The temple as it exists today was in use from the 17th century until the mid 19th century, when the formerly-thought-to-be "eternal" flame went out. Taking this as a bad omen, fire-worshippers believed it was a sign from God and abandoned the temple. It has since been refurbished and converted into a museum, complete with an artificial eternal flame.
Entry costs 2 AZN but is free on holidays. We went in our rental car, as it's not too far from the Baku airport. If you don't want to self-drive, which I only recommend for experienced drivers in foreign countries, it's much easier to join up with a guided tour. This tour is well-reviewed and includes both Yanar Dag and Ateshgah Temple. You also can take an Uber or taxi from Baku to Ateshgah, which is inexpensive, perhaps about 30-40 AZN or so roundtrip.
Check out the eternal flame of Yanar Dag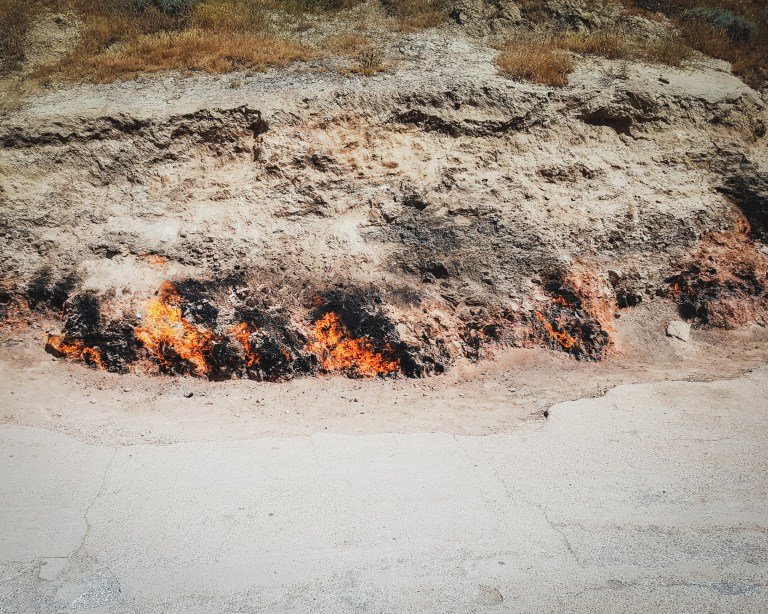 If you'd like to see a living "eternal flame," Yanar Dag is worth a visit. While opinions vary on whether or not it's worth seeing, I'm of the opinion that it makes a good portion of a trip that combines with Ateshgah or some other sights in the Absheron peninsula. I've heard it's more impressive after dark, but I've also read that it's closed after 7 PM, so really you'd only be able to see it in the dark in the winter.
According to lore, the fire at Yanar Dag was started by a shepherd, who carelessly flicked a cigarette and ignited a small fire that started in the 1950s, and decades later, it still hasn't gone out or spread further. It's fed by a natural gas reserve, which is kind of remarkable to see.
I believe we paid 2 manat each to enter, but I don't recall. There is also a small Soviet era WW2 memorial quite close by to Yanar Dag (walking distance or only a few minutes by car) that is also worth seeing if you have a car or have a taxi arranged.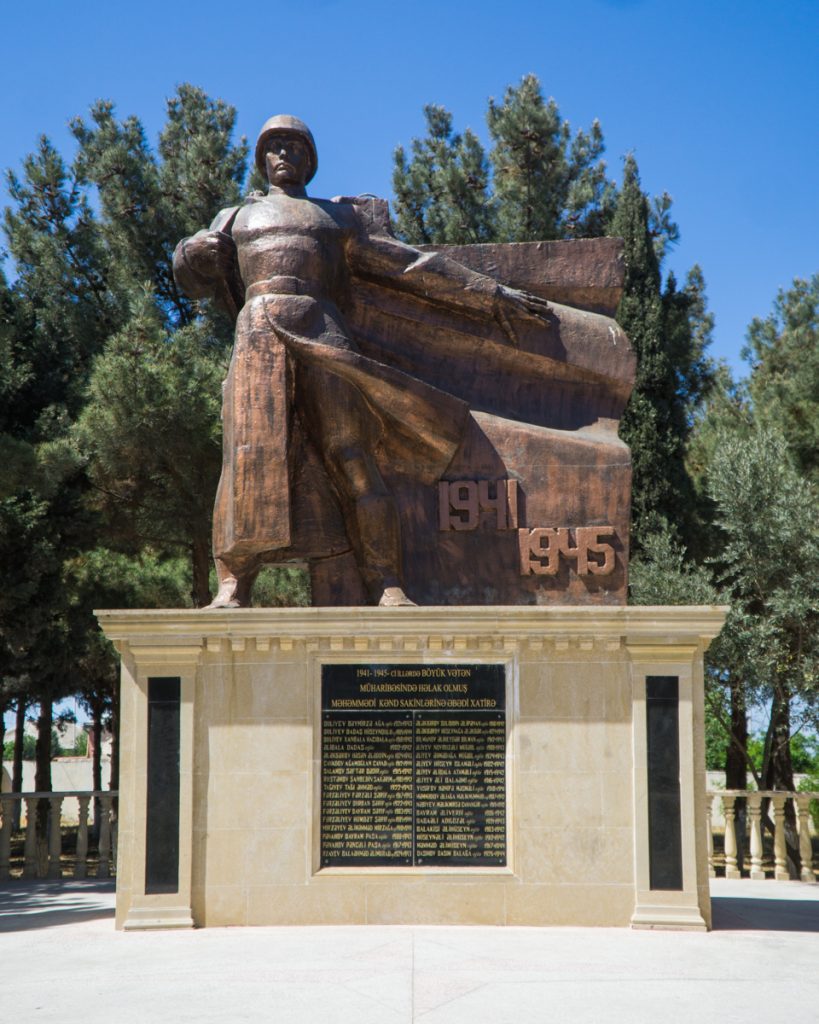 See the castles in Azerbaijan
Who knew that the outskirts of Baku had not one but two castles? Ramana Tower, which is built on a hillside amidst a bunch of nondescript oil fields. The drive around Ramana Tower is quite unappealing, honestly – the oil boom has not been kind on the landscape.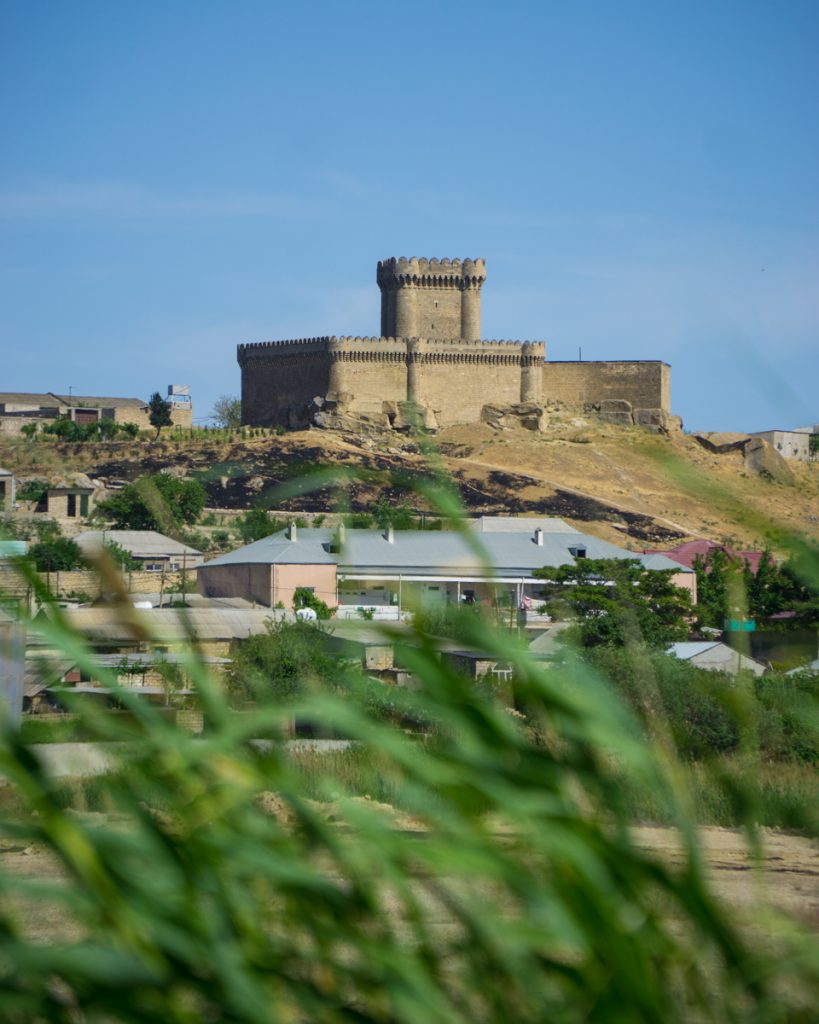 The Mardakan "Quadrangular" castle is also quite interesting, and you'll hardly see another tourist there — we got quite a few surprised glances from the locals when we showed up there. There is theoretically a caretaker who has the keys to the gate and can show you around, but we didn't see a way in when we were there.
Check out the National Museum of History of Azerbaijan
The National Museum of History is in a gorgeous building, the former residence of oil magnate Haji Taghiyev. The museum is ambitious, covering everything from prehistoric people to present-day Azerbaijan, with a heavy focus on the conflict with Armenia. While I won't get into the politics here for reasons that should be obvious, there's no denying that the National Museum of History of Azerbaijan has some… opinions.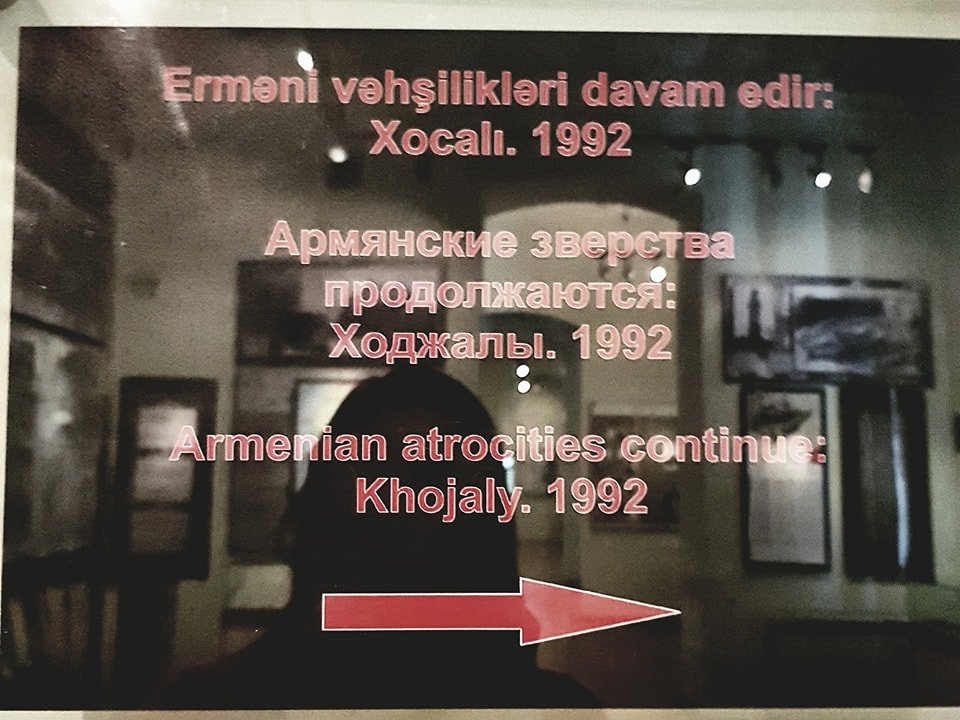 Bias aside, I found it worthwhile, and it was certainly an interesting insight on how Azeris see themselves (at least through the national, official lens). Entrance costs 5 manat and almost every exhibit has sufficient English-language descriptions.
Stroll the seaside
Baku is located on the Caspian Sea, and you can't miss walking down the seaside promenade during your time in Baku. I walked from the Maiden Tower all the way down to Crystal Hall, passing several interesting Baku points of interest which I'll go into more detail on later. It took me about an hour and a half to walk from the Old Town to Crystal Hall, stopping for plenty of photos along the way.
Ride the Baku Eye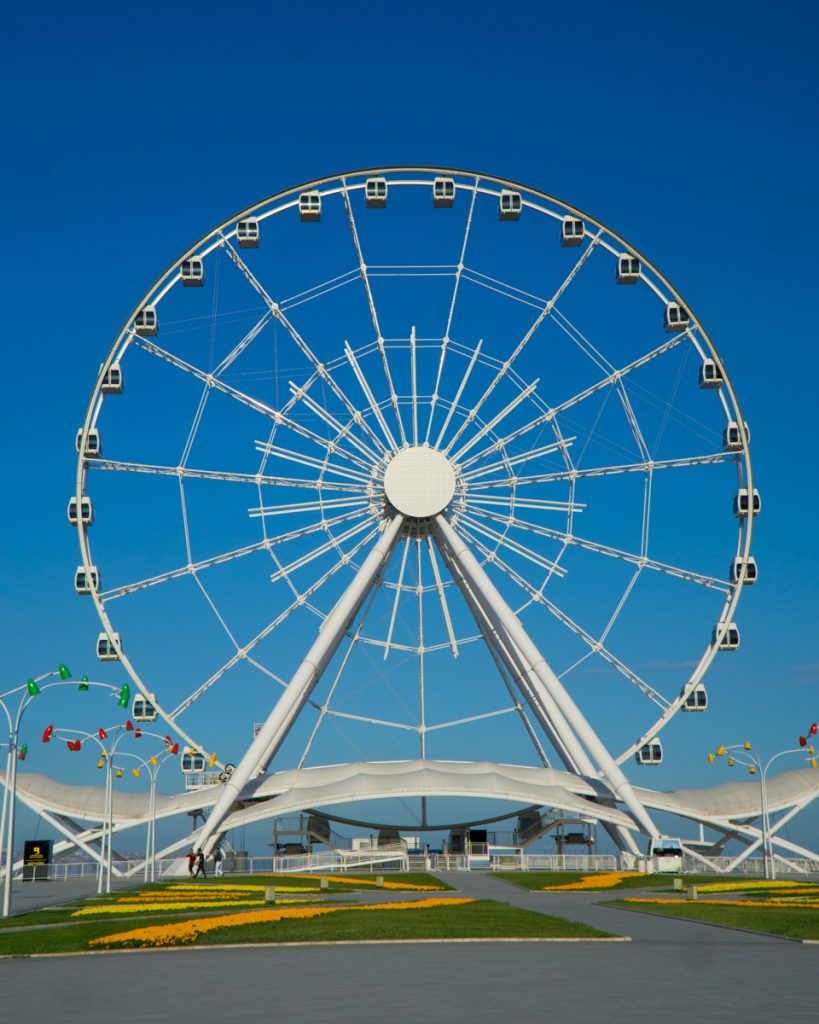 Right on Baku Boulevard, you can't miss the Baku Eye on your way towards the Crystal Hall.
Yes, not one to be left out, Baku has its very own touristic Ferris wheel. Fortunately, though, riding the Baku Eye will only cost you a fraction of what pricier Ferris wheels will cost you — 5 AZN (less than $3 USD) to the London Eye's whopping $30.
I walked past it and meant to go back at night to take a whirl given how cheap it was and that the views would have been killer, but I got sleepy instead. This is why I'm a terrible blogger.
See the strangely shaped Crystal Hall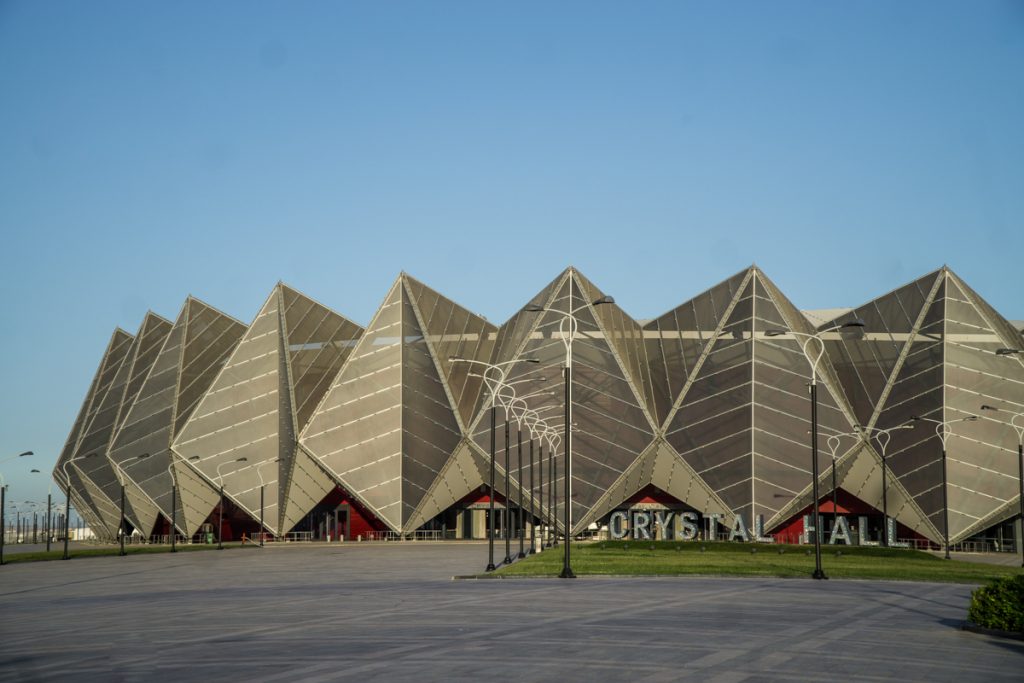 Built in 2012 when Baku hosted Eurovision, the yearly song contest I couldn't give less of a shit about, the Crystal Hall is now a weird fixture on Baku's architecture circuit. While it's supposed to be modern, it actually looks slightly Brutalist to me in its form.
It's still widely used, and artists as famous as Rihanna, Jennifer Lopez, and Christina Aguilera have performed on its stage since its inception.
It's also right by the National Flag Square, with what used to be the tallest but is now only the second-tallest flagpole in the world. If you're curious, the city that bested it is — oddly — Dushanbe, Tajikistan. Former Soviet countries like big flags, I guess.
Check out the old Soviet circus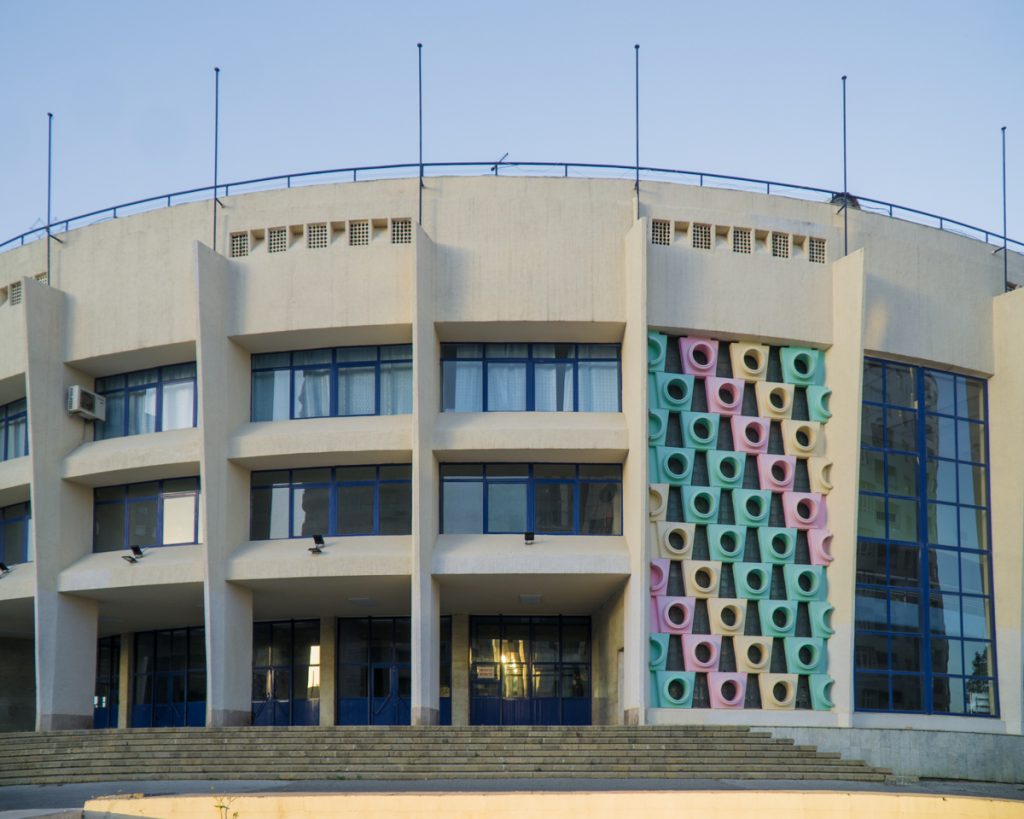 Hat tip to Megan Starr (you need to read her article on 25 things to know before visiting Baku — it made my trip go really seamlessly because I knew to anticipate certain quirks and inconveniences in Baku), who posted about this circus on her Facebook and sparked my interest.
While I don't support circuses and wouldn't recommend you actually attend a show (I don't know if it's still in use, actually – there is zero information on the internet), I am fascinated by Soviet architecture. Azerbaijan has done a pretty thorough job of keeping its Soviet past out of eyeshot, likely due to the fact that its oil reserves make it one of the richest post-Soviet countries. But you can still find little reminders here and there, whether it's a war memorial with a hammer and sickle, or a strange Soviet circus in the middle of Baku.
Admire the ultra-modern Carpet Museum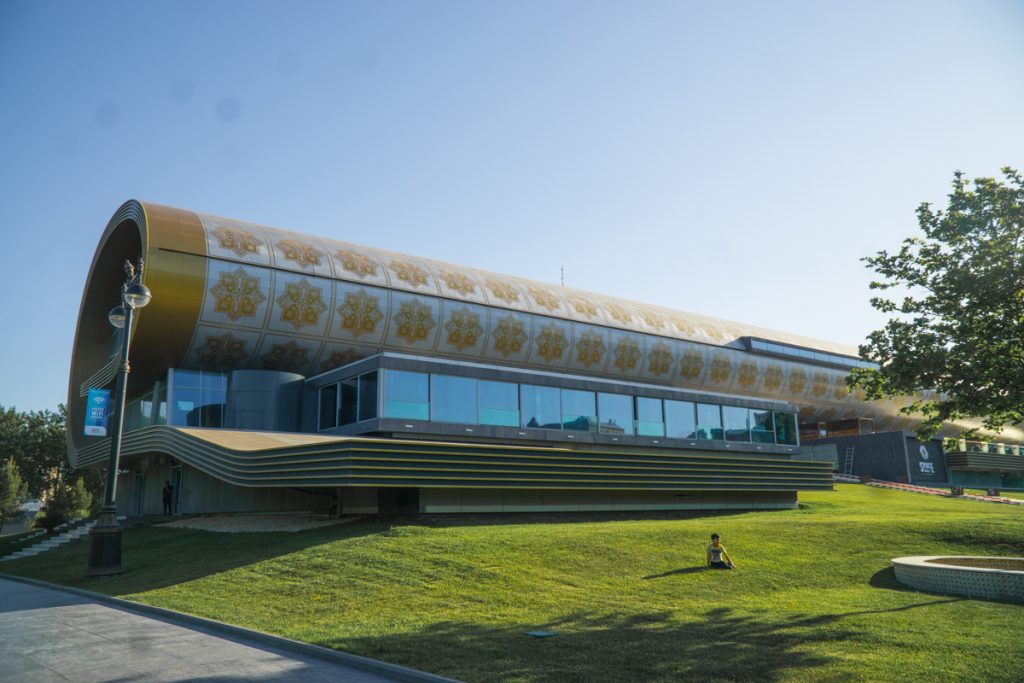 I didn't actually go inside this museum as I've been to carpet museums in Turkey, but I did enjoy photographing this one from the outside — it's one of the most interesting, and also most literal, museum buildings I've ever seen.
It is supposed to be really interesting on the inside if you're interested in learning more about the craft of carpet making. Apparently, this is one of the best places to shop for a carpet if you are looking to buy as well, with quality guaranteed, knowledgeable sellers, and fair prices for the quality of the craftsmanship.
Go on a hunt for some of the strange architecture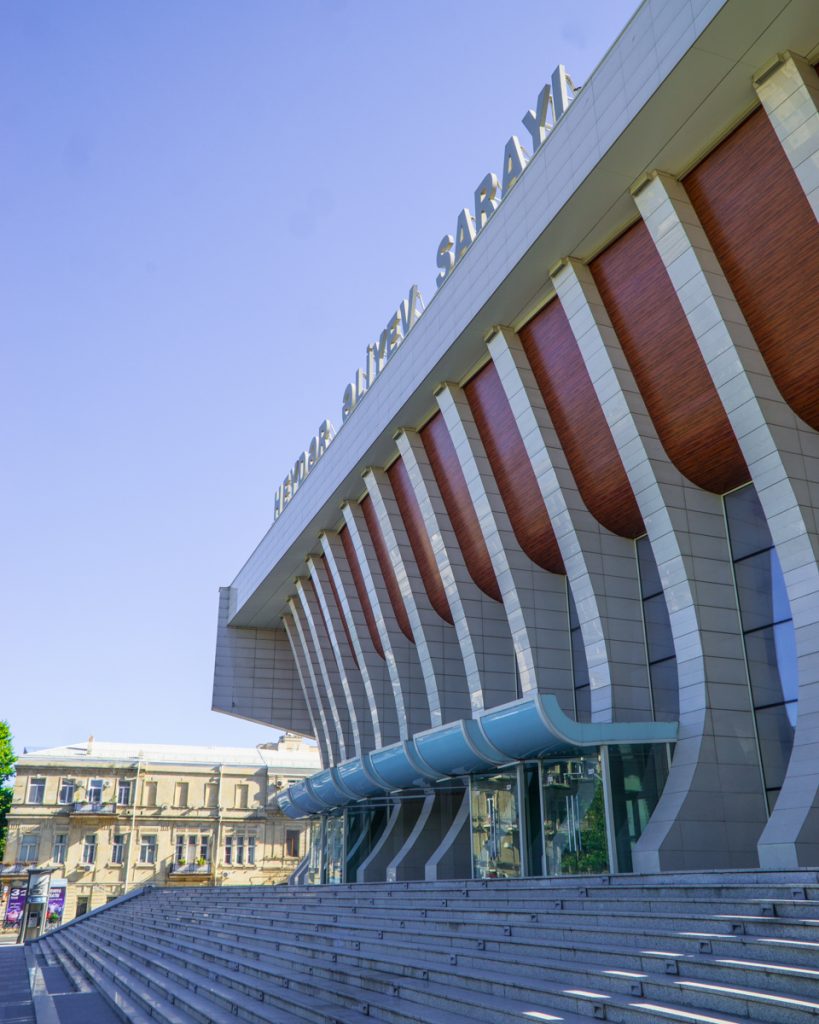 While I've mentioned several strange architecture points by name already, I also think there's a lot of fun in just walking around Baku and noticing some of the odd architecture. One of my favorite buildings that we just happened to stumble across was the Heydar Aliyev Sarayi (yes, every other building and street seems to be named after him. There are also billboards of him everywhere – I've never seen anything like it except Cuba)
Meet the local kitties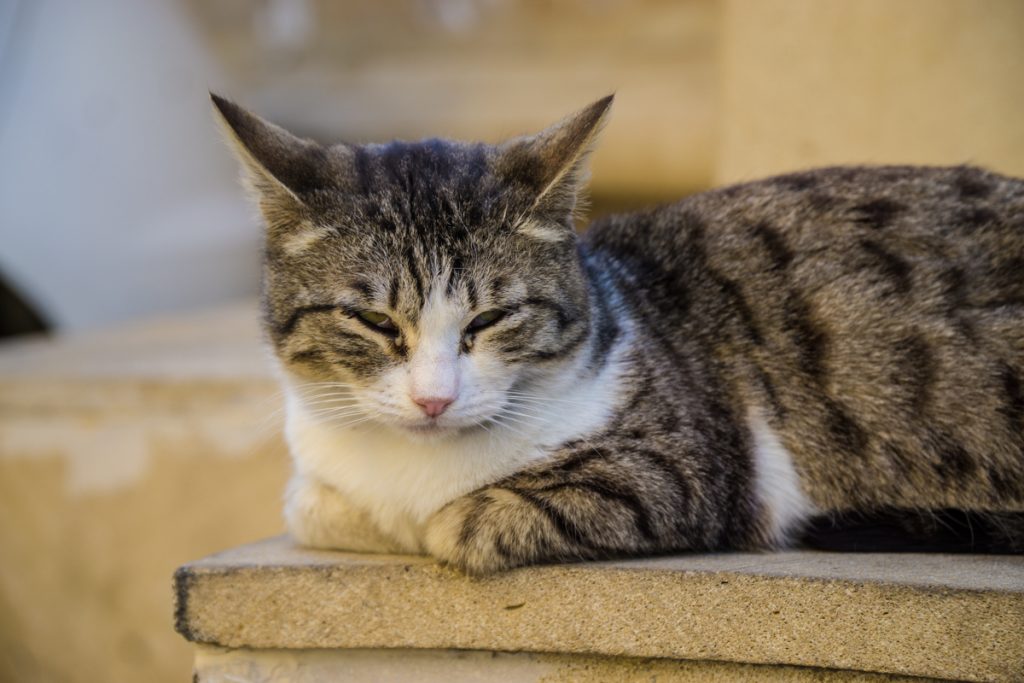 Similar as you'll find in Istanbul (though to a lesser degree for sure), Baku has tons of adorable, well-fed street cats who love nothing more than a good head scratch. For the most part, they're not afraid of people in the slightest and will even deign to wake themselves up from a nap in the sunshine to purr and give you some love right back.
If you're a cat lover, you'll love this part of visiting Baku.
See the iconic Flame Towers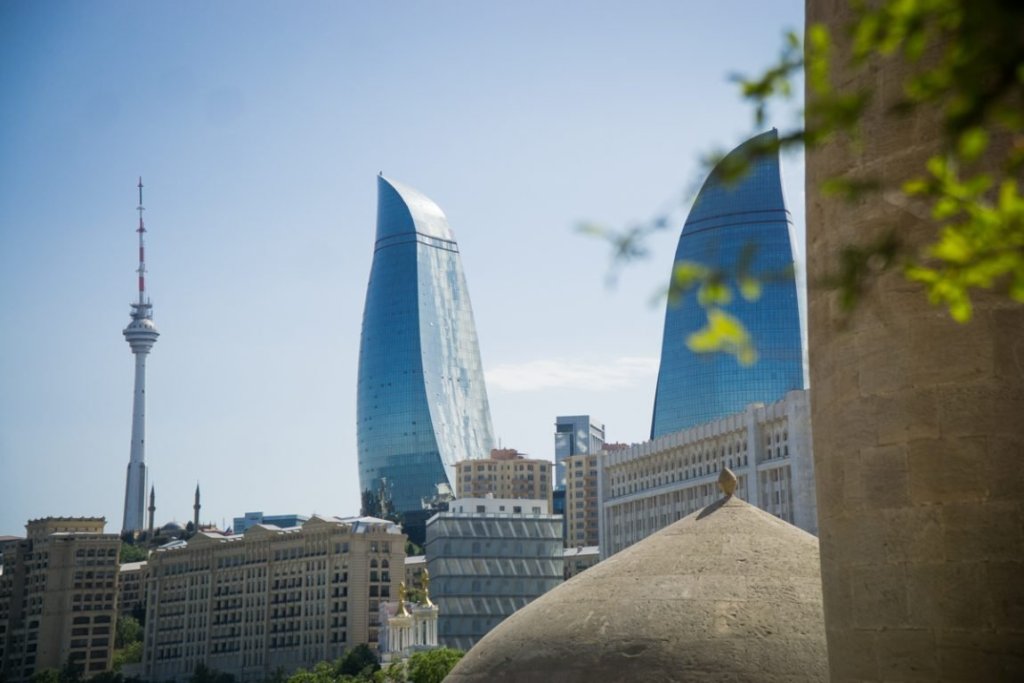 While there's really no need to actually go to the Flame Towers themselves (I learned this the hard way – you're way too close to actually see them), there are several viewpoints where you can see the Flame Towers quite well. The best view is supposed to be from the TV Tower, but when I heard that there was a mandatory minimum of 20 AZN ($12 USD)  and that you could only take photos through extremely dirty windows, I decided I could skip it.
The Flame Towers were built on a hill; therefore, they're quite easy to spot from many different spots in the city, and it's not uncommon that you'll see one of the three buildings of the Flame Towers peeking out between buildings like some all-glass tentacle.
You can get a good view of the Flame Towers from a lot of places… the Shirvanshahs' Palace, the Soviet Circus (that's where I snapped this photo – just turn around and it's right there), certain parts of the Old Town, down on Baku Boulevard, even from Heydar Aliyev Center if you have a decent zoom…
See the strange modern public art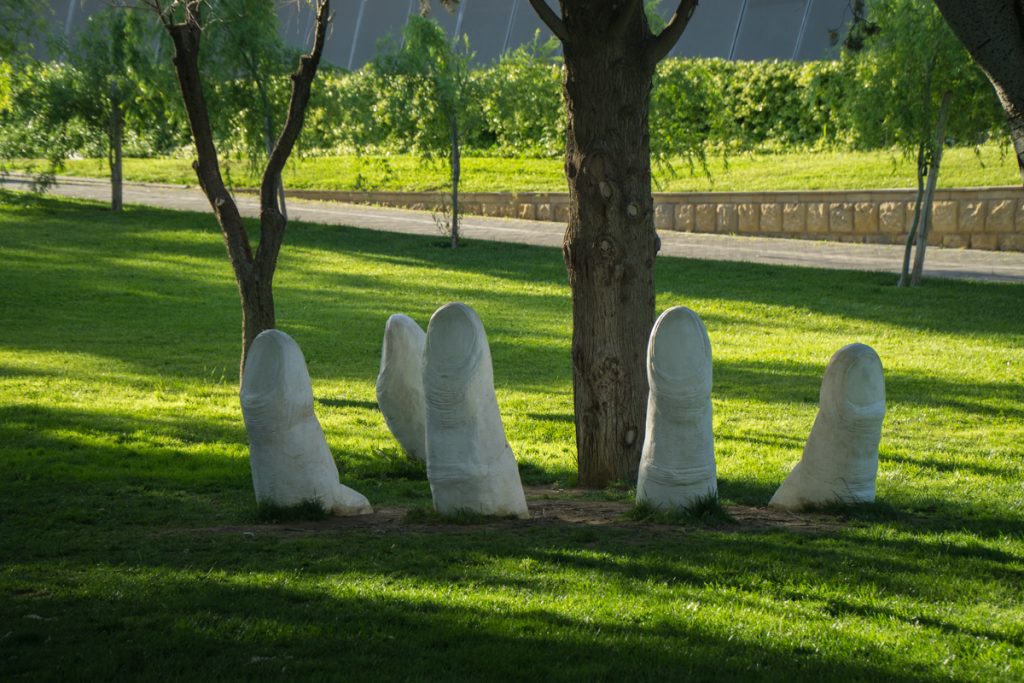 It's funny, for as flashy and glassy as Baku's modern architecture scene is, their public art is a bit… odd? Out of place? I'm not quite sure how to classify it.
Whether it's the strange multicolored snails in front of the otherwise ultra-classy Heydar Aliyev Center, the rainbow stacked teacup structure in the Shirvanshahs complex, or the weird hand coming out from the ground to grab a tree (no, not creepy at all, Baku…) it's certain to puzzle, if not delight, when you stumble across it.
Where to Stay in Baku
The value of the manat has dropped a lot since 2015; as a result, accommodations in Baku offer travelers quite a good value at the moment. Baku has accommodations to suit every budget, from backpacker hostels (though you won't find many backpackers in Azerbaijan) all the way to insane, ultra-luxury 5* hotels.
Budget: If you are traveling Baku on a budget, there are some good options. I didn't stay in a hostel during my time in Baku, but if I were to choose to stay in a hostel, I would definitely pick Salam Hostel Baku. It's located in the heart of the Old Town, which is one of the most picturesque areas of Baku and is also super central to the major sights. It's not the cheapest hostel option, but it is a step above the others, with perks like privacy curtains, a stunning hostel kitchen you'll actually want to cook in,  beautiful interior décor, and air conditioning (a must in stuffy summers!). Check prices, reviews, and availability here. 
Mid-range: If you have a bit more flexibility in your budget, I recommend the trendy Seven Boutique Hotel Baku. Located in Fountain Square not far from the Old City, this is one of the best locations in Baku. The rooms are spacious and modern, the staff is friendly, and the included breakfast is very generous. Check prices, reviews, and availability here.
Luxury: Baku does luxury ridiculous well! The famous Flame Towers are the most iconic place to stay in Baku, as the building is actually a Fairmont, one of the top luxury hotel brands in the world! You can check prices, reviews, and availability of the Flame Towers here – but book in advance if you choose it as this hotel often books up. Of course, the downside of staying at the Flame Towers is that you can't see them from your room (because you're inside them!)
How to Get from Baku Airport to Downtown
My friend Megan wrote a comprehensive guide to getting from the airport to the city center; personally, we came in via taxi since we just came from the old terminal where we had booked our tickets to Nakhchivan and we found some taxi drivers in front. We negotiated with a taxi for 25 manat to take us downtown. Had we been at the main terminal, we probably could have used Uber and saved some money!
Allison Green is a former educator turned travel blogger. She holds a Masters in Teaching and a B.A. in English and Creative Writing. Her blog posts merge her educational background and her experience traveling to 60+ countries to encourage thoughtful travel experiences that both educate and entertain. She has been a speaker at the World Travel Writers Conference and her writing, photography, and podcasting work has appeared in National Geographic, CNN Arabic, CBC Canada, and Forbes, amongst others. Now based in the San Francisco Bay Area where she grew up, she has also lived in Prague, Sofia, and New York City.