I had never seen a landscape change this dramatically this quickly before, from dusty red rocks straight out of the American Southwest to lush green rolling foothills and steep mountains tipped with snow within the span of a single hour.
I must have had my head hanging out of the taxi window nearly the whole drive, like some cartoon of an overexcited dog. By the end of the drive to Batabat, I wouldn't have been surprised if I had my camera imprinted into my face.
The driving distance from Nakhchivan City to Lake Batabat is rather short, a mere 65 kilometers, yet it is one of the most beautiful and dramatic drives I've ever done. The red rock mountains, the green mountains with the last vestiges of the season's snow, and the yellow smatterings of mustard fields everywhere will always be in my mind. All this, punctuated by the occasional passing by of an old school Lada – I was in heaven.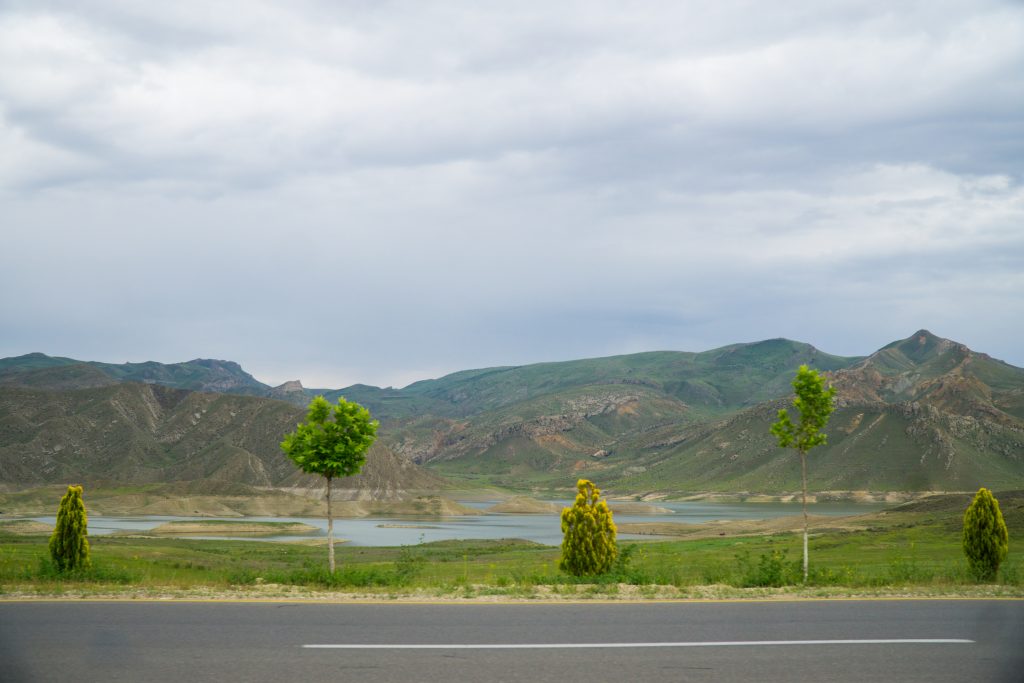 Note: This post contains affiliate links, which means I may receive a small commission if you purchase something through one of these links. Thank you for supporting the free content on this site! For more information on affiliate links and cookies, see my disclosure page for more details.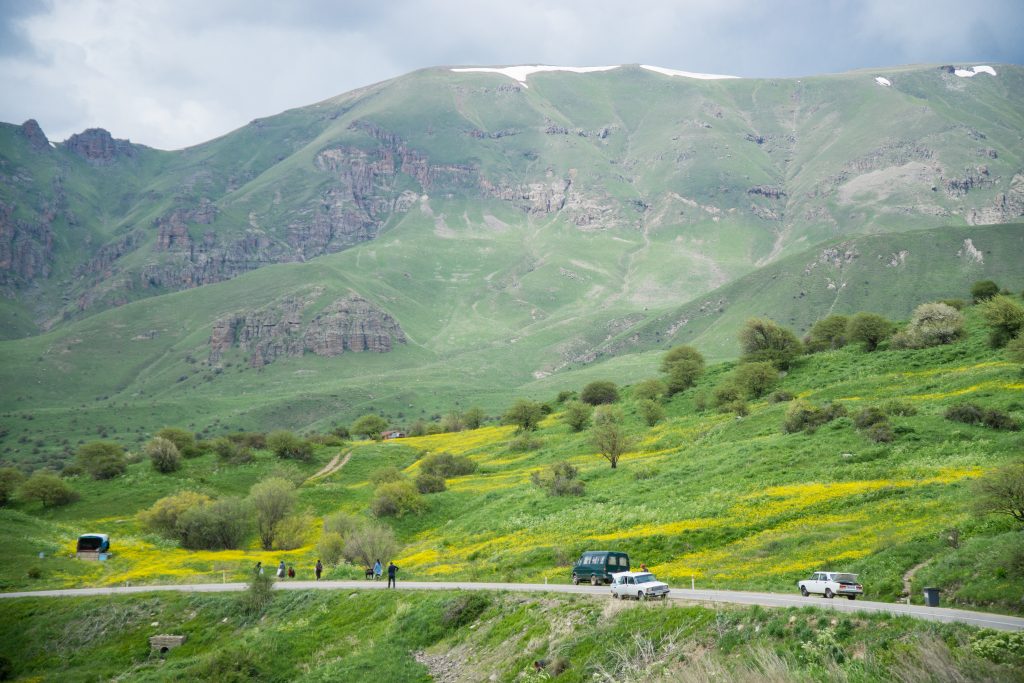 About Lake Batabat
Lake Batabat is the pride of Nakhchivan, and it's not without good reason. Located high in the mountains of Shahbuz at an altitude of 2,500 meters above sea level, this lake was formed by receding glaciers over the course of many thousands of years, forming a tarn.
Today, Lake Batabat is a popular excursion for Nakhchivani families, and when I went in May the lake area was strewn with gorgeous mustard flowers and other wildflowers. Handfuls of local families were out in the fields, picking mustard flowers and setting up picnics.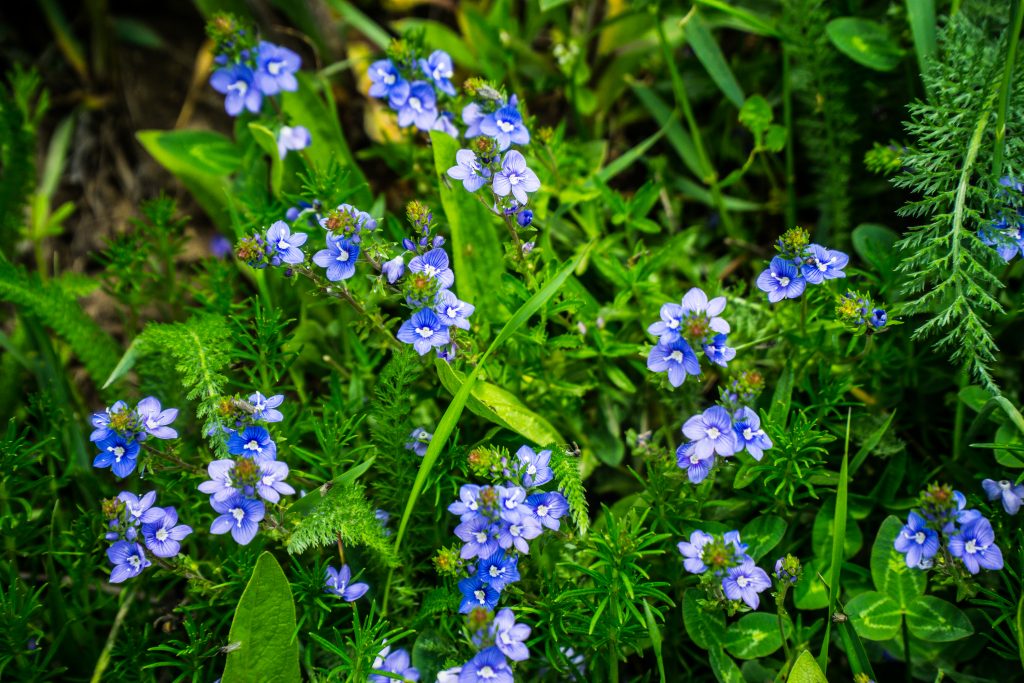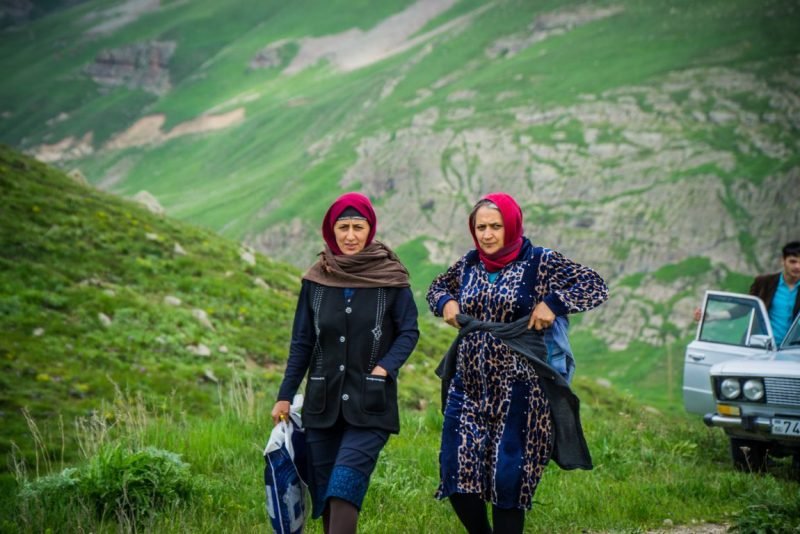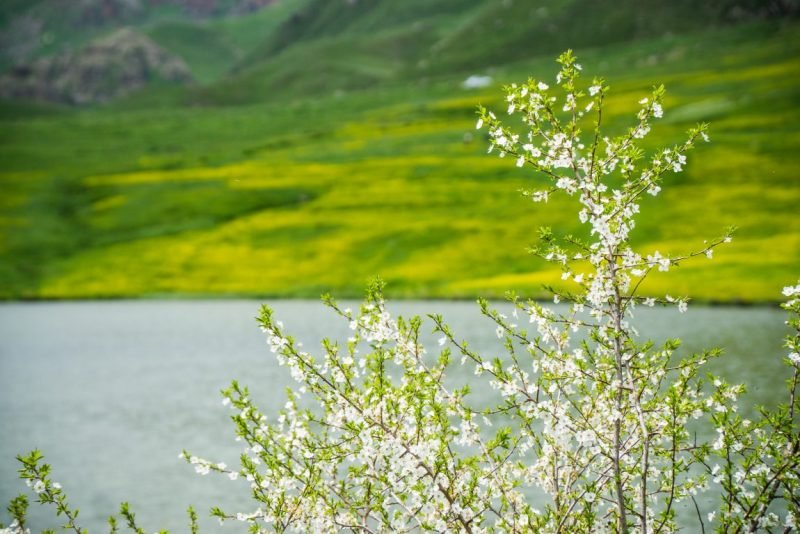 The Floating, Moving Island of Batabat
One of the most unique things about Lake Batabat is that it has its very own floating island in the middle of it. This tiny island is made entirely from peat and grass, and it isn't attached to the bottom of the lake in any way.
As a result, it drifts — though slowly — throughout the year, moving as if pulled by the sun. The lake almost looks like one big moat for one tiny island, and the interest the floating island adds is what makes Lake Batabat such a photogenic place. I especially love how the shape of the island seems to mirror the exact shape of the lake… Batabat is a magical place.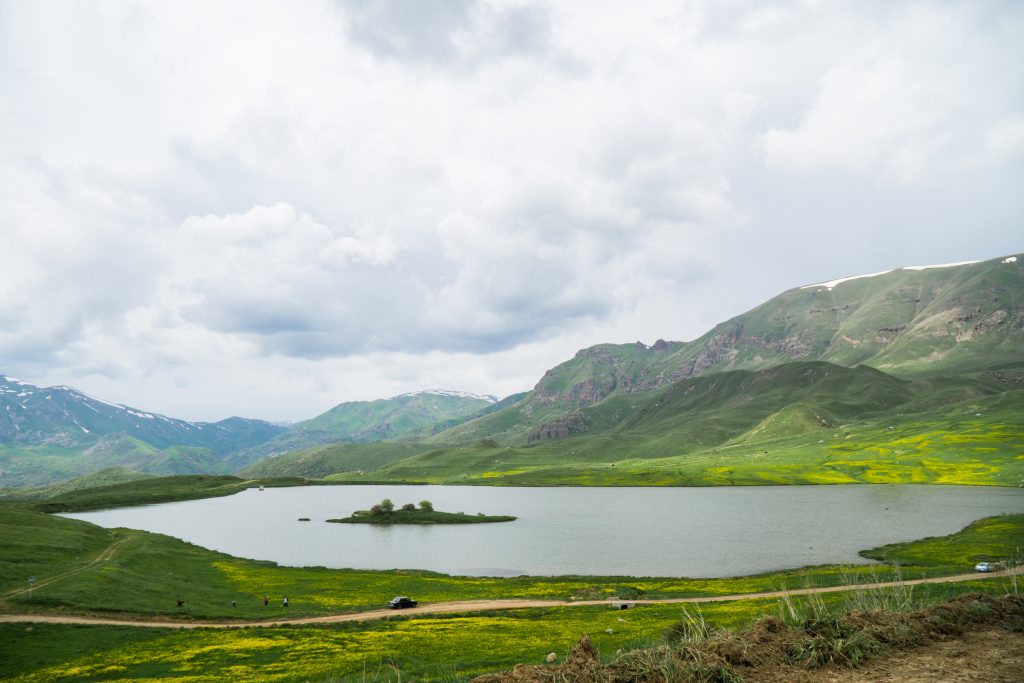 How to Get to Lake Batabat from Nakhchivan City
The driving distance from Lake Batabat from Nakhchivan City is only 65 kilometers. The excellent quality of the roads means that it takes little more than an hour – perhaps an hour and a half at most – to get there, despite ascending to 2,500 meters above sea level.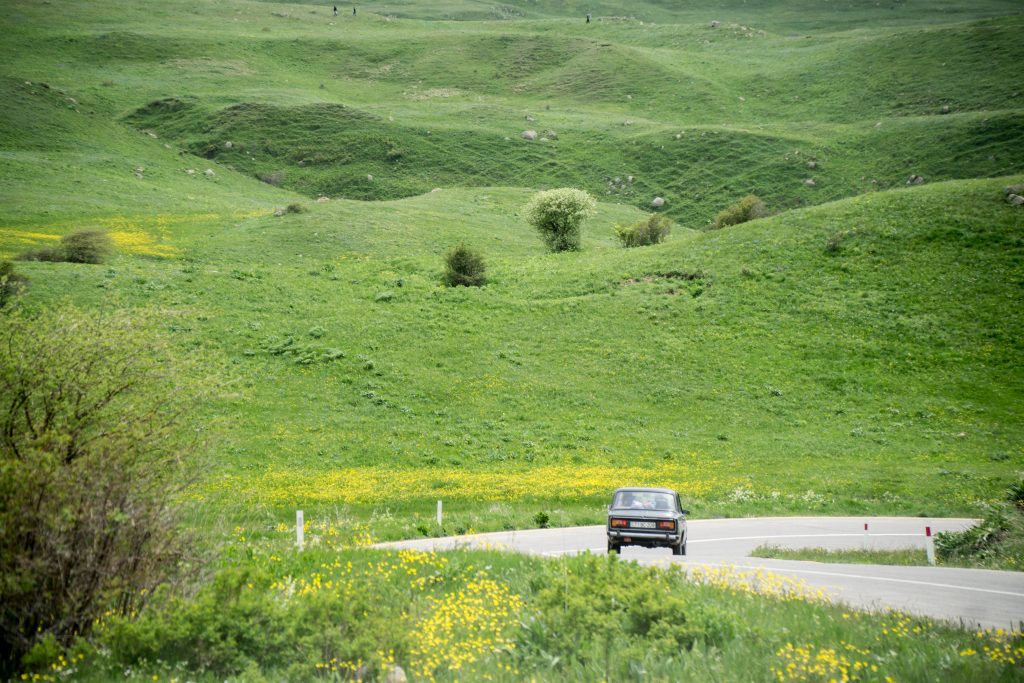 We went in a taxi, as we weren't able to find any information about whether or not minibuses go out to Batabat. But judging by the fact that everyone we saw out at Batabat had come in their own car, I don't think there is any public transportation to the lake.
We arranged a taxi with the front desk at our hotel (Hotel Tabriz). Our driver took us to the Ashabi-Kahf caves, Lake Batabat, the salt sanatorium at Duzdag, and Qarabaglar for 150 manat ($88 USD) for a full-day trip. Perhaps you could negotiate a better rate but we were content to pay that.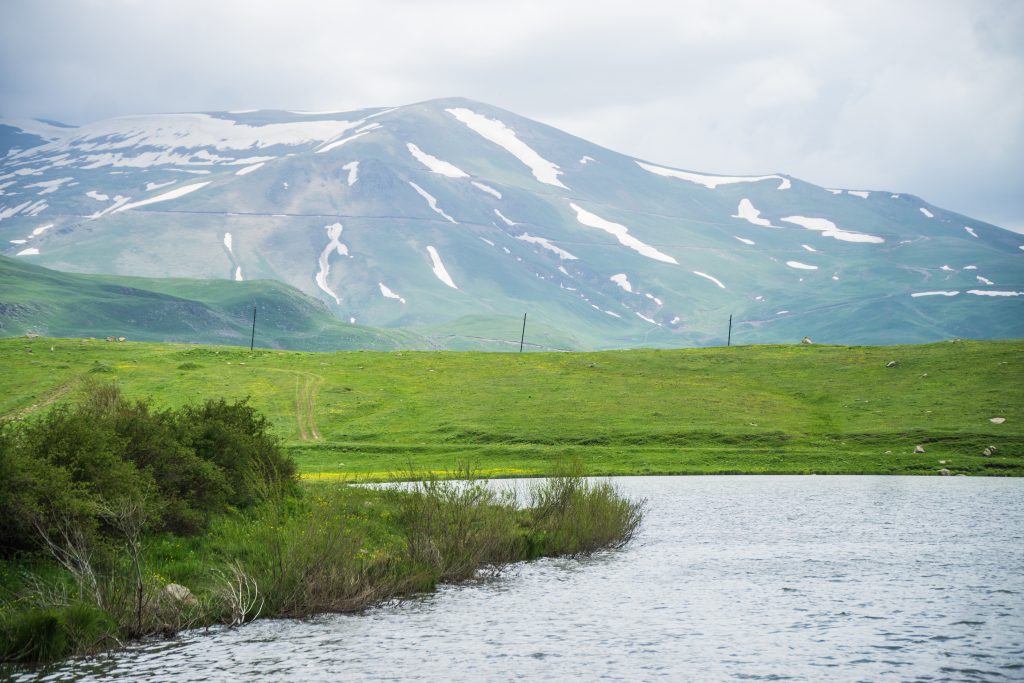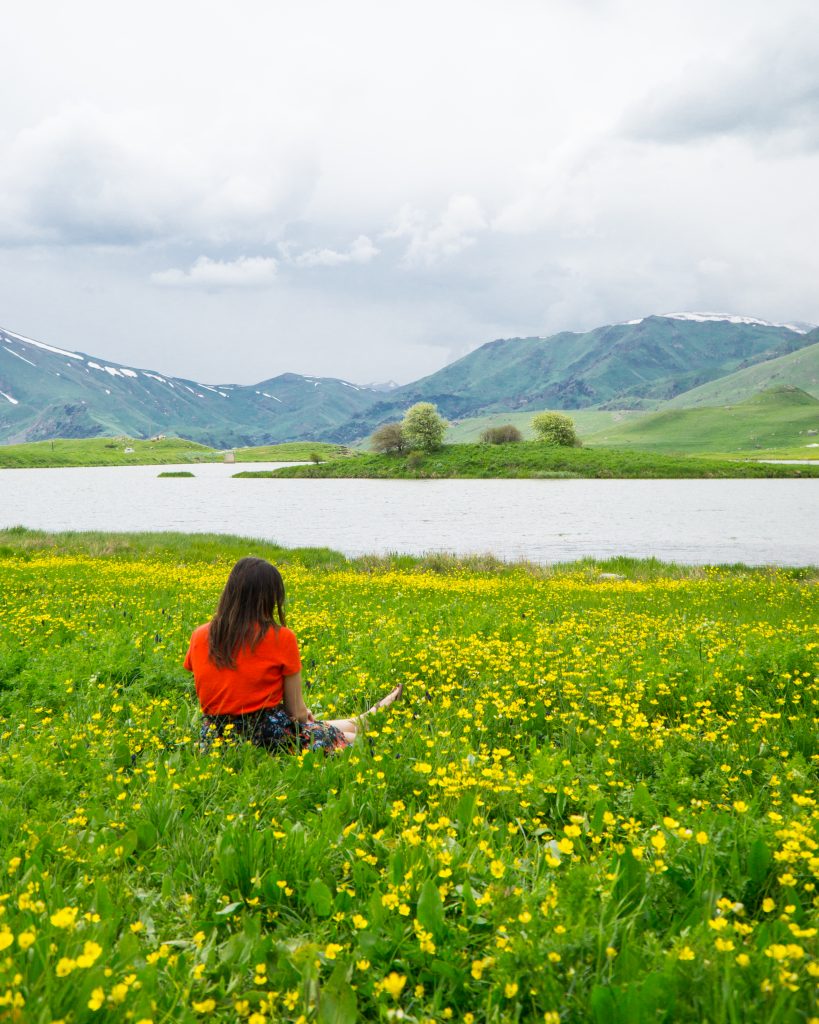 Where to Eat in Batabat
On our way to Batabat we saw countless families doing a picnic out in the mustard-covered fields surrounding Lake Batabat.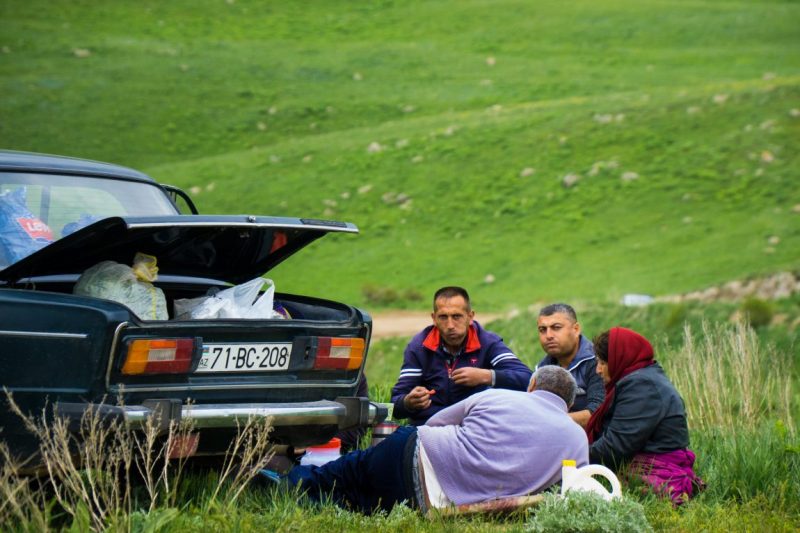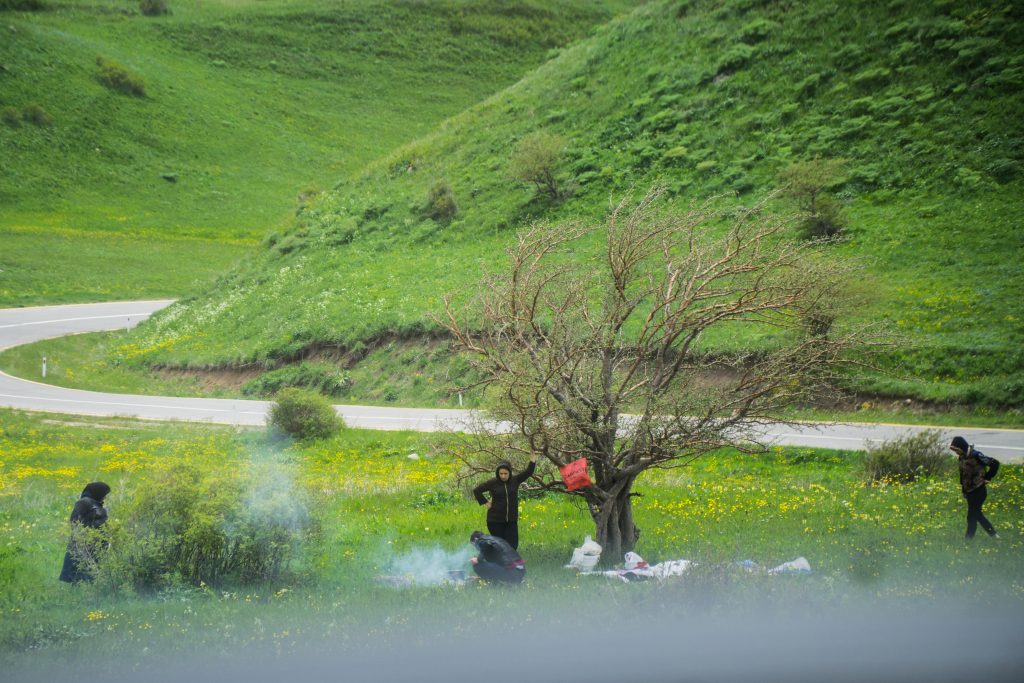 Some families even came prepared with elaborate barbecue setups (the Caucasus, like much of the Balkans and former USSR, seems to view grilled meat as a religion rather than a food group).
Lacking such a setup, we ate at Restoran Batabat at a gorgeous table in the forest.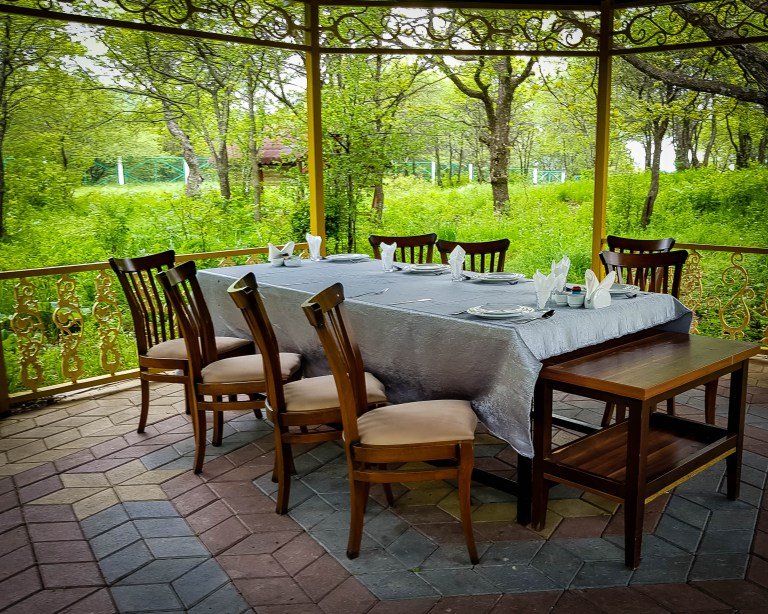 There was no physical menu, and given the fact that my Russian skills are abysmal, and they spoke no English and we spoke no Azeri, we had to place our orders by phone using our hotel concierge as translator slash waiter.
Still, it worked pretty seamlessly, and we tucked into the most delicious meal we'd have in all of Nakhchivan, including soups (always order soup in Azerbaijan; it's always delicious), chicken kebab with fluffy home-cooked lavash bread, pickled vegetables, and fresh tomatoes and cucumbers. We topped it off with a pot of cay because the tea in Azerbaijan is always fantastic.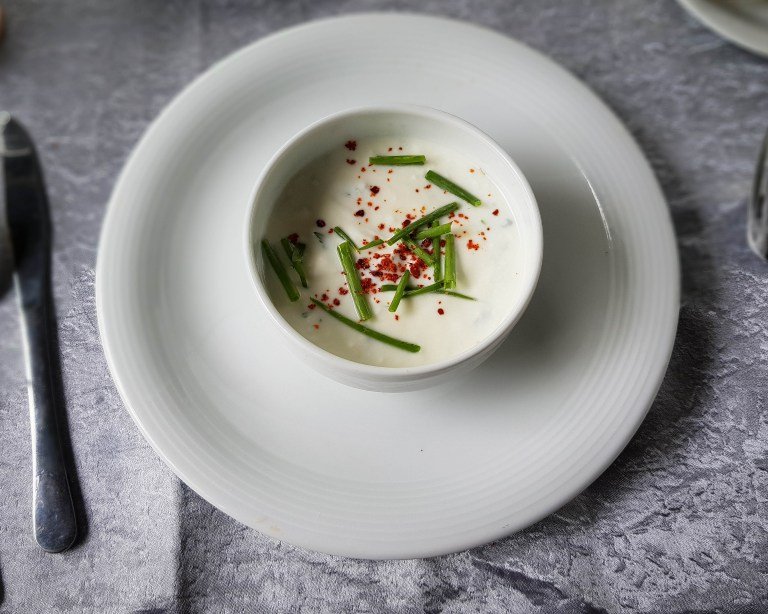 For the meal, drinks, and tea, we paid 40 manat ($23 USD for two) which is a little higher than we were used to paying but still an excellent price for a delicious forest feast.
What Else to See in Nakhchivan
My full Nakhchivan post is on the way, but in the meantime, I highly recommend Alinja Castle, a former fortress built high in the mountains, 1800 steps up. You should also check out the Ashabi-Kahf caves if you are interested at all in religious history, as the caves were mentioned in the Qur'an.
The Soviet-era salt sanatorium at Duzdag is incredible and definitely worth an extended stay – we felt amazing after a mere 30 minutes in the salt mine and could have used another 30 or more. Qarabaglar was also worth a visit, as it's the most impressive example of the Islamic mausoleums that are common in Azerbaijan and Nakhchivan in particular (you should also check out the Momina Khan mausoleum in town as well as the Noah mausoleum). Ordubad is also worth a side trip; the Juma Mosque and old icehouse building are gorgeous.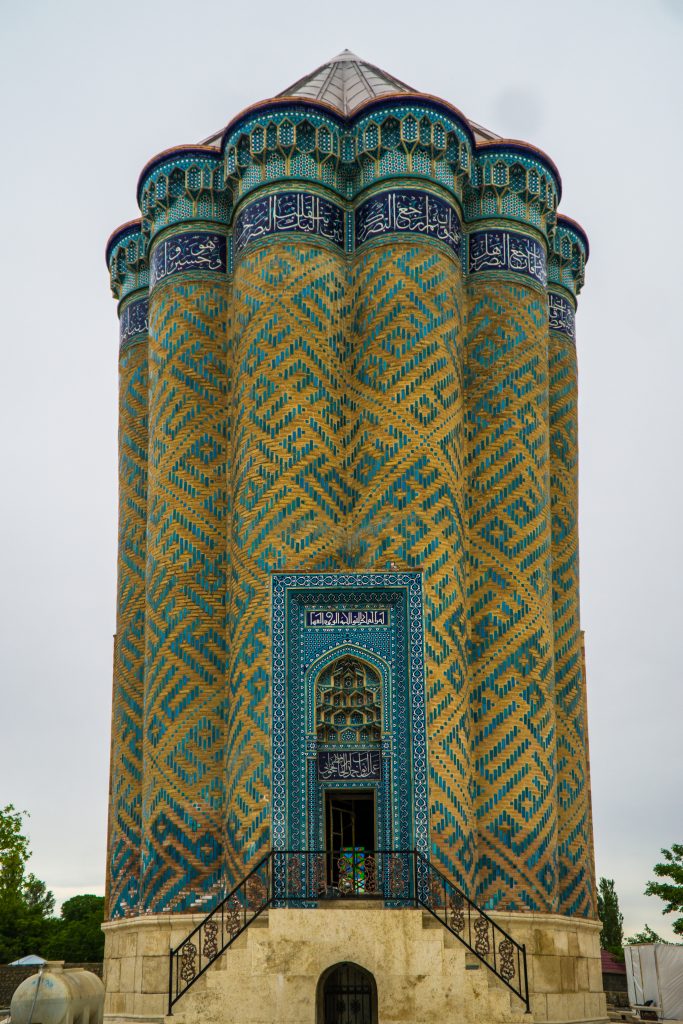 No matter where you go in Nakhchivan, I'm sure you'll love it.
But dedicate at least a half day for Lake Batabat, and you'll be in love.
Allison Green is a former educator turned travel blogger. She holds a Masters in Teaching and a B.A. in English and Creative Writing. Her blog posts merge her educational background and her experience traveling to 60+ countries to encourage thoughtful travel experiences that both educate and entertain. She has been a speaker at the World Travel Writers Conference and her writing, photography, and podcasting work has appeared in National Geographic, CNN Arabic, CBC Canada, and Forbes, amongst others. Now based in the San Francisco Bay Area where she grew up, she has also lived in Prague, Sofia, and New York City.