With the stunning backdrop of the Dolomites and the endless green of apple trees, which turn snow white with blossoms for a brief spell in spring, it's hard not to fall for Val di Non.
This beautiful part of the Trentino region is less Insta-famous than its neighbor South Tyrol (also called Südtirol or Alto Adige). It's certainly humbler, set up more for agriculture than hoards of tourists. But those who do dedicate a bit of time to exploring Trentino will find themselves richly rewarded.
I visited Val di Non in partnership with Visit Trentino and was blown away – this region is full of surprises. Whether it's stunning narrow canyons that a kayak can barely squeeze through, castles from a bygone era, or the riot of blossoming wildflowers that greet you each spring, you'll find yourself wowed over and over again by this humble region.
In case I haven't yet convinced you to give Trentino a visit, here are 9 reasons why I think Val di Non is an essential stop on any visit to Northern Italy.
Val di Non's got gorgeous lakes and valleys
Val di Non is incredibly photogenic, with its combination of valleys and mountains, lakes and canyons, and blues and greens. Better yet, the Instagrammers of the world have yet to descend upon it, meaning that it's not hard to take original, beautiful photos pretty much anywhere you go in Val di Non — a must-visit stop on any Northern Italy road trip.
The valley is centered around the massive Lago di Santa Giustina, a manmade lake created by a dam which helps to keep this agricultural valley watered and running. On the hillside shores of the lake, you'll find tiny villages interspersed amongst the fields of apple trees.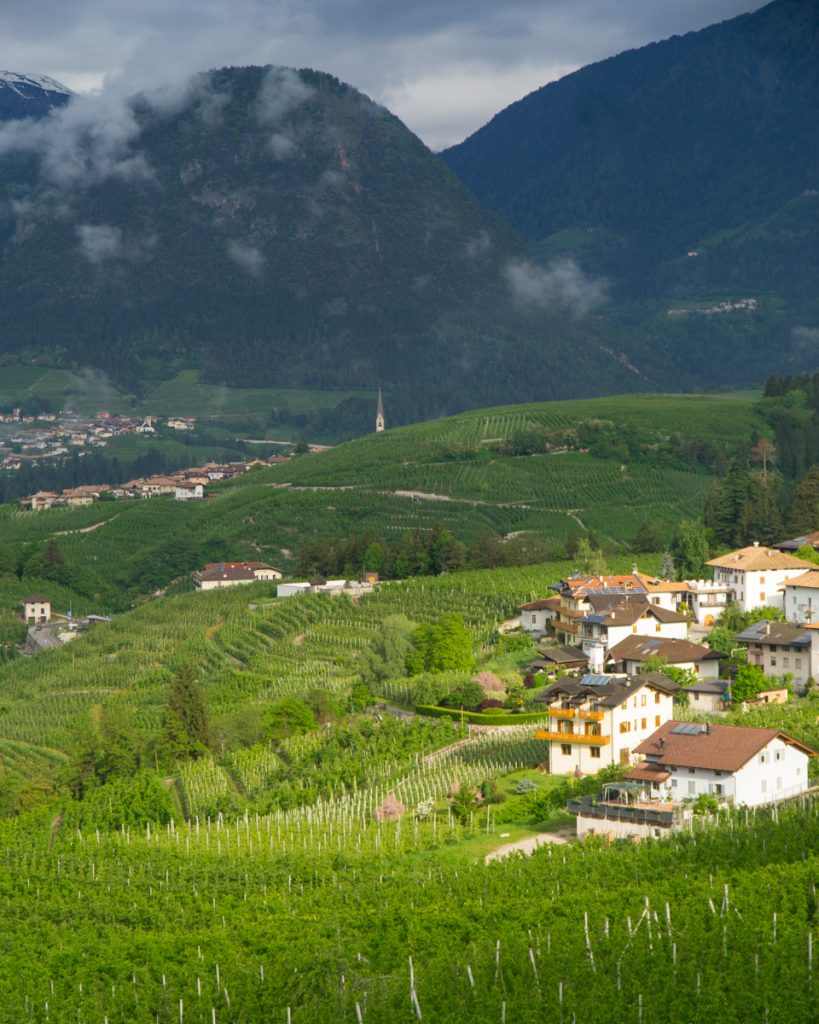 Note: This post contains affiliate links, which means I may receive a small commission if you purchase something through one of these links. Thank you for supporting the free content on this site! For more information on affiliate links and cookies, see my disclosure page for more details.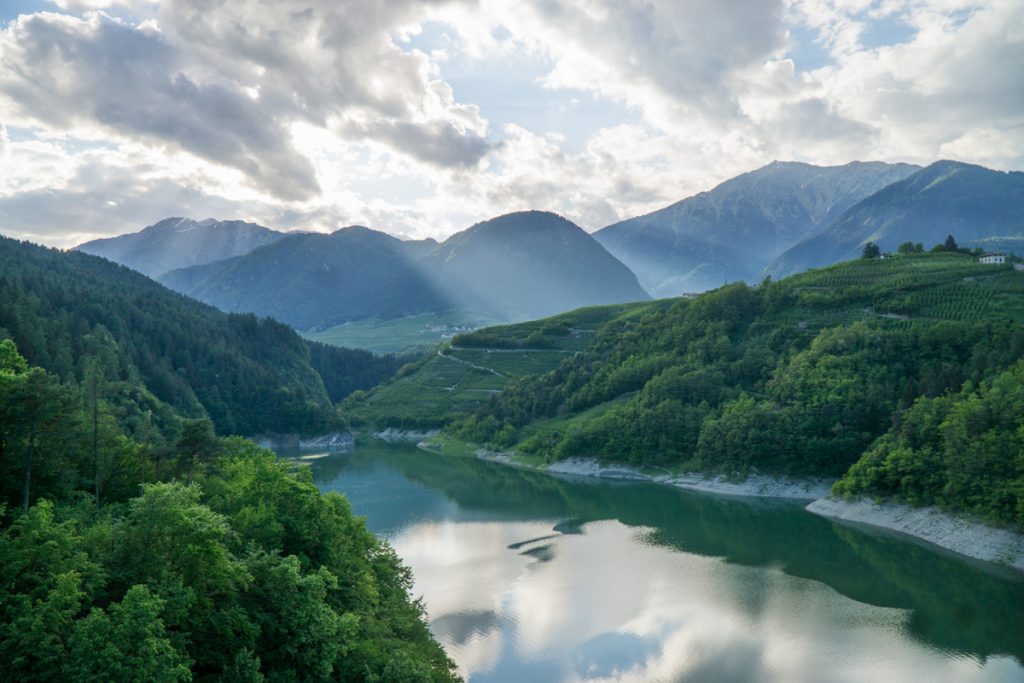 Having been to Italy four times now, this was the first time I had truly gotten off the beaten track of city after city and seen a more natural, rural side to Italian life. My grandmother grew up in a tiny village – Castagnole delle Lanze – in Piemonte before fleeing Italy in World War II. I visited her village when I was 12, after she had passed away, but beyond that brief afternoon visit I had never really gotten to see village life in Italy, nor how beautiful the countryside is.
Too often I think we associate Italy with its most famous cities – Rome, Florence, Milan, Bologna, Naples – without recognizing that the country stretches from South Tyrol to Lampedusa and covers terrain from the snowy peaks of the Dolomites to the rolling vineyards of Tuscany to the arid islands that lay just a stone's throw from Northern Africa. This visit reminded me just how much of Italy I have left to see.
It's heaven for castle lovers
The Val di Non region is home to the largest number of castles in Italy, a staggering 28 in such a small geographic area. While some of them are privately owned and therefore closed to tourists, others are able to be visited by the public. And all are easily admired from the roadside, such as this little gem I stumbled across while driving: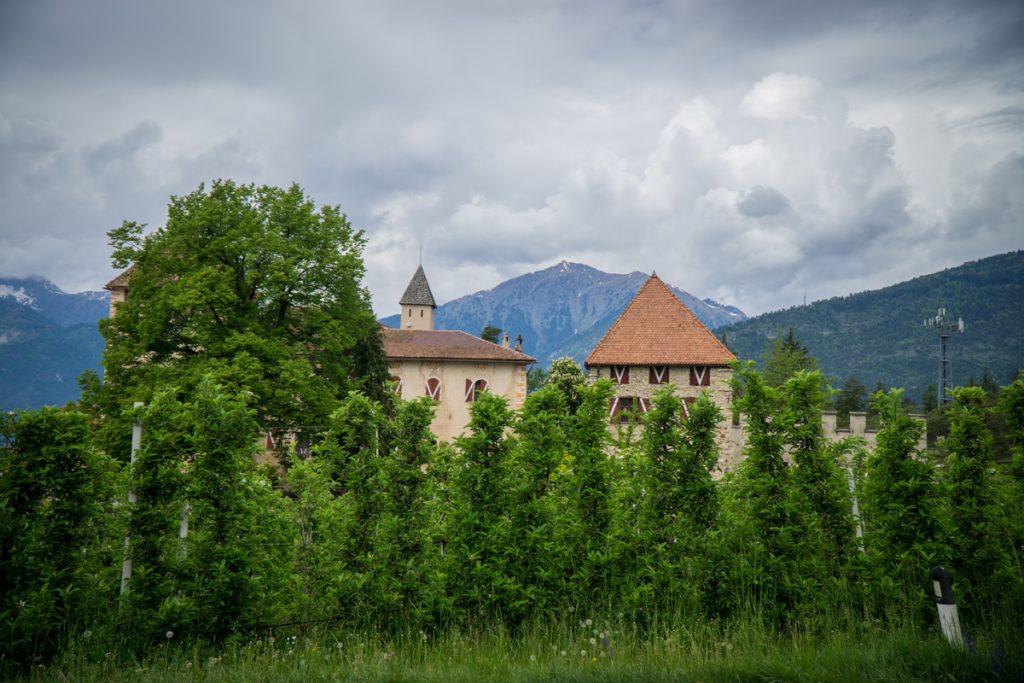 The two most important castles in the Val di Non are Castel Cles and Castel Thun. Castel Cles is particularly stunning, perched lakeside on a hill with lovely views of the valley and lake. The inside of the castle is closed to the public except during a few special events in the summer.
However, you can enjoy views of the castle from around the valley and especially from vantage points on Santa Giustina lake, best enjoyed by kayak.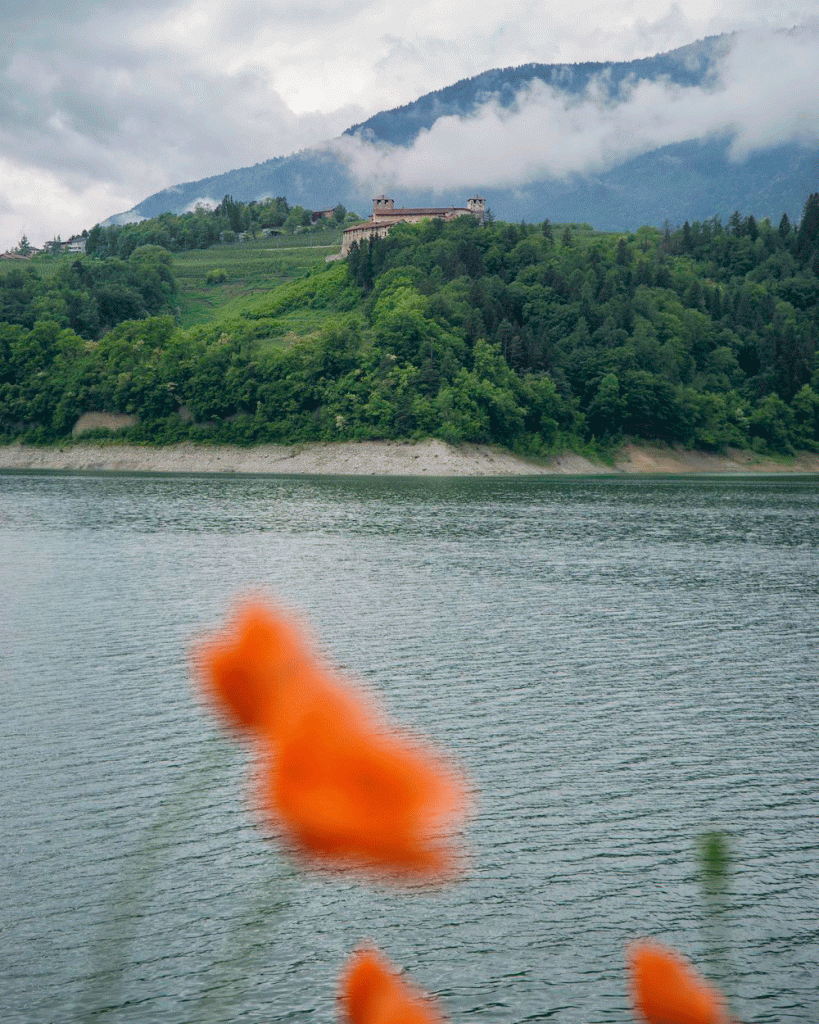 If just looking from afar isn't enough, you can also visit Castel Thun, which was built in the 12th century and is open to the public. You can also take the "Il Trenino dei Castelli" (the Castle Route Train) which allows you to see four different castles, culminating in Castel Thun, in one day. It departs almost every Saturday from Trento during the peak season (mid-April to mid-September) – check here for dates and more information – and costs 62 euros for an adult, full-day ticket.
Slow food is king in Val di Non
In Val di Non (and Trentino in general), slow food isn't just a trend: it's a way of life. With centuries of agriculture in its past ongoing into the present day, food is an essential part of the day-to-day. From the many apples that the region produces to its traditional cheese and meats, real home-cooked food comes naturally to this part of Italy.
You can't miss traditional sausages, such as mortandela – not to be confused with Bologna's mortadella, this pork sausage is more akin to a salami, smoked and aged to perfection. Other traditional meats include speck (a lightly smoked, prosciutto-like cold cut), carne salada (salted, cured meat), and lardo (thinly sliced, buttery pork fat).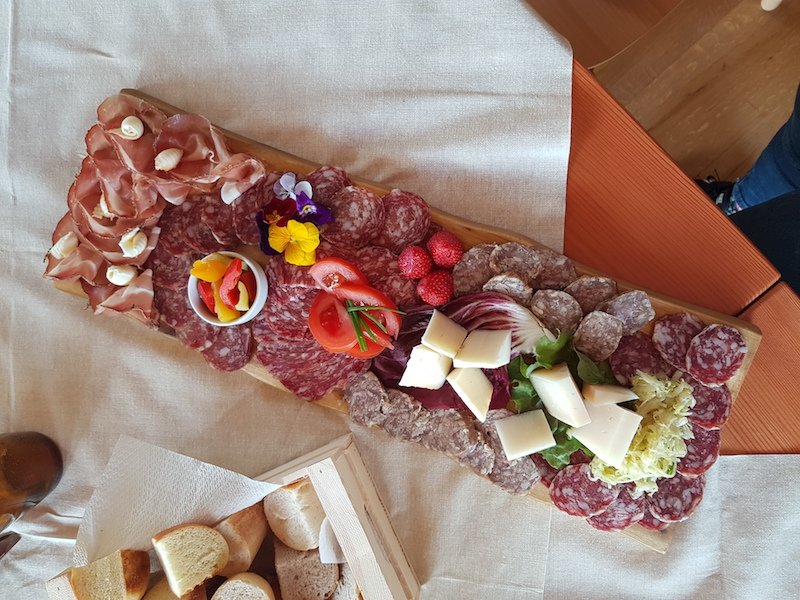 The most interesting meat I tried was ciuìga, a pork and beef salami made with a healthy portion of radish. This traditional Slow Food-certified sausage goes back to the time when meat was expensive and scarce, and farmers tried to stretch out the meat they could use by using diced, boiled radish to fill out the sausage.
Traditional handmade pasta is also an important part of Trentino cuisine. I had delicious homemade ravioli with fresh cheese and wild herbs one day and a perfect gnocchi with gorgonzola, walnuts, and radicchio the next (for research, obviously).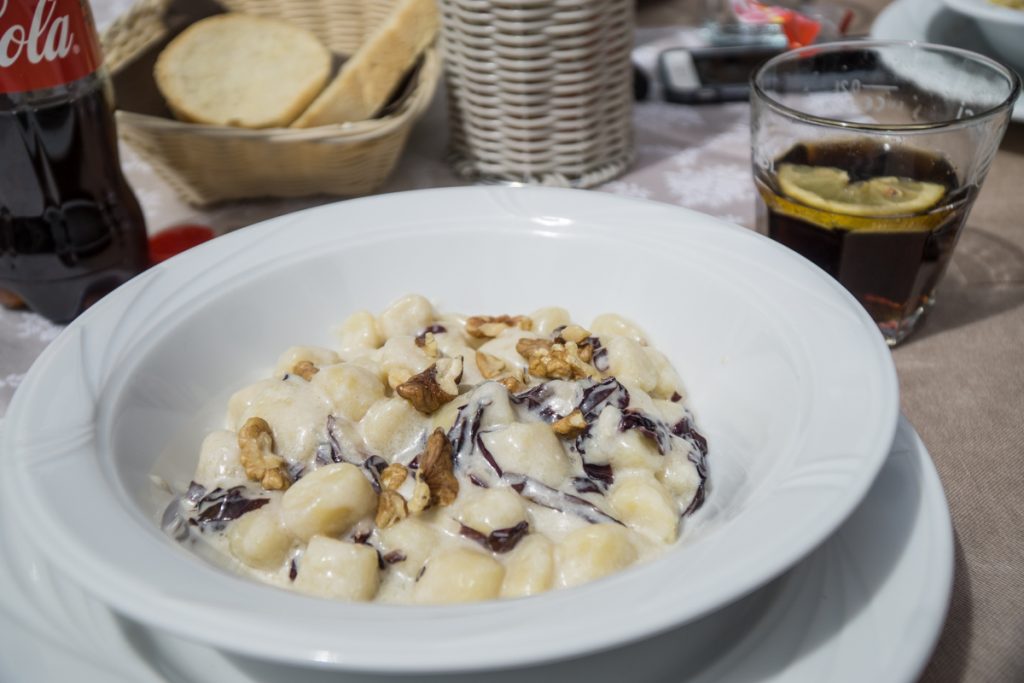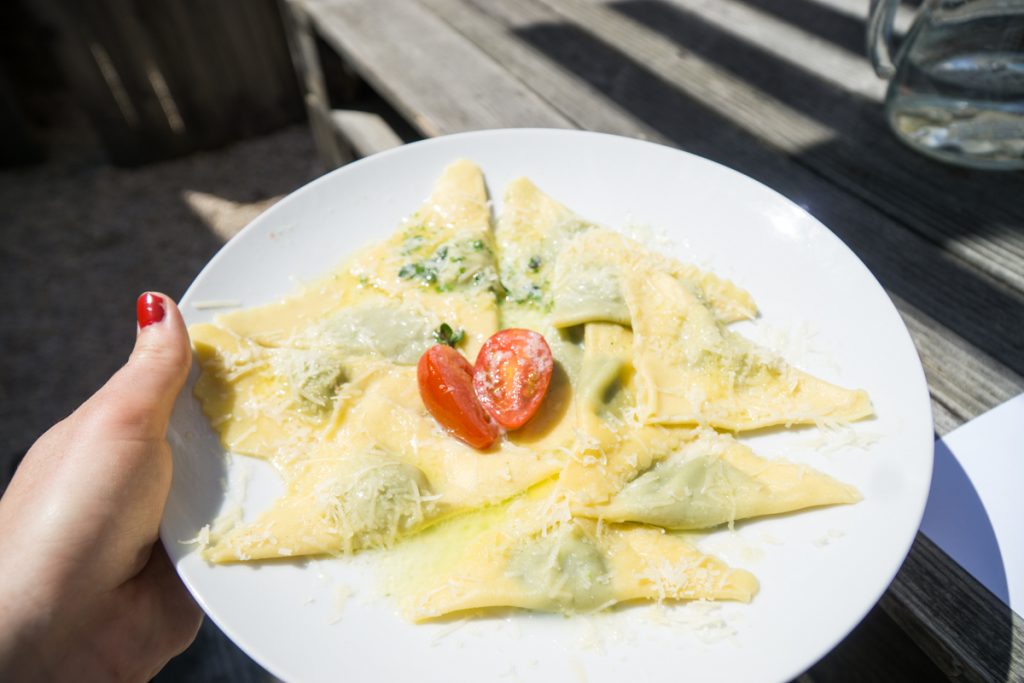 And don't even get me started on the pizza I had in Cles. I could rhapsodize about the perfect Italian pizza all day. Sorry, New York, you don't even come close.
If you're interested in slow food, you shouldn't miss Maso Plaz, a small agritourism farm and restaurant not far from the small village of Brez. The ravioli pictured above are from here, as well as this gorgeous asparagus salad made with asparagus picked from his garden that morning.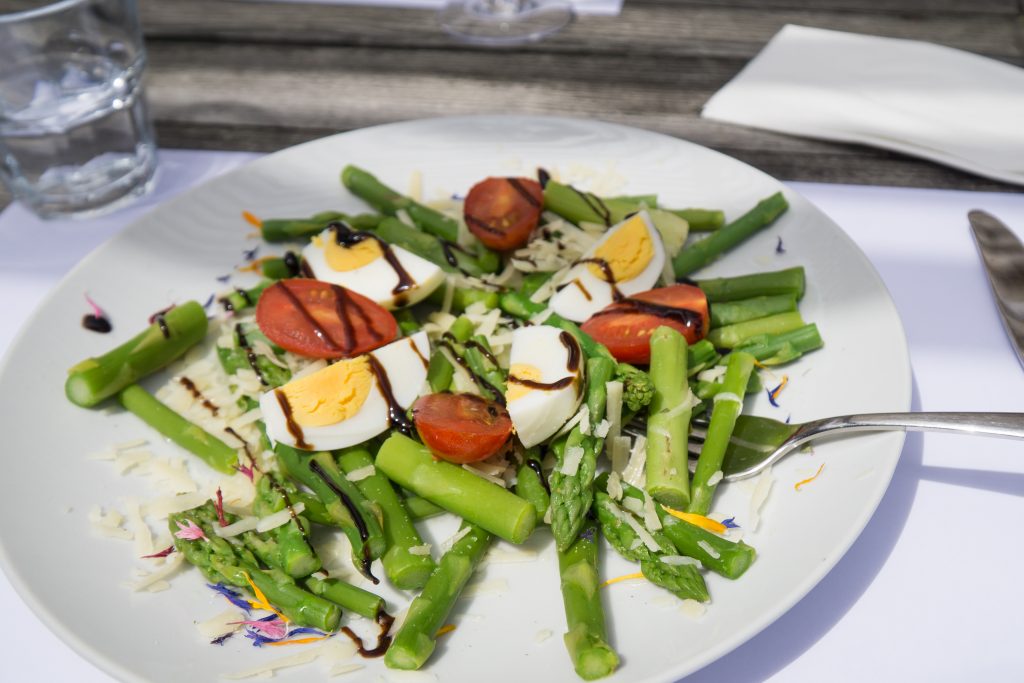 The Novella Canyon can't be missed
One of the most amazing features of the Val di Non area is the Novella Canyon, a stunning series of slot canyons that are best accessed via kayak. I went with Trentino Wild and loved the experience (even if my shoulders the next day most definitely did not — guys, kayaking is work).
We kayaked about 8 kilometers from our starting spot at Lago di San Giustina into the Novella Canyon, where we were lucky enough to access all 3 slot canyons (the water level varies during different times of the year and different weather conditions, so you can't always access the latter two canyons).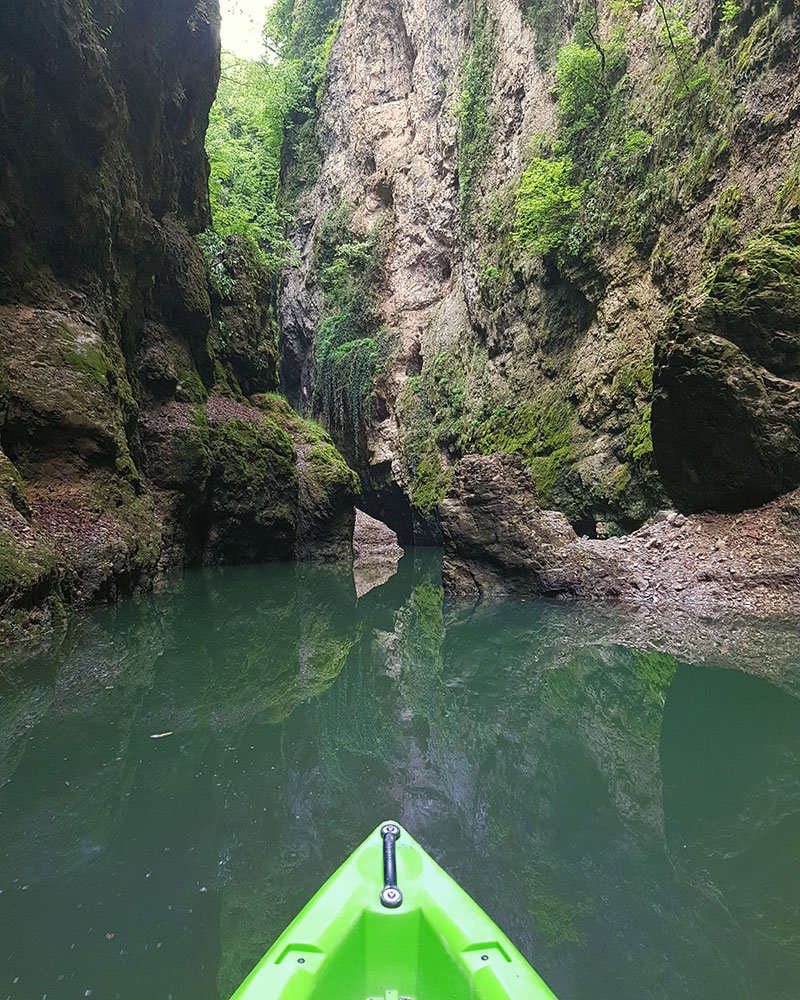 It was an incredible experience to kayak through the canyon, in between sheer rock reaching skywards hundreds of feet so that you could barely peep the sun through the crack. At times, the canyon was so narrow that the sunlight would barely be able to penetrate through the crack, and we'd be kayaking through near-black crevices in the rock. I kept thinking we'd have to turn back, that our kayaks wouldn't fit, but with the guidance of our instructor, we kept pushing through.
At times, water would trickle from the sky, not rain but rather tiny waterfalls falling from the canyon edges. Through the light, the streaks of rain looked like little shooting stars. It was beautiful — a truly can't-miss experience when in Val di Non.
If you'd rather experience the canyon from up high, you can also walk above the canyons on a series of suspended boardwalks – contact the Parco Fluviale Novella if that's more your speed than kayaking.
It's home to beautiful churches like the Sanctuary of San Remedio
Visiting the Sanctuary of San Remedio was one of the highlights of my stay in Val di Non and the perfect way to end my trip to Trentino. While I'm not a religious person, I make for up for my heathen ways with outsized admiration for religious structures of all faiths. The Sanctuary of San Remedio is a truly special place.
It's dedicated to the hermit Remedio, who was on his way to Trento when, as the story goes, his horse was torn to pieces by a bear. Supposedly, he then tamed the bear and rode it the rest of the way to Trento. You'll excuse me if I have a healthy dose of skepticism for this story, but what's indubitable is that the church is stunning.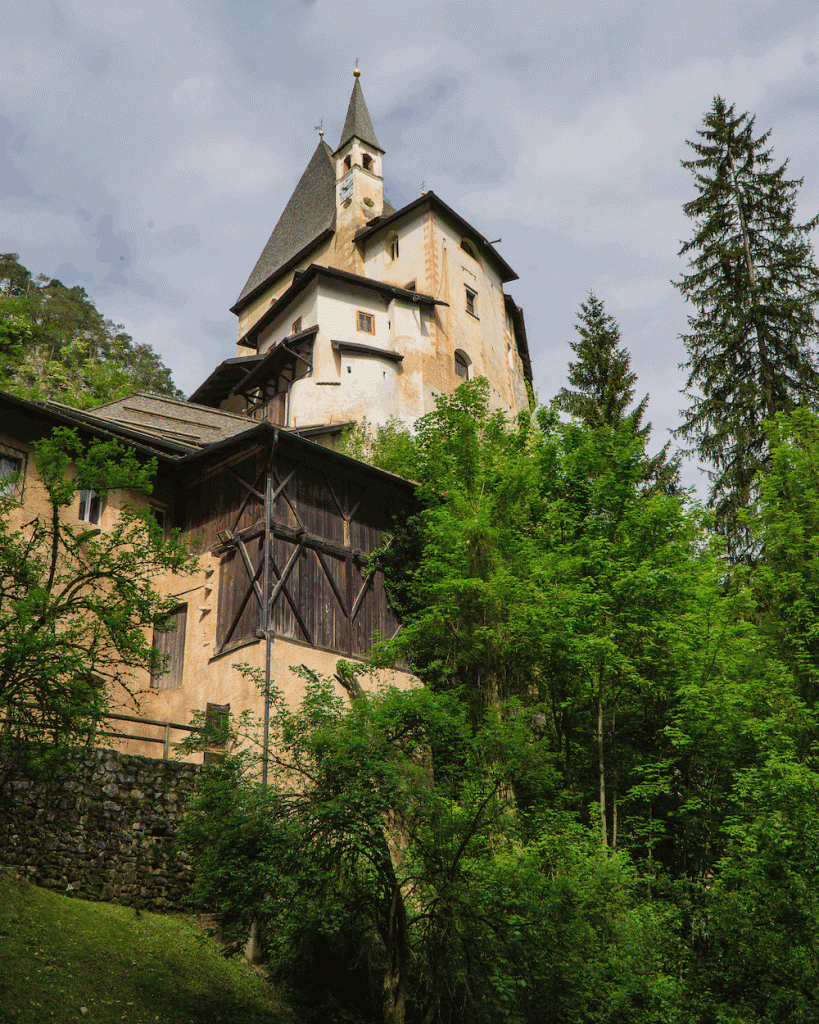 Built atop a 70-meter high rock cropping, the Sanctuary is composed of several churches and chapels on the rock connected by a steep staircase with over 100 steps. The Sanctuary blends in with the stunning landscape around it, and if you're quiet, you can hear the rushing water of the river and waterfalls below you, alongside the singing of birds.
Today, the Sanctuary is also home to a rehabilitated brown bear who was rescued from a private owner, nicknamed Bruno. He was sleeping or wandering about when I was there, so I wasn't able to snap a photo of him.
But in my opinion, the walk to and from the Sanctuary of San Remedio from the nearby village of Sanzeno is just as beautiful. Winding through the canyon underneath rock headings so low you have to bow to pass through, I at times felt transported to Zion National Park in Utah with the sheer limestone cliffs rising up through the valley.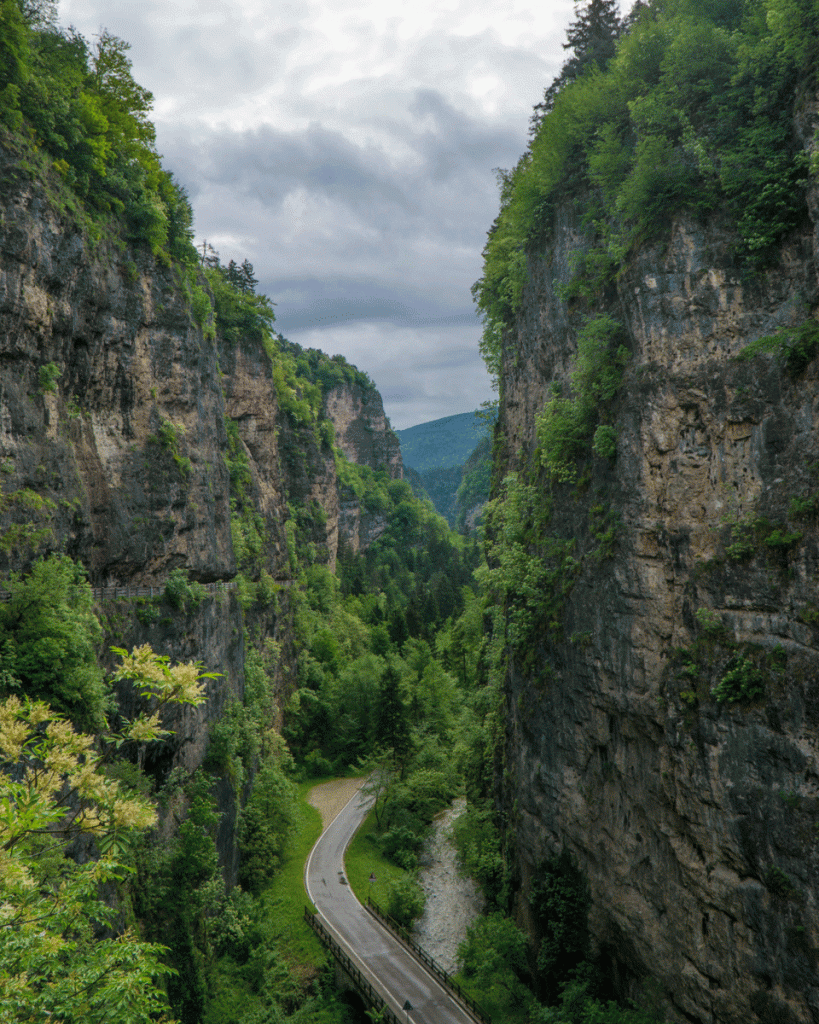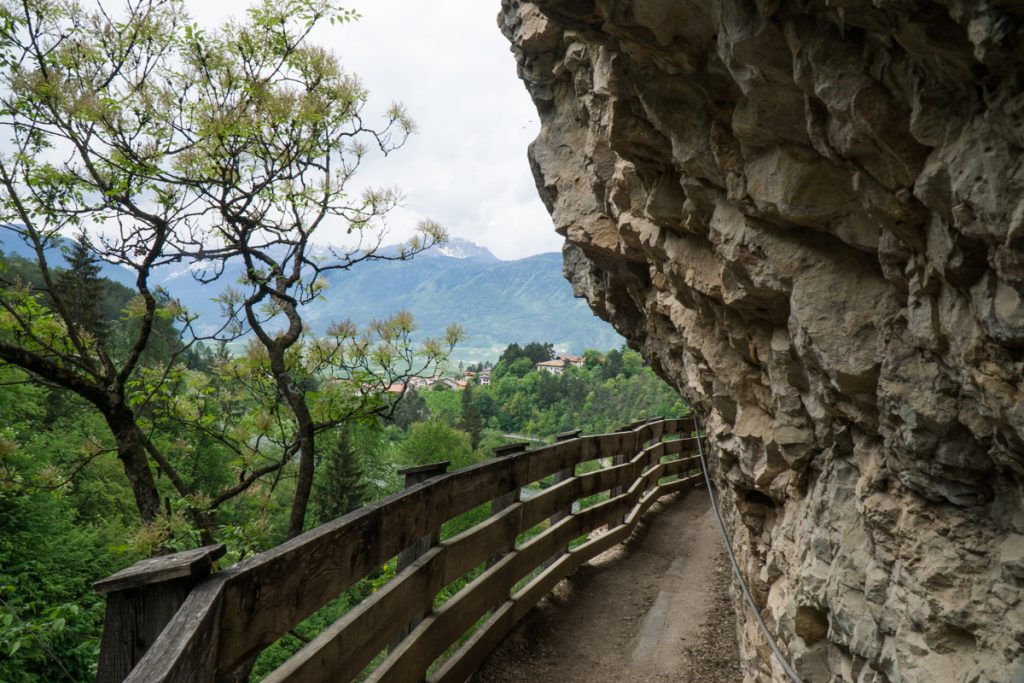 The walk isn't difficult, about 45 minutes on relatively flat terrain, so it's suitable for people of all ages, but you'll have to duck or bow down in portions of the walk, where the path is literally carved into the rock heading.
I highly recommend this way of getting to the Sanctuary – it makes getting there all the more special. Along the way, I saw a few handwritten prayers left alongside the path, as the Sanctuary is a place where local people and people making pilgrimages go to pray for miracles. Plus, you'll get to spot a waterfall!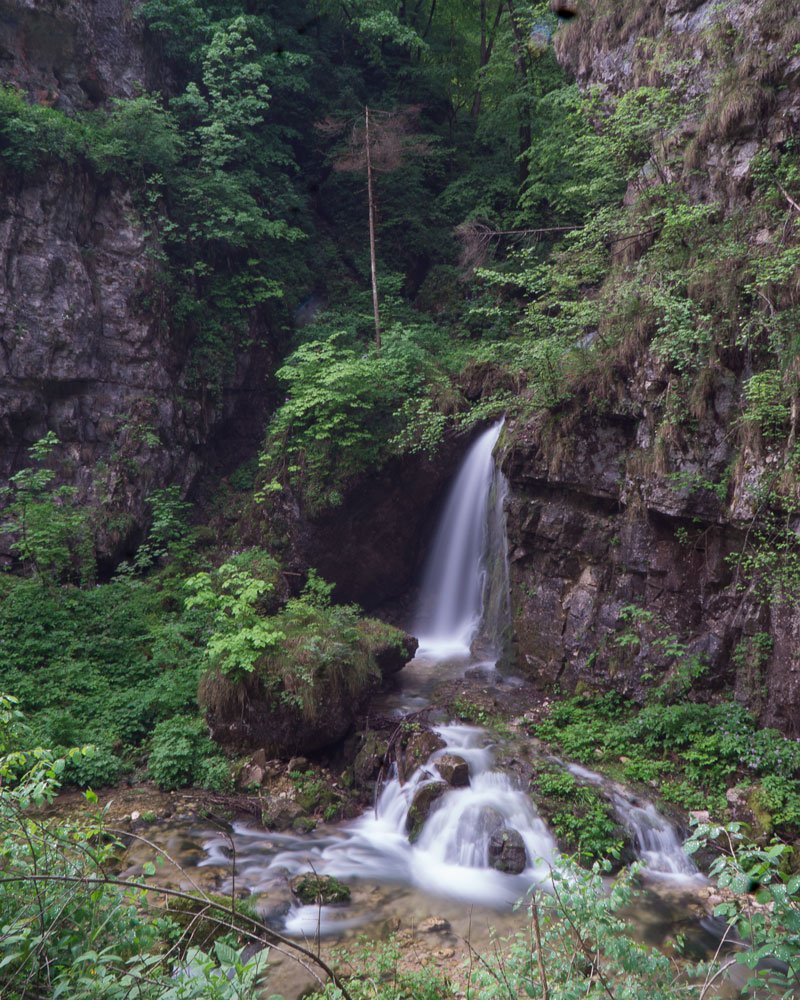 The Dolomites are never far from eye's view
While South Tyrol is home to many of the more famous stretches of the Dolomites, Trentino has the Brenta portion of the Dolomites, which are lovely and dusted with snow in the start of spring.
I'm a huge lover of being around the mountains. For me, it never lost its magic every time I caught a glimpse of the snow-capped peaks. I only had two days in the Val di Non, so I didn't have enough time to do some proper hiking in the Brenta Dolomites, but I loved the peep of them I got every time the clouds and fog cleared.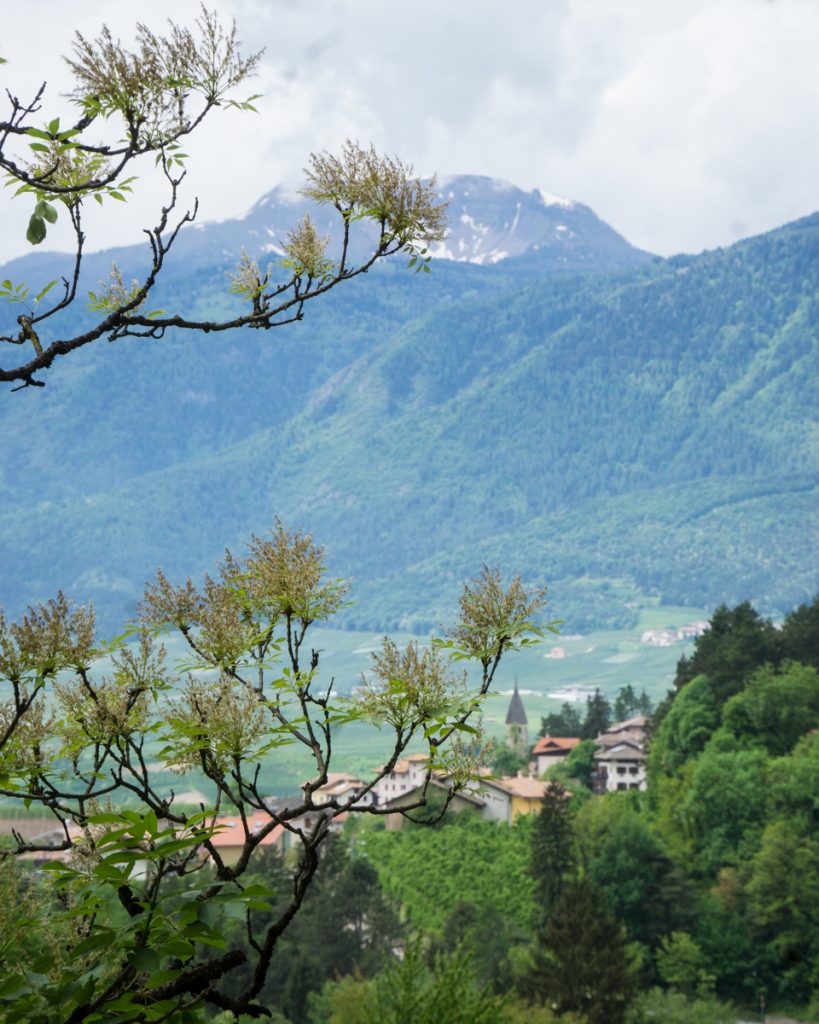 I'll definitely have to come back in summer or fall and hike the Dolomites sometime – those mountains are calling to me!
It's full of cute traditional towns and villages
You definitely won't find any big cities in Val di Non. In fact, the Non Valley's largest town is Cles, with a population of around 7,000 people. Despite its small size, after visiting smaller villages in Val di Non like Romallo and Cagnò, Cles feels positively bustling.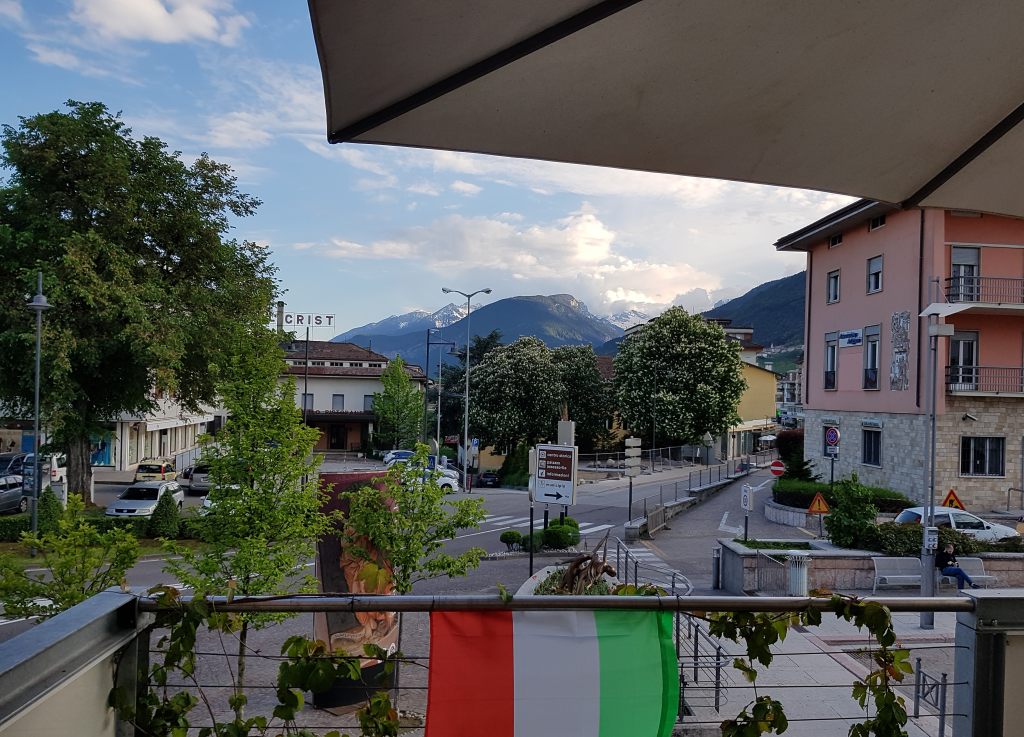 When in Cles, don't miss a meal at the delicious pizzeria Giardino, which was a staggering number of options for delicious, perfectly cooked Italian pizzas.
I chose one with local wild mushrooms called finferli, sausage, and a locally produced soft cheese called Casolet. Predictably, it was mindblowingly good.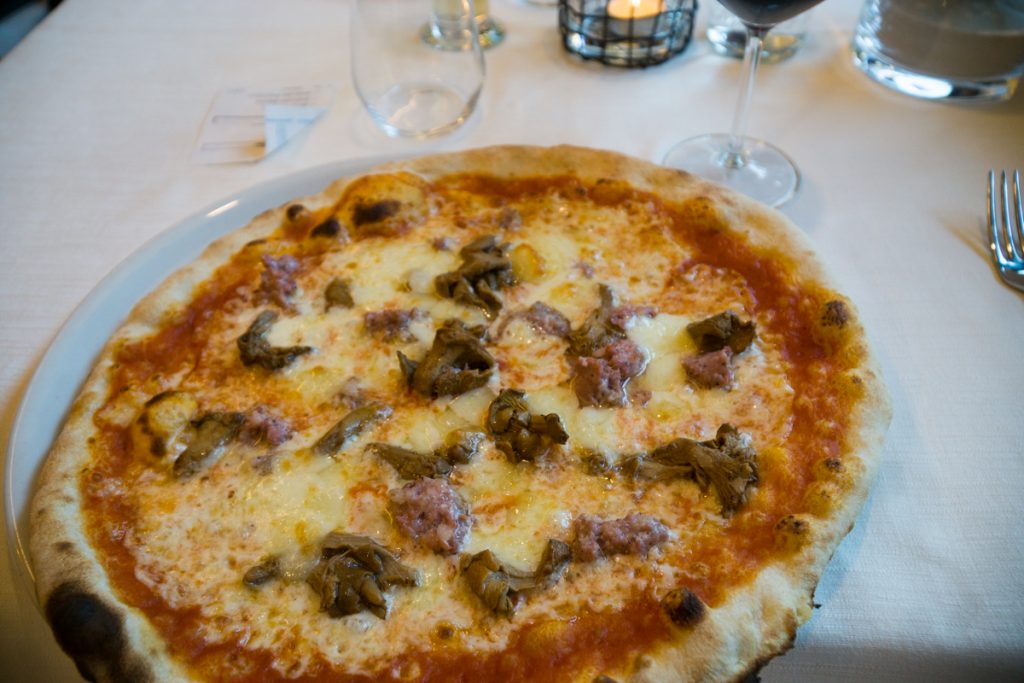 Spring in Val di Non is absolutely magical
If you can go to Val di Non at any time of year, I'd highly recommend spring. If possible, try to time your visit in order to see the elusive apple blossoms, which cover the valley in a "white snow" of another type for a few short weeks in spring.
Unfortunately, I missed most of the blossom season by just a week, due to an unusually warm winter, but when I went to a higher altitude there were still a few apple trees in blossom!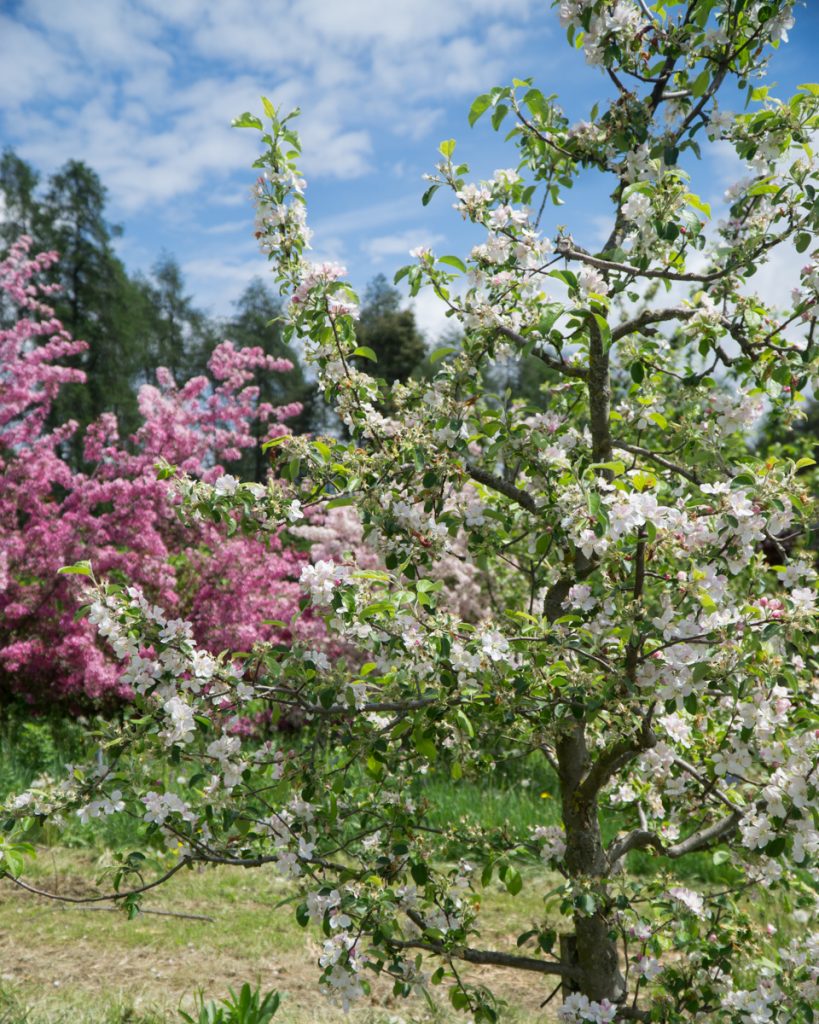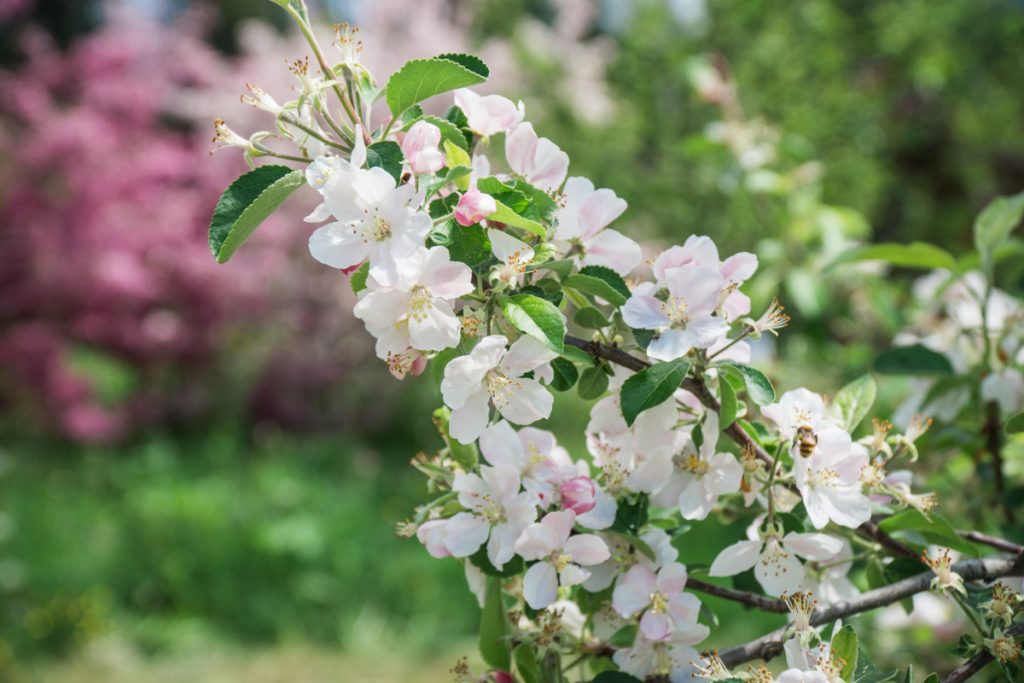 But apple trees aside, you'll also find tulips scattered at random – much unlike the neatly manicured rows of tulips you'll find in the Netherlands – and wildflowers in blues, whites, purples, yellows, and so much more.
I lost count of the different kinds of flowers, wild and otherwise, that I saw during my time in Trentino.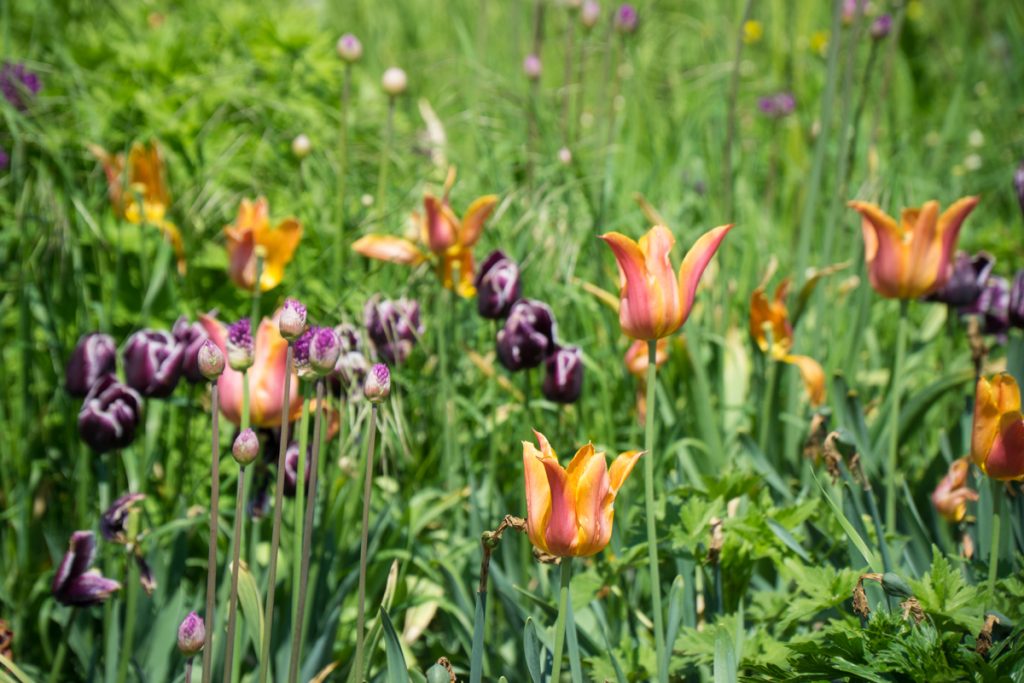 It's not that discovered… yet
Val di Non feels like the Goldilocks of off the beaten path travel in Italy. It's built up enough that there's no shortage of tourist infrastructure, such as hotels, restaurants, and tours to keep you busy, rested, and well fed during your stay. However, it's also quietly under the radar, so you won't be encountering too many other tourists, even if you visit during high season.
Trentino is popular with Italians and Germans, but the word of its beauty has yet to spread to the majority of travelers who visit Italy and make it the 5th most touristed destination in the world. If you're looking for some nature and beauty on your next trip to Italy, Trentino is only a short drive away from other popular tourist destinations like Bologna, Verona, and Venice. It's certainly worth your time to make a small detour to see the beauty for yourself — especially when you have so few people you'll have to share it with.
Have you heard of Trentino? Is it on your list for a future Italy trip?
Note: Thanks so much to Visit Trentino, who sponsored my trip to the Trentino region, and to Val di Non for showing me the beauty of this part of Italy. All opinions expressed and food babies conceived are strictly my own.
Allison Green is a former educator turned travel blogger. She holds a Masters in Teaching and a B.A. in English and Creative Writing. Her blog posts merge her educational background and her experience traveling to 70+ countries to encourage responsible, enriching travel. She has been a speaker at the World Travel Writers Conference and her writing, photography, and podcasting work has appeared in National Geographic, CNN Arabic, CBC Canada, and Forbes, amongst others. Now a full-time traveler, she has lived in Prague, Sofia, New York City, and the San Francisco Bay Area.