You could road trip America's Route 66, Australia's Great Ocean Road, or Iceland's Ring Road — but how about a truly special and off the beaten path road trip that explores some of the world's less commonly visited destinations?
I asked travel bloggers to contribute their favorite road trips around the world and they delivered some really far-flung gems spanning a whole bunch of continents. Check them out below.
Chile
By Lauren of The Traveller's Guide By #ljojlo
New on the road tripping scene is Chile! This long and skinny country makes it hard for even the most directionally challenged person to get lost, making it the perfect place to enjoy this type of travel. Over 4000km in length, deserts in the north, glaciers in the south, Chile has something for everyone!
However, the infrastructure is not available as it is in other countries if you want to campervan Chile. However, this did not stop us taking on this adventure. Having the freedom to park up anywhere, within reason of course, and enjoy the natural beauty that is Chile made this trip one to remember. We were fortunate enough to experience the Atacama Desert in the north, while also venturing as far south as the Lakes District before returning to Santiago, allowing us to get a real feel of Chile over our 18-day adventure. Here are our top 5 stops while road tripping Chile.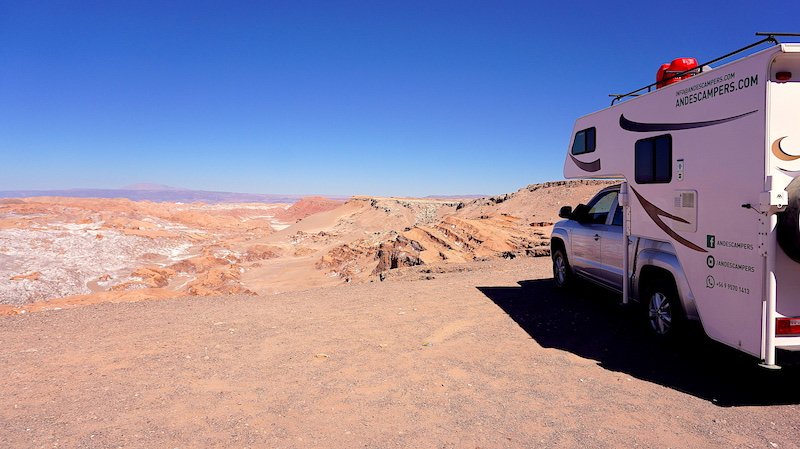 Note: This post contains affiliate links, which means I may receive a small commission if you purchase something through one of these links. Thank you for supporting the free content on this site! For more information on affiliate links and cookies, see my disclosure page for more details.

 
 Situated a hop skip and a jump outside of Chile's famous San Pedro de Atacama is the incredible landscape that is Valley Of The Moon. Unlike anything I have seen before this is a must stop because its beauty will take your breath away.
 San Pedro De Atacama – the town itself and the most tourist orientated place in Chile must be on your list even if you don't like tourist hot spots. Just arriving into this small town is interesting as bitumen roads turn to dirt as you enter the centre. I feel you go back in time by enjoying the mud hut infrastructure and the dirt roads.  Another stop that is like nothing I have seen before.
Termas Geometricas are by far the best hot springs I have ever visited. While expensive these hot springs are formed within the natural valley with beautiful red boardwalks allowing you to access over 17 pools with ranging temperatures. Indeed an afternoon I won't forget.
We were lucky to stumble upon a beautiful road in the North Coast that winded itself through the mountains of the Atacama Desert to the coast of Chile between the towns of Antofagasta and Taltal in the north. With contrasting environments meeting, this is a perfect place to experience on your road trip.
Staying in Lake Panguipulli overnight on the bank of this beautiful lake within the Lakes District was another remarkable experience. We could not get enough of the picturesque views and the stark difference to the Atacama Desert in the north.
Other honorable mentions must go to the La Portada Arch just north of Antofagasta, camping on the beach at Taltal, Santiago and its great free walking tours, Volcano Villarrica and of course Valparaiso for the incredible street art.
Karakoram Highway, Pakistan
By Joan of Against the Compass
What used to be part of the ancient Silk Road, which connected China with the Indian subcontinent, is now the Karakoram Highway. At 1,300km, it is the highest paved road in the world, over 4,600 meters high at Khunjerab Pass, the Pakistan-Chinese border. The Karakoram highway begins in Islamabad (the capital of Pakistan) and ends in Kashgar, Xinjiang province, China.
The Karakoram Highway is internationally famous for being one of the most scenic roads on Earth, as it literally goes through 7,000 & 8,000 meter peaks, which means that, even if you are not into hiking, you are able to enjoy some of the highest mountains in the world from the window of your car or hotel.
Both sections of the road (Pakistan and China) are incredibly beautiful but, if I had to choose one, I would definitely choose the Pakistani part. Why? Basically, because, on the Chinese part, there are an endless number of restrictions, as the road goes through a disputed territory and, in the best part of it, you can't even get out of the car. On the other hand, in Pakistan, you can do whatever you want and, most importantly, the road goes through the safest part of the country.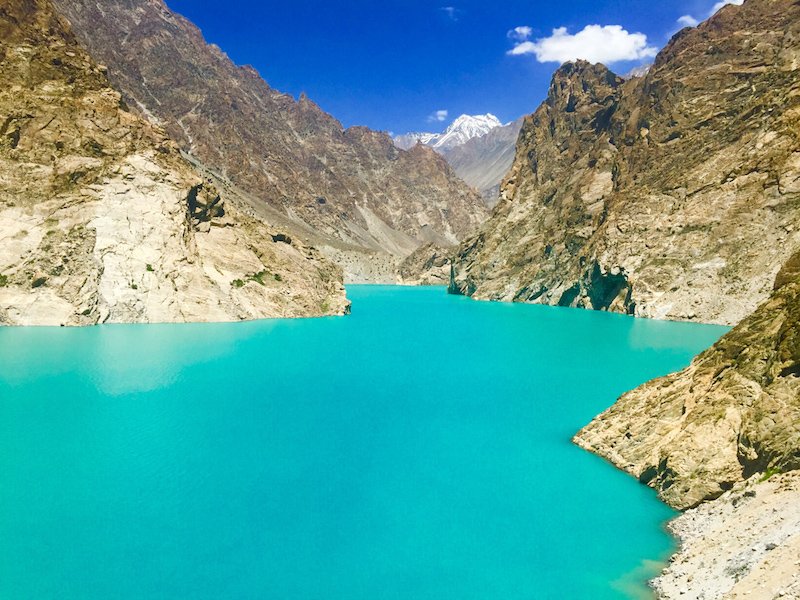 In my opinion, these are the 5 best places to stop. First, check out Gilgit .The capital of Gilgit-Baltistan, located 500km from Islamabad, is the gate to the most striking mountainous area in Pakistan and the perfect base to explore all the surrounding valleys, including Astore, Naltar, Ghizer and trekking to the Nanga Parbat Base Camp. 
 Minapin, a small village composed of 300 houses. This is actually where the trail to the Rakaposhi Base Camp starts, a 2-3 days' trek (Base Camp: 3,600m, Peak: 7,900m). Even if you are not into trekking, you can just spend a few days there, enjoying the mountains and collecting cherries from the multiple plantations. 
After that, check out Karimabad. The most touristic town in Pakistan, Karimabad is home to a UNESCO World Heritage fort and the best views of both Rakaposhi (7,900m) and Diran (7,266m) peaks.
Next up is Passu. Surrounded by arid, steep and sharp mountains, Passu is also home to the most dangerous walking bridge in the world. A perfect place from where to do day treks and visit the Batura glacier, one of the largest glaciers in the world, outside the polar regions, Alaska and Canada. 
Lastly, go to the Kunjerab Pass. Located at 4,600 meters, Khunjerab Pass is the highest border crossing in the world, to the extent that it has become a major tourist attraction, which you can visit even if you have no intention of entering China.
Mongol Rally
By Alice of Teacake Travels
If you're a) crazy b) a daredevil and c) up for pretty much anything happening to you…then you need to do The Mongol Rally. Run every year by The Adventurists, your mission, if you choose to accept it, is to drive from the UK to Mongolia. The thing is, there's no support, no backup and no set route.
You can do it on a motorbike or in a car, but the engine must be 1.2L or less! Me and 4 other brave girls made our way to Mongolia via the southern route in a hardy Toyota Yaris and had a blast! It was incredibly challenging but we made it to the end; triumphant, exasperated and forever changed.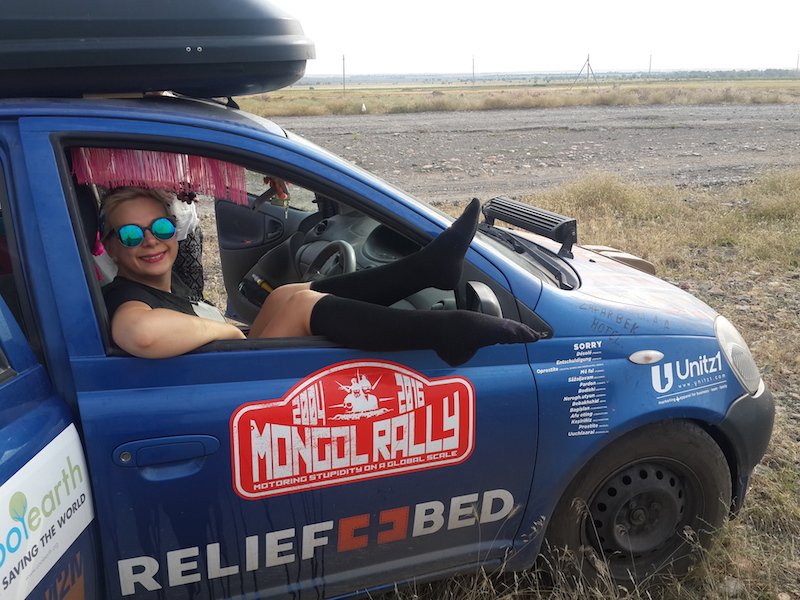 If you choose to go down rather than up, I highly recommend going through Montenegro, Macedonia, Turkey, Georgia, Iran, Turkmenistan, Uzbekistan and finishing up in Russia after Mongolia.
A word of warning which needs to be taken seriously: there is a time limit set by The Adventurists for this trip, so if being in a car for very long hours to get to your next destination is not for you, don't do it. We wished we could have stayed in some countries longer, but we just didn't have time.
I want to go back and explore so much more of the stunning mosques in Uzbekistan. I want to go back to the mountains of Georgia and eat all their bread and cheese! Sleeping in a yurt in Mongolia and seeing millions of stars was priceless. Being gifted humungous melons by truck drivers in Kazakhstan is an experience very close to my heart.
And if you choose to drive back to the UK (we did!) then go back the Northern route and see Ukraine. It's an incredibly friendly, creative and fascinating country. We spent almost 3 weeks there and want to go back there to hang!
Good luck adventurer.
Armenia
By Nikki & Michelle of Cheeky Passports
Armenia may not be a popular destination when you're considering road trips, but it has surely been one of our favorites so far! Although visiting the country can be a little challenging, a road trip across Armenia provides the intrepid traveler with the opportunity to discover a very different and unique country which is still under-explored.
Our trip started off on the border between Georgia and Armenia, which we crossed in our 4×4 vehicle. After getting through border formalities, we made our way on the pot-holed roads to the Debed Canyon, the only road to take you from the north of the border to other parts of the country. The canyon itself is perfect culture lovers. It is packed with tiny villages, old churches and monasteries which you can stop at and explore.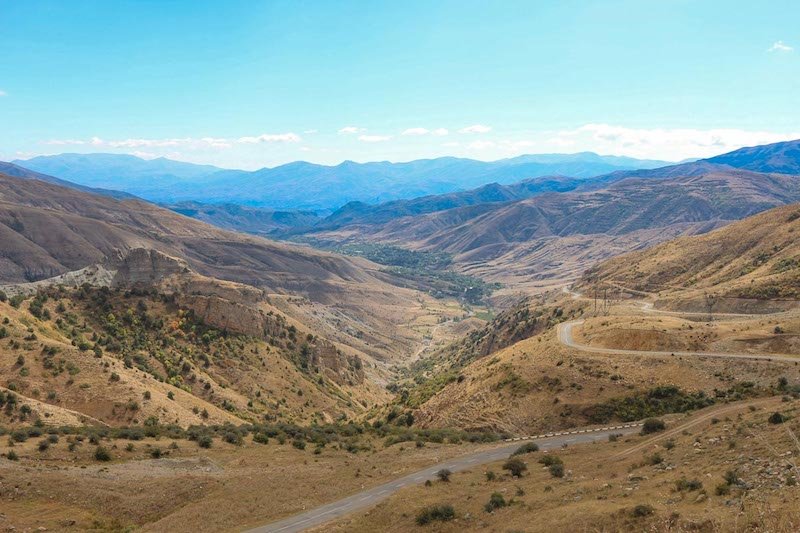 Our stop for the night was Dilijan, a resort town with a mild climate nestled in between the mountains and forests of North Armenia. The next day we made our way downwards towards Yerevan exploring the monasteries on the way. Indeed, we have never seen as many beautiful monasteries as we did in Armenia, many of them hidden away in remote locations on top of mountains or lost in vast canyons.
The road from Yerevan down to the south of Armenia towards Jermuk took us close to the border with Turkey and through the wine region of the country – Khor Virap Monastery and Noravank Monastery are the highlights here. The next day we drove further south across the Vorotan Pass and on to the town of Goris passing by Tatev Monastery and the mysterious archeological site of Zorats Karer (known as the Stonehenge of Armenia).
We used a different route to get back to the north of the country driving through the Vardenyats Pass where we stopped at the Orbelian's Caravanserai, the best preserved caravanserai in the country, and then on to the beautiful Lake Sevan where we visited the Noratus Cemetary and feasted on delicious lake fish in one of the many fish restaurants lining the lake shores.
If you're looking to drive in Armenia, be aware that livestock take priority over vehicles even on highways! A 4×4 vehicle is essential since the roads are in a bad state, but, if you're looking for an unforgettable adventure in Armenia, we highly recommend exploring the country by car!
Rajasthan
By Rishabh of Gypsy Couple
One of the most marketed tourist destinations in India, Rajasthan remains on the top of the list for tourists wanting to experience the best in Indian Hospitality. It helps that most of its destinations are well connected. However given the charm of the Rajasthan countryside, we would recommend a road trip as the best way to explore this Indian state. The ideal route would be to cover Jaipur – Mandawa –  Bikaner – Jaisalmer – Jodhpur – Kumbalgarh – Udaipur & back.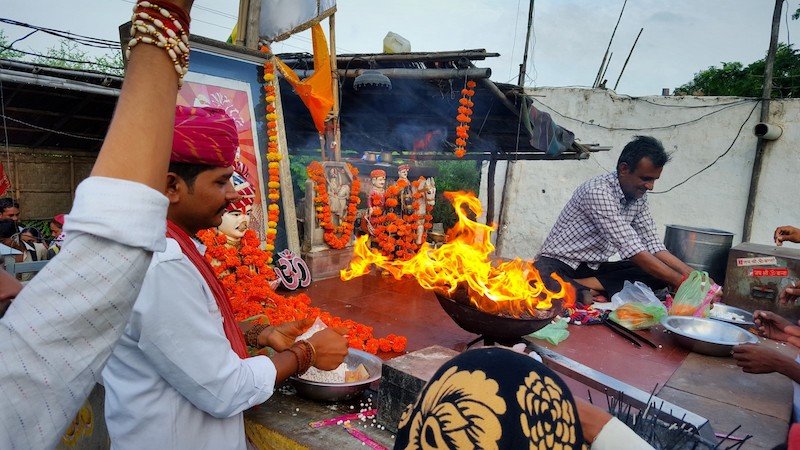 The main advantage of taking this route is that the drives are long enough to enjoy them and short enough to not be fatigued. Also, all the destinations mentioned have a rich history of their own and afford short trips to nearby locations for a complete cultural immersion. India is a country of Gods and Goddesses and on a road trip it is hard to miss the numerous temples on the road thronged by thousands of people a day. There are interesting stories for each one of them and it is a fascinating experience to sit in a local roadside restaurant (called dhabas) talking to the locals about their folklore over a cup of tea or a plate of sweet dish.
There are also monuments erected in the memory of a local hero or saint ( pir baba) who transcends religion and community biases and has followers who come to pay obeisance to them. However the most interesting part about road trips is the ruins. The region was previously divided into many small fiefs and kingdoms and the site of numerous wars. The remnants of the period include many palaces and forts, which have managed to find themselves in a dire state either as a result of the pre independence wars or because of the lack of upkeep post independence. All in all a ride through one of the most colorful states of India can be an explosion of taste, sight and experiences, one not easily replicated.
Philippines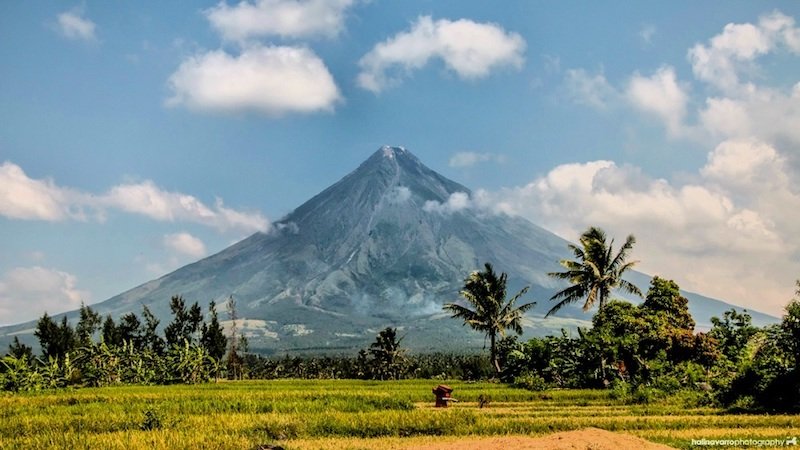 By Katherine of Tara Lets Anywhere
This road trip starts from the capital city of Manila to one of the best islands in the Visayas region down south.
The first pit stop is Albay, where you can see the perfect cone-shaped Mayon Volcano and Cagsawa Ruins and even go on a fun ATV ride along the gullies of the active volcano. Next stop is Sorsogon, an underrated sister province of Albay. Here you can go island hopping in Matnog and visit and swim on a marine sanctuary.
After Sorsogon, you need to cross your ride to the sea via a roro (roll on/roll off ferry) to reach Samar, where you can visit Biri Island. Biri Island has interesting rock formations and even natural lagoons. A few hours away from Samar is Kalanggaman Island, a recently discovered beach destination with a long sand bar. It's one of the most photographed locations in the country. You can stay overnight in Kalanggaman Island to beach bum and snorkel.
If you have more time, you can proceed to Sambawan Island in Biliran, which is just about 3 hours away. Sambawan Island is currently a secret gem and is highly recommended for those looking for a scenic place to stay, with its sapphire beach and diving spots.
This road trip will take at least a week to finish.
South Africa
By Ian of Escaping Expectation
If you follow me on Instagram, you know that I've become a bit obsessed with South Africa after visiting last year. One of the top attractions is the Garden Route, a popular and scenic stretch of the south-eastern coast of South Africa that stretches from Mossel Bay (4 hours from Cape Town) in the Western Cape to Port Elizabeth.
It's a great way to see everything South Africa has to offer: breath-taking vistas, sweeping beaches, lagoons and ocean views, lush forests, diverse vegetation, scenic hikes, and more adventure activities than you can imagine. The Mediterranean maritime climate means that you can visit any time of the year!
So hop in your rental car, set the GPS, roll down the windows, turn up the radio, and get ready to experience one of the best road trips in the world!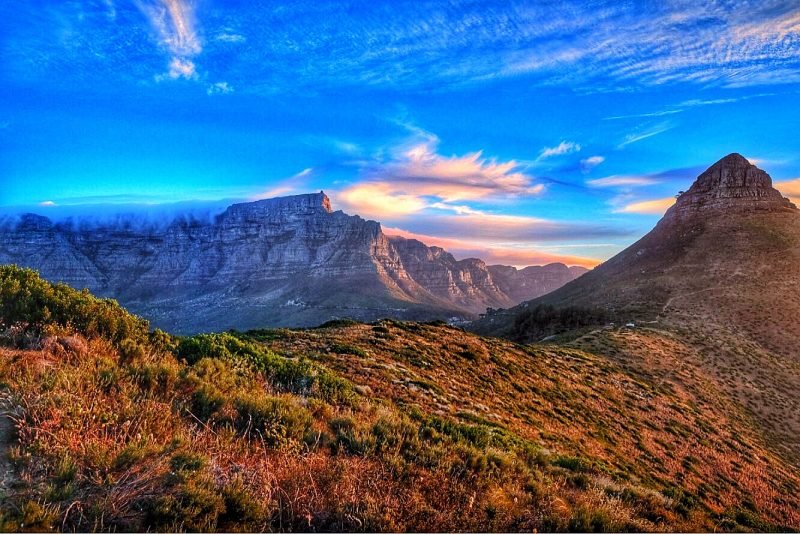 Mossel Bay, known as the Jewel of the Garden Route, the quickly growing cozy coastal destination is our first stop. It's referred to as the "do stuff" destination because it offers a great mix of adventure and family activities, culture, and local cuisine. And if you want to knock shark cage diving off your bucket list, this is the place to do it!
Next, go on to Wilderness: renowned for its hospitality, tranquil sea and beaches that stretch on forever, and its natural beauty. It's still got a rustic feel and is the perfect location for nature enthusiasts, water sport adventurers, and vista-seeking photographers. Wilderness is home to some of the best hikes on the Garden Route – the most popular is the Half-Collared and Brown Hooded Kingfisher trails.
After than, head on to Knysna. You can't miss the Knysna Heads – two huge sandstone cliffs guarding the mouth of the lagoon – one of the most striking geological features along the entire South African coast! They're also a great place to watch the sunset! Knysna is full of great up-and-coming restaurants… our favorite is Ille de Pain. Seafood lovers must try the world-renowned oysters… we recommend Sirocco.
Next up is Plettenberg Bay. Re-connect with nature here and visit nearby Tsitsikamma National Park, Monkeyland, or the Robben Nature Reserve. This is also where you'll find the highest commercial bridge bungee jump in the world – another bucket list item – book yours today through Face Adrenaline.
One of the last stops along the Garden Route is Jeffreys' Bay, home to the worlds perfect wave! This surfing town has become internationally renowned, with its never-ending summer, stunning beaches, picture-perfect shells, and laid-back lifestyle. The Billabong Surfing Festival takes place here every July. It goes without saying, but you need to take some surfing lessons while you're here! For those that prefer land – it's also known for its plentiful and beautiful seashells – collect some as souvenirs!
Allison Green is a former educator turned travel blogger. She holds a Masters in Teaching and a B.A. in English and Creative Writing. Her blog posts merge her educational background and her experience traveling to 60+ countries to encourage thoughtful travel experiences that both educate and entertain. She has been a speaker at the World Travel Writers Conference and her writing, photography, and podcasting work has appeared in National Geographic, CNN Arabic, CBC Canada, and Forbes, amongst others. Now based in the San Francisco Bay Area where she grew up, she has also lived in Prague, Sofia, and New York City.