Since moving to Nice, visiting Monaco has become one of my favorite weekend activities.
If you don't know much about the mini microstate that is Monaco, don't worry: this guide will tell you not only what you need to know, but the best things to see on a visit!
First, Monaco is not a city but rather a Mediterranean nation (yes, it's its very own country).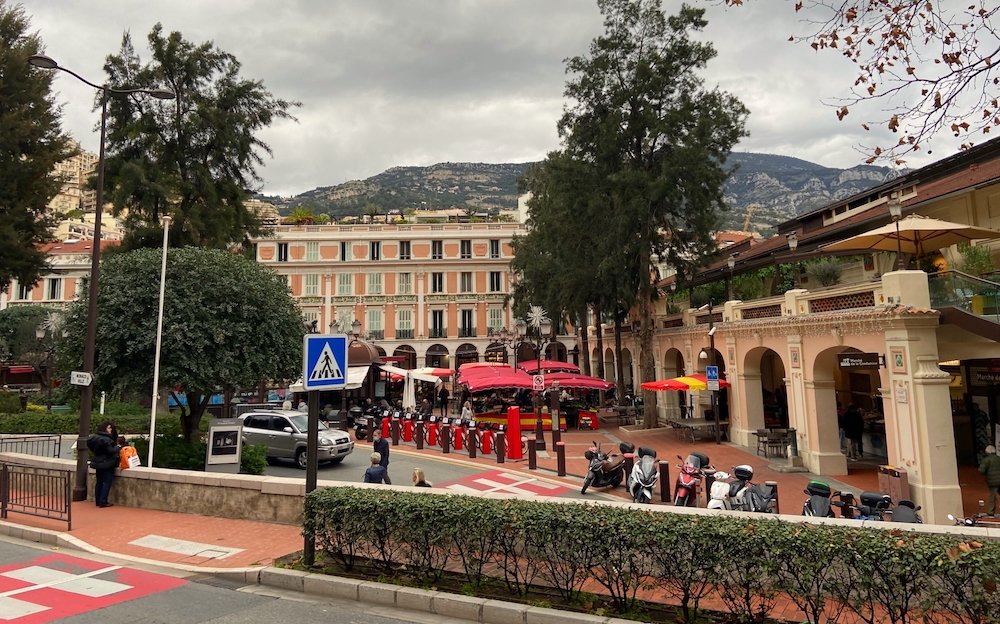 Note: This post contains affiliate links, which means I may receive a small commission if you purchase something through one of these links. Thank you for supporting the free content on this site! For more information on affiliate links and cookies, see my disclosure page for more details.
It's nestled right on the Southern French coastline, tucked between charming French coastal towns, with views of the Med on all sides.
Within only two square kilometers, Monaco packs a lot into its borders — you'd be surprised by how much there is to do there, and it's definitely worth a visit.
From a jaw-dropping palace to modern and fine art museums and of course, the most famous casino in the world, there's a lot of great places to visit in Monaco.
In this guide, we'll run through a few of the must-visit places in Monaco, a beautiful Mediterranean gem!
10 Best Places to Visit in Monaco
The Monte Carlo Casino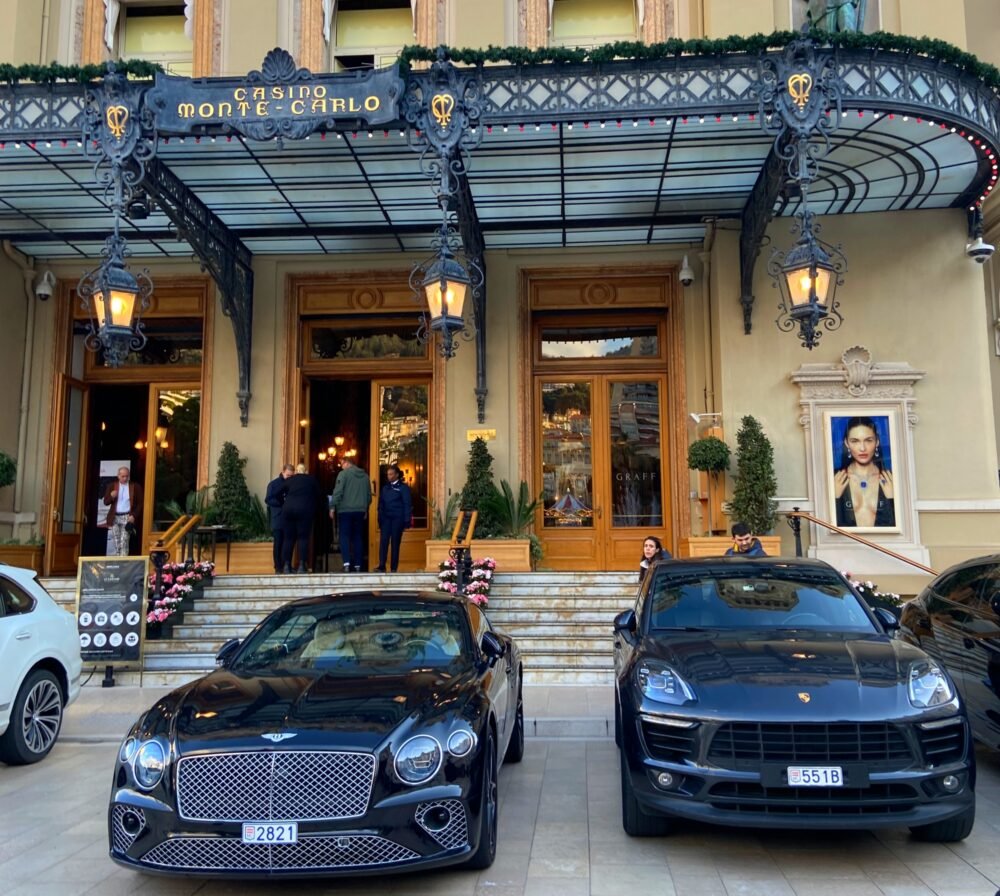 When it comes to old-world luxury and glamor, no destination surpasses the legendary Monte Carlo Casino.
For over 150 years, this majestic Monaco landmark has drawn in guests from around the world with its extravagant décor and mesmerizing atmosphere.
Hollywood may have tried capturing the grandeur of Monte Carlo on film, but let's be honest — nothing compares to being here in person!
The casino is definitely worth visiting for anyone wanting an unforgettable experience, only made better by the first-class service that will make you feel like royalty.
Oceanographic Museum of Monaco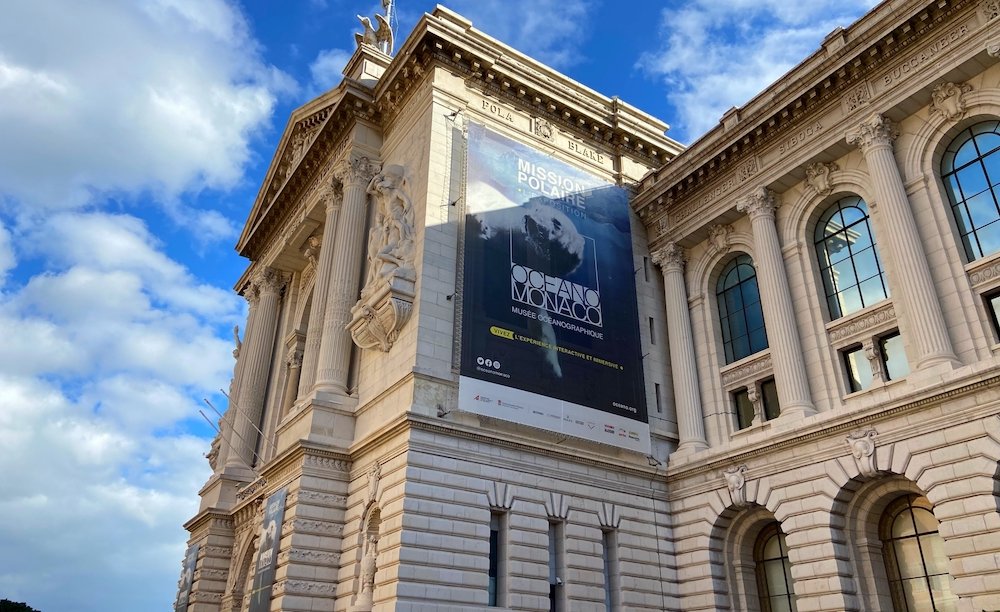 If you're interesting in marine life and the incredible creatures of the deep, you can't miss a visit to the stunning Oceanographic Museum of Monaco.
Perched on an impressive cliff edge with sweeping sea views, the majestic aquarium building is one of the most impressive you can find — it's simply a must-visit place in Monaco.
In fact, I find it more beautiful that the prince's palace!
Prince's Palace of Monaco
The Prince's Palace of Monaco is a must-see Monaco landmark for those wishing to get a better sense of the principality's culture.
After all, the history of the Grimaldis goes way back — they're one of the oldest royal families in all of Europe!
For something unique, the Changing of the Guard ceremony is also an event not to be missed!
Set your alarms because it takes place every day at 11:55 AM sharp.
The daily ceremony takes place front of the imposing gateway, offering visitors a unique insight into the Monegasque tradition.
Larvotto Beach
The lovely Larvotto Beach is Monaco's only public beach, offering a slice of the Mediterranean getaway experience that many visitors crave.
With its white sand and stunningly clear waters, it's the perfect spot to relax in the sun with family and friends.
The beach also features plenty of recreational activities and is surrounded by cute cafés and restaurants.
Exotic Garden of Monaco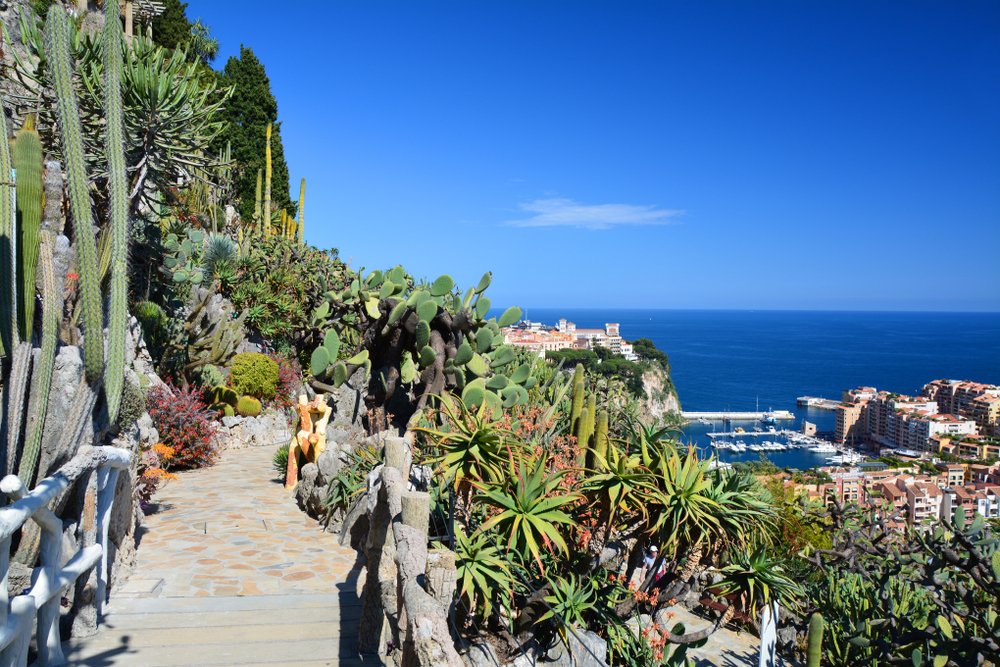 Looking for a tranquil oasis escape while visiting Monaco?
You may think a little garden oasis would be a hard ask in this tiny microstate, but not so!
Head to the Exotic Garden of Monaco, tucked away like a secret in the hills behind Monte Carlo.
This quiet and peaceful garden (open to the public) houses exotic plants, trees, and flowers from all over the world, not just this little patch of soil in the Southern Mediternannean!
You'll find plants from all around the world — we're talking everything from giant cacti from desert ecosystems to vibrantly colorful tropical bromeliads.
Wind your way through pathways flanked by palms and cypresses, or take a brief time out at one of the many peaceful lookout points.
Wherever you stop, you'll be rewarded with breathtaking views across Monaco's bay.
Princess Grace Rose Garden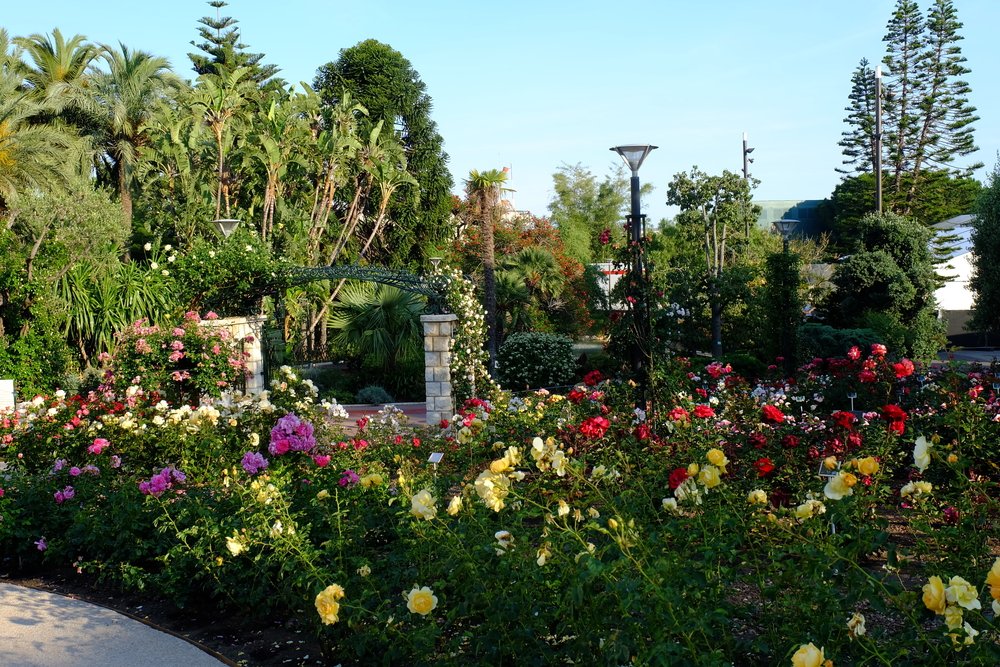 Nestled in the hills of Monaco, the Princess Grace Rose Garden is a spectacular outdoor space dedicated to the memory of the late Princess Grace.
It is said that she absolutely loved flowers and her husband, Prince Rainier III, created this beautiful garden in her honor.
It's home to a whopping 8,000+ different varieties of roses — talk about an homage!
This fragrant paradise also features several sculptures and a beautiful fountain – adding an extra touch of magic to this remarkable tribute.
Hercules Port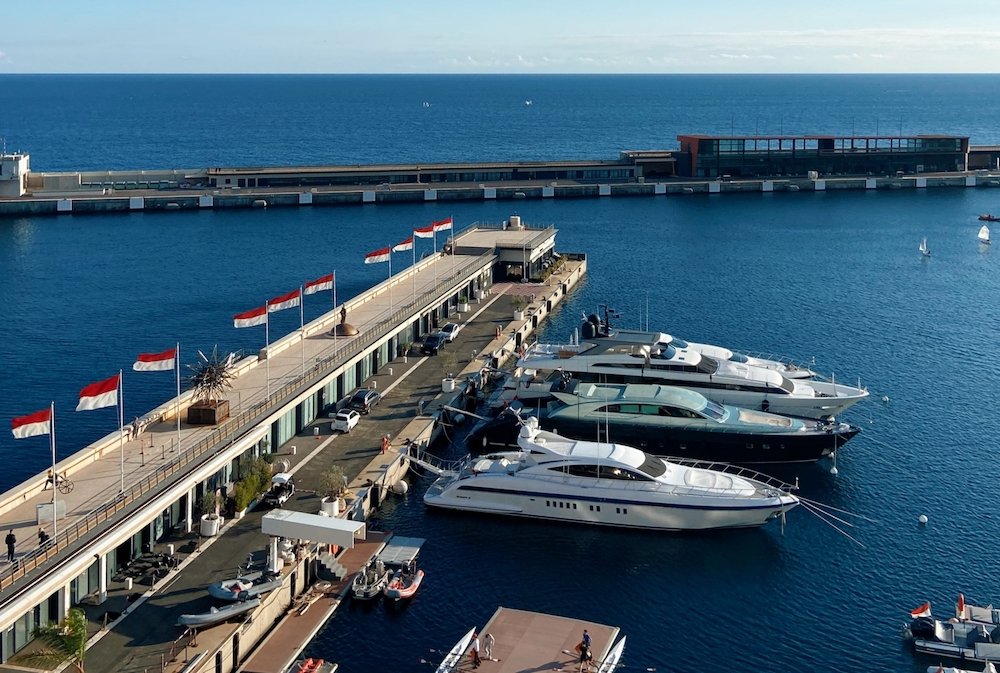 Hercules Port is the name of the bustling marina located in the heart of Monaco's seafront.
This picturesque harbor is where you will find the most luxurious yachts and boats.
When night falls, this area plays host to some of the most sophisticated parties on the French Riviera, which tend to happen on the boats… so don't hold your breath about scoring an invite!
Japanese Garden of Monaco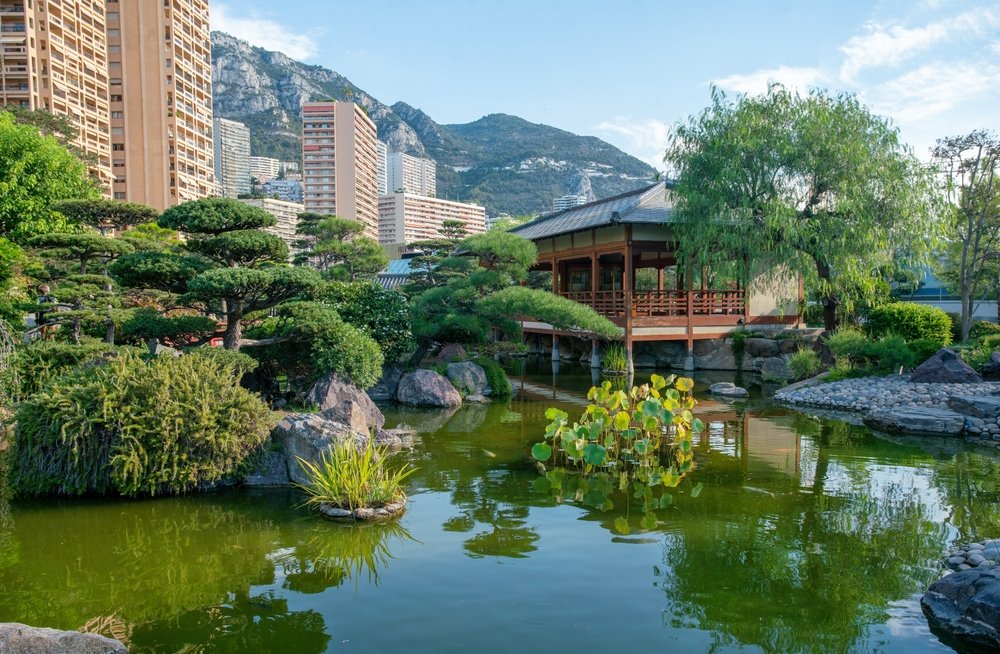 The Japanese Garden of Monaco is a peaceful and beautiful place to visit.
It comprises over 4 acres of carefully manicured lawns, ponds, and streams that have been designed in the traditional Japanese style.
How's that for a little slice of Zen right in the heart of the Mediterranean?
Saint Nicholas Cathedral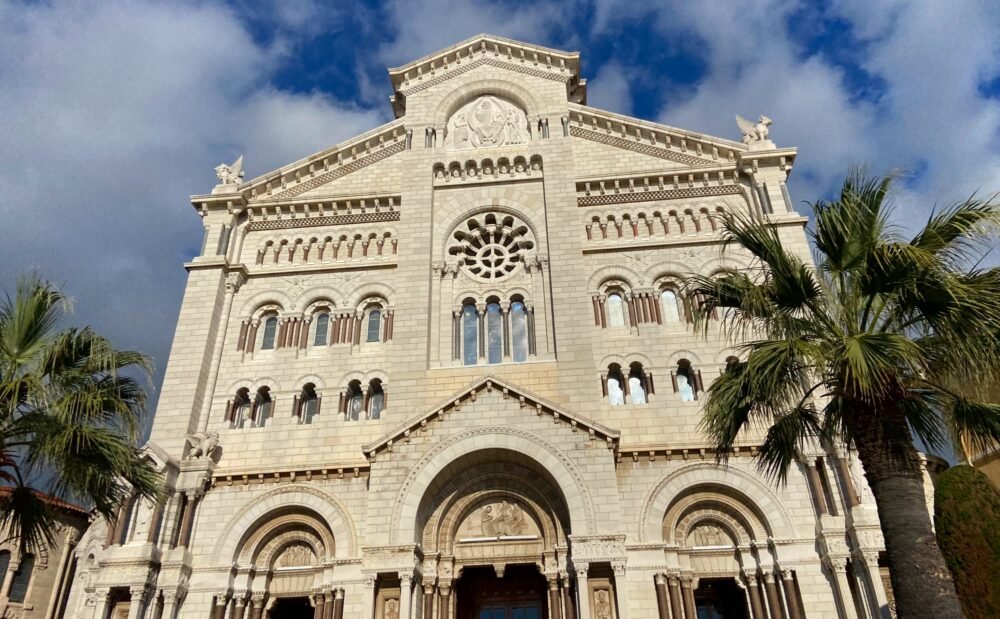 The historic Saint Nicholas Cathedral is one of Monaco's most iconic landmarks and is the burial place of many of the Grimaldi family members.
This imposing – and stunning!- the building was constructed in the 19th century and features a wildly ornate interior that includes stained glass windows, intricately carved marble columns, and impressive sculptures.
Fun fact: This is where Grace Kelly and Prince Rainier III got married back in 1956!
Old Town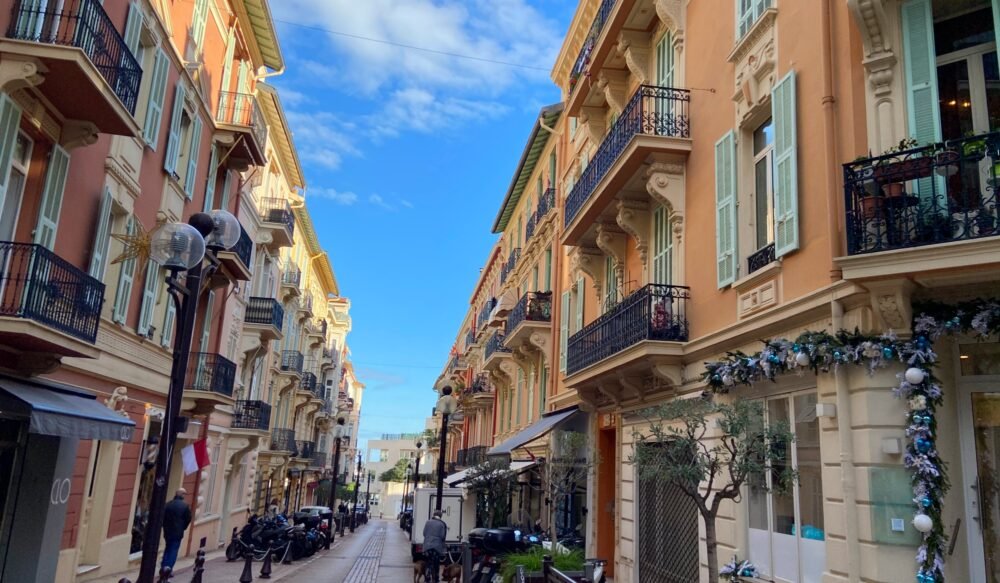 Monaco's Old Town is a charming part of town located near the church mentioned above.
This town center — a UNESCO World Heritage Site — is home to some of the country's oldest buildings which have been carefully preserved and restored.
Here, visitors can explore winding cobblestone streets, try local food, and buy souvenirs to remember their time in this microstate!

Best Time to Visit Monaco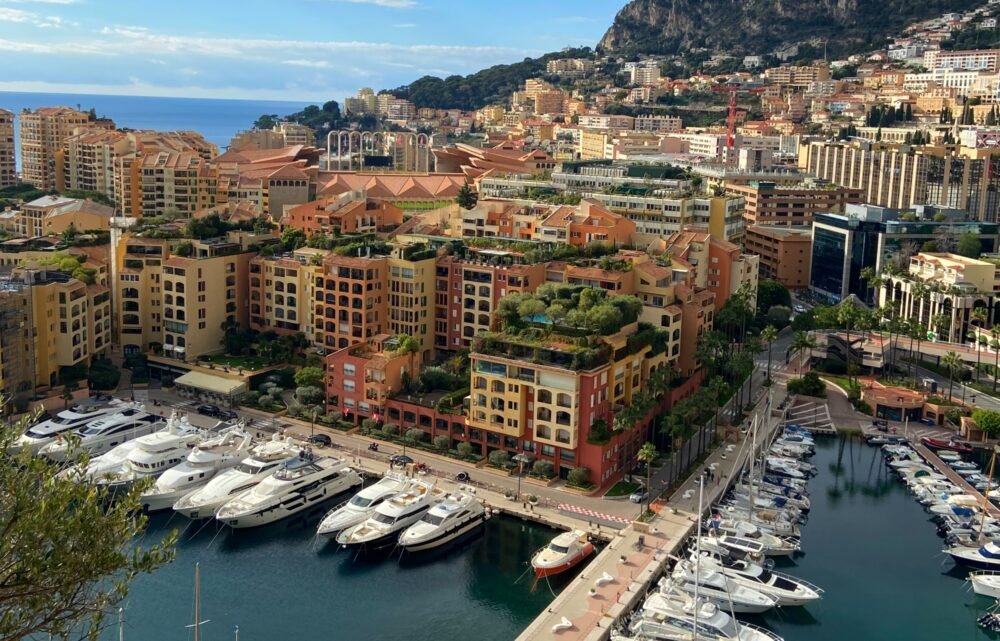 The best time to visit Monaco is during the months of April, May, September, and October when temperatures are pleasant and attractions remain open.
As with the French Riviera next door, the summer months of June, July, and August in Monaco can be busy and quite hot.
You can read more about the best times to visit Monaco here.
How to get to Monaco from Cannes or Nice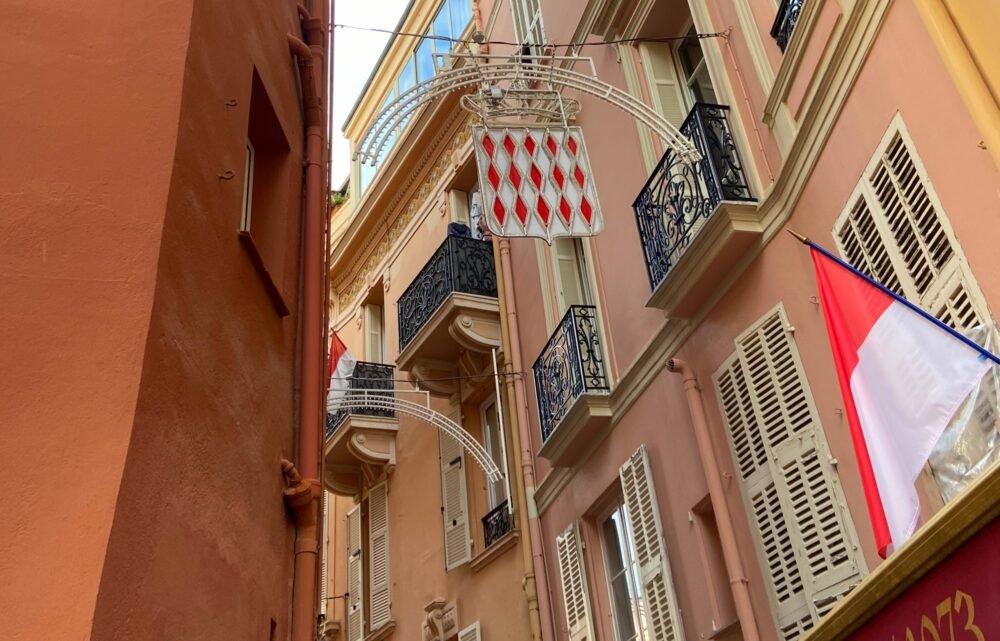 The best way of getting from Nice to Monaco – or even on a day trip from Cannes – is by taking the train.
The train system in this area is inexpensive, frequent, and fast!
A single-way ticket from Nice to Monaco will cost you only around 5 euros, and the journey usually takes about 30 minutes.
Alternately, there are also many tours and day trips that will take you to Monaco from Cannes or Nice.
These are great if you would like to explore further afield, as they often include stops at other nearby locations such as Eze Village and Saint Paul de Vence.
***
I hope these 10 places to visit in Monaco have given you a little boost of inspiration to start planning your visit to this often-overlooked microstate!
From the stunning beaches and chic boutiques of Monte Carlo to the tranquil gardens, old-world architecture, and cultural attractions in Monaco's Old Town – there's so much to discover.
About the Author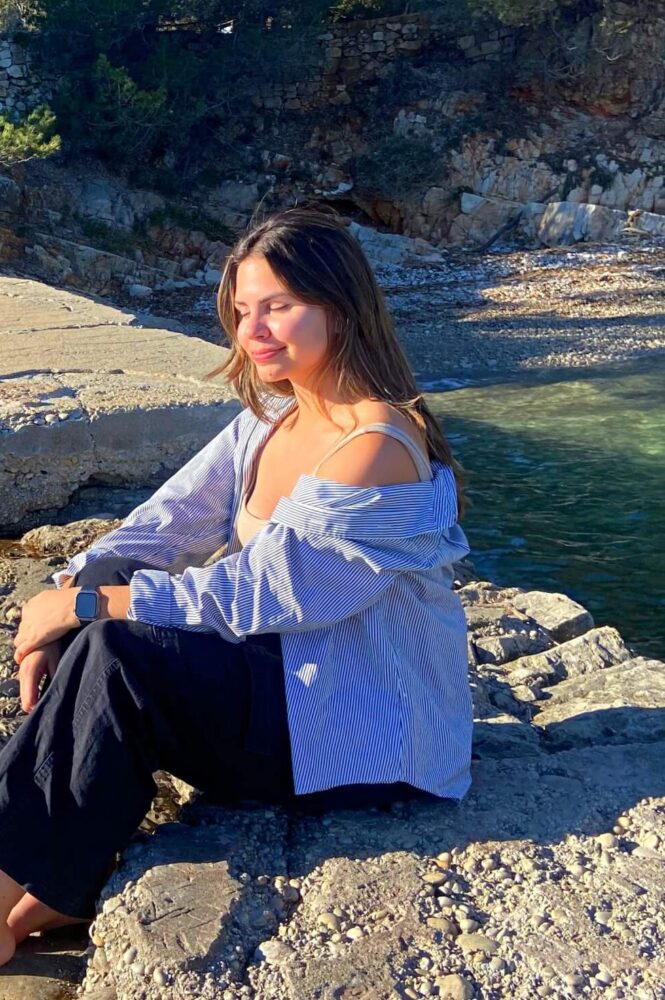 Camila Neves is a travel blogger based on the French Riviera. She spent her free time exploring all the beautiful places in the region and shares her findings in her blog Explore the Riviera (exploretheriviera.com)