Rugged and extreme in its vast beauty, Tofino is the jewel of a visit to Vancouver Island in Canada. This seaside Canadian village offers adventurous travelers an array of cool things to see and do in Tofino.
Tofino itself is only a small coastal village but is perfectly located adjacent to the stunning Pacific Rim National Park and the neighboring fishing village of Ucluelet.
The town center has sweeping views over the Clayoquot Sound and is the tip-off point for loads of adventures and sightseeing on both land and water.
Here are the most fabulous things to do in Tofino and its region, plus some practical tips on how to get to Tofino.
Go Black Bear Viewing in Clayoquot Sound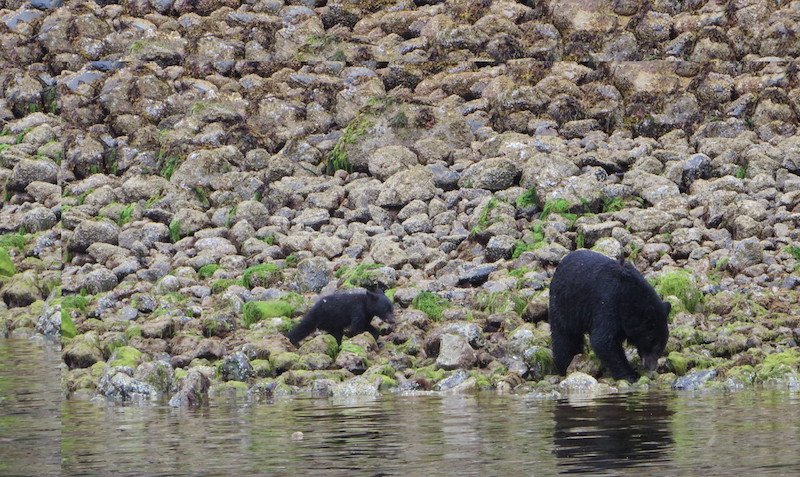 Note: This post contains affiliate links, which means I may receive a small commission if you purchase something through one of these links. Thank you for supporting the free content on this site! For more information on affiliate links and cookies, see my disclosure page for more details.
Our absolute favorite activity in Tofino was a zodiac boat tour to neighboring inlets to see black bears foraging on the shoreline for food. Donning a waterproof and super warm floatation suit (trust me you need this as the trip gets cold!), the group poses for photos before departure.
We then head out very early in the morning for an exhilarating fast boat ride to far-flung coves only reached by boat. The bears in the region are completely protected from human existence and we get to watch them safely and without interference from the water as they stroll around their protected beaches.
The scenery is so serene and untouched that simply visiting these environments is a profoundly cool experience. Being rainy and cold, even in July meant the bears were particularly active the morning we visited and we managed to find more than ten bears across different beaches including a couple of mother and cub pairings. We were even able to witness two young male cubs have a bit of a stand-off for territory.
In addition to the bears, these trips also give you a birds' eye view of other curious wildlife such as sea lions, seals, and marine birds. A truly memorable experience.
Go Kayaking on Clayoquot Sound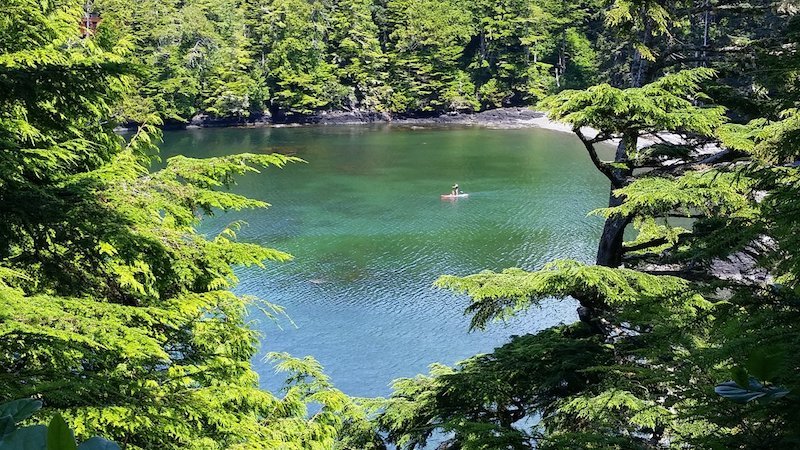 You will be hard-pressed to find a more tranquil experience than gliding along in a kayak on Clayoquot Sound. Amplify the experience by choosing a sunrise or sunset tour option to experience the sights with the orange sunlight glistening across the water.
Due to tidal conditions and strong currents operators require you to join an organized tour group for safety purposes but the benefit of this is that they know the most beautiful spots to take you. Kayak tours are readily available from many tour operators in town and can normally be booked on the same day or one day prior.
Go Hiking in Pacific Rim National Park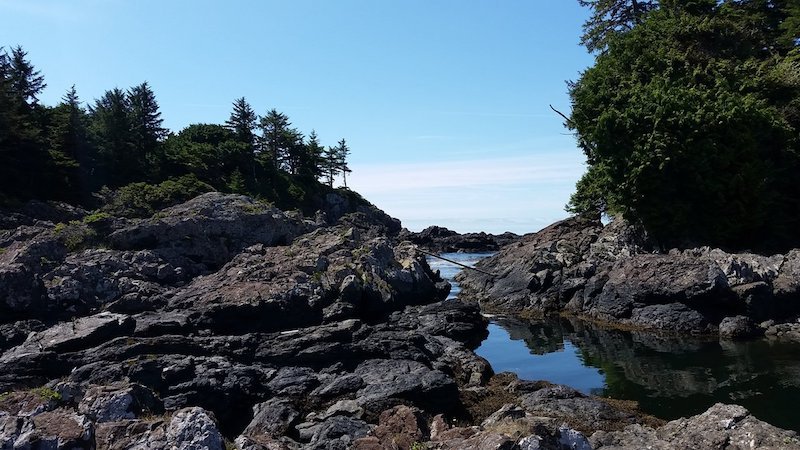 The Pacific Rim National Park is a rugged coastal environment that is a hikers' paradise. From flat rainforest boardwalks to cliff edge scenery, this reasonably small National Park packs in some highlights with epic hiking trails and scenic viewpoints at every turn.
It is recommended to allocate at least two to three days to enjoy the park in full and you will need to purchase a National Parks pass prior to visiting. You will then have free roam to explore some of the most gorgeous hiking trails you will find in Canada.
The hugely popular Wild Pacific Trail Lighthouse Loop starts out close to the town of Ucluelet and combines gorgeous rainforest trails, crashing ocean cliff views, and pretty beaches. This hike is an easy 2.6 km loop with only a few short climbs – nothing too strenuous.
Passing the Ucluelet lighthouse as well as many other memorable photo opportunities along the way means this walk is quite breathtaking. If the weather is warm take a short detour off the loop down to pretty terrace beach with its aqua waters beckoning you for a swim or paddle.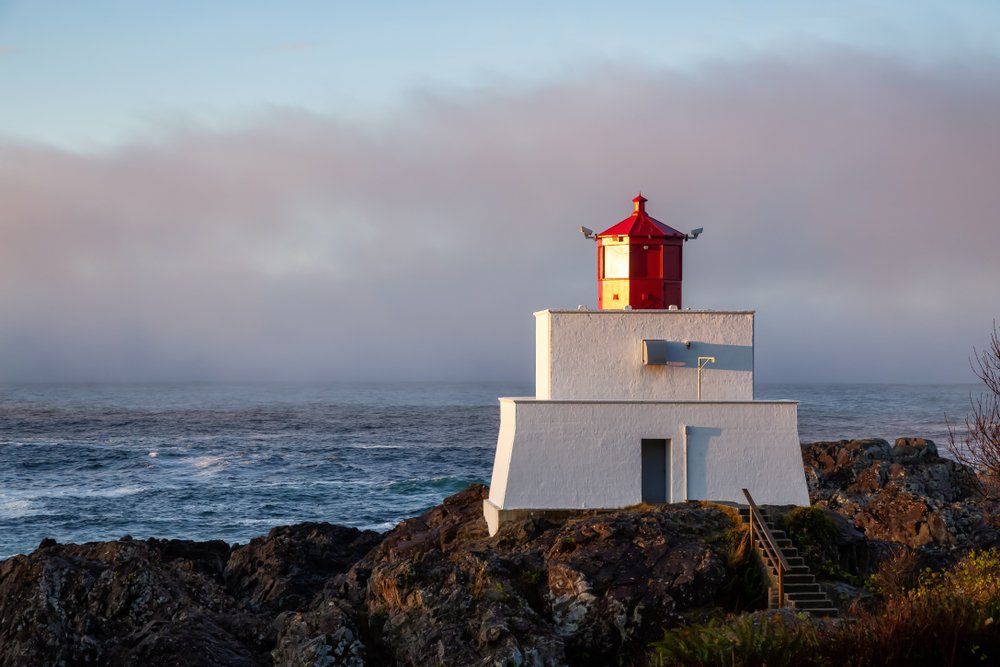 For those looking to complete the full Wild Pacific Trail, there is a 5-kilometer extension to the lighthouse loop that travels between Big Beach to Rocky Bluffs plus the 1 km loop at the Ancient Cedar Trail. Emerge yourself in the rainforest canopies to enjoy this iconic BC walk in full.
For those after a short scenic stroll, the Rainforest Trails extend either side of the Pacific Rim Highway give a great insight into the historic old-growth forests that dominate the landscape around Tofino. These hikes are perfect for those with less mobility or younger kids as the trails are boardwalks with handrails providing easy access into the rainforest. There are some fabulous giant trees and interesting plant and animal life to be spotted.
For a little bit of seclusion mixed with a nice beach try out the Halfmoon Bay trail taking you on a short walk through the rainforest ending at scenic Halfmoon Bay. Starting on the Willowbrae Trail this short 1-kilometer hike links up to Halfmoon Bay via a long set of stairs.
Go Swimming on the Beaches of Tofino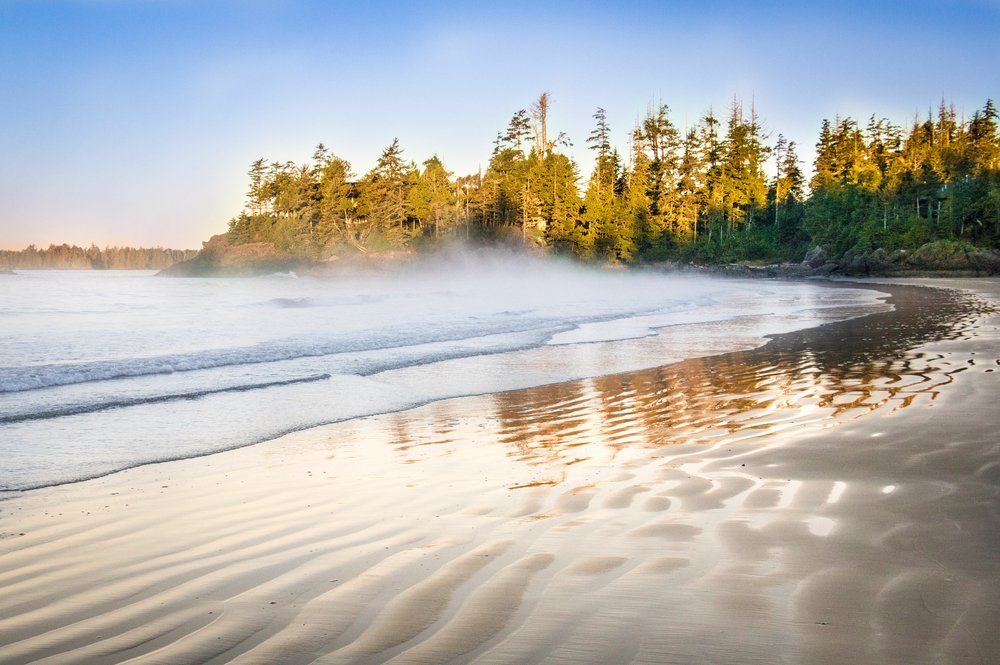 Beaches around the Tofino area are windswept and a little wild which is what I think adds to their allure. There are a number of well-known beaches in the area and many of them have the same look and feel – sand rippled from the strong winds and stray logs skewered across the beach hinting at the extreme storms that hit at times.
Realistically, this seaside holiday destination is not where you come for long hot days on the beach, but there is something about the wildness of Tofino's beaches that entice you to throw yourself into the waves at least once. The water is crisp and clear and sitting on the sand afterward admiring the view and activity happening around you is part of the enjoyment.
Our favorite beach was Long Beach with its deep sandbanks that stretch for over 16 kilometers in length. Long Beach is the best spot for long beach walks!
Loads of surfers' crowd into Tofino throughout the year to ride the big waves that can whip up on many of the beaches on Vancouver Islands west coast. Watch them from the shoreline to see their moves.
Go Shopping and Indulge in Café Culture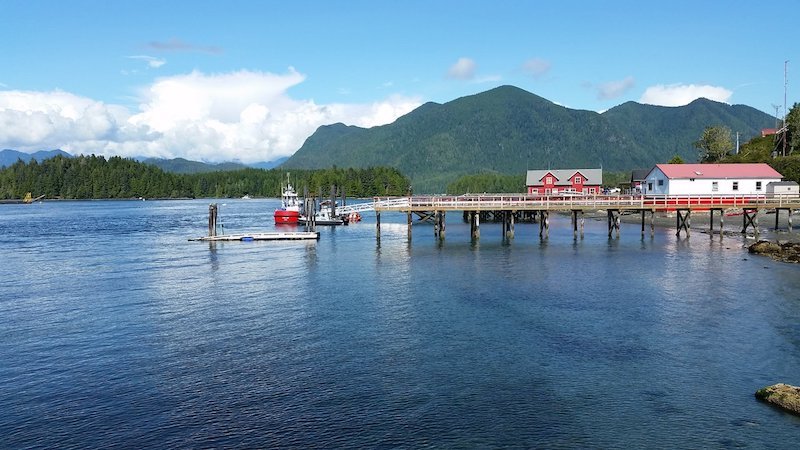 Tofino has an eclectic main street filled with cool cafes and pubs as well as some interesting art galleries and shopping. It's a great place to go for a relaxed wander or to fill in a lazy afternoon.
Look a little more closely at the telegraph poles in town and you can also see the resident bald eagles diving for food from their perches. They are quite fascinating to watch. If you stand on the high side of the street you get awesome water views behind the town and you are reminded of how pretty a place Tofino is.
Some great places to eat include the Shed Tofino which is a trendy pub slash cafe that was essentially packed the entire time we were in Tofino. Serving up burgers, healthy bowls, and other quick bites this place has a really friendly and bustling vibe that beckons you to sit in.
Shelter Restaurant and Wildside Grill are also popular dinner options.
If you are searching for a bite on the run, the Tacofina Cantina food truck located on the road into Tofino seemed to have a regular line up of customers waiting for their tacos and burritos.
Visit Hot Springs Cove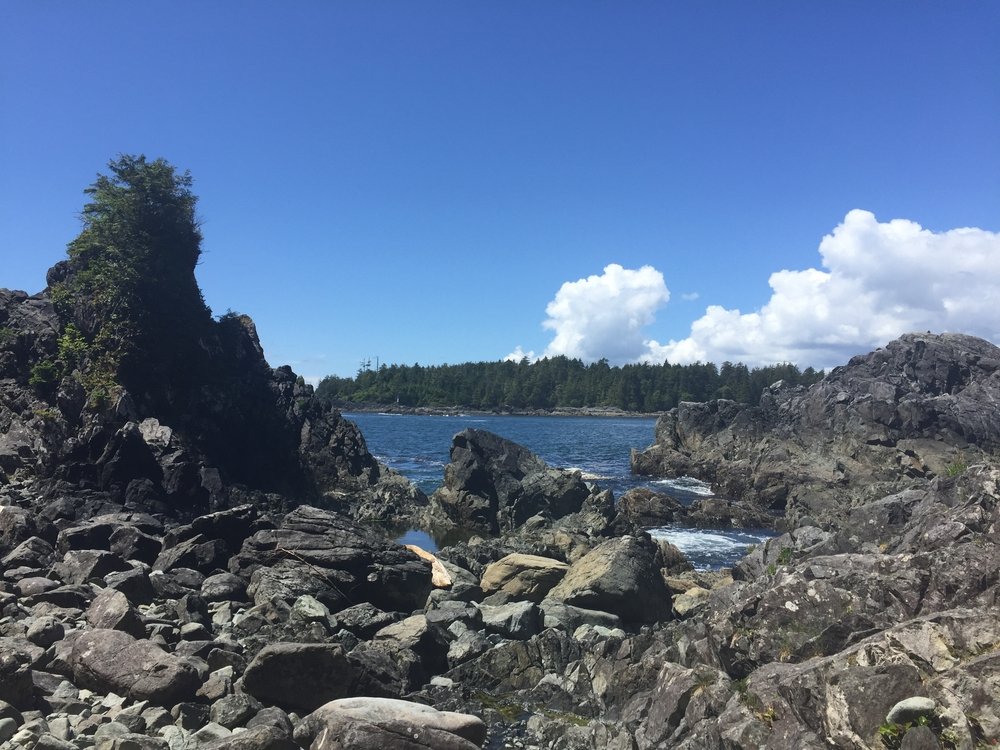 Another favored day trip from Tofino is to visit Hot Springs Cove in the Maquinna Provincial Park. This trip can only be done by joining an organized tour as the location can only be reached by boat or seaplane.
A 1.5-hour boat trip provides the opportunity for some more wildlife viewing with grey whales, sea lions and otters often spotted on the journey.
Nestled in a rocky shoreline, these British Columbia hot springs are reached via a further short thirty-minute boardwalk from the boat dock. The naturally formed pools cascade via waterfalls from the warmest to the coolest the closer you get to the ocean.
Getting to Tofino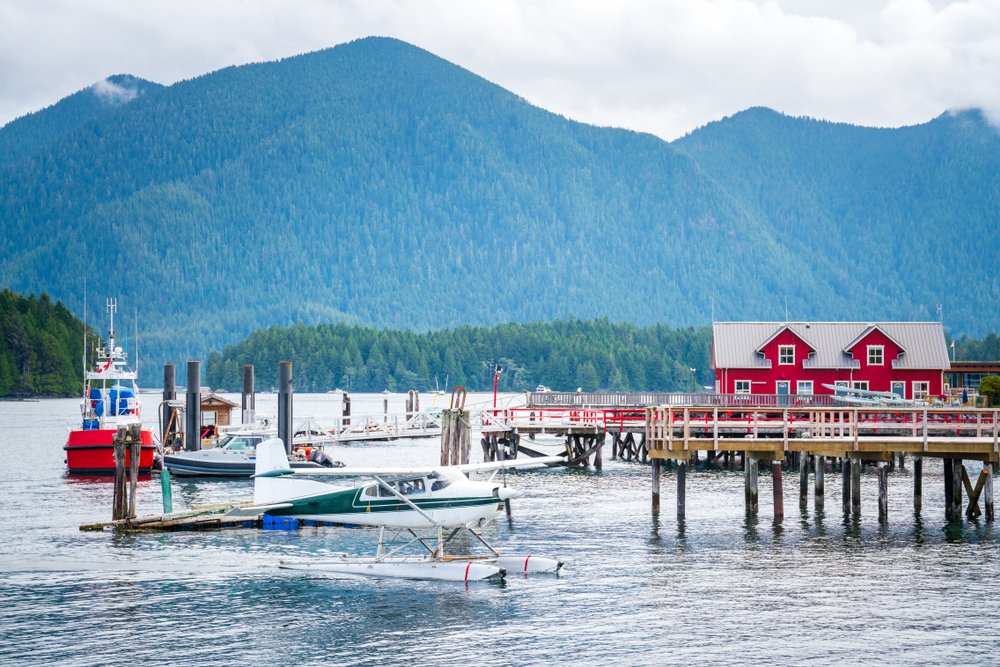 Tofino is located on the western coastline of Vancouver Island, roughly a 340 km drive from the Schwartz Bay Ferry Terminal which is the main ferry terminal from Vancouver. Read more on how to get to Tofino from Vancouver here.
Alternately, you can catch the Vancouver Ferry to Duke Point Terminal in Nanaimo which is closer with 207 kilometers of driving to reach the pacific coast and Tofino.
The road is windy and very scenic in parts, particularly once heading across the island from Parksville to Tofino so it is recommended to allow a half-day or more to take your time and make some scenic stops along the way.
If you are flying into the capital, Victoria car rentals are aplenty and will allow you to make the drive towards Tofino.
Tips for Visiting Tofino and Pacific Rim National Park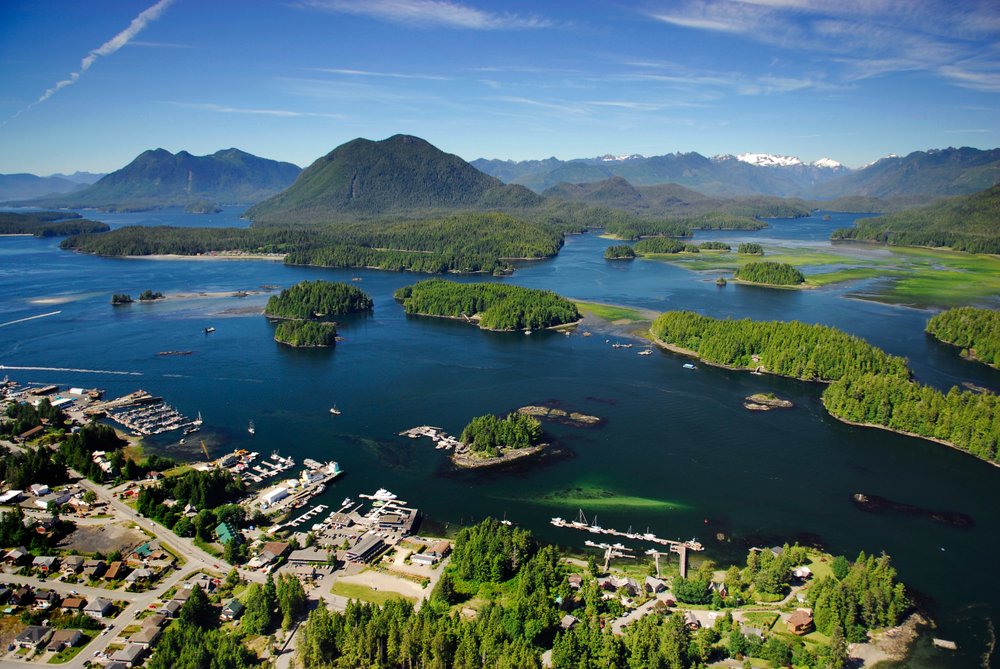 The summer weather in Tofino and the surrounding region can be sunny and warm one moment and then blustery, cold and wet the next.
Generally speaking, you can reach highs of 15-19 degrees in the middle of summer but the temperature generally feels slightly chilly nonetheless. Lots of layers will be your best friend for exploring here so that you can adjust to the constantly changing temps.
Tofino experiences a lot of rain so bring some wet weather gear to continue your adventures rain, hail or shine. Solid, comfortable hiking shoes are a good investment.
Don't forget to display your National Parks Pass for parking in any areas of the National Park! Many of the carparks to local beaches also fall within the park so it is easy to be caught out.
National Parks Passes can be purchased for day visits or longer periods. All details can be found on the Parks Canada website.
Getting around Tofino and the surrounding National Parks will require your own car. Best to rent a car from either Victoria or Nanaimo on your arrival to Vancouver Island, where there are more choices and better prices.
Hopefully, this outline helps you plan a trip to experience all the natural wonders of Tofino and Pacific Rim National Park, and inspire you to travel beyond B.C.'s most known destinations like Whistler and Vancouver. It's' a nature lovers paradise with so many beautiful sights and fun things to do in Tofino!
About the Author
Karen is an avid traveler always searching for her next active, nature-based travel experience with her husband and two young daughters. Her hope is to inspire other families to travel and discover the beautiful world via her website www.bigadventuresforlittlefeet.com.au
You can follow along with her adventures on Facebook and Pinterest.
Pin This Post on Things to Do in Tofino!
Allison Green is a former educator turned travel blogger. She holds a Masters in Teaching and a B.A. in English and Creative Writing. Her blog posts merge her educational background and her experience traveling to 70+ countries to encourage responsible, enriching travel. She has been a speaker at the World Travel Writers Conference and her writing, photography, and podcasting work has appeared in National Geographic, CNN Arabic, CBC Canada, and Forbes, amongst others. Now a full-time traveler, she has lived in Prague, Sofia, New York City, and the San Francisco Bay Area.