If you're looking for some places to stay in Idaho while you're traveling around the state on a road trip, we've got you covered with this post!
There are some really great Airbnb options in Idaho all over the state, and we've tried to spread our picks for where to stay in Idaho in Airbnbs all around the state.
From Teton County at Grand Teton's backdoor to quirky picks in the capital city of Boise to houseboats on Lake Coeur d'Alene and luxe cabins in McCall, and oh yeah — a giant potato — here are the most lovely and unique Airbnbs in Idaho!
The 12 Best Airbnbs in Idaho
Idaho Airbnbs in Teton County
Yur-Treat
Note: This post contains affiliate links, which means I may receive a small commission if you purchase something through one of these links. Thank you for supporting the free content on this site! For more information on affiliate links and cookies, see my disclosure page for more details.
This gorgeous Idaho Airbnb takes glamping to the next level in a location near Grand Teton National Park on the Idaho side of the border.
The interior of the yurt is adorable, with lots of exposed wooden detailings and a large wooden bed that positively invites you to sleep and have the sweetest dreams.
This yurt is fairly off-grid, so do be prepared to rough it a little bit. There's no electricity or WiFi or running water, but it is quite cozy.
A warm wood stove is provided as with firewood, and a propane heater is also provided if you're traveling in the winter months (bring your own propane tanks, however.) The hosts also recommend bringing a warm sleeping bag in the winter.
There are two outhouses available located a short distance from the yurt, but it's a strictly BYO TP affair. There is a solar shower available in the summer, though it'll be too cold to use in the winter.
Outdoors, you can enjoy a fire pit and a picnic table for fun outdoor meals and sundowners.
Pets are permitted with a maximum of two pets, with an additional $10 per pet fee.
Colorful Glamping Tent
If you're looking for a colorful and quirky glamping spot in Idaho near Grand Teton, Valley Village's glamping tents are a perfect choice!
They combine comfort, color, and location to create the perfect summer stay on a reasonable budget given all the amenities and location.
The tents are spacious and comfortable, fitting a large queen bed, a comfortable sofa with colorful throw pillows, a coffee table, and even a full bathroom with shower in the glamping tent itself — no outhouse here!
Also, these glamping tents aren't off-grid: they have electricity, A/C, working lights, a mini-fridge, heating, and a heated blanket in case you're brave enough to glamp in winter!
Northern Idaho Airbnbs
Nostalgic Fire Lookout
This gorgeous mountain lookout is the perfect tiny house Idaho Airbnb escape, modeled after the historic fire lookout that the state is famous for. Note that due to its location in the mountains, it's only open between May and October.
However, it's definitely more comfortable and up-to-date than your standard fire lookout, with amenities like a modern kitchen, cool helix spiral staircase connecting the two levels, and a bathroom in the tiny house itself as opposed to an outhouse.
This is a great getaway for couples looking to get away from it all, as it's far from virtually all civilization (save for the occasional passing train in the valley below).
This Idaho Airbnb is unfortunately not kid or pet-friendly, as the spiral staircase poses a potential danger, so they are not permitted.
That said, couples or friends (or hell, even indulgent solo travelers looking to get away from the hustle and bustle of city life!), though, this place is a paradise where you can cook elaborate meals, wake up to views of the beautiful forest, and sit in a secluded hot tub watching forest wildlife go about their business.
The house comes with plenty of entertainment options to keep you busy — as if you'd need entertainment with those views! There's a smart TV in the bedroom, WiFi, a telescope, and a vintage record player with tons of classic albums.
There's also a wood-burning stove and a wood pellet grill to get cozy on cool mountain nights, so bring some cozy clothes and get ready for the Idaho Airbnb getaway of a lifetime!
Couer d'Alene Houseboat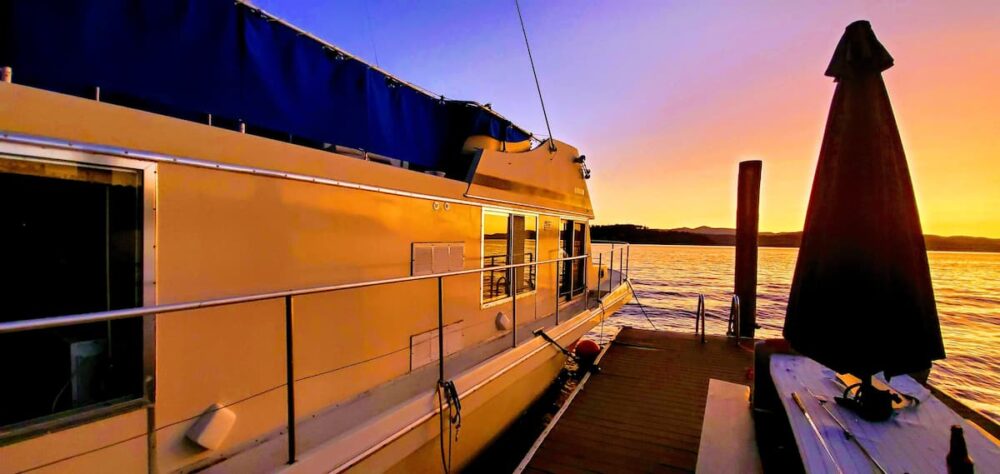 This lovely houseboat on Lake Couer d'Alene is the perfect Idaho Airbnb for people who not only want to be one with nature, but literally in nature!
This houseboat is great for groups of families as it is able to sleep six. There's a bathroom on the boat that's fully connected, including a shower, and there is a full kitchen so you can have a delicious cookout on the lake – preferably with fresh-caught fish from the lake!
There's also a spacious outdoor area as part of the houseboat that's a private deck for you to enjoy, a great place for a meal on a warm summer evening.
There is a comfortable master bedroom, a smaller lofted room with two twin beds (perfect for kids), and the dining/living area converts to fourth bed if needed to sleep six.
Just be aware that this is a houseboat on a lake, and as a result, there may be some movement — so if you have severe motion sickness, this is not the best Idaho Airbnb to choose! Do note, though, that the boat is moored and you're unfortunately not allowed to take it for a spin.
The area is absolutely fantastic for outdoor activities! You can birdwatch and keep an eye out for bald eagles — CDA has one of the largest populations of bald eagles in the United States!
There are also water toys available for use, such as a water trampoline, launch pads, standup paddleboards, inflatable rafts, kayaks, and canoes. Just note that these are shared with cabin guests so you may not get. your pick of exactly what you want, but they are available.
There's also a picnic table, BBQ area, and firepit available to use on the beach of the lake. This is the perfect Idaho Airbnb if you want your home to be the ultimate getaway and not need to travel far for anything once you arrive!
Crystal Peak Lookout
This ultra-cozy converted fire lookout is now the ultimate treehouse experience — and best of all, it's pet-friendly!
If you're looking for an Idaho Airbnb where you can indulge in sweet solitude, you can enjoy 13 gorgeous acres of forest, sharing the land only with starry skies, owls, bluebirds, and the occasional moose — plus whoever you bring, of course.
Note that you'll need a 4WD car to access the lookout even in the best weather, and in the winter, it's even more of an adventure!
Starting around late October, snow can make the roads impassable. You'll need to go by snowmobile or you can hire their vintage 1960s Snocat with driver for $100 for the day, who will take you all over the snow-covered forest and take care of transporting luggage and food. They'll also give you a free sled and snowshoes to enjoy exploring the area!
They'll also bring you some gourmet hot cocoa (with or without Baileys!) and you can enjoy the wood-fired stove and a wood sauna to warm up in — before you jump in the snow to cool off!
One thing to note is that the lookout doesn't have a bathroom in the lookout itself but rather an outhouse nearby, so if you're unable to handle lots of stairs (or don't want to handle navigating stairs at night for a middle-of-the-night pee), this may not be the Idaho Airbnb for you!
Idaho Airbnbs in McCall
Upscale Lodge with Two Hot Tubs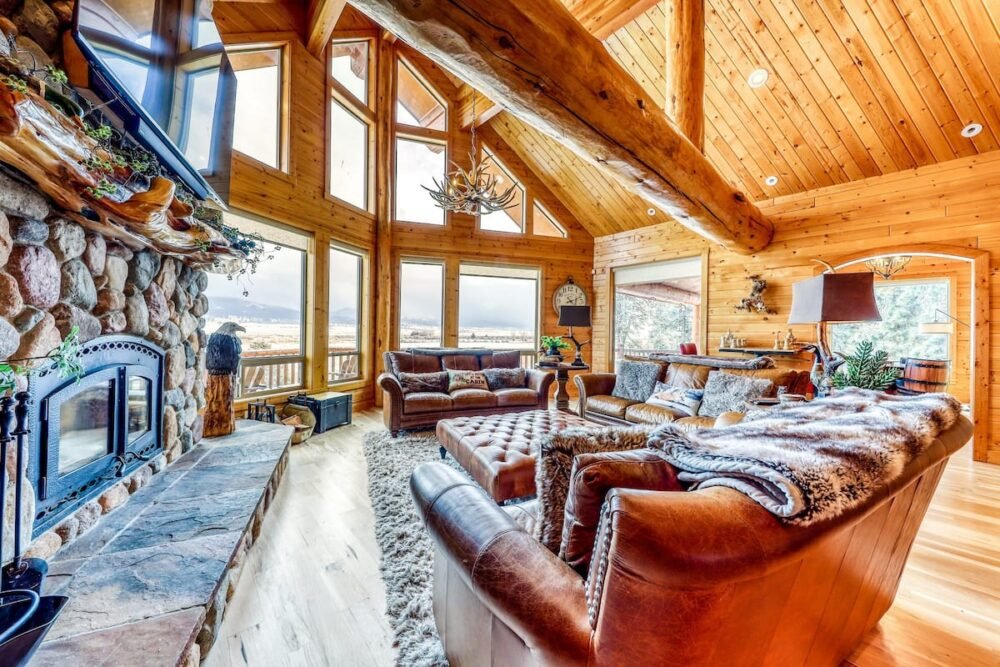 This is the absolute ultimate Airbnb in Idaho for large groups: this monstrous cabin near McCall, Idaho can fit a whopping 16 people and sleep them well, spread across 14 beds to choose from!
This is great for groups of friends as well as several families traveling together, and when you have a nearly full group, the price tag can be quite reasonable for the property.
There are so many rooms of the cabin that it's almost overwhelming! There is a large living room with a gorgeous fireplace surrounded by plush leather couches, the perfect place for watching movies on the flatscreen TV over the crackling fire or having drinks around the fireplace at night.
There's a gourmet kitchen and a large dining area perfect for group dinners, and my favorite feature, a large game room with all sorts of activities available for the group to avail themselves of, including pool, ping-pong, foosball, and shuffleboard!
There's also an entire theater room for watching movies with your group, cinema-style, with a 75″ TV!
Of course, there's also the gorgeous outdoor Idaho surroundings to enjoy no matter the time of year. There are several porch areas with chairs to enjoy watching the snowfall or the stars above.
There is also not one, but two, hot tubs to make use of — one for 8 people as well as a private 2 person tub off the master bedroom — as well as fire pit for gathering around and toasting s'mores and enjoying drinks no matter the time of year.
Custom Built Luxury Cabin with Hot Tub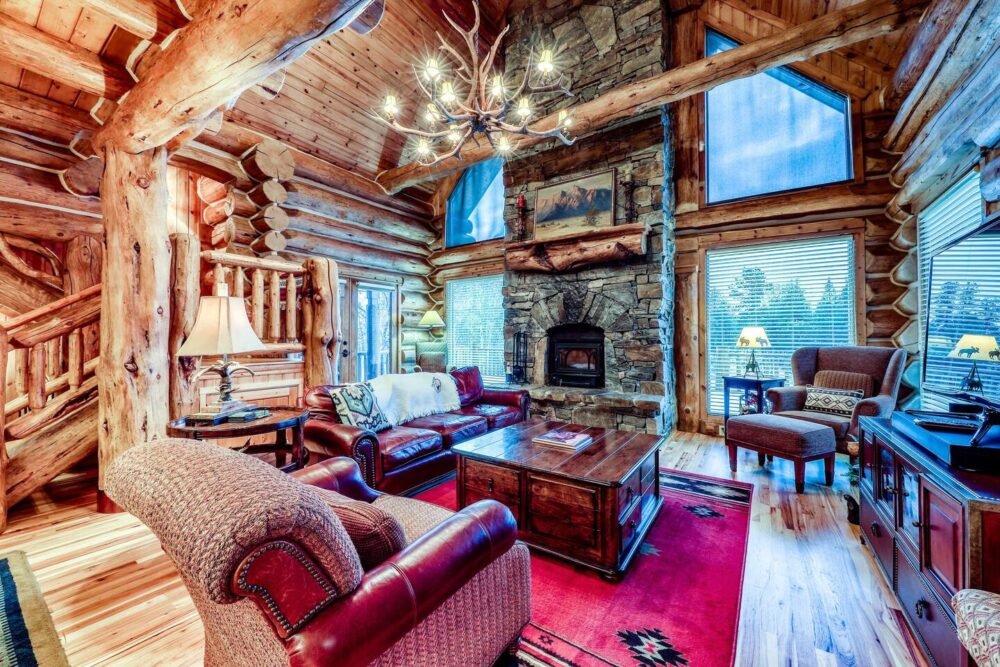 For the ultimate group getaway in Idaho, this delightful Idaho cabin in McCall ticks all the boxes.
It's incredibly spacious and its setting right off of Payette Lake in McCall means that while you could certainly enjoy your Idaho Airbnb for your entire stay, there's a whole host of natural activities just beyond your fingertips.
The interior of the cabin is delightfully rustic in a way that just screams "cabin vibes only". It's done in a log-cabin style, yet a lot of the fixtures are extremely modern, so nothing feels dated and you won't lack for any creature comforts.
There are two bedrooms but also an additional lofted area with plenty of extra beds so every member of the family or group can have their little corned carved away to enjoy.
The property also has plenty of amenities to enjoy on the property itself, including a heated hot tub perfect for enjoying in any season and a BBQ grill perfect for summer cookouts (or winter grill sessions, if you're brave!).
There's also WiFi and a home office to use in case any member of the group needs to catch up on some work while enjoying some time out in the country, so you're not off-grid!
Bed in a Barn
For a no-frills place to stay in McCall on a budget, don't worry — you won't be priced out of the area if you have a lower budget, and there are plenty of great Airbnbs nearby to choose from.
One such option is the lovely "Bed in a Barn," a simple name for a simple but lovely Idaho Airbnb in the mountains near McCall.
Admittedly, the interior is a little plain, but it's still a cozy and comfortable place to lay your head at night without breaking the bank.
There's a lovely balcony deck to enjoy coffee, tea, or a glass of wine and watch the wildlife and mountain scenery pass you by. This is a great place to relax and unwind — cell service is not available, although there is WiFi and a landline if you need it, so you're not totally off-grid.
There is a small kitchenette you can use, including a microwave, coffee-maker, mini-fridge, and toaster oven. However, there's no stove-top or oven, so keep that in mind when planning for meals if you are dining in the Airbnb and not in town.
Idaho Airbnbs in Boise
The 36th Street Urban Yurt
This cozy yurt is the perfect offbeat place to stay in Boise, Idaho for a group of up to six people looking for a unique place to stay.
The yurt is cozy and traditional with lots of fun colorful and modern design elements such as Tibetan prayer flags, colorful rugs and chairs, and a wood-fired stove for comfort on cooler nights and days.
The yurt comes equipped with electricity and WiFi, so you don't have to fully disconnect to enjoy a slice of the nomad life!
But perhaps the best thing about this yurt is its dreamy location. It's in the heart of Boise, yet it has access to the Cougar Trail right on the property, so you can be hiking in mere minutes.
Meanwhile, if you want to stay closer to home, there's a large outdoor area where you can enjoy a picnic table, park benches, and a covered gondola area, enjoyable any time of year but especially beautiful when Boise's vibrant fall colors come out in full force.
The property being a yurt, however, it's important to note that the bathroom is not located in the yurt itself.
However, don't expect an outhouse — the bathroom is straight-up luxurious: we're talking a clawfoot bathtub with a bath rack for enjoying a glass of wine and a book while you soak!
The bathroom is located just across the yard in the back of a detached shop area (flashlight provided for middle-of-the-night access), and it's private for just yurt use.
Big Idaho Potato Hotel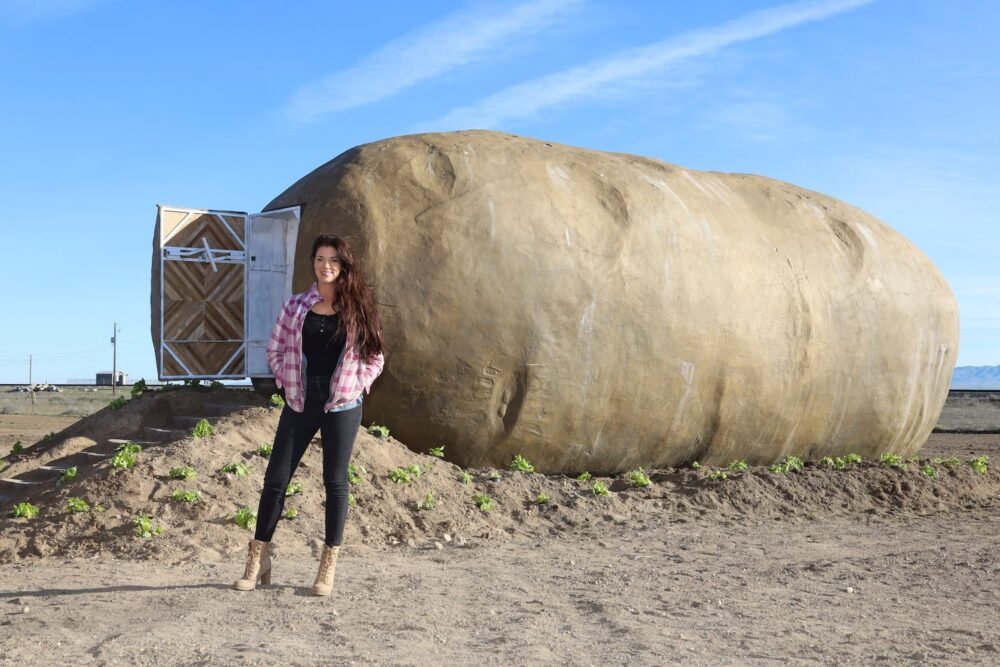 Have you ever found yourself wishing, gee, I wish I could spend the night in a potato? Anyone? Anyone? Bueller?
It may not be something that was on your Idaho bucket list beforehand, but come on, there's something delightful about getting to say yes, I spent the night in a giant 6-ton Idaho potato on an actual farm, and it was surprisingly stylish and dare I say, even hip?
The outside may be delightfully kitschy and rural, but the interior is utterly modern, with an almost Scandinavian sensibility in its color palette and pared-down design elements, enlivened by a bit of mid-century modern touches.
Really, who knew potatoes could be straight up elegant?
If you're wondering where that Idaho potato Airbnb fits a bathroom… well, it doesn't, but there's an outhouse in a converted grain silo just a few feet away. And trust me, it's a lot more luxurious than it sounds (though I guess that wouldn't be hard).
The bathroom is just as chic and design-focused as the interior of the potato, with a soaking tub, sculptural chandelier elements, and lots of greenery to make the bathroom feel like a little spa on your Idaho farm.
Plus, the benefits of being on a farm is that you can say hello to all the cute animals on the farm, including the pet cow Dolly: her kisses come included!
SweetPea Tiny Home with Luxury Bath
Am I the only person on earth who would book an Airbnb strictly based on a bathtub? Because that's truly the case with me and the SweetPea tiny home!
I mean, how dreamy is this bath setup?
My bathtub obsession aside, SweetPea has a ton more to offer.
It's not an apartment but rather a fully detached tiny house, so you don't have to worry about loud neighbors blasting music through the walls, and you'll also enjoy distancing and privacy in a way that's rare in an urban environment.
The prices are absurdly affordable for a house this beautiful and well-designed, and design isn't the only thing this smartly-decorated tiny house offers.
The kitchen is delightfully large for such a small space, and the colorful kelly green cabinets bring a spark of joy to the otherwise rather neutral color palette of white and wood details.
A small dining nook makes enjoying a romantic meal for two a breeze in this charming Boise Airbnb.
Meanwhile, the bedroom is lush and inviting, with tons of soft blankets and pillows that practically beg you to curl up for an afternoon nap.
Western Idaho Airbnbs
Restored 1909 Train Car
If you have someone in your life who loves trains (or you're that someone and you're looking to treat yourself) — this is the perfect Idaho Airbnb!
It's also a great choice for anyone who is a little old-fashioned or into history and dreams of riding the Orient Express and living in another era, as this train car dates back to 1909 but has been beautifully refurbished to be a comfortable and truly stylish Airbnb in Western Idaho.
The interior of the train car combines elements that are classic to the form, such as rounded vaulted ceilings, smallish bathrooms, and rooms organized in a narrow, long layout.
But it also adds a touch of vintage elegance that is still decidedly modern as opposed to fussy and frilly. The feel is like an upscale B&B.
The main living area of the train Airbnb keeps truest to form, preserving its many windows and adding elements like colorful painted trim and vintage lighting to give you that true turn-of-the-century feel, while also having all the modern comforts you'd expect from an Idaho Airbnb.
Plus, it's location near the border with Washington make it easy to day trip to delightful places like Palouse Falls or sample wines in the Lewis and Clark Valley.
Pin This Guide to Airbnbs in Idaho!