If you're planning a trip to Morocco, Marrakech likely figures highly on your itinerary.
There are so many unique things to do in Marrakech that it's hard to narrow it down — and after reading this post, get ready for your Marrakech wish list to get even longer!
Here are the coolest and most interesting things to do in Marrakech!
Visit the desert & ride a camel (or a quad bike!)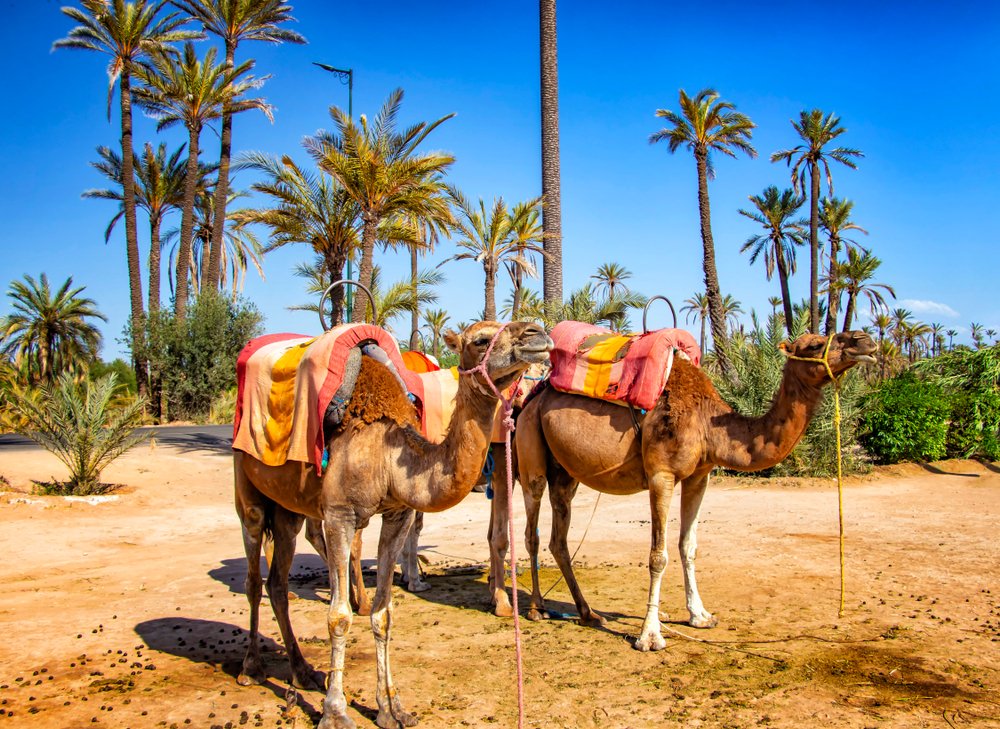 Note: This post contains affiliate links, which means I may receive a small commission if you purchase something through one of these links. Thank you for supporting the free content on this site! For more information on affiliate links and cookies, see my disclosure page for more details.
You can frolic along the desert and palm trees or better yet, ride a camel! I would recommend this half-day tour (check here for rates and availability) so you can fashionably ride a dromedary (AKA, a one-humped camel) while wearing nomadic attire should you choose!
You will also get a chance to visit a remote Berber village and sip local Moroccan tea in the afternoon. What's extra convenient about getting this tour is that you will be picked up and dropped off from your hotel or accommodation.
If you are more adventurous and feel the need for speed then you can ride a quad bike as you go along the Palmeraie of Marrakech.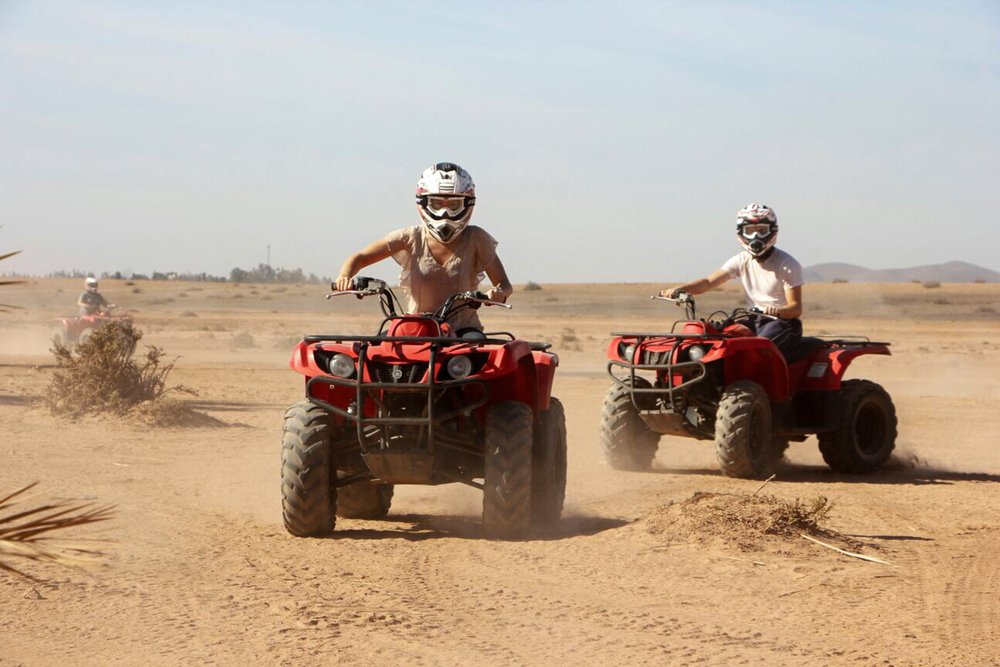 The best view of this oasis is at sunset, so if you choose you can also take a camel ride at sunset for a romantic experience. A lot of luxury hotels and resorts are also here should you choose to have a longer stay outside of the hustle and bustle of Marrakech.
Someone who wants to experience all of this and want to end the day with a relaxing massage plus a hammam bath can check this tour!
Check out the otherworldy and lovely gardens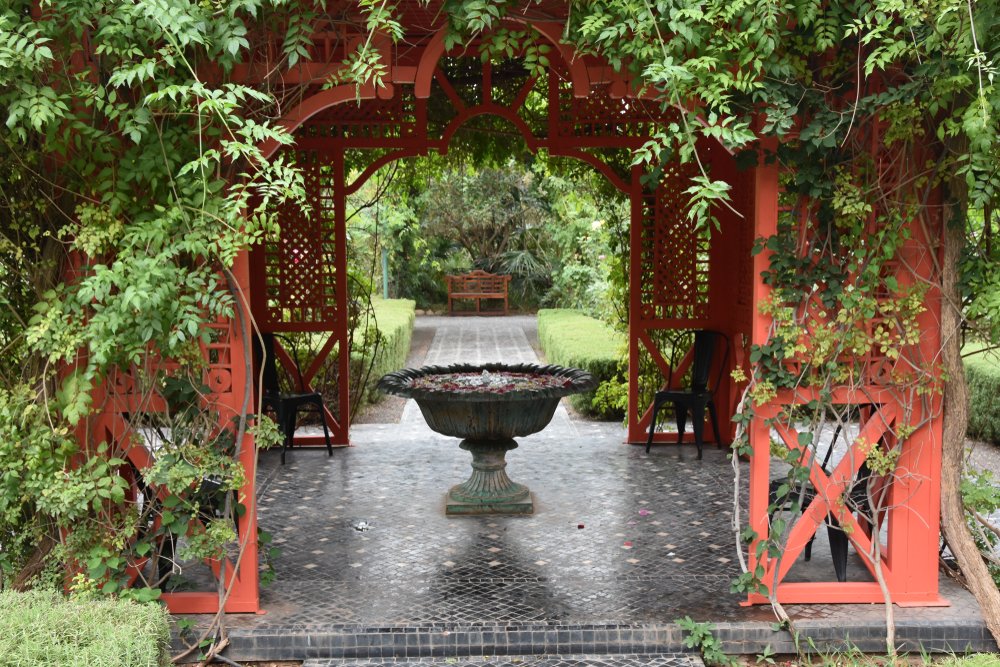 The Anima Garden is one of the most unique gems you will find in Morocco. An Austrian artist named André Heller is responsible for the creation of this one-of-a-kind botanic garden. It took him 6 years to finish this masterpiece of installation art.
As you stroll along the different pavilions and paths, you will experience different smells and sights that will spark your imagination – a perfect way to get some inspiration or just to destress.
It is around 26km from the southern part of Marrakech, and there are free shuttle services at the Koutoubia car park (behind the Koutoubia Mosque) that can take you to the location. You can also get this ticket so you can skip the line and enjoy the gardens for three hours, which is plenty of time to marvel at the garden.
Food and drinks aren't included, but you will be glad to know that you can buy one inside. The café serves snacks and dishes, mostly sourced from the garden itself! Someone who is traveling around July and August should be aware that shuttle services are limited during this time of the year.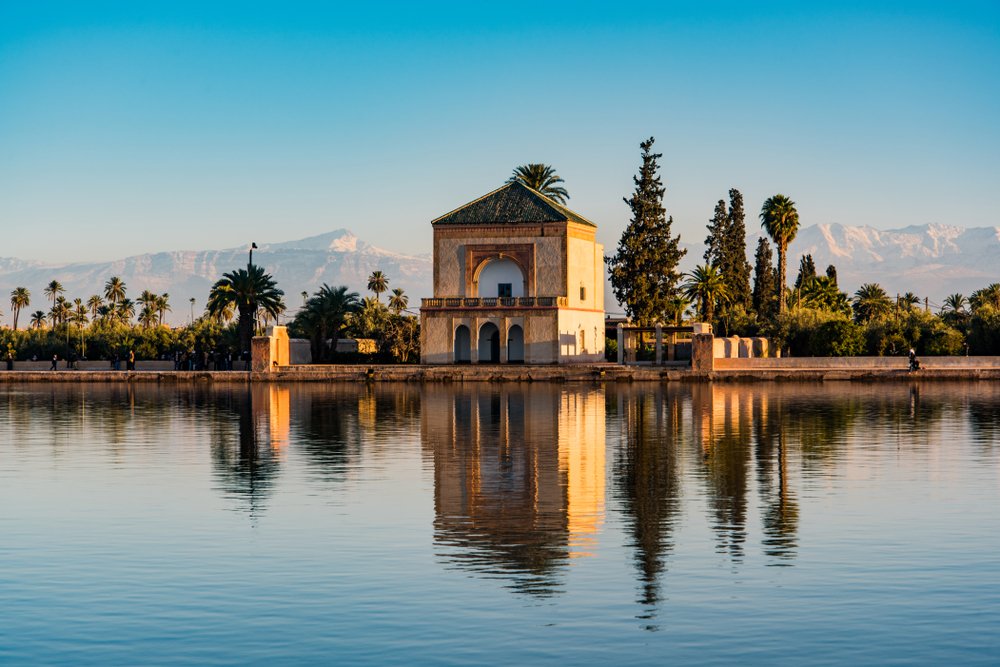 Another garden is the Menara Gardens, which is a beautiful botanical sight to see near the Atlas Mountains that has olive trees surrounding it and an artificial pond (with lively big fish!). It is said that the pond was used to hold the water from the Atlas Mountains to keep moisture for the olive plantation.
The pavilion inside has a green roof and it is elevated above the ground (this is why it is called a menara). There isn't much explanation or signage in the garden so it is best to get a local licensed tour guide, such as this one, here.
The best part about this tour is that it combines two famous Marrakech gardens in one and it includes transit to both. You will be picked up from your riad or hotel, and you also get to check the famous property once owned by the acclaimed fashion designer Yves Saint Laurent, the Majorelle Garden.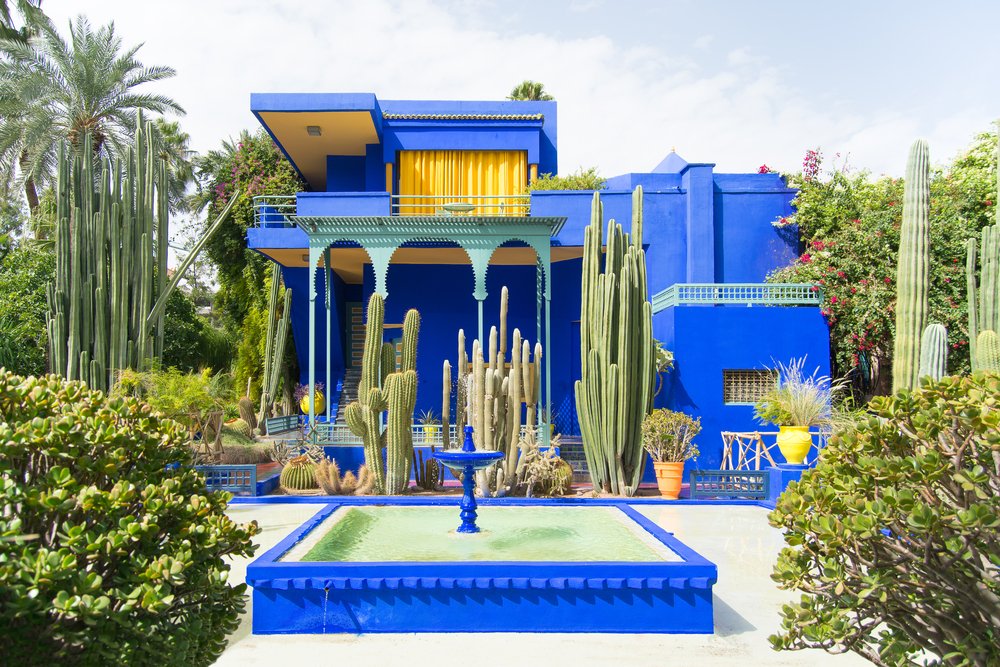 The garden showcases a rich blue-colored mansion inspired by Moroccan architecture. There are also a collection of cacti, and unknown to many, the ashes of the late Yves Saint Laurent were actually scattered in this garden. The tour ends with getting a glimpse inside the minaret of the Koutoubia Mosque!
Take a cooking class in Marrakech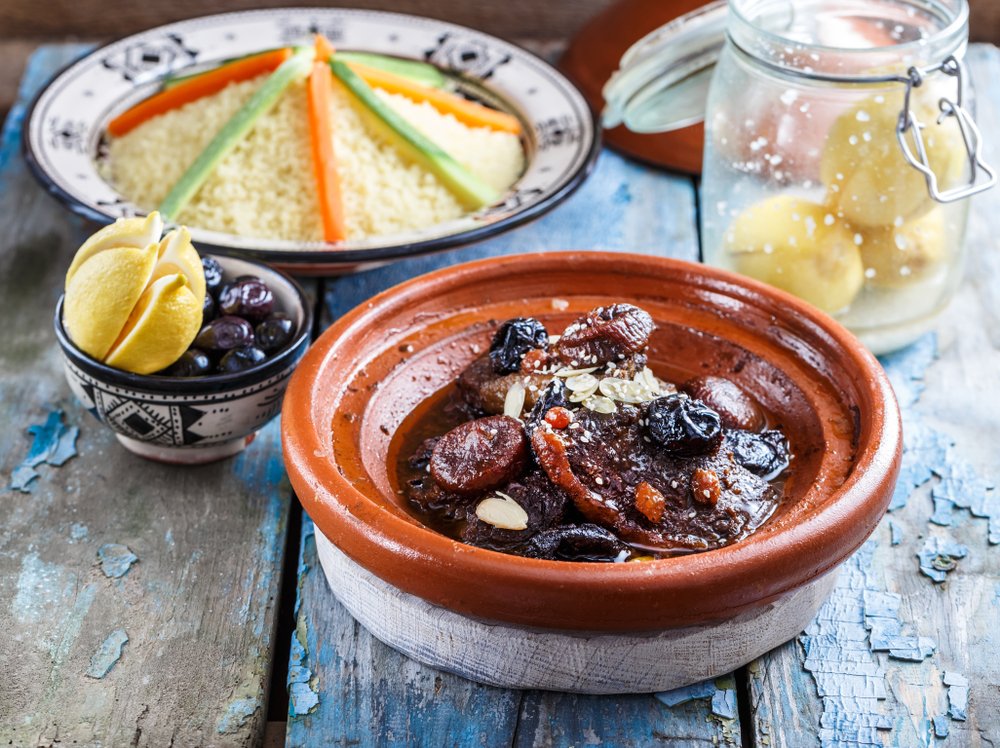 No one should miss tasting the traditional tagine (pronounced as Ta-zheen) while visiting Marrakech. It is a stew that has vegetables and meat that's extremely tender (vegetarians rejoice — veggie tagines are very common as well).
To their tagines, Moroccans usually add a lot of spices, herbs, fruits, and nuts. The meat used can vary (mostly chicken and beef, though never pork) and there's a Berber tribe that makes use of lamb and beautifully arranges the vegetables around it.
Do not confuse yourself, because tagine can also refer to the inverted funnel-shaped cooking pot they use, as well as the stew itself. You can actually experience how to cook with one by attending this class which is taught by an expert chef.
The first thing you do on this tour would be to shop at a local souk for some ingredients (you could pick up your very own tagine in the souks later!) while your guide explains what spices are needed and how they are used.
The class itself will take about 3 hours to prepare your tasty tagine creations, and of course, eat them! After the class, a recipe will be provided to you so you won't have a hard time thinking about what to buy after the class.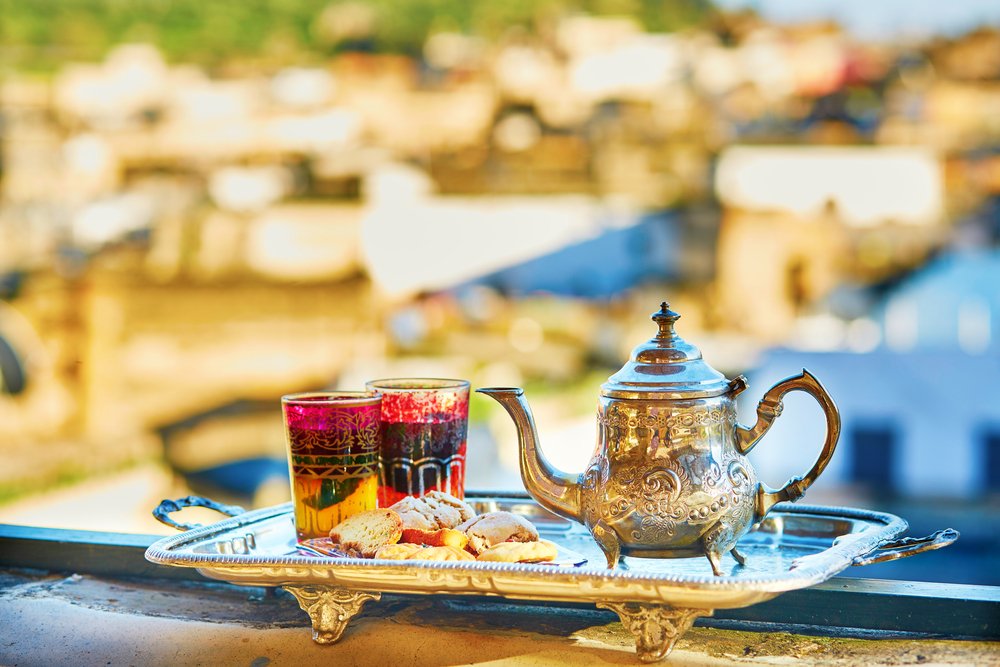 Alternatively, you can also prepare a 4-course meal al fresco — Moroccan style. While your main meal is being cooked in small clay ovens, you will be taught to prepare sides and salads. Once your slow-cooked meal is done, enjoy it with a tasty glass of Moroccan wine, plus a yummy dessert after!
Cooking courses can also be tailored to what you want, but most recipes depend on the availability of ingredients seasonally. They also offer an additional optional tour at a Moroccan bazaar. The day's cooking class will end with a nice warm tea plus some snacks. If you like the experience, feel free to tip!
Have a traditional Moroccan hammam bath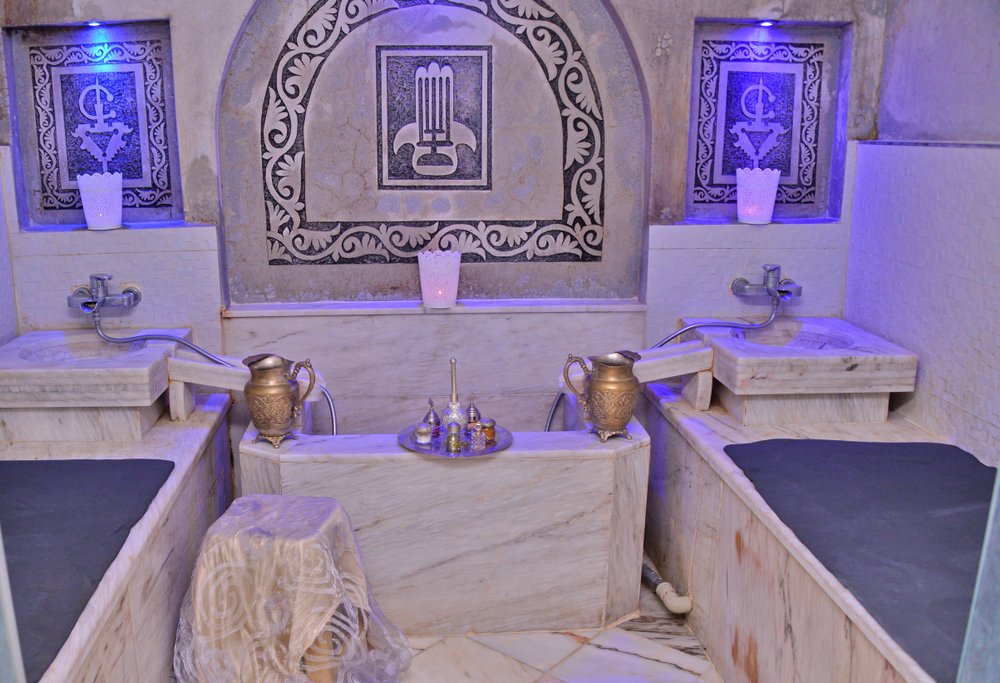 Relaxation and cleansing are an important part of Moroccan social life, which is why the hammam is still an integral part of Moroccan culture!
While Morocco is a conservative country, bathing naked (segregated by sex, of course) is totally normal and par for the course. Though of course, if you're uncomfortable, you could generally bathe in your underwear or swimwear, although local rules for each hammam may differ.
Relaxing amongst locals chatting and bathing at a local hammam is one of the most unique things to do in Marrakech. Curious how it works?
Each gender has its own separate bath area. Once you enter, you will notice a bucket of a gooey-looking black soap (which is made from olives) and the scratchy kessa gloves (which are used for exfoliation). Some people are surprised by the gunk that shows up being exfoliated by the gloves – it is actually your dead skin! People love the feeling after every bath because you feel squeaky clean and buttery soft from head to toe.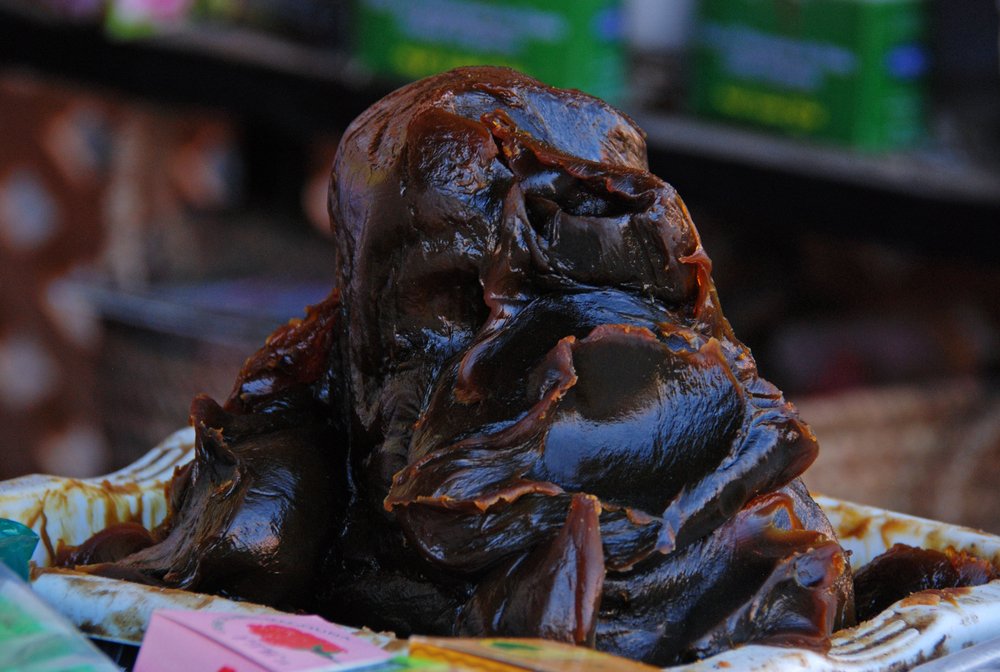 While you can visit a hammam on your own if you're brave, going with a guided tour can be a little less intimidating as there are sure to be no language barriers. I suggested this a cost-efficient and hassle-free hammam experience including round-trip transfers, which you can book here.
This hammam experience includes a relaxing 50-minute massage with oils from the endemic Argan trees (also known as liquid gold due to its vast properties!). No need to bring towels or bathrobes, as these are provided, but make sure not to forget to bring extra underwear.
The perfect way to end this ritual is to sip some mint tea (aside from the snacks in between treatments) which also helps soothe your throat. It is indeed a total relaxation package!
Taste an explosion of flavors
Marrakeshi food is not just about tagines or the famous couscous, there's actually so much more!
The key to Marrakech cuisine is the unique and authentic spices and ingredients. You can try some of their nuts, dried fruits and local favorite dishes like the chermoula, brochettes and maakouda.
Chermoula is a tangy herby and lemony sauce, usually served in a tagine or served on top of fried or grilled fish. Brochettes are like Moroccan kebabs (grilled meat in skewers), whereas maakouda is a tasty fried snack made from potatoes, eggs, and spices.
Jemaa El Fnaa is a place where you can find most of these food shops. It is also declared as an Intangible Cultural Heritage Site by UNESCO.
You may find tour guides as you enter the square, but beware of fake ones or ones who claim to give a 'free' tour. They will end up asking you to pay them a hefty cost!
It is best to get a trusted 3-and-a-half-hour tour that's complete with a guide that will take you to a Moroccan food escape. After a tour of the square, you will be taken to the spice market where you can smell different aromas of turmeric, saffron, dried fruits and so on.
See the sights above the desert on a hot air balloon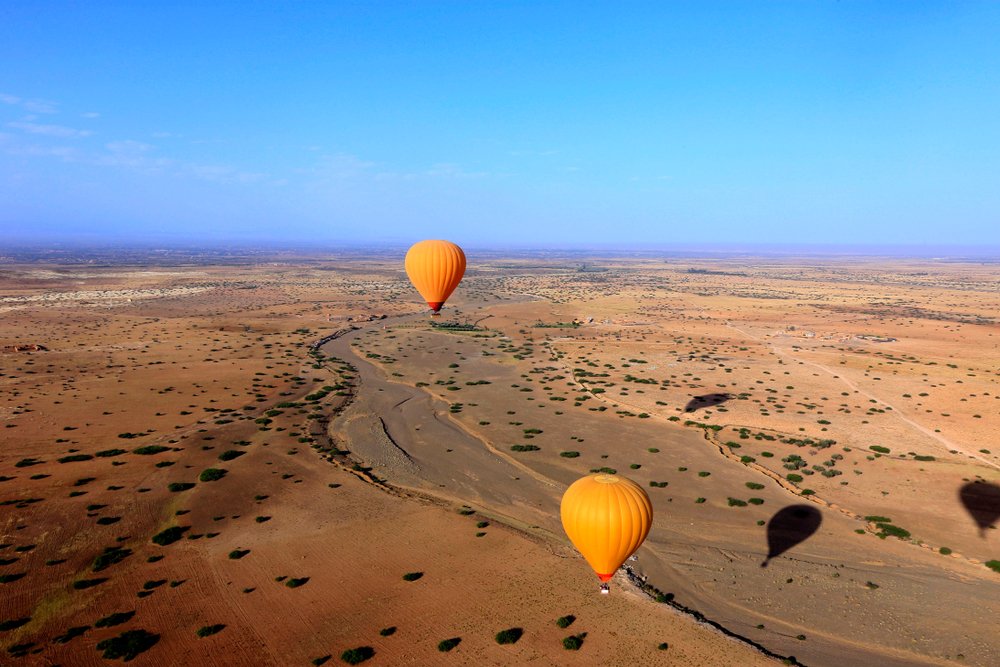 Aside from riding camels in the beautiful Palmeraie (Palm Grove), you can also hop in a hot air balloon to get a breathtaking view of the beautiful oasis, the countryside, and the mountains.
But that's not the main highlight, once you get higher and higher you will see the clouds as the sun creates majestic silhouettes over them – it is so surreal!
The easiest way to get to the location would be through a shuttle service when you get this hot air balloon package tour. Travel will take you around 45 minutes from Marrakech and they will pick you up and return you to your riad.
While watching how they prepare to inflate the balloon, professional hot air balloon pilots will also guide you and give you a quick briefing on what not to do while on-board, since other people are also sharing the ride. The experience will last for an hour or so. Once you land, you can optionally add on a camel ride or just relax and enjoy the scenery.
The final activity of the morning would be tea at a Berber village – you just can't get enough of that yummy mint tea! Once you arrive at the village, Berber people will warmly welcome you with their tasty tea and traditional hospitality.
Stroll around at night when the medina springs to life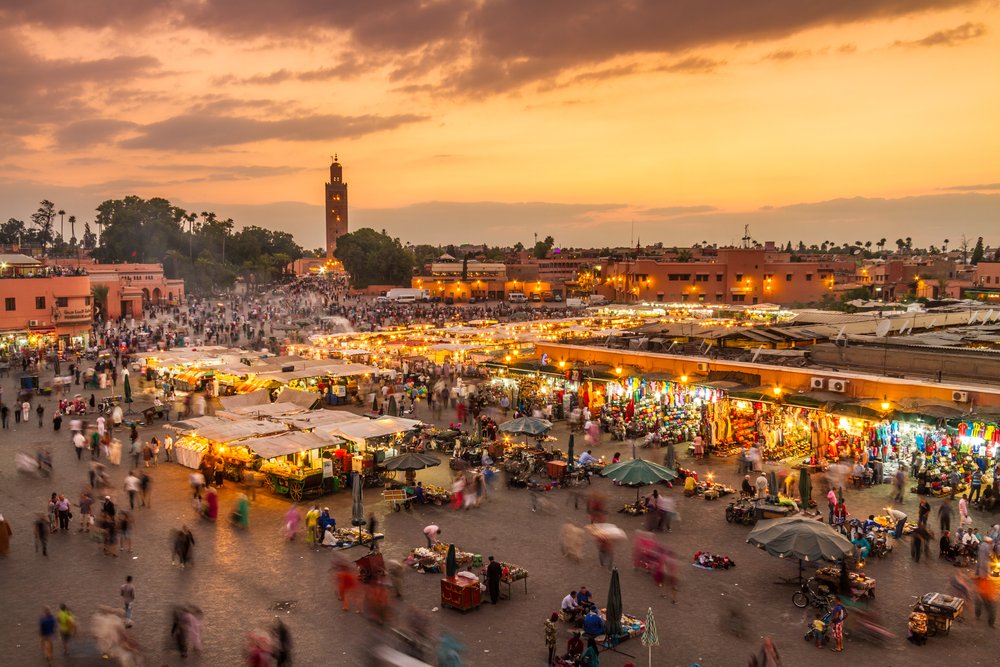 One of the most popular places in the medina is the Jemaa El Fnaa, which I wrote about in my guide here for a 3-day itinerary in Morocco. In the post, I mentioned what things you need to know when going to this chaotic square, as it can be quite an assault on the senses and there are quite a few scams which can occur to unsuspecting visitors, especially at night!
It does help to get a night tour to avoid any hassle because your local guide will be there to assist you. You won't just enjoy the night music at the square, but also a nice free drink at a rooftop bar overlooking the chaotic beauty of the square. Time will also be given for you to admire the gorgeous architecture of the Koutoubia Mosque from the outside at night (unfortunately, not the inside, since non-Muslims aren't allowed to enter).
Since you have a local guide, you will be taken off the beaten paths where you can unlock some secrets unknown to many tourists. Get to taste tanjia (it is different from tagine, although both are cooked and given a name based on the pot in which it is cooked), a tasty Moroccan dish with lots of meat and a bit of vegetables. Other local snacks are included on the tour for free as you stroll around.
Attend a leather working class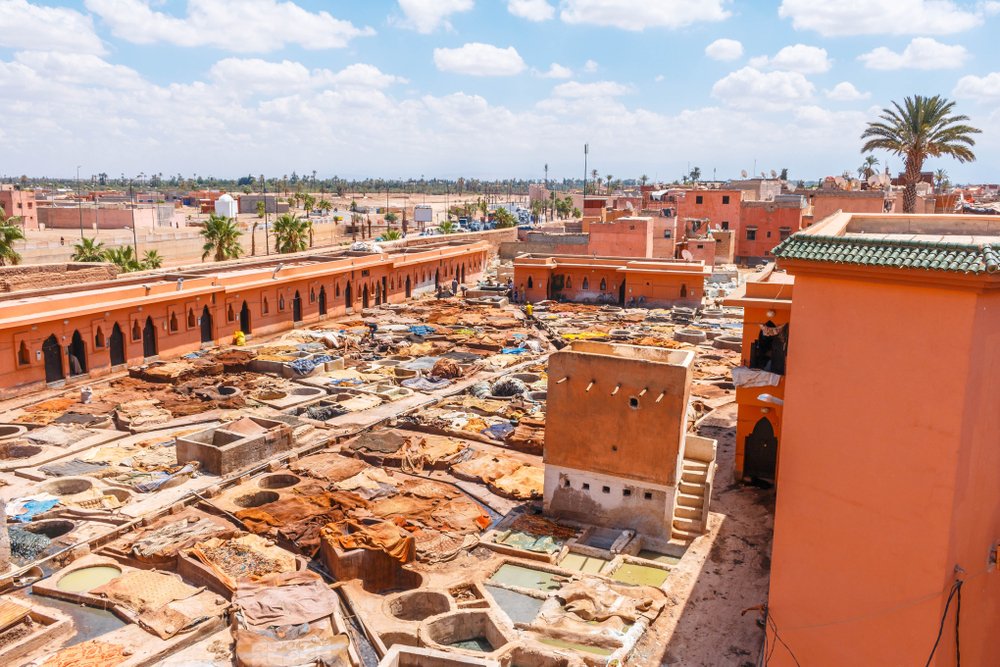 The Chouhara Tannery in Fez has been famous for producing quality soft leather in the traditional way since the 11th century. It is considered as one of the most iconic sources of leather in the world because all tanning procedures and operations have been preserved in the traditional way — including the step where they cure it in pigeon poop!
They turn the hides into beautiful pieces of belts, jackets, bags and shoes while adding a lot of stylish Moroccan influences. Another thing that adds up to its uniqueness, is the use of natural dyes coming from sources like spices, pomegranates, and flowers.
However, if you don't have time to visit Fez on your trip to Morocco, you can still learn about the craft's long history in Marrakech. Just be careful and avoid the prevalent Marrakech tannery scams by instead booking a guided experience.
Someone who is curious about the craft of leatherwork need not go far from Marrakech to attend a leather-making workshop, which you can book online.
Expert craftsman Youseff and Oumaima will take you on a journey about how they make leather and how they prepare it. You will make your very own babouche slipper (it is a heelless slip-on shoe that looks like the Instagram-famous Gucci Princetown mules) from scratch!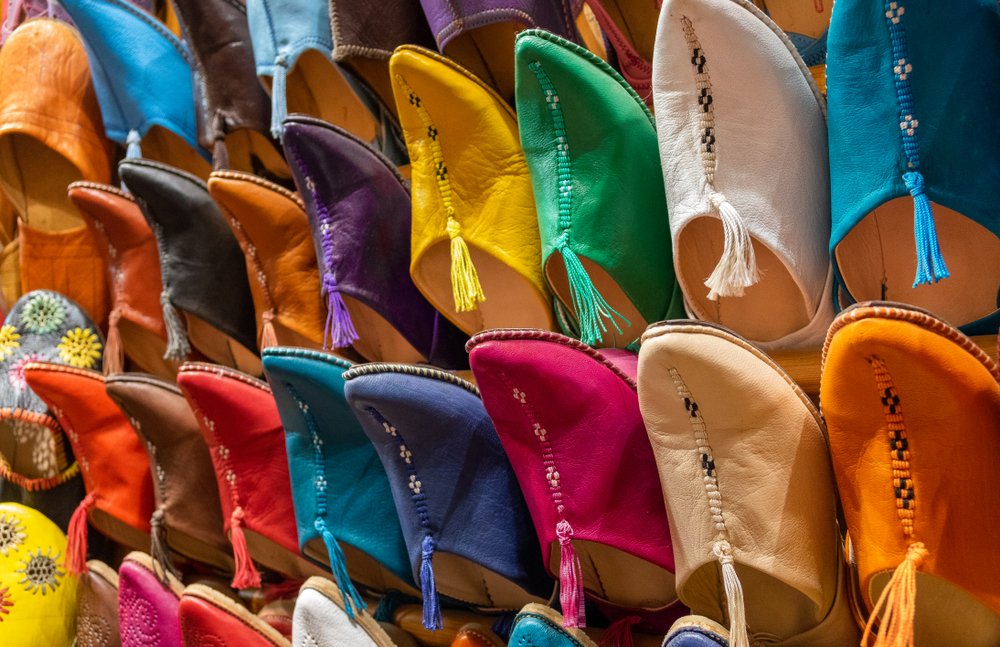 There are snacks and tea served if you get hungry while working on your masterpiece. The best part about it is bringing it home!
Memories are also easily kept as you will get a souvenir photo that will be sent digitally through your email.
Learn to speak the language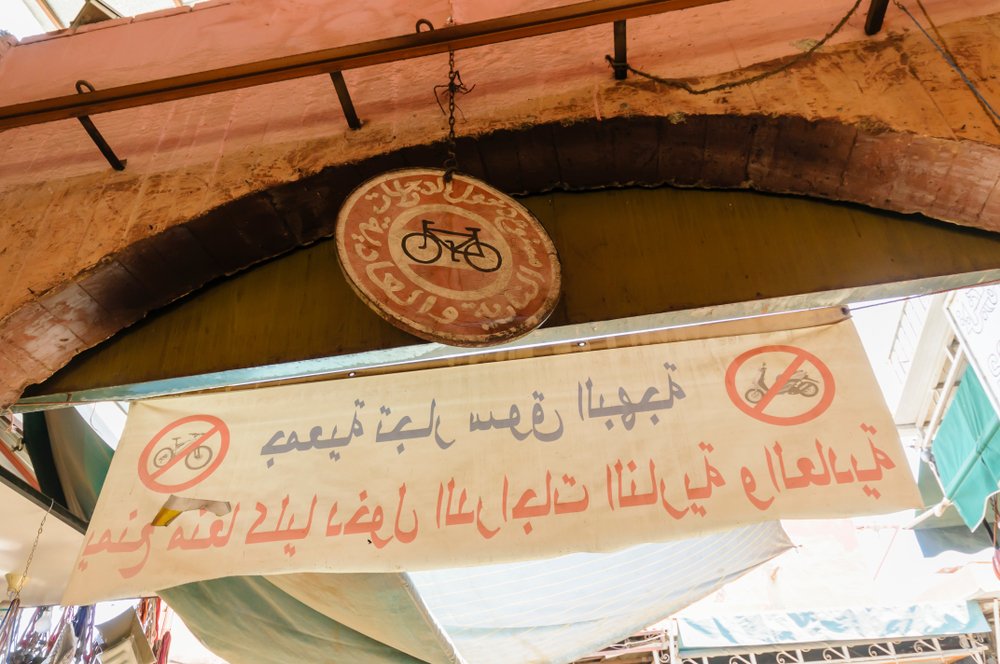 Learning a language can be quite difficult, but Moroccans are quite talented linguists. Some Moroccans even know more than four languages, but you won't encounter everyone like this. When traveling, you should at least try to pick up a few basic words, as it will be easier for you to interact with local people as well as to bargain in the souks.
A 90-minute Arabic language class (it's that easy and quick to learn the basics!) will surely help you communicate and understand body language and insider tips on what you should and should not do. Moroccan teachers will also be provided to ensure you are learning from the best.
The class will begin with a quick tea ritual and a guide on how to make the famous and extremely yummy mint tea. Booklets are also provided for free so that if in case you forget some words outside, then you have a quick cheat sheet.
After the quick intro class, you will feel more comfortable and engaged in communicating with locals. The next time someone blocks your way and sells or asks you for something, you will know now how to better deal with them without being thought of as rude.
See a wonderful performance at the Lotus Club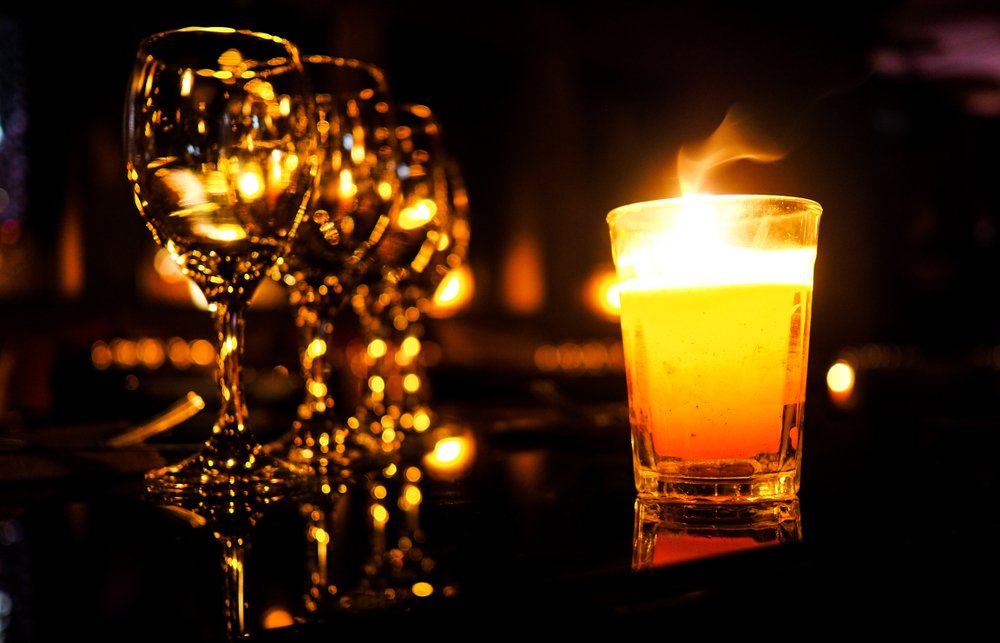 A tasty dinner with a nice dance show is a date-night Marrakech can't-miss at The Lotus Club's restaurant and bar.
It is located in the Hivernage District, outside of the chaotic medina, so you can have a sweet and fun escape from the hecticness of the medina and see a different side of modern Marrakech.
The place will surely give you a luxurious ambiance, plus you can listen to the best mixes of their DJs for a fun night out. You can choose from three different menus which range from local to international cuisine, with a lot of fusion recipes in case you don't want to pick just one cuisine! There are also drinks like colorful cocktails and mocktails you can't find elsewhere, plus a good selection of beers and wines.
The experience is superb as you watch the dancers (beautiful and glamorous Marrakeshi women) perform live on stage (just like Vegas!). They are called the Artistic Revue OhLaLa. Once a month, they also invite international artists to perform.
You can actually book a 3-course meal for two here for a cheaper price. Just make sure to bring your passport or ID because those 18 and under are not allowed to go inside. Drinks are not included in the voucher, but you will not regret the nice music and performance they showcase!
Wander around the colorful souks and meet the artisans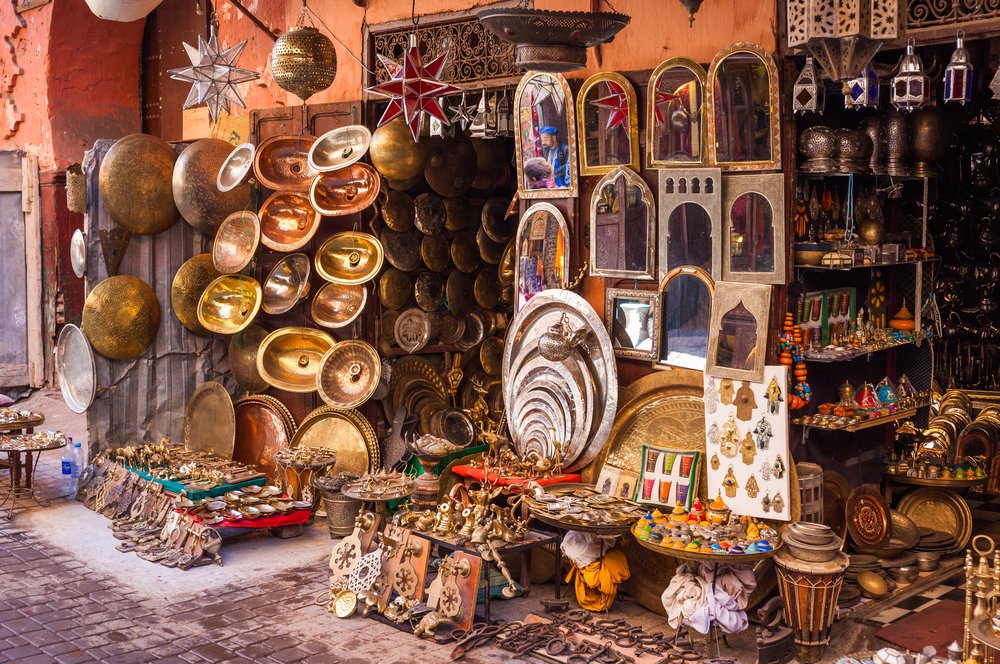 The souks are not just an open marketplace but also a spectacular loop of alleyways where you can get lost. Items are stacked up to the heavens, making the place look like a forest of products being sold.
If you love shopping or planning to get unique finds at the souks, then it is best to have a local private English-speaking tour guide to help you find hidden treasures and keep you on track (Google Maps is just terrible in the medina).
The licensed guides are very informative and will ask you if you already have a shopping list with you so that he can personalize the tour. The adventure usually starts at Mellah, a walled Jewish quarter that means "salt marsh." You will also get to know the sellers and the unique finds they offer from colorful tiles, home décor, carpets, fabrics, jewelry and so on.
The best part of the journey will be at Al Kawtar Women's cooperative, where every purchase you make will give back to the local community. It is a boutique that sells handmade embroidered clothes, scarves, bags and children's wear that help empower disabled Moroccan women.
Before you head back to Jemaa El Fnaa, you will have some tea and a quick snack with your tour guide, where you can ask him for any last-minute tips and tricks and shopping recommendations. The entire tour will take around 3 hours.
Capture special moments with a talented Marrakeshi photographer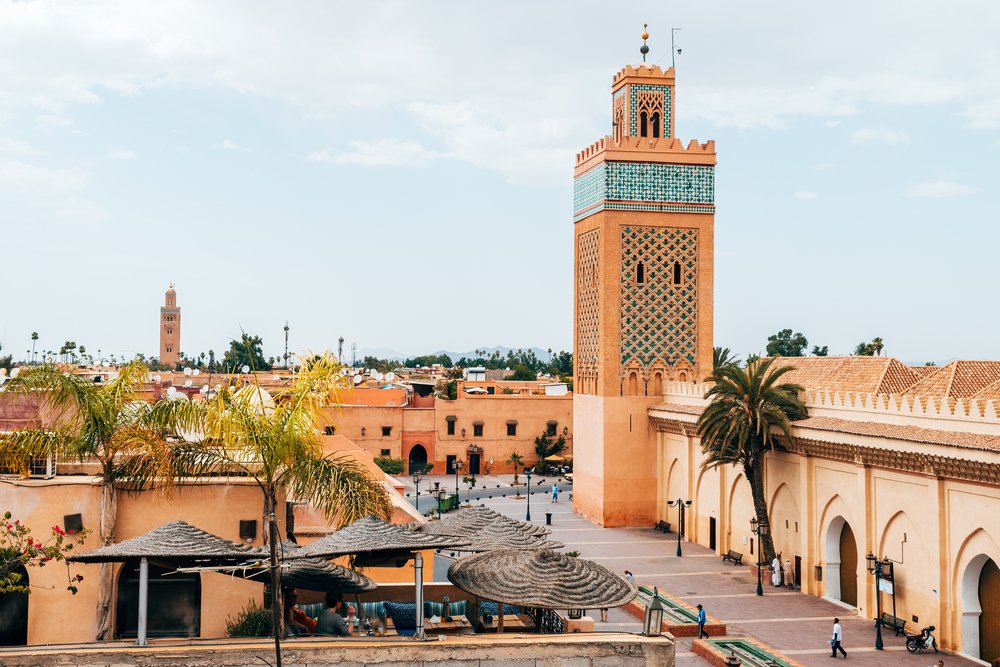 Memories are perfectly stored in the photographs we take every time we travel. While it's easy enough to snap selfies as you travel along Marrakech, if you're commemorating a special moment or this is a once-in-a-lifetime trip, I suggest hiring a professional to shoot your photos in some of the most beautiful and photogenic places Marrakech – it's more affordable than you may think!
You can have different options on how many photos (from 15, 30, 45 and 75 photos) you would like to be taken, and it doesn't matter if you are a couple, group, family, or just a solo traveler!
You can customize the locations of your photos or ask for their local insight. There are usually 2 or 3 locations allowed, depending on the package you wish to get. If you still don't know where to have your photos taken, then they can give you the best recommendations.
After 5 days, you can download the professionally edited photos in their online gallery for free. Just note that travel expenses are not included in the package, so it is best to choose locations that are nearby to each other or factor in cab fare.
Allison Green is a former educator turned travel blogger. She holds a Masters in Teaching and a B.A. in English and Creative Writing. Her blog posts merge her educational background and her experience traveling to 60+ countries to encourage thoughtful travel experiences that both educate and entertain. She has been a speaker at the World Travel Writers Conference and her writing, photography, and podcasting work has appeared in National Geographic, CNN Arabic, CBC Canada, and Forbes, amongst others. Now based in the San Francisco Bay Area where she grew up, she has also lived in Prague, Sofia, and New York City.