Venice, Italy's most unique city, attracts millions of tourists each year, getting busiest during the crammed summer months.
Although the weather is undoubtedly much better in the summer, it comes at a cost: Venice suffers greatly from overtourism during these months.
Think long lines everywhere you want to go, crowded piazzas you have to strain your neck to see above, and overpriced everything.
If you have flexibility in your schedule and don't have to adhere to a school calendar, visiting Venice in winter can be a great idea.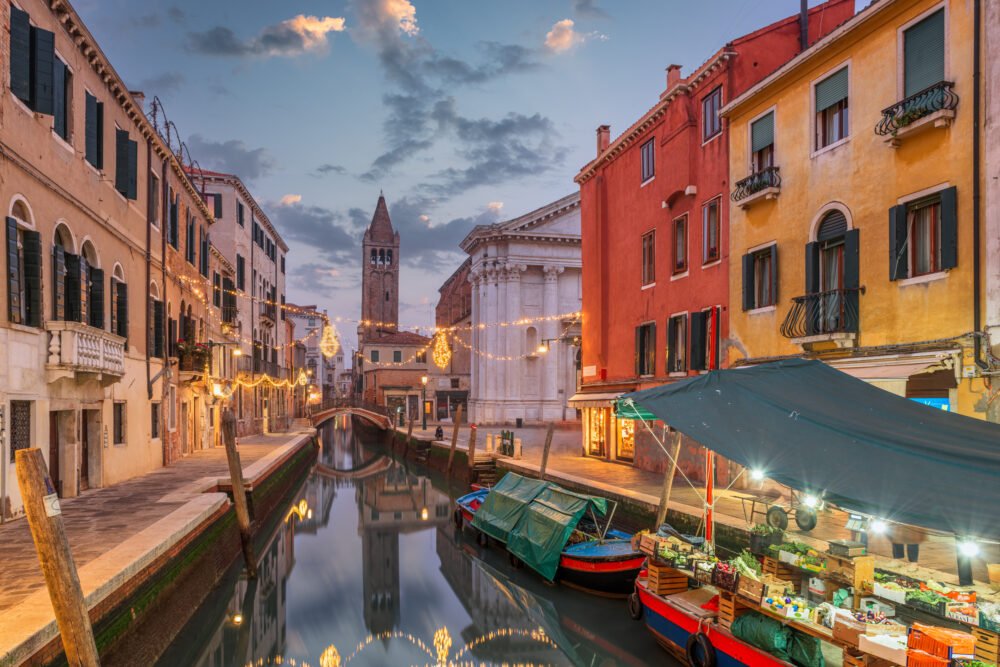 Note: This post contains affiliate links, which means I may receive a small commission if you purchase something through one of these links. Thank you for supporting the free content on this site! For more information on affiliate links and cookies, see my disclosure page for more details.
Not only will it benefit your pockets, but it also helps the city achieve a balance between the peak summer season and the low winter season.
Colder temperatures also mean fewer crowds and lower prices, which makes visiting Venice in winter more appealing.
Furthermore, there is plenty to do indoors in Venice, from visiting amazing museums and landmarks to sampling local food and warming up with hot coffee or chocolate in a cute cafe.
Add to the list some cool events like the Carnival of Venice or ice skating in a Venetian square, and you're set for an amazing winter getaway!
First, let's note a few quick things about what to expect when you visit Venice in winter, and then we'll get into all the fun activities you should add to your winter Venice trip!
Winter in Venice Weather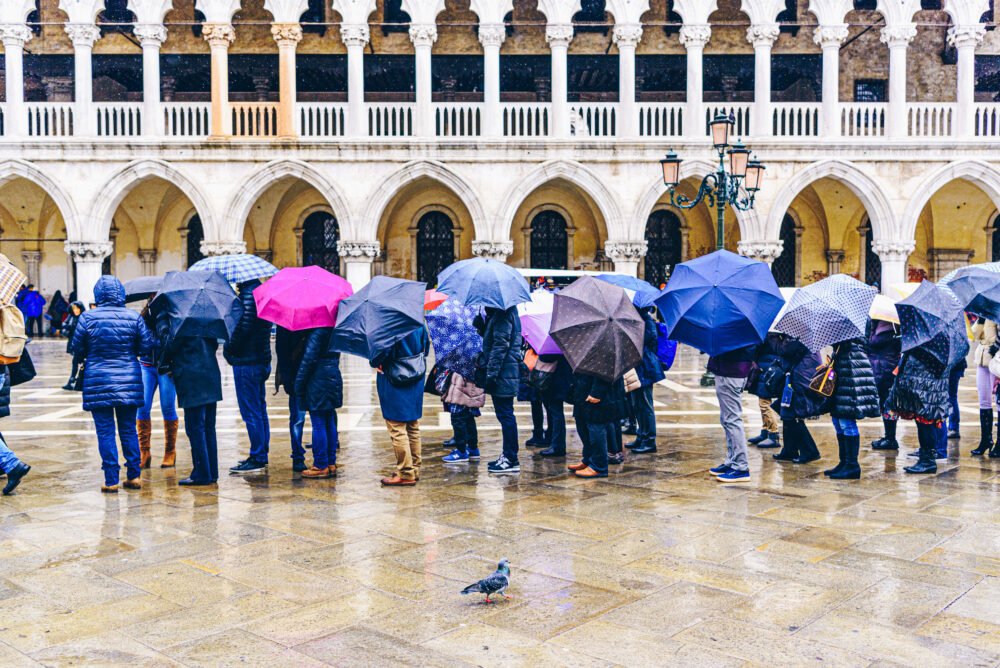 Before you pack your bags and fly off to enjoy winter in Venice (Venezia in Italian), you should take note of a few things!
For one, the likelihood of rain is moderate to high, with the consequent Acqua Alta (high water) phenomenon occurring during this time of the year.
Especially when a period of heavy rainfall coincides with high tide, this can often lead to flooding in some areas of the city center!
Locals are used to this phenomenon, which is usually temporary and rarely affects daily life. However, tourists may not be so fond of it — which is why we recommend you pack some rain boots!
Winter Venice Travel Tips
Keep holidays in mind.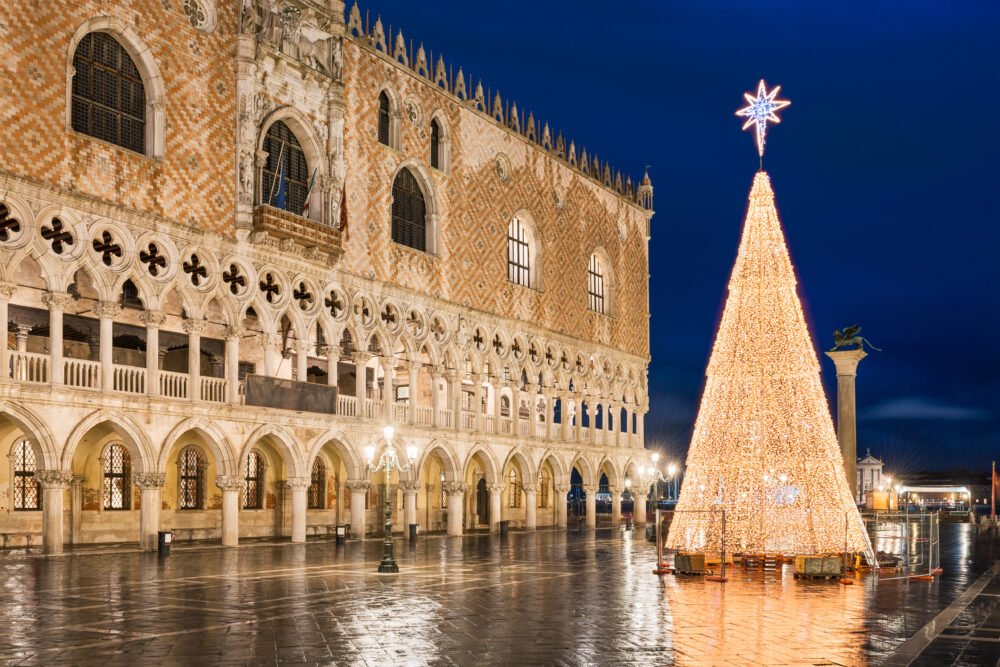 There are several public holidays in Italy in December, including the Feast of the Immaculate Conception (December 8), Christmas Day (December 25) and St. Stephen's Day (December 26).
January has a few public holidays too, including New Year's Day (January 1) and the Epiphany (January 6).
Many restaurants and shops will be closed on these days, and some attractions and museums might be closed as well.
Pre-book your transit from the airport, if arriving by plane.
If you're landing in Venice, you'll want to pre-book your transfer to save time and hassle at the airport.
This shared water taxi transfer offers the best combination of value and convenience — it's how I'd recommend getting to your hotel!
Crowds will be fewer — but not nonexistent.
This is still Venice, after all, one of the world's most visited cities! You won't have the city all to yourself, but you will enjoy relative peace and quiet compared to other times of the year.
For the least crowds, visit in January, after the Christmas and New Year's Eve rush has subsided but before Carnevale season picks up.
Winter in Venice is wet, so dress accordingly.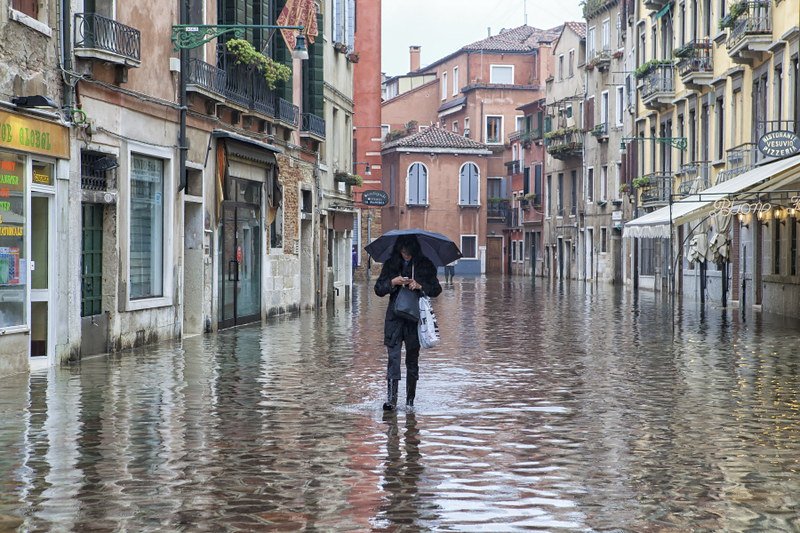 While it rarely snows in Venice, rain is a frequent occurrence. Be sure to bring clothing that can handle the rain!
We suggest a waterproof overcoat and rain boots (I love Hunter rain boots) — and of course, a windproof travel umbrella!
Also, we suggest you have a few changes of clothes available in case you get wet so you can dry things out between wears.
Book your accommodation in advance, even in low season.
Despite winter being low season in Venice, we still suggest you book your accommodations as far in advance as you can.
This way, you can snag some of the best prices on bucket list-worthy hotels and have plenty of options to choose from.
Be aware that if you are visiting during the week around Christmas or in the month of February during Carnival, this advice is extra relevant!
Below, we'll list two of our favorite picks for where to stay in Venice that offer especially good value in winter, when these normally $$$ hotels are a little more affordable!
Where to Stay in Venice in Winter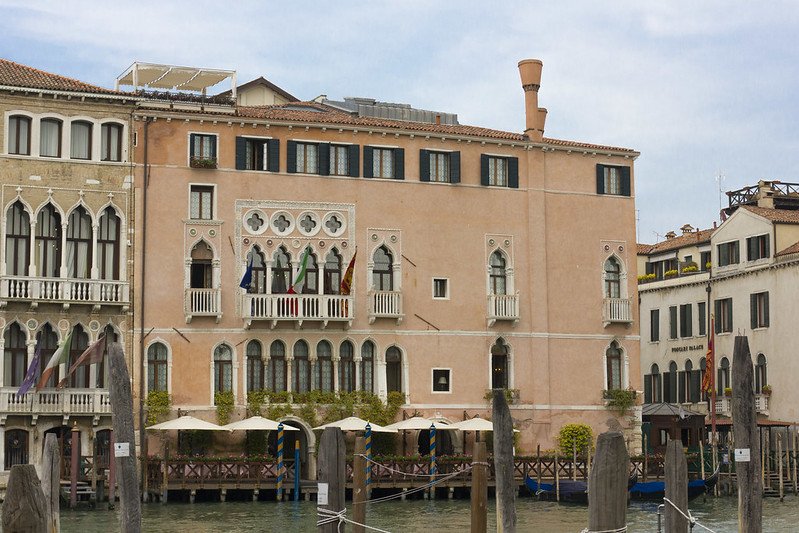 CA' SEGREDO | Located in trendy Cannaregio, Ca' Segredo is peaceful and away from the crowds, yet just a 7-minute walk from the Rialto Bridge or a 15-minute walk from the St. Mark's Basilica.
Housed in former 14th-century palatial building, you'll really feel opulent as you enjoy the views over the Grand Canal and stunning Venetian interior decor, complete with antique furniture and bespoke art pieces.
This is truly a hotel for art lovers — it has its own art collection which features paintings by Venetian artists, in its public spaces as well as its rooms. The rooms themselves are as ornate as everything else, with marble bathrooms and luxe furnishings.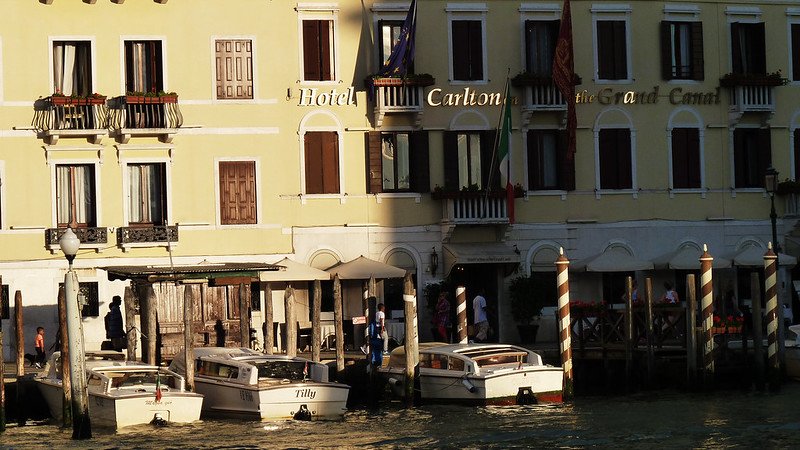 THE CARLTON | If you're looking for a convenient hotel in San Marco at a mid-range price, then you can check out The Carlton which stands overlooking the magnificent Grand Canal.
It has a stunning rooftop cocktail bar with a terrace — great for enjoying the epic views over the canals — and spacious, Venetian-style rooms.
The hotel is a romantic 4-star property, with incredible interiors and decorated with local Murano glass lamps and antique furniture.
Check reviews, prices, and availability here!



The Best Things to Do in Venice in Winter
Walk around the city to see the lovely Christmas lights.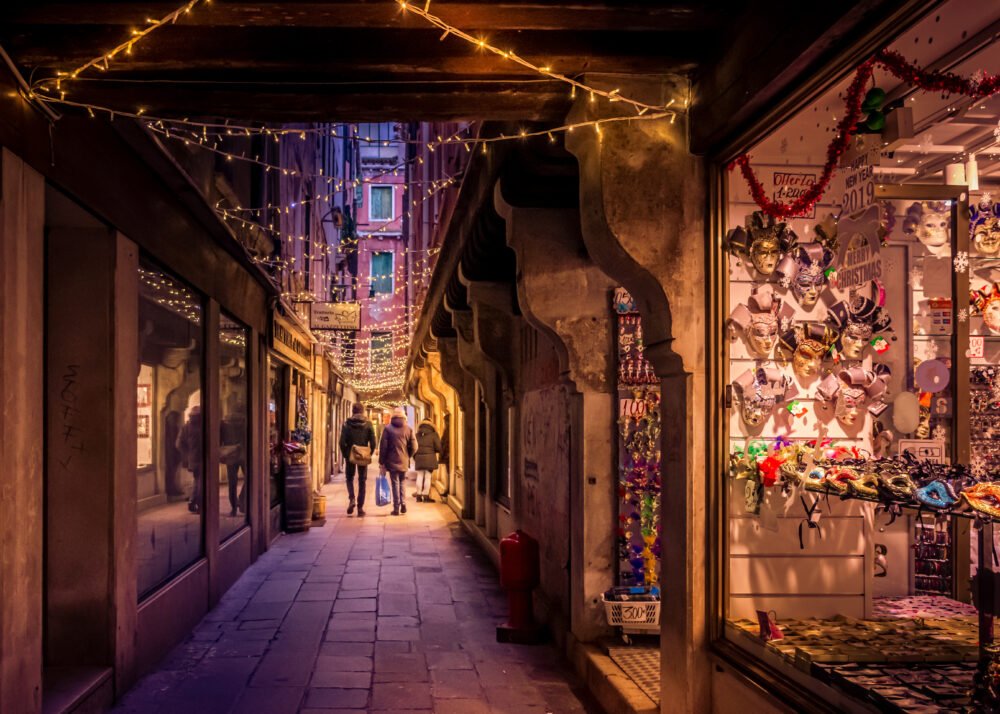 Despite the cold weather, one of the best things to do in Venice in December is to walk around the city and see the beautiful Christmas lights and decorations!
Take advantage of the empty streets on a winter day to see Venice in a new light… literally!
The time just before Christmas is the perfect time to explore the little alleys, lovely squares, and impressive canals of Venice. They'll be festive but not crowded.
Don't forget to check out the gondolas, which are also adorned with Christmas decorations!
In the Jewish Ghetto, you'll find beautiful traditional decorations to celebrate Hanukkah. The shops here also turn festive, especially those selling traditional Venetian souvenirs like Murano glass sculptures.
See the Christmas decorations in San Marco Square.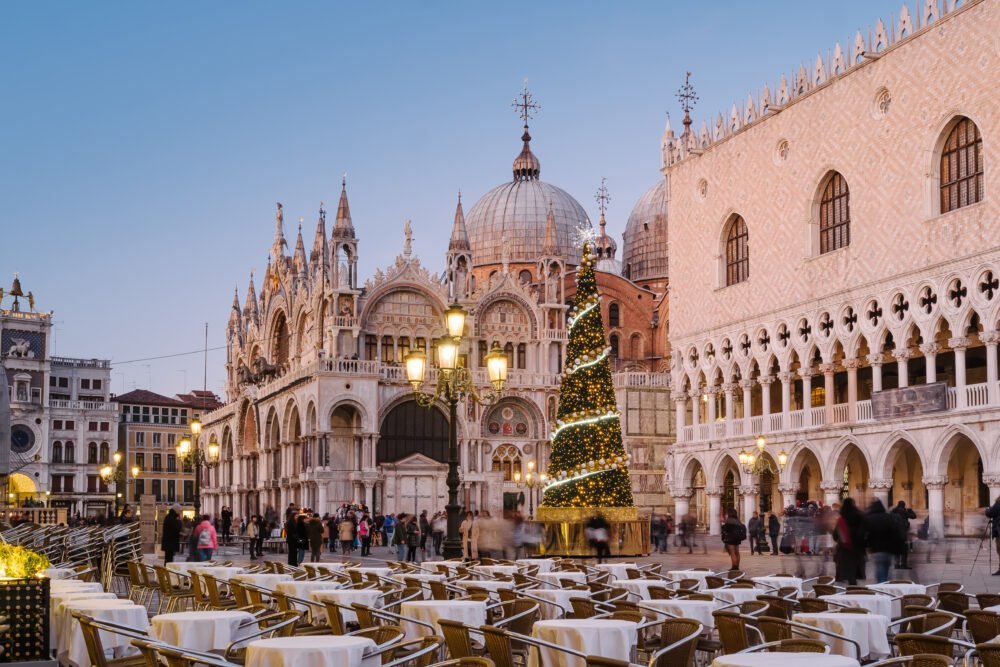 However, the best place to enjoy Christmas decorations, including a big Christmas tree, is the impressive Piazza San Marco!
This piazza is truly the heart of Venice, where many attractions are clustered around, and as a result it gets a huge boost of Christmas cheer each year!
Every year, you'll see a different tree standing tall and brightening the big square with unique decorations and a small Christmas market to browse as well.
Take a break and warm up with a hot drink in a historical café.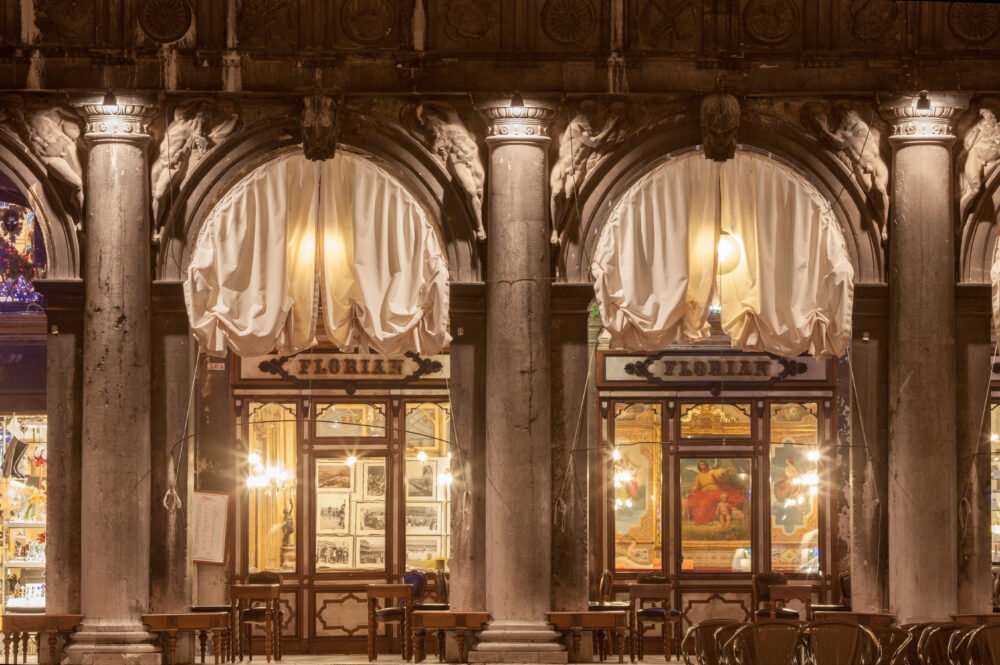 To warm up and escape the rain and cold of Venice in winter, have a hot drink in one of the many historical cafés.
The most popular ones are unsurprisingly in the most famous square in Venice, Piazza San Marco.
The oldest café in Venice and one of the oldest in the world is Caffé Florian, which has been in continuous operation since 1720!
The literary-focused café was frequented by many famous personalities, including Marcel Proust and Giacomo Casanova. The interior is simply beautiful and is a wonderful, scenic respite from the cold.
If you're looking for an iconic place to enjoy an espresso, this is it! However, prices will match: think 12 euros for a coffee and 20 euros for a piece of cake!
Another option is the charming Gran Caffè Quadri, which also attracted several artists over the centuries, including Stendhal, Alexandre Dumas, and Lord Byron.
After many transformations, the historical location got recently renovated in its original 18th-century style.
If you prefer a cup of steaming hot chocolate, check out one of the Venchi locations in Venice.
Although the shops are modern, the brand dates to the end of the 19th century and is one of the best chocolate makers in Italy!
Go on a scenic gondola ride.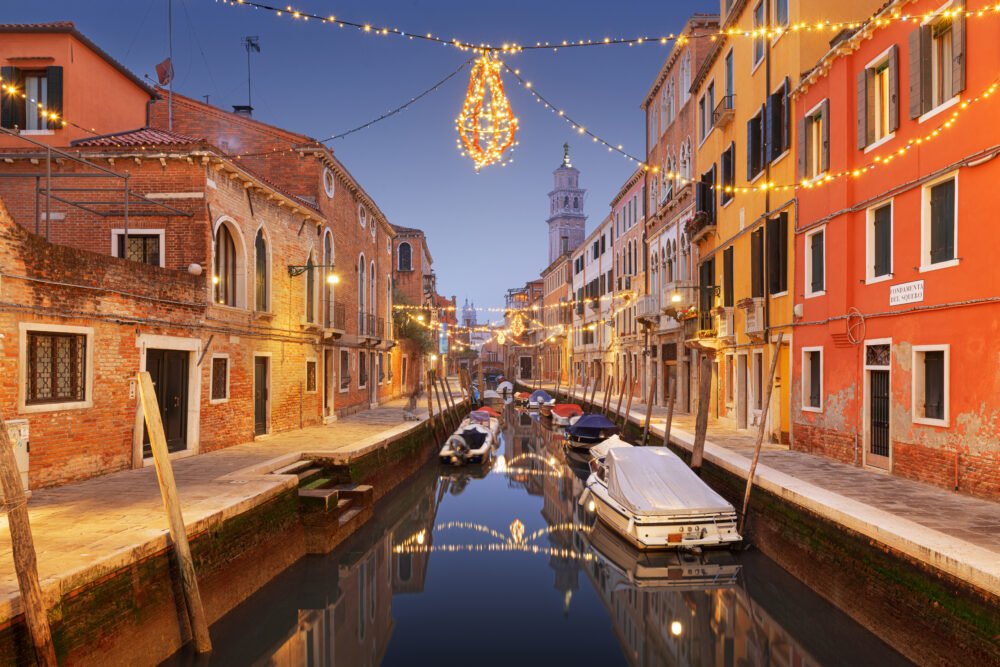 One of the most classic ways to go sightseeing in Venice is by gondola — and in winter in Venice, the gondolas are no stranger to holiday cheer and often join in on the fun of the city's decorations!
Many lights are strung up over the canals, creating a festive atmosphere with beautiful reflections in the water.
Of course, you can hire any gondolier you see — they tend to mill about in tourist hot spots — or you can pre-book a gondola experience.
We recommend the latter, because you don't have to haggle and you'll know exactly how long of a ride you're getting… there's always the occasional gondolier who will promise you the moon, and then bring you back after just a short paddle!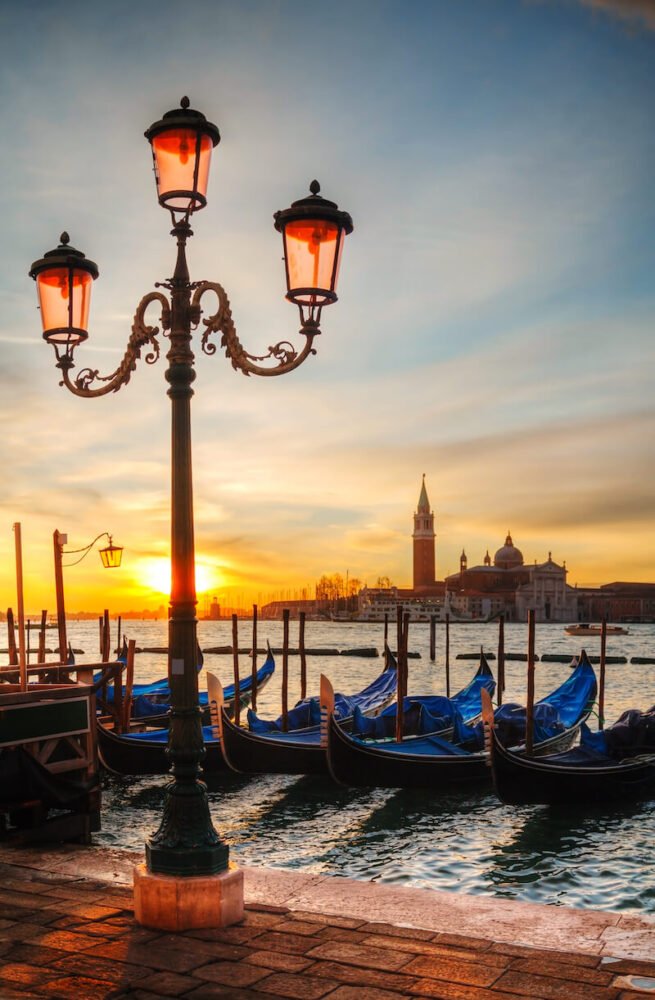 Depending on your budget and group size, you can book a private gondola tour which are available for a group up to 5.
These private gondola rides are perfect for families or couples who want a roomy, dreamy gondola ride with no one in the background taking selfies while they're trying to romance their partner!
Another option is a shared gondola experience which is paid per person, not per group.
This is good for solo travelers and couples on a budget who don't mind sharing with other travelers to minimize their spend — while still enjoying a classic Venice must!
Book your small group shared gondola tour or a private gondola tour online to save hassle!
Photograph the many bridges and narrow canals of Venice.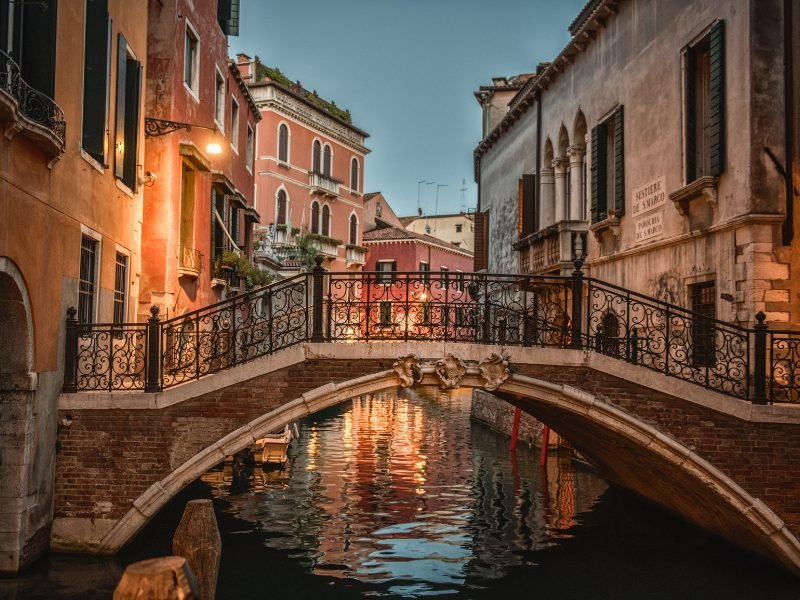 One of the best things to do in Venice in winter is take advantage of the limited crowds and go for a photo walk.
A few of the must-see bridges in Venice are the Rialto Bridge, the Bridge of Sighs, and the Ponte dell'Accademia.
These are some of the most photogenic places in Venice that you can't miss.
Enjoy the New Year's Eve Fireworks.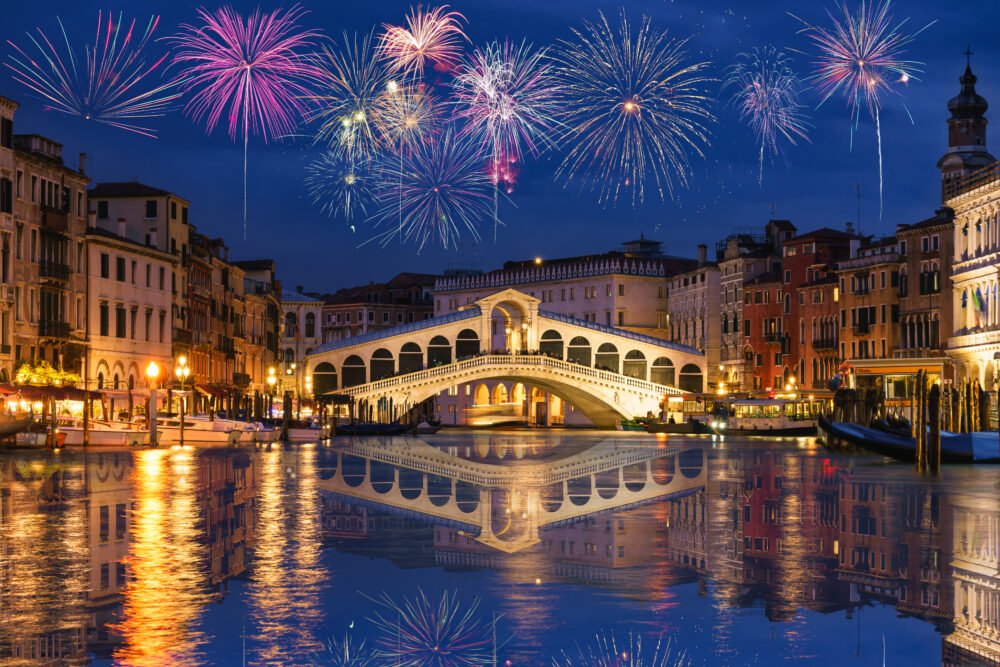 Like many cities, Venice is no stranger to New Year's Eve celebrations!
There is a huge fireworks display that takes place in Piazza San Marco, where many people gather to see the fireworks at midnight.
There are many great vantage points to see the fireworks and capture epic Venice New Year photography — such as from this view point on the water, looking over Rialto Bridge!
Attend the famous Venice Carnival.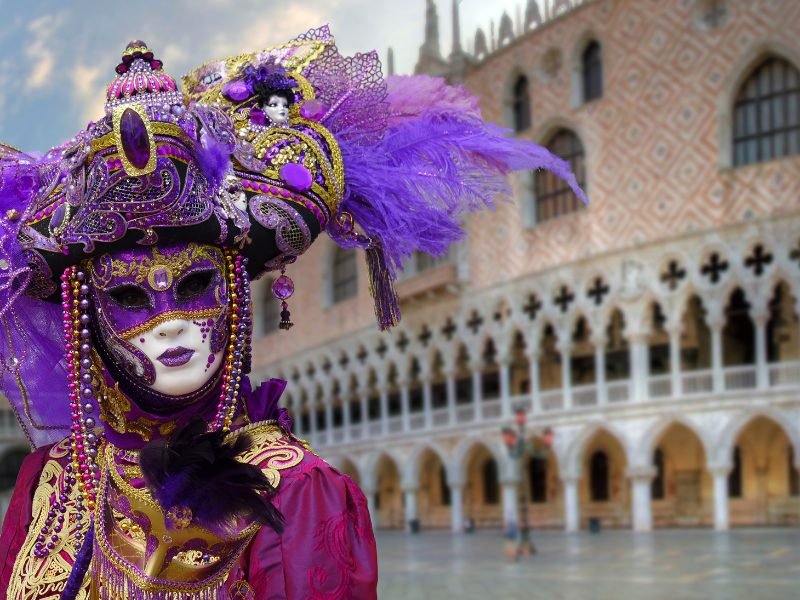 Every year, around February, you have the chance to attend one of the most popular carnivals in the world!
As a result of Venice Carnival (Carnevale), you'll find that Venice in February is more crowded and more expensive than at other winter months (though still less crowded than in summer).
If saving money is your aim, visit Venice in January, December, or March. If having a blast and seeing a fantastic cultural experience is your aim, then visit Venice in February for the Venice Carnival!
For roughly one month, Venice celebrates the centuries-old tradition of the carnival, with shows, parades, competitions, and traditional events taking place all over the city.
Every year, the carnival has new events while maintaining the old traditions.
From the contest for the best carnival costume and the masquerade balls to the acrobat show "Flight of the Eagle" and carnival boat parades, a lot is going on in Venice during the carnival.
The best thing is that most events take place on the streets and canals of Venice for free!
Prepare your costume, buy a typical Venetian mask, and get ready to join the celebrations!
Take advantage of the smaller crowds in Doge's Palace.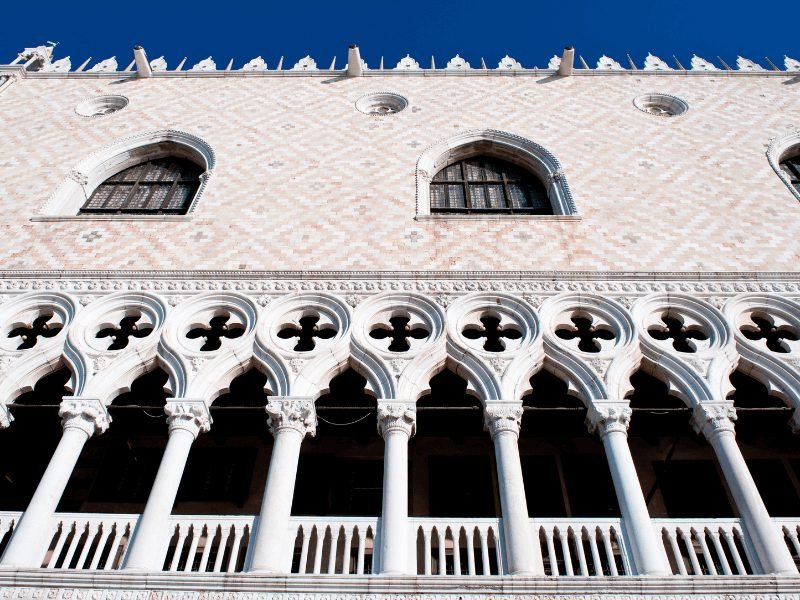 The Doge's Palace is the former seat of the Venetian government and the residence of the Doge, the supreme authority of the Republic of Venice.
After the fall of the Venetian Republic, the palace lost its role as a residence and instead became the site of several administrative offices — until it started falling into decay.
After its restoration, the gothic palace became a museum in 1923. Nowadays, it's one of the most visited museums in Venice!
Inside, you can explore the Doge's former apartments, several ballrooms, the courtyard and loggias, and the former prisons.
Buy a ticket to visit the museum on your own or join a guided tour to learn cool facts about the palace's history while being led by an expert guide.
The perk of visiting Venice in winter is that you'll find significantly fewer crowds at popular museums, and the Doge's Palace is no exception!
However, we still suggest that you book a tour that includes skip-the-line access to avoid the lines and get important historical context for what you're seeing.
We suggest this combined tour of Doge's Palace and St. Mark's Basilica, which combines the two into a 2- to 4-hour walking tour, depending on the group size you select.
Private tours last 2 hours, whereas small group tours capped at 10 people take 4 hours, and the larger group tours capped at 20 and 30 people take 3 hours.
Book your Doge's Palace and St. Mark's Basilica walking tour here!
Visit the interior of St. Mark's Basilica.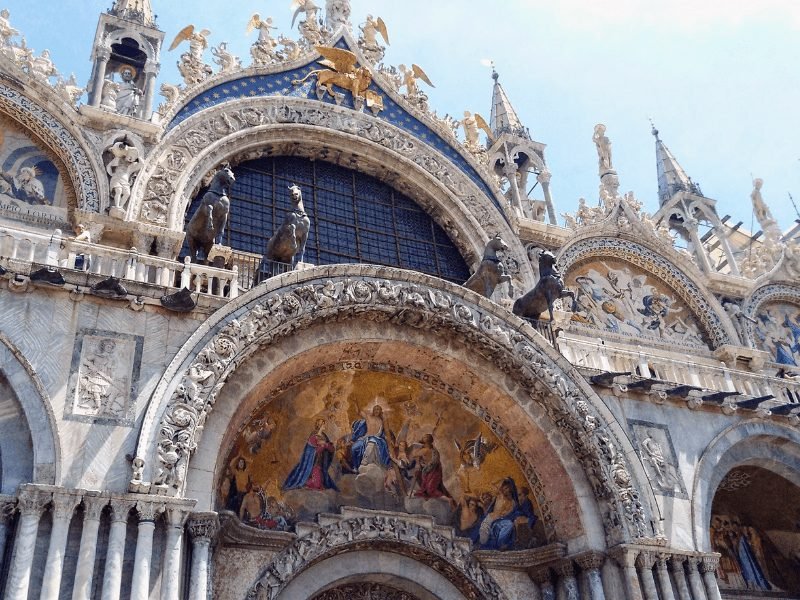 St. Mark's Basilica, dedicated to the city's patron saint (Saint Mark), is a must-see when visiting Venice in winter!
Drawing on Byzantine, Romanesque, Gothic, and Islamic influences, the impressive and eclectic design of the Basilica in the world-famous St. Mark's Square is like no other in Italy.
Besides these diverse architectural influences, the opulence is dialed up a notch with its embellishments of precious stones, columns, reliefs, and sculptures.
The Basilica dates to the end of the 11th century, and the heavily decorated façade was meant to show the Republic's power and wealth.
After serving as Ducal Chapel for many centuries, the church became the city cathedral in 1807.
A visit inside the Basilica is perfect for escaping the cold weather if you're spending winter in Venice.
You can just visit the St. Mark's Basilica for a small fee or buy a ticket that includes the on-site museum. If you go during mass or to pray, access from Porta dei Fiori is free.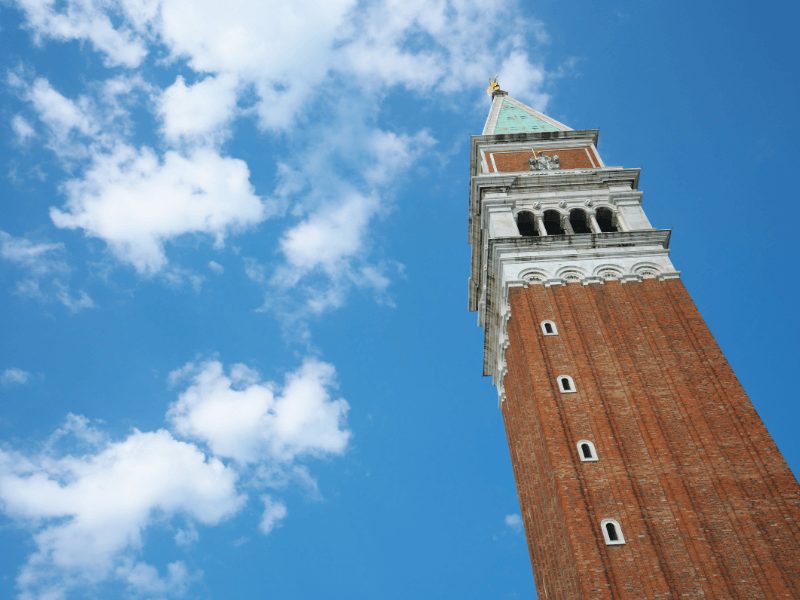 You may also climb to the top of the bell tower (Campanile) if the weather allows it, for an extra fee!
The access to the tower is closed in case of fog, wind, or extreme cold — all of which are possibilities at this time of year!
Also, be sure to remember you can't enter the Basilica or the Campanile with big backpacks or suitcases, so be sure to mind this when planning your visit.
We suggest going on a guided tour like this one (which combines with Doge's Palace and includes access to the Basilica Terrace) or pre-booking your entry here with audio guide.
Enjoy beautiful Italian masterpieces at Gallerie dell'Accademia.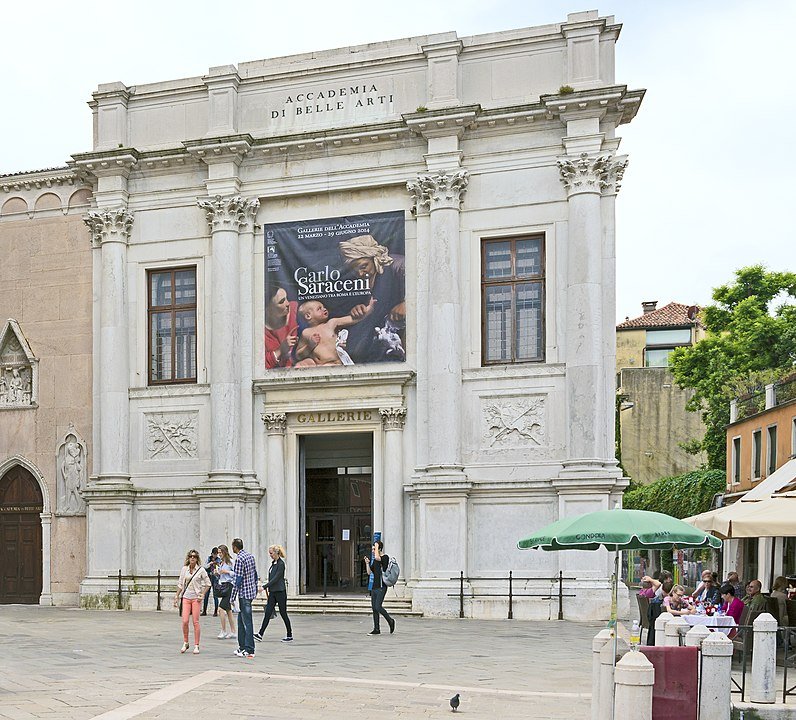 One of the most important art museums in Venice is the stunning Gallerie dell'Accademia.
This famous museum is housed in the historic complex of Santa Maria della Carità, in the artistic Dorsoduro district.
If you like art and are looking for places to visit indoors to escape the cold of Venice in winter, this is a museum to add to your Venice itinerary!
The museum houses the largest collection of Venetian paintings in the world, including masterpieces by Titian, Carpaccio, Giorgione, Hayez, Bellini, Veronese, and Tintoretto.
In addition to the impressive permanent collection, you will always find at least one temporary exhibition highlighting a unique theme.
You can book your tickets online (tickets cost 12 euros) or buy them directly at the ticket office before your visit; however, there may be a line!
You can also take a private tour of the gallery and Dorsoduro district if you prefer a little more historical context to what you're seeing.
Online tickets are usually available even one day in advance, but it may be a good idea to check a few days before.
Have a glass of wine and a few cicchetti in a bacaro.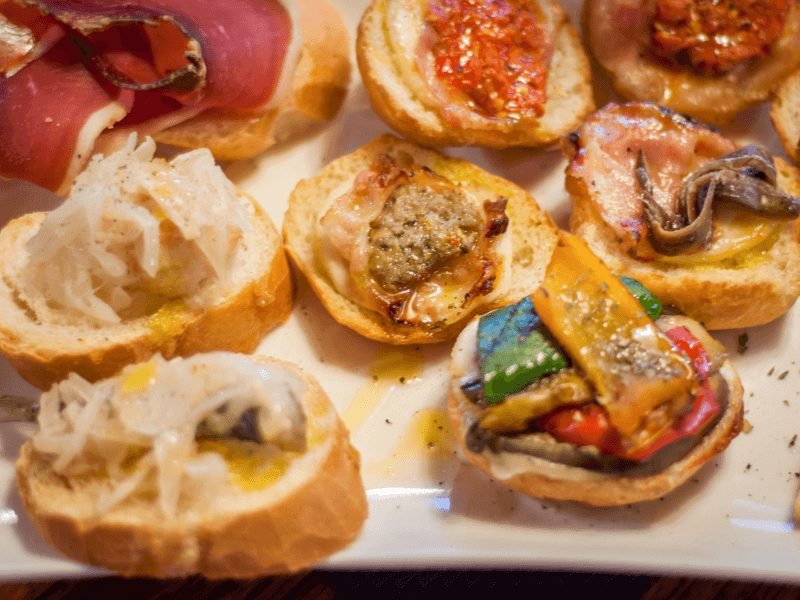 Bacaro is the Venetian term for the bars serving the traditional Venetian aperitivo.
What is an aperitivo? This pre-dinner snack consists of a small glass of wine and tiny bits of street food called cicchetti!
Fun fact: the wine is called "ombra" (shade) because this aperitivo used to be served in St. Mark's square, in the shade of the bell tower.
Vendors would move around following the shade to keep the drinks cool. They came up with the idea of tiny food bites (cicchetti) to prevent their clients from getting drunk!
Some examples of the dishes they would serve are baby artichokes, boiled octopus, croutons with creamy codfish, sardines, and more.
The tradition of the aperitivo is still very much alive in Venice, although now you can sit comfortably in a bar, or bacaro, as you sip your wine or spritz and have a few bites.
You can even join a bacaro tour that will take you to the historical bacari in the city!
Think of it as Venice's take on a pub crawl, but much earlier in the evening… and with food to line your stomach!
Alternately, to explore the wine side of things, you can check out a prosecco or other wine tour from Venice!
Check out the Christmas Village in Campo Santo Stefano.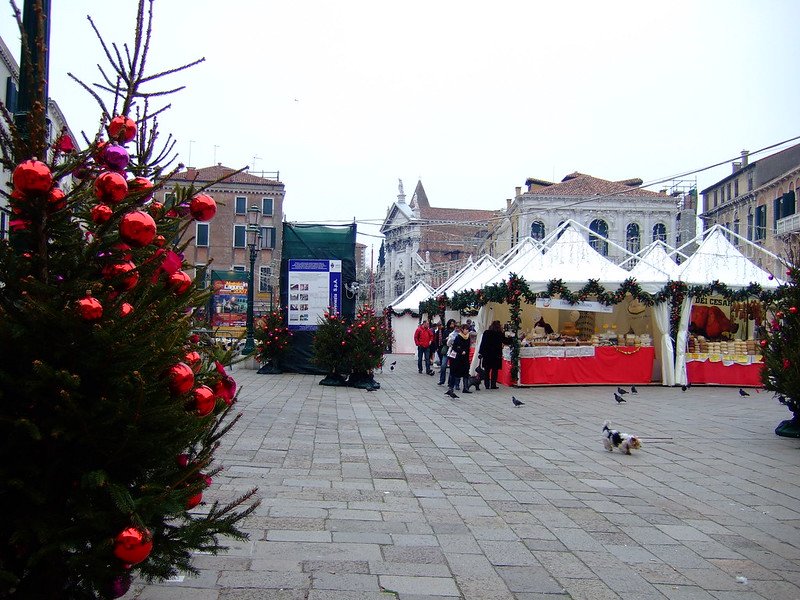 From early December until the 24th, check out the Christmas Village, the most popular Christmas market in Venice, in Campo Santo Stefano.
The square gets filled with wooden cabins selling anything from Venetian Carnival masks, Murano glass objects, Burano lacework, and Christmas decorations to food and drinks.
If you visit Venice in December, this is the place to go to buy all your Venice souvenirs and gifts!
You'll find everything from jewelry and artisan items to specialty products like olive oils, balsamic vinegar, pasta, biscotti, and other delicacies.
Aside from shopping, eating, and drinking, you can also check out special events, including concerts and shows for adults and children.
Admire impressive art at Peggy Guggenheim Collection.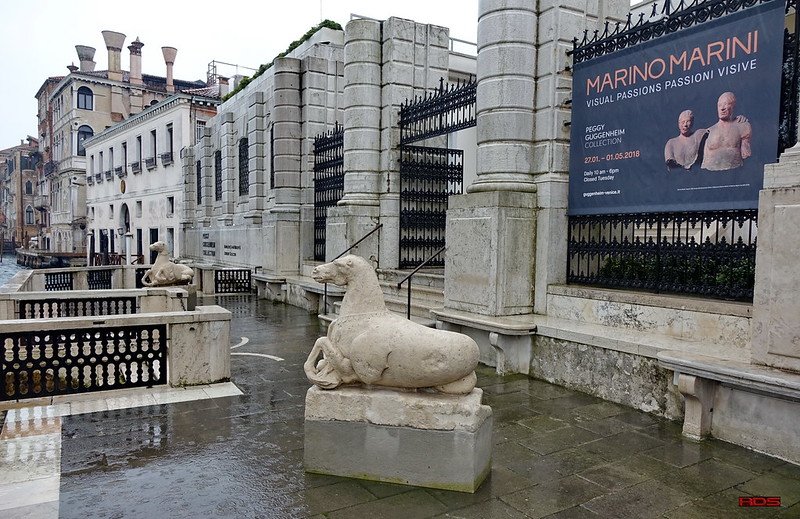 If you are passionate about modern and contemporary art, the Peggy Guggenheim Collection is a must-see in Venice.
Located in Peggy Guggenheim's former house, Palazzo Venier dei Leoni, the gallery houses a collection of European and American 20th-century art.
The building belonged to the Venetian noble family Venier, whose members covered important roles in the city, including three Doges.
Peggy Guggenheim bought the impressive palazzo in 1949 and lived there for thirty years. Back then, she would open her house to the public, so anyone could see her art collection for free… today, you have to pay!
The palace opened as a museum in 1980. Aside from Peggy Guggenheim's Collection, you can also see temporary exhibitions and attend events like the Peggy Talk, a presentation on the life of Peggy Guggenheim, free with museum admission.
You can skip the lines and buy your ticket online in advance here.
Watch a show at Teatro La Fenice.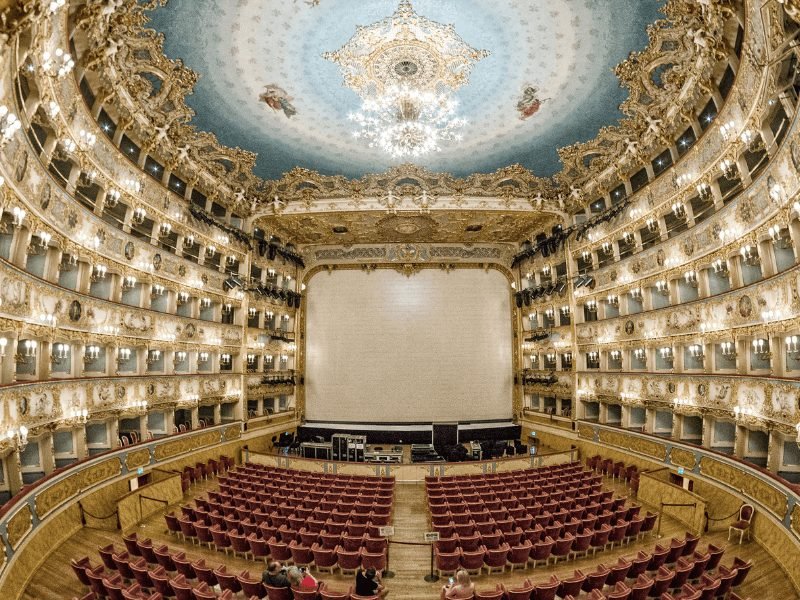 The prestigious Teatro La Fenice opened in 1792 and hosted many opera performances by famous composers like Verdi, Rossini, and Bellini.
On a cold winter evening, you can watch an opera show or a classical music concert in the impressive theater.
The name of the opera house, which translates to Phoenix Theater, represents the theater's ability to "rise from its ashes".
The building was nearly destroyed by two fires, one in 1836 and the other in 1996. When it reopened in 2004, the tradition of the Venice New Year's Concert started.
If you're in Venice at the end of December, you may want to check it out!
If you don't want to watch a show, you can also visit the theater and take a tour of the interior with an audio guide to add context.
Inside, you'll also find a permanent exhibition dedicated to Maria Callas.
Witness the curious Regata delle Befane.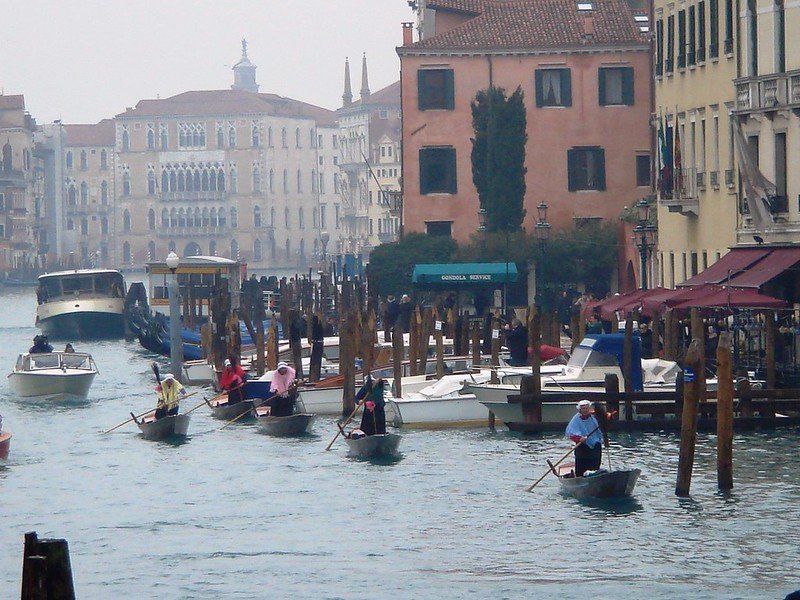 In Italy, the Epiphany is celebrated with the Feast of the Befana. This day also marks the end of the winter season!
The Befana is an old woman riding a broom and bringing stockings filled with gifts to good children or lumps of coal to bad ones — think a mashup of a witch and Santa Claus.
In Venice, the festivity is an occasion for quite a unique regatta (boat race) along the Canalazzo, aka the Grand Canal: La Regata Delle Befane.
If you happen to be in Venice on January 6, head to Rialto Bridge and pick a spot along the canal to watch the regatta, followed by a procession of gondolas with locals dressed up as Befane.
The event ends with a music show at Rialto Bridge, and the hanging of the giant stocking on the bridge — it's quite the spectacle, and it's very unique to Italy!
Go ice skating at the temporary rink in Campo San Polo.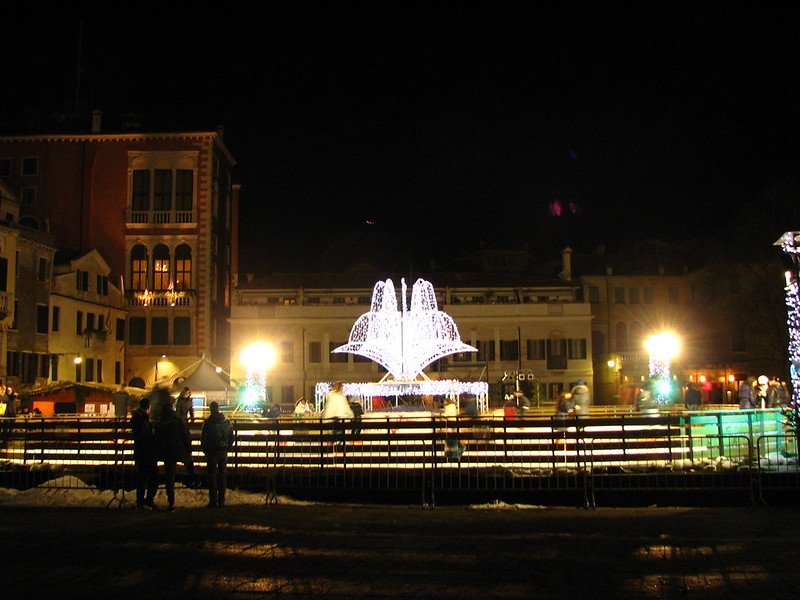 Although snow is uncommon in Venice, the city does not lack opportunities for winter activities!
Every year, from early December until the end of February, an ice-skating rink pops up in Campo San Polo, only a few minutes away from Rialto Bridge.
Campo San Polo is the second largest square in Venice, second only to St. Mark's Square. The ice rink takes up a big part of the square, so you'll have plenty of space to skate.
The rink is open all day long and offers a skate rental service. Usually, you'll have to book a time slot for entry, so check the schedules in advance.
After spending some time on the ice rink, you can fuel up with the food and drink sold at the stalls in the square!
Escape the cold and visit the art collection of Ca' Pesaro.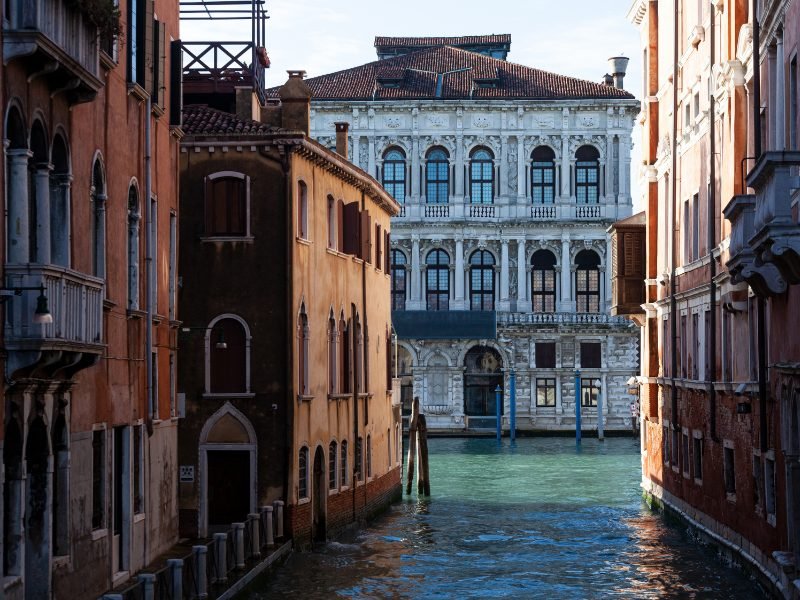 Like most museums and art galleries in Venice, the Ca' Pesaro International Gallery of Modern Art is housed in a grandiose palace that once belonged to a noble family.
The impressive façade on Venice's Grand Canal features decorated arches and imposing columns, making it equally impressive on the outside as it is inside!
The building is decorated with frescoes by Venetian artists and houses a collection of works by Titian, Tintoretto, Bellini, Klimt, and Rodin.
On the second floor, the museum houses temporary exhibitions, while the third floor is dedicated to art from Asia.
With a single ticket, you can visit the permanent Modern Art collection and the Museo d'Arte Orientale. If temporary exhibitions are on, you can access them for a small extra fee.
Witness a glass-blowing show on Murano Island.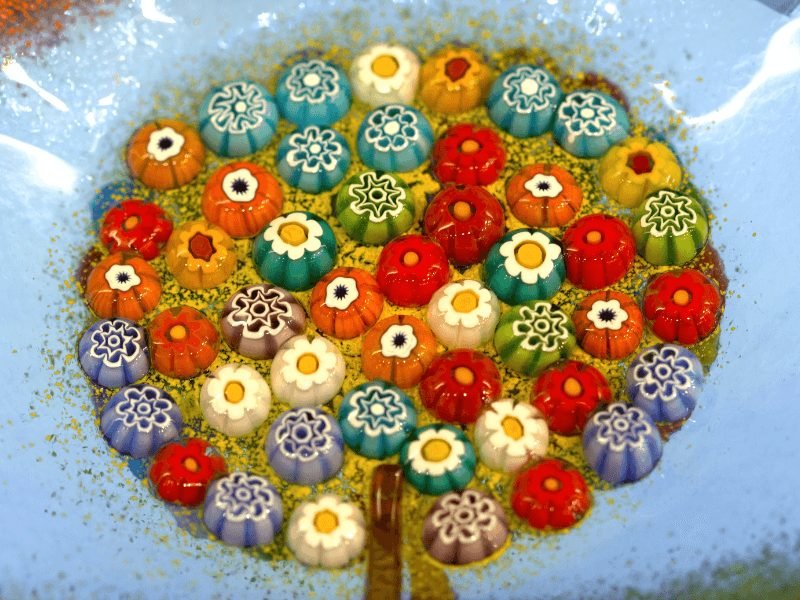 If the weather is not behaving and you need to spend a day indoors, why not hop on a vaporetto (water bus) for a day trip to Murano Island for a tour of a traditional Murano glass factory?
Most Murano glass factory tours will include visits to the showroom to admire beautiful glass artworks and a glassmaking demonstration by a master craftsman.
In addition, you may even get the chance to create a small piece of jewelry with Murano glass that you can take home as a souvenir!
If you're visiting the island of Murano in December, go for a walk around the island to check out the Christmas lights and shops selling festive glass decorations.
Don't forget to go to Campo Santo Stefano and check out the Comet Glass Star!
You can get to Murano independently via vaporetto, but it may be more convenient to join a tour than work out Venice's vaporetto time schedules… which get a little erratic in winter.
This 6-hour day tour, which includes Burano, Murano, and Torcello (three of the islands near Venice) including a trip to the glass factory, is a fantastic value at only approximately 25 euros!
Book your day tour of Venice's islands, including Murano and its glass factories, here!
Buy a book at the unique Acqua Alta bookstore.
No trip to Venice would be complete without a visit to the most famous bookstore in the city, if not all of Europe!
Libreria Acqua Alta is a unique little place where books are stored in gondolas, boats, and bathtubs to protect them from damage in case of flooding due to Acqua Alta.
A small courtyard features a staircase made of ruined books that would have otherwise been destroyed, but are now a work of art.
Climb the book steps for a view of the canal and maybe spot a gondola passing by!
Aside from being a unique place, the bookstore has a great variety of books, including international volumes, so you can find something for your taste.
Even if you don't plan on buying a book, you should pay a visit to this lovely place.
How Visiting Venice in Winter Helps Counter Overtourism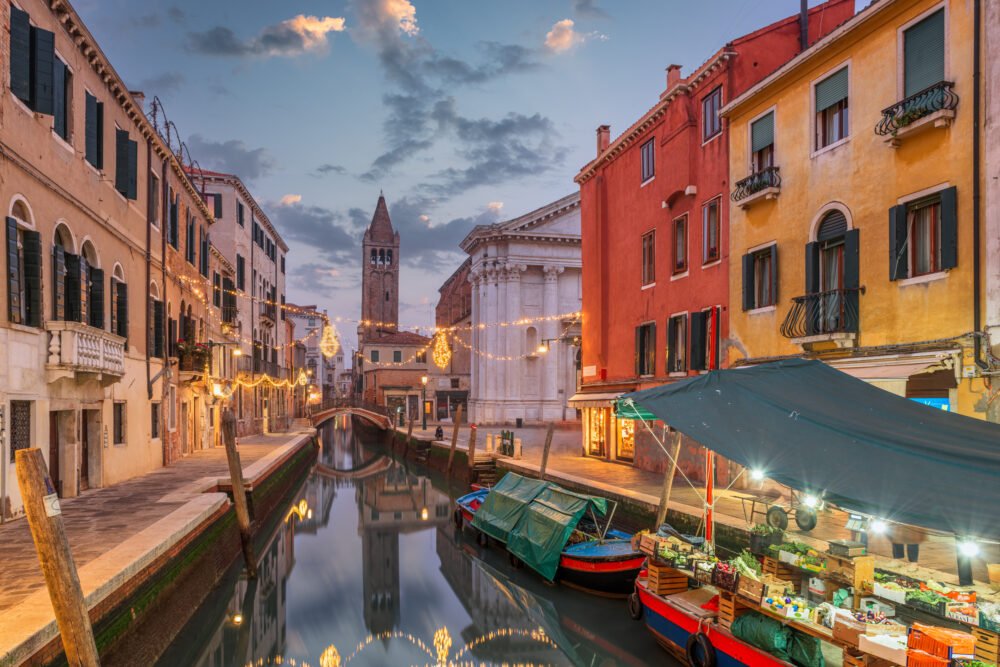 One of the many perils of overtourism is the feast-or-famine nature of it all. Part of responsible travel is thinking critically about not only where you travel, but when!
While it may seen more sustainable to completely avoid travel to overtouristed destinations, that's ignoring the fact that there is a highly built-out tourist infrastructure that is vastly underutilized in the off-season.
While these accommodations, restaurants, and attractions may be jam-packed and crowded in the peak season, in the winter, it may be hard for these same locals and business owners to cover their expenses and make a predictable income.
Visiting overtouristed destinations like Venice in the winter off-season is a great way to reduce your footprint and travel responsibly, while still allowing you to enjoy a bucket list destination.
Winter is also a great time to enjoy some popular day trips from Venice without the crowds!
I have 17 ideas for day trips from Venice here, but if I had to pick the best winter choices, they would be Verona, Padua, and Bologna.
Don't Forget Travel Insurance!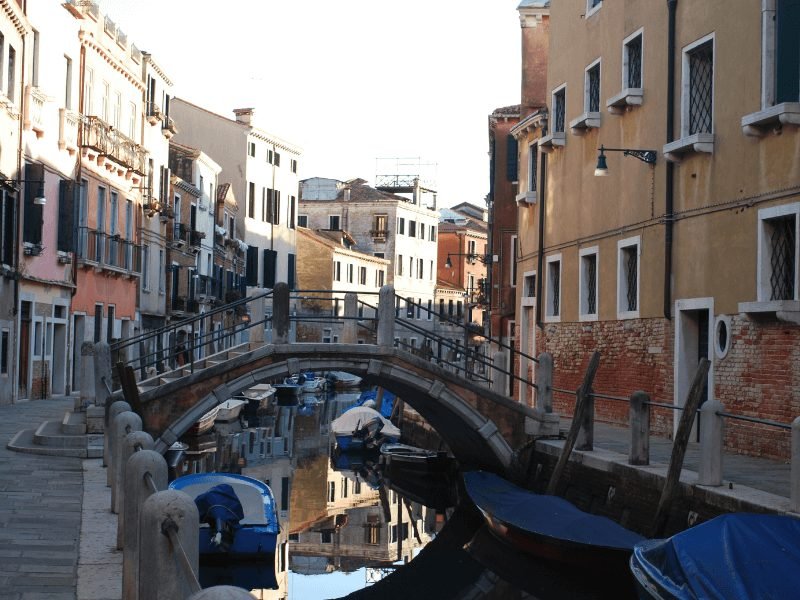 When planning any trip, especially a winter trip, be sure not to forget about travel insurance!
I use SafetyWing and its Nomad Insurance to insure all of my trips for its affordable rates and comprehensive coverage for all my travel needs.
It provides both travel insurance (coverage for trip delays, cancellations, interruptions — the likelihood of which increases in winter) and travel medical insurance (coverage for things like accidents, illnesses including Covid, etc. — also more likely in winter!).
Coverage is really affordable — for me, it costs roughly $11 USD for a week of coverage outside of the U.S., with a policy max of $250,000 after a deductible of $250. Not bad!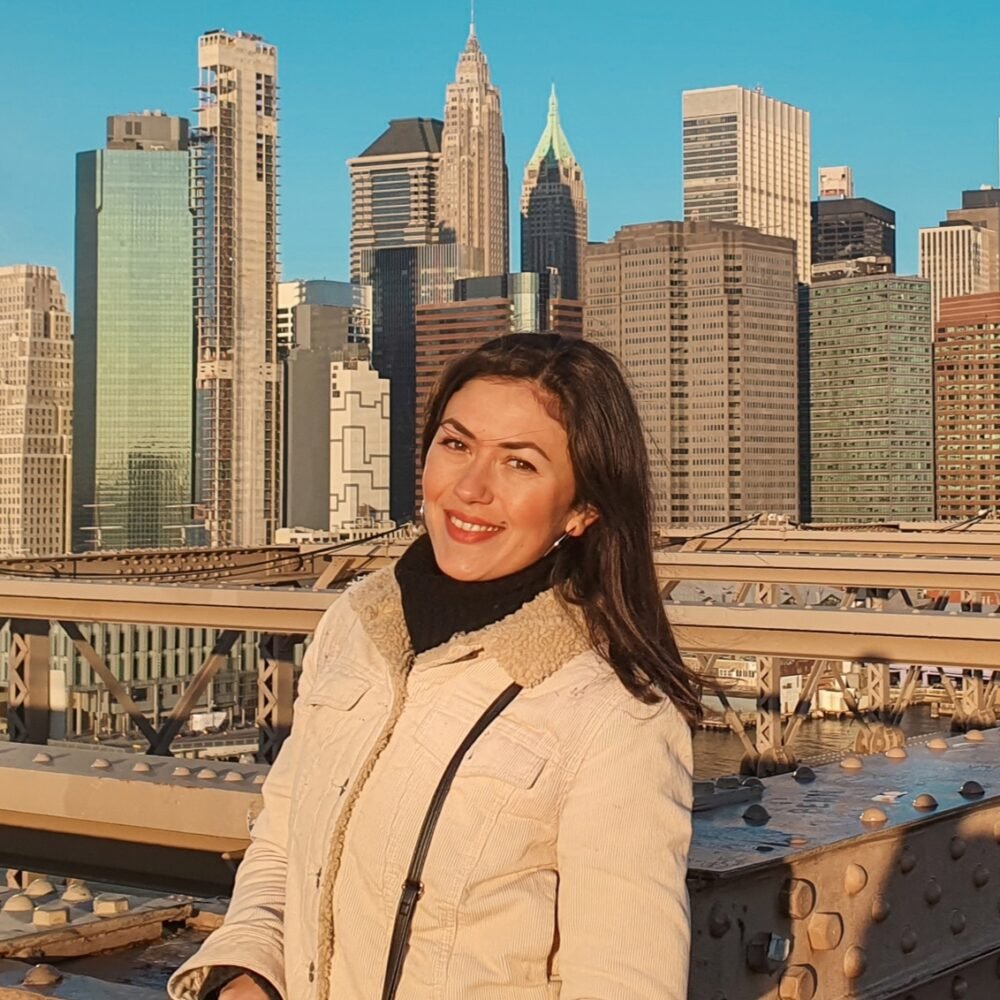 Roxana is a Romanian-born freelance travel writer who has lived in Italy for over 15 years. She has a Master's in Journalism and a Bachelor's in Film Studies. Her mission is to find hidden gems, even in the most popular travel destinations, and to inspire people to explore new places and cultures with the same curiosity! When she is not traveling, writing, or planning her next trip, she is either binge-watching TV shows or reading books.