Dramatic cliffs, picturesque villages, and the deep blue Tyrrhenian Sea: the Amalfi Coast has undeniable charm, and for that reason, it's one of the most popular vacation destinations in Southern Italy.
The colorful seaside villages are just one of many reasons to take a trip to this gorgeous area, one of the best road trips in Italy.
The Amalfi Coast is also the ultimate summer destination, perfect for swimming and sunbathing.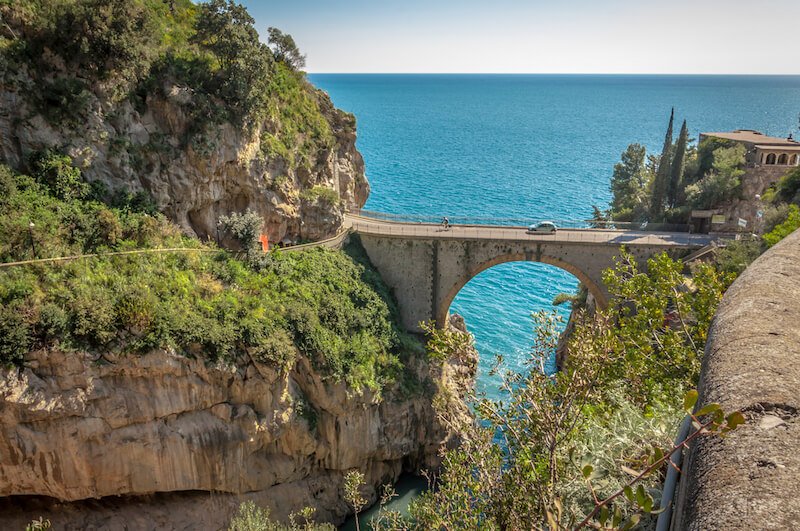 Note: This post contains affiliate links, which means I may receive a small commission if you purchase something through one of these links. Thank you for supporting the free content on this site! For more information on affiliate links and cookies, see my disclosure page for more details.
All along the Amalfi Coast, you'll find spectacular beaches with twinkling crystalline waters, dramatic backdrops, fantastic restaurants serving up fresh seafood, and cool beach clubs (lidos).
While nearly every Amalfi Coast town has its main beach, these are often crowded, especially in the peak months of July and August.
In this guide, you'll find a mix of popular Amalfi Coast beaches and hidden gems, including both private and public beaches, so you can pick the best ones for your Amalfi Coast itinerary.
Note: Most of these Amalfi beaches can be hard to get to with public transportation, so this is where renting a car in Italy may come in handy!
Best Beaches on the Amalfi Coast
Fiordo di Furore, Furore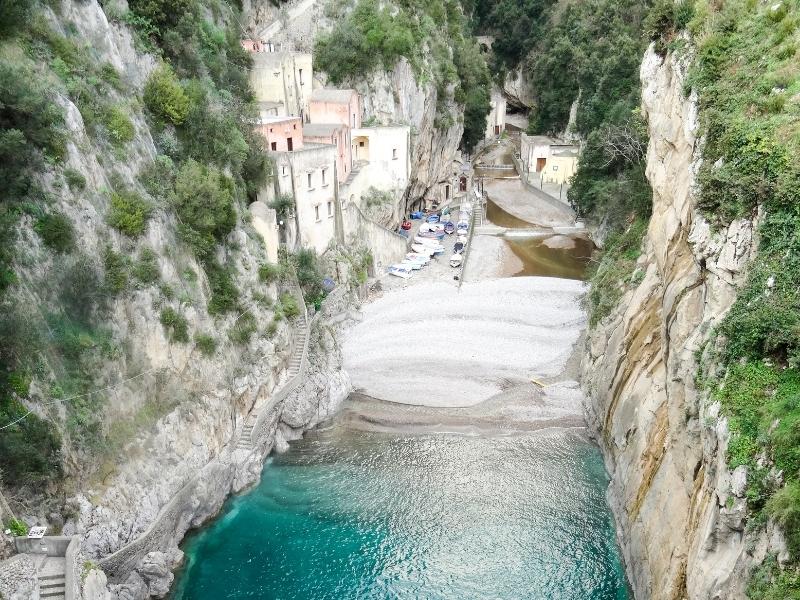 An iconic beach on the Amalfi Coast — and certainly one of its most photographed — this little beach in the town of Furore is nestled at the mouth of a fjord.
You read that right — the Amalfi Coast also has its own little fjord! What doesn't this part of Italy have?
A tall arched bridge, part of the Amalfi Drive, connects the cliffs forming the fjord and provides a stunning view from above.
You can reach the beach by boat or descending the steps that start right by the main road, although these may not always be accessible.
The Furore Fjord is located roughly halfway between Praiano and Conca dei Marini.
Expect to find the place quite crowded in the summer months, but despite that, it's worth a visit since it's one of the most beautiful beaches in the Amalfi Coast!
Marina Grande, Positano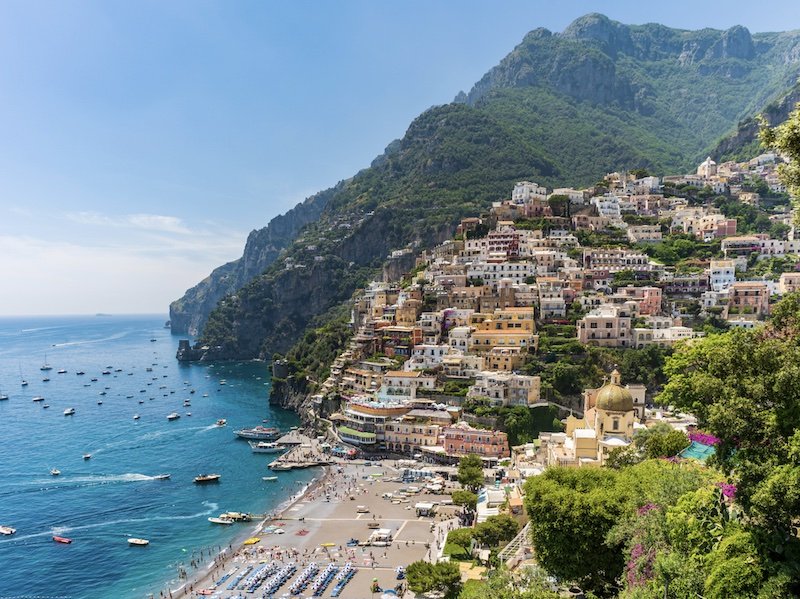 Glamorous yet also naturally picturesque, the stunning beach of Marina Grande is perhaps best known as a favored backdrop of celebrities and influencers.
That said, it's also the main beach in Positano, so it's full of families and travelers in addition to its more flashy, photogenic side.
While this may not be the best beach to lounge on in the Amalfi Coast in July and August when the beach is packed, it's still worth visiting.
The neatly lined sunbeds and blue-and-orange umbrellas, along with the dramatic backdrop of the colorful houses stacked one on top of the other on the cliffs, make Marina Grande a pretty spot for a few snaps that ooze those La Dolce Vita vibes.
The beach of Marina Grande is super easy to reach, at the center of all social life in Positano!
You'll find many great restaurants and gelato shops all around, perfect if you don't feel like joining the crowd on the beach.
On one side of Marina Grande, find the tiny harbor with boats departing to other villages and more remote beaches along the coast.
Spiaggia del Fornillo, Positano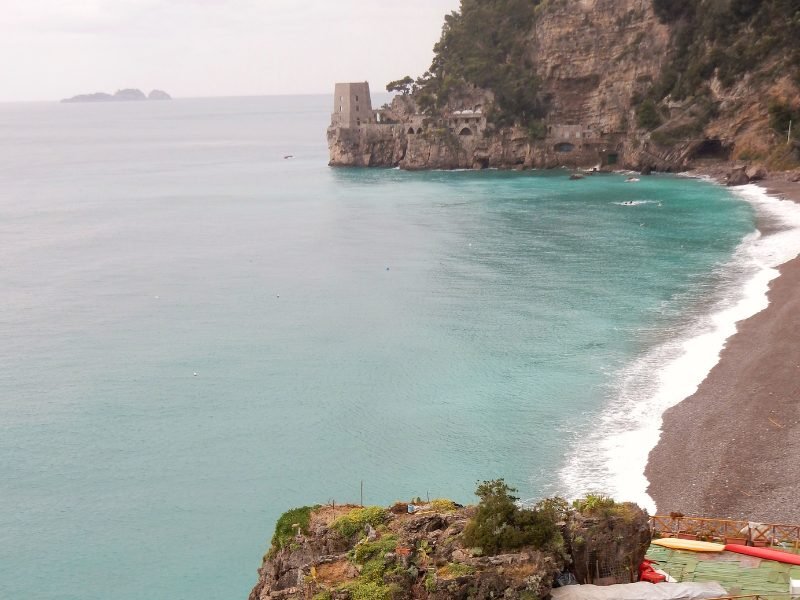 If Marina Grande is too crowded for your taste, another great option for a beach in Positano is Spiaggia del Fornillo.
Fun fact: The name, which resembles the word for oven, appears to be connected to the historical presence of many ovens in the area, which were used to baked bread for the Roman Emperor Tiberius.
Two towers stand at each end of the pebble stone, Torre del Fornillo and Torre Trasita, making the location even more scenic.
The beach is served by a couple of restaurants and hotels where you can spend the night or just have lunch.
To reach the beach from Positano, you can catch a boat from the main pier or walk along a scenic pathway along the coast, starting at Marina Grande.
Spiaggia Arienzo, Positano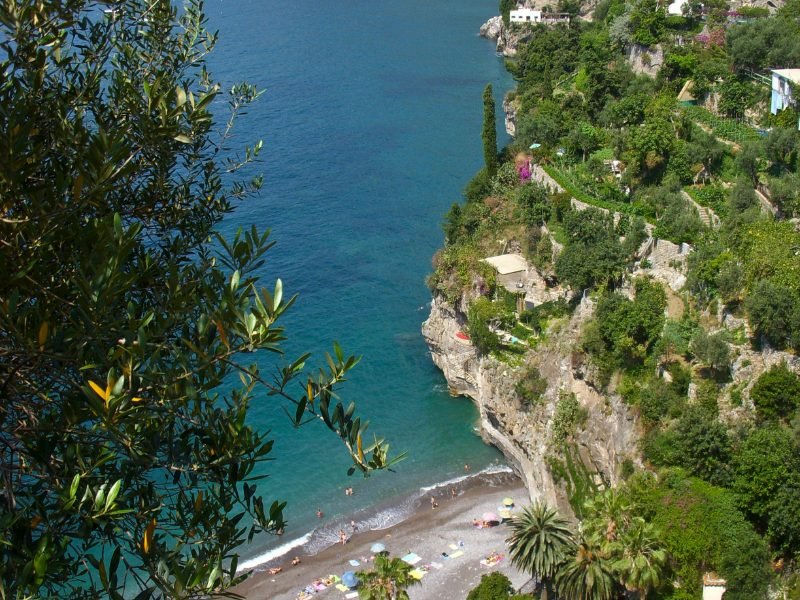 Another gorgeous beach near Positano, Spiaggia Arienzo may be a bit further, but it is significantly less crowded than the main beach of Marina Grande.
After descending a long flight of stairs, you'll reach a beautiful pebble beach, partly public and partly private.
The Arienzo Beach Club rents out sunbeds and umbrellas, offers a great variety of food and drinks, and plays good music.
If you don't want to rent a sunbed, be sure to get there early to grab a good spot on the public part of the beach.
Finally, if you don't feel like descending the 300 steps to reach the picturesque beach (and of course, ascending them once you're ready to leave), another way to Arienzo is by boat from Positano!
Spiaggia di Tordigliano, Positano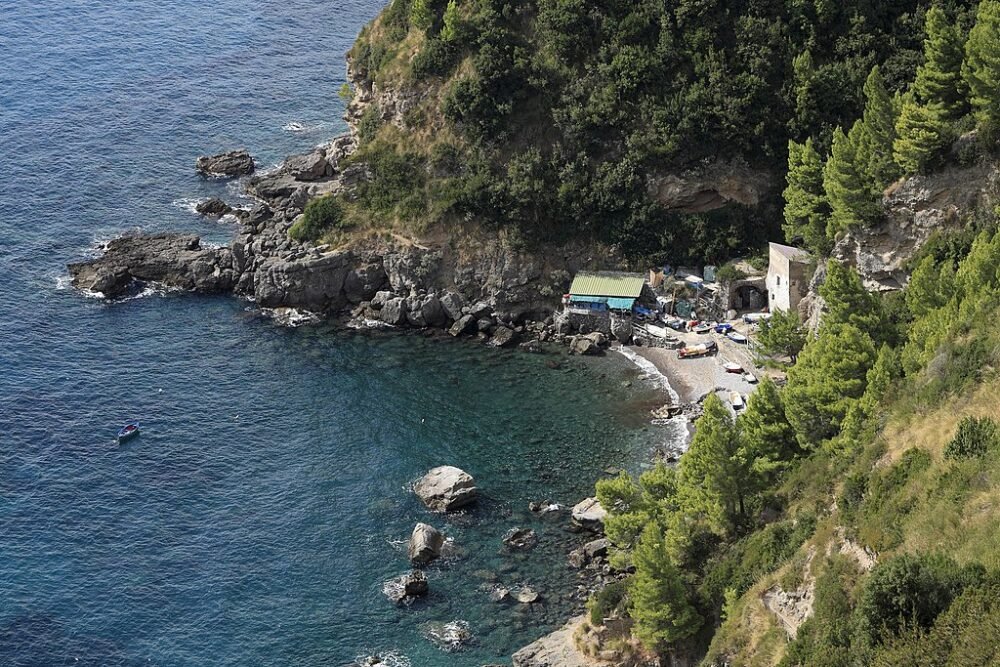 There is one last beach worth mentioning in Positano before moving to other locations along the coast!
If you're looking for a pristine beach where you can escape the crowds and enjoy nature, Spiaggia di Tordigliano is your best bet.
The secluded and not easily accessible location combined with the lack of services contributes to the relative emptiness of Tordigliano.
To get there, you can rent a boat in Positano, drive, or catch a bus to Via Nastro Azzurro, just outside Positano, and descend a path for 15 to 20 minutes.
While the beach may be hard to reach, your efforts will be paid off by the stunning views and relaxing atmosphere!
If you're not afraid of a little hike, don't miss this wonderful beach on the Amalfi Coast — most of the crowds will!
Spiaggia del Cauco, Erchie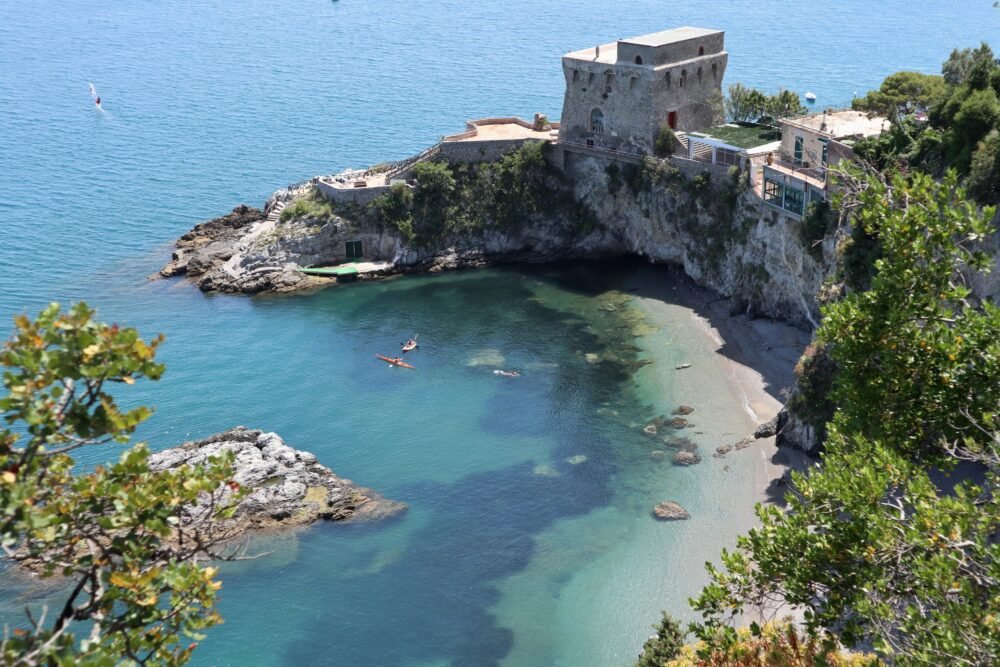 If you're seeking a more secluded beach on the Amalfi Coast, Spiaggia del Cauco is another great option!
The fact that it's only reachable by sea doesn't discourage visitors from getting there, so don't expect to find it empty.
However, it will likely be much less crowded than many other beaches on the Amalfi Coast.
Just around the corner from the main beach of Erchie, Spiaggia del Cauco is easy to reach via boat by paddling around the tiny strip of land occupied by Torre Cerniola.
You can rent a paddle boat and go there yourself since it's only a few minutes away.
Bring your own mask and snorkel set to go snorkeling in the crystalline waters or just lie on the beach and enjoy the sun!
The small village of Erchie is only a five-minute drive from nearby Cetara, where you can base yourself to explore the area and discover more beautiful beaches.
Spiaggia della Crestarella, Vietri sul Mare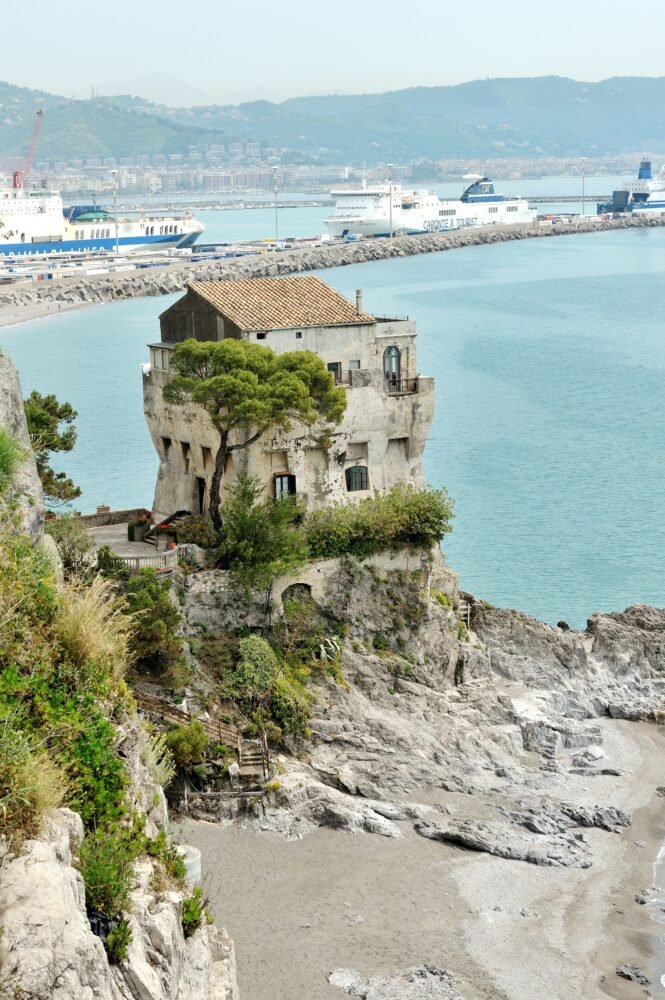 Spiaggia della Crestarella is a relatively small but lovely Amalfi Coast beach that takes its name from the 16th-century tower turned wedding venue at one of its ends.
Here's the catch: the beach is private, and the only way to access it is to pay for a sunbed and umbrella.
However, this guarantees that it doesn't get overcrowded, something unavoidable on most public beaches on the Amalfi Coast!
The beach is in Vietri sul Mare, the last town on the coast before Salerno.
If you get there by car, there's a convenient parking lot. If you head to the town by bus, beach access is only five minutes from the stop!
Tip: Book a spot in advance if you want to go to the beach over the weekend in the summer.
Spiaggia del Duoglio, Amalfi
A little over one kilometer from the town of Amalfi, Spiaggia del Duoglio is a lovely pebble beach with crystal clear waters that rarely gets too crowded.
You can reach Duoglio Beach by sea from the port of Amalfi or by foot.
The only downside — of course, there's a downside or else it would be crowded! — is that you must descend over 400 steps to reach the beach.
Then, even worse, you must climb them back up once you're all tired-out and sun-baked!
If that doesn't scare you off, though, you're in for some impressive views and a beach that feels all your own.
The beach is mostly private, with two restaurants where you can rent sunbeds and umbrellas.
The public beach portion is quite small, but you may find a spot if you're lucky and get there early.
Bring your lunch or eat a cuoppo of fried fish at one of the two beachfront restaurants.
Santa Croce, Amalfi
Santa Croce is another lovely beach close to Amalfi, right next to Spiaggia del Duoglio.
The only way to reach the beach is to use the boat transfers organized by the two restaurants on this beach, Santa Croce and Santa Teresa.
If you eat at the restaurant, the transfer is free!
Enjoy the scenic boat ride, get a sunbed and an umbrella to relax on this lovely private beach, swim in the crystalline waters, and enjoy a fish lunch.
Santa Croce is the perfect place if you want to combine a beach day with a lunch with a view.
However, it may not be worth it if you only have a couple of hours to spend at the beach.
Marina di Praia, Praiano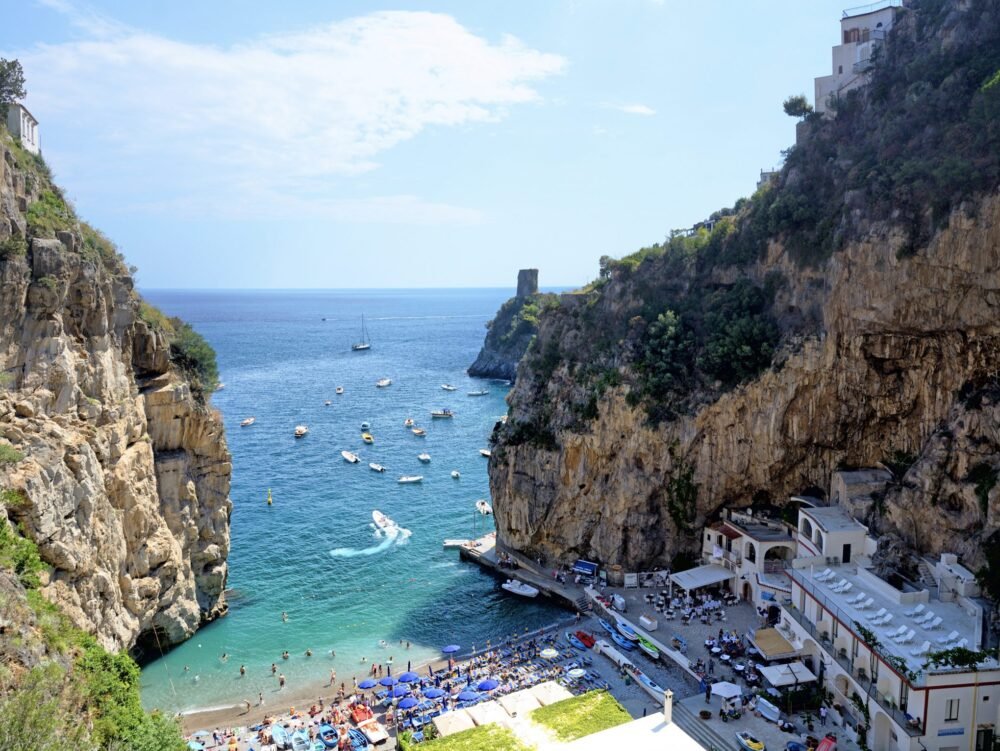 A tiny pebble beach tucked away in between two dramatic cliffs, Marina di Praia is hidden from view when you look down from the road, so you'll hardly get there by chance.
With a public portion and a private one, the small beach is quite the gem to discover on a warm summer day.
A few restaurants at the back of the beach make for great spots for fried fish, and a narrow walkway along the cliffs will guide you on a romantic walk to Torre a Mare, an old watchtower.
Keep in mind that the beach tends to get crowded during the summer months and only gets sunshine around the middle of the day.
Marina di Praia is just outside the town of Praiano.
To reach it, climb down the steps that connect the beach to Amalfi Drive.
Spiaggia della Gavitella, Praiano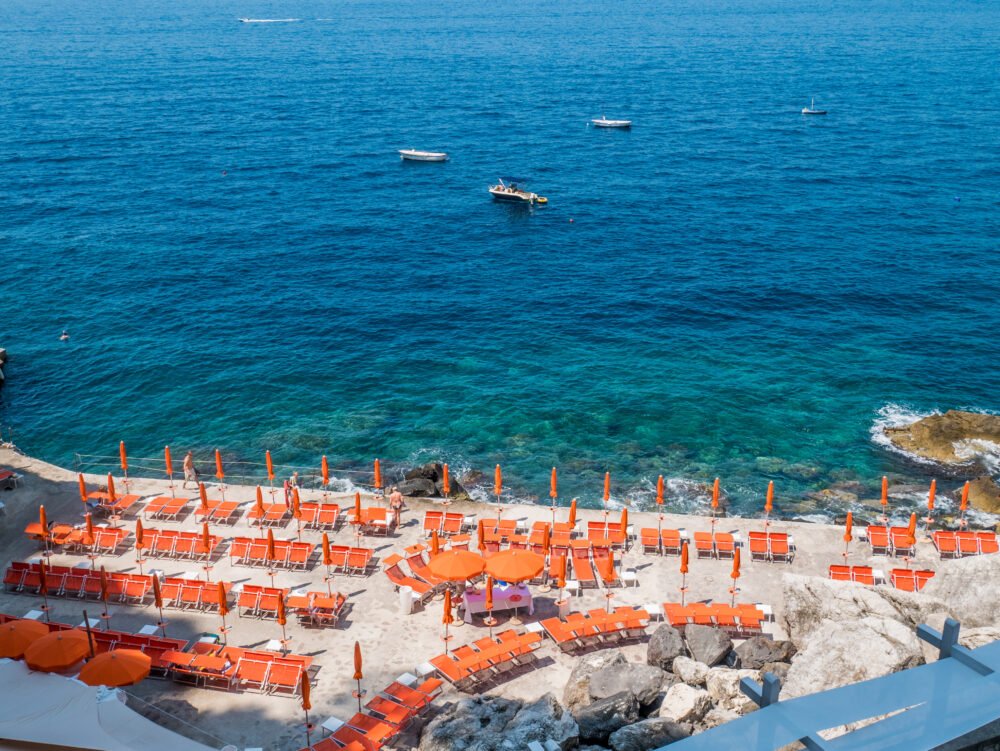 Spiaggia della Gavitella is one of the few beaches along the Amalfi Coast that allow you to enjoy the sun nearly all day long and even see the sunset!
Located at the edge of Praiano, in the direction of Positano, Spiaggia della Gavitella is connected to the street by a flight of stairs.
Although most of the beach belongs to La Gavitella Restaurant, you can also find a small spot to lie down on your towel.
Alternatively, rent out a sunbed and umbrella from the restaurant.
The beach is also great to enjoy a lovely dinner with a view as you wait for the sun to set into the Tyrrhenian Sea!
Spiaggia Cavallo Morto, Maiori
Many legends are tied to the grim name of this beach, which translates to Dead Horse Beach.
Some say it was a graveyard for horses who couldn't get back out from the beach, or that a ship full of purebreds that lost a horse during a storm and it washed up on the beach.
Despite the macabre name and whatever sad history the beach has, there's no denying that this beach is stunning.
Get a boat from Maiori or Cetara or rent a kayak in Maiori to discover the hidden cove with emerald water and the beautiful backdrop of the cliffs.
Make sure to pack lunch as there are no facilities on this beach.
Spiaggia di Minori, Minori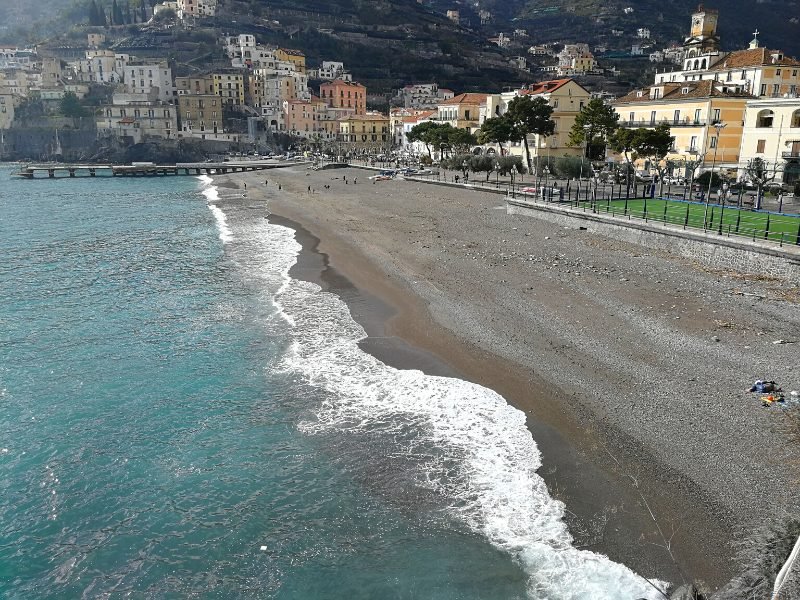 Although Minori is one of the smallest towns on the coast, Spiaggia di Minori is among the largest sandy beaches in the area.
Minori Beach is conveniently located right by the main road, so it's super easy to reach if you just want to stop by for a couple of hours to rest between sightseeing tours.
With everything nearby, from restaurants and bars to shops and supermarkets, the beach of Minori is the perfect spot for a quick swim.
If you want to spend more than a couple of hours sunbathing, rent a sunbed and umbrella.
Combine your visit to Minori Beach with sightseeing around Minori to discover the beautiful Basilica of Saint Trofimena and the ruins of an ancient Roman villa at Villa Romana e Antiquarium.
Spiaggia del Lannio, Cetara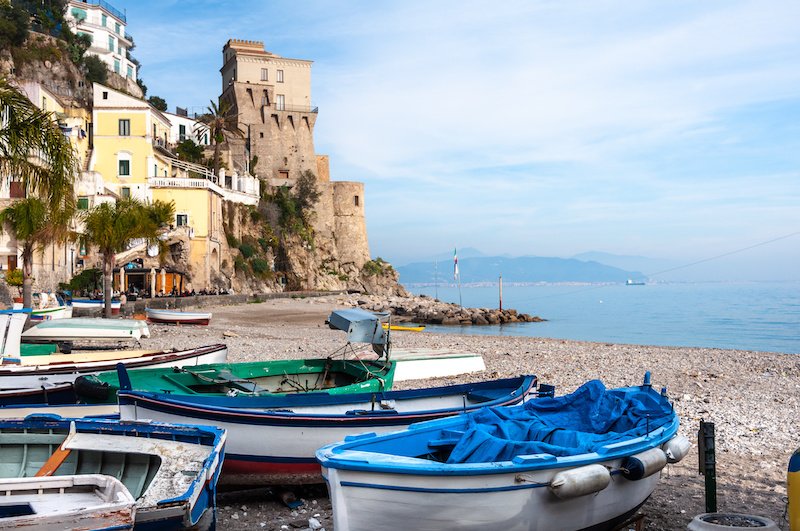 Spiaggia del Lannio is one of the two main beaches of Cetara, along with Marina di Cetara.
While the latter is right in front of the town, Spiaggia del Lannio is a bit outside but easy to reach by a short path and stairway.
Slightly less crowded than Marina di Cetara, Spiaggia del Lannio is still a popular beach, so you should try to get there early in the day.
You'll find a public area where you can lay on your towel and a portion where you can rent an umbrella and sunbed.
The sandy beach also provides services like paddleboat rentals and a beach bar and restaurant to get a refreshing drink or lunch.
Spiaggia di Castiglione, Ravello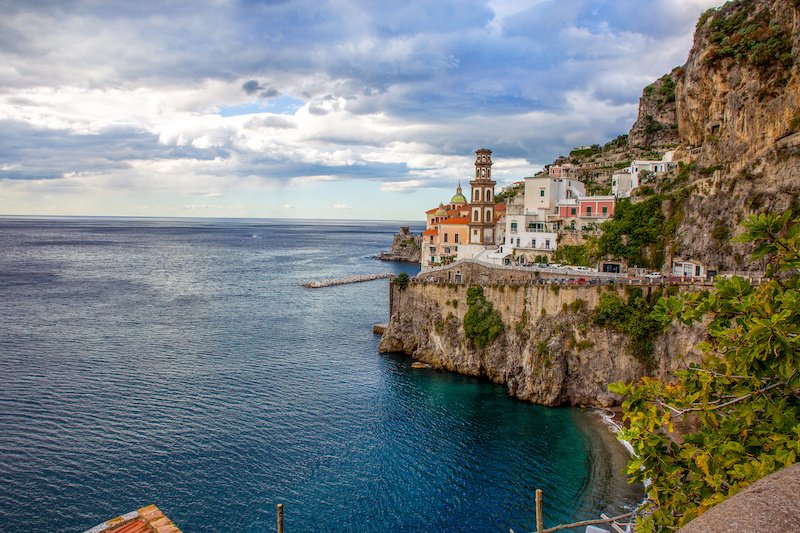 Although most of Ravello sprawls across the hills just above Amalfi Drive, Spiaggia di Castiglione is considered a part of the charming town.
The beach technically belongs to the tiny commune of Castiglione, not far from Atrani.
If you move around by bus, the stop is conveniently located near the flight of stairs that leads straight to the beach.
Being enclosed between the cliffs, the beach remains in the shade for most of the afternoon. Get there early to enjoy the few hours of sun!
The two ends of the beach are free for anyone to lie down on their towels. In the middle, you can rent an umbrella from the beach club.
The water here is transparent and quite deep, great for swimming but not ideal for children.
Another cool thing about Spiaggia di Castiglione is that it's among the lesser-known in the area, so it rarely gets too crowded.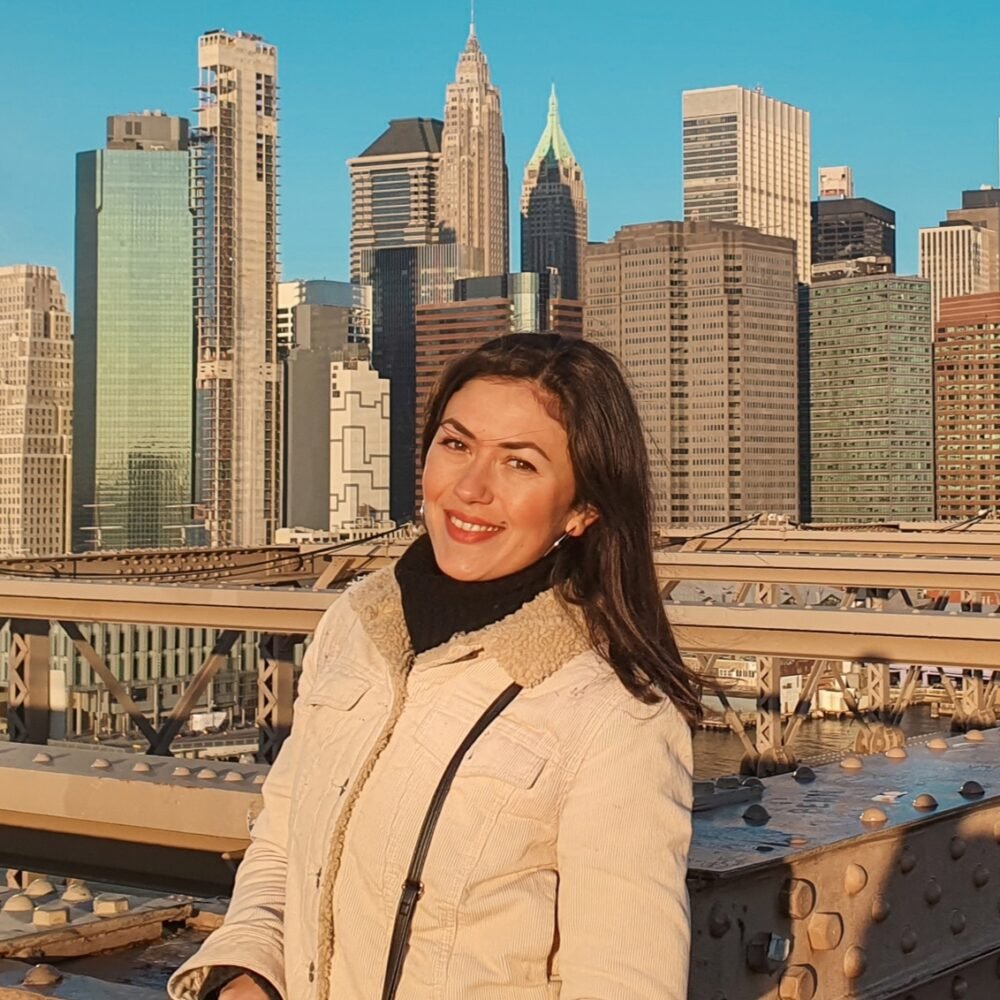 Roxana is a Romanian-born freelance travel writer who has lived in Italy for over 15 years. She has a Master's in Journalism and a Bachelor's in Film Studies. Her mission is to find hidden gems, even in the most popular travel destinations, and to inspire people to explore new places and cultures with the same curiosity! When she is not traveling, writing, or planning her next trip, she is either binge-watching TV shows or reading books.