If you're visiting Italy, Venice is one of those can't-miss cities. It may be cliché, but all the hype is there for a reason.
How can it not be? The bustle and beauty of Saint Mark's Square and its many landmarks and the gondola rides through the Grand Canal are out of this world!
That said, why not do a Prosecco wine tour from Venice while you're at it?
And if sparkling wine isn't your jam, don't worry – there are other wine tours from Venice that focus on other types of wine, like Amarone (red) and Soave (white).
A delicious glass of wine – or three – can turn your Venice itinerary into an unforgettable one. Especially if you're visiting Italy, one of the wine capitals of the world!
As dreamy as Venice is, the jaw-dropping nature in the area surrounding Venice ties the whole experience together.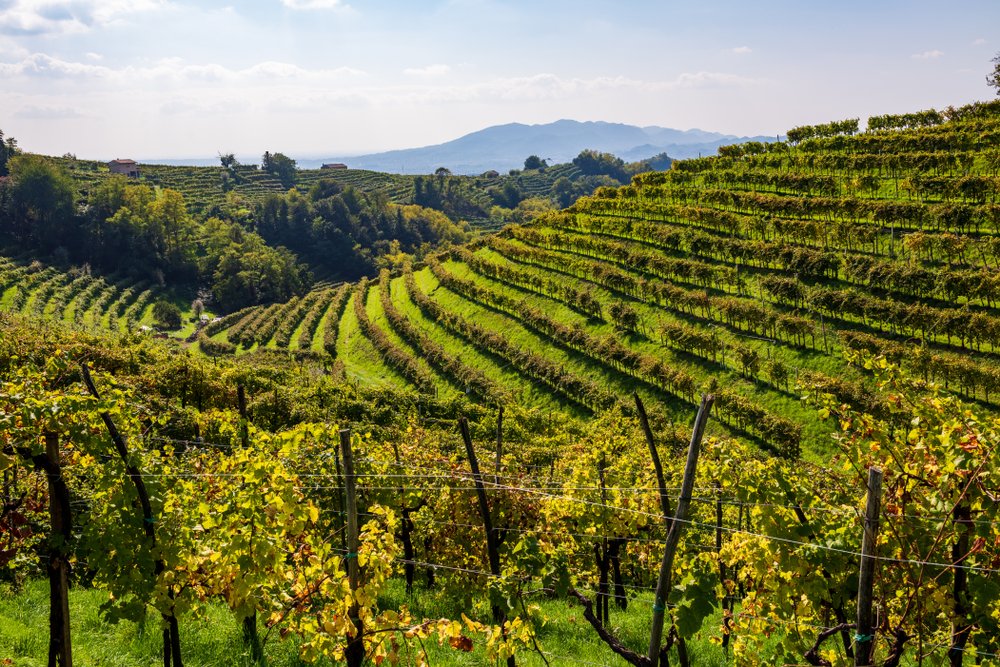 Note: This post contains affiliate links, which means I may receive a small commission if you purchase something through one of these links. Thank you for supporting the free content on this site! For more information on affiliate links and cookies, see my disclosure page for more details.
Add a glass of sparkling wine to the mix, and you have yourself the vacation of a lifetime!
There are lots of hidden gems in and around the city, and a guided wine tour from Venice can help you make the most of your trip!
Even if you have rented a car for your time in Italy, these tours are still worth considering, because you don't have to draw straws for the poor soul who is the designated driver.
You can all sip Prosecco stress-free and let someone else worry about the driving!
Here are our top picks for wine-themed Venice day trips, featuring both Prosecco tours and other wine tours from Venice.
My Top 3 Picks: Wine Tours From Venice
No time to read the full article about these wine tours and just want my top 3 picks and the highlights of each?
I've got you.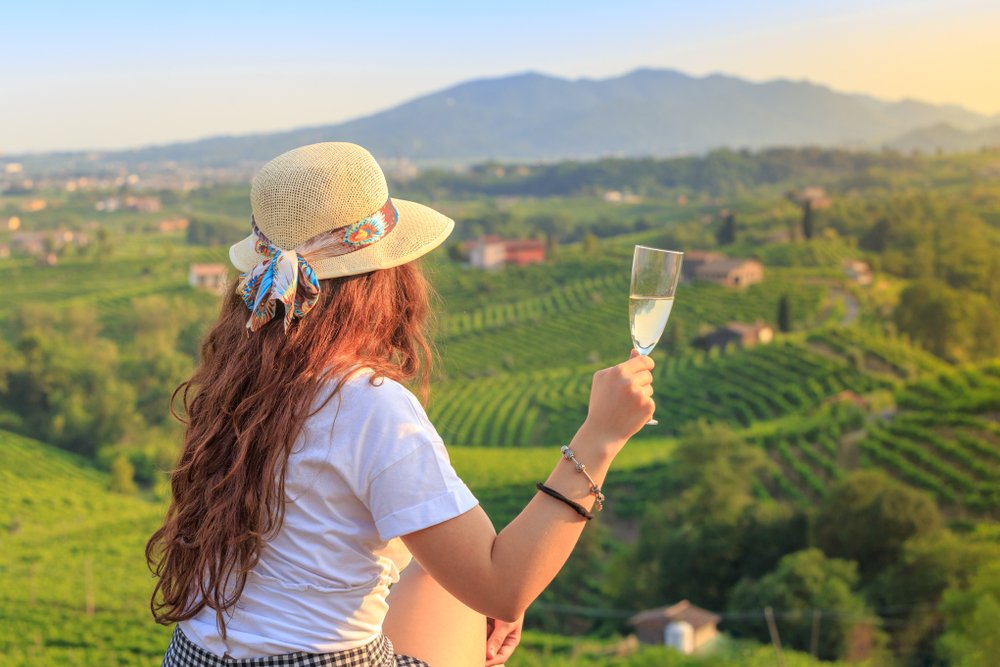 The 10 Top Prosecco & Wine Tours from Venice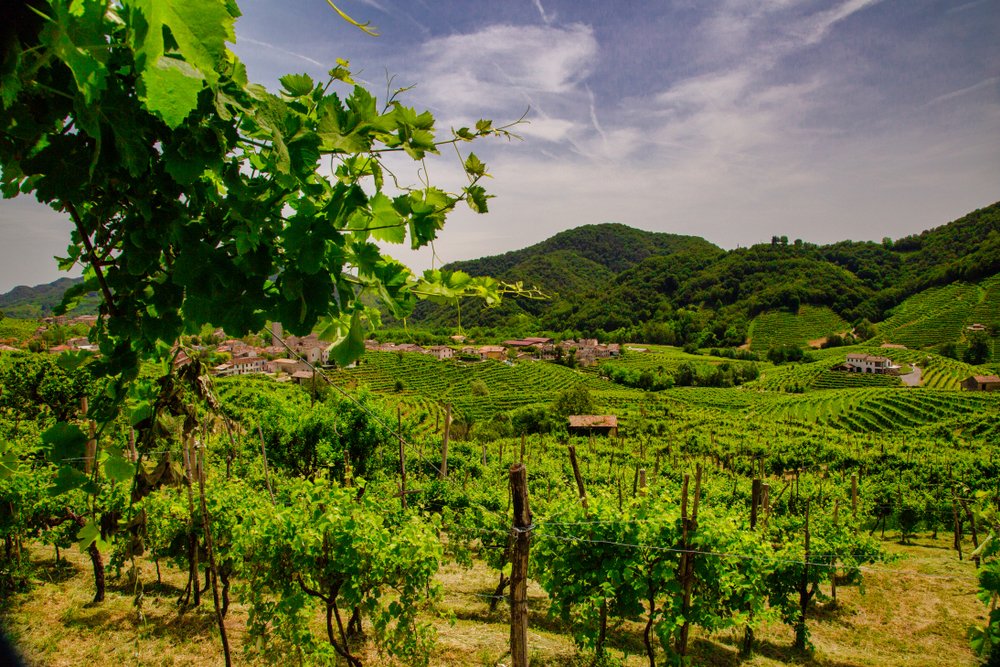 ⌛ Tour Length: 6 hours | 🌟 Rating: 5/5 stars (105+ reviews) | 🥂 Book Now
Veneto is one of the most beautiful regions of Italy, but if you never left Venice, you'd never appreciate its full beauty.
Luckily, this Prosecco tour from Venice is one of the region's best, with a perfect rating even after 100+ reviews!
After a scenic drive, this Venice wine tour takes you through Conegliano Valdobbiadene, home to some of the finest vineyards in Veneto.
You'll stop at two local wineries and enjoy unforgettable tasting sessions at each.
"My husband and I went in March 2023 and we couldn't have been happier with the tour. I really enjoyed seeing both the vineyards and the processing factory to get a sense of the whole process. Both our hosts/guides at each vineyard were informative, gracious, and welcoming. Would absolutely recommend."

Read more reviews here!
The first takes place at a family winery, and it includes a local farm-fresh lunch including sausages and local vegetables.
The outdoor view during the meal is spectacular, so you'll be taking plenty of pictures after you're full!
The second winery teaches you about the wine-making process, specifically the iconic Charmat method of producing sparkling wines (which is different than how they make champagne, for example).
After the tour, you'll be dropped back off at Santa Croce, one of the most charming parts of Venice.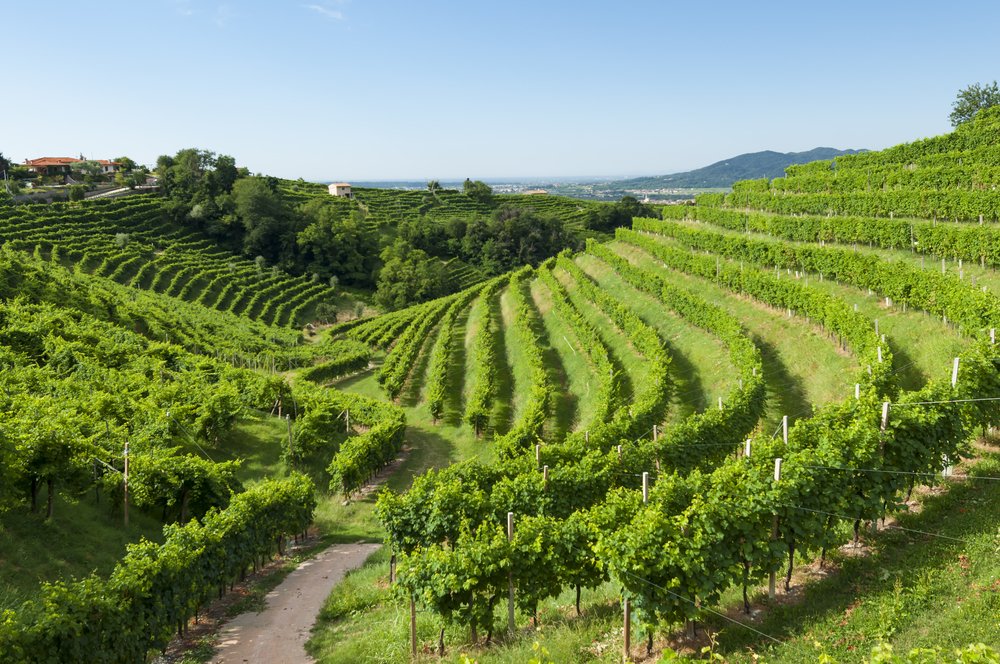 ⌛ Tour Length: 4 hours | 🌟 Rating: New! | 🥂 Book Now
Nearly all the best Prosecco tours from Venice take up a whole day, but here's a four-hour option if you're on a tight schedule!
Things start off on an exciting note with a scenic drive through the Prosecco region. The views are the perfect way to get in the mood for some tastings!
Don't let the short timeframe fool you either – even with that short amount of time, you'll get to try four different kinds of Prosecco, making it easy to find a favorite to bring home with you!
"Ricardo was wonderful, very knowledgeable about the wines and made sure we had a lovely day. The scenery was beautiful, would definitely recommend booking!"

Read more reviews here!
Everything from extra brut to extra dry is covered, so you're guaranteed to find the perfect Prosecco for you!
Before that, you'll enjoy a tour of some beautiful wine cellars.
All the while, you'll be nibbling on delicious cheese and salami, all locally made! They pair beautifully with the region's wines.
Ending things off, you'll have a meal at Osteria Senz'Oste, a taverna with spectacular views of the Valdobbiadene region.
⌛ Tour Length: 8 hours | 🌟 Rating: New! | 🥂 Book Now
If that four-hour wine tour from Venice sounds like a good time, here's a similar one that lasts the entire day!
Your guide will take you to two extravagant wineries, located between Conegliano and Valdobbiadene. It doesn't get more delicious than that!
The majority of the tour focuses on explaining the vinification processes (aka, how they make the wine). If there's anything you're curious about, your guide is sure to know the answer.
After all that, it's finally time for two wine tastings, each covering four Proseccos – for a total of eight delicious samples.
Again, the Proseccos are all rather different, so your taste buds are in for a major treat!
Valdobbiadene DOCG is one of the world's premier wines, and you get to learn all about how it's made at the end of the tour.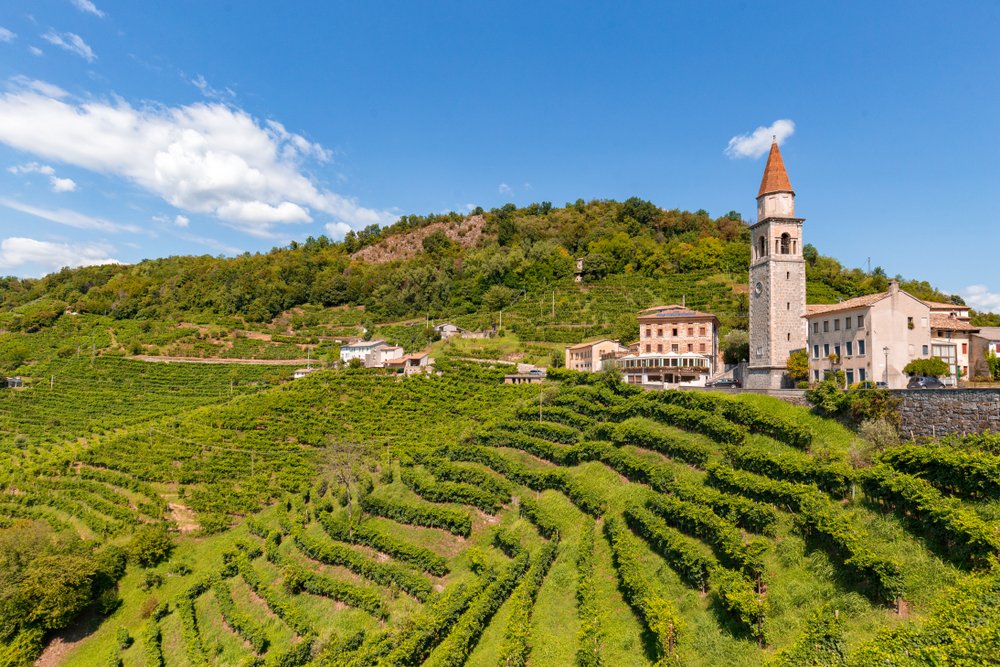 ⌛ Tour Length: 9 hours | 🌟 Rating: 4.6/5 stars (40+ reviews) | 🥂 Book Now
This is one of the most thorough Prosecco wine tours from Venice – it lasts a whopping 9 hours!
The rolling hills of the Prosecco region are breathtaking, so there's plenty to admire on the drive to Conegliano.
This is where your first winery is located, and you get to tour their cellars before enjoying a glass of Prosecco.
"My wife and I were transported to "Prosecco Heaven". We received very personalized instruction from our knowledgeable and highly experienced guide on how and where Prosecco is grown, processed, bottled, rated, certified, and tasted/ observed. The experience has enriched our appreciation and enjoyment of Prosecco and we are very grateful."

Read more reviews here!
On your way to lunch, you'll make several stops so you can take in the beautiful nature up close.
You get to enjoy your meal at a traditional trattoria, a humble little restaurant in the Veneto region.
Near Valdobbiadenne, a local expert will walk you through how sparkling wine is made. Naturally, you can expect a tasting here, too!
Best of all, this tour is very fairly priced when you consider just how much there is to see and do.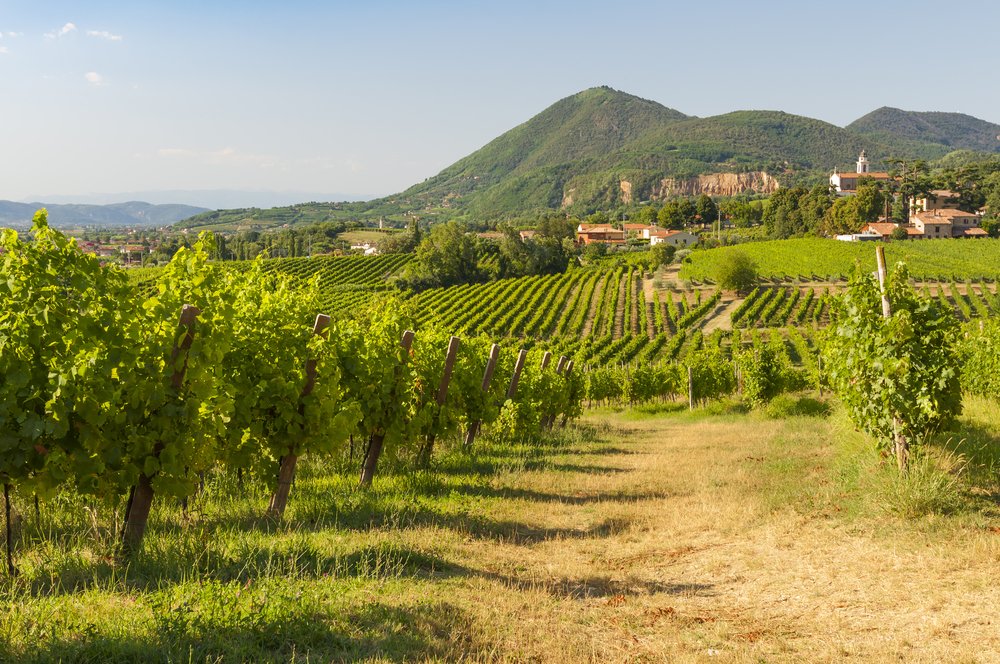 ⌛ Tour Length: 8 hours | 🌟 Rating: 5/5 stars (15+ reviews) | 🥂 Book Now
If there's one Prosecco tour from Venice that really immerses you in the Italian countryside, it's this one.
Venice is just one of the pickup options – tours also leave from Padua, so you could spend a night there if you want before taking the tour!
There's a lot that goes into making the region's iconic sparkling wine, but this tour goes over everything in great detail.
Either way, the tour covers the Veneto countryside, and you'll be visiting places like Valdobbiane, Conegliano, and Vittorio Veneto.
"Mario, our guide was great. We visited 2 different vineyards with guided tastings of 5 Prosecco types at each. Beautiful lunch at a family run agriturismo with all ingredients sourced from their own land. Mario was friendly and very knowledgeable. A highlight of our trip to Venice."

Read more reviews here!
You get to visit two traditional cantinas throughout the day and enjoy their incredible wines.
Best of all, each of your tastings is led by a licensed sommelier, so they'll really know how to guide you along the tasting experience.
Be sure to come with an appetite, since you'll also be stopping by a local trattoria (called a Frasche in this region) for antipasto, lunch, and dessert!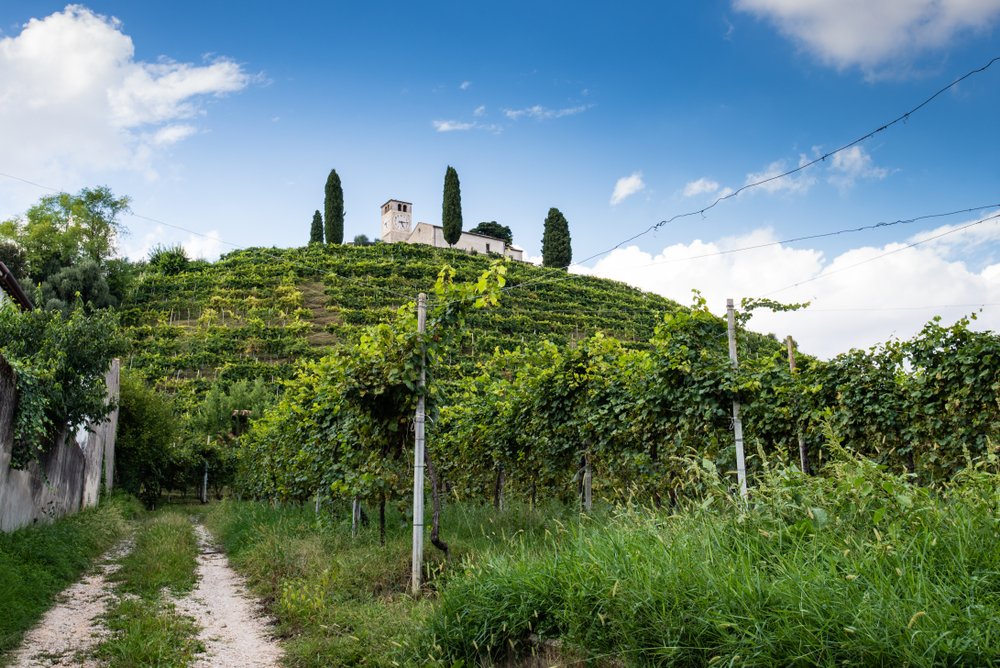 ⌛ Tour Length: 8 hours | 🌟 Rating: New! | 🥂 Book Now
This is one of the finest Prosecco and wine tours from Venice, and it covers the unforgettable Prosecco Road!
Plus, it's an entirely private experience, so you can be sure you'll have your guide's full, undivided attention.
You'll find no mass-manufactured big Prosecco brands here – the region is all about family-run vineyards that produce some of Italy's tastiest sparkling wines.
Valdobbiadene perfectly captures the spirit of the region, and this is where your first winery is located.
You get to explore the cellars and learn about the production process before sipping on some quality Prosecco.
You'll taste a range of Proseccos, including dry, brut, and rosé, but also including the hard-to-find Prosecco cartizze, considered the "Grand Cru" of the Prosecco region for its excellence and rarity.
If all that wasn't enough, you can buy yourself lunch with an epic view of the vineyard.
Next, after visiting an abbey in Treviso, you'll do another tasting at a local winery before the drive back home.
Speaking of which, you'll get to see the beautiful Conegliano and Susegana on your way back to Venice!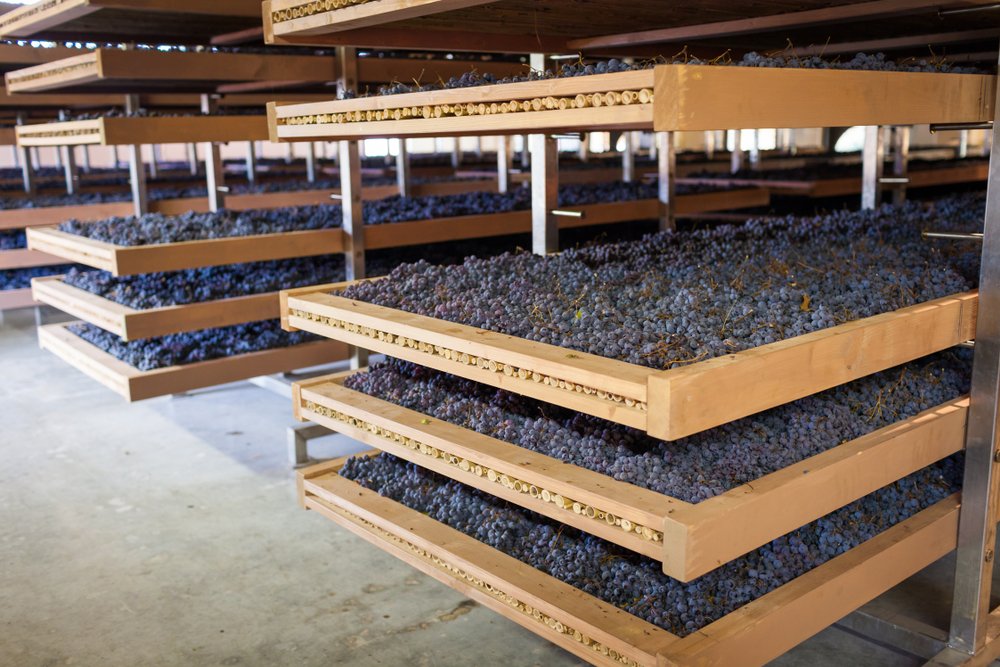 ⌛ Tour Length: 8 hours | 🌟 Rating: 5/5 stars (20+ reviews) | 🍷 Book Now
This wine-tasting tour from Venice focuses on Amarone, one of Italy's most iconic dry red wines.
This rich red wine is a fan-favorite and even better if you're visiting Venice in winter — it's so inviting and warming!
What makes Amarone so special is that it can age for up to 20 years, giving it its rich, distinct flavor.
Plus, Amarone has a unique vinification process that involves drying out the grapes for several months before pressing, which is called appassimento.
This process is responsible for creating the unique tasting profile Amarone has that you can't find in many other red wines.
On your way through Valpolicella Valley, you get to see some amazing architecture and scenic olive groves.
The tour covers two winery stops, where you can learn about the process of making Amarone as you sip away!
"Mario, our tour guide, was outstanding! A sommelier by profession as well as native to the area, he was the perfect person to educate us on all aspects of the wine-making and wine tasting plus give us his personal remarks about the areas and vineyards we visited. I can't say enough about the phenomenon day we had!!! Eight hours of pure delight!!!!!"

Read more reviews here!
Besides Amarone, you'll be tasting other classic wines like Recioto and Ripasso della Valpolicella, which are made from grapes that didn't quite make the cut to become Amarone.
The different wines all have something special to offer. By the end of the tour, you'll be a connoisseur of all the different kinds!
In total, you get to taste 5 Valpolicella wines with local Italian cheeses to pair with your wine.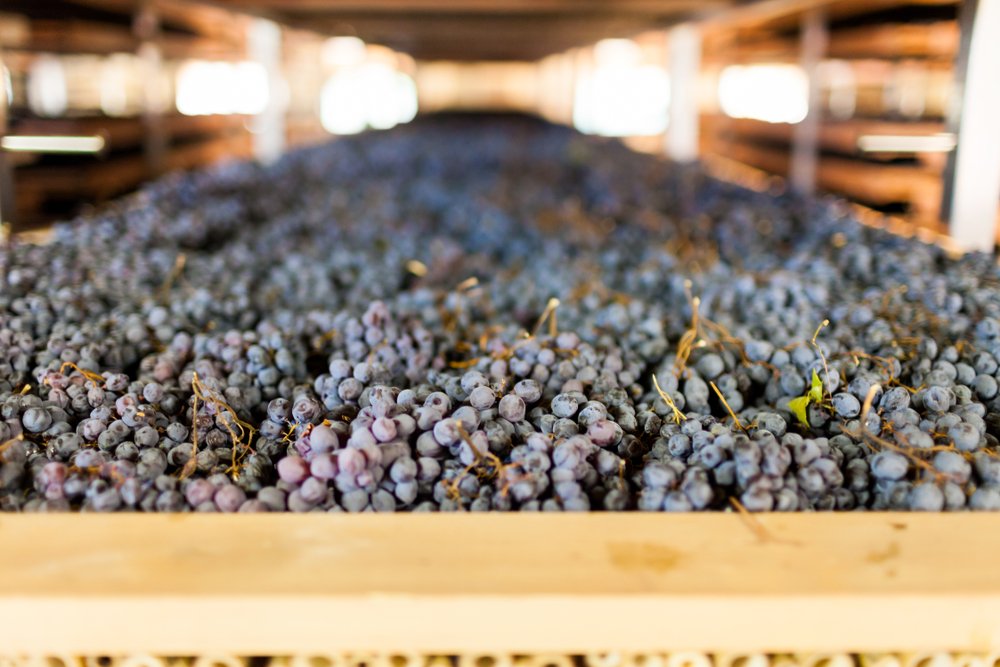 ⌛ Tour Length: 8 hours | 🌟 Rating: 4.5/5 stars (25+ reviews) | 🍷 Book Now
Double up on sightseeing by considering a wine tour from Venice that takes you through the beautiful Verona region!
Start things off with a trip to Valpolicella and experience its lovely architecture, including medieval towns like San Giorgio di Valpolicella.
The views of Sirmione and Lake Garda are out of this world too, so be sure to bring your best camera!
As for the wine, you get to do some tastings of a few bottlings of Amarone and Recioto della Valpolicella. Be sure to take a bottle home – talk about a souvenir!
"We had a really great day out. Our guide was fantastic! The tour at the winery was very informative and we tasted some excellent wines. The time in Verona was also a treat, we got a map with the main sites and could explore the city. It is well worth seeing."

Read more reviews here!
Afterwards, you'll head out to Verona proper, where you'll visit the Roman Amphitheater and walk the beautiful Piazza Bra.
From there, you have three hours to sightsee, drink, and eat to your heart's content before heading back to Venice.
Whatever you do, be sure to find the time to visit the house of Shakespeare's Juliet before you go!
⌛ Tour Length: 8 hours | 🌟 Rating: New! | 🥂 Book Now
Unique Features:
–Getting to try the distinctive Soave wine, a local white wine
–Admiring the beautiful medieval atmosphere of the Verona-Venice region
-Combining great wines with cheese with the help of a qualified sommelier

➜ Read more about this wine-tasting tour in Venice here!
For something a little different, this wine tour from Venice focuses on Soave wine.
This is a non-sparkling white wine with a distinct fruity flavor, owing to the special method of drying the grapes.
Over the course of eight hours, not only will you get to taste Soave wines, but you'll also make some stops so you can marvel at some of the finest architecture in the Verona and Veneto region.
A highlight would have to be Soave Castle, a medieval construction with amazing vineyard views!
As for the tastings, you'll start off at a cantina where you can learn about the region's history of winemaking.
After having some wine here, next up is a light lunch paired with excellent local wines at a nearby restaurant.
The tour concludes with another cantina visit, where you can sample wines at a winery with 100 years of history!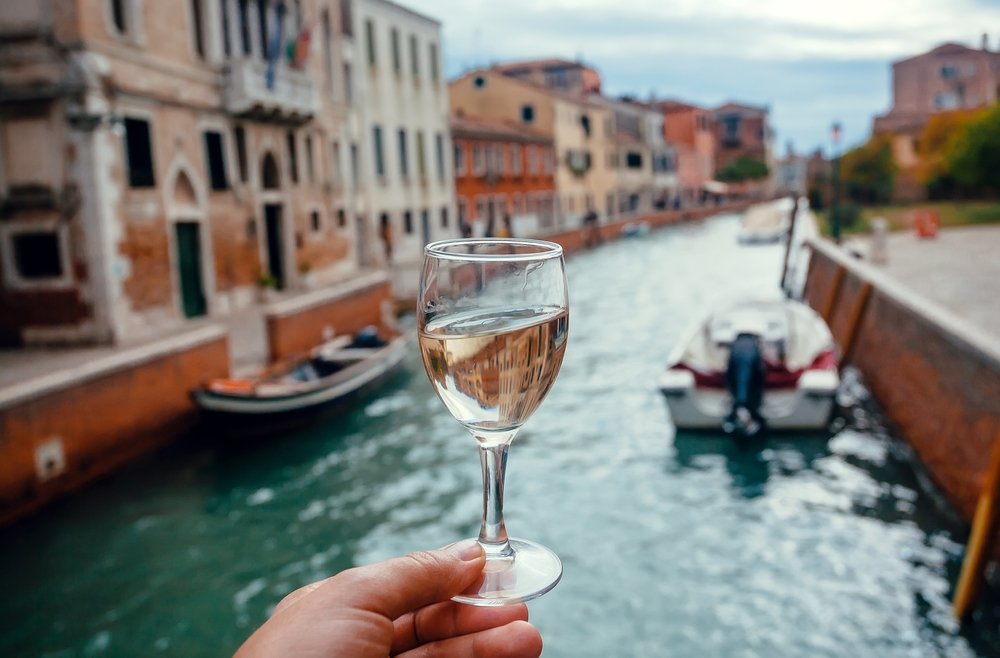 ⌛ Tour Length: 40 minutes | 🌟 Rating: 4.8/5 stars (35+ reviews) | 🥂 Book Now
Unique Features:
–Guided tasting overseen by a sommelier with 20 years of experience
-Getting to enjoy traditional Venetian snacks as you drink your prosecco
-40-minute experience is easy to fit in even if you only have a day in Venice

➜ Read more about this Italian prosecco tasting here!
No time for a full-day tour? You can still taste some of the region's finest Proseccos in under an hour – without ever leaving Venice!
Your guide Marco will take you to a local wine bar, and he'll walk you through the delicious sparkling wines you absolutely have to try!
Prosecco tastes that much better while you're snacking on something, so you'll be treated to some finger food (cicchetti, as the locals call it) as you enjoy your drink.
Marco will also teach you how to taste wine properly, and he'll share a thing or two about the production process along the way.
His bar is located in the heart of Venice, but it's still conveniently tucked away from all the noise and crowds!
That said, the district is close to a number of art galleries and boutiques, so you'll have plenty to do after the tour is done!
Allison Green is a former educator turned travel blogger. She holds a Masters in Teaching and a B.A. in English and Creative Writing. Her blog posts merge her educational background and her experience traveling to 60+ countries to encourage thoughtful travel experiences that both educate and entertain. She has been a speaker at the World Travel Writers Conference and her writing, photography, and podcasting work has appeared in National Geographic, CNN Arabic, CBC Canada, and Forbes, amongst others. Now based in the San Francisco Bay Area where she grew up, she has also lived in Prague, Sofia, and New York City.