Jet black sand beaches, towering rugged waterfalls, jagged peaks covered in emerald green flora: the landscape of Tahiti looks like something out of Jurassic Park.
Taking a road trip around the island of Tahiti is one of the best ways to see as much of the island's beauty as you can and tackle all of the best things to do in Tahiti!
If you're not sure what it's like to drive in Tahiti, don't worry — it's actually a really peaceful place to drive, with great roads, beautiful views, and relaxed drivers.
That said, there are a few quirks when it comes to renting a car in Tahiti and driving there, so we'll cover that in this post!
17 Tips for Renting a Car in Tahiti
Doing a road trip in Tahiti is the best way to experience the island.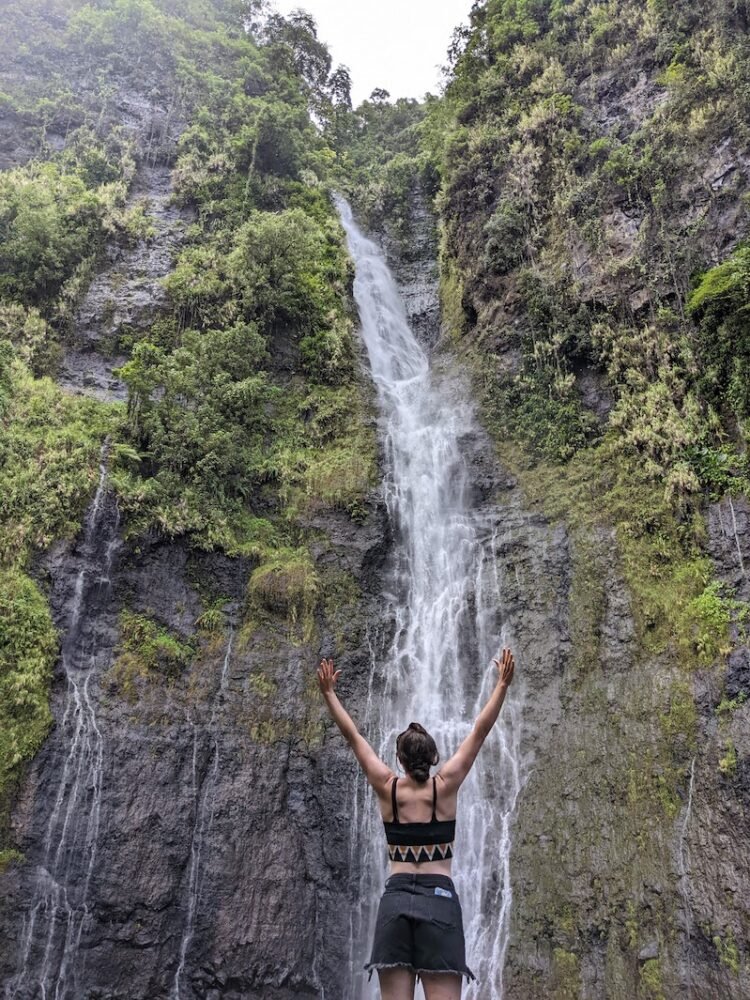 Note: This post contains affiliate links, which means I may receive a small commission if you purchase something through one of these links. Thank you for supporting the free content on this site! For more information on affiliate links and cookies, see my disclosure page for more details.
Tahiti is a rather large island — the largest in all of French Polynesia — and is hard to navigate without your own set of wheels!
The public transportation is unreliable and crowded, and taxis are efficient and well-regulated but get expensive fast.
Renting a car in Tahiti allows you to explore the island at your own pace.
Much of this Tahiti itinerary is only doable with your own rental car, so I highly recommend having one!
The roads in Tahiti are, on the whole, quite good!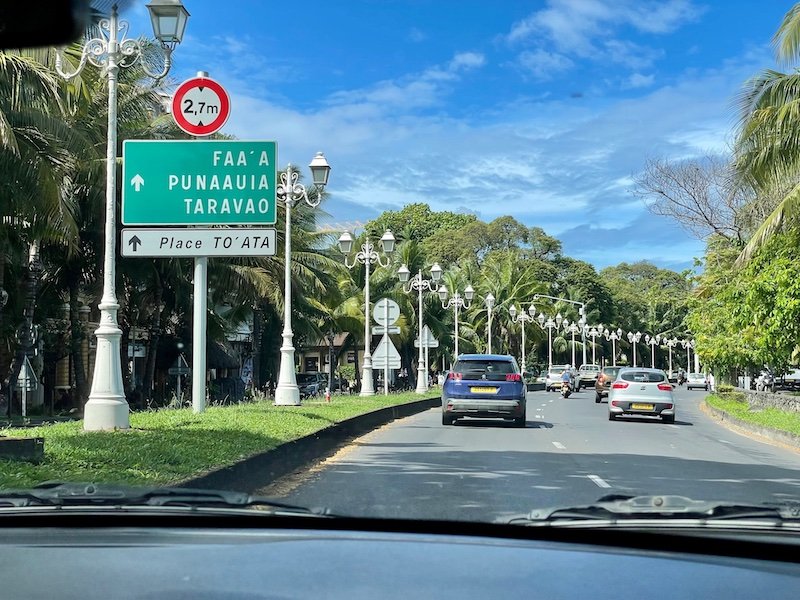 Having driven around the world quite a bit, I know good roads are hard to come by.
And living in Oakland, I certainly don't expect good roads, and always have my eyes out for potholes!
I was pleasantly surprised by the well-maintained quality of the highways and roads in Tahiti.
Keep in mind that Tahiti drives on the right side of the road — easy for Americans and continental Europeans, but harder for Brits, Aussies, and Kiwis to adjust to!
Also, for Americans, note that there are a decent amount of roundabouts in Tahiti, especially around Papeete.
The roundabouts are nothing crazy, but if you're not used to driving in roundabouts, they can be intimidating at first.
After driving in Europe quite a bit, I find them really convenient and a far better way to control the flow of traffic than stoplights.
However, for Americans, this still may require a bit of an adjustment period!
… But driving at night, especially on the west side of the island, can get dicey!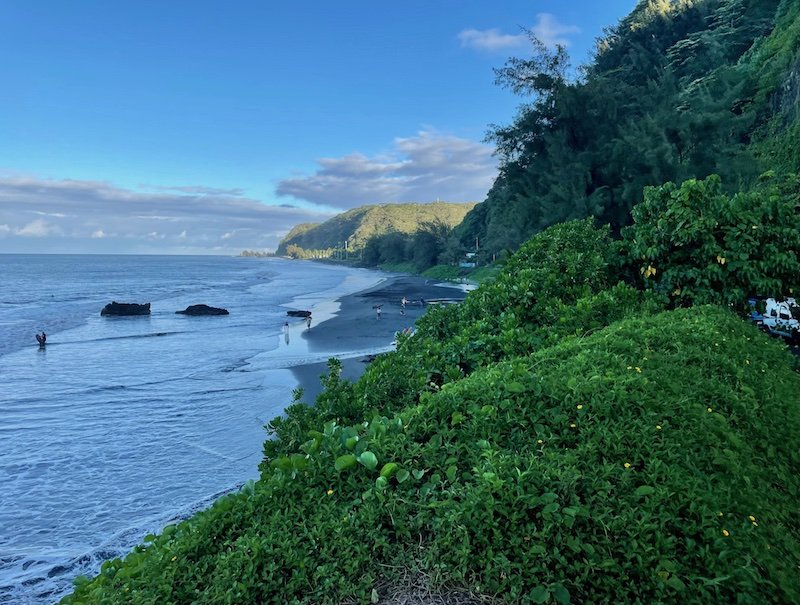 On our first day renting a car in Tahiti, we drove on the east side of the island and saw its main sights and then drove down to Tautira Beach on Tahiti Iti (a must-see!).
We drove back to Taiarapu-Est where we had a fantastic dinner at Le Manua. It got dark, but we didn't think much of it, as the roads leading us there had all been great.
We plugged in our hotel into Google Maps and it led us around the west side of the island, which we initially thought was cool because hey, we got to say we drove the entire perimeter of the island!
However, what we didn't anticipate was that this section of the road was far more winding and difficult to drive than the east side of the island.
It was also extremely poorly lit, with no street lamps but worse, no reflector strips, making us have to drive quite slowly and rely on our high beams in the pitch black.
You can't get everywhere, such as the Papenoo Valley, with a standard car.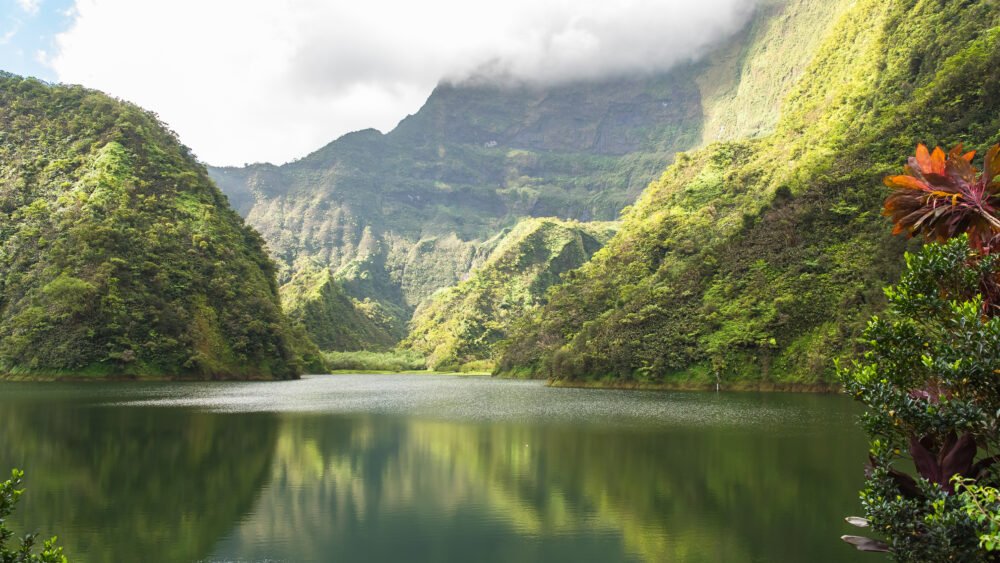 While the roads in Tahiti are quite good when you stick to the perimeter of the island and major attractions like the Fa'aruma'i Waterfalls, there are parts of the island that are not very accessible with a standard car.
The interior of the island has one road that passes through it, but it's no longer maintained and you can only access it with a 4×4.
This is the part of the island that includes the Papenoo Valley, one of the most scenic parts of Tahiti, full of waterfalls, lush flora, and Jurassic Park-looking landscapes.
It's absolutely breathtaking, but you'll want to access it with a tour, as I don't believe any car rental companies offer 4×4 cars… and besides, a guide will be able to show you all the best parts.
I recommend this 4×4 Island Crossing tour to show you the parts of the island that you can't access with your own car!
You definitely need to rent a car in Tahiti in advance!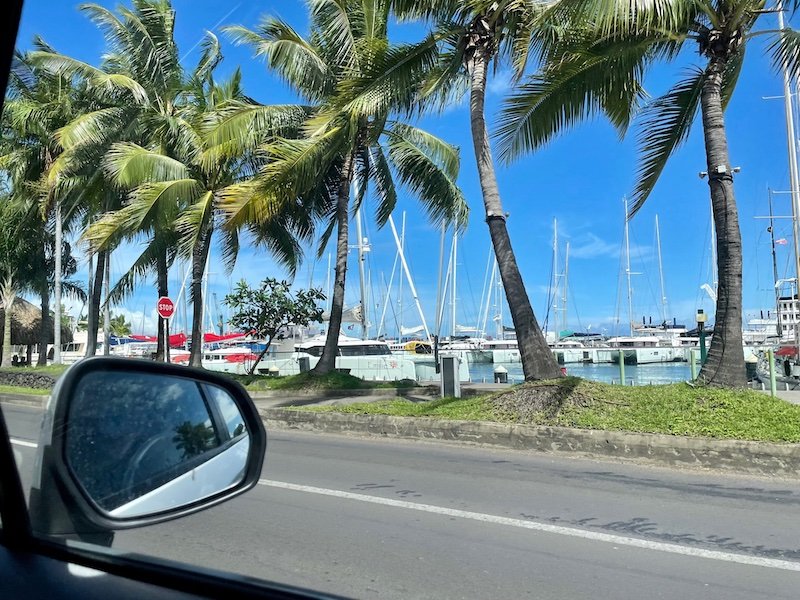 Don't even think of showing up to a rental agency once you arrive in Tahiti and asking for a car… the rental office is unlikely to be able to help you.
We saw someone try this when we were renting our car in Tahiti and nothing was available.
Even if there are cars, you won't be getting any good rental deals… they'll usually increase the price instead, because they know the rule of supply and demand is in their favor!
Search early to get the best rates — prices tend to go up, so there's no point in waiting for the best car rental deal… you're probably already seeing the lowest price.
Not every car rental aggregate includes rentals in Tahiti, so I used AutoEurope to find the best price for our rental (since Tahiti is technically part of France and thus Europe!).
The airport is the best place to rent a car in Tahiti.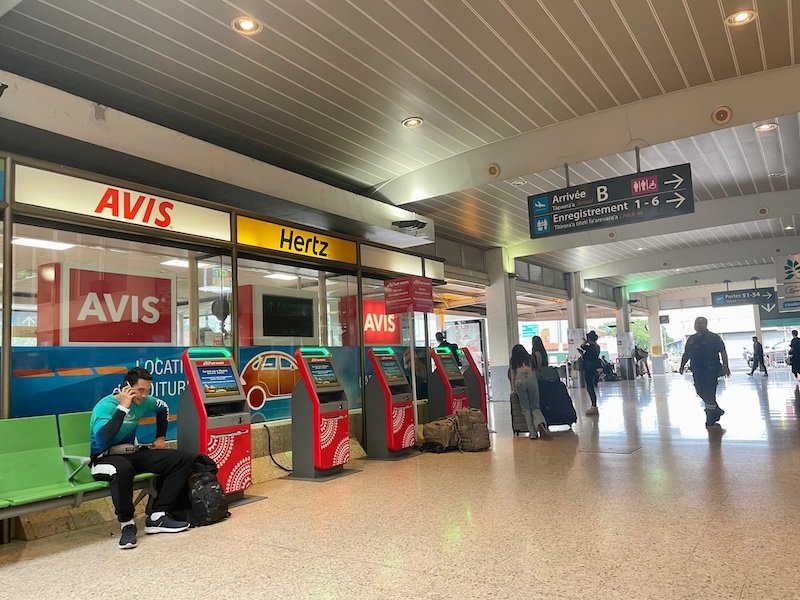 Faa'a International Airport is where you'll find the majority of the rental companies in Tahiti. Here, you'll find the best rental price and best deals in general.
The rental company area is easy to find — you simply can't miss it when you walk out of customs.
Some rental agencies may also offer an off-airport location, but generally, this isn't practical because you're arriving and leaving from Faa'a anyway, and there are no other international airports in Tahiti.
Double check all the terms and make sure you have what you need.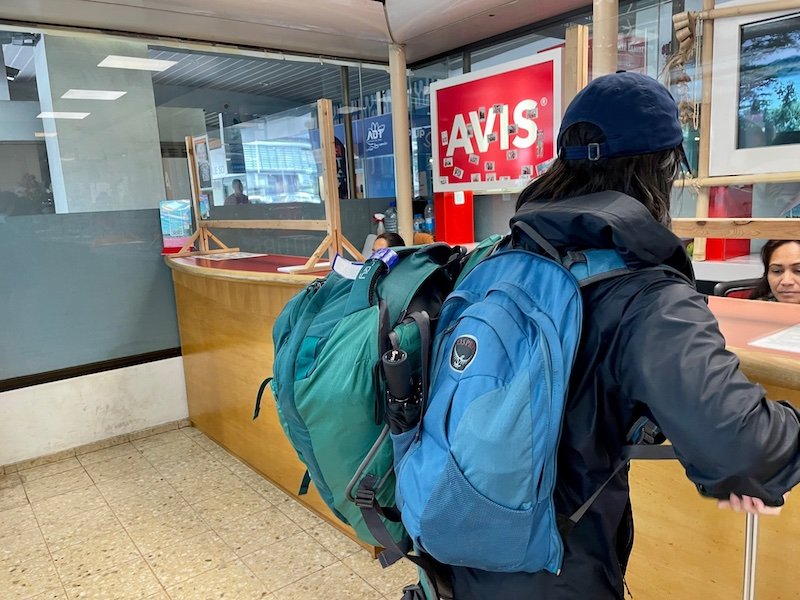 Because it's such a small island, you likely won't need unlimited mileage in Tahiti. Most car agencies offer that, but you can also just check what the mileage they offer is.
Even if you were to circumnavigate all of Tahiti's outer roads, including the ones on Tahiti Iti, you'd only drive 188 kilometers in a loop to the airport and back.
If you are splitting the driving with someone else, you will need to register an additional driver outside of the main driver — this usually costs somewhere between $15 and $20 USD per day.
Other additional costs may include adding on roadside assistance, liability insurance, young drivers extra fees if under 25 etc.
Some agencies may allow you to rent or borrow a car seat or child seat, but I wouldn't rely on this without speaking with someone at the rental desk first.
Speak with your rental agent to make sure you understand all the additional fees and consent to the charges.
You'll need a valid credit card so they can place a hold or deposit on your car rental.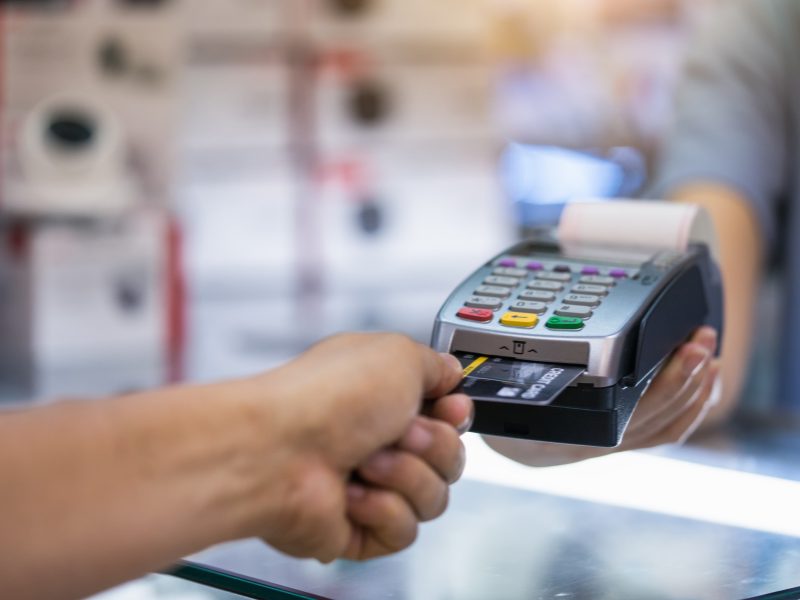 Once while traveling in Italy, I saw a very distraught Scandinavian man — who wasn't used to having to use a credit card — throw a fit because the car he wanted to rent required too large of a deposit for his debit card to handle.
He got stuck with a Ford Fiesta for his honeymoon — something I wouldn't really care about, but obviously caused him great distress, considering I've never heard the word "Ford Fiesta" uttered that many times with that much contempt.
Typically, they'll just place a hold — not an actual charge — on your credit card, that will be resolved within 2-3 business days upon returning the car.
You likely won't need an international driver's permit in Tahiti.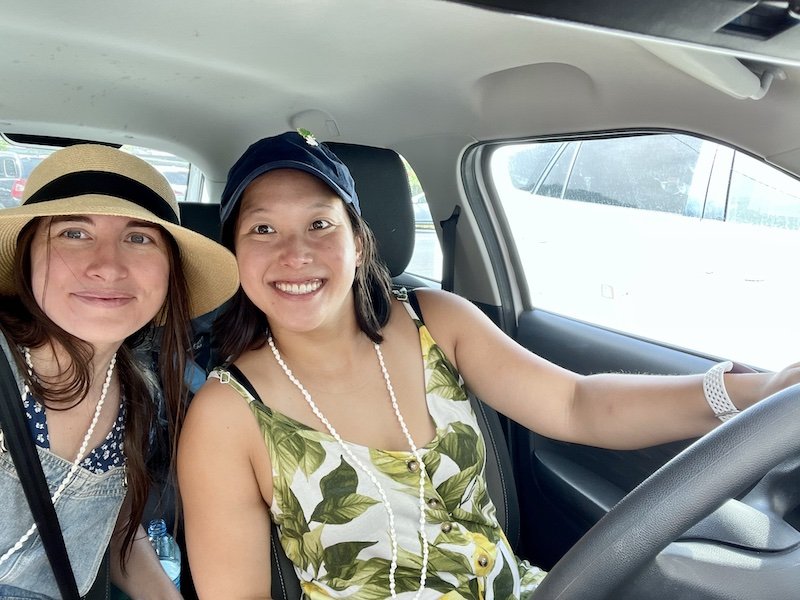 If your driver's license is either in English or in French, you won't need an international driver's permit to rent a car in Tahiti.
If your driver's license is in another language, it may require one.
While rental car companies may not ask, you may be required to show one if you get pulled over.
Anecdotally, in Papeete, we got pulled over at a checkpoint and police checked our driver's license and car rental papers.
Our American driver's license was fine without a IDP, but if you had a license not in English or French, I imagine it could present a problem!
Be extra careful checking the type of car you book, especially if you want an automatic car.
Because Tahiti is part of French Polynesia, an overseas territory of France, there are many similarities between the driving cultures.
One of them is that manual transmission cars are the standard car type, and automatic transmissions are a deviation.
When you book standard economy class cars, often that will mean manual cars will show up with the cheapest price.
Tahiti gets enough American tourists that rental agencies there will have a small supply of automatic cars, but you will have to specify it.
We had an issue where we thought we requested an automatic car, but had actually booked a manual car.
Luckily, they had one automatic car left and we were able to snag it, but it cost us an additional charge since automatics are more expensive.
We ended up paying approximately $110 USD per day for our car rental.
Renting a car in Tahiti can be pricy compared to other places, but it's worth it.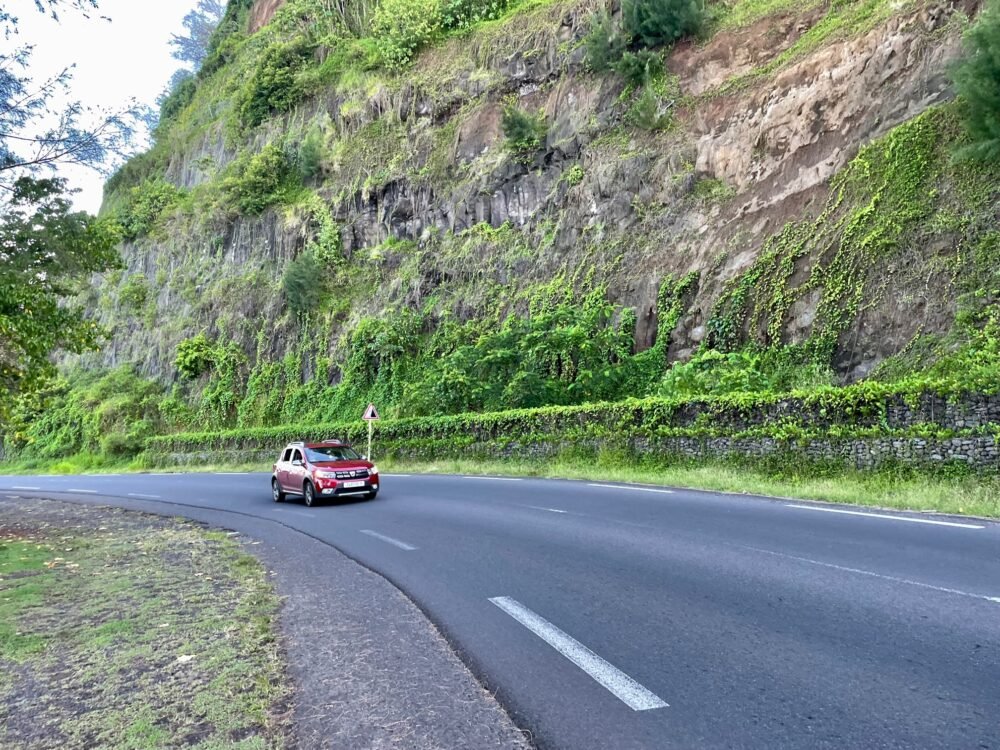 Personally, I found the average price of a car rental in Tahiti to be on the expensive side.
Unfortunately, cheap rental cars aren't really a thing.
The more affordable thing is scooter rental, but unless you're an experienced scooter or motorcycle driver, it's not particularly safe.
The car rental fee will be a large part of your Tahiti budget, but it will be worth your time considering it's a great way to get around the island.
Traveling in the off season will bring you low prices… relatively speaking.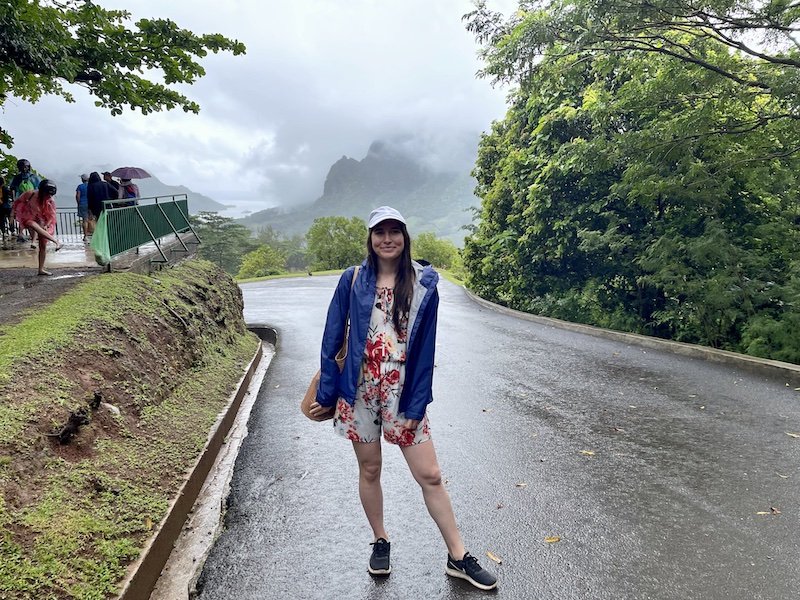 We traveled in November and even then we found car rental prices to be on the high side. I imagine it'd be worse in the rest of the year when it's high season!
That said, the best prices are in the shoulder seasons and off seasons, though you are trading off potentially worse weather if you choose travel dates in the low season.
The cheapest car rental we could find was via Avis and it cost about $115 per day for an automatic car.
Check your insurance coverage and err on the side of caution.
One thing to note is that while many American credit cards offer rental insurance coverage, the rental agencies don't typically understand that.
We chose to decline additional insurance, and of course, we got a flat tire literally in between filling up our gas tank and arriving at the airport.
Luckily we already arrived at the airport, so it wasn't a big deal, but we did have to pay an additional fee to get the tire fixed.
Additionally, make sure that you have personal travel insurance in additional to rental car insurance, in case you have an accident while driving and need medical care.
I always use SafetyWing for its great price, excellent and clear coverage policies, and ease of purchasing.
For my most recent trip, I paid just $18 USD for a 10-day coverage package that would cover me medically in case of accident or incident, as well as things like trip delay or cancellation, illness, etc.
Parking is generally rather easy in Tahiti, except in Downtown Papeete.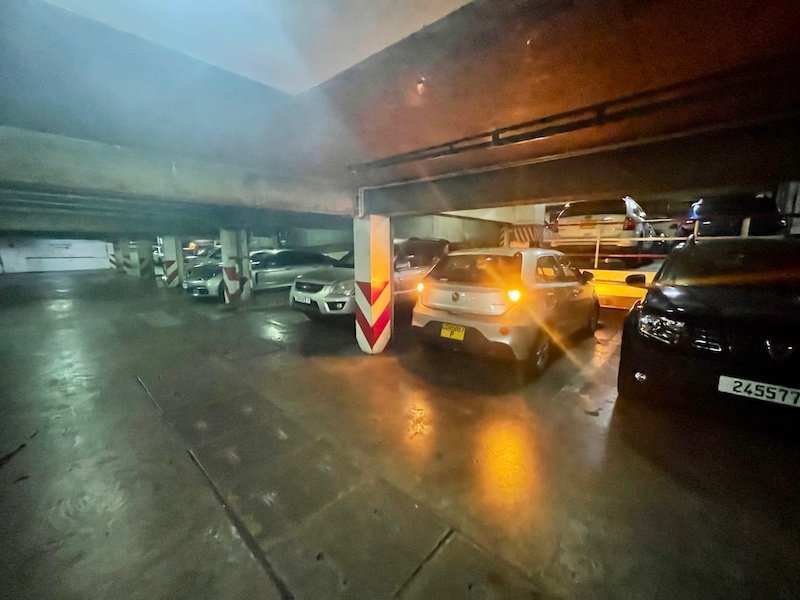 Most of the time, a parking lot is available for popular attraction spots in Tahiti, like the Vaipahi Water Gardens or Fa'aruma'i Waterfalls. It's free, too!
However, downtown Papeete is really hard to find parking at, and we ended up using paid parking lots. These can be a little pricy — we typically paid about $10 USD for a few hours worth of parking.
Some of these lots, like the one in the main mall in Papeete, are really small and tough to navigate. This is where having a small rental car will come in handy!
We had a medium rental car that we affectionately called "The Boat", a giant hunk of an MG, and it was hard to park in!
I can't even imagine trying to park there if we had a large rental car such as a SUV rental or van rental…
However, other parking lots that are outdoors, such as the one by the marina, are a lot easier to park in.
It's expensive to bring a rental car over to Moorea with the car ferry.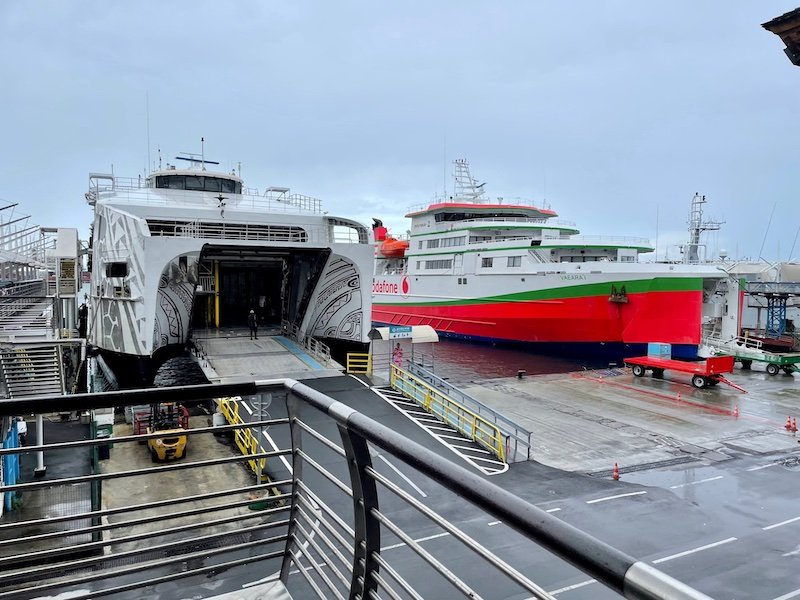 While it's a pain, it is likely cheaper to return your car to the airport and then rent a car in Moorea.
It costs about $95 each way, even for a small car, to bring your car over to Moorea.
There are different tiers for how much it costs based on whether you have a small or large car, etc.
I also don't recommend dropping off your car at a different location and paying the one-way rental fee. It's a massive additional charge.
Instead, I'd rent a car in Tahiti, return it, then rent a car in Moorea. It's a little more work but it'll save you a good deal of money.
While Moorea is awesome and definitely worth visiting (there's so much to do!), don't bother bringing your rental car over there unless money is truly no matter to do.
Gas is also a little expensive, but luckily, you won't need too much.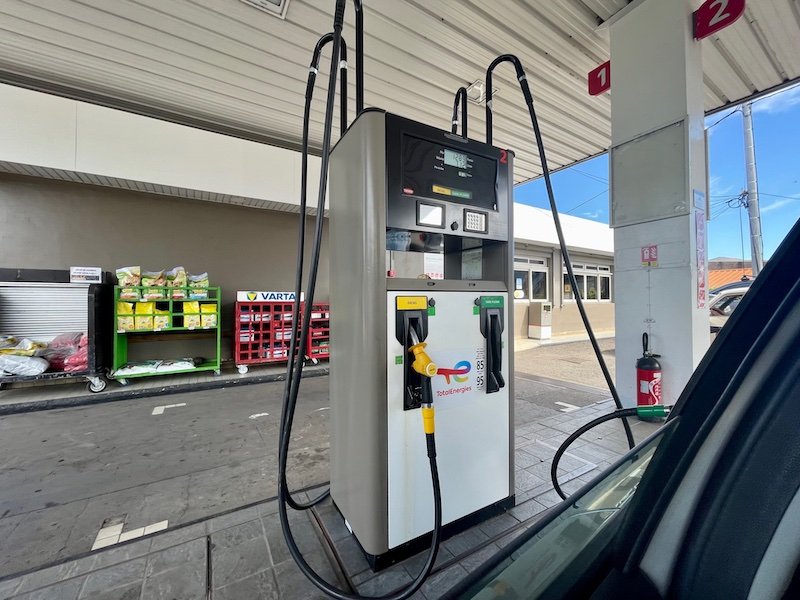 It makes sense that gas would be expensive in Tahiti.
For one, the island is way out in the middle of the Pacific Ocean, so it's going to be expensive to bring gas there, period!
It's also a French territory, so it has similar taxes and surcharges on top of the base fuel cost which make gas more expensive.
We spent 3 days in our rental car, and with that, we were able to circumnavigate the entire island and drive out to one of the edges of Tahiti Iti.
We used 20.69 liters of fuel, which cost 3745 XPF ($33.24 USD at the the time of writing).
In November 2022 that meant the price of fuel was 181 XPF per liter (equivalent to $1.61 per liter or $6.09 per gallon).
Honestly, coming from California with roughly ~$5/gallon gas prices this wasn't too bad for us, and for Europeans, this is probably pretty standard!
Of course, as with any rental car, you'll have to return your car with a full tank of fuel to avoid extra costs.
If island hopping, it's best to rent a car on each island.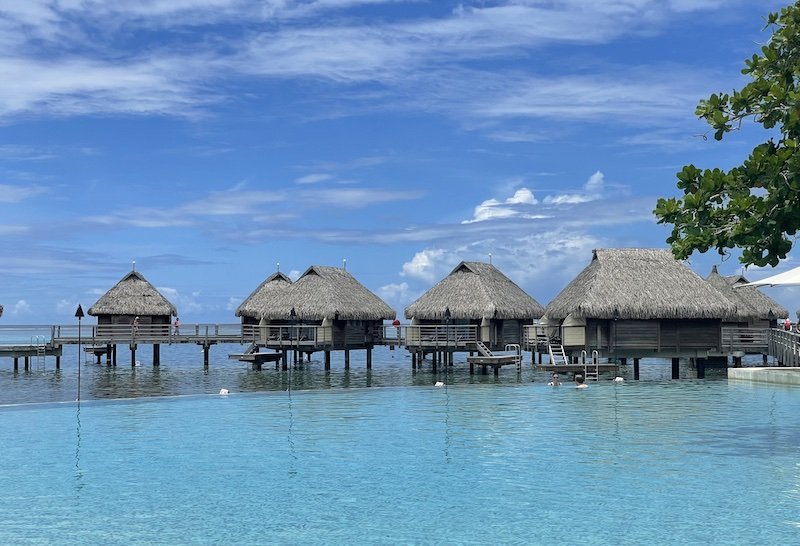 Depending on which French Polynesian islands you visit, you may or may not want a rental car.
It also depends on what kind of travel you are doing on that island.
For example, if all you're doing is staying in a resort on Bora Bora and don't plan to leave your overwater bungalow, well, there's really no need for a car, is there?
We didn't rent a car in Moorea and we wish we had — the island was larger than we thought and we ended up very reliant on taxis, which added up and wasn't quite as convenient.
Which Rental Car Company is Best in Tahiti?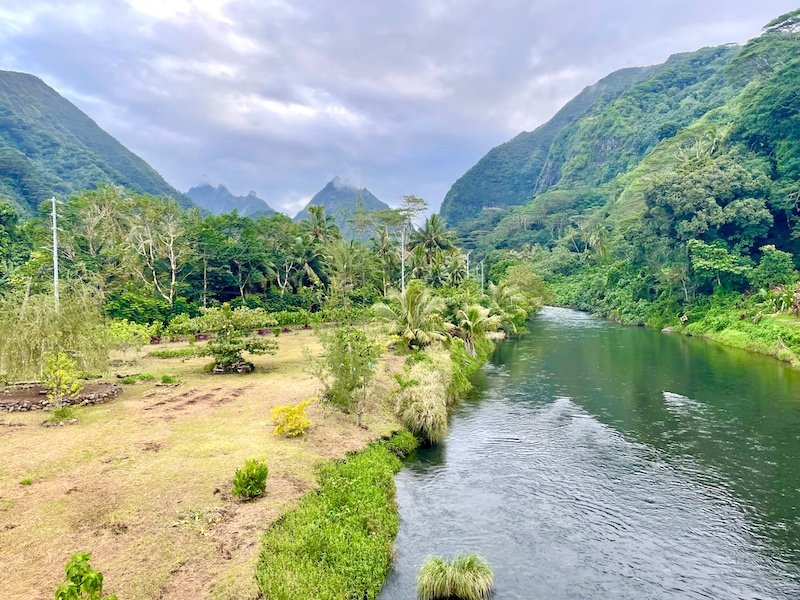 In my opinion — whichever gives you the best deal!
We went with Avis because we found the best price for it using a car rental aggregate (AutoEurope) that compared all the different rental car companies in Tahiti.
However, depending on inventory and demand, the best-priced company may change, so using a search engine to compare is key.
Allison Green is a former educator turned travel blogger. She holds a Masters in Teaching and a B.A. in English and Creative Writing. Her blog posts merge her educational background and her experience traveling to 60+ countries to encourage thoughtful travel experiences that both educate and entertain. She has been a speaker at the World Travel Writers Conference and her writing, photography, and podcasting work has appeared in National Geographic, CNN Arabic, CBC Canada, and Forbes, amongst others. Now based in the San Francisco Bay Area where she grew up, she has also lived in Prague, Sofia, and New York City.