With rolling hills and vineyards as your everyday backdrop, renting a Tuscany villa with a private pool is one of the best ways to experience the bucolic landscapes of Italy's most beautiful countryside.
And with fully-equipped kitchens, al fresco dining areas, and beautiful gardens, a home's comforts meets nature's beauty in these villas.
Of course, the crown jewel of many of these Tuscan villas are their private pools, a little secluded sanctuary to float clear blue skies or lounge at the water's edge with a glass of Chianti in hand.
Renting a villa in Tuscany with a private pool is not just about luxury, though it can be if you want it to be — there are plenty of luxe jewels in this list, but also some budget sleeper hits that will surprise you with how affordable they are.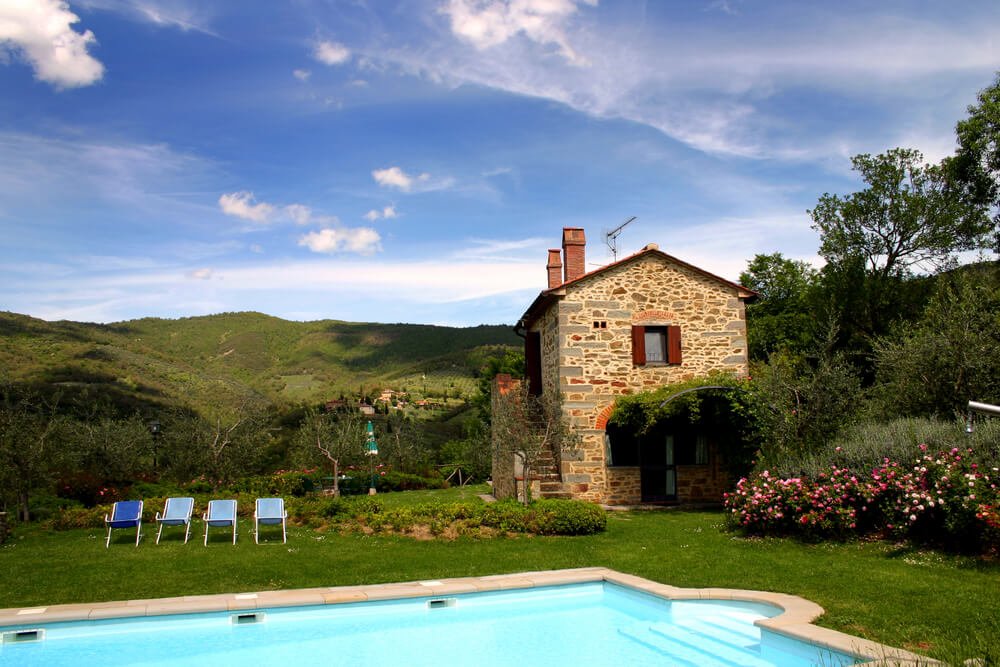 It's also about embracing the experience of traveling with a group of loved ones, whether that's the family you're born into or the family you've chosen.
In between relaxing at your Tuscan pool villa, you can explore medieval towns, taste your way through the humbly decadent Tuscan cuisine, or merely indulge in the sweet art of doing nothing at all!
Getting Around Tuscany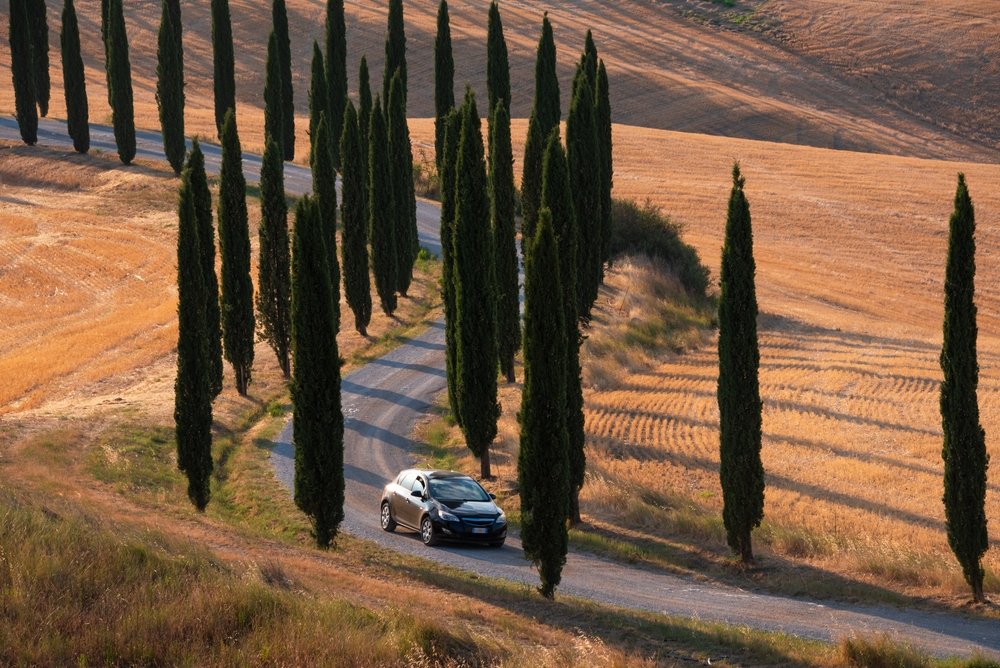 These pool villas in Tuscany are pretty much impossible to reach with public transportation, and they are often in the countryside, not within walking distance of any amenities.
If you don't want to feel isolated, you'll definitely want to rent a car in Tuscany to make the most of your stay.
I recommend renting a car as soon as you fly into Florence (assuming you are starting your trip there), since you'll get the best rates at the Florence airport.
I use Discover Cars to search for the best car rental prices in Italy, since they compare 500+ agencies (including smaller local ones, not just the big names) to find the best deal on your rental.
Best Villas in Tuscany with Private Pools for Large Groups
Overall Best For Big Groups: Villa Il Turchetto – Book Here
This massive Tuscany villa with private pool is the perfect choice for large groups — it can fit as many as 16 guests in its 8 bedrooms and 7 bathrooms (no bathroom hold-ups here!).
Even with a full house, you won't be cramped at all. Villa Il Turchetto is a whopping 5,000 square feet, larger than life on the inside with high ceilings and exposed wood beams.
The bedrooms are a variety of sizes, from smaller rooms perfect for kiddos to larger master-style suites, but truly no one will feel shafted by the rooms — they're all very comfortable.
Some of the bathrooms even have bathtubs, for those of us who love a good soak at the end of a day on vacation.
… and speaking of good soaks, the location in Saturnia means that you're right next to one of Tuscany's hidden gems, the thermal springs right in town.
When you're this close, it's a breeze to be there bright and early to be some of the first ones to enjoy the springs, which can get rather busy after the morning hours.
Back to this villa: with a living room with a fireplace, comfy armchairs, and a wall of built-in bookcases just begging you to curl up with a good novel, you absolutely will find yourself wishing you can move in.
The outdoor spaces here are massive too: plenty of comfortable cushioned chairs shaded by a thatched-style awning, giving you shade with hints of sun as you enjoy a Tuscan afternoon on the porch.
And of course, it wouldn't be a trip to Tuscany without many a dinner al fresco.
Luckily, with a massive, well-equipped kitchen (I think I counted a whopping 8 burners to use on the massive, hood-range stove) and enough outdoor seating to fit the whole crew, you're ready to host unforgettable dinners in the cool Tuscan night breeze.
As for the pool, you won't make any sacrifices here: it's huge, so every single one of 16 guests could be in the pool without feeling crowded.
It's large enough to swim laps in, but it's also just a wonderful place to relax in, admiring the Tuscan countryside all around you and the lovely rolling hills you can see out of every corner of your eye.
Best For Spa Lovers: Podere La Piscina – Acqua Termale e Relax – Book Here
This gorgeous villa is more like a typical Tuscan pool villa meets a full-on spa — complete with a sauna and a thermal pool and hot tub with natural spring water, it really does check all the 'spa' boxes!
Yes, Podere La Piscina literally has its own hot spring on the property — how's that for a unique pool villa in Tuscany?
The spring has a constant temperature of 38°C or 100°F, so it's perfect for visiting outside of the summer season if you want a heated pool.
If you're looking for a colder pool for swimming laps and cooling off on hot Tuscan days, this may not be the right villa for you in the summer months!
Some of the bathrooms also feel very spa-like, including one where two people can take baths side by side using the thermal water!
Located in the countryside of Val d'Orcia in the charming village of San Casciano dei Bagni, this is one of the most scenic areas of Tuscany to stay in.
Think of that beautiful winding road lined with trees that you likely think of the image of Tuscany, and that's the Val d'Orcia!
The town it's near, San Casciano dei Bagni, is part of the association of most beautiful villages in Italy.
Best of all, it's only a kilometer away, so you can reach it on foot or with a car — so this is a great mix of a private-feeling villa yet still not feeling cut off from the delight of Tuscan small towns.
This five-bedroom Tuscany villa with a private pool is very traditional, made of stone in the old-fashioned way (as a natural form of air conditioning) — but of course, it has regular A/C as well, because this villa will not let you miss any of your creature comforts.
Sleeping up to 10 guests, the bedrooms are great for a mix of families or a group of friends — 4 of the rooms have large double beds, but there's one bedroom with two twin size beds.
There are many common spaces to enjoy with your group, like the large living room with three huge plush couches to gather around, all surrounding a fireplace.
This room is set in a high-ceilinged room complete with an exposed wooden ceiling with its original beams and a skylight — and a piano, in case any of you are musical!
All that plus a huge, well-equipped kitchen for making delicious meals with local ingredients and plenty of room to gather around the table, and you'll see why this is the perfect Tuscany villa with private pool — nay, private hot springs — for larger groups!
Largest Pool Villa: Locanda in Tuscany – Book Here
This may be the largest Tuscany villa with a private pool on the list: the large house can sleep up to 24 guests in its 9 bedrooms, 10 bathrooms, and a whopping 7,500 square foot floor plan!
Included in your stay is a daily breakfast at the nearby restaurant, which you can also visit for lunch or dinner if you don't feel up to cooking for yourself.
That said, they do have a fully-equipped massive kitchen as well as outdoor BBQ facilities, so you can opt for self-catering or going out to as many meals as you like.
The outsized villa, of course, has an outsized private pool to match: stretching nearly as long as the house itself, it's the perfect place to swim laps or take a dip during the hot afternoons in Tuscany.
There are also lots of loungers, as well as a shaded area for enjoying the afternoons outside without worrying about getting to much sun.
The pool area also has an epic sunset view, and the rolling hills of the Val d'Orcia of Tuscany is one of the entire region's most scenic areas.
Let's talk about the inside, now: the villa is freshly renovated, with an updated farmhouse-inspired aesthetic in all its bedrooms.
Some of the bedrooms even have their own fireplace or clawfoot bathtub in the room!
Best for Instagram Lovers: Marsy Lavender Farm & Villa – Book Here
What's better than Instagram snaps of you in a lavender field? Knowing you'll be the only one there, since it's your own private lavender farm and Tuscan countryside villa!
Nearly every square inch of this Tuscany villa with a pool is absolutely begging to be photographed, from its huge pool with floating chairs and rolling hill views to its fringed hammocks to its lovely minimalist décor to, of course, its lavender field!
Note, of course, lavender fields are not a year-round phenomenon — expect it to be at its peak from mid-June through mid-July — so you'll want to book those dates in particular if the lavender field is a major selling point.
Located in the countryside of Marsiliana, this 5-bedroom, 6-bathroom villa is over 2,000 square feet and has plenty of room to accommodate up to 11 guests.
Rooms all have a very boutique hotel feel, with lovely high ceilings, a muted earth tone color palette livened up by thoughtful bursts of color, and bathrooms with rain showers!
The kitchen is massive and open, perfect for entertaining a large group while you cook, as well as outdoor BBQ facilities.
Plus, this villa has its own pizza oven — how amazing is that?
And of course, since you're looking for a Tuscany villa with a pool, I'd be remiss to mention just how large this pool is: perfect for laps or simple afternoon swims, the entire group could be in the pool at one time and it wouldn't feel cramped!
There are also plenty of comfortable chairs and hammocks around the poolside to curl up with a book in between swims.
Typical Villa Charm: Casa Terzerie – Book Here
This very typical Tuscany villa with private pool is simple but beautiful, and that's just what makes it so welcoming.
The lovely Casa Terzerie has all the structure of the typical regal villas of Como, with more old-fashioned features like four-poster beds, high ceilings with exposed wooden beams, and typical Tuscan tiling.
It's great for a medium-sized group, sleeping up to 10 guests in its 5 bedrooms, each with double beds.
It's nearly 3,500 square feet, so there's plenty of space to not crowd each other.
The swimming pool is huge and gorgeous, lined up perfectly with the setting sun for gorgeous sunset swims.
And while the house feels very secluded, it's perfectly situated as there's a delicious restaurant within walking distance, 400 meters away.
That said, you'd never have to go out for meals if you don't want to, as there's a huge and well-equipped kitchen as well as a gorgeous al fresco dining area perfect for big meals with friends.
Best for Dinner Parties: Villa Podere Del Grasso – Book Here
Located in Castel del Piano, this Tuscany villa with a pool is a secluded little getaway perfect for groups up to 12 — perfect for families or trips with a large group of friends.
This villa in Tuscany in absolutely massive: we're talking six bedrooms, plus two sofa beds in the living room, so it's easy to accommodate a large group of people.
With an enormous private pool to swim laps in or cool off in under the hot Tuscan sun, or a fireplace to gather around inside during the cooler months, this is a wonderful all-seasons villa in Tuscany for large groups.
The villa interior is gorgeous, with high ceilings complete with exposed wooden beams, completing the rustic Tuscan vibe.
A spacious kitchen with a center island to gather around is another huge perk of this villa, as it's easy to self-cater if you want to host dinners cooking with local, seasonal ingredients — it'd be a shame to waste Italian summer produce!
A housekeeper is available in case you need any tidying while you're staying in the villa (note that there's an additional charge)
With a porch featuring hammock seats overlooking the hills, this Tuscany pool villa is the perfect place to take in the sunset and relax with a glass of local Chianti.
Best Outdoor Sunset Space: Villa Colletto – Book Here
If your favorite time of the day is sunset, this is the perfect Tuscany villa with a pool for you: Villa Colletto has one of the nicest sunset-facing terraces I've ever seen!
Complete with several comfortable wicker sofas and chairs with plush pillows, arranged in a circle around a table to place drinks and antipasti on, this is the perfect place to watch the sun sink into the small, rugged mountains of the Tuscan countryside.
And after the sun sets, there's still plenty of outdoor beauty to enjoy, like the massive dining table that'll fit the entire group with views over the surroundings villages, only tiny pinpricks of light in the dark.
The house has 5 bedrooms and 5 bathrooms and comfortably sleeps 8 guests, though honestly, I do expect it could fit more if you asked.
The interior is absolutely gorgeous too, keeping in mind the historical feel of traditional Italian villas with some incredible design features, from ornate ceilings to chandeliers to exposed beams.
One of my favorites is a bathroom with murals painted on the wall of a Tuscan landscape, complete with an exposed wooden beam ceiling, a wrought-iron standalone bathtub, and sconce lighting.
It's like taking a bath in another century!
The bedrooms too feel like they came out of a 19th century Lake Como villa, with exposed beam ceilings, delicate molding features, vintage furnishings, and many with en-suite bathrooms that continue the charm.
And of course, you looked up Tuscany pool villas so let's talk about the pool: it's simply huge, large enough to swim laps in or have a pool party in!
There's also lots of loungers around the pool to take breaks for sunbathing or book-worming.
And the pool also is a great sunset spot to boot — you get epic views of the setting sun and its palette of brilliant sunset colors here, too.
There are both indoor and outdoor kitchens, and you can even hire a private chef who can cook Italian classics for you.
Perhaps even better for lovers of Tuscan wine, they have their own wine cellar and can arrange for private wine tastings!
The prices for the chef and wine tasting are rather reasonable too, starting at 35-45€ per person for meals and 25-35€ per person for wine tasting.
Who knew private luxury in your own Tuscan pool villa could be that inexpensive?
Olive Farm Beauty: Chiarentana – Book Here
This charming Tuscany pool villa in Chianciano Terme is the perfect spot for large groups of up to 14 people, with 7 bedrooms and 7 bathrooms so everyone has plenty of space (2,500 square feet).
Once a fortress and a few scattered farmhouses, Chiarentana is now a gorgeous, modern place to stay with a variety of options, but we'll focus on the villa here, since it has its own private pool.
Oh, and did I mention it's also an olive oil farm? It doesn't get any more Tuscan than that, does it?
The rooms are typical Italian understated villa beauty: simple but elegant furnishings that mix and match vintage with modern, so all your creature comforts are met while still having that traditional villa feel.
The kitchen is huge and spacious, high-ceilinged with lots of natural light and counter space, plus an in-kitchen dining table for entertaining and having family or group meals.
There's also a huge living room with a fireplace and lots of seating, perfect for a night of chats, games, and drinks to match.
Best Infinity Pool: Villa Lolù – Book Now
Located in the small town of Terranuova Bracciolini, this exquisite villa in Tuscany with a private pool is perfect for a larger group of up to 9 guests.
With four bedrooms (3 queen, one with two twin) and a living room with a sofa bed, as well as two bathrooms, there's plenty of space at this Tuscan villa so you won't feel crowded, even if you're at max capacity.
It's also rather close to the Florence airport, making transfers a breeze, as it's located about halfway between Florence and Arrezzo, another charming Tuscan city.
The interior oozes Italian countryside charm, with rustic exposed stonework in the dining room, an outdoor area perfect for al fresco dinners with endless Chianti pours, and the typical rust-red and mustard-yellow hues of the Tuscan countryside in the shared areas.
On cool nights, there's also a fireplace to enjoy and gather around in the lovely living room — but if it's warm, don't worry, this Tuscan villa is complete with A/C as well!
But of course, the real draw is the private pool: beautiful day or night, this infinity pool looks over the rolling hills of Tuscany.
And all lit up at night in beautiful turquoise and gold, there couldn't be a better place to drink wine and chat with friends and family late into the early morning hours.
Plus, there's a Jacuzzi as well to use!
And if you thought it didn't get any better, the lovely couple who runs the villa, Gaetano and Francesca, will cook for you — even making you delicious home-cooked pizzas in their pizza oven!
Private Villa Close to Town: Podere La Terminella – Book Now
Get the best of both worlds with this gorgeous Tuscany villa with a private pool just outside of Volterra, a mid-sized town in Tuscany with a lot going on.
This is the perfect villa to stay in if you don't want to feel totally secluded out in the countryside far from all the restaurants and attractions of Tuscany, but you still want the privacy and spaciousness that a pool villa gives you.
With 6 bedrooms and 8 bathrooms, this Tuscany pool villa comfortably fits up to 12 guests, making it great for groups of friends and families.
One of its best features is its infinity pool, which looks straight over the rolling landscape of the Tuscan countryside for some of the best views you can imagine.
Next to the pool, there are loungers with large umbrellas perfect for sunbathing with views of Tuscany spread out before you.
There's also a large outdoor al fresco dining area, so you can eat lunch and dinner with the same sweeping views!
Inside, the kitchen is a modern marvel — you'll find yourself wanting to cook in this one, with its gorgeous marble countertops and endless counter space, fully equipped to make mouthwatering meals.
There's a wonderful little breakfast nook, multiple fireplaces, and tons of spacious seating areas to enjoy indoors.
The bedrooms are also very spacious and modern, with high ceilings with wooden beams and en-suite bathrooms with soaking tubs or walk-in showers — the ultimate in relaxation!
Best for Families with Little Kids: Villa Antico Borghetto Di Tigliano – Book Here
This old-fashioned Tuscany villa with a private pool is an affordable choice for mid-sized groups, fitting up to 8 guests in this 4-bedroom, 3-story villa.
A 10-minute drive from the charming Tuscan town of Vinci, it's conveniently located but still feels very private and secluded.
You can enjoy the large, spacious garden and its BBQ facilities as well as its above-ground pool, accessed via stairs that can be gated off.
This makes it an especially safe choice for families with young kids who may be worried about the safety of a Tuscany pool villa.
For an above ground pool, it's rather large, and while you wouldn't necessarily be able to swim laps in it, it's definitely not a kiddie pool!
Kids will also love the treehouse-style play structure complete with a slide!
In terms of the interior, think old-fashioned Italian comforts: iron-wrought furniture, oil paintings and prints of famous Italian artists, and the typical Tuscan color palette of pale yellow, brick, and rust-red.
It's not the most design-forward Tuscany pool villa, and fans of modernist design will definitely find it a little dated, but if you want old-fashioned charm, this is it!
Modern Beauty with Spa Features: Villa Le Terme – Book Here
This pool villa in Tuscany doesn't quite feel like the others, as it has a really modern architecture compared to the others, which are more traditional in their design.
While it may not ooze with historic charm the way many of these Tuscany villas with private pools do, Villa Le Terme still is an excellent choice and may be better for those with more modernist design sensibilities.
It's also great for large groups, with 5 bedrooms, 6 bathrooms, and the ability to fit up to 13 people. One bedroom is on the ground floor and is wheelchair accessible.
This villa boasts not one but two pools: one outdoors with a gorgeous view, and one indoors, covered with a roof but surrounded by glass windows so you won't feel like you're missing a bit of the view!
Plus, there's also an indoor dry sauna as well as a Turkish bath steam room to complete the "home spa" feel, as well as two tiled hammam-style relaxation loungers in the indoor pool area.
The outdoor pergola is very modern, with geometric, clean-lined outdoor furniture for lounging and relaxing beside the huge swimming pool.
Inside, the kitchen is compact but very functional, with plenty of counter space and all sorts of modern appliances that wouldn't look out of place in a brand-new luxury apartment.
That same modern aesthetic continues throughout — from the loft-style feel of the living room-meets-dining area to spacious, minimalist bedrooms, this definitely feels like a 21st-century villa.
If you're looking for the romantic, historic villa in Tuscany — this isn't it. But if you want a large space and a private pool with a modern feel, this is a great choice!
Typical Tuscan Vibes: Villa Mezzavia – Book Here
Located outside the popular Tuscan destination of Cortona, this Tuscany pool villa is huge — over 3,000 square feet — with 6 bedrooms that can welcome up to 11 guests.
The two-story Villa Mezzavia has a massive private pool on site, with lots of sun loungers aside it for sunbathing in between swims.
The huge pool is well-shaded by trees for much of the day, so it's perfect for swimming on hot days without worrying about the scorching sun!
The interior is spacious and traditional, with your typical Tuscan tile floor and brick-lined archways that given an open floor plan feel while still having separate 'rooms' in the main living area.
The kitchen is well-appointed though a little small, but you can definitely make do for cooking some nice meals in here to be enjoyed either in the dining room in the main house or al fresco.
The bedrooms continue the traditional Tuscan aesthetic, incorporating the same tile and brickwork in the rooms, whose edges are softened with vintage furnishings that make you feel like you're staying in another century.
And some bedrooms even have a soaking tub in the room, whereas others have an en-suite bathroom with a step-in shower.
Small Town Bliss: Villa La Casa del Re – Book Here
Just outside the small town of Le Piazze, you can easily run into town for the things you need — a coffee, a bottle of wine, some food, all 10 minutes away on foot.
Yet still, Villa La Casa de Re is set away back far enough that you can feel the seclusion of having your very own Tuscany villa with a private pool.
Taking up 3 floors, this 6-bedroom villa can sleep up to 11 guests comfortably, though smaller groups can enjoy it as well.
Though given how many people it can fit, it can be a rather cheap price per person if you have a full house!
The interior is lovely, warm, and welcoming, with bright white walls that invite in the natural light and wooden exposed beams that give the whole room a lovely rustic feel.
The kitchen is spacious, perfect for making a meal with a group of friends, as well as having an outdoor BBQ area for delicious summertime meals.
The pool is not huge, but it's large enough to enjoy with a smaller group, and there are plenty of sun beds and umbrellas for you to enjoy some sunbathing.
The bedrooms have the same high-ceilinged, minimalistic yet warm stylings as the rest of the house, simply furnished with beautiful wooden furnishings and uncluttered so they have a peaceful feel.
That said, the bathrooms feel a little dated, as the tile is bit old-school and the showers aren't particularly nice or modern.
Best Villas in Tuscany with Private Pools for Smaller Groups
Best for Budget Travel: Le Rime di Campagna – Book Now
Just on the outskirts of the charming Tuscan city of Arrezzo, less than 3 miles from the city center, you'll find this lovely Tuscan villa for quite an affordable price!
This budget-friendly villa in Tuscany with a private pool has everything you'd want — air conditioning, a well-stocked kitchen and BBQ facilities, a patio with views of the rolling hills, and an outdoor fireplace — all at a reasonable price that's perfect for a smaller group.
With two bedrooms, two bathrooms, and the ability to fit up to four guests, this is a great choice for two couples traveling together or a family of 4 who wants a bit of privacy during their stay.
The design is subtle and homey, not over-the-top fancy, but that's part of its charm — it makes your Tuscany pool villa feel a little more like a home away from home, at least for a time.
The pool is not incredibly large, but since it's a private pool for just your group of four or fewer to use, that's not such a bad thing…
Especially when there's an outdoor dining area and a hammock area to enjoy just next to the pool!
If you want the Tuscany villa with a private pool experience without the huge price tag, this is the spot for you, so long as your group size is small enough to make it work!
Stone House Budget Beauty: Villa La Pergola – Book Here
In a typical stone home you'll find all over the Tuscan countryside, surrounded by flowering trees and vines, the beautiful Villa La Pergola is a good option for smaller groups of 6 or less.
With 3 bedrooms — two double beds and one sofa bed — and 2 bathrooms, this is a spacious villa in Tuscany with a private pool despite the lower number of bedrooms compared to most, with a nearly 3,000 square foot floor plan.
The interior is quintessentially Tuscan: exposed stone walls that show off the masonry, juxtaposed against plenty of wood details and mustard yellow and rust red accents.
The bedrooms are that perfect blend of minimalistic yet not Spartan, with plenty of room to spread out in yet with enough personality and detail to feel individualized and homey, like you're staying in the house of a family friend.
Admittedly, the circular swimming pool isn't the largest, but it's perfectly suitable for a dip to cool off on a hot Italian afternoon.
There's also a great pergola — who would have guessed it from the name of the villa? — with a large dining table for meals under the Tuscan sun (or stars).
But best of all is the price, which can be downright affordable; sometimes the villa is available for under $250 per night, which is just over $40 per person per night if you have a full house!
Hillside Beauty: Villa Ada Belriguardo – Book Here
Located in the countryside, this charming Tuscany villa with a private pool is set on the hillside amidst beautiful gardens, close to the towns of Sarteano and Cetona.
Typical of villas in the region, Villa Ada Belriguardo is made of stone with a terra cotta roof, emblematic of the Tuscany region.
The pool is located a terrace or two below the villa and it is simply massive, overlooking a valley of Tuscany's hilly region.
There is plenty of room for the whole group to enjoy the pool, or to swim some laps if you're looking for exercise.
The pool is also beautifully lit up at night, perfect for night swims under the uncountable stars of the Tuscan sky.
This villa is on the smaller side in terms of how many guests it can fit: with only 3 bedrooms and 2 bathrooms, it's better suited for smaller groups of 6 or fewer.
That also makes it a fairly affordable place to stay on a budget, especially if you have a full house, though it isn't the cheapest villa on the list.
The interior of the villa is beautiful in an old-fashioned way: think Tuscan tile floors, iron-wrought bed frames, and vintage wooden furnishings.
The bathrooms are a little small and dated, but the rest of the house feels spacious, recently renovated, and inviting, especially the kitchen and living areas.
Plus, there's also a game room complete with a pool table!
In short, as long as you don't need the most modern of design choices, this is the perfect choice for a smaller group looking for a Tuscany villa with a private pool.
Close to Florence: CountryHouse con Piscina – Book Here
Just on the outskirts of Florence near the outer suburb of Rifredi, you can have your own Tuscan villa with private pool while just being a short ride into town — less than 4 kilometers to its main sights, in fact.
In fact, it's so close to the center of Florence that you can just walk to the tram, which is 5 minutes walk away, and that'll sweep you right into town!
With a private indoor pool surrounded by beautiful brick and stone, complete with hydromassage jets, this is a lovely place to relax after a busy day sightseeing in Florence — and it's lit up beautifully at night, giving it an almost hammam-style feel.
The indoor pool is a bit small, but it's definitely suitable for relaxing in after a full day of sightseeing around the city.
Plus, the villa also has an outdoor fireplace, a BBQ area, and some garden areas to walk around, so you really will feel like you're outside of the urban center, despite being so close to it!
Of course, being so close to Florence, you do make a sacrifice: namely, space, as the country house is a little on the small side.
The rooms can be a little narrow, as everything fits in a 600 square foot floor plan, but nevertheless this charming tiny house fits up to five guests comfortably in its 2 bedrooms (and a living room sofa bed).
But for the price and location, it's a great offer — just don't expect a massive villa or an outdoor pool, because that's not what this villa is about!