If you're planning a trip to Sicily, you're probably planning to visit its epic coastline, stunning beaches, charming beach towns, and countless historical spots.
But there's one thing you simply can't miss: visiting the iconic Mt. Etna, the tallest active volcano in all of Europe.
The towering, simmering Mt. Etna is located near the city of Catania and the charming commune of Taormina, making it a convenient spot to visit.
And when you realize that the Etna region is home to some of Italy's best wines, that's all the more reason to check one of these Etna wine tours on your trip.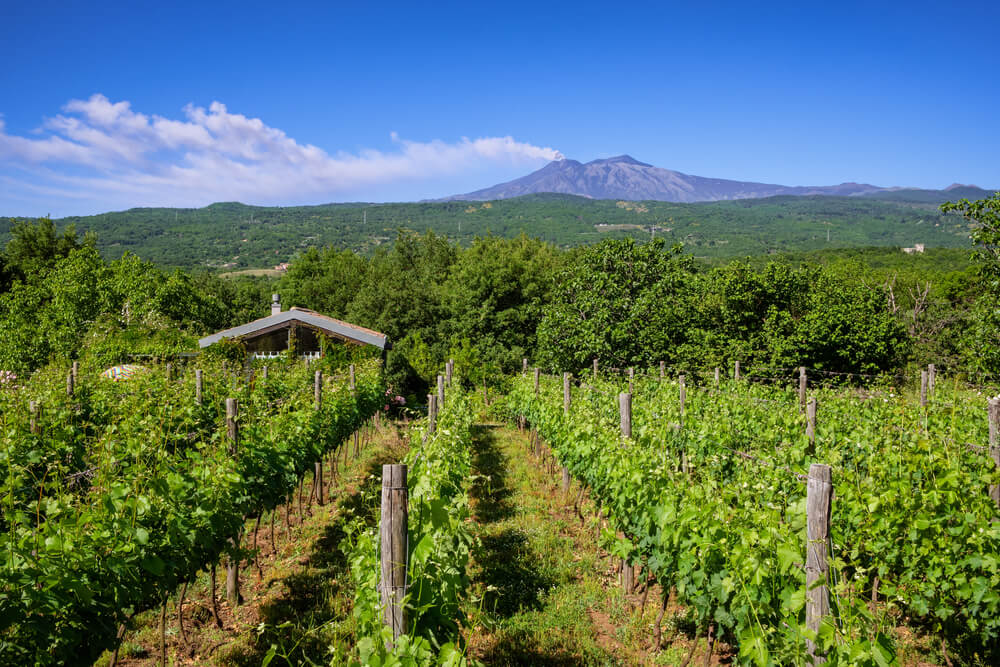 Note: This post contains affiliate links, which means I may receive a small commission if you purchase something through one of these links. Thank you for supporting the free content on this site! For more information on affiliate links and cookies, see my disclosure page for more details.
Whether you're staying in Catania or Taormina, you'll be close to all the best spots in Sicily, surrounded by beautiful beaches all along the coast.
While there's a lot of history in the area, let's be honest: just the views of Mount Etna alone would be worth the trip!
But of course, Sicilian food is incredibly delicious, and made even more so by the local Mount Etna wine.
From rich and deep Nero d'Avola to the region's signature Etna Rosso wine, made from a blend of Nerello Mascalese and Nerello Cappuccio, the winemaking scene in the Etna wine region is fantastic.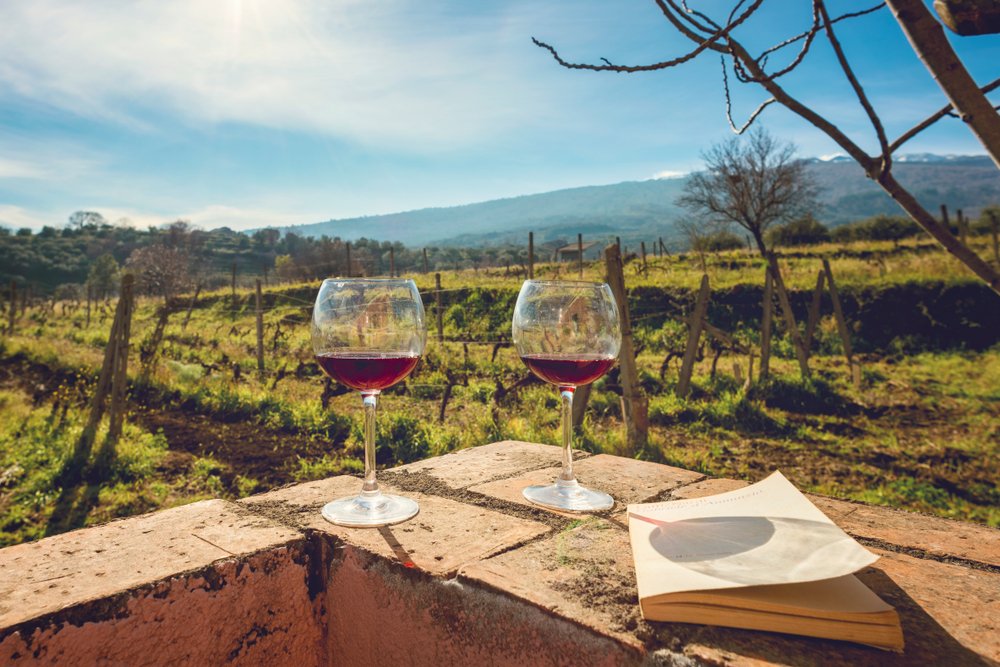 And while Sicily's better known for its red wines, don't sleep on its white wines, primarily the Etna Biancos which are made from the local indigenous Carricante and Catarrato grape varieties.
The mineral-rich volcanic terroir of the Etna slopes has allowed for some pretty unique wines to emerge here, distinct from what you'd find in Tuscan Chianti region or Veneto's Prosecco area.
Italy's wines are as diverse as its landscapes and people, after all, and Sicily is an important part of that equation.
So what are you waiting for? Pack your bags, spend the day taking a Mt Etna wine tour, and give your palette the treatment it deserves!
The 11 Top Etna Wine Tours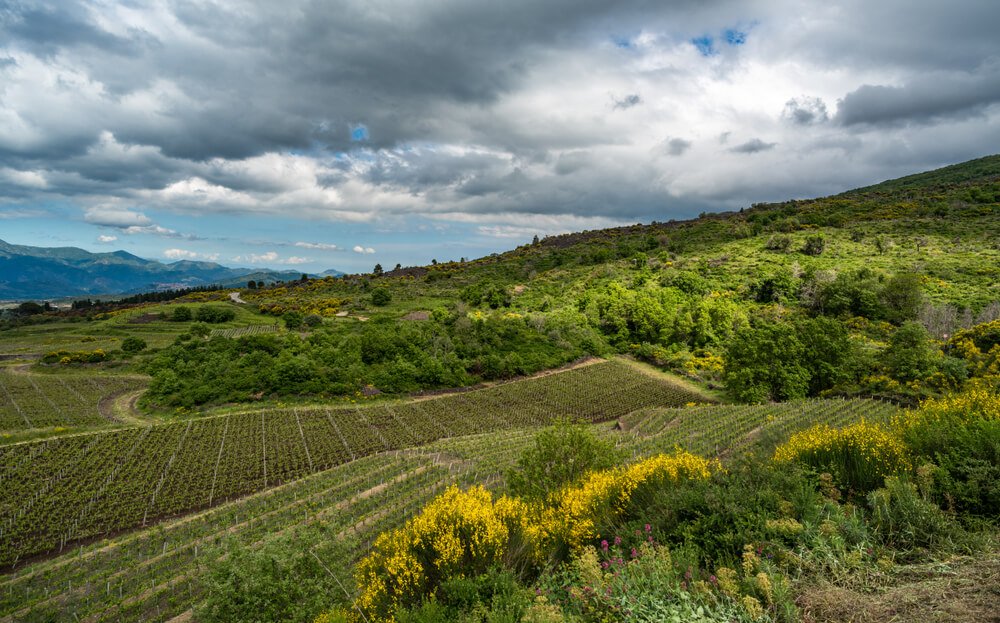 ⌛ Tour Length: 7 hours | 🌟 Rating: 4.8/5 stars (20+ reviews) | 🍷 Book Now
Unique Features:
-Full day trip with pick up and drop off from Catania
-Sampling 7 different Mt Etna wines, local honey, and olive oil
-Enjoying a large three-course meal at the second winery visit
➜
Read more about this food and wine tour
here!
If tasting 7 wines sounds like a good way to spend the day, this might be the Mt Etna wine tasting tour for you!
You'll get the ball rolling at your first stop, Zafferana Etnea, a commune of Catania known for its honey and olive oil.
And yes, you will be sampling the local products, don't you worry!
Once you hit your first winery with your small group, you'll learn about the harvesting and production process of Mt Etna wines.
This way, you have some context for the delicious local wines before your first taste test.
"We were the only two people on our tour. Our guide knew a lot about Catania and Etna and shared a lot of information about the area. He was friendly and knowledgeable. The wineries were excellent choices and the experience was superior. We had a wonderful time."

Read more reviews here!
The fun (and drinks) continue over at the second winery, but that's not all – there's also a tasty, local Sicilian lunch to go along with the 3 different Etna DOC wines you'll be tasting paired with your meal!
The antipasto, primo, and secondo should keep you nice and full for the final leg of the tour, where local experts will give you a guided walk through the Mt Etna vineyards.
The Mt Etna tour concludes in the early evening, giving you plenty of time to explore Catania before tucking in for the night!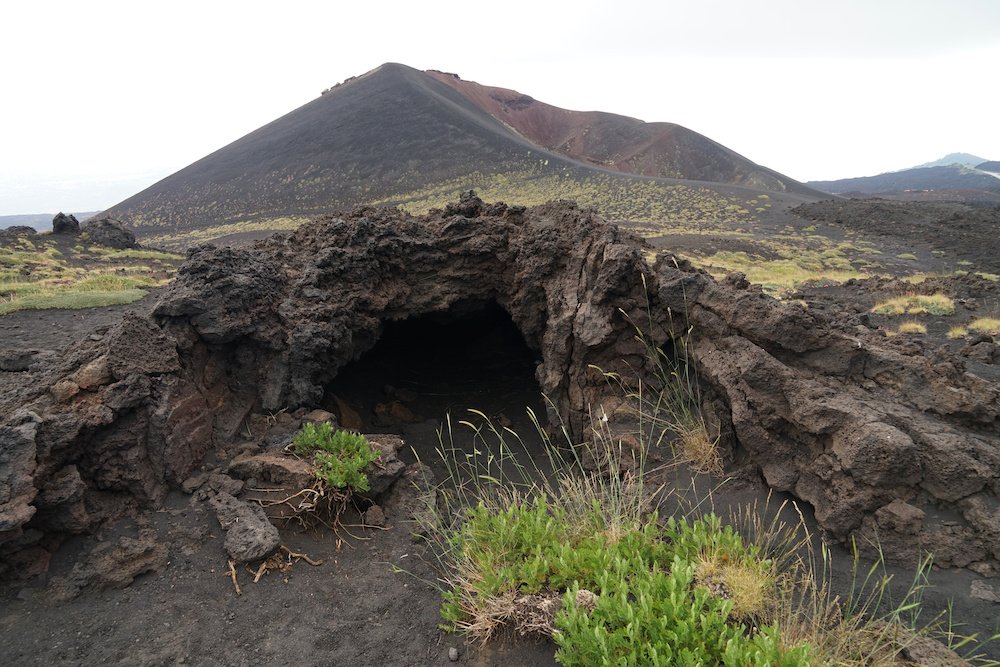 ⌛ Tour Length: 8 hours | 🌟 Rating: 4.3/5 stars (10+ reviews) | 🍷 Book Now
Unique Features:
-Hiking the lava caves, craters & volcanic region of Mt. Etna
-Wine tasting and light lunch after exploring Etna
-Positive English language guides with in-depth knowledge of the Etna region
➜
Read more about this wine tour
here!
This Etna wine tour will take about 8 hours of your day, but there's a good reason for that: this tour combines a trip to both the Mt Etna volcano and the Etna wineries around it!
First, your guide will show you around the general Mount Etna area before taking you to see a lava tube (created by running lava flow from previous eruptions that cooled over time) and its surrounding craters.
Needless to say, you want to make sure you're appropriately dressed since there's a lot of exploring and light trekking on this tour.
"Our guide was so incredibly knowledgeable, with amazing details and stories about the volcano, rocks and surrounding plants and wildlife. We couldn't recommend more highly! The wine experience was also great! Very welcoming and both the wine and food were excellent."

Read more reviews here!
Hiking shoes, some layers (as it can get cold on Mt. Etna!), and some light snacks are a must!
After immersing yourself in the fascinating geology and volcanic landscape of Mt Etna, it's time to enjoy the spoils of all that volcanic activity – a series of delicious wines!
If all that learning and tasting leaves you feeling a bit peckish, next up is a delicious light lunch before wrapping things up.
You'll then be transported back to your hotel in Catania at the end of the tour.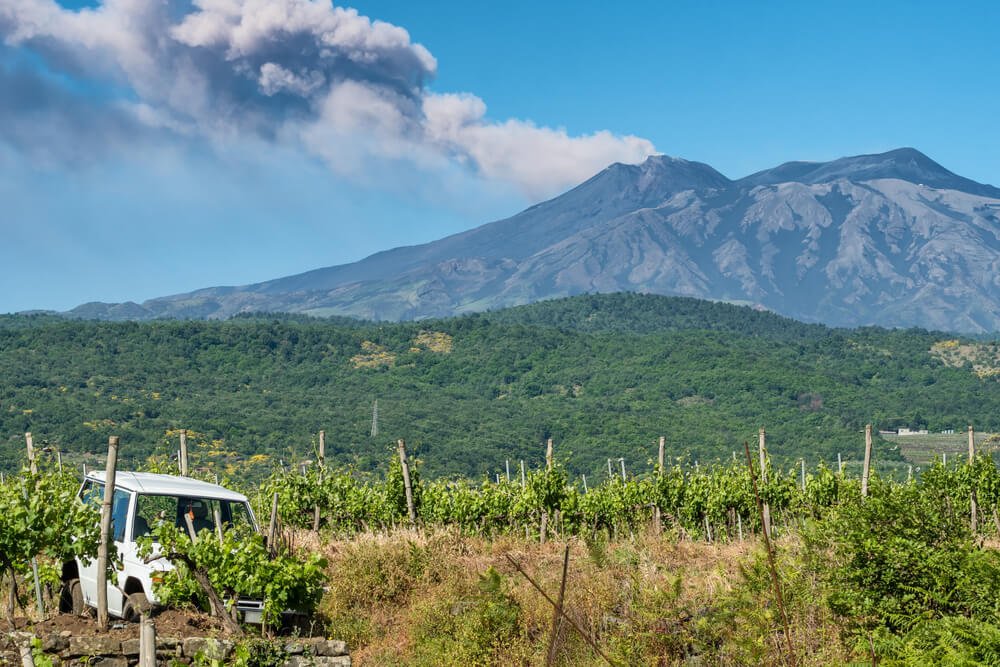 ⌛ Tour Length: 6 hours | 🌟 Rating: 4.8/5 stars (120+ reviews) | 🍷 Book Now
Unique Features:
–An unforgettable drive through some of Sicily's most charming coastal villages
-Sampling wine and snacks at wineries and an open-air amphitheater
-Enjoying some farm-to-table goods, such as pasta, produce, and limoncello

➜ Read more about this Mt. Etna wine tour here!
If you're staying in Taormina, this might be one of the best Etna winery tours you could hope for.
After picking you up, your guides will take you on a scenic drive through various villages in coastal Sicily – these beach towns are so charming.
Plus, the flora and architecture here along the coast really are unique, so you'll probably be taking pictures throughout the entire drive!
Your first stop after the scenic drive is a visit to a family-run Mt Etna winery, where you can try some fine Etna rosé to start the wine tasting part of the tour!
"We had a great tour with Denise. There were 6 of us on the tour. The wine and food tasting was at the Gambino winery and was excellent. After our wine tasting of five different wines, we went to another place for an organic lunch and more wine of course. The meal was was very good. I would definitely recommend this tour."

Read more reviews here!
After checking out the wine cellars, you'll hit the ruins of a historic open amphitheater and indulge in some snacks and even more Etna wine samples!
You'd better save some room, though, since you'll also be going to a farmhouse and trying out a typical Sicilian lunch that makes use of the pasta, produce, and typical products of the region.
After all, Sicily is famous for more than just its wine production!
The last step is trying out some limoncello before heading back to Taormina.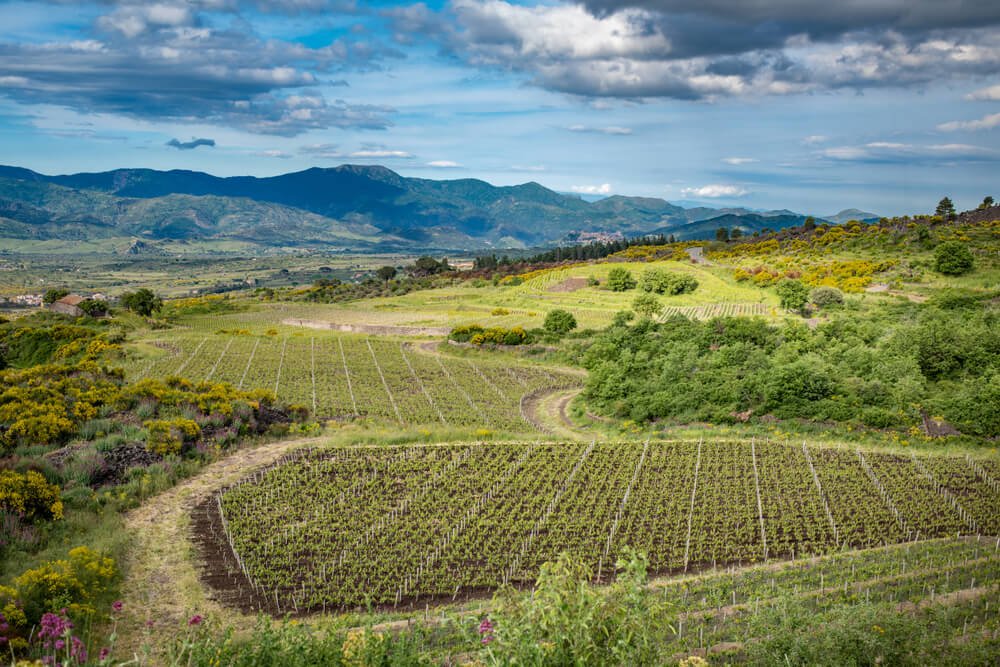 ⌛ Tour Length: 7 hours | 🌟 Rating: 4.8/5 stars (50+ reviews) | 🍷 Book Now
Unique Features:
-A memorable drive to Rifugio Sapienza with photo stops
-A scenic uphill hike or cable car ride, followed by a lava tube visit
-Sampling a wide variety of wines, still and sparkling, along with local snacks

➜
Read more about this full day tour
here!
This Etna wine tour might be the best way to experience just how scenic the Etna National Park really is.
The first order of business is to drive up to Rifugio Sapienza up on the slopes of Mt Etna, all while making stops at scenic vistas along the way – don't worry, your camera will eat just as well as you will on this trip!
Your guide will explain the geology and history during each stop, so this is a great tour if you're interested in the region's history – both of the land and of the people.
Next up, you can either take a two-kilometer hike across various scenic hiking paths or take a cable car up the mountain for some scenic photo ops at the top of the mountain.
"The trip was awesome. I knew from previous reviews to bring cash. The only downside was that we were told it would be $50 per person to ride the 4×4's once we got to Etna but we had to pay $100 per 4×4. It was worth it but just unexpected. But we had a great time!"

Read more reviews here!
Whichever one you opt for, everyone unites at the next point: a lava cave – not something you get to see every day, and not something you likely associate with a wine tour!
After all that fun and excitement, it's time to get to the wines… because this is just as much a wine tasting Etna experience as it is a hiking tour!
You'll get to toast with some sparkling Sicilian wine, try four local kinds of still wine (with grapes grown on the slopes of Mount Etna), and have a bunch of Sicilian snacks to go along with them!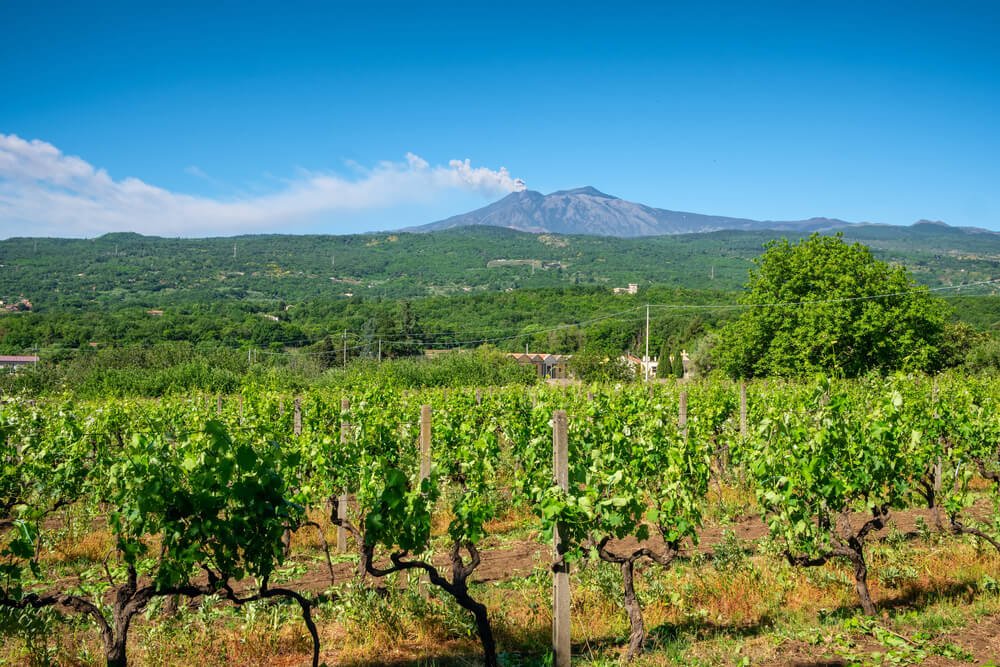 ⌛ Tour Length: 1.5 hours | 🌟 Rating: 4.8/5 stars (20+ reviews) | 🍷 Book Now
Unique Features:
-Quick Etna winery tour perfect for quick Sicily trips
-Perfect for people who prefer more independent travel to guided tours
-Trying Etna wines with local Sicilian food pairings
➜ Read more about this wine tasting tour here!
In case you're looking for something short yet scenic, this 1.5-hour Etna wine tour has your name written all over it!
However, this is only a good tour option if you have rented a car in Sicily, since you'll need to drive yourself to the tour's meeting point – transportation is not included.
You'll get into the action right away with some white wine tasting, followed by an underground winery tour led by an expert sommelier.
"My husband and I booked this last minute and it was one of our favorite things we did in the trip. The scenery was gorgeous, the staff was so kind and knowledgeable and the wine was excellent. Food pairings were great too. We loved it so much, we signed up for the wine club."

Read more reviews here!
You get to learn which local products go well with which types of wine – pretty useful information for any aspiring wine aficionado!
After that, there's even more wine to be had. Up to seven glasses for you to sample, to be specific, depending on which tour you opt for!
Applying what you learned at the start of the tour, you get to mix and match these wines with black Nebrodi pork, ricotta cannoli, and some other mouth-watering Sicilian delicacies!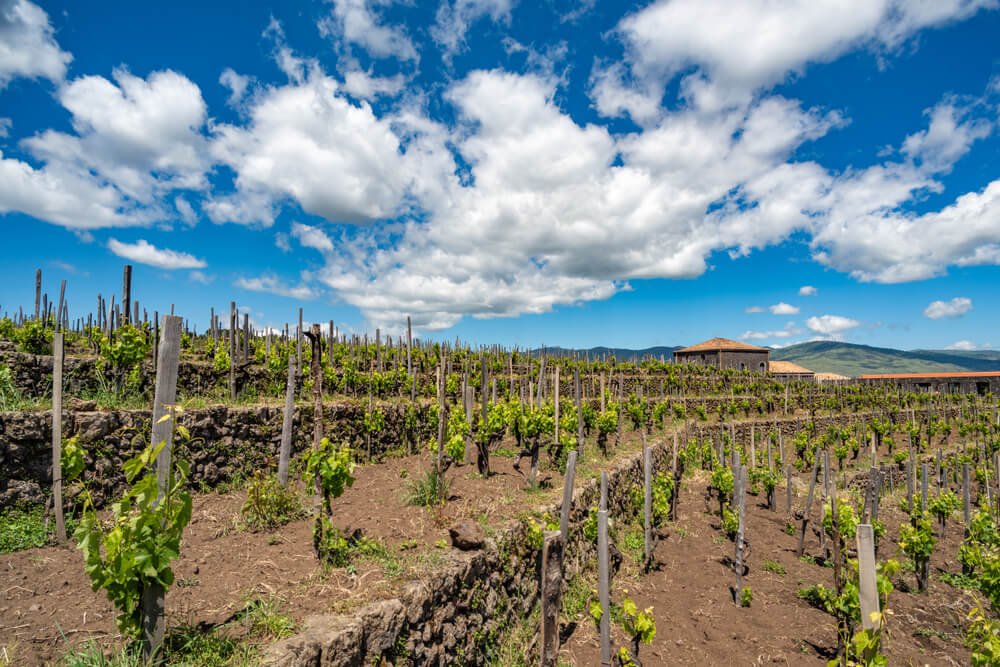 ⌛ Tour Length: 6.5 – 7 hours | 🌟 Rating: 4.9/5 stars (40+ reviews) | 🍷 Book Now

Unique Features:
-Visiting 3 different wineries – more than most Etna wine tours on this list
-Getting to try a total of 12 wines, enjoying as much as you'd like
-Private tour with pickup in either Catania, Taormina, or Messina
➜
Read more about this wine tasting tour
here!
Whether you're staying in Catania, Taormina, or even Messina, you'll be swept up from your door to be brought on a magical Etna wine tasting experience.
This private tour covers three wineries, some of the most prestigious in the Etna area.
Between the three of them, you can sample a total of 12 wines – and they won't hesitate to top you off on any of your favorites, either.
The first winery sets the tone with some delicious Etna white wine, as well as a guided tour of the winery premises and a rundown of the production process, including how the volcanic soil impacts the wine region.
"Great Experience, if you can request Maurizio to be your guide you will be in great hands. He definitely enhanced the experience. He shared history of Sicily as we drove from vineyard to vineyard. He is extremely knowledgeable and personable. Each vineyard had its own characteristics so all three were unique in their own way. This experience is a must if you can make it happen."

Read more reviews here!
The breathtaking views from the terrace don't hurt, either!
Each of the following Etna wineries offers an even greater variety of drinks and food, so you'll definitely be going home with your stomach full (and head a-buzzing).
Best of all, since this tour is private, you'll have individualized attention and can ask as much as you want about the winemaking process!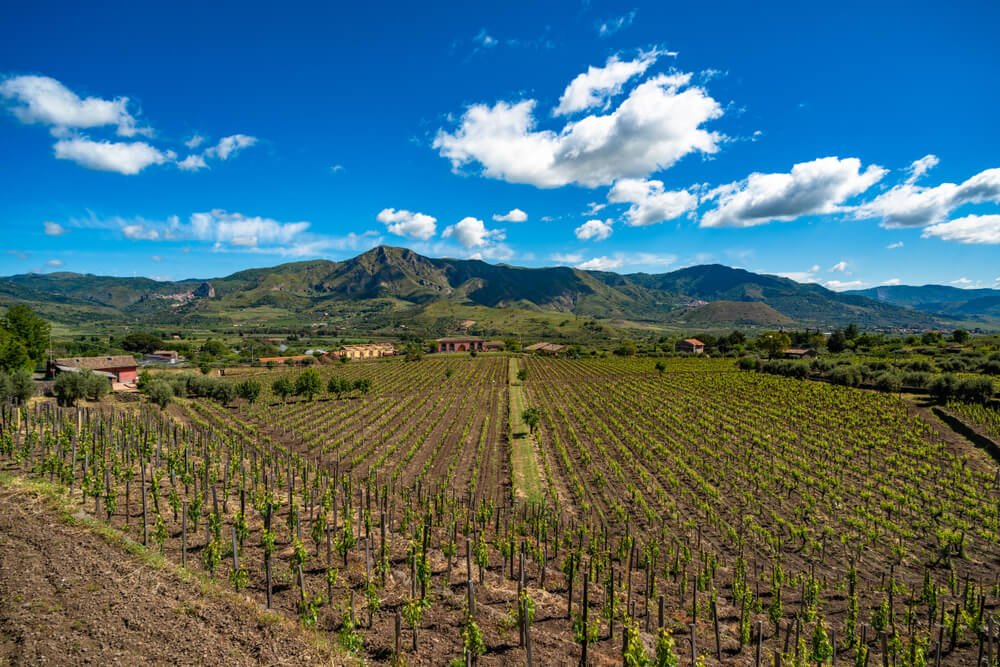 ⌛ Tour Length: 7 hours | 🌟 Rating: New! | 🍷 Book Now
Unique Features:
-The chance to get a 3,000-meter-altitude view from the Etna summit
-Option for shorter hike instead, plus all enjoy a guided tour of a lava flow cave
-Sampling five wines with appetizers at one of Etna's best wineries
➜
Read more about this wine and tasting tour
here!
This Etna group tour is perfect for wine geeks and geology nerds alone: this Etna wine tour not only educates you on the wine, but also the volcano's history along the way.
Plus, the drive climbing up to Sapienza Refuge is an adventure in itself: the landscape is awe-inspiring, to say the least.
There have been more recent lava flows in the area that have affected the volcanic terrain, and your guide will tell you all about it – and what that means for Etna wine in general!
After some exploring, your options include a shorter hike or alonger trek under the guidance of a local mountain guide – your choice (either is a good option, especially since you haven't started the wine tasting yet!)
"Top Guide!"

Read more reviews here!
Fair warning, you're missing out on quite a view if you don't go with the latter!
I highly recommend that if it's at all possible: you'll reach the summit of the volcano, around 3,000 meters above sea level!
Either way, at Rifugio Sapienza (at 1,920 meters of altitude), you'll be visiting a lava flow cave to conclude the sightseeing portion of the tour.
Finally, it's time for the wine, but it sure is worth the wait – the appetizer platter that goes along with it is what really seals the deal.
You'll try five delicious local Etna wines, made all the better by a sample of fritters, local cheese, Italian cold cuts, olive oil, and farm-made pâté.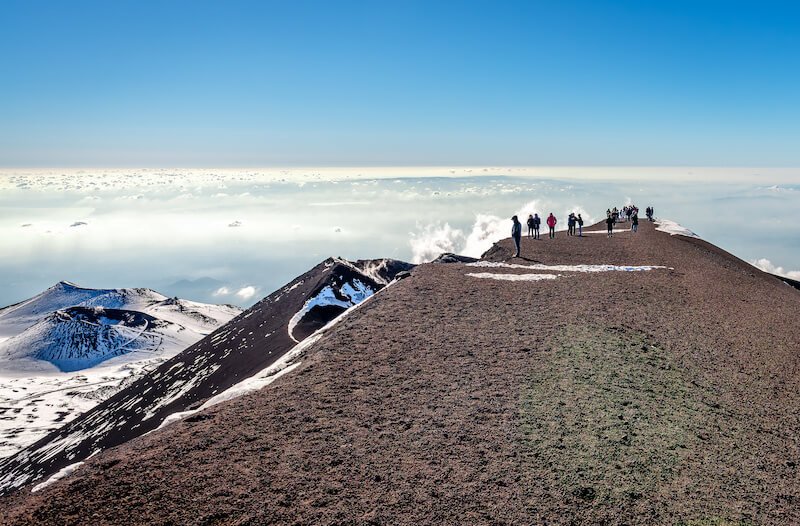 ⌛ Tour Length: 6 – 7 hours | 🌟 Rating: 4.7/5 stars (10+ reviews) | 🍷 Book Now

Unique Features:
-A chance to go as high as 3,300 meters up Mount Etna to the summit
-Exploring Silvestri Crateri and looking at lava-made souvenirs
-Indulging in a hearty meal and several different kinds of wine
➜
Read more about this Mt. Etna private tour
here!
If seeing the volcano close up is as important to you as trying the delicious local wine, this private Mount Etna wine tour from Catania or Messina is perfect for you.
There's a lot to see on the drive from Catania, but the best part is when you reach Zafferana Etnea and start tasting some local honey, jams, and liquors made from local produce.
Even further up the road is Rifugio Sapienza, one of the most scenic parts of all of the Etna region, near the Silvestri Crateri.
"We had Antonio as our guide for the day. He picked us up promptly at our hotel. We stopped for a honey/wine tasting on the way to Mt Etna. We arrived on Mt Etna in the snow. We walked around and took in the amazing views in the snow and in the lava caves! Then stopped at a local winery for a meal and wine tasting! The his was one of a kind tour and guide!!"

Read more reviews here!
No reason to stop there though – for an even better view, you can take a cable car to go even higher to the summit for an additional €65 fee.
The tour is private, so as long as you and yours all agree, you really ought to make the trip up to the summit.
Either way, your trekking will be rewarded on the way down with a memorable winery visit at the end of the Etna tour.
Besides the obligatory local red and white wines, you'll be served everything from veggies and olive oils to meat and cheese from the surrounding region.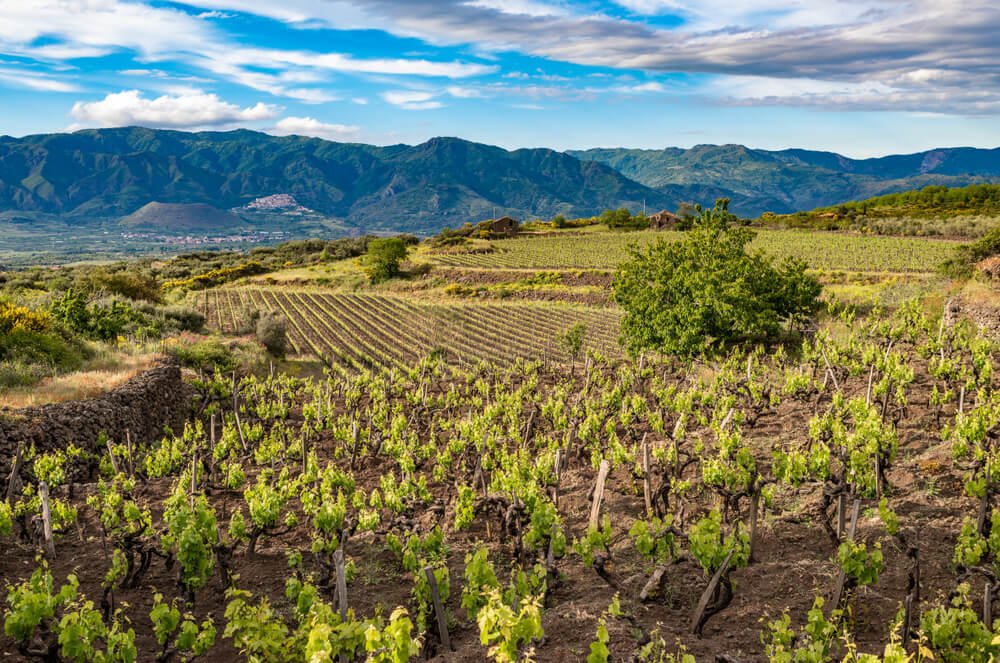 ⌛ Tour Length: 9 hours | 🌟 Rating: 5/5 stars (300+ reviews) | 🍷 Book Now
This 9-hour Etna wine tour is worth every penny, as it covers virtually everything you could hope to experience along Sicily's eastern coast.
Starting off from Taormina, you'll set out on an amazing hike on Mt Etna, taking in the lava caves and moon-like volcanic landscapes that Mount Etna is known for.
Afterwards, you'll check out two more scenic hiking areas, Monti Sartorius and Alcantara River Park.
You'll definitely want to wear some trekking shoes for this combined hiking and Etna wine tour.
"Tony our guide was a great asset on the tour. A real enthusiast and raconteur. He made the tour fun and informative. The meal was very good as was the wine. Thoroughly recommend."

Read more reviews here!
After all that hiking, you'll have worked up quite the appetite. Luckily, there's a three-course meal waiting for you, along with some of Sicily's best wines.
Still, the best part is probably getting to see the Alcantara Gorge – pictures don't do this place justice, so you'll just have to see for yourself.
All that eating and trekking will knock the wind out of you, so rest easy on the way back in the air conditioned minivan.
You can relax, because your tour operator will drop you back off at your accommodation once you're done.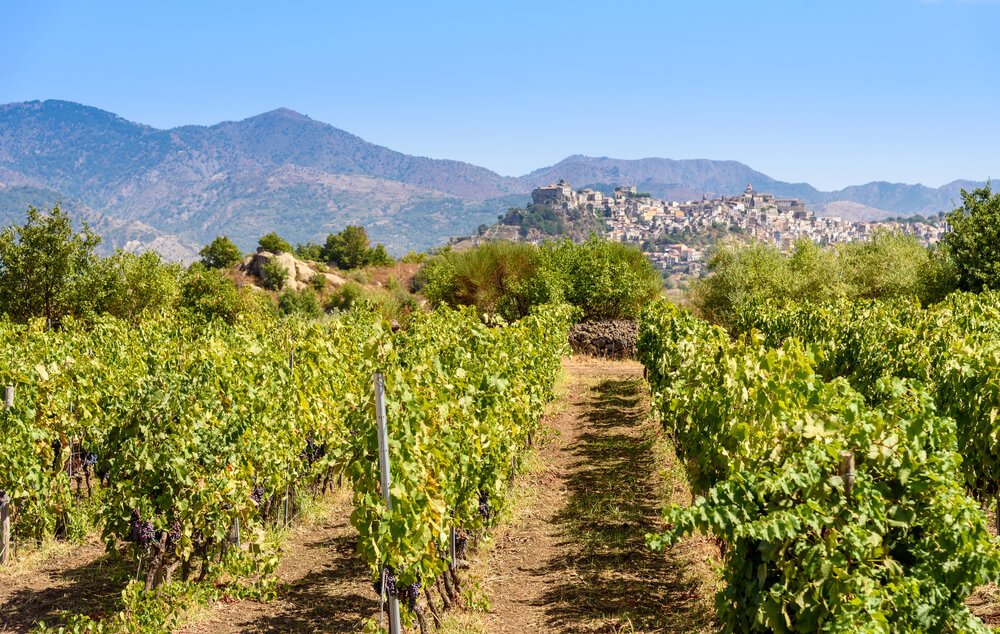 ⌛ Tour Length: 6 hours | 🌟 Rating: 5/5 stars (210+ reviews) | 🍷 Book Now
Unique Features:
-Tasting up to 12 different Etna wines
-Thorough tour of each of three distinct Etna wineries
-Enjoying a variety of local food and Sicilian snacks throughout the day
➜
Read more about this wine tasting tour
here
!
One thorough winery tour may be enough for casual wine drinkers, but it won't quite do it for the serious wine drinker who is looking to dive deep on their Etna wine tasting excursion.
Luckily, this private 6-hour wine tour covers a whopping three wineries near Mt Etna!
The drive there has some unique stops that other Mount Etna wine tours skip, which makes it a pretty unique Etna experience.
I mean, how many people can say they've seen a church made of volcanic rock… while on a wine tour, nonetheless?
"It was super nice having someone else drive so we didn't have to worry while tasting all the delicious wines."

Read more reviews here!
Once you hit your first Etna winery, you'll get to enjoy a guided tour of the estate and a variety of wine samples to get you started on the right foot.
Hard to resist a large plate of deliciousness and five different wines with a scenic balcony view!
There's more where that came from, though, as the second winery will have you tasting another four wines!
Ending things on a high note, the final winery offers three particularly high-caliber Mt Etna wines and even more snacks.
No one could blame you if you couldn't eat or drink anymore at that point, though!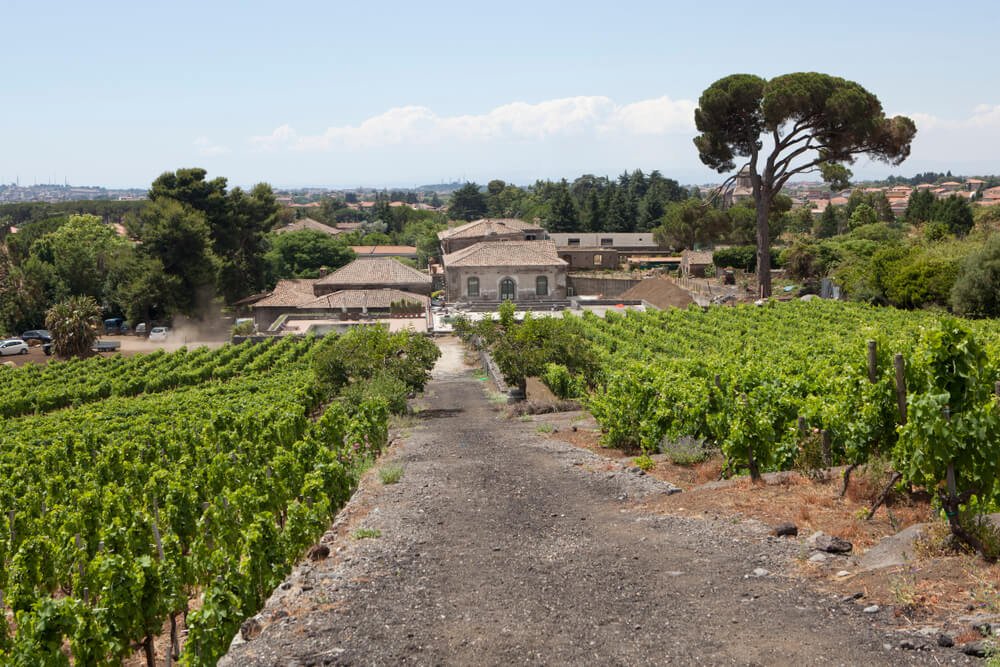 ⌛ Tour Length: 7 – 9 hours | 🌟 Rating: 5/5 stars (35+ reviews) | 🍷 Book Now
Unique Features:
-Getting to explore the Silvestri Craters at 2,000 meters high
-Tasting produce at a local farm alongside a wine tasting
-Lunch at a scenic winery, complete with a wine tasting flight
➜
Read more about this wine tasting tour
here!
If you're a couple or small group looking to get pampered for a day, it doesn't get better than this Etna wine tour!
Wherever you are in the general Catania region, your friendly guides will go above and beyond to pick you up.
If you're not feeling confident about driving up the mountain yourself (or if you've opted not to rent a car in Italy), this tour is the perfect way to see the Silvestri Craters firsthand. 
"We absolutely loved our tour to Mount Etna. The lunch and wine tasting was so nice and relaxing, too. Our guide, Giuseppe, was very knowledgeable and friendly and he went out of his way to make our first visit a memorable one! I would highly recommend a tour with him!"

Read more reviews here!
By the way, the 2,000-meter-high view is probably one of the most spectacular sights you'll see in all of Sicily!
To get you salivating before the big wine tasting finale, your guides will take you to a farm to sample some local specialties first.
After all, Etna is first and foremost an agricultural region!
Once you're at the winery, you also get to enjoy a full Sicilian lunch alongside some wine samples before heading back home from your Mount Etna wine tasting tour.
Allison Green is a former educator turned travel blogger. She holds a Masters in Teaching and a B.A. in English and Creative Writing. Her blog posts merge her educational background and her experience traveling to 60+ countries to encourage thoughtful travel experiences that both educate and entertain. She has been a speaker at the World Travel Writers Conference and her writing, photography, and podcasting work has appeared in National Geographic, CNN Arabic, CBC Canada, and Forbes, amongst others. Now based in the San Francisco Bay Area where she grew up, she has also lived in Prague, Sofia, and New York City.