New Year, new you, new holiday destinations, anyone?
If you're looking to escape the more frigid clutches of other parts of Europe, don't worry!
Lovely warm European destinations in January are usually never more than a few hours' plane ride away.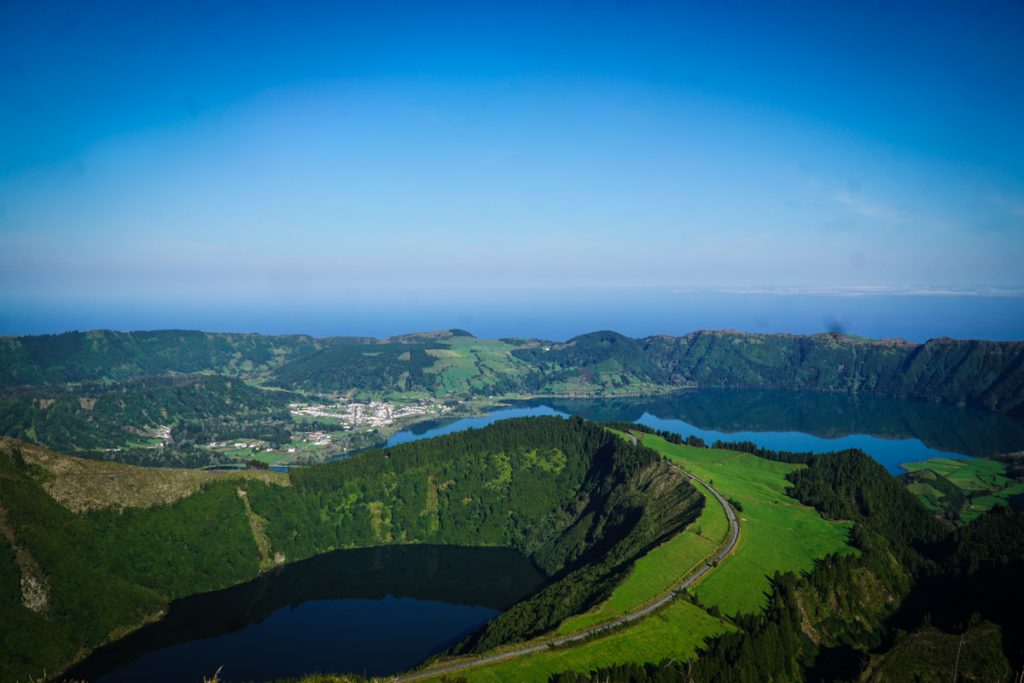 Note: This post contains affiliate links, which means I may receive a small commission if you purchase something through one of these links. Thank you for supporting the free content on this site! For more information on affiliate links and cookies, see my disclosure page for more details.
Plus, prices for these Europe vacation spots in January are usually lower than they are in December, as people have usually come back from their Christmas and New Years' holidays and aren't usually ready for another trip.
What this means for you is great prices on your getaway — and oftentimes, there are some fun January festivals you can plan your trip around!
The Best Warm European Destinations for January 2024
Madeira, Portugal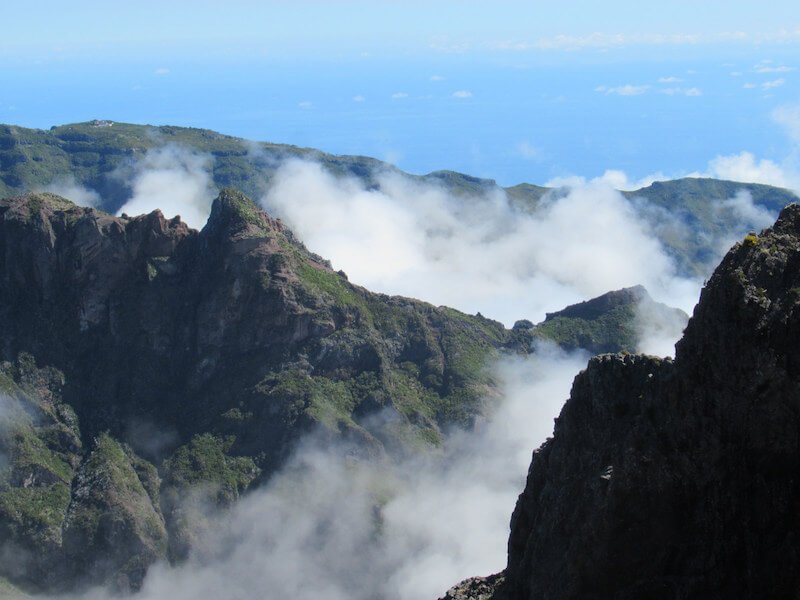 Contributed by Zoe of Zoe Goes Places
Portugal's Atlantic island of Madeira boasts warm weather all year round, which makes it a particularly great destination in January while much of Europe sees freezing temperatures.
While you'll need to pack for cooler evenings, you can expect temperatures around 20° C or 68° F most days.
Another bonus is that its southerly position next to North Africa, means the days are much longer than in the rest of Europe in January!
Expect daylight for about 10 and a half hours each day, giving you plenty of time to get out and see the sights before it gets dark.
The mild temperatures make January a good time to go hiking in Madeira!
Two of the best spots with splendid views along the route are Pico do Arieiro and Ponta de São Lourenço.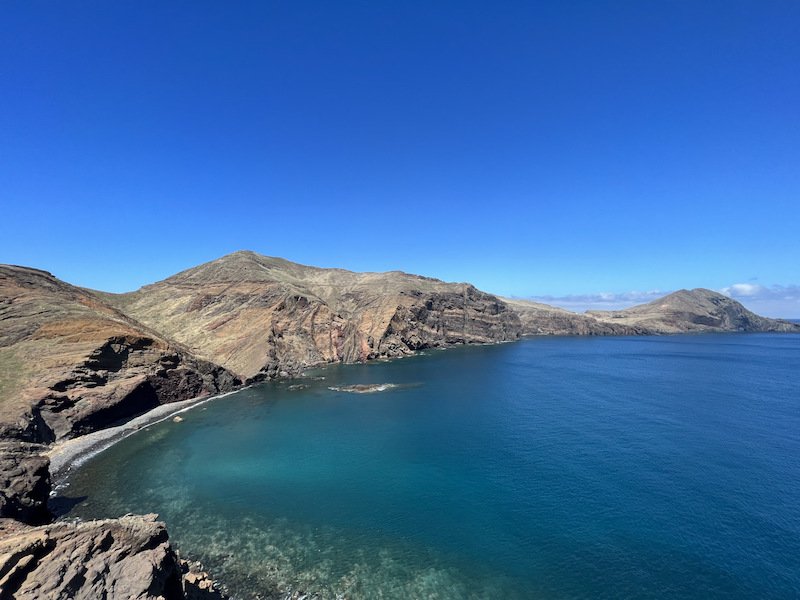 For those looking for more leisurely activities, visit the mystical – and at times misty – Fanal Forest!
Or in Funchal, take the cable car up to the Botanical Gardens and enjoy a toboggan ride back down, one of the island's most iconic experiences.
Funchal is a good place to base yourself, with easy access to car hire and good quality restaurants.
The Arts In Hotel Conde Carvalhal is a top pick for mid-budget visitors, offering the chance to stay in a restored mansion with panoramic views.
Costa del Sol, Spain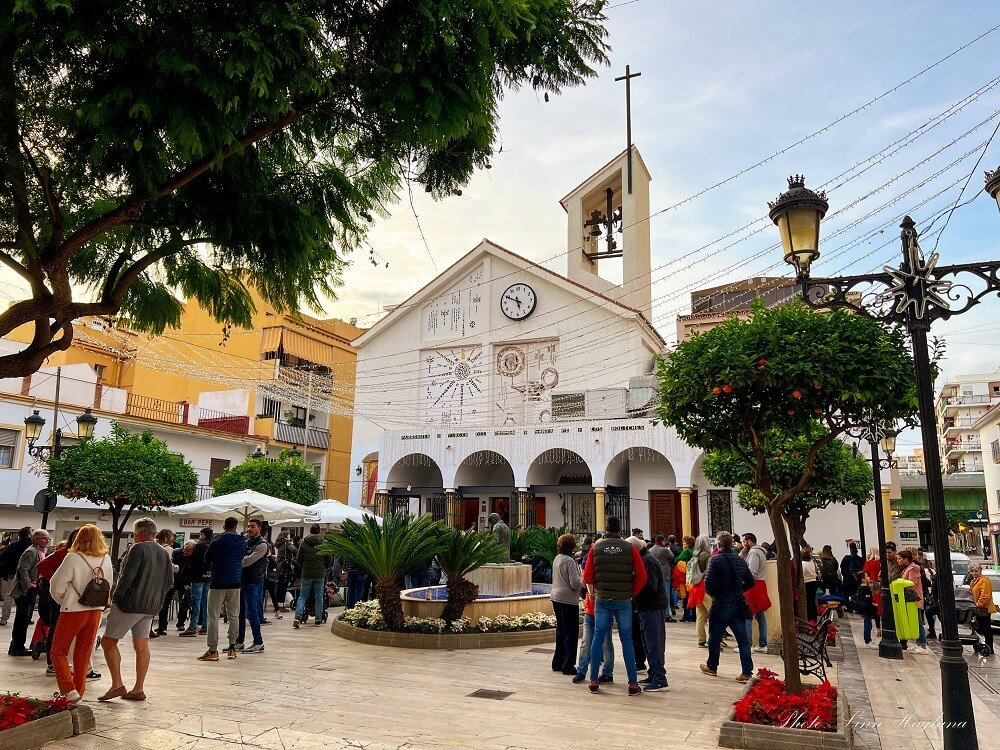 Contributed by Linn Haglund of Amused by Andalucia
Costa del Sol in southern Spain is a brilliant warm weather destination in January with 320 sunny days a year!
Entailing all of Malaga Provinces Coast, you can enjoy towns and cities all the way from Estepona in the west to Nerja in the east.
It is the perfect time of the year to explore the towns near Malaga as the scorching heat of the summer won't have you lazing at the beach all day!
Among the most beautiful places to visit is Frigiliana, overlooking the coast of Nerja below.
The village is picture-perfect to walk around but also offers an array of hiking routes to do in January like Acequia del Lizar and Rio Higueron.
Nerja is also a wonderful place to spend a couple of days in winter, with Nerja Caves being the highlight and even more hiking opportunities starting from the caves' parking area.
On the other side of Malaga, Fuengirola has a vibrant expat community making the party scene just as energetic in January while other coastal towns slow down.
If it rains, you can also enjoy great discounted shopping at the big shopping mall of Miramar after the 6th of January, which is when the Spanish celebrate Three King's Day, with massive parades in the streets!
One of the best places to see this in Costa del Sol is in Marbella: a lovely city with a charming old town that comes to life in January when people enjoy the winter sun drinking on terraces surrounded by orange trees.
Marbella has lots of great accommodation choices, including the lovely adults-only Hotel Amàre Marbella, which is a wonderful hotel for a warm Europe winter getaway in January!
Rhodes, Greece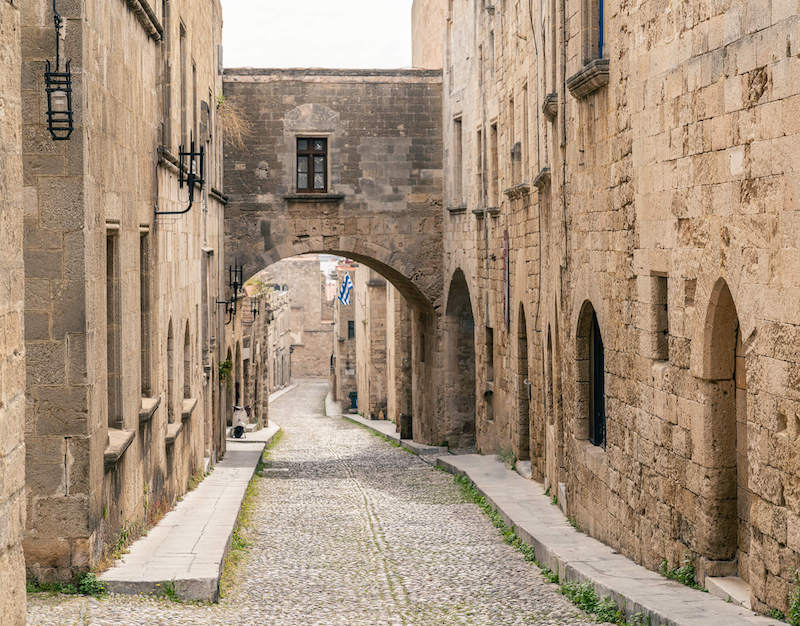 Contributed by Jo of World Wild Schooling
Visiting Rhodes, Greece in January? You're in for a treat!
Rhodes is at the southern end of Greece and has mild year-round weather.
Expect average temperatures of 13º C, sometimes reaching a cozy 15º C during the day and dropping to a cooler 11º C at night.
(For Fahrenheit-thinkers, that's a range of 52º to 59º F).
The sunny days feel pleasant, but bring warm clothes for cloudier times and chilly evenings.
While there, you can explore the island's historical sites and beautiful villages.
Rhodes is one of the largest islands in Greece, so it is lively in the winter, too.
Wander around the Old Town and soak up its history. Don't miss the Grand Palace of the Knights, the Street of the Knights, and the narrow cobblestone alleys.
Don't miss the chance to enjoy some traditional Greek food in the local tavernas of the city.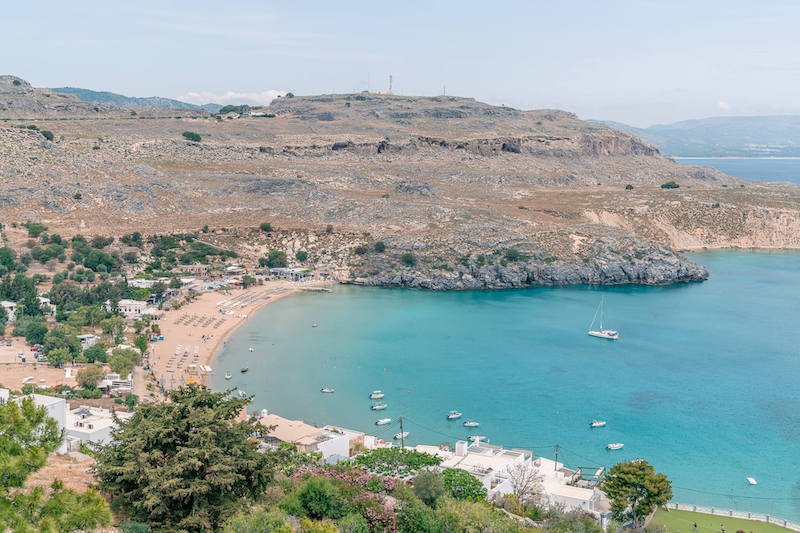 Visit Lindos to admire the Acropolis and stroll in the picturesque streets without the summer crowds.
Don't forget the Seven Springs and the Valley of the Butterflies! Even without its famous butterflies in January, the Valley is lovely to walk in nature.
Thinking about where to stay?
Check out Castellum Suites. It's a lovely all-inclusive in Rhodes Town, the most lively part of Rhodes in winter.
Plus, it's pretty affordable because it's the off-season, despite being a great warm Europe January getaway!
São Miguel, Azores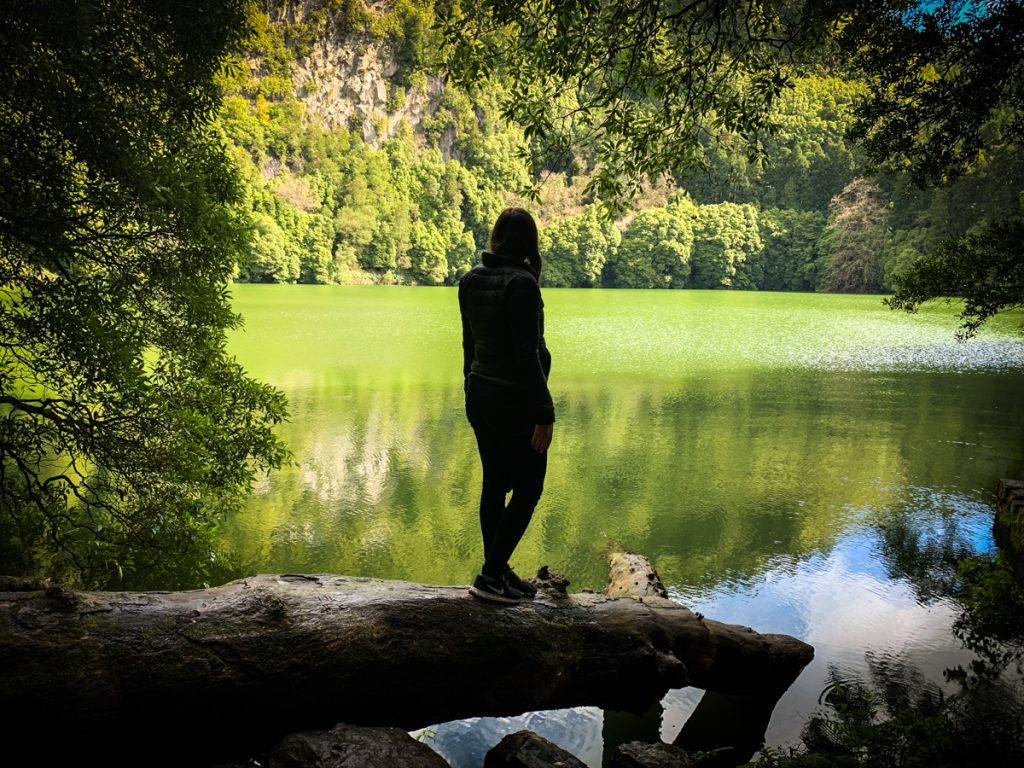 Editor's Choice
Visiting São Miguel island, the largest in the Azores, during January is a great Europe getaway for warmer weather!
The island is known for its lush landscapes and geothermal wonders. Though in the middle of the Atlantic, it generally experiences mild weather in January, with average temperatures ranging between 14°-17°C (57°-63°F).
Although rainfall is higher during this month, the island's beauty and emptiness make it worth the trip. Plus, you can hop in one of the island's many hot springs any time you want!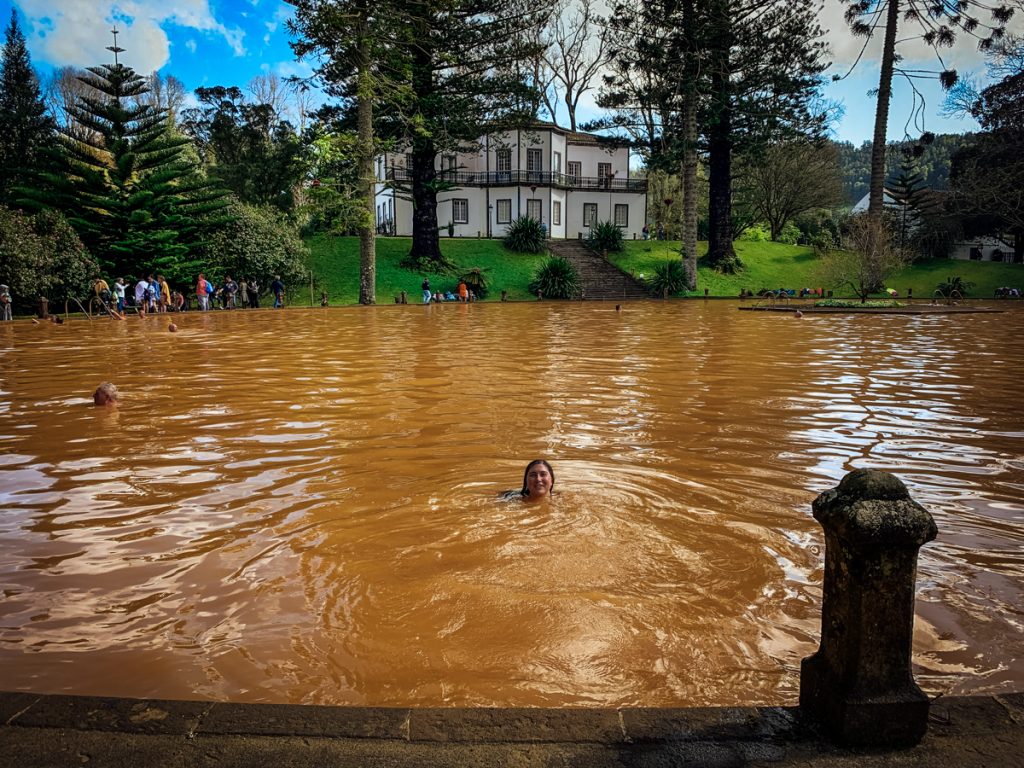 The island's renowned hot springs, like those in Furnas, are less crowded than in the summer months (but no less warm), offering a serene experience as you soak in completely natural geothermal warmth surrounded by the cool January air.
Nature lovers can explore the lush hiking trails, which are especially picturesque during this time, with fewer tourists and the landscape extra green from the rain (just bring some boots that can handle some mud!)
Despite the occasional rain, January's quiet charm and many hot springs makes São Miguel a worthy destination during winter.
You can get great deals on accommodations during this part of the year — I recommend Senhora da Rossa just outside of Ponta Delgada, where you can get a hotel room for a steal this time of year.
Tenerife, Canary Islands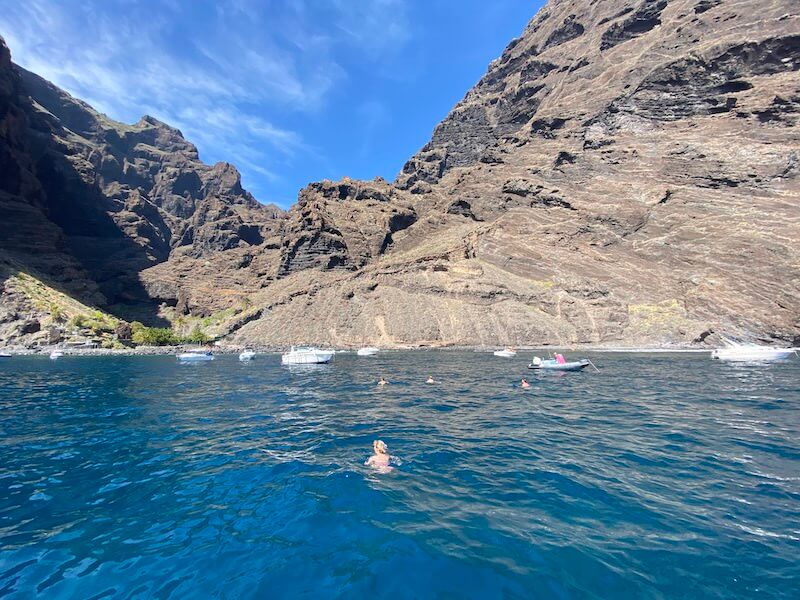 Contributed by Soline of On the Road Diary
Tenerife is one of the eight main Canary Islands, a Spanish archipelago off the coast of Morocco.
Due to its geographical location, Tenerife is one of those places where the weather is always mild and warm, even in January!
We recommend it for its cool beaches in the south of the island, incredible nature park in the north, and, in the middle, the famous Teide Volcano!
You can have two kinds of vacation in Tenerife.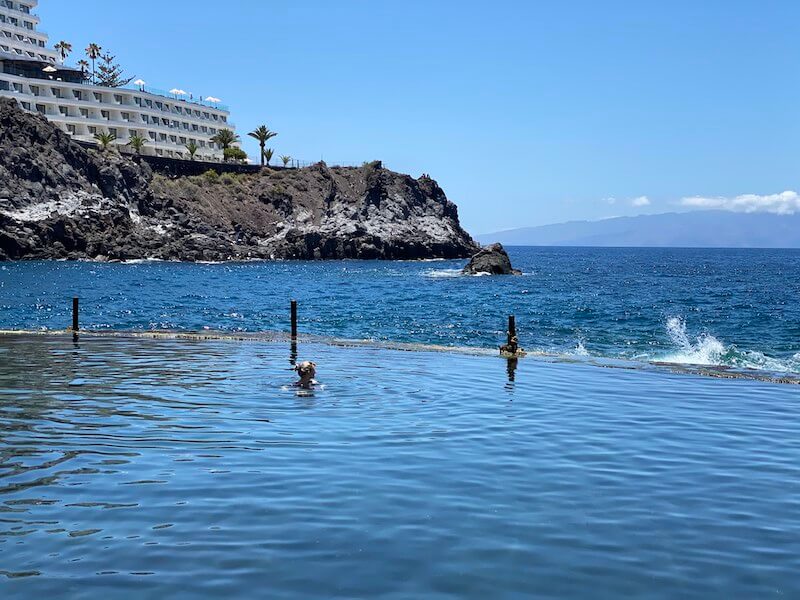 First, if you want to relax and enjoy the Canary Islands' sun, we recommend staying in the south of the island as there is a microclimate.
The north of the island has a more humid climate created by the 3,715-meter high volcano located in the middle of the island.
If you are more the adventure kind, you can do a week-long road trip along the coast of Tenerife and visit the national park and northern cities before heading to the south to relax!
Visiting Tenerife in January is ideal for making the most of the island, as it's the least touristic month of the tourist season.
This means the island will still be lively and animated, but you'll be able to enjoy it without the crowds of (too many) tourists.
You can stay at Europe Villa Cortes GLO in Playa de Las Americas to be close to the famous beaches.
The Peloponnese Peninsula, Greece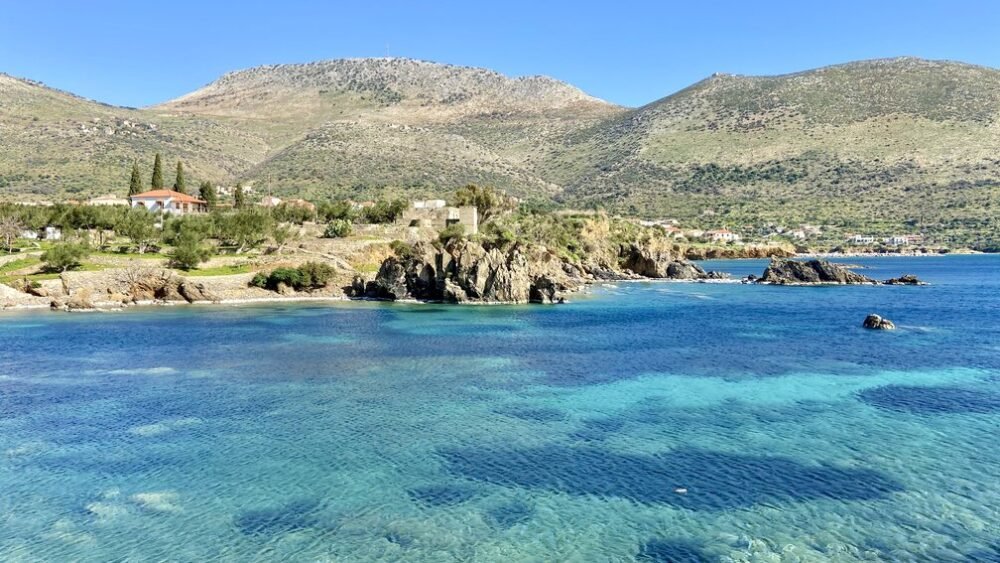 Contributed by Chris from aroundtheworldwithme.com
If you're looking for a warm European getaway for January, look no further than Greece's historical Peloponnese Peninsula.
The Peloponnese Peninsula is in southwestern Greece and is known for its abundant archaeological sites and spectacular coastline.
The unique location of the Peloponnese on the Mediterranean gives the peninsula very mild, often sunny, winters.
With average January high temperatures ranging from about 15-16° C (59-61° F) along the coast, you'll find some locals even swimming in the sea in the dead of winter!
On the Peloponnese peninsula you will find some of the most well-known archaeological sites in the world, including Olympia, Sparta, Mycenae, Epidaurus, Messene, Mystras, and Acrocorinth, just to name a few!
Aside from the weather, another perk of visiting in January is having these amazing sites almost entirely to yourself. Entrance fees are half-off in the winter season too.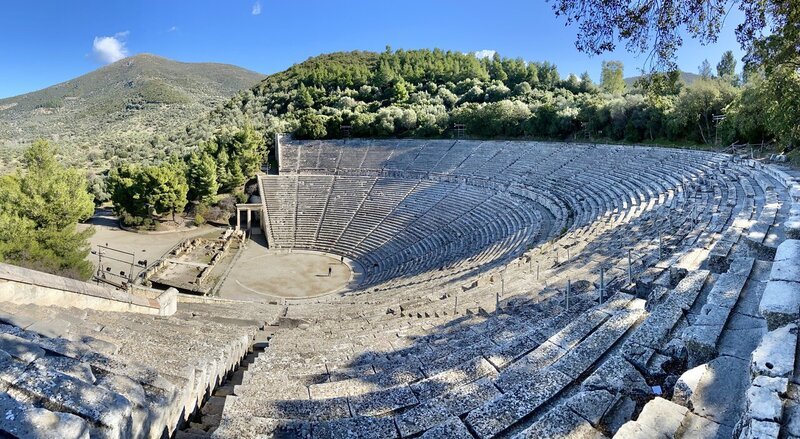 The Peloponnese is also known for gorgeous beaches and dramatic mountains.
Beach time is tough in January, but you can at least enjoy some solitude in some of the most beautiful coastal villages in Greece, like Limeni and Monemvasia.
Just note that the majority of restaurants in coastal villages will be closed for winter.
While visiting the Peloponnese, a great place to stay is Mavromichalai in Limeni.
The boutique hotel built with local stone masonry is one of the few hotels in Limeni open for the winter.
You'll have the beautiful hotel almost all to yourself as you take in the views!
Ayia Napa, Cyprus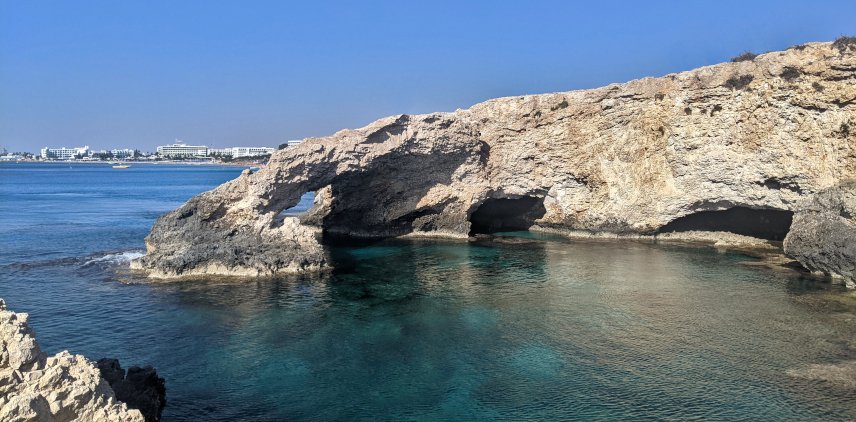 Contributed by Carina of bucketlist2life
Ayia Napa is famous for two things: Nightlife and beaches – and both are amazing.
Because of its southern location in the Mediterranean Sea, the island remains warm throughout the year.
Although January is one of the colder months, the average temperature ranges around 16° C or roughly 60° F.
Boat trips are among the best activities in Ayia Napa, and the most famous destinations are the sea caves and Cape Greco.
Another great thing to do is hit the beach. Nissi Beach is the most infamous beach in Ayia Napa. With the adjacent Nissi Island, it's worth the hype!
You can reach it by walking along the super scenic seafront promenade.
Vathia Gonia and Pernera Beach are two more nice beaches along the promenade.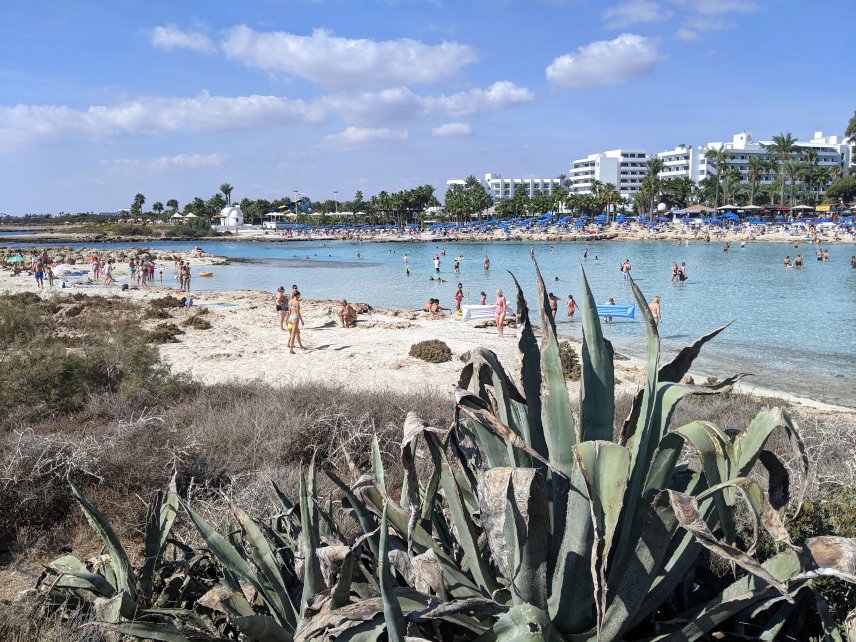 Don't miss out on the amazing Cypriot food!
There are many tasty restaurants in Ayia Napa. You won't regret eating the Meze at Taverna Napa.
That said, the infamous nightlife will not be as lively in the off-season as in summer.
The nightlife epicenter is located around Ayia Napa Square if you want to look for it, though!
If you want an overview of Ayia Napa you can ride the Ferris wheel at the Luna Park amusement park.
There are plenty of accommodation options from budget to boutique like the River View Boutique Apts.
Nice, France
Contributed by Stephanie of The Unknown Enthusiast
Nice is a lovely warm European destination for January, thanks to the beautiful weather (highs are generally in the 50-60s° F or 12-17° C), low crowds, and a variety of things to do in and around Nice.
Nice is part of the French Riviera, directly on the shores of the Mediterranean Sea.
Due to this, Nice enjoys miles and miles of coastline and beaches, with the beautiful Promenade des Anglais stretching out alongside it.
While it probably isn't quite warm enough to want to take a dip in the sea, walking the wide promenade, lined by palm trees and offering stunning views of the water, is an excellent way to enjoy the sea in January in Nice.
You can also climb Castle Hill, one of the highest points of the city, and situated at the far end of the Promenade, near the Old Town.
The castle is long gone from the hill, but there are ruins to visit, a waterfall, a cemetery, and multiple incredible views back over the curving coastline.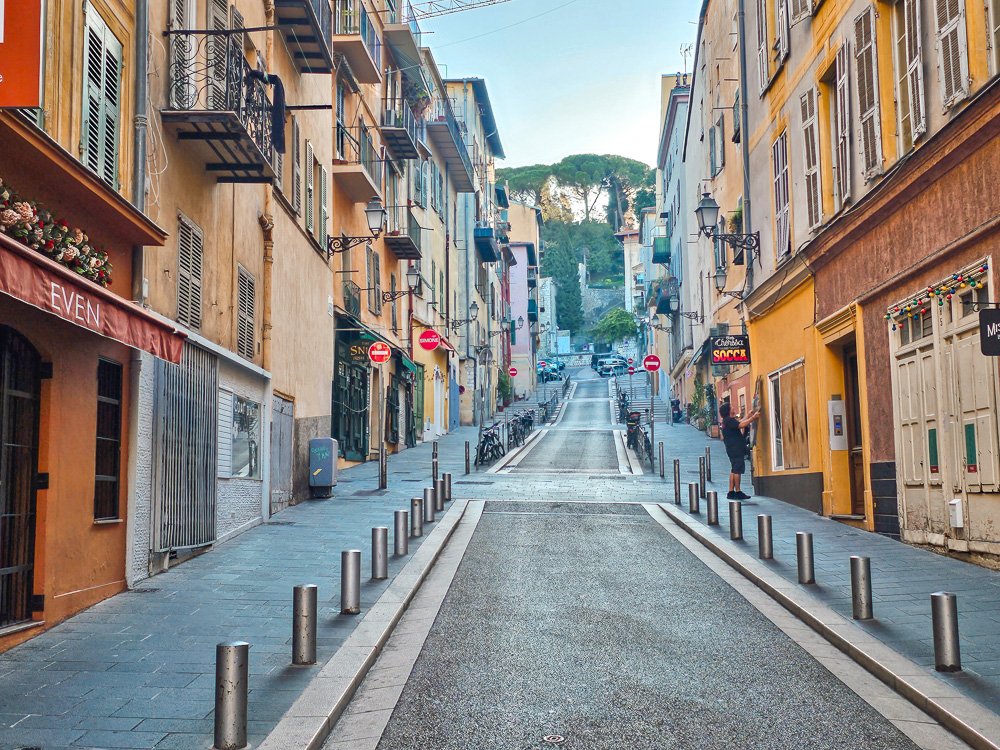 You'll also definitely want to explore the winding, colorful streets of old town Nice.
Be sure to visit the vibrant fruit, vegetable, and general food market at the Marché aux Fleurs (open every morning but Monday), and grab a gelato in Place Rossetti.
And of course, Nice is a great base city for exploring the insanely adorable villages of the French Riviera – don't miss Villefranche-sur-Mer, Eze, Menton, or Saint-Paul-de-Vence (just to start!).
The Albert 1er is a great, central place to stay in Nice and you can likely get quite a deal here if you're visiting as a January Europe city break!
Barcelona, Spain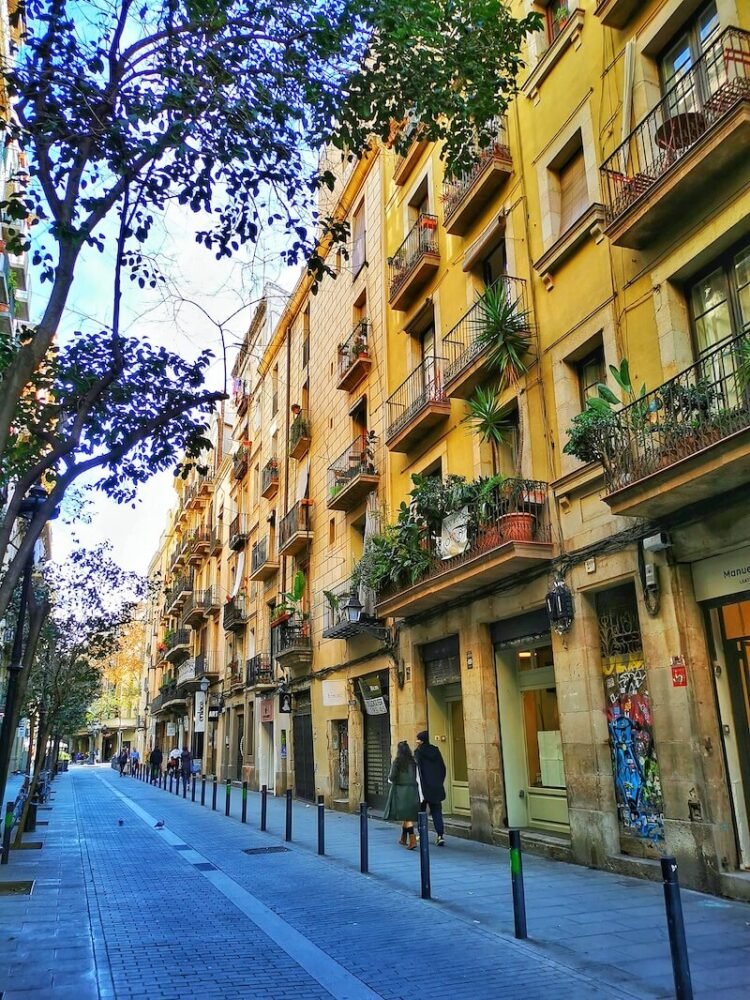 Contributed by Claire Sturzaker from Why Visit Barcelona
Barcelona is an amazing city to visit at any time of year, but it can get extremely busy in its most popular months, especially the summer.
That said, if you visit Barcelona in January, you will be able to enjoy the city when it is relatively quiet, exploring its stunning sights like the Gothic Quarter and other attractions without the usual crowds.
As a bonus, Barcelona is much warmer than most other European cities for the time of year too, with only a few days of rain.
Winter temperatures average 12-14° C (54-57° F) during the day, though they can drop to around 6° C (43° F) at night, so definitely bring a jacket for the cool nights!
This means that January is one of the best times to enjoy outdoor activities in Barcelona without getting overwhelmed by the heat.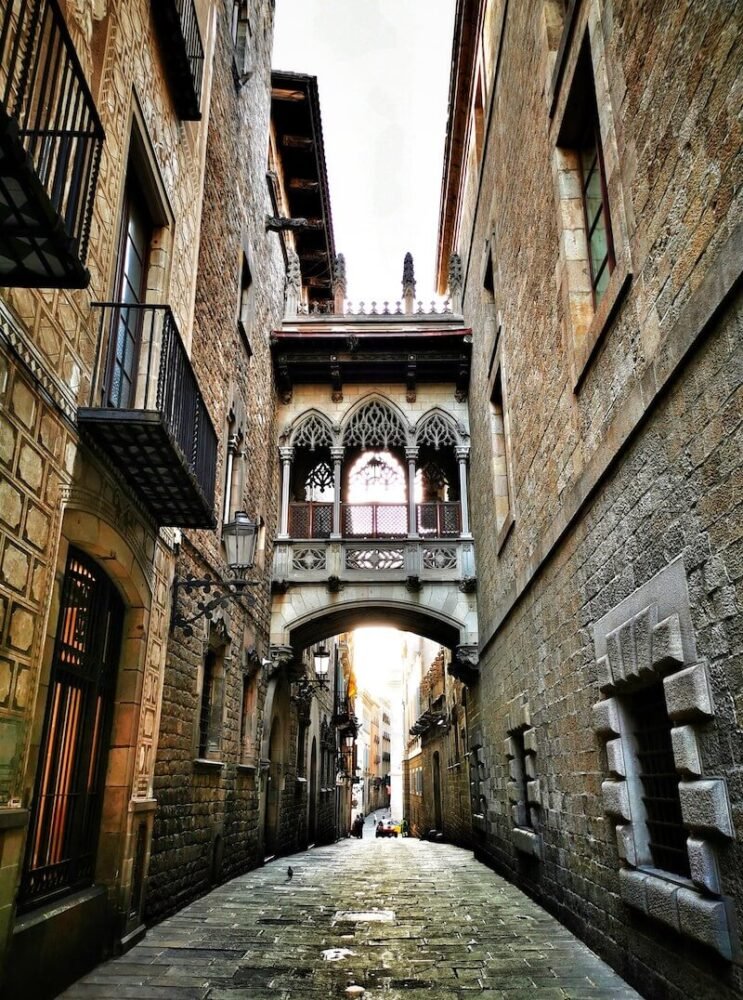 While it isn't usually hot enough for swimming, a walk along the beachfront is a wonderful way to enjoy the sunshine!
The Chiringuito beach bars are closed in the winter but there are still several restaurants on the waterfront where you can enjoy a meal and a sea view. Boat trips around Barcelona and up to the Costa Brava still run during January too.
The Bunkers at El Carmel have incredible views of the city and Mediterranean beyond, and is worth the walk (or bus journey) to get up there, as does Mount Tibidabo in Collserola Natural Park which is a great area for hiking.
While it is off-season you still should plan to book tickets in advance for the top attractions in Barcelona, such as Gaudí's stunning Sagrada Familia and Park Güell, to make sure you guarantee your preferred entry day and time.
For memorable accommodation, the Sercotel Rossellon has some bedrooms with a view of La Sagrada Familia which are hard to beat!
Valletta, Malta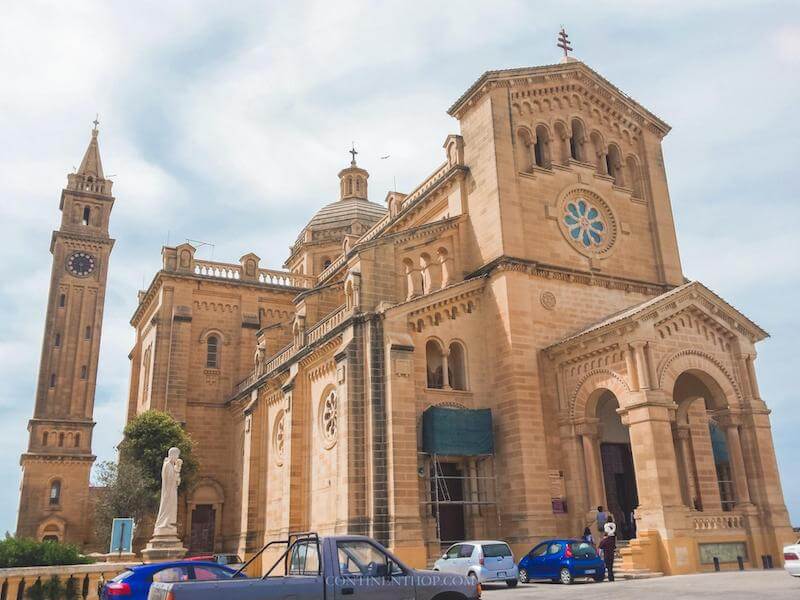 Contributed by Lavina D'Souza of Continent Hop
Malta is a tiny group of Mediterranean Sea islands, with a long history and numerous historic sites.
Malta boasts a lovely landscape and its weather is ideal for a warm European vacation in January!
January brings the charm of winter in Malta with a soothing Mediterranean climate.
The temperature ranges between 10°-16° C (50°-61° F), perfect for roaming around.
Malta is less crowded during this season, so you can see all of the sights without feeling rushed.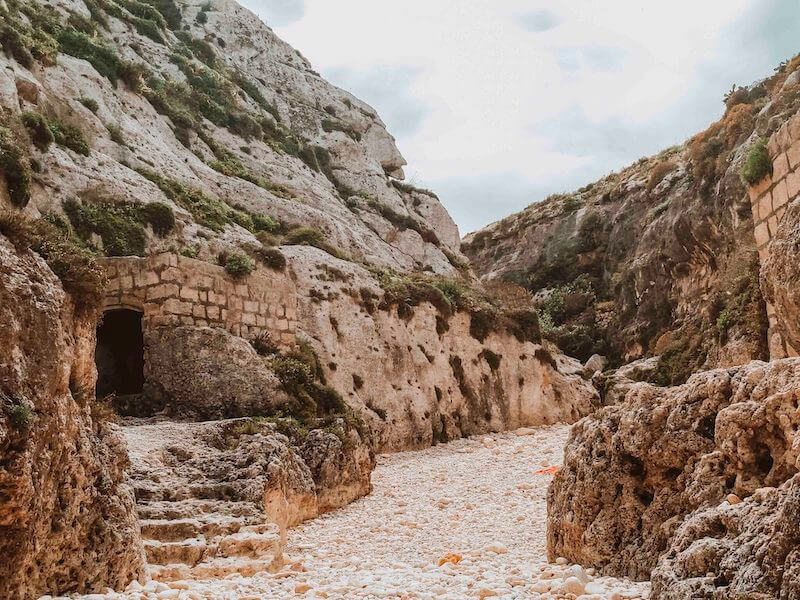 January is the month of the Feast of St. Paul's Shipwreck, which is a popular religious event in Malta.
Experience this unique event with captivating performances and parades!
There are many things that you can do starting from exploring Valletta, the capital city.
You will find rich history, pretty buildings and museums. Take a free walking tour to explore the city's history.
You can go on various scenic hiking trails such as Dingli Cliffs, Blue Grotto, and Comino Island. Don't forget to check out the Blue Grotto panoramic viewpoint.
Malta has many temples, churches and fortresses which you can visit for a unique and calm experience. You can also visit the silent city of Mdina.
Taking boat tours is a great way to explore Malta and it is quite fun. You should also visit the famous three cities i.e. Birgu, Senglea, and Bormla.
You can stay at The Village Boutique and SPA in Naxxar, which offers a quaint and cosy atmosphere.
Santorini, Greece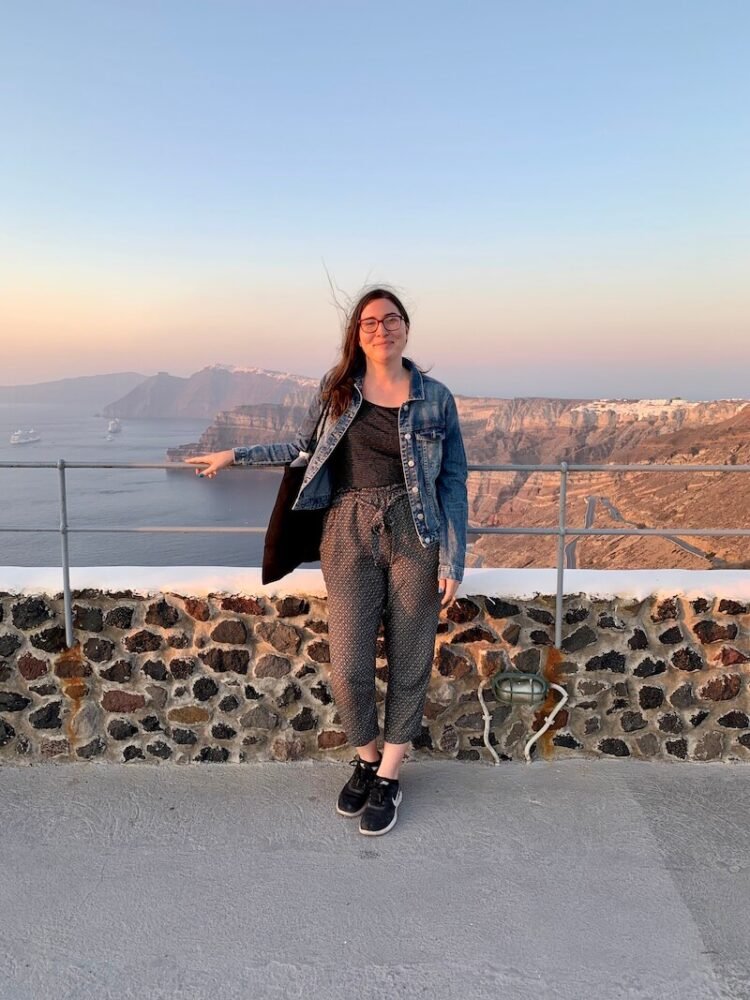 Editor's Choice
Visiting Santorini in January is a great way to escape the summer crowds and still have a lovely warm-ish getaway in Europe!
While January is the middle of winter in Santorini, it's not too bad, with average temperatures ranging from 9-12° C (48-54° F) — not too cool to explore, though you probably won't find yourself having any beach days!
Despite beach time not really being on the menu, there's no shortage of activities to enjoy in Santorini in January.
History enthusiasts can spend time in Prehistoric Thera Museum or explore ancient ruins like Akrotiri, enjoying the ruins almost to themselves.
Venturing into the scenic, Instagram-popular villages like Oia and Thira is a lot more leisurely now — you won't have to fight the crowds for breathing room or decent photos.
Winter is also a great time to experience authentic Greek culture, savoring traditional Greek foods in tavernas (can you say moussaka, anyone?) or enjoying local wines on a wine tour of Santorini.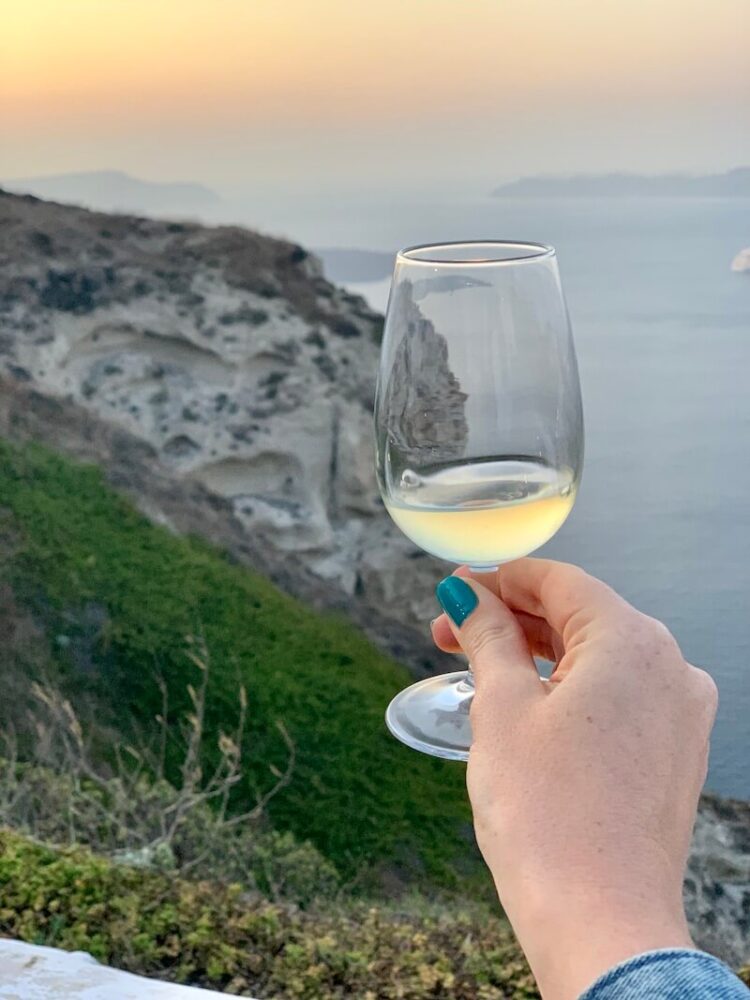 For a fun cultural quirk, you can time your visit to witness the Epiphany celebrations on January 6th.
This religious festival, known as 'Theofania' or 'Fota,' includes a special ceremony where a priest throws a cross into the sea and young men dive to retrieve it!
This is a great time to stay in one of the normally pricy Santorini cave hotels in Oia — you'll get a great discount.
I recommend the amazing Rhenia's Suites for gorgeous cliffside infinity pools and traditional cave suite vibes!
Almeria, Spain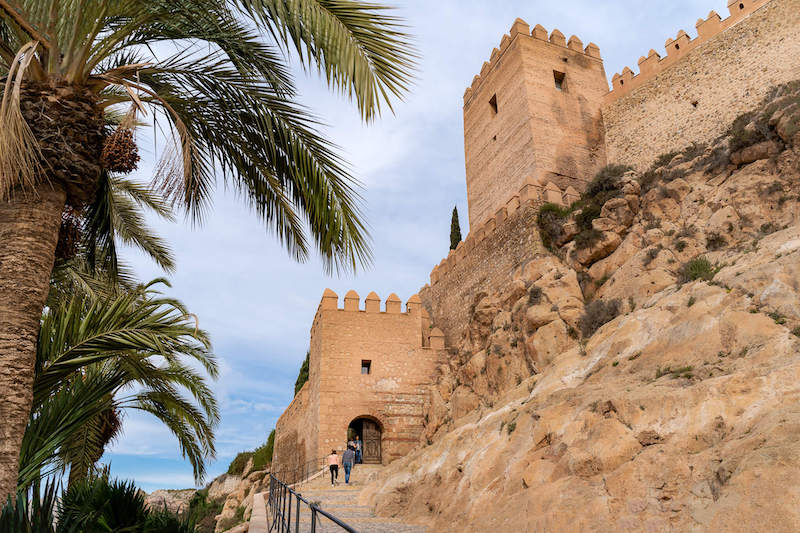 Contributed by Sonia of Happy Little Traveler
Almeria is a charming Spanish city located in Andalusia, on a warm and sunny Costa de Almeria.
The city offers the mix of a big city with many attractions combined with the chilled vibe of smaller Spanish towns.
Because of that, Almeria is a great destination for both beach holidays and short weekend getaways. 
Over 3,000 hours of sun per year, very little rain, and warm temperatures around 17° C make Almeria a good vacation spot in January in Europe for those seeking warmth and sun during the winter months.
What's more, during that time of the year, you won't find many tourists out there and you'll be able to enjoy its charms in peace.
What to do in January in Almeria? You can take long walks around the city, slowly discovering its crooks and crannies.
There's also a picturesque promenade that stretches along beaches, perfect for lazy walks seasoned with calming sea views.
Spending relaxing time on the beaches and soaking in the sun also is tempting!
And if you want to escape the city you can go on a trip to nearby Cabo de Gata Natural Park, a place almost untouched by human hands.
Ohtels Gran Hotel is a great place to stay in Almeria.
It's located in a perfect spot from which in 10 minutes you'll be in the old town or on the beach.
Monaco, French Riviera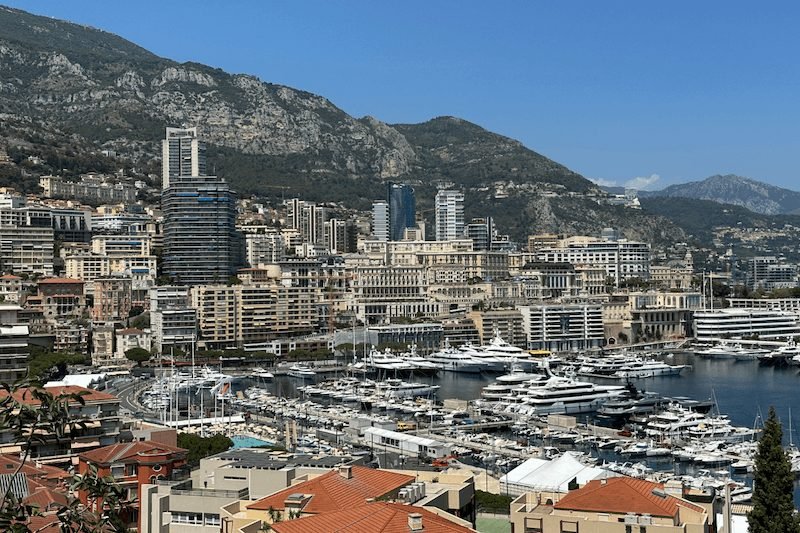 Contributed by Kristin of Global Travel Escapades
For anyone interested in a warm winter getaway along the French Riviera, a great place to vacation is Monaco.
Located near the coastal town of Nice, this tiny micro-nation not only offers visitors weather that is comparatively warmer than other regions in Europe but also the opportunity to experience the finer things in life!
There are also some fun January activities, like the highly anticipated annual Festival du Cirque de Monte Carlo, which dates back to the early 1970s!
Meanwhile, for any motorsport fans, it's no secret that Monaco is closely associated with the world of motorsport.
During the second half of January, visitors can watch cars whip by in the annual Monte-Carlo Rally that goes all throughout Monaco and the surrounding region!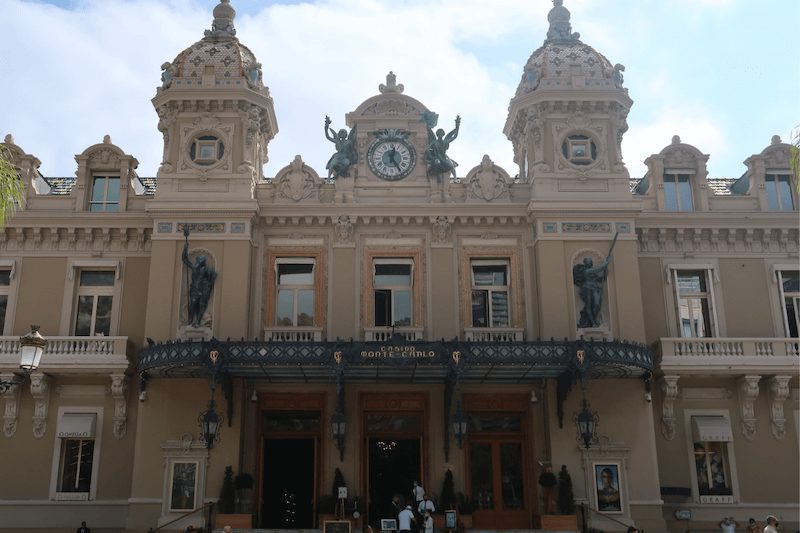 Lastly, there's the decadent Monte Carlo Casino.
Guests can come here to try their hand at the games and slot machines or simply take in the buzzing atmosphere.
So, if you're ready for an extravagant warm-weather getaway, plan your winter vacation in Monaco.
And for places to stay, check out the 3-star Hotel Columbus Monaco.
It has all the amenities you need at a relatively affordable price.
Paros, Greece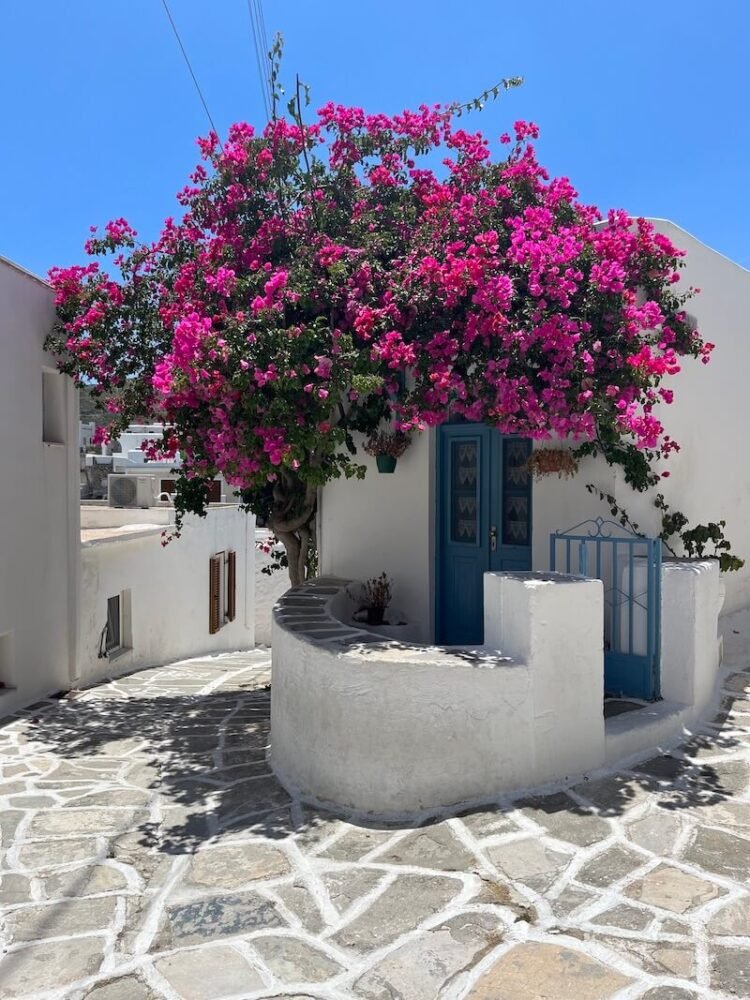 Submitted by Delilah of Travel Sim Expert
It's pretty hard to miss any island in Greece on a list of the best warm weather destinations in Europe in January!
Whilst most travelers focus on Santorini, the nearby island of Paros is a gorgeous alternative or addition to an island trip.
Naturally, temperatures during January are lower than in the summer, but with a high of 15° C (59° F) throughout the month, you won't be shivering as you explore the island.
Parikia is the perfect place to settle as it's home to a lot of the sights, a gorgeous beach, plenty of restaurants and the ferry port – all things that you can enjoy regardless of the temperature.
Exploring the cute spots around the town are the highlights, but taking a walk along the coastline to Agios Fokas Lighthouse is our top choice for a moody viewpoint.
Sometimes, the stormier the better when you're looking for something a bit different to the typical Paros photos!
With a spare day, the inland town of Lefkes will be a bit more sheltered than the coastal towns of Naoussa and Parikia.
The food here is cheaper (and arguably better) and the town is exceptionally picturesque.
Just make sure to download offline maps for getting around as Greece's sim cards offer fairly limited signal around here.
Nice hotels can be found easily in Paros – especially during January!
Naoussa is a stunning spot but Parikia is equal in our eyes. Paros Agnanti Resort & Spa is the perfect getaway in Parikia.
Palma de Mallorca, Spain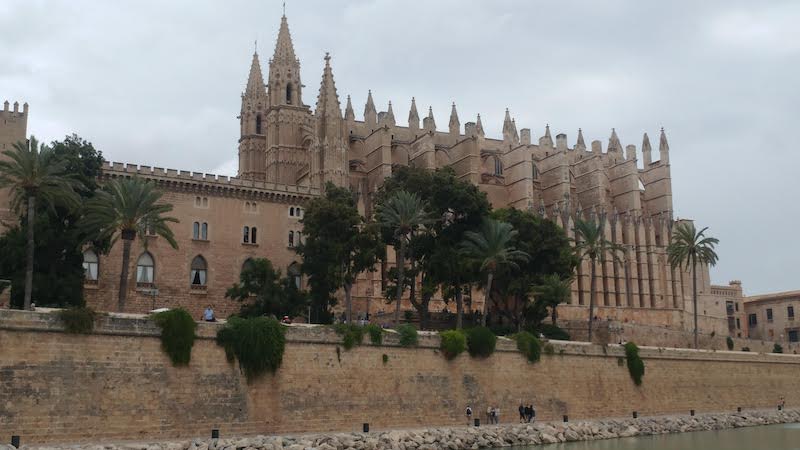 Contributed by V Kay from Travel Addicted Unicorn
Mallorca is an island located in the western Mediterranean Sea. It is the largest of the Balearic Islands and is part of Spain.
The capital of Mallorca and the largest city is Palma de Mallorca, Palma for short.
One of the most interesting and famous attractions to see in Palma is the stunning Palma Cathedral.
It was designed in the Gothic style and is located close to the shoreline and can be seen easily from the water.
Another great landmark to visit is Bellver Castle, which is a 14th-century castle located on a hill and offers panoramic views of the Bay of Palma.
Fun fact: it is one of the few circular castles that you can visit in Europe!
Another point of interest to check out in Palma is La Almudaina, which to this day is the official summer residence of the Spanish Royal Family.
Visiting these above attractions in January is a great idea since you can go inside all of them and explore them even if it is raining or chilly.
As you can see, even if the weather is not the best you will still have a lot of things to do in Palma!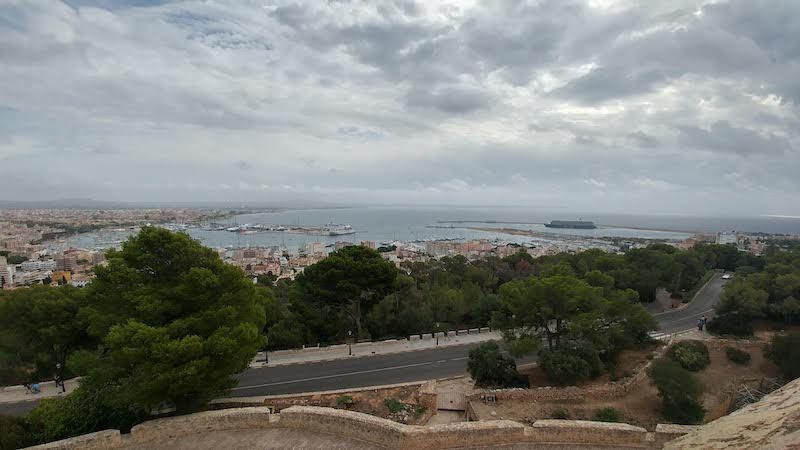 January is the off-season in Palma so the city will be a lot quieter and you will encounter fewer tourists and lines.
The temperatures in January are ranging from 10°-15° C or 48°-59° F, resulting in a mild winter weather.
However, it will not be warm enough to actually swim at the beach.
That said, you can still enjoy the places mentioned above, enjoy some delicious Spanish dishes and take a walk around the Old Town of Mallorca.
A great place to stay in Palma is Hotel Palma Bellver, located very close to Bellver Castle and about a 15-minute walk from the Old Town.

Ericeira, Portugal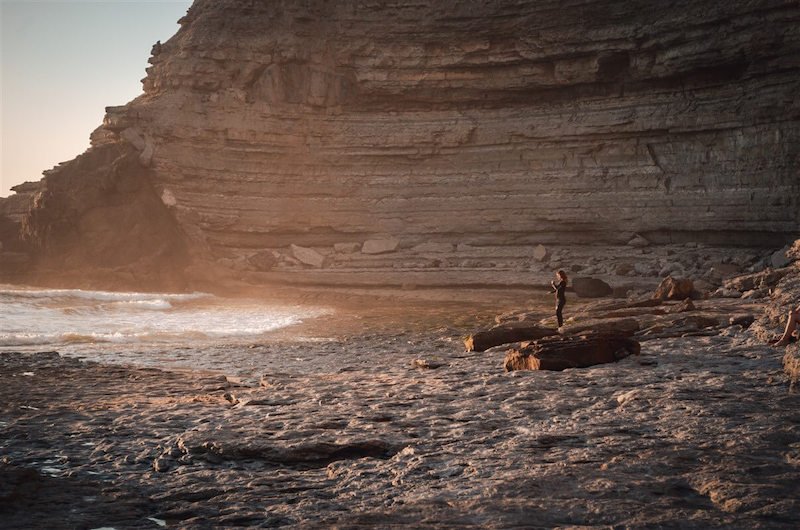 Contributed by Annelies of Travelers & Dreamers
Ericeira is a cute fishing village on the western coast of Portugal, about a 35-minute drive from Lisbon.
It is a popular town among digital nomads who are looking for a place in Europe to spend the winter in some warmer weather.
Although it's January, you can still enjoy outdoor activities, with daytime temperatures hovering around a pleasant 15° C (59° F).
The main reason Ericeira is so popular is because it is the surfing capital of Europe!
Known as the first World Surfing Reserve in Europe, it attracts visitors from all over the world at any time of the year.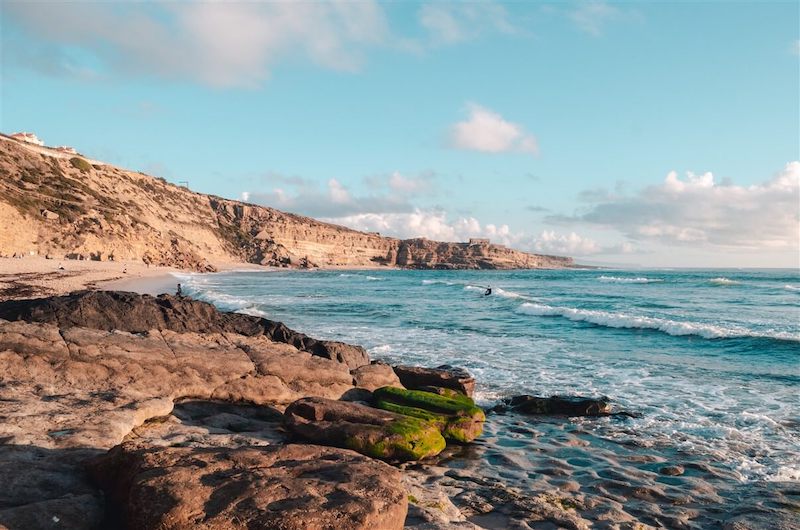 January is especially an excellent period to visit for advanced surfers since the breaks are much higher in the winter months.
The best things to do in Ericeira in January are surfing, hiking the beaches and cliff trails between Ericeira and Ribamar, and enjoying massages and yoga classes.
It also makes for a great place to base yourself to visit the surrounding region.
A lot of the best sights and landmarks in Portugal are nearby like the UNESCO-protected cultural heritage town of Sintra, The Mafra Palace, and the Cascais-Sintra Natural Park.
A great place to stay in Ericeira is Sandhi House.
This guesthouse is located by the ocean in the center of Ericeira and offers 5 incredibly cozy rooms.
Aside from that it is also a retreat center where you can take yoga classes and massages.
Paphos, Cyprus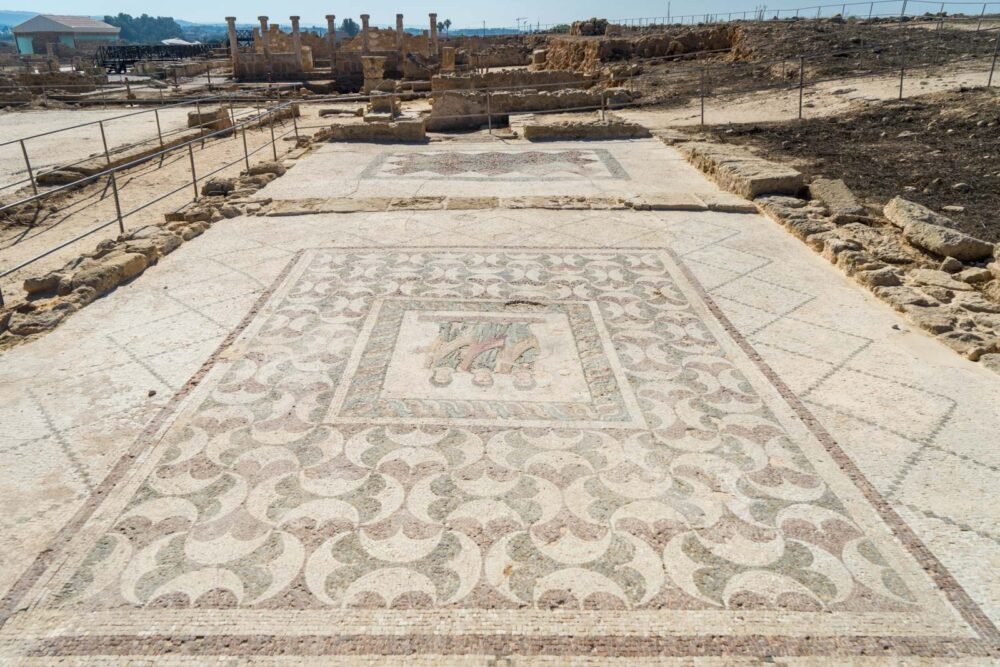 Contributed by Michael Turtle of Time Travel Turtle
In summer, the beaches of Paphos are filled with sunbakers from across Europe who've come to soak up the hot days by the coast.
In January, it's less about the beaches and more about the culture, with mild weather the perfect time to see the history and explore the local life in this part of Cyprus.
A highlight is the Kato Pafos Archaeological Park, displaying the remains of an ancient city founded in the 4th century BC.
As well as a large theatre and baths, there are the houses of wealthy residents.
Many of these have detailed and vibrant mosaics, which is one of the main reasons it's been listed as a World Heritage Site, along with the nearby burial site known as the Tomb of the Kings.
Around the region you can also satisfy your taste buds meeting local producers, with activities like a haloumi-making lesson, a visit to a sweet shop (make sure to try loukoumi, the local sugary delicacy), and even wine tasting.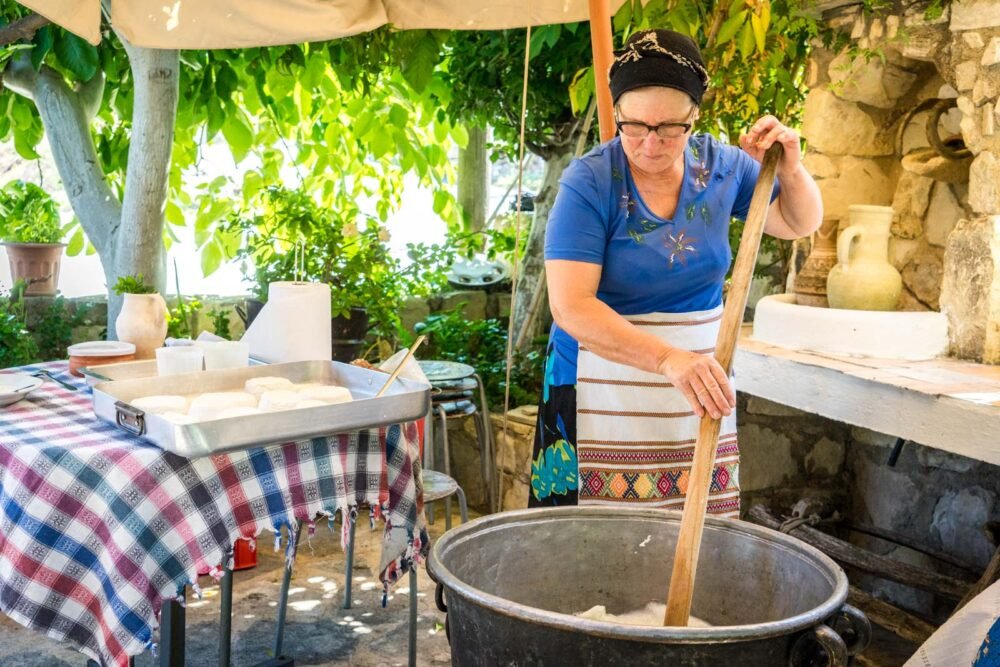 Some of the other cultural things to do in Paphos include the Geroskipou Folk Art Museum with items from the 19th and 20th centuries; a modern art gallery and workshop called The Place; and an ancient settlement called Lemba.
To the north of the city of Paphos is the Akamas Peninsula, a large stretch of untouched land made up of dramatic cliffs, ravines, forests, and beaches – a perfect place for a jeep tour or some natural adventuring.
As a popular tourist destination, there are lots of places to stay in Paphos, but the Annabelle Hotel is one of the nicest, with gorgeous views across the water.
Crete, Greece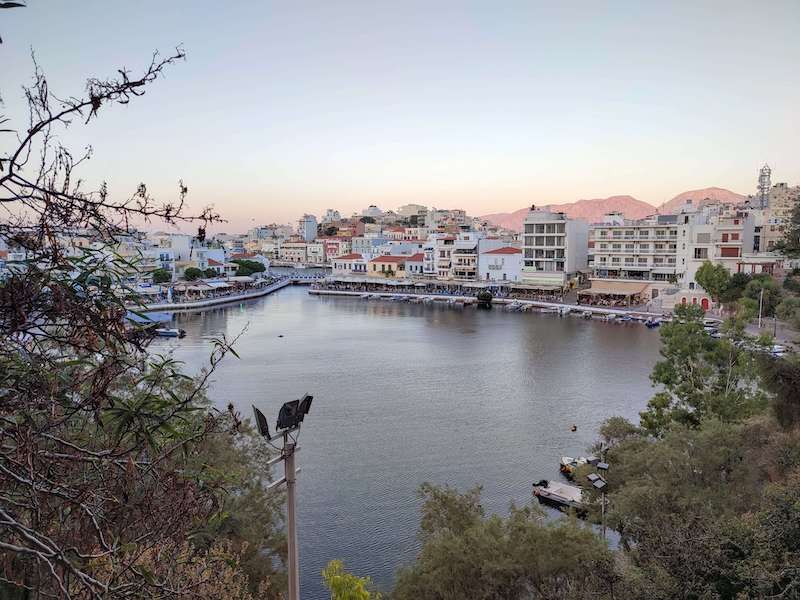 Contributed by Simon of Backpack Moments
Crete is Greece's biggest island and Europe's southernmost point. Given that, you're bound to have good weather there even in winter.
Crete's appeal comes from its ancient history and the mix of cultural influences from multiple civilizations and empires that controlled the island over the past millennia.
It was first home to Europe's first advanced civilization – the Minoans. You can still see the remains of their ancient capital Knossos near the present one – Heraklion.
After that, the island was consecutively part of Ancient Greece, the Roman Empire, the Byzantine Empire, Venice, the Ottoman Empire, and since 1821 – part of Greece. All these empires have left their mark on Crete.
The crowds are gone in January so you'll have all the history and nature for yourself! Start by exploring the old towns of Chania, Rethymno, and Heraklion.
Then challenge yourself by hiking at Samaria or Imbros Gorges which present outstanding scenery.
Finish off by relaxing at some of the prettiest beaches in the world – Elafonisi, Balos, and Preveli.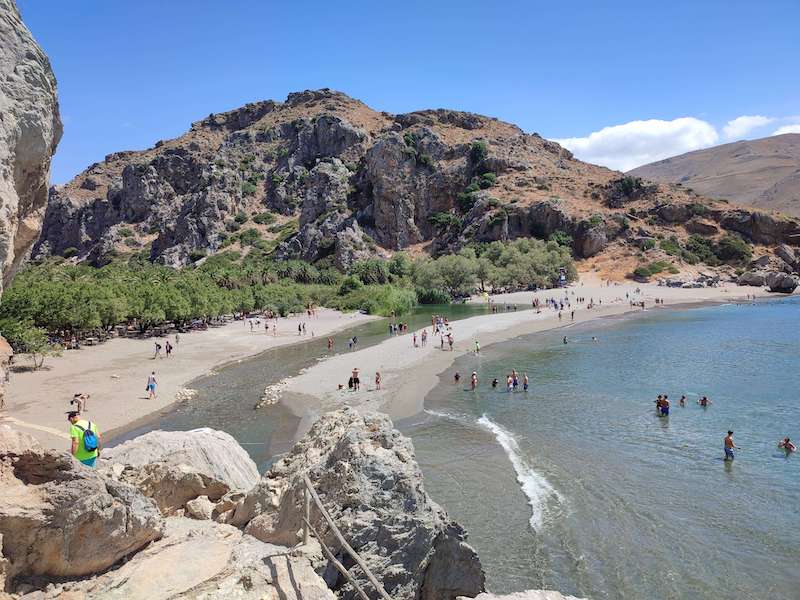 Even in January, the temperatures rarely drop below 15° C (usually in the low 20s° C — around 60-70° F) so sunbathing is not entirely out of the question.
If you go in the first week of January, you'll also feel the holiday spirit on Crete.
Note that Greek Orthodox Christians celebrate Epiphany on the 6th of January, so you'll see celebrations if you're visiting then, and some businesses might be closed for the holiday.
If you're staying in Heraklion, a superb hotel I recommend is The Blossom Collection.
It's located on the south side of the Old Town with views towards the sea and the Venetian Port.
Málaga, Spain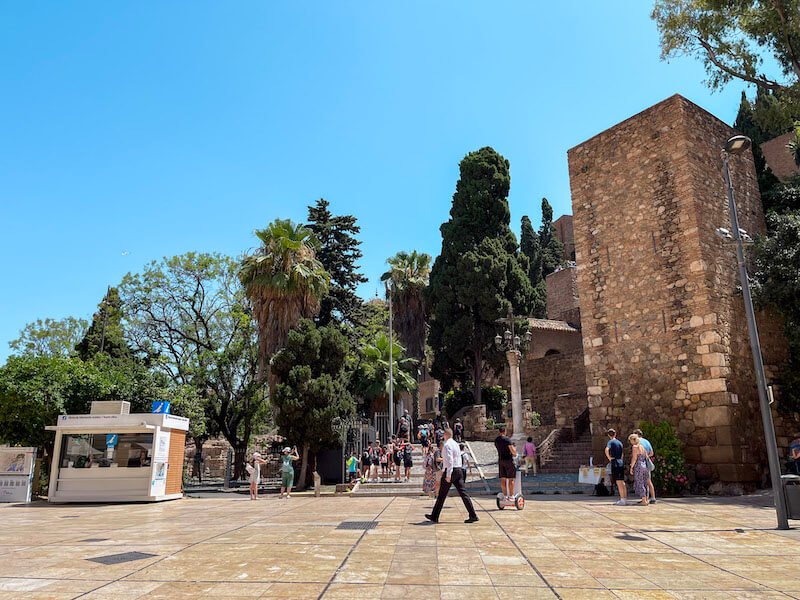 Contributed by Cristina of My Little World of Travelling
Málaga, located in the south of Spain, is a fantastic city break in January in Europe!
Although January is the coldest month in Málaga, that said, it is milder than many other European destinations. Plus, Málaga enjoys approximately 300 days of sun.
The average high temperature is 17° C (63 °F), while the average minimum is 8° C (46° F).
That can actually prove to be an advantage — with these temperatures, you can do many outdoor activities which you wouldn't be able to do in summer because of the heat.
You can visit outdoor historical buildings like the Alcazaba Fortress Palace, home to lovely gardens, impressive Moorish architecture, and outstanding panoramic views of Málaga; the Roman Theatre, located next to it; or Gibralfaro Castle.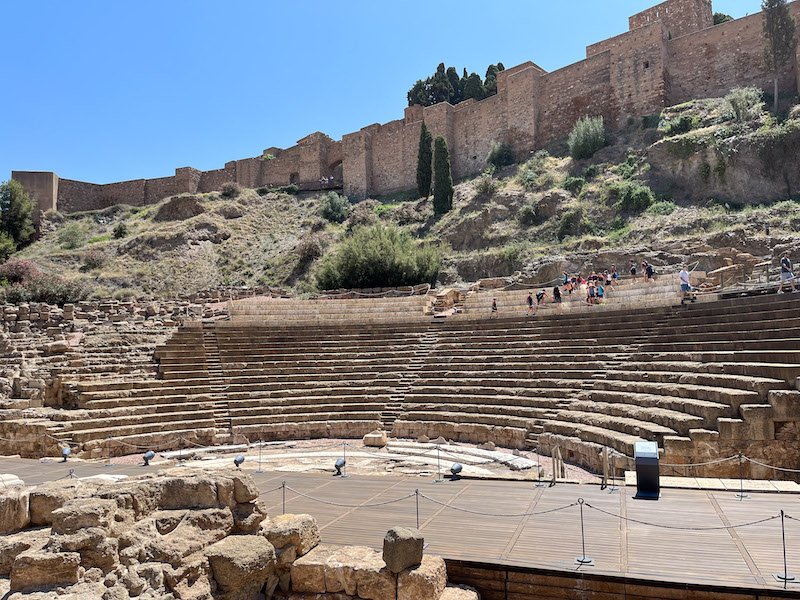 January is also an excellent time to go hiking. One of the most famous trails is Caminito del Rey, which is an hour's drive.
However, you can walk the lovely and extensive beach promenade in La Malagueta if you lack time.
If you visit Málaga in the first week of January, you can still see the Christmas Lights strung up all across the city center and even attend the Three Kings Parade!
However, if you go later in the month, you will likely find better deals on flights and accommodations.
Room Mate Valeria is a 4-star boutique hotel right in the heart of the city.
It has cozy rooms decorated with elements representing Málaga and a fantastic rooftop terrace serving delicious cocktails.
Dubrovnik, Croatia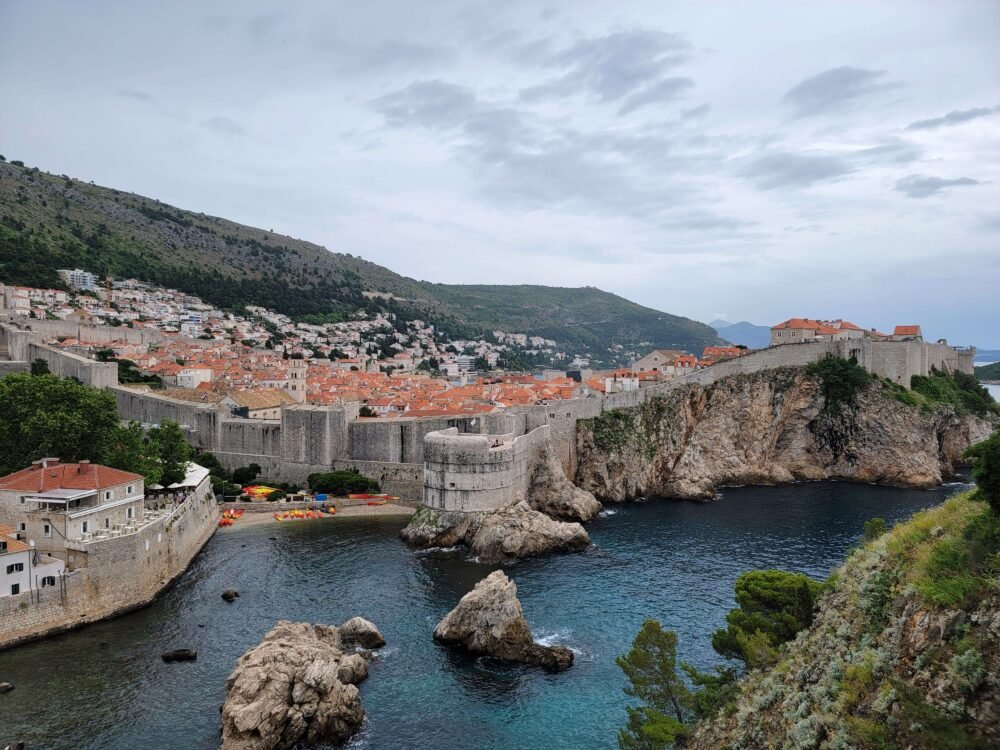 Contributed by Amber of Get Lost in Wanderlust
Dubrovnik is a great destination in Europe to visit during January.
The weather is mild and warm, making it the perfect temperature to explore the city.
Dubrovnik is worth visiting to see its beautiful old town!
The old town has medieval walls that surround Dubrovnik, and it is even possible to walk on top of these historic walls.
This is a great activity in January when visiting Dubrovnik, as it isn't as crowded or as hot as the summertime.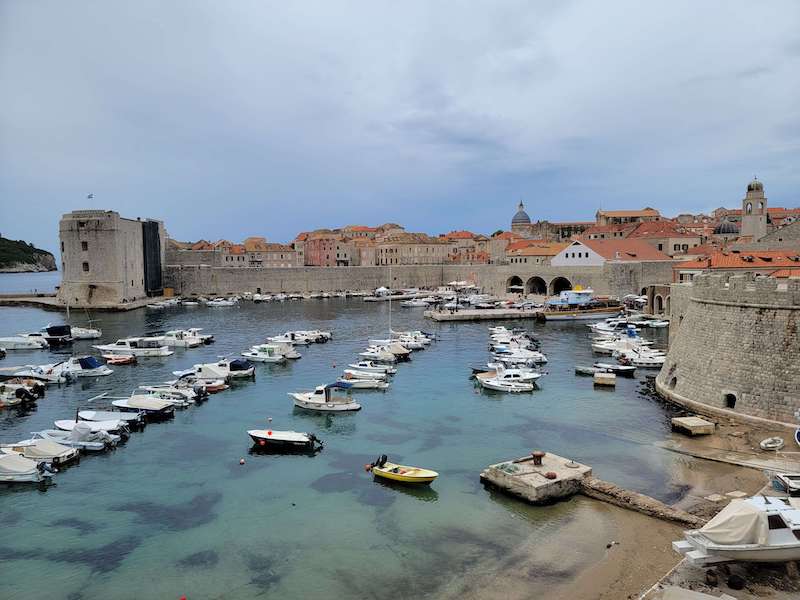 The views from on top of the walls are breathtaking, and walking on the walls is a must-do activity in Dubrovnik.
Another thing to do in January is to take a Game of Thrones tour in Dubrovnik.
On these tours, you'll explore the filming sites in Dubrovnik that were used to film King's Landing, the capital city in Game of Thrones.
One of the best places to stay in Dubrovnik is at Boutique Hotel Stari Grad, a cute hotel with great reviews.
The location of Boutique Hotel Stari Grad is convenient because it's right in the old town and close by all the restaurants, shops, museums, and other things to do.
Valencia, Spain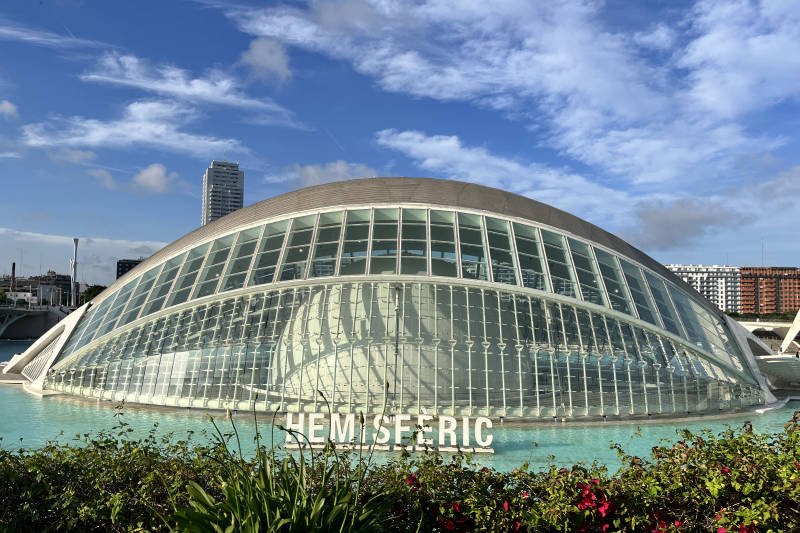 Contributed by Valencia Revealed
Valencia is a Mediterranean city just perfect for visiting during January in Europe!
While the rest of Europe experiences the lowest temperatures of the year, Valencia is pleasantly warm during most days — great for a little getaway!
The main attractions in Valencia is the City of Arts and Sciences.
This architectural marvel was designed by Santiago Calatrava, and it's made up of six futuristic buildings.
Among them are a planetarium, an interactive science museum, and Europe's largest aquarium.
January in Valencia is perfect for outdoor activities, such as a walk in the park or along the beach, especially during the afternoon hours.
While the sea water is too cold for a dip, enjoying a drink on a terrace along the promenade on a sunny January day, can be a glorious experience.
Valencia is renowned for its cuisine and especially for the paella, which originated here.
Several festivals are also organised during the month of January in Valencia, including the dazzling Three Wise Men parade.
For a comfortable mid-range hotel in Valencia, check out Vincci Mercat Hotel.
This hotel is well-located near the Central Market, in close vicinity of various restaurants, shops, and cultural attractions and has some very nice rooms.
Lagos, Portugal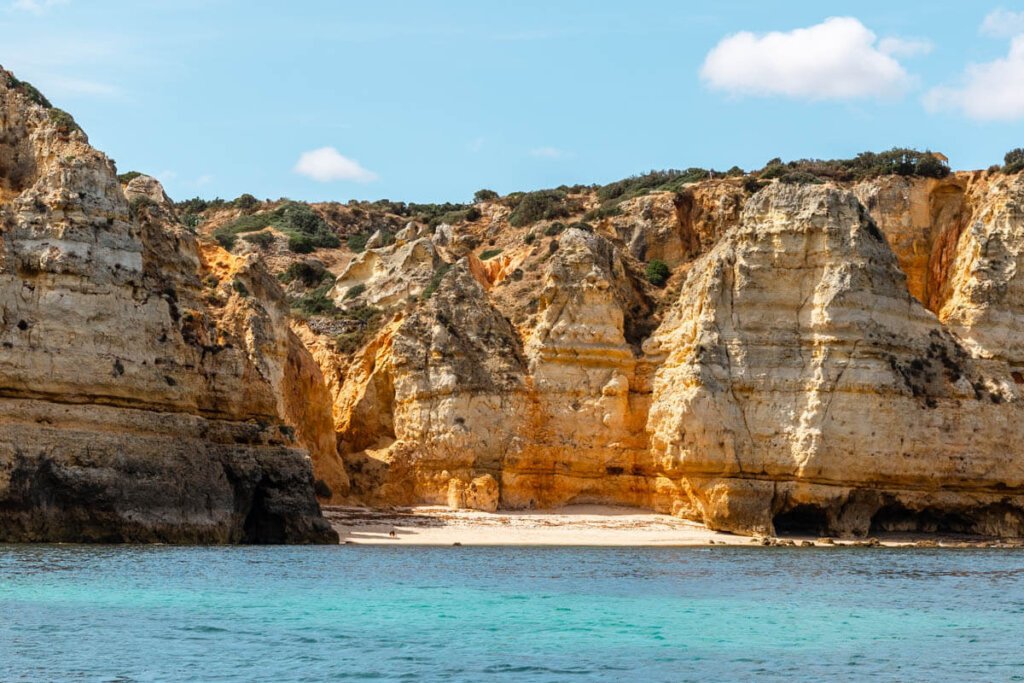 Contributed by Samantha Opp of Find Love & Travel
Lagos in Portugal is known for its sandy beaches, ocean views, and delightful wine culture!
This makes it the perfect warm weather destination to escape to in January in Europe.
While all of the Algarve region in Portugal is great for a beach vacation, there is something particularly stunning about Lagos.
To start your Portugal itinerary, you can spend time at some of the most incredible beaches descending from the cliffs.
Some of the most popular beaches include Praia do Camilo and Praia Dona Ana.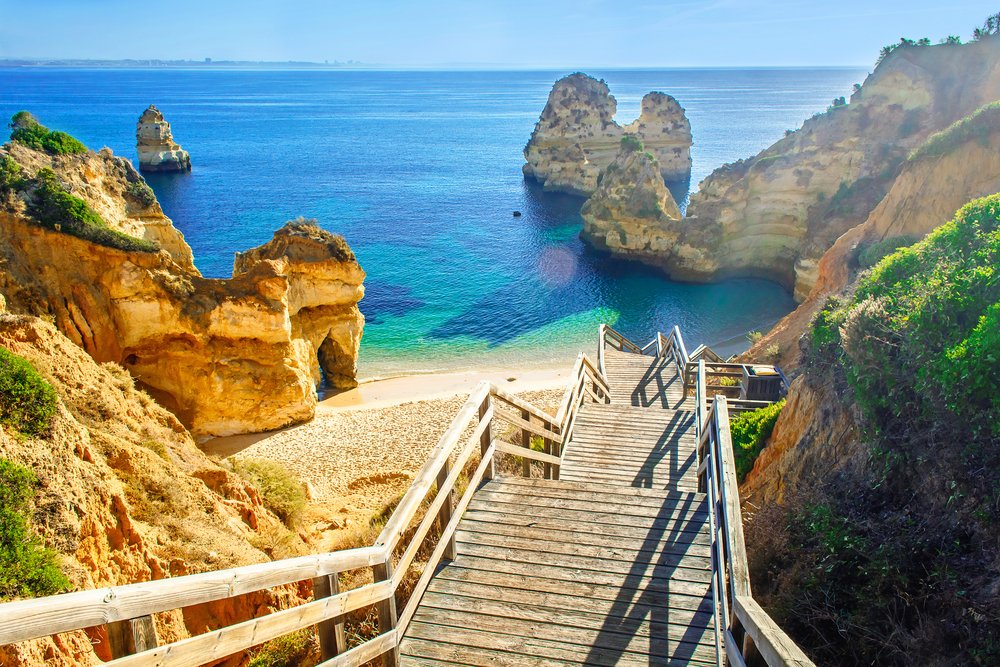 The beaches also have unique caves and grottos where you can spot all kinds of sea life.
Plus, you can hop on a guided boat tour and go dolphin-watching while discovering sea caves along the coast!
Not only that, but Lagos is filled with charming, colorful streets where you can spend your day exploring.
Rooted in deep history, you can go see the lovely Lagos Castle.
There are also a handful of museums, and for a family-friendly option, you can head to Centro Ciência Viva de Lagos, which is a science center.
For the adults, there are plenty of wine and food-tasting tours to enjoy, as well as, scenic lookout points for a great sunset.
January is a great time to visit Portugal because there will be fewer crowds, and the temperatures are still comfortable enough to walk around in.
Temperatures are usually around 60° F or 15° C, warm but not too hot. Also, hotel prices tend to be lower at this time.
Speaking of hotels, Marina Club Lagos Resort is a stunning hotel located right by some of Lagos' best beaches that is definitely worth staying at!
Cagliari, Sardinia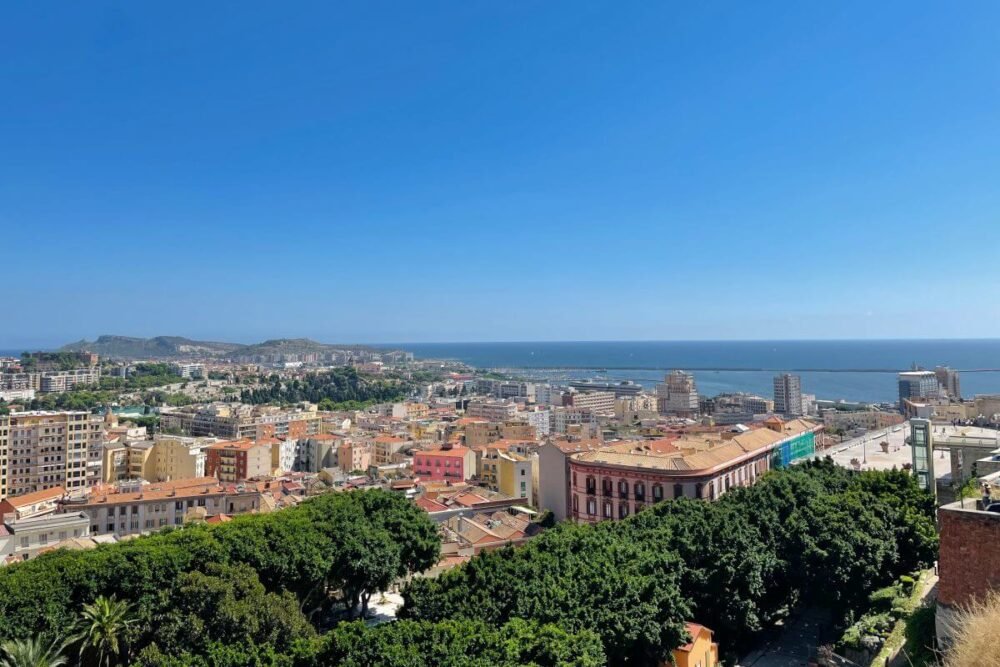 Contributed by Nes from Kevmrc
Cagliari is a beautiful town located south of Sardinia, Italy's second-largest island.
While it is famous among tourists for its breathtaking beaches and laid-back summer atmosphere, Cagliari is also an amazing destination for a winter city break.
Especially if you want to escape the bone-chilling cold back home!
Cagliari in winter is blessed with mild weather and regular sun! Temperatures may dip low but never freeze despite the chilly sea breeze.
In January, you can expect temperatures ranging from 5-15°C (41-59°F), with plenty of sunshine and rare rainfalls.
It is perfect weather for exploring the city and its attractions, as long as you dress warmly. You'll even be able to uncover yourself a little in the afternoon!
If you are worried about getting bored, fear not!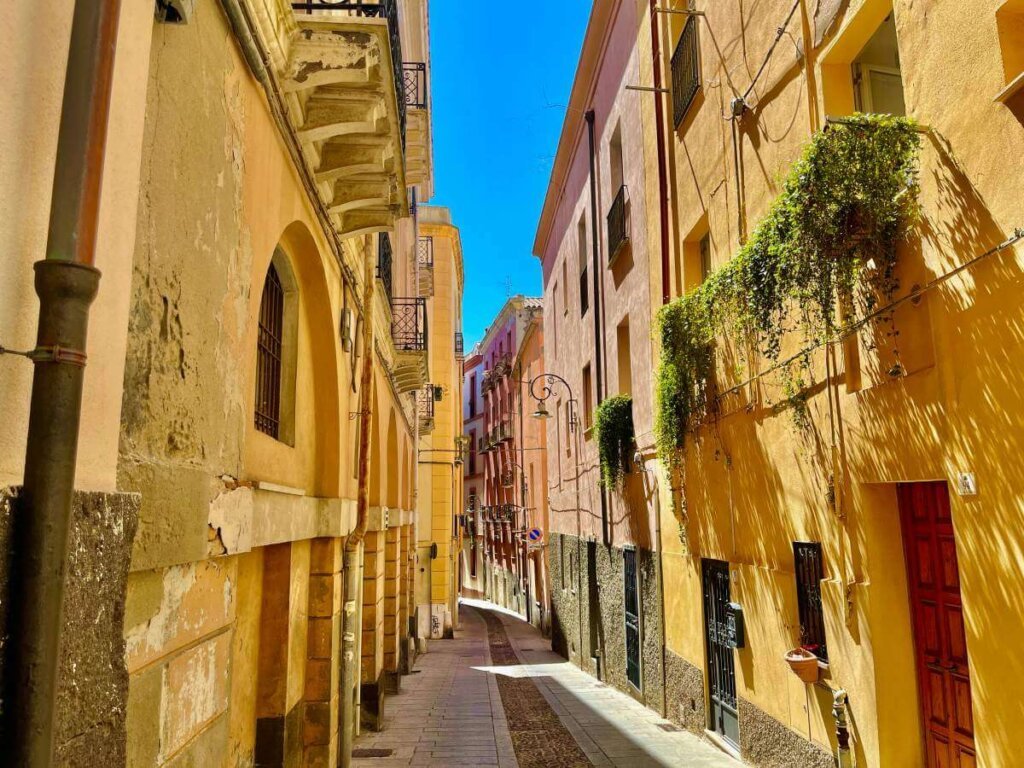 As Sardinia's capital city, Cagliari offers loads of activities, enough to keep you busy for a long weekend.
Its rampart-protected historic center, Castelo, is packed with landmarks and museums to visit: the Bastione di Saint Remy, the Duomo di Cagliari, the Museum of Archaeology, the Museo Delle Cere Anatomiche and so much more await you.
Mid-January sees the Festa di Sant'Antonio Abate, a festive celebration where bonfires light up the town to welcome the New Year.
If you decide to head to Cagliari this January for a warm Europe getaway, you should opt for Albergo Diffuso Birkin Castello, a lovely and comfy mid-range hotel located right in Cagliari Old Town.
Allison Green is a former educator turned travel blogger. She holds a Masters in Teaching and a B.A. in English and Creative Writing. Her blog posts merge her educational background and her experience traveling to 70+ countries to encourage responsible, enriching travel. She has been a speaker at the World Travel Writers Conference and her writing, photography, and podcasting work has appeared in National Geographic, CNN Arabic, CBC Canada, and Forbes, amongst others. Now a full-time traveler, she has lived in Prague, Sofia, New York City, and the San Francisco Bay Area.