Immersing yourself in the beauty of the Douro Valley is best experienced through a stay at one of the quintas, the famed Douro Valley winery hotels.
These traditional Portuguese wine estates offer more than just accommodation; you get to live and breathe the wine culture of the Douro Valley as these properties are also working vineyards.
From the moment you leave Porto behind and arrive in the Douro Valley, you are enveloped in a landscape where rolling vine-covered terraces cascade down steep slopes, converging on the meandering Douro River below.
Many of these charming Douro winery hotels are housed in renovated 18th or 19th-century manor houses that were either part of the farm or are the original living quarters for the vineyard owners.
While the exterior structures tend to be traditional farm properties, their interiors range wildly, some maintaining their old-world charm while others integrate contemporary designs that reflect a more future-forward vision.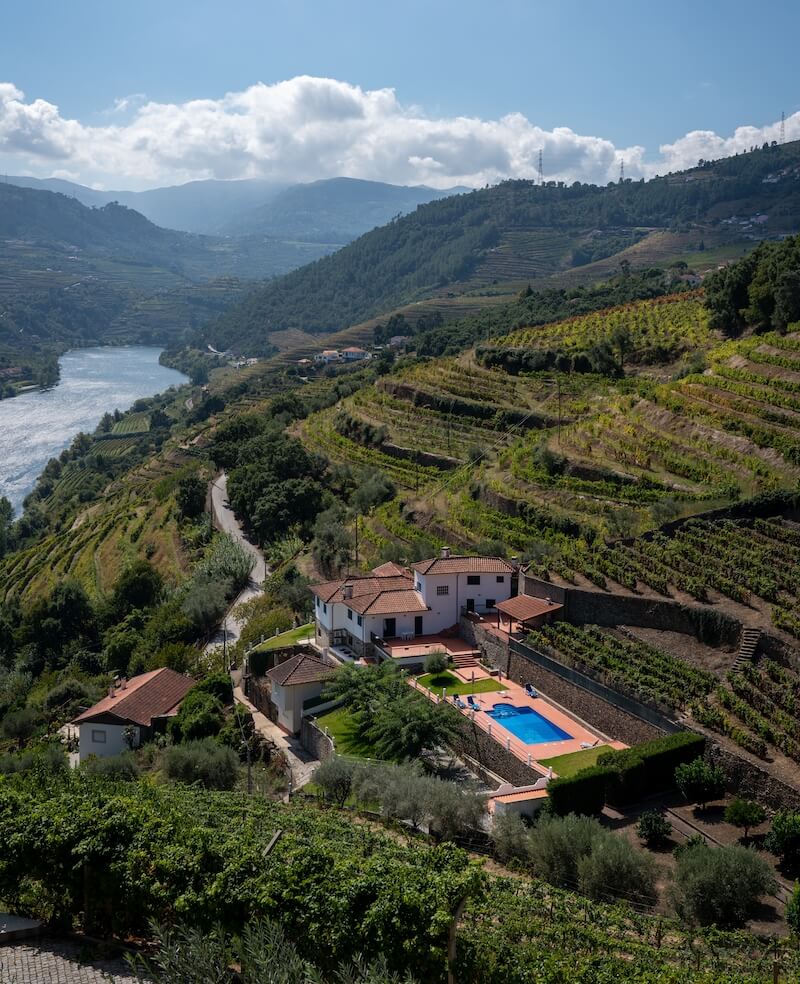 Note: This post contains affiliate links, which means I may receive a small commission if you purchase something through one of these links. Thank you for supporting the free content on this site! For more information on affiliate links and cookies, see my disclosure page for more details.
But really, when it comes down to it with these Douro Valley winery hotels: it's all about the land (and the landscape).
Whether that's walking trails through the vineyards, enjoying wine-tasting experiences where you can sip on the grapes grown on-site once they're all grown up, or relaxing in a pool with a gorgeous river view, the land is an essential part of every Douro wine hotel experience.
Here are our top picks for Douro Valley quintas you can stay in!
The Best Douro Valley Winery Hotels & Quintas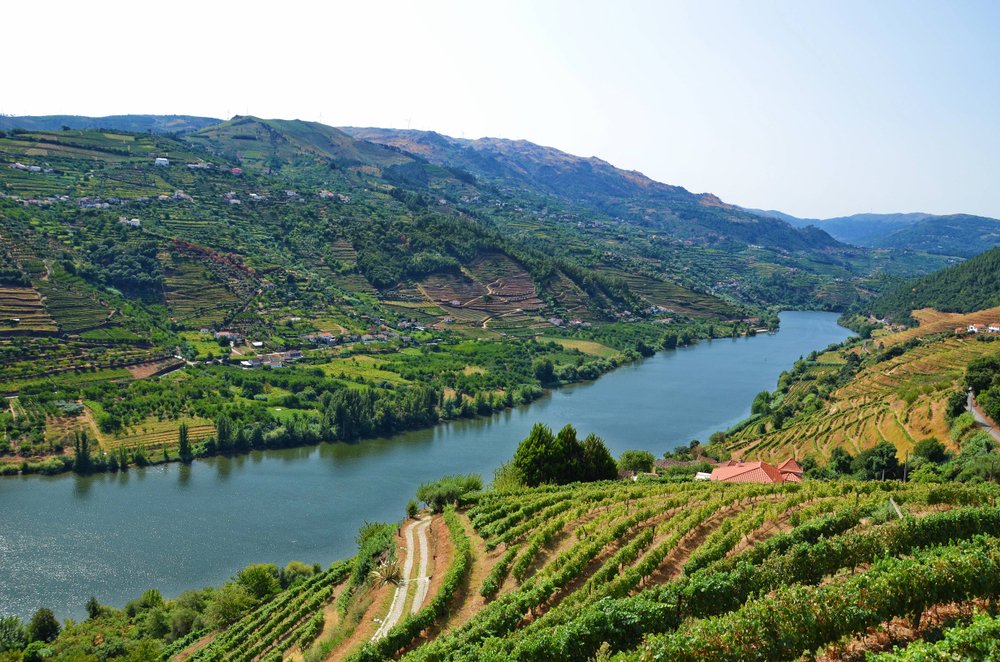 Quinta da Pecheca (Wine House Hotel) – Book Here
Quinta da Pecheca, located in Lamego just a stone's throw from Peso da Régua, is perhaps the most unique Douro Valley wine hotel!
This distinguished wine estate offers a very unusual and unique experience — the chance to sleep in a wine barrel-shaped room!
Listed as deluxe bungalows, these standalone units look traditional on the outside but feature modern interiors on the inside, each with their own private patio with views of the sprawling winery.
The barrel rooms are limited in supply and high in demand though, so even if staying at one is out of your budget (or they are unavailable during your stay) it's still worth staying at Quinta da Pecheca.
Within the meticulously restored 18th-century house, you'll find tastefully decorated traditional double rooms, blending the elegant old-world architecture with modern interior design.
The quinta has year-round opportunities for relaxation: in summer, use the delightful plunge pool, surrounded by sun loungers, perfect for an afternoon dip.
But unlike most other quintas, this hotel offers year-round swimming: an indoor pool within its serene spa area, which also has a hot tub and treatments like massages available.
Beyond relaxing, there's lots of fun to be had, from ceramics-making to "sip and paint" sessions at the Atelier d'Or, an on-site gallery space dedicated to art, hosted by the Douro-born Óscar Rodrigues.
Other activities they can arrange are cooking classes, curated wine tastings, and picnics in the vineyards, making it a great choice for an activity-fueled romantic getaway.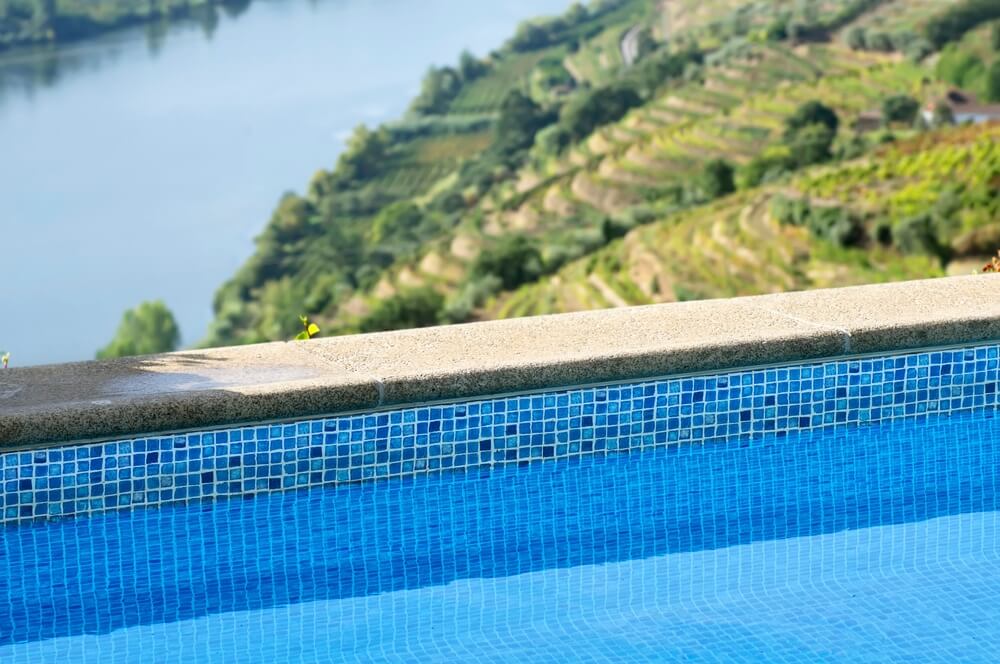 Ventozelo Hotel & Quinta – Book Here
This gorgeously re-envisioned quinta meets wine hotel is the epitome of what Douro Valley winery hotels have to offer.
Tucked away in rural Ervedosa do Douro, just 20 minutes from Pinhão, Ventozelo Hotel & Quinta is a 4-star sanctuary, immersing guests into the region's winemaking culture.
Ventozelo is distinct for how it embraces its past, with guest rooms distributed across seven repurposed farm buildings, including the former overseer's house, an old barn, and even inside spacious suites created within giant wine storage tanks known as balões.
While repurposed, the rooms have been updated with all creature comforts, like air-conditioning and modern bathrooms.
Another great draw? The attention-grabbing outdoor infinity pool, overlooking the river and surrounding vineyards.
While breakfast is included your stay, it's also worth eating at the onsite restaurant, where esteemed chef Miguel Castro e Silva (yes, the one of Time Out Market fame) works his magic.
The concept behind the restaurant is "zero kilometers": everything crafted using fresh produce, like vegetables and fruits harvested from Ventozelo's grounds, accompanied by regional products from local suppliers.
And naturally, no stay is complete without experiencing the onsite wine tasting, where the estate's exquisite local wines can be savored.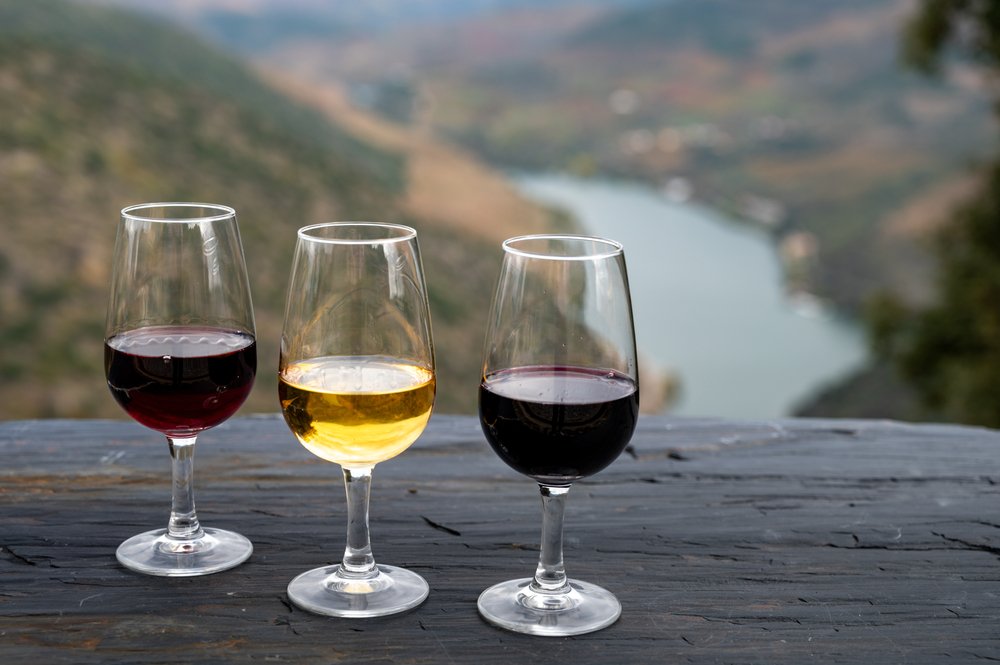 Nestled in the heart of Valença do Douro and a short journey from the well-known town of Pinhão, Quinta da Côrte is a distinguished name in the world of port wine.
However, its charm doesn't end in the vineyards; it extends into a luxurious hospitality experience, brought to life by the renowned interior architect Pierre Yovanovitch.
He blends quintessentially Portuguese aesthetics, like azulejo-inspired tiles, with a warm modern minimalism that evokes only natural materials like wicker and wood.
One of Quinta da Côrte's most striking features is its infinity pool, overlooking the verdant vineyards and undulating hills.
Breakfast in included, and there's also an on-site dinner restaurant where you can enjoy a marvelous meal and a glass of wine while watching the sun set over the valley.
And of course, you simply must try their local wines!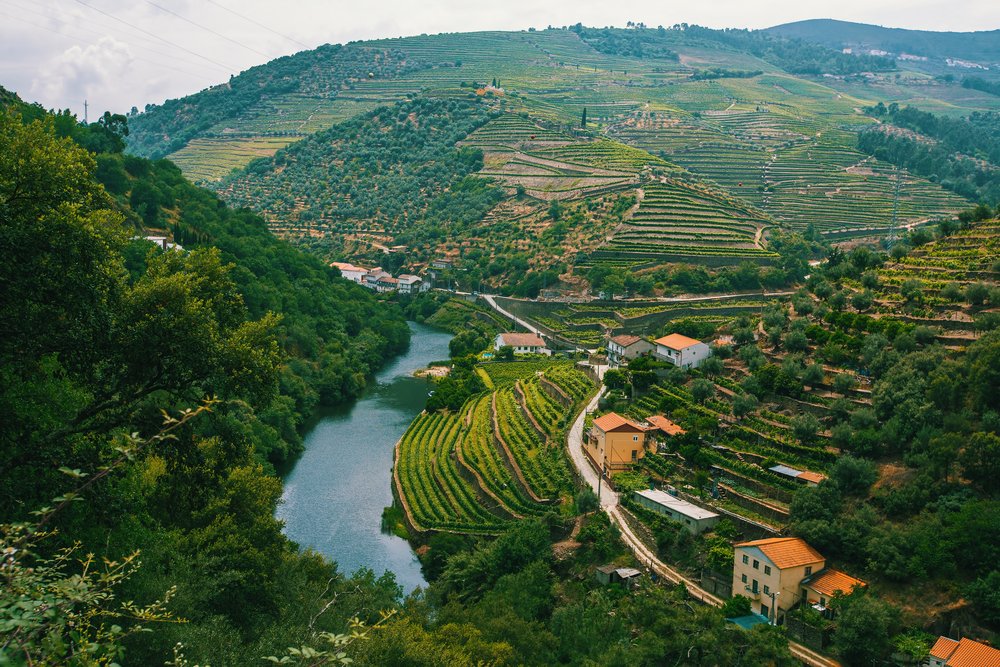 Quinta da Casa Cimeira – Book Here
Also situated in the scenic Valença do Douro a short drive from Pinhao, Quinta da Casa Cimeira is perfect for those who want a more intimate, heartful quinta stay in the Douro Valley.
This family-operated quinta and hotel offers an experience that's less like a typical hotel stay and more akin to joining a Portuguese family in their historic country home.
With lush gardens and its own vineyards, Quinta da Casa Cimeira's rural charm is everywhere, from its panoramic vineyard views to its outdoor swimming pool to its library for guests.
The interior feels very cozy, with simple, unpretentious design that contributes to the homey feel of the quinta.
That final dash of homey-ness is driven home with the ability to have dinner with all the guests, a hodgepodge of travelers from around the world united at a communal table.
And of course, breakfast is included in your stay.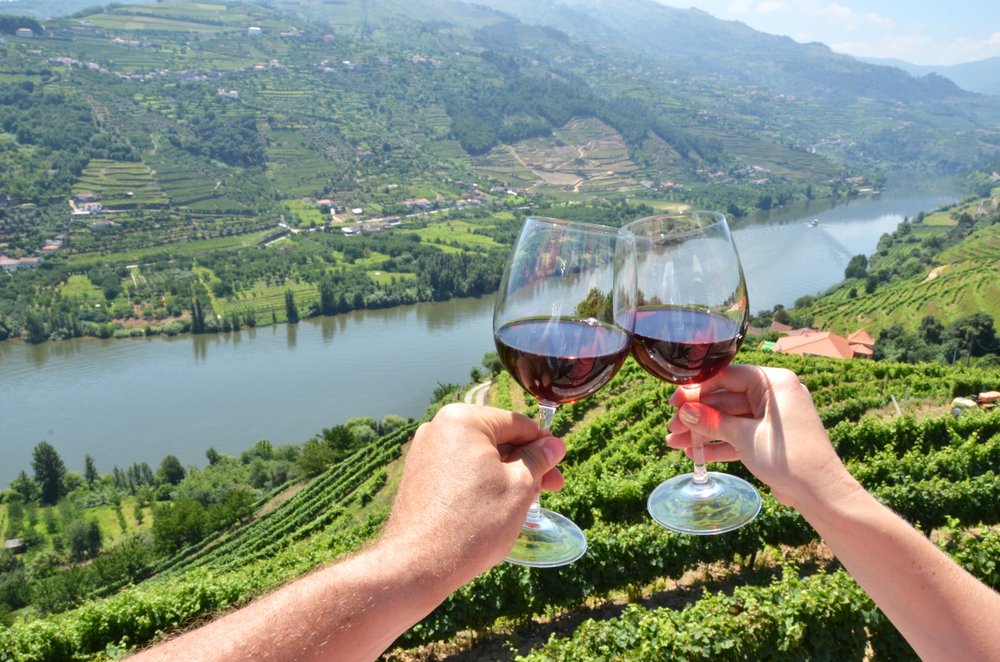 Casa do Santo Wine & Tourism – Book Here
Staying at Casa do Santo feels a lot more like being invited into the home of your most tasteful friend.
It doesn't look like a hotel at all, with its tasteful mix of vintage and modern furnishings and refurbished stone walls — it's an interior design dream.
Located in the rural village of Provesende, Casa do Santo gives you that quintessential Douro Valley charm with rustic chic rooms that overlook the sprawling terraced vineyards for which the valley is so beloved.
The standout feature here is the scenic plunge pool, surrounded by sun loungers, with the vineyards quite literally at your backyard.
This hotel offers a variety of charming double rooms with breathtaking views, all with with a delightful continental breakfast included in the stay, for a unique and personalized stay in the Douro region.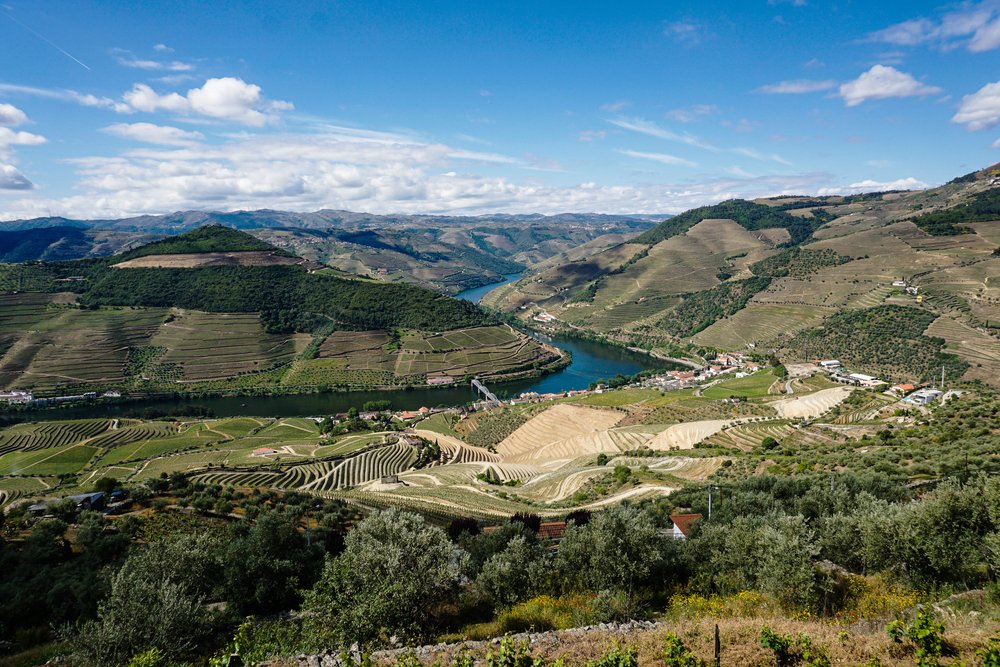 The lovely accommodations at Quinta do Tedo in the village of Folgosa stand at the confluence of the Douro and Tedo rivers, an idyllic setting with the perfect view for an unforgettable stay.
This award-winning B&B renowned for its wine tourism promises a deeply authentic experience, harmonizing luxurious comfort with the rich traditions of the Douro Valley.
The quinta welcomes visitors to partake in guided tours, offering an insider's glimpse (and taste!) into the meticulous art of winemaking and olive oil production.
Amidst the vine-covered terrains, a stunning outdoor pool beckons with views overlooking the gorgeous place where the Tedo unfurls from the Douro, creating its own river.
Accommodation at Quinta do Tedo is small and intimate, with just five rooms, each offering a river view. Every room features air conditioning for ultimate comfort, and select suites boast split-level duplex-style accommodations.
You won't have to miss a moment of enjoying the view with their dining room enclosed by floor-to-ceiling glass walls, ensuring the gorgeous scenery accompanies every meal — and glass of wine, of course.
Offering free bike rentals, canoes, and binoculars, the quinta encourages you to explore by two wheels (or none at all!) instead of four, exploring the picturesque countryside by pedaling (or paddling) about.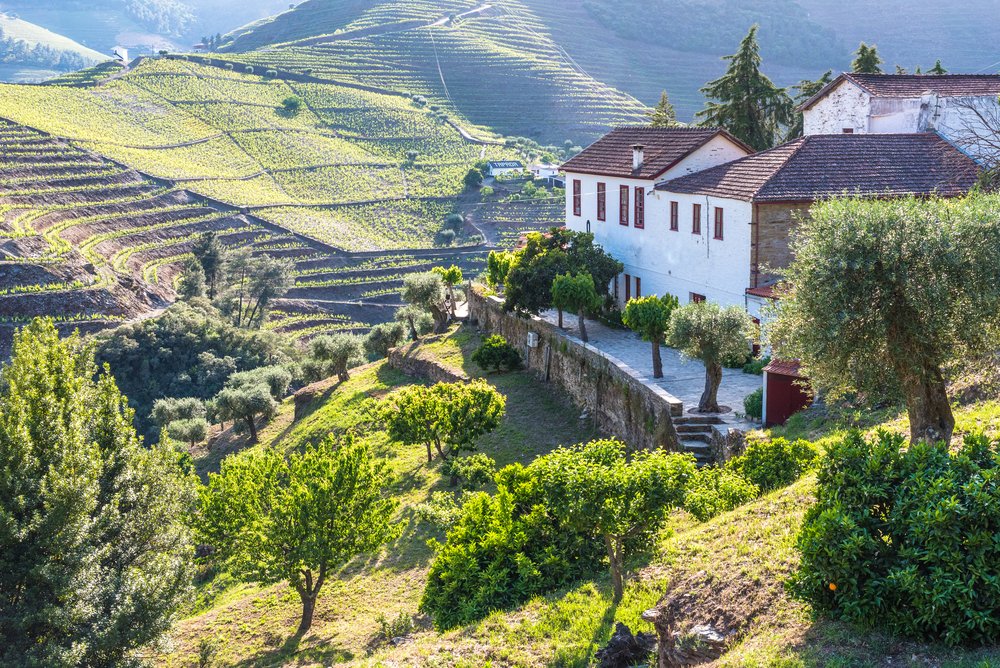 Quinta da Gricha – Book Here
Another option in enchanting Ervedosa do Douro, Quinta da Gricha is perfect for those looking for a serene and exclusive retreat.
With only four rooms across its sprawling expanse, you'll feel like this quinta is almost your own private villa — while still enjoying all the amenities of a hotel as opposed to a vacation rental.
The rooms at Quinta da Gricha are beautifully designed, with soothing pastel color palettes and pared-back furnishings which intentionally recede to highlight the true masterpiece: the breathtaking view from your balcony.
The bathrooms too pay homage to rustic aesthetics, blending stone structures and exquisite tilework to give that old-world charm.
Breakfast is included, but you can also arrange for dinners at the quinta, opting between the interior and exterior dining spaces — all paired with the estate's delicious home-grown wines, of course.
Best of all just might be the quinta's gorgeous infinity pool — and with only a few other guests possible, it's likely you'll have many moments with it all to yourself.
Allison Green is a former educator turned travel blogger. She holds a Masters in Teaching and a B.A. in English and Creative Writing. Her blog posts merge her educational background and her experience traveling to 70+ countries to encourage responsible, enriching travel. She has been a speaker at the World Travel Writers Conference and her writing, photography, and podcasting work has appeared in National Geographic, CNN Arabic, CBC Canada, and Forbes, amongst others. Now a full-time traveler, she has lived in Prague, Sofia, New York City, and the San Francisco Bay Area.