Lisbon has been a hot destination in Europe for a few years now, and the hype continues to draw more visitors.
However, while most people visit the city during the summer or shoulder months, visiting Lisbon in winter has several advantages. Most notably, you can avoid the crowds!
If you travel to Lisbon from November to February, you'll find that the city still has plenty to offer, even if the weather isn't great.
Note: This post contains affiliate links, which means I may receive a small commission if you purchase something through one of these links. Thank you for supporting the free content on this site! For more information on affiliate links and cookies, see my disclosure page for more details.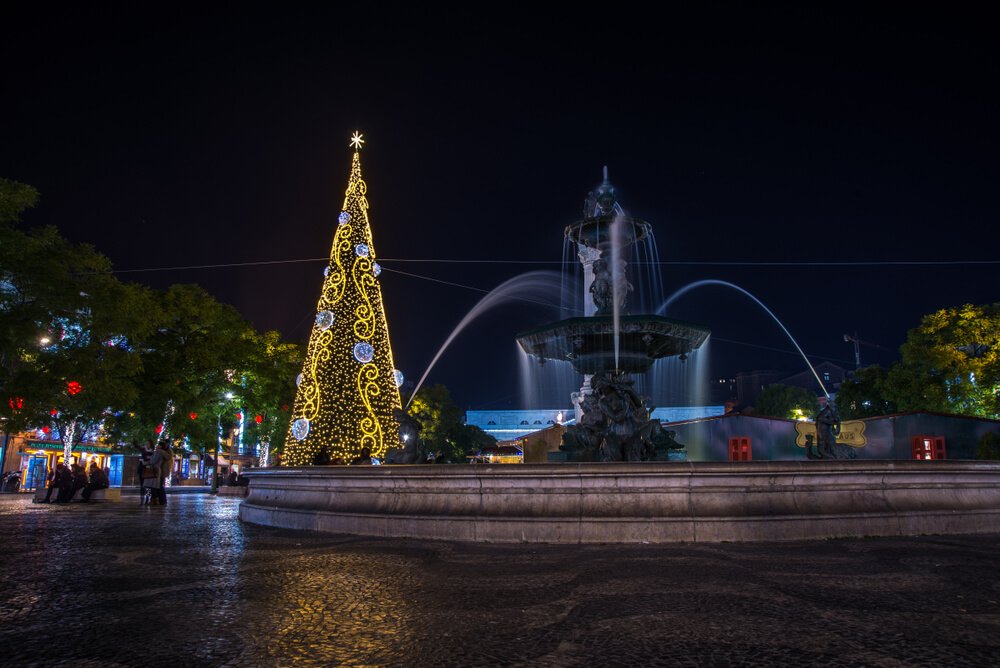 With a bit of luck, you can still get sunny days even though temperatures are a bit lower.
Winters in Lisbon tend to be mild, and it rarely stays cold or rainy for more than a couple of days in a row.
I spent two winters in Lisbon while living and working there, and I enjoyed the winter season just as much as the others!
The city squares are made festive with Christmas markets, the main attractions are less crowded, and the museums offer opportunities to stay warm and enjoy a pleasant couple of hours admiring art or learning about history.
Read on to discover the best things to do in Lisbon in winter, from visiting popular tourist attractions to discovering hidden gems. 
Also, if you plan to visit Porto in winter too, read this companion guide!
The Best Things to Do in Lisbon in Winter
Explore the remarkable Wonderland Lisboa.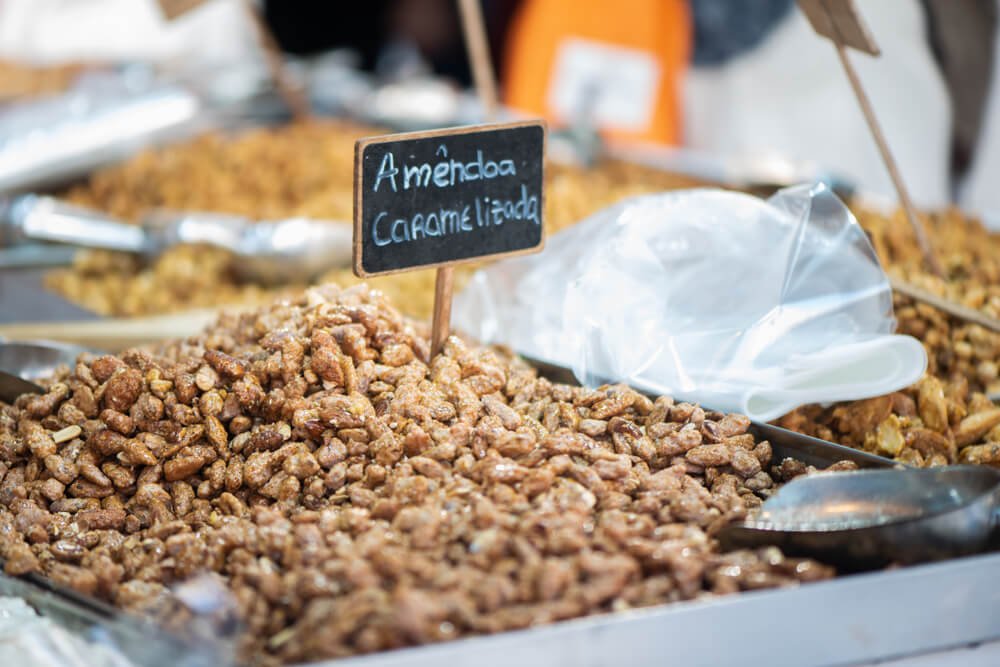 While Lisbon may not be your typical winter destination, it does offer several wonderful winter activities, including many Christmas markets!
Wonderland Lisboa is the largest market in the city, occupying the massive Parque Eduardo VII near Marques de Pombal Square.
From late November to early January, Wonderland Lisboa offers an array of Christmas activities and countless food and drink stalls.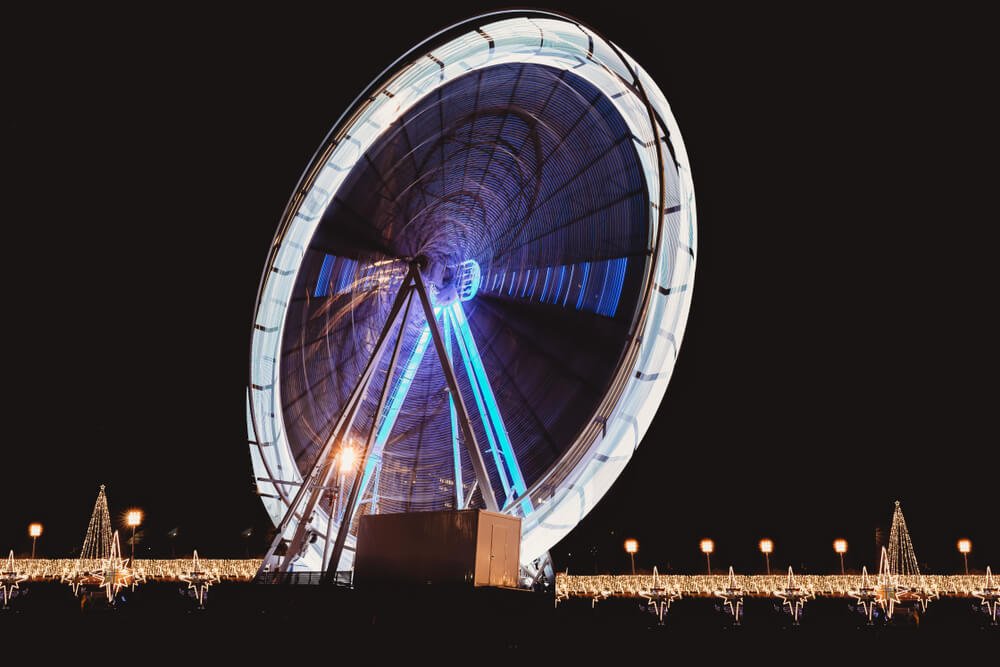 There's even an ice-skating rink for people to immerse themselves in the Christmas atmosphere… even when the weather isn't exactly Christmas-like.
Exploring Wonderland Lisboa is free, so what better way to spend a late afternoon or evening in Lisbon?
Warm up with some mulled wine and a simple (but tasty!) pão com chouriço (bread with sausage), go ice-skating, and maybe hop on the Ferris wheel for a panoramic city view.
Wander through the city without the crowds.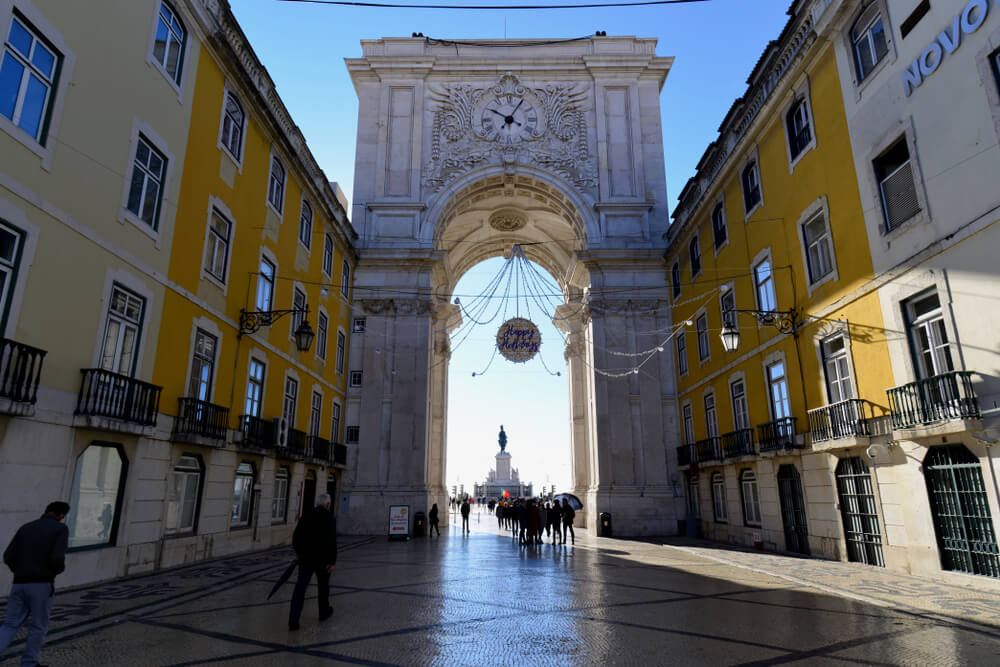 Winter is the perfect season to enjoy Lisbon without the usual crowds that flood its streets from April to October, especially during the summer months.
If you visit any time from November to February, you'll find mostly locals and expats in Lisbon, so it's a great time to be there if you're not a fan of the crowds.
Of course, the weather in winter can vary a lot, so you'll need a bit of luck. While it doesn't get too cold (usually above 15°C or 59°F), it can be very windy.
With some luck, you'll get some pleasant days with clear blue skies so you can enjoy exploring the city.
Here's just a few ideas of what to do in this less-than-crowded winter city!
You can stroll along Via Augusta, see Praça do Comércio virtually empty, visit Castelo do São Jorge, get lost through the charming alleys of Alfama, and watch the early sunset from one of the dozens of miradouros.
Discover other Christmas markets in Lisbon.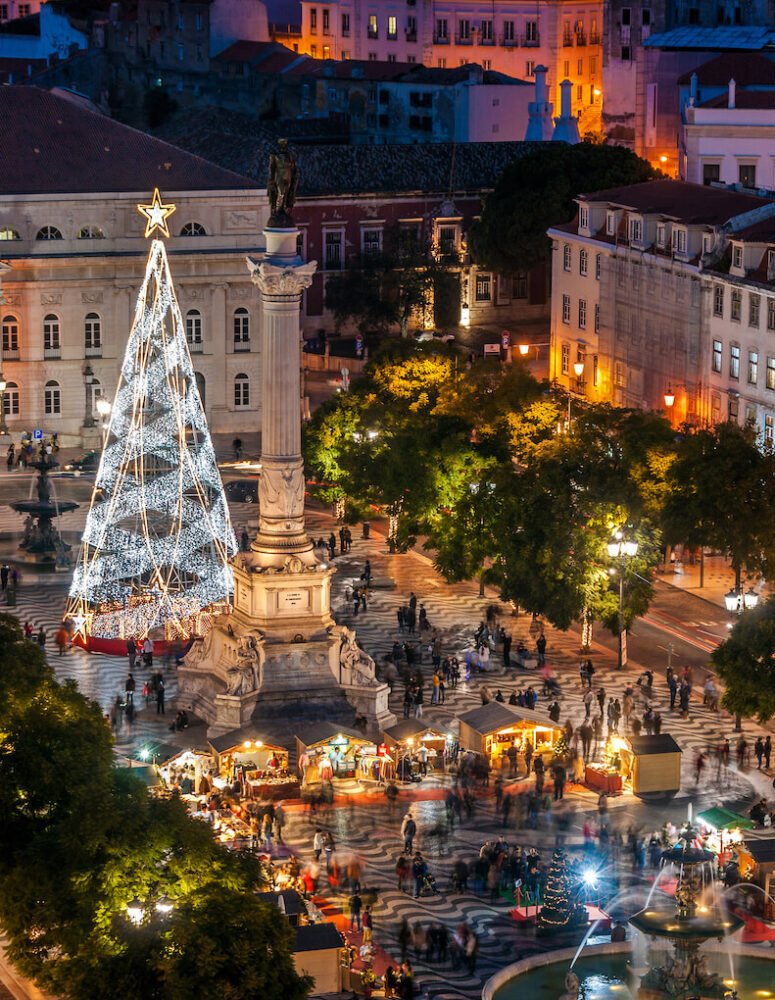 Wonderland Lisboa may be the biggest Christmas market in the city (and all of Portugal), but there are many others you can check out!
Smaller Christmas markets pop up all over the city, the most important ones being in Praça do Rossio (pictured above), Campo Pequeno, and Alvalade.
However, if you spend some time wandering around, you'll certainly stumble across other smaller markets.
If you want to go in with a little more advance preparation, you could plan to visit a different Christmas market each evening.
All markets offer food and drink options, so you can try different Portuguese tapas (petiscos) and other delicacies while staying warm with the ever-present mulled wine.
It simply doesn't get more Christmassy than this!
Visit the Fado Museum.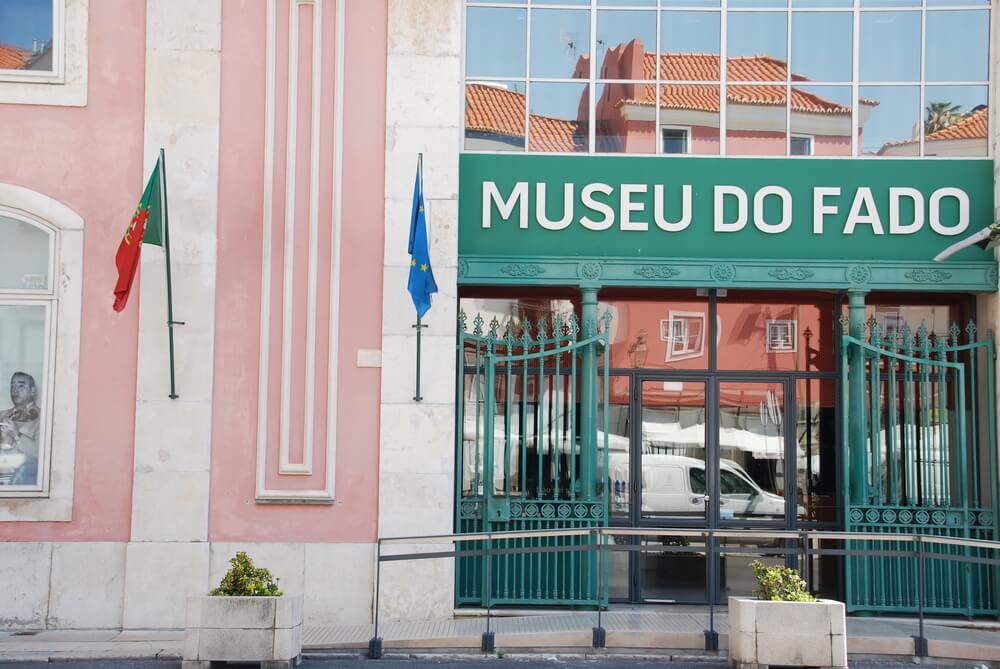 If you're looking for an indoor activity in Lisbon during the winter months, you absolutely have to visit the Fado Museum.
Fado is a unique music genre born in Lisbon in the early 19th century, right in the historical neighborhood of Alfama.
The Fado Museum is one of the most unique museums in Lisbon, and the perfect place to learn more about the city's cultural heritage.
Fado is just as representative of Lisbon as the historic yellow trams riding through the narrow alleys of Alfama!
This interactive museum allows you to discover the history of fado and listen to some of the most iconic songs. The entry ticket is only 5€.
Attend a Fado show
After learning all about fado music at the Fado Museum, why not attend a fado show in Alfama, the birthplace of the music genre?
Many restaurants offer dinner with afado show, so you can just walk around Alfama and check out a place that inspires you.
Alternatively, you can plan ahead by booking a Fado show experience online. You can choose between several combinations, like this fado live show with Port wine or this one with Portuguese tapas.
Last but not least, you could simply enjoy a beautiful live show (no dinner or drinks) at Fado in Chiado.
Check out impressive art at the Calouste Gulbenkian Museum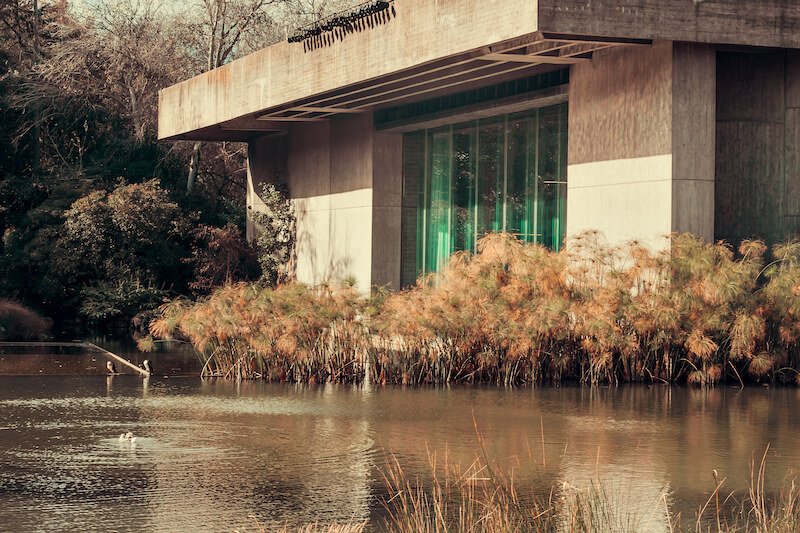 If you're passionate about art, the Calouste Gulbenkian Museum is home to some genuinely impressive masterpieces.
The collection belonged to the British-Armenian businessman and philanthropist Calouste Sarkis Gulbenkian and is among the most important private art collections.
The modern museum was built specifically to house the roughly six thousand pieces that Gulbenkian collected throughout his life.
The range of origins and styles is breathtaking, including Egyptian, Greco-Roman, Mesopotamian, Armenian, and Eastern Islamic art.
In addition to that, you can also admire paintings by Rembrandt, Monet, Degas, and Renoir and sculptures by Rodin and Pigalle, to name just a few, all in one place!
The museum is open every day except for Tuesdays, and adult tickets are 10€. And even better — the museum offers free admission every Sunday after 2 PM!
In addition to the permanent collection, there's always some temporary exhibition you can check out.
Discover exotic plants at Estufa Fria.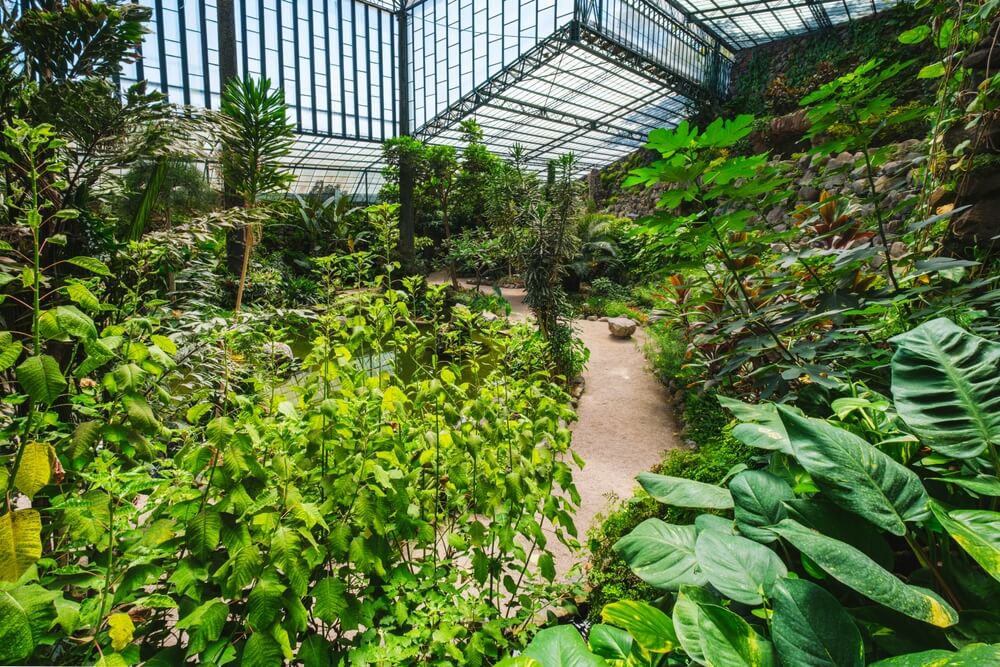 The lovely Estufa Fria is a big greenhouse in Parque Eduardo VII, where you can enjoy a walk among exotic plants!
The space is divided into three different environments housing plants from all over the world.
Unlike most botanical gardens, the Estufa Fria is nearly all indoors, so you can visit it even on a rainy day.
The cool thing about Estufa Fria, aside from being a gorgeous lush space, is that it's among the lesser-known spots in Lisbon, with much smaller crowds.
Even better, the entry fee is only around 3€, so it's a bargain for a pleasant and informative visit.
Admire the azulejos at the National Tile Museum.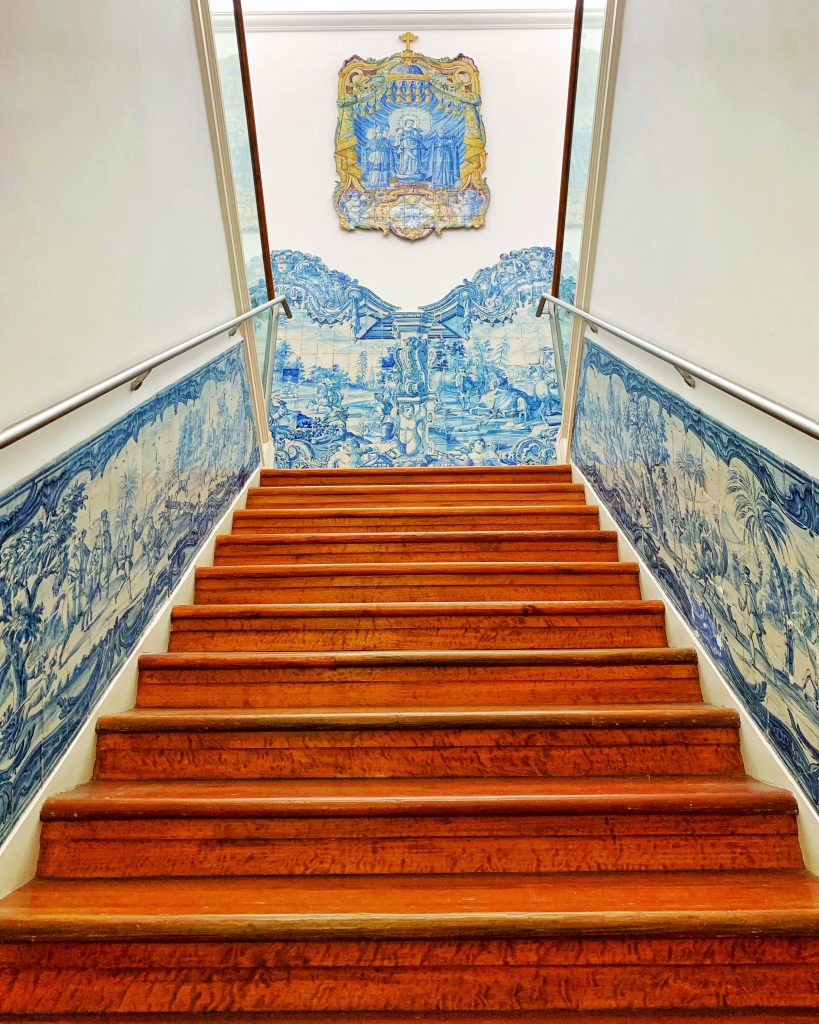 Azulejos are the gorgeous painted tiles that cover the façade of many buildings and even important monuments in Lisbon and throughout Portugal (especially in Porto!).
Along with canned sardines and cork, tiles are probably the most iconic things about Portugal, so they also make for great gifts!
The National Tile Museum, officially known as the Museu Nacional do Azulejo, is housed inside the 16th-century Madre de Deus Convent and displays a vast collection of decorative azulejos.
Through examples of beautifully decorated tiles, you can learn about the history of azulejos in Portugal from the 16th century until the present day.
The museum is a bit far from all the main attractions, but you can get there by bus or catch the metro to Santa Apolónia and walk for about 20 minutes. It's one of the most photogenic places in Lisbon, so it's worth it!
While you're there, be sure to check out Monkey, one of the iconic sculptures by Bordalo II, on a building close to the museum.
Go shopping at Centro Vasco da Gama.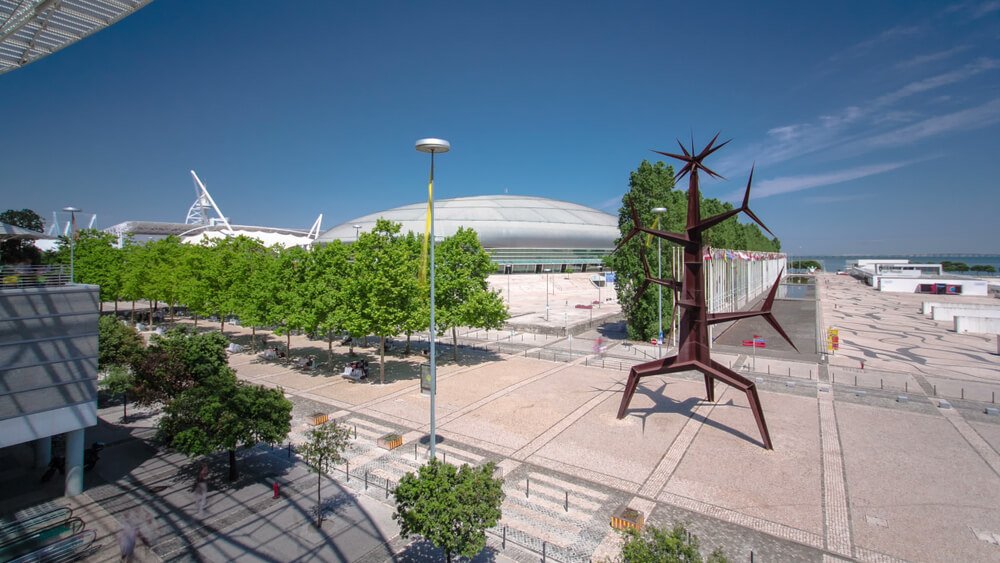 Another way to stay warm in Lisbon in winter is by heading to one of the massive shopping malls for shopping, dining, or even watching a movie.
Lisbon has several shopping malls with dozens of shops, restaurants, and movie theaters, but Centro Vasco da Gama is among the biggest, and certainly one of the most popular.
Centro Vasco da Gama is in Parque das Nações, the most modern area of Lisbon, located close to the airport.
The district was originally developed for the 1998 Lisbon World Exhibition and later transformed into the modern residential and commercial area you can explore today.
You can combine your shopping mall visit with a stroll along the Tagus River or a cable car ride with a view over the imposing Vasco da Gama Bridge (book online here!).
Escape to the underwater world at the Lisbon Aquarium.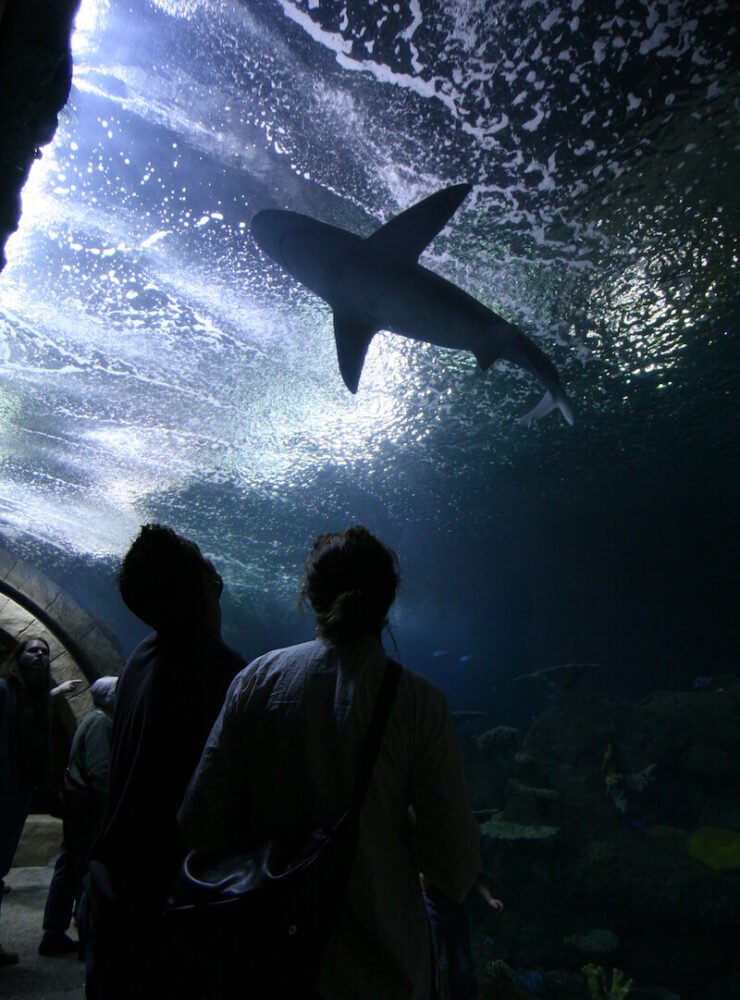 If you head over to Parque das Nações, you can also visit the Oceanário de Lisboa, one of Europe's largest aquariums.
The aquarium's main attraction is a massive tank housing roughly 100 marine species.
Four other tanks complete the exhibition, each dedicated to a specific marine habitat.
The aquarium is a popular destination during the peak tourist season, but it's much less crowded in winter.
Plus, it's all indoors, which makes it perfect to escape a cold, windy day in Lisbon.
The only downside is that it's slightly pricy for Lisbon standards. An adult ticket is 25€, and you can buy it online here.
Head to Sintra and Visit Palacio da Pena with fewer crowds.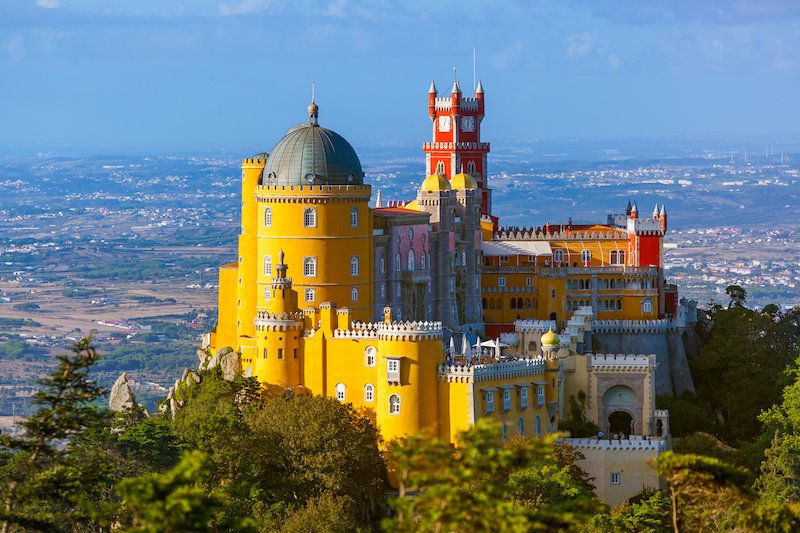 The National Palace of Pena is among the most popular attractions in Portugal, so you can rarely expect to find it without crowds.
However, if you visit in the offseason, between November and February, you'll likely find it much more manageable with fewer people around.
You should, nonetheless, avoid the holiday season, when Lisbon sees an increase in tourism.
Pena Palace is a spectacular hilltop palace in Sintra, overlooking the Sintra-Cascais Natural Park.
With its colorful towers and terraces, the palace is among Portugal's most iconic landmarks and a must for anyone visiting Lisbon.
You can reach Sintra by train in just one hour from Lisbon to do an independent day trip or join one of the many day trips from the Portuguese capital, like this Pena Palace, Sintra, Cabo da Roca, & Cascais Day trip.
Check out the Christmas market in Sintra.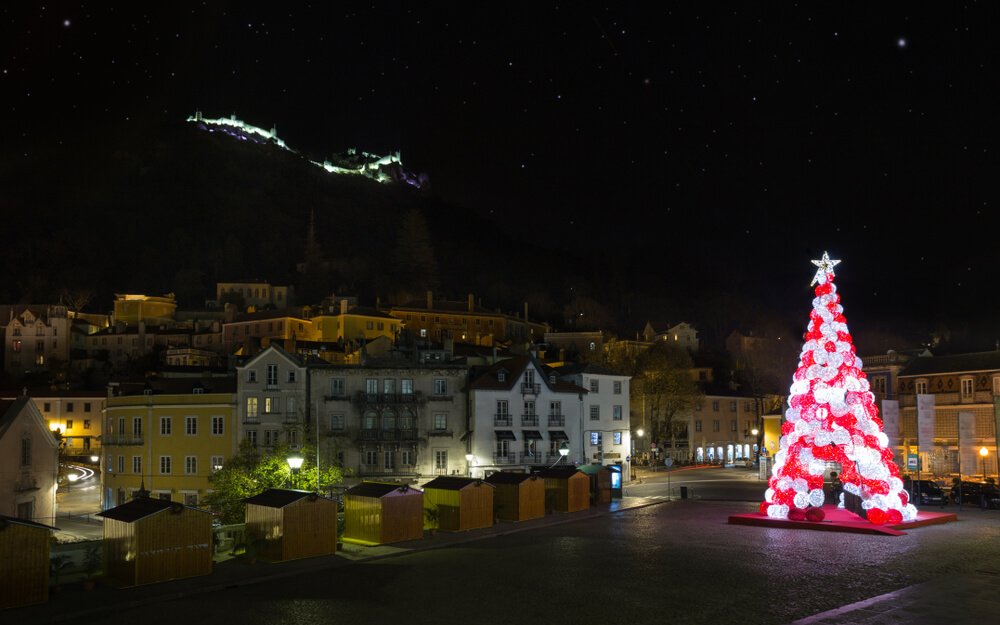 If you take a day trip to Sintra to visit the gorgeous palaces, you should also stop by the Christmas market!
The Reino do Natal Market takes place between Parque da Liberdade and Sintra's main square, Terreiro da Rainha Dona Amélia, right by the Sintra National Palace.
Like all Christmas markets, it features small wooden huts selling all kinds of foods, drinks, Christmas decorations, and souvenirs.
The area in Parque da Liberdade is particularly charming, immersed in the lush vegetation of the small park.
Both locations are just a short walking distance apart so it's easy to check out both!
Have brunch at one of the many hip cafés.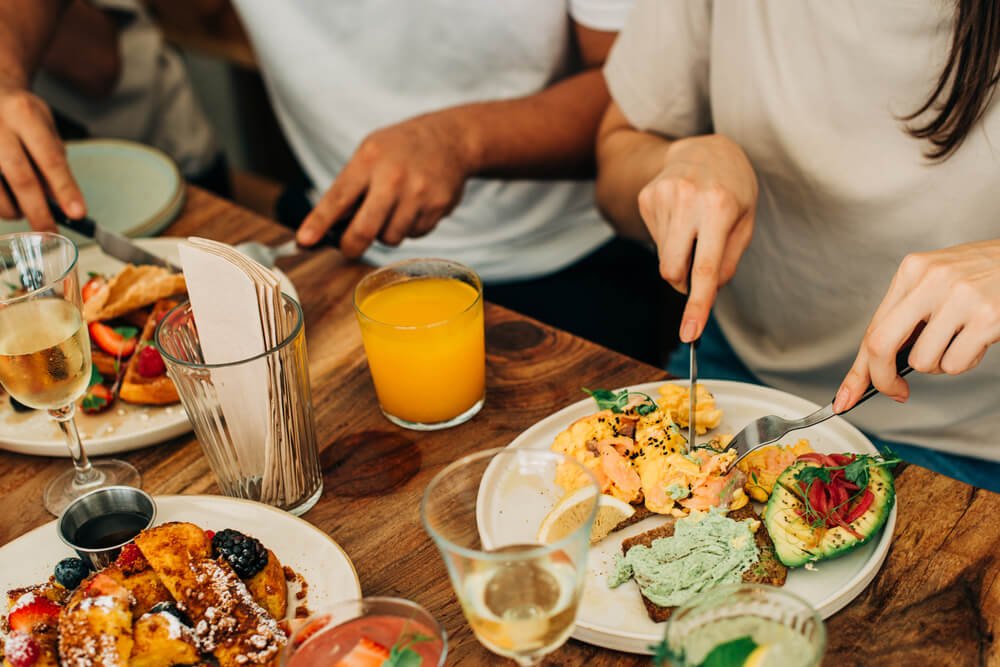 Lisbon has changed a lot in recent years, for better or worse.
One of the most notable changes is the opening of dozens of specialty coffee and brunch places!
While once you would only find a handful of such places in the entire city, they are now everywhere.
If you're a brunch fan, there are many options all over Lisbon's center.
Try delicious smoothies and pancakes at Fauna & Flora, have an Instagram-worthy brunch at Dear Breakfast, or, if you have the patience, line up for brunch at Nicolau, one of the most popular spots in Lisbon.
Visit the Jerónimos Monastery without the crowds.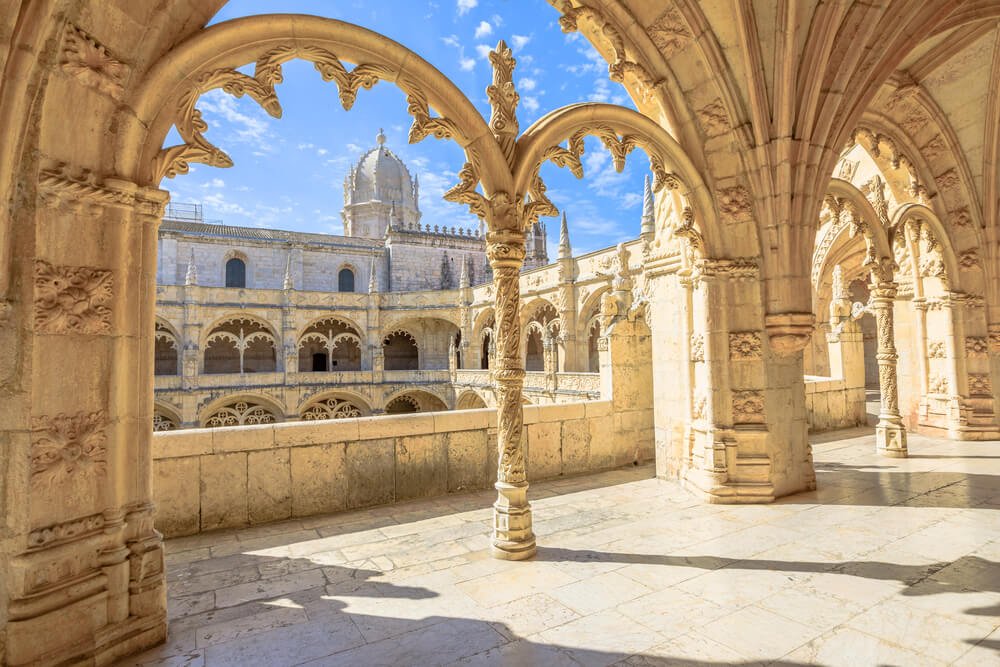 The Jerónimos Monastery is among Lisbon's must-see landmarks, along with the nearby Belém Tower.
Both attractions are in Belém, a district of Lisbon a bit further away from the city center.
Not coincidentally, the two monuments are a UNESCO World Heritage Site.
Built in the early 16th century, the Jerónimos Monastery is among Portugal's most significant examples of Manueline architecture, also known as Portuguese Gothic architecture.
During the busy season, you can stand in line for hours to enter. Visiting in winter means shorter and faster lines, so take advantage of this!
You can get to Belém by train from Cais do Sodré in under 10 minutes, but buses and trams are also available.
Note that while you can buy skip-the-line tickets online, those only allow you to skip the ticket queue.
There are entry limits, so you may still need to stand in line to enter until a spot clears up.
The same thing goes for the Tower of Bélem entrance tickets; you can skip the on-site ticket booth but there is still often a wait to enter the tower.
Seeing these two sights together (as well as visiting the Museu Nacional dos Coches and getting fresh custard pastries at Pastéis de Belém) is the perfect way to spend a day in Lisbon!
Sample Portuguese and international cuisine at Time Out Market.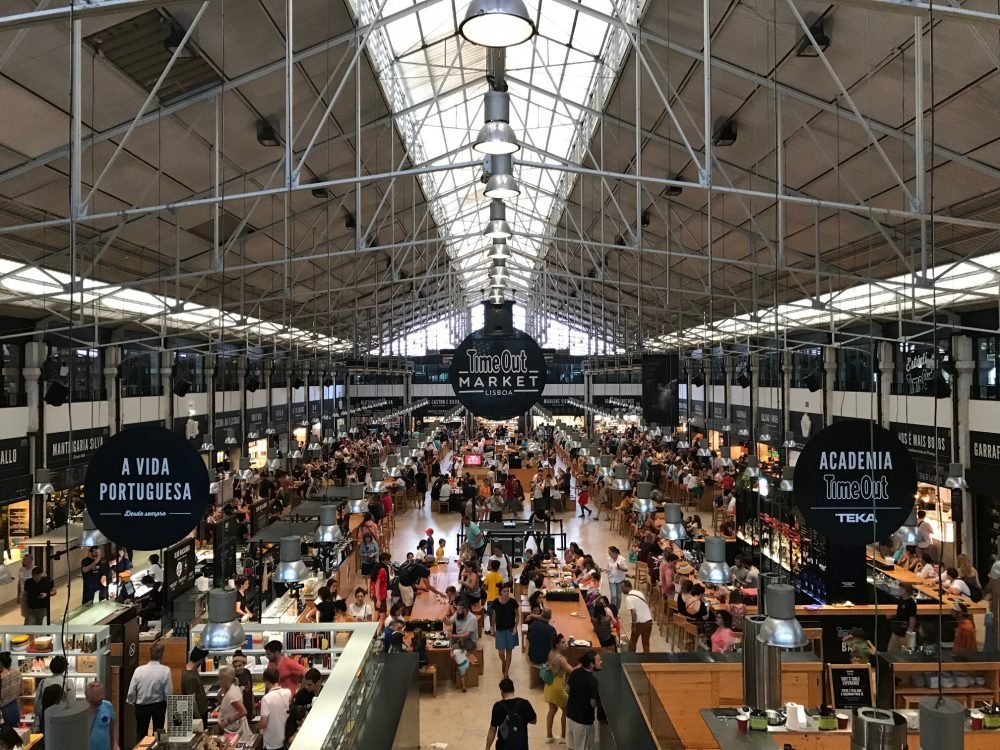 The well-known Time Out Market is a big food court close to Cais do Sodré station, with various stalls and small restaurants serving all kinds of Portuguese and international cuisines.
You can sample anything from burgers and pizza to Portuguese tapas and desserts.
The great thing about Time Out Market is that the food stalls are all around the court while the seats are at the center.
If you're traveling with a group and everyone wants different things, you can just split up to go pick up your various delicacies before coming back together to enjoy the food!
Plus, it's indoors, so you can escape the cold. Be sure to stop by the Manteigaria for the best pastéis de nata in Lisbon (in my opinion!).
Ride the historical yellow trams.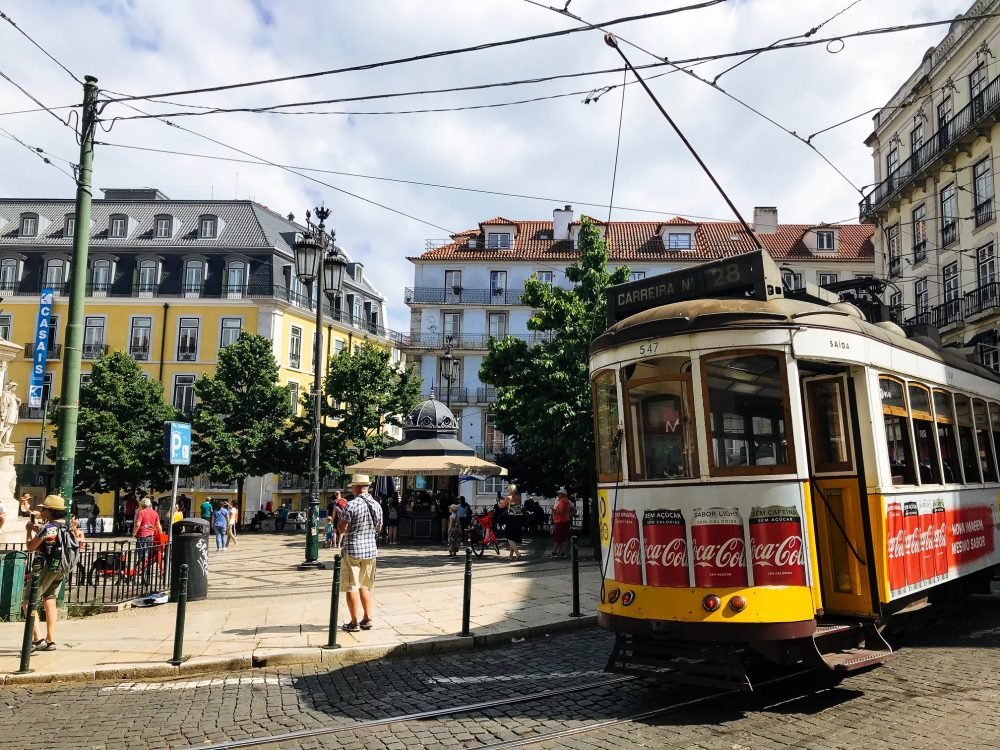 A fantastic activity to try on a cold winter day in Lisbon is riding one of the yellow historical trams.
Most trams pass through Alfama, the most characteristic neighborhood in Lisbon.
Trams sometimes pass through streets so narrow that you could put out a hand and touch the buildings. These spots make for some iconic pictures.
The trams can be extremely crowded in the peak season, but you can find them nearly empty in winter, so you can sit and enjoy the ride.
Tram 28 is the most popular one, connecting Martim Moniz to Campo de Ourique and passing through the lovely neighborhoods of Alfama, Baixa, and Estrela.
Avoid the 3€ fee by getting a 24-hour ticket or rechargeable Viva Viagem ticket (the same cost as the subway or bus) if you have a few days in Lisbon.
Check out the charming Christmas market in nearby Óbidos.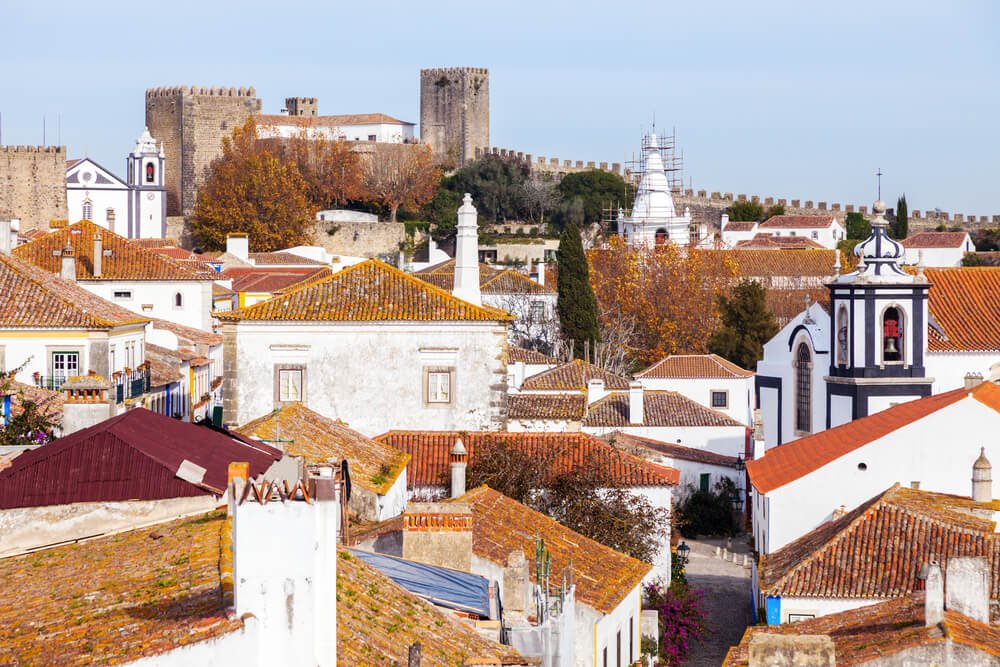 If you're up for a short day trip just north of Lisbon, Óbidos is the most charming place you could ever hope to visit in winter!
The walled medieval town is home to one of Portugal's most delightful Christmas markets, Óbidos Vila Natal.
The whole town turns festive, but the main activities are around the Óbidos Castle.
Fairy lights, small, wooden houses, and holiday decorations combined with medieval architecture turn the town into a true fairytale village.
The best way to get to Obidos is by car, but you can also catch a bus from Campo Grande.
Stay warm with a drink at a quirky bar.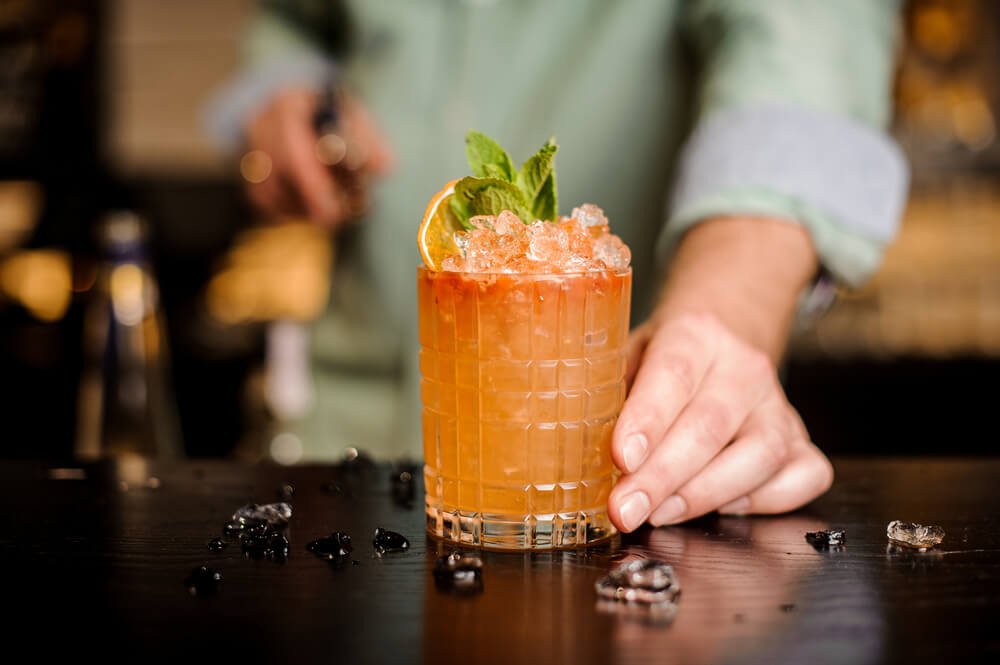 Lastly, the perfect way to enjoy a winter evening in Lisbon is to enjoy a cocktail or a glass of wine in one of the many bars around town.
Lisbon is known for its party scene, so it doesn't lack bars, and some are truly original.
Two of my favorite spots to enjoy a drink on a cold evening are Pensão Amor and Foxtrot.
Pensão Amor is a former brothel in the Baixa district with quirky décor and several rooms in different styles.
Foxtrot is a speakeasy close to Principe Real with a 1920s vibe and vintage décor.
Of course, if you look around, you'll find many other cool places all over the city.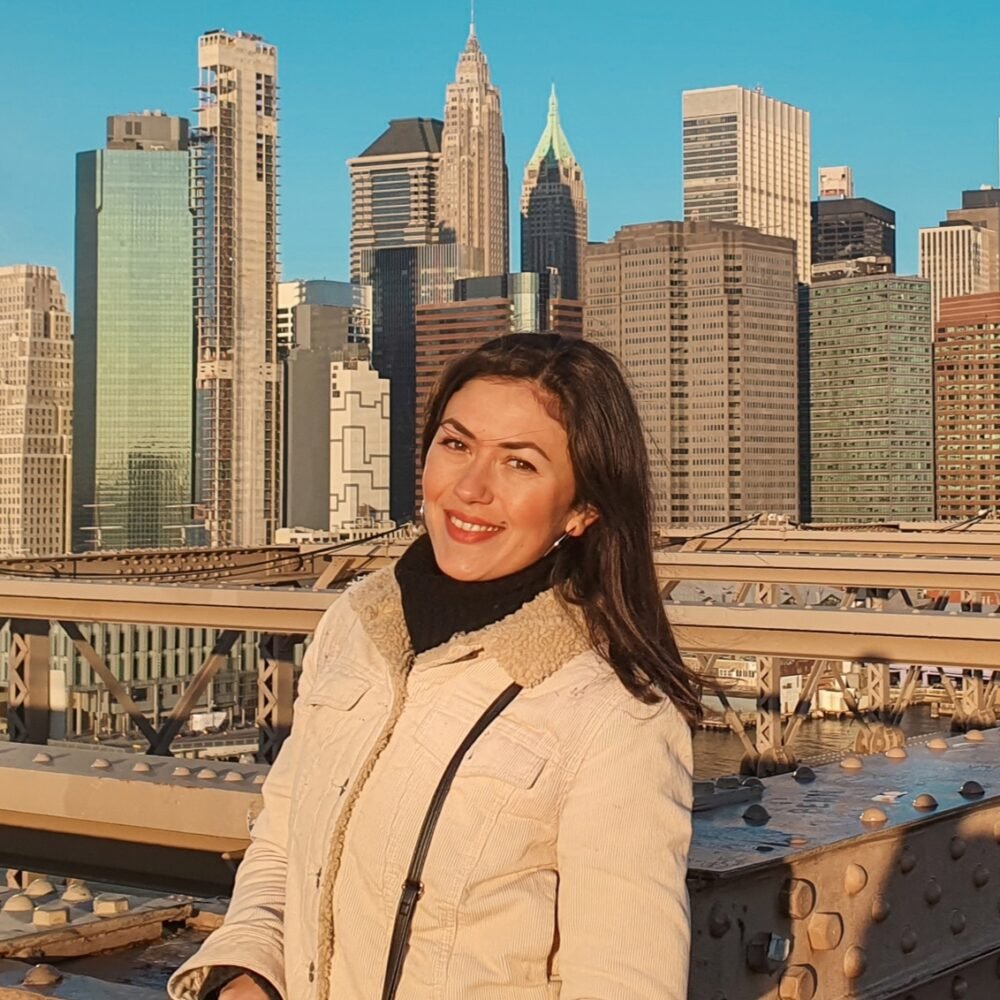 Roxana is a Romanian-born freelance travel writer who has lived in Italy for over 15 years. She has a Master's in Journalism and a Bachelor's in Film Studies, and she studied at Università degli Studi di Roma Tre. Besides her native Romania, Roxana has lived in Rome, Lisbon, and Berlin, and she has traveled through much of Europe in search of hidden gems, history, and culture.