Flashing aurora in brilliant hues of lime and fuchsia swirling overhead at night, glistening blue ice castles made of snow by day, dog sledding through frozen landscapes with fjords in the background, meeting Sami reindeer herders… I'm ready to re-book another ticket to Tromsø just writing that.
Put simply, Tromsø in winter is one of the most magical destinations I can think of.
One of the main people flock to Tromsø in winter is to have a chance to go whale watching in one of the best destinations in the world to see two of the most magical whales in their natural habitats: orcas and humpback whales.
However, there are a lot of things that people don't know about whale watching in Tromsø, and this post is dedicated to demystifying that, so you know exactly what to expect on your Tromsø whale watching tour.
I've gone whale watching in nearly a dozen countries around the world, but whale watching in Tromsø is quite different, so even if you've gone whale watching before, you'll want to read this post!
13 Things to Know Before Whale Watching in Tromsø
There is a very limited window for whale watching.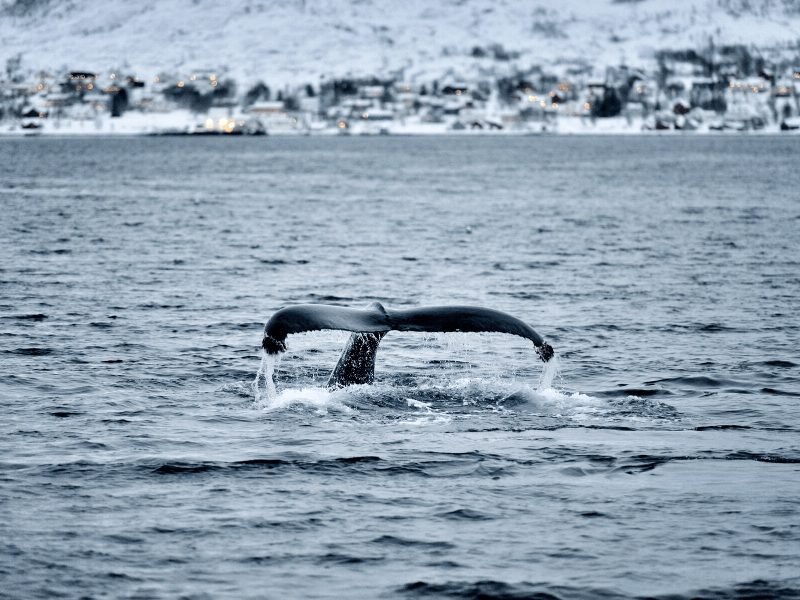 Note: This post contains affiliate links, which means I may receive a small commission if you purchase something through one of these links. Thank you for supporting the free content on this site! For more information on affiliate links and cookies, see my disclosure page for more details.
Whale watching season in Tromso only runs from November through January.
Come any earlier than November and the tours likely won't start yet — come any later than January and the whales will have likely left.
The period from mid-November to mid-January is the most certain for whale watching sightings, but you will also be dealing with the least amount of light at this time.
You will have limited light hours for whale watching.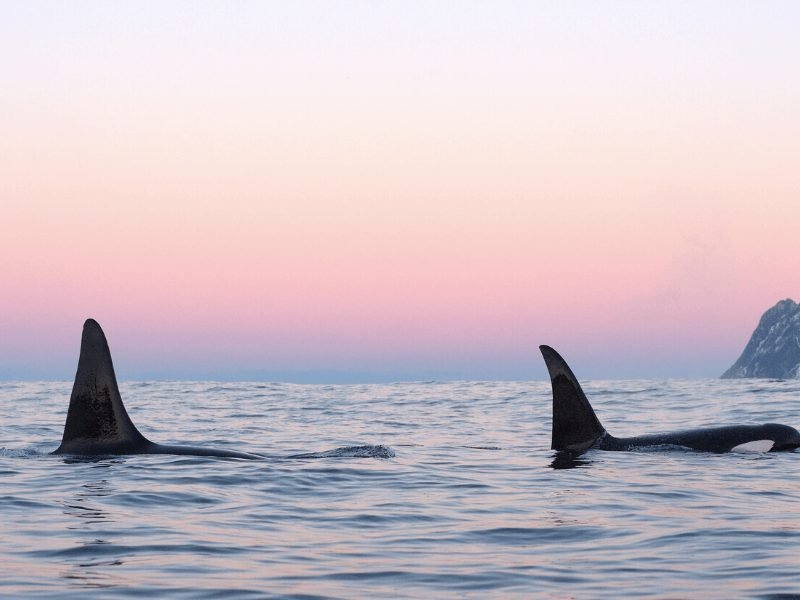 Unfortunately, November to January is also the period with the shortest hours of true daylight in Northern Norway, including a long stretch of "polar night" where the sun does not rise above the horizon in the Arctic Circle.
Technically, polar night lasts between November 27 and January 15, but because of the mountains surrounding Tromso you usually won't see the sun rise between November 21 to January 21 — two whole months without a proper sunrise!
However, while you won't experience a true sunrise or sunset, you will get more of the "twilight hours" that offer beautiful pastel light. (You can check the actual sunrise/sunset and twilight hours time here)
Expect about 5-6 hours of 'civil twilight' (between roughly 9 AM and 3 PM) where you can see fairly easily, but there is no sun in the sky: think of the light quality just before sunrise or just after sunset, and that's what you'll see.
So don't expect pitch blackness — you will absolutely be able to experience whale sightings without any artificial light like lanterns or headlamps!
Think pretty pinkish-purple pastel skies with whales feeding in the distance — pretty magical, right?
Research and prepare your camera for low-light photography.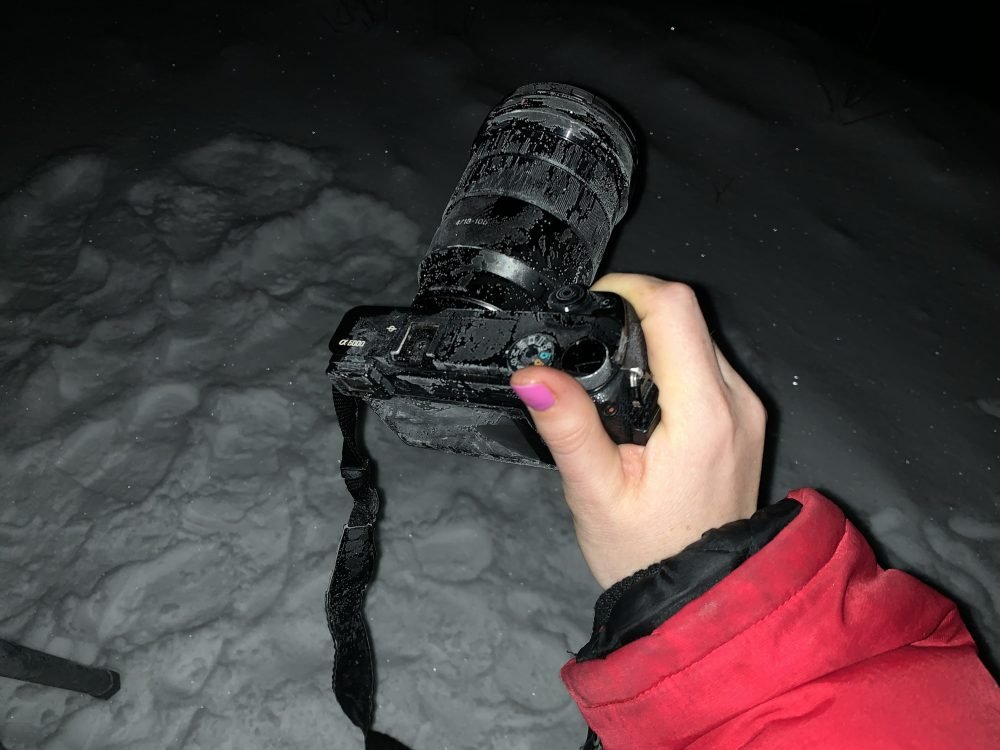 You will want to get comfortable with whatever camera you are using before you leave for Tromso, especially photographing in low light settings.
Photographing wildlife can be hard in lower-light settings because you need a fast shutter speed to capture their movement. I suggest a minimum shutter speed of 1/500, but 1/1000 is even better if possible.
From there, you'll need to balance aperture and ISO. I recommend having the highest aperture possible on your camera (the lowest f number), and then picking the lowest possible ISO that will also allow you still have enough light to capture the whales.
If you don't want to fiddle too much with manual settings, you can set your camera on shutter priority mode (usually designated with an S on your camera) and that will adjust the settings once you set the shutter speed.
I also suggest setting up autofocus, using a fast memory card, enabling a 'burst' mode for snapping photos, and finally, be sure to shoot in RAW because you'll be able to pull out more detail in post-processing, even if your photos look a little dark initially.
You'll also want to bring extra camera batteries because cold weather will definitely zap your batteries faster than expected!
The boat ride is really long.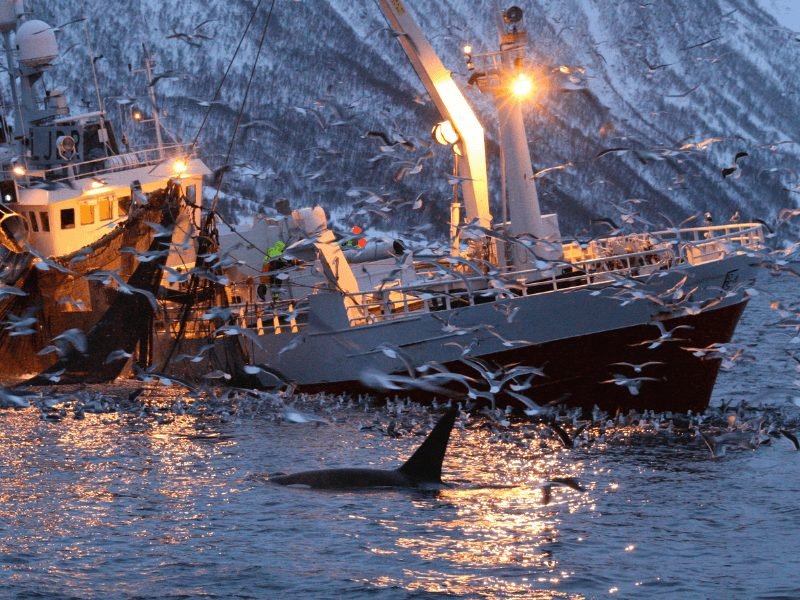 The whales no longer feed in the waters directly near Tromso. Instead, they feed near the island of Skjervoy further out in the Atlantic.
This means that a whale watching tour from Tromso will actually need to go all the way out to Skjervoy, which takes 3 hours, before even beginning to have a hope of whale watching!
You may, of course, get to see other wildlife along the way, but it is a long boat ride. Bring some entertainment to keep you busy!
I suggest audiobooks or podcasts, or a deck of cards to play with a companion.
Once you arrive at the feeding area, you'll usually have 1-1.5 hours of actual whale watching before making the return 3 hour voyage. That means spending 7-8 hours out at sea!
There are options where you can take a bus to Skjervoy and then take a RIB boat to get up close and personal with the whales. This is more expensive, but may be a better option if you are worried about seasickness from too much boat time.
The waters can be rough!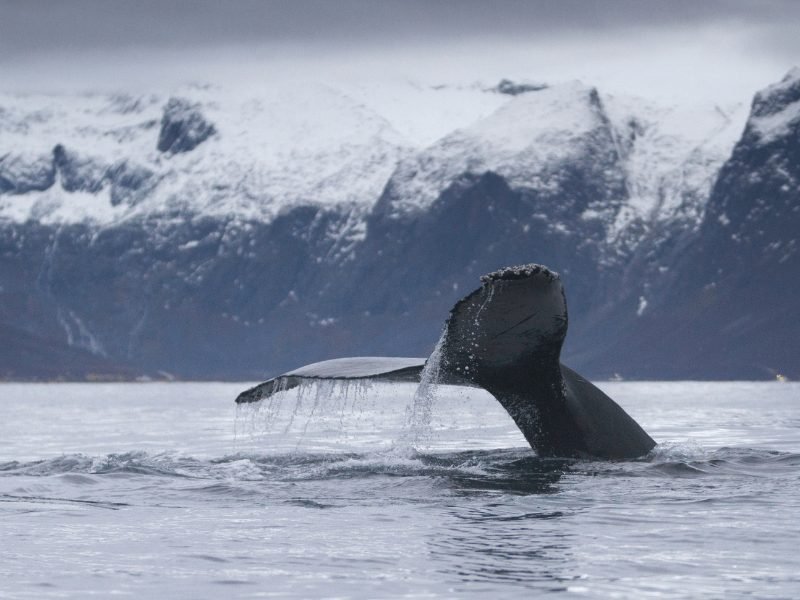 Remember — you'll be on the open ocean as you make your way towards Skjervoy! The water in the fjord of Tromso is pretty calm, but once you leave the fjord, it can get really rough.
Many people report feeling seasick during their tour. I recommend taking the strongest Dramamine you can handle while still staying awake (although you can definitely take a nap while you are out on your way to Skjervoy).
There are also natural remedies like ginger chews and seasickness bands, if your seasickness is on the milder end.
And again, a combination boat and bus tour may be more appropriate if you are very prone to seasickness.
Wear warm clothes for your tour!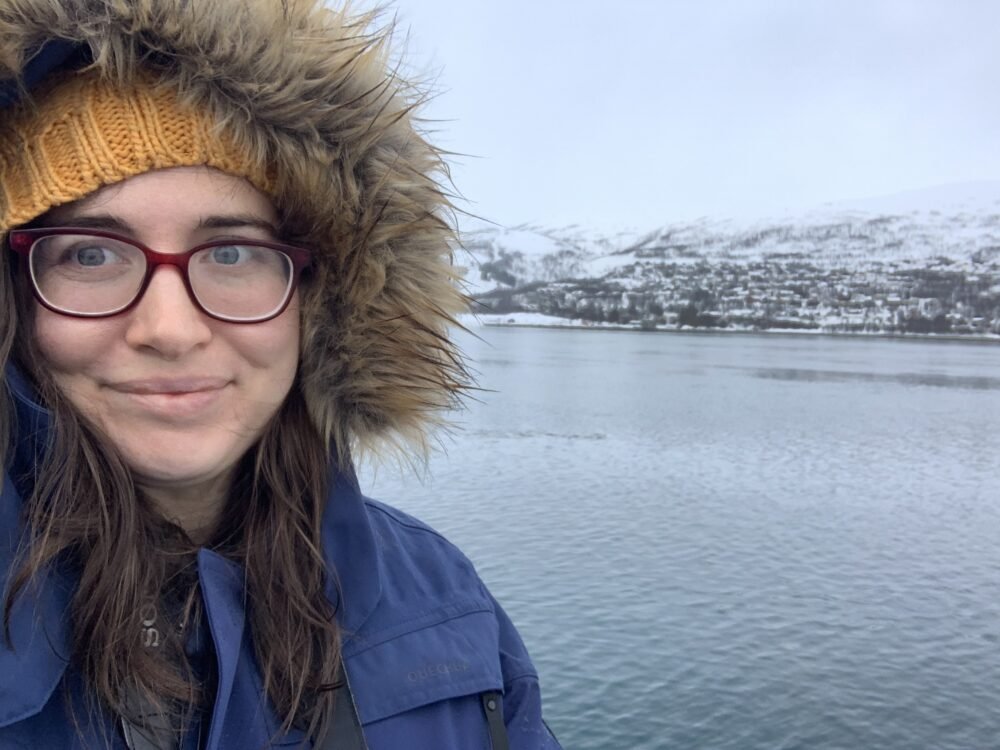 While most of the tours will provide you a thermal suit that will keep you nice and toasty warm on your tour, I also suggest dressing appropriately in warm base layers.
I suggest merino wool base layers since they are breathable yet heat-retaining as well as odor-resistant… meaning you can wear the same base layers multiple times on your trip. This streamlines both what you need to pack and buy, as well as what you need to wash!
You'll also want wool socks and water-resistant snow boots, mittens (they are warmer than gloves!), a tight-fitting hat that warms your ears, and a scarf to keep your neck warm.
Over all that, I suggest a pair of waterproof pants since the sea spray may be quite strong if there are any stormy weather or large waves, and you will be uncomfortable if you get wet!
Finally, top it all off with a water-resistant hooded parka like this one, which I loved for my trip to Norway.
The whales can be unpredictable.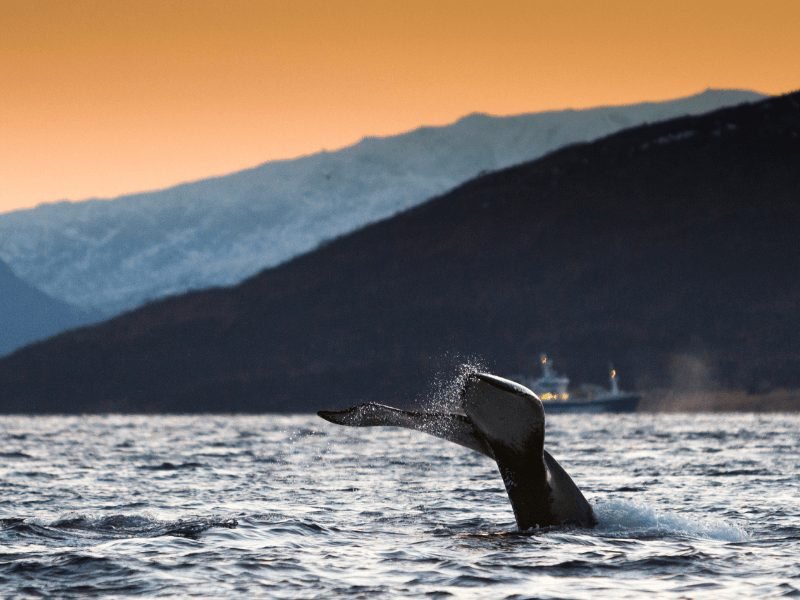 Even if you are traveling in peak whale season, remember that whales are wild creatures and are not there for your entertainment. You are lucky to get to see them, and it is not a guarantee, like everything in nature!
There is a small chance that you might not get to see whales on your whale watching safari. You might want to ask your whale watching tour company if they offer free rebooking if you don't get to see whales on your outing — some companies do offer this.
Opt for a smaller boat where possible.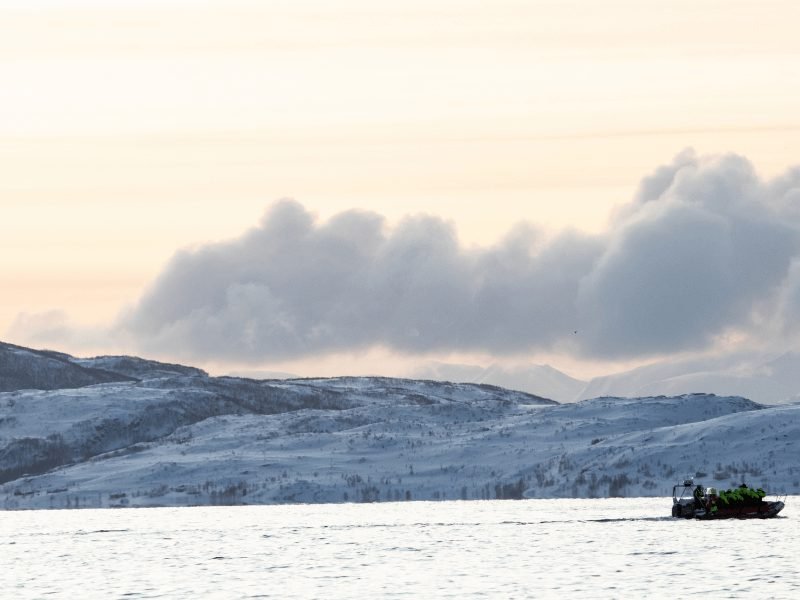 The smaller the boat tour, the more enjoyable your tour will be. RIB boat excursions are the best because these tours are limited to twelve people, and everyone will be guaranteed a great view.
There are some tours, such as the final one on my list (which I don't really recommend unless it's the only available option), that fit nearly 150 people on their boats.
These tours can be stressful because people will all be trying to get the best view — imagine 150 people all wanting to be on the same side of one boat trying to get photos. Not fun.
The smaller your boat tour, the easier it will be for you to see whales and get the photos you want to make memories of a lifetime!
Some boat tours are more ethical than others.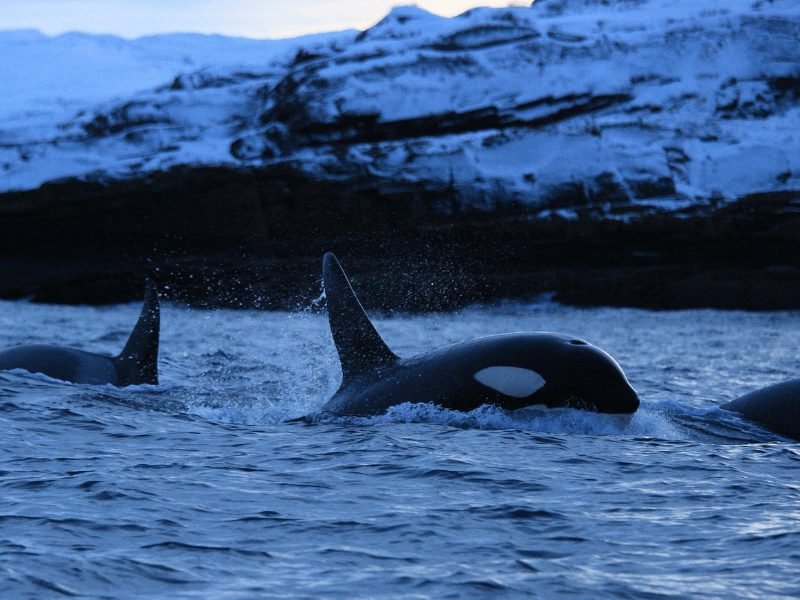 On a similar token to above, these smaller boat tours are also more ethical. Loud engines (and loud crowds!) can spook the whales.
RIB boats use very quiet engines and there are also tours that use silent hybrid engines to minimize the disturbance of whales while they are feeding.
There are regulations about whale watching in Tromsø.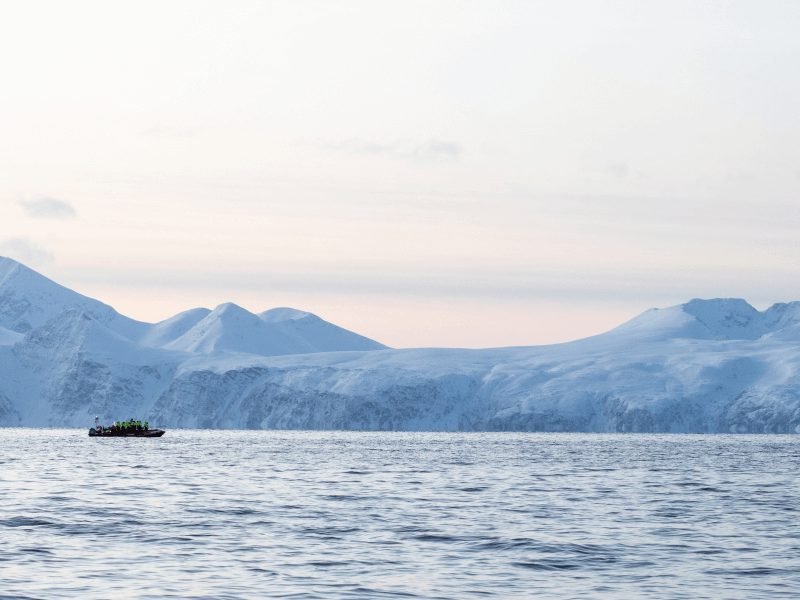 Visit Tromso has created its own whale watching guidelines for tour operators to follow, taking advice from AECO and the Norwegian Polar Institute.
These guidelines were written by Mario Acquarone (Chair of the European Ceteacean Society and Researcher in Arctic and Marine Biology from the Arctic University of Norway), Russell Baker (a behavioral consultant and author of Learning from Whales), and Giovanna Bertella (an associate professor at the Arctic University of Norway).
These guidelines were approved by external bodies, such as OceanCare, the Tethys Research Institute, and WDC – Whale and Dolphin Conservation.
A boat should approach slowly, less than 5 knots as soon as the boat operator is within 300 meters of whales. Once you are 100 meters away, the boat should go a minimal speed, and then idle completely when 50 meters away.
Boats should also move parallel to the whales, as opposed to behind (where whales may feel chased) or from the front (where whales may feel intercepted and have to change direction or interrupt their natural feeding patterns).
Book your tours early!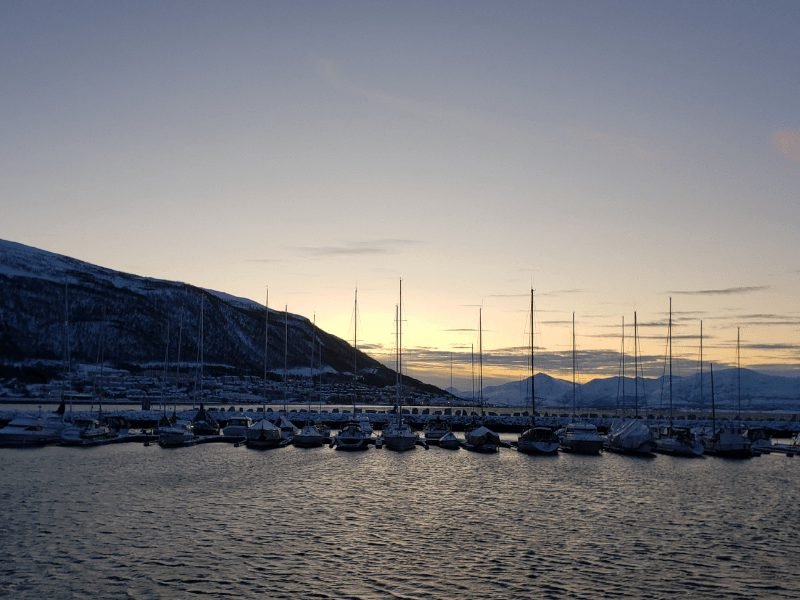 The smaller-group boat tours tend to book up pretty early since the capacity is limited and Tromso is such a popular winter destination.
Book early — if you book with a company like Get Your Guide (who I used to book all my Tromso activities), you can have free cancelation up to 24 hours in advance for a full refund, so you are not risking any lost money by booking ahead of time, even if your travel plans aren't fully finalized yet.
Booking directly with companies will often get you a less flexible cancelation policy where you may only receive a credit or voucher instead of a full refund, so I use third-party agents for extra cancelation protection.
Don't get your hopes up about seeing breeching whales.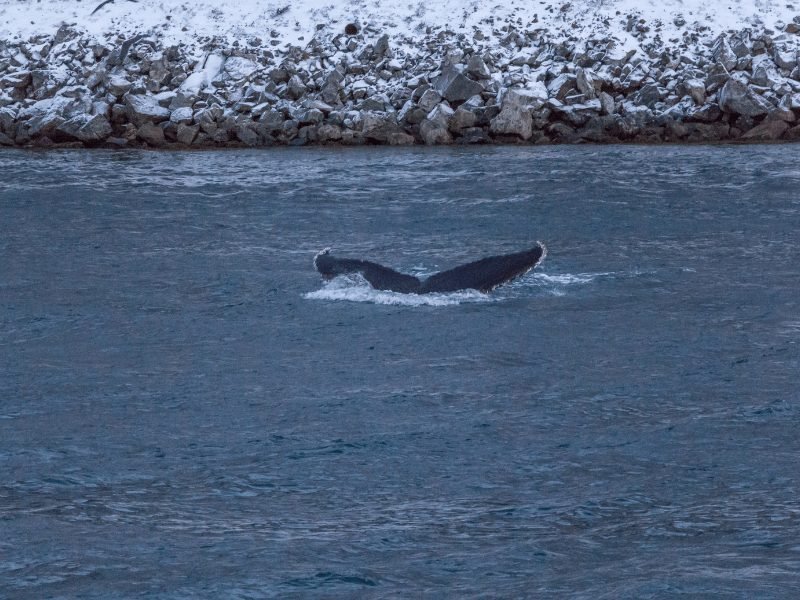 Every post uses the same stock photos of whales for a reason… because a lot of whale watching is frankly, slightly disappointing in terms of seeing the full size of the whale!
I've gone whale watching more times than I can actually count and I've never yet seen a whale breech. It's not actually as common as the photos make it seem.
You may get to see whales jumping a bit to feed, which would be amazing to see as well, but again, you may just get to see their tails, spouts, and backs. And that is amazing too!
Your whale watching Tromso tour may get canceled due to bad weather.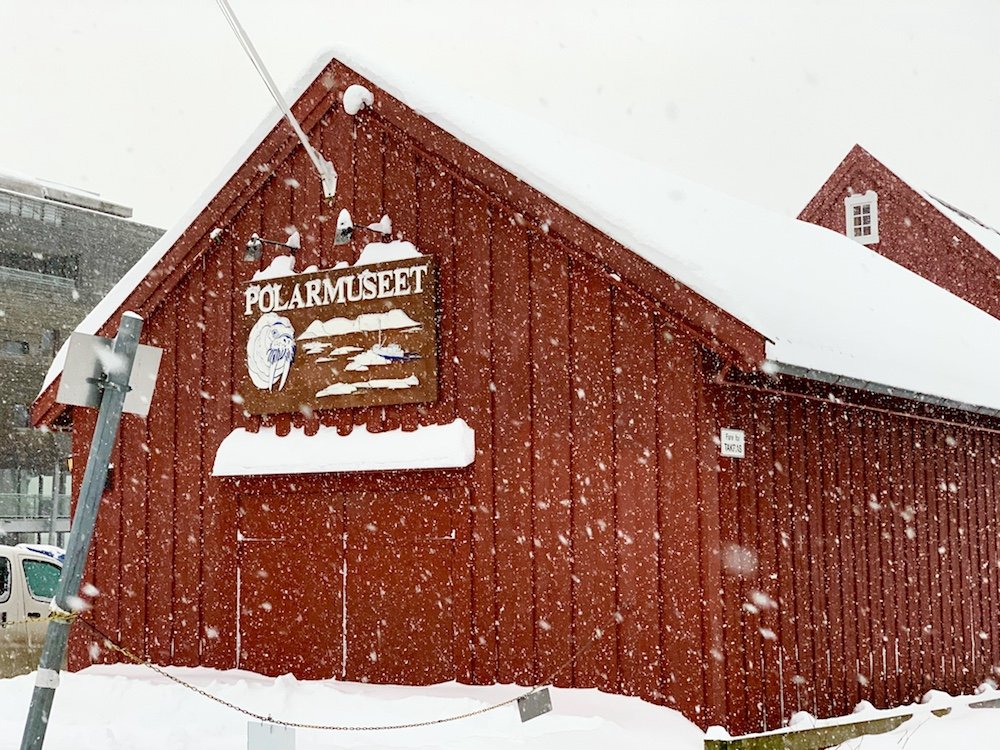 Remember, this is the Arctic Circle — weather is unpredictable and winter storms can blow in and be rather severe!
If it is too dangerous to go out, your tour will be canceled and you will be refunded or offered a rebooking.
You may want to book your whale watching near the start of your trip so that you can rebook if necessary if it gets canceled due to weather.
There are other alternatives if the whales leave early or if your tour is canceled.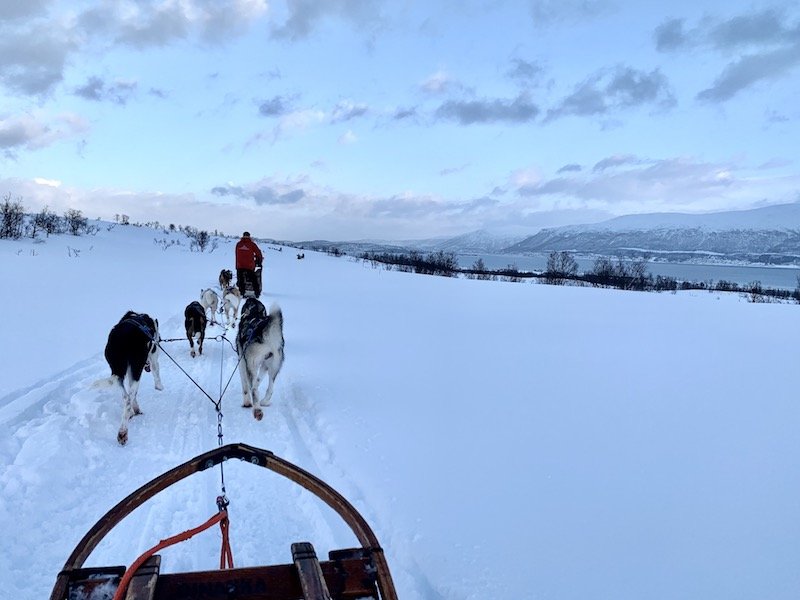 The whales may leave earlier than anticipated, but don't worry — there are lots of other wonderful things to do in Tromso if the whales leave early!
The most similar experience is this popular fjord wildlife cruise, which takes 5 hours to explore the waters around the Tromso fjord and look for sea life. I did this tour and I loved it!
We got to see harbor porpoises, a sea eagle, and all sorts of amazing Arctic sea bird life I've never seen anywhere else.
You can also go dog sledding or reindeer sledding, or do other adventure activities like snowshoeing, snowmobiling, etc., or northern lights tours at night!
The Best Whale Watching Tours in Tromsø
TOP RECOMMENDATION: Whale Watching From Skjervoy in a RIB Boat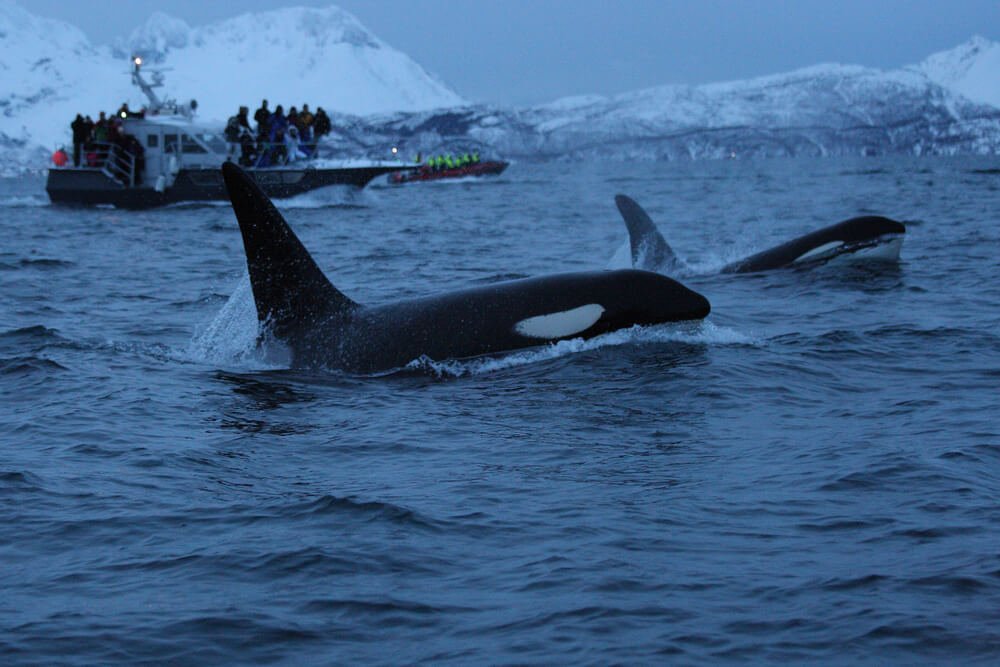 Why is this my top recommendation? It's perfect for people prone to seasickness, because you skip the 3-hour each-way boat ride on the rough open seas.
Instead, this Skjervoy RIB boat tour includes a 3.5-hour bus transfer from Tromso to Skjervoy, so you spend less time on the choppy ocean. Much more comfortable than a 3-hour rough boat ride!
Once you arrive in the Kvaenangen Fjord feeding grounds near Skjervoy, the waters are significantly less choppy, though you'll probably still want to take some Dramamine so you can focus on the wonderful whale watching!
It also gives you more time out with the whales: about 2.5 hours of whale watching as opposed to 1-1.5 hours that most other tours allow.
Best of all, you get to travel in a RIB boat (rigid inflatable boat) that can carry no more than twelve people. This makes it one of the most ethical tour options.
This is the least intrusive way to see whales in their natural habitat, and you'll also enjoy the fact that the small boat means that you'll get better views of the whales without having to fight or jostle for a better view the way you might on a big boat.
Admittedly, this is a more expensive tour due to the bus transfer and the very small boat size, but I think it's well-worth it (especially if you are prone to seasickness like I am).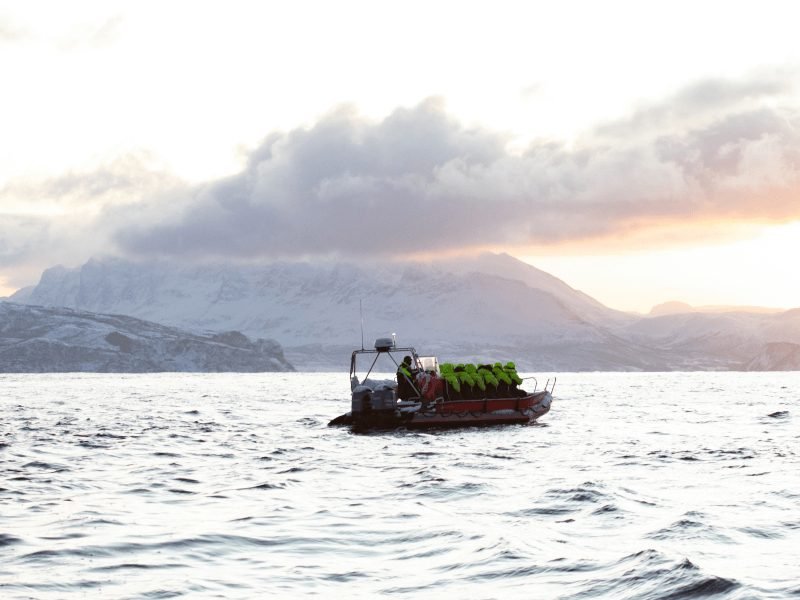 Another benefit of this tour that I think offsets the cost is that you get to enjoy a 2.5-hour whale watching excursion once you arrive at Skjervoy.
Normally, the other cruises say they're 7 hours, but that really only allows for one hour of actual whale watching once you arrive at the Skjervoy area.
This small group tour actually allows for several hours of whale watching, giving you optimal conditions to get the perfect view or the perfect photo!
The tour also includes lunch of sandwiches and hot drinks after the whale-watching cruise, before you return to Tromso.
OVERNIGHT EXPERIENCE: Crystal Lavvo Aurora Watching & RIB Boat in Skjervoy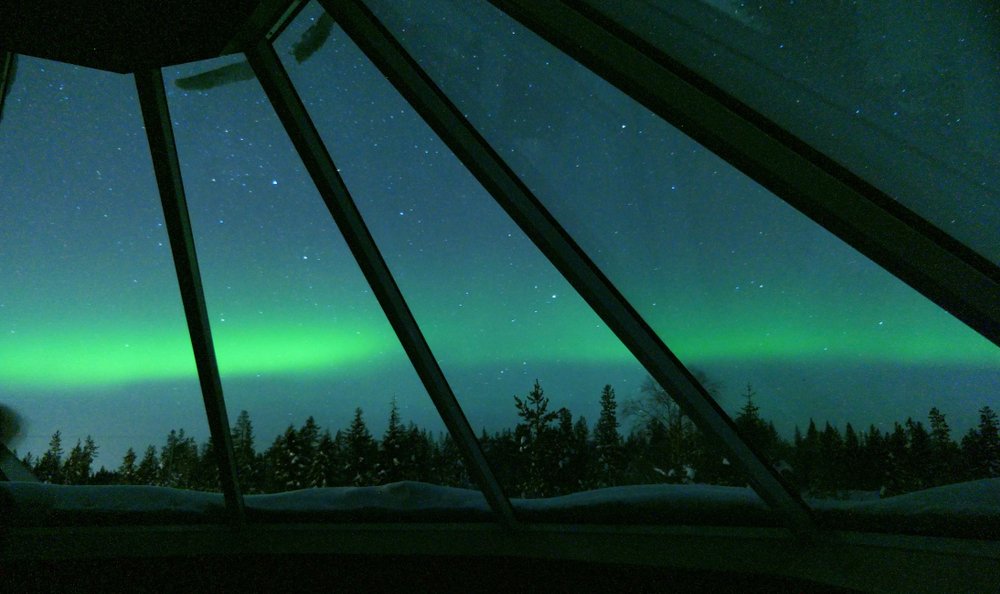 For the ultimate Tromso experience combining two bucket list experiences in one, book an overnight Northern Lights watching in a crystal lavvo with a Skjervoy whale watching tour by RIB boat!
This overnight aurora and whale watching tour is quite similar to the one above except instead of returning to Tromso at the end of the tour, you stay overnight in a crystal lavvo with see-through ceiling panels where you can watch the Northern lights swirl overhead if you're lucky!
This is one of my top choices for a stay in a Northern lights hotel in Norway — so you can combine two incredible experiences in one!
The tour starts the same way, with a bus ride to Skjervoy, where you then embark on a 12-person maximum RIB boat to the herring-rich fjords near Skjervoy where you can watch the beautiful creatures in their natural habit.
Book your overnight lavvo camping & aurora watching + whale watching excursion here!
BEST-RATED BUDGET CHOICE: All-Inclusive Whale Watching & Birding Cruise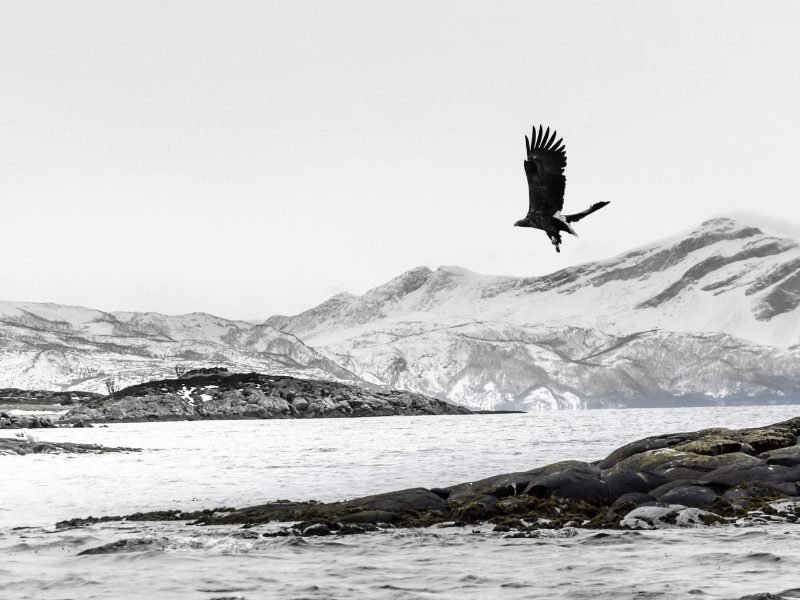 This all-inclusive 8-hour whale safari tour is my top budget-friendly recommendation from Tromso.
You'll make your way to Skjervoy in a comfortable boat, led by an expert guide who can identify sea life as you make the long trek to Skjervoy — about 3 hours out on the open sea.
On the way through the Tromso fjord, you'll have the chance to see sea eagles, guillimots, harbor porpoises, eider ducks, cormorants, and of course — once you get out to Skjervoy, humpback whales and killer whales!
You'll also learn about why this part of Northern Norway is a particular haven for these whale species, who thrive on the herring and plankton-rich waters.
There's a comfortable indoor area with heat, as well as an outdoor deck where you can seat while you search for whales and other Arctic wildlife.
You'll be treated to snacks, hot beverages like tea or coffee, and you'll have access to a thermal suit so you can whale watch comfortably, no matter what the weather!
Check availability and book your all-inclusive whale safari tour here!
ECO BUDGET CHOICE: Whale Watching Tour by Hybrid Electric Catamaran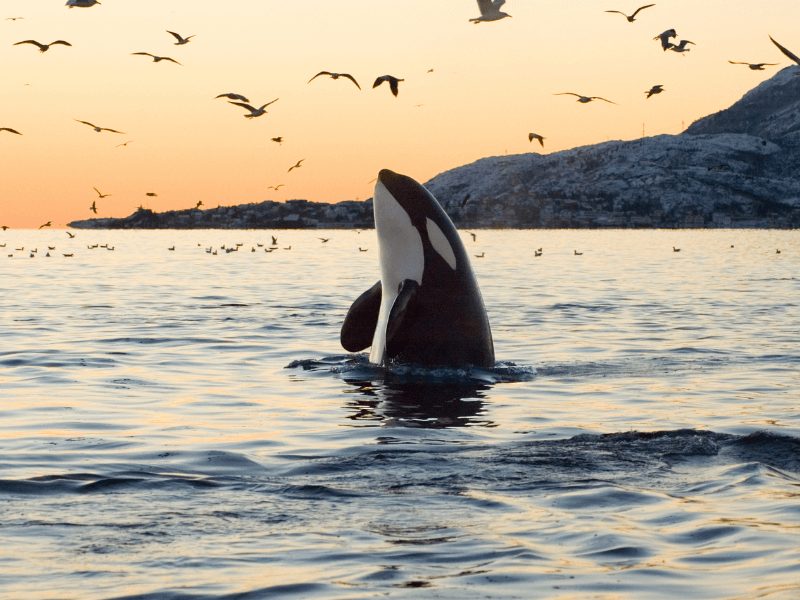 This is a budget-friendly whale watching trip option that uses a hybrid electric engine in order to be more eco-friendly when approaching the whales.
The silent whale watching tour will allow you to get up close and personal to these wild animals in a way that does not disturb them while you're sightseeing.
As a bonus, the quietness of the engine makes these marine mammals more likely to come up closer to the boat so you can see them easier!
There are indoor lounges with hot beverages you can enjoy while you take the 3 hour boat trip out to Skjervoy.
Book your electric catamaran whale watching excursion with Brim Explorer here!
ANOTHER BUDGET CHOICE: Fjord Cruise & Whale Safari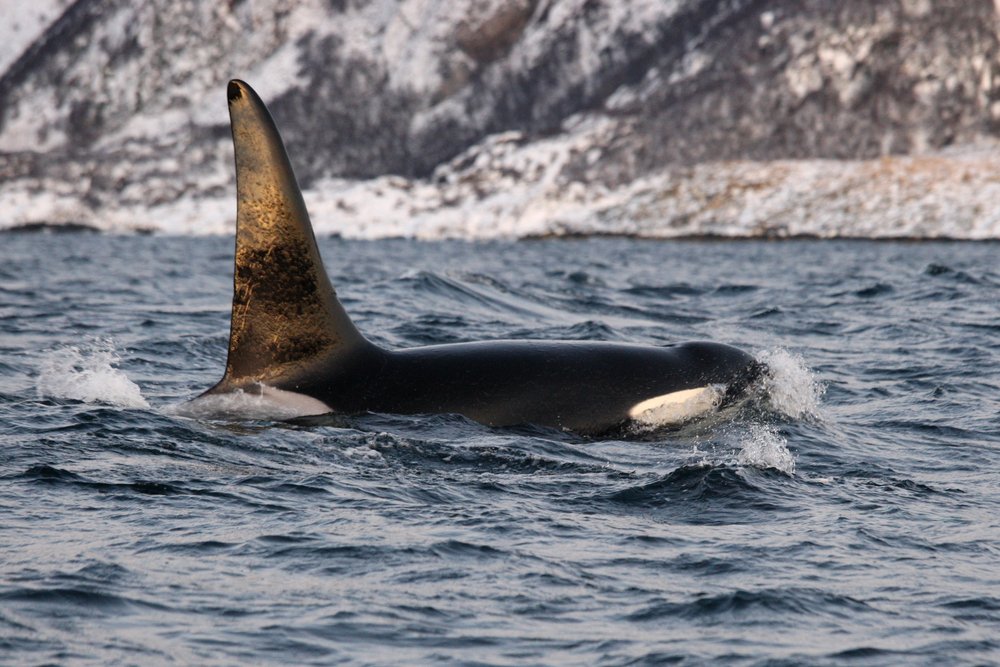 There's no denying that Tromso is a pricy place to visit, and if you're on a budget, you'll probably want to cut expenses, so if you still really want to do a whale watching tour, this is the lowest-priced option.
It isn't, however, my favorite, and I'll explain why.
This catamaran cruise brings you from Tromsø city center through the fjord, passing by beautiful Arctic landscapes along the way. Your guides will show you other fjord wildlife — you may get to see harbor porpoises or perhaps even the elusive and gorgeous sea eagle!
There are indoor and outdoor viewing decks, so if you get cold, you can stay inside and enjoy a cup of coffee or tea. There is also a kiosk on the boat where you can grab something to eat if you're hungry.
You'll also be given a thermal suit to wear on the boat so don't worry about getting too cold — you'll be kept nice and toasty!
The boat ride to Skjervoy takes about 2.5-3 hours each way. Once you arrive at Skjervoy, you'll have about an hour to an hour and a half, depending on weather conditions, to watch the whales feed and interact in the wild.
However, this cruise can sometimes be done on a boat that can fit 144 passengers which is why I don't really recommend it.
Sometimes they'll go on smaller boats, but there's a statistically pretty high chance you'll end up on a huge boat, and that's usually not that fun.
Another gripe some past guests had is that they only really had about 15-30 minutes of whale watching once they arrived in Skjervoy after such a long journey, so it felt like a bit of a let down when it came to the whale watching experience side of things.
FAQ about Whale Watching in Tromsø
Are there whales in Tromsø?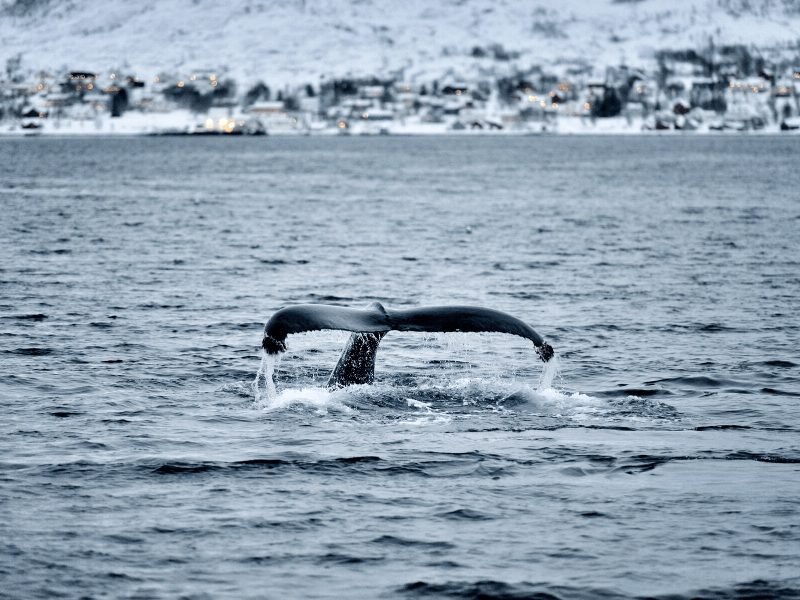 There used to be whales feeding in the Tromsø fjord throughout the winter — but this is no longer the case.
However, due to either overfishing, climate change, or a combination of the two, that has changed. Herring are the main food source of the whales in Norway, and now these schools of herrings are located much further out, around Skjervøy.
Skjervøy is an island located 150 kilometers from Tromsø (93 miles). So what does this mean for you as a traveler? Well, unfortunately, that means far longer boat rides just to be able to see the whales.
Most whale watching tours I've done, such as a humpback whale watching tour in Oahu, I was able to see the whales just a short distance from the departure point, and the whale watching tour lasted about 2 hours.
However, in Tromsø, whale watching tours take about a minimum of 7-8 hours. Most of this time is just getting out to Skjervøy.
Is Tromsø good for whale watching?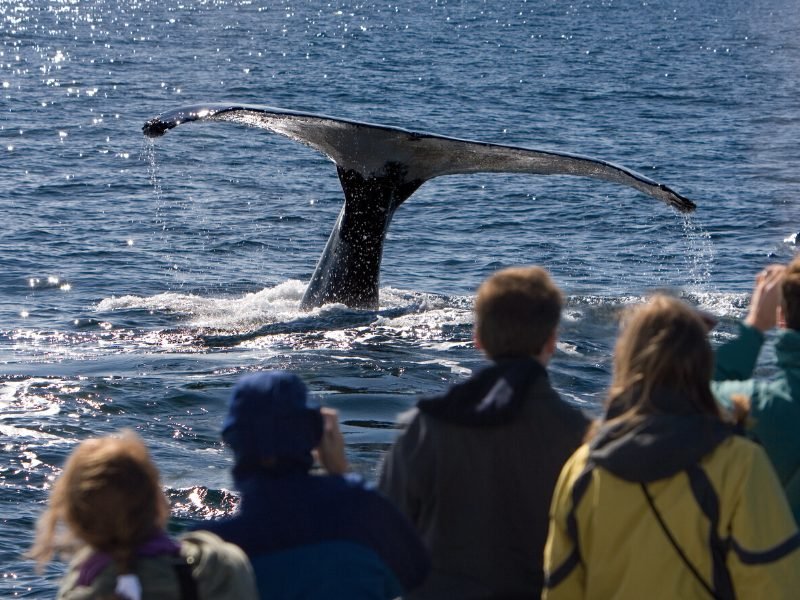 Despite the whales being quite far from Tromsø itself, that doesn't mean you should cross Tromsø off your list!
If you want to see orcas (aka killer whales) in their natural habitat, this is the best place to do so! There are very few places that you can see orcas in the wild so reliably, so don't miss the opportunity.
What are the most common whales in Tromsø?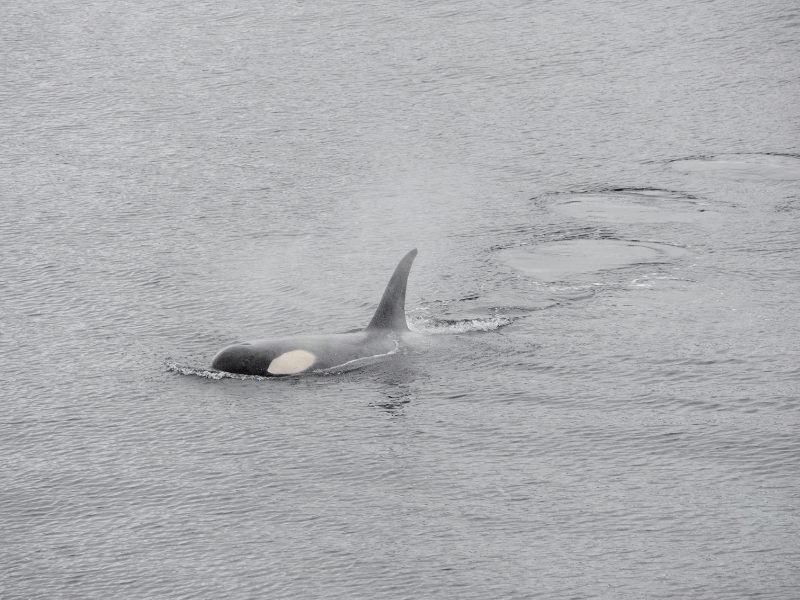 The two most common whales you'll see on a whale safari in Tromsø are humpback whales and orca whales (killer whales).
These two species really gravitate to the waters around Skjervøy to fill up on herring before they make their migration south to warmer waters.
You may also get to see harbor porpoises or fin whales!
What time of year can you see whales in Norway?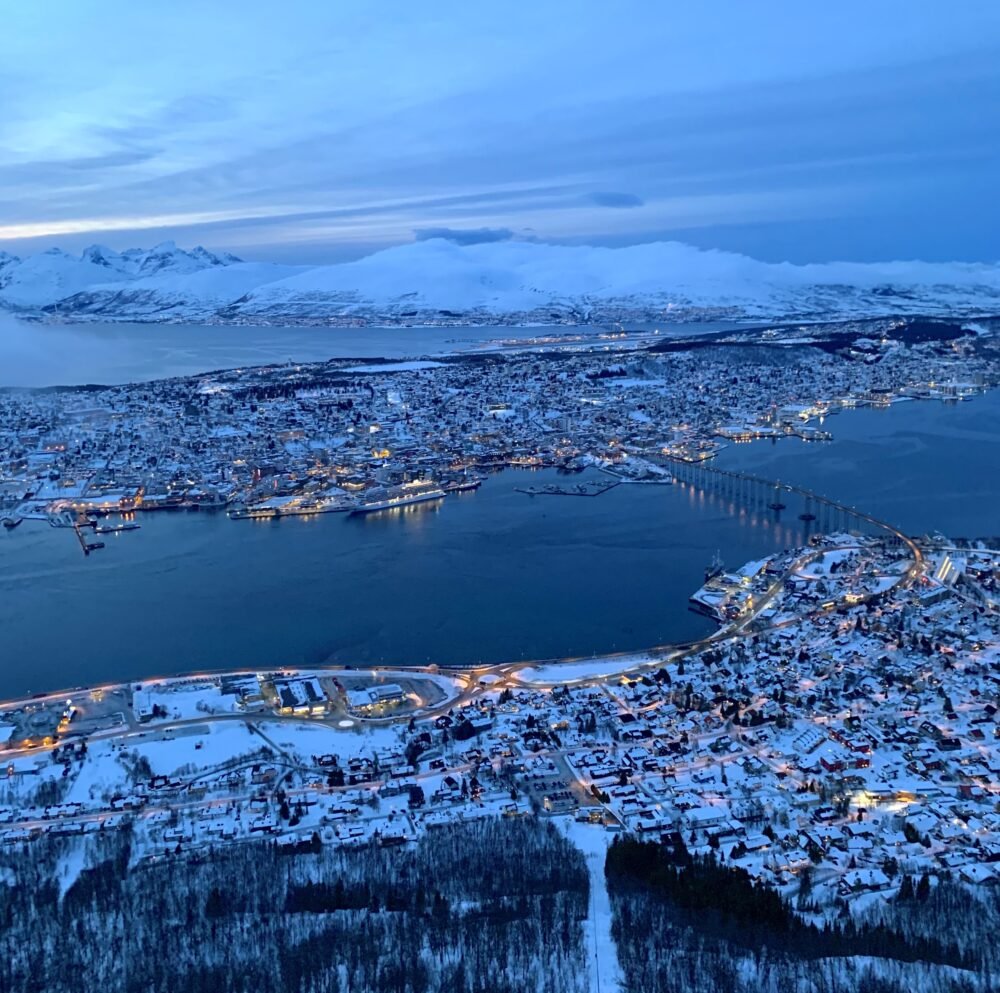 The whale watching season in Norway is rather short: from November to January. By the first week of February, the whale watching season is usually over, and boat tours will cease operating.
That said — this can fluctuate depending on other factors, such as the presence of the herring in the waters and the temperature of the water, so these are guidelines as opposed to hard-and-fast rules.
Whale Watching in Tromso in November
The whales tend to arrive in the fjords outside of Skjervoy around the end of October, so November is typically a safe month for whale watching. The seas may also be a little less rough at this time.
However, if whale watching is very important to you, you may want to come a little later in the month of November to make sure you don't arrive earlier than the whales!
Whale Watching in Tromso in December
The whales are well settled in by December, and December is one of the best times to see orcas and humpback whales near Tromso.
You are almost guaranteed a whale sighting if you whale watch in December!
Whale Watching in Tromso in January
January is typically a pretty safe month for whale watching as well, although by the end of the month, the whale numbers may start to dwindle and you may not have as much luck.
For the best luck seeing whales in January in Tromso, I would aim more towards the beginning or middle of the month.
Whale Watching in Tromso in February
While technically whale watching season goes into the first week of February, it is ending earlier and earlier each year.
I would not recommend banking on seeing whales in Tromso in February, even in the first week.
What is the best month to visit Tromso?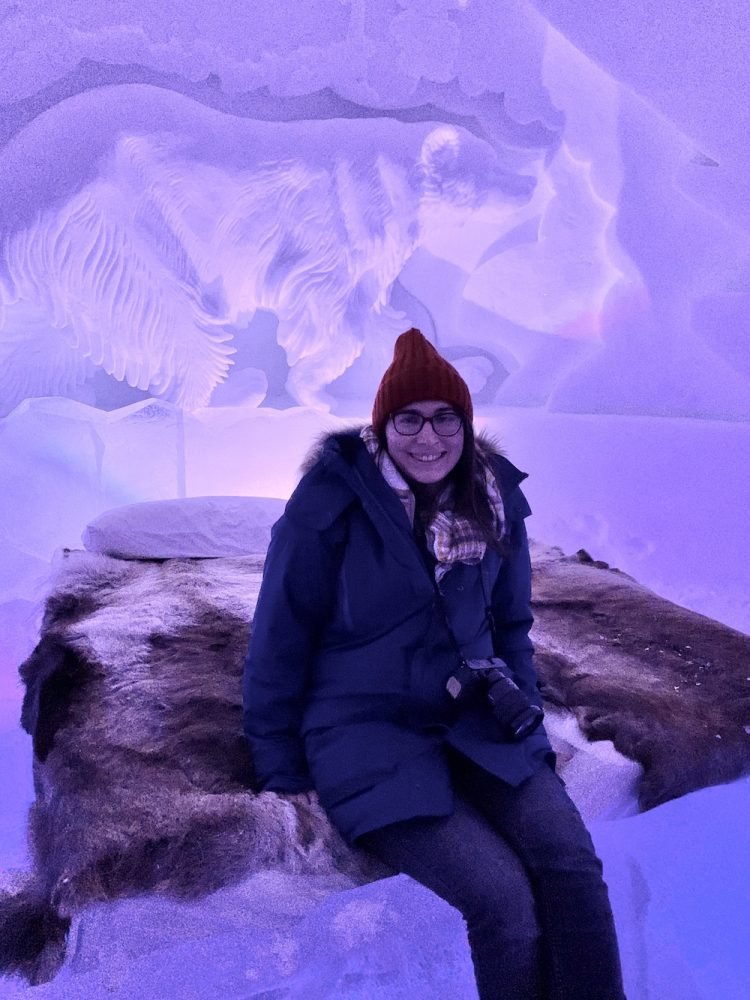 Polar night (when the sun does not rise above the horizon) overlaps with most of whale watching season.
If you want a chance to see the sun and also whales, I would suggest the period around the first two weeks of November.
However, you run the risk of there not being a lot of snow accumulation by this point, and so other activities such as dog sledding, snowmobiling, etc. may not be possible, and the Tromso Ice Dome won't be ready yet.
Typically, dog sledding season is November through April, but I've seen from friends who live in Tromso that some years, there has not been significant snow fall until December… meaning that snow-reliant activities have had to be canceled.
Similarly, the Tromso Ice Domes aren't constructed until around December 10 each year.
For the best chance of being able to do as many winter activities as possible, mid-January is the best time of year to visit.
How close can you get to whales in Tromsø?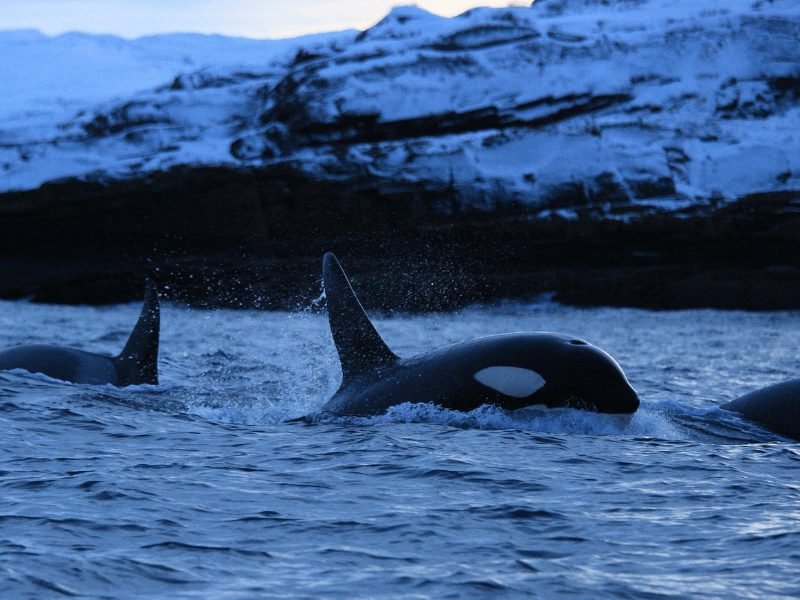 Boats are not supposed to get any closer than 50 meters (about 160 feet) to the whales… but the whales may have other ideas!
Whales may approach boats since they are curious creatures, but boats should absolutely not try to get closer to the whales.
How long do whale watching boat tours take in Tromsø?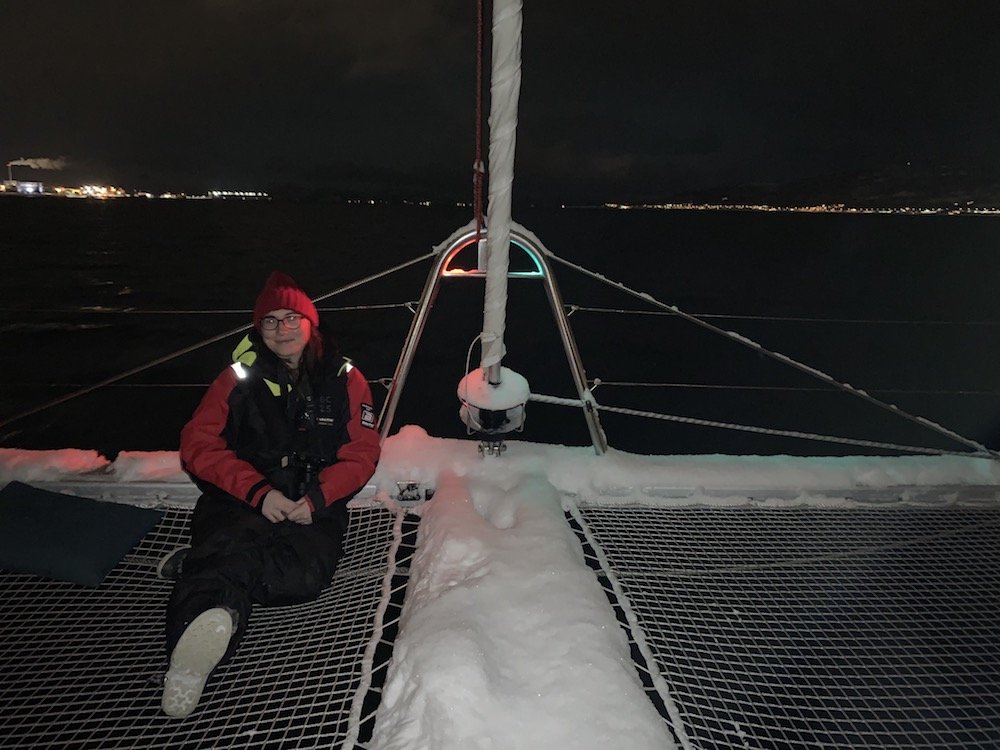 Allocate a baseline of 7-8 hours for any proper whale watching tour. Anything shorter than that will not get you out to Skjervoy where you need to be to see humpback whales and orcas.
That means it'll likely be dark on the way there and back, but you'll have some light hours in between!
The trip to Skjervoy takes about 2.5 hours each way, leaving you about 1 to 1.5 hours to watch the whales before returning back to Tromso.
If you take a bus tour combined with a RIB boat tour (what I recommend), that is actually more like a 12-hour day because the bus ride to Skjervoy is about 3.5 hours each way.
There's also an overnight option to do a bus tour to Skjervoy, RIB boat tour, and then spend the night in a crystal lavvo under the aurora sky!
What are the best whale watching tours in Tromsø?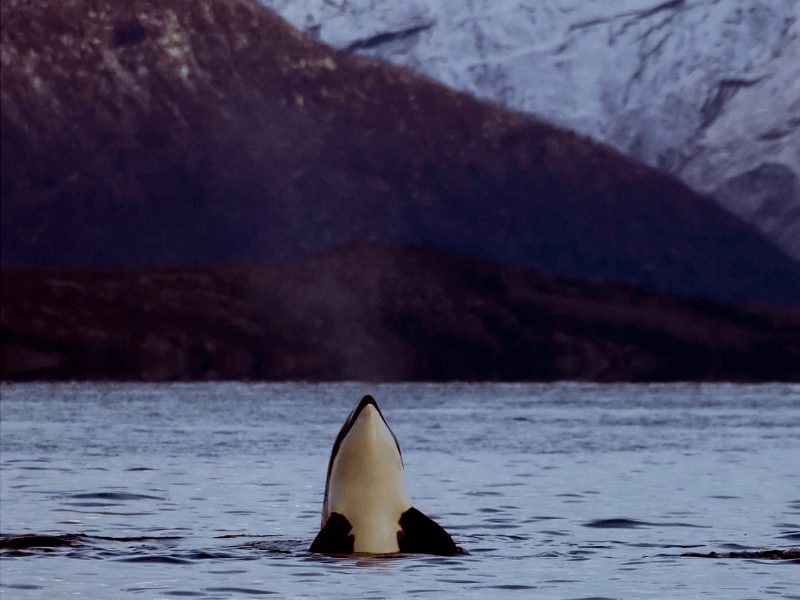 Basically, the smaller the boat, the better it is both for your own enjoyment of the experience and for minimal disruption on the feeding behaviors of the whales.
Additionally, you'll want to decide if you want to take a bus to Skjervoy and then a RIB boat, or if you want to take a boat cruise the entire way.
There are benefits and drawbacks. For the former, it's a lot less prone to seasickness and you'll get to enjoy whale watching far more up-close and personal. However, it's more expensive because it's a smaller group.
For the latter, a boat cruise can be really rough on sensitive stomachs and many people experience seasickness out on on the open seas towards the island of Skjervoy. However, you will also get the chance to see the Tromso fjord from the water and also get to enjoy some birding and sightseeing.
Where to Stay in Tromso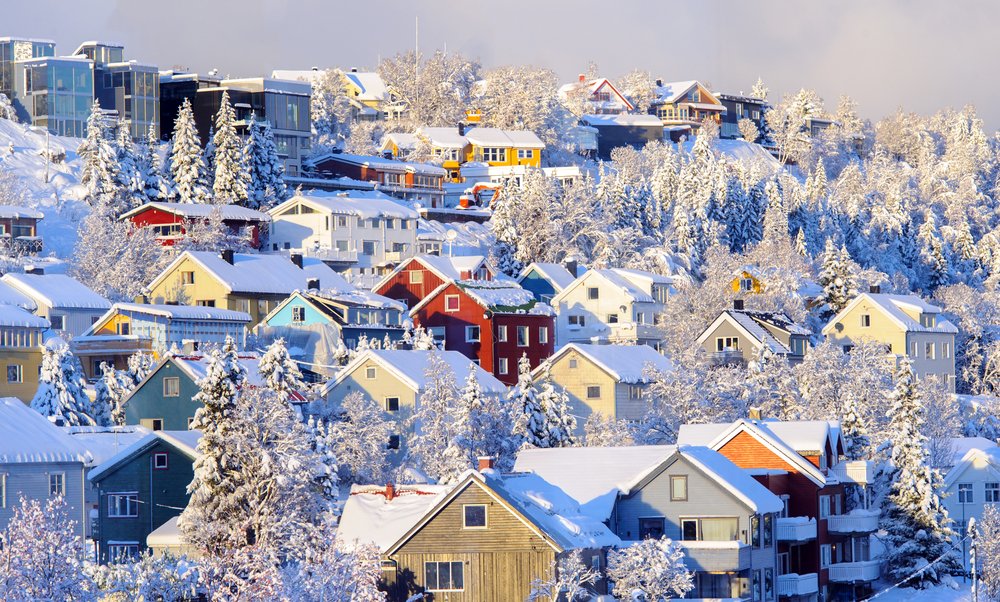 Accommodation will be one of the pricier parts of your trip to Tromso, so be sure to budget accordingly.
Expect to spend, even on the budget end of things, approximately $150 USD per night at a minimum, and around $300 per night for upper-tier accommodations.
Budget
Hands down, the best budget option in Tromso is Smarthotel Tromso.
It's right in the heart of central Tromso, so it's easy to get to all your activities, it has all the things you need in a hotel — 24 hour reception, comfortable beds, a work desk, some food available in the lobby.
Note that breakfast is not included in the price but can be added for a fee. 
Check reviews from verified guests, see photos, and book your room here.
Mid-Range
If you want to stay in a chic boutique hotel that's not overly fancy, Thon Hotel Polar is a fabulous choice.
The decor is irreverent yet modern with an arctic and polar theme, many with vibrant pops of color that make the hotel have a lot more personality than many other Nordic hotels which tend to be a bit more muted in terms of decor.
Breakfast is included and there is also a restaurant on-site should you want to dine in. The location couldn't be better, so it's a fantastic choice for mid-range travelers to Tromso in winter.
 Check reviews from verified guests, look at photos, and book your room here
Luxury
There are three Clarion Collection hotels in Tromso, but the nicest of the three seems to be Clarion Collection Hotel Aurora.
Why? It's harborfront and has an incredible rooftop jacuzzi where you can try to spot the Northern lights!
Rooms are luxurious and modern with updated bathrooms, and the facilities include a gym, free afternoon coffee with waffles, and a light evening meal as part of your stay.
Check reviews from verified guests, look at photos, and book your room today!
What to Pack for Tromso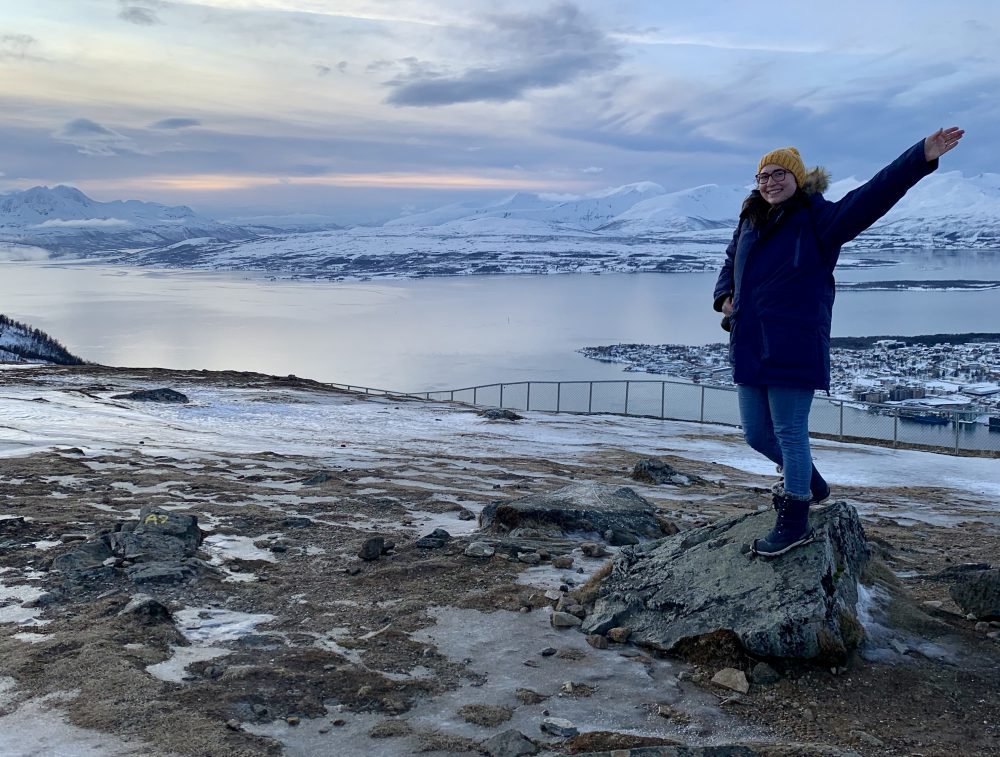 Crampons
One of the most important things to pack for Norway in winter is a sturdy pair of crampons. Crampons are basically small spikes or grips that you attach to your winter boot with a stretchy silicone attachment
I used these simple Yaktrax which were really easy to take on and off — this is essential, as indoor places everywhere in Tromso ask you to take off your crampons before entering, so you don't want difficult ones to put on and take off.
They were also perfectly grippy for icy city streets and I didn't have any slips while wearing them, walking around in the snow and ice for miles (trust me– the day I went out without them on accident, I definitely noticed the difference!).
Moisturizer and lip balm
Winter in Tromso will really dry out your skin, so you'll definitely want to pack a pretty heavy-duty moisturizer as well as lip protector.
I remembered the former but forgot the latter and by day 2 I had sore, chapped lips and running to the nearest pharmacy to drop way too much money on a simple stick of chapstick… so be smarter than I am and bring it from home where you'll spend less on something better.
I love this moisturizer from La Roche-Posay and highly recommend Aquaphor Lip Repair for keeping your lips moisturized!
Camera & travel tripod
It's highly likely that one of the reasons why you are going to Norway in the winter is to see the magical Northern lights.
n that case, you'll want to ensure you have a camera that is capable of manual settings – a smartphone won't do if you want proper photos. Most importantly, you need to be able to set the aperture, ISO, and shutter speed. I use a Sony A6000 and it works great.
But a camera isn't all you need. To properly photograph the Northern lights, a travel tripod is absolutely essential.
You need the camera to be still for at least 3-5 seconds to get a decent photograph, and there's no way you can eliminate camera shake for that long without a tripod. In the past, I've used a simple, cheap 50″ Amazon tripod and it worked just fine.
Be sure to also bring spare batteries as the cold will knock out your batteries so much quicker than you expect!
Base layers
You can get away with wearing most of your normal winter clothing in Norway as long as you have proper base layers that help insulate you and keep you warm.
You need clothing that's moisture-wicking and antimicrobial, which will keep things from getting stinky or uncomfortable when you sweat (which you will if you're walking around or being active, yes, even in the cold!).
For thermal leggings, I recommend these for women and these for men, both by Columbia, a trusted outdoors brand. For a top thermal layer, I recommend this top for women and this top for men.
If you prefer wool then something like these merino wool leggings, paired with a cashmere sweater layer, will serve you very well.
A warm winter jacket or parka
For walking around in Norway in winter, you'll want a nice and warm winter jacket (preferably a parka which goes to about mid-thigh) that is water-resistant and hooded, to keep you warm against the snow.
While winter in many parts of coastal Norway like Tromso actually isn't that cold, with average temperatures around -4° C to 0° C (24° F to 32° F), there is a lot of wind and precipitation, making it feel colder. You want a waterproofed jacket that will protect against snow and even worse, freezing rain.
For my most trip to Norway, I wore a jacket that I bought from Decathlon which I can't find online but is virtually identical to this one but in a navy blue. I loved having a faux fur lined hood to keep snow and rain out of my face and the weatherproof material was much-needed.
Down feathers add a nice layer of warmth that really helps insulate you (though if you want a vegan option, this jacket is similar).
On my past trip to the Arctic, in neighboring Sweden where it's actually a fair bit colder, I did really well with my North Face parka which I've owned for 10 years and absolutely love, I just didn't have it with me as I've recently moved country and haven't got all my clothes with me!
Snow boots & wool socks
I wore a pair of snow boots by Quechua which I bought from Decathlon, which I can't find online, but here is a similar boot by Sorel, a trusted winter brand that's beloved in Norway and beyond (here's a women's version and a men's version). I recommend sizing about half a size up to account for thick winter socks.
But no matter how insulated your shoe is, it won't do much good if you are wearing thin, crappy cotton socks. I invested in these Smartwool socks after some hemming and hawing about the price and I'm so glad I did.
DON'T FORGET ABOUT TRAVEL INSURANCE!
When planning any trip, especially a winter trip, be sure not to forget about travel insurance!
I use SafetyWing and its Nomad Insurance to insure all of my trips for its affordable rates and comprehensive coverage for all my travel needs.
For a trip as expensive as traveling to Norway, and as unpredictable as traveling to the Arctic, it's especially important to me that I have coverage!
SafetyWing's Nomad Insurance provides both travel insurance (coverage for trip delays, cancellations, interruptions — the likelihood of which increases in winter) and travel medical insurance (coverage for things like accidents, illnesses including Covid, etc. — also more likely in winter!).
Coverage is really affordable — for me, it costs roughly $11 USD for a week of coverage outside of the U.S., with a policy max of $250,000 after a deductible of $250. Not bad!
Allison Green is a former educator turned travel blogger. She holds a Masters in Teaching and a B.A. in English and Creative Writing. Her blog posts merge her educational background and her experience traveling to 60+ countries to encourage thoughtful  travel experiences that both educate and entertain. She has been a speaker at the World Travel Writers Conference and her writing, photography, and podcasting work has appeared in National Geographic, CNN Arabic, CBC Canada, and Forbes, amongst others. Now based in the San Francisco Bay Area where she grew up, she has also lived in Prague, Sofia, and New York City.