Beautiful ribbons of green dancing in a starry night sky against a backdrop of fjords and frozen landscapes: this is what you can expect when you come to see the Northern lights in Tromso.
But Tromso offers so much more than just the aurora borealis: it's a vibrant, buzzy student city of more than 70,000 people.
It's nicknamed the "Paris of the North" partly for its cultural scene, but also because it's practically a megapolis around these sparsely-populated parts of the Arctic. 
Note: This post contains affiliate links, which means I may receive a small commission if you purchase something through one of these links. Thank you for supporting the free content on this site! For more information on affiliate links and cookies, see my disclosure page for more details.
The next-largest Arctic city in Norway, Bodø, numbers just over 50,000 people, and then population numbers drop off steeply outside of these urban areas.
Tromsø is a place of incredible beauty and culture, especially in winter.
By day, you can walk around the picture-perfect city center and shop on Nerstranda.
By night, you can catch a concert at the Arctic Cathedral and stare up at the sky with hot drinks in hand, hoping for a glimpse of the ephemeral aurora.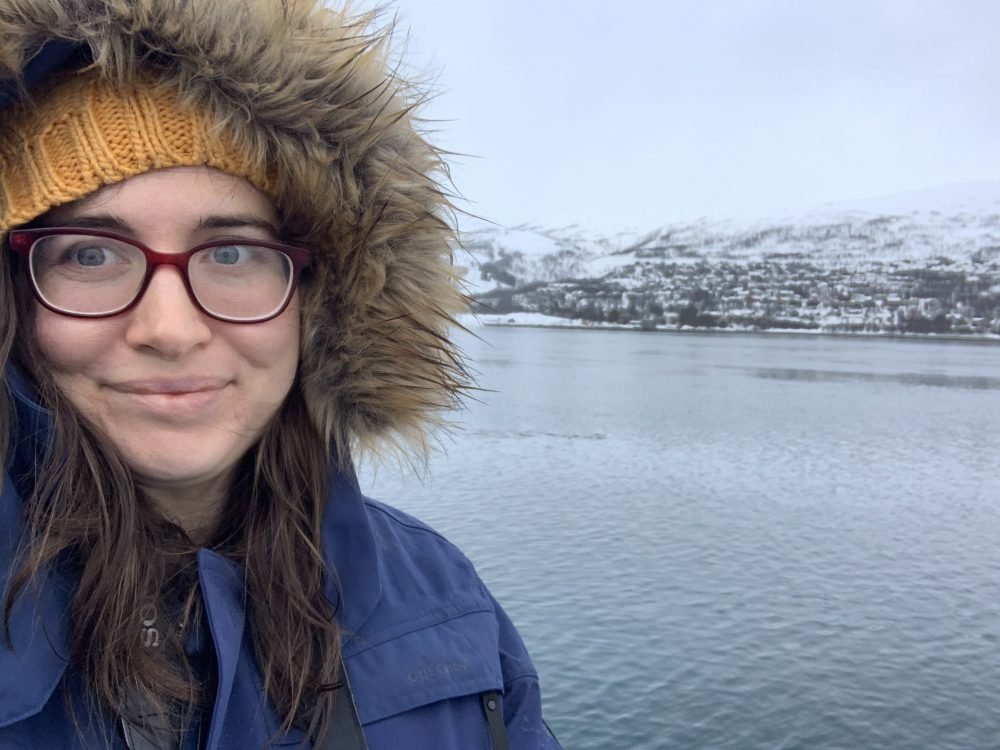 But there are so many more ways to see the Northern lights in Tromsø than just hoping for a glimpse over the city sky!
In this post, I'll go into all the day trips (well, night trips technically) that I recommend from Tromso.
However, there are also a large selection of wonderful Northern lights hotels in Northern Norway offering unique accommodations like glass igloos, ice hotels, and glamping domes which are also a great option. 
Read my post on epic Northern lights hotels if you want some curated hotel ideas!
Besides looking for aurora around Tromso's city center, you can take aurora minibus small group tours, tours that incorporate Sami culture, and tours that take you to the Tromsø region's very own ice hotel… among others.
We'll go into all the unique ways you can combine sightseeing with a Northern lights chase below.
But first, let's tackle where and when is the best time to see the Northern lights in Norway!
Where to See the Northern Lights in Northern Norway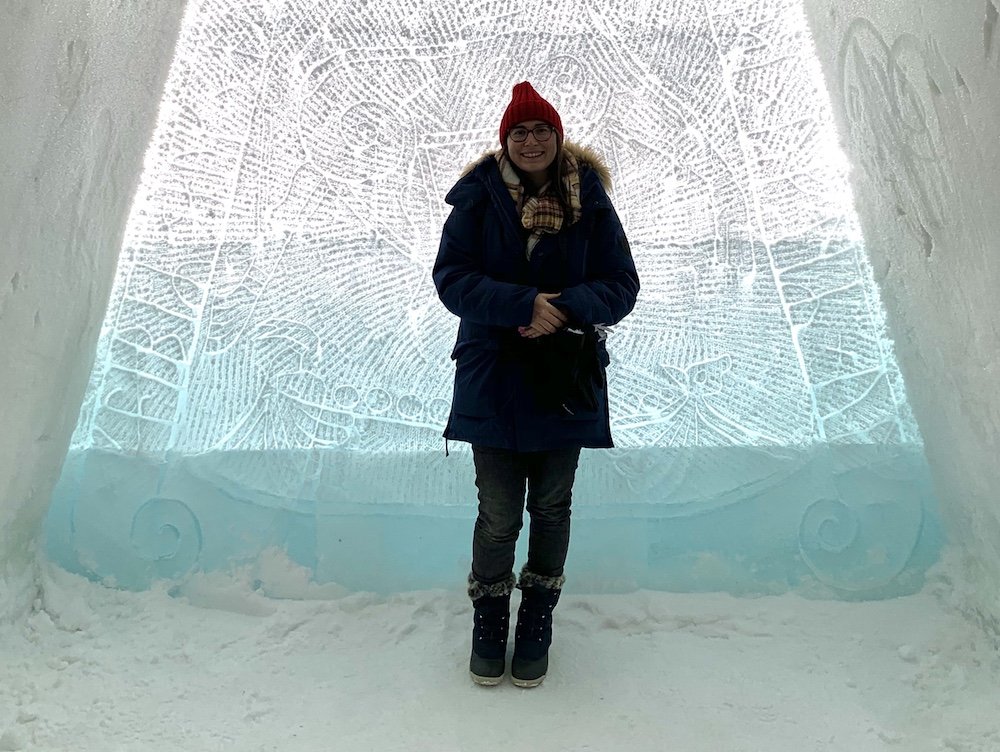 The best place to see Northern lights in Norway is in destinations like Tromsø that are north of the Arctic Circle.
The Arctic Circle's latitude is located at 66°33″ N: everything above that is considered part of the Arctic Circle — whether you're in Scandinavia, Iceland, Russia, Alaska, or Canada.
The Arctic Circle is basically the lowest latitude where both the polar night and midnight sun phenomena occur; north of it, the length of polar night and midnight sun extends for longer and longer.
Polar night is when the sun doesn't rise above the horizon, whereas midnight sun is the inverse, where the sun doesn't sink below the horizon.
In Tromsø, located at 69°64″ N, the polar night lasts for six weeks, and midnight sun lasts for a bit over two months.
In other parts of Norway, this can be even longer! Nordkapp gets polar night for more than two months, and Svalbard experiences it for two and a half months!
There are three main touristic destinations in Norway in winter: Tromsø, Alta, and the Lofoten Islands, which are some of the best places to spot the Northern lights in Norway.
However, this post only focuses on Tromso Northern lights tours, as that's what I experienced!
Best Time to Do a Northern Lights Trip in Tromso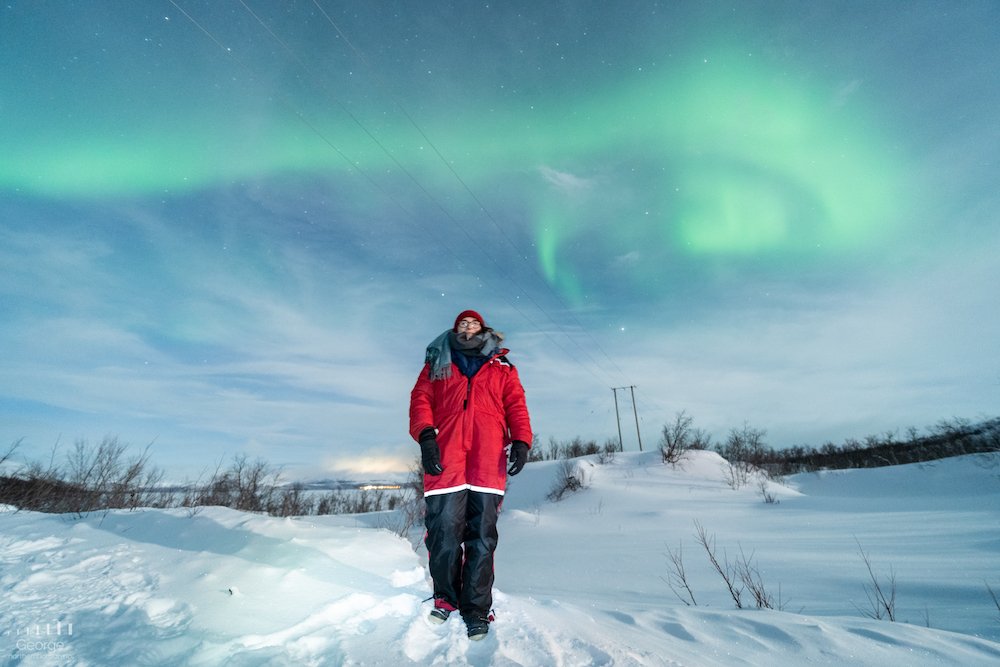 There is a wide span of when the Northern lights are visible above the city of Tromsø and in neighboring locations.
The earlier you might be able to spot the Northern lights in Tromsø would be in late August or early September, and the latest would be in early April.
You just need a certain amount of darkness, a clear sky, and enough solar wind for the aurora conditions to happen.
You can check an aurora forecast closer to your trip to get an idea of what may be happening, but it is hard to predict this sort of thing days in advance.
Generally, tour operators dedicated to chasing the Northern lights have a far more sophisticated aurora forecasting system.
They will do everything they can do get you the best chance of seeing the Northern lights… even if that means driving into Finland, which our guides did — they know all the best locations for clear skies!
There isn't a specific time of the year that is consistently more active than others; you just need enough darkness.
The solar storms which cause the aurora happen all year long — the sun doesn't stop emitting solar particles, after all — you just need the sky to be dark to see it, but because it's the Arctic Circle, you can only see this during the winter months!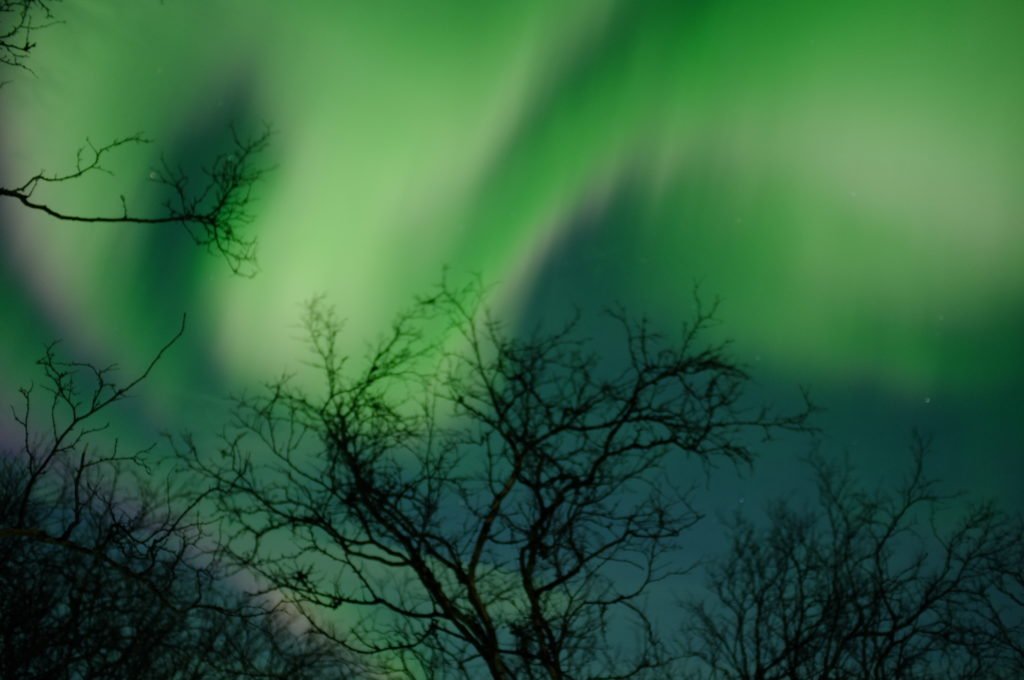 However, most people tend to opt for a winter trip to Tromsø so they can do other wintry activities like dog sledding, reindeer feeding or sledding, and whale watching activities.
I personally visited Tromsø in the first week of February and thought it was almost perfect. There was enough sunlight to get a little hit of Vitamin D every day (from about 10 AM to 2:30 PM daily).
However, it was still in the heart of winter and there was snow everywhere. I was able to do snow-dependent day trips and excursions like dog sledding, whereas travelers who visited a few weeks later than I did had many activities stop due to lack of sufficient snowfall.
The one thing I regret, though, is that I came slightly too late for whale watching season, which ends around the end of January.
If seeing orcas and other whales is part of your Tromsø bucket list, then make sure you visit around mid-January. There will be less sunlight, but it'll be your best bet to get to go whale watching in Tromso!
Getting to Tromsø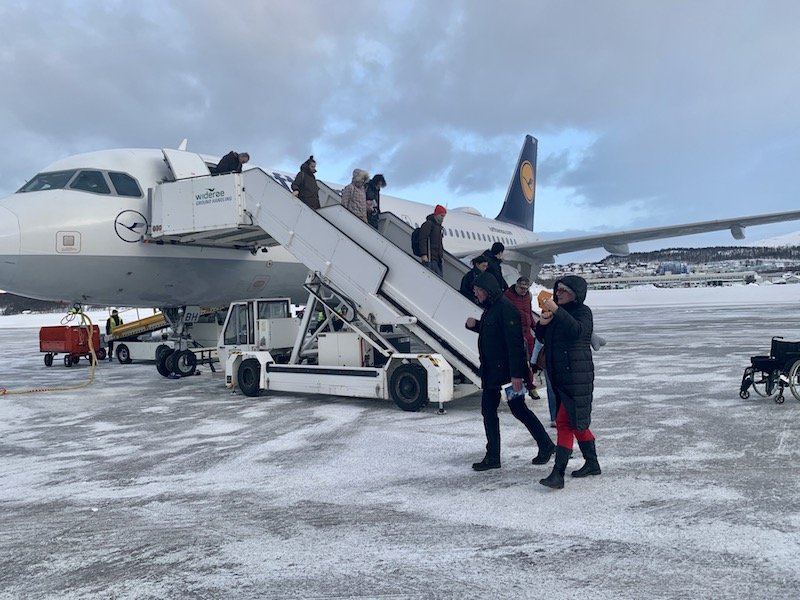 For a place so remote, getting to Tromsø is relatively easy! When I went, I flew Sofia to Frankfurt to Tromsø on Lufthansa and it was pretty painless.
My roundtrip ticket was around $550 USD when I booked a few months in advance.
There are also flights to Tromsø from London and Oslo. Many people will fly into Oslo on a low cost airline like Norwegian Airlines and then hop on another flight up to Tromsø.
I don't recommend driving up to Tromso from Oslo. It's a 22-hour drive and between renting a car and paying for gas it'd be far more expensive than flying. There is also no train connection between Tromso and Oslo.
One other option would be the Hurtigruten cruise, which departs from Bergen and will bring you to different destinations along the Norwegian coast, including the Arctic!
What to Know Before Doing a Northern Lights Tour in Tromsø
Be prepared for anything.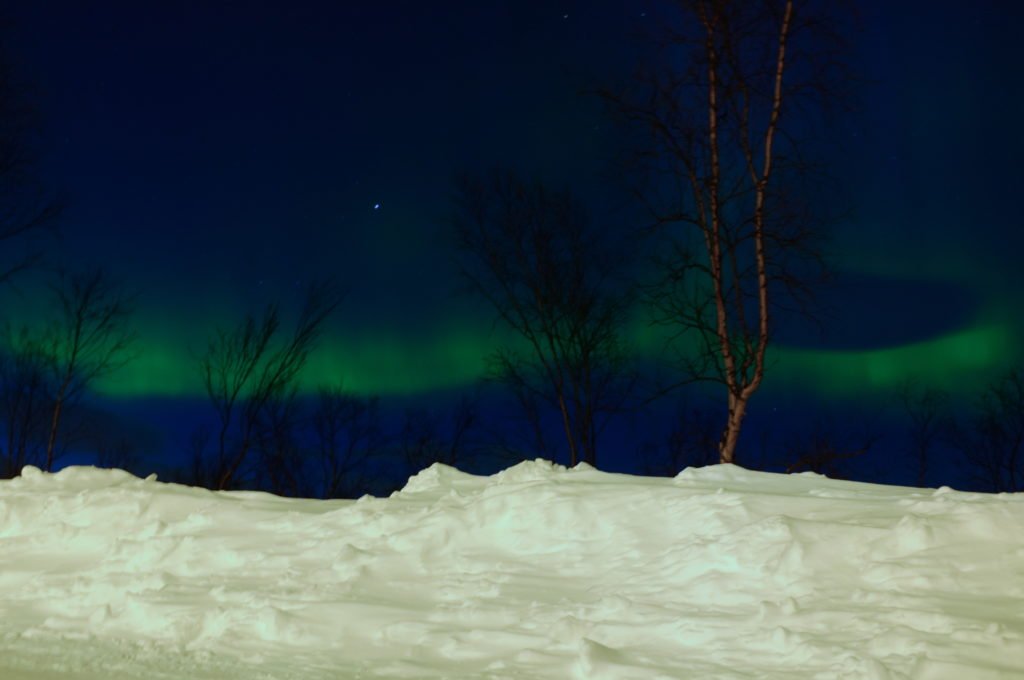 While the Northern lights in the Arctic are actively dancing for much of the winter nights, it's also easy to overstate the probability of seeing the lights.
For one, cloud cover is a major concern: you need clear skies to see the aurora properly.
With how often it snows in Tromsø, that can be problematic. In fact, when I did my Northern lights minibus tour, we actually drove all the way to the Finnish border and parked where we could see the lights dancing over Finland!
Another factor is solar activity. The aurora phenomenon is caused by charged solar particles entering Earth's geomagnetic fields near the poles.
This causes beautiful reactions as light energy emits at different wavelengths, causing the colors you see. Green is the most typical, but I've also seen white and purple colors and even a dash of red.
Finally, the Northern lights are a natural phenomenon. Guides are talented at predicting the intensity and location of the lights, but they are not miracle workers.
Sometimes the Green Lady doesn't appear, and that's part of what makes the times you do see it so magical.
Bring all the camera batteries and a lens cloth.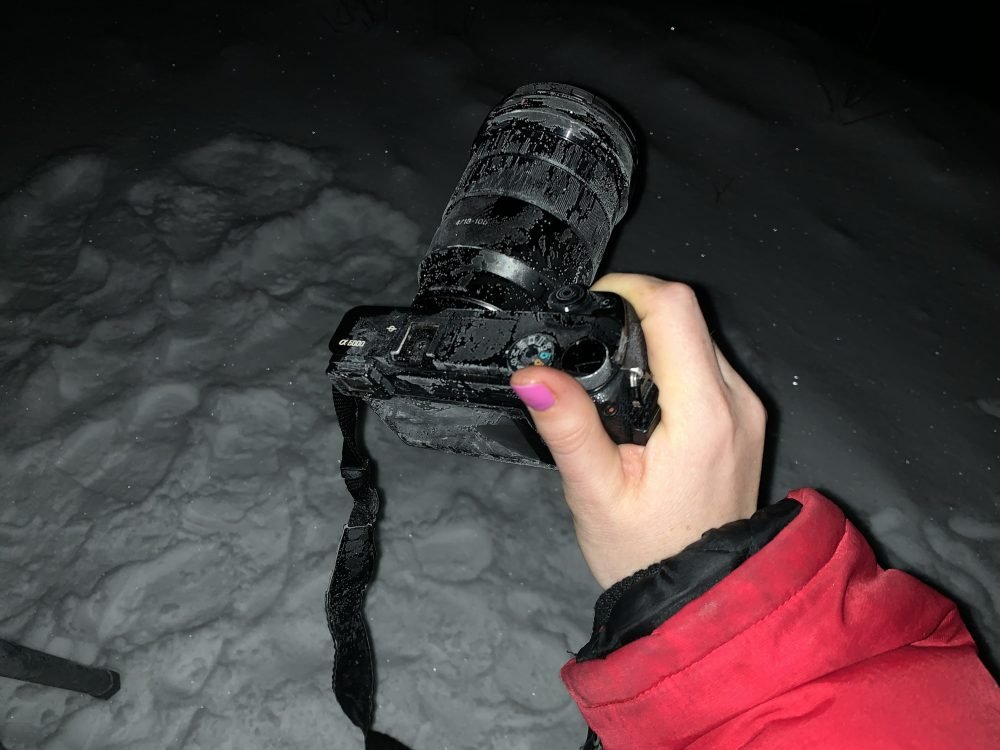 The extreme conditions while chasing the Northern lights in Norway will do a number on your camera battery function.
Just look at the above picture, taken after my camera was out in the cold weather for a few hours in -15° C / 5° F temperatures!
Be sure to also bring a microfiber lens cloth that can gentle remove the ice and condensation from your camera.
You should also bring plenty of freshly charged spare batteries (keep those warm in your pockets!).
Bring your passport/ID if doing a minibus tour.
Like I said, on a minibus tour where you are chasing the Northern lights activity, you may actually end up crossing a border to escape the cloudy weather on the coast of Norway.
My tour guide on the minibus tour in early 2020 told me that about half of the nights, they had been driving into Finland to even spot the lights! So be sure to bring a passport to be safe.
There are no official border crossings as it's all Schengen zone, but you do technically need identification when crossing a border.
Be realistic and don't get disappointed.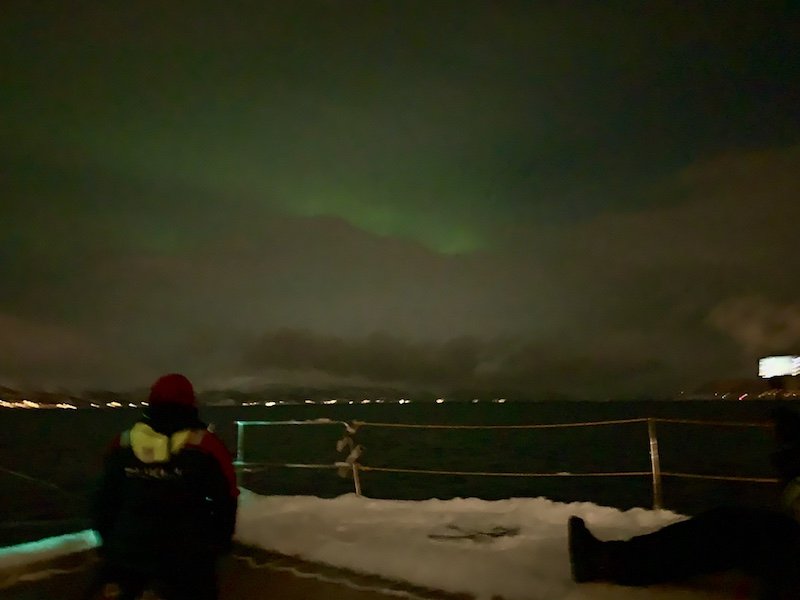 First of all, I want to preface this by saying that the Northern lights are absolutely magical. However, they're also different than I imagined.
When you see jaw-dropping Northern lights photography, keep in mind these are taken by professional photographers using high-quality camera gear that's far more sophisticated than the naked eye (or your smartphone, for that matter).
Photographs of the Northern lights use slow shutter speeds so that the camera's "eye" is open for multiple seconds, taking in light. Meanwhile, your eye processes things at, well, the speed of light!
As a result, the lights you see in photographs of the aurora are far more spectacular than you can see with your eye.
This isn't photoshop — the colors out of the camera are often barely touched or altered at all — but the magic of a long exposure.
Don't plan an entire trip around seeing the Northern lights.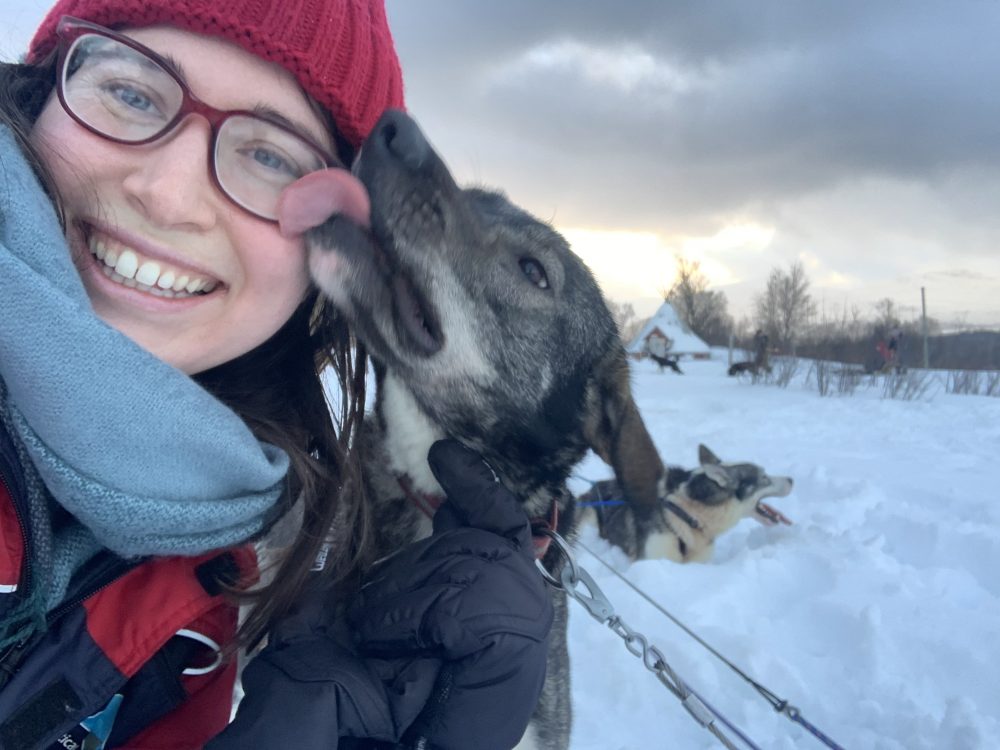 If seeing the Northern lights in Tromso is the singular purpose of your trip, you may wind up disappointed if the lights are less active than you expect or if you have poor weather blocking the view of the Northern lights!
My suggestion would be to book a minibus aurora tour for your first night. These tour guides are driven — literally! — to make sure you see at least something on your Northern lights tour.
For your second night and for the rest of the trip, book other excursions at night that focus on outdoor activities and cultural experiences that have a chance at seeing the Northern lights, but aren't singularly focused on it.
For example, I was in Tromso for one week. I scheduled one Northern lights tour, one sailing aurora tour, and one dog-sledding tour.
I saw a tiny glimpse of the lights on my aurora sailing excursion, no lights at all on the dog-sledding night, and so much aurora activity on my dedicated aurora chasing minibus tour.
If you only have the budget for one tour though, make it a minibus tour. It's the best way to see the Northern lights in Tromso because they are so dedicated that they will literally drive to another country to make it happen!
My Tromsø Northern Lights Experience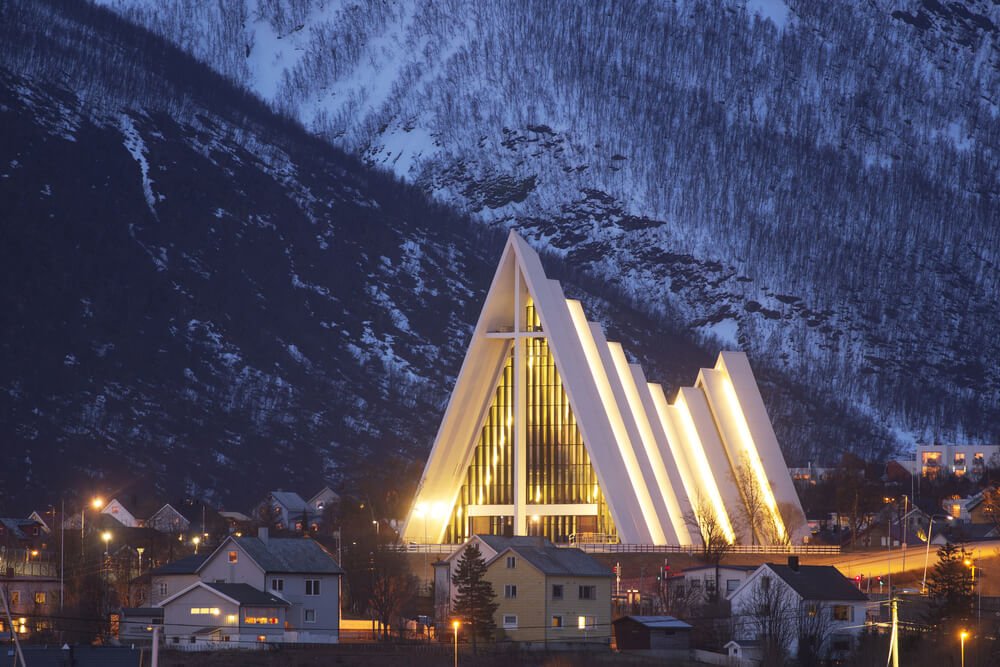 I've listed 11 unique Northern lights tours below, and I've done 3 of the tours: the fjords sailing tour, the small group Northern lights chase minibus tour, and the husky sledding and Northern lights tour.
I've also visited the Ice Hotel during the day (read about my experience here) and visited a Sami reindeer farm with lavvus during the day as well, so I can speak to a portion of those experiences.
So I have some firsthand insight from 6 out of the 11 Northern lights tours here, and the rest are driven by research and chatting with other friends who visited Tromsø in winter.
I hope this helps you narrow down your search and find the perfect Northern lights tour (or tours, as I did!) for you… and good luck!
11 Unique Northern Lights Tours in Tromsø
Fjords Sailing and Northern Lights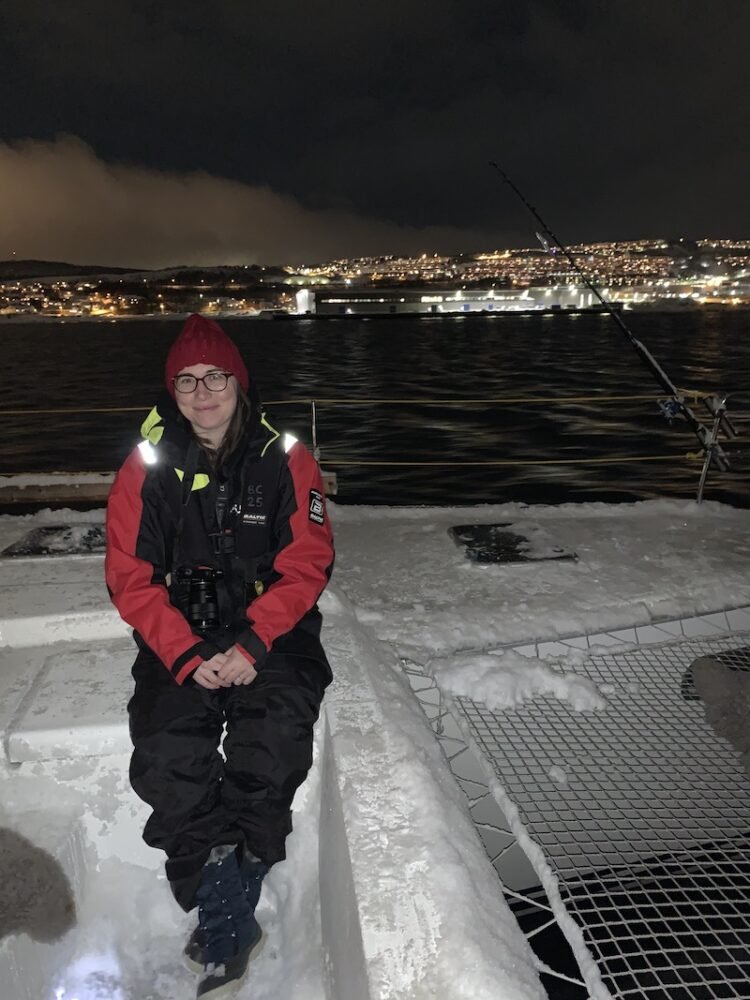 This was the first Northern Lights tour I did on my trip to Tromsø and it was a great introduction to the beautiful fjords around Tromsø.
We met at the Pukka Adventures office where we enjoyed coffee and snacks before our tour.
We had a quick safety and tour briefing and got into our warm suits and boots! Then we walked a short walk to the marina where the sailboat was docked.
Once we disembarked, we set sail through the fjord, watching the city lights of Tromsø twinkle magically as we got further and further away from the city.
We all clustered outside hoping to find a glimpse of the Northern lights, and we did… albeit briefly. 
Luckily, it was so vivid and powerful that I was even able to capture a tiny glimpse with my smartphone!
However, I didn't have my tripod set up yet, so I wasn't able to capture a better shot, and then the lights faded for the night and hid behind the clouds for the rest of the excursion.
The disappointment of not seeing the lights in their full glory was quickly assuaged by a delicious meal of seafood chowder served with Norwegian bread and butter and some coffee and chocolate for dessert.
All in all, I absolutely loved the sailing experience and while I wouldn't say it's the most reliable way of seeing the Northern lights, I loved getting to do a sailing cruise around Tromsø at night.
Enjoying the seafood chowder with a view of the city sparkling around us was magical and it was one of the best tours I did.
Tromso Northern Lights Small Group Minibus Tour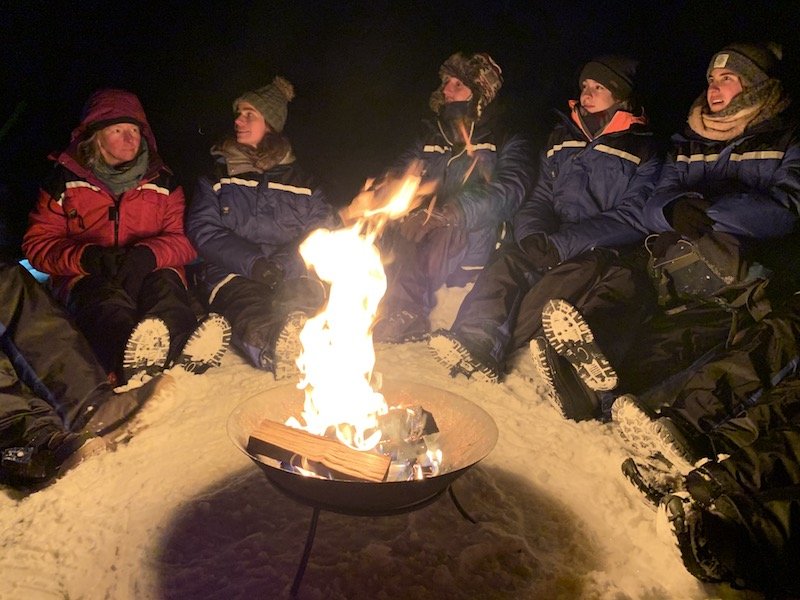 This was another tour I booked for myself during my trip to Tromso, and it was the Northern lights tour that delivered the most when it came to actually seeing the lights themselves!
If you are dedicated to seeing the aurora, this is one of the best Northern lights tours you can do: they'll bring you to the best spots and while you are not guaranteed to see the lights, it's as close to a guarantee as you'll have.
My guides were absolute legends, driving all the way to the Finnish border and beyond to ensure we all got to see the Northern lights.
They were true experts with years of experience. They'd consult different solar activity apps and talk about all sorts of scientific factors as to what that meant for the Northern lights.
They'd even call other guides to see if they had any scouting tips in terms of weather, always willing to make adjustments to the plan to bring us to the perfect location in search of the Northern lights.
Once we arrived at our spot, a few miles over the Finnish border, they set up a little aurora camp: reindeer pelts atop snow "benches" (which were surprisingly warm to sit on) as well as a fire we could all get toasty around.
We roasted all-you-can-eat sausages — reindeer, pork, and vegan options — with tunnbröd or "polar bread", a flat, tortilla-like bread.
We had copious cups of coffee and hot chocolate around the fire, while our guide shouted for us every time the aurora made its appearance.
Our expert guide would snap professional-grade photos for us, one by one, so we'd all have at least one aurora selfie to take home with us.
He also helped us with photographing the aurora independently, assisting with the tripod set up, and identifying the correct manual camera settings to best capture the lights.
All in all, I absolutely adored this tour. The only con is that it was a lot of driving, and we got home very late — well past 2 AM, maybe closer to 3 AM — but it was well worth it for the amount of lights we were able to see.
If it's your first time trying to see the Northern lights, this is the way to go. They'll travel long distances in search of clear nights and the perfection location to have a good chance to seeing the Northern lights.
I felt they gave us plenty of time to enjoy the aurora once we finally found one of the right place to see the aurora. We were never rushed, which was very generous of them.
I feel especially certain that this is the best Tromso Northern lights tour, because I spoke with other travelers in Tromsø who went with less dedicated guides and unfortunately didn't get the full aurora experience.
Snowmobile and Aurora Tour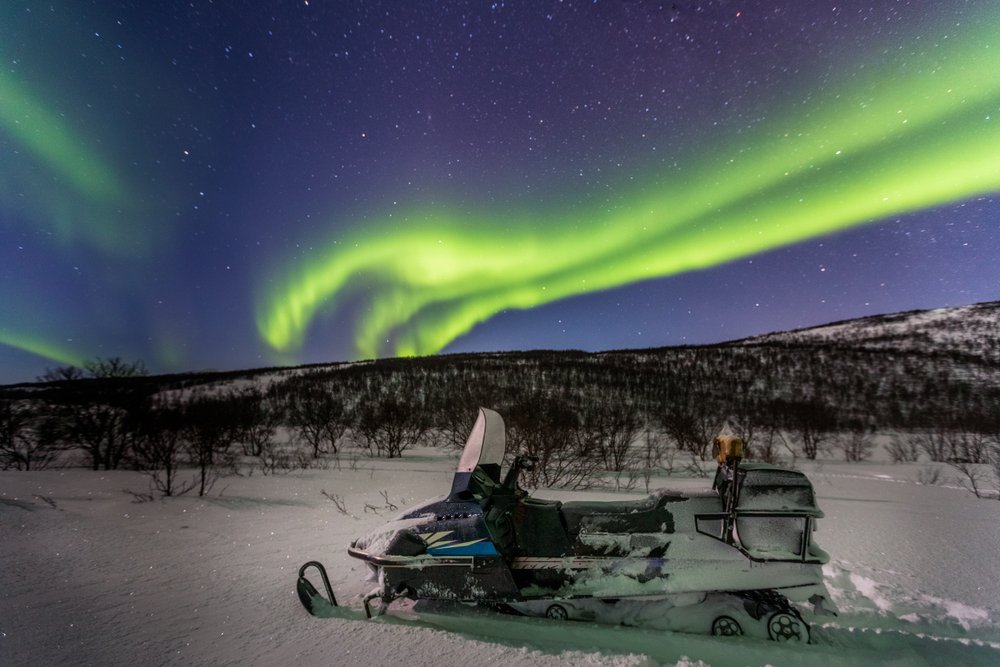 I've never ridden a snowmobile, but this is another common aurora chasing tour option in Tromsø that combines a little bit of adrenaline, a lot of sightseeing, and hopefully, a shot at spotting the Northern lights!
Snowmobiling is a great way to cover a lot of ground in a way that gets your adrenaline pumping.
It's perfect because you can move around a bit in order to find a clear patch of sky in the middle of nowhere that (hopefully) will allow for perfect aurora spotting!
This tour takes you to Camp Tamok at the Tromso Ice Domes 1.5 hours outside the city.
This way, you can visit the grounds of the magical ice hotel before going out for an epic snowmobile ride you'll never forget in the Tamok Valley.
If you're lucky, the Northern lights will make an appearance!
Dog Sledding and Aurora Borealis Tour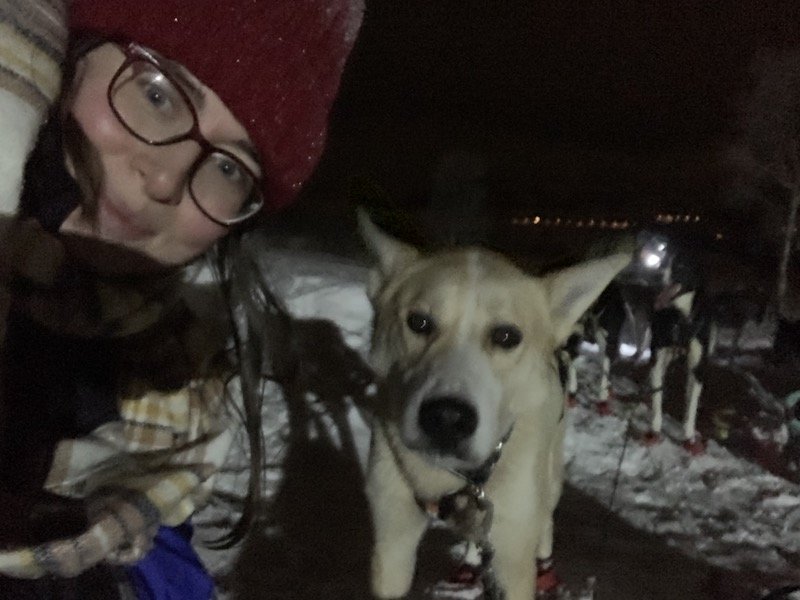 This was another one of the many Northern lights tours I took on my last trip to Tromsø.
While I didn't get lucky enough to see the lights, it was still one of my favorite tours… because hello, it's dog sledding under the stars, how much more magical does it get?
There are two kinds of dog sledding tours you can do: self-driving and musher-driven.
This falls into the latter category, where you get to sit in a seat on the sled as a musher drives you with a team of huskies, speeding through the snow while you cuddle up with some reindeer pelts to keep warm!
Doing a dog sleigh ride is more passive than self-driving dog sledding.
As a result, it's a lot less physically demanding, making it a great option for families of young kids who may be a little too small to handle self-driving.
The other bonus of it being musher-driven is that you have all the time in the world to look up at the sky and hope to see the Northern lights!
In my case, it was hopelessly cloudy and there was no shot, but you may be luckier than I was!
After the husky sledding experience, which lasted around 30 minutes, we ended up at the lavvu (Sami-style dwelling, similar to a Native American tipi).
We warmed up around the fire and enjoy a delicious seafood stew dinner to warm up with! Vegetarian options were also available.
Book your dog sledding evening tour with a chance of Northern lights here!
Whale Watching and Overnight Aurora Camp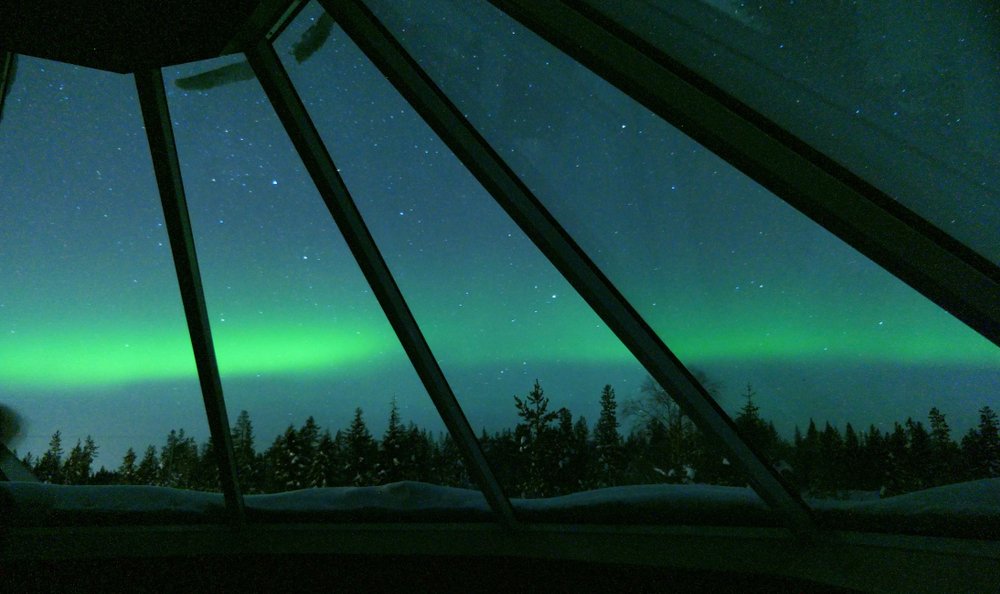 Want to combine two Tromso bucket list musts into one perfect excursion? Well, pinch yourself, because that actually totally exists!
One thing to know about whale watching in Tromso is that the whales used to visit the fjords in Tromso proper, but now, they're found quite a bit away from Tromso, in Skjervoy.
Going by boat to Skjervoy can be a miserable, 3+ hour one-way experience with lots of seasickness.
This tour actually drives you to Skjervoy before embarking in a RIB boat. This small boat allows you to view the whales in a more ethical fashion than big-boat tours, which can sometimes scare the whales.
Your whale watching experience is wrapped up with a meal before heading to the beautiful Green Gold Villa, located in the Lyngen Alps.
Here, you'll enjoy a photography workshop to prep you on how to photograph the Northern lights, as well as a group dinner.
You'll then get to watch the aurora from the villa, and you'l get to enjoy an overnight stay in one of the six Crystal Lavvos which offer an incredible glamping experience!
The Crystal Lavvos are made of wood frames with a glass-paneled roof so you can watch the Northern lights dance overhead through the ceiling, like those glass igloos you may have seen in Finland!
The overnight Northern lights tour culminates with breakfast and a transfer back to Tromso city center.
Book your whale safari and aurora lavvu camping experience online here!
Reindeer Sledding with Sami Guide and Northern Lights Tour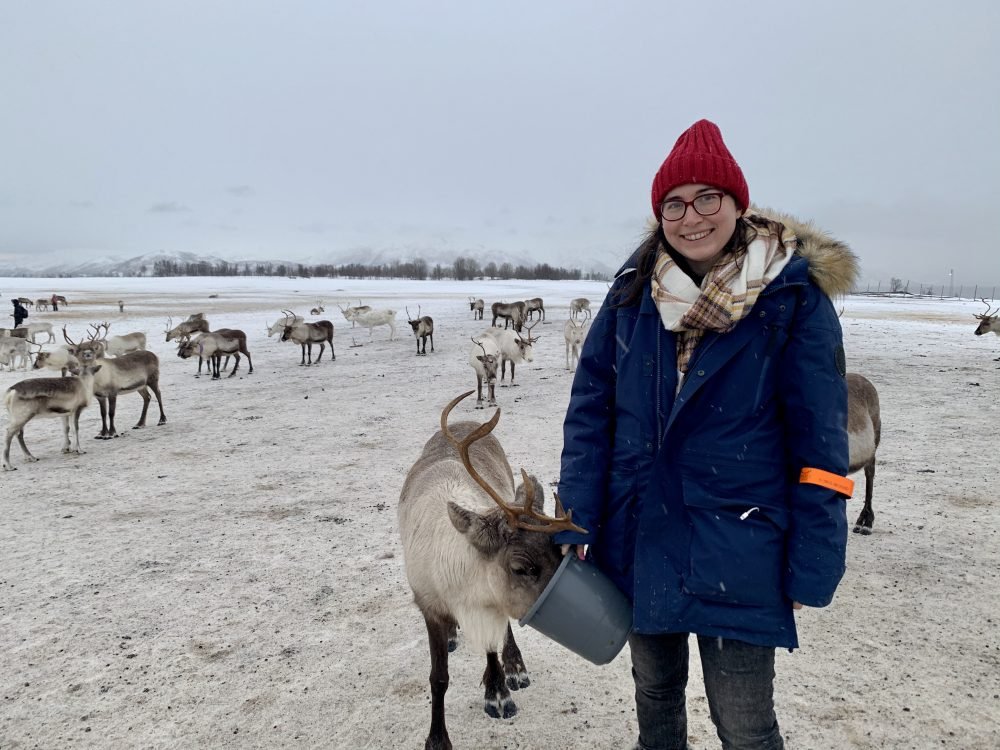 This is a tour I did during the daytime, but the same company I went with also offers night tours which follow basically the same itinerary, but with a shot at getting to spot the brilliant lights!
The tour consists of visiting a reindeer farm, where you can either feed and interact with the reindeer (they are very tame!) or go reindeer sledding.
This pretty much just consists of being pulled around the camp for 15-30 minutes, followed by a meal and a storytelling and singing session in a Sami lavvu.
Reindeer farms are a big part of Northern Norway's tourism scene, and the history of it is really interesting.
Historically, reindeer herding is how the Indigenous people of Northern Norway, the Sami (also written Sámi or Saami) have survived. 
So, who are the Sami? The Sami are indigenous to the region called Sápmi which covers parts of Northern Norway, Sweden, Finland, and parts of Russia (specifically, Murmansk Oblast).
Sápmi is mostly synonymous with the region known as Lapland, but the term Lapland is not preferred by most Sami, who consider the word "Lapp" to refer to a Sami person in a pejorative fashion.
One of the things I liked most about my tour to the Sami reindeer camp was the chance to learn from my young Sami guide, who was an incredible storyteller.
He spoke with passion and emotion about the history of the treatment of the Sami people as we gathered around a fire in a lavvu, a traditional Sami tent.
He was not shy about critiquing the way the Norwegian government has historically treated the Sami people, which was similar to the treatment of First Nations and Native American people in Canada and the United States.
Practices such as the banning of the Sami language and the forcing of Sami children into Norwegian boarding schools were aimed at destroying Sami identity.
Unfortunately, as a result of these laws, many Sami have since lost touch with their roots and integrated with Norwegian or other Scandinavian societies, losing their language and culture in the assimilation process.
Today, Nordic governments are setting up truth commissions and working on reconciliation projects that will, hopefully, make up in some small way for the historic injustices the Sami have faced.
It all may seem a bit heavy for a Northern lights tour — and of course, the subject matter is heavy, but it is important.
I was so, so glad I went and had the chance to learn from a young Sami storyteller, someone who is so deeply passionate about preserving his people's identity but also with sharing that identity with tourists.
If you're looking for chance to spot the Northern lights in Tromso that also touches on culture, history, and cute animals — this is a great way to spend a night in Tromsø.
This Sami reindeer camp and Northern lights tour is with the same company I did my daytime trip with, and I can't imagine why the nighttime tour would be any less magical!
Snowshoe and Aurora Tour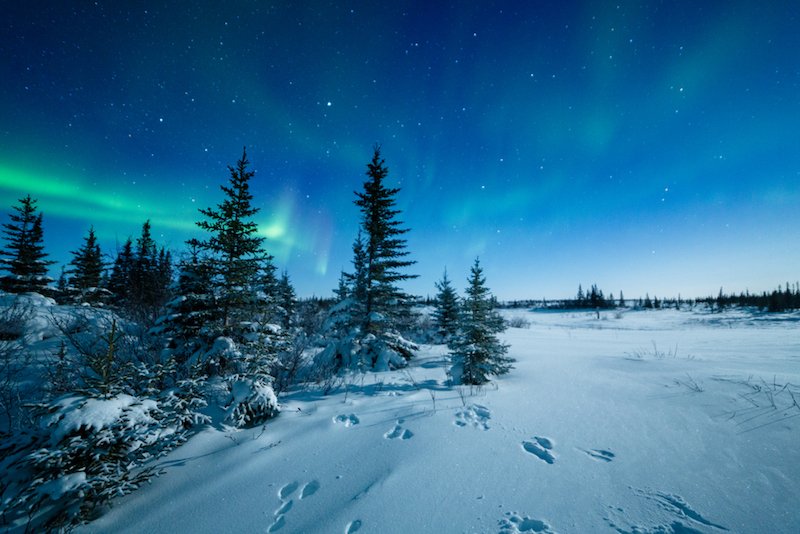 Some people prefer a more active approach to spotting the Northern lights, one that combines some physical exercise with a chance of spotting the Northern lights.
If you're of the mindset that 'the best views come after the hardest climb', snowshoeing in the Arctic with the hope of spotting the Northern lights sounds like the perfect adventure for you!
I've gone snowshoeing in Abisko (part of Sápmi/Swedish Lapland) while spotting the Northern lights there, and I had so much fun!
Unfortunately, I didn't have time to do this tour in Norway, but it seems like a fantastic way to combine some exercise with an opportunity to see lights dancing above you without any interference from light pollution.
Ice Hotel and Aurora Camping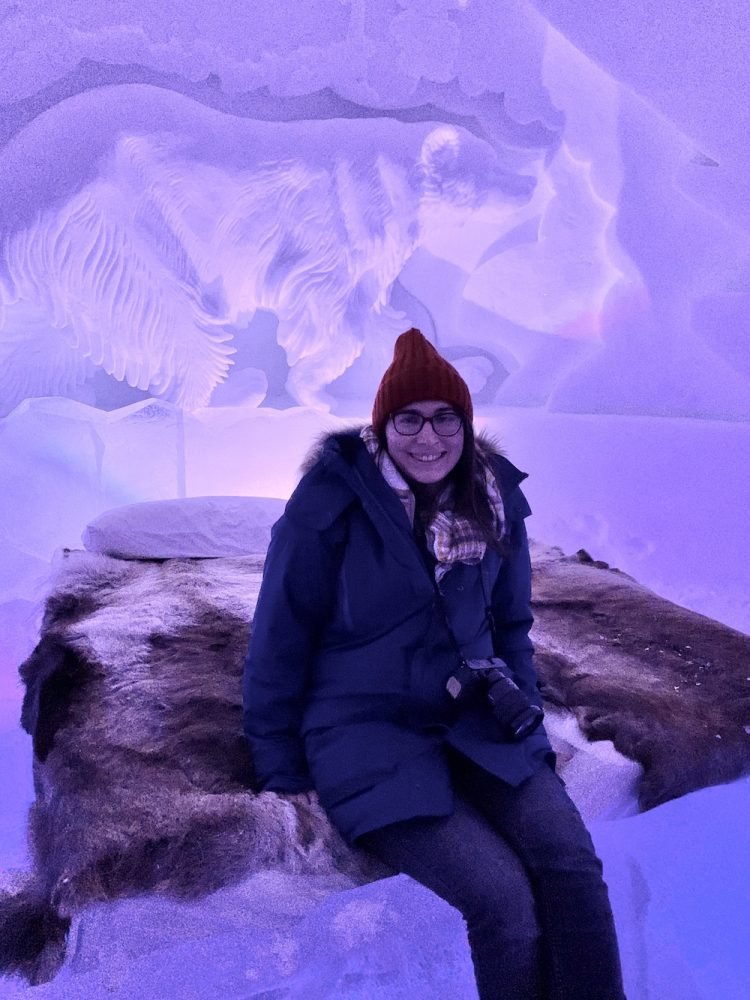 For the most epic way to see the Northern lights in Norway, try spending the night in an Ice Hotel!
I did a daytime visit to the Tromso Ice Domes, the premiere ice hotel in Norway, and was it ever stunning!
I couldn't afford the whole overnight package, unfortunately, but I enjoyed even my brief daytime visit. It was one of the best things to do in Tromso, hands down!
If you're visiting Tromso for a special occasion like a honeymoon, anniversary, or you just like to vacation like a baller, then you've got to spend a night hunting for Northern lights at the ice hotel!
Tromsø Ice Domes are located in the Tamok Valley, about an hour and a half away from Tromsø City Centre.
You can do a day tour, but the best experience is a tour staying overnight in the ice hotel.
It also includes a dog sledding tour, Northern lights safari, snowshoe tour, and all your meals.
If you're visiting Tromso for a special occasion like a honeymoon, anniversary, or you just like to vacation like a baller, then you've got to spend a night hunting for Northern lights at the ice hotel!
Enjoy the entire Ice Hotel — including an ice bar, ice cinema, ice restaurant, and ice bedrooms! — as well as the ice sculptures all around the property.
The evening includes a snowshoe walk in the Tamok Valley, including a guide who will help you spot and photograph the Northern lights, as well as identifying animal tracks and learning about the nature in the area.
You'll camp out at the nature camp, and you can grill a delicious dinner on an open fire!
You'll stay in the ice bedroom overnight and be given a cozy expedition-rated sleeping bag on a proper mattress (don't worry, you won't be sleeping on an actual block of ice, though you do have an ice bed frame!) covered in reindeer skin.
In the morning, wake up to a beautiful icy landscape, enjoy a traditional Nordic breakfast, and go on a dog-sledding excursion before heading back to Tromso city center.
Book your Ice Hotel overnight and Northern lights tour here!
Jacuzzi and Sauna Northern Lights Cruise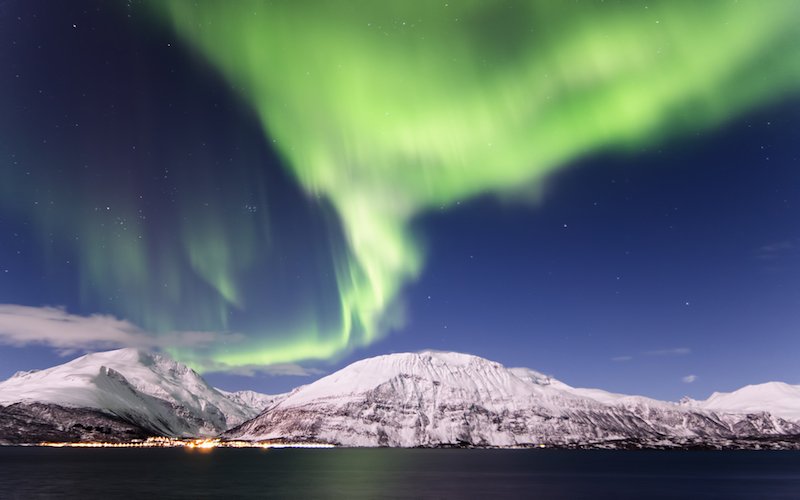 If you can't afford a night at the Tromso Ice Domes, this is a romantic and luxurious way to spot the Northern lights on a far more affordable budget!
Imagine cruising the fjords of Tromsø while staring out at the beautiful city lights as you exit the port of Tromsø and give way to the beautiful waters surrounding the fjords…. while in a delightful hot tub!
This Northern lights cruise combines a relaxing spa experience with all the pleasure of chasing the aurora borealis…
Plus, it keeps you warm and relaxed while lights-hunting on this beautiful Northern lights tour from Tromso.
Arctic Cuisine & Northern Lights Cruise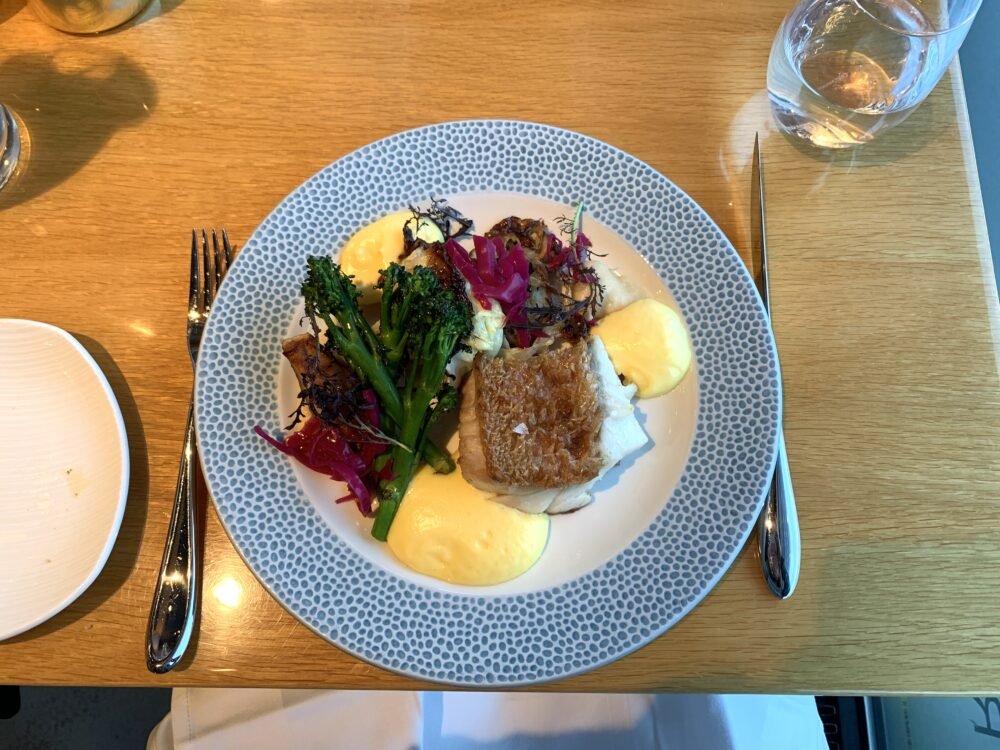 For a special spin on a Northern lights cruise, do one that is cuisine-themed with a focus on delicious Arctic food!
You may wonder what Arctic cuisine entails. Well, it's not particularly vegetarian or vegan-friendly due to the difficulty of growing vegetables in the Arctic!
Arctic cuisine leans heavily on humanely-raised meat such as reindeer (which is typically herded and farmed by the Sami) as well as fish like cod, Arctic char, and more. 
Enjoy a 3-course Arctic-inspired meal aboard an electric catamaran with chances of seeing the Northern lights dancing overhead.
Northern Lights Photography Tour in a 4×4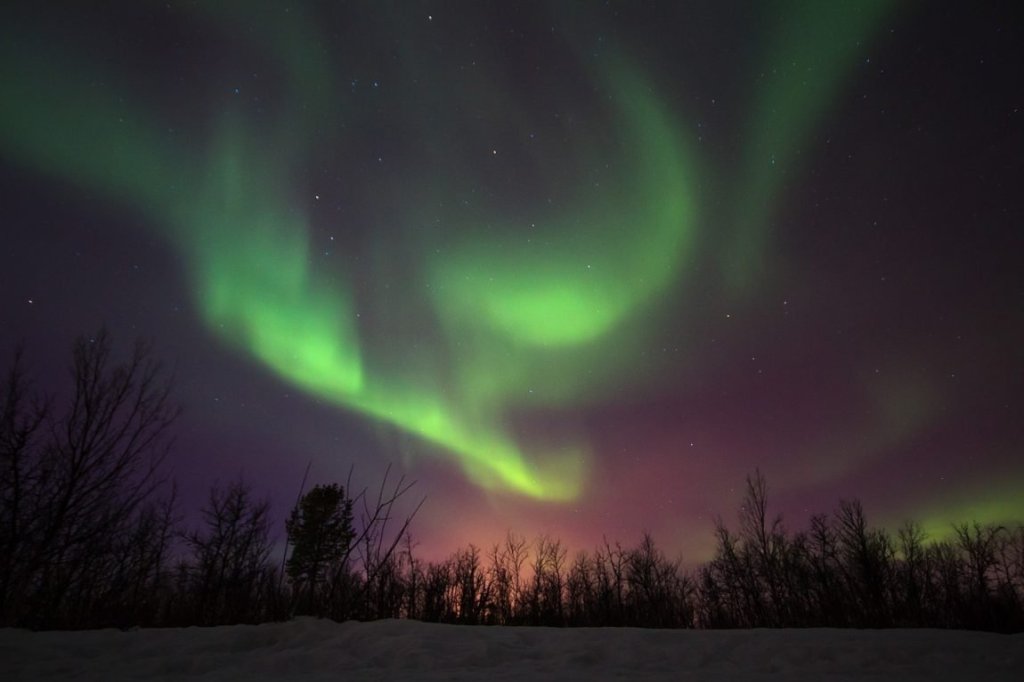 So far, each of these Tromso Northern lights tours listed has a slightly different focus.
Some are more geared towards animal experiences, such as in the dog sledding and Sami reindeer camp tours. 
Others are geared towards exercise and active adventure, like snowmobiling and snowshoeing.
Others still are focused on luxury and romance, like the Ice Domes or the Jacuzzi Cruise.
But what about a Tromso Northern lights tour that focuses specifically on photography?
While many of the tours, including the minibus tour, will help you out with photos, you may want a more photography-focused excursion.
This tour does just that in a 4×4, no less, so you can really get off the beaten path (literally) and out into the most beautiful nature Northern Norway has to offer.
This highly-rated 4×4 small group photography tour is the perfect choice for photography enthusiasts who have their heart set on taking home a beautiful photograph of the aurora that they snapped themself.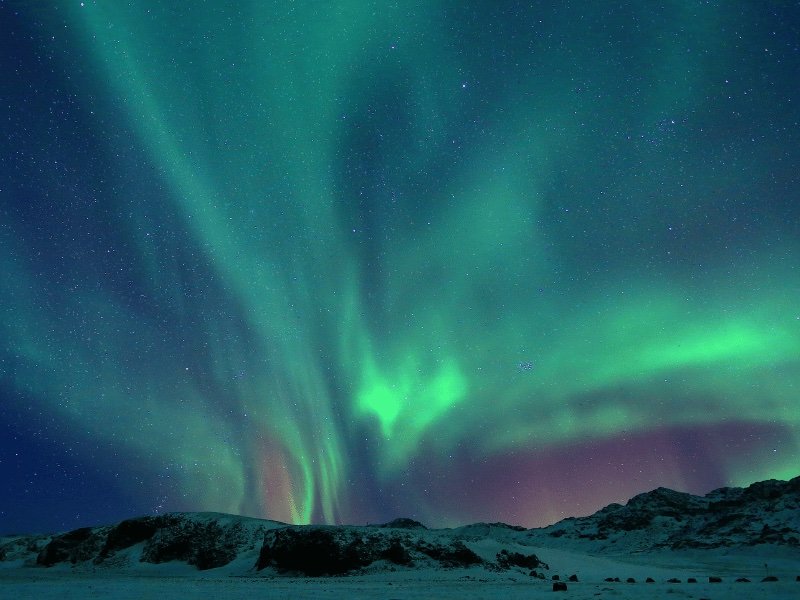 This tour includes two local guides who are willing to drive anywhere and everywhere for a better chance to spot the best Northern lights.
Once a great location is found, the guides set up camp and help you set up tripods (provided by the tour guides) and give you all sorts of tips on best composition and ideal camera settings.
The guides will also take photos of you, and photos of the aurora, in case you're not confident in your photography skills.
The group is always kept small — no more than 8 guests — and the tour includes a vegan soup dinner and dessert.
They also provide hot beverages to keep warm by the fire while waiting for the aurora to appear, tripods and headlamps, hand and foot warmers if needed, plus all sort of thermal suits you might need to stay warm.
Drop off is included as well, which is nice as you arrive back quite late!
Seeing the Aurora Borealis in Tromsø Independently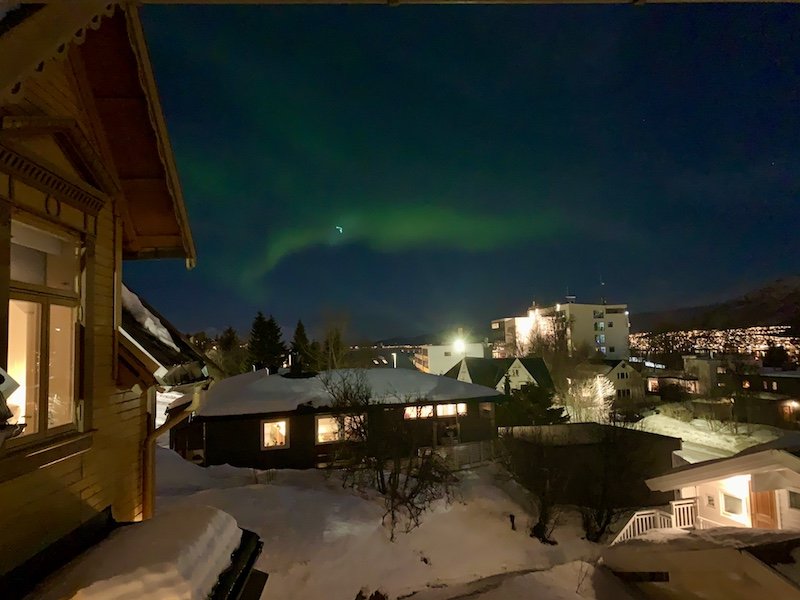 You can occasionally see the Northern lights dancing over the city of Tromsø itself!
My Airbnb host spotted them one night from his house and he popped over to my room to give me a heads up that they were dancing, and I was able to spot them just from the balcony!
However, this only happened once in the 7 days I was in Tromsø, so view it as a bonus, not a given.
If you want to the best odds of seeing the Northern lights in Tromsø without booking a guided tour, you can take the Fjellheisen cable car up to their viewing platform.
This helps you escape some of the light pollution and also offers a stunning vista over the city.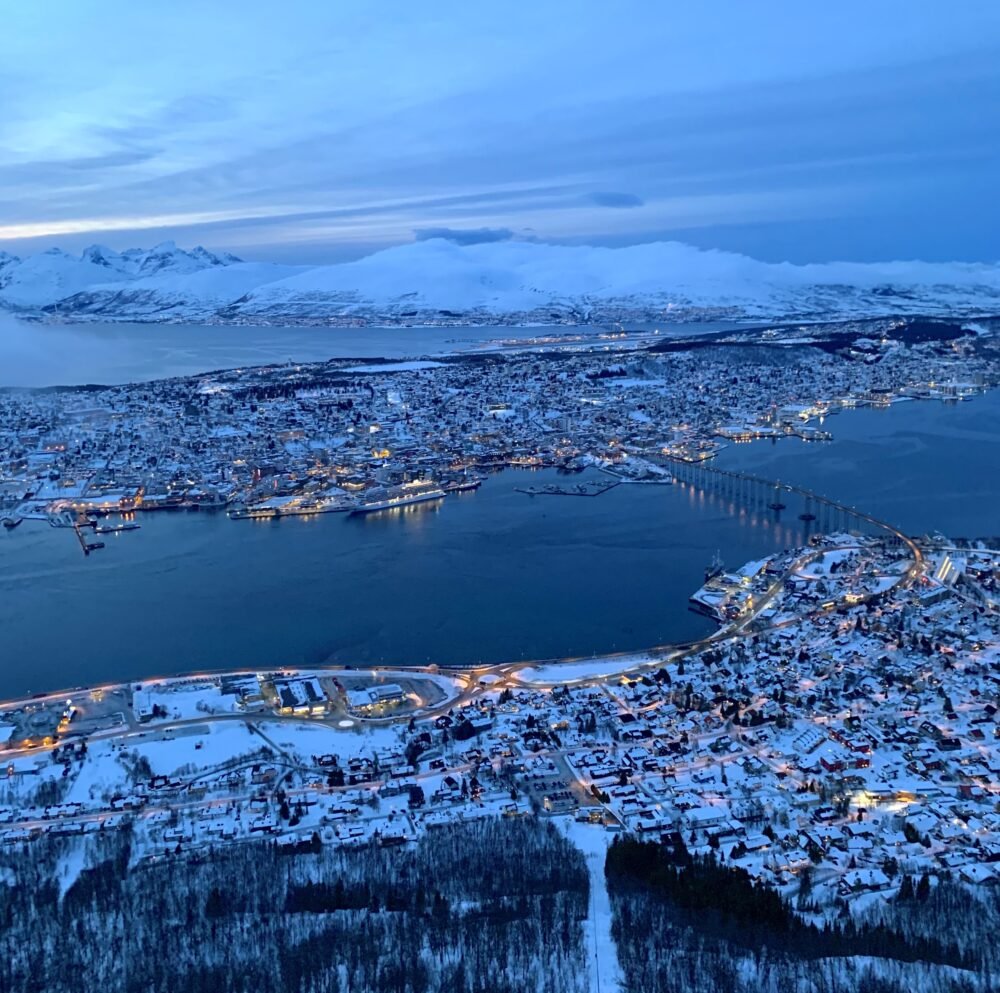 A return ticket costs NOK 218.50, which is around $27 USD, a great price considering you can stay as long as you like!
There's also a restaurant up at the top, Fjellstua, which is reasonably priced given its gorgeous location.
It's recommended to reserve a table — email them at [email protected] to do so — as spots are limited. I didn't reserve a table, but I visited around 4 PM when tables were plentiful. 
I had an all-you-can-drink cup of coffee (hot chocolate also available!) for around $4 USD, and a traditional waffle for another $5 USD!
If the weather forecast for Tromsø is pretty bleak but you don't have a tour, you can try self-driving, so long as the weather conditions aren't too intense and you are comfortable driving in cold, snowy landscapes.
You could drive out to Lyngen about an hour from Tromsø. The Lyngen Alps break up some of the cloud cover that Tromsø gets, so it can be a good location to try self-driving.
You might also just want to bite the bullet and drive to Finland if you're self-driving.
We ended up outside the town of Kilpisjärvi on our minibus tour, and it was the only place you could see the Northern lights for miles and miles, according to our guides!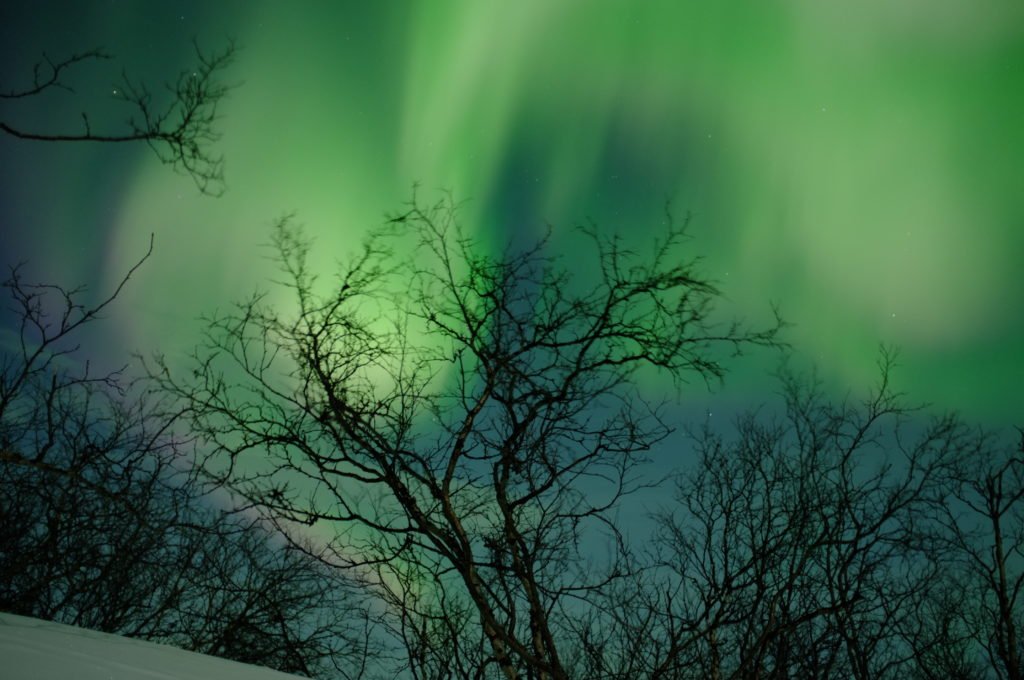 Another option if you prefer independent travel is spending some time in Abisko, Sweden.
Abisko is statistically proven to have the best Northern lights around, with scientists pegging your odds at 80% if you stay for 3 days. 
Abisko is where I took this gorgeous photograph, with green and a bit of purple!
Personally, I saw them 3 out 3 days in a row!
As a bonus, in Abisko, it's so easy to see them without any need for tours due to the "Blue Hole" that forms around Torneträsk, the frozen lake at the heart of Abisko National Park.
It's a great budget option, so if you don't necessarily have your heart set on Tromsø, Abisko makes a great alternative.
I have a bunch of resources on planning a trip to Abisko in winter, which you can find here.
What to Wear in the Arctic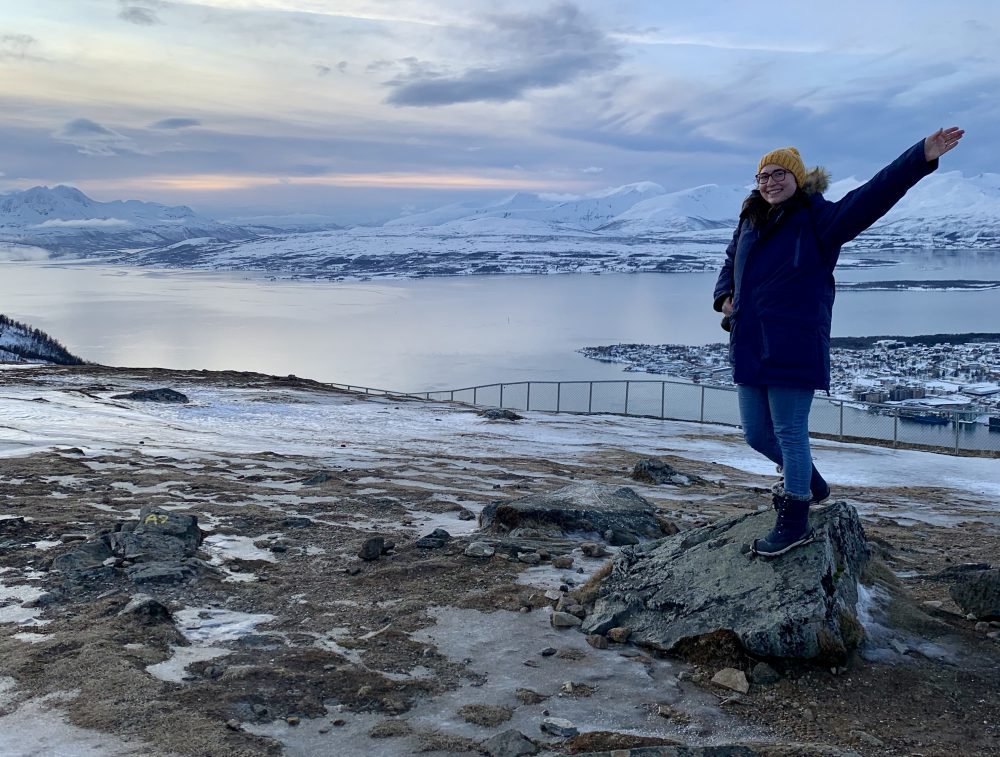 I have a full packing list for what to bring to Norway in winter here, which you should definitely check out before your trip.
Note that being out spotting the Northern lights can be extremely cold! While virtually every company I know of offers free thermal suits for rent (which you absolutely should take advantage of), you'll want to wear comfortable thermal layers underneath.
Warm socks, snow boots (though many places offer boot rental as well), warm gloves, a scarf, a hat, and thermal layers are must-haves when dressing for the Arctic. You'll also want a parka and snow boots for walking around town.
Here are my quick recommendations:
Parka
For my trip to Norway, I wore a jacket that I bought from Decathlon which I can't find online, but it is virtually identical to this one but in a navy blue.
On my past trip to the Arctic, in neighboring Sweden where it's actually a bit colder, I did really well with my North Face parka which I've owned for 10 years and absolutely love (I just didn't have it moved over to Europe, where I was living at the time).
Snow boots
I wore a pair of snow boots by Quechua which I bought from Decathlon, which I can't find online anymore.
Here is a similar boot by Sorel, a trusted winter brand that's beloved in Norway and beyond (here's a women's version and a men's version).
I recommend sizing about half a size up to account for thick winter socks — which should definitely be wool!
Yaktrax
Walking around Tromso is icy and crampons are a must if you don't want to fall and risk being hurt!
While you might not need Yaktrax on your Northern lights tours, you'll want them for walking around the city when it ices over — which happened multiple times during my trip there.
I like these simple Yaktrax because they're easy to take on and off, as you're not allowed to wear them in indoors stores, etc. in Tromso.
And yes, they are carry-on friendly in my experience!
Cold weather accessories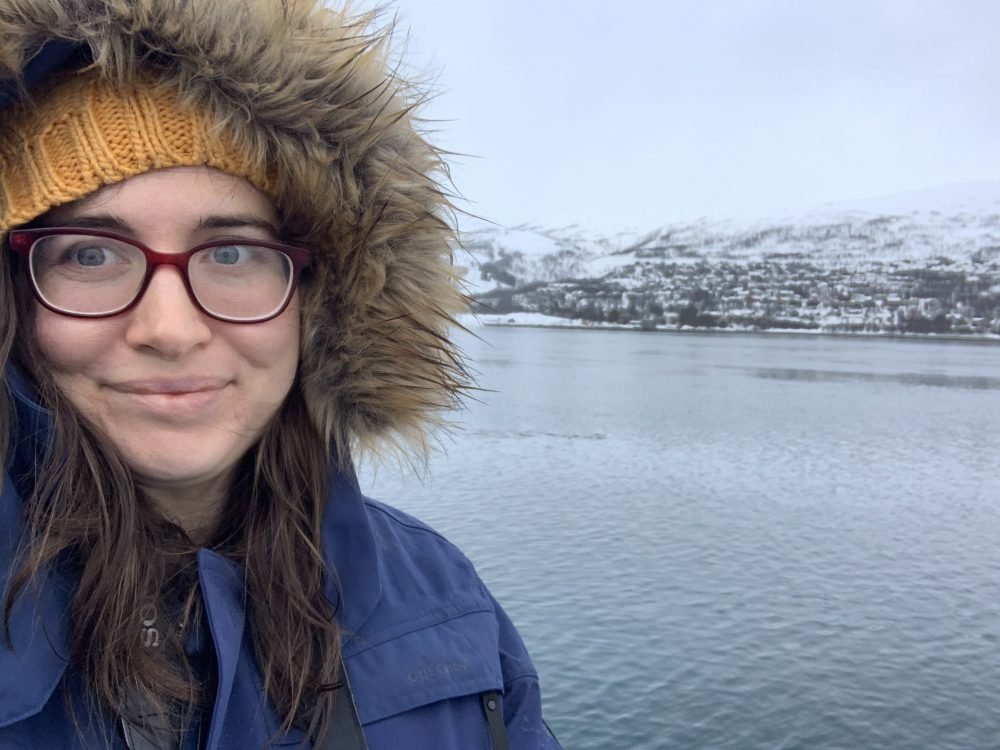 For me, this includes the following: a winter hat, two pairs of winter gloves (one thin and able to be used with touchscreen devices, one thick and waterproof), and a scarf or two.
I suggest getting colorful accessories which will help you differentiate and stand out in your photos, since you'll likely be wearing the same outerwear jacket in all of your snaps.
Base layers
For thermal leggings, I recommend these for women and these for men, both by Columbia, a trusted outdoors brand.
For a top thermal layer, I recommend this top for women and this top for men.
Merino wool is also a popular choice because it is odor-resistant and moisture-wicking.
However, I'm neurodivergent and have pretty intense sensory issues, which makes wool tough for me.
For me, wool is too scratchy for the softer skin on my body, but it's fine on my feet, so I only wear wool socks and then I opt for non-wool materials for the rest of my base layer.
If you're fine with merino wool, I suggest base layers from Merino.tech, like this leggings and top base set (women's) and this version for men, which is very affordable for the high quality!
Wool socks
For making those warm snow boots even warmer, I love SmartWool.
And yes, even though I normally hate wool, I don't find these itchy at all!
Your typical winter clothing
Once you've got a parka, base layers, accessories, and snow boots, you can wear whatever normal winter clothing you'd wear — jeans, sweaters, etc.
Even if you don't come from a particularly cold climate, as long as you're wearing things that cover your limbs, you should be fine after all your accessories, which do the heavy lifting of keeping you warm!
Photography Gear for Shooting the Northern Lights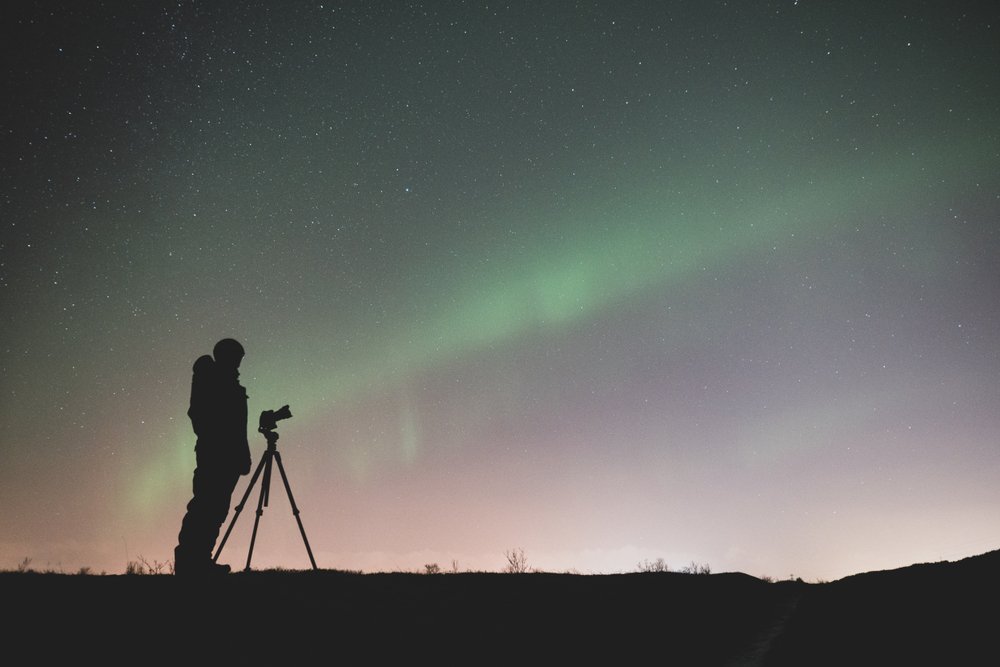 I have a full guide to photographing the Northern lights on the way, but here are the basics of what you need, and I also cover this topic quite a bit in my post on seeing the Northern lights in Sweden.
Tripod
You'll want a stable tripod that won't be knocked around if there are winds.
A tripod is non-negotiable because you need to stabilize the camera when photographing the Northern Lights for seconds at a time, which your hand is incapable of doing.
Some Northern lights tours will offer tripod rentals, whereas others do not, so ask first or bring your own.
This COMAN tripod is reasonably priced (trust me, real-deal tripods can easily exceed $600, so this is a good deal) but far sturdier than the cheapest bare-bones tripods you'll find on Amazon.
Camera with manual settings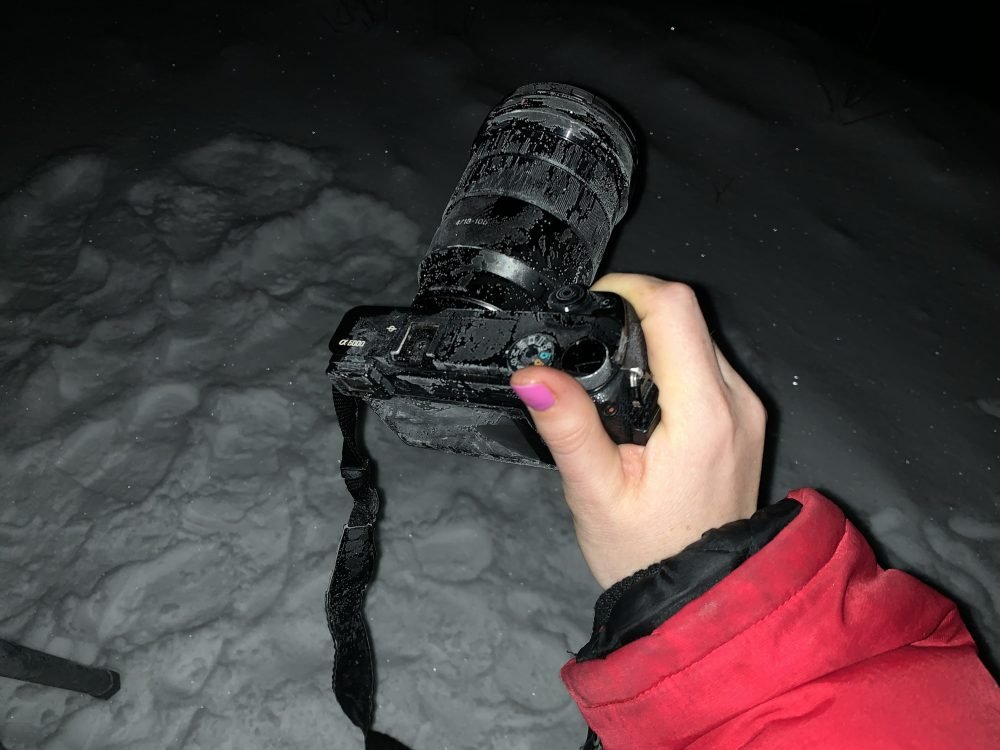 You don't need an incredibly expensive to see the Northern lights, not at all!
However, you need something with a little more power than just a smartphone.
I used a Sony A6000 when I snapped all my Northern lights photos and it worked just perfectly.
You'll need to get acquainted with the best camera settings for capturing the Northern lights, but any camera that has manual capabilities will have plenty of power for capturing the lights.
I recommend my Sony A6000 all the time, as it's served me very well!
I've since upgraded to a Sony A7R II — not the highest end that Sony offers, but among the cheapest in the full-frame arena — and I adore my new camera, and can't wait to take it on more Arctic adventures!
Lots and lots of spare batteries
A camera battery in the Arctic lasts way shorter than you'd expect.
I run through a battery in about 30 minutes of use in the Arctic… sometimes even faster (see photo above!)
Carry at least 4 extra batteries with you, preferably in a pocket to keep them as warm as possible until you're prepared to use them.
Sony's proprietary battery packs are expensive, so I use these ones by Wasabi Power.
Note that the charger included is only compatible with the Wasabi batteries, though, and not the one that came with your Sony. That you can charge via a USB.
Microfiber lens cloth
These lens cleaning cloths will help you remove ice and condensation that occurs on the lens in these extreme cold climate conditions!
As you can see above — it'll come in handy!
Where to Stay in Tromsø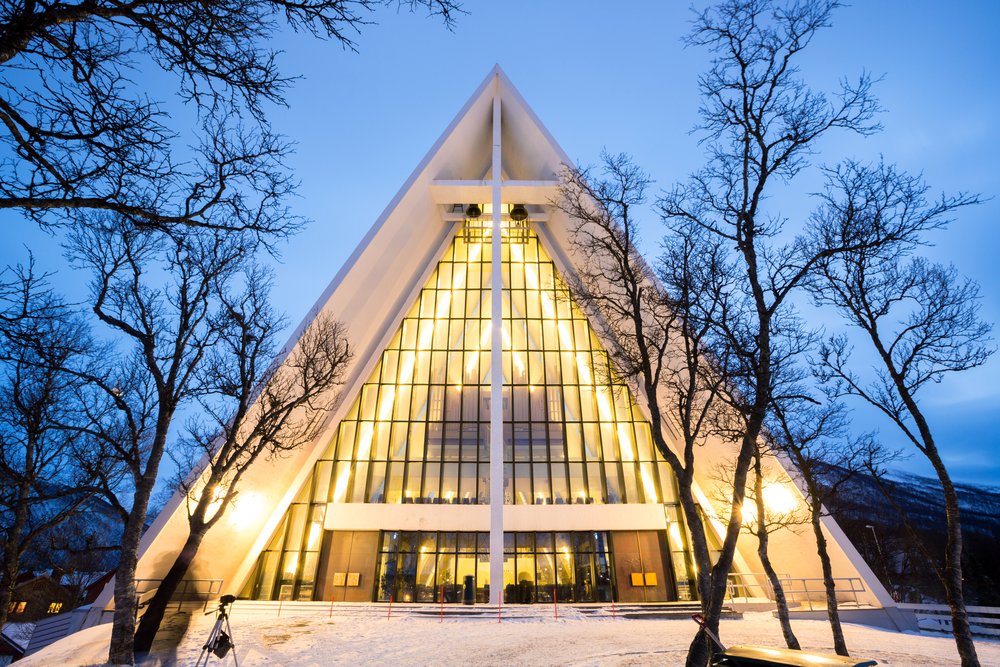 Central Tromso is nice and small, and there are tons of great accommodation choices right in the heart of town.
Here are our 3 top picks in Tromso city center, as well as one amazing Arctic glamping spot just a bit outside of the city (free transfers are provided).
Budget
The best budget option in Tromso is Smarthotel Tromso. It's right in the heart of central Tromso, so it's easy to get to all your activities!
Plus, it has all the things you need in a hotel — 24-hour reception, comfortable beds, a work desk, and some food available in the lobby.
Note that breakfast is not included in the price (that's part of why it's budget-friendly!) but can be added for a fee.
Check reviews from verified guests, see photos, and book your room here.
Mid-Range
If you want to stay in a chic boutique hotel that's not overly fancy, Thon Hotel Polar is a fabulous choice!
The decor is irreverent yet modern with an Arctic and polar theme, many with vibrant pops of color that make the hotel have a lot more personality than many other Scandinavian hotels which tend to be a bit more muted in terms of decor.
Breakfast is included and there is also a restaurant on-site should you want to dine in.
The location couldn't be better, so it's a fantastic choice for mid-range travelers to Tromso in winter.
Check reviews from verified guests, look at photos, and book your room here
Luxury
There are three Clarion Collection hotels in Tromso, but the nicest of the three seems to be Clarion Collection Hotel Aurora.
Why? It's harborfront and has an incredible rooftop jacuzzi where you can try to spot the Northern lights!
Rooms are luxurious and modern with updated bathrooms, and the facilities include a gym, free afternoon coffee with waffles, and a light evening meal as part of your stay — a great value in pricy Norway!

Check reviews from verified guests, look at photos, and book your room today!
DON'T FORGET ABOUT TRAVEL INSURANCE!
When planning any trip, especially a winter trip, be sure not to forget about travel insurance!
I use SafetyWing and its Nomad Insurance to insure all of my trips for its affordable rates and comprehensive coverage for all my travel needs.
For a trip as expensive as traveling to Norway, it's especially important for me to have coverage. Plus, it's a Norwegian company!
It provides both travel insurance (coverage for trip delays, cancellations, interruptions — the likelihood of which increases in winter) and travel medical insurance (coverage for things like accidents, illnesses including Covid, etc. — also more likely in winter!).
When you throw in travel to the Arctic, things get even more unpredictable with the weather, and you'll be especially glad for the peace of mind!
Coverage is really affordable — for me, it costs roughly $11 USD for a week of coverage outside of the U.S., with a policy max of $250,000 after a deductible of $250. Not bad!
Allison Green is a former educator turned travel blogger. She holds a Masters in Teaching and a B.A. in English and Creative Writing. Her blog posts merge her educational background and her experience traveling to 60+ countries to encourage thoughtful travel experiences that both educate and entertain. She has been a speaker at the World Travel Writers Conference and her writing, photography, and podcasting work has appeared in National Geographic, CNN Arabic, CBC Canada, and Forbes, amongst others. Now based in the San Francisco Bay Area where she grew up, she has also lived in Prague, Sofia, and New York City.