We've covered a few special spots around Idaho before, like the best Idaho hikes and hot springs.
This time, we've pulled them all together in a collective Idaho itinerary which helps to highlight the unique characteristics of each place as well as the shared natural beauty consistent throughout the Gem State.
Starting from Boise and working your way counterclockwise around the state to some of the best outdoor spots makes for one memorable Idaho road trip.
Follow along for an epic Idaho road trip through Ketchum, Stanley, Salmon, Missoula (a little side trip to Montana), Coeur d'Alene, and McCall.
The full road trip route can be covered in just over a week in Idaho, but you're better off with 10 days in Idaho to maximize your trip time and spend more time enjoying and less time driving.
There are also options to pare down for a two to three-day excursions from Boise. Check out the previous post on Idaho hikes and incorporate some of those along the way.
Alternately, you can plan your itinerary around hitting up some of the best, most unique Airbnbs in Idaho — I'll also include suggestions throughout this post for accommodations, both traditional and unique.
PLANNING FOR IDAHO AT A GLANCE:  

When to Go: Idaho is beautiful all year round but since this itinerary involves a lot of hiking and other outdoor activities, the best months to go are between June and late September since some roads and trails are inaccessible during the winter months. 

However, if you want to go hiking in the best conditions, then July and August are the best months for your Idaho road trip but if your road trip involves seeing the stunning Idaho fall foliage, then I recommending going in late September.

Where to Stay: For this itinerary, you'll have sleepovers in Boise, Ketchum/ Sun Valley, Stanley, Salmon, Coeur d'Alene, and McCall.

For your first sleepover in Boise, I recommend staying at The Modern Hotel & Bar, a stylish boutique hotel, Inn America if you're on a budget, or this loft if you want a homey feel. 

And while in Ketchum, I recommend staying at Hotel Ketchum, a contemporary boutique hotel, Wood River Inn & Suite for budget travelers, or this Barnhouse if you want something less traditional.

For Stanley, I recommend staying at this tiny house if you ever dreamt of staying in one or this Redfish Riverside Inn (Lodge). 

Salmon has several accommodation types but I suggest staying at this tiny converted wagon trailer if you want something unique or at this log cabin for a homey and cozy feel.

Since you'll have a number of nights in Coeur d'Alene, I recommend choosing a comfortable place to stay and in that case, I suggest Greenbriar Inn a cozy Inn, this houseboat if you want to be right on the lake, or this cowboy cabin for a western-themed stay.

And for your last overnight stay in McCall, I recommend staying at this McCall cabin if you're traveling as a group/family, or Scandia Hotel for a Nordic Inspired comfort.

How to Get Around: You're definitely going to need a car while road tripping Idaho. If you don't know where to rent one from, you can compare car rentals and prices from here. Alternately, you can rent an RV or campervan via RVShare and save on accommodations.

3 Things Not to Forget to Pack:  A sturdy pair of hiking boots will serve you well -- I love my Ahnu boots. A dual purpose phone mount and charger will come in very handy and you'll be happy to have a roadside emergency kit should your car break down while road tripping.
Road trip pro tip: Purchase an annual pass (AKA the America the Beautiful Pass) to save money on the entrance fees for the multiple locations in this itinerary run by the NPS!
How This Idaho Road Trip Itinerary Works
Note: This post contains affiliate links, which means I may receive a small commission if you purchase something through one of these links. Thank you for supporting the free content on this site! For more information on affiliate links and cookies, see my disclosure page for more details.
This Idaho road trip itinerary takes all the stress out of planning a road trip — simply follow our route or modify it slightly if you are starting or ending the trip in a different place.
This Idaho road trip departs and leaves from Boise, Idaho, which has the main airport with service from several major cities in states all over the country, as I figured this would be the most useful departure point for most travelers.
This Idaho road trip follows a loop, starting and ending in Boise, which means that you can also start at any other point along the loop and follow it from there, just reorganizing the stops on this itinerary to make the road trip work for you personally.
However, if you are traveling from a neighboring state, you may want to treat this road trip itinerary a little differently.
For example, if you are based in Tacoma, Washington, you'd most likely want to start this Idaho road trip in Couer d'Alene and make a loop from there, as it would require the least backtracking.
This Idaho road trip is also focused on covering all the best natural beauty there is in the state as opposed to covering city and town travel.
You'll find plenty of beautiful hikes and outdoor activities to indulge in, but we won't be stopping at too many larger cities and towns, although there is an exception for Boise and a quick side trip to Missoula, Montana, which is an easy addition to an Idaho road trip.
This Idaho road trip is structured to cover 10 days at a leisurely pace without too many long driving days without interesting stops in between.
However, you could easily parse it down to 7 days by cutting out a few destinations or spending less time in each destination. If you have to cut anything, I'd suggest cutting Missoula from your plan, as hey — it's not even part of Idaho anyway!
The Best Time of Year for an Idaho Road Trip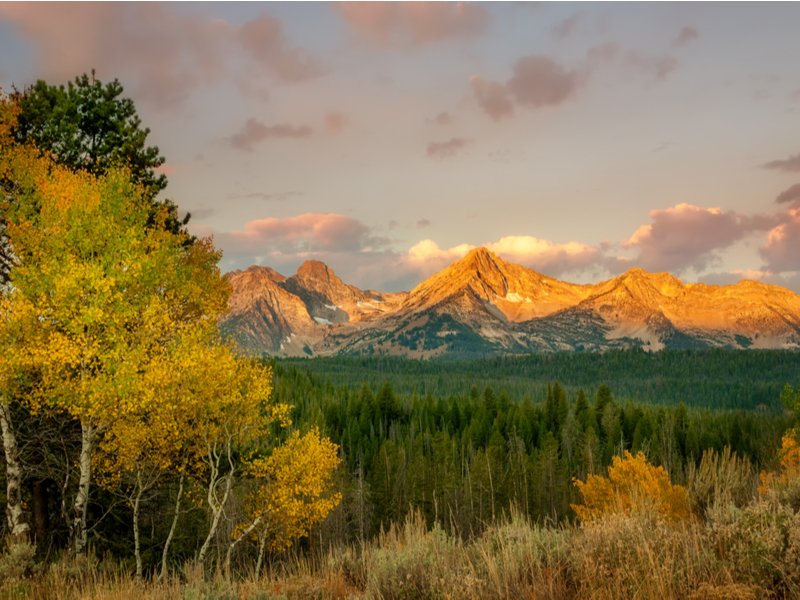 This Idaho road trip itinerary, including suggested roads and activities, is best taken between June and late September, as some road and trail conditions are inaccessible during winter months.
For the best hiking conditions, July and August are the banner months, as the snowmelt on the highest altitudes we'll cover here should definitely be gone by then.
However, if you want a chance at some beautiful Idaho fall foliage, I'd suggest timing your Idaho road trip to begin in late September.
While foliage does reach its peak around mid-October, you'll also have to potentially contend with early snowfalls and inclement weather, so late September is a safer bet in terms of not having to reroute or skip parts of this Idaho itinerary.
Meanwhile, starting this Idaho road trip in May or June means you'll have the peak wildflower season on your mountain hikes, as the wildflowers are at their best shortly after the snow melts, so truly any season is a great one for this road trip!
We don't recommend this exact Idaho itinerary for the winter time because many of the hikes are not possible and some roads may not be passable, leading to time-consuming re-routes.
However, there are definitely some great things you can do in Idaho in the winter, such as creating a skiing and hot spring-themed road trip — check out these Idaho hot springs for inspiration around planning a winter road trip!
Renting a Car in Idaho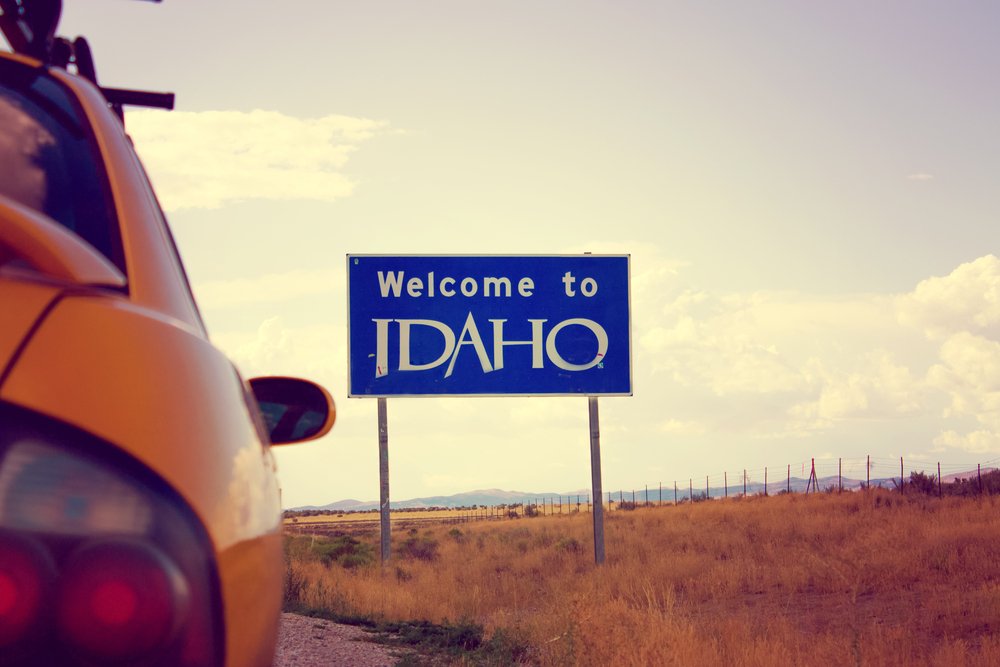 If you're planning on driving into Idaho from a neighboring state like Washington or Montana, feel free to disregard this section!
But if you're flying in and planning to rent a car in Idaho, I suggest picking up at the Boise Airport.
It's the easiest airport to get to in Idaho, and for that reason, it's both the starting and ending point of this itinerary. It's also where you'll find the cheapest car rental prices in Idaho — smaller airports tend to have pricier rentals.
Not sure where to get the best deal on your rental? I've rented cars dozens of times through various search engines and have settled on Discover Cars as the best site to rent with in the USA – it searches dozens of rental companies to find the cheapest price for your rental! Compare car rentals for your trip here!
When renting a car in Idaho, be sure to purchase the proper car insurance coverage unless your credit card covers those for you.
You don't want to be on the hook for damage to your car, especially as this Idaho road trip is rather adventurous and involves some gravel roads and other conditions that may give your car a bit of wear and tear if you're not careful (gravel + windshields do not mix — I learned this lesson well in Iceland!).
Your Perfect Idaho Road Trip Itinerary
Boise (Day 1)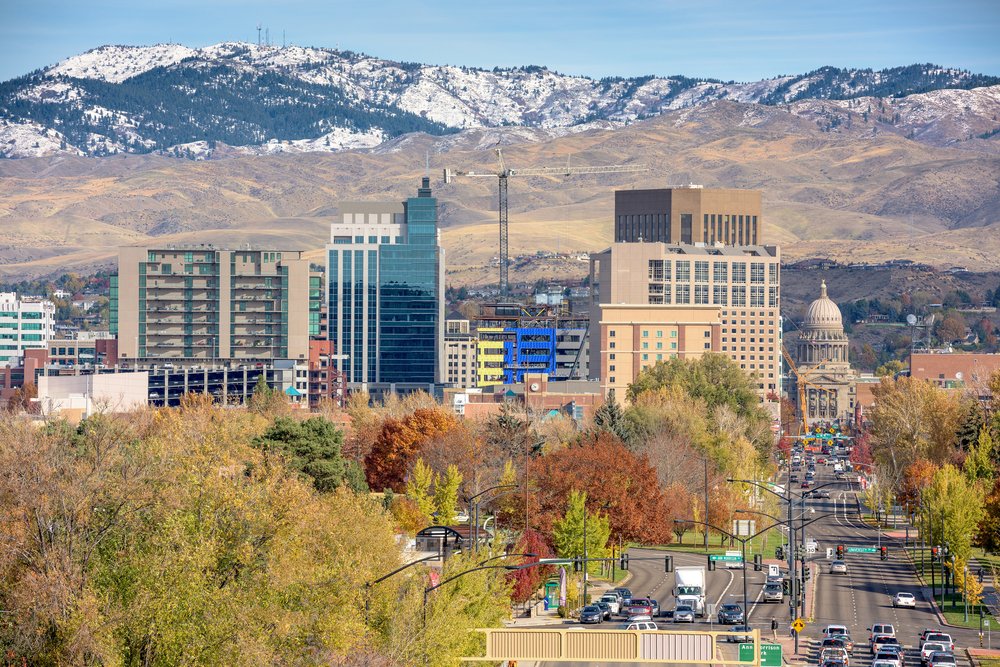 Distance: Minimal — from the airport to downtown & any hikes you want
Driving Time: 15-30 minutes
Boise is an easy and logical place to begin and end your Idaho road trip. Boise International Airport offers multiple flight options to connecting cities, is centrally located to all things downtown, and is near some of the best local trailheads for a quick hike upon your first day's arrival.
Boise is also a pretty feasible day drive if you are based in the Pacific Northwest and are not planning to fly to Idaho. It's just about 6.5 hours from Portland, 7.5 hours from Seattle, 5 hours from Salt Lake City, and 10 hours from the Bay Area.
Similar to other cities in the Northwest, Boise's backyard is full of hiking, skiing, and mountain biking trials with the accompanying park infrastructure to make it both accessible and enjoyable.
The city and its suburbs have seen huge population growth in the last few years. The downside of this is you may experience higher traffic on some of the shorter trails closest to town, especially during weekend days. The upside of the growth is the increased number of new boutique hotels, restaurants, and coffee shops at manageable prices.
Upon arrival, check in to The Modern Hotel & Bar on West Grove Street, four miles from the airport. Vogue magazine describes this hotel as "a seedy motel-turned-stylish boutique hotel, [with] one of the buzziest bar scenes in town."
The mid-century modern renovations and minimalist interiors are a nice change-up from your run of the mill hotel and you get a distinct Austin, Texas vibe (though not overkill) as you drive in.
The Modern Hotel is a great option if you roll into town on the later side as Txikiteo, the on-site restaurant (pronounced "chee-kee-tay-o"), serves up pasta, tapas, gourmet sandwiches, and cheese boards. Enjoy a drink by the outdoor fire pit before turning in for the evening.
The Modern Hotel is conveniently located near Hulls Gulch Reserve, the nearest of Boise's main hiking trailheads. Access to Hulls Gulch Trail, the most popular in the reserve, is two miles from the Modern Hotel off North 8th Street and behind Camel's Back Hill.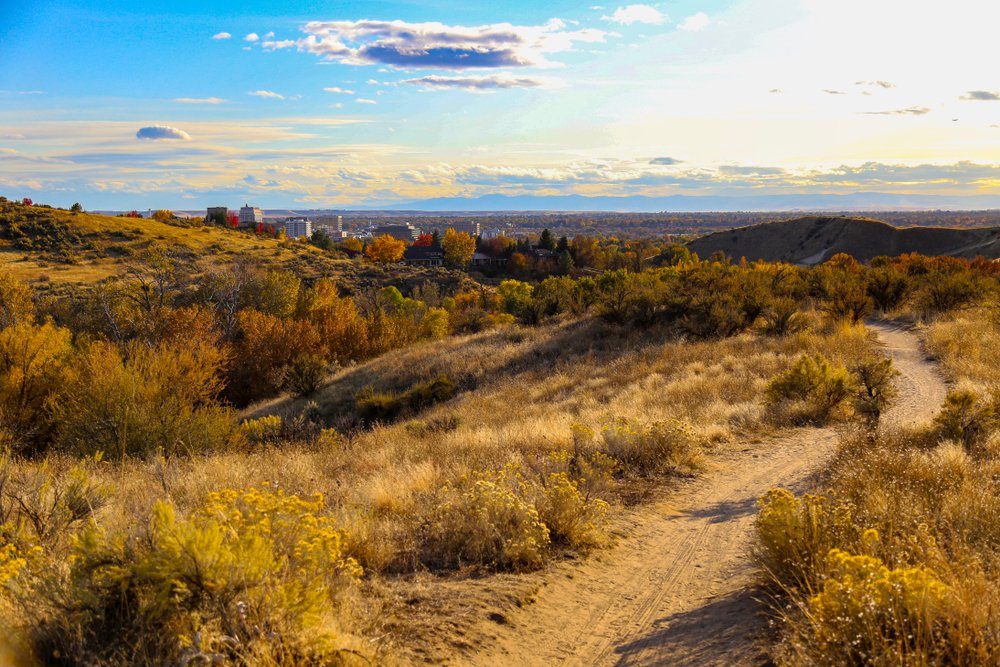 This is a well-traveled, moderate hike with views of the city which ends at a scenic waterfall. Out and back is 6.3 miles with a total of 1,131 feet in elevation gain. Hulls Gulch Reserve has suitable terrain for trail running, but the trail gets direct sun and summer months can be hot. Plan for about 2.5 hours.
Also near the Modern Hotel is road access to Bogus Basin, another popular hiking and activity destination in Boise sure to make your Idaho road trip itinerary.
This ski area doubles as lift-accessible hiking terrain during spring and summer. Located about 40 minutes from Boise, Bogus Basin has several trail options, including a 7-mile loop around the winter skiable acreage. Check out Bogus' summer schedule for free activities like Yoga on the Mountain.
Regardless of your plans in and around Boise, Neckar Coffee should be your first stop of the morning. Conveniently located near the Modern Hotel, and on the way to the above recreation areas, Neckar has quality lattes, pour overs, and pastries. A crowd favorite is the pain au chocolat.
Where to Stay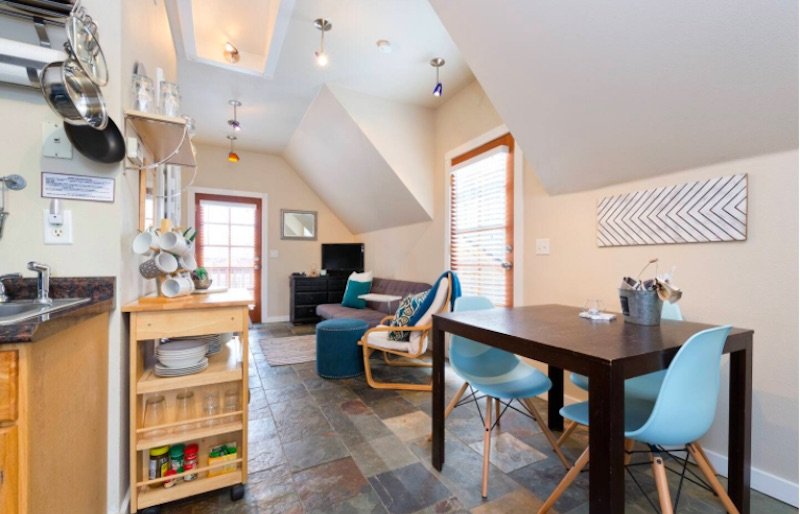 LOFT | If you prefer the cozy touches of an Airbnb, this chic loft in the lovely Hyde Park neighborhood of Boise is affordable, cozy, and well-styled. It's affordable but has all the creature comforts you'd want from a home away from home| Book on Airbnb
UNIQUE | How much more Idaho does it get than sleeping in an actual potato? Yes, really: a 6 ton potato you can stay in, right on a farm outside of Boise! Believe it or not, the interior is ultra-chic (think mid-century modern meets Scandinavian minimalism) and cozy, and best of all, there's a friendly pet cow on the farm!| Book on Airbnb
BOUTIQUE | We suggest the Modern Hotel, which is a great choice for travelers on a mid-range budget who want a cool, personality-packed hotel in the hip Linen District which is great walking distance to all attractions. | Reserve on Booking.com | Reserve on Hotels.com
BUDGET | If money is a concern, Inn America is a well-reviewed option at a fair price that won't break the bank, though it's not quite as cool or, well, modern as the Modern! | Reserve on Booking.com | Reserve on Hotels.com
Ketchum / Sun Valley (Day 2-3)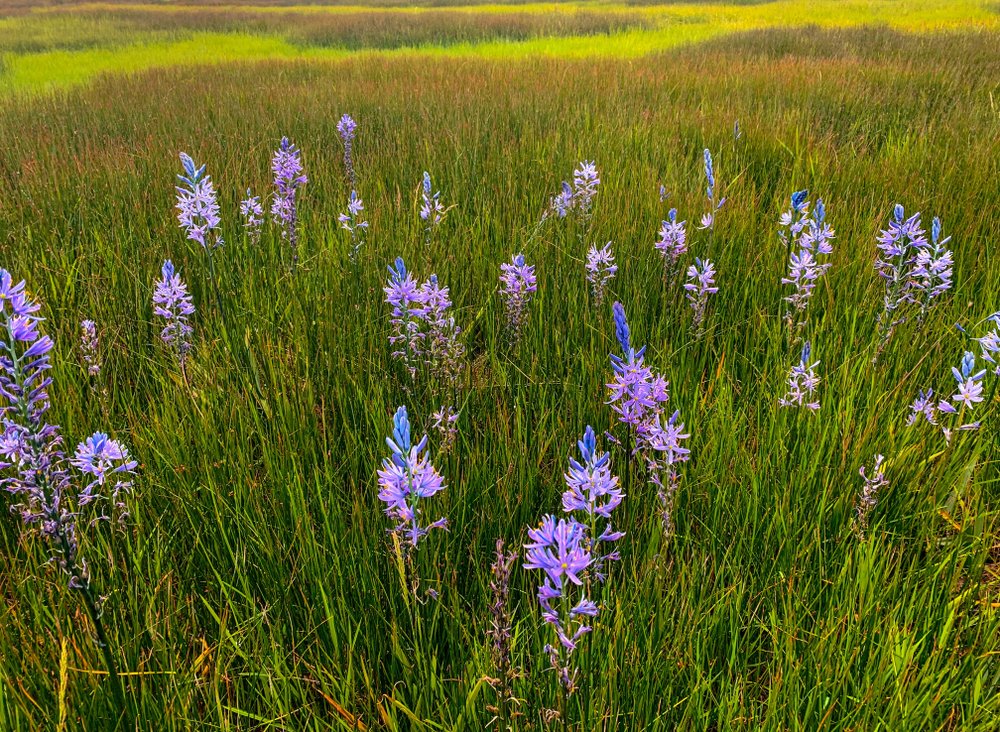 Distance: 153 miles
Time: 2 hours, 40 minutes
Next up on your Idaho itinerary is the Wood River Valley, 2.5 hours due east of Boise.
The Wood River Valley is home to the Sun Valley and Ketchum area, widely known for its winter sports infrastructure and ski resort. It's an easy drive along I-84 then US-20 through the Camas Prairie.
If you plan the timing of your trip just right, you may be able to catch the Camas lilies blooming between late May and mid-June. Many of the lilies are in fields outside Fairfield. It is a spectacular sight to witness and a common stop for many painters and photographers looking to capture the mature blooms.
Fairfield's Wrangler Drive-In, featured on Diners, Drive-Ins, and Dives, is a good lunch stop for burgers, patty melts, and ice cream. If you have time for a hiking detour here, head towards Soldier Mountain Ski Area. The family-oriented ski hill is 11 miles north of Fairfield and has a few short but steep hiking trails and a new mountain bike trail system for summer months.
The Ketchum / Sun Valley area is another 40 minutes past Fairfield. The resort town is full of top-notch restaurants, an intricate and well-maintained trail system, and fishing access. Your best and priciest hotel options of your Idaho road trip will be in Ketchum, but with amenities (think spa services) to match.
Ketchum has become something of a campervan pit stop because it is an ideal place to grab supplies before setting out toward the Salmon-Challis National or Sawtooth National Forests.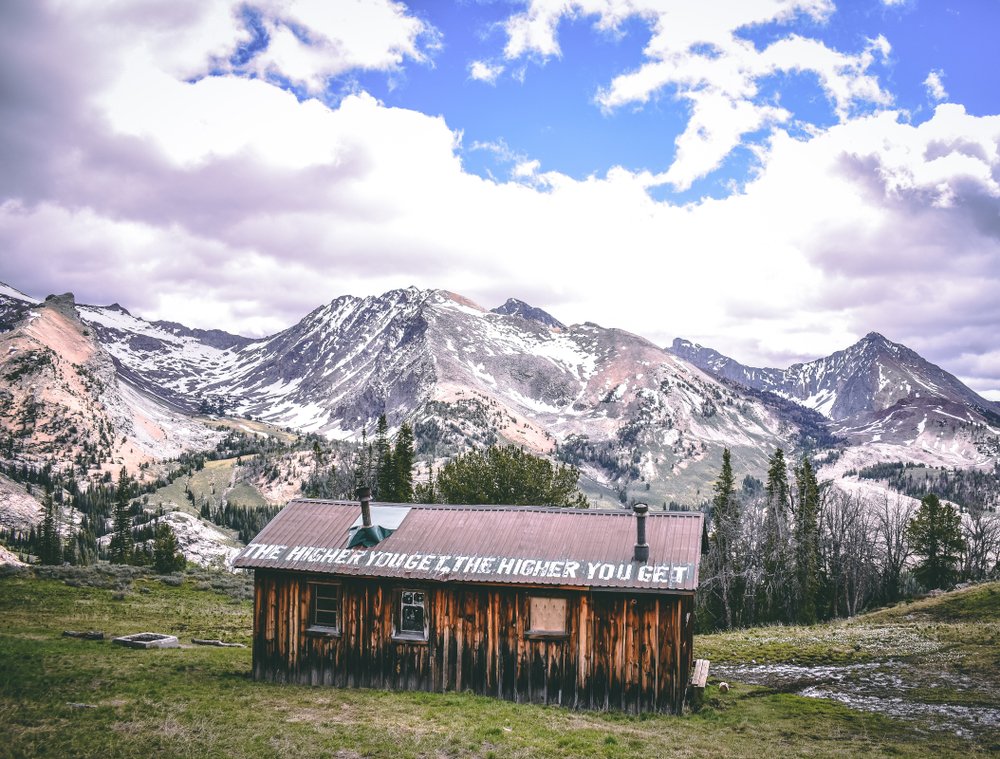 Apart from notable summer hikes like Warm Springs and Pioneer Cabin, attractions to explore include the Roundhouse Express Gondola on Bald Mountain, golf at one of the local courses, or camping just outside town near Trail Creek or Cathedral Pines.
There are several alpine lake hikes do-able in under 3 hours' time and any activity near Ketchum gives you the best of two worlds, easily accessible nature and fine dining in town!
If you need a day off from longer trail hikes you will be quite content walking or biking along the Wood River Trail, a 20-plus-mile paved, multi-use path which spans between the communities of Bellevue and Sun Valley.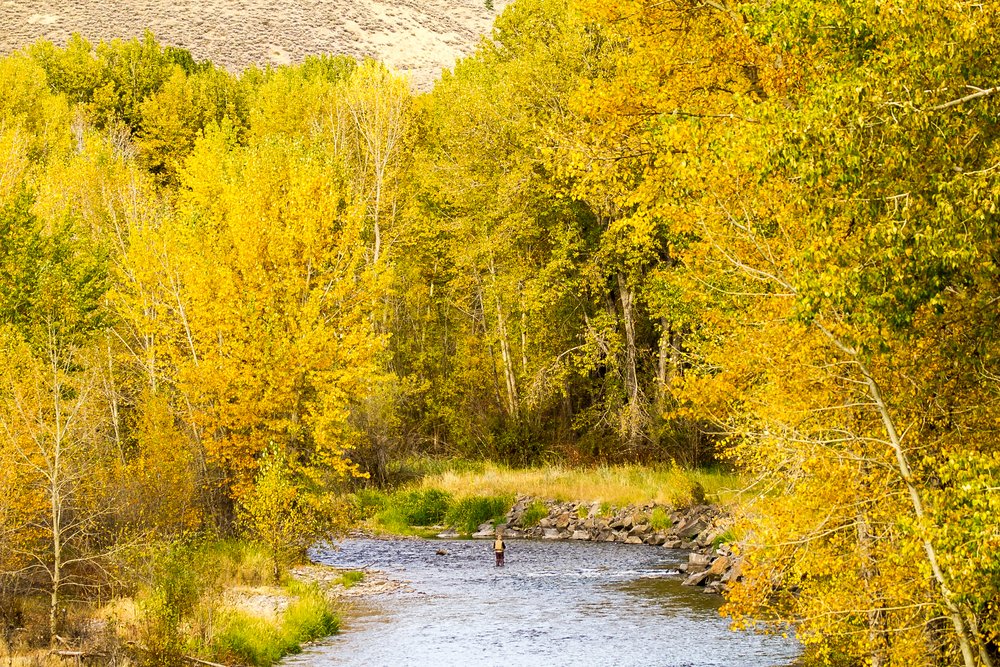 Much of the trail follows abandoned Union Pacific rail lines which were originally used to help settle and grow the valley.
No matter where you stay in the Wood River Valley you will be near an entrance to the trail, locally known simply as 'the bike path'. It is a friendly trial and always filled with other people making it a nice choice for those who may be traveling alone.
Look into Hotel Ketchum, Limelight, or the Sun Valley Lodge for accommodations and Pioneer Saloon (steak), Rickshaw (Southeast Asian), or Cookbook (Italian) for fare.
Hank and Sylvie's makes the best coffee and pastries to get you started for the day. There is more than enough to do in Ketchum to warrant extending your stay one or two days if you're looking for a more leisurely pace to your Idaho road trip.
Finally, if you're down for a little extra driving, you can head to Shoshone Falls, one of the most beautiful waterfalls in Idaho, which is an hour and 40 minutes south of Ketchum.
Where to Stay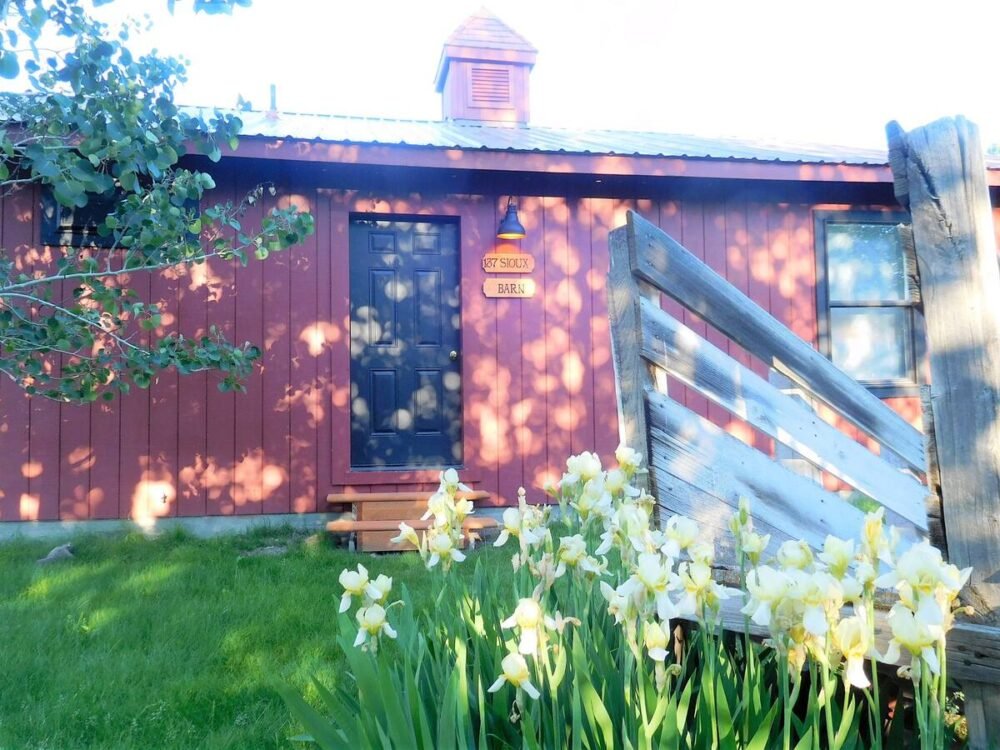 BARN | Yes, you can stay in a beautifully renovated barnhouse property while you're visiting Ketchum, rented out via Airbnb! This stunning property gives off all the cozy vibes you can imagine, and the price is more than fair, great for budget travelers who want to stay in something a little less traditional. | Book on Airbnb
BOUTIQUE | For a contemporary, chic place to stay in Ketchum with great amenities like a fitness center, hot tub, and large spacious rooms, Hotel Ketchum is a fantastic choice. It's a little pricier than other options in Ketchum, but it's definitely the coziest. | Reserve on Booking.com | Reserve on Hotels.com
BUDGET | Accommodations in Ketchum generally run on the expensive side, being a ski resort town, so if budget is a concern, I suggest moving 15 miles outside to Hailey, ID, which has a better range of accommodation options such as the well-reviewed Wood River Inn & Suite. Enjoy a hot tub, heated indoor pool, fitness center, and complimentary breakfast. | Reserve on Booking.com | Reserve on Hotels.com
Stanley (Day 4)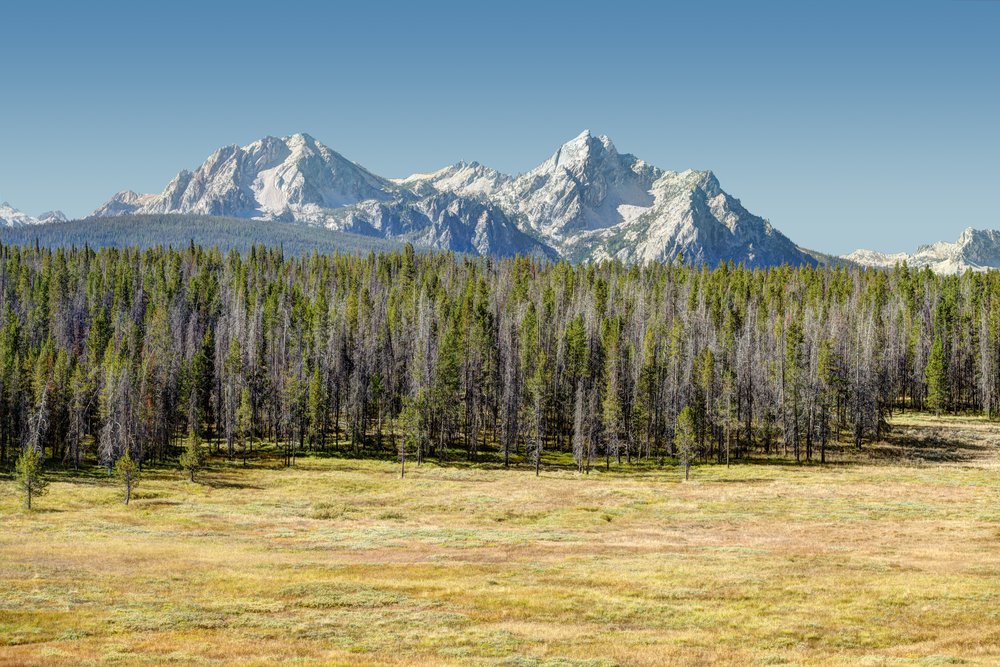 Distance: 62 miles
Time: 1 hour, 10 minutes
You really start to see the changes in scenery about 40 minutes due north of Ketchum as you're en route to Stanley, as softer rolling hills quickly transition to the more rugged side of Sawtooth Mountains.
The drive is beautiful, and you will want to appreciate it during the day. Don't let Stanley's year-round population of 69 people fool you. During summer, the surrounding campgrounds, rivers, and lakes swell with visitors, but you are always able to find a (somewhat) secluded spot even in the height of tourist season, as long as you steer clear of the Redfish Lodge.
Stanley is the best town on your Idaho itinerary to try your hand at fly fishing. There are several access points along the Salmon River for trout fishing but if you are new to the area or fly fishing in general, price out one of the guide services to help you maximize your experience. Sawtooth Adventure Company can place you with an experienced guide who knows the waters.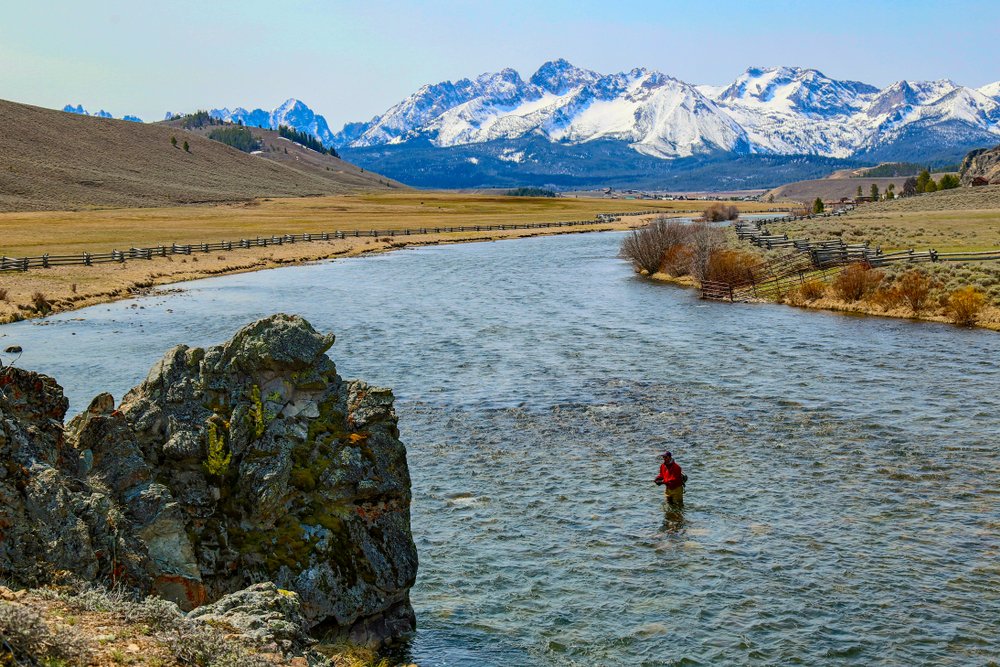 If you are unfamiliar with a guided fly-fishing day by raft, or a "float", they come highly recommended. The guide ratio is typically one for every two guests and half day floats start in early morning or early afternoon. All needed equipment is provided, like nets, rods, reel, and flies.
Guides also come in handy for learning a bit of casting technique or for telling you where the best fishing spots are along the river. More times than not, the local guides are pretty fun and make for a better outing than hitting it solo or with your own group.
There are only a handful of accommodations in Stanley and they are typically booked well in advance during summer months. However, the camping is so good in this area it would be a shame to stay inside anyway.
Alturas, Lake Stanley, Salmon River, and Casino Creek Campgrounds take reservations but at a minimal cost. They each are primitive campgrounds and have bathhouses onsite. Look to the National Forest Service website for campground locations and pertinent information.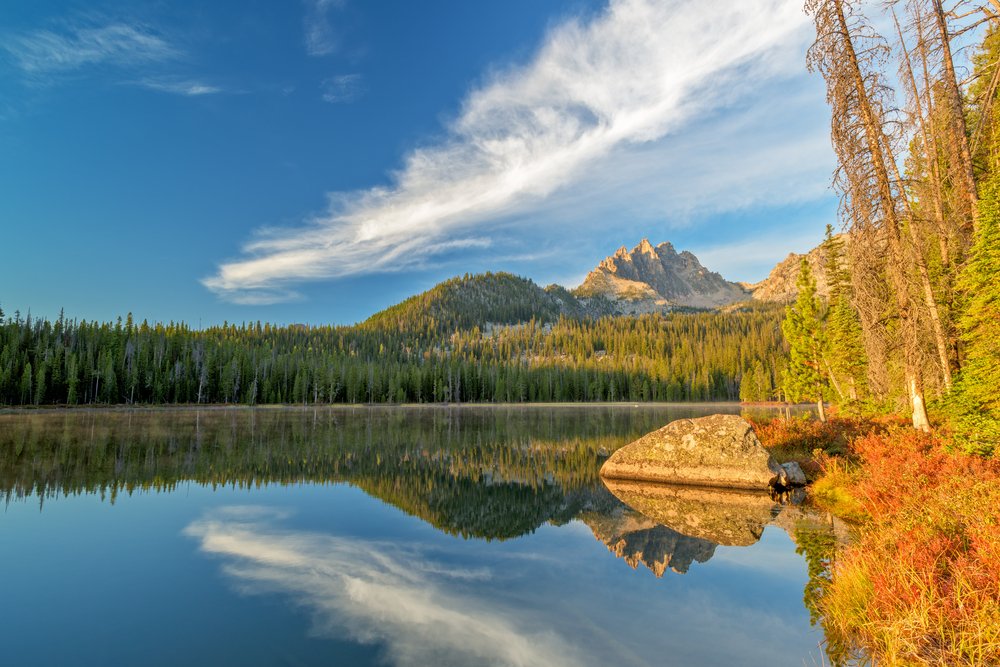 Of course there is good hiking near any of the campsites you select, particularly around Lake Stanley.
Restaurants to pay attention to in town are Stanley Baking Company, Luce's, Peaks and Perks, and Scoops for an ice cream dessert.
Stanley Baking Company will likely have a decent wait time for breakfast but it is well worth it if you can hang around. Popular plates include a pancake plater and a classic egg breakfast or hearty sandwiches for lunch. The restaurant also has coffee and homemade pastries to go if you don't feel like waiting for a table or prefer to take you treats on a hike. Peaks and Perks is a walk-up window for to-go coffee and it's your best option if in a hurry to get on the road.
If you have 30 minutes to spare before leaving town lookout for Boat Box Hot Spring on your right as you drive from Stanley to Salmon. A small turnout from the Highway 75 along the Salmon River is 4 miles north of town and a path leads to a small tub with hot water piped in.
If you chose not to fly fish this go around, you can relax in the tub and watch boats quietly float by. The hot spring is best in the early morning hours around sunrise.
Where to Stay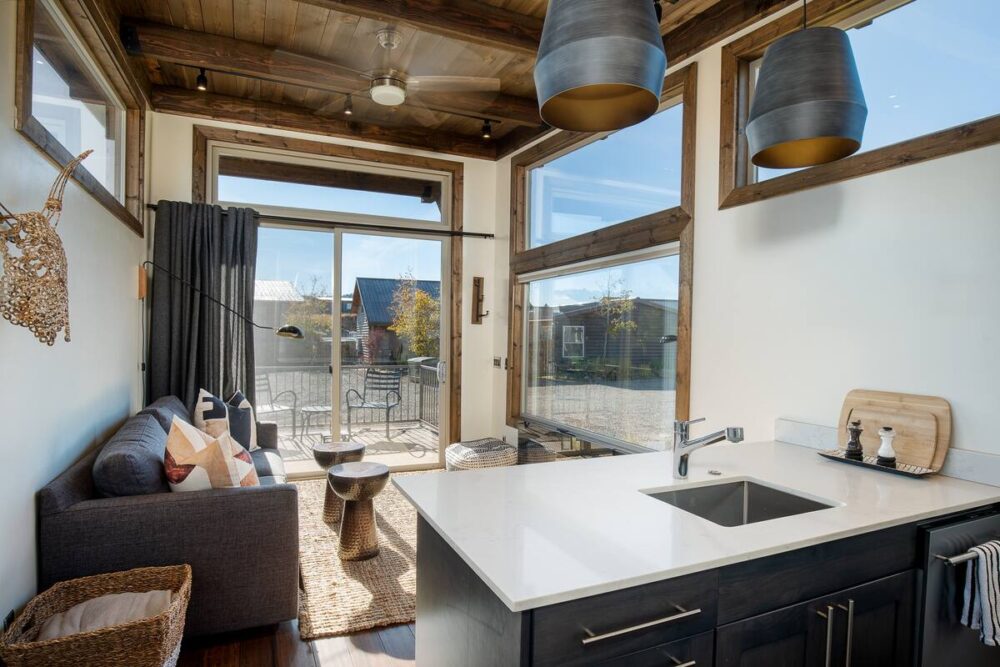 TINY HOUSE | Have you ever wanted to stay in a tiny house? In Stanley, you can see what it's like by renting one easily via Airbnb! There are 4 similar tiny house properties to choose from, but this one is my personal favorite for its great full-windowed views and spacious layout that belies its small size. | Book on Airbnb
LODGE | For a lovely but no-frills typical lodge in Stanley, check out the Redfish Riverside Inn. This place has all the amenities you'd need at a fair price, perfect for if you're not quite into the camping scene and prefer a bit more luxury where you lay your head down each night. | Reserve on Booking.com
Stanley to Salmon (Day 5)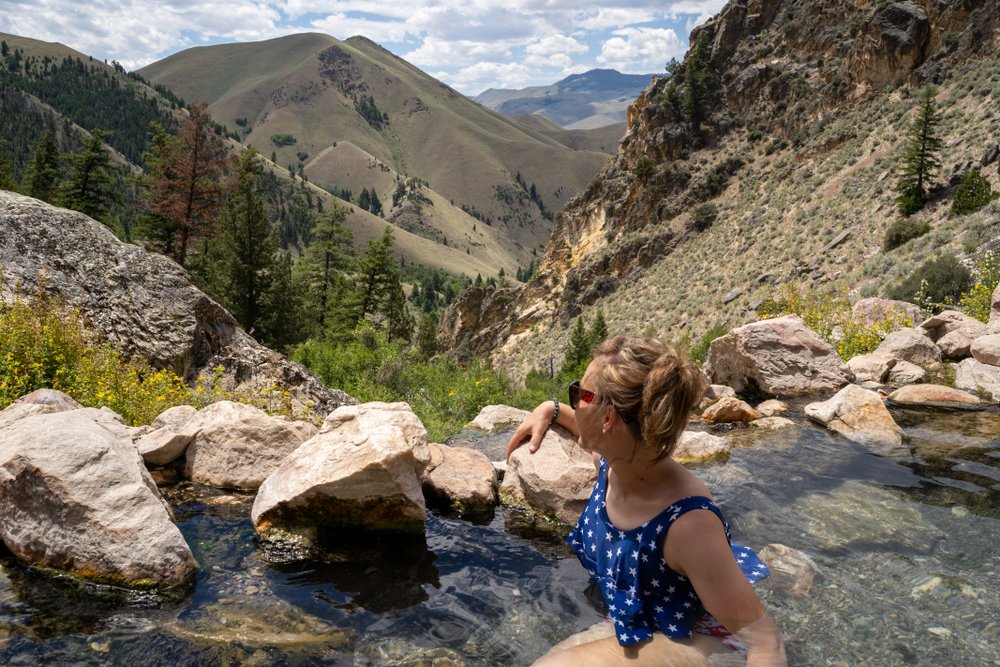 Distance: 116 miles
Driving Time: 2 hours 15 minutes
This section of your Idaho road trip is the time to explore natural hot springs like Goldbug Springs near Salmon in the Salmon-Challis National Forest.
A gravel road at mile marker 282 off Highway 93 (the road between Stanley and Missoula) will mark your turn off. From there, both trailhead and trail are well marked. The springs are accessed by a steep 2-mile trail climb.
Goldbug is a perfect choice if you want to pair your hot springs outing with a bit of physical exertion. After hiking up to the springs and soaking for a while, leave enough time to exit back via the hiking path before following Highway 93 along the Salmon River to the town of Salmon where you will find a quaint, main street feel.
Try the Junkyard Bistro (tapas, sandwiches, salads, and wraps) or Last Chance Pizza for dinner before turning in for the night at the Stagecoach Inn or Syringa Lodge.
Where to Stay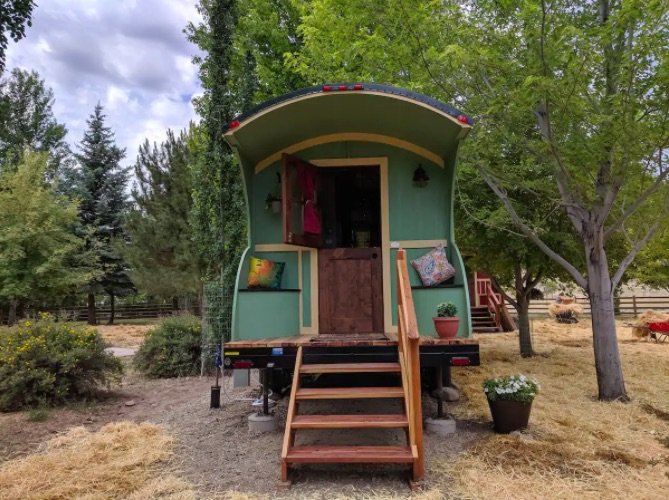 RIVERSIDE WAGON | For a unique place to stay, this tiny home slash converted wagon trailer is a great place with epic views of the Salmon River. It's so cozy inside and the views of the river are absolutely unbeatable. What other chance like this do you get? | Book on Airbnb
CABIN | For a more spacious stay, this cozy log cabin gives off all the old school vibes, and the interior is lovely and warm with all you need to host up to 3 guests| Book on Airbnb
Coeur d'Alene via Missoula, MT (Day 6)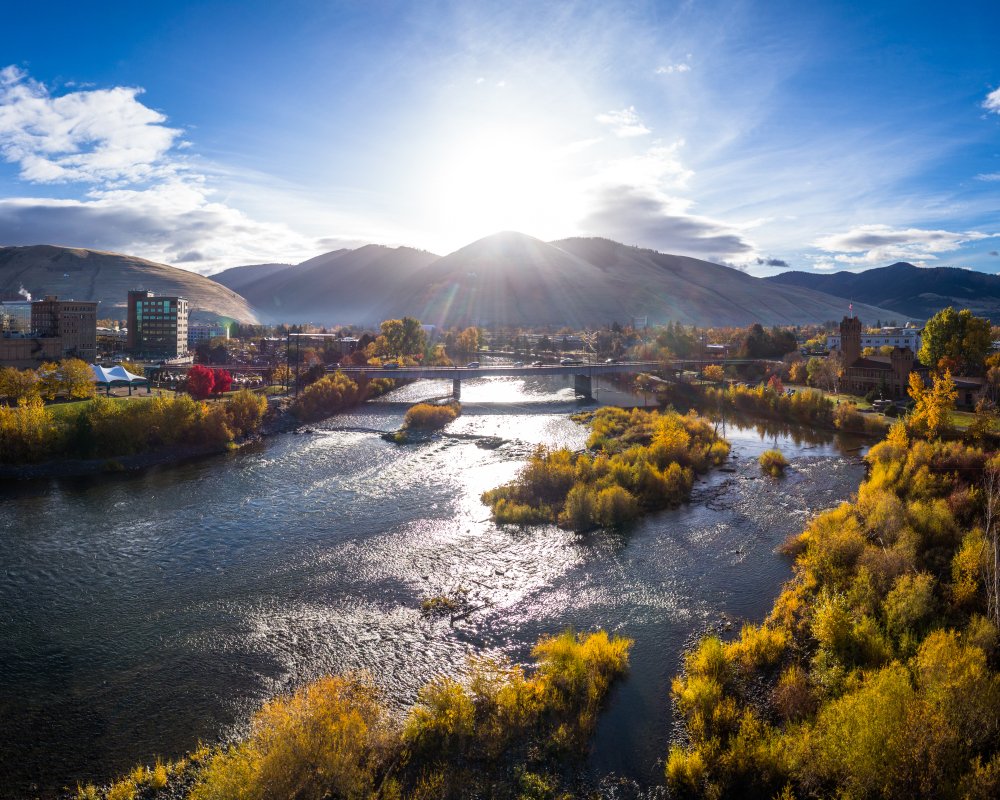 Distance: 305 miles
Driving Time: 5.5 hours
Driving from Salmon to Coeur d'Alene via Missoula, MT makes for a long day on the road (5.5 hours) but ensures you experience the northern parts of the state.
From Salmon you navigate through the Selway Bitterroot Wilderness (National Forest lands) towards Missoula.
With plenty of eatery options near the University of Montana campus, Missoula should be your planned stop for lunch. The campus is easily accessible as you enter downtown and sits along the Clark Fork river.
Scotty's Table, Catalyst Café, and Hob Nob are three restaurants near the riverfront that continuously have good reviews.
Their locations on the river are also in close proximity to Brenan's Wave, Missoula's manmade wave installation in the Clark Fork River. It is an entertaining spot to watch surfers and kayakers take on a brief rapid.
From your pit stop in Missoula, take I-90 towards Coeur d'Alene for your next road trip stay. You'll be staying here for several nights, so pick where you want to stay carefully.
Where to Stay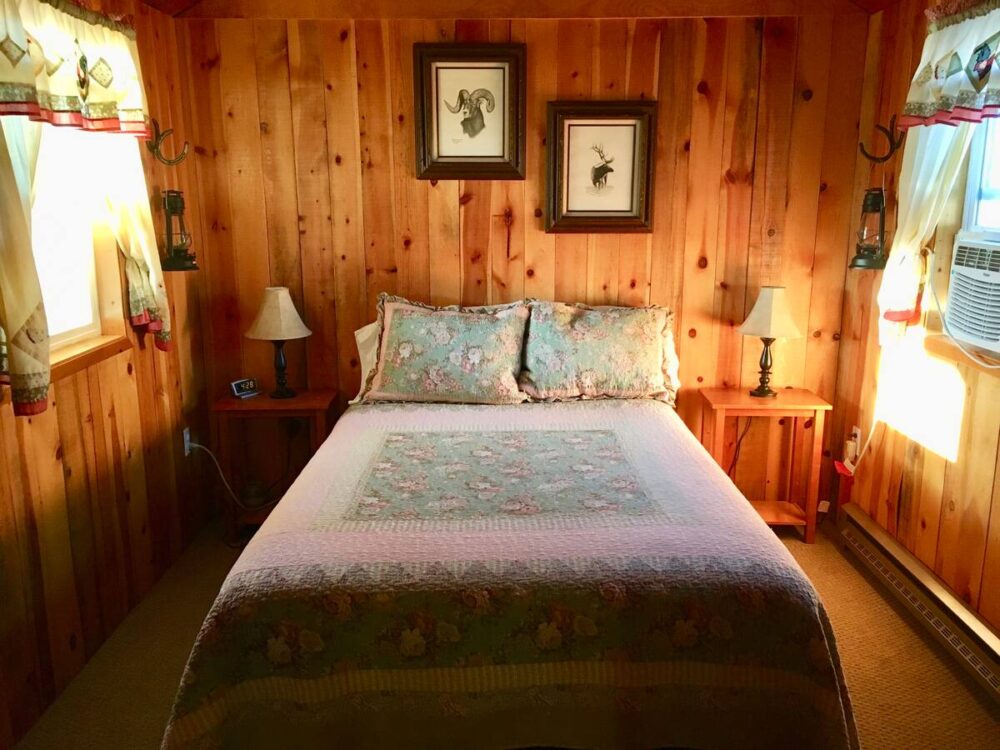 COWBOY CABIN | The well-named 'cowboy cabin' offered on Airbnb is a great place to stay for couples looking for a cozy, Western-themed stay. The cabin has all you need for several nights of a cozy stay, including a full kitchen, and the surrounding Ponderosa pines and the location walking distance to town and a short drive from the lake make this a fantastic and budget-friendly choice. | Book on Airbnb
HOUSEBOAT | If you want to be right on the lake… literally… then it doesn't get better than this Coeur d'Alene houseboat which sleeps six right on the lake. With several comfortable beds, a full kitchen and bathroom on board the boat, and an epic patio area to enjoy lake sunsets, it doesn't get better than this. | Book on Airbnb
OLD FASHIONED INN | For a lovely, cozy inn with traditional B&B vibes, head to Greenbriar Inn for a vintage yet budget-friendly stay. The inn dates back to 1908 and rooms have all sorts of lovely touches like clawfoot tubs and four-poster beds. An outdoor gazebo is the perfect place to relax and take in the views of the inn in all its glory. | Reserve on Booking.com | Reserve on Hotels.com
BUDGET CHAIN | There are a number of budget-friendly chain hotel offerings in Couer d'Alene which offer plenty of standardized comfort but not necessarily unique charm or offerings. The best reviewed is the Quality Inn & Suites, which is loved for its tasty included breakfast, hot tub, kids play area, and location just 3 miles from the lake. | Reserve on Booking.com | Reserve on Hotels.com
Coeur d'Alene (Day 7-8)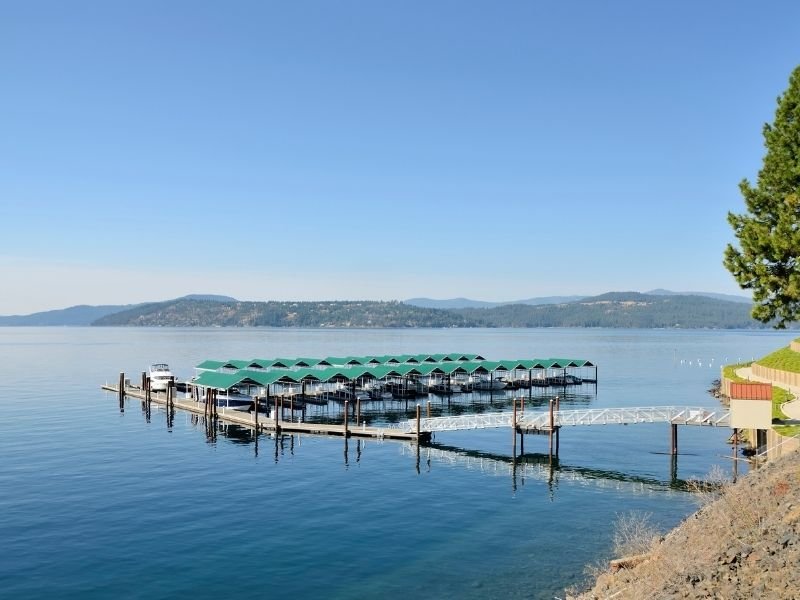 Coeur d'Alene (CDA) is located in the northwest corner of the state and just 30 miles from neighboring Spokane, Washington.
It is known as a hub of watersports and lake view scenic hiking as the city rests on the shores of Lake Coeur d'Alene.
It is also a spot of a popular Ironman event so you can imagine there are ample running, swimming, and cycle opportunities around the area. The town has a deep history as a fort settlement and has hosted large Fourth of July festivities on the holiday for many years.
If your travels have you in Idaho during early July, you should schedule around CDA for the 4th. The holiday events include ample street vendors and massive amounts of fireworks, depending on national forest fire conditions of course.
With such beautiful lake scenery, it would be a shame to hike without making the lake views a central theme. Popular hikes include Mineral Ridge Trail and Tubbs Hill Park.
Mineral Ridge is 11 miles east of CDA proper and has well-labeled parking with restroom access and picnic amenities. Estimate about 1 hour for the 3.3-mile loop. If you feel like taking a break halfway, there are plenty of benches and rest areas to fit your needs.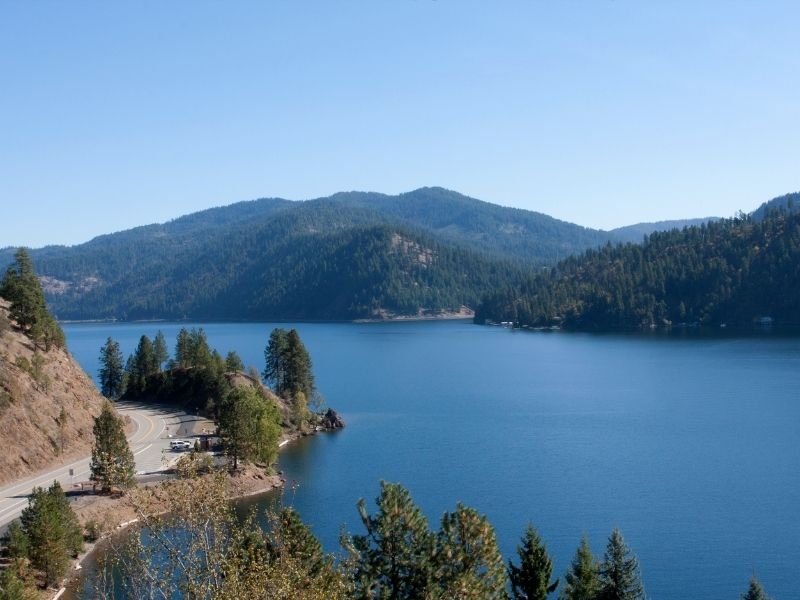 Tubbs Hill is a 120-acre park which borders the city and is closer to downtown attractions. The park features a moderately rugged 2.5 miles of trails with views of the lake and city.
Apart from Ketchum's Wood River Trail, the Centennial Trail outside of CDA is one of the best places to cycle on this Idaho road trip.
The Centennial Trail in CDA runs 23 miles from the Idaho / Washington border to Higgins Point on Lake Coeur d'Alene. A longer 72-mile paved Trail of the Coeur d'Alenes creates a longer route for more seasoned cyclists.
If you do not have a bike with you there are several places to rent a bike in town, like Coeur d'Alene Bike Company, as the activity and trial are quite popular with tourists.
Near the midway point of the Centennial Trail is Coeur d'Alene Resort, a good location to grab a meal or happy hour libation post-ride. The Coeur d'Alene Resort offers wonderful lakeside accommodations but there are several alternate options, including campsites outside of town, if you are not looking to splurge.
There are also miles of world-class mountain biking trails at Silver Mountain Resort and on the Canfield Mountain Trail systems if you'd prefer a little more intensive bike action.
McCall (Day 9-10)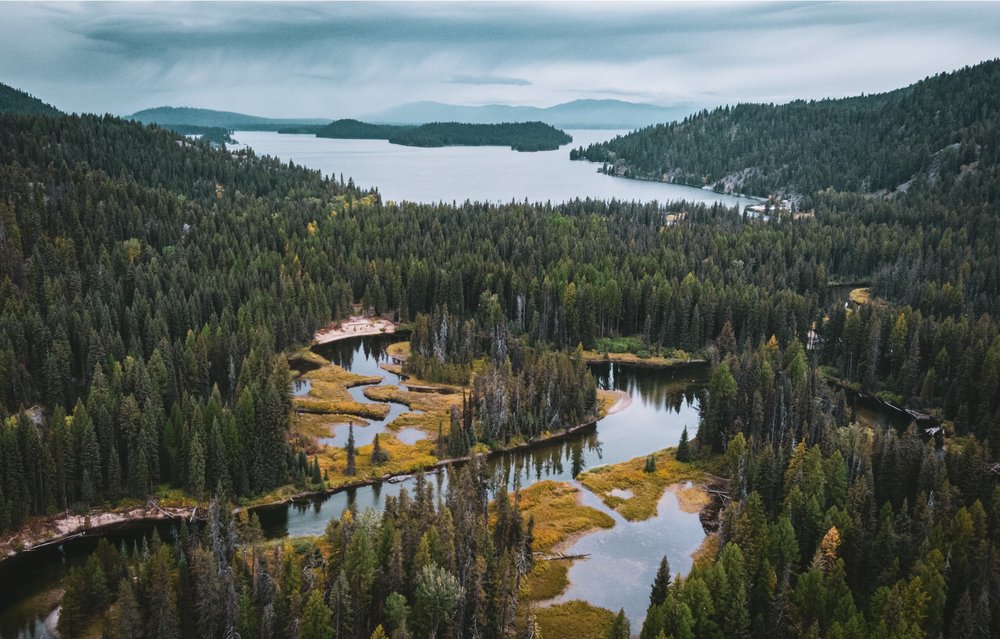 From Coeur d'Alene, head south for 5 hours along US-95 to the city of McCall. McCall sits on the edge of Payette Lake and the Payette National Forest.
Similar to Coeur d'Alene, the area is perfect to explore the water (lake and river activities) as well as head out hiking for a day.
Save McCall for whitewater rafting on this Idaho road trip. Several outfitters in town provide multi-day, full or half-day adventures. Multi-day outings are fully catered experiences.
Whether you hit Hells Canyon or other areas of the Snake or Salmon Rivers, you are in for a blast. Check out Salmon Raft or Canyons River Company to show you the way.
There are several lodging options lakeside, such as Shore Lodge, which offers amenities like lakeside pool areas and boat rentals.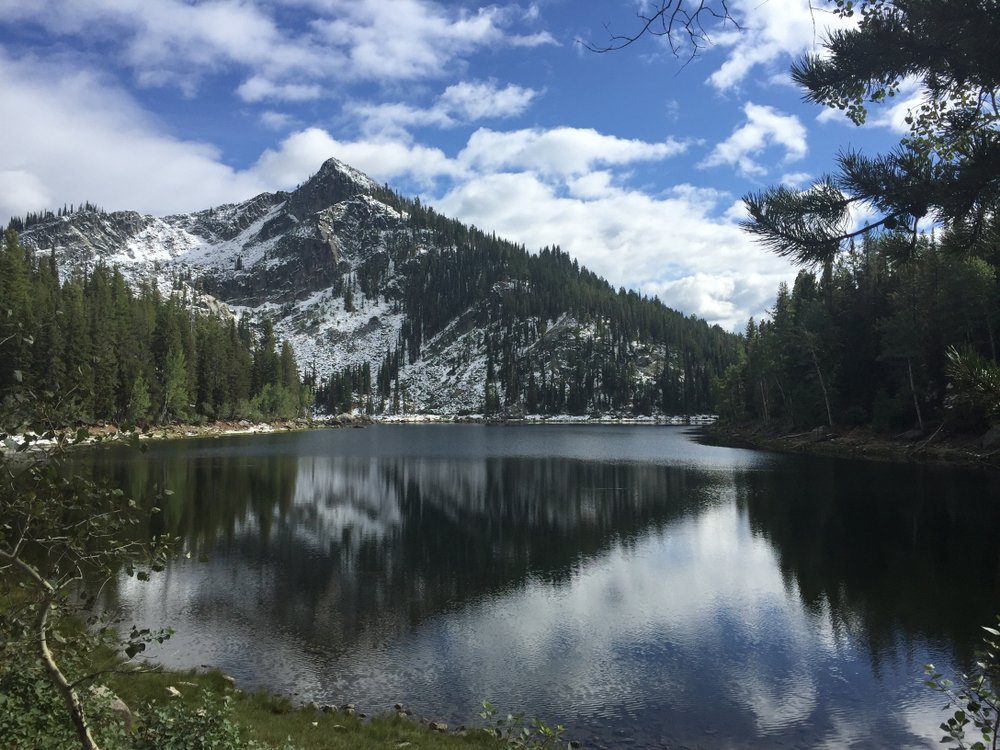 Two of the best hikes from the McCall area are Bears Basin and Louis Lake Trails. Louie Lake Trail is 2.6-mile moderately rated trail that rewards hikers with an alpine lake and dramatic views at the hikes mid-point.
You can also opt for a 7-mile loop to nearby Boulder Lake if you feel like a longer trip. The total time for the main trail is about 1 hour but plan for 4.5 to 5 hours if you try the Boulder Loop.
Bear Basin Trail system is easily accessible by hiking or by bike from downtown McCall along the Bear Basin Connector Trail. The trail system allows for multiple variations and most follow through a mixture of wooded areas and meadows with excellent views of the surrounding lakes and mountains.
The upside of the trail system is you can mix and match trails for the exact distance you feel that particular day. The downside is you need to watch out for mountain bikers!
Where to Stay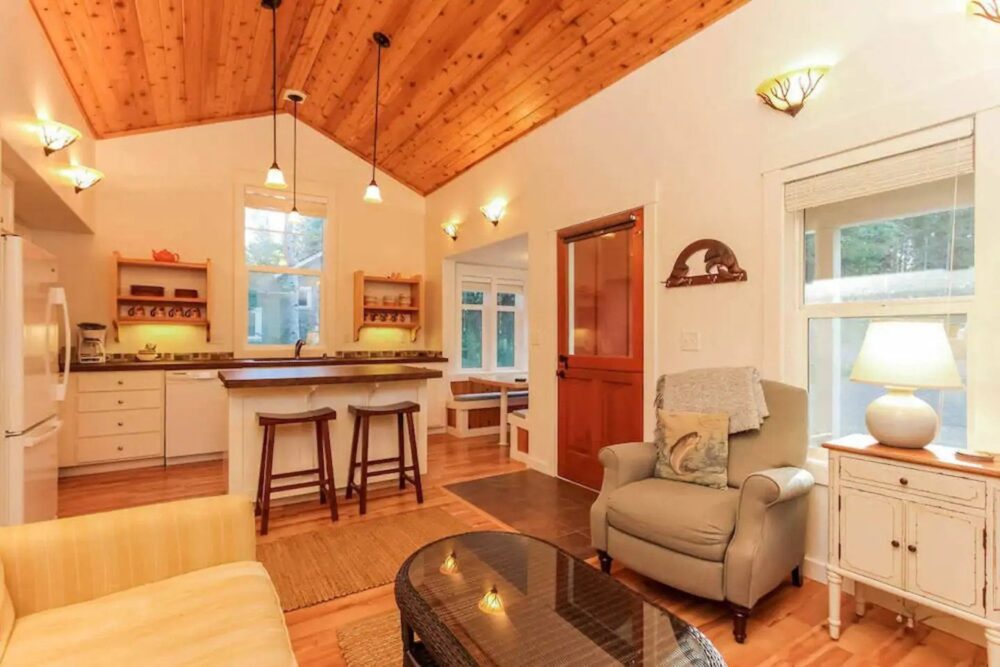 MODERN CABIN | For a cabin that's distinctly modern and good for groups (it can hold 4 guests in two bedrooms), this McCall cabin is a great choice. The design is modern and spacious yet comfortable, and the location is hard to beat. The kitchen is a dream to cook in, which is great for people trying to save on food costs while road tripping!| Book on Airbnb
NORDIC INSPIRED COMFORT | For the ultimate in Scandinavian design and comfort, check into the boutique Scandia Hotel, which draws its inspiration from Swedish and Finnish design elements. Think white walls with textured wood elements and lots of plant life and detail to bring in greenery and life to the rooms. It's an incredibly comfortable and stylish place to stay in a small town, so book ahead if you want to splurge on an extra comfortable stay for the final night of your Idaho road trip | Reserve on Booking.com | Reserve on Hotels.com
Back to Boise (Day 10)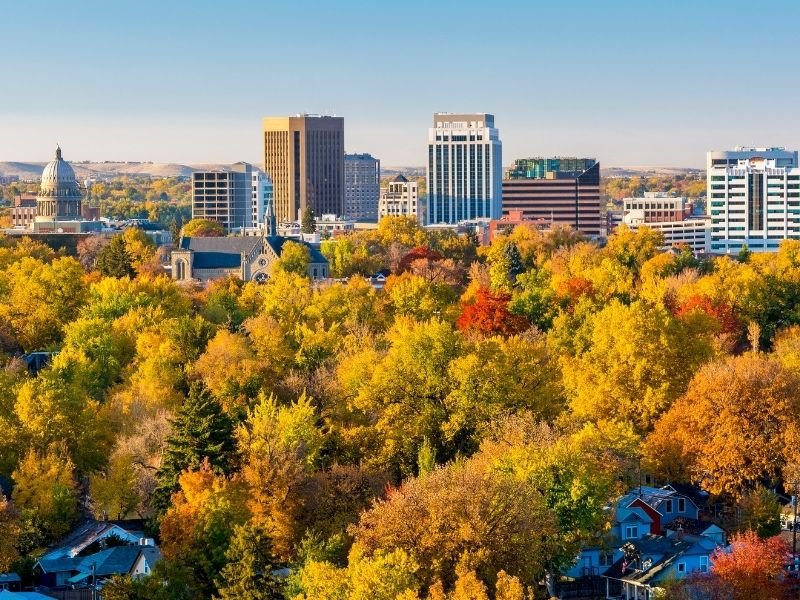 Wrapping up your Idaho trip, returning to Boise is just over 2 hours due south on ID-55.
While the trip was outlined counterclockwise, it works just as well in the opposite direction.
Eight to ten days in Idaho can be a lot to spare, so if you don't find yourself with that much time away from your home base, try pairing down this itinerary down to either the Boise-Stanley or Boise-Coeur d'Alene routes.
How to Extend This Idaho Road Trip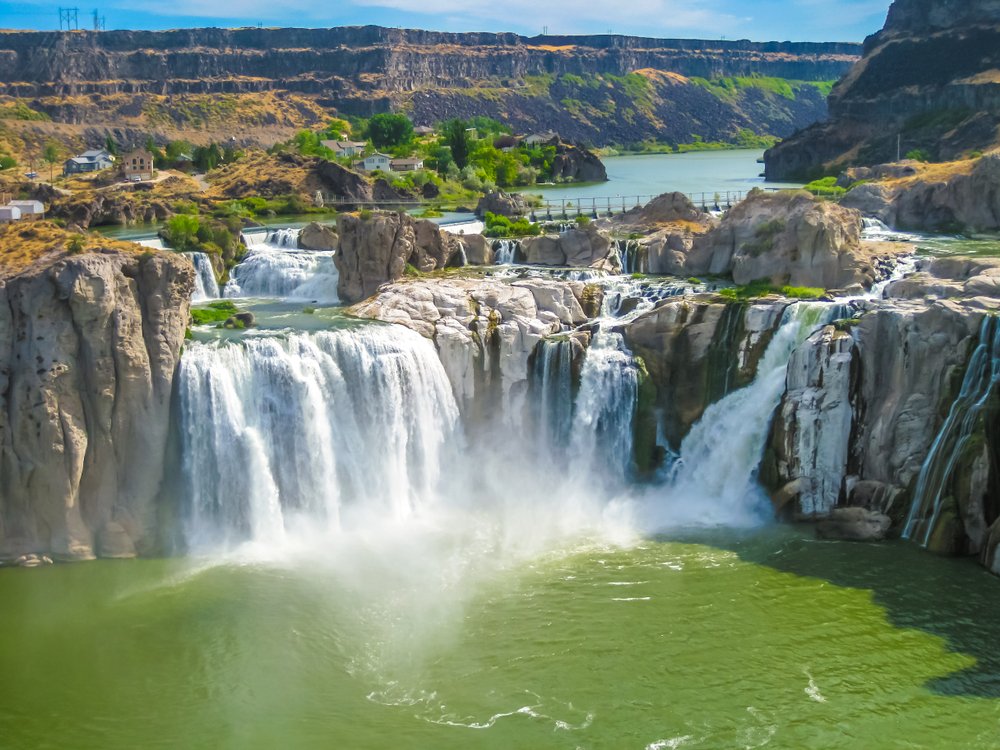 This Idaho road trip does make a few notable omissions in order to create a road trip that makes sense and doesn't backtrack too much. The most obvious omission is Shoshone Falls, one of the most beautiful waterfalls in all of Idaho.
If you want to add that to your itinerary, add it after your trip to Ketchum and Sun Valley, but be prepared to spend more time getting back to your next stop, Stanley, if you do so.
If you have more like two weeks in Idaho for a road trip, you can add on Craters of the Moon National Monument & Preserve (a stunning lunar-like landscape) on your way back from Shoshone Falls, or you could also head to Idaho Falls, a fun and funky city located along the Snake River. From Idaho Falls to Stanley, it's 3.5 hours, where you can continue this itinerary.
What to Pack for an Idaho Road Trip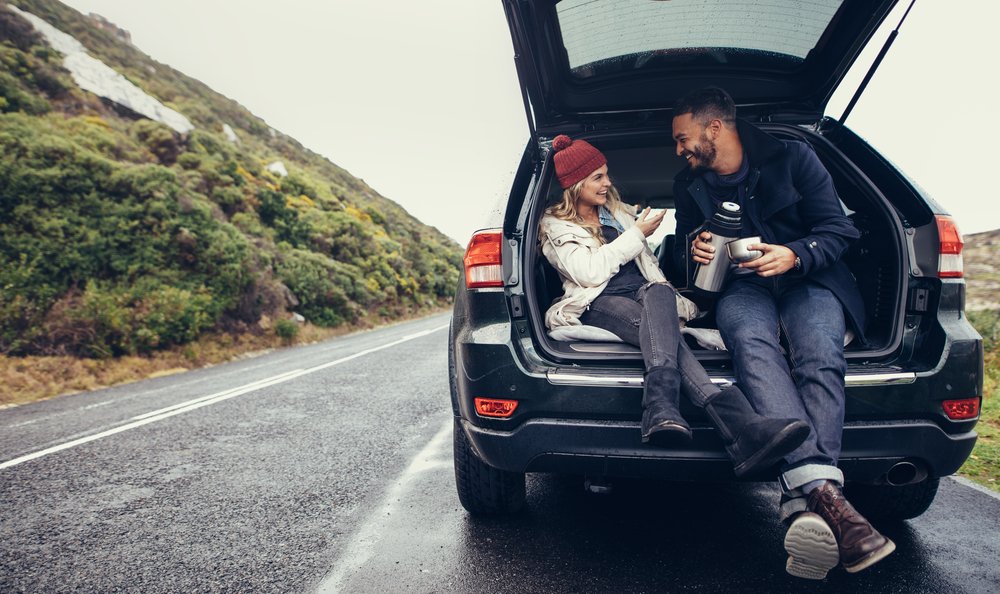 I've created a full packing list for a USA road trip here, which you may want to peruse before heading out on your trip!
Travel guides
I've packed this Idaho road trip itinerary with so much practical information but sometimes travel guides provide deeper insights than I put in one article since they dedicate more time and resources to research. That being the case, I recommend combining my first-hand experience and the information in this Moon Idaho guidebook and I guarantee you'll have an amazing time road tripping this beautiful state.
Phone Mount & Car Charger
You will use up your phone battery fast while road tripping in Idaho, or anywhere, so it's essential to have a car charger. And for navigating, a phone mount is clutch and takes the pressure off of your front-seat passenger. Personally, I can't imagine road tripping anywhere without this dual purpose phone mount and charger!
Snacks
There's a funny road trip quote about buying snacks… I don't know who said the quote originally, but it goes something like this: "It doesn't matter how old you get, buying snacks for a road trip should always look like an unsupervised 9-year-old was given $100."
I'm not sure who originally said it, but it's true. Nothing ruins a road trip faster like hanger… so be sure to avoid it! Have a good mix of snacks — and not just sweet ones. Too many sweets on an empty stomach = major headaches. Likewise, too many salty snacks and not enough water will also do you in!
Rehydration packets
Impromptu hikes, the lack of a predictable schedule, random meal times, overly salty snacks, days exploring out in the hot sun, hangovers from celebrating after your driving duty is done: there are many reasons why it's so easy to get dehydrated while road tripping.
I always pack some rehydration packets with me on my road trip travels as I'm prone to getting dehydrated, and when I'm dehydrated I get nasty headaches. Rehydration packets are a lifesaver: I recommend these ones.
Bug spray and after-bite care.
Nothing ruins a scenic sunset hike or lakeside lay-out worse than being besieged by bug bites! For a natural DEET-free solution, try this lemon eucalyptus-based mosquito repellent. It works surprisingly well on even the most persistent mosquitos!
Unfortunately, some bites are inevitable no matter how diligent you are with bug spray and reapplying it periodically, especially if you have sweet blood that attracts mosquitos like crazy like I do! Keep itchiness at bay with an After Bite itch eraser, which instantly soothes any bug bites. It's a must-have for any summer road trip.
Sunscreen
Did you know you should always wear sunscreen while driving? The windshield doesn't protect you against all UV rays — while they protect against UVB rays (which cause sunburn), most do not block UVA rays, which cause aging and skin cancer.
Plus, you'll want it for hikes, days out in the sun, beach days, and that sort of thing. This is the sunscreen I use on my face daily (to prevent breakouts — my skin is very sensitive to chemical sunscreens, so I need something gentle). Meanwhile, I use a cheaper basic sunscreen for my skin.
No matter what your skin tone or race, you need to wear sunscreen daily, whether you're white and pale AF like me, or whether you're Black, Latinx, or Asian — sun cancer doesn't discriminate based on skin tone, so always lotion up!
If you're hiking, don't forget about your scalp either — I often end up with a burned scalp and it's no fun, often leading to headaches. Buy a special sunscreen for hair and scalp to avoid this!
Rain jacket
Even the best-laid plans can be felled by rain! While Idaho isn't extremely rainy, it's definitely a possibility during your trip, and you'll want to be prepared.
I love the Marmot PreCip rain jacket (there's a women's version and a men's version). I used mine for years doing all sorts of activities, from biking to hiking and traveling.
It always keeps me dry without making me too hot and uncomfortable like some other rain jackets can, due to the zippered arm-pits which provide ventilation. This is key if you plan to do anything active like hiking while it's raining!
External batteries
The Anker external battery pack is a travel must. While you can charge your phone while driving, you may want to charge other devices — a camera, a drone, portable speakers, an e-reader — as well.
Or if you notice your battery is running low while you're out hiking or sightseeing, you can just start charging right away without having to return to your car. It holds several charges on a single battery pack and will last days at a time.
Travel Insurance
Let's be real: US health insurance sucks, and it can get complicated when you cross state lines to try to find in-network care in case of an emergency.
As long as you're traveling more than 100 miles away from your home destination, World Nomads will step in where your insurance falters, and they make it super simple to purchase a policy for only as long as you're traveling and not a bit more. Their policies are inexpensive and cover basically everything from theft to accidents to delayed baggage to trip cancellation and more.
I've been a happy paying customer of World Nomads since 2016 and have zero complaints about their service, interface, or claims process, and I'm happy to recommend them to any traveler I meet.
Idaho Road Trip Map
Read Next
Idaho Hikes: The 6 Best Idaho Hikes to Add to Your Bucket List
Idaho Hot Springs: The 7 Best Idaho Hot Springs to Visit
Montana Road Trip: The Ultimate 10 Day Montana Road Trip Itinerary
Utah Road Trip: The Ultimate 7 Day Utah Road Trip Itinerary
USA Road Trips: 25 Incredible USA Road Trips to Add to Your Bucket List
Road Trip Packing List: 50 Essential Things Not to Forget to Pack for a Road Trip
Pin This Idaho Road Trip Itinerary!
Originally from the Southern U.S., Katelyn Page currently launches adventures from Ketchum, Idaho and Revelstoke, BC. She spends most of the time when outside skiing, hiking, or cycling. As an Urban Planner by training, she understands the connection between cities and outdoor resources and the importance of getting out and exploring.