If you're planning a winter trip through Central Europe, don't miss the magic of Bratislava in winter. I'm sure this city is charming at any time of year, but in the winter, Bratislava just shimmers.
Compared with its more popular neighboring Central European cities – Prague, Vienna (just an hour away and a world apart), and Budapest, to name a few – Bratislava is an oasis of calm that still looks like a fairy tale.
Because Bratislava is a less popular place to visit than its neighbors, its main attractions are less chaotic and crowded, and prices are lower as well.
Even the beloved Bratislava Christmas markets don't do much to add chaos to Old Town, dispersing the tourists in smaller, more manageable numbers.
I'm not sure why it is most people skip Bratislava on their winter trips through Central Europe. It's one of the best places in the region!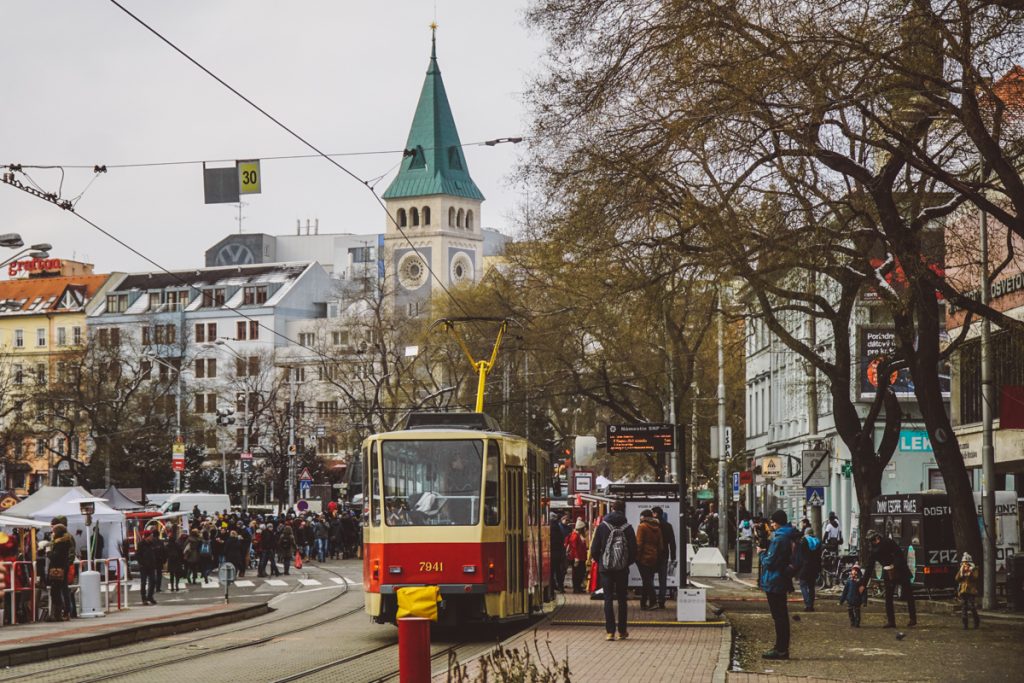 Note: This post contains affiliate links, which means I may receive a small commission if you purchase something through one of these links. Thank you for supporting the free content on this site! For more information on affiliate links and cookies, see my disclosure page for more details.
Perhaps the capital of Slovakia is overshadowed by its more famous neighbors, or maybe the proximity of Vienna makes people opt for it over Bratislava.
Perhaps it's a bit of lingering Cold-War-phobia of countries with hard-sounding names like Slovakia, which make it sound more cold and inaccessible than it actually is.
(Before any Slovaks get mad at me for that comment – I lived in Bulgaria for many years, and the number of people who ask me "is that by Russia?" or "is it safe there?" is insane).
But whatever the reason, if you make it a priority to visit Bratislava in the winter, I'm sure you'll be as charmed as I was.
In case you don't know much about Bratislava (I certainly didn't, until planning this trip), here's a quick but comprehensive guide to the most magical things to do in Bratislava in winter.
Best Time to Visit Bratislava in Winter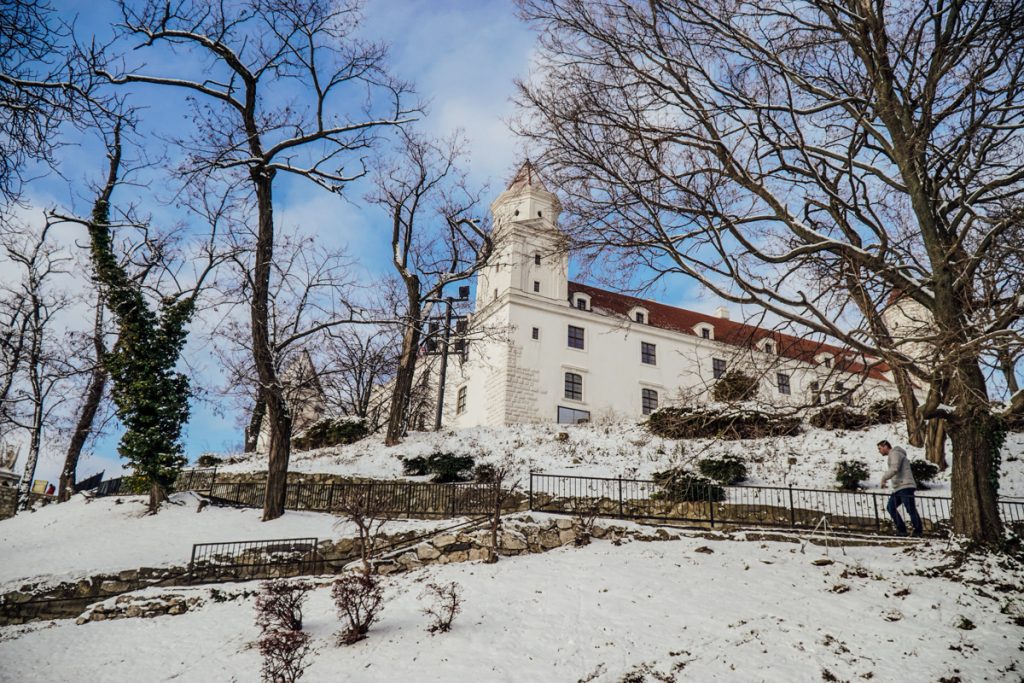 If you're planning a trip to Bratislava in winter, I strongly recommend you try to time your visit in the period before Christmas time!
Early to mid-December is a great time to visit Bratislava in winter to take advantage of the best part of the winter time.
Late November, many Christmas markets will start to open as well, but the city won't be in the full holiday season just yet.
The whole city of Bratislava goes all-out for Christmas, with a beautifully decorated Christmas tree many of the squares, Christmas lights, and traditional Christmas markets with delicious hearty food.
However, note that if you travel over the actual Christmas period, many places will be closed on Christmas Day, New Year's Eve, etc.
Other winter months like January and February are a great option for visiting during the colder months if you don't care about missing the best Christmas markets.
The prices will be lower, and the crowds will be almost non-existent, so it can be a good trade-off if you don't mind traveling in the colder time of the year!
Getting to Bratislava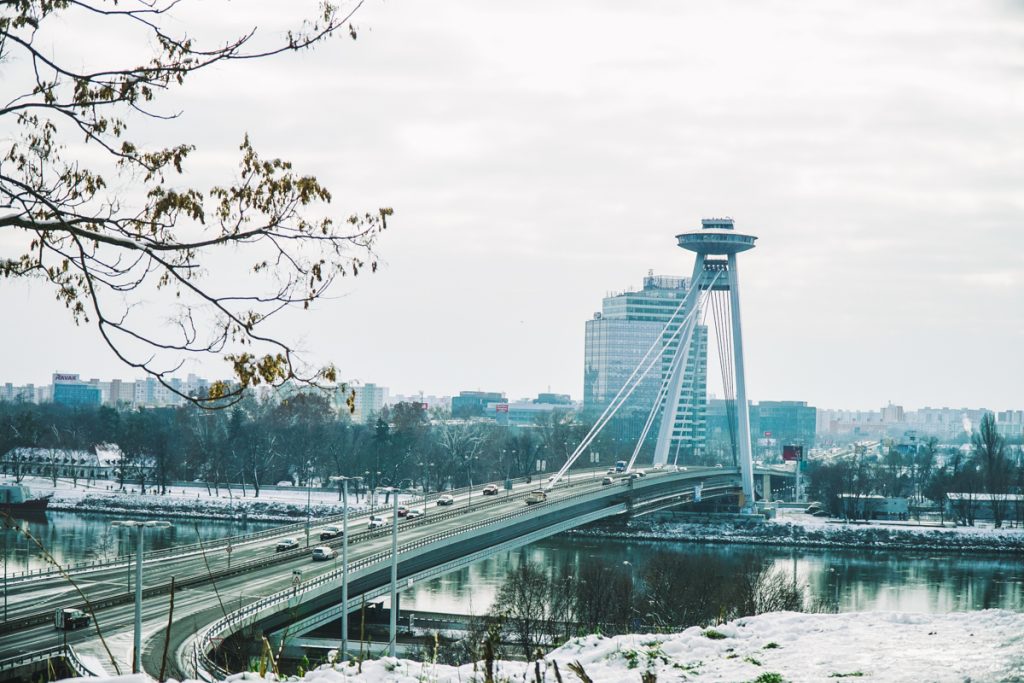 It's very easy to get to Bratislava if you're already in Central Europe. Many trains leave for Bratislava daily and arrive in the Main Train Station which is an easy walking distance from town.
You can also take a taxi or public transport from the train station to your hotel which may be the best way to get around if you have heavy luggage.
Train tickets are cheap and affordable, especially if you book them online in advance.
You can also fly into Bratislava Airport via many low-cost carriers in Europe.
The Best Things to Do in Bratislava in Winter
Visit the Christmas markets.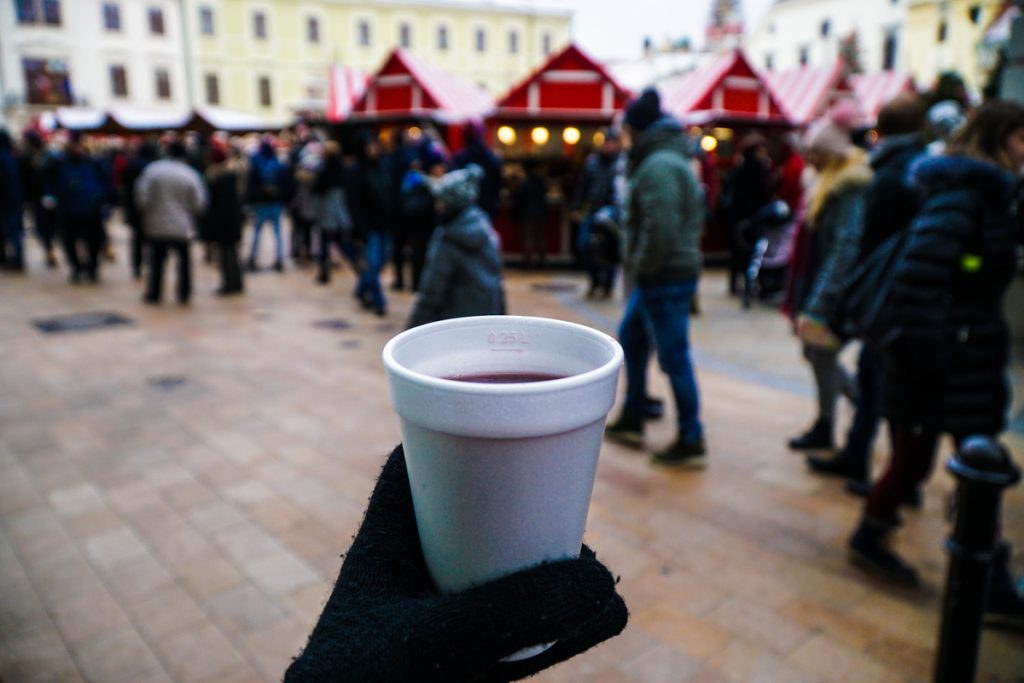 If you're planning a trip to Bratislava in December, it's likely to take advantage of the Christmas market season.
For many people, Christmas markets are one of the best things about traveling Central Europe in winter.
The largest Bratislava Christmas market can be found in Hlavne namestie, the Main Square.
You'll find smaller markets in other places like Hviezdoslavovo Square.
Bratislava's Christmas market is not quite as large as the ones I saw in Prague or Budapest – and definitely nowhere close to Germany, which is quite frankly in a league of its own.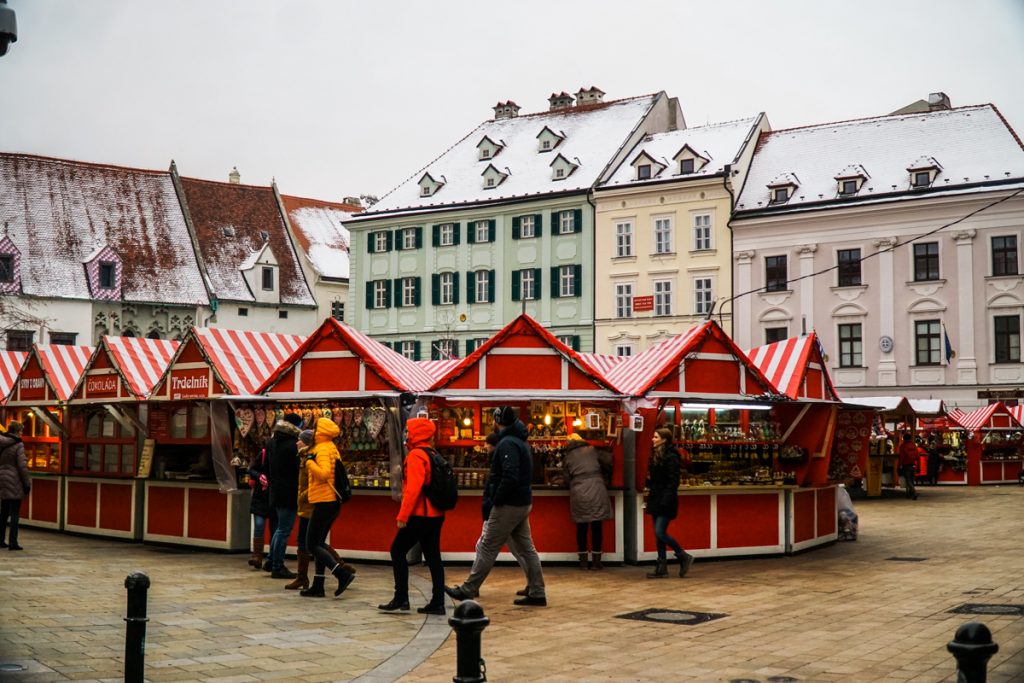 But I actually liked the small size of it. For me, it was the ideal place: the crowds were smaller and the streets were easy to navigate as someone who gets anxiety in crowded places.
You'll still find all the Christmas market standards – glühwein (hot, spiced red wine), roast sausages, chimney cakes – as well as a few Slovakian local foods.
If you're looking for what makes a Bratislava Christmas market distinct, look for lokša, thick salty pancakes served salty (with roasted pork or a delicious Slovak sheep's cheese called bryndza) or sweet (with nutella or poppy seeds).
Duck and goose are also two common Christmas types of meat in Slovakia, so partake in and know you're enjoying something distinctly Slovakian.
One word of warning, here: unfortunately, crowded Christmas markets and distracted tourists make for lots of opportunities for pickpockets!
Get one step ahead of them by keeping track of your valuables and being proactive about your safety with anti-theft gear. Money belts are old news, so I suggest an anti-theft backpack.
While travel in Europe is safe, pickpocketing is a major issue. Thwart would-be pickpocketers with a chic, sleek backpack with double-interlocking zippers, slash-proof construction, & RFID blockers! I've carried this PacSafe backpack to 30+ countries with me, and it's my #1 travel companion. Pick from one of seven colors — I have and love the classic black one!
Admire the (hopefully) snow-capped Bratislava Castle.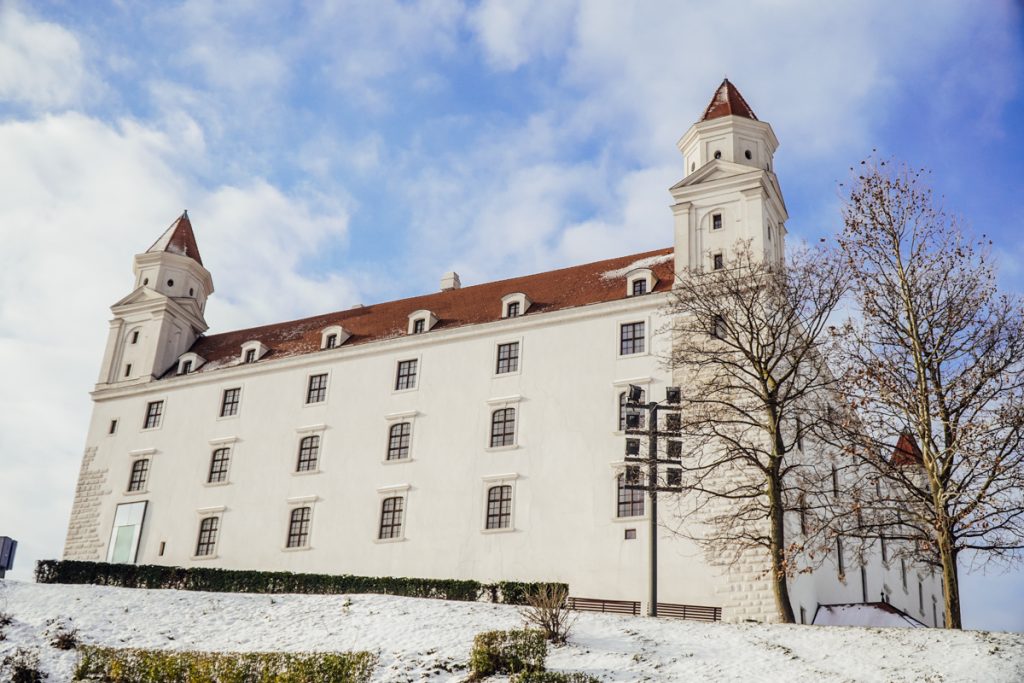 The Bratislava Castle is a beautiful building on a hill overlooking the Old Town. You'll see its four white turrets peep from behind rooftops all over Bratislava.
Bratislava Castle is quite stunning, especially when its white walls match the snow on the ground and it's set against a patch of blue sky.
I especially like Bratislava Castle when comparing it to Prague Castle, as it's way less crowded and you're actually able to get photos without people in it quite easily.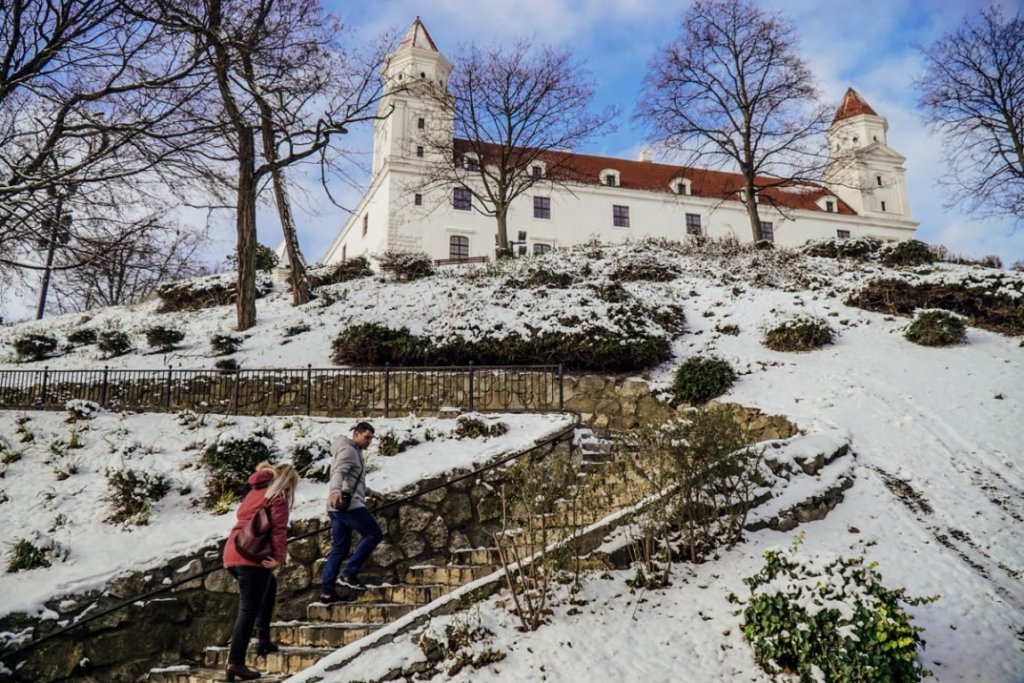 Crowds quickly ruin my experience and I loved that I was able to enjoy Bratislava Castle in peace without having to wake up at the crack of dawn to see it (this photo was taken around 1 PM).
The inside of the castle has been recently restored (somewhat controversially, as it involved quite a few changes to both the interior and exterior), and it costs 10 euros to access the interior.
Reviews on TripAdvisor are mixed on whether visiting the interior is worth it.
I'd say it depends on how much you like castles and how high your expectations are, and if you have enough time in your Bratislava itinerary.
I personally didn't go inside, but I still found walking around the exterior to be a fantastic use of about an hour, especially since it offered such beautiful views over the city… just as good as any observation deck, I'd say!
Take a day trip to a stunning castle.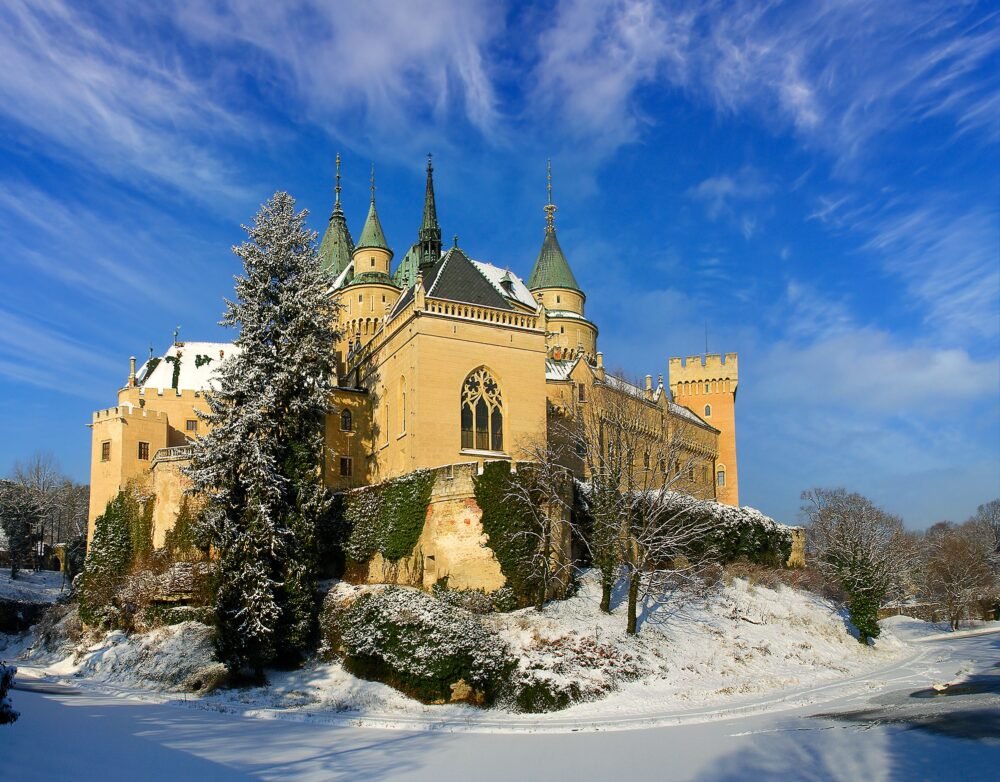 Besides Bratislava Castle, there are many other castles in Slovakia worth a visit.
Check out this day trip to Bojnice Castle – rated one of Europe's top 10 castles, a pretty high distinction on a continent jam-packed with them!
It's styled after castles you'd find in France's Loire Valley, which is part of why it is so spectacular.
This tour includes all the transportation and entrance fees to the castle.
Alternately, you could visit Devin Castle.
In my opinion, Devin Castle is not quite as impressive as Bojnice.
However, it is much closer and easier to fit into a jam-packed Bratislava itinerary.
Check out the Old Town's greatest hits.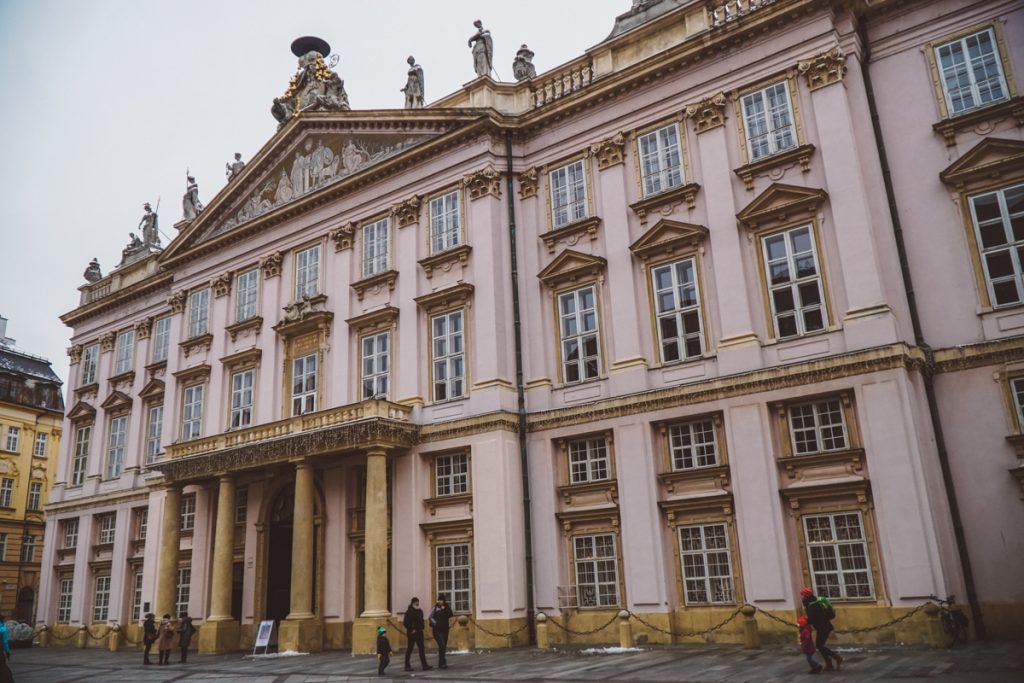 Of course, no visit to a European capital is complete without a walking tour of its Old Town (assuming it has one).
Bratislava's is meticulously well-preserved and quite pleasant to stroll, so definitely save some time to wander around these streets.
A few things not to miss: the Presidential Palace, Michael's Gate which opens up to the heart of Old Town, the millennial pink Primate's Palace, the lovely St. Martin's Cathedral and the adorable painted windows on the abandoned church (Obrazáreň pri Dóme) nearby it.
You can guide yourself, or you can opt for a guided tour like this one, which includes an entrance ticket to Bratislava Castle.
Too cold to walk around? Stay warm on a bus tour, which you can pre-book here.
Stroll the Danube and check out the quirky UFO bridge.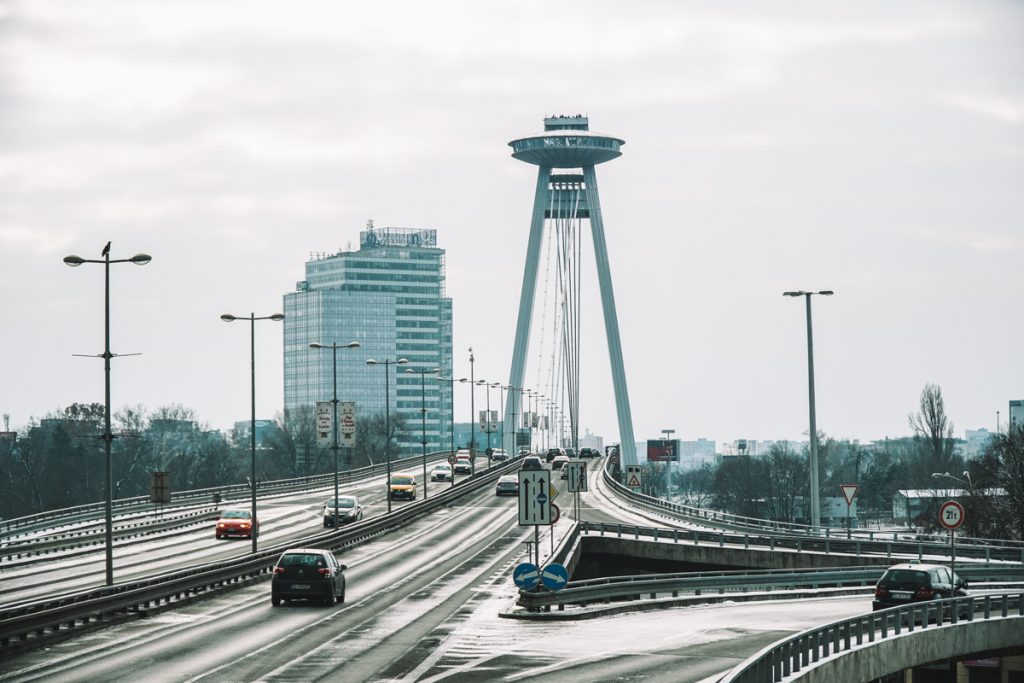 I'm a huge fan of odd Communist architecture and Bratislava's UFO bridge is in factone of my favorite pieces of Communist architecture of all time – perhaps because it reminds me of Bulgaria's very own UFO, Buzludzha.
The UFO bridge spans the Danube and connects the Old Town of Bratislava to the newer side of town where most locals live.
You can get great views of the UFO bridge from several vantage points in the Old Town.
The best view in my opinion is on the way up to Bratislava Castle, which also enjoys a beautiful view of St. Martin's Cathedral.
Check out Communist architecture and history.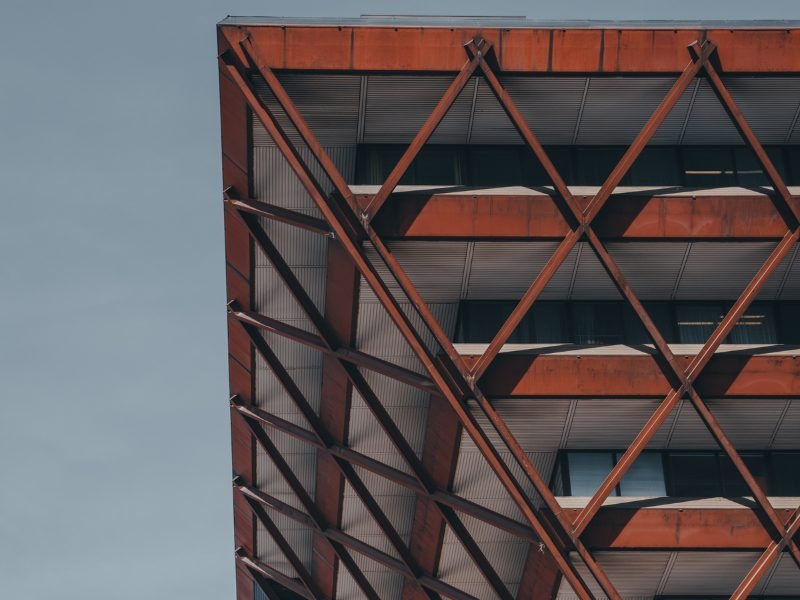 To get further off the beaten path in Bratislava, you can check out Petržalka on the other side of the bridge.
This is the largest borough of Bratislava and a hotbed of Communist-style architecture, due to its genesis as the largest socialist housing district in communist-era Central Europe.
If you're a fan of Communist architecture and have the time, Authentic Slovakia's Soviet-era Communism Tour of Bratislava enjoys a 5-star rating on GetYour Guide and lasts 2.5 hours.
The tour takes you around Bratislava's communist past, from the Slavín monument to slain Soviet soldiers to old Communist factories and apartment blocks, bunkers, an Iron Curtain border zone, in a vehicle right from the era – an old school Škoda!
Warm up from the Bratislava winter with some comforting Slovak food.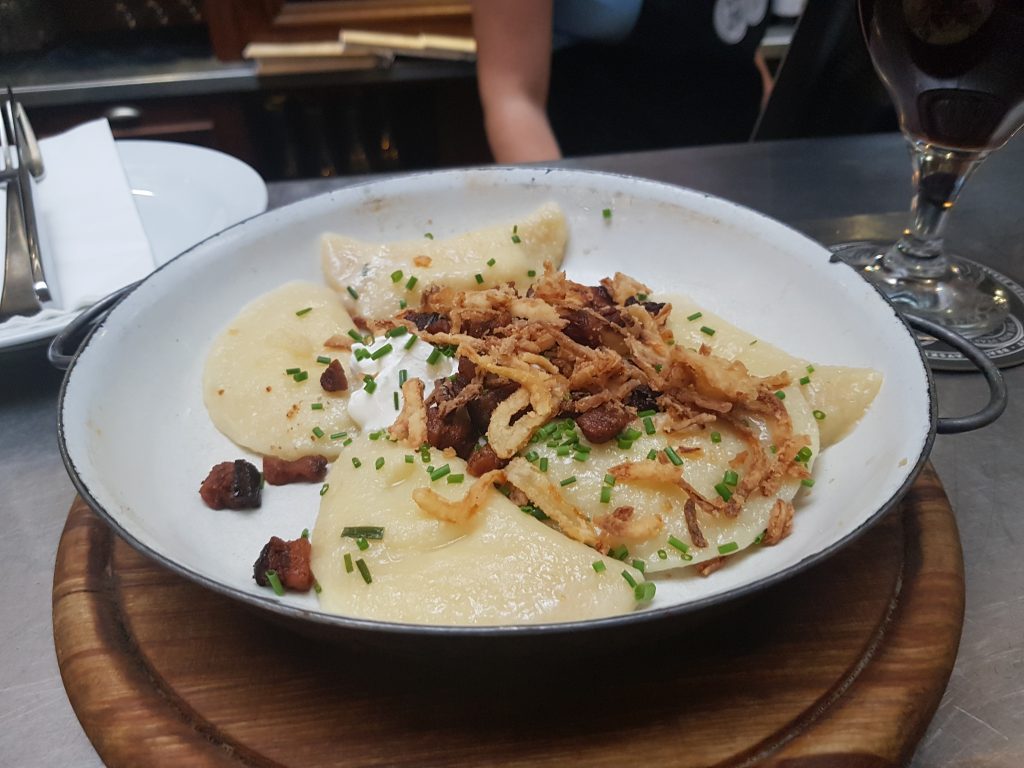 Bratislava is undoubtedly cold in the winter. When I visited in mid-December, I arrived to temperatures of -10 °C / 14 °F!
It warmed up a bit from its initial freezing cold, but not by much: the warmest it got during my time in Bratislava in December was -2 °C / 28 °F.
Assume it'll be cold and pack accordingly! I have a full, tried-and-tested winter in Europe packing list here with plenty of clothing recommendations.
But the other and decidedly more delicious way to warm up from Bratislava's winter cold is through your stomach with some delicious Slovakian beer and comfort food!
In my opinion, Central European food is too heavy in the warmer months of the year, but it's absolute perfection at Christmastime.
I lived in Prague many years ago and really warmed up to Czech food. Slovakian food is quite similar, as it wasn't that long ago (in my lifetime, in fact – that makes me feel old!) that the Czech Republic and Slovakia were one country.
If you know Czech food, you'll recognize quite a few things on most menus.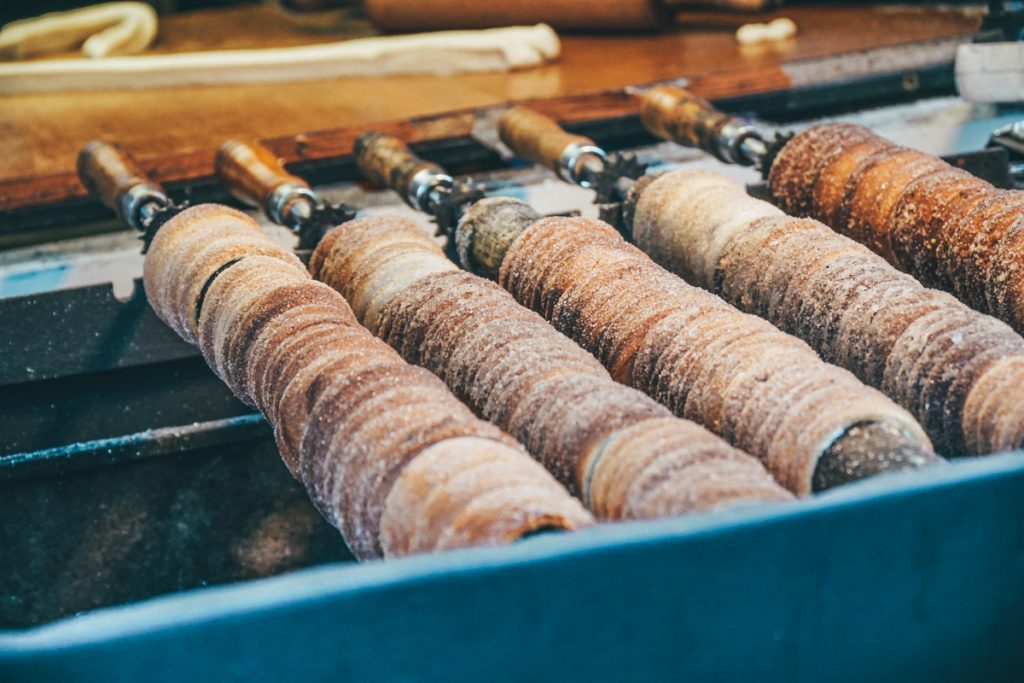 Food you can find in both countries include potato pancakes, sauerkraut soup, goulash, bread dumplings, and steamed fruit-filled dumplings for dessert.
In my opinion, the can't-miss food in Slovakia is bryndzove halusky or pirohy.
Halusky are small dumplings similar to a more free-form gnocchi or German/Austrian spaetzle, whereas pirohy are potato-stuffed dumplings similar to what you'd find in Poland.
Both types of dumplings are served with bryndzove, a soft and salty sheep's cheese, sour cream, fried onions, fried bits of bacon, and chives or spring onion.
Not a healthy combination, to be sure, but it's insanely comforting in winter. The best damn dish in Slovakia
There are several restaurants you can try this at, as it's one of the most common Slovakian dishes, but according to locals the best is at Bratislavský Meštiansky Pivovar.
While I didn't have the chance to try others, I can't imagine a dish being better than theirs – it was absolutely divine (and the dark house beer I paired with it certainly helped!).
Shop indoors at the Old Market Hall.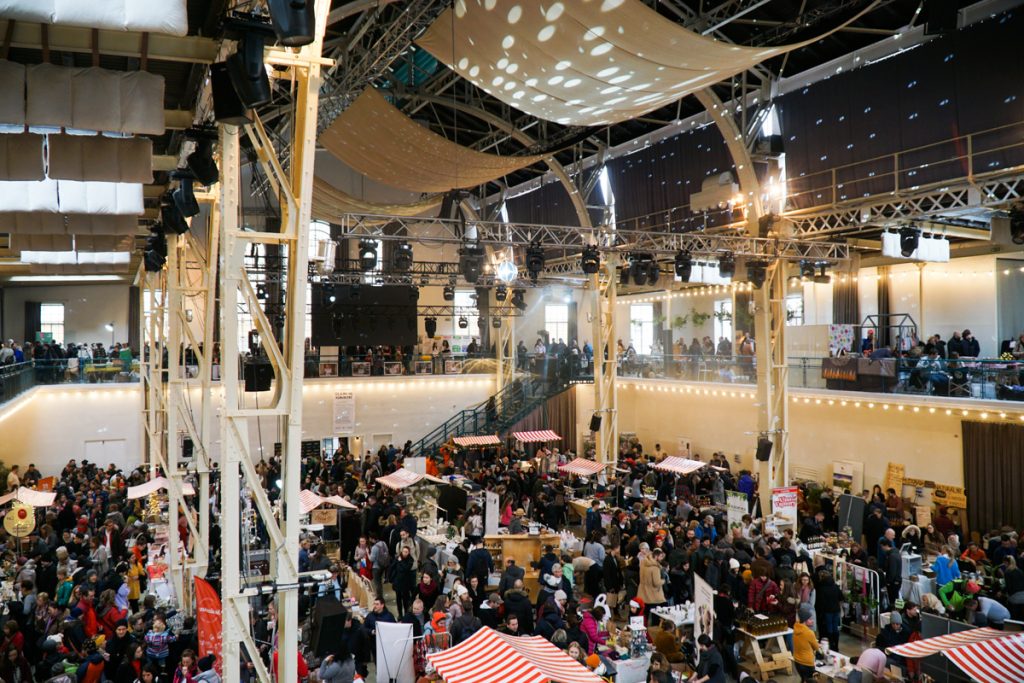 While Christmas markets are cute, they are decidedly cold – no matter how much glühwein you try to pump into your veins.
So imagine my delight when I stepped inside the Old Market Hall (Stara Tržnica) in Bratislava and found plenty of Christmas goodness, yet zero wind or cold.
The indoors Christmas market is quite popular amongst locals!
I found that the stuff at the Old Market Hall actually felt more handmade and less mass-produced (more akin to a farmer's market, but with a still Christmassy vibe).
It'd probably be where I shopped for souvenirs if I wasn't a massive Christmas Grinch. It had a more local feel whereas the outdoor Christmas markets were definitely more predominantly touristy.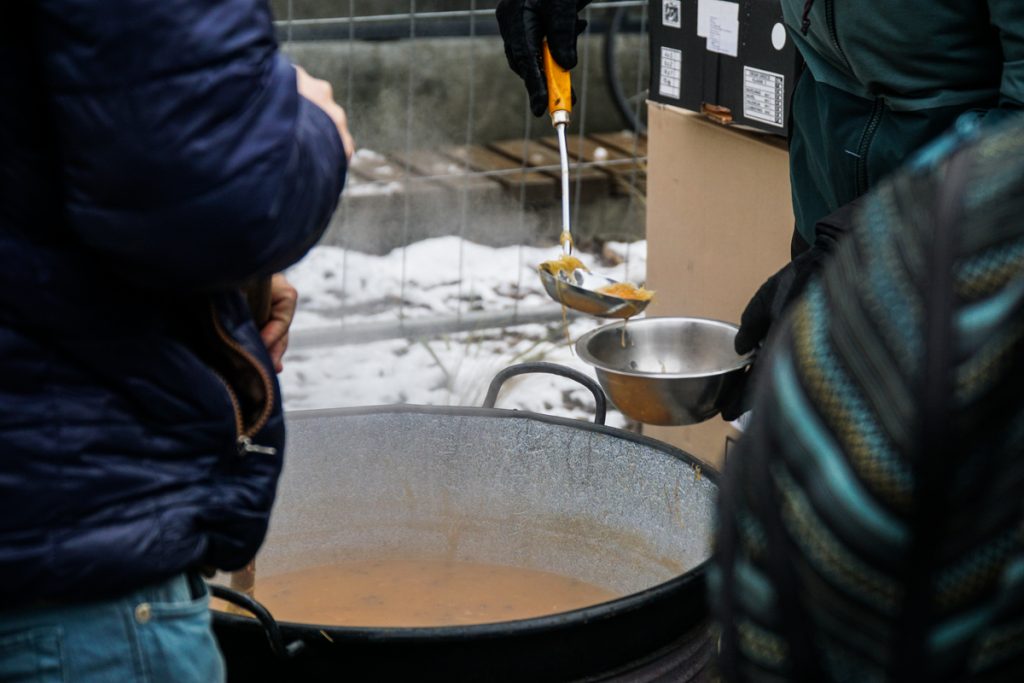 As a bonus, the stand just outside the Old Market Hall was selling the best-smelling soup I've ever witnessed.
If I hadn't just have eaten lunch, I'd have probably inhaled a bowl or two right then and there!
Marvel at the baby blue Church of St. Elisabeth.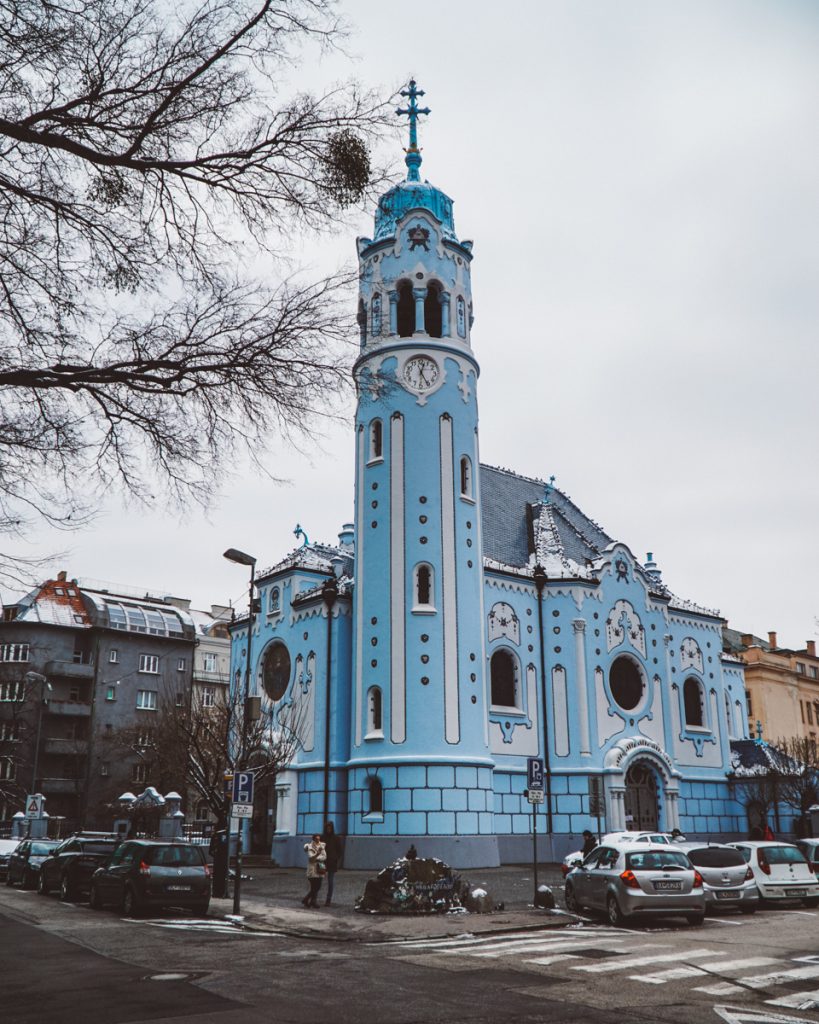 When you live and primarily travel in Europe, you get a bit of church fatigue after a while.
Yes, I know that's the most spoiled thing to say, but it's true. It's hard to impress me after a while.
Well, the gorgeous blue Church of St. Elisabeth in Bratislava about a 10-minute walk from the Old Town smacked me in the face with its beauty.
It looks like a Disney tower meets an actual Candyland-style gumdrop castle, and I was all about it.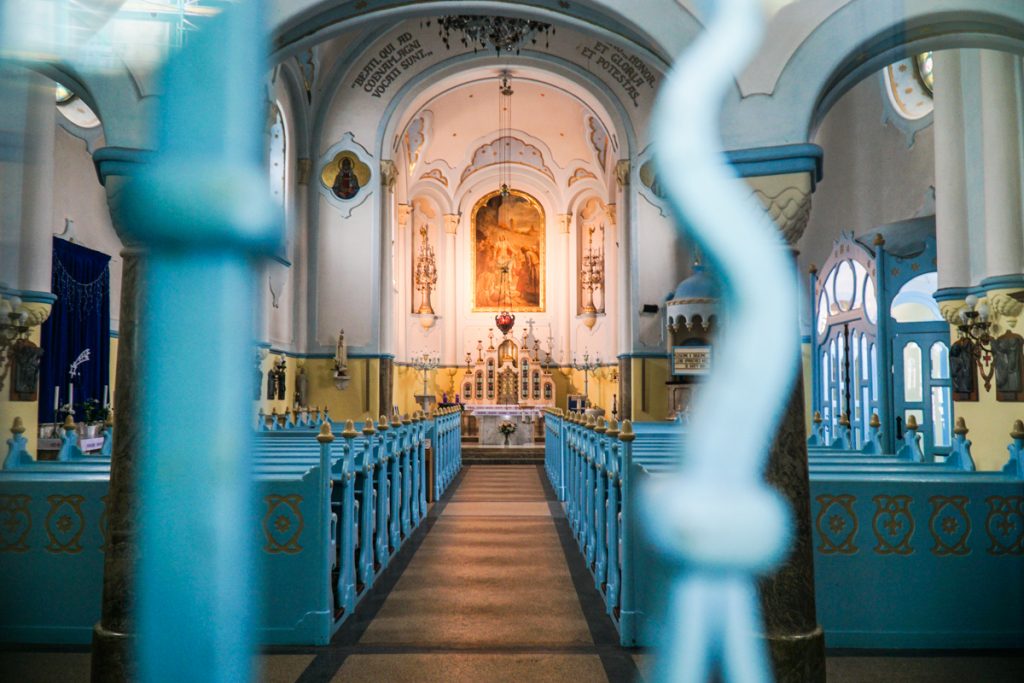 Completed in 1913, the church is done in the unique is a Hungarian Secessionist style (also called Jugendstil or Art Nouveau).
While it's a Catholic church, you'd have a hard time guessing it from the exterior.
The one bummer is that the interior is only open a few hours a day. It's open from 7–7:30AM, then from 5:30–7PM.
Neither of these times are particularly convenient in the winter in Bratislava, when the sun doesn't even rise until 7:30 AM and it's well and dark by 5:30 PM.
So you may have to do two visits, one to photograph the exterior by day and then back at night, or wake up very early if you want to see the interior as well.
Walk the oldest street in Bratislava.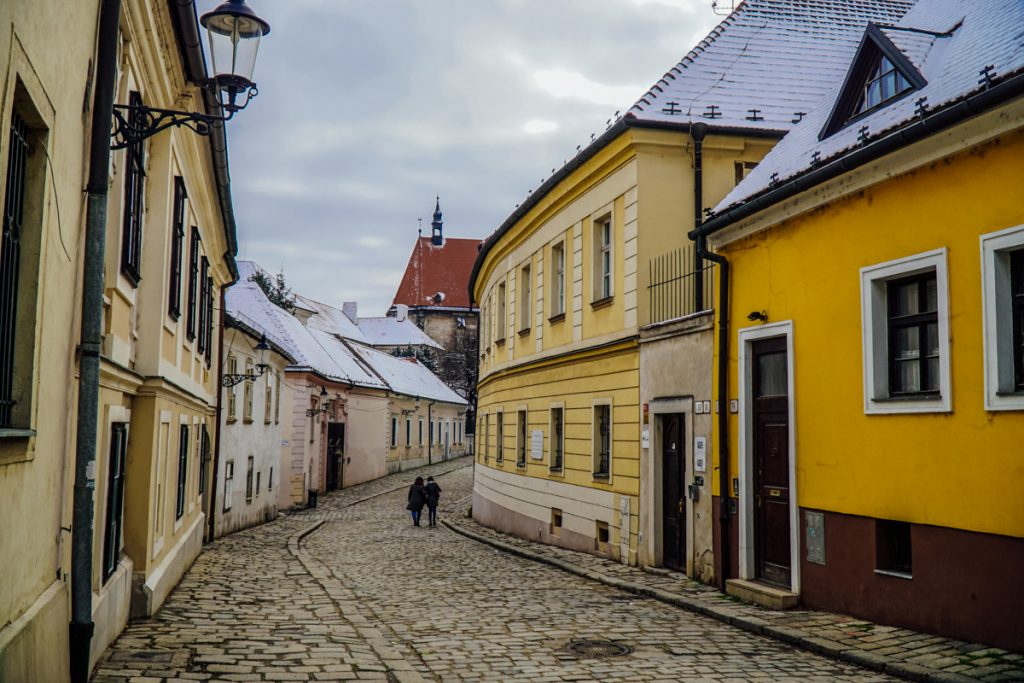 Kapitulska Street is the oldest in Bratislava, tracing its roots back to the 13th century, and one of the most interesting.
Whereas the rest of the Old Town has been buffered and polished to tourist-friendly perfection, Kapitulska is a bit rough around the edges.
It's a testament to the atrophy that happened under Communist rule (For some fascinating history as told by an American living in Bratislava, read here).
While the cobblestones and colorful houses conjure up that classic European charm, the sad ramshackle decay of some of the other houses reminds you of Slovakia's darker hours under Communism.
In a way, it's almost a museum street. Yet Kapitulska is just one small street amongst a city of thousands, showing you Slovakia's determination to overcome its past and reclaim its roots.
Why walk Kapitulska specifically when visiting Bratislava in winter?
Two reasons. One, the street provides an interesting historical contrast to the generic Christmas markets you'll find in the Old Town, and two, the buildings look even more beautiful when lined with a dusting of snow.
Cozy up in an adorable café.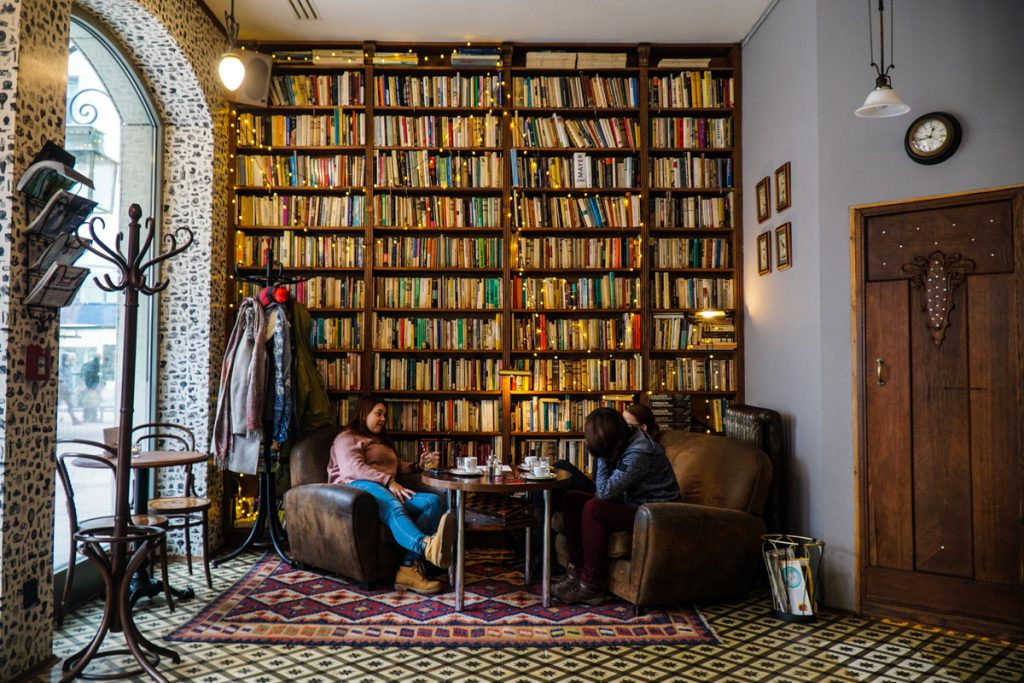 Denmark doesn't have a monopoly on hygge – Bratislava in winter is definitely cozy and charming.
There are several cafés in Bratislava worth visiting when the cold weather gets to be too much and you need to retreat to some indoor warmth and a coffee.
One of my favorite Bratislava cafés is Mondieu, a Parisian-inspired mini-chain with a few locations in the city.
Kids (and chocoholics) will love the Mondieu Laboratoire, where you can see chocolate fountains ready to pour a thick, steamy mug of hot chocolate to warm you from the inside out.
My favorite café in the city, though, is St. Germain, located across from Kino Lumière.
If you have extra time in Bratislava, watching a movie at the Kino (many titles are in English with Slovak or Czech subtitles) followed by some cozy time at the café sounds like one of the best uses of a winter day in Bratislava there is.
Enjoy Bratislava's parks and squares.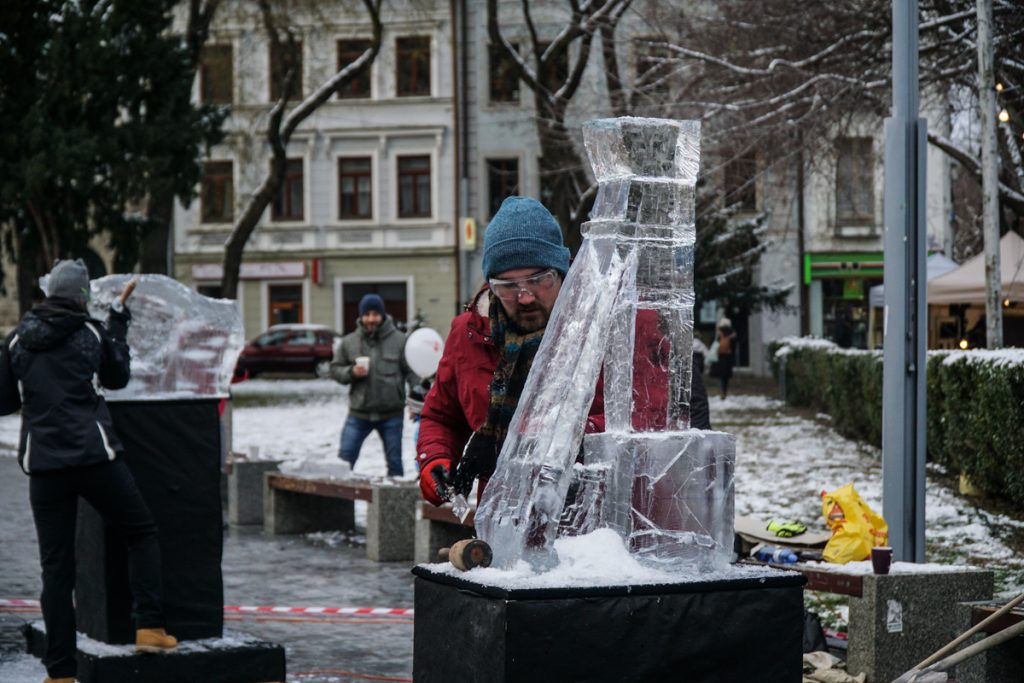 There's always something going on in the parks and squares of Bratislava, even in the freezing cold!
When I visited I was lucky enough to get to watch an ice sculpting contest in one of the squares.
I don't know if this is a common occurrence or if I just got lucky (I wasn't able to find any information online) but one thing is for sure – Bratislava doesn't just shut down in the winter!
Bundle up and go searching for street art.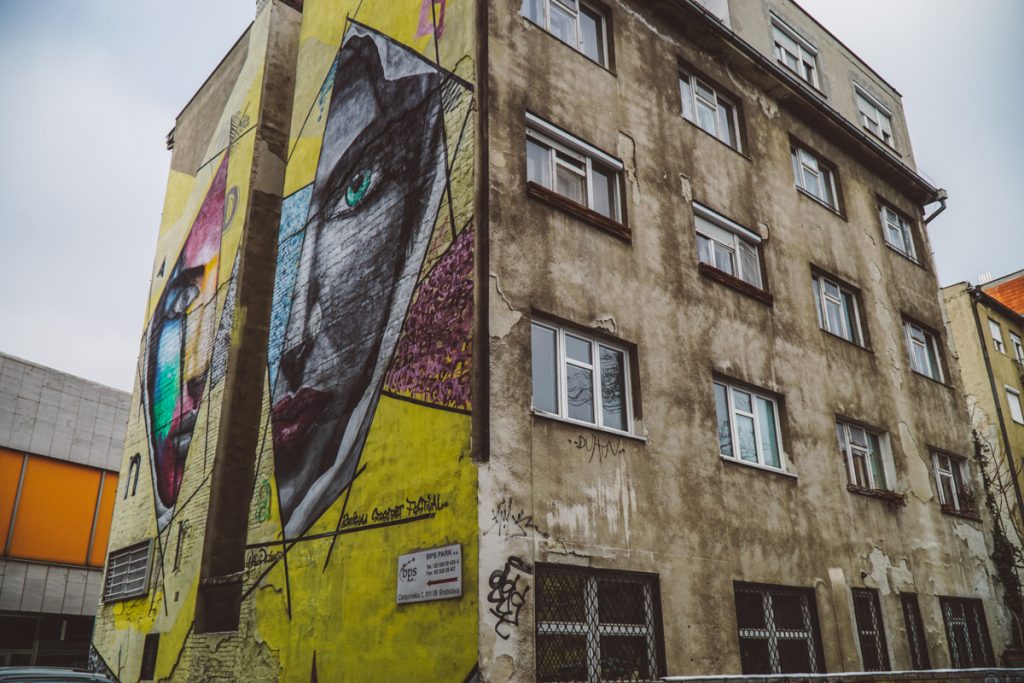 Bratislava doesn't have a ton of street art, but there is a small, nascent street art scene emerging.
The parking lot around Rajská street is the hotbed for most of the street art in central Bratislava.
Start at the intersection of Dunajská and Rajská and then wander up towards St. Germain.
If you turn left on Cintorínská you'll also find some street art tucked away in this area, plus an adorable sleeping fox piece on Kamenné namestie.
Warm up in one of Bratislava's fantastic museums.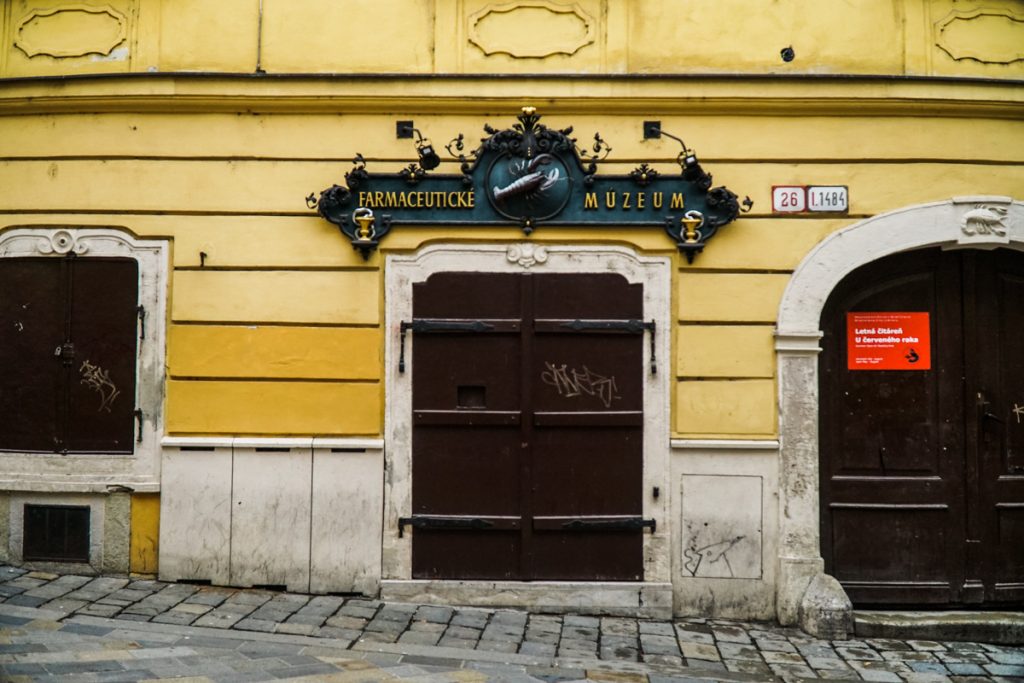 Whereas Prague is king of the kitschy museum, Bratislava is less tourist-mobbed and therefore blissfully free of ridiculous themed museums that are just out to grab your money.
However, if you're a fan of niche museums that aren't tourist traps, the Museum of Clocks and the Museum of Pharmacy are both well-reviewed and inexpensive.
I'm a huge fan of small niche museums
If you're more interested in history and culture, check out the Bratislava City Museum, the oldest museum in the city which tracks the development of Bratislava from the medieval ages on.
Another historical option is the the Museum of Jewish Culture located a short walk from Bratislava Castle.
It's located in the only house that survived in the old Jewish neighborhood.
Slovakia lost 75% of its Jewish population during the Holocaust, so visiting the Museum of Jewish Culture is a sobering reminder of these horrific times and a celebration of the endurance of the few Slovak Jews who remain.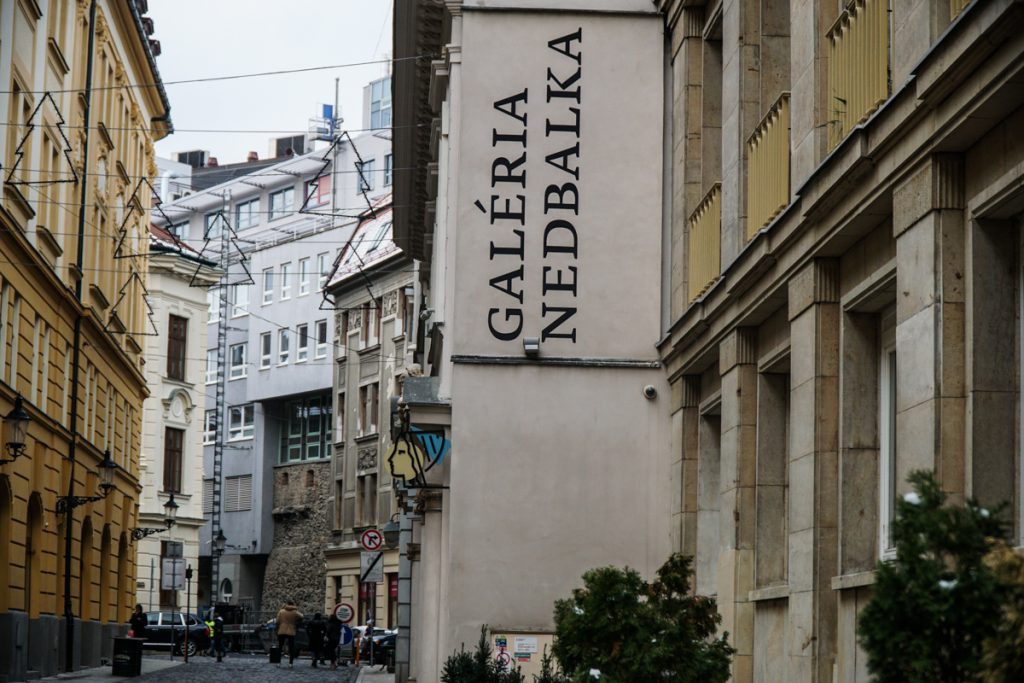 For the artistically inclined, check out the Galerie Nedbalka in the Old Town, which focuses on modern Slovakian artists (19th century to contemporary).
It's housed in a gorgeous building whose interior actually reminds me of the Guggenheim in NYC.
Admission is very reasonable, only 5 euros, which also includes a cup of coffee or tea at the gallery café – one of the best deals in all of Bratislava!
Try some tasty Slovakian wine.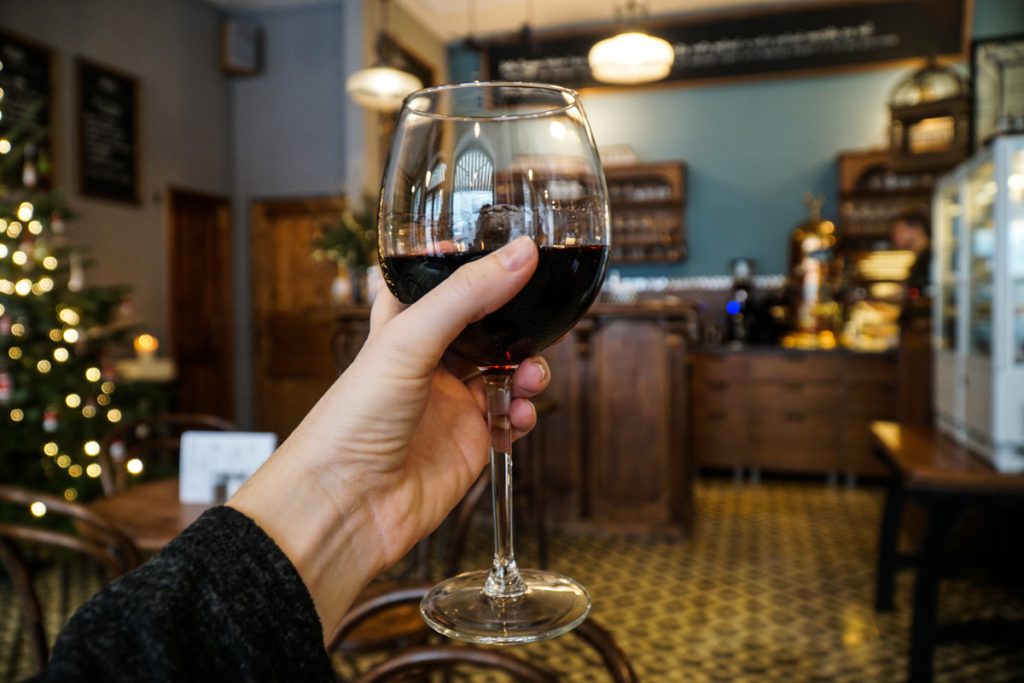 Slovakia isn't known for its wine, but it's not because it's not high quality and delicious!
It's just because as a small country, they don't produce much to export and instead almost all Slovakian wine is enjoyed within the country.
You won't have many opportunities to try Slovakian wine so definitely take advantage and enjoy a glass while visiting Bratislava this winter.
And I'm not talking the mulled stuff – I'm talking the real deal, bottled Slovakian wine.
Most cafés and bars in Slovakia will have a selection of several Slovakian wines.
Generally, Slovakia is better known for its white wines but I find I prefer red in the winter.
I tried a delicious frankovka modrá (also known internationally as Blaufränkisch) while in Slovakia and can confirm that Slovakian wine deserves its place in the wine world!
Be aware that like Hungary, Slovakia often measures wine by the deciliter.
Therefore, a glass that is, say, 3 euros per deciliter will actually be two deciliters and therefore 6 euros.
No one is trying to cheat you, this is just an oddity of how wine is measured and priced in some parts of Central Europe.
If you're a big wine fan, you may want to visit Modra, one of the best hubs for winemaking in Slovakia. For a small tasting fee you can try 10 different varieties of Slovak wine!
Where to Stay in Bratislava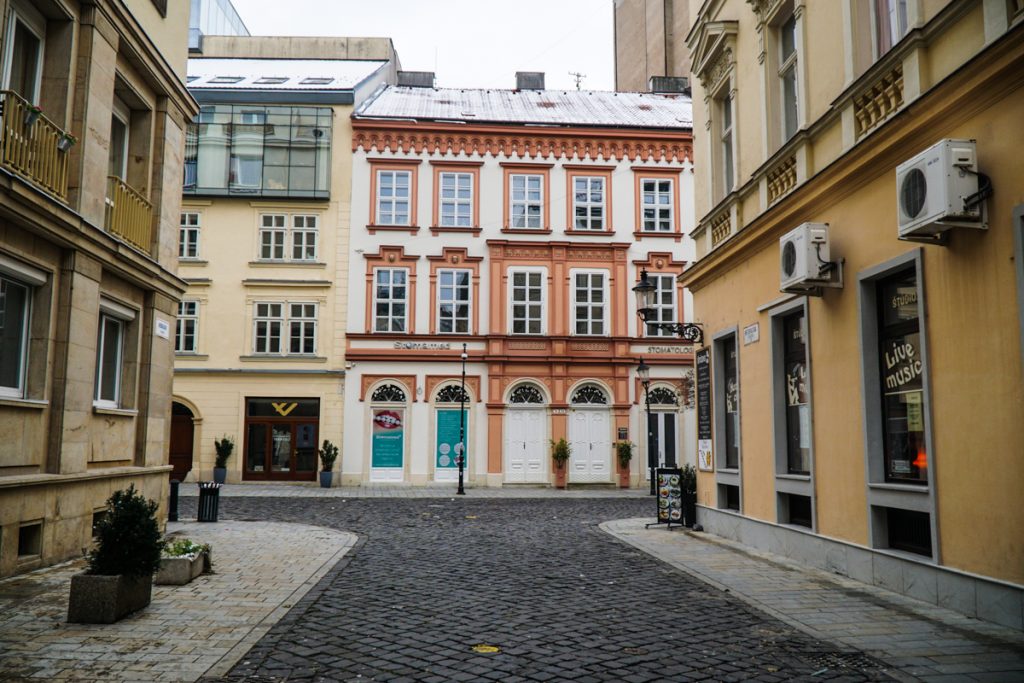 If you're just visiting Bratislava for a day trip, you won't need to stay overnight, but just in case you are planning a night in Bratislava, here are my recommendations for hotels and hostels.
Budget: Hostel Folks
This affordable hostel in the heart of Bratislava's city center, close to the Old Town and the castle, has a lot going for it! Hostel Folks is the best-rated hostel in Bratislava for good reason.
The dorm rooms have tons of space – so much so that they even have beanbag lounging areas in the rooms – and a clean, uncluttered aesthetic. There are private doubles, triples, and quads, but there are also dorms (mixed and female) for solo travelers.
There's a large common area to socialize in, complete with a flatscreen TV, a PS3 and plenty of games, as well as a computer with a printer you can use (great if you need to print a boarding pass or train ticket last minute). The hostel also boasts a clean and well-stocked kitchen, lockers, and free coffee and tea. Most rooms have A/C and the bathrooms are ultra-clean and well-kept.
»» Check out reviews, prices, and availability here ««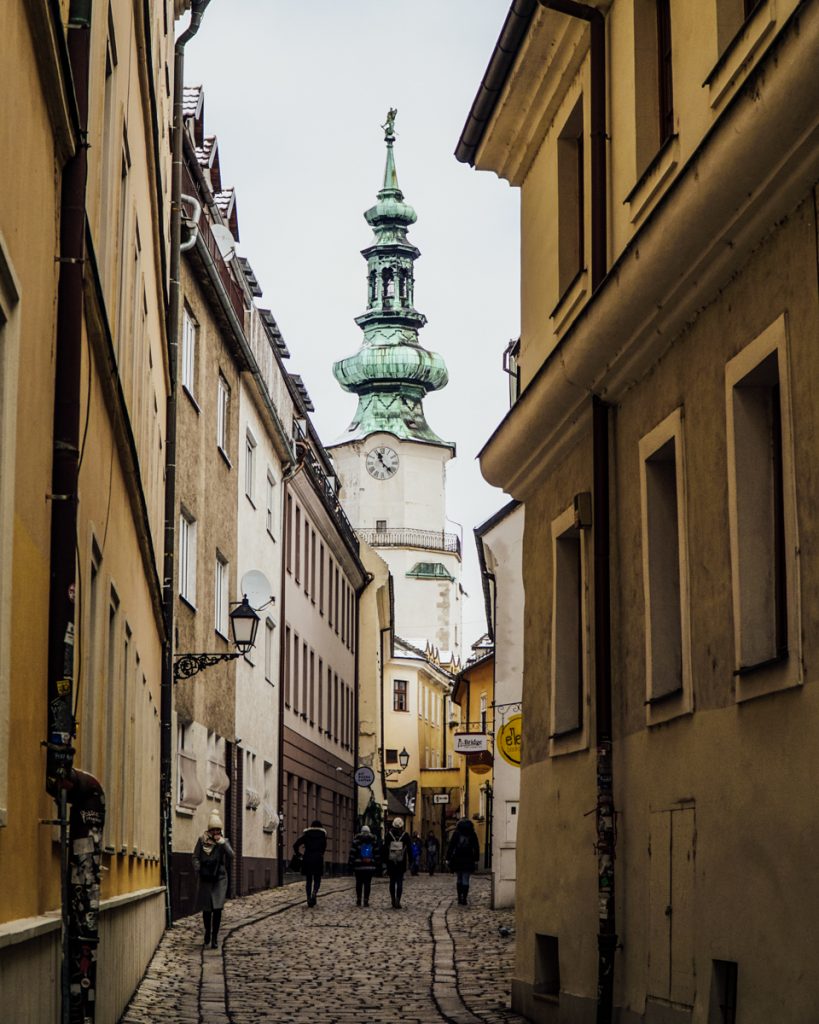 Mid-Range: River View Residence
For gorgeous views over the Danube River and a prime location just 500 meters from Bratislava Castle, River View Residence is my top pick in Bratislava if you're visiting on a middle-of-the-road budget.
The rooms are enormous and spacious with plenty of room to spread out without feeling cramped. But the best part is definitely the floor-to-ceiling windows that give you sweeping Danube views!
Despite feeling like a bit of an oasis away from town, the city center is just 15 minutes' walk away, so you're never far from a good meal.
There are a variety of room types available, including suites if you want a separate living area, and family rooms that can accommodate up to 5. Some rooms have a terrace, others have a bathtub, so check out the different room types and pick the one that's best for you.
»» Check out reviews, prices, and availability here ««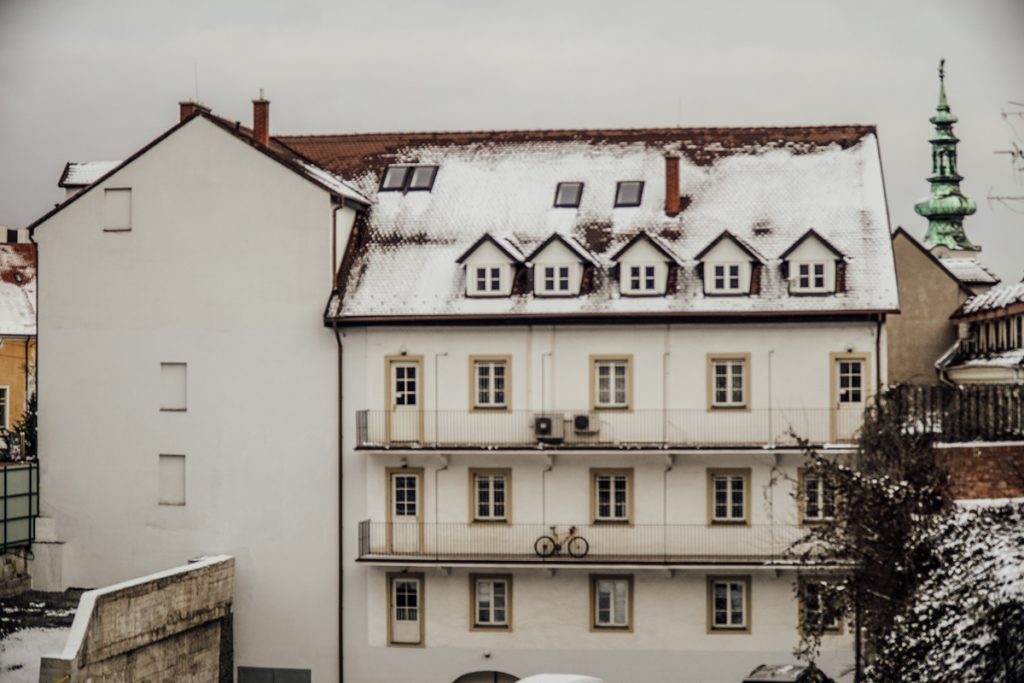 Luxury: LOFT Premium & Wilson Palace
There are a number of excellent luxury hotels in Bratislava but I always tend to opt for a boutique option over a more standard chain hotel as I find they have far more personality and are just a lot more memorable.
LOFT Premium & Wilson Palace is a fantastic find in Bratislava, with just 32 rooms in the LOFT hotel and another 10 rooms/suites in Wilson Palace, a real historical palace in Bratislava. I mean, how often can you say you slept in a European palace?
The rooms are huge, furnished elegantly as would befit a palace, with modern bathrooms including soaking tubs (swoon) and fancy espresso machines (double swoon).
Other perks include the great breakfast spread, the free (!) minibar which is restocked daily, as well on the on-site brewery FABRIKA which produces its own beer (wait, a brewery in a palace? Can I just move in already?)
»» Check out reviews, prices, and availability here ««
Planning a Trip to Bratislava in Winter? Don't Forget Travel Insurance!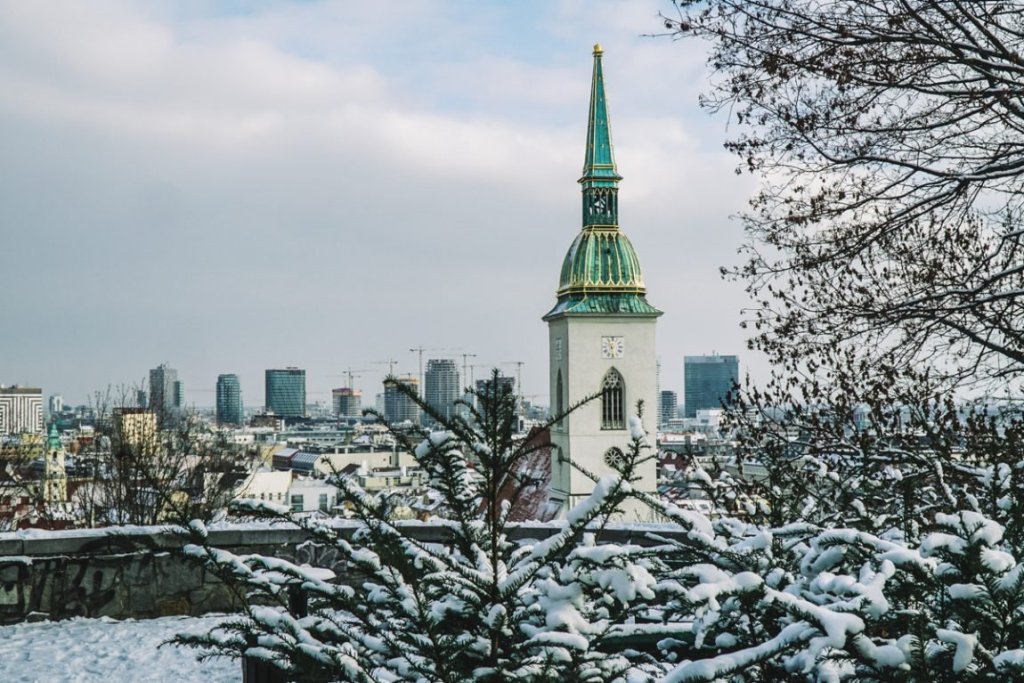 It's always a good idea to travel around Europe with a valid travel insurance policy – and this goes double in winter.
Winter travel in Bratislava has the potential for a few complications – transportation delays or cancellations, icy streets, and that sort of thing.
It's a good idea to be covered in case you have an accident or get sick, or if winter weather derails your plan.
Policies like SafetyWing's Nomad Insurance that combine travel insurance and travel medical insurance will help you recover your expenses so you can continue to enjoy your trip.
Policies are really affordable, starting around $11 USD for a week's coverage for people under 40, which gets you a policy that covers up to $250,000 of expenses after a $250 deductible.
Allison Green is a former educator turned travel blogger. She holds a Masters in Teaching and a B.A. in English and Creative Writing. Her blog posts merge her educational background and her experience traveling to 60+ countries to encourage thoughtful travel experiences that both educate and entertain. She has been a speaker at the World Travel Writers Conference and her writing, photography, and podcasting work has appeared in National Geographic, CNN Arabic, CBC Canada, and Forbes, amongst others. Now based in the San Francisco Bay Area where she grew up, she has also lived in Prague, Sofia, and New York City.