Well, I've done it; I've found the most beautiful place in all of the Caribbean.
No, not one of the St.'s where the paparazzi are always snapping photos of celebrities.
Nor the Bahamas where Instagrammers snap pics of themselves with swimming pigs or swarming nurse sharks
Nor even Richard Branson's private island (think my invite may have gotten lost in the mail…).
It's one that you likely may not even heard of until recently: Little Corn Island, a tiny island of fewer than 2,000 inhabitants and a handful of travelers.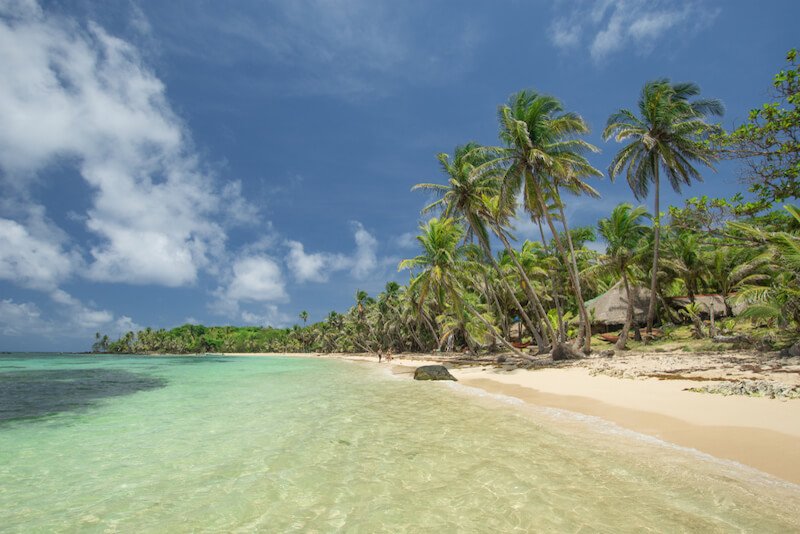 Note: This post contains affiliate links, which means I may receive a small commission if you purchase something through one of these links. Thank you for supporting the free content on this site! For more information on affiliate links and cookies, see my disclosure page for more details.
Technically, it's part of Nicaragua but feels a world away in the middle of the Caribbean Sea.
This little island represents a huge turning point in my life.
It's the place where I learned to dive, and the catalyst for eventually dedicating as much of my life as possible to being underwater.
I fell in love with this island, not just for all the things to do in Little Corn, but also for how lovely it is to do nothing at all there.
What is Visiting Little Corn Island Like?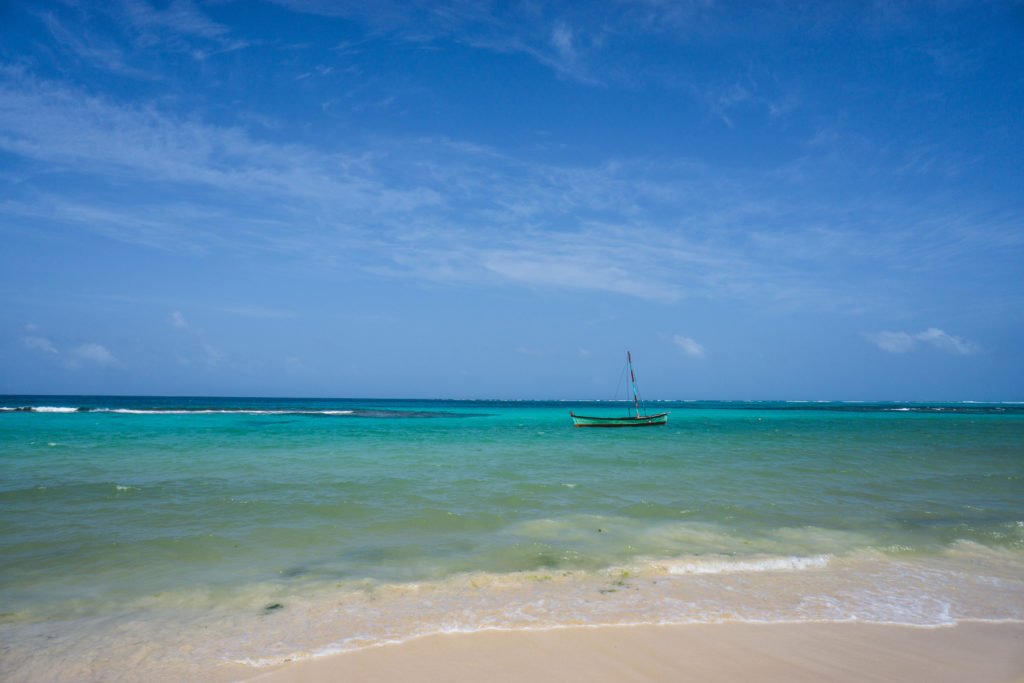 Going to Little Corn Island is like visiting a place from a bygone era, where WiFi is not a given and stars still twinkle brightly in the sky, undimmed by any competition.
There are no cars on the entire island of Little Corn, making your inevitable return to Big Corn to fly back home (or take the ferry) a bit jarring.
The majority of the island has no electricity between the hours of 6 AM and 1 PM, unless someone is using a generator.
I'm chronic night owl, yet when my electric-powered fan began turning itself off promptly at 6 AM in the morning, I found myself rising before 7 each morning as the room would grow stuffy.
I'd get the earliest start to my day that I've ever been able to force myself to.
Yes, the Corn Islands did the impossible. It made me, temporarily, a morning person.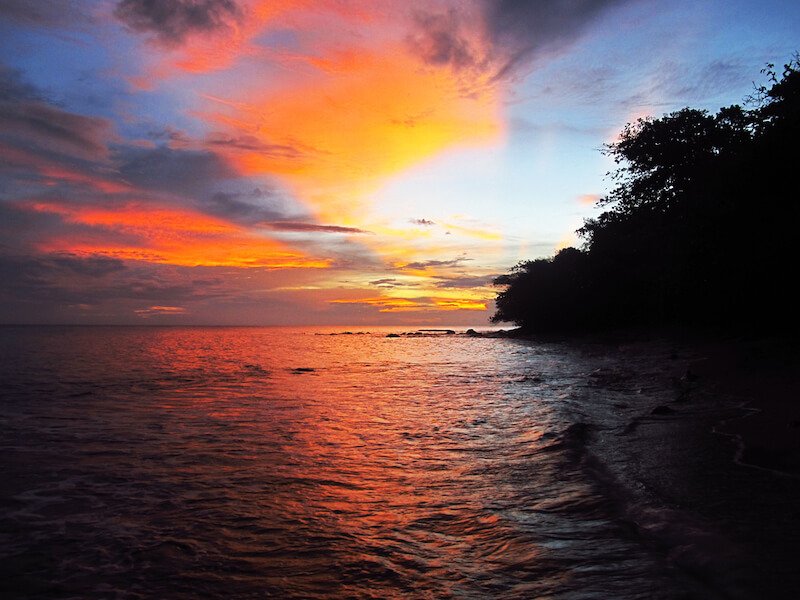 That said, Nicaragua's Corn Islands are developed just enough to make your life comfortable.
After I'd wake up at 7, I'd usually stroll up the beach road up to my favorite café on the island, Café Desideri (which, incidentally, has the best WiFi on the island).
I'd grab a coffee and some of the best French toast of my life as I'd get up to date on the slowly-loading news and watch the island come to life around me.
Other times, the WiFi would go out completely, and I'd be forced to listen to the rhythms of the waves, to feel the coldness of my beer, or to turn to a fellow traveler and strike up a chat.
What to Budget for Little Corn Island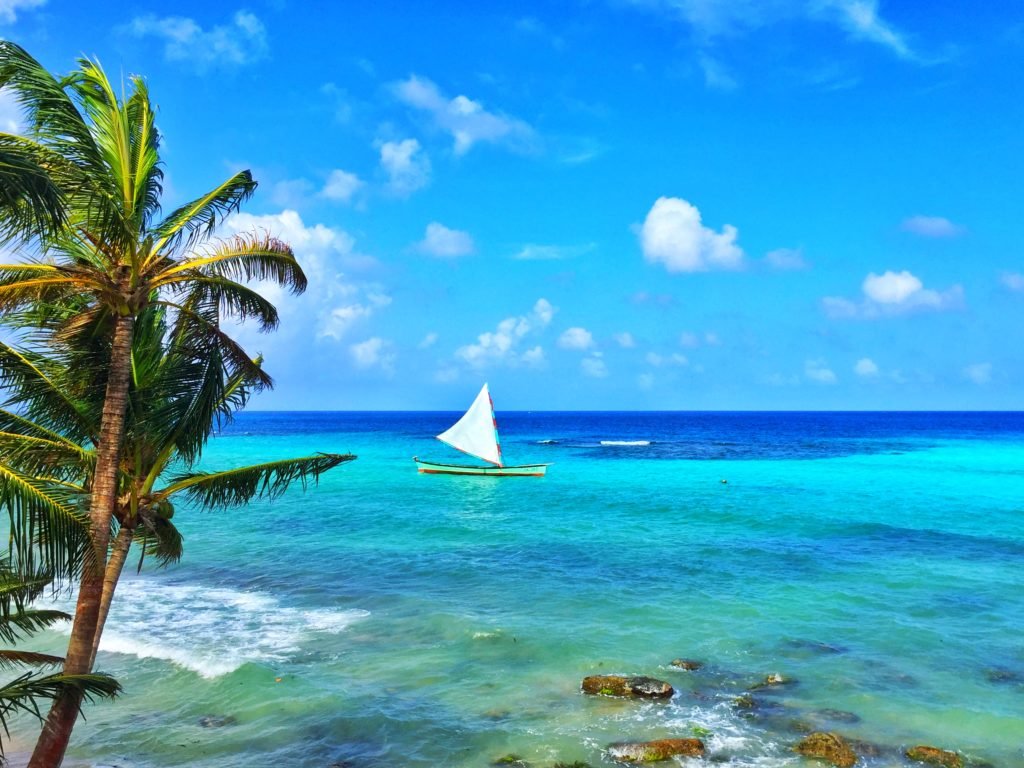 The water of the beaches of Little Corn easily rival that of its Caribbean peers, but you won't be paying inflated cruise-ship-island prices.
I did Little Corn both the budget way and the bougie way.
For the budget part of my stay, I stayed in a private double room with a shared bathroom at Three Brothers Guesthouse on Little Corn for a mere $12 a night, just a two-minute walk from the water and a five-minute walk from restaurants.
It was, without a doubt, the best deal I've ever gotten on accommodations.
I feasted on juicy lobster tails for $8 a plate; I ate fish caught that morning prepared in a mild curry for $6; I drank 2-for-1 cocktails for a few bucks apiece; I dove under the sea for $35 a tank.
Note: I visited Little Corn Island pre-Covid, so inflation has since happened — expect the prices listed above to be about 5-10% higher.
I finished the trip with a few nights at Yemaya Reefs, a stunning boutique hotel on the other side of the island.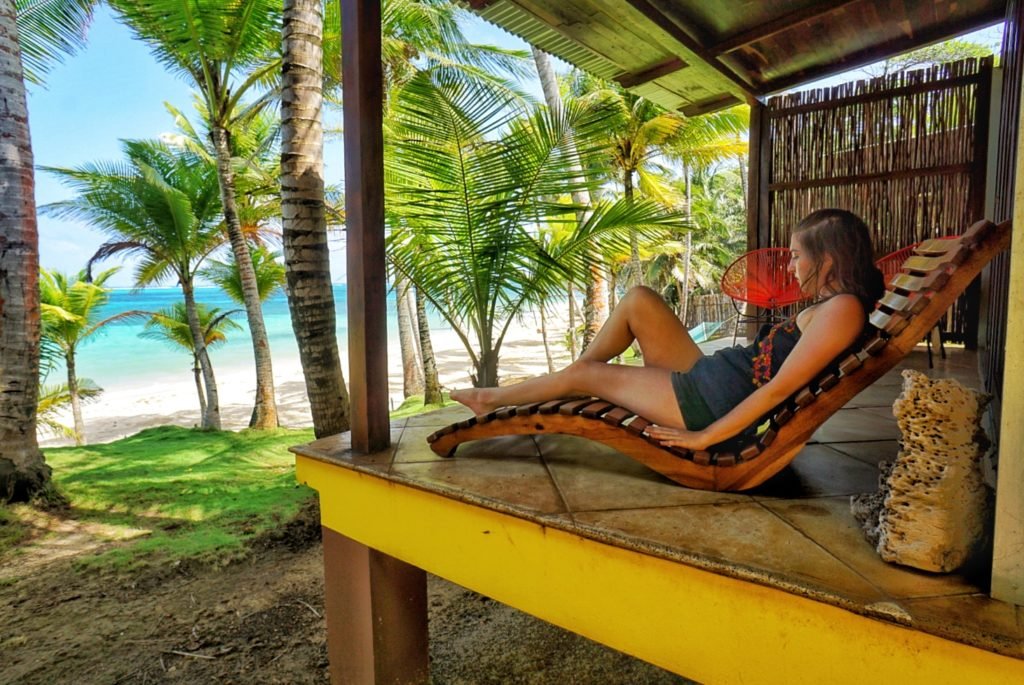 At around $200 per night, plus meals, it's not exactly a cheap place to stay, but for a true resort experience, it's absolutely worth the cost.
(Plus, they have an all-hours generator, and the first truly hot shower I had had in my entire five weeks in Nicaragua
While the Corn Islands are more expensive than mainland Nicaragua, it's still cheaper by a long shot than Costa Rica (the $100 per tank I paid to dive in Caño Island says it all!) or other Caribbean islands I've been to, even other budget friendly places like Roatán and Utila.
But bring more cash than you think you need, as there's no ATM on Little Corn, and the panga ride over is literally vomit-inducing (sorry, person who was sitting next to me).
How to Get to Little Corn Island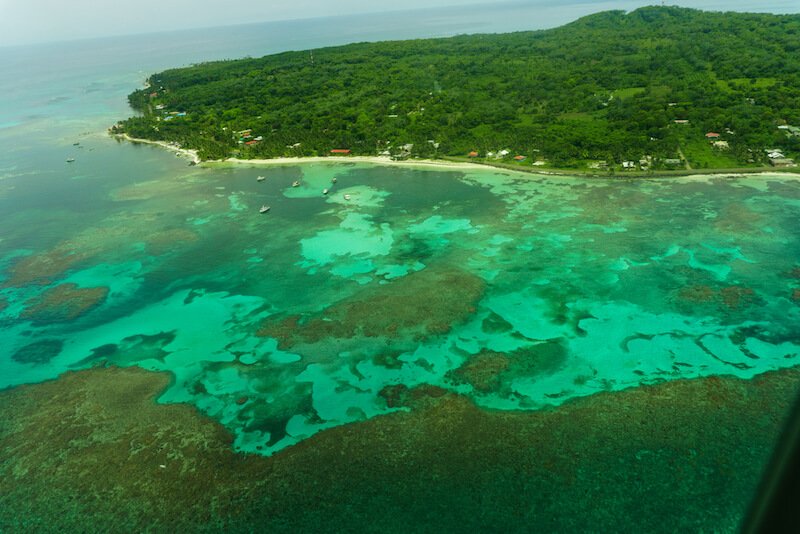 As you may have surmised, getting to the Corn Islands from Nicaragua's mainland is not the easiest endeavor.
Getting there without flying is a literally days-long odyssey of its own, but even the flight plus panga ride from Big Corn is hellish.
While you can't avoid the boat ride from Big Corn, flying will eliminate most of the headache – for a cost.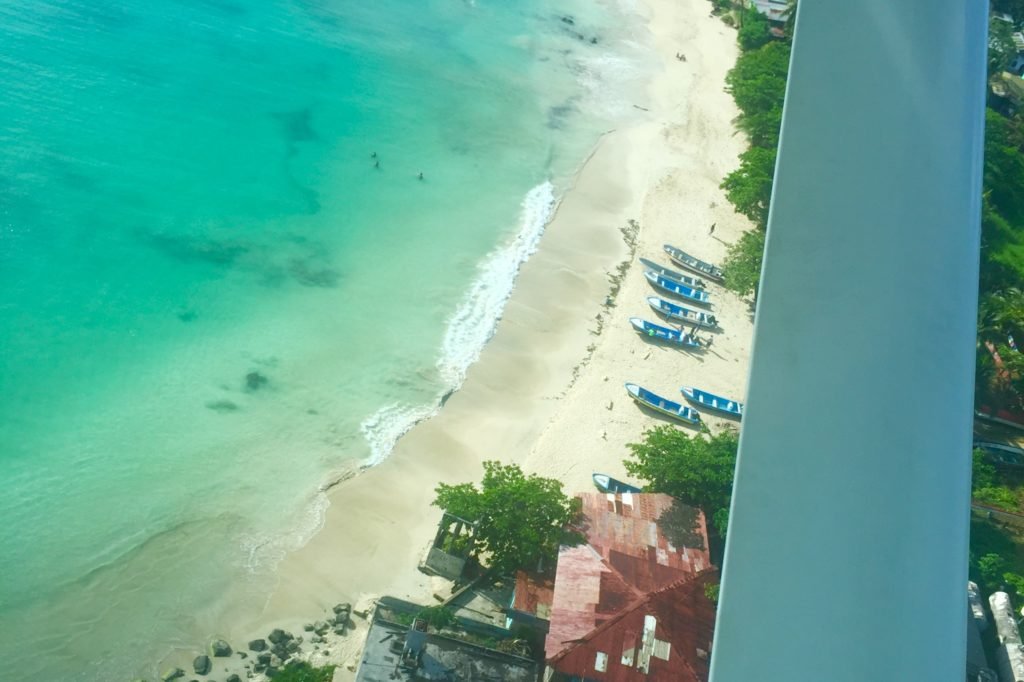 I called La Costeña rather than order the tickets online so that I could book an open return ticket, and I ended up saving $30 over had I booked it online.
Millennial and thus phonephobic as I am, I still highly recommend calling rather than booking online and going for an open return.
That way, you can just call the day before or two days before in order to secure your spot on the return ticket.
Trust me – you will stay longer than you think if you have any power to.
Things to Do in Little Corn, Nicaragua
Admire the stunning beaches and waters.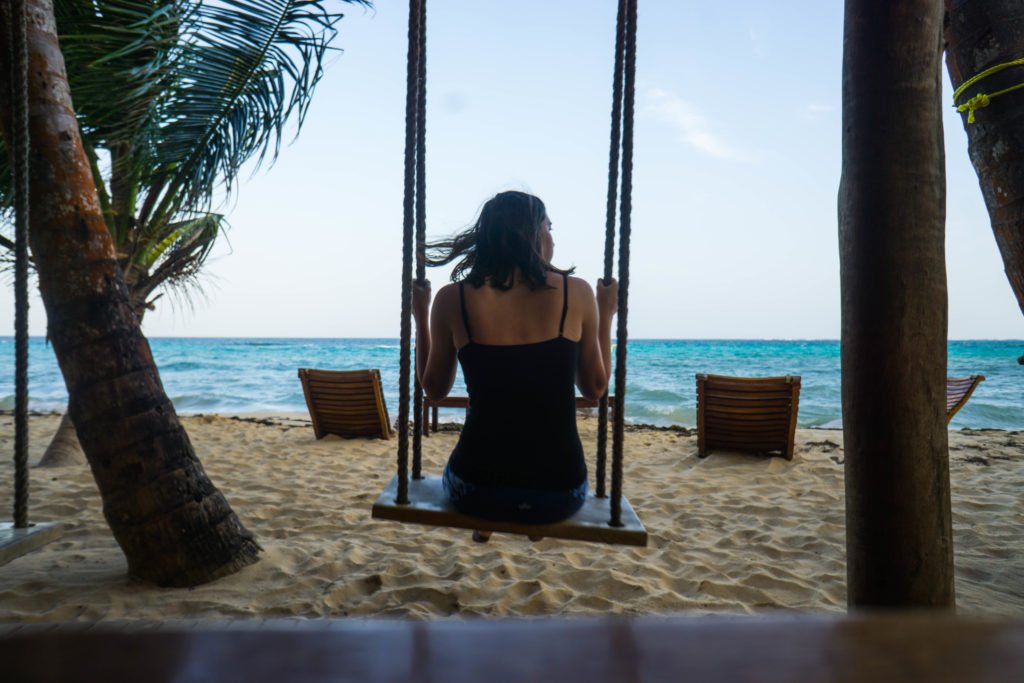 However many shades of blue you think an ocean can be, multiply it by a factor of 10 and you're close to approximating the beauty of the water in the Corn Islands.
One of the best beaches is near Yemaya, which is about a 30 or 40-minute walk from the dock and main town.
But it's well worth it for the gorgeous beach which you'll share with only a few hotel guests and a handful of in-the-know backpacker types and locals.
Yes, you don't need to be a guest to visit the beach here!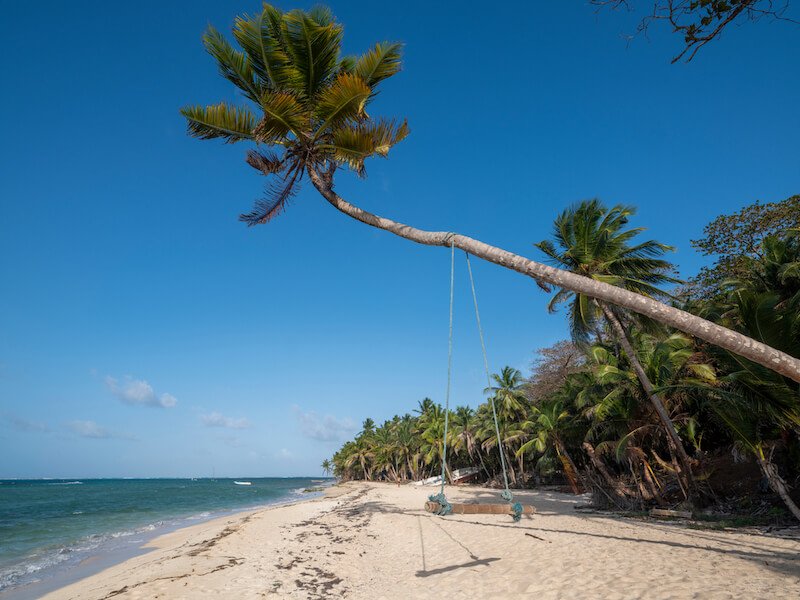 This beach is nicknamed Otto Beach, and it's close to Fry Fish Bar.
There's also an even more hidden beach, called Floo Beach, which requires a longer hike along the waterfront but is absolutely worth the walk.
In the main town, the nicest beach is near Little Corn Beach And Bungalow.
On the east side of the island, Cocal Beach is where most people gather, and it's a good sunrise spot.
Wander around the car-free island.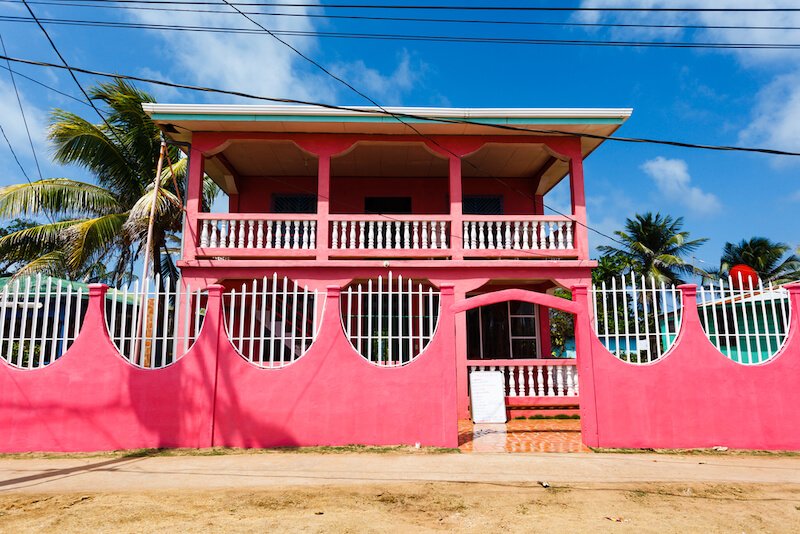 Little Corn is a small island with no cars, which for me is most of the charm!
Most of the guesthouses are businesses are on the west side of the island, where the panga dock is.
Getting off the port with your back to the sea, you'll have a few hostels and guesthouses to your left: Green House Hostel, Three Brothers Guesthouse, Sunshine Hotel, and Las Palmeras, to name a few.
There aren't many restaurants or businesses down this way.
To the right, you'll find the majority of the restaurants, cafés, dive and gear rental shops, mini stores, etc.
There are a few hotels this way (Lobster Inn and Hotel Los Delfines). That's basically it for the west side of the island – and this is the populated side!
On the East Side, you'll find a handful of humble beach bars as well as Casa Iguana, Elsa's Spot, Grace's Cool Spot, and Little Corn Bungalows, and a few others.
There aren't many restaurants on this side, but Elsa's and Grace's will cook for you although neither is really a "restaurant" per se.
Enjoy the diving — or get certified!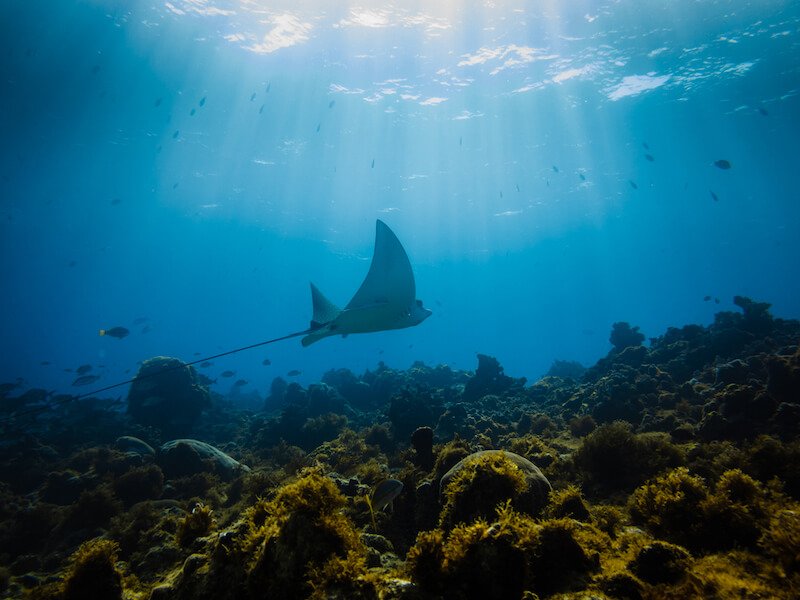 There is world-class diving all around Little Corn just a short boat ride away.
I got my open water certification with Dolphin Dive and can highly recommend them.
As of 2023, prices cost $360 for your Open Water Certification (3 days), $300 for your Advanced Open Water Certification (2 days), or your OWC/AOW combo for $600 (5 days).
I got 5% off thanks to staying with Three Brothers, so let them know your guesthouse and see if they offer a discount.
If you already have your dive certification, diving is dirt cheap! You can get 5 fun dives for a mere $170, 10 fun dives for $320, or buy individual dives for $40 a tank.
Go snorkeling off Otto Beach.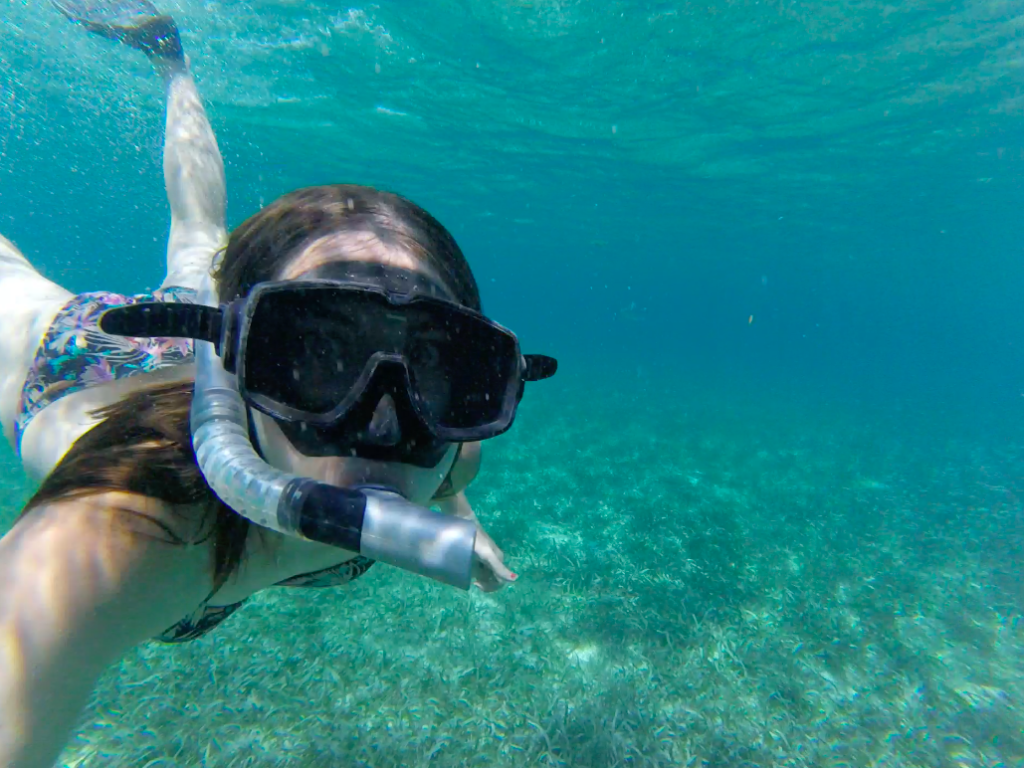 For those on a budget, you can snorkel off the beach with rental equipment (when I visited, snorkel equipment cost $5 per day on the west side, though I recommend having your own).
I don't know if there's much to see on the west side, as when I dove I always took a boat out.
However, I do know that if you walk to the north side, there is some epic snorkeling near Yemaya (Otto Beach).
If you walk to Otto Beach and face the ocean, the best snorkeling is in front of the cabanas located furthest to the right.
You can also take a snorkeling tour where they will take you on a boat to the best snorkeling spots for about $25-40 for a day trip.
Just arrange it with someone on the main beach road — Little Corn is not the kind of place where you need to pre-arrange your plans (except your accommodations).
Take a boat trip to the Pearl Cays.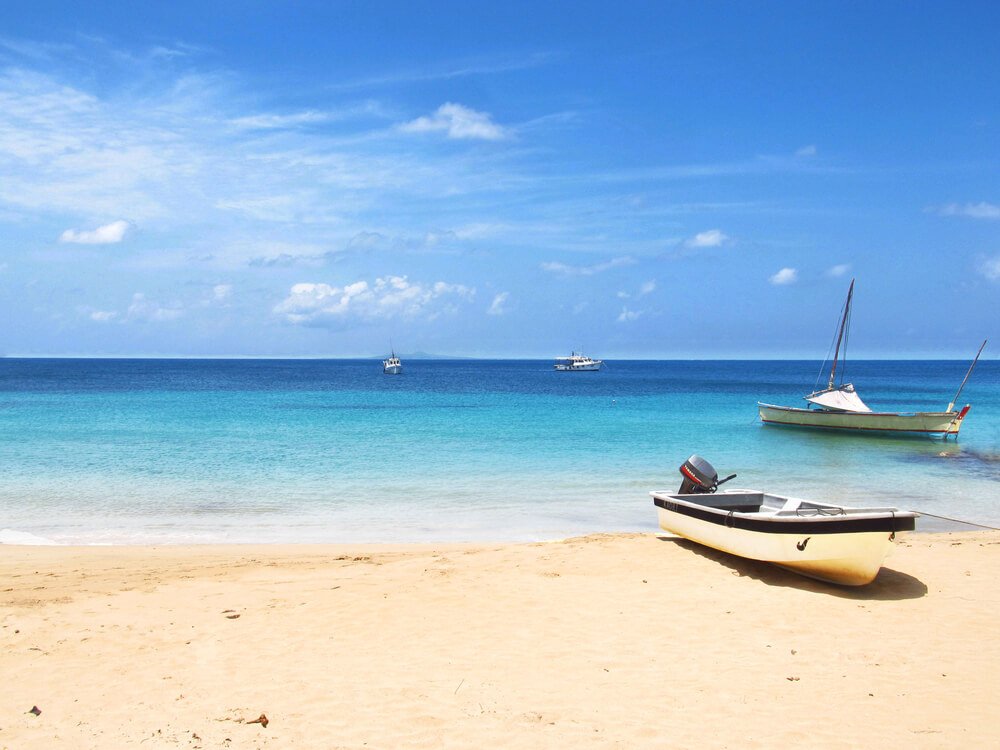 As small as Little Corn is, you can always bet that there's a smaller island nearby, and they'll sell you tours for it!
Back when I visited, it was roughly $70 for a day trip per person, you can have a local take you to the untouched Pearl Cays. I'm sure it's a little more now, but I'd bet it's still under $100.
I blew my limited budget on diving and devouring lobster while I was on Little Corn, so unfortunately I didn't go… but this is certainly something I'd do when I return to the Corn Islands!
Go stand-up paddle-boarding.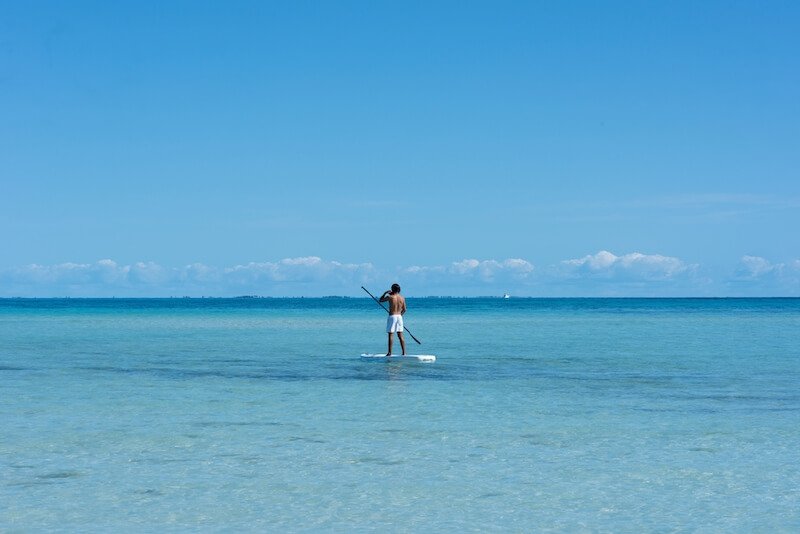 For $5 per hour, you can rent a stand-up paddleboard on the west side, which is good because this is the calmer side.
Trust me — I tried stand-up paddle boarding for the first time ever on the windy North side and never even got off my knees…
… and even then, I nearly lost my prescription sunglasses.
Enjoy some yoga with a view.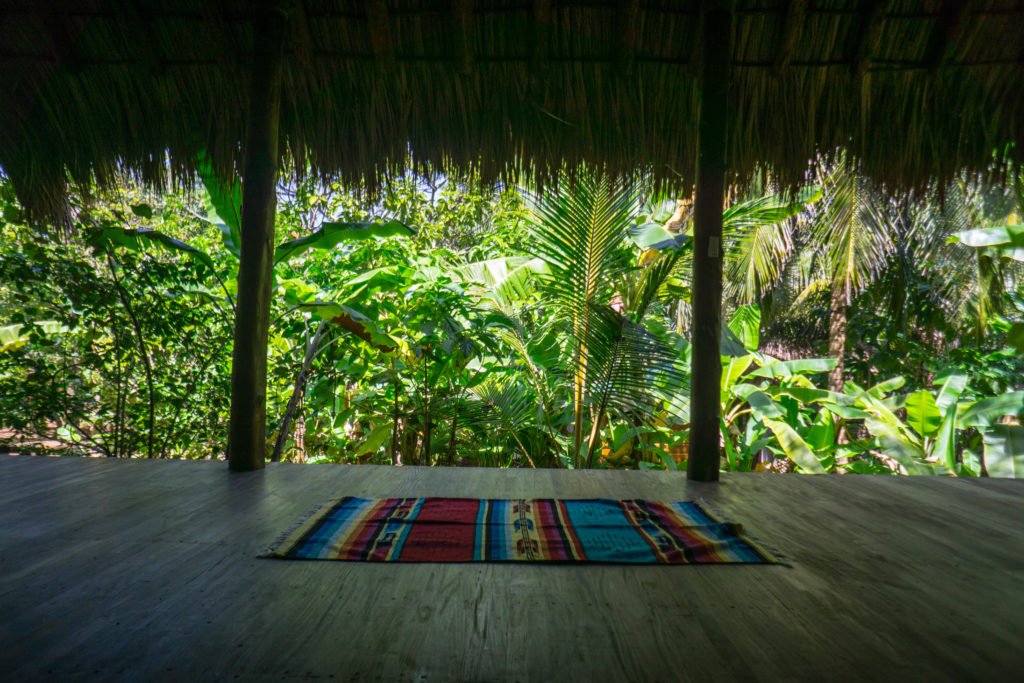 When I visited Little Corn, there were twice daily drop-in classes (9 AM and 5 PM) at Funk Yoga overlooking the beautiful bay for $8 per class.
I can't confirm whether or not this still exists — on an island like Little Corn, it's hard to tell from afar is if something is a pandemic casualty or if they just have no digital footprint.
There were a few other yoga spots, and I'm sure new ones have taken their place, so let me know if you've been recently and can confirm any!
Yemaya Reefs had their own yoga studio too, so if you stay there, you can practice!
Enjoy some delicious seafood at a bargain price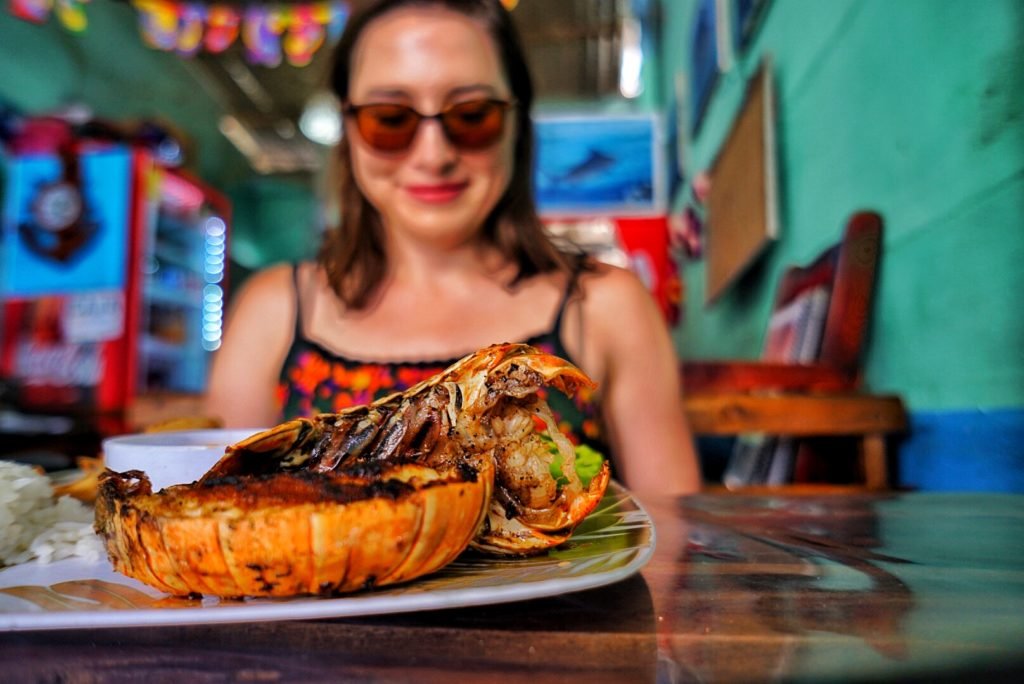 If you're after cheap seafood, there are two places that should grab your attention: Rosa's Place and Rest El Bosque.
These two spots are located right next to each other on the jungly path that leads towards Cocal Beach and the east side of the island, past the main stretch of town.
When I was there, you couldget a delicious three course lobster meal for a mere $8 USD… my friend who went in 2023 said it was more like $10 now. Still not a bad deal!
More budget-minded travelers can opt for the fresh fish, which is just as delicious though slightly less extravagant, for a mere $5 USD… probably a few bucks more now.
Note that Rosa's is closed on Sundays! I slightly preferred Rosa's, but both are delicious.
Also, if you want to try the island's signature dish, ron don (a coconut milk based soup with all different kinds of seafood and yucca), you'll need to order it in advance.
Enjoy bougie lobster tacos on the beach.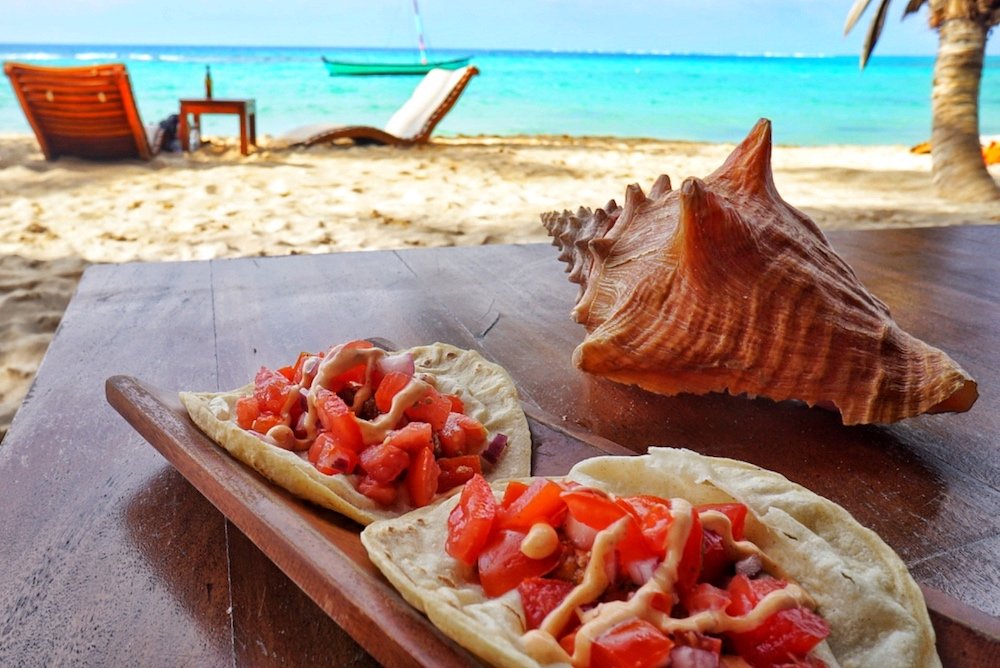 If you're feeling flush, the best lobster on the island is without a doubt the lobster tacos offered at Yemaya's beach bar.
For $5 apiece, they're not cheap, but they may just be the most delicious food you'll ever put in your mouth.
Their fish tacos are really delicious as well and go for $4 apiece, which is well worth it if you're spending the day on Otto Beach.
There's also Fry Fish Bar now in the Otto Beach area, but I haven't tried it out.
Have a delicious breakfast.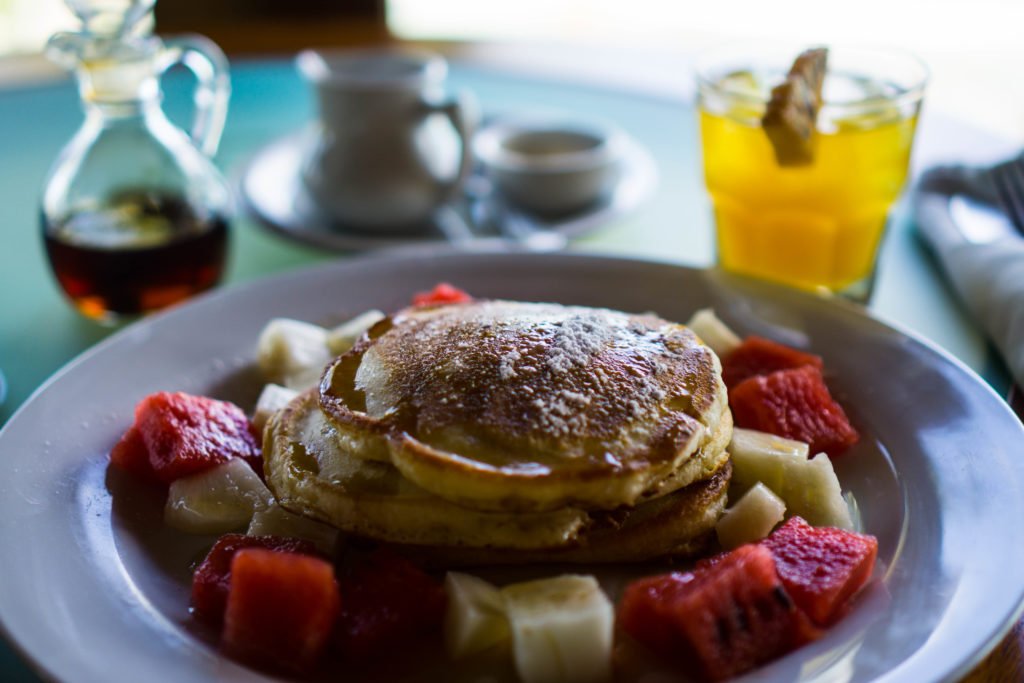 For breakfast on a budget, I recommend Rosa's Place or Rest El Bosque, again, and also The Sunset Shack.
You can get a complete breakfast including coffee at all of these places for around 100 cordobas, or $3 USD.  
If you want to have a fancier breakfast, try Café Desideri, where breakfast options go for around $6 USD, or try Tranquilo's excellent breakfast, starting at $4 USD.
Note that Tranquilo's (true to their name) doesn't open until 9:30 am, so they're not a great option for an early, pre-dive breakfast.
Café Desideri also has, without a doubt, the best wifi and the best coffee on the island.
Also, their Vietnamese iced coffee for $3 USD made me unreasonably happy.
Enjoy happy hour on the beach.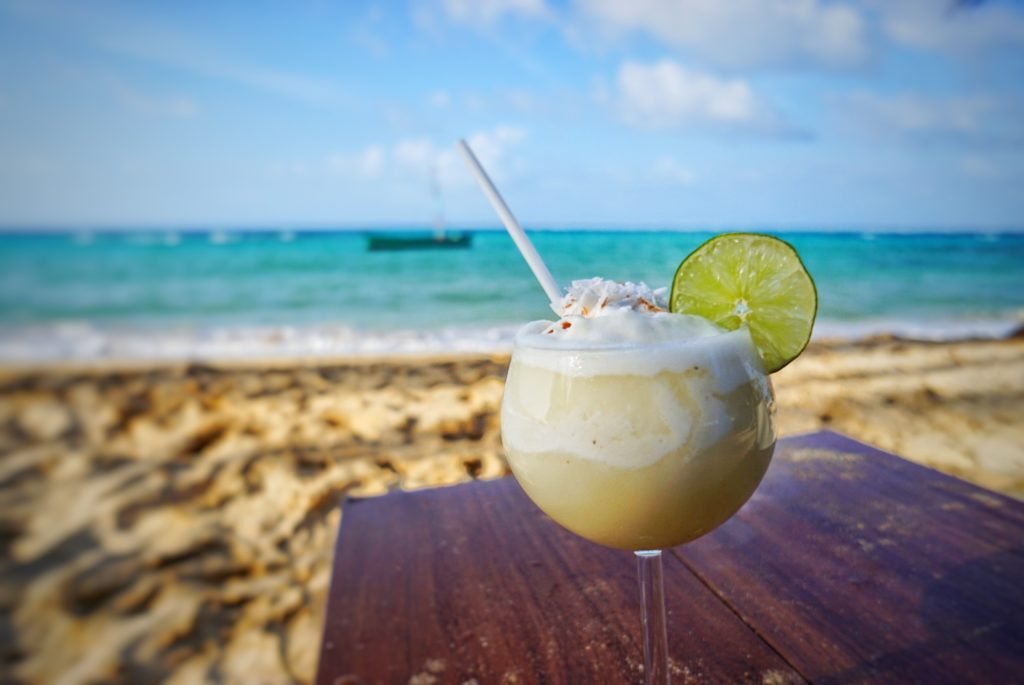 Of the places on the west side, Café Desideri, Tranquilo Café, and The Beach Bar are the most common spots for happy hour and sunset drinks.
They have happy hours ranging from 4 to 7 (each slightly different), typically offering 2-for-1 rum drinks and 40 cordoba beers (around $1).
There are also smaller beach bars on the east side of the island (like the bar at Turned Turtle) if you're staying on that side and don't fancy a drunken stumble through the jungle on your way home.
The piña coladas at Turned Turtle are supposed to be legendary!
Have a night out at Reggae Bar.
Reggae Bar aka Las Aguilas is the designated "late night" bar on Little Corn (a story that every small Caribbean backpacker-focused island, like Caye Caulker, seems to share).
Though to be totally honest, in true grandma fashion, I never stayed up late enough to figure that out firsthand!
In my defense, I was tired from diving and waking up before 7 AM each morning when the fan would shut off.
Excuses, excuses.
Allison Green is a former educator turned travel blogger. She holds a Masters in Teaching and a B.A. in English and Creative Writing. Her blog posts merge her educational background and her experience traveling to 60+ countries to encourage thoughtful travel experiences that both educate and entertain. She has been a speaker at the World Travel Writers Conference and her writing, photography, and podcasting work has appeared in National Geographic, CNN Arabic, CBC Canada, and Forbes, amongst others. Now based in the San Francisco Bay Area where she grew up, she has also lived in Prague, Sofia, and New York City.