Budapest is one of my favorite cities in Europe, and that's saying something – I've visited over a hundred cities on the continent and of them all, Budapest still stands out as one of the best.
It's one of the most beautifully photogenic cities I've ever seen, and despite having had its big break tourism-wise, the city somehow never feels overrun with tourists – even when I've visited in the highest of high season.
I think one of the reasons why Budapest feels so much less touristy than other cities is that there is no "Old Town" so to speak – the entire city is steeped in history, yet it's not concentrated in certain hot spots the way, say, Prague is.
While there are certainly places that will be packed with tourists – Fisherman's Bastion in particular is Instagram Hell – I found that Budapest still never feels that crowded.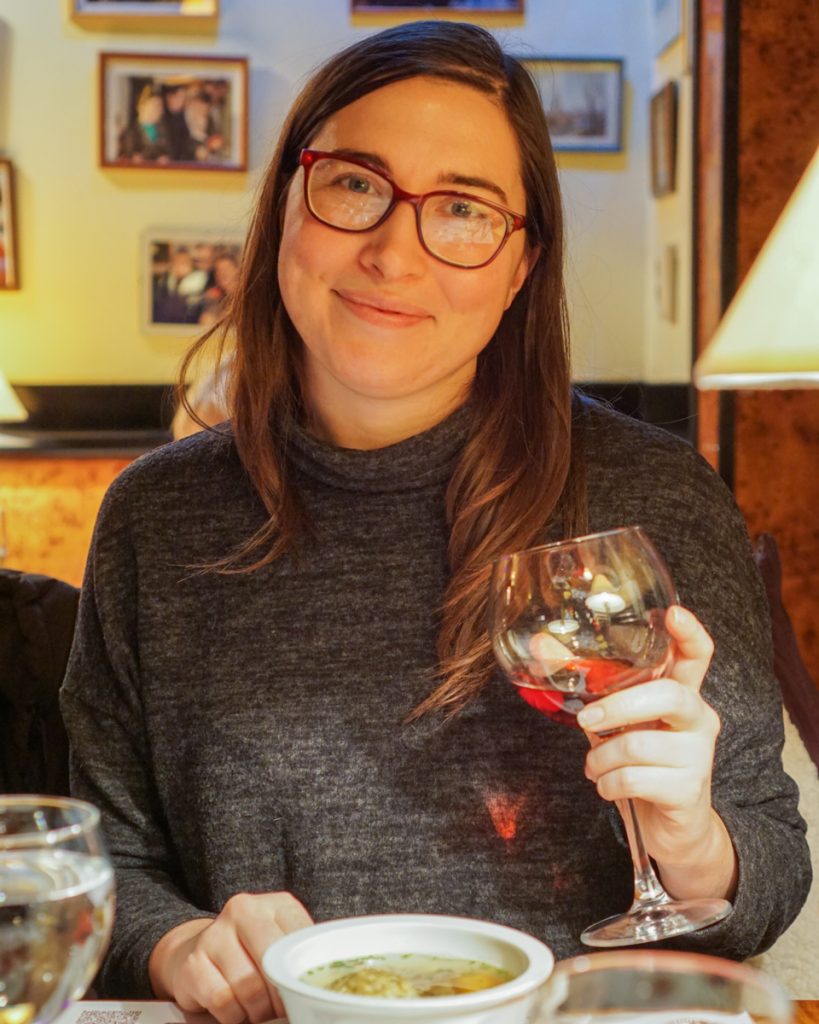 Note: This post contains affiliate links, which means I may receive a small commission if you purchase something through one of these links. Thank you for supporting the free content on this site! For more information on affiliate links and cookies, see my disclosure page for more details.
I spent two weeks in Budapest relaxing and enjoying this beautiful city, but I know most people don't have the luxury of having such an extensive amount of time to see one city so thoroughly.
I've then returned twice, once again in the summer and once in the winter, and I've updated this Budapest itinerary to include even more of the things I love so much about this unique city.
As a result, I've crammed about three weeks worth of research and suggestions into this 2 day Budapest itinerary.
I hope it's the perfect guide for those who only have time for a quick Budapest weekend trip or a quick two day stop in Budapest on their larger Europe itinerary.
Day 1 in Budapest: Markets, Views, & A Cruise
While there is certainly a lot to see in Budapest, I think that 2 days in Budapest is a good place to start — 1 day is simply not enough.
If you have 3 days, even better, as this Budapest itinerary is pretty jam-packed, and you could easily spread it out so your visit is slower-paced.
Have strudel for breakfast at the Great Market Hall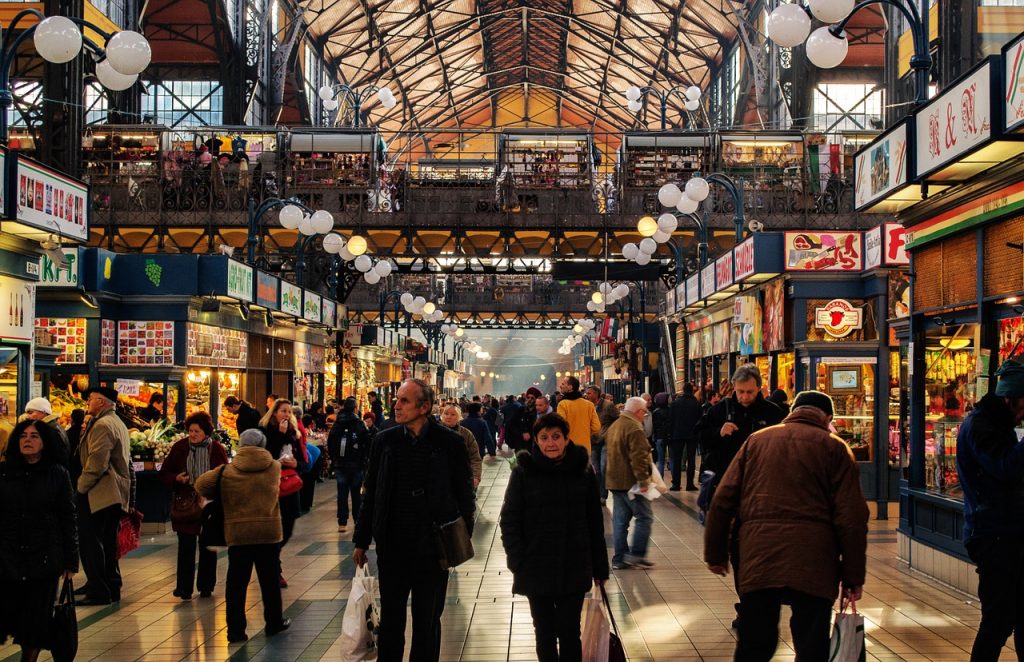 The Great Market Hall is one of Budapest's most interesting landmarks, a beautiful covered market hall building bustling with produce vendors, bakers, souvenir sellers, butchers, and spice vendors on the ground floor.
If buying some Hungarian paprika – Budapest's most famous souvenir – is on your list, here is the place to buy it. The volume they sell spices in here all but guarantees the freshest spices.
Don't miss the delicious plum strudel in the downstairs bakery, pretty much smack dab in the center of the market – their strudel is truly out of this world. I stayed in an Airbnb not far from the Market Hall and I ate strudel for breakfast no less than 6 times.
Go up to the 2nd floor for a better view of the market, and you can also stroll around looking at the restaurants and clothing stalls, selling a mix of traditional Hungarian garb and cheap Chinese-made souvenirs.
Location: Vámház krt. 1-3, 1093 Budapest, Hungary
Hours: Closed Sunday, 6 AM – 5 PM Monday, 6 AM – 6 PM Tuesday-Friday, 6 AM – 3 PM Saturday
Cost: Free to enter
Take the #2 tram to Budapest Parliament for a tour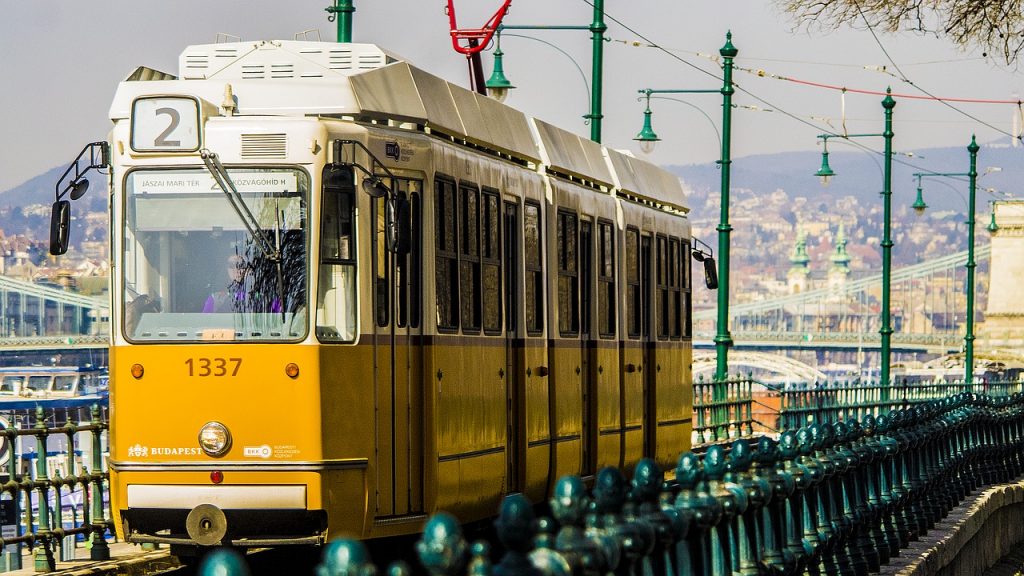 Taking a ride along the #2 is equal parts convenient and scenic.
Nominated by National Geographic as one of the most scenic tram rides in the world, the bright yellow #2 tram clacks nostalgically along the edge of the Danube, connecting many of Budapest's most iconic landmarks.
For a touch of sight-seeing and to give your feet a break, hop on the tram and enjoy the Danube and epic views!
However, do note that Tram 2 is really popular as a tourist attraction and as such, it does attract the attention of some pickpockets! Keep very aware of your belongings while on the tram, especially if it's crowded.
While travel in Europe is safe, pickpocketing is a major issue. Thwart would-be pickpocketers with a chic, sleek backpack with double-interlocking zippers, slash-proof construction, & RFID blockers! I've carried this PacSafe backpack to 30+ countries with me, and it's my #1 travel companion. Pick from one of seven colors — I have and love the classic black one!
Location: Fővám tér tram stop, right across from the Great Market Hall
Hours: Daily from 5 AM to midnight
Cost: 450 forints if bought on board ($1.60) or 350 forints if bought in a station. Free with your Budapest Card.
Check out the Budapest Parliament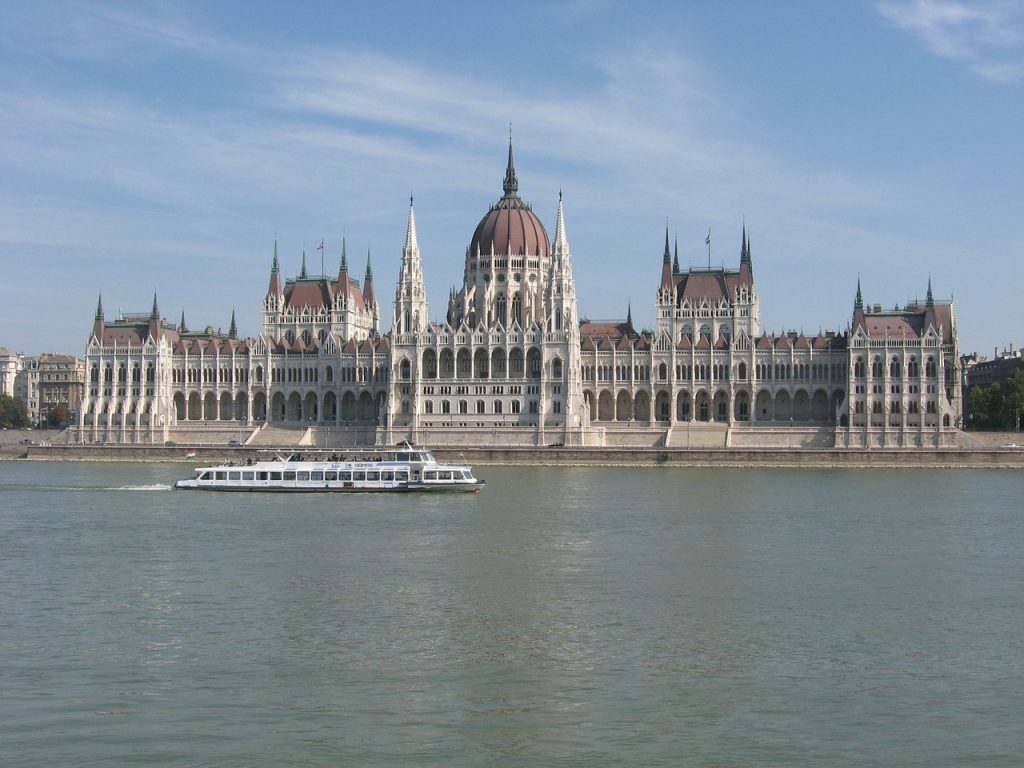 The Budapest Parliament is one of the most beautiful buildings I've ever seen in the world, a true work of art.
During your 2 days in Budapest, you'll get the chance to see it from a variety of different angles (the best views are from across the river on the Buda side).
However, you also should check it out up close and personal to truly appreciate the fine attention to detail of this beautiful building.
As the Budapest Parliament is a functioning government house, you can't exactly waltz in and visit – you must visit on a guided tour.
If you have the budget for it, I highly recommend doing a tour, which you must book at least a week in advance, especially if you are looking for an English-language tour. You can pre-book a guided tour here with GetYourGuide.
Prebooking allows you to skip the line and simply pick up your tickets at the Visitor Center before your designated tour time.
The tour of the inside of Budapest Parliament lasts 45 minutes and includes seeing the great vaulted hall and the ornate central staircase, drooling over the Hungarian Crown Jewels, and checking out the Hungarian Holy Crown.
If you don't have the money to spend on a tour, though, the building itself is gorgeous to visit, and Kossuth Lajos Square is a great place to relax and enjoy some beautiful views, and you'll have plenty more opportunities to see the Budapest Parliament building in all its glory on other places on this 2 day itinerary.
Location: Kossuth Lajos tér 1-3, 1055 Budapest, Hungary
Hours: 8 AM – 6 PM Monday-Friday, 8 AM – 4 PM Saturday & Sunday (must go with a tour)
Cost: Free from outside, check tour prices here.
Pay respects at the Shoes on the Danube memorial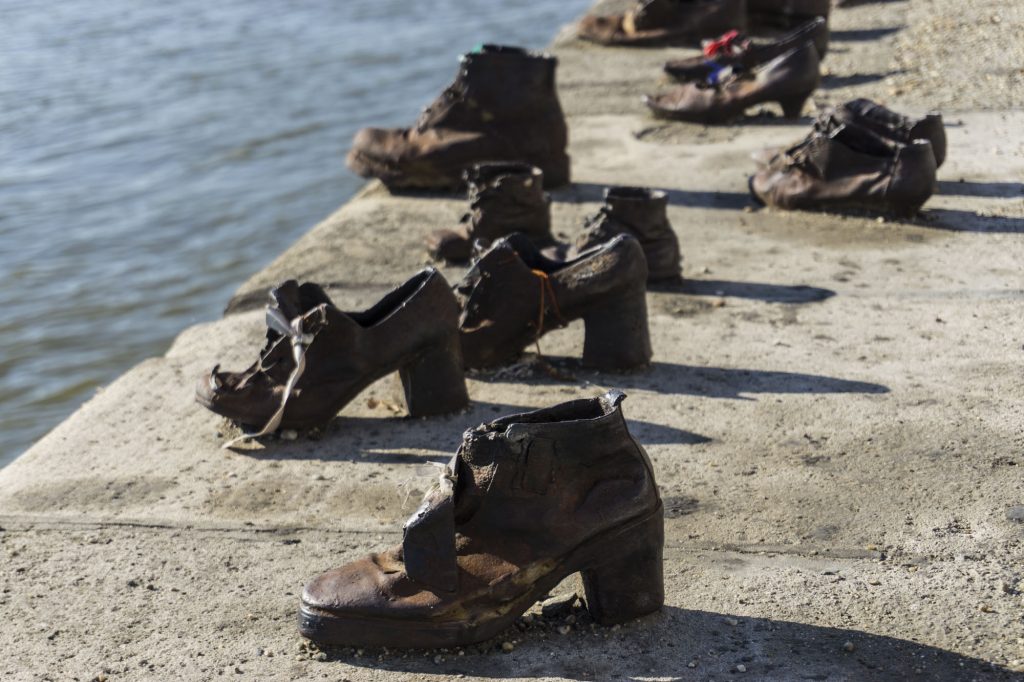 This touching memorial to the victims of anti-Semitism is located a short walk from the Budapest Parliament and is definitely worth a stop on any Budapest itinerary.
During World War II, the Arrow Cross Party – a fascist, far-right party influenced by Nazis – murdered 20,000 innocent Jews in the span of two months.
Their Jewish victims were ordered to take off their shoes before they were shot by the side of the river, so their bodies would fall in the river and get carried away by the tide. The shoes sculptures on the bank represent the shoes left behind by the dead.
I shouldn't have to say this, but apparently, I do: please be respectful when you visit this monument.
I saw a clueless tourist posing as if she was putting her feet into the shoes, throwing up peace sign hands. As someone whose uncle's parents survived the Holocaust (and whose siblings did not), I found this deeply upsetting.
Many Jewish tourists who visit Budapest as a part of discovering their heritage would find this upsetting too. So, please, be a good person and don't take foolish selfies here. Thanks!
Location: Id. Antall József rkp., 1054 Budapest, Hungary
Hours: 24/7
Cost: Free
Have a traditional Hungarian meal
With only two days in Budapest, make sure you choose your meals wisely so that you can appreciate how simple and satisfying Hungarian food is.
One of the classics you must eat when in Budapest is goulash! I first fell in love with this dish while eating the Czech version when I lived in Prague in 2009.
I was delighted to find that Hungary's version is different but equally delicious. Chicken paprikash is also another classic dish you should try in Budapest.
Oh, and if you see sour cherry soup on any menu, ever — get it. You won't be disappointed. It's the highlight of summer in Budapest.
A few recommendations for lunch near the Parliament include Budapest Bistro, Grey Goose, and Farger.
Check out the views from Fisherman's Bastion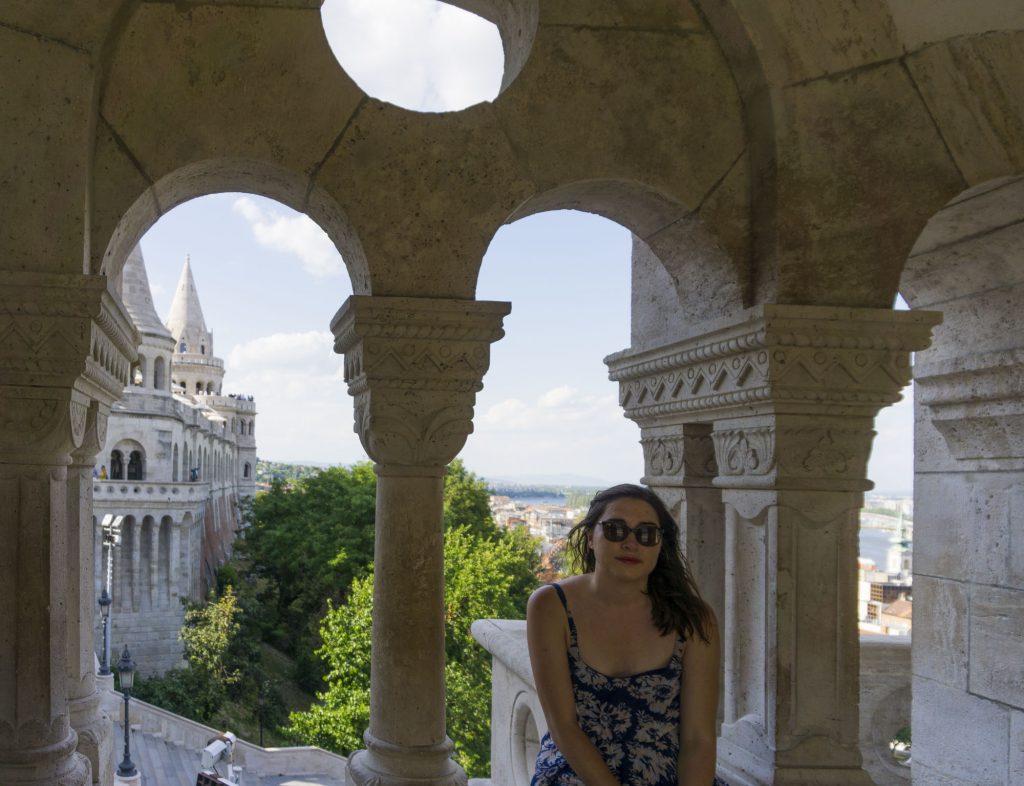 Fisherman's Bastion is one of the most beautiful buildings in Budapest – and one of its worst-kept secrets.
You have no idea how much strategy and angle-finagling this took in order to get a (relatively) people-free photo!
Still, even with the crowds, it's one of the most unique buildings I've ever seen. While it looks like a castle, it's actually just an insanely ornate terrace in the neo-Romanesque style.
Built in the late 19th/early 20th century, it was created to celebrate the 1000th birthday of the Hungarian State.
Thus, the architectural style is a throwback to the early medieval years, during the first Hungarian's king's rule.
It was purposely built right near Matthias Church, which was restored by the architect simultaneously with the construction of the Fisherman's Bastion, meaning it's extremely easy to visit both sites in tandem.
Location: Szentháromság tér, 1014 Budapest, Hungary
Hours: 24/7
Cost: Free
See the gorgeous Matthias Church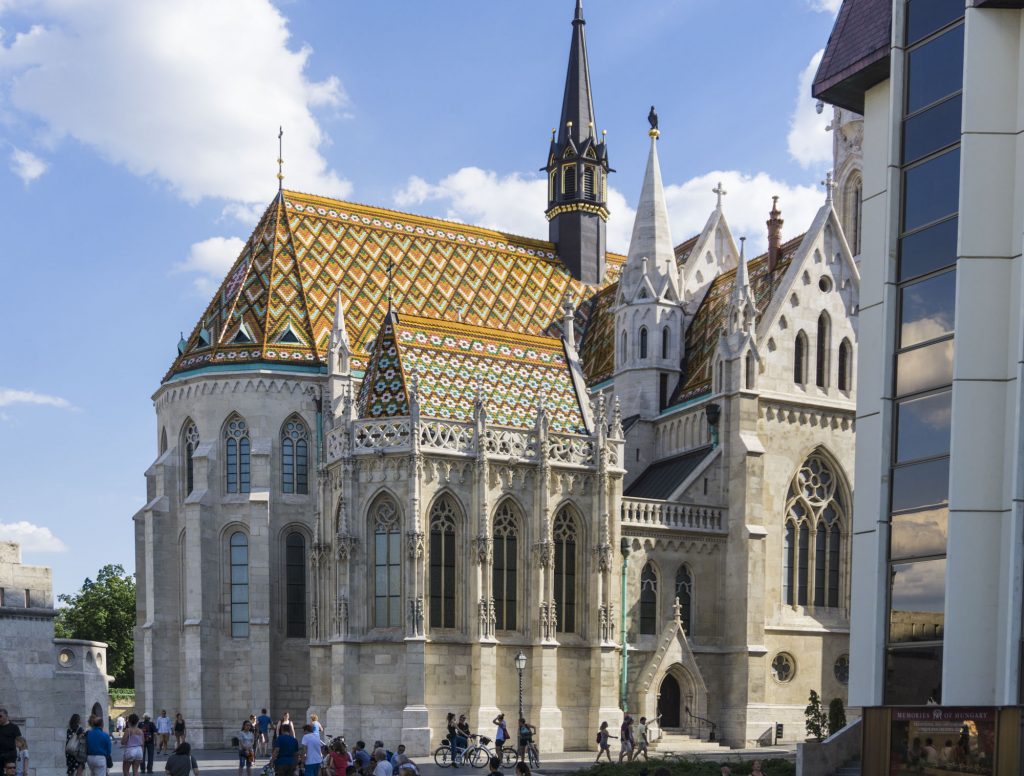 Pretty much part of Fisherman's Bastion, you can't miss the beautiful Matthias Church, a Roman Catholic church with a beautifully tiled roof.
It was built in the 14th century in the late Gothic architectural but was restored extensively in the late 1800s and updated in the Austro-Hungarian style.
Location: Szentháromság tér 2, 1014 Budapest, Hungary
Hours: 9 AM – 5 PM Monday-Friday, 9 AM – 1 PM on Saturday, 1 PM – 5 PM on Sunday (may change based on ceremonies)
Cost: Free
Eat some cream cake at Ruszwurm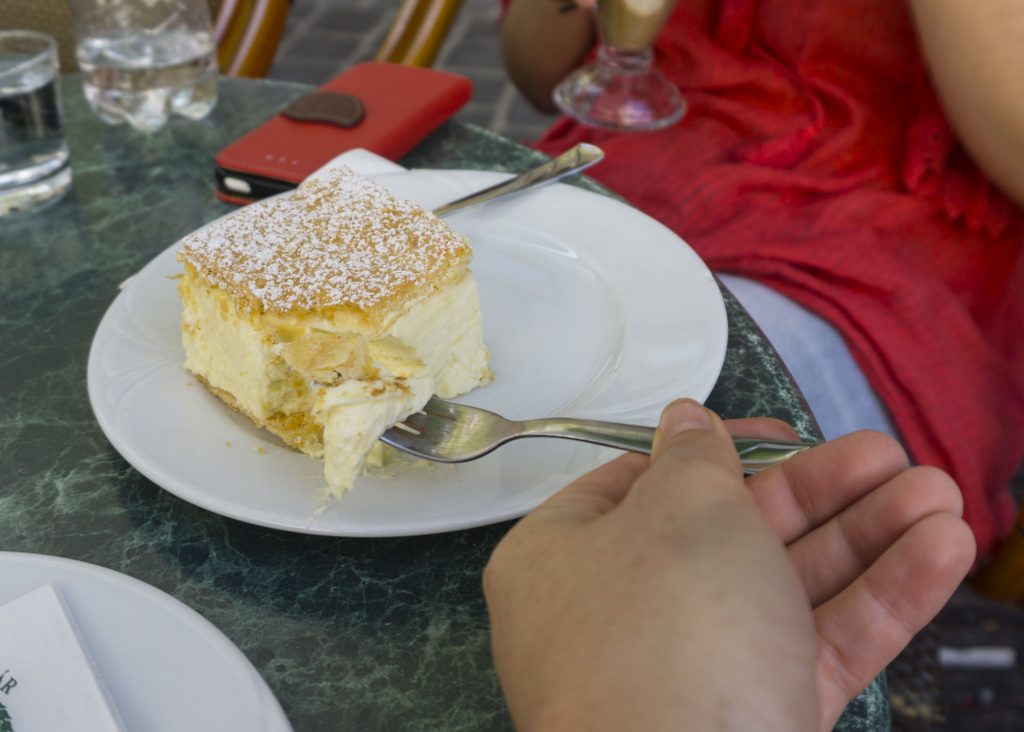 Ruszwurm Confectionary may be right next to one of Budapest's biggest tourist attractions, but it's anything but a tourist trap.
This bakery has been churning out delicious cakes for 200 years and much of the interior is intact, despite the building being severely damaged in World War II.
Don't miss the cream cake, Ruszwurm's most famous pastry – it is insanely delicious, like a beautiful fluffy cloud of cream with just the tiniest hint of crunch from the pastry.
Not a fan of cream? The sour cherry strudel and the Dobos tort are also delicious.
Location: Szentháromság u. 7, 1014 Budapest, Hungary
Hours: 10 AM – 6 PM Saturday-Monday, 10 AM – 7 PM Tuesday-Friday
Cost: Around 500 forints apiece, about $2 USD.
Walk to Buda Castle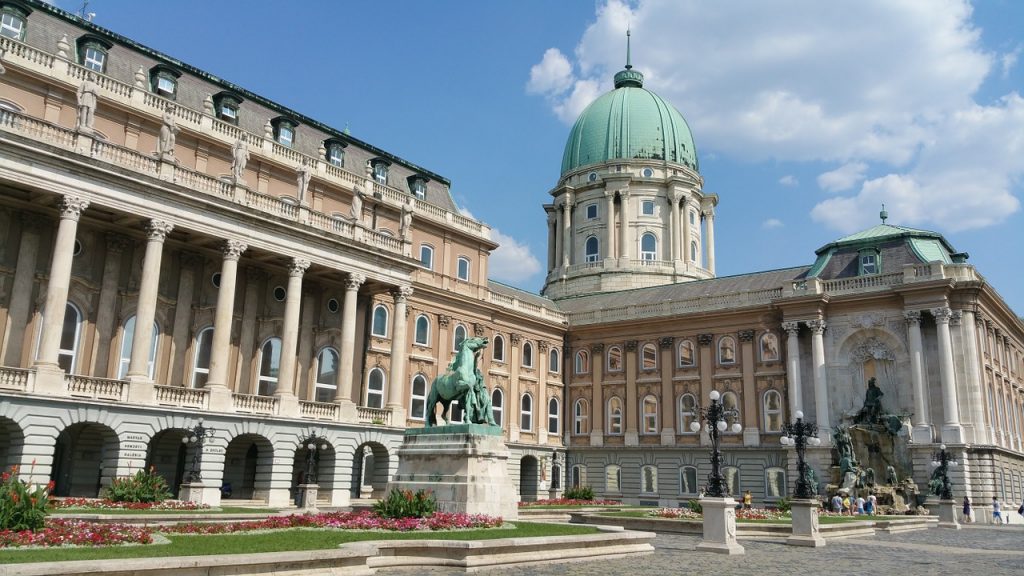 Buda Castle is now no longer a castle but has been converted into two different museums, the Hungarian National Gallery or Budapest History Museum.
If you're a big fan of art you definitely shouldn't miss the Hungarian National Gallery, which features both Hungarian and foreign artists.
I'm not a huge art museum fan so I opted to skip it, but it's still definitely worth walking around the area around Buda Castle.
Location: Szent György tér 2., 1014 Budapest, Hungary
Hours: 10 AM – 6 PM daily, closed on Mondays
Cost: 1,800 forints, around $6 USD.
Cross the Szechenyi Chain Bridge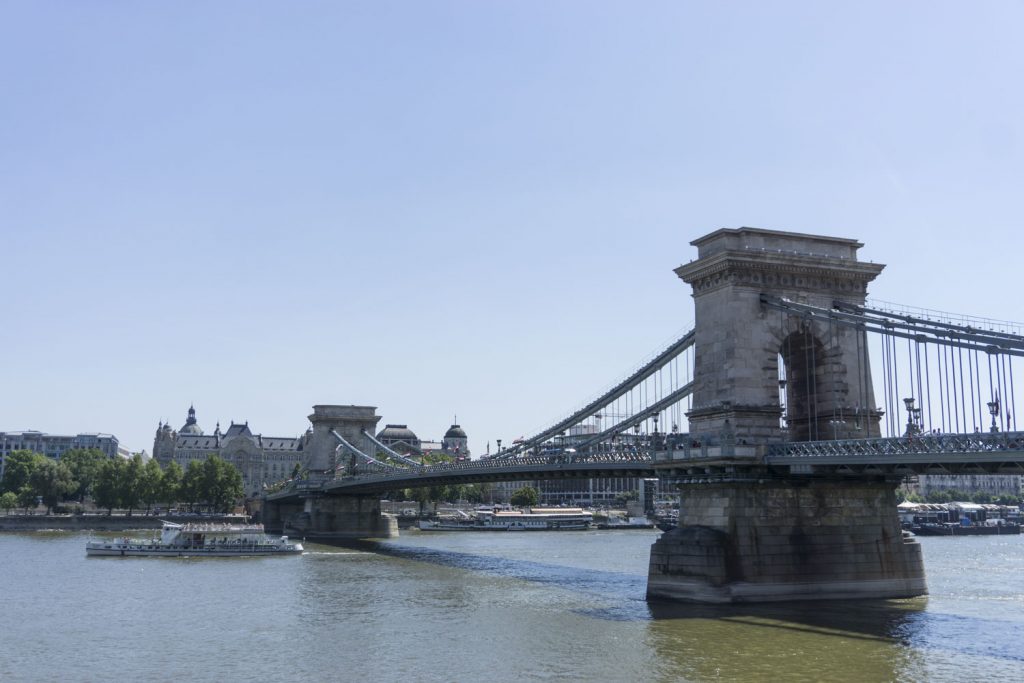 The Szechenyi Chain Bridge is the most famous bridge in Budapest, iconic especially at night when it is all lit up and spanning the Danube, connecting Buda and Pest.
After you've explored the Castle District in Buda to your liking, head back to Pest by crossing the Szechenyi Chain Bridge, stopping to take photos along the way.
Location: Széchenyi Lánchíd, 1051 Budapest, Hungary
Hours: 24/7
Cost: Free
Go on a dinner walk and learn about Hungarian wine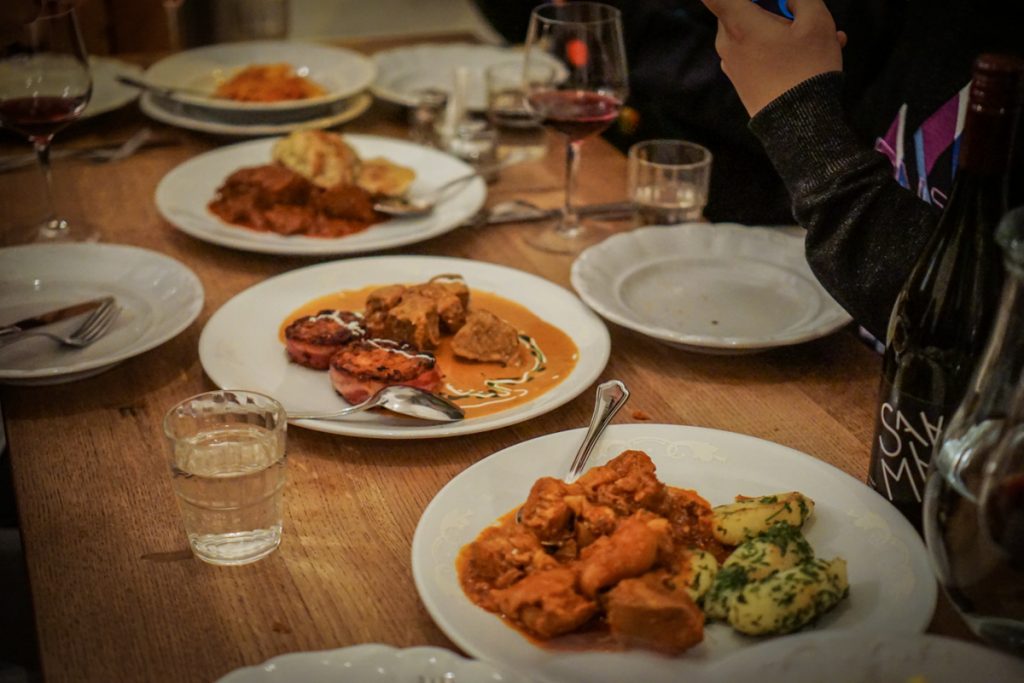 For your first night in Budapest, get acquainted with the city's incredible food and wine culture.
The best thing I did in Budapest on my recent trip to the city was an evening dinner walk with wine tasting with Taste Hungary.
I can't emphasize enough what a good deal this tour is!
We had a plate of Hungarian cheeses and sausages paired with two local wines, an appetizer and soup course (paired with more wine) and then a drink of pálinka at a ruin bar.
Afterwards, we ate at a restaurant in the Jewish Quarter and shared several plates of food so we could get a spread of five different Hungarian main courses (oh, and more wine) and capped it all off with traditional Hungarian cake and a coffee or tea.
If you have only two days in Budapest it's hard to get a handle on the country's food and wine scene, and that's exactly why you should do a food tour like this.
You get to try more food than any reasonable human would ever get to taste, perfect for FOMO-havers like myself. It's also great if you're traveling solo and have no travel companion's plates to mooch off of!
This is the exact tour that I went on with Taste Hungary, but I also enjoyed their wine tasting class that I did on another night of my trip, which is more affordable (but doesn't include dinner).
Day 2 in Budapest: Baths & Beyond
Your second day of Budapest is all about finishing up the best sights – the mineral baths, Budapest's most famous avenue, the lively Jewish Quarter neighborhood, and the best view over Budapest.
Get your walking shoes on – this day of your Budapest itinerary is a long one!
Psst – bookmark this page on your phone to use this mobile-responsive map when you travel!
Start your day at the Széchenyi Baths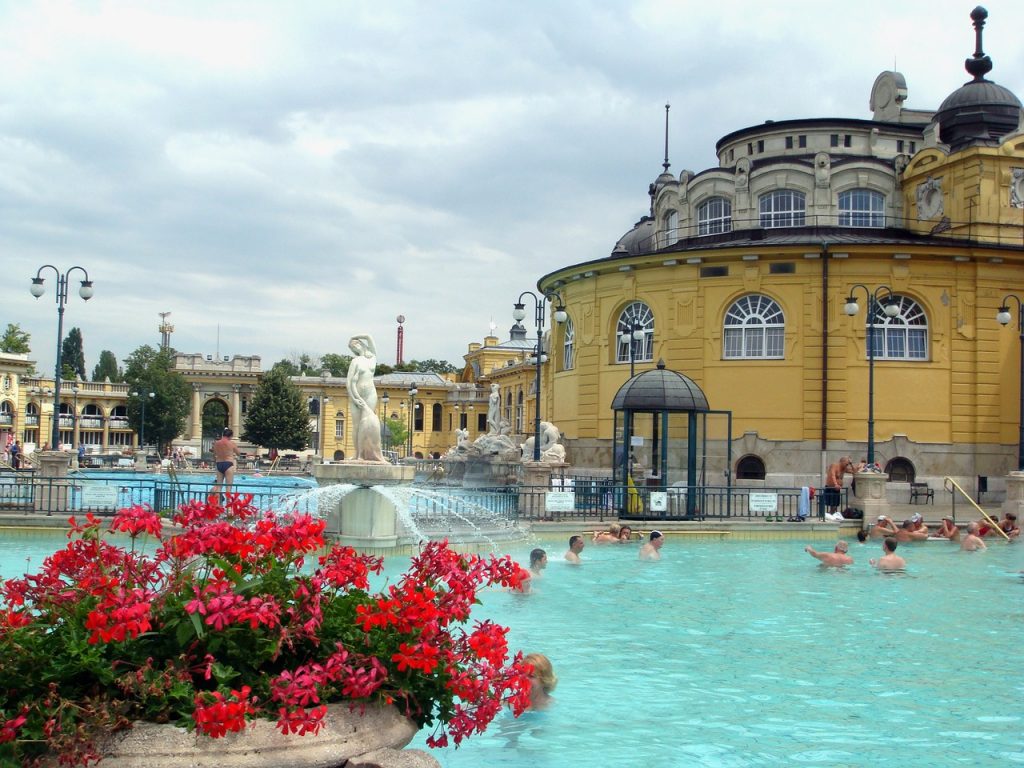 You've undoubtedly already seen photos of the exquisite Széchenyi Baths, one of the most iconic buildings in Budapest located in the heart of City Park.
It is the largest medicinal bath in all of Europe, with 15 indoor baths and 3 outdoor ones, including a massive one.
The baths are fed by two hot springs, with temperatures of 74 °C (165 °F) and 77 °C (171 °F) respectively.
Of course, the hot springs have been cooled down considerably, to tolerable temperatures that won't boil you alive – 27 °C (81 °F) to 38 °C (100 °F)!
But more than just being hot, the thermal waters actually have curative properties, chock full of helpful minerals like fluoride, sulphate, calcium, and magnesium that help reduce inflammation and improve joint conditions.
Most importantly, they're insanely fun to spend some time in – and a great way to rest your feet after all the pavement pounding this Budapest itinerary had you doing yesterday.
They can be quite crowded, so I recommend going in the morning to avoid the crowds. You can also pre-book your ticket to avoid waiting in line, so if you sleep in in the morning and don't get here very early, I recommend pre-booking so you can avoid the line.
Pro tip: If changing in privacy is a big deal for you, then I recommend picking a cabin; if you don't mind changing in front of people of your same gender, then you can just pick a locker. That is pretty much the only difference between cabins and lockers.
Location: Állatkerti krt. 9-11, 1146 Budapest, Hungary (inside City Park)
Hours: 6 AM to 10 PM
Cost: Varies depending on options selected; check prices for skip-the-line entry here.
Visit the interesting Vajdahunyad Castle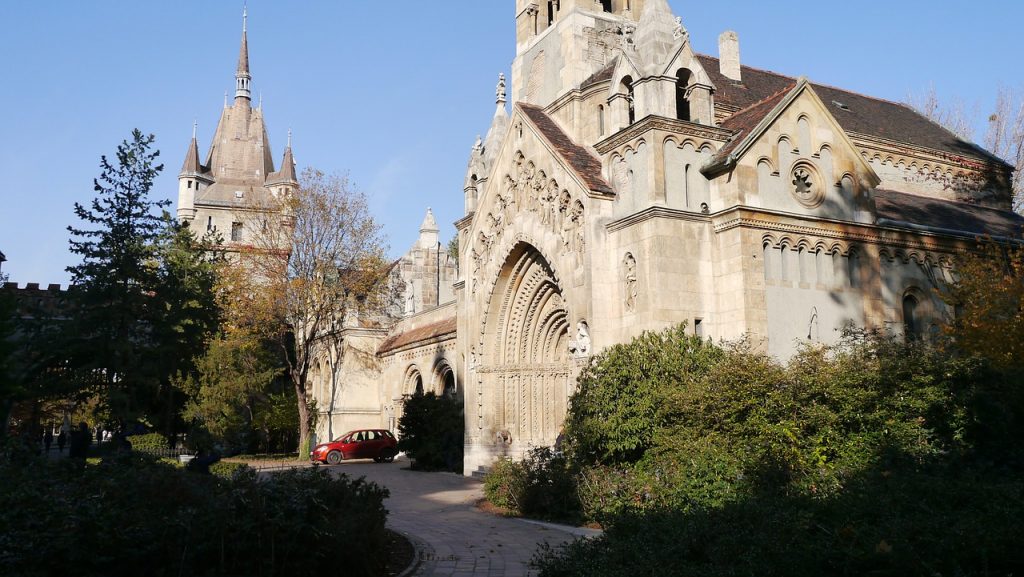 This castle inside City Park is well worth a quick visit if you are near Szechenyi Baths.
While the castle looks old, it was actually built in 1896 as part of the celebrations for the 1,000 years of Hungary's existence – the same celebrations which brought Budapest Fisherman's Bastion.
In fact, it was never intended to be a permanent castle! As Atlas Obscura reports:
"Vajdahunyad Castle was originally intended to be a temporary exhibition, and was constructed out of wood and cardboard. However, the attraction proved such a hit with locals and visitors alike that a more permanent structure was built in 1904."
Since it's free to enter and right next to the Szechenyi baths, I think it's definitely worth a visit.
Location: Vajdahunyad vár, 1146 Budapest, Hungary (inside City Park)
Hours: 10 AM to 5 PM Daily
Cost: Free
Go to Heroes Square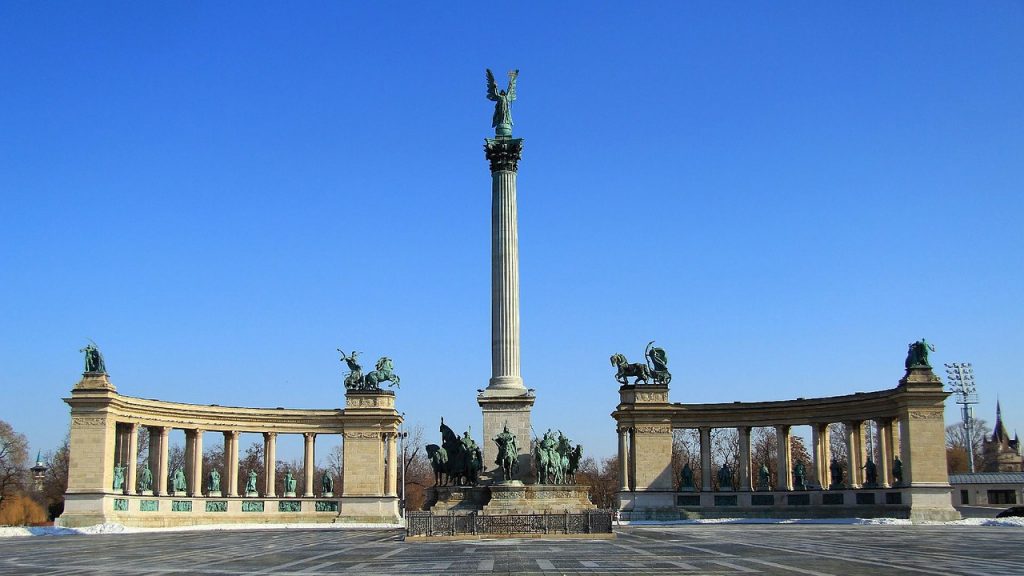 After enjoying the mineral baths and Vajdahunyad Castle, head over to Heroes Square at the foot of City Park, connecting it with Budapest's most famous walking street, Andrassy Avenue.
Composed of one central major pillar and two rounded colonnades, Heroes Square commemorates the 7 chieftains of the Magyars (the leaders who founded modern-day Hungary).
Incidentally, this square is called Magyarország by Hungarians, and Hungarians call themselves Magyars when speaking in Hungarian.
Nearby, you'll find the Museum of Fine Arts as well as the Palace of Art on each side of Heroes Square. You could stop in either of these buildings if you are an art fan, but I think there is another, more interesting museum just a little further down Andrassy Avenue.
Location: Hősök tere, 1146 Budapest, Hungary
Hours: 24/7
Cost: Free
Stroll down Andrassy Avenue
Budapest's most famous avenue, Andrassy Avenue is so steeped with history that it is a literal UNESCO World Heritage Site.
It's home to the Hungarian Opera House, Liszt Ferenc Square, and the Terror House Museum.
It's also home to a ton of shopping, but be prepared to max out that credit card, if so – it's full of expensive designer shops wayyyy outside of my budget.
Check out the aptly-named House of Terror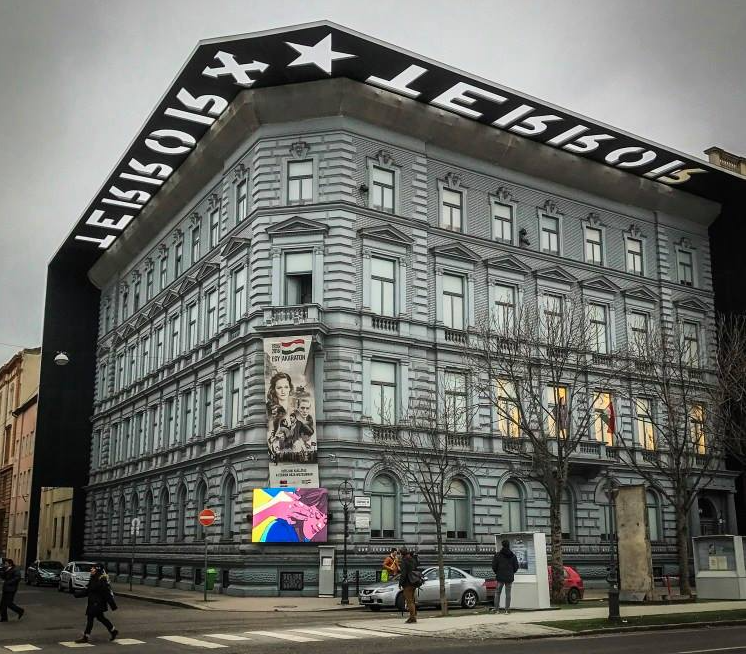 The House of Terror on Andrassy Avenue is a bit under the radar of most tourists' Budapest itineraries, but I think that's foolish.
It's an extremely interesting museum both in design and in execution. It's very immersive, with sound design that brings you a sense of dread befitting the museum's context.
The House of Terror is located in the building in which Hungary's Secret Police used to operate, their equivalent of Nazi Germany's Stasi or the Soviet's Union's KGB.
Hundreds of people were tortured and imprisoned and even killed in the basement level cells.
Meanwhile, here is where the orders were carried out to execute the city's Jews (as memorialized by the Shoes on the Danube), as well as countless other acts of state-sponsored terror the likes of which are hard to comprehend even when you are faced firsthand with them.
I recommend getting the audio guide; otherwise, you have to read a lot of informational sheets and it's hard to feel immersed in the museum. It's a little expensive, but well worth it.
Location: Andrássy út 60, 1062 Budapest, Hungary
Hours: 10 AM to 6 PM, closed on Mondays
Cost: 3000 forints for an adult ticket (around $11 USD) plus, optionally, another 1500 forints for the audio guide (~$5 USD)
Lunch at Mazel Tov
Mazel Tov is a ruin bar and restaurant located in the heart of Budapest's trendy Jewish Quarter and it's one of my favorite places I ate at in my entire two weeks in Budapest.
Plus, it's in a great location making it a convenient lunch pit stop that won't take much time out of your day!
True to its Jewish District roots, Mazel Tov offers delicious Middle Eastern/Israeli-inspired food. The smoky eggplant salad is absolutely phenomenal, as is the hummus.
Location: Akácfa u. 47, 1072 Budapest, Hungary
Hours: 10 AM to 2 AM Thursday to Sunday, 12 PM to 1 AM Monday & Tuesday, 12 PM to 1 AM Wednesday
Cost: Around 3000 forints for a main (~$11 USD) and 1000-1500 for a starter (~$3-5 USD)
Have an expensive dessert at the beautiful New York Café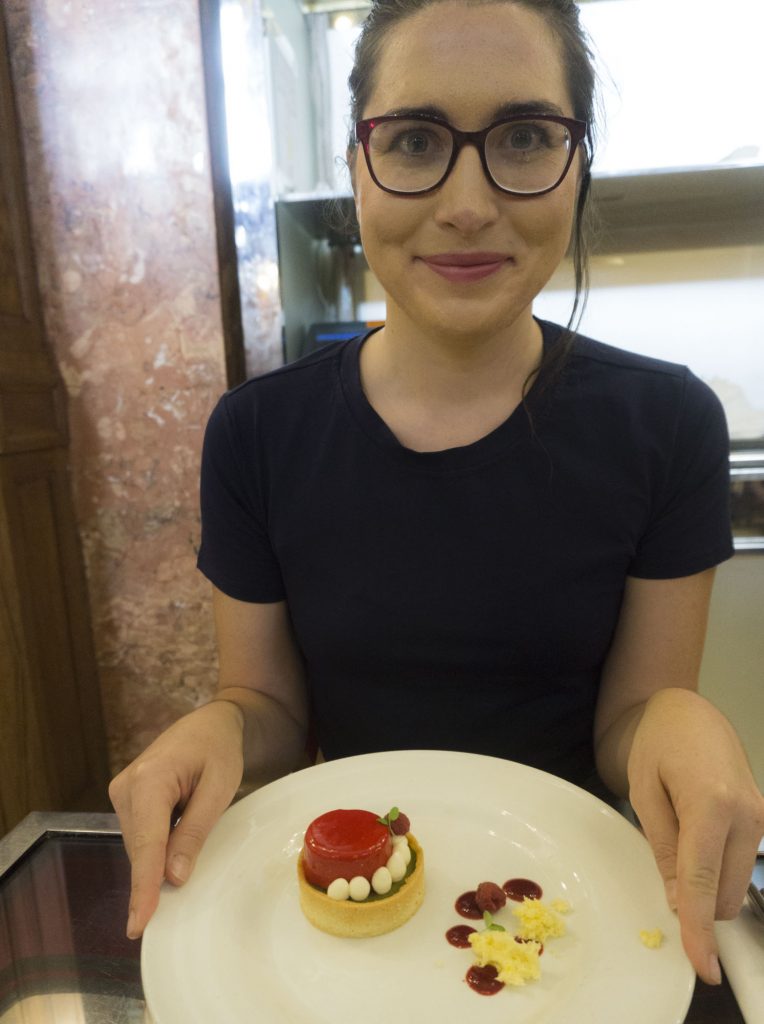 If you're on a budget you may not want to sit down at New York Café but just peep your head in.
However, if you don't mind splashing out a bit of cash to include this on your Budapest itinerary, I think it's well worth the splurge.
The New York Café is probably the most beautiful coffee house in a city full of beautiful coffee houses, and it's so architecturally ornate that I spent my entire 30 or so minutes in the café looking up in open-jawed wonder.
Sure, my teeny tiny cake cost me about $10 USD, but it was worth it for getting to sit in one of the most beautiful rooms I've ever sat in, and the service was great.
Location: Erzsébet krt. 9-11, 1073 Budapest, Hungary
Hours: 8 AM to 12 AM
Cost: I don't remember exactly but I must had paid around 3000 forints for a tiny cake. Basically, it's 'spensive.
Wander about the Jewish Quarter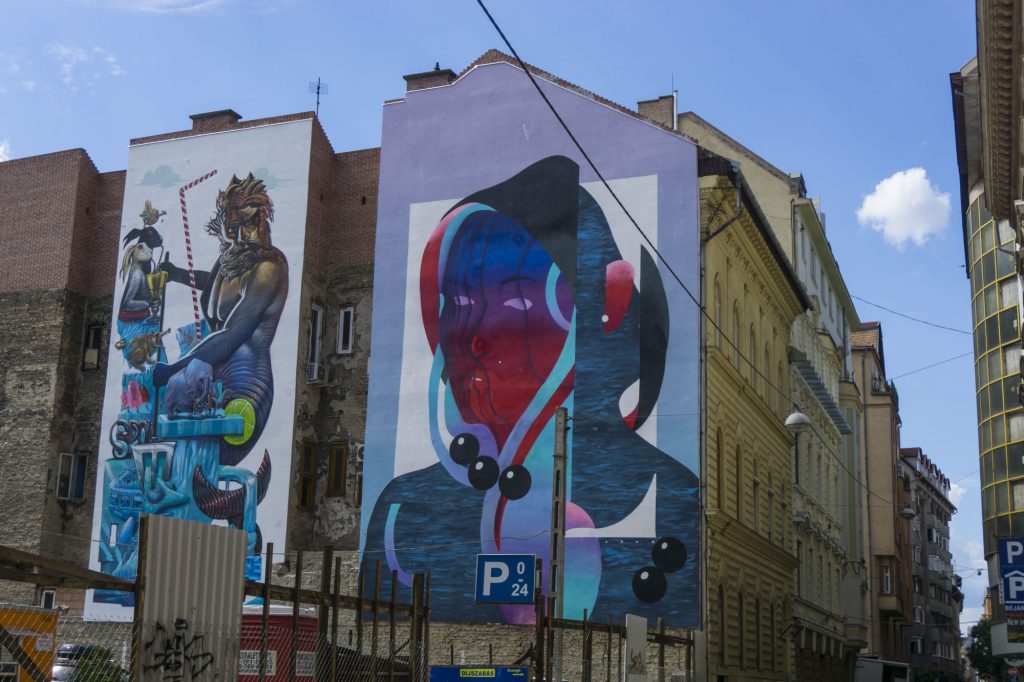 The Jewish Quarter is one of the most famous neighborhoods in Budapest for its ruin bars, trendy restaurants, and street art.
After the Holocaust, the Jewish Quarter was pretty much decimated, as most of Hungary's Jews had either been executed by the party or sent to concentration camps abroad or, if they were lucky, were able to flee.
This lead to the neighborhood being abandoned and falling into ruin and disuse for several decades.
Around the turn of the 21st century, the neighborhood started to be revitalized with the emergence of ruin bars, old abandoned buildings that were bought for a cheap price and re-done to make quirky watering holes.
This set off a flurry of entrepreneurial spirit, and in time, design shops, street art, and used bookstores began to flourish in the neighborhood.
Now, it's a popular spot buzzing all day long and of course, well into the night too.
See Dohány Street Synagogue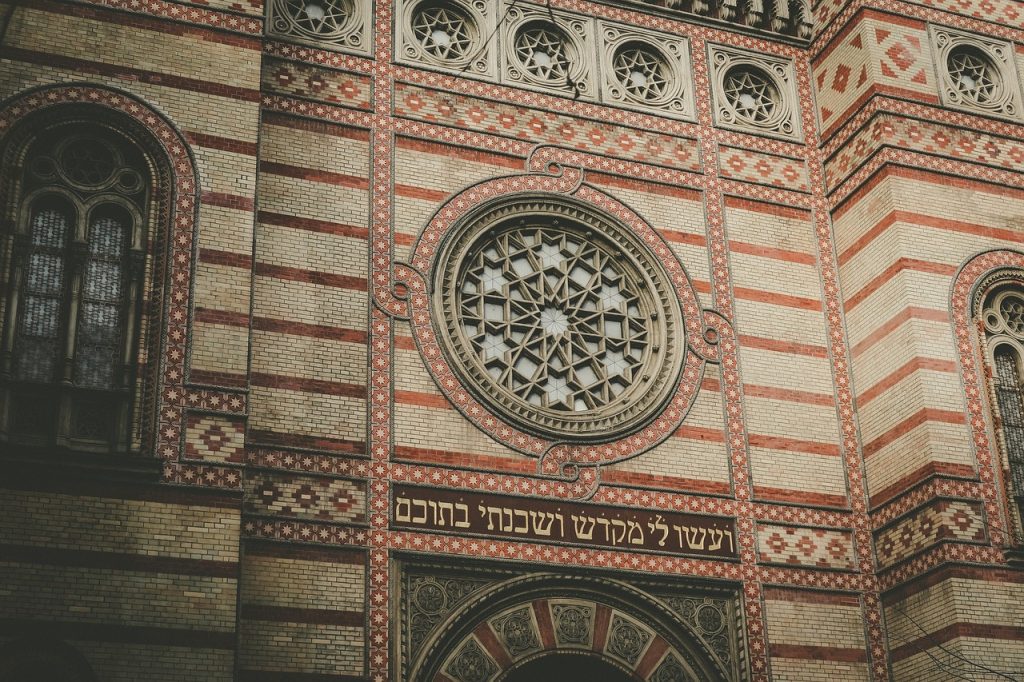 One of the largest synagogue in the world and the largest in Europe, the Dohány Street Synagogue has the ability to seat a whopping 3,000 people inside.
The architecture is in the Moorish Revival style and was completed in 1859. It formed the border of the Budapest Ghetto during the early 20th century and was heavily bombed during World War II, leading to a lot of damage.
However, it was renovated beautifully during the 1990s and is now back to its former glory, and it's a popular tourist attraction as a result.
Tickets are a bit on the pricier side of the spectrum for Budapest, which is generally a cheap destination, but the cost is definitely worth it!
The synagogue is beautiful on the inside, not to mention, it's an important and resilient piece of Jewish history. If you visit, I recommend prebooking your ticket to avoid lines!
Location: Dohány u. 2, 1074 Budapest, Hungary
Hours: Vary depending on time of year
Cost: Around $15 USD (pre-book your ticket here)
See the sunset at Citadella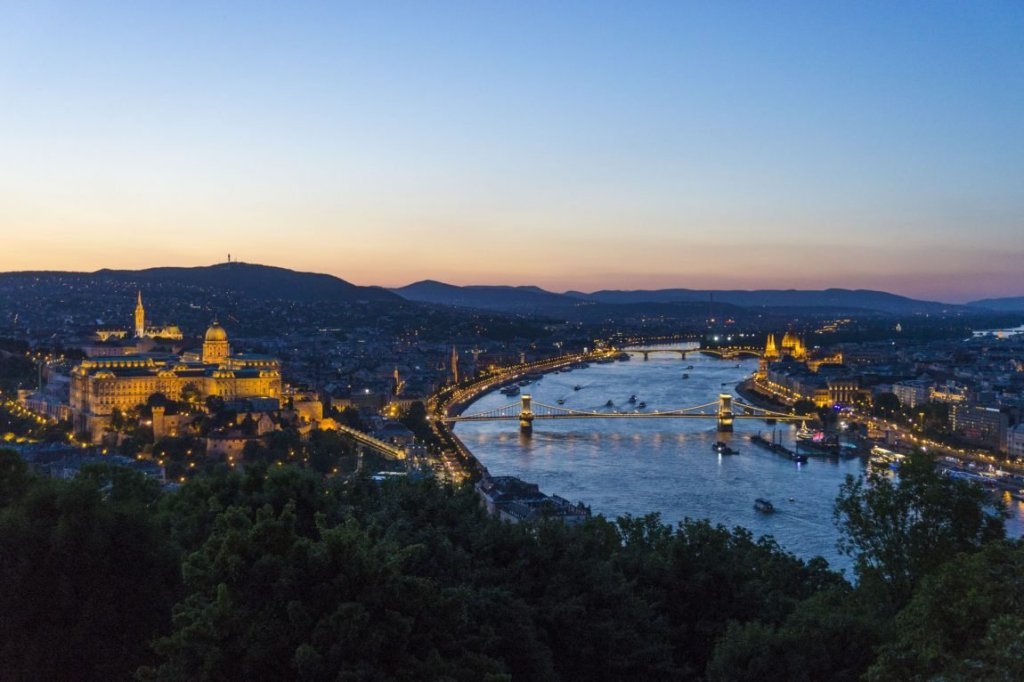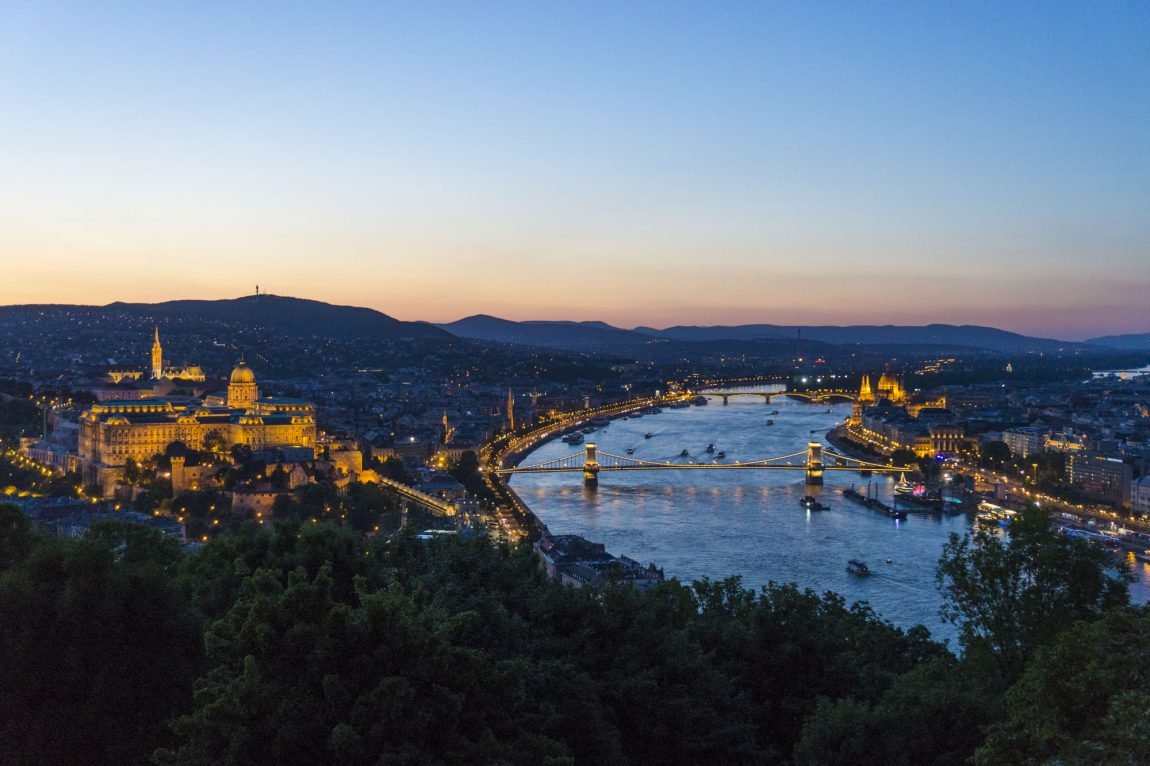 Make your way over to Gellert Hill via the Liberty Bridge by the Great Market Hall, where you'll climb up to Citadella for some of the most spectacular sunset views over Budapest.
It's a bit crowded with people but it truly is one of the best views and if you stay past sunset until all the people leave and the city feels on fire with all of its beautiful lights, it is a truly magical place.
There's also a few benches where you can buy some cheap beer or wine and enjoy the sunset, which is my favorite way to end the day.
I mean, I don't have to say much else: just look at those postcard-worthy views.
Take a night cruise on the Danube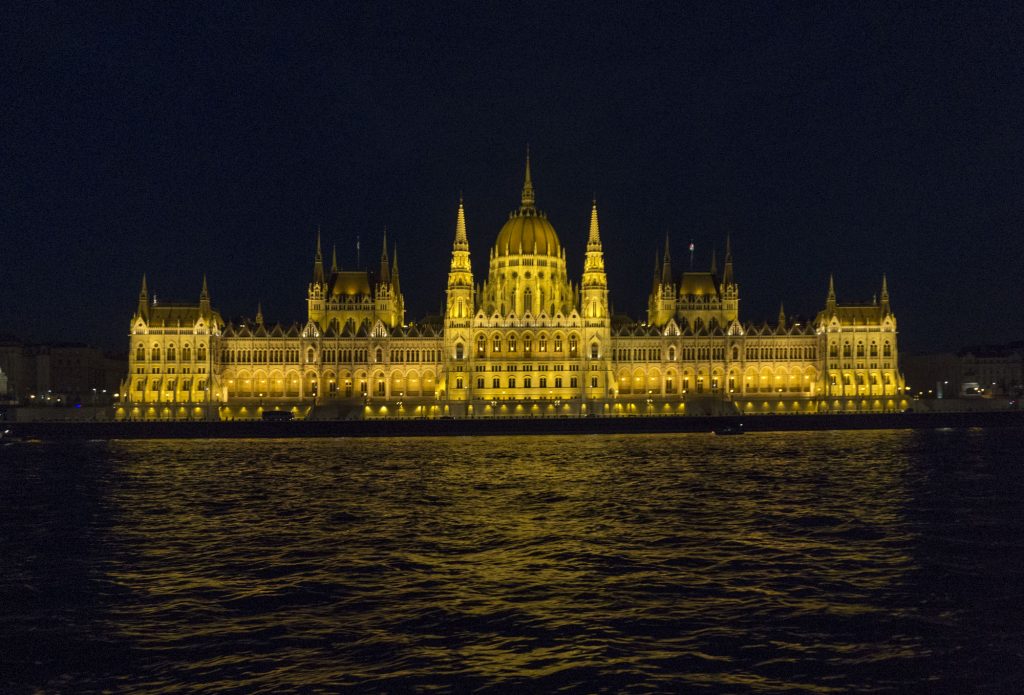 Of all the things I did in Budapest, taking a night cruise along the Danube was easily the highlight. Touristy, yes, but for a reason!
Budapest is absolutely beautiful from water level: the lights on each bank of the Danube sparkle brilliantly reflected in the waters of the Danube, and watching the city go past at night is pure magic.
This Portum Lines night cruise is affordable and includes one free drink. You can upgrade to an audio guide for an additional 4 euros, which I recommend as I loved getting a bit of historical context for the buildings I was seeing.
Again, this is a popular thing to do in Budapest, so if you really want to make it part of your Budapest itinerary, I recommend booking in advance.
Location: Dock 42 port, Szent István park, 1138 Budapest, Hungary
Hours: Several departures daily
Cost: Varies; check prices here
Eat & celebrate your last night in Budapest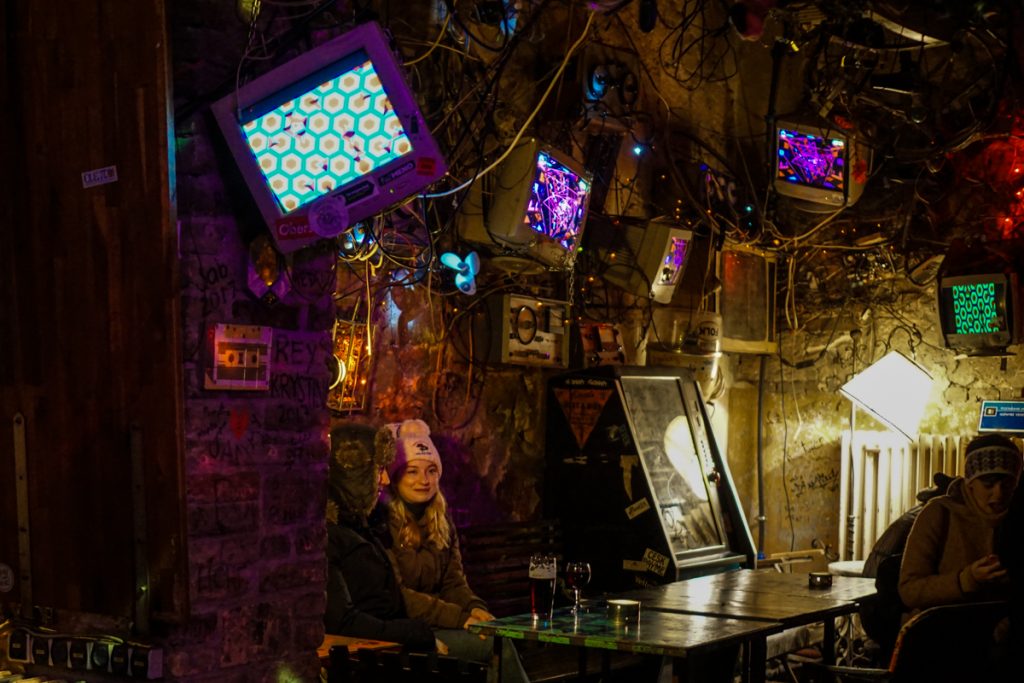 For your last night in Budapest make it count with a memorable dinner.
Check out this guide to Budapest restaurants by my friends Darryl & Mindi who spent a month eating their way around Budapest and pick something that sounds unforgettable!
After your final dinner in Budapest, it's time to enjoy the ruin bars that the city is so known for.
The most iconic is Szimpla Kert, and it was one of my favorites even though there were, of course, a lot of tourists there.
Some other ruin bars I enjoyed were Ellato Kert which had a Mexican theme and served passable tacos and Anker't, which had a lot of lovely outdoor space.
If you want to party, head to Instant (I'm not much of a partier and stayed home in my pajamas with Netflix and some local Hungarian wine instead).
There's also a daily pub crawl of the ruin bars that starts at 9 PM daily so that may be a good idea if it works out with your schedule.
If You Have More Than 2 Days in Budapest
There are plenty of things to do in the area of Budapest if you have more time! Here are just a few ideas
Where to Stay in Budapest
Personally, I recommend staying in the Pest side of town.
While Buda has a lot of beautiful sights, I think that Pest is more convenient for walking since it is completely flat and more grid-like than the winding streets of Buda.
Also, there are far better food and nightlife options in Pest than Buda. I spent 2 weeks in Pest and loved being based there.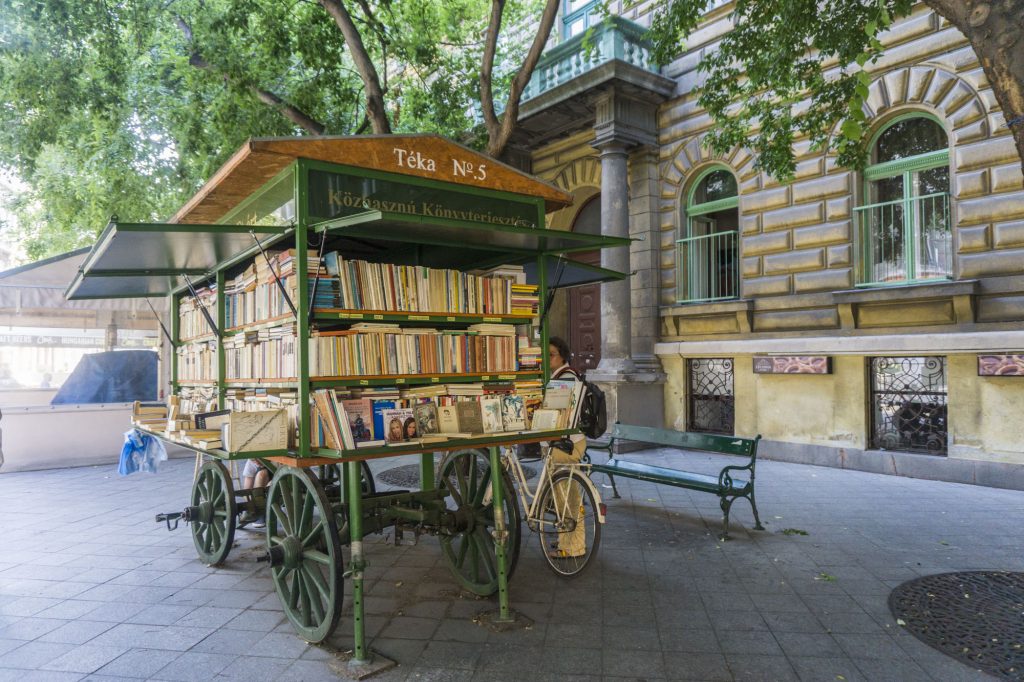 Budget: There are a ton of grungy party hostels in Budapest which are decidedly not my scene. Maverick City Lodge is a beautiful boutique hostel with a lot of attention paid to design and functionality.
I really like that each bed has its own privacy curtain, reading light, outlet, etc. – things that should be standard in a hostel but often are not. It's located right in the heart of the Jewish Quarter so pretty much everything you would need is at your fingertips.
It's one of the highest rated options on Booking.com so book in advance to reserve a spot. Check rates, availability, and reviews here.
Mid-Range: I tend to book mid-range properties when I travel and I love when a hotel has a distinct personality with fun décor and isn't just a bland place to crash at night – but doesn't cost a fortune either. That's why I really like the look of D8 Hotel.
It reminds me a lot of one of my favorite hotel chains, citizenM – fun and funky, personality-driven, but not fussy. Their rooms are spacious, the design of the hotel lobby and common areas is just fantastic, and it has a great location near Szechenyi Chain Bridge.
It's brand new and has a 9.7 rating on Booking.com as of writing so check rates, availability, and reviews here.
Luxury: If your weekend trip to Budapest is on a luxury budget, then Aria Hotel Budapest is what I'd recommend.
This music-themed hotel has beautiful design elements — I love the marble floor with piano detailing and purple accents. The rooms are massive and I love that it's designed like a traditional Budapest apartment with an inner courtyard that the rooms all look out over. And those 5-star amenities like the sauna and indoor pool are swoon-worthy.
This hotel would cost twice the price if it were in Paris or London, but it's Budapest, so prices are reasonable even for the hottest hotel in town. Check rates, availability, and reviews here.
Enjoy this post? Pin it for later!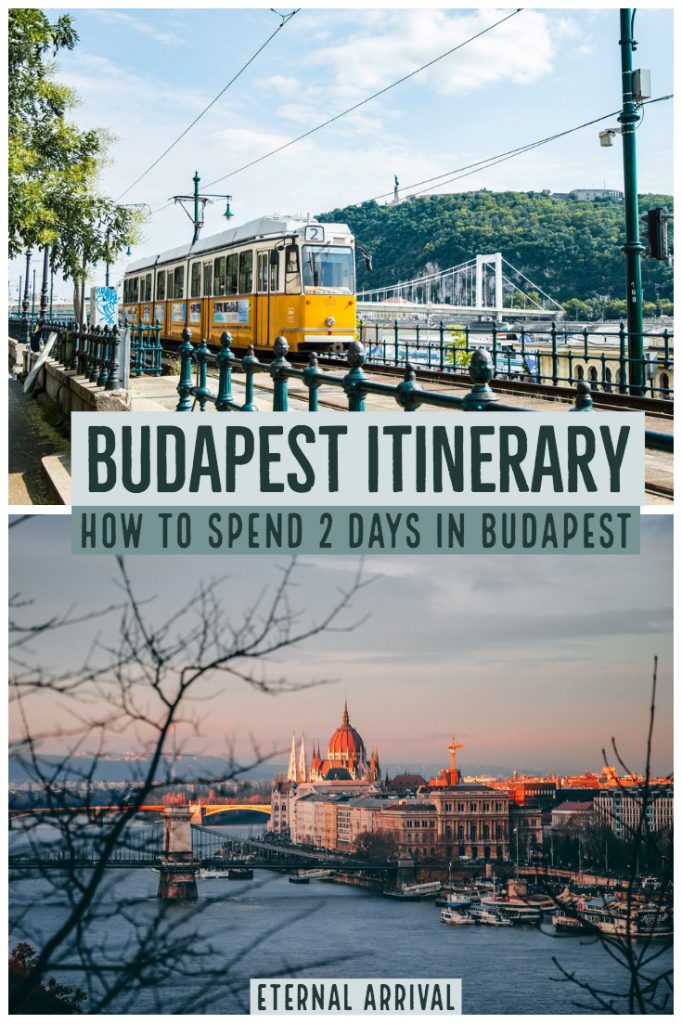 Allison Green is a former educator turned travel blogger. She holds a Masters in Teaching and a B.A. in English and Creative Writing. Her blog posts merge her educational background and her experience traveling to 60+ countries to encourage thoughtful travel experiences that both educate and entertain. She has been a speaker at the World Travel Writers Conference and her writing, photography, and podcasting work has appeared in National Geographic, CNN Arabic, CBC Canada, and Forbes, amongst others. Now based in the San Francisco Bay Area where she grew up, she has also lived in Prague, Sofia, and New York City.