If you're looking for a wonderful yet budget-friendly place to add to your Spain trip, allocate at least 2 days in Granada to your Spain itinerary!
This beautiful city is one of my favorite places I visited in my 5 weeks of travel across Spain, and I'll stand by the fact that it's one of the best places to visit in Southern Spain.
Gorgeous Granada is most famous for being home to the Alhambra Palace, a UNESCO World Heritage Site and Seven Wonders of the New World finalist.
In fact, the Alhambra is Spain's single most-visited attraction… and yet, despite the popularity of the Alhambra, Granada remains an affordable and not-so-crowded place to visit.
Luckily for the budget traveler, the prices in the city don't seem to match the popularity of its number one attraction.
Granada boasts a lively free tapas tradition (one of the last remaining places in Spain to do so!), affordable hotels, and well-priced things to do.
How Many Days Should You Spend in Granada?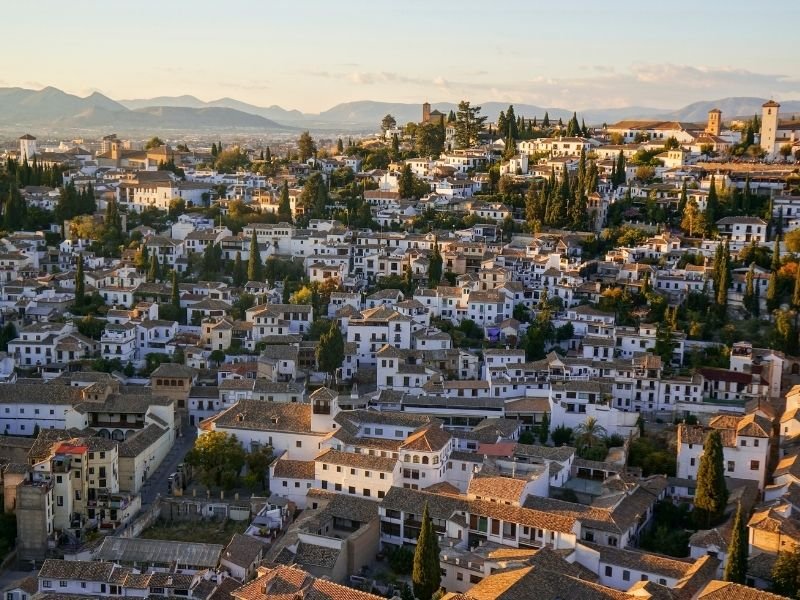 Note: This post contains affiliate links, which means I may receive a small commission if you purchase something through one of these links. Thank you for supporting the free content on this site! For more information on affiliate links and cookies, see my disclosure page for more details.
I needed a break after traveling at a fast pace through Europe for several months, so I took a longer than typical time in Granada, spending about a week in the city and exploring it deeply.
With one whole week in Granada, I broke up my time in the city by also doing day trips to nearby places such as the whitewashed villages of La Alpujarra, and falling in love with Bubion and Capileira.
I didn't get a chance to visit Córdoba, but I wish I had added on a day trip there as well while I was using Granada as a base to explore Southern Spain.
Other people with less travel time than me would probably find 2 days to tour Granada to be suitable, so I've created this 2 day Granada itinerary with fast-paced travelers in mind.
This Granada itinerary is perfect for travelers who are planning to visit Granada quickly before heading to other places in Southern Spain, like Málaga and Seville, or spend time in other Spanish destinations like Madrid or Barcelona.
While you can certainly stay in Granada for longer, this itinerary for 2 days in Granada will cover its highlights — such as the Alhambra, the Alcazar, the Albaicín, and Sacromonte — with a few off the beaten path spots I discovered in my week in the city.
Where to Stay in Granada
Budget: Oripanda Hostel
For a hostel stay in Granada, Oripanda Hostel in the Albaicin district is one of the best options you'll find. The location doesn't get any better, and it has rave reviews from past guests.
The atmosphere is very social due to its many beautiful common areas that take inspiration from the Albaicin that surrounds it, like a courtyard with lovely tilework and even a small plunge pool. The dorm rooms themselves are rather bare bones, but guests still enjoyed their stay.
Mid-Range: Casa de Reyes
The medieval-themed boutique hotel Casa de Reyes is centrally located in Granada, a short walk from the Granada Cathedral as well as Elvira Street (beloved for its many tapas bars)
While medieval-themed may sound kind of hokey, it's actually done beautifully and has a lovely B&B aesthetic. It's designed in a way that makes you feel a bit like a king or a queen yourself when you stay in one of the sumptuously decorated rooms!
Luxury: Villa Oniria
The charming sustainable hotel Villa Oniria is a beautiful converted 19th-century manor house that has been renovated to reflect the traditional architecture and design of Andalucia.
There are just 31 rooms in this small villa, so you'll get personalized attention to detail from the staff, and you'll love the garden complete with inner patio and fountains, your own private slice of paradise in Granada.
Tips for Making the Most of Visiting Granada
The tapas are usually free.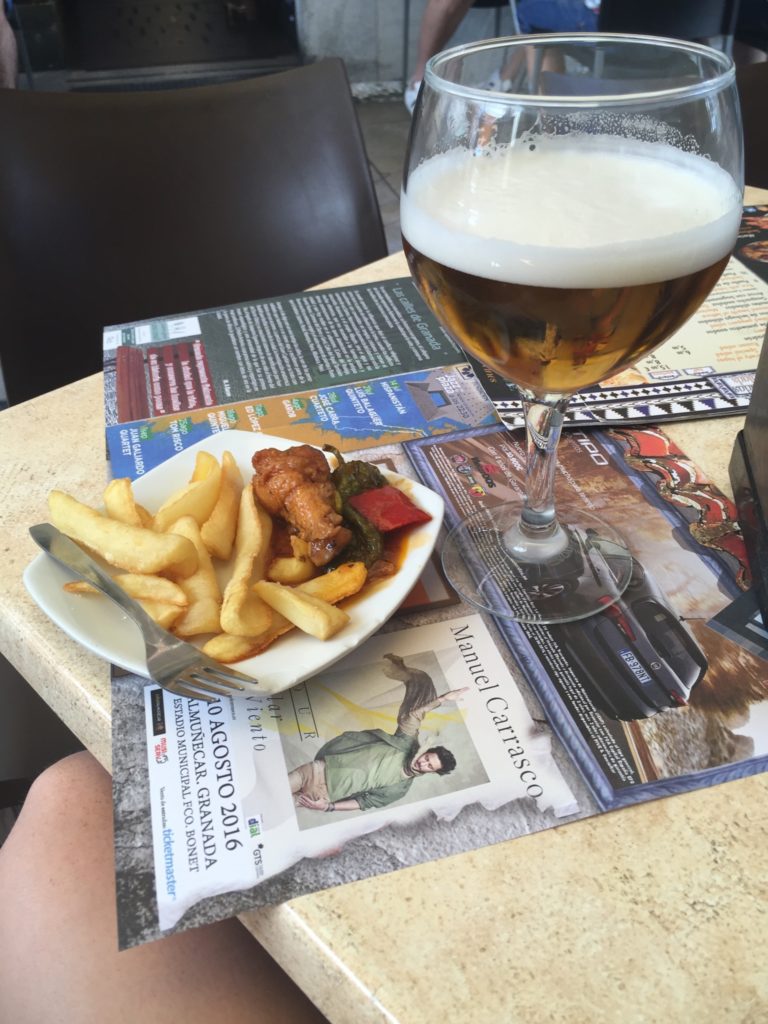 Yes, free tapas! This tradition has mostly died out in larger cities like Madrid and Barcelona, but in Granada, tapas are always free with a drink.
In Granada, a drink typically costs anywhere from 2 euros to 5 euros depending on what you get, and it always — always! — comes with a tapa.
A tapa can be anything from some fries and a bit of stew to a plate of fried anchovies to a small helping of Valencian paella to fried eggplant with honey and beyond.
Generally speaking, you don't get to choose your tapa at most places, though some do. Also, if you stick to one establishment and order multiple rounds, the tapas are supposed to get bigger and better with each round, though I never really quite noticed a correlation!
I could get full (and buzzed!) for anywhere from 4 to 8 euros if I was really making a night of it, and I have a pretty nice-sized appetite.
Granada is the one of the few places in the world that rewards drunken antics (which is probably why I'm convinced it's my destiny to live there one day).
You will save quite a bit of cash if you tapa wisely rather than paying for raciones (plates). At certain locales, 4 euros will get you two drinks and a small dinner (6 euros if you're hungry, and 8 if you're making a night of it).
The two most popular and most affordable drinks are the caña (small) or tubo (large)of beer or tinto de verano, a delicious drink of red wine, soda water, and lemon.
You may have your doubts of mixing wine and soda water, but trust me, it's what you want on a balmy Andalusian summer night. I mean… it literally translates to "summer red wine" in Spanish!
These cheaper drinks will set you back about 2 euros to 2.20 euros a pop – of course, if you go for a cocktail, some sangria, or a glass of wine, you will still get your tapa but your drink bill will add up quicker!
Follow the business cards.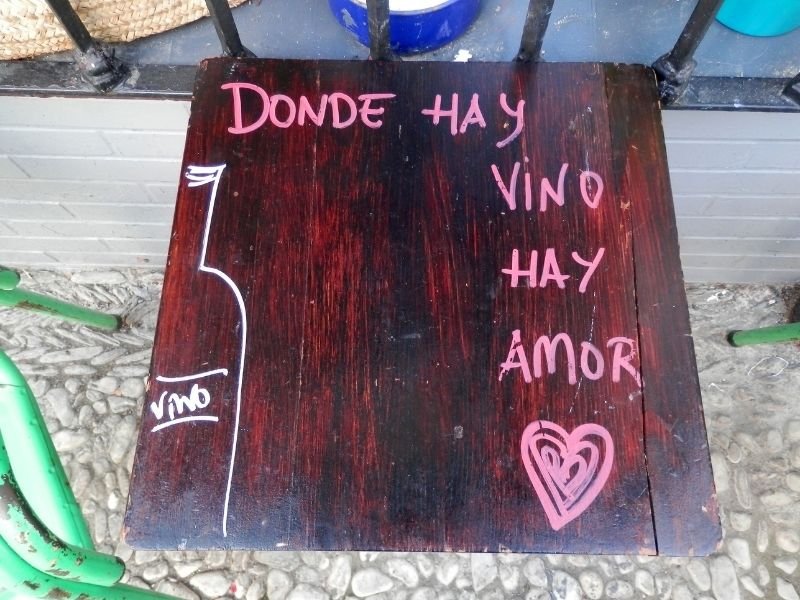 Granada has an odd system of advertising places to drink, where people working for bars will walk by – or even into! – your restaurant where you're eating to pass out business cards to advertise their establishments.
This would never fly pretty much anywhere else in the world, but the restaurants in Granada all seem to embrace this and don't see it as people poaching their clients.
Typically, the people advertising their bars will leave a business card with hand-written details of drink prices, and they're usually quite cheap – I'm talking 1 euro for a beer or 2 euros for a mojito!
Note that these usually don't come with tapas as these are bars, not bar/restaurants. However, if you're full on food but want to keep the night going, this is the way to do it!
Walk everywhere.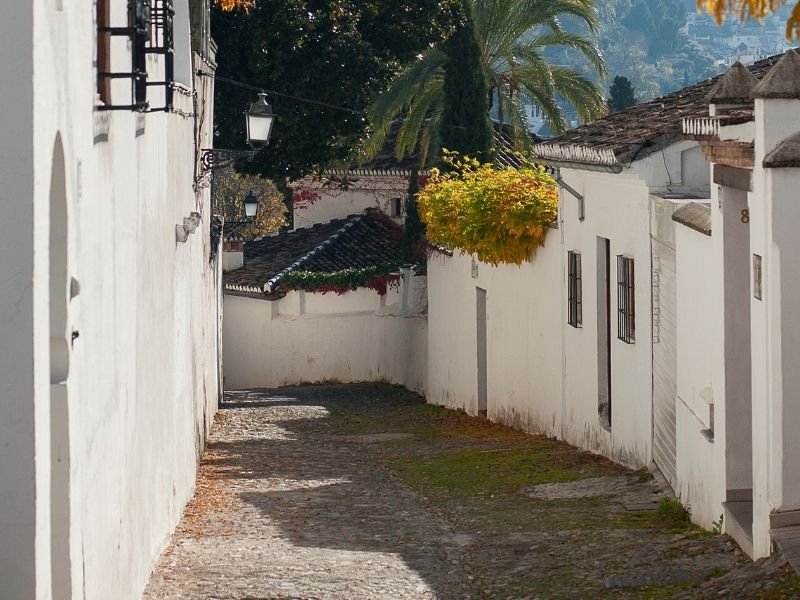 Granada is so tiny that everything is walkable within about 30 minutes!
With a short amount of time in a city, I'll sometimes recommend hop-on, hop-off bus passes, but that sort of thing is not necessary at all in a place like Granada, which is really small and compact, with many roads impassible to cars.
There is a Granada City 'Train' that you can buy passes for. However, unless you have mobility issues to the extent that walking around is not really pleasant or possible, I don't really recommend it for this Granada itinerary.
Fill up in the local fountains.
Granada has some of the freshest, most delicious tap water coming right from the public water fountains around the city.
Surrounded by the Sierra Nevada mountains, Granada's tap water typically comes from mountain springs and melted snowpack, meaning it's just about as pure as it gets!
Bring a reusable water bottle and fill up, especially because it gets super hot in Granada in the summer!
Note: A select few fountains in the city are non-potable, but they are very clearly marked if you're not supposed to use them for drinking.
Buy your Alhambra ticket in advance.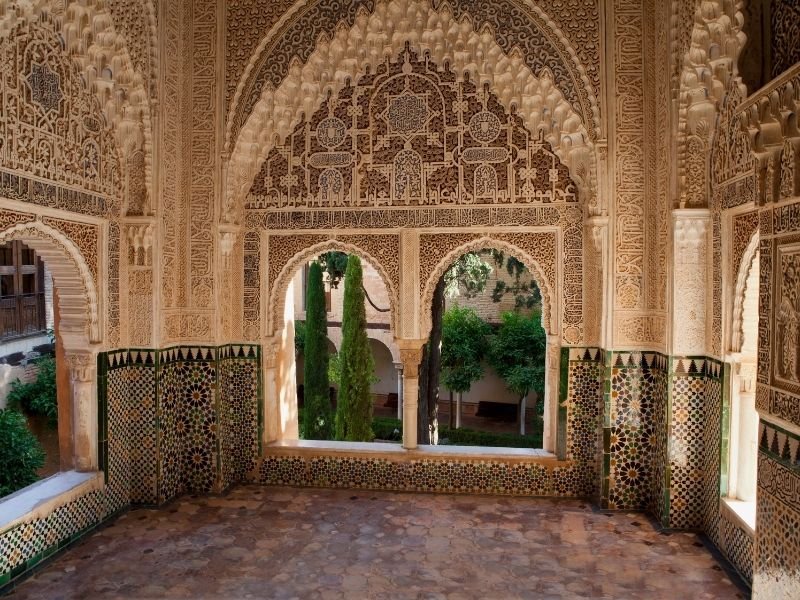 One of the most common mistakes people make when visiting Granada is not booking their ticket to the Alhambra with enough advance notice.
If you know when you'll be in Granada, buy your tickets online at least one week in advance… more if you can help it!
You can book tickets without a guide on the official website here, but note that they sell out really quickly as only a limited number is available, and many tickets are reserved by guided tours and other ticket resellers.
If you don't luck out on the official website, fast-track entrance tickets are also available on Get Your Guide for a small additional booking fee, or you can book a guided tour. Audio guides can be downloaded on the app for free or rented for 5 euros on-site.
When I was in Granada, tickets were sold out weeks in advance (including guided tours) and I almost missed out on getting to see the Alhambra!
Luckily, I discovered the loophole that I could buy a Granada Card for 48 hours to get entrance into the Alhambra (the 24 hour one only allows night entrance, and I think it's better to visit by day).
Note that this is more expensive than booking a tour or fast-track ticket, and like many city cards, the Granada Card doesn't offer a fantastic value, so I only recommend this as a last resort.
Pick your Alhambra ticket time carefully.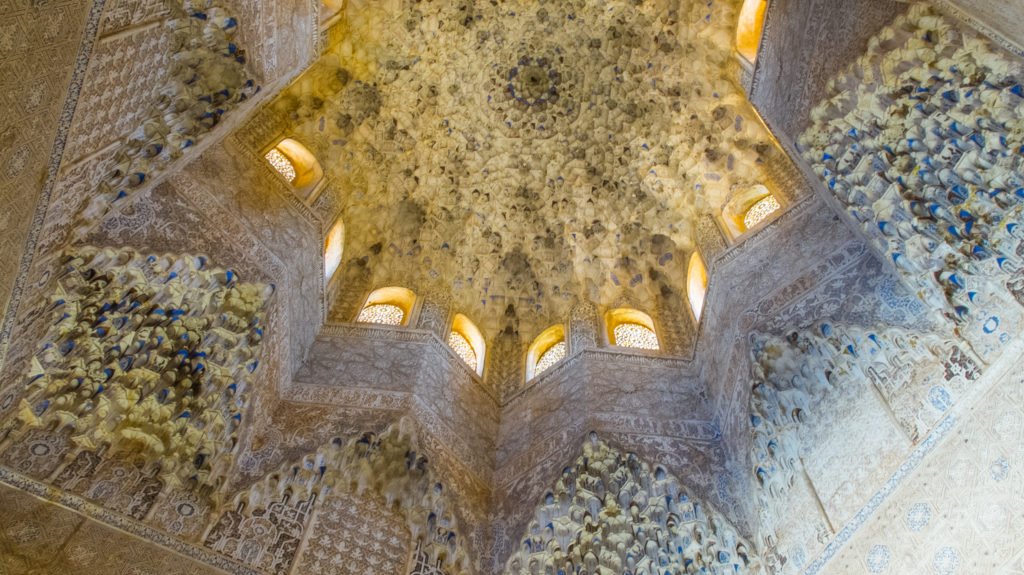 When picking your time, note that you are selecting your entry window into the Nasrid Palace, the most impressive part of the Alhambra complex — and also the most popular.
If you're not on time, you won't be able to enter the Nasrid Palaces, so be sure to arrive early to avoid any disappointment! The rest can be visited at your own leisure.
Note that if you visit with a guided tour like this one, they will handle the timing of everything for you, so you don't have to worry about the time constraints of visiting Nasrid Palace.
I didn't book a tour when I went to Granada, and I regret it, as I missed out on a lot of the historical context.
I would have liked to know more about Granada's Arab and Moorish history and how it can be seen in the architecture of the Alhambra — and that's exactly the kind of guidance you'll get on a guided tour.
Day 1 of Your Granada Itinerary
Start your day at the Alhambra.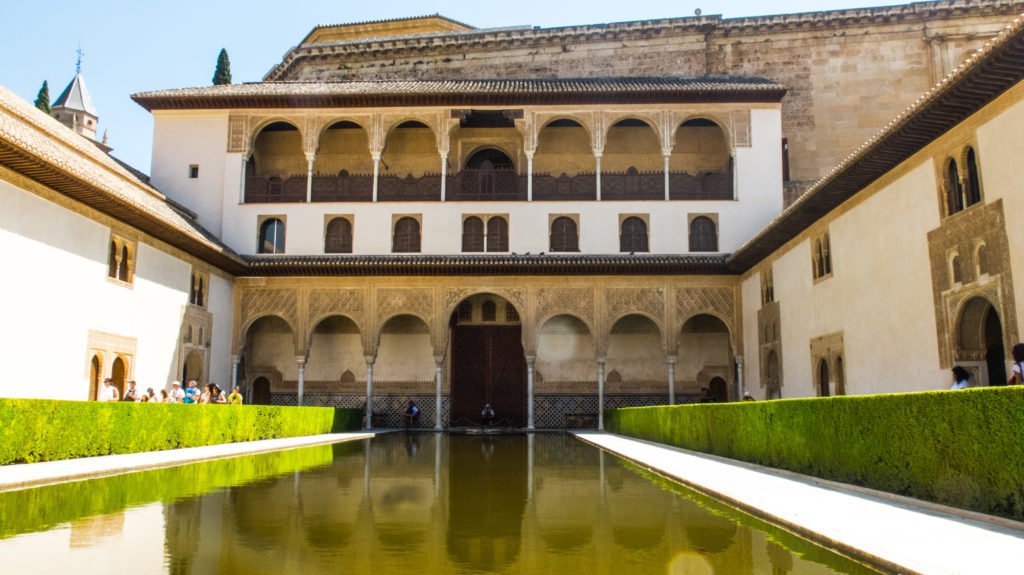 Most people come to Granada for one main reason – seeing The Alhambra Palace, one of the most famous castles in Spain – so we might as well get started there!
I strongly suggest booking a tour of the Alhambra to both secure your ticket but also ensure you'll get all the rich historical context that a place as beautiful and historic as the Alhambra deserves.
I didn't go on a tour when I visited because I could only use the Granada Card loophole, and it was one of my biggest regrets about my time in Granada, especially since I enjoyed my other tours of the city so much.
This roughly 3-hour tour includes a local guide throughout the whole tour, as well your entrance ticket to the Alhambra and priority skip-the-line access.
The tour includes the Nasrid Palaces and its stunning Patio de Los Leones courtyard, as well as the the Generalife Gardens, the Medina, and the Alcazaba: basically, everywhere you want to see in the Alhambra complex.
There are a wide variety of tour offerings and it can be somewhat overwhelming to make your choice. I like this specific tour because you can choose your group size depending on your budget and comfort level being around larger groups of people.
Very few tours are this customizable or transparent about how large the group will be, so I appreciate that about this tour.
Marvel at the Granada Cathedral.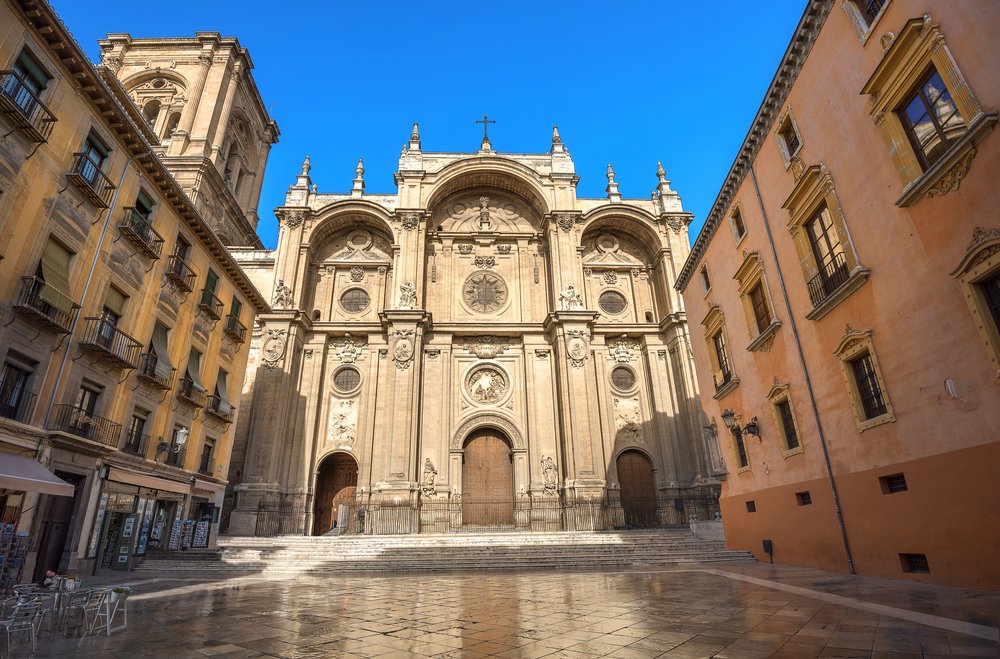 The Granada Cathedral (Catedral de Granada) is one of the most important pieces of architecture in Granada's center, and it shows where the Catholic and Muslim stories of Granada intertwine.
Construction started in 1518, after the Muslim Nasrid Kingdom fell into Spanish hands, and it would take nearly two hundred years to come to completion.
It was built in the old Muslim medina — mostly in order to make a statement that Granada was now under Catholic rule.
Because the building took nearly two centuries and was taken over by several architects, the cathedral shows a unique blend of architectural styles, ranging from Gothic to Spanish Renaissance to Baroque.
Note that admission to the Granada Cathedral costs 5 euros.
Stroll around the Alcaicería.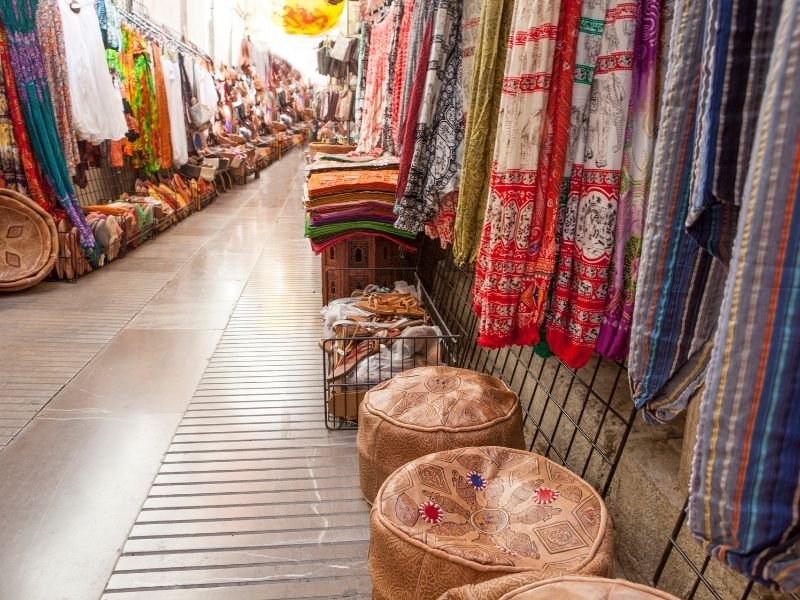 Right near the Granada Cathedral off of Bib Rambla Square, you'll find the charming marketplace called the Alcaicería, which sells all sorts of Arabic-inspired wares.
If you've been dreaming of a trip to Morocco to shop in its souks, this is as close as it gets in Spain!
It's a little touristic, of course, but the little shops here sell some great interior design and clothing items for rather inexpensive prices.
Walk over to the Capilla Real.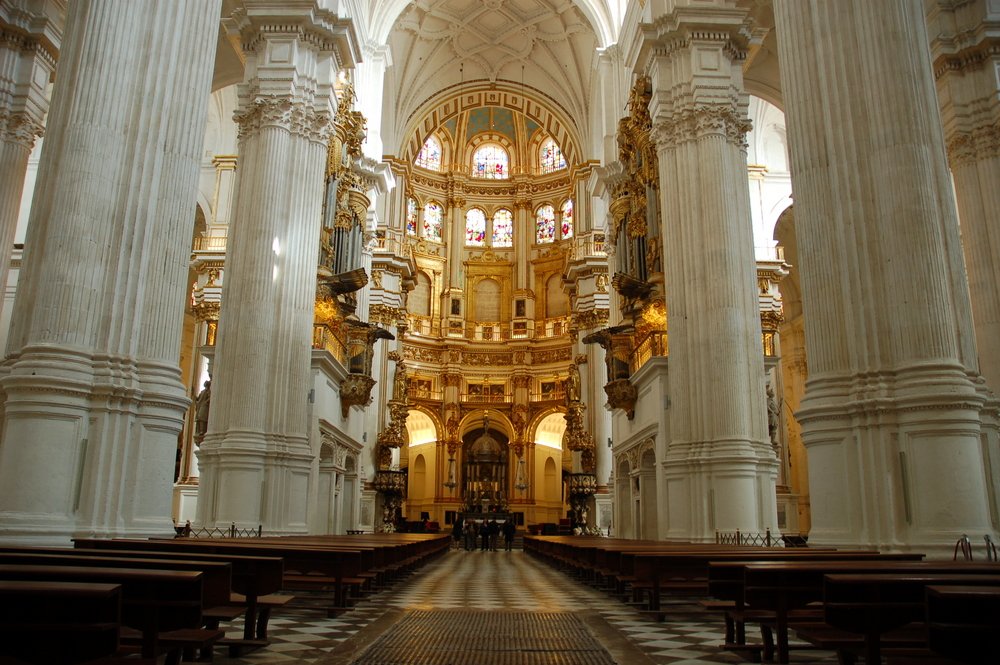 The Capilla Real is the final resting place of two of Spain's most famous Catholic monarchs, Queen Isabella and King Ferdinand – the ones who financed Columbus's (violent) voyage into the so-called 'New World'.
Their monumental tombs are shown on the ground floor of the Capilla Real (which means Royal Chapel in Spanish); however, note that their actual tombs are located in the basement level.
Their legacy is a bit complex to dig into in a mere blog post, as their reign was controversial for many reasons.
Isabella and Ferdinand ruled over Granada in the 'Reconquista' period, when Spain regained control over from the Moors over the Moorish-ruled parts of the country.
During the 'Reconquista', authorities either forced conversion or exiled the Muslim and Jewish populations who had until then been living in Granada and surrounding parts of Andalusia.
At the same time, Isabella and Fernando brought Spain out of debt and began a period of exploration that would eventually bring Spain to rule over a massive part of the globe and was a time of huge economic growth for the Spanish people.
Of course, this had disastrous consequences for the Indigenous people of the Americas, and the ramifications of Spanish colonialism echo up to this day.
It's an interesting place to visit and it is an undeniably important piece of Spanish history, and in my opinion, it is an unmissable place on any Granada itinerary.
Note that admission to the Royal Chapel (Capilla Real) is 5 euros.
Visit the stunning Madraza.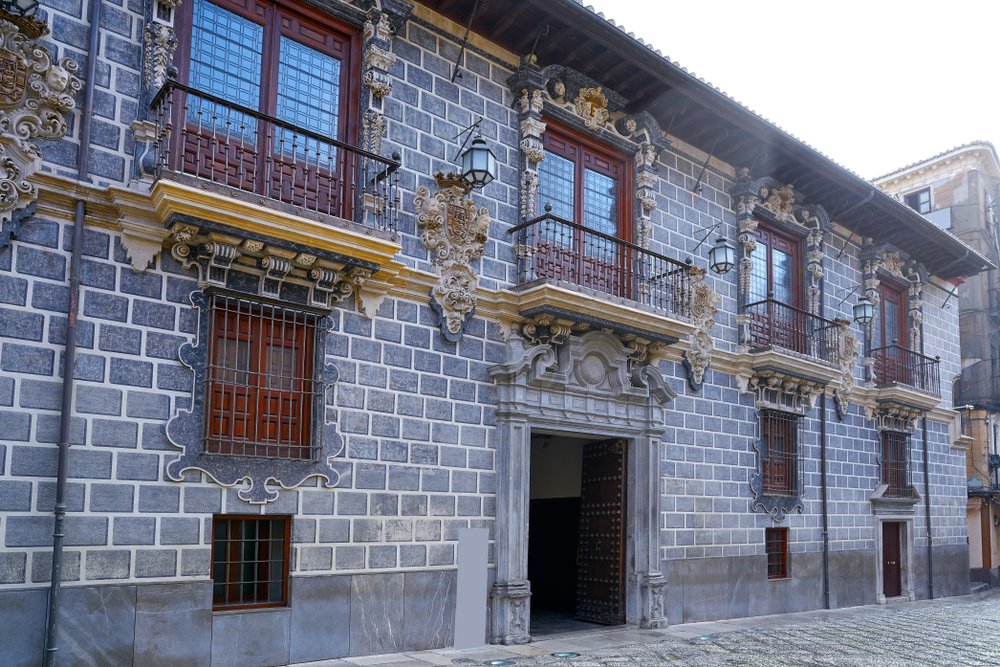 Located directly across from the Capilla Real and therefore an obvious next stop on this Granada itinerary is the Granada Madraza.
'Madrasa' means Islamic school, and this historic building used to be the first Islamic university in Granada!
Now, it's home to a small museum which you can visit for a small entry fee of 2 euros.
It's just two rooms, but the prayer room from the 14th century is so beautifully preserved that it alone is worth the stop!
Stop for a leisurely lunch.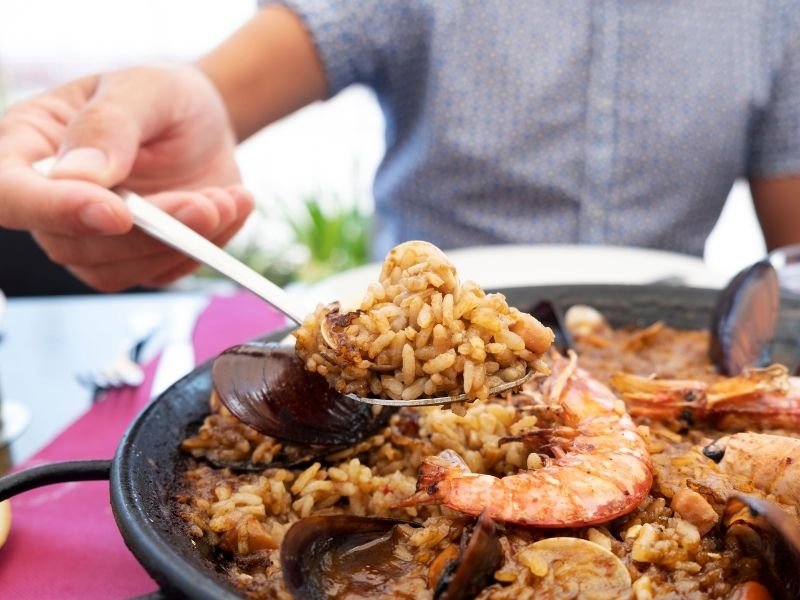 Now's about the time to stop for a long lunch and rest those feet!
Be sure to have lunch before siesta sets in, an institution that Granada takes quite seriously. No one takes naps as seriously as the Spanish do.
Trust me — nearly every restaurant will be closed for several hours after lunch and won't reopen until (at least) 8 PM!
For a nice place to eat near the Cathedral and Capilla Real, I recommend one of the following restaurants: El Mercader for Spanish fine dining (reservations recommended), Restaurante Arrayanes for Moroccan food, or Papas Elvira for budget food with vegetarian-friendly options.
Explore Albaicín and Sacromonte on a walking tour.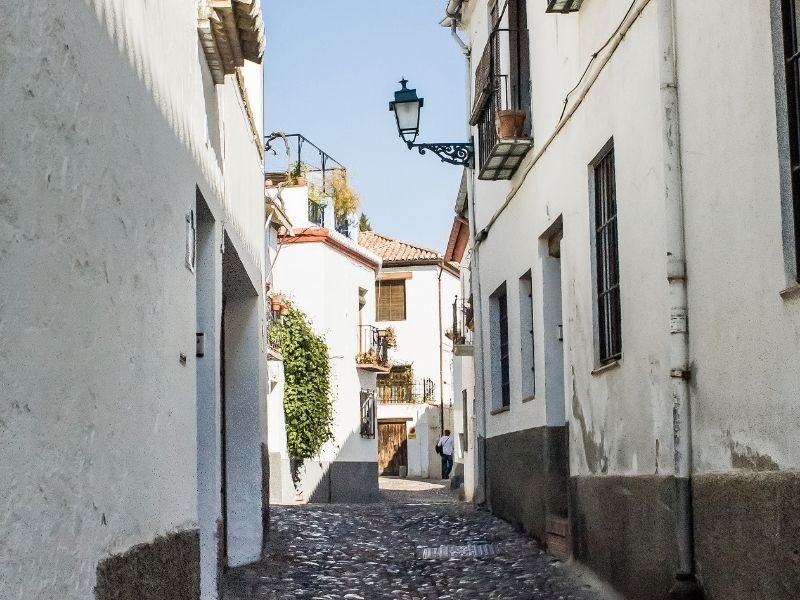 The Albaicín (also written Albayzin) is one of the coolest districts of Granada, and in my eyes, a walk through this historic quarter is an absolute must-do in Granada.
Most walking tours combine both the Albaicín and Sacromonte, as they are located next to each other and provide an interesting contrast.
The Albaicín is the historic Muslim district with stunning Moorish architecture, whereas Sacromonte is the cave district, where historically Granada's gitano (Romani) community lived.
The Albaicin is full of winding cobblestone streets that are leftover from when Granada was part of the Nasrid Kingdom of Granada, a Muslim-ruled state.
As a result, you'll see the influence of Moorish architecture here which dates back to the medieval period.
The narrow streets weave and wind around, and the white houses are nearly indistinguishable from one another, so it's ideal to go with a guide who can give you the historical context of this neighborhood.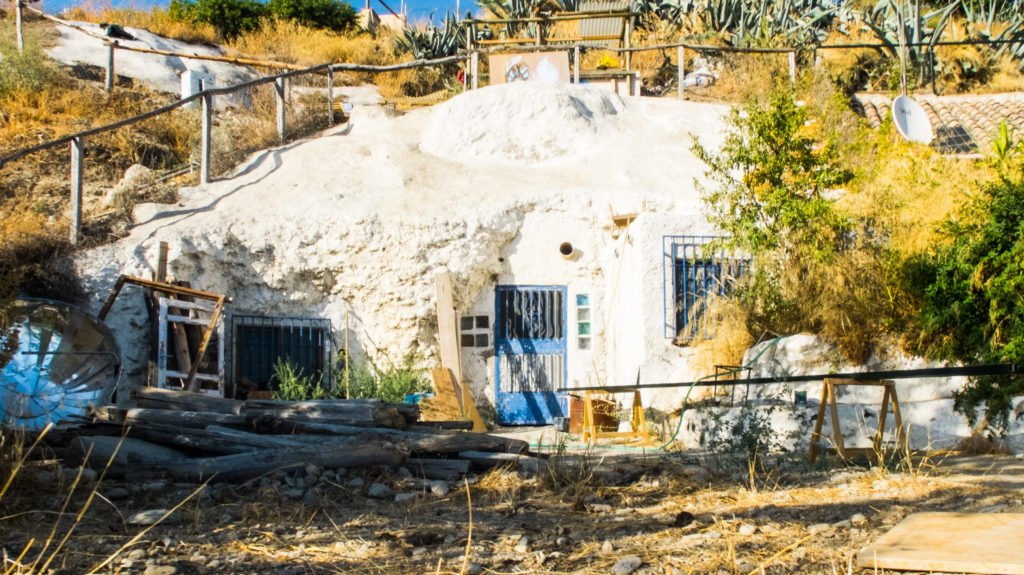 Meanwhile, Sacromonte is a very hilly part of Granada (bring good walking shoes!) where the Roma community, who settled there in the 16th century after the Muslims were expelled during the Christian conquest of the city.
They settled mostly in cave houses on the outskirts of Granada, outside of administrative control (as you may remember, a pesky little thing called the Spanish Inquisition was going on at the time…).
The history of this region is too long to go into in great detail here, and it's best to get it from a local who can explain it to you while seeing the area with your own eyes.
I strongly recommend going with a guided tour of both the Albaicin and Sacromonte districts; this is the tour I recommend.
Most tours start around 5 PM and last 2-3 hours, which is a great time of day to avoid the heat and also finish in time to find a great sunset spot in Granada!
A quick note on semantics: I'm purposely not using the word g*psy in English, as it is considered offensive by the Roma community.
The word gitano/gitana is used in Spain to refer to people of Roma descent and is not usually considered offensive, though of course context matters.
This is a complex issue that as someone who spent many many years living in a country with a large Roma minority (Bulgaria), I try to be sensitive of.
Language matters, so be careful with how you refer to people in the Roma community.
This is a thorny issue, and while individual opinions vary, most Roma prefer the word 'Roma' or 'Romani' to refer to their ethnicity in English.
However, also be aware that people who speak English as a second language may not be aware that g*psy is considered a slur in English.
Watch the sunset at Mirador de San Nicolás.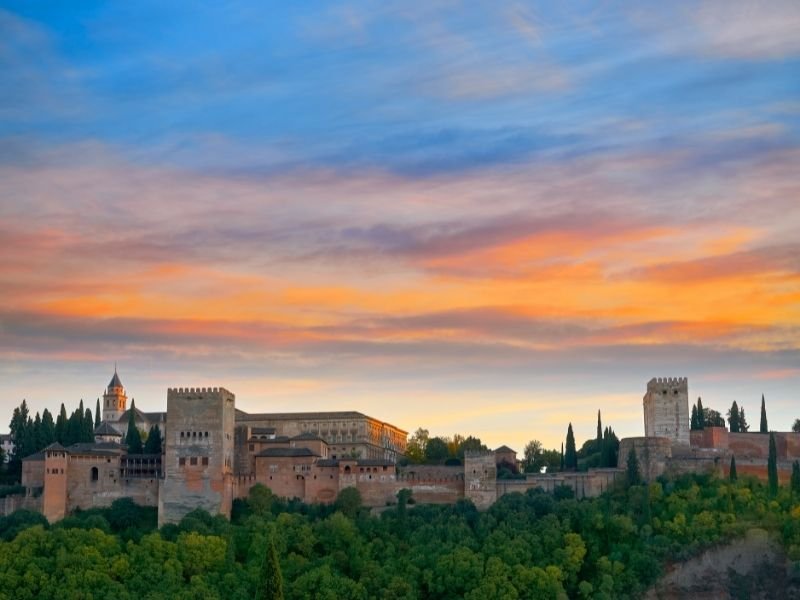 Depending on what time of year you visit Granada, sunset may be as late as 9:30 PM, so you'll likely have time after your tour (and before dinner — remember, the Spanish dine late!) to catch the sunset.
The most popular viewpoint in town in the Mirador de San Nicolás, which is often quite crowded with photographers and travelers hoping to get a shot of the spectacular views of the Alhambra at sunset.
Design your own tapas crawl.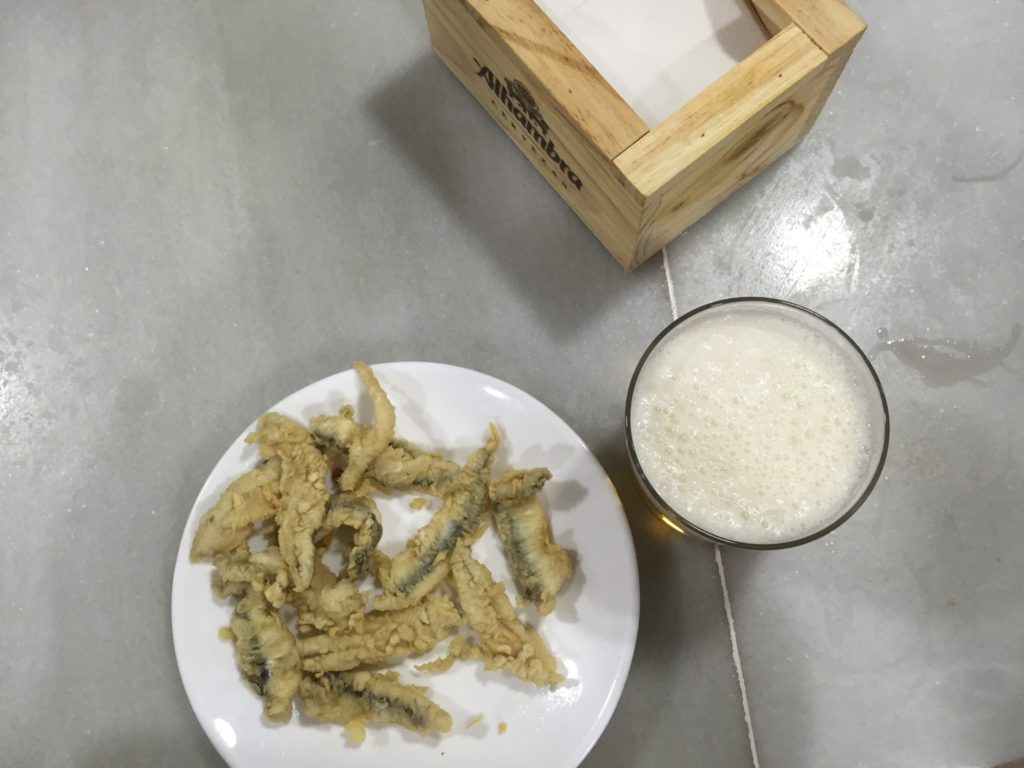 Remember what I said about not needing to order food in Granada (so long as you like to drink)? Let's put that to the test!
Start out the night at Bar Los Diamantes on Plaza Nueva, one of my favorite tapas bars in Granada. This place specializes in seafood, so pace yourself by ordering smaller beers (cañas) and seeing what comes out of the kitchen as a surprise for you!
With my first drink there, I got served a massive helping of tiny fried anchovies, which were delicious, and for my next drink I got served a larger plate of plump, perfectly fried chunks of white fish.
Just a 2-minute walk away is Bodegas Castañeda, another one of my favorite tapas restaurants, serving up delicious tapas like a small serving of paella or croquetas with each dish.
If you're still standing and not too stuffed, you can head over to Taberna La Tana, which was featured on Anthony Bourdain's Parts Unknown. They're famous for their morcilla (blood sausage — don't knock it 'til you try it!) and cured meat plates!
Day Two of Your Granada Itinerary
Check out the historic El Bañuelo.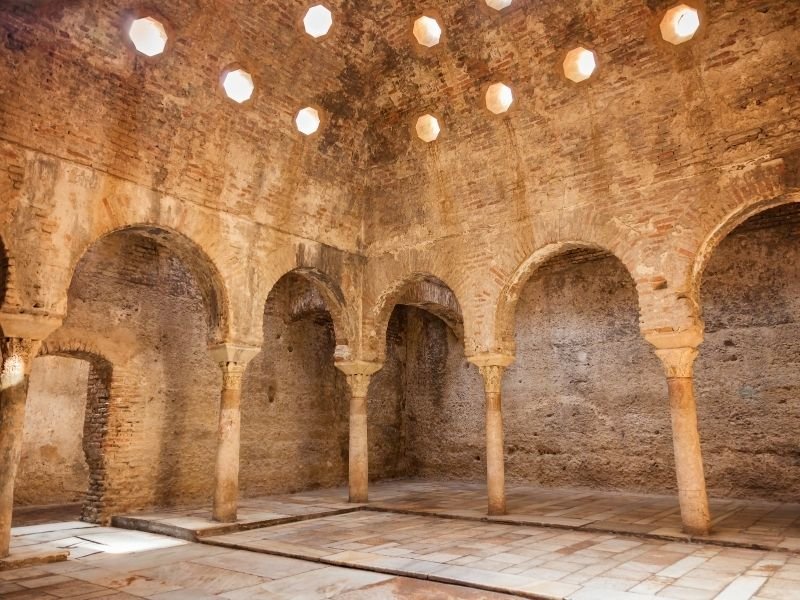 Dating back to the 11th century, these historic Arab baths are more ruins than baths at this point. The site is rather small, but it's still quite impressive to see, and worth a stop at only two euros to enter.
While much of the splendor of these baths has been lost to time, you can admire the in-tact porticos and the star-shaped holes in the ceiling, typical of Moorish bathhouses.
Located along the Darro River in the Albaicín, El Bañuelo are the remains of one of the largest hammams in Granada from its period of Moorish rule.
The hammam (public bath) culture was an extremely important part of Arab life, a place where people could not only bathe and clean themselves but also socialize.
Note: Admission to El Bañuelo is 2 euros, but for 5 euros, you can buy a 'Monumentos Andalusíes' ticket which also includes entry to Palacio de Dar al-Horra, Corral del Carbón, and Casa Morisca.
Tip: Grab a tea at La Tetería del Bañuelo before moving on — this teahouse doesn't get any more charming!
Wander the Carrera del Darro.
Head out from El Bañuelo towards the Hammam Al Ándalus along this famous walkway, the Carrera del Darro.
This famous street hugs the River Darro and is a beautiful scenic walk through Granada.
Enjoy a modern-day hammam experience at Hammam Al Ándalus.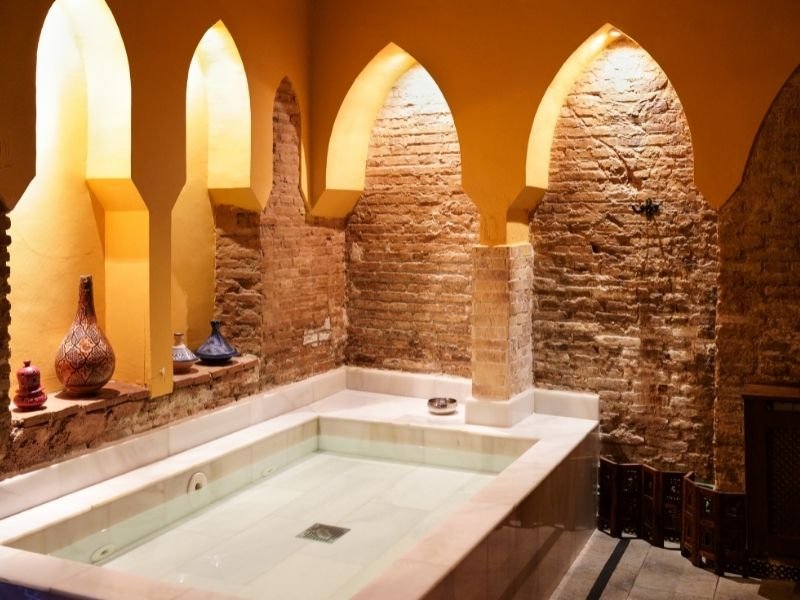 Once you've seen El Bañuelo, you might be curious to see what the hammam experience is really like.
If you've never traveled to a place like Morocco or Turkey where you can experience a hammam, this is a great chance to do so! It truly looks like what you've always seen in Morocco on Instagram.
The hammam is designed in the traditional way with ornate tilework and dramatic arches. Candles and lanterns are lit along the walkways, create a peaceful and dimly-lit ambiance.
The hammam is full of steam rooms, hot and cold pools, and relaxation areas where you can sip on mint tea while unwinding.
Entrance to the hammam includes use of the facilities for 90 minutes, and you can also add on a 15, 30, or 45-minute massage with body scrub for even more relaxation.
Have a relaxing lunch in the city center.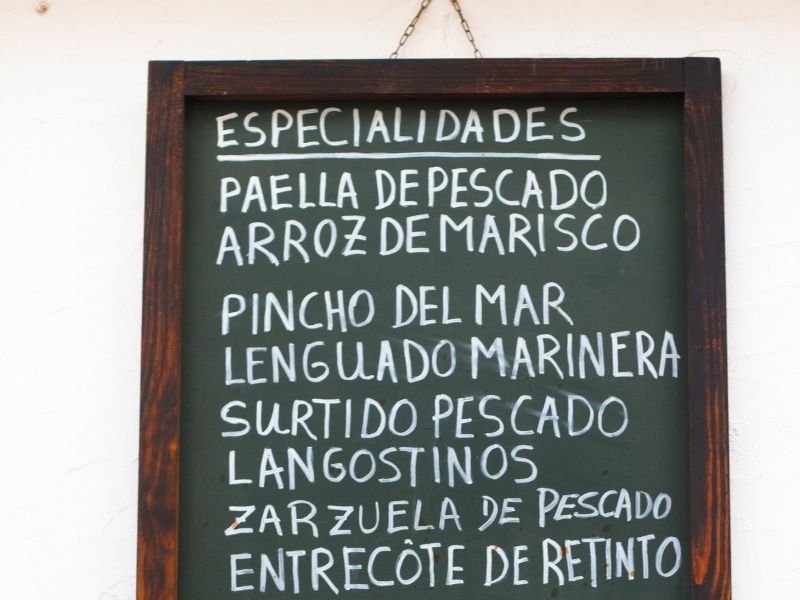 After your hammam, pick one of the many cafés in the area for another long and leisurely lunch, Andalucia-style.
I suggest Bar Minotauro Café y Tapas which is one of the better-rated places along Carrera del Darro, and it's open until 4:30 PM for lunch!
Remember — dinner is late in Spain, so be sure to eat enough to hold you over until dinnertime.
Take a walk along the Paseo de Los Tristes.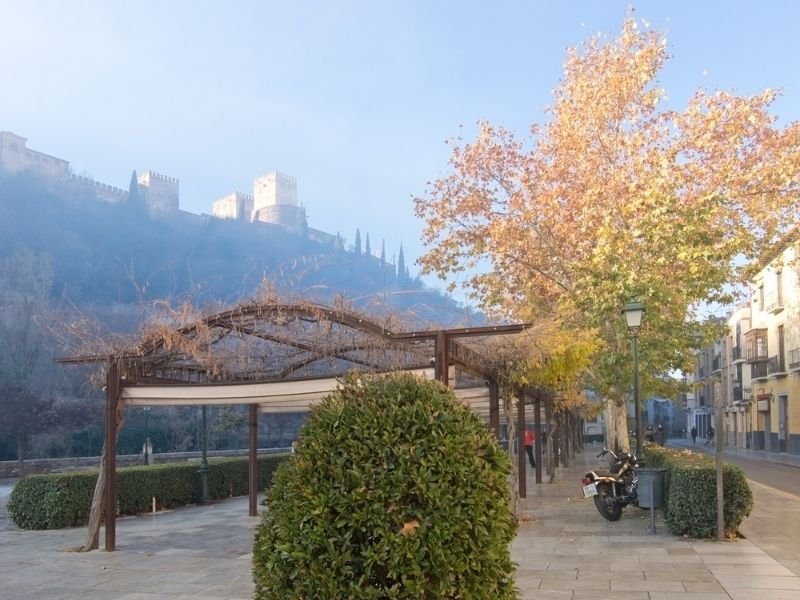 The Carrera del Darro has multiple names in different stretches, including Paseo de Padre Manjón and the Paseo de Los Tristes, which is the most scenic part underneath the shadow of the Alhambra.
The name means 'Promenade of the Sad Ones' in Spanish, but I promise you'll feel anything but as you walk along it!
So why this macabre name? Historically, it was given that name because funeral processions often used this road as it approached the cemetery.
Winding underneath the Alhambra, the palace looms above beautifully and you'll feel transported to another world as you walk along this charming street with a rich history.
End the evening with dinner and a flamenco show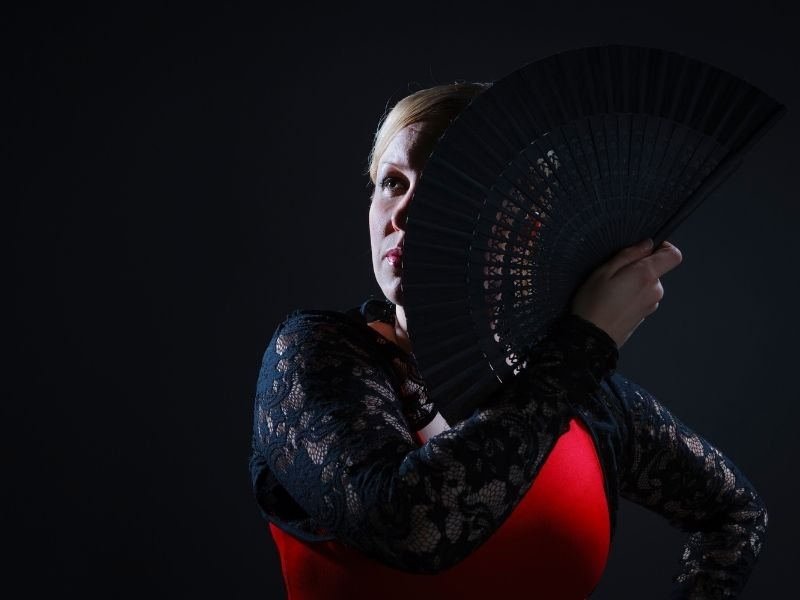 One of the absolute can't-miss activities in Granada is seeing a flamenco show! Flamenco is a traditional art form from Andalucia combining dance and music.
However, that's a bit of a simplification: the art of flamenco also uses also vivid facial expressions, significant hand gestures and percussion using castanets, and a specific style of guitar tapping called 'golpe' which contributes to the stirring rhythm of flamenco.
You will be bombarded with people passing out flyers and trying to invite you to their flamenco show while visiting the city.
Frankly, a lot of these shows are too short and not the best. I recommend researching a show before you to go to avoid disappointment, or following my recommendation here.
My personal suggestion (and where I went when I was in Granada) is a flamenco show at Cuevas Los Tarantos, which is in a traditional cave dwelling in Sacromonte.
The flamenco performance itself lasts about 45 minutes, but allow some time for seating, ordering food, and waiting for the show to begin, so expect 1.5 hours total in the venue).
The show is affordably priced and highly reviewed, and it includes one free welcome drink. You have the option to add on dinner and drinks for a fairly reasonable price given the venue.
I appreciated that it didn't feel like a tourist trap and that dinner wasn't too expensive here!
If You Have More Than 2 Days in Granada…
Take a day trip to La Alpujarra.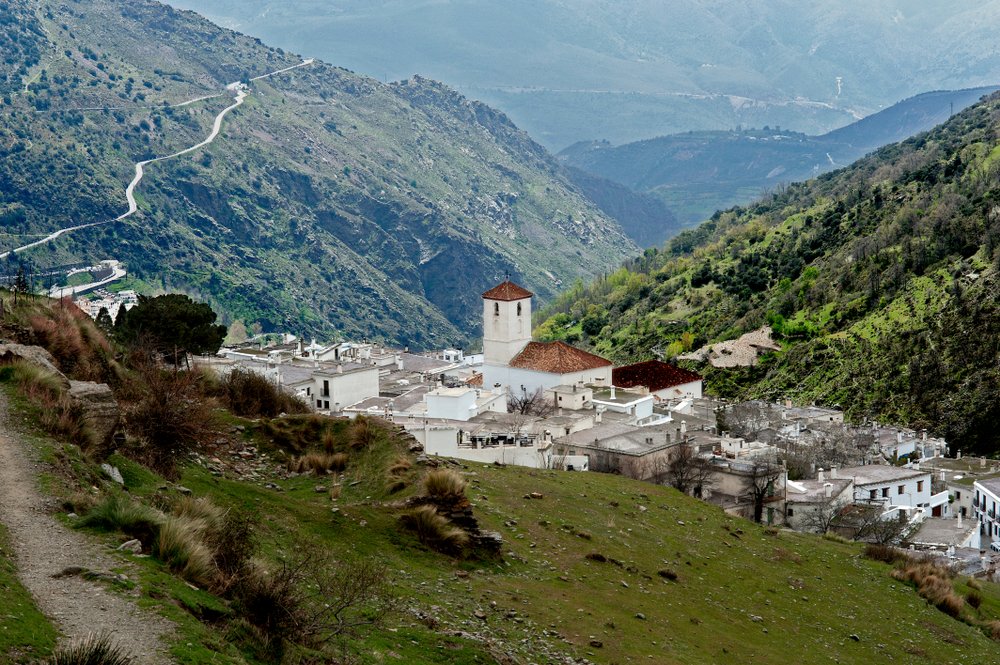 While you certainly could indulge in a lot more sightseeing around Granada, La Alpujarra is one of my favorite parts in all of Spain and I truly think it would be a shame to end your time in Granada without seeing them — especially since they're so close and such an easy day trip.
La Alpujarra is a collection of white-washed villages done in the Mozarabic architectural style such as Capileira and Bubion, which are absolutely stunning and look like something taken out of a fairytale.
I actually spent 3 days in Capileira and every day was like waking up in a dream: it's that magical of a village. But Capileira and the other white-washed villages of Alpujarra are so small and quaint that you can easily get acquainted with their magic on a day trip from Granada.
You'll also get to visit the highest village in Spain, Trevélez, which is known for its tasty Iberian ham, some of the best in the country.
Be sure to book the lunch option which allows you to try a tasty regional lunch in the Alpujarreño style — it's very unique to this part of Spain, and it's not something you'd get elsewhere.
Or go on a day trip to Córdoba.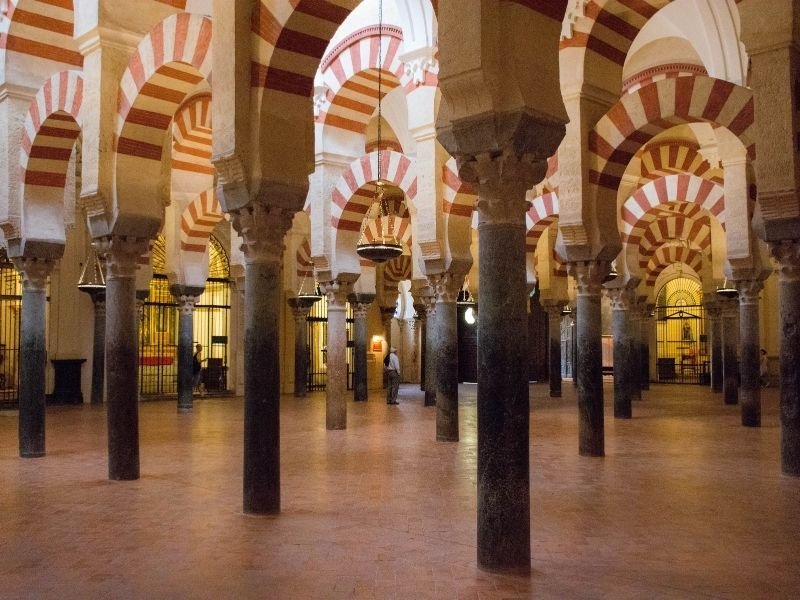 I didn't get a chance to visit Córdoba, but I wish I had added on a day trip there as well while I was using Granada as a base to explore Southern Spain.
Córdoba is a great choice if you want to continue diving into the Moorish history of Spain, as it's home to La Mezquita, one of the most beautiful examples of Islamic architecture in Europe… even though it is now technically a cathedral.
La Mezquita — also known as the Grand Mosque of Córdoba — was built in the 8th century in the traditional Islamic style, with gorgeous archways and mosaic work that is exemplary of the Moorish style.
During the 'Reconquista' period, it was converted into a Catholic church, the designation it holds to this day. In the 16th century, some changes were made to remove some of the Islamic elements and make it more of a cathedral, such as adding a nave and converting the minaret into a belltower.
Many of the traditional Islamic elements have been maintained, and while it's still functionally a cathedral, it's still a shining sample of Islamic architecture in Spain.
Allison Green is a former educator turned travel blogger. She holds a Masters in Teaching and a B.A. in English and Creative Writing. Her blog posts merge her educational background and her experience traveling to 60+ countries to encourage thoughtful travel experiences that both educate and entertain. She has been a speaker at the World Travel Writers Conference and her writing, photography, and podcasting work has appeared in National Geographic, CNN Arabic, CBC Canada, and Forbes, amongst others. Now based in the San Francisco Bay Area where she grew up, she has also lived in Prague, Sofia, and New York City.