Madrid is a fantastic city, full of life, food, and culture. Whereas most people in the world end up adoring Barcelona, I ended up head over heels for Madrid.
Even in the peak season in Madrid, the tourists feel dispersed (as long as you're not waiting in line for the Prado, but that's another story we'll get to later…) and prices are reasonable.
The backbone of any good Madrid itinerary is picking a central and fantastic neighborhood.
Since you only have 2 days in Madrid, you're going to want to stay somewhere central.
If you're trying to decide what neighborhood in Madrid to stay in, here's my personal choice: Puerta del Sol.
This neighborhood is the heart and soul of Madrid, and where we stayed was right in the thick of it.
We took full advantage of our prime location and dove into the Spanish style of life – eating, snacking, drinking, repeat.
Oh, and I guess a bit of sightseeing squeezed in between bites of luxurious ham and gulps of fantastic Rioja.
How This Madrid Itinerary Works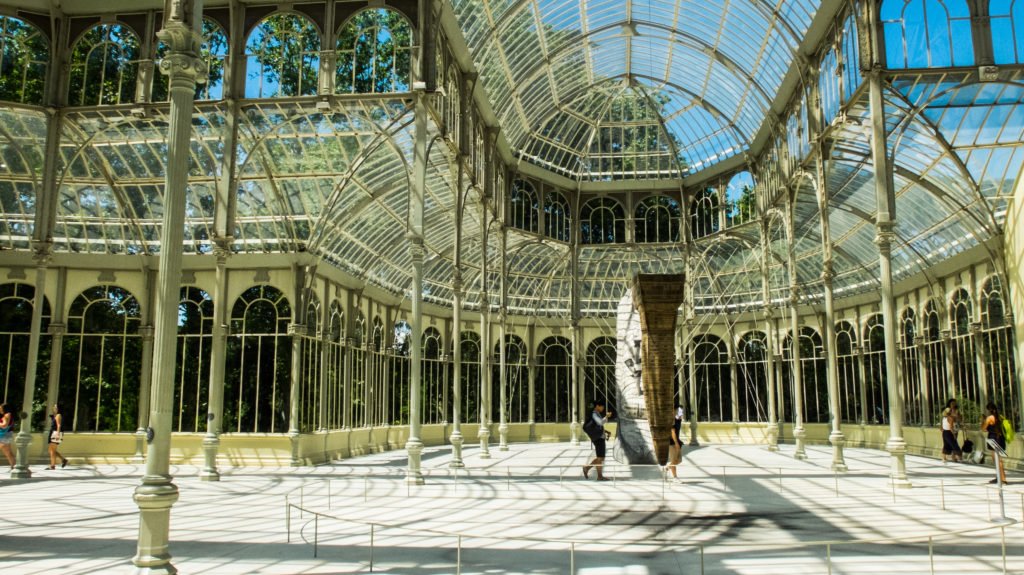 Note: This post contains affiliate links, which means I may receive a small commission if you purchase something through one of these links. Thank you for supporting the free content on this site! For more information on affiliate links and cookies, see my disclosure page for more details.
This Madrid itinerary is designed to be primarily a self-guided walking itinerary, where you can walk from attraction to attraction in a leisurely fashion, sightseeing along the way.
Where it makes sense, I've suggested a few guided tours or experiences that (in my opinion) augment your time in Madrid in a positive way.
However, the vast majority of this itinerary for Madrid is self-directed, since that's my personal favorite way to travel.
In that case, I've indicated how to pre-book an attraction ticket to save time (who wants to wait in line on vacation?) but I don't recommend a guided tour for every single experience.
Most of the magic is just exploring Madrid, with a destination loosely in mind, but open to the serendipity of exploring this magical city.
The experience of visiting Madrid is also largely the experience of eating there, so I've made sure to direct you to some of my favorite eateries in Madrid!
Where to Stay in Madrid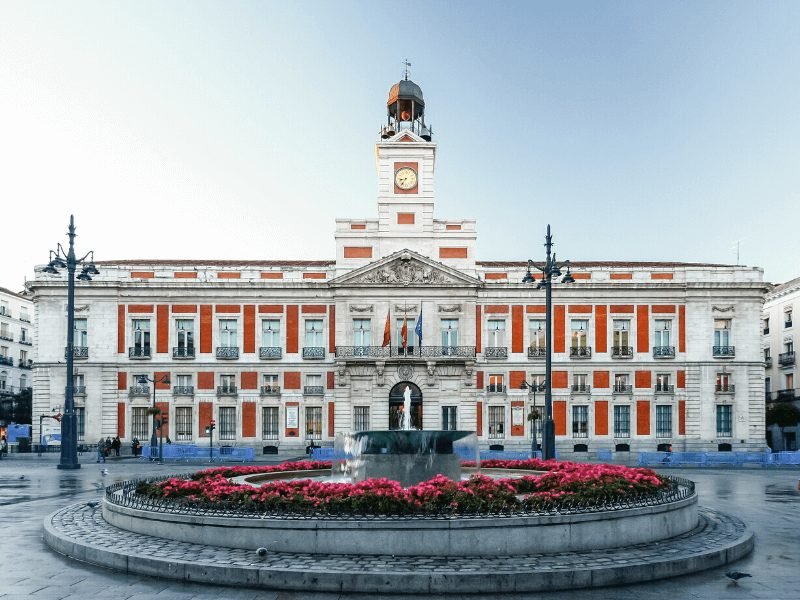 This Madrid itinerary is centered around Puerta del Sol as your home base. It's the most central location for every sight you'll want to see on this two-day itinerary!
I'll list a few recommendations for where to stay based on different budget categories.
If you're traveling with kids, here's a selection of family-friendly hotels in Madrid.
MID-RANGE | Pestana Plaza Mayor Hotel: I love Pestana properties (I had the luxury of staying at Pestana Palace in Lisbon once!). This one looks fantastic and offers a ton of amenities for a reasonable price for what you get!
Not only do you get a central location with views over Plaza Mayor, but there's also a rooftop infinity pool, a wellness center with both sauna and hammam-style areas, and so many cool and elegant common areas… not to mention the rooms are spacious, modern, and well-designed!
Check availability and prices at Pestana Plaza Mayor Hotel here!
LUXURY | Gran Hotel Inglés: Part of the Leading Hotels of the World circle of elite hotels, this is one of the best luxury options in Madrid. It's in a beautiful 19th century Art Deco building with 5* amenities, including fine dining, a spa center, extremely elegant common areas, and helpful concierge services.
The rooms are exquisitely designed in a minimalist but modern style, with luxe amenities like soaking tubs in all the rooms. Some suites even have their own private terraces with a hot tub on it!
BUDGET | Hotel Moderno Puerta del Sol: This surprisingly budget-friendly option is still in the heart of Madrid with rooms often available for under $100 per night. The design is not ultra-modern, but for the spaciousness of the rooms you get and the central location, it's not a bad deal at all.
Some rooms even have spacious terraces with deck chairs where you can watch Madrid pass by beneath your feet!
Getting Into Madrid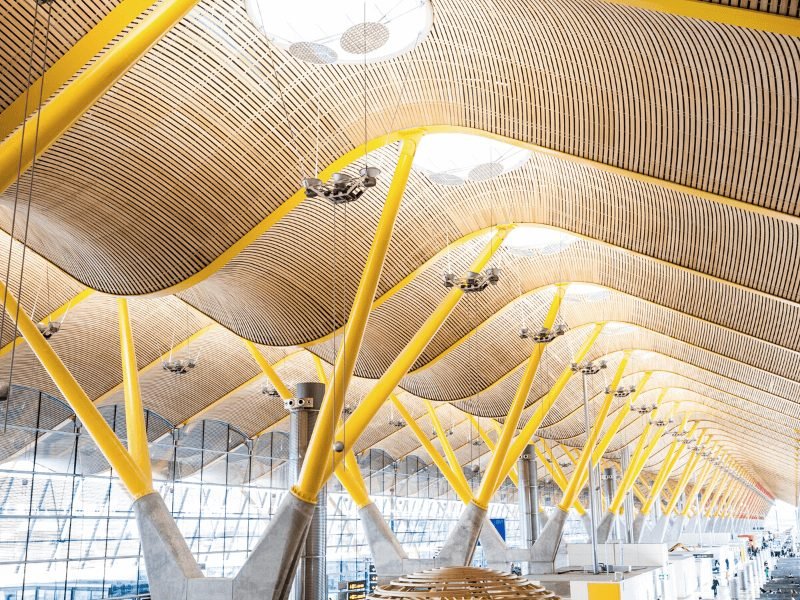 If you arrive to Madrid by plane, you'll most likely fly into Madrid Barajas Airport.
It's a large and frankly rather overwhelming airport, but you can get into the city center by a variety of ways: organized pick-up, taxi, bus, train, or metro.
Of these five options, I recommend either an organized pick-up or the bus. Taxis can overcharge travelers, the train is less convenient than it sounds, and the metro can be overwhelming.
Organized Pick Up
This is by far the easiest way and it's my #1 recommendation if you want a smooth entry to Madrid.
It's typically a few dollars more than a taxi or Uber, but you'll be greeted at the airport and will get driven in without having to worry about getting a taxi or figuring out the subway.
Taxi
Taking a taxi is definitely possible. In theory, there is a flat 30 euro fee for destinations in the city center; however, it's not unheard of for taxi scams to happen, so I hesitate to strongly recommend a taxi.
If you're not a confident international traveler, I'd pay a few euros more for an organized pickup — it'll save you some headache for a minimal additional fee.
Metro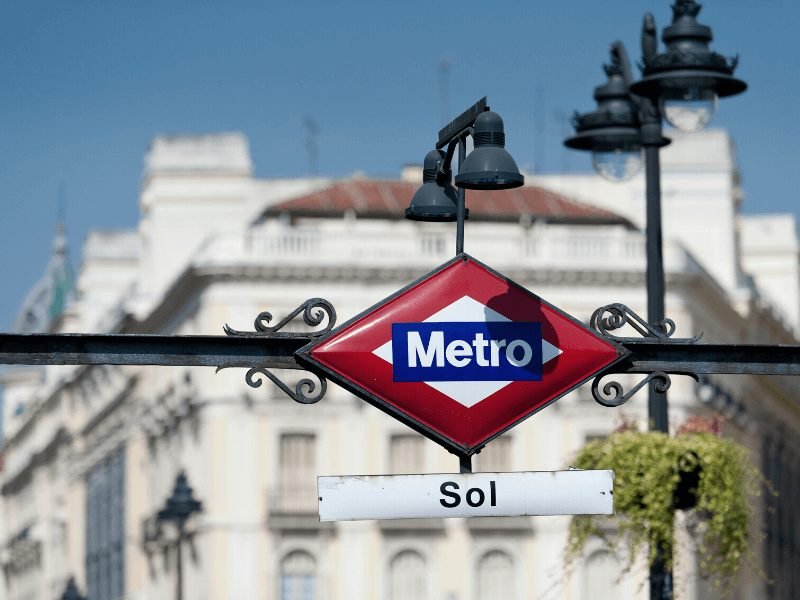 There are two metro stations at Madrid-Barajas Airport: one at Terminal 2 and one at Terminal 4.
If you are arriving at one of those terminals, the metro is fairly easy, but it will involve at least one transfer (and likely two).
Otherwise, if landing at Terminal 1 or 3, you have to take the airport shuttle, which is annoying and can take longer than you'd expect (Madrid Barajas is huge!).
Metro line 8 serves the airport, but it won't bring you all the way into central Madrid. It is, however, a cheap option, at only 3 euros for a train ticket.
If you're staying in Puerta del Sol (where I recommend), you'll want to transfer first at Mar de Cristal to line 4 towards Arguelles. Then you'll transfer again at Goya, heading towards Cuatro Caminos on line 2, but getting off at Sol.
There are other ways to get to Sol (i.e. line 8 to line 1 to line 2, line 8 to line 4 to line 1) but none that don't require at least two transfers.
Airport Bus
This is the easiest way to get to Madrid Airport on a budget, in my opinion.
The bus serves Terminals 1, 2, and 4. If you land at terminal 3, you'll need to take a shuttle bus first.
It's 5 euros, so it's a little more than the metro or the train, but it's a lot more straightforward. It also runs 24/7 so it's good if you have a flight at a strange hour.
The bus stops at Plaza de Cibeles and Atocha (daytime only) — neither are particularly close to Puerta del Sol so you will have to walk approximately 15 minutes to Plaza de Cibeles or 30 minutes from Atocha.
Train
From the airport, you can take the train to Atocha central railway station for under 3 euros.
Sounds great… in theory!
However, the train station is located at Terminal 4, and if you're at one of the other terminals, you'll need to take the airport shuttle there, which is time-consuming, so this is not as convenient as it sounds.
Plus, Atocha is not quite where I recommend staying for this Madrid itinerary, so it's a bit of a walk from the train station to Puerta del Sol (about 30 minutes)
Getting Around Madrid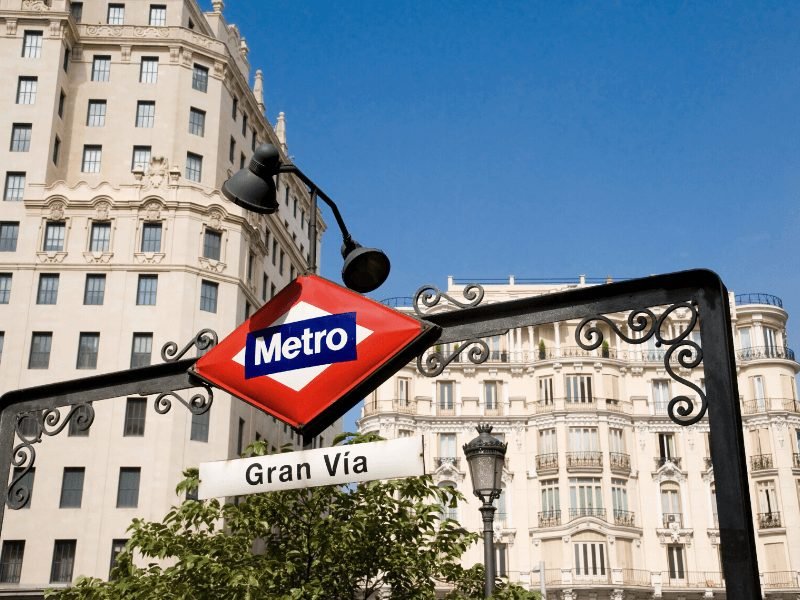 Once you're in the city, it's easy to get around by foot or by public transit.
Madrid has a fantastic metro system that will zip you around the city center pretty easily via public transport if you choose.
However, this Madrid itinerary is designed to be entirely walkable, with no need to use the metro stations unless you get tired.
However, if you plan to visit other parts of the city that are not outlined on this itinerary — such as visiting the Bernabéu Stadium, home to the Real Madrid team and a must-visit for football fans (aka not me — I'd rather do literally anything but that, but you do you!) — you'll want to take the subway or a taxi/Uber.
Another option is buying hop-on, hop-off bus tickets, which conveniently connect the main Madrid attractions on a single bus line.
However, I don't think it's necessary for this itinerary unless you are traveling with young ones who can't handle much walking or your group includes people with mobility limitations who may find the amount of walking on this Madrid itinerary to be a bit excessive.
2 Day Madrid Itinerary: Day 1
Start at Puerta del Sol.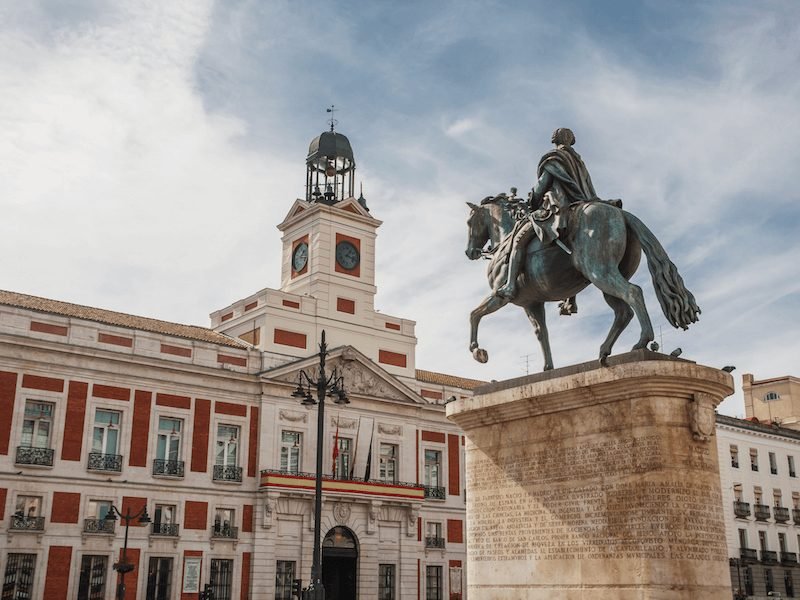 Puerta del Sol is the neighborhood I recommend you stay in if you have only a short amount of time like 2 days in Madrid.
But in case you're staying elsewhere in the city, make your way over to Puerta del Sol to start your Madrid itinerary here.
This is one of the busiest and best-known squares in Madrid, and quite literally the center of the city, as all the main roads radiate outwards from this central point.
There are a few important points in Puerta del Sol: the Real Casa de Correos, an old post office that is now home to the President of Madrid's Autonomous Community, the Kilometer 0 stone, the Bear and the Strawberry Tree (El Oso y El Madroño) statue, and the giant Tio Pepe advertisement that's now part of Puerta del Sol's skyline.
Have ham for breakfast at Museo del Jamón.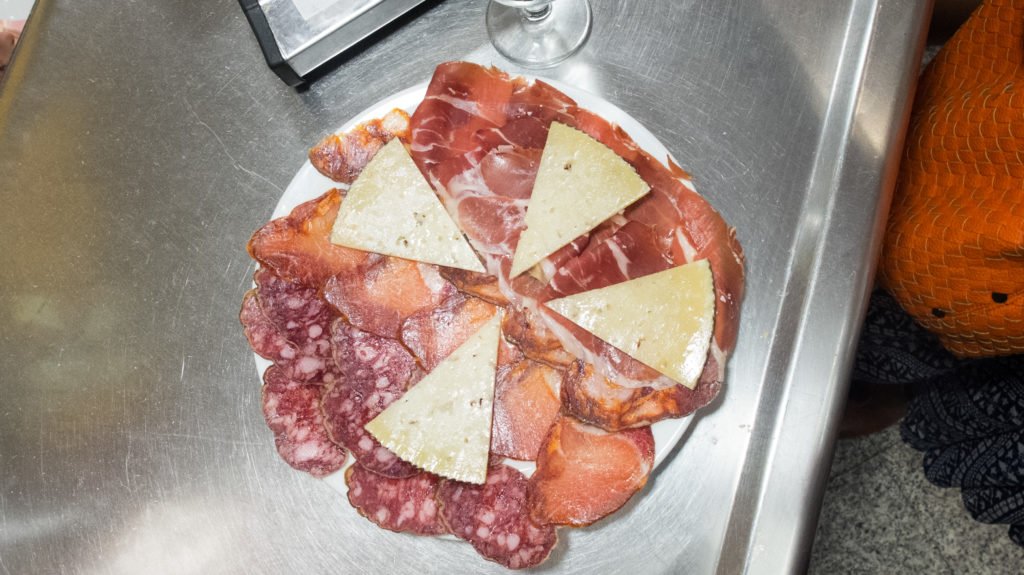 Do I seem a bit ridiculous suggesting you start your 2 days in Madrid by shoving your face with ham? I'm sorry, but I simply must.
(If ham for breakfast is too much of an ask, I recommend a breakfast pastry at La Mallorquina in Puerta del Sol)
Museo de Jamón (Calle Mayor, 7) is truly a pork lovers' dream, literally packed wall to wall with enormous cuts of ham in every shape and size. And it's cheap. As in, I wonder how they even turn a profit cheap.
We got a heaping plate of four different kinds of ham and manchego cheese for less than 8 euros.
A beer? 90 cents (and that's not even the small caña size, which will only set you back 50 cents) AND it comes with a snack.
While you could skip the caña of beer since it is technically breakfast, I say screw it – if you only have two days in Madrid, you may as well live them to the fullest.
I loved Museo del Jámon so much that I went twice: one day at night during the Madrid Pride festivities, when it was jam packed with drunken revelers taking a wise break to refuel before returning to the debauchery.
We loved it so much we went back again less than 12 hours later for breakfast, where we each had an espresso and a croissant, ham, and cheese sandwich for less than 3 euros apiece.
Not a fan of ham? There are plenty of other great breakfast and brunch spots in Madrid.
Location: Calle Mayor, 7
Check out Plaza Mayor.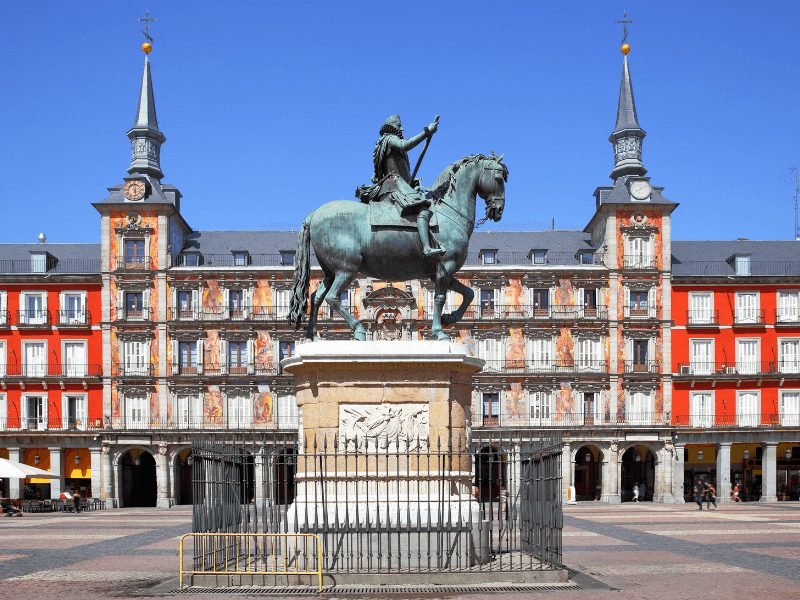 Close to the Mercado de San Miguel is Plaza Mayor, the largest public plaza in Madrid and what used to be the center of Old Madrid.
It's a vibrant place for people watching in the Spanish capital, and there are also lots of little cafés where you can grab a seat and an espresso and watch Spanish daily life pass you by.
Visit the beautiful Almudena Cathedral.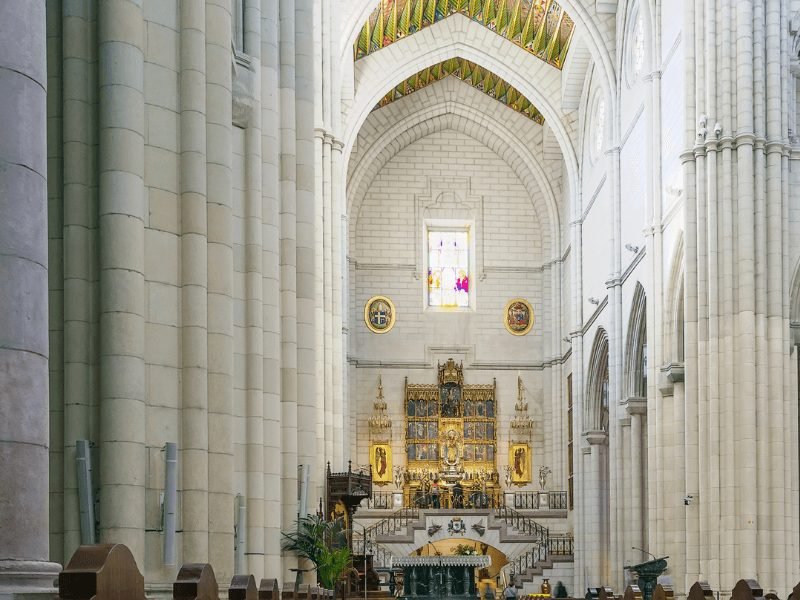 Just a short walk from the Royal Palace (Palacio Real), you can't miss the gorgeous Almudena Cathedral in the Madrid skyline.
Although this cathedral is considered young and relatively new, its beautiful look today belies a history of more than a century of problematic construction.
You see, Francisco de Cubas originally wanted to construct a pantheon to honor the late Queen Maria in the second half of the 19 th century, influenced by 18th century French Gothic design.
Even though the first stone was laid in 1879, following religious developments, the plans changed for the structure that was planned to be a pantheon to be a cathedral instead.
Its crypts opened in 1911, but they were shut down because of the civil war that came on as a result of the Franco fascist regime.
Decades after, it ran at a smaller capacity, until it was redesigned and then fully finished in 1993.
While it may be a newer building in a city filled with older architecture, I still think it's worth visiting for its interesting history and gorgeous look that blends into the more jam-packed Madrid cityscape in a beautiful fashion.
Location: Calle de Bailén, 10
Head to the Royal Palace (Palacio Real) for some culture.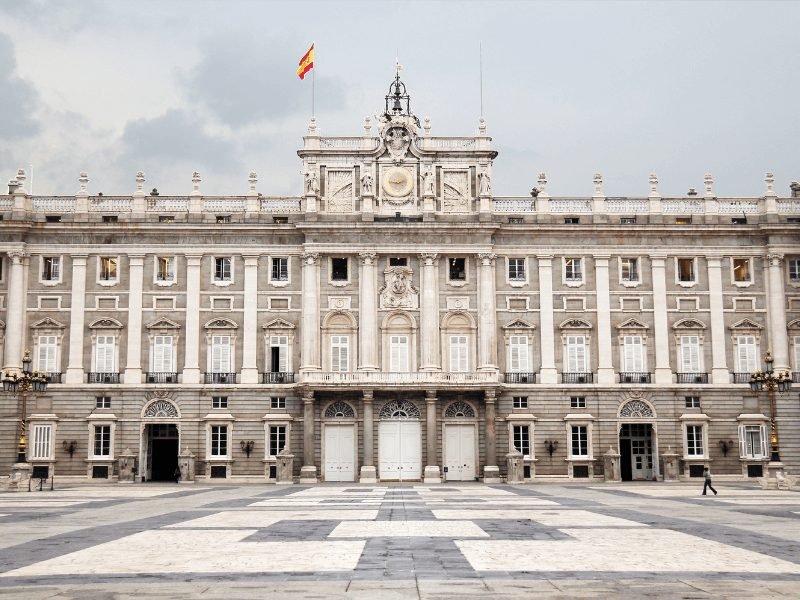 Now, pretend you didn't just shove your face full of ham and beer at my behest and get some culture at the lovely Royal Palace of Madrid, one of the most important places in all of Madrid (and Spain in general).
Madrid has stood long before it became the capital of Spain — its original name was Magerit. The spot where the city's fortress once stood is now where the Royal Palace stands today.
Because the old fort burned down, King Philip V ordered a new palace to be built for the royal family — and that's what you see today.
The Royal Palace of Madrid was inspired by the Louvre and as a result of that inspiration, it also has sprawling grounds, gardens, and fountains.
The palace has over 3,000 rooms, which include the Main Staircase, Throne Room, the Guards Room, and many more. It's one of the most visited historic buildings in Spain, and for a very good reason!
The Royal Palace of Madrid is one of most popular places to visit in the city, so I strongly recommend booking a guided walking tour of the Royal Palace. It's inexpensive and adds a ton of historical context that you'll lack otherwise.
Tours depart at 10 AM daily, so try to aim to arrive there around then.
If you prefer self-guided, I still recommend booking a fast-access ticket online ahead of time to save time without needing to commit to a guided tour.
Lines are long and unruly in much of Madrid, especially in high season, so booking tickets in advance will save you time — key when you have a limited amount of time such as only two days in Madrid.
Location: Calle de Bailén
Visit a real Egyptian temple in the middle of Madrid.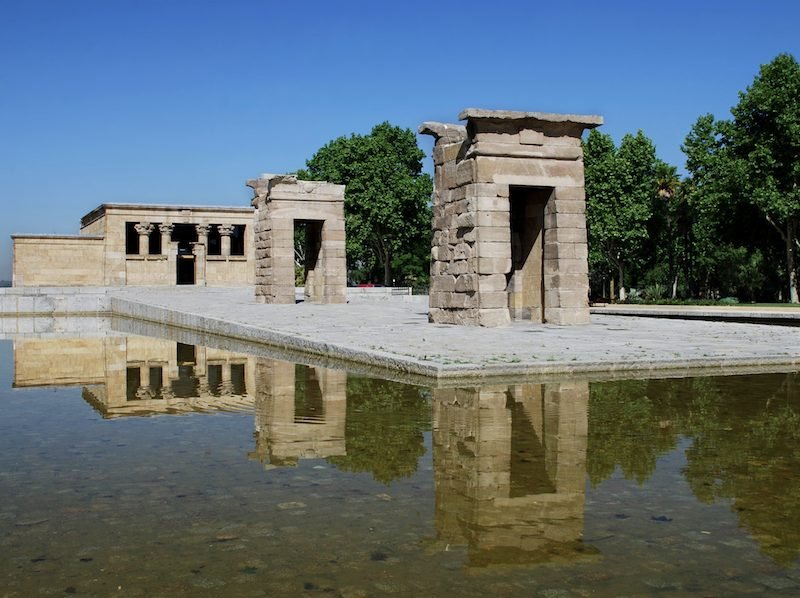 The Temple of Debod is a true piece of Egyptian history in the heart of Madrid.
However, unlike most Egyptian artifacts you can find in the West (cough the British Museum cough), this temple was actually a gift from Egypt to the city of Madrid!
It was originally constructed in the 2nd century BC, by the orders of the Meroe King of Egypt. The temple was dedicated to the god Amun and goddess Isis, with gorgeous high reliefs carved into the stone.
Egypt gifted this temple to Madrid in the 20th century to protect the city of floods. It was disassembled from its original location and then rebuilt stone by stone when everything was transported.
The temple opened to the public in 1972 and it's been one of Cuartel de la Montaña's biggest attractions ever since!
It's one of the best free things to do in Madrid, too, as there's no entry fee to this public park!
Walk back through the Plaza de España.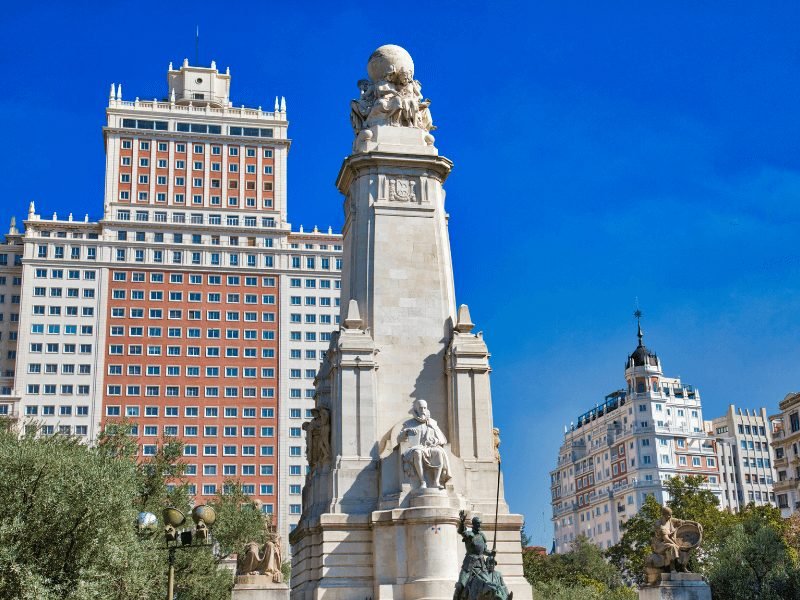 With its massive monument to the legendary author Miguel de Cervantes, the author of Don Quixote, it's hard to miss Plaza de España on your walk back towards Puerta del Sol, where your lunch stop is.
Near the Plaza, there are a few quick points of interest to note.
First is one of the tallest buildings in the city, Torre de Madrid at 466 feet tall (142 meters) and Edificio España at 384 feet tall (117 meters).
Combined with the Statue of Miguel de Cervantes, it's one of the most iconic photos of Madrid!
Another interesting building to note is the gorgeous House of Gallardo, dating back to 1911 and emblematic of the strong Art Nouveau movement that took place in Madrid around the turn of the century.
Take a quick stroll through the Malasaña barrio.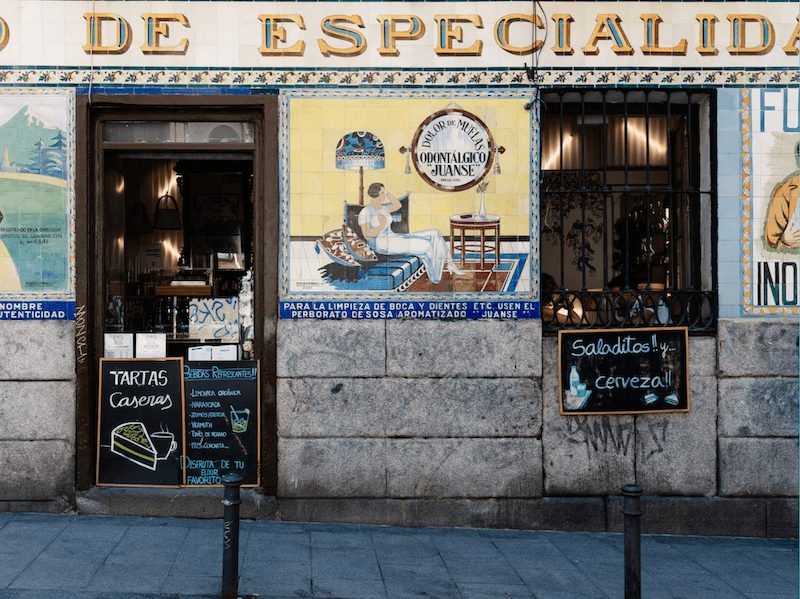 The neighborhood (barrio) of Malasaña is located just due east of Plaza de España and it's absolutely worth a short walk on your first day in Madrid. It's a trendy, hip neighborhood full of great restaurants, secondhand shops, and historic buildings.
It's also a big nightlife hub, so this is a great place to return later in the night if you feel like continuing your exploration after dark!
My favorite buildings in Malasaña are the Liria Palace (an art museum that is simply stunning on the outside, since it's inside an 18th century palace!), the Centro de Cultura Contemporánea Conde Duque, and Monasterio de Montserrat.
You can make a little loop of those buildings to get an idea of the lovely Malasaña neighborhood, popping into any boutiques or little stores that intrigue you along the way.
If you need a coffee pick-me-up before continuing on this Madrid itinerary, grab a cortado or other espresso drink of your choice at Café Federal or Misión Café, two of the trendiest coffee shops in Malasaña.
Have a lunch of vermouth and a few bites to eat at Mercado de San Miguel.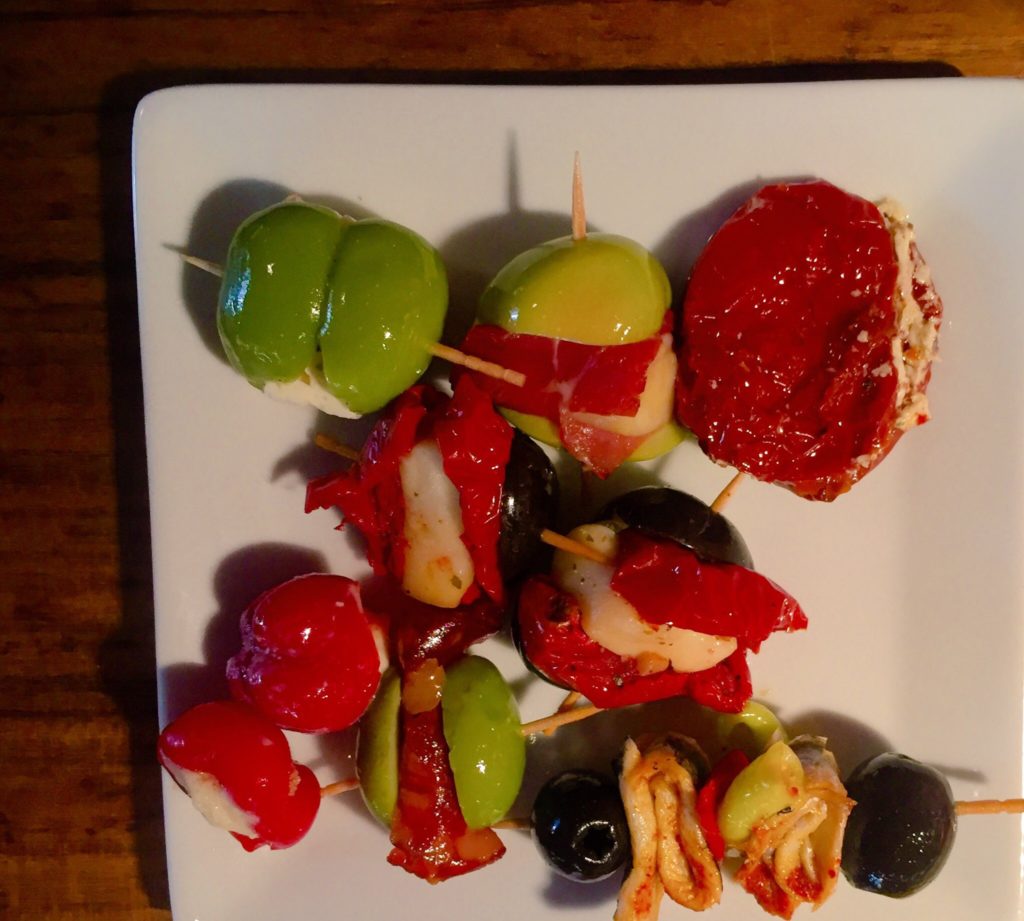 Continue walking until you reach the covered marketplace of Mercado de San Miguel, which is a bit of a touristy food market, but I think it's still a great introduction to tapas, done Madrid-style.
My favorite things to eat there were the sweet and savory toasts piled high with mozzarella or burrata, the olive and pickled vegetable skewers called bandarillas, and some delicious vermouth with orange and ice (for a single euro fifty!)
Don't eat too much here, though – this Madrid itinerary has you scheduled for a dinner walking tour exploring the tapas scene of this city at 7 PM, so you'll want to save your appetite for later.
Location: Plaza de San Miguel
Stroll through La Latina.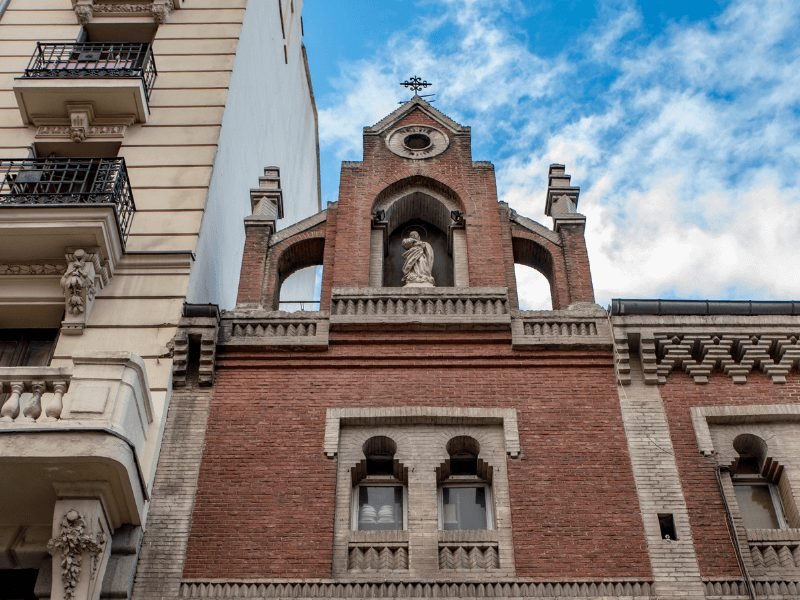 One of my favorite neighborhoods in Madrid is La Latina.
The Basílica de San Francisco El Grande is one can't-miss place in La Latina, and it provides an interesting contrast to the newness of the Almudena Cathedral near the Royal Palace.
Dating back to 1760, the church is one of five Royal Basilicas of Madrid and has three chapels, including a beautiful painting by the famous Spanish artist Francisco De Goya, one of my favorite artists of all time.
Another interesting part of La Latina is the Mercado de la Cebada, which has become a major street art hub in Madrid.
Both inside and on its outer walls, you'll find countless murals featuring street art by a variety of different artists both Spanish and foreign.
Another street you shouldn't miss is Calle de la Cava Baja, full of cute tapas bars and restaurants perfect for a midday snack.
If you happen to be in La Latina on a Sunday, you shouldn't miss El Rastro flea market, the largest open air market in all of Madrid.
While a bit touristy, it's great fun to browse and see if you can find something worth the treasure hunt!
Take a tapas walking tour.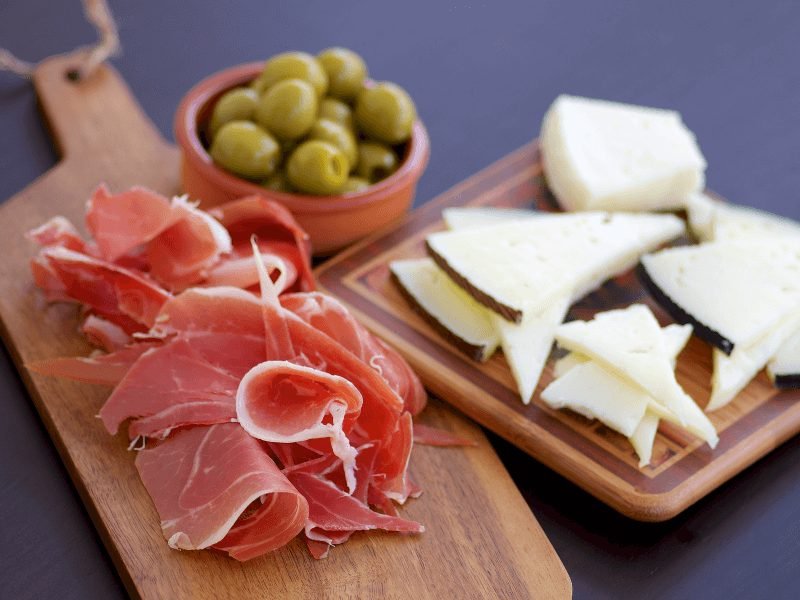 One of the best things to do in Madrid is mixing up delicious food and awesome history!
Going for a tapas walking tour means the best of both worlds: you'll discover old monuments and historic buildings from your guide's local knowledge while stopping at 4 to 5 different tapas restaurants to try all the best food in Madrid along the way.
Things you'll taste on your tapas walking tour include Iberian ham (the world famous jamón iberico), seafood paella, local Spanish cheeses, and several other surprises as well as a selection of red or white Spanish wine, beer, or soft drinks.
2 Day Madrid Itinerary: Day 2
Eat churros con chocolate for breakfast.
Yesterday it was ham for breakfast, now it's churros!
We're really just saying f*** you to healthy breakfasts on this weekend in Madrid, and you know what? I think that's perfectly fine.
There are many places churning delicious churros con chocolate all over Madrid, but the oldest and most famous is Chocolatería San Ginés.
The churros here are perfectly fried – crunchy on the outside, soft inside, without any taste of grease.
They're one of the best Spanish desserts, but they're commonly eaten as a snack or even as breakfast!
Unlike their Mexican counterparts, these are not rolled in sugar and cinnamon; instead, you drown each bite in the cup of warm chocolate sauce.
Pair with an espresso and you've got one hell of a sugar and caffeine rush – ready to take on the second day of your Madrid itinerary.
Take in some art at Madrid's most famous museum, Museo del Prado.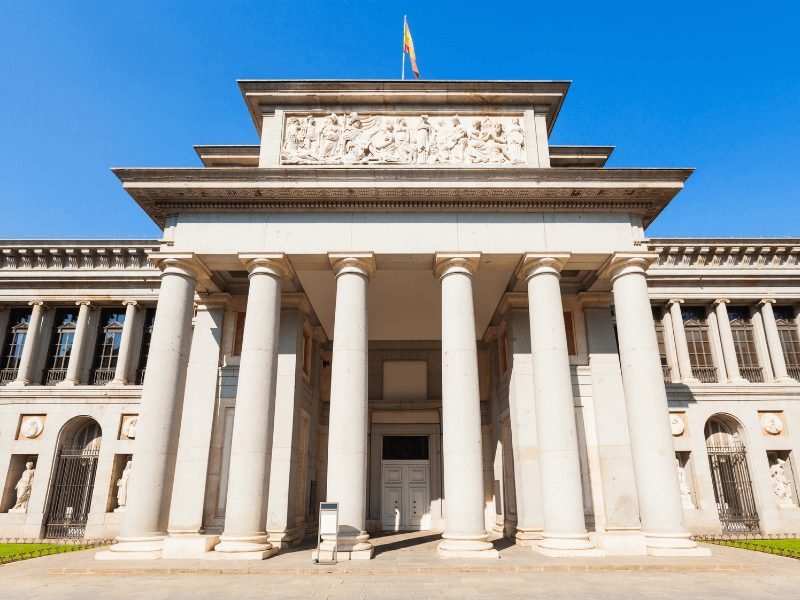 Take a leisurely 20-minute walk through downtown Madrid until you reach the Prado Museum, one of the top attractions in Spain.
If you visit Madrid without visiting the Museo del Prado, it's like going to London and not seeing Tower Bridge or Paris and not seeing the Eiffel Tower. Simply foolish, in my opinion!
However – the line at the Prado is one of the most insane lines that I've seen. As in, I've traveled all around the world and never seen lengthier lines than at the Prado!
I recommend booking a skip the line ticket and putting it at the beginning of your itinerary on day two in order to minimize the crowds that pack the museum after lunch.
Simply book it online and present on your mobile (no need to print). It's just a few extra dollars for the online booking fee, but it'll save you an hour or so of waiting in line.
Considered one of the most prestigious museums in Spain, the Prado Museum boasts one of the largest art collections in the country, including works by Spanish artists like Velázquez and Goya as well as international artists like Rembrandt and Dürer.
It's one of the most visited tourist attractions mainly because its walls are lined with artistic masterpieces the likes of which are hard to find a worthwhile comparison to. It's on par with the Louvre or the Met in terms of vastness and quality of art.
The Prado has over 8,000 paintings and over 700 sculptures in its possession, which come from different schools of art ranging from the 12th to the 20th century.
Here you'll find masterpieces like Velázquez' Las Meninas and Goya's Third of May. The Prado holds the largest collection of Spanish art in the world, and one of the best collections of European art in general. It's a can't-miss for any art fan!
Major art fans will likely also want to make a stop at the Reina Sofia Museum, featuring modern art from Spanish artists such as Joan Miró, Salvador Dalí, and Pablo Picasso (one of his most famous works, Guernica — a powerful anti-war statement — is housed here).
Another museum in the area that makes up the so-called 'golden triangle of art' of Madrid art museums is the Thyssen-Bornemisza Museum.
Again, unless you're a huge art fanatic and want to spend a full day of your Madrid itinerary in museums, I'd suggest skipping it and saving it for your next Madrid visit!
If you do plan to visit two or three of these art museums, though, I recommend bundling them with the Madrid Art Walk Pass to save money!
Location: Paseo del Prado
Stroll through the majestic El Retiro Park.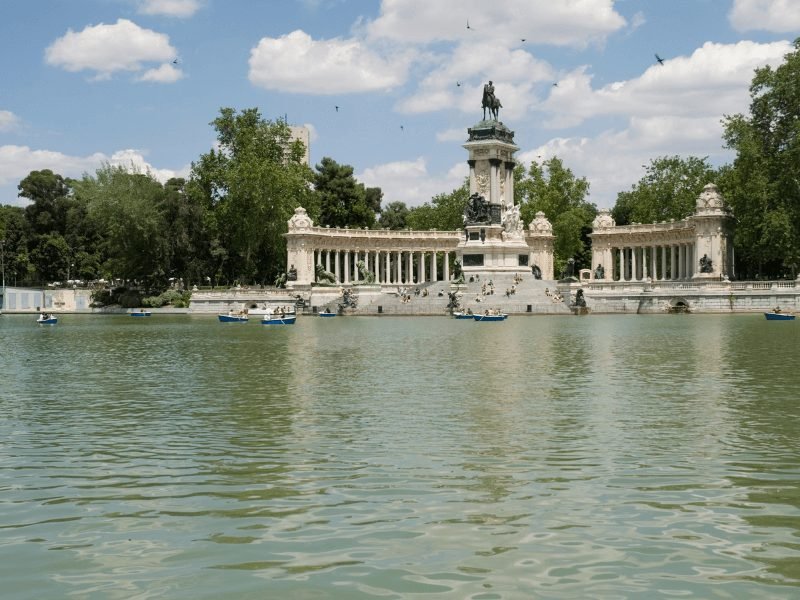 Madrid's take on Central Park, walking through the scenic El Retiro Park with its manmade lake and Crystal Palace is an unmissable part of any Madrid itinerary.
Located in the heart of Madrid, Retiro Park is the city's green lungs. It spans over 120 acres and includes dozens of thousands of trees. It's one of the most popular recreational areas in the city!
Here you'll find several different gardens, each comprised of beautiful types of flowers. The park even has a centuries-old Mexican conifer, which is supposedly Madrid's oldest tree.
The biggest highlight of the park is the El Retiro Lake. You can rent a boat to take out onto the lake (the perfect place for selfies!) for 6 euros on weekdays and 8 euros on weekends.
Make sure to visit the exhibitions at the Velasquez Palace and the Crystal Palace (Palacio de Cristal), made almost entirely of glass and a can't-miss Instagram spot in Retiro Park.
Location: Plaza de la Independencia, 7
Admire the Puerta de Alcalá.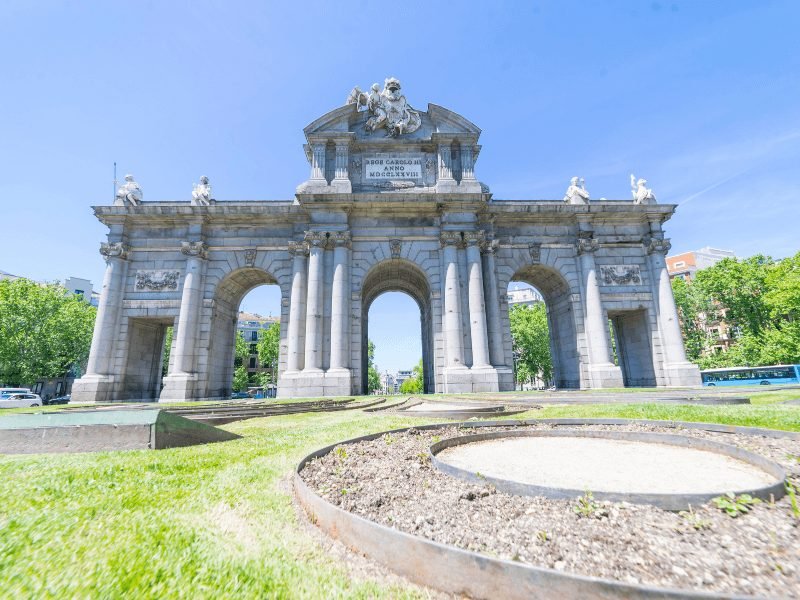 At the northwest edge of El Retiro Park is the Puerta de Alcalá in the Plaza de la Independencia.
This beautiful neoclassical gate used to be part of the former walls built by Philip IV that encircled the city center of Madrid between 1625 and 1868.
The city walls no longer exist except in two small fragments, but the Puerta de Alcalá is a beautiful remnant from that time.
Built in 1778 from granite and limestone, this 5-arch gate has stood the test of time and is still a beloved landmark of Madrid.
Stop at the Plaza de Cibeles.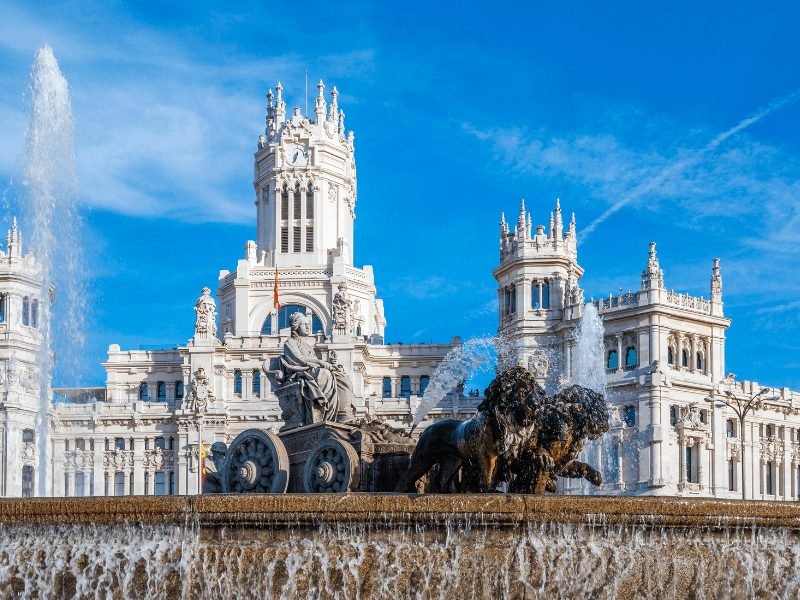 The stunning Plaza de Cibeles is home to two of Madrid's most recognizable landmarks, the Fuente de Cibeles (Cybele Fountain) and Palacio de Cibeles (Cybele Palace).
The fountain itself is beautiful, of course, but it's combination of the fountain with the backdrop of the Palacio de Cibeles (now home to the Madrid City Council) that is perhaps even more stunning!
It's located on a busy thoroughfare, so it's hard to get a great photograph of it, but it's absolutely worth a visit on your walking tour of Madrid.
Walk the Gran Via of Madrid and stop for lunch.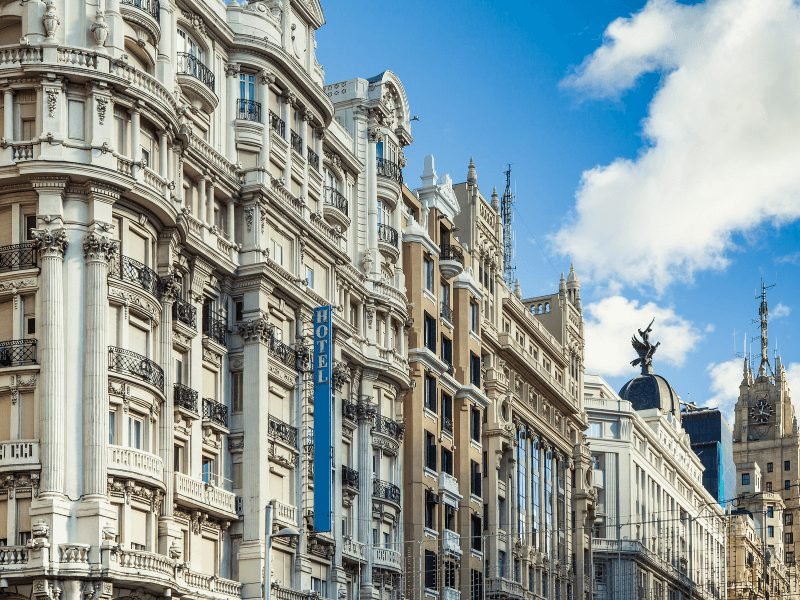 Madrid's answer to Paris' Champs-Elysees and NYC's Broadway all rolled into one street, the Gran Via is the hub of shopping and entertainment in the city!
Strolling down this grand avenue is one of the best ways to take the pulse of the city of Madrid, and it's electric any time of day or night!
Don't miss the massive Telefónica Building, built in 1928 and an early example of the skyscraper craze that would later change the definition of city skylines worldwide.
There are also several cinemas, bars, and restaurants on this street, so I recommend stopping for lunch somewhere along the way.
I recommend De María Gran Vía or La Sirena Verde, located at 72 and 62 Calle Gran Via respectively.
Check out the Monasterio de las Descalzas Reales.
Literally translated to the Monastery of Barefoot Royals, this monastery a few short blocks away from Gran Via is definitely worth a small detour on this two-day itinerary.
Dating back to the 1500s, this monastery has an interesting and fascinating history.
While many monasteries and convents are a bit austere, where the monks or nuns live in rather spartan conditions, this monastery is incredibly ornate.
The reason for this is that the convent was primarily for young widowed women or noblewomen who never married — and therefore, for their dowries as well.
The convent quickly became one of the richest convents in Europe, and you can see the splendor in the paintings and wall hangings that decorate the monastery to this day.
By the 20th century, the population of who lived in the convent changed dramatically, and rather than housing impossible-to-marry-off noblewomen, it ended up hosting primarily impoverished women. In the 1960s it became the museum that it is today.
The monastery is open daily from 10 AM to 2 PM and then again from 4 PM to 6:30 PM (except on Sundays, when it's open from 10 AM to 3 PM), so be careful if you are visiting around lunch time.
Grab an espresso and people watch.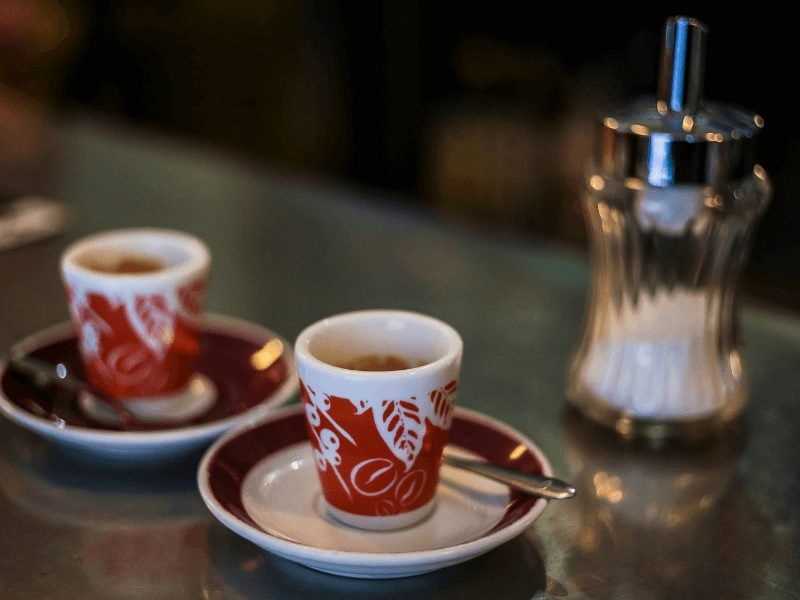 One of the things you shouldn't miss when in Madrid is the opportunity to simply people watch.
There are countless cafés in the area around the monastery and Gran Via. The monastery is quite close to the Torres Barmejas where the flamenco show I recommend is, so I recommend not straying too far from this area.
Catch the nightly flamenco show at the Torres Barmejas.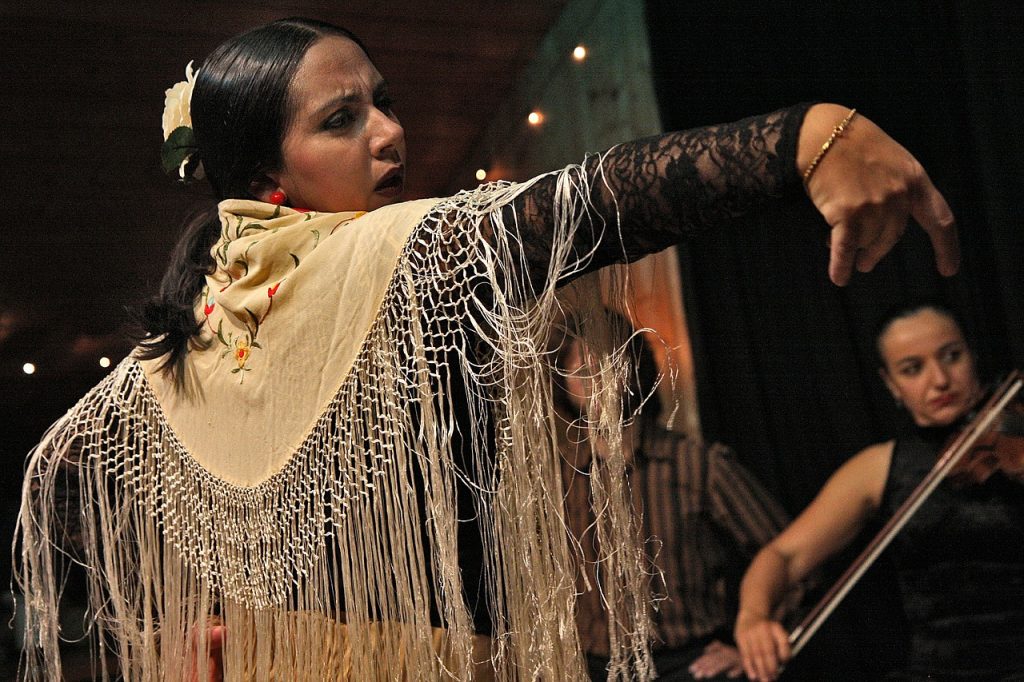 Flamenco is one of the most popular pieces of folklore and a truly unmissable Spanish experience.
It's an energetic and passionate art form that combines dance, gestures, and music, and it has its deep roots in Andalusian history and culture.
There are countless venues where you can watch a flamenco show, but one of the most highly-rated in the city is the nightly 7 PM show at Torres Barmejas near the Gran Via of Madrid.
The decors and motifs are a wonder to look at, inspired by the gorgeous Andalusian city of Granada and its majestic Alhambra Palace.
The Spanish Moorish motifs and décor really add to the captivating atmosphere of the performance!
The choreography and energy of the flamenco dance, including interesting finger and hand gestures, is one of the most unique aspects of the Spanish culture.
You can order dinner here, but in my opinion, it's overpriced and not high quality enough to justify the expense – especially considering the plethora of amazing restaurants and tapas bars surrounding the venue.
So, just order drinks or just take in the show and save your appetite for later. The show at Torres Barmejas is quite popular and often sells out, so I highly recommend booking your tickets in advance to be sure to see one of the best flamenco shows in Madrid!
Have dinner at one of Madrid's many cervecerias or tapas bars.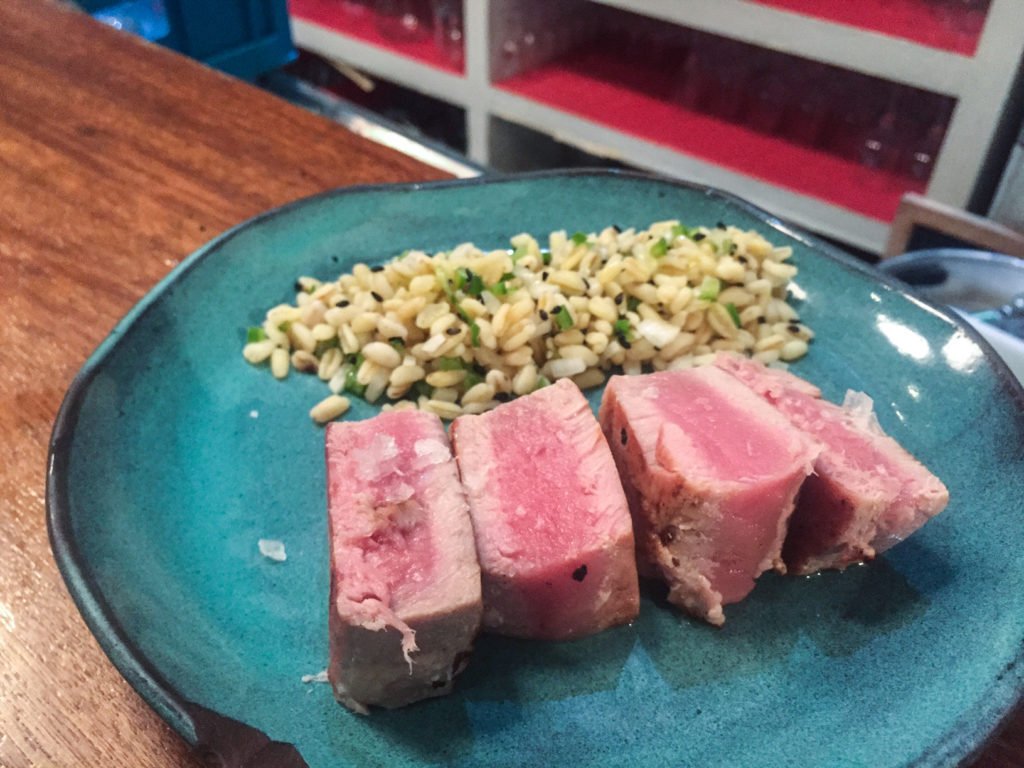 A good 75% of the reason why I decided I needed a month in Spain was to eat my way through all of the delicious tapas the country has to offer (the other 25% is wine and cider, obviously).
I got a good head start on my goal in Puerta del Sol, where we ate at a few delicious restaurants. Lambuzo had some of the most delicious tapas in Madrid and some great wine. As a huge Spanish wine fan, I went for the Ribera del Duero – so tasty!
We loved the berenjas (fried eggplant with a dark, rich honey sauce), atún rojo (perfectly rare ahi tuna), and the croquetas de gambas(fried potato and shrimp croquettes).
Location: Calle de las Conchas, 9
My other favorite spot for dinner is La Carboneria. While it is in a touristic area, the food quality is so excellent that I literally ate there twice during my time in Madrid.
What can I say – I was just that obsessed with their albóndigas a la casera (meatballs home-style – though I need to figure out who's home it's styled after and how I can move myselfin there ASAP).
They also have the most perfectly cooked tortilla española I've had the pleasure of putting in my mouth.
It was simplicity at its finest, a perfectly melting synthesis of potato and egg. It was gooey in the best way – not dry and set like less fresh tortilla españolas can be.
Don't forget to order their delicious sangria!
Location: La Carboneria, Calle Coloreros 5
If You Have More Than 2 Days in Madrid…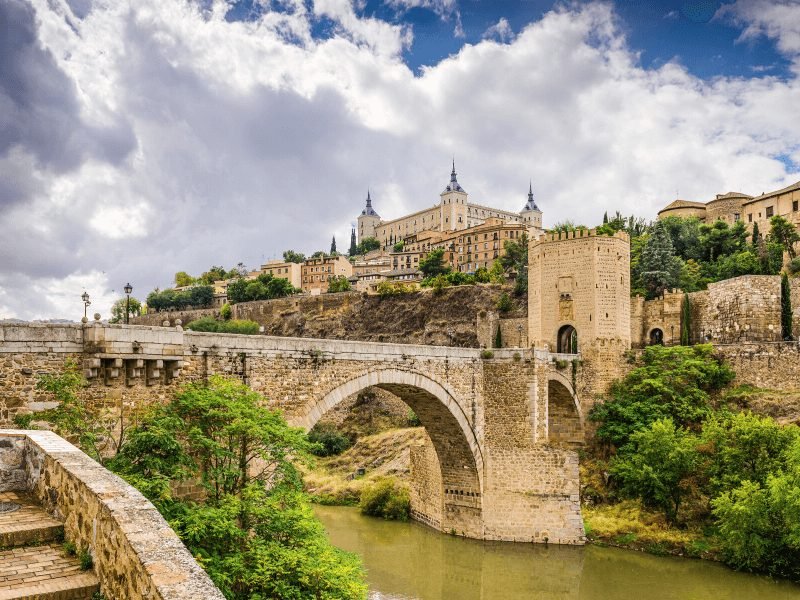 If you have more time to kill, I suggest taking a day trip from Madrid to either Toledo (my preference!) or Segovia…. or both!
This guided day tour is affordable and includes time in Toledo, Segovia, and the Alcazar (historic castle fortress) of Segovia — two UNESCO World Heritage sites in a day!
This tour includes ample time touring both Toledo and Segovia, including free time in Segovia, with small group tours of fewer than 20 people per group.
Guides, entry tickets and transportation to and from the Madrid pick-up/drop-off spot are included in the price, but any food or drink is at your own cost.
Allison Green is a former educator turned travel blogger. She holds a Masters in Teaching and a B.A. in English and Creative Writing. Her blog posts merge her educational background and her experience traveling to 60+ countries to encourage thoughtful travel experiences that both educate and entertain. She has been a speaker at the World Travel Writers Conference and her writing, photography, and podcasting work has appeared in National Geographic, CNN Arabic, CBC Canada, and Forbes, amongst others. Now based in the San Francisco Bay Area where she grew up, she has also lived in Prague, Sofia, and New York City.