If you've only got one day in New York City, you've really got to give it your all and follow a smart itinerary.
Luckily, I lived in New York City for nearly a decade, and I've shown countless visitors around the city in a short timeframe.
While you'll only be able to see a fraction of NYC in one day, I'm here to guide you to make it the best possible use of your time — with minimal backtracking and time waiting in lines and maximal sightseeing.
If you're ready to take a bite of out the Big Apple and see as much as you can — read on!
How This One Day in NYC Itinerary Works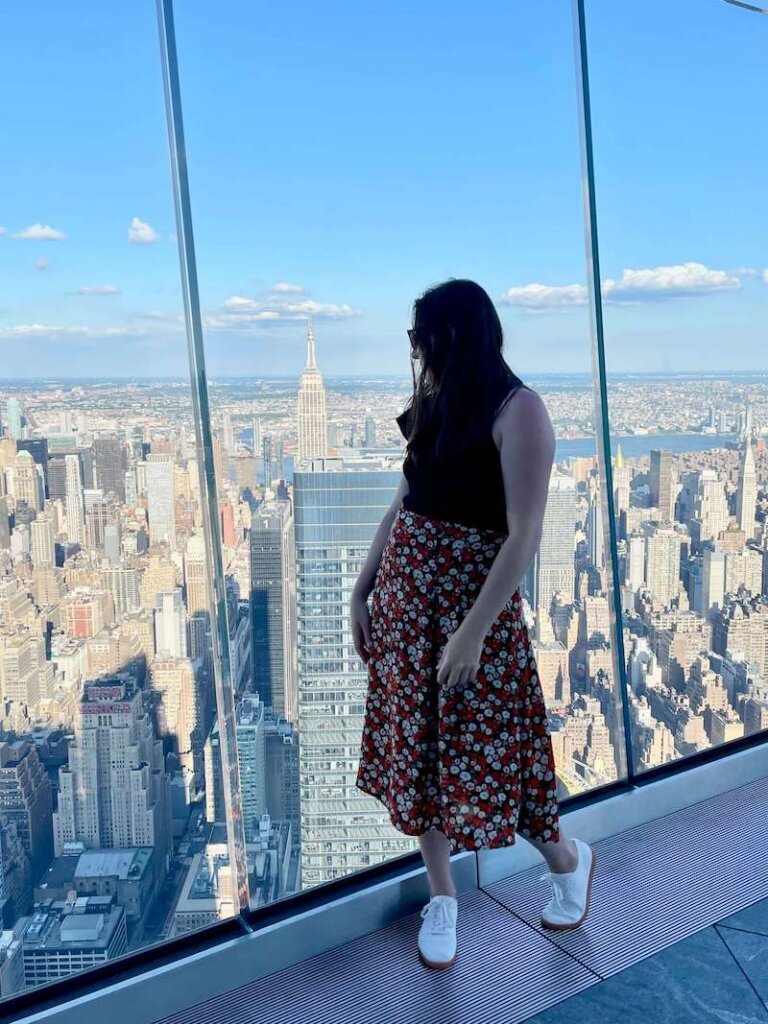 Note: This post contains affiliate links, which means I may receive a small commission if you purchase something through one of these links. Thank you for supporting the free content on this site! For more information on affiliate links and cookies, see my disclosure page for more details.
I created this guide to spending one day in New York to be rather ambitious and aimed at first-time visitors to the city, ticking off all the bucket list sights in limited time.
It assumes you have a full day in New York for sightseeing — and a long summer day to take advantage of, at that.
If you are visiting when the days are shorter, on a day trip from somewhere else, or you don't have a full day to dedicate to visiting New York City, you may want to adjust this one-day itinerary to be more realistic.
I've had to make quite a few sacrifices to fit the best of New York in 24 hours (less, actually).
Several important sites did not make the cut — in particular, I opted to cut a lot of museums from the list, because those tend to take quite a while to tour properly.
For example, if you're a huge art fan, you may want to adjust this itinerary a bit to ensure you have time to visit either the Metropolitan Museum of Art or the MOMA.
If you're traveling with kids, you may want to spend time in more kid-friendly spots, like the American Museum of Natural History.
This itinerary skips quite a few famous neighborhoods: Chinatown and Little Italy, SoHo, the Upper West Side, the Upper East Side, and Harlem, among others.
Instead, this itinerary focuses on tackling a bit of Brooklyn, Downtown Manhattan and New York Harbor, Chelsea and the Highline, Midtown Manhattan, Broadway, and Times Square.
Most of the itinerary is designed be to connected together through a series of short walks, but there are times where I'll indicate that it's easier to get on the subway or take an Uber between two points.
Getting Around New York City in a Day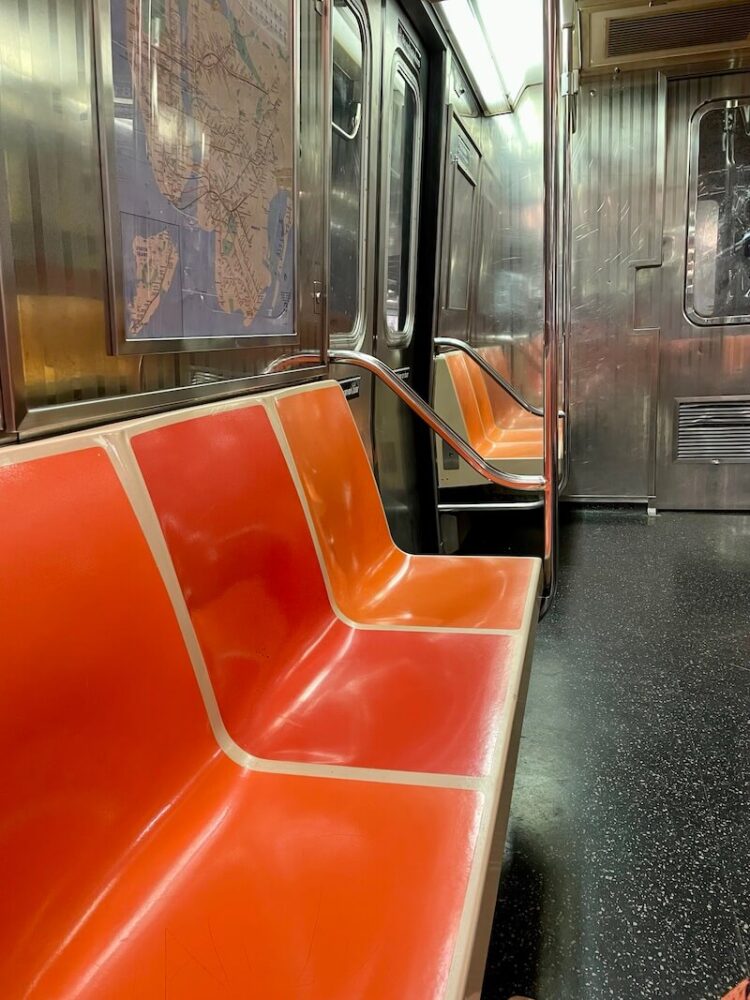 I've designed this one-day New York City itinerary to primarily be a self-guided walking tour through the city. That said, there are times when either taking the NYC subway or a rideshare or taxi will be more convenient.
If you only have one day in New York, there's no need to buy a physical Metrocard anymore. There is no one-day pass, only a seven-day pass.
Conveniently, if you have a smartphone that has payment like Apple Pay or similar enabled, you can just tap your phone in order to charge your Metro fare to the attached card!
This saves a lot of time, and also the dreaded art of mastering the Metrocard swipe (something even I as a 9-year New Yorker struggled with).
If you don't feel like tackling the subway if you only have a day, don't worry — Lyfts and Ubers are prolific around the city, plus the ubiquitous yellow cabs are indeed everywhere!
If you're traveling in a group of three or more, Lyfts and Ubers can often be the same price as everyone taking the subway… and when it isn't, the difference is usually small compared to the convenience saved!
Optional: Early Morning Brooklyn Bridge Walk
Start the day walking over the Brooklyn Bridge.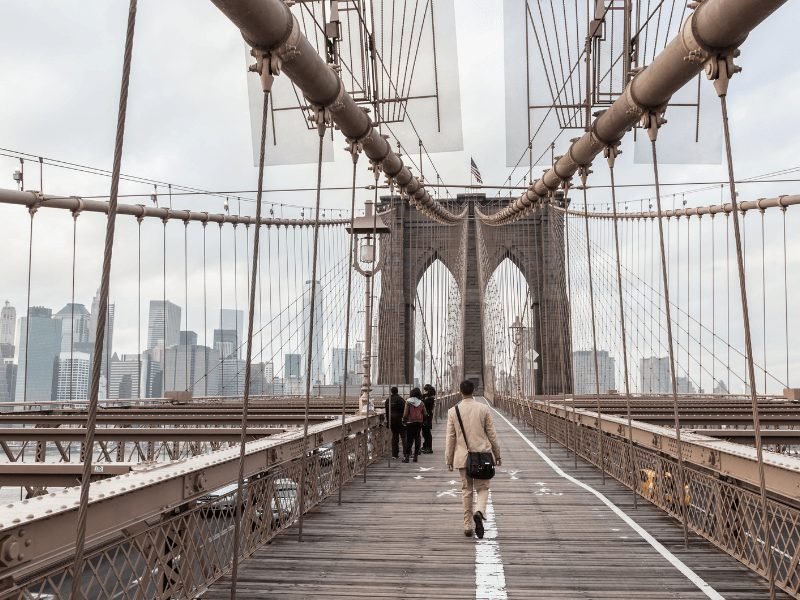 With little time to spare on this one day in New York itinerary, you may or may not have time to do the iconic Brooklyn Bridge Walk. This is why I've included it in a separate, optional section.
You could opt to walk from the Manhattan side of the bridge, but I suggest starting in Brooklyn so you can enjoy the Manhattan skyline views the entire walk.
Plus, this way once you reach the Manhattan side, you can just continue walking downtown to the Financial District to the next spot on our New York itinerary.
So if you're willing to brave an early morning wake up call, I strongly recommend hopping in a taxi or an Uber the first thing in the morning and heading to DUMBO.
DUMBO stands for "Down Under the Manhattan Bridge Overpass" but it refers to the entire neighborhood around the Brooklyn Bridge.
I recommend asking your taxi to drop you off at Front Street and Washington Street, where the iconic photo spot of the Manhattan Bridge can be found. Snap some photos here before you start making your way to the Brooklyn Bridge!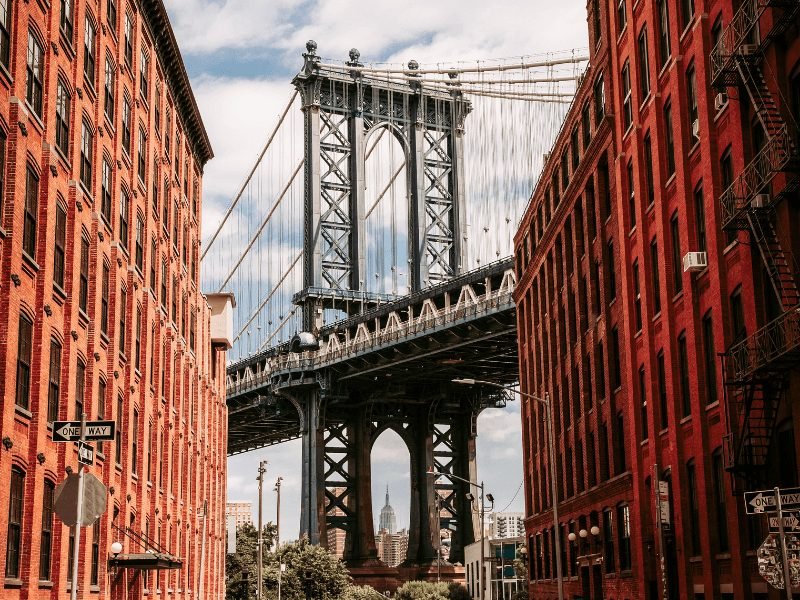 The entrance to the Brooklyn Bridge is not very intuitive to find, so I've included some step-by-step directions get here.
To reach the Brooklyn Bridge Pedestrian Walk, walk south on Washington Street towards Prospect Street, passing underneath the Brooklyn-Queens Expressway.
Just a little due south of Prospect Street, you'll see the Brooklyn Bridge overhead — there are stairs here where you can reach the Brooklyn Bridge Pedestrian Walkway.
This will help you skip one of the less scenic areas of the Brooklyn Bridge walk and shave off about 10 minutes form your walk than if you were to start at the traditional starting place on Boerum Place and Tillary Street.
The Brooklyn Bridge itself is an entire mile long, but it will be a little longer using the pedestrian walkways — a little less than a mile and a half if you enter at Prospect & Washington.
Walking it without stopping to take photos would take about 30 minutes, but give yourself about an hour to walk it at a leisurely pace.
Make your final destination the Charging Bull Statue located on Broadway and Bowling Green.
After you exit the bridge, walk down Park Row, admiring City Hall, then continue down Broadway. You'll pass by a few iconic sights like St. Paul's Chapel and Trinity Church along the walk
Morning: Lower Manhattan + Statue of Liberty
See the iconic Charging Bull statue.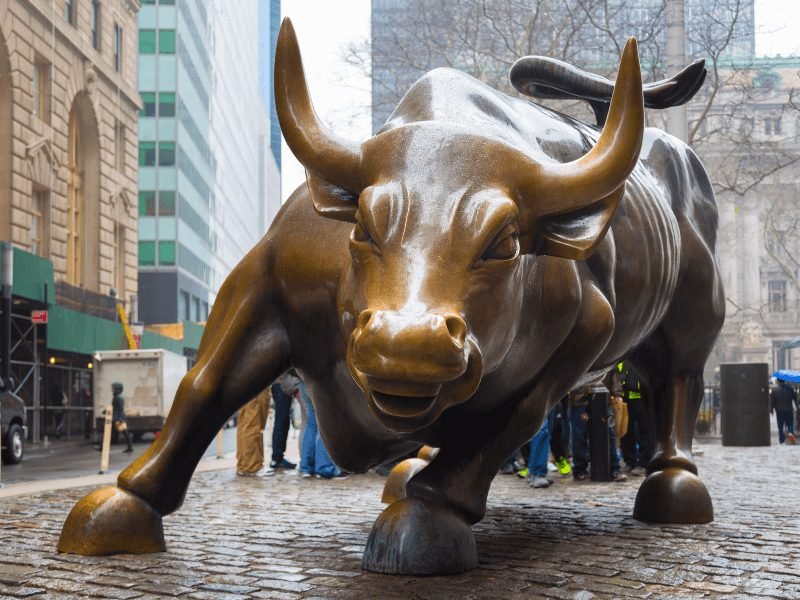 Whether you arrive in Manhattan on foot after crossing the Brooklyn Bridge, or you start your day in New York City here, the Charging Bull should be your first stop in the Financial District.
There is perhaps no better emblem of the Financial District than this famous bronze bull statue located on Broadway at the north end of Bowling Green, which is the oldest park in New York City, dating all the way back to 1733.
Note: The Fearless Girl statue which used to face the bull has been moved (disregard Google Maps, which is still incorrect!). It's at our next stop, so you won't miss it!
Check out the New York Stock Exchange.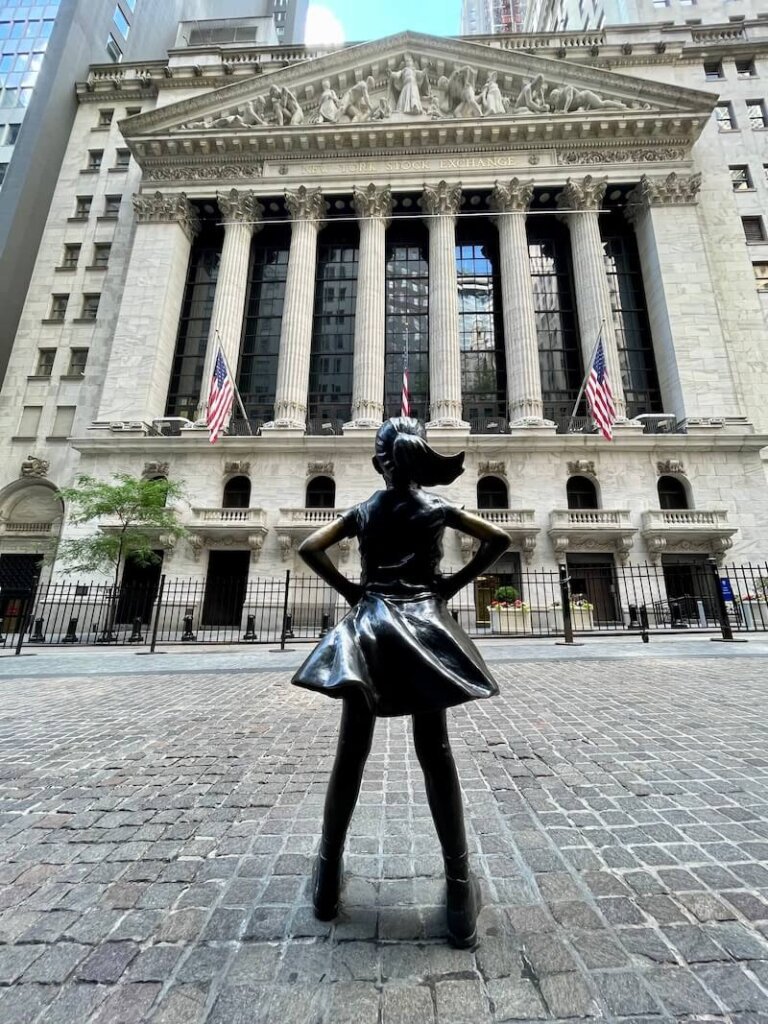 Just a few blocks away from the Charging Bull Statue, you'll find the iconic New York Stock Exchange building, on Broad Street between Wall Street and Exchange Place.
The Fearless Girl statue is located in front of the stock exchange, hands still defiantly on her hips, looking up at the Stock Exchange.
Explore the Battery.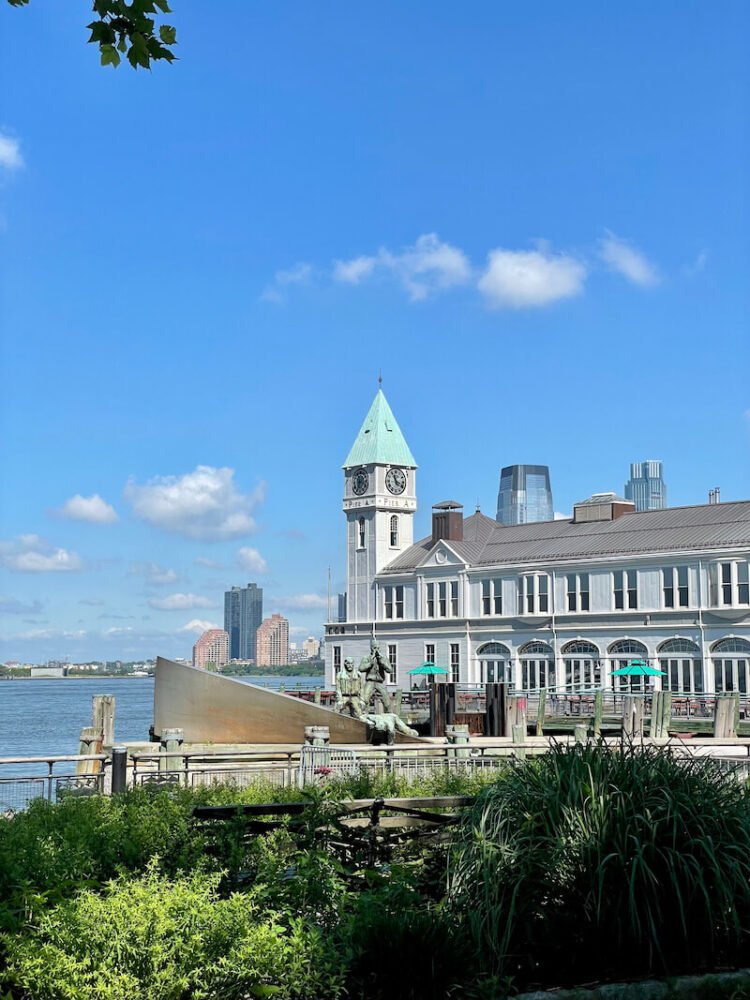 The Battery (formerly called Battery Park) is one of the most historic parts of Manhattan. You can walk around the Battery and check out the many memorials, gardens, and statues that are around the park.
At the northwest corner of the park, you'll see Castle Clinton, which used to be a defensive fortification. It was built from 1808 to 1811, during the tensions that led up to the War of 1812.
It was never used in battle, and it was largely left unused until 1855, when it became the first immigration station into the United States. It would be the main immigration thoroughfare on the East Coast until it was moved to Ellis Island in 1892.
It served a stint as the home to the New York Aquarium (which was later moved to Coney Island) — the SeaGlass Carousel elsewhere in the Battery pays homage to this history.
Today, Castle Clinton is the departure point where ferries to Statue of Liberty and Ellis Island depart from — your next stop!
Check out the Statue of Liberty and Ellis Island.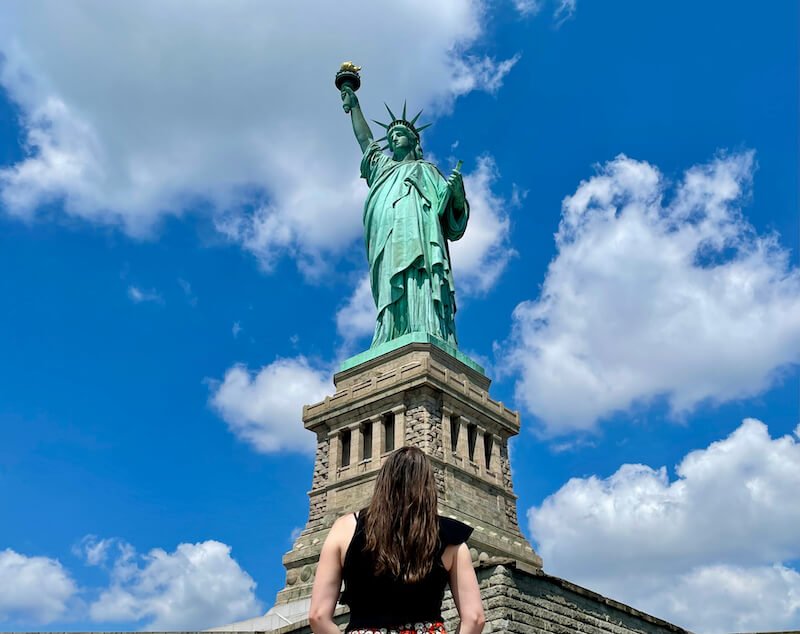 Next up on this itinerary are two of New York City's most famous landmarks: the Statue of Liberty and Ellis Island, two symbols of New York's melting pot identity.
While the Statue of Liberty and Ellis Island are both technically free to the visit, you'll have to pay for the ferry to get there. It is all one ferry, which makes a loop from the Battery —> Liberty Island —> Ellis Island —> the Battery.
I recommend booking your ferry tickets ahead of time, which allows you to skip the ticket purchasing line and adds an audio guide for just a few dollars more than buying the ticket in person.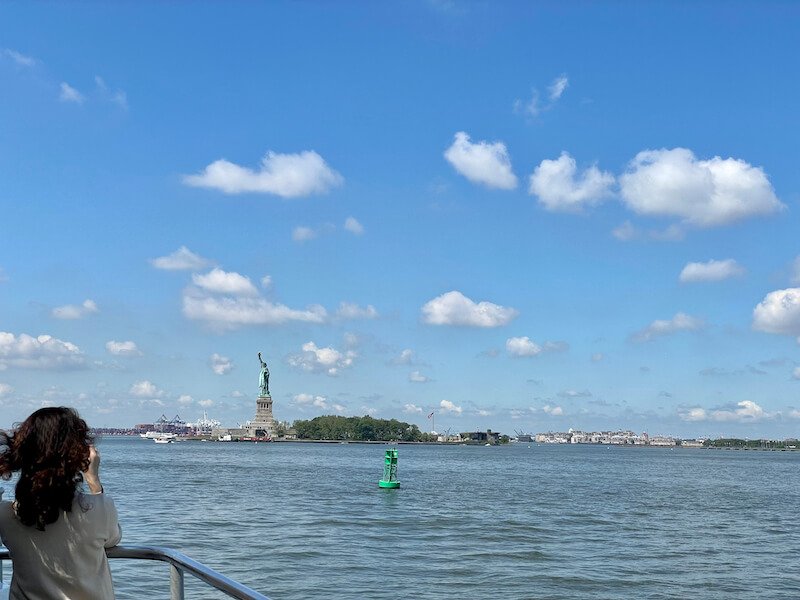 I also recommend using the self-guided option as opposed to taking a guided tour here, so you can tour the sites at your own pace — important when you only have one day in New York!
With such a short amount of time, I suggest skipping the pedestal (which costs extra) and just exploring the grounds of Liberty Island. Walk around the perimeter of the island, admiring Lady Liberty from multiple angles.
The museum is also worth a quick pass-through, as it's really interesting to learn the history of this famous icon of New York.
After checking out the Statue of Liberty, head back to where you exited the ferry to get back on for your ferry to Ellis Island.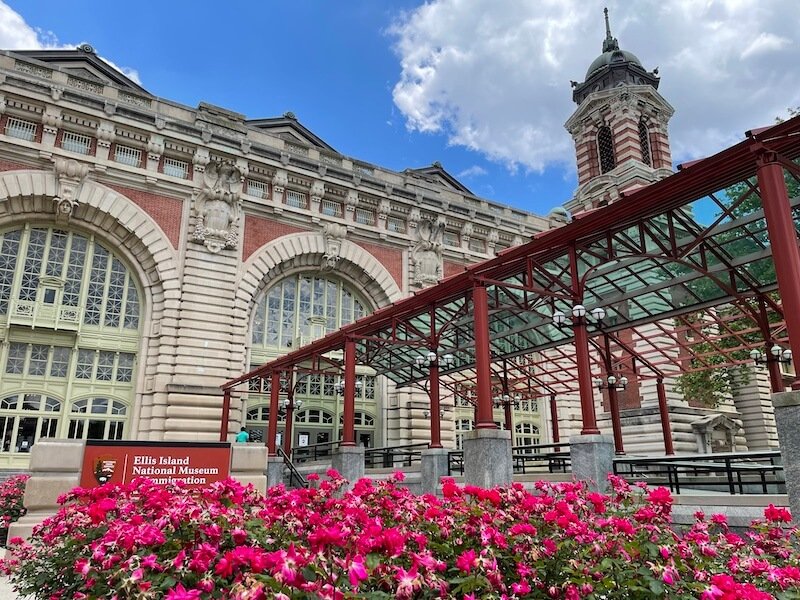 I recommend just doing a quick pass-through of Ellis Island since you have such limited time.
Head up to the top floor for the classic view, and check out a few rooms of the museum before getting back on the ferry.
If you don't want to actually tour the Statue of Liberty, you can also take the Staten Island Ferry for free, which will pass by the Statue on its way to Staten Island.
Simply get back on the ferry once you get off and head back to the Battery for one of the best free views of New York City and its stunning skyscrapers!
Visit the 9/11 Memorial and Museum.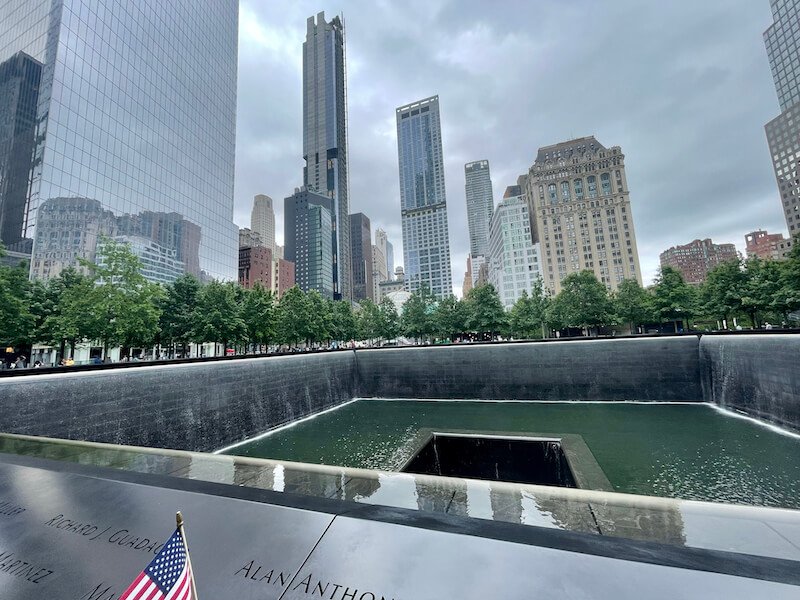 Once you get back from touring the Statue of Liberty and Ellis Island, it's time to make another important in Downtown Manhattan.
No trip to New York City would be complete without paying your respects at Ground Zero, where the Twin Towers used to stand before the terrorist attacks of September 11, 2001 which claimed the lives of nearly 3,000 people.
I strongly recommend visiting the 9/11 Museum as well as the Memorial.
It's an incredibly moving and powerful experience that will leave you with a far greater understanding of the horror of this day and how it forever changed New Yorkers.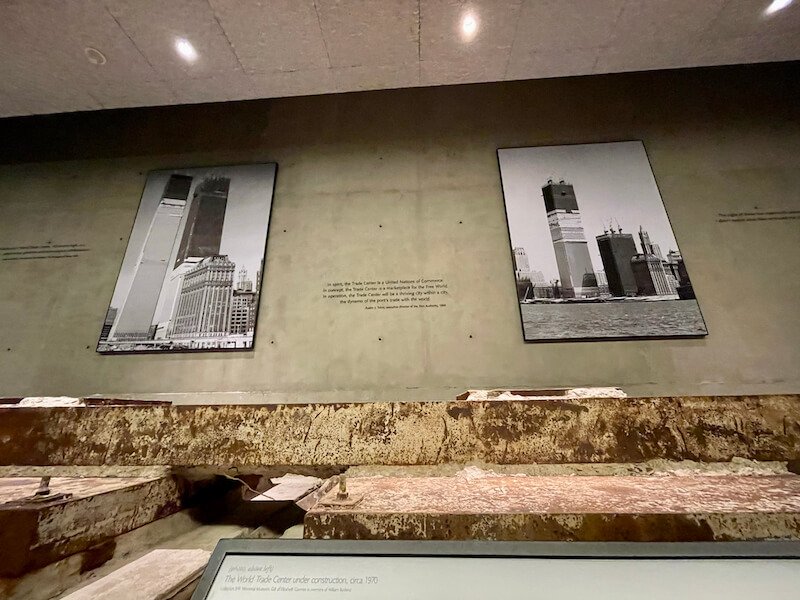 If you don't feel like you have time, you can skip the museum and simply pay your respects at the Memorial. The 9/11 Memorial is free to visit, and the design of it is incredibly touching.
Check out One World Trade Center and the Oculus.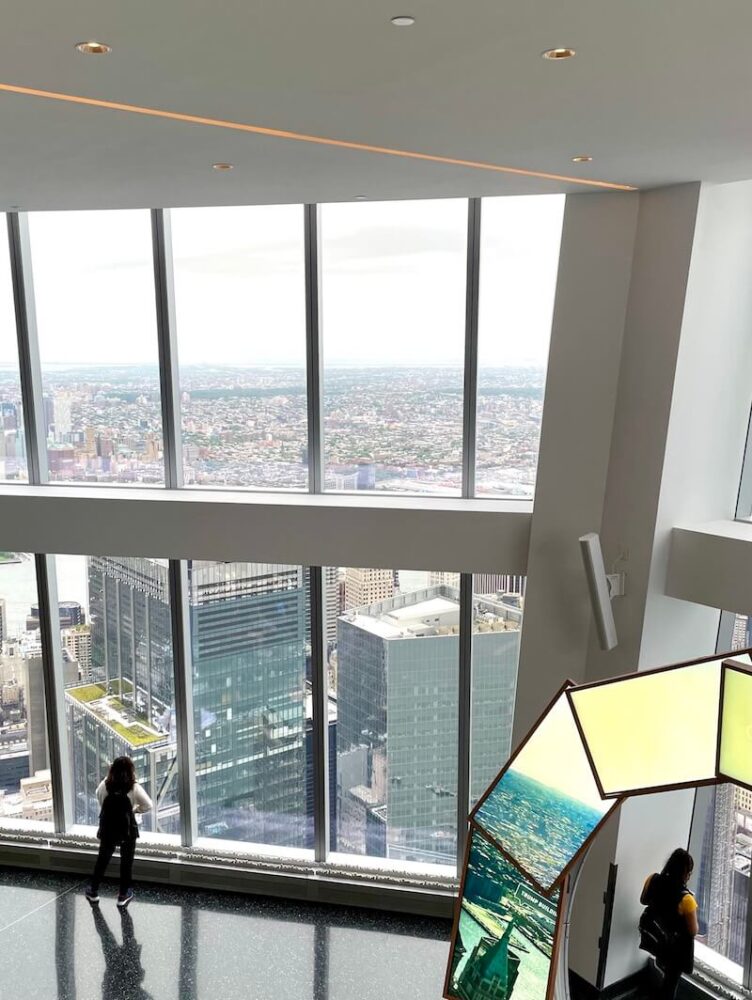 Next to the 9/11 Memorial, you'll see One World Trade Center looming above it. At a symbolic 1,776 feet, the One World Trade Center building is the tallest building in the USA — a fun NYC fact to impress your friends with!
Its ambitious scale, dedicated to rebuilding back bigger and better without forgetting what was lost, is symbolic of New Yorkers' spirit and resilience.
You could go up to the top of One World Observatory and check out the observation deck there, with its views over New York Harbor, Brooklyn, and New Jersey.
However, there are several other observation decks in NYC that I think offer superior views, so I'll suggest skipping this one since you don't really have enough time.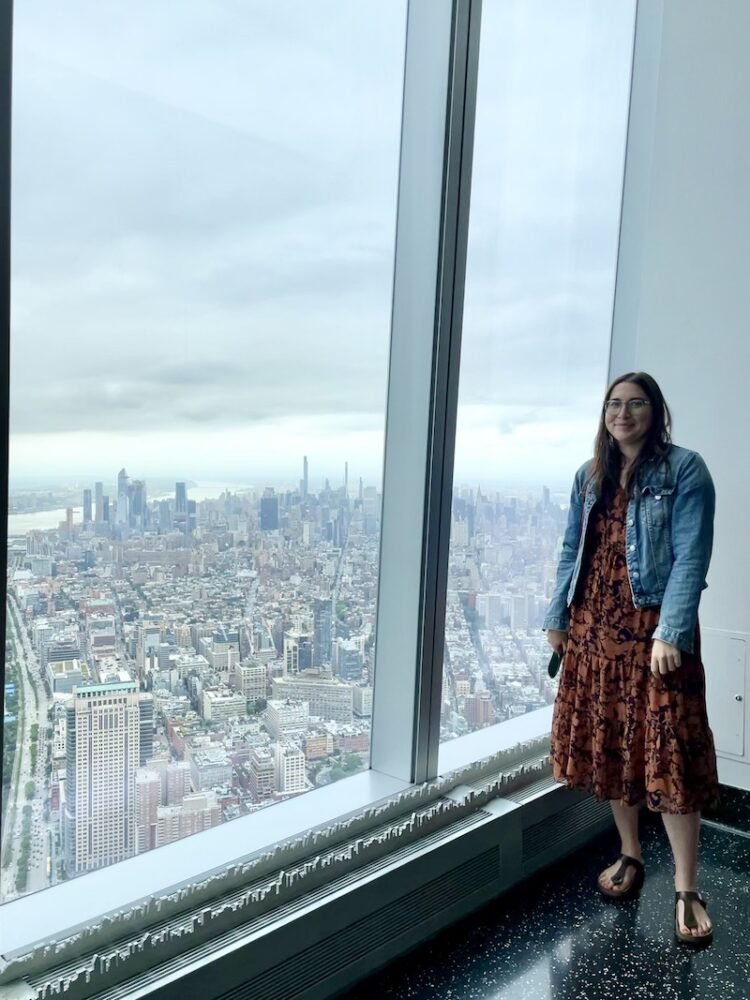 If you really want to go up to the top, I suggest you book either skip-all-lines ticket, option either the timed entry or the flexible entry option.
Don't book the skip-the-box-office only ticket — otherwise, you'll be looking at about an hour's queue, which is hardly how you want to spend your limited time in NYC.
Book your skip-all-lines ticket to One World Observatory here!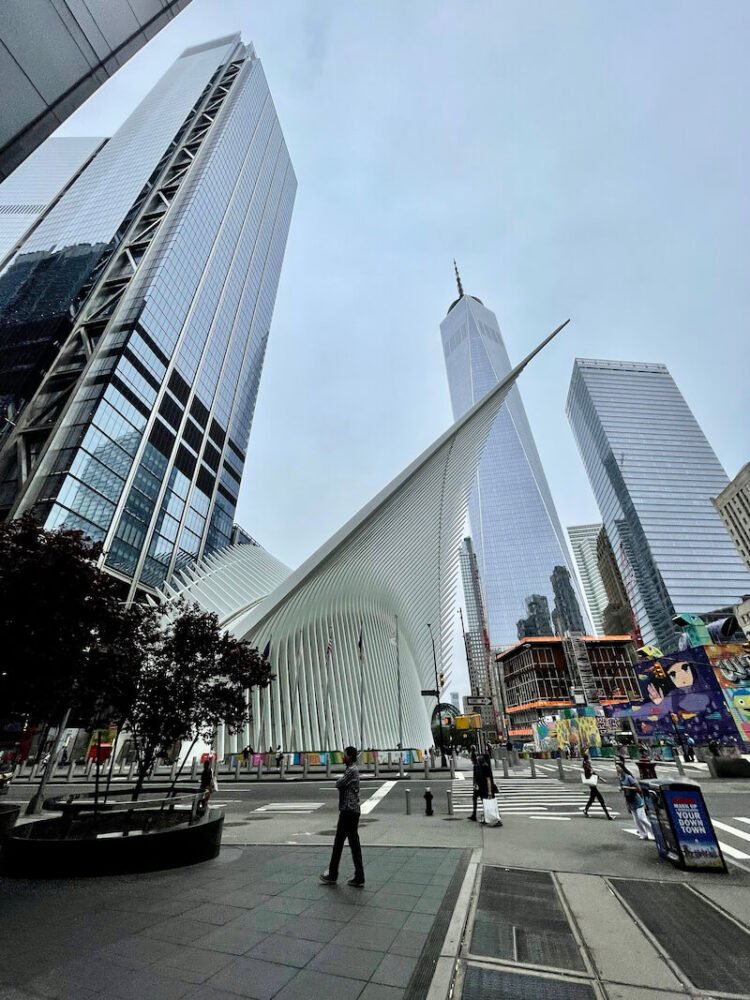 Afterwards, head to the Oculus, Downtown Manhattan's largest transportation hub and one of the most unique pieces of architecture in the city.
It was designed by Spanish architect Santiago Calatrava, whose intent was to create a building that resembled a child releasing a dove (symbolizing peace) that is flying away from its hands.
Whether or not that gets translated into your perception of the building is up to you!
The interior, though, feels rather different, so it's quite interesting to experience the contrast of the exterior and the interior of the building.
Afternoon: Chelsea + Observation Deck + Midtown
Note: I struggled a lot in writing this section because there are several observation decks that are quite amazing that you could choose from in this area, all of which you'll pass by.
I suggest reading my guide to picking the best observation deck in NYC and just choosing one if you have only one day in New York City.
I'll link to each option, but I recommend only picking one or maximum two. You simply can't visit them all!
Grab lunch at the Chelsea Market.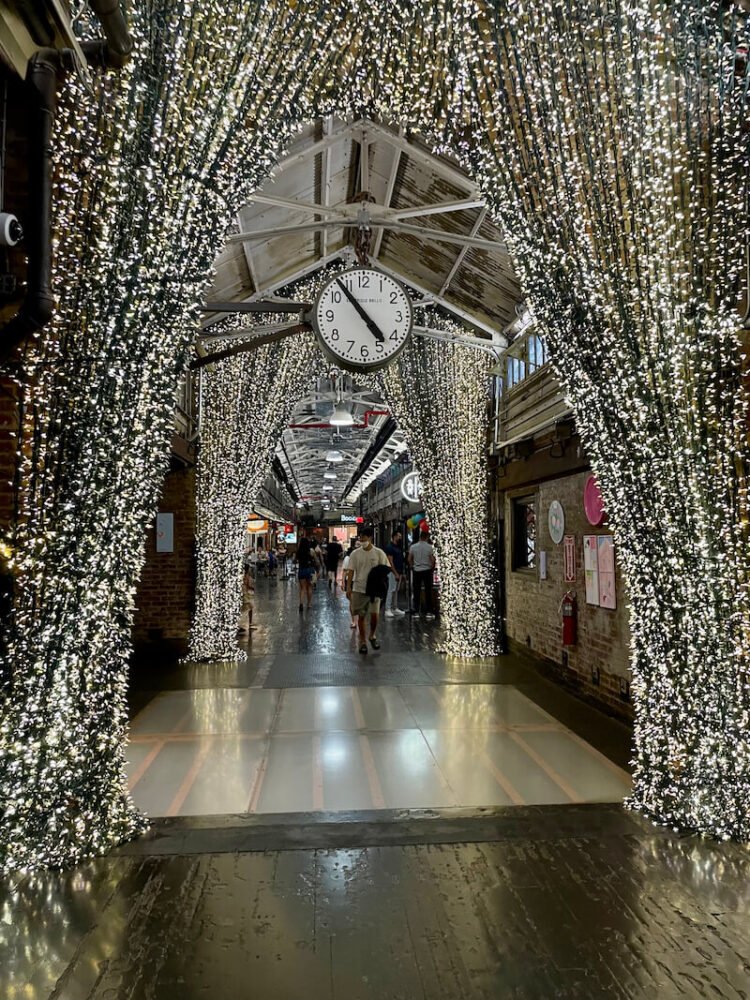 Now that we've pretty thoroughly explored Downtown Manhattan, it's time to make your way up to Chelsea on Manhattan's west side.
You can take a taxi or you can take the subway (the best is the A/C/E from Chambers Street to 14th Street) to get to our next stop, the Chelsea Market.
The Chelsea Market primarily has food vendors and tasty eateries, and you'll be able to find some of the best food in the city all under one roof!
Since you only have one day in New York, I recommend opting for something quick. Better yet, take it to-go and eat al fresco on the Highline!
My top suggestions are tacos at Los Tacos No. 1, Vietnamese banh mi sandwiches at Num Pang Kitchen, or Chinese hand-pulled noodles at Very Fresh Noodles. For a very quick fix, you can grab some pre-made sushi from The Lobster Place.
If you want something sweet, grab a brownie at Fat Witch or mini-donuts from the Doughnuttery.
Walk the Highline.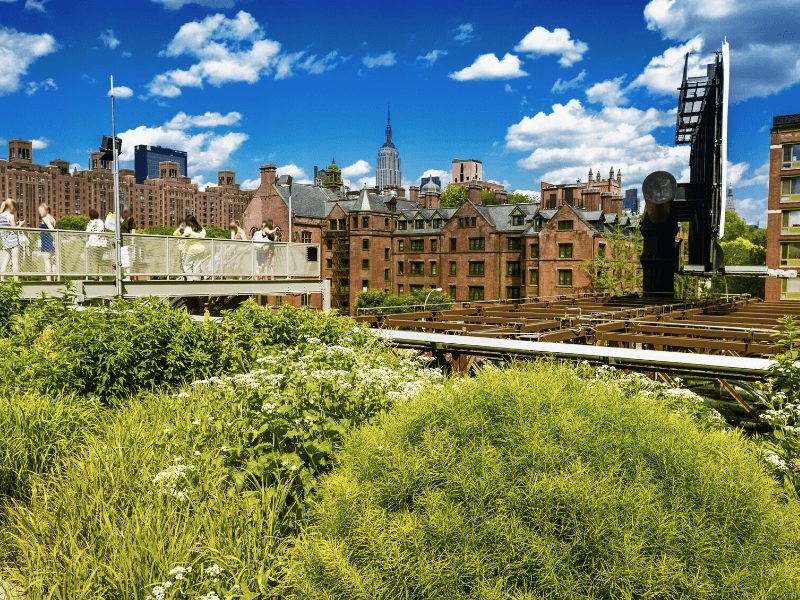 Once you've explored the Chelsea Market and grabbed a bite to eat, it's time for a stroll along the Highline.
This park used to be an elevated train line, but now it's been converted into one of the top attractions in New York City.
This beautiful green space is about 1.5 miles long and takes 30 minutes to walk from end-to-end if you're strolling, but give yourself an hour or so if you're stopping to take photos and eat your lunch.
The Highline runs from 14th Street all the way up to Hudson Yards.
Check out the Hudson Yards and the Vessel.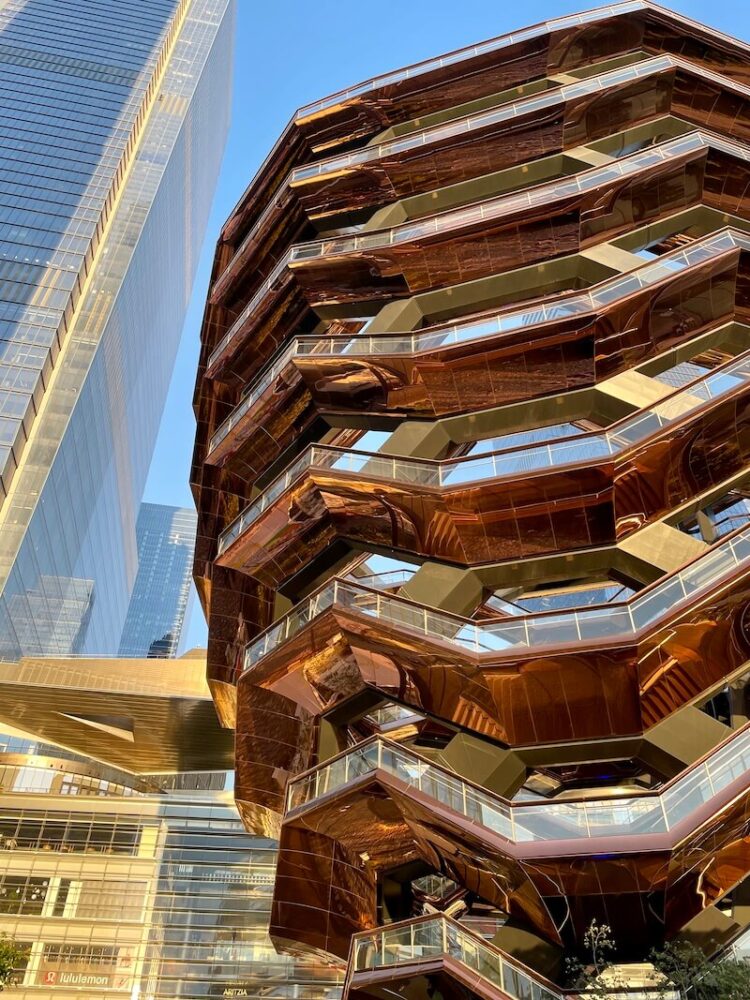 Since the Highline stops at Hudson Yards, stop by this area for a quick look at one of New York's newest redeveloped areas.
The Hudson Yards is home to several interesting destinations, including an observation deck called The Edge and the Vessel.
The Vessel is a controversial piece of public art that has received a lot of scrutiny — both in the form of its lax safety features and for its aesthetics, which many art critics dislike.
It is currently not allowed to climb the Vessel, but you can take a picture on the first floor, or admire it from afar.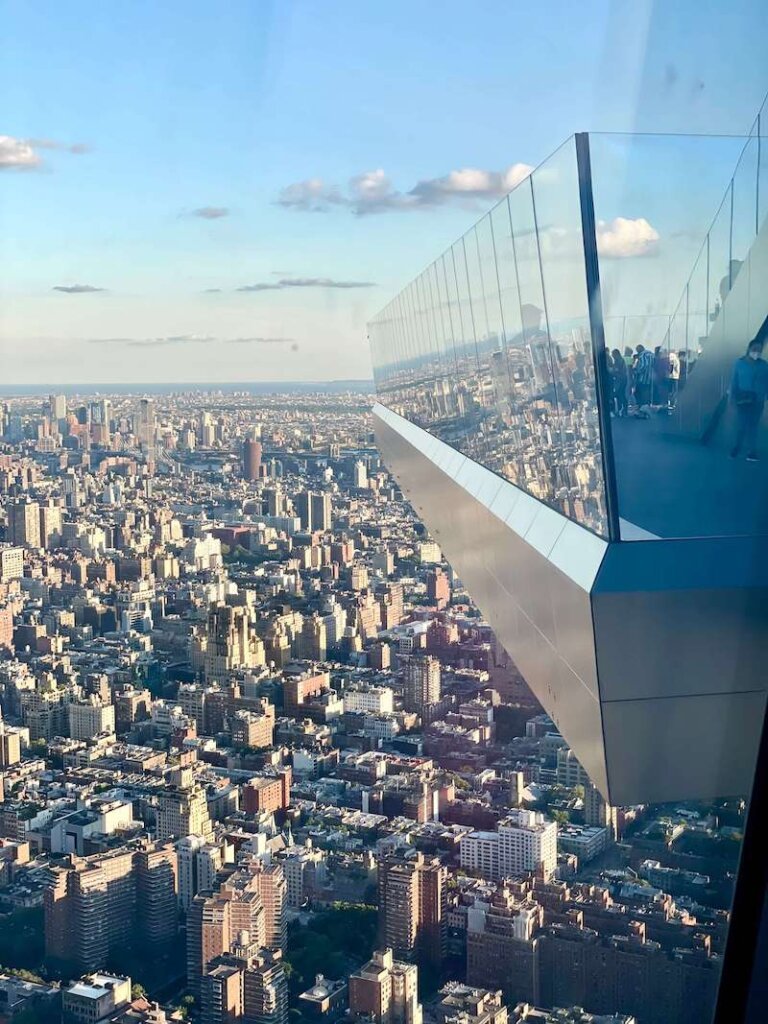 You could go up the Edge — it is one of the most striking observation decks in the city — or you can just look up and see the wedge of the skydeck from down below, admiring the fact that there are hundreds of people above you!
If you choose to go up the Edge, be sure to buy tickets ahead of time so that you don't have to wait in a massive line! Book online here.
Admire the Empire State Building.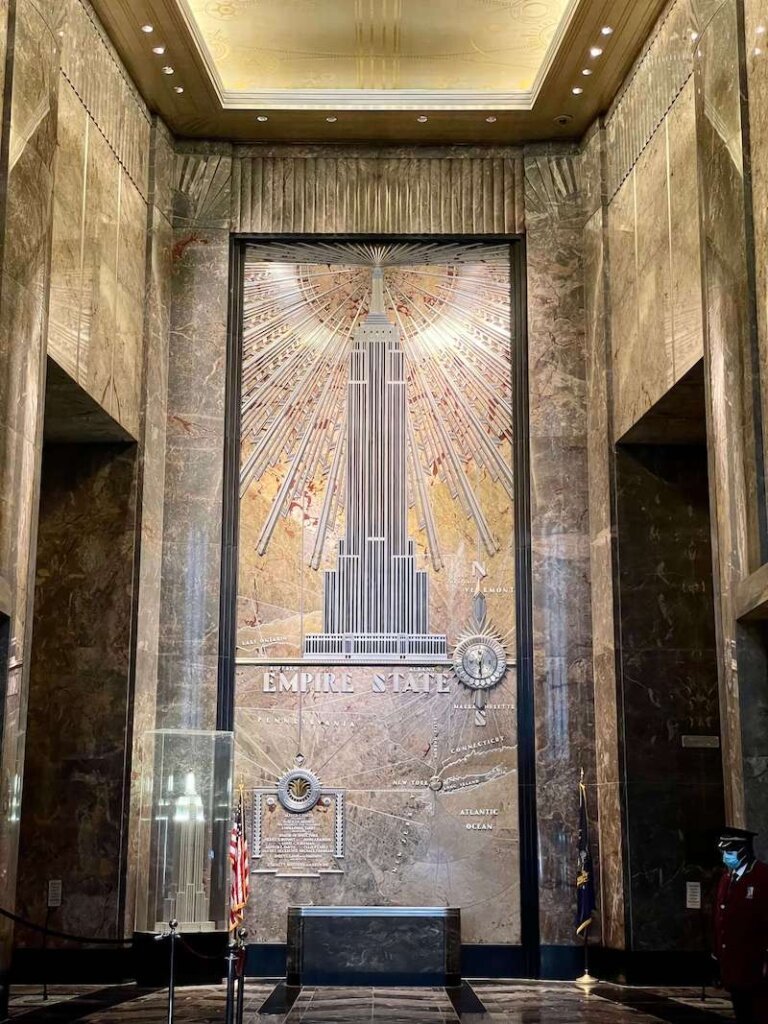 The Empire State Building is the most iconic symbol of New York. As a result, many people think they should go up the top of it.
However, my thought is that you can't get a good view of it (or a good photo of it, for that matter) while you're on top of it!
As a result, I tend to direct people to instead book tickets at Top of the Rock or the Edge, both of which have better views of the Empire State Building.
However, the Empire State Building also has some really interesting museums inside which detail how the building was constructed.
If you're curious to learn the history of the building, while being inside a true piece of Art Deco history, then ascending the Empire State Building is a must-do!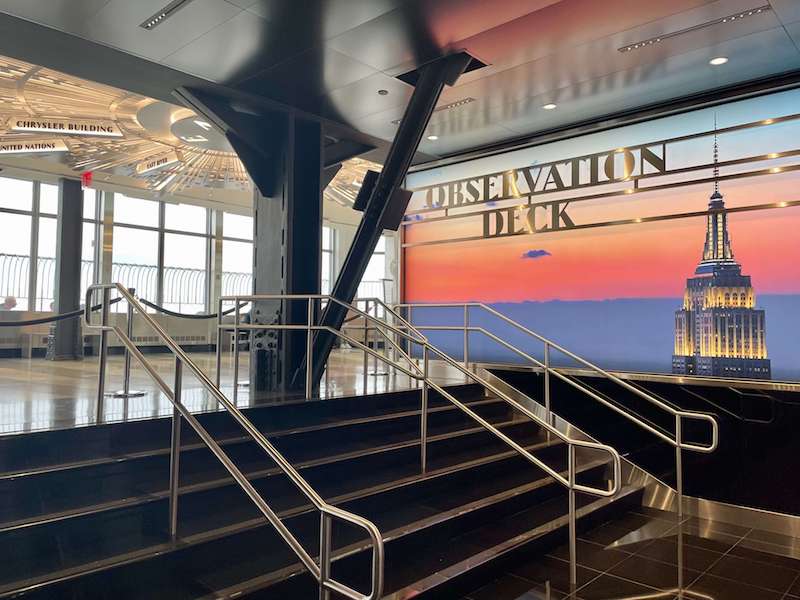 While you won't get to see the Empire State Building in the skyline since you're, well, on it, you'll get to see other beautiful buildings like the Chrysler Building as well as the Brooklyn Bridge and the East River.
As with previous suggestions I recommend a skip-all-lines ticket to save time and headache. This is the most popular observation deck in NYC so the lines here can be insane… like, multiple hours insane.
This is also the oldest observation deck in the city, so the elevators take longer, which adds to the long lines. Newer observation decks like One World, SUMMIT ONE, and The Edge have state-of-the-art elevators that whisk you up unfathomable distances in mere seconds, reducing lines.
Whether you admire the Empire State Building from afar or from inside of it, you'll be seeing an iconic piece of New York City history.
Wander past the New York Public Library.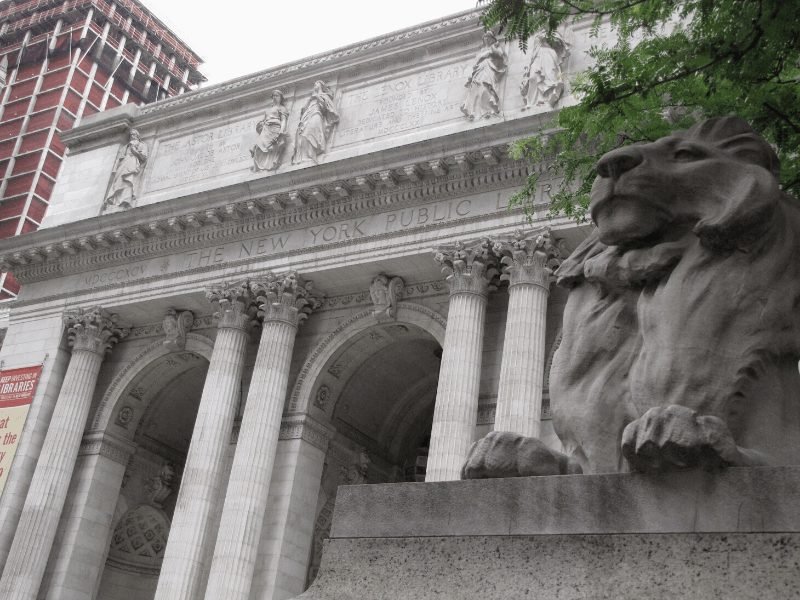 Next up on this itinerary is the New York Public Library, another one of the icons of New York, on the east side of Bryant Park.
Snap a photo with the famous lion statues in front of it as well as the beautiful exterior!
You can go in, but note that right now, you are unable to visit the Main Rose Reading Room unless you are on a guided tour.
Look up at the ceiling at Grand Central Terminal.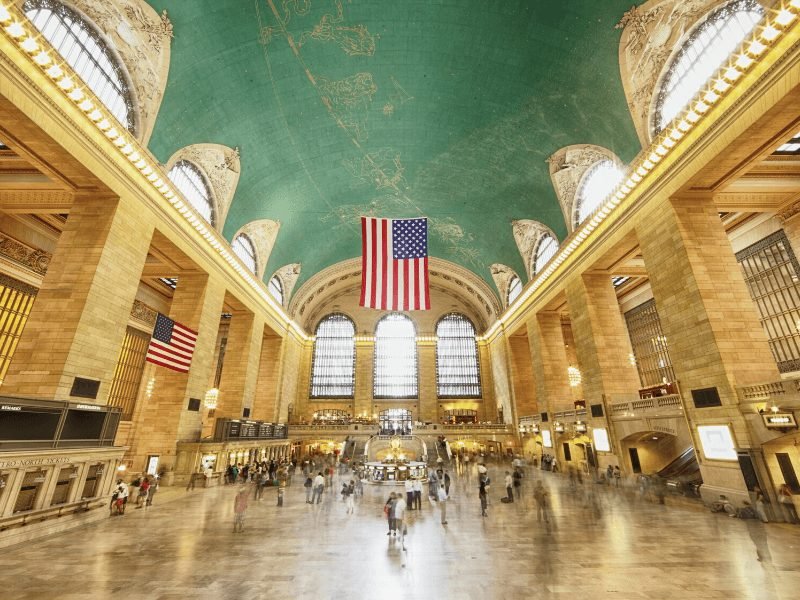 Another famous place you have to visit while in New York City is Grand Central Station with its iconic architecture and ceiling.
Famous for its constellation-painted ceiling as well as its general hustle and bustle, this is New York in a nutshell: beauty and busy-ness swirling together in a chaotic but wonderful experience.
If you want to rest your feet and feel super classy, grab oysters at the Grand Central Oyster Bar — one of my favorite places in NYC when I want to feel fancy!
The newest observation deck is located right next to Grand Central Terminal, so if you've opted to check out SUMMIT ONE Vanderbilt, this is the time!
SUMMIT ONE is billed as an 'immersive and multisensory art experience' with art from Kenzo Digital, who created lots of interesting places where you can take photos!
These immersive installations include AIR which has two stories of floor-to-ceiling mirrors that create a strange sensation of floating while you admire the skyscrapers of Manhattan around you, a glass box called SUMMIT LEVITATION where you can 'float' on a glass ledge over a thousand feet above the street, and AFFINITY where you can play with fun silver balloons with a view!
As you can see, it's a unique combination of observation deck, art installation, and Instagram playground, so if that's the experience you want, this is the observation deck to choose!
Walk to Rockefeller Center & the St. Patricks Cathedral.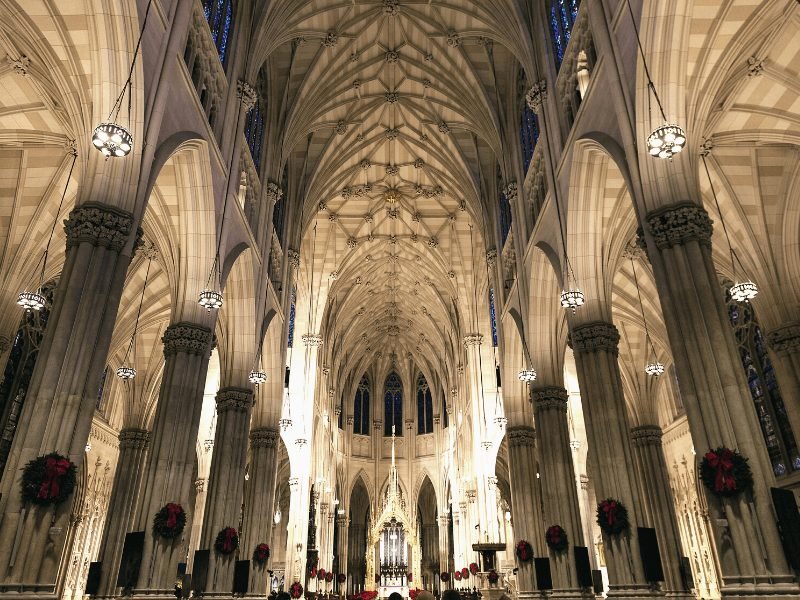 After spending some time at Grand Central Station, make your way over to Rockefeller Center, perhaps stopping by the famous St. Patrick's Cathedral on 5th Avenue along the way.
St. Patrick's Cathedral is the largest church in Manhattan and entrance is free, so it's a great place to take a quick peek before moving onto other sights.
Rockefeller Center is home to several iconic landmarks including Radio City Music Hall and The Channel Gardens, as well as SAKS Fifth Avenue across the street.
You can also go up to the Top of the Rock for one of the best views in the city, offering views of Central Park from above on one side and a picture-perfect view of the Empire State Building from the other!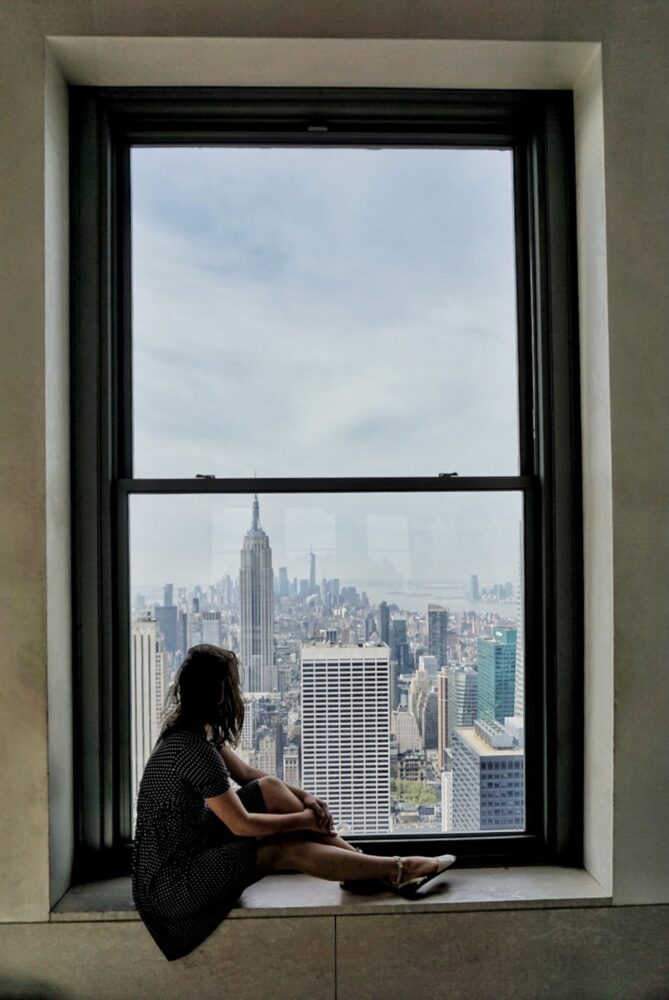 If you do choose to go up to the Top of the Rock, it's strongly suggested that you book tickets beforehand to skip the ticket-buying line.
Note, though, that this attraction does not sell skip-all-line tickets so you may have to wait in a line for the elevators; however, it is not the newest and shiniest observation tower in NYC anymore, so the lines are usually shorter compared to other places.
Take a quick walk through Central Park.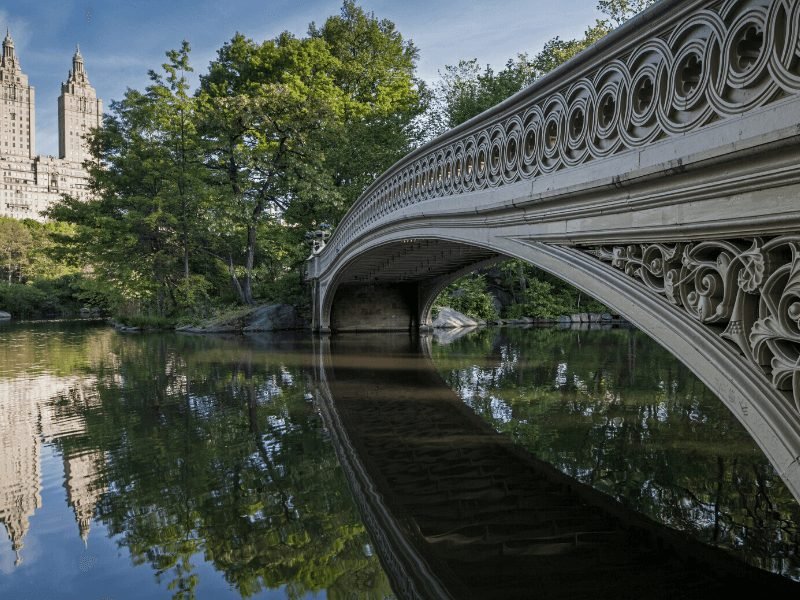 As you near the end of your afternoon in New York, be sure to save enough time for a quick walk through Central Park.
You won't have time for an extensive tour of Central Park, but you could do a short loop that includes the Loeb Boathouse, the Bow Bridge, and Strawberry Fields before either hopping on the subway or taking a taxi back down to the Times Square area.
Note: Now is a good time to grab a quick snack — perhaps an iconic New York hot dog from a street cart (though, tbh, always go for the hot sausage — it tastes way better!) or some halal chicken and rice.
This one-day itinerary has you having dinner after your show in order to maximize your time, so make sure you eat enough to keep you satisfied throughout the show without spoiling your after-dinner appetite.
Evening: Broadway + Times Square
Watch a Broadway show.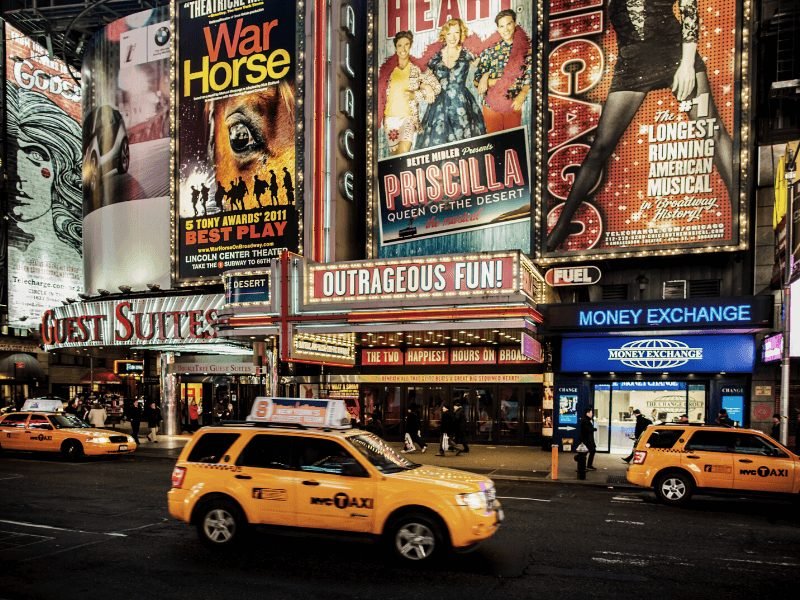 There are so many fantastic Broadway shows that it can be hard to choose! I've been lucky enough to see about 10 shows over my time in NYC.
I suggest something classic, whether it's a new instant-classic like Hamilton or Harry Potter and the Cursed Child, or old-school classic like Phantom of the Opera or Moulin Rouge.
You'll definitely need to book your tickets in advance online — don't wait until the day of the show or you will surely miss out!
Purchase your Broadway tickets online here: Hamilton, Phantom of the Opera, Harry Potter & the Cursed Child, & more.
Grab dinner after your show.
After you finish your Broadway show, it's time to grab a late dinner! Luckily, the Theater District and Hells Kitchen are brimming with late-night options. New York is the city that doesn't sleep, after all!
The Infatuation has a great list of places to eat before or after a Broadway show — I would recommend their list!
Admire the lights of Times Square.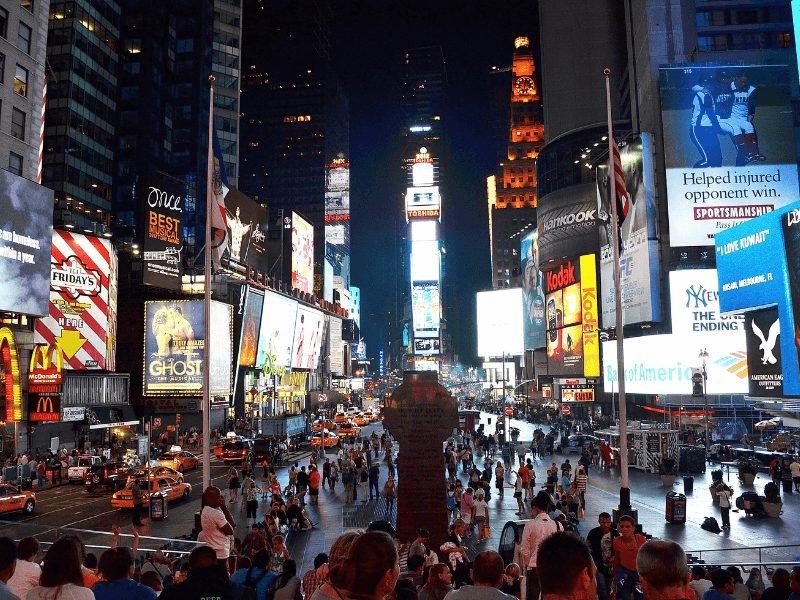 For your last stop on your day in New York, there's no better place to stop and take it all in than Times Square.
Soaking in the neon lights and letting the rushing crowds pass you by is the quintessential way to end a day in New York.
Where to Stay in NYC
If you only have one day in New York City, you likely won't be spending much time in your hotel room, but you still want somewhere comfortable and convenient to stay in. Here are a few suggestions.
Budget: I've never stayed at a hostel with dorm-style rooms in NYC, but HI New York seems to have the best blend of low budget and high ratings.
Mid-range: For the best savings, check out modern hotels that do away with things like receptionists and concierges in favor of self-check in and other automated systems. YOTEL and citizenM are two such hotels, conveniently located in Times Square, one of the most central locations for public transportation in all of New York.
Luxury: There is basically no end to the amount of luxury options in New York. From classics like The Plaza to newer, more niche offerings like The Library Hotel, you're spoiled for choice on this end of the spectrum.
Allison Green is a former educator turned travel blogger. She holds a Masters in Teaching and a B.A. in English and Creative Writing. Her blog posts merge her educational background and her experience traveling to 70+ countries to encourage responsible, enriching travel. She has been a speaker at the World Travel Writers Conference and her writing, photography, and podcasting work has appeared in National Geographic, CNN Arabic, CBC Canada, and Forbes, amongst others. Now a full-time traveler, she has lived in Prague, Sofia, New York City, and the San Francisco Bay Area.