Annecy is called the Venice of the Alps. Why?
Picture a quaint old town crisscrossed by an intricate system of canals and colorful alleyways, looking out on a pristine turquoise blue lake surrounded by the snow-capped alpine mountains… welcome to Annecy in winter!
The capital of Haute-Savoie is a picture-perfect dreamscape for winter lovers!
With its vibrant cultural and culinary scene, just an hour away from wintry Geneva and the prestigious ski resorts of Chamonix-Mont-Blanc, Annecy combines the best of outdoor and urban adventures.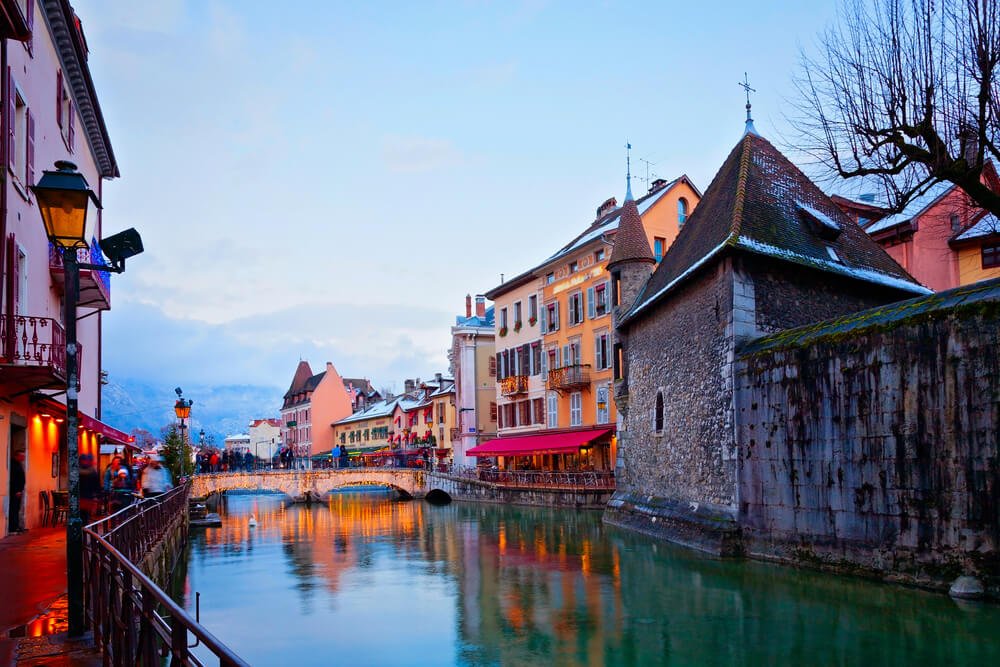 Note: This post contains affiliate links, which means I may receive a small commission if you purchase something through one of these links. Thank you for supporting the free content on this site! For more information on affiliate links and cookies, see my disclosure page for more details.
A breathtaking winter wonderland, Annecy truly comes alive in the winter months.
Delicious alpine hearty meals, sophisticated culture and just the right amount of outdoor adventure, a winter trip to Annecy is a vacation you won't forget!
I've written before on how to spend two days in Annecy, but that post is more focused on the spring, summer, and early fall seasons.
Read on to discover my curated guide including all the best things to do in Annecy in winter.
How to Get There
Annecy is conveniently connected to several major cities by TGV, the French high-speed train.
From Paris, you can reach Annecy in less than 4 hours!
Alternatively, you can fly in through Geneva (GVA) or Lyon (LYS).
Grenoble and Chambéry also both have regional airports operating throughout the winter months.
Best Things to Do in Annecy in Winter
Explore the Old Town.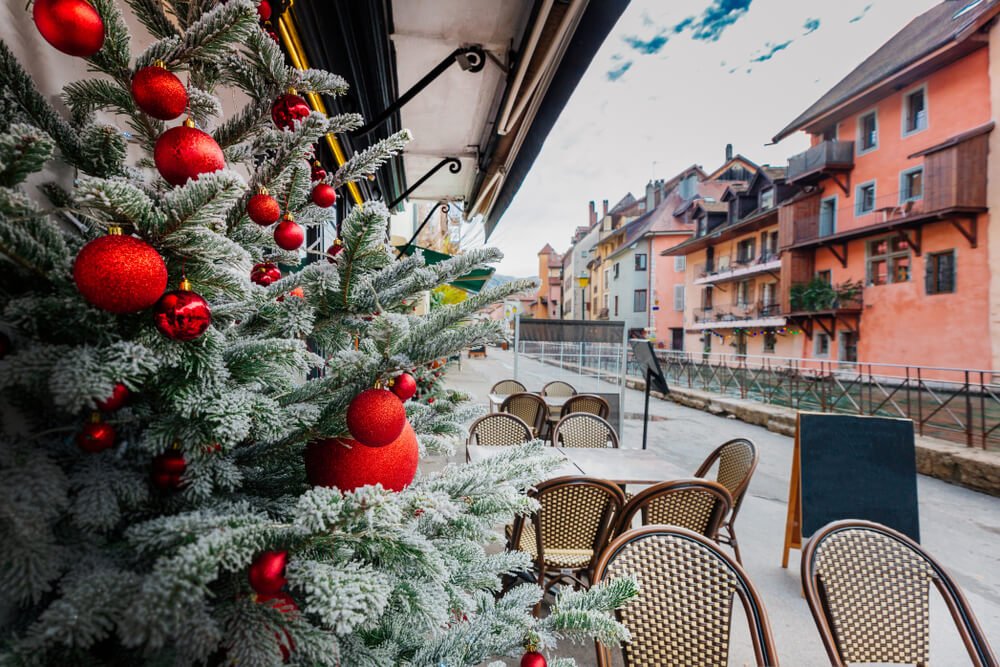 The historic heart of Annecy (Vieille Ville) is beautiful all year round. However… trust us when we say it is magical in the winter. Why? Snow, of course!
Now, obviously, there is no guarantee it'll snow when you're visiting. But, you are very close to the Alps and therefore the chances are pretty high.
And while snow in Paris in winter is a messy disaster that can only be handled with the right Paris winter gear, snow in Annecy is pure delight.
Imagine walking through Venice in the snow — with a French accent, of course!
As mentioned earlier, Annecy is intersected by an intricate canal system, namely the Thiou Canal, which runs right through the Old Town.
It goes right along the most beautiful sights, picturesque cobblestone streets and the many, many artisan shops and cafés — talk about picture perfect!
Start your winter walk at Palais de l'Île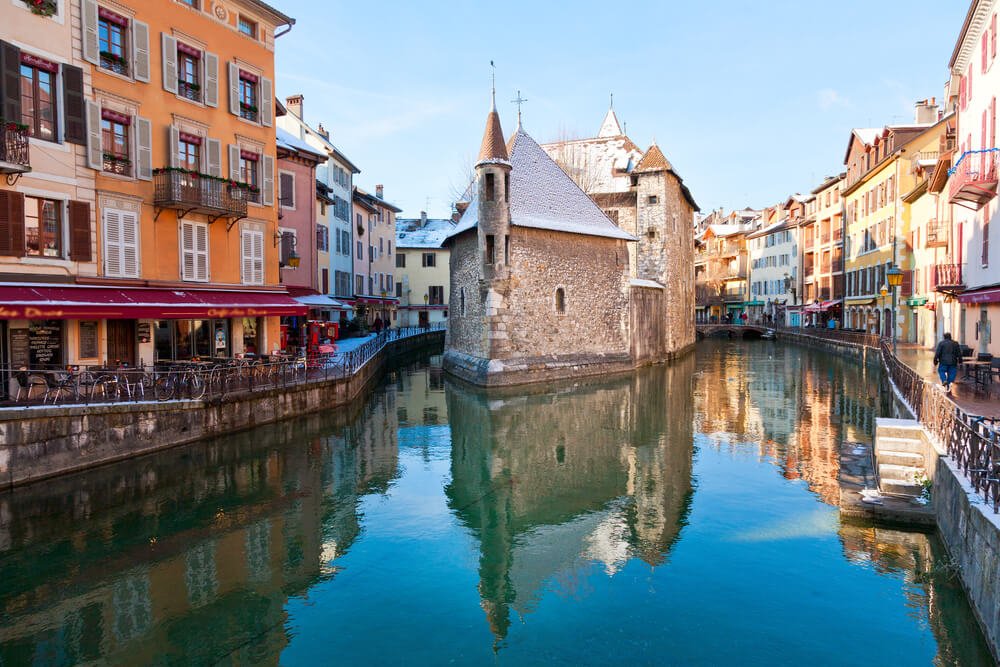 This picturesque building is one of the most recognizable landmarks in Annecy!
Its unique location on a small canal island means this landmark has served quite a few various purposes over the centuries.
It was originally built in the 12th century as a castle and later transformed into a prison during the Middle Ages, a purpose it fulfilled until the 19th century.
After a few renovations, the Palais de l'Île finally became a museum, which showcases the history and architecture of Annecy, offering visitors a glimpse into the town's past.
If you want to learn more about the town's fascinating history – this is the place to be.
Visit Annecy's most beautiful street.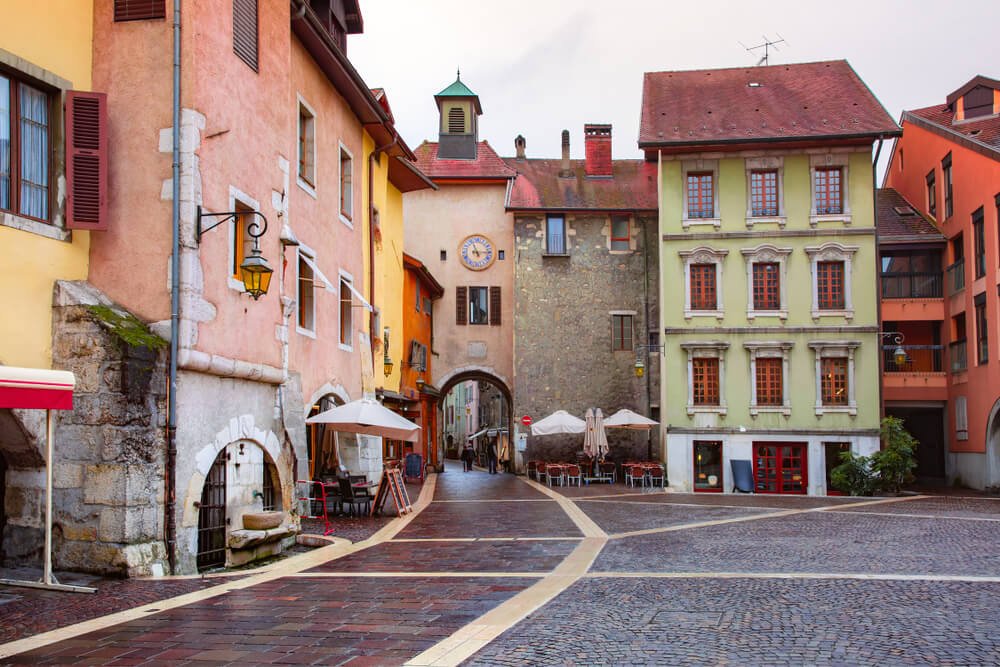 The lovely Rue Sainte Claire is undoubtedly one of the most enchanting and picturesque streets in Annecy, often acclaimed as the city's most beautiful.
Packed with shops and restaurants, this street still preserves Annecy's medieval architecture.
As you'll stroll along Rue Sainte Claire, you'll come across the typical wooden structure of medieval housing, the balconies, and flower boxes, which feel even cozier in winter.
Rue Sainte Claire is also the best spot to get your hands on some local souvenirs to bring home!
Here you'll find a myriad of shops, galleries and art boutiques, all offering unique items reflecting the Savoyard culture.
Journey through time at Château d'Annecy.
Perched majestically upon a hill, Annecy's castle is a living testament to time and a must-visit to take in the incredible view over the Old Town and the surrounding natural landscapes.
The castle has witnessed centuries of history, holding endless chapters within its walls.
It was first built in the Middle Ages, serving as a fortress and strategic defense post.
Subsequently, it was so grand that the Counts of Geneva converted it into a luxurious residence.
In the 16th century, the castle was transformed into a prison, a role it would serve for several centuries.
Today, the Château d'Annecy is a museum, inviting visitor's to explore several rooms, notably the Countess' Tower and several apartments.
Book a cruise on the lake.
Lake activities are fun all year round in Annecy!
In fact, the boat cruises in Annecy are perfectly equipped to offer you a cozy winter experience, as the interiors are heated in winter.
If you are staying in the heart of Annecy, you'll definitely come across Compagnie des Bateaux du Lac d'Annecy, the main tour operator.
They own the white and red boats lining the port!
As of 2023, you can book a 1-hour tour for €18 or a 1.5 hour tour for €21.
They also offer 2-hour dining cruises, lunch trips and cocktail receptions.
Hang out at Le Pâquier.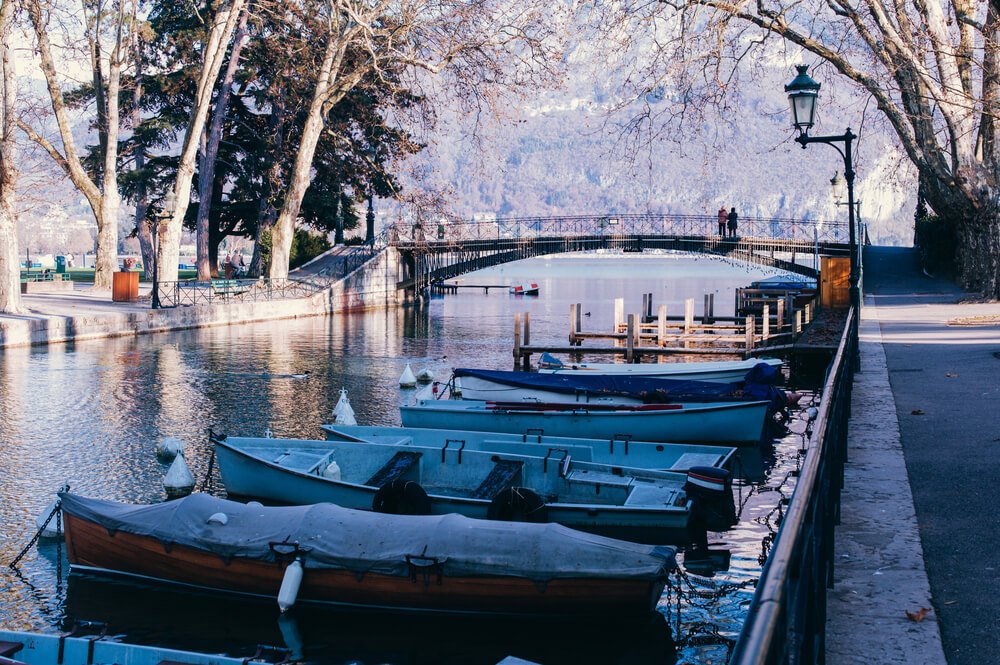 The Pâquier is a promenade, which spans seven and a half hectares and offers a picturesque view of Lake Annecy and the nearby mountains.
Surrounded by beautiful gardens, including the Jardins d'Europe, Le Pâquier is the green lung of Annecy (well, white lung when it's covered in snow!), a place where locals and tourists come to enjoy a picnic on a sunny day or a refreshing walk on a cold day.
Pont des Amours, the love bridge, links Le Pâquier to Jardins d'Europe while also serving as every couple's favorite photo spot, with its many padlocks and ribbons tied in the name of love.
Make sure to spot the Île des Cygnes, Swan Island. Gifted by the Counts of Geneva in the 19th century, Annecy's swans have called the lake their home for 150 years.
Their population has sadly shrunk over the last few decades, mainly due to urbanization.
Take full advantage of the Alps at your back door.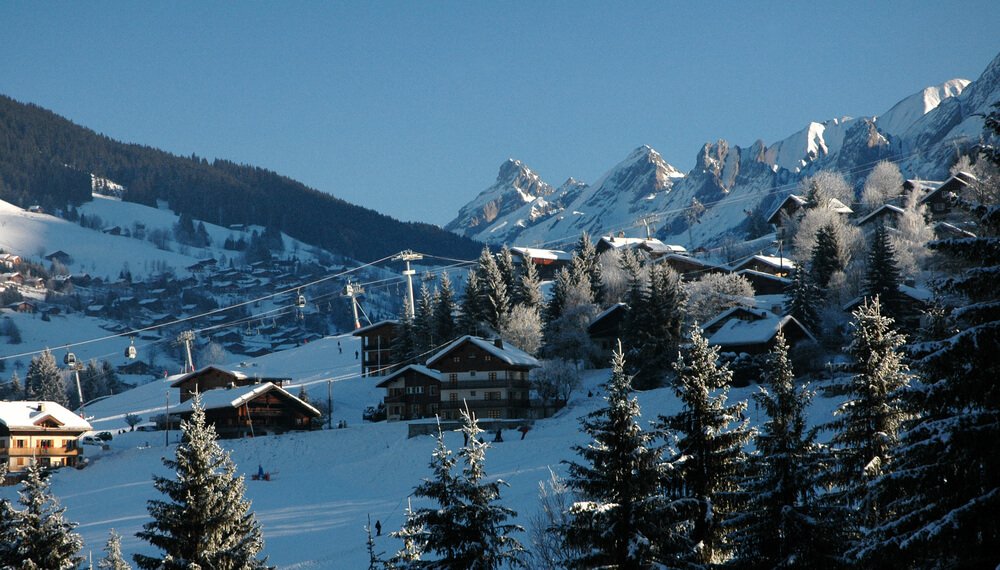 Annecy is strategically located within easy reach of several world-class ski resorts.
Some of the most popular ones include La Clusaz and Le Grand-Bornand, each offering a range of skiing and snowboarding opportunities.
La Clusaz is slightly more expensive, attracting a rather wealthy clientele, while Le Grand-Bornand is more family-friendly.
Generally speaking, the Annecy area has slopes and activities for all levels. Whether you are into skiing or snowboarding, whether you're a hardcore professional or a complete beginner, there is snow and slopes for everyone.
Most of the ski resorts around Annecy offer ski schools and lessons for beginners.
So, if you're new to skiing, you can easily find instructors to help you get started.
The resorts are generally located 30 minutes to 1 hour outside of Annecy, so it's best to rent a car to get there.
Spend a day at the spa.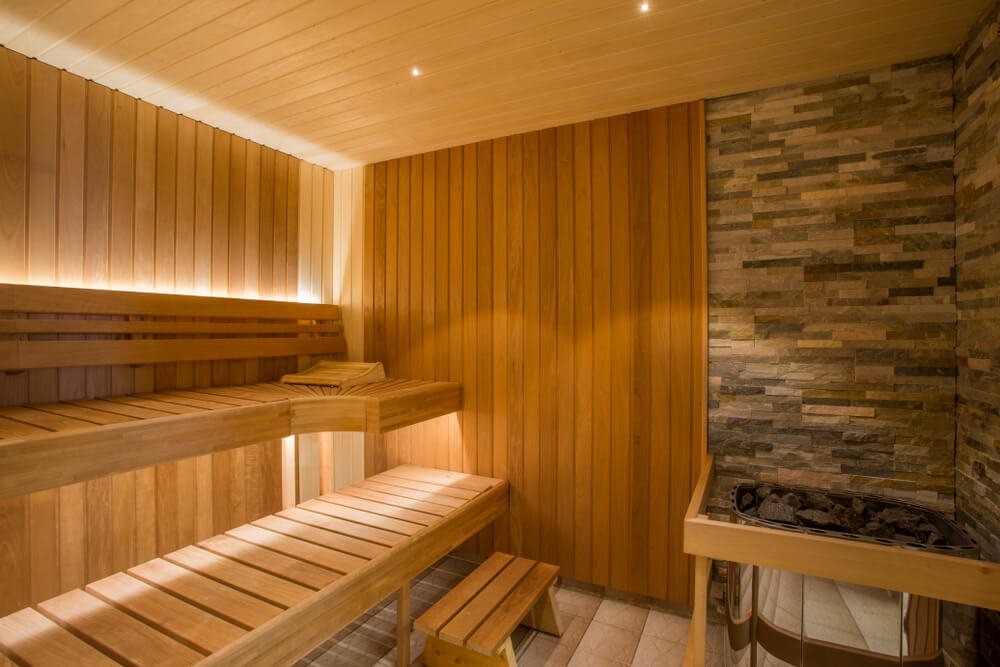 Sightseeing can be exhausting. Why not spend a relaxing afternoon at the spa in between all your busy activities?
Annecy is home to a few high-end wellness spots, with a few of them located right in the heart of the city.
However, if you are in the mood to really treat yourself, check out the luxurious spas surrounding the Lake.
Just a few miles from Annecy, Le Palace awaits in Menthon-Saint-Bernard.
Le Palace is a 5-star resort nestled in the beautiful hills for a 5-star view over the Annecy Lake.
The hotel spa boasts a sophisticated design with a modern Scandinavian touch, bay windows overlooking the lake from the interior pool, a sauna, a hammam and a variety of wellness treatments.
Alight your festive spirits at Annecy's Christmas Market.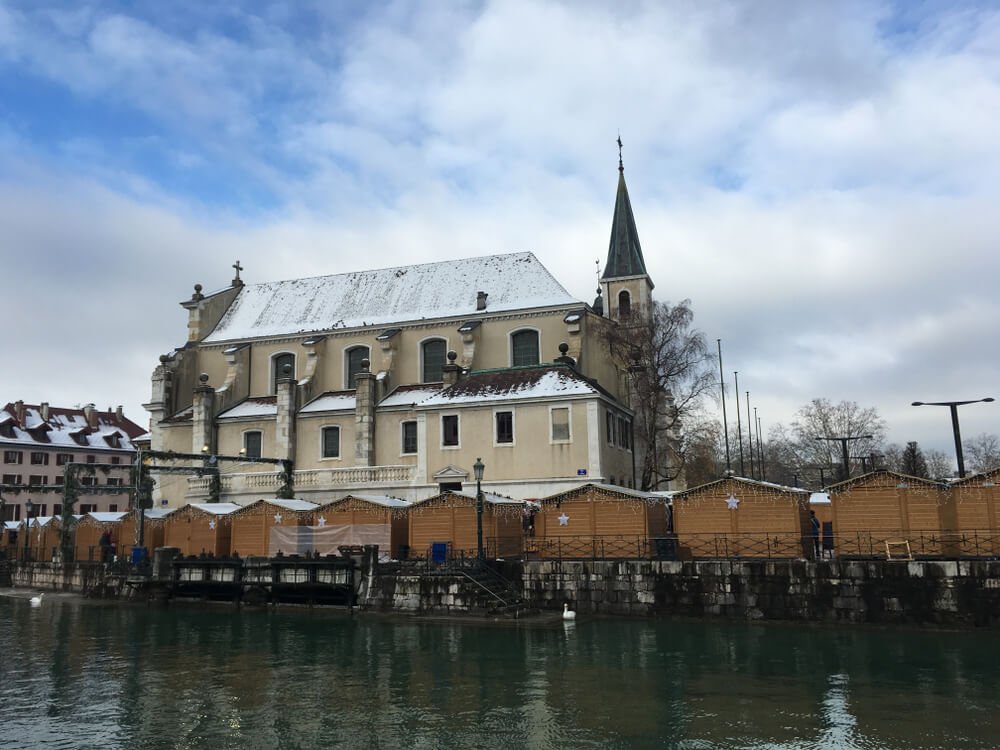 From the end of November to early January, Annecy transforms into not only a winter wonderland, but also a Christmas wonderland, embracing the festive season in all its splendor.
The Christmas market is set around the colorful streets of the Old Town, which comes alive with a magical glow of lights.
There is usually also an ice-skating rink and several festive concerts and events throughout the month of December.
December in Annecy is a delight. Seeing it decorated in festive and enchanting lights is a real treat!
Admire the festive light show projected on City Hall.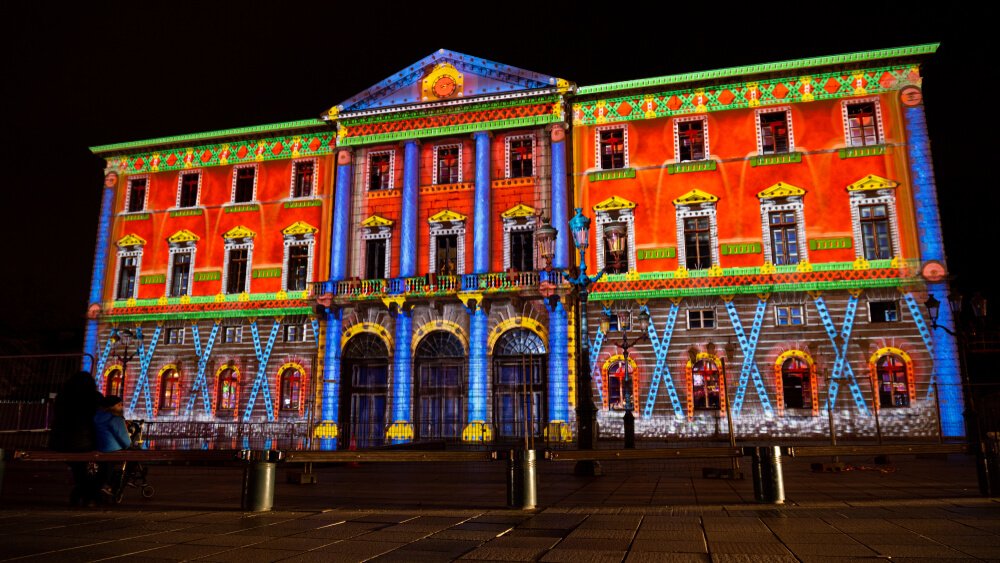 The Christmas Markets aren't the only festive spirit in Annecy in winter!
Every year, the City Hall joins in on the fun by projecting a vivid light show on its facade, reflecting a new theme each Christmas.
As soon as it gets dark enough for the light show to make its full spectacle, it does!
Typically, the light show (and accompanying soundscape) lasts for about 12 minutes and then has about an 8 minute pause — so it occurs about every 20 minutes.
It runs in tandem with the Christmas markets, from late November to early January.
Warm up with a delicious Alpine meal.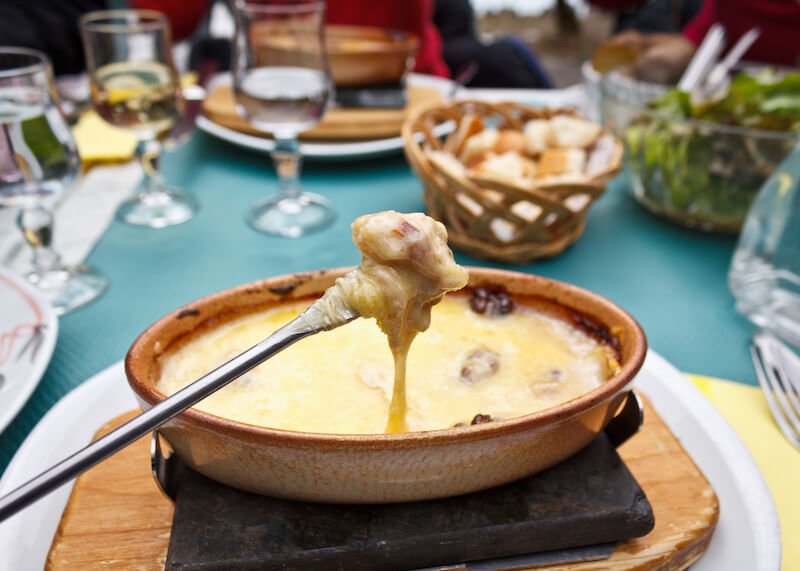 The Savoie region in the French Alps is a haven for hearty comfort food.
Naturally, the mountainous terrain and cold winter months call for cheesy rib-sticking delights and heavy, flavorful dishes.
Of course, you've probably already heard of Fondue, a traditional Savoyard dish, which involves dipping bread into a pot of melted, creamy, delicious cheese.
But do you know about Raclette? It's similar, but a slightly funkier cheese, and it's all about melting cheese with your choice of vegetables, potatoes, ham, corn — really anything your heart desires.
What makes Savoyard cuisine uniquely special is the social experience, as most traditional meals require to be shared and enjoyed with friends and family, hence warming up your heart and your soul.
Another popular dish in the region is Tartiflette. It's made with potatoes, reblochon cheese, lardons (bacon), and onions.
All of these delicious meals are served at L'Étage in the Old Town, a must-visit for anyone in search of an authentic experience.
The restaurant is located in a former residence dating back to the 16th century, providing a cozy, warm atmosphere around the crackling fireplace.
Check out Annecy's Carnival.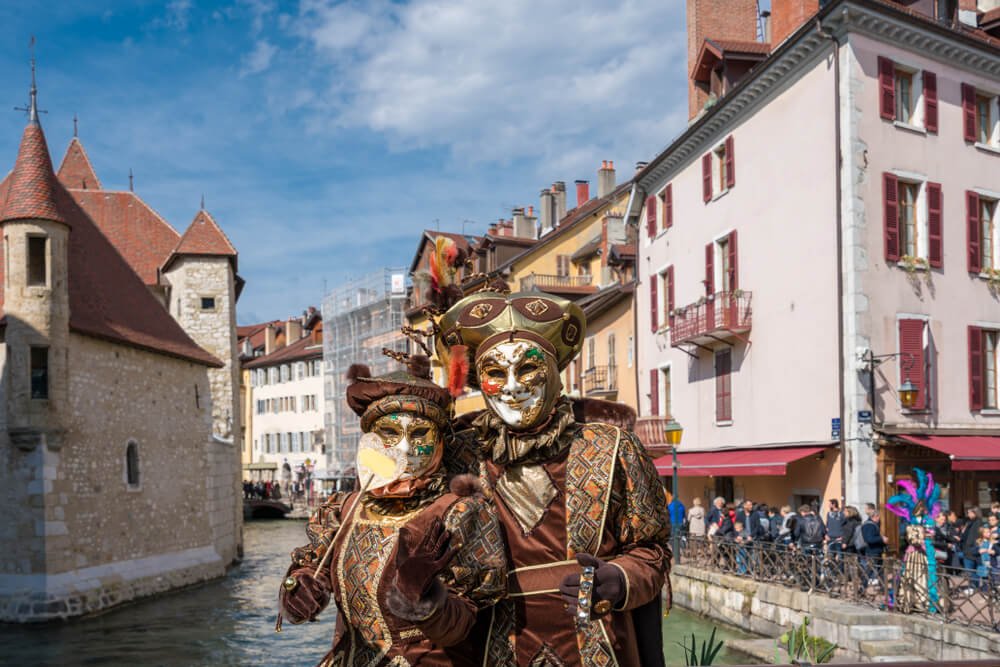 Annecy earns the nickname "Venice of the Alps" not only for its charming canals, but also for hosting its very own Venetian-style carnival!
The carnival usually takes place on the last weekend of February.
All participants are required to wear traditional Venetian masks, costumes, capes, and gowns.
The highlight of the carnival is the grand parade that winds its way through the picturesque streets and canals of Annecy.
The parade is accompanied by street performers and entertainers, all dressed in Venetian style, roaming the streets, interacting with the crowd and providing a lively and immersive experience for everyone.
Take a trip to cheese heaven at La Coopérative du Reblochon.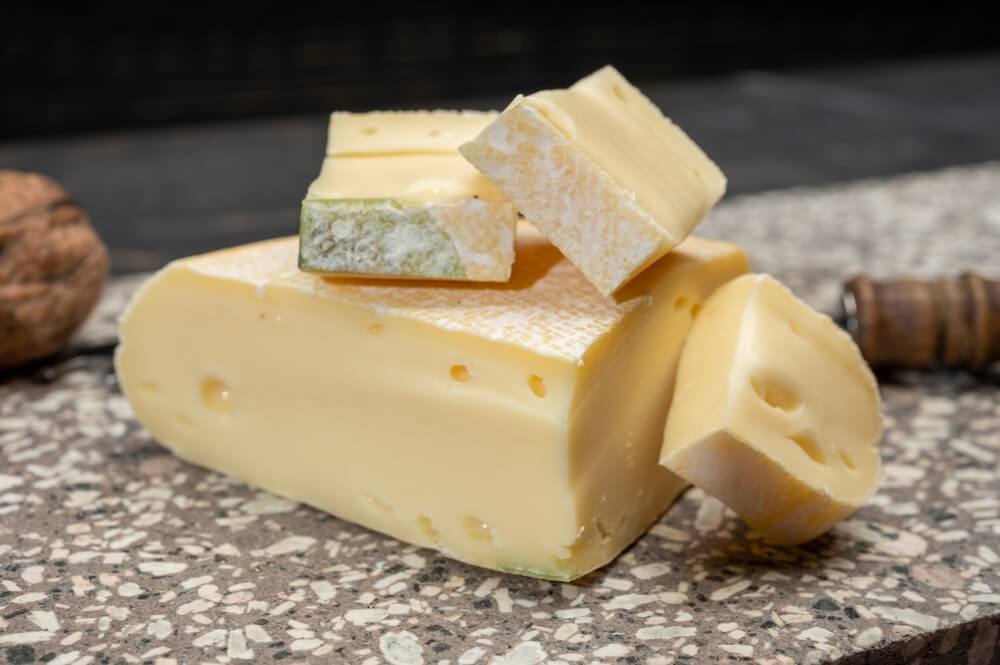 La Coopérative du Reblochon is a local farmer's union centered around the Savoyard cheese and meat production.
After all, Alpine dishes are all about dairy, and cheese is an essential part of the local heritage!
Hence, this Coopérative plays an important role in preserving Annecy's and Savoie's culture, expertise, and artisan tradition.
The Coopérative runs two shops just outside of Annecy. If you love cheese, this is your paradise!
Coming here means you get the best cheese and charcuterie in the area, while simultaneously supporting the local economy.
Enjoy a special dinner at Le 1903.
Annecy has a variety of great restaurants to offer — it's hard to go wrong here.
However, if you are in the mood for a special dining experience or if you are celebrating an anniversary or a birthday, Jean Sulpice's Le 1903 comes highly recommended.
Le 1903 is part of l'Auberge du Père Bise in Talloires, a 5-star hotel on the shores of Lake Annecy.
The resort includes a spa, exclusives suites, a bar, and Le Bistrot 1903, which we're talking about here!
1903 pays homage to traditional Savoyard cuisine, refined by Jean Sulpice, in a magnificent setting on the edge of Lake Annecy.
Take a day trip to Chambéry.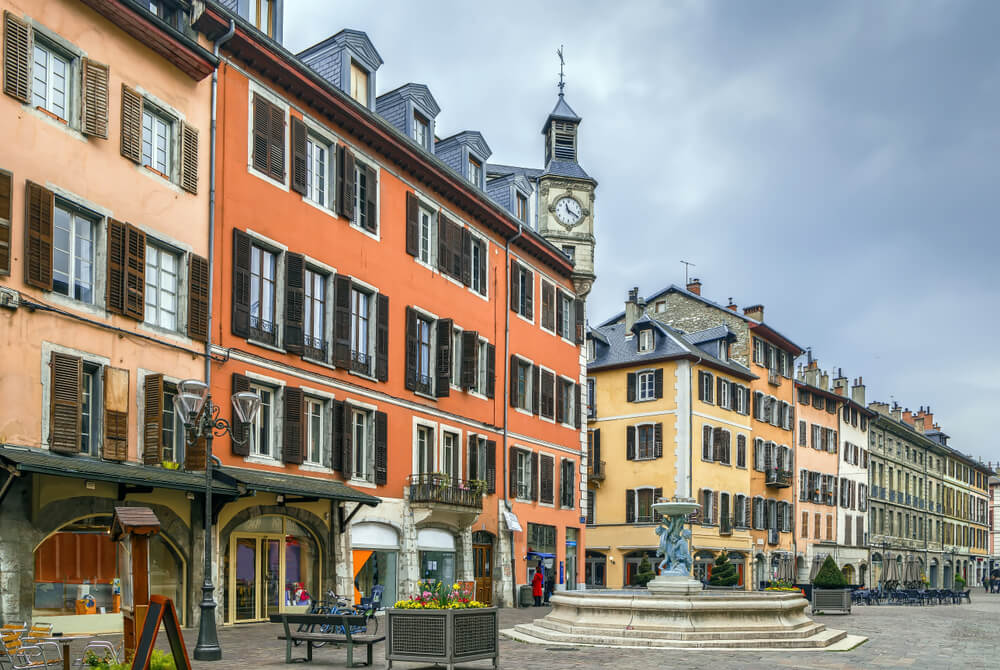 Chambéry is the historic capital of Savoie, standing as a testament to the heavy Italian influence in the region, as it was only annexed to France in 1871.
A day trip to Chambéry is the perfect opportunity to dive deeper into the region's history, culture, and traditions.
Wander around the Old Town and Place Saint-Léger, spot the Elephant Fountain and stop by the Fine Art Museum for a quick visit.
If you are a fan of Jean-Jacques Rousseau, make sure to visit Les Charmettes, a manor from the 18th century, where he lived with Madame de Warrens.
Other fun day trips in the area include Evian-Les-Bains, Lyon and Geneva.
Where to Stay in Annecy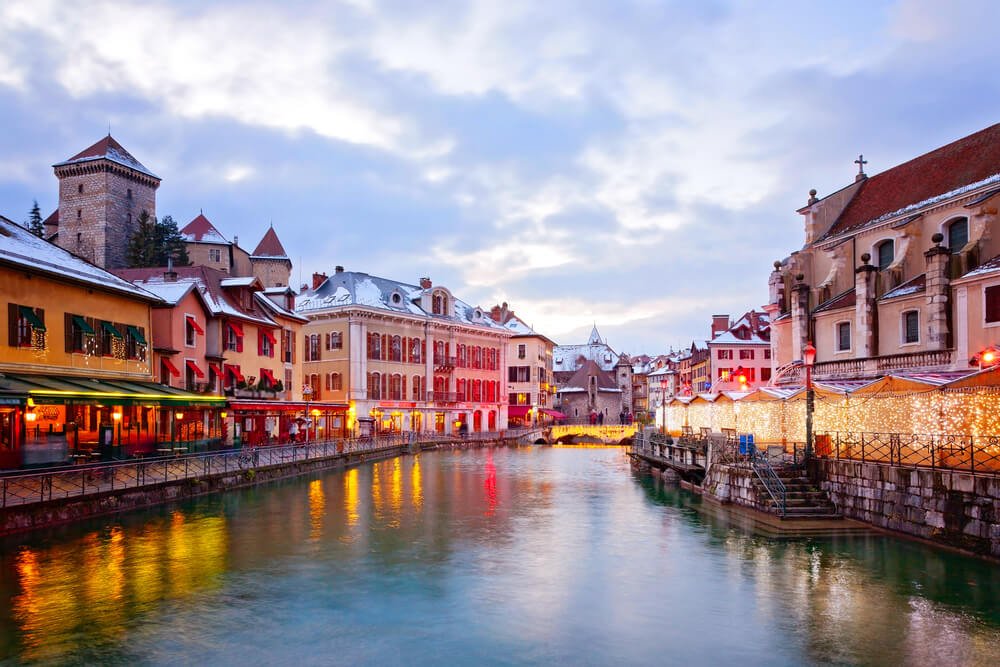 Quite literally palatial, the Impérial Palace is a lovely luxury hotel overlooking Lake Annecy.
You'll especially love its spa in the winter, with a heated indoor swimming pool, sauna, hammam, and treatment rooms.
The rooms with balconies overlooking Lake Annecy are an extra-special treat!
Want to see Annecy's most iconic building right outside your balcony window?
Stay at Hôtel du Palais de l'Isle, and that's exactly what you get!
Beyond that, the interiors are beautiful and modern, a bit small (normal for an Old Town hotel), but its location and views can't be topped!
For budget-friendly comfortable rooms at the foot of the castle, look no further than Hôtel du Château.
Its rooms are a bit basic, and it's a short walk from the old town, but given the budget, you'll likely hardly mind!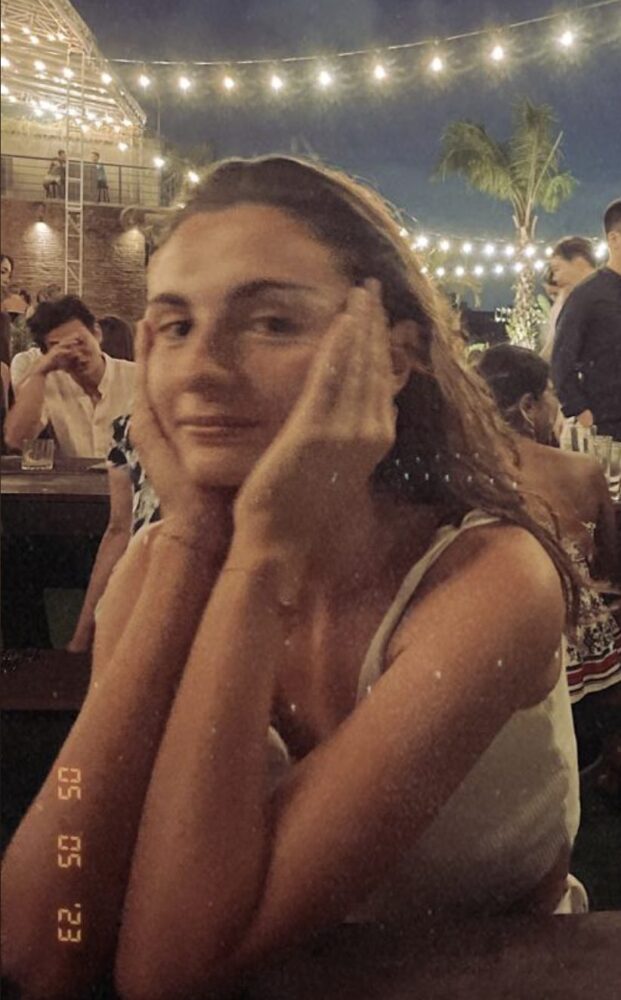 Anna is 20-something writer from France, currently living on the beautiful island of Bali. After earning a degree from Sorbonne Université in Paris, she spent a few years working in fashion before embarking on what was supposed to be a 1-year trip through Europe, North Africa and Asia — which ultimately turned into moving to Bali. Aside from traveling and writing, her passions include surfing, film photography, drinking unhealthy amounts of coffee, and reading through the night.