The French Alps are home to one of the world's most iconic ski destinations, Chamonix.
In Chamonix in summer, you'll find countless hikers on their Tour de Mont-Blanc or exploring the area on day hikes.
But it's in winter that this small little Alpine town becomes absolutely bustling with activity!
But Chamonix is more than just a ski resort: it is also a picturesque French city offering myriad things to do in Chamonix in winter, even for non-skiers.
Here are some excellent indoor and outdoor winter things to do in Chamonix from December to April.
Where to Stay in Chamonix in Winter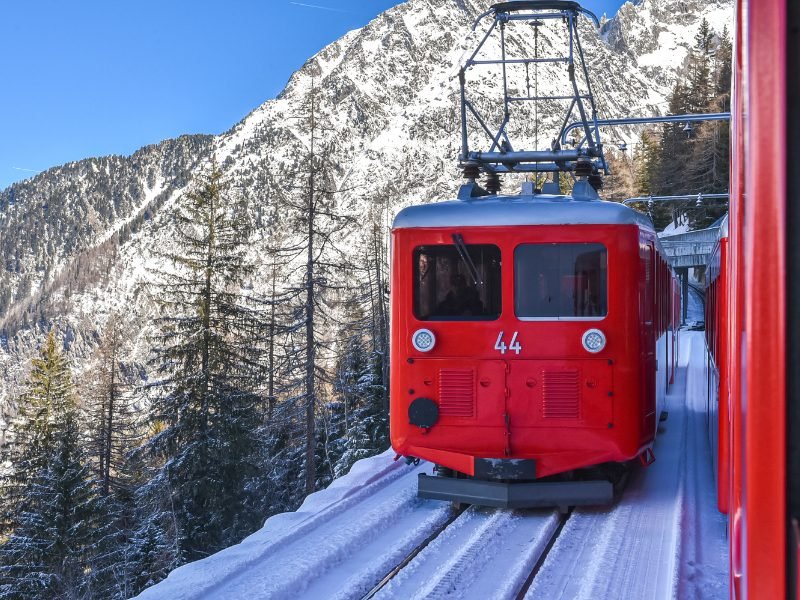 Note: This post contains affiliate links, which means I may receive a small commission if you purchase something through one of these links. Thank you for supporting the free content on this site! For more information on affiliate links and cookies, see my disclosure page for more details.
The stunning, 5-star Hôtel Mont-Blanc Chamonix is a fantastic choice for an upscale winter stay in Chamonix.
With an outdoor heated pool and hot tub with extensive views of the mountains around Chamonix, you'd be hard-pressed to leave!
Luckily, the rooms are just as cozy, with massive bedrooms with mountain views, complete with modern bathrooms complete with bathrobes and slippers.
There's also a delicious on-site French restaurant and luxe bar, and shuttles to ski slopes if that's your thing!
The beautiful palatial ski resort of Grand Hôtel des Alpes is a fantastic place to stay for a luxurious Chamonix getaway in the heart of town.
From the outside, the hotel looks like a chateau, and that feeling continues throughout the hotel. The rooms are decadently furnished in a way that makes you feel like a queen.
Luxury only gets better when you head to their on-site spa, with its indoor pool, salt room, sauna and steam room facilities.
The lovely, budget-friendly Heliopic Hotel & Spa offers spa and luxury amenities with a much more affordable price tag than you'd expect, especially when compared to other hotels in the area.
It has two hammams, a Turkish steam bath, an ice cave, an indoor heated swimming pool, and a sauna: and yet it's often a fraction of the price of similar hotels. Best of all, spa access is all included in your room price!
The design of Heliopic is a lot more modern, with clean lines and not a lot of frills, but it also has amazing common areas like a library complete with a chess board and a comfortable lobby.
Best Things to Do in Chamonix in Winter
Soar to the top of Aiguille du Midi.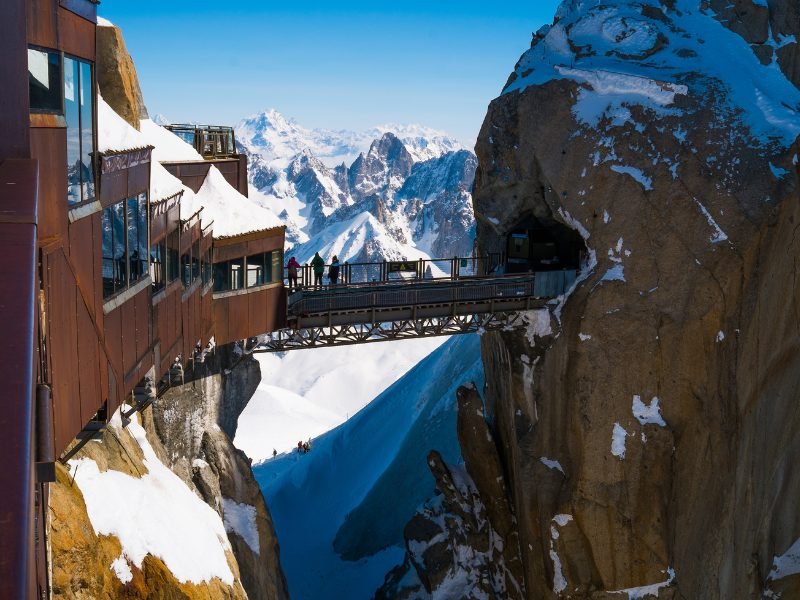 The easiest, fastest way to the top of Aiguille du Midi is by cable car.
There are two of them, one from Chamonix to the Plan de l'Aiguille (at 2,317 meters high) and a second one from the Plan de l'Aiguille to the Aiguille du Midi (at a whopping 3,777 meters above sea level).
Once you reach the top by cable car, the summit area is easy to hike around and has beautiful views.
To avoid the lines, take the cable car early in the morning — and if possible, visit Chamonix in winter outside the main school vacation periods.
The Nitty Gritty:
Price: 67€ for adults (ages 14-64), 57€ for young people (ages 5-14) and seniors (65 years and older). Kids 4 and under are free.
Opening Hours: Check here, but most recently, from 8:10 AM to 5:00 PM (5:30 PM in April onwards)
Departure Schedule: Roughly every 10-30 minutes, depending on fullness
While you can technically hike to the Plan de l'Aiguille from Chamonix, we don't recommend it unless you are a seasoned mountaineer.
It is quite strenuous and recommended only for highly fit, experienced and well-prepared hikers.
That difficulty is why using one of the cable cars for the trip to l'Aiguille du Midi is recommended — then, you can hike in a more relaxed fashion at the top, sacrificing neither views nor safety!
If you did plan to hike, it would take approximately 3 hours each way, with a difficult hike of 7km each way, with a whopping 1,312 meters of ascent and descent.
Not exactly a walk in the park!
Especially when traveling in the winter, don't forget to buy travel insurance!

I use SafetyWing travel medical insurance to protect myself and my trips for a reasonable price, typically starting around $12 per week.

SafetyWing's plans include both travel insurance (trip cancellation and delay, lost luggage, etc.) and travel medical insurance (illness, accident, etc.) so you'll be covered in all sorts of bad circumstances.

While you hope to never need to make a claim, it's always better to be safe than sorry, which is why I personally use SafetyWing for all my trips. A few bucks is a small price to pay for peace of mind!

Check prices on SafetyWing to insure your trip for affordable prices.
Take a step into a glass box on the Skywalk.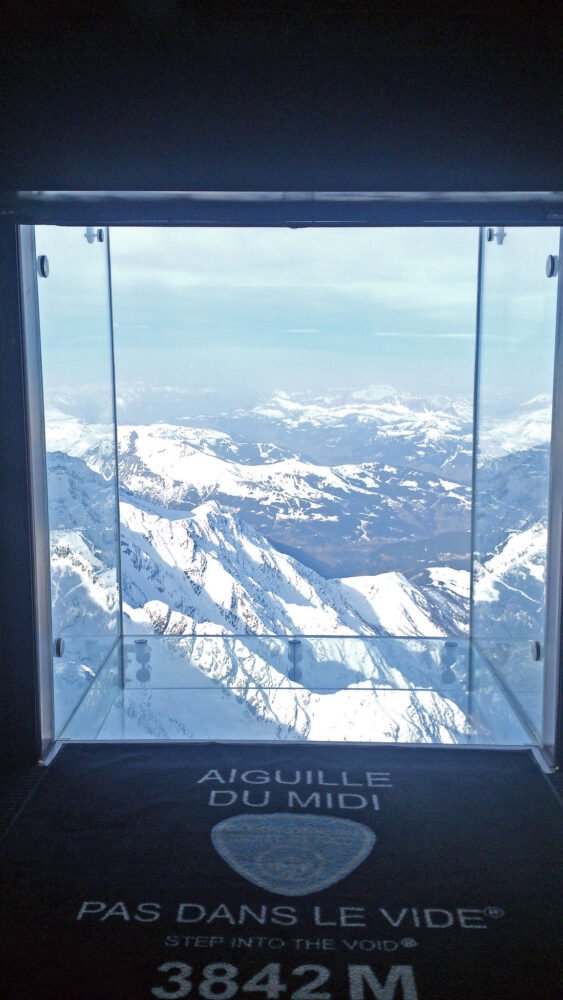 Once you reach the top of l'Aiguille du Midi, you'll notice a popular tourist spot: a glass box, covered on all sides, protruding off the mountain edge at 1000 meters with nothing below you!
Stepping into the glass box literally feels you're about to fall through the glass beneath you!
Even if you have no fear of heights, you might find yourself a little shaky here! If not from the adrenaline, from the view, which is absolutely breathtaking.
As in the above section, you will likely want to come early to l'Aiguille du Midi to avoid the long line that forms here.
Discover the south slope of Mont Blanc from Le Brévent Cable Car.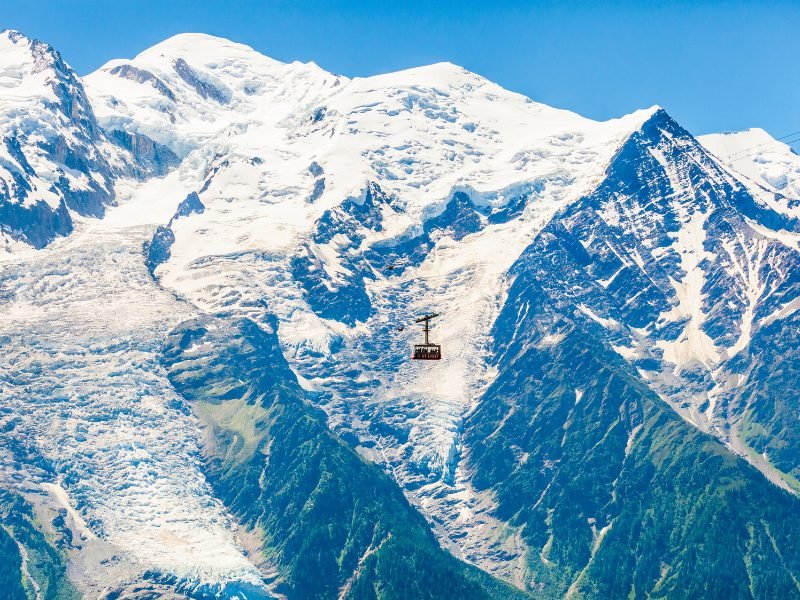 L'Aiguille du Midi is beautiful, but it is pricy — especially if you're traveling as a family, those tickets can really add up.
A more affordable way to admire a beautiful panoramic view of Mont Blanc is to reach Plan Praz (2,000 meters high) from Chamonix with the gondola lift.
From there, you can then take a cable car to Le Brévent (2,525 meters high).
The Nitty Gritty:
Price: 37 € roundtrip for adults, 31.50 € for kids, 114.80 € for a family pass. Kids under 5 are free.
Hours: From Feb. 4th onwards, between 8:50 am and 5:15 pm.
Feast at Restaurant Le 3842, one of the highest restaurants in Europe.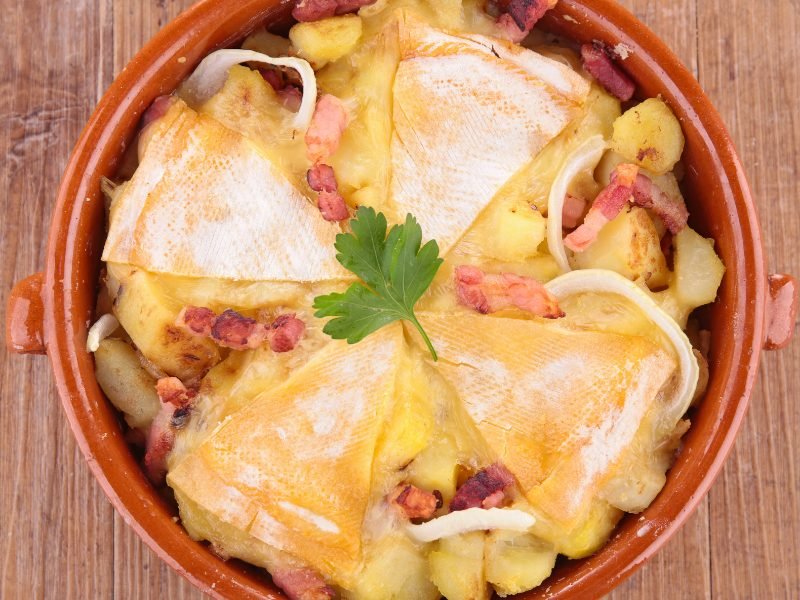 At Le 3842, you can lunch at an altitude of 3,842 meters — pretty epic, no?
Located next to the cable car at the top of Aiguille du Midi, this small, intimate restaurant offers high-quality French food served in traditional style.
The chef's menu changes weekly, with cuisine based on the seasonal produce of the Alps.
Delicacies include traditional tartiflette (a local specialty), homemade soups perfect for Chamonix winter weather, and bruschette.
Tip: Request to sit by the large windows to enjoy the breathtaking view of the Chamonix Valley!
Marvel at the Mer de Glace.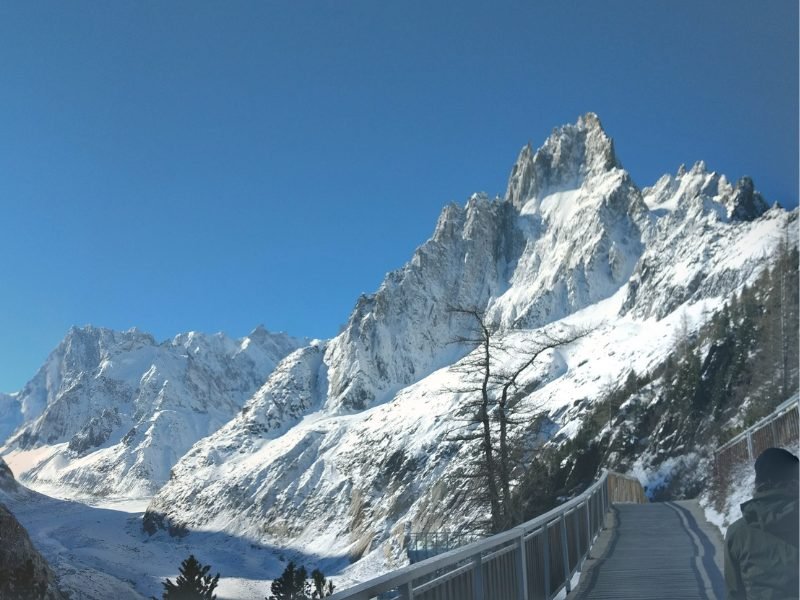 The Montenvers train is a renowned historic railway leading from Chamonix to the more heavily touristed Montenvers, an Alpine village at an altitude of 1,913 meters.
From there, you can take a cable car to admire the longest glacier in France, the Mer de Glace (French for "sea of ice").
You'll also be able to spot the nearby towering peaks of Drus and the Grandess Jorasses!
After admiring the Mer de Glace, take a fascinating tour of the Ice Cave. Just know that once you exit the cable car terminal, you either have to descend about 580 stairs or walk for 20 minutes from the Montenvers train station.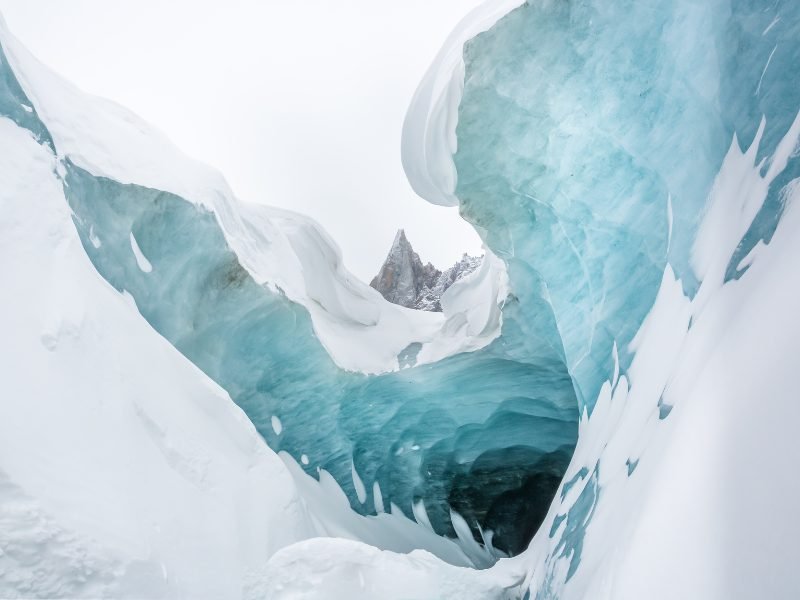 The cave's beautiful blue tones will leave you speechless as you admire this icy natural wonder, which is re-cut into the center of the glacier each year.
Inside the cave, you'll learn about the people who lived here in this harsh mountainous region around the early 1800s, and how they survived under such brutal conditions.
You can also visit the Glaciorium, which is a museum dedicated to glaciers and the changes they are undergoing under climate change.
You'll learn about the history of glaciers and how they formed as well as what's next for these beautiful but endangered landforms during a visit to this well-orchestrated museum.
The Nitty Gritty:
Ride Time: 20 minutes to Montenvers, extra time for cable car
Price: 38 € for adults, 32.30 € for children 5+ (children under 5 are free), and 117.60 € for a family pass
Inclusions: Price includes visits to the Ice Caves and the Glaciorium for no extra fee
Go snowshoeing in the Flégère area.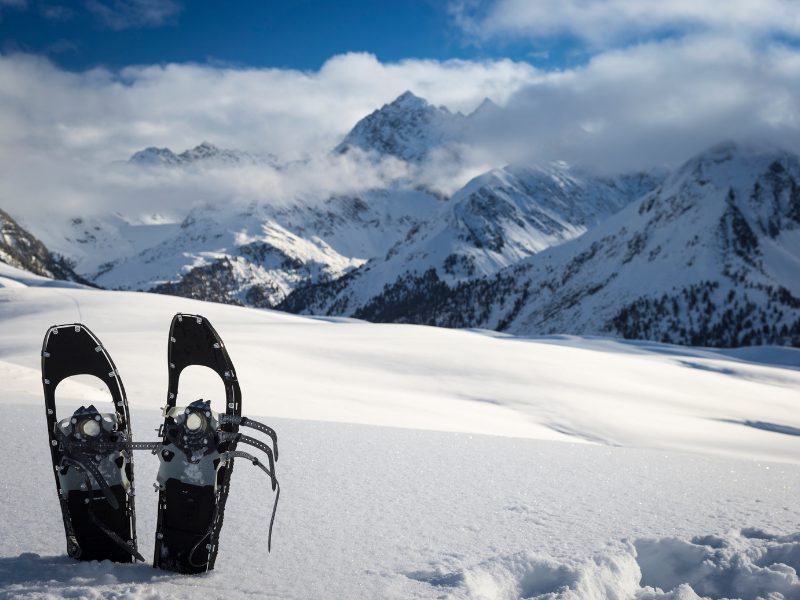 The hike starts at the Flégère gondola lift. To get there, you can take a cable car from Chamonix (Les Prez), which costs €21 roundtrip for adults, €17.90 roundtrip for kids over 5, and €65.20 for a family pass.
On Tuesdays and Thursdays in the 2023 winter season, you can go snowshoeing for free with a mountain guide.
This excursion starts at 10:30 AM and lasts about 1.5-2 hours, and is suitable for families with kids aged 12 and up.
The activity is free, but it must be reserved with a refundable deposit of €10 per person (which will be returned to you as long as you're not a no-show).
Bask in the view of Lac Vert on a snowshoe trip.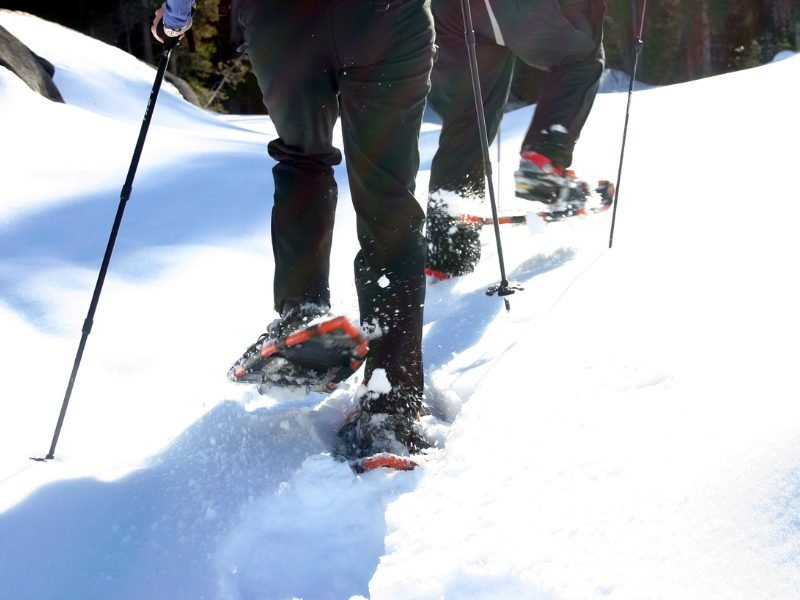 The Lac Vert ("Green Lake") is a relatively easy snowshoeing trail that is suitable for beginners to hike in the winter, given you have some elementary snowshoe or winter hiking experience.
This hike progresses from Servoz to the Lac Vert and is very easy, winding up to the lake and around it.
Learn more about the snowshoe route here: it takes about 2 hours and only requires a 200 meter elevation gain/loss, so it's pretty smooth sailing.
Ride your own husky dog sleigh.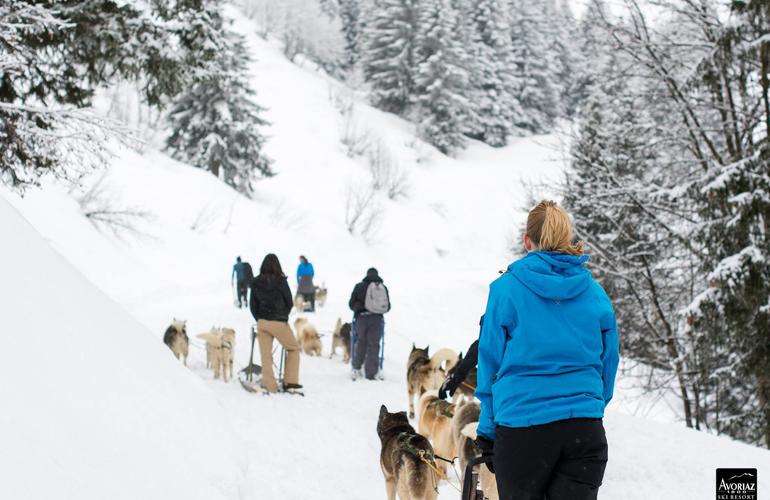 Husky dog sledding is one of the most popular winter activities in Chamonix!
Huskies love people's attention, but they enjoy running through the snow in the local mountain scenery even more!
You can either drive the sleigh or travel as a passenger with a musher. Either way, it's a delightful way to glide through the winter wilderness in the Chamonix region.
The best place to go dog-sledding is not in Chamonix itself but rather in Avoriaz, approximately an hour's drive from Chamonix (you'll want to have a rental car for this or be prepared to also add on a pricy transfer).
The team at Avoriaz will help you learn to mush your own dog sled and go through the stunning scenery with your trusty team of dogs!
Discover exceptional precious gem collections at the Musée des Cristaux.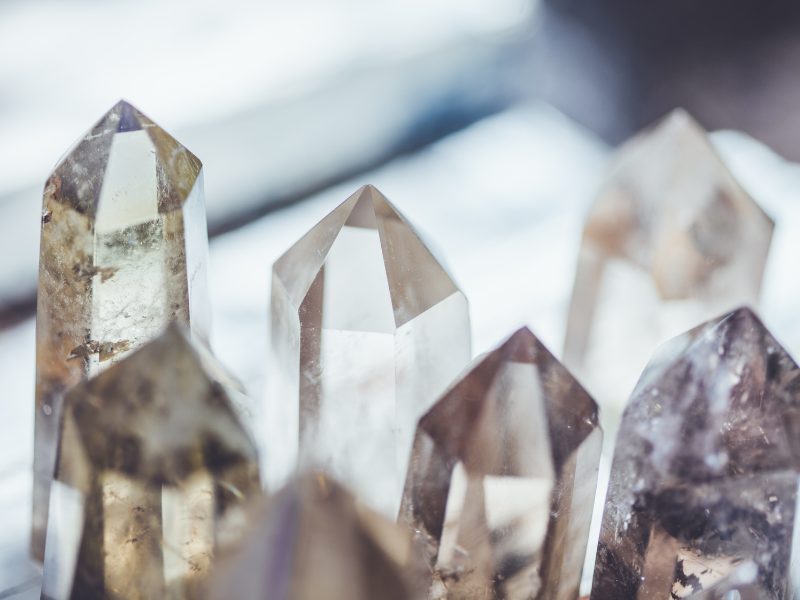 From sapphire to topaz, the Musée des Cristaux is dedicated to fine Alpine mineralogy.
Its exhibition features gems from the Alpine massifs (rock formations) of France, Italy, Switzerland, and Austria.
It also showcases emblematic pieces from French mines or other international quarries.
The museum has guided tours every Thursday from 2pm to 4pm, by reservation.
The Nitty-Gritty:
Price: €7.20 for adults, €5.20 for kids, students, seniors, and others with discounted rates
Hours: 2 PM to 6 PM everyday (closed Monday), closed November 13 to December 3 of 2023
Fall in love with Mario Colonel's photo gallery.
Photographer Mario Colonel was equally passionate about mountaineering and photography.
You can find his stunning work at the Mario Colonel Photo Gallery, which opened in downtown Chamonix 9 years ago.
Among his original series of prints, you'll also find books and posters that make fantastic souvenirs.
Ice climb in Bérard.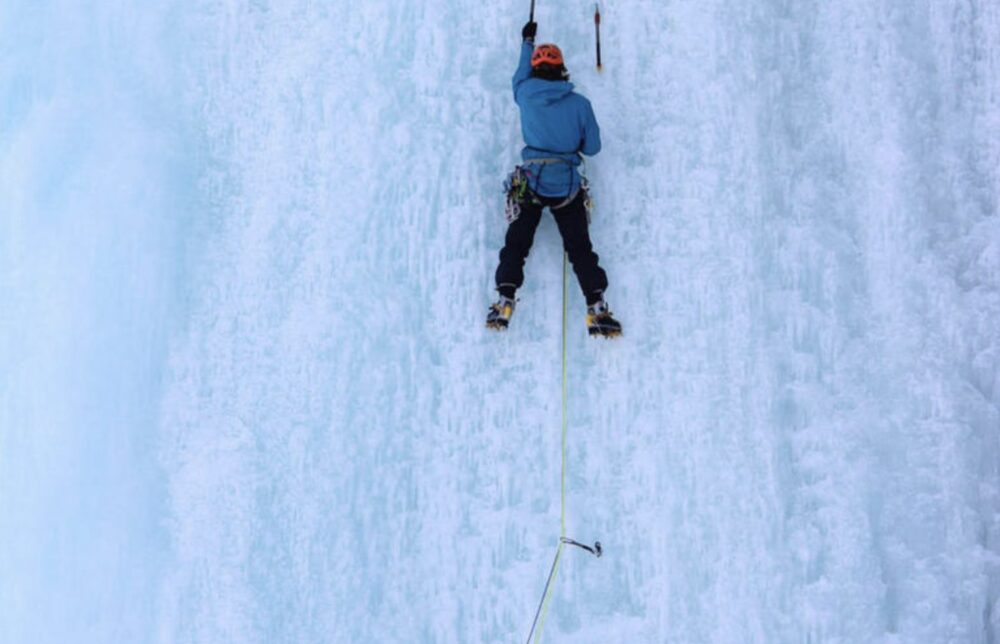 If you've ever enjoyed rock climbing, ice climbing is a novel and invigorating way to climb in winter, traversing frozen waterfalls and ice walls instead of rock faces!
If ice climbing sounds like your kind of thrill, Chamonix is a great place to learn!
Under the guidance of expert ice-climber Sébastien Laurent, with over 16 years of experience, you'll learn how to ice climb, even if you're a beginner!
Sébastien will pick the right climbing route for you that is achievable and within your limits while still pushing what you think is possible for yourself.
His ice climbing groups are limited to four or fewer people, so that you are guaranteed the 1:1 attention you need to safely learn to ice climb.
Paraglide next to Mont Blanc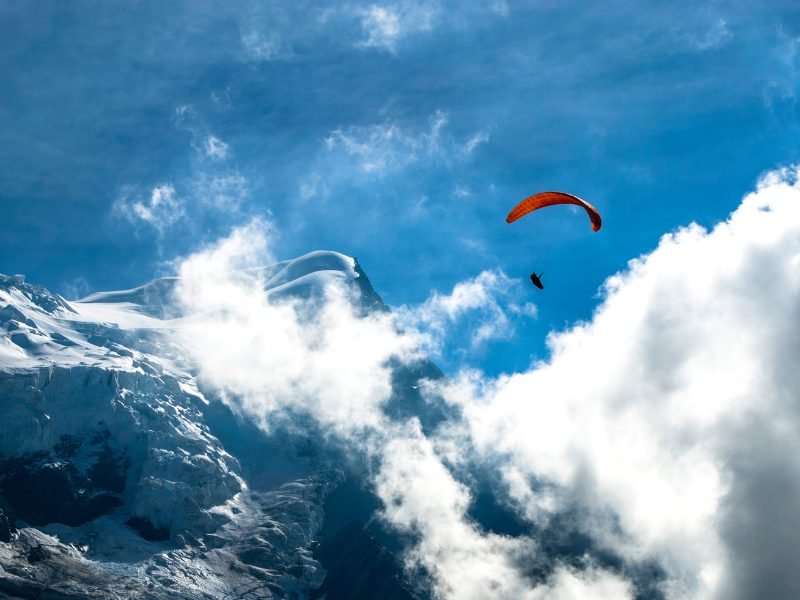 Paragliding in Chamonix is like a dream any time of year — and yes, you can paraglide in Chamonix in winter too! — because of its beautiful landscapes.
The take-off areas are easily reachable by ski lifts, and the paragliding schools in Chamonix are staffed by experienced paragliders who will ensure you are safe and comfortable.
Your first tandem paraglide flight will undoubtedly remain one of your most unforgettable memories — and Chamonix in winter offers no better setting for your first flight!
Paragliding tours depart from either Plan Praz or Plan de l'Aiguille and last around 15 to 20 minutes in flight length, depending on weather conditions.
With an average of 5 stars over 275+ reviews, this paragliding experience is the favorite among Chamonix travelers.
Hop in a helicopter for dramatic winter views.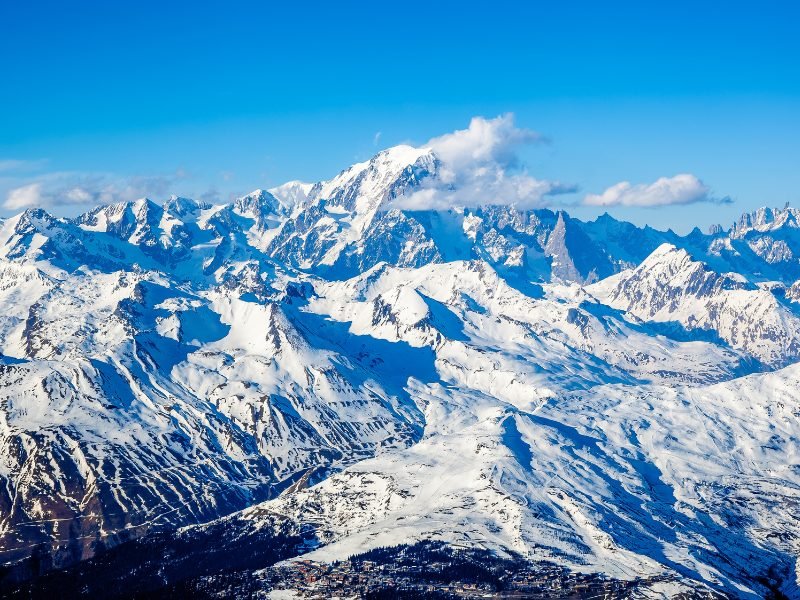 Weather permitting, you can even hop into a private helicopter for an impressive ride.
Imagine flying over the most beautiful summits of the Alps with a spectacular panoramic view of the Mont Blanc range from the sky!
You can fly with the Chamonix Mont Blanc Helicopter company located in Argentière, which offers flights from 15-30 minutes with prices starting around €110 per person.
Relax at the spa.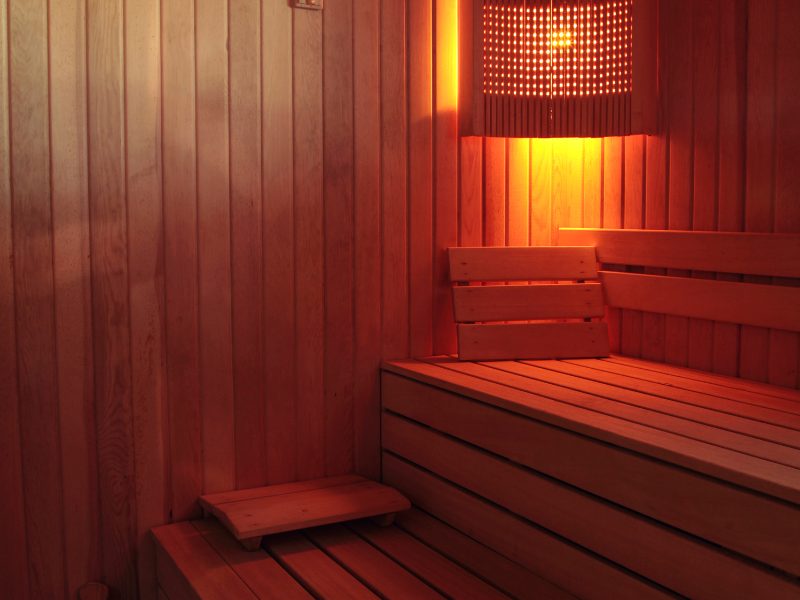 Chamonix in winter is a resort town, and what better way to enjoy a resort town than by taking advantage of its spa offerings?
The resorts and hotels in Chamonix offers a wide range of spas, complete with saunas, hammam-style steam rooms, and heated indoor pools: all with beautiful views of the mountain scenery!
One of the most popular spas is QC Terme Chamonix-Mont-Blanc Spa, which offers indoor and outdoor thermally-heated pools, plus loungers, saunas, and relaxation areas.
Plus, you'll also get a bathrobe, slippers, and a fresh towel to feel ultra-cozy during your spa day.
C'mon, how epic does soaking in a heated pool while contemplating the beauty that is Mont Blanc in winter sound?
Ice skate on an Olympic-sized rink.
Chamonix is the home of multiple French ice hockey champions, and you can skate on the very same indoor rink they practice on!
Just 15 minutes by foot from the Gare de Chamonix-Mont-Blanc train station, you'll find a wonderful ice skating rink with both indoor and outdoor skating options.
The Richard Bozon Sports Centre includes an Olympic-sized indoor rink (60 by 30 meters) as well as an outdoor rink (26 meters by 56 meters) that's open only during the winter.
The Nitty-Gritty:
Price: 6.60 € for adults, 4.90 € for children, 4.40 € for skate rental
Hours: 2 PM to 5 PM during the winter
Watch a hockey game.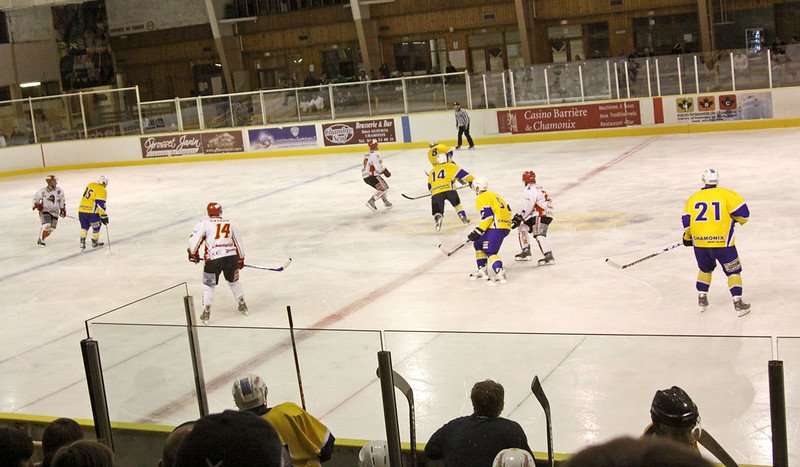 Not much of a skater? Watch other skaters do their thing at the same place, the Richard Bozon Sports Center, where the Chamonix Ice Hockey Club plays!
This team is more than 100 years old and often holds matches featuring their local team, The Pioneers. Check out their website for more information.
Tickets cost 16 € for adults, 12 € for students and kids between 8 and 16, and free entry for kids younger than 8.
Wander the city's center under holiday lights.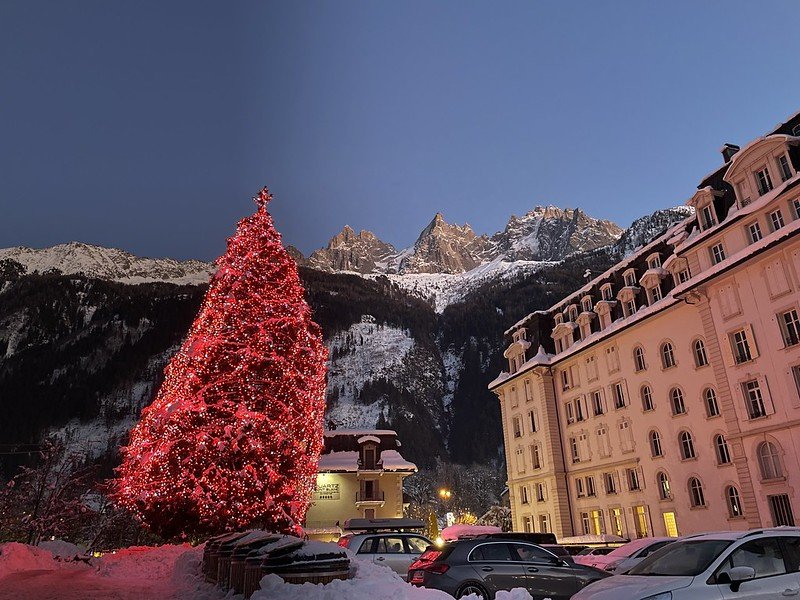 The atmosphere of Chamonix in winter is truly cozy and even a bit romantic. You can wander the cobblestone streets while enjoying a mug of hot chocolate or mulled wine.
If you're on the lookout for souvenirs, there are little shops all over town selling high-quality winter flannels and local artist's renditions of Mont Blanc scenery .
If you're visiting on a Saturday, head to the Place du Mont Blanc Market (open 7am to 1 pm) for artisanal products and goods.
If you're visiting Chamonix around Christmas, the Place du Mont Blanc Christmas Market is the place to be!
Eat raclette, fondue and tartiflette (anything with cheese, really).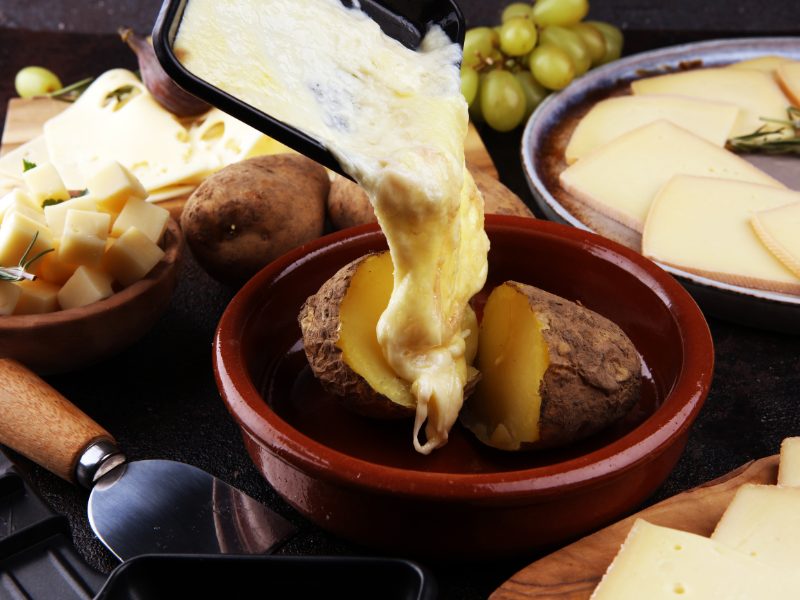 Raclette is an absolute must-eat if you're in Chamonix during wintertime!
Although its origins are from Switzerland, raclette is now a holiday food in many French households, especially those in the Alps.
Raclette consists of melted cheese served with boiled potatoes, gherkins and charcuterie — best accompanied by a hearty glass of red wine.
To indulge in this heartwarming meal or any similar Savoyard specialties, head to a restaurant that features raclette, tartiflette, or fondue.
Allison Green is a former educator turned travel blogger. She holds a Masters in Teaching and a B.A. in English and Creative Writing. Her blog posts merge her educational background and her experience traveling to 60+ countries to encourage thoughtful travel experiences that both educate and entertain. She has been a speaker at the World Travel Writers Conference and her writing, photography, and podcasting work has appeared in National Geographic, CNN Arabic, CBC Canada, and Forbes, amongst others. Now based in the San Francisco Bay Area where she grew up, she has also lived in Prague, Sofia, and New York City.