If you are wondering if Geneva in the winter is worth it, we're here to tell you that yes, it certainly is!
With so much festive ambiance and French-styled charm, Geneva is a winter wonderland that won't be forgotten.
Geneva is a beautiful city in southwestern Switzerland, located on the southern end of the famous Lake Geneva.
This beautiful lakeside city has a charming ambiance with its French-style streets and pretty little cafes, perfect for a charming winter getaway.
Keep in mind that French is the language of Geneva, so you'll hear French spoken as you move around the city, (written as Genève in French), and you'll find signage, menus, etc. all written in French!
Why Visit Geneva in Winter?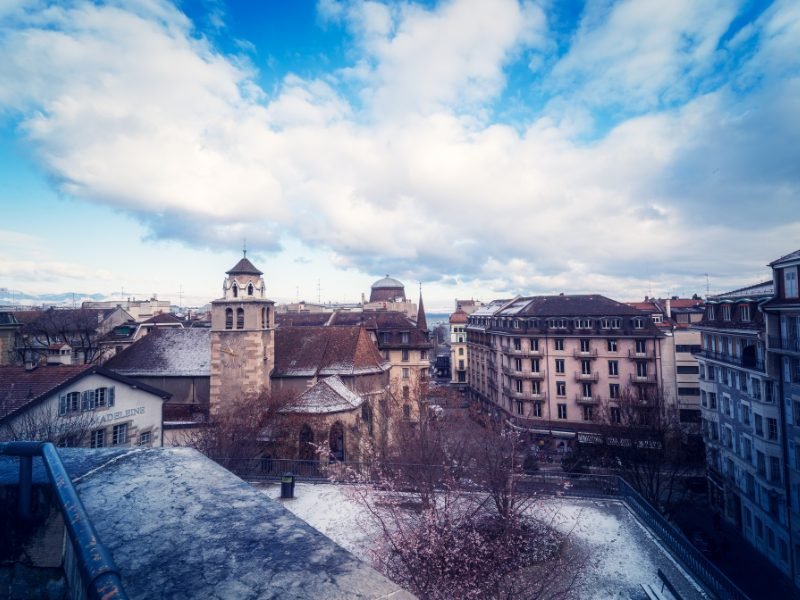 Note: This post contains affiliate links, which means I may receive a small commission if you purchase something through one of these links. Thank you for supporting the free content on this site! For more information on affiliate links and cookies, see my disclosure page for more details.
Many people flock to Geneva during the spring and summer months. However, there is so much wonder and appeal to Geneva in the winter!
Winter in Geneva is delightful, with warm drinks and sprinkles of snowfall along the lovely cobblestone streets.
Geneva's winter brings about a very unique feeling like no other season: here are all the best things to do in Geneva in winter, both indoors and outdoors!
Top Things to Do in Geneva in Winter (Outdoors)
Try "vin chaud" at one of Geneva's Christmas markets.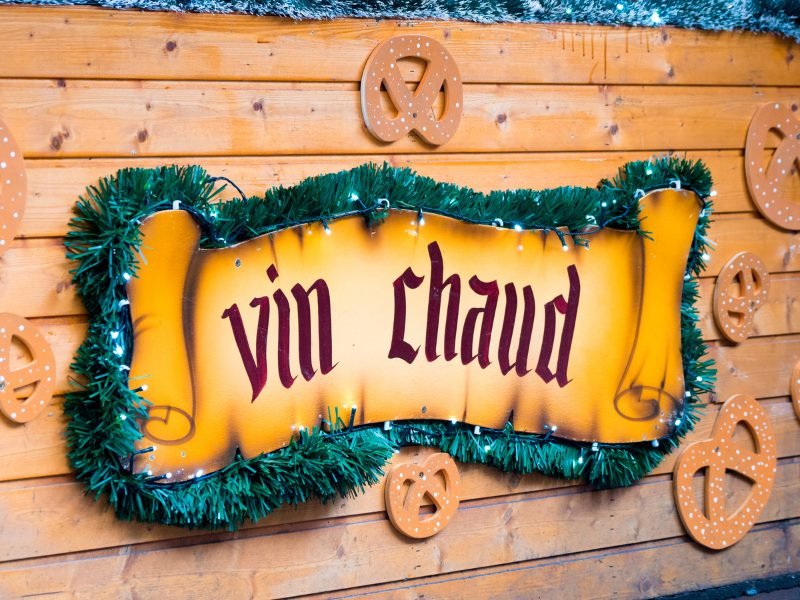 Winter in Geneva gives everyone the excuse to make their best vin chaud! But what is it? Vin chaud, translating to "hot wine" in English, is a French spin on mulled wine.
In Geneva, many fantastic Christmas markets open around November and run through the end of December.
If you are not visiting Geneva while the Christmas markets are up and running, don't worry — you can still try vin chaud at cafes, restaurants, and vendors all over Geneva!
The largest and most famous Christmas market in the Lake Geneva region is Marché de Noël à Montreux in the nearby lakeside city of Montreux, about 40 minutes away by train.
This incredible market has over one hundred vendors filled with food, drinks, and the best vin chaud around!
Take a chocolate tour of the city.
Switzerland in general (and Geneva in particular) is famous for its chocolates. One of the best ways to taste as many chocolates as possible is on a walking tour of the city's chocolatiers!
This 3-hour walking tour of the city brings you to the most famous chocolate shops in Geneva, tasting a variety of chocolates from pralines to drinking chocolate to truffles to pastries and more.
You'll also wander around the Old Town and take a brief boat ride as part of the chocolate tour experience.
Take a stroll along the shore of Lake Geneva.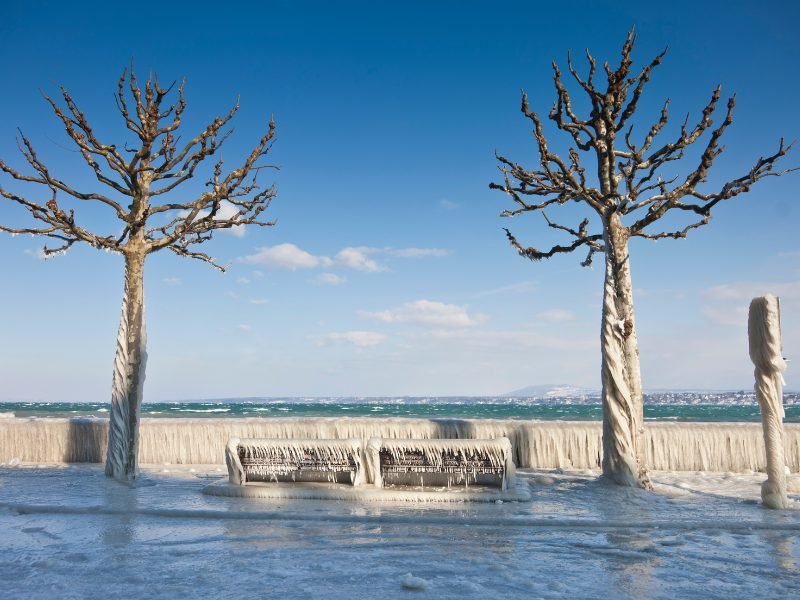 On a pristine winter day, it's wonderful to bundle up and enjoy a lakeside walk on the shores of Lake Geneva (also known as Lac Léman in French).
As you walk around the lake, be sure to admire the famous Jet d'Eau shooting up in the air — it typically flows all year since it's rare for Lake Geneva to ice over fully.
Make sure to make your way to the Jardin Anglais, which is beautiful on a Geneva winter day, with its famous Flower Clock (L'Horloge Fleurie) that pays homage to the city's watchmaking history.
Enjoy the winter sports at Les Diablerets.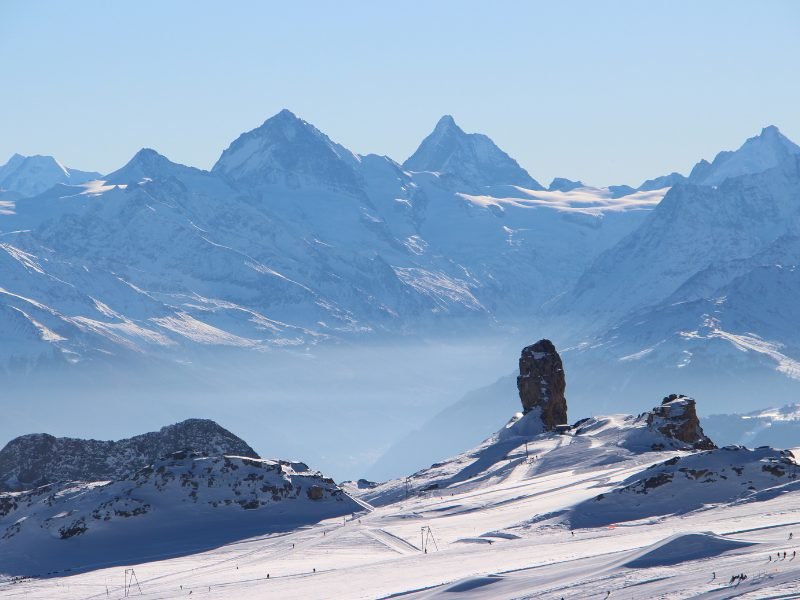 The Diablerets ski resort area is not far from Geneva and makes a great escape for those looking for outdoor activities and snow sports.
There are plenty of pistes for snowboarding and skiing, and you can also do cross-country skiing and snowshoeing on the flatter trails.
Les Diablerets is also home to Glacier 3000 which brings you to the top of Scex Rouge with a view of the gorgeous Tsanfleuron Glacier.
You can reach the summit of the mountain via its suspension bridge called "Peak Walk", the first suspension bridge to connect two different peaks.
You can do this via a guided tour or take public transportation to reach Les Diablerets and then explore the Glacier 3000 area.
Celebrate the Fête de l'Escalade.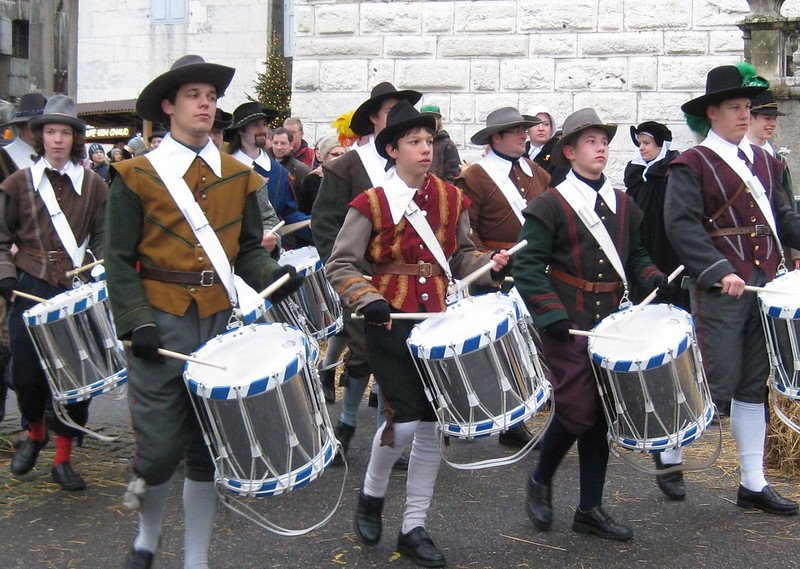 If you happen to be in Geneva on the weekend closest to December 11th, you'll see the festival of the Escalade, a celebration that honors the city's resistance to an attempted Catholic conquest in the 1600s.
The invading troops were repelled when a local cook poured hot soup over the would-be conquerors. In the festival, this is honored with a large cauldron filled with marzipan candies (to be smashed piñata-style), plus revelry with vin chaud and Escalade songs.
The weekend of the Escalade typically has a Friday memorial parade and a Sunday historical procession with local families in historical garb and relics of the attempted conquest.
Relax at a thermal bath.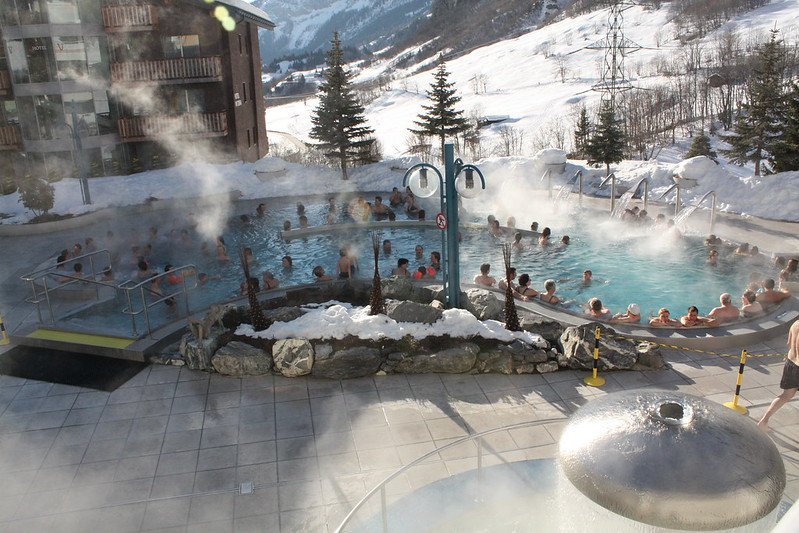 You can find thermal baths all over Switzerland, and they're one of the most fun ways to spend a winter day outdoors!
Switzerland's thermal baths contain naturally heated water that comes from hot springs. The water is considered beneficial and therapeutic because of the many natural minerals in the water.
Thermal baths are great at any time of year; however, there is no doubt that the contrast between the cold winter air and the warm water is the perfect mix.
Geneva offers many thermal bath options around the lake and surrounding towns and cities!
If you are feeling adventurous, you can venture two hours from Geneva by train to Leukerbad, where you will find the largest spa and thermal bath in all of the Alps, called Leukerbad -Loeche Les Bains.
Take a walking tour of the city.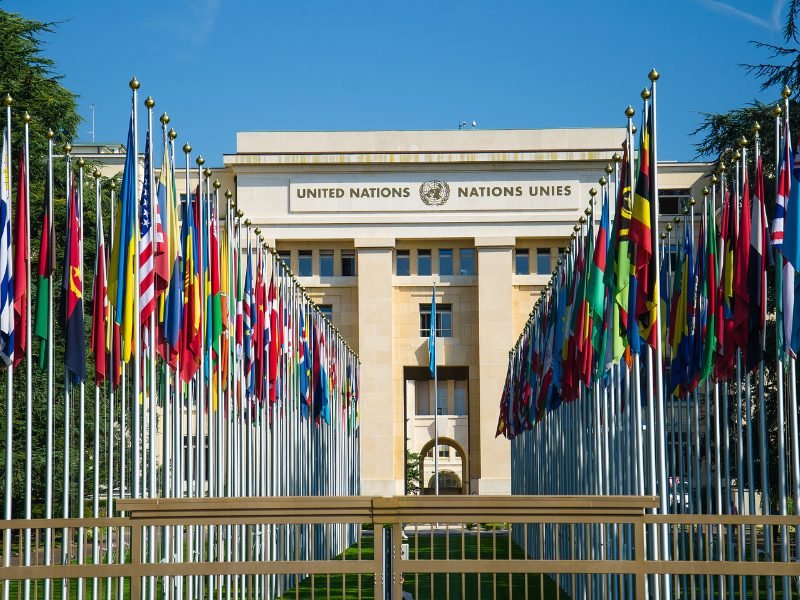 One of the best ways to spend a winter's day in Geneva is taking a historical walking tour of the Geneva city center.
This tour covers the International Quarter — home to the United Nations headquarters, Palais des Nations — as well as Geneva's Old Town sites, like St Pierre Cathedral, Maison Tavel, and more.
Take a day trip to Chamonix.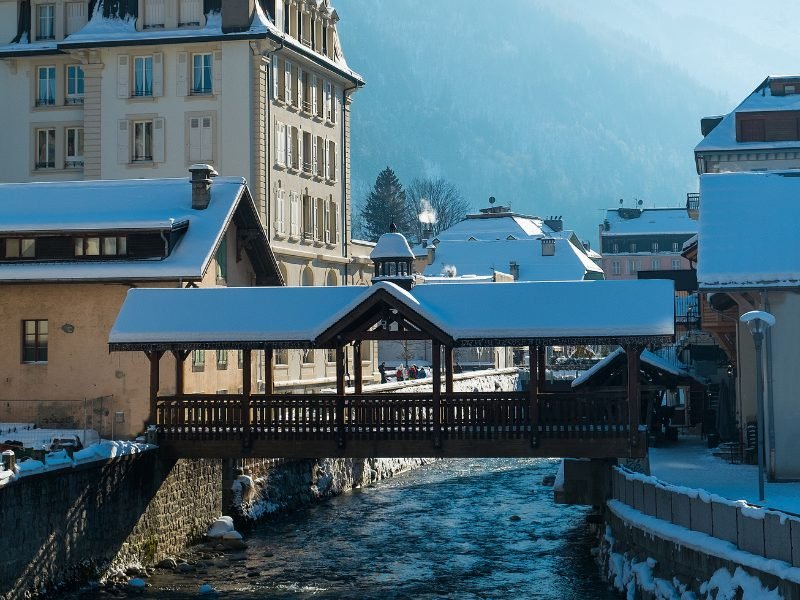 Mont Blanc is an incredible mountain neighboring Geneva, across the French border. There is a beautiful train from Geneva to Chamonix, which takes around two hours, or you can take a guided tour.
Chamonix in winter is a wonderful destination worthy of its own visit, but it's also worth visiting as a day trip!
The train takes you to Chamonix, a charming town at the bottom of the mountain. The train ride is wonderful, wrapping through the mountains and over the top of rivers and rolling hills.
The day trip is very worth it, as you can admire Mont Blanc, the highest mountain in the Alps.
Mont Blanc has a cable car running to the top of its peak, where you can soar over the snowy mountain tops and feel like you're on top of the world!
This cable car is officially the highest in the Alps and an absolute must to check off your bucket list!
However, it closes at the beginning of November for the winter season, so you likely won't be able to go to the top of Mont Blanc.
If you are an adventurous person, you must experience the breathtaking views of Mont Blanc — a day trip to Chamonix is the perfect way to spend a winter day when visiting Geneva!
Go ice skating.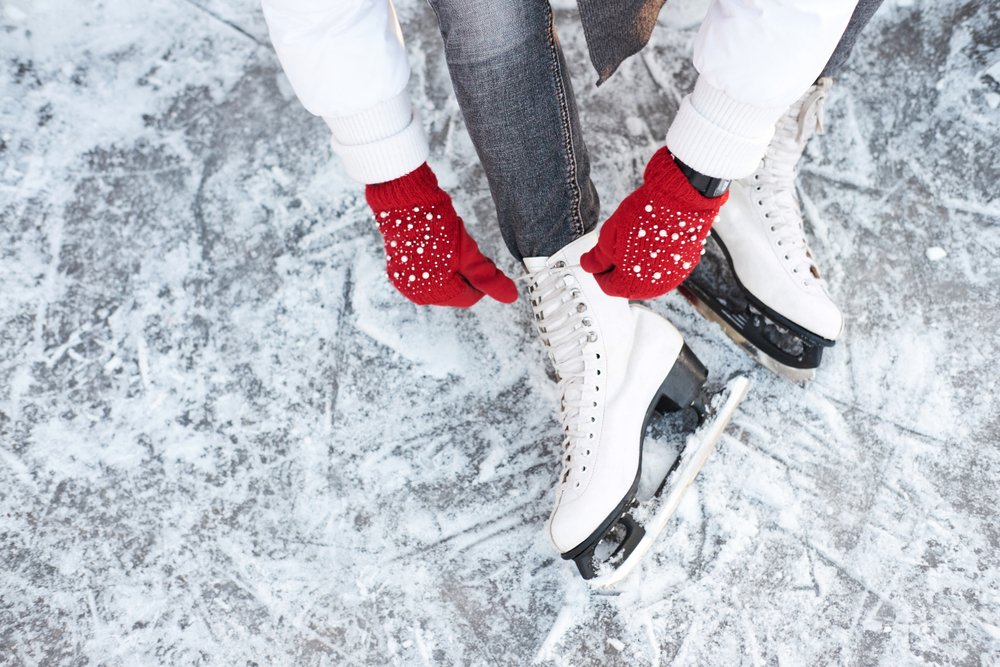 Nothing is more perfect than ice skating on a winter day, with a view of the beautiful Geneva in the background while you skate.
Multiple ice skating rinks in Geneva open up in the winter season, but what's even more exciting is that many of them are free!
In the heart of Geneva, there is a pleasant ice rink in Parc Les Bastions, perfect for those staying in the center of Geneva!
In addition, just fifteen minutes by car or train outside of Geneva, you will reach a little town called Courage, which offers a fantastic large ice arena, perfect for your winter adventure.
Watch the Festival of Lights in Lausanne.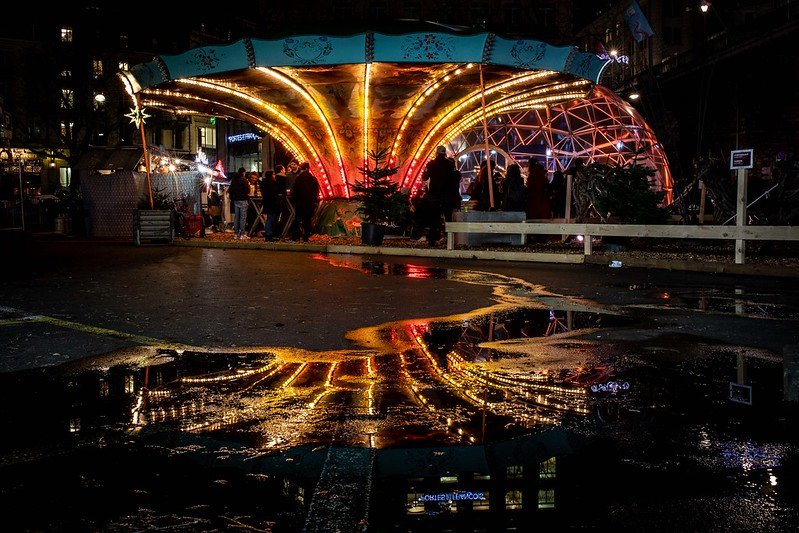 Lausanne is a remarkable city northeast of Geneva on the upper end of the lake. The commute from Geneva to Lausanne is a quick 30-minute journey!
The train to Lausanne hugs the lake, allowing you to enjoy some incredible views along the way.
Every year, from November 25th, until December 25th, Lausanne showcases the great Festival of Lights (Lausanne Lumières).
You can enjoy the joyful festival on your own or embark on one of the many guided tours. Immersing yourself in the colorful Christmas cheer of Lausanne will leave you feeling warm and festive.
Go Christmas shopping on the Grand Rue.
If you are lucky enough to be in Geneva around Christmas, you will be able to witness all of the fantastic decorations that come to life around the city!
The Grand Rue is a large street in Geneva's city center with numerous shops, restaurants, and cafes.
The street is full of lights, decorations, and gift options perfect for spoiling your loved ones. Who doesn't love an excuse to do some shopping during the holidays?
The Best Indoors Things to Do in Geneva in Winter
Visit the Ethnography Museum.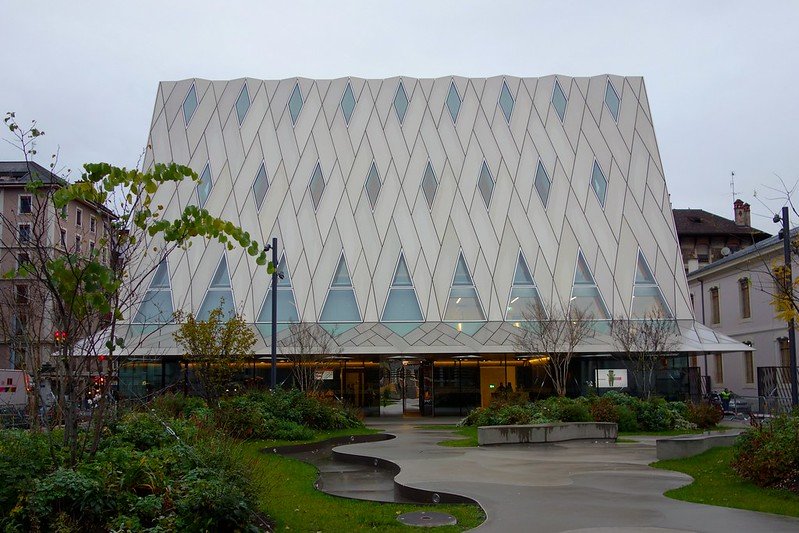 The excellent Ethnography Museum was awarded the European Museum of the Year in 2017! This award-winning museum is located in the city center of Geneva in the Jonction district.
If you love the idea of learning about different cultures and seeing various cultural artifacts from around the world, then this museum is for you!
The modern architectural style of the building is quite impressive, but its interior with thousands of displays and themes is even more impressive.
If you plan to see a lot of museums, we suggest getting a Geneva Pass — it'll save you a bundle on transportation, tours, and museum entrance costs.
See a concert at Victoria Hall.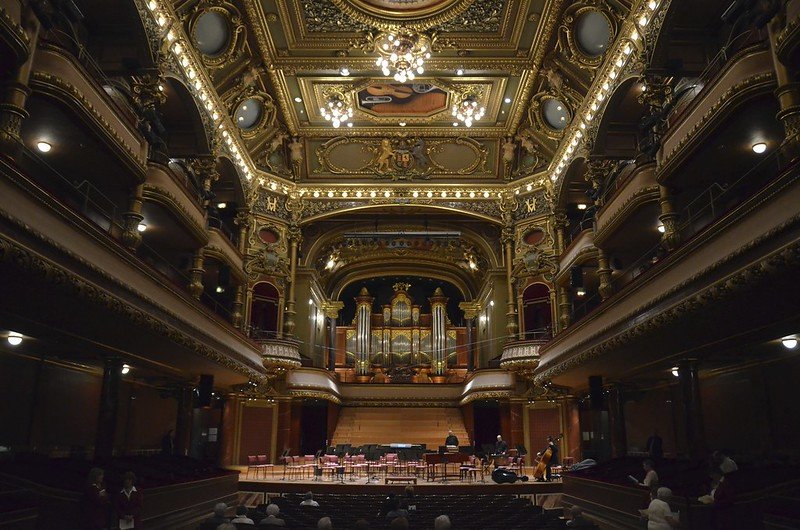 Watching a live performance at Victoria Hall is is the perfect winter activity in Geneva!
Victoria Hall is a dazzlingly beautiful 3-story concert hall that showcases primarily classical music and jazz concerts.
The hall's interior is coated in stunning gold trim and refined Renaissance-style detailing, making it an exquisite setting to listen to impeccable music.
And since Victoria Hall is in the center of Geneva, its convenient location means you can have a delicious dinner or glass of wine beforehand at one of the many excellent restaurants nearby.
Explore the Patek Philippe Museum.
You may know Switzerland for its well-renowned watchmaking. And indeed, people from all over the world seek Swiss watches!
However, many don't know its history, or why or how Swiss watchmaking has progressed into such a large industry over the decades. But you can find all of this out at the Patek Philippe Museum!
Patek Philippe is a world-famous luxury watch brand — at its lower end, prices hover around $12,000 to its most expensive, at around $2 million.
While you probably can't afford to take home a Patek Philippe watch as a souvenir of your time in Geneva, luckily, at 10 CHF (about $10 USD), a trip to the museum is rather affordable.
Visit Geneva's Art and History Museum.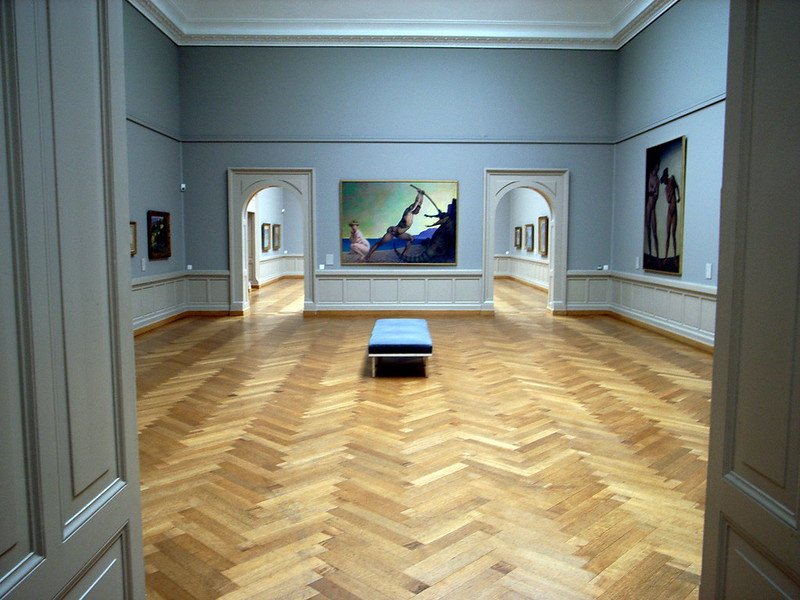 If you love sculptures and artwork from all different artistic periods, you will love strolling around one of Geneva's largest and most famous museums, Musée d'Art et d'Histoire.
This art and history museum takes you back in time to explore the history and progression of art in Switzerland.
Even the exterior and interior architecture of the building is art in itself, lined with tall pillars and fine details.
The museum is easily accessible in the center of Geneva's old town, making it a perfect central location to continue sightseeing after.
It is a very extensive museum, so plan to go on a day where you have plenty of time to enjoy all of its wonders!
Spend the evening at the cinema.
One of the coziest winter activities we can think of is a night out at the cinema, whether you go alone or enjoy it with your partner, family, or friends!
Geneva has around five major cinemas in its city center where you can discover a Swiss film, or occasionally a French or German one.
There is something special about watching a movie on a cold winter day, getting all bundled up, and sipping on a hot chocolate!
Spend the day at the International Museum of the Red Cross.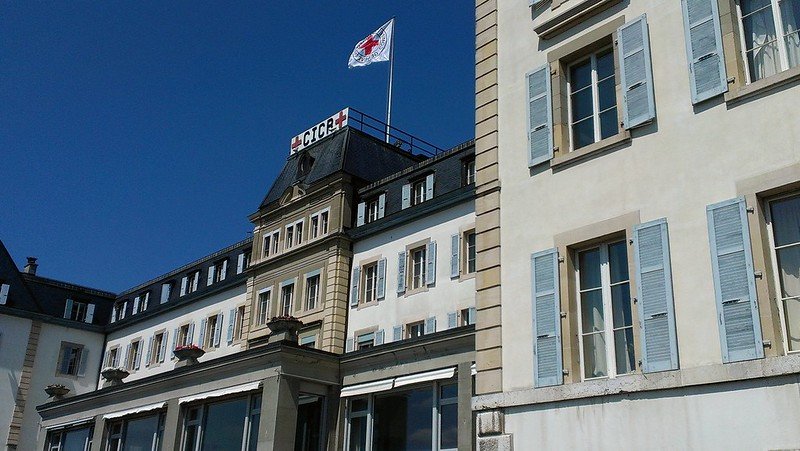 The International Swiss Red Cross is the largest humanitarian organization in the world, protecting victims of war and helping to create rights and laws for victims worldwide.
Learning about the critical issues the Red Cross is working on is a very valuable way to spend da winter day in Geneva. Visiting the Red Cross museum will widen your knowledge on a variety of human rights topics.
The exhibits are fascinating, with modern architecture and intriguing layouts.
Try some delicious Swiss fondue.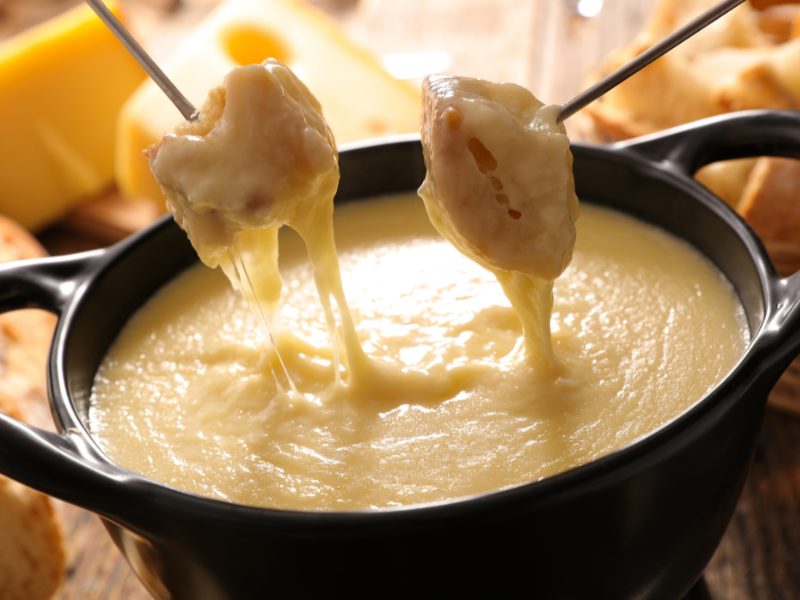 Like Swiss chocolate, Swiss fondue cannot be skipped when visiting Geneva in winter!
Cheese fondue is terrific at any time of year, but this warm and cozy dish will warm you up so much more in the winter.
And honestly, there isn't anything that will warm you up more perfectly than an excellent fondue and a hot drink.
Luckily, like all of Switzerland, Geneva is rife with great fondue!
The article Swiss7 rated the best top 5 fondue restaurants in Geneva, listing Les Armures at #1.
When it gets chilly outside, cozy up at one of the quaint Geneva restaurants for the best fondue you will ever try!
Visit Geneva's oldest house.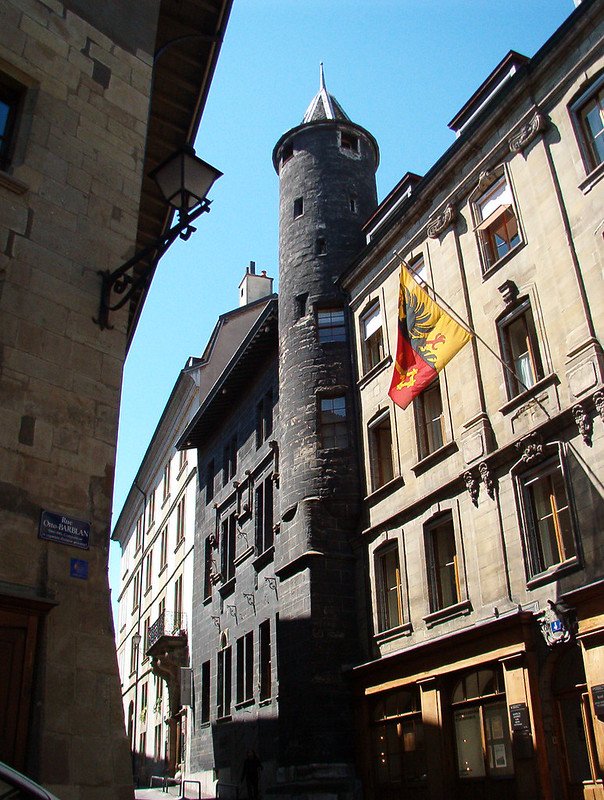 Do you wonder what it was like in Geneva all the way back in medieval times? Well, you can witness it firsthand at Maison Tavel!
The Maison Tavel Museum is the oldest building in Geneva, dating back to medieval times. How old? The house was built by the Maison family in the 12th century and still stands today!
A trip to the Maison Tavel Museum gives you an authentic look at how Geneva was thousands of years ago.
Explore the MAMCO Museum.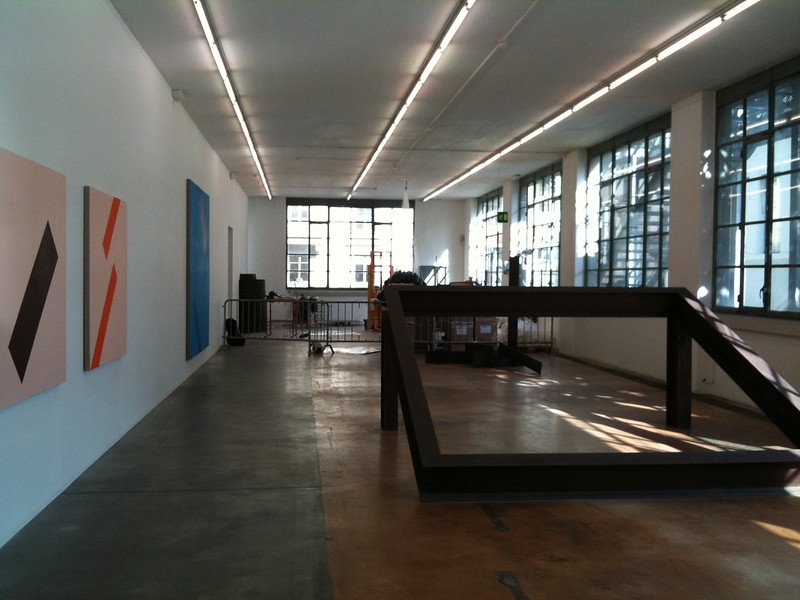 Don't worry if the weather is too dreary to enjoy some time outdoors in Geneva in winter. This city is so full of museums you'll rarely need to do more than walk a few blocks!
If you love contemporary and modern art, venture to MAMCO (Musée D'art Moderne et Contemporain).
There is more than enough to keep you entertained here, since MAMCO is the largest contemporary art museum in all of Switzerland!
You'll find more than 3,000 square meters of exhibit space, sprawling with exciting concepts and innovative pieces.
Take a hot yoga class.
During the cold winter months, muscles tend to tense up — especially if you've been spending a lot of time outdoors at a Swiss ski resort.
Yoga, and particularly hot yoga, is the perfect way to loosen up after spending so much time in low temperatures!
Geneva has some great options for hot yoga classes, such as Studio Soham, Yoga Lab, and Simply Yoga, to name a few.
Hot yoga is done in very heated rooms, almost like saunas, causing you to sweat — a lot!
Not only does hot yoga help ease those stiff muscles, but studies show that engaging in hot yoga in the winter can help to prevent colds, as you release lots of toxins and boost the immune system.
Visit Ariana Museum (Musée Ariana).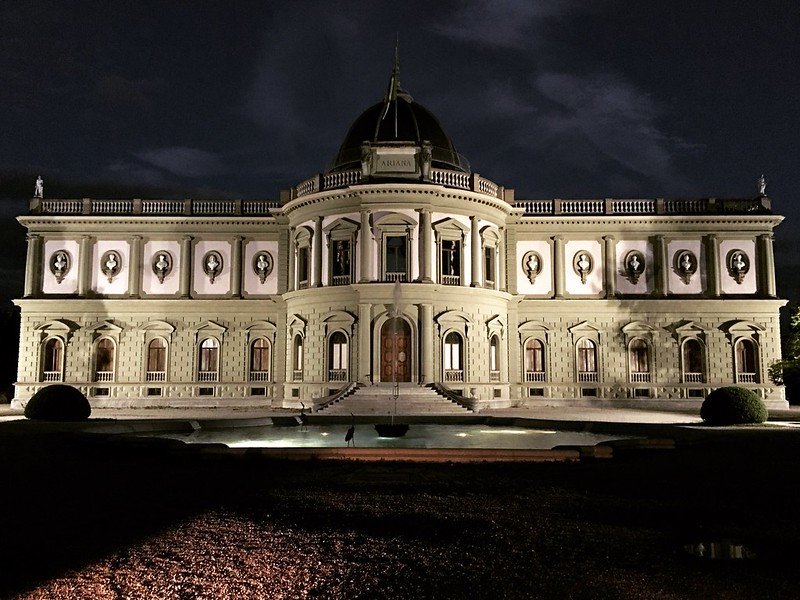 At Ariana Museum, you will find beautiful ceramics and glass on display in a gorgeous building. The museum's architecture alone is a reason to visit, with high ceilings and carefully carved stone throughout all exhibit rooms.
This exquisite museum presents collectibles and beautiful handmade pieces from all over Switzerland and other parts of Europe.
In fact, this is the best-renowned decorative art museum in Switzerland!
Where to Stay in Geneva in Winter
Budget: The best-reviewed hostel is Geneva Hostel, which is no frills but quite affordable for pricy Switzerland.
It has spacious lockers, friendly staff, breakfast included, and best of all, it comes with a free travel card which will definitely help you save some money in pricy Geneva.
>> Check hostel availability and prices here.
Mid-range: Geneva has a decent selection of mid-range offerings. I'm a big fan of ibis hotels because they're always clean, reliable, private, and inexpensive.
They don't have the most personality, but sometimes you just want a clean, private room to rest your head in. There are several branches of ibis in Geneva, but ibis budget Petit-Lancy is the most affordable.
Like Geneva Hostel, it also includes a free travel card, which means that even though you're located a bit outside the center you can get into the heart of the city easily without spending a dime.
>> Check lowest prices and availability here.
Luxury: The Mövenpick is one of my most trusted luxury hotel brands, and the one in Geneva is well-reviewed and not absurdly expensive (for a luxury option in Switzerland, that is)
>> Check best prices and availability here.
Another option, Hotel de la Cigogne is an excellent 5-star hotel, but it's priced to match. Still, it may be worth it for the central location, luxury amenities, and artist-inspired décor.
>> Check availability and prices online.
DON'T FORGET ABOUT TRAVEL INSURANCE!
When planning any trip, especially a winter trip, be sure not to forget about travel insurance!
I use SafetyWing and its Nomad Insurance to insure all of my trips for its affordable rates and comprehensive coverage for all my travel needs.
For a trip as expensive as traveling to Switzerland, and winter weather being so unpredictable, it's especially important for me to have coverage
It provides both travel insurance (coverage for trip delays, cancellations, interruptions — the likelihood of which increases in winter) and travel medical insurance (coverage for things like accidents, illnesses including Covid, etc. — also more likely in winter!).
Coverage is really affordable — for me, it costs roughly $11 USD for a week of coverage outside of the U.S., with a policy max of $250,000 after a deductible of $250. Not bad!