Deep in a cave in Belize's interior jungle is a sacred Mayan burial site, where the remains of 14 human sacrifices have been found.
To get there, you'll have to swim through bracingly cold waters, wedge yourself between glimmering stalactites dripping down from the ceiling, and navigate using only a headlamp to see your way through the pitch-black cave.
Sound crazy? It just may be, but doing the ATM Cave tour was easily the most unique and interesting thing I did in my 10 days in Belize.
The ATM Cave is short for the Actun Tunichil Muknal cave, and it's one of the coolest things to do in Belize!
I mean, where else can you spelunk through a water-filled cave in order to find the sparkling, crystallized remains of several Mayan-age human sacrifices?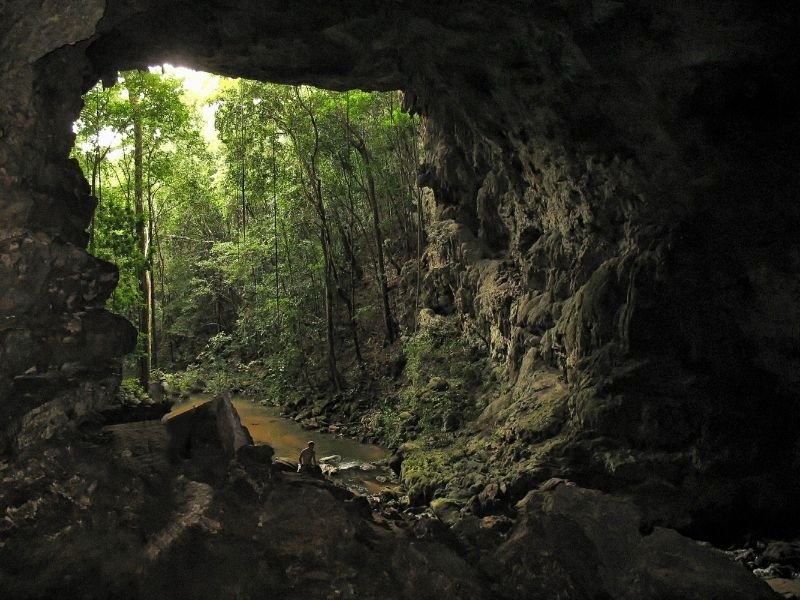 Note: This post contains affiliate links, which means I may receive a small commission if you purchase something through one of these links. Thank you for supporting the free content on this site! For more information on affiliate links and cookies, see my disclosure page for more details.
After a bumpy one hour drive from San Ignacio, we arrived at the parking lot for the Tapir Mountain Nature Reserve in the Cayo District, where the ATM cave is located.
We walked half an hour to reach the cave entrance — including several river crossings along the way.
Once at the cave's entrance, we swam through crystal blue waters teeming with tiny tropical fish!
Though the deep water here was cold, we warmed up quickly under the exertion of swimming wearing our clothes, socks, and sneakers — and the excitement of the experience we were about to have!
The ATM cave holds the unique distinction of being the most sacred cave in the world by National Geographic.
While my Actun Tunichil Muknal tour was one of the highlights of my trip to Belize, I still was surprised by a few things that I wish I had known in advance of my trip.
My Top 3 Picks for ATM Cave Tours
In this post I'll go into a full guide for what to expect on your ATM Cave tour, including what to (and what not to) bring, what the experience is like, and my tips for making it an enjoyable trip.
That said, if you're in a hurry, here are my 3 quick picks for the best ATM cave tours out there — with the tour I personally did right at the top.
ATM Cave Full Day Tour
✔️ 8 hour tour with local guide, equipment rental, & transport
✔️ Lunch & rum punch included
ATM Cave Tour with Local Lunch
✔️Free pick-up in San Ignacio (small surcharge for hotels outside city)
✔️ Riverside lunch and water bottle included (alcohol extra)
Where & When To Book Your ATM Cave Tour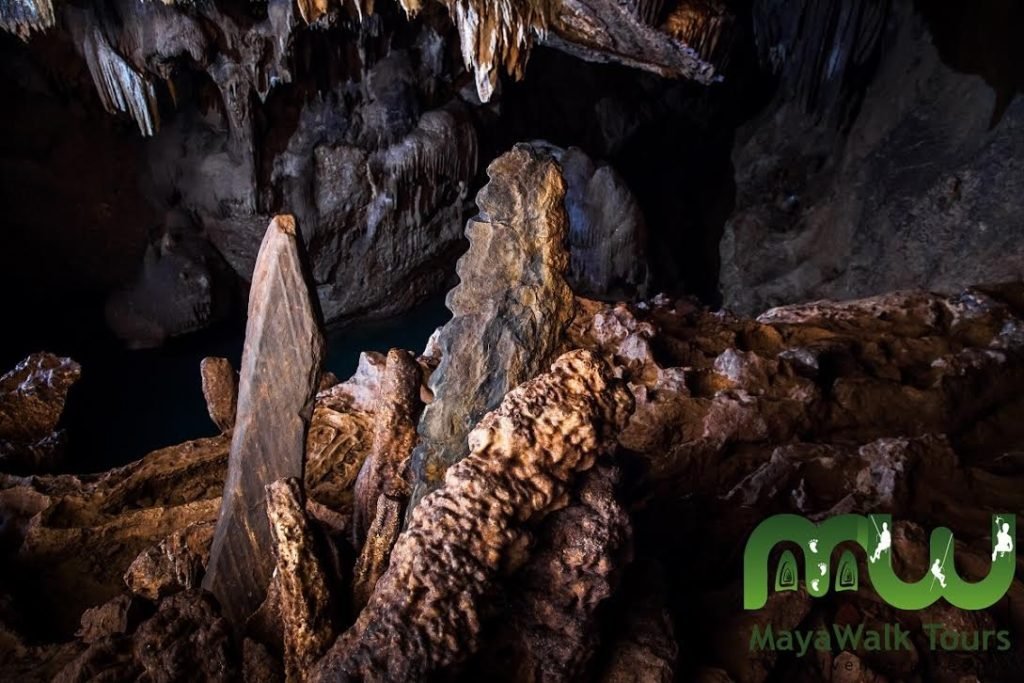 Access to the ATM Cave is strictly limited based on a permitting system.
Each tour guide can only take so many tourists with them to keep groups small and manageable.
The guides also go through extensive training to be up-to-date on all safety protocols as well as the history and geology of the cave.
This is also done so that the tour guides can ensure that the artifacts in the cave are being protected after some damages were caused by a few careless tourists.
You should book your ATM Cave tour immediately upon knowing that you want to do it, so that you don't lose the chance to do one of the best things in San Ignacio on a day trip!
Since it's 2023 and travel plans need to be extra flexible, I suggest booking with a company that offers lenient cancellation policies.
The exact tour that I did is available on Viator with a 24-hour free cancellation policy!
This price is the same online on Viator as it is on their website, but their cancellation policy is a lot stricter (e.g., you must cancel within 30 days to get a "full refund" but even that is minus a 30% cancelation fee!)
Because of that, I highly recommend booking through a third party to take advantage of a better cancellation policy in case your plans change.
Book your ATM Cave Tour with Viator for full cancellation protection!
What to Know Before Doing an ATM Cave Tour
You'll have to wear clothing as well as your bathing suit
The ATM Cave was considered a sacred site by the Mayans, who often used caves for their religious rituals.
This is why it's also given the name Cave of the Stone Sepulchre, since it houses several human remains.
That same deference is still given today, so you will be required to wear clothing over your bathing suit out of respect, and to go bare foot when traversing the fragile burial sites.
Cameras are strictly not permitted inside the cave
Similarly, you are no longer allowed to bring cameras…. after a tourist dropped his camera on one of the skulls, putting a large hole in it.
Because of this bone-headed (pardon the pun) move, cameras are now banned from all Actun Tunichil Muknal cave tours.
While there was an initial first thought that I was bummed I wouldn't be able to photograph it for myself, I have to say, I'm happy for the camera ban.
Not having a camera forced me to live in the moment rather than trying to capture the magic of Actun Tunichil Muknal for the blog.
Luckily Maya Walk provided me with photos to use for this post (note: all photo credit belongs to them)
An ATM Cave tour is way more intense than it sounds
The ATM Cave was extremely narrow at some points!
Sometimes, you'd have to angle your head just so to make sure you could squeeze through a crack in the cave's walls, dipping nearly up to your shoulders in cold cave water.
While I found it to add to the excitement, it's definitely not an adventure for the severely claustrophobic.
There were times when you had to angle your body and head just right to get through a small break between the rocks.
At one point I even slid, waterslide-style, down a small stream to get into a wider pool.
But it's not too claustrophobic the entire time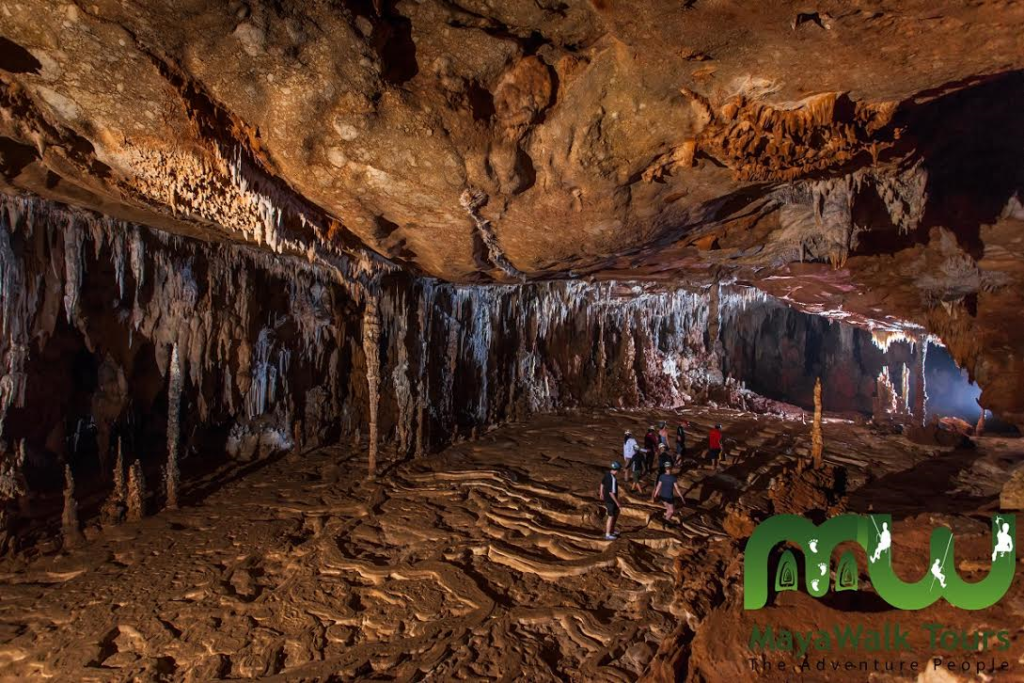 While there were times in the tour that felt quite intense, narrow and dark and cramped, the majority of the time you'll have plenty of space to walk through.
It's usually just one cramped bottleneck that you have to get through and then you'll be in a larger, open area.
At other times in the tour, the cave was so wide you almost felt as if you were walking into completely nature-made atrium, with crystalline stalactites dripping like icicles from the ceiling!
Still, it's not a walk in the park
Prepare for a 45-minute hike through the jungle (wearing no bug spray / insect repellent or sunscreen, as both can damage the fragile cave ecosystem).
You'll also have to swim/wade across three big yet calm rivers in between.
The first crossing comes about 5 minutes into the walk, so that basically your entire hike is in soaked shoes (which is fine if you have water shoes, but I did the hike in my sneakers!) and wet clothes.
Then there's two more river crossings… and that's just to reach the entrance of the cave!
Once we arrived at the cave system, we swam, walked, and squeezed our way through nearly 1 kilometer into the center of Actun Tunichil Muknal.
There, we had to climb up few big rocks to get to a series of large "rooms" in the cave.
Our guide was helpful, pointing out where we should place our hands and feet and provided a safety guide.
You'll see much more than just skeletons on the ATM cave tour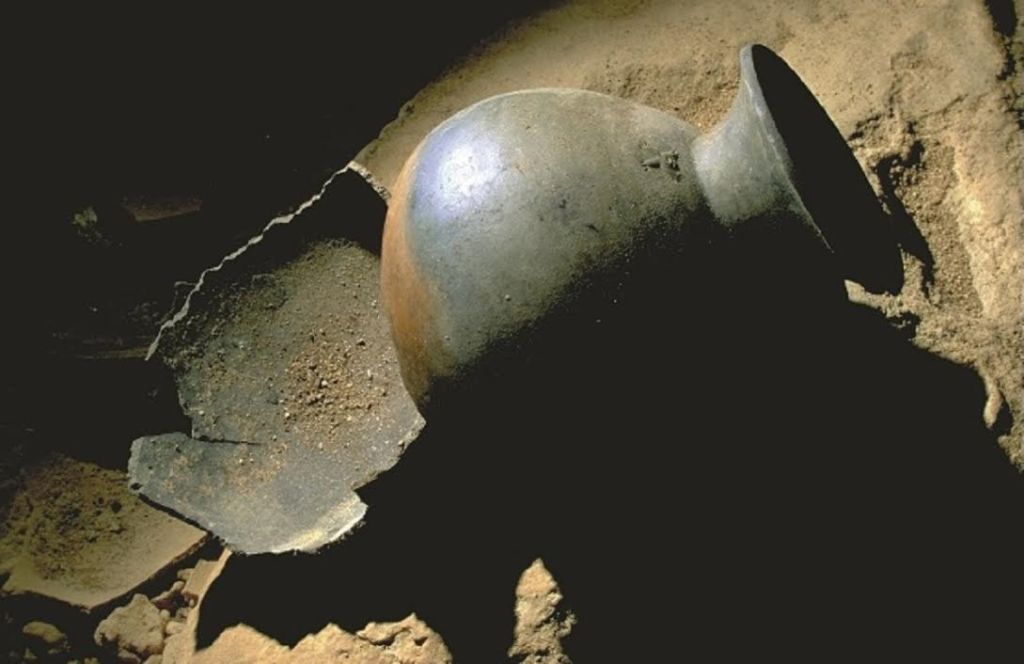 While there's a lot of hype about the human sacrifices you'll find in the cave, the other ancient artifacts and the stories behind them are equally interesting.
In my opinion, the artifacts and the actual physical geography of the cave itself are some of the best parts!
One of the coolest things about this tour was seeing the archaeological site in the cathedral-like main hall or atrium of the cave, which helped us learn about the burial rituals of the ancient Mayan people.
In the large 'room' of the cave, our guide pointed out shards of pottery from as far back as 700 CE scattering all over the cave and up its walls, some high up on ledges to protect them from the flow of water.
It turns out the pottery was broken on purpose, rather than by fragility or aging.
The Maya people believed that they needed to break the pottery in order to release the spirit of the person and allow their soul to rest in the afterlife.
Still, the human remains are pretty freaking incredible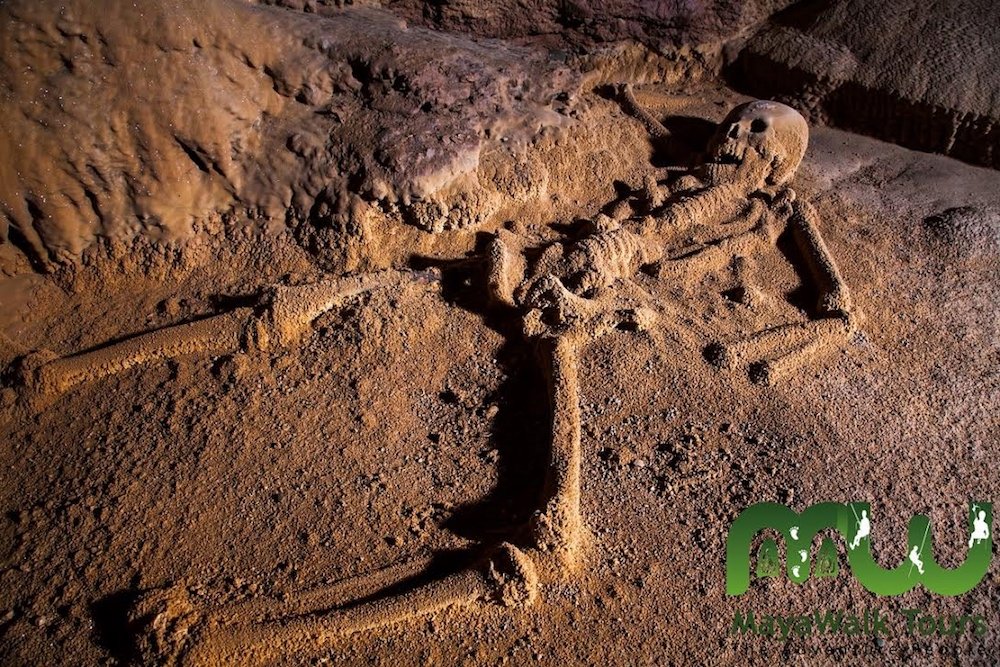 That said, much of the intrigue of the ATM Cave tour comes from seeing the skeletal remains of the sacrifices in person.
The first human remain you'll encounter is the skull of a young nobleman. Mayan nobles practiced body modification, particularly head shaping.
They placed boards on the foreheads of newborns of high stature to shape their foreheads. One single filed tooth remains on this skull with the misshapen forehead, further evidence of his nobility.
Though we may gasp at this now, consider the fact that women today inject themselves with botulism and stuff silicone in their bodies in pursuit of beauty, and you'll realize we aren't so far off from the Mayans.
Seeing the skull of a sacrificed child nearby, however, is a little harder to chalk up to moral relativism.
The final room in the cave complex is where you'll see the ATM Cave's most famous resident.
Here, you'll find the intact skeleton of a young boy completely covered in travertine deposits.
Eerily, they sparkle and shimmer like diamonds in the light of your headlamp.
The cave's geology is nothing to ignore, either
Even if it weren't for the rich mythological and archaelogical importance of the cave, the ATM Cave would be worth visiting for its geological beauty alone.
Walking through the caves, I wouldn't help but marvel at the beauty of the cave's stalagmites and stalactites, coming together at times to form columns over the course of centuries.
No wonder the Mayans felt something when they were in this place: it's a Mayan underworld of sorts, disconnected from both heaven and earth.
An ATM Cave tour is a spiritual experience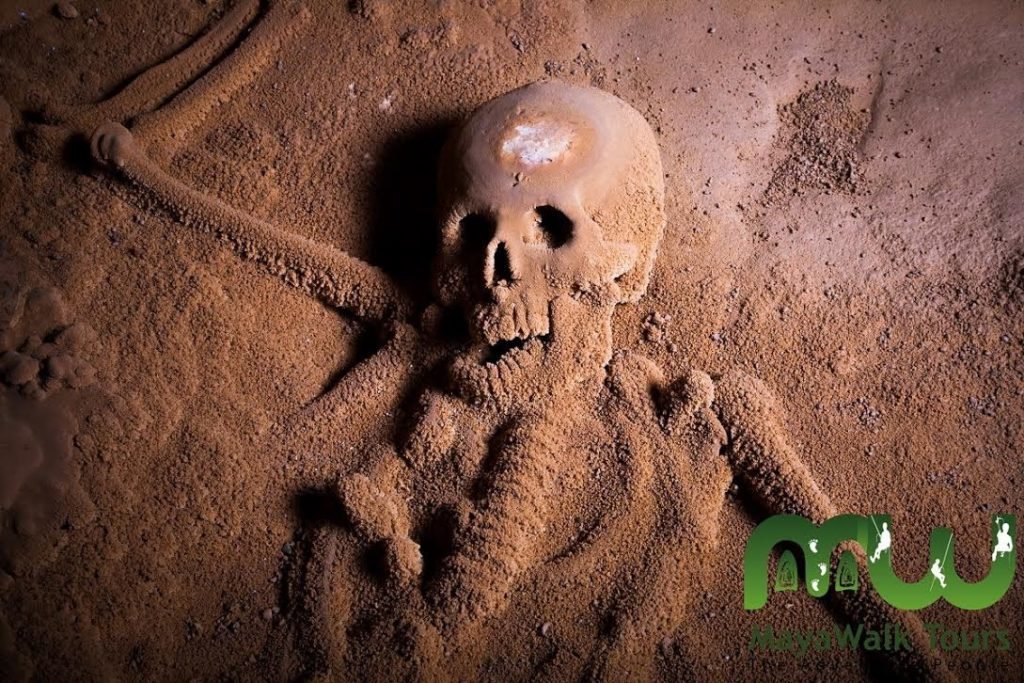 Seeing the light of day again after traversing our way back through the cave, I felt something inside me change.
I've never been a particularly spiritual person, but I felt deeply moved by seeing the way people from long ago lived, believed, and ultimately died.
Although human sacrifice is understandably seen as barbaric today, the Mayans who worshiped in the ATM ceremonial caves were responding to fears and mythology in a way that made sense for their time.
Anthropologists and archaeologists now have evidence to suggest that the Mayan civilization ended because of a prolonged drought.
The ATM Cave provides some proof of that. Geologists are able to see periods of drought quite literally crystallized into Actun Tunichil Muknal itself.
Perhaps the Mayans, fearing for their culture's future, sacrificed these nobles and children in a failed attempt to save their civilization itself from the ravages of drought.
In the face of our current and coming climate change, this hits a particularly resonant note.
It also resonates because the ATM Cave, too, is at great risk. While the Mayan civilization likely ended due to drought, Actun Tunichil Muknal and the Mayan ruins within it could likely meet the inverse fate.
Flash flooding caused by more frequent and powerful hurricanes could destroy what remains of ATM Cave.
Hurricane Earl, which slammed Belize in 2016, luckily did not cause any lasting damage to the cave, but who knows what the future of stronger storms could bring?
There are strict limits on tourism — for good reason.
While tourists offer promise to the preservation of ATM Cave, they also threaten its future. The governing body which protects the cave has put up precautionary protocols.
They limit the visitors to 125 per day, in groups of 8. All guides are required to be licensed and entering without a guide is strictly prohibited.
After a tourist damaged one of the skulls, cameras were banned, to mitigate the risk of further damage to cave system.
It is important to tour ATM Cave with licensed and ethical tour guides, who do not risk damaging ATM Cave to amuse their clients, like allowing cameras or other prohibited items or activities.
Basically, choose a well-respected tour and follow their rules.
As a result of the limited number of places available for the ATM cave tour, prices don't fluctuate much — demand is always higher than supply.
During peak season, you will want to reserve in advance to ensure you have a spot, as once those 125 spots are booked, the tour is full for the day everywhere legitimate.
You can book your tour in advance here with the company I went with and recommend!
It's best to bring the right clothes from home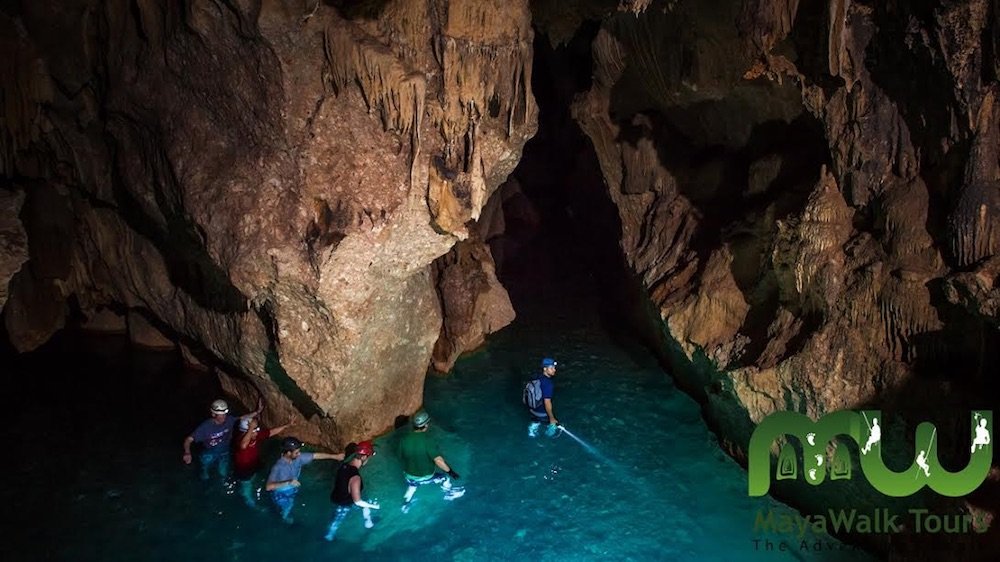 While you can buy certain things you need on the ground in Belize, you'll find them overpriced compared to home.
At the least, you'll want a pair of water-resistant shoes (here's a pair I recommend for women, and one I recommend for men).
I did it in my sneakers and was miserable for it – but I also didn't know I wanted to do the ATM cave tour until I was halfway into my 4-month Central America backpacking trip, so I couldn't pack appropriately.
A few other things you'll need: a pair of quick-drying socks, a bathing suit, and a change of clothes for afterwards.
Your guide should have a dry bag for anything like cameras and phones in case you want to take photos during the 45-minute hike to and from the mouth of the cave, but don't count on it.
You won't need sunscreen or bug spray since you're not allowed to wear either in the cave to protect the fragile ecosystems and geology.
Just wear clothing that covers your body such as a loose, lightweight linen shirt like this one (women's / men's) as that will offer your skin protection without harming the environment.
Eat a big breakfast beforehand
You don't eat lunch until after you finish the tour.
Definitely make sure you eat a hearty meal beforehand, as the Belize cave tour is about 3-4 hours of physical activity which can range anywhere from easy at times to physically quite strenuous.
It may be a good idea to bring some nuts or energy bars (I like these ones for travel!) with you.
That way, you can snack before your hike into the jungle to keep your energy levels up, if you're like me and are prone to blood sugar crashes.
It's a full-day tour, lasting about 8-9 hours, so you'll need the energy.
Don't count it out if you're not a strong swimmer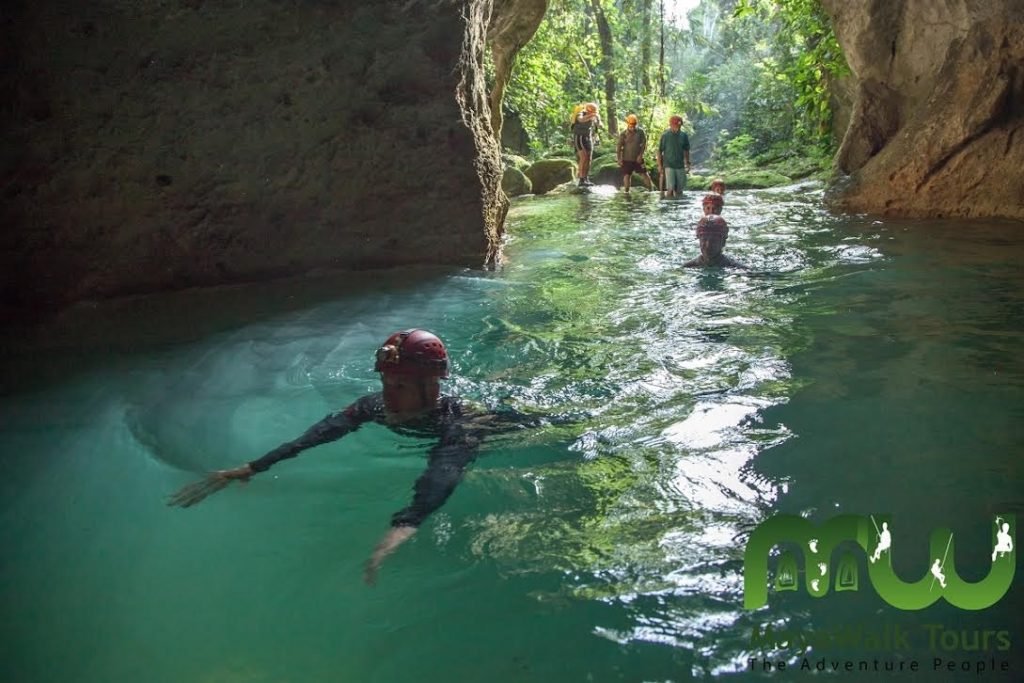 There's actually very little swimming involved on an ATM Cave tour and all of the swimming sections have a rope for you to hang onto.
Many tour companies will also provide life jackets for you to feel more comfortable as well.
If you're tall, you may even be able to stand nearly the whole time. If you don't know how to swim, but also don't panic when you're in water, you should be totally fine on a Belize cave tour.
However, it's not for people who are afraid of the dark or claustrophobic!
While the swimming is minimal and you don't need an insanely high level of fitness to do it, what you do need is to feel comfortable during the tour.
I have general anxiety in general, with a very slight amount of claustrophobia and a small fear of the dark.
I was fine on this tour, personally, though I had a few nervous moments.
However, if I had more severe claustrophobia, I definitely could not have completed this tour. It's a bit more of a psychological journey rather than physical, and it's not easy.
You will be given a helmet with a headlamp on it, so you really won't be in pitch blackness, but still – it won't be bright, either, obviously!
There is a point as well where your guide will ask you to turn off all headlamps, which was a little spooky for me, but I was able to handle it.
Protect your travel investment!

Travel insurance coverage helps you recoup your losses in case of emergency, accident, illness, or theft.

I rely on SafetyWing for coverage when it comes to trip interruptions and cancellations as well as accidents and medical emergencies.

It offers great rates starting around $12/week with clear, easy-to-read coverage.
Use discretion when deciding if it's right for kids
I've been asked by many people if this Belize cave tour is appropriate for young children, and to that my only answer is "whose kids?"
Your kids need to be able to A) not be afraid of the dark B) swim or hold a rope comfortably enough and C) be able to walk and swim and be physically active for about 4 hours consecutively.
I'd say at a bare minimum your kid needs to be 8+ and an easygoing traveler who is used to going on short hikes and swims. Any younger than that and I think your kid would struggle.
Be aware that trips are dependent on weather!
This famous cave's safety is entirely dependent on water levels and therefore the weather.
The cave system is susceptible to flooding in extreme conditions (like hurricanes and tropical storms), but still, if there is any hint of bad weather, your ATM cave tour will be canceled for everyone's safety.
And after the Thai cave rescue has been seared into everyone's minds, that's something we're probably all grateful for — their abundance of caution!
As a result I recommend booking it for earlier on in your trip so that you can reschedule if necessary!
Finally, tours run every day of the year and are run by the same tour guides every day, as very few people own these licenses.
As a result, most guides work 7 days a week basically all year long!
Thank them for their hard work by tipping. I recommend at least $10 USD / 20 Belizean dollars per person, but $20 USD is better if you can spare it.
Note: Thank you to Maya Walk for permitting me to use these photos in this post after doing my tour with them!
Allison Green is a former educator turned travel blogger. She holds a Masters in Teaching and a B.A. in English and Creative Writing. Her blog posts merge her educational background and her experience traveling to 70+ countries to encourage responsible, enriching travel. She has been a speaker at the World Travel Writers Conference and her writing, photography, and podcasting work has appeared in National Geographic, CNN Arabic, CBC Canada, and Forbes, amongst others. Now a full-time traveler, she has lived in Prague, Sofia, New York City, and the San Francisco Bay Area.