Deep in the Belizean jungle close to the border with Guatemala is the beautiful small town of San Ignacio, a town that stole my heart almost right away.
A major jumping off point for exploring Belize's tropical jungle interior, San Ignacio is rather small but still has several interesting things to do in town, including its very own Mayan ruins.
I've been fortunate enough to visit Belize three times, so I've written a lot about Belize on this blog.
People always ask me if it's worth it to head to San Ignacio and I always say yes — loudly!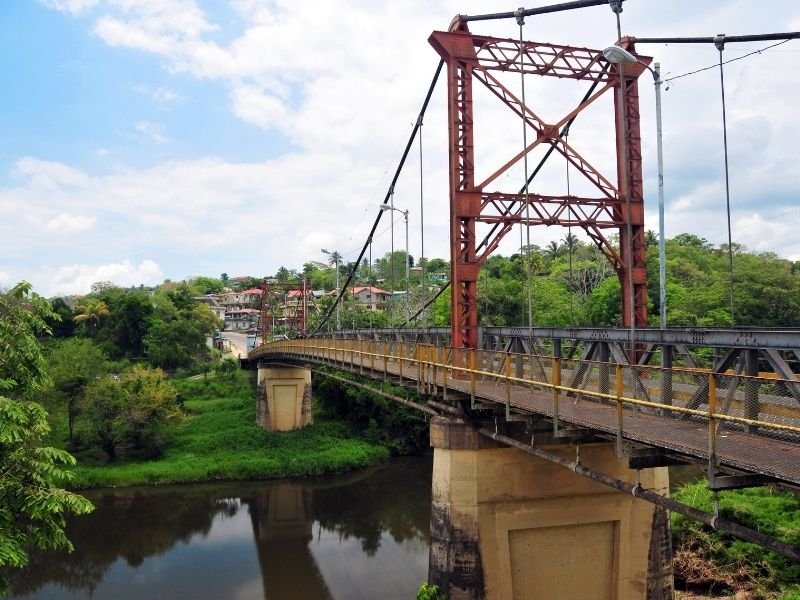 Note: This post contains affiliate links, which means I may receive a small commission if you purchase something through one of these links. Thank you for supporting the free content on this site! For more information on affiliate links and cookies, see my disclosure page for more details.
A visit to San Ignacio is the perfect counterpoint to relaxing on the beaches of San Pedro or Caye Caulker.
Mixing it up by going for adventure and culture in San Ignacio is a great way to round out the beachy part of a Belize itinerary.
This guide focuses on things to do in San Ignacio town, as well as popular day trips from San Ignacio in the Cayo district and beyond.
Since San Ignacio is so small, it's often treated more as a jumping off point for various day trips instead of having a ton to do in the town itself.
That said, we'll cover a few activities in town and then explore some of the fun day trips you can do from San Ignacio!
This post was last updated on January 6, 2023.
5 Best Things to Do in San Ignacio, Belize
Visit the Mayan ruins of Cahal Pech.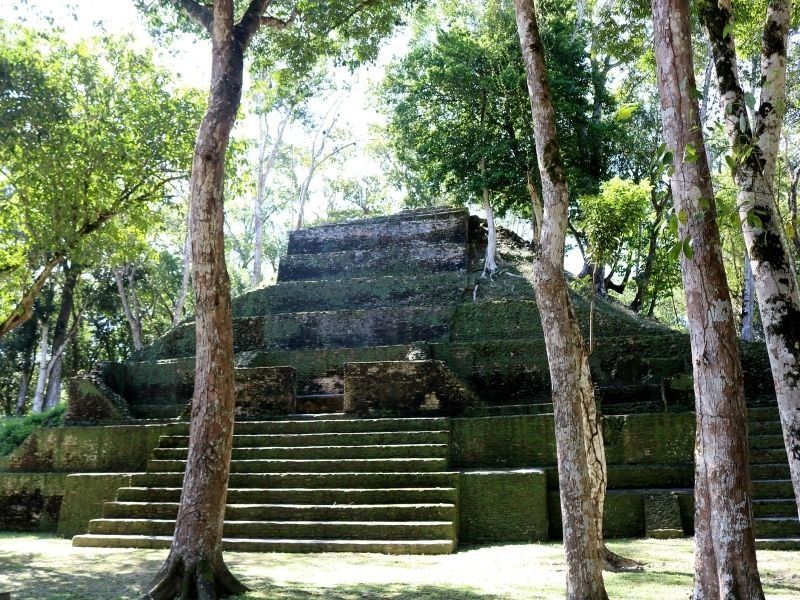 The ancient Maya site of Cahal Pech is about 10 square miles and includes nearly three dozen buildings, the largest of all being about 80 feet tall!
It is believed by archaeologists to be one of the oldest Mayan settlements in Belize, and that the people who settled Cahal Pech likely came from Guatemala, perhaps around the Tikal area.
The Maya Ruins of Cahal Pech are a must-do while visiting San Ignacio, and it pairs well with a visit to Xunantunich above, since the two Mayan sites are only about 6 miles apart.
If you want some additional info, you can hire a local guide to give you a private tour at both ruins — a guided tour including pick-up and drop-off is not necessary here, as the ruin site within walking distance of town!
Check out the Green Iguana Conservation Project.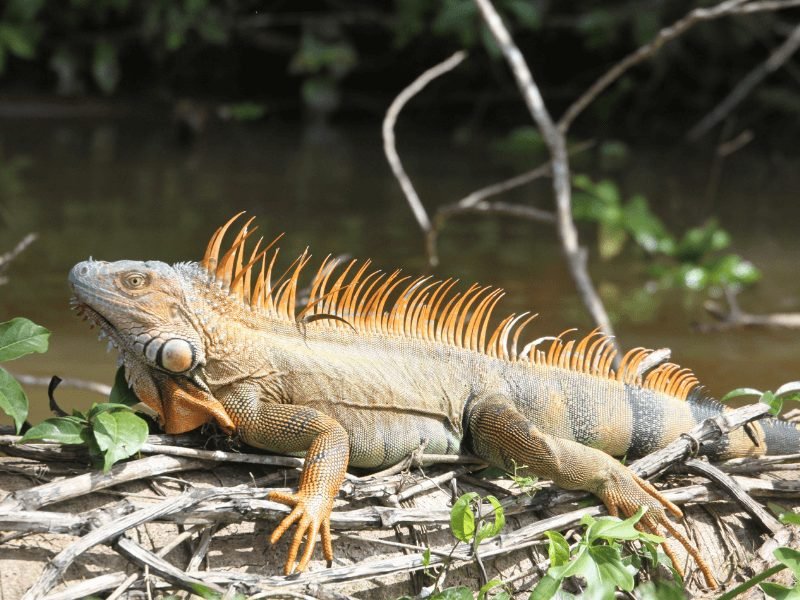 Located in the San Ignacio Resort Hotel, this conservation project is one of the most popular things to do in San Ignacio.
It's a program that has been running since 1996, focusing on ensuring the ongoing survival of the green iguana, which is a threatened species that is vital to the ecosystem in Belize's jungles and rivers.
This program teaches you about their conservation efforts and walks you through the life cycle of the iguana, from egg to hatching to releasing! And of course, you'll get the chance to meet a local iguana friend.
Admire the Belize Botanic Gardens.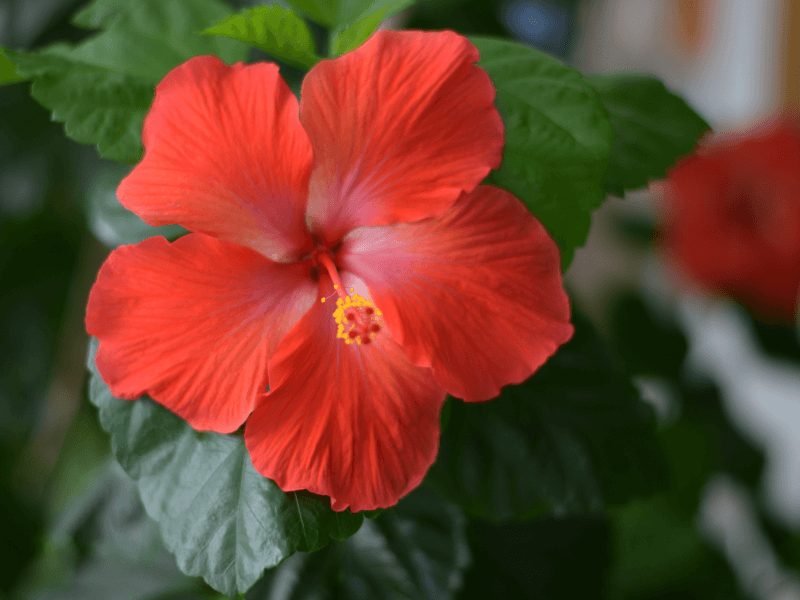 Also located in San Ignacio, the Belize Botanic Gardens features 45 acres of beautiful native plants (as well as some exotic imports) on the banks of the beautiful Macal River.
It's a gorgeous place to go for a walk and it's only a short distance from downtown San Ignacio, making it a must-do for garden lovers.
Besides admiring the beautiful flowers like hibiscuses and orchids, you can also enjoy some birdwatching and enjoy the beautiful river bank.
Visit the San Ignacio Market.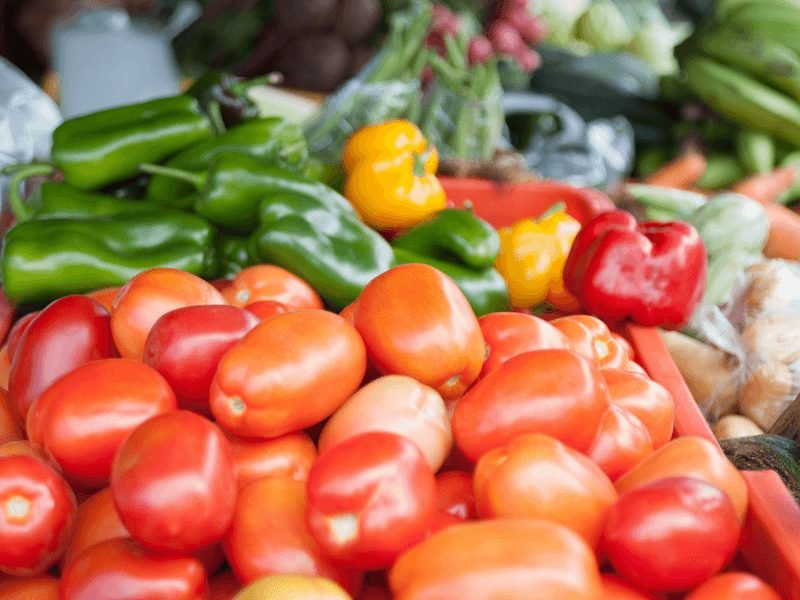 The lively riverside San Ignacio Market is open daily from 5 AM to 6 PM and is one of the most bustling places in San Ignacio!
Come here to buy fresh fruit and try local street food from the friendly vendors.
Check out a butterfly farm.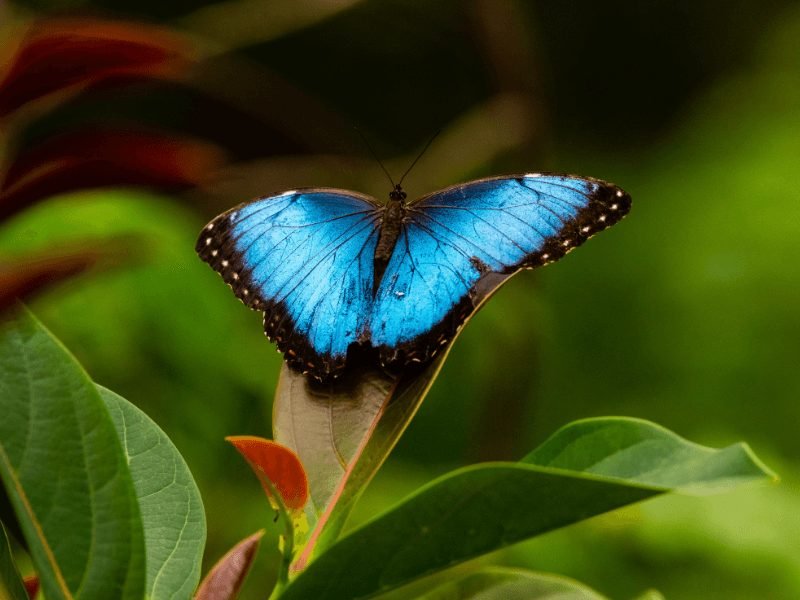 There are several butterfly farms in Belize aimed at preserving the habitats of the local butterfly species.
There is the Blue Morpho Butterfly Farm located at the Chaa Creek resort and there is also the Tropical Wings Ecocenter Butterfly Farm which is located about six miles away from San Ignacio.
The 8 Best Things to Do Near San Ignacio (Easy Day Trips)
Marvel at the wonder of Actun Tunichil Muknal (ATM Cave).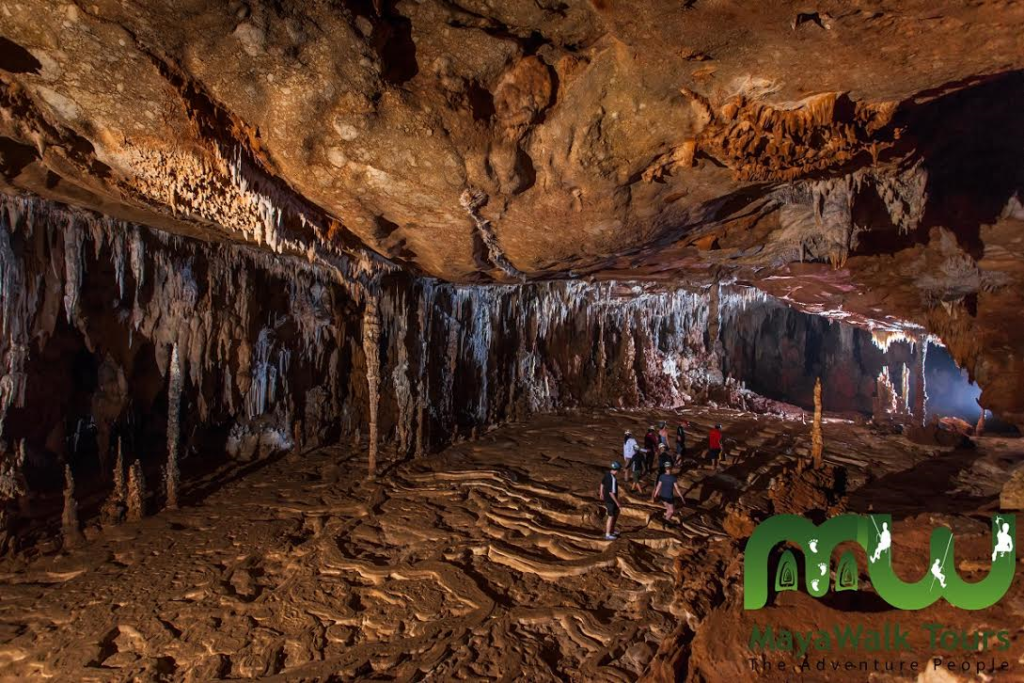 Of all the San Ignacio activities you could possibly choose from, this is my absolute favorite. In my mind, a trip to Belize without visiting ATM Cave just isn't a Belize trip at all.
The Actun Tunichil Muknal Cave (called the ATM Cave for short) is an incredible cave system that you can only traverse with a licensed guide in a small group.
Permits and cave access to tourists are strictly limited in order to keep these caves preserved for future generations, as some parts of the cave were damaged in the past by tourists, unfortunately.
This is not an activity for the faint of heart! Doing an ATM Cave tour involves using a headlamp as your only light source, swimming through the cave, squeezing through some narrow parts of the cave system, and climbing up into the main cave atrium.
While I loved visiting the ATM Cave so much, if you have severe claustrophobia, this is not the San Ignacio excursion for you! The cave is dark and narrow in some places.
Despite some moments of trepidation, though, I found the ATM Cave absolutely worth it! Read my full review of the experience here.
Inside the cave, you'll find ancient pottery fragments as well as skulls and skeletons.
These are the remains of human sacrifices that the ancient Maya people left in the cave. The cave was considered part of the Mayan underworld, where people could connect to the gods who ruled over death.
Archaeologists believe this was done to appease their gods as their civilization faced challenges such as drought and fighting between rival groups.
Whatever the reasons, it's certainly an adventurous and interesting — if macabre — thing to do in San Ignacio region!
Check out the largest ruins in Belize at Caracol.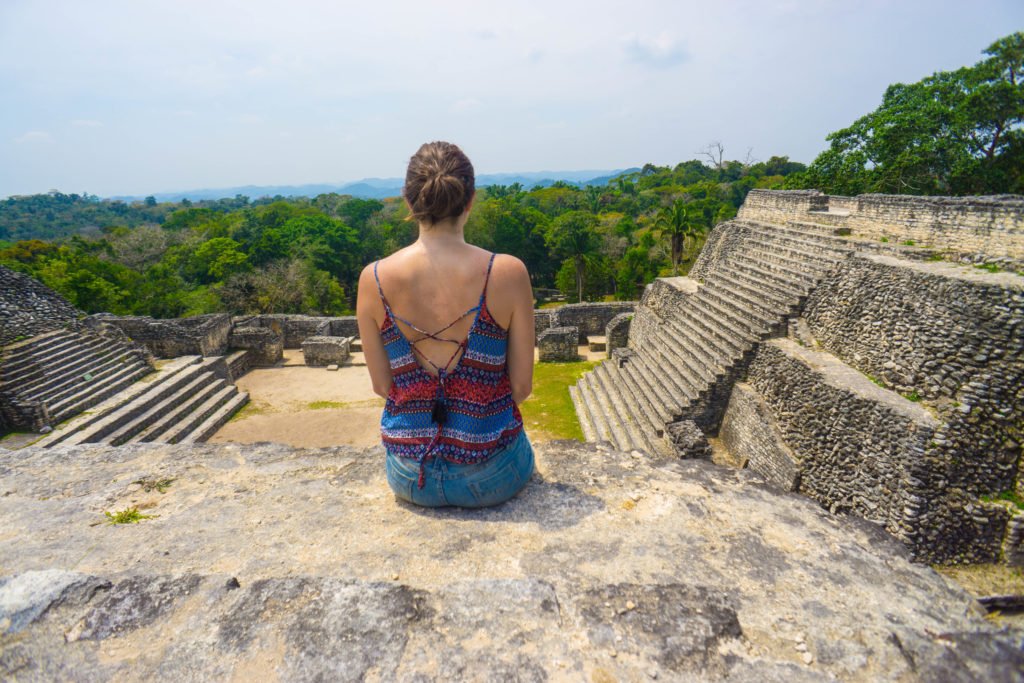 Another fantastic place to visit near San Ignacio on a day trip is the Caracol Ruins archaeological site.
These are the largest Mayan ruins in Belize, and they are relatively under-visited compared to many other ruins in Central America.
The ruins of Caracol are beautiful and impressive, and one of the coolest things is that you can climb the pyramids there, unlike many pyramids in Mexico which have closed off the climbing to tourists.
From the top of the largest pyramid in the Caracol complex, you can even look over the border into Guatemala!
A trip to Caracol is easily paired with some incredible nature as well. On a guided tour to Caracol, you can also hike through the Mountain Pine Ridge Forest Reserve, visit the Rio Frio Cave, and check out either the Rio-On Pools or the Big Rock Falls — all in a single day.
Trust me — you'll relish a dunk in the waterfalls after spending the morning and early afternoon visiting the ruins in the hot Belizean sun!
Explore the green oasis of Barton Creek Cave Reserve.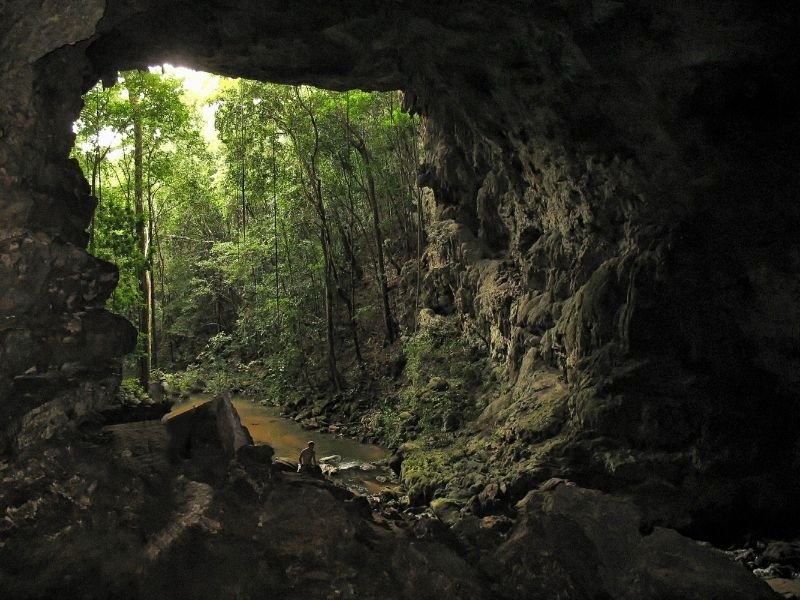 Another fascinating cave system near San Ignacio is the Barton Creek Cave Reserve. Like ATM Cave, there is ample evidence of use by the Maya people.
Barton Creek is interesting, because the town itself is home to a Mennonite (Amish) settlement! There are actually a large number of Mennonites in Belize, over 10,000 of them actually — most of whom live in Cayo District.
Once you arrive at Barton Creek Cave, you'll be able to explore it by canoeing through it! This is a great way to experience the caves in a peaceful way while learning about the history of this ancient Maya site — as well as Mayan traditions, rituals, and ceremonies — from a knowledgeable local guide.
Explore the capital of Belize, Belmopan.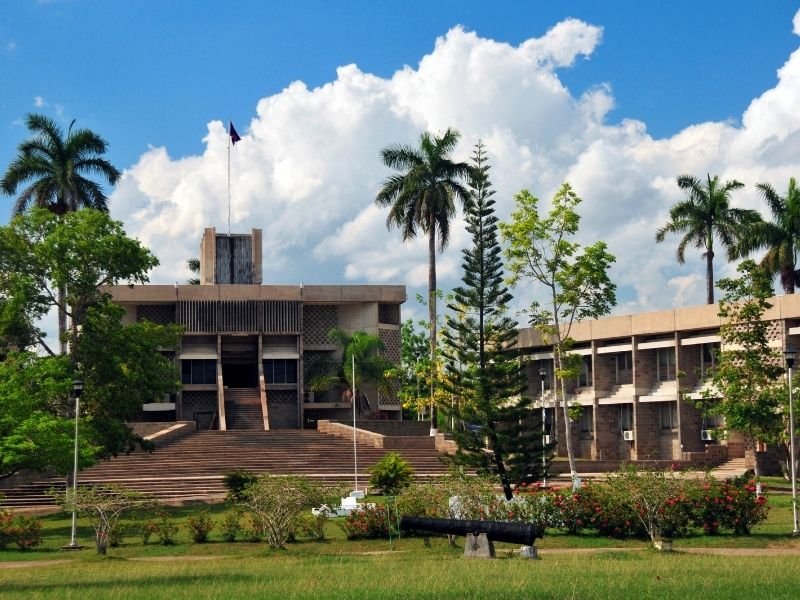 Belmopan is the capital of Belize and it's an easy day trip from San Ignacio.
For a capital city, Belmopan is rather small — the tiniest capital city in the Americas by population, in fact, with a population of under 20,000 people!
Belmopan is a good gateway to outdoor adventure, as you'll find Guanacaste National Park right within the city.
This national park has some hiking trails and the beautiful Belize River runs right through the heart of it.
Belmopan is also close to other places you might want to visit: Ayala's Natural Pool, St. Herman's Cave, St. Herman's Blue Hole, etc.
You can drive to Belmopan easily via rental car or take any of the buses heading towards Belize City, all of which will stop in Belmopan.
Check out Belize's "other blue hole" at St. Herman's Blue Hole National Park.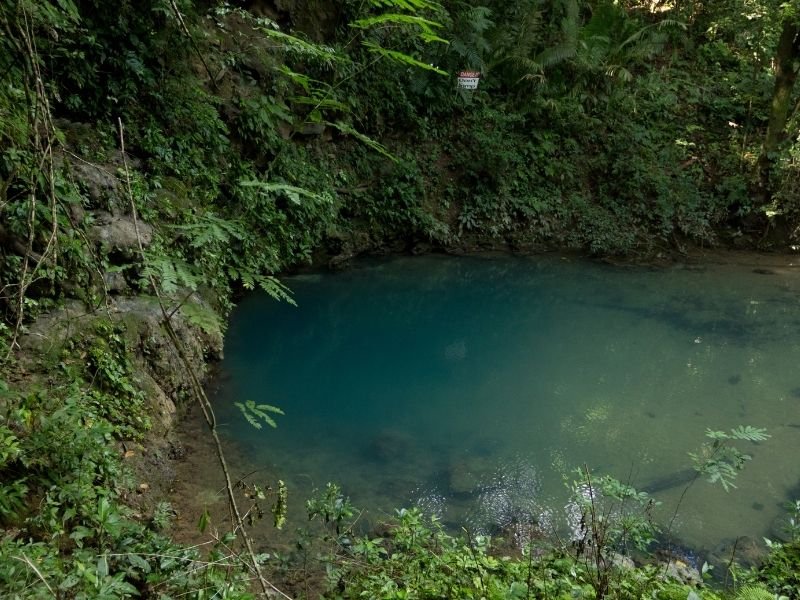 Belize is known for its Great Blue Hole of course… but it also has a lesser-known inland blue hole, located at St. Herman's Blue Hole National Park!
This tour of the Blue Hole is combined with Crystal Cave, a beautiful limestone cave system. The cave system is only accessible through a rainforest hike which ends at the entrance to the cave, so it feels very remote and magical.
The tour involves spelunking through the cave to discover all the beautiful geographic features of the cave, as well as artifacts from Mayan ceremonies that number some thousands of years old — including pottery, fire pits, and even human remains!
One of the coolest parts of this tour is visiting 'Wonderland', a room in the cave system that is completely covered in sparkling crystals, for which the cave gets its name!
After exploring the cave system, you'll have a chance to swim in the beautiful Blue Hole to cool off and feel refreshed before heading back to San Ignacio in the evening.
Take a day trip over the border into Guatemala to visit Tikal.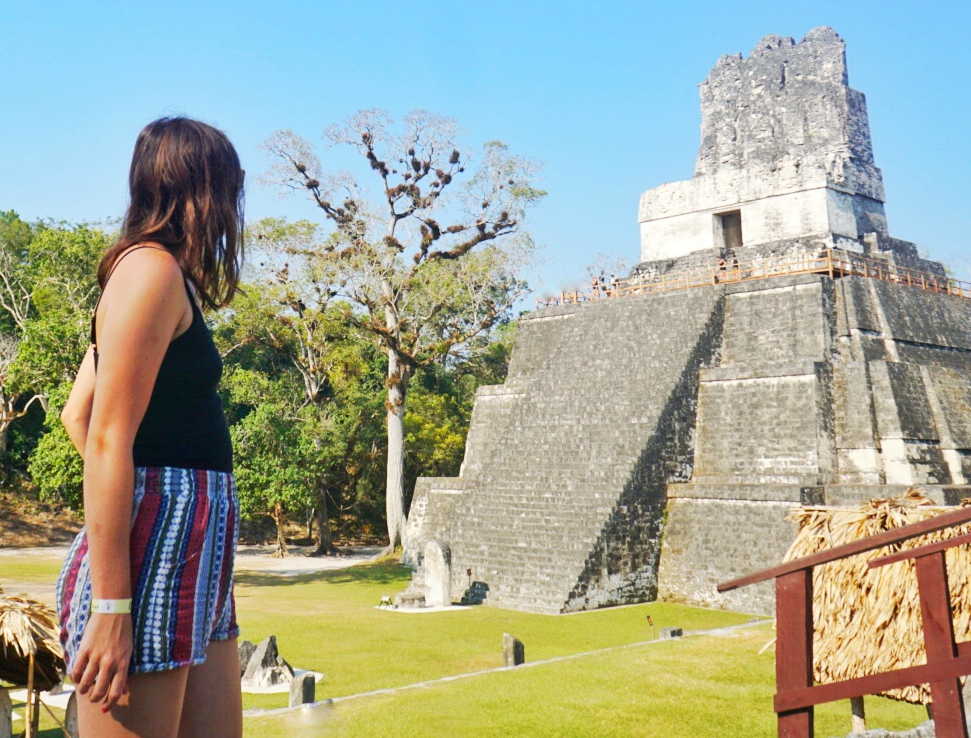 If you're looking for a full-day excursion from San Ignacio that will also get you a new stamp in your passport, be sure to save a day for a day trip to Tikal from San Ignacio!
This is one day trip for which I strongly suggest a tour. Navigating a border crossing by car is an experience many travelers have not have had before, and if there are language barriers it can be intimidating.
Personally, I have done the border crossing solo when traveling from Belize to Guatemala (en route to Flores, Lake Atitlan, and other great places in Guatemala), but I am an experienced solo traveler fluent in Spanish. 
I've also spent several months in Central America and feel super comfortable traveling around. If you don't have that sort of experience, booking a Tikal tour from San Ignacio is a much better idea.
The trip to Tikal takes about 2-2.5 hours by car, with some time for the border crossing, which your guide will help you navigate.
Tikal is located in a beautiful national park, and so you'll see wildlife everywhere you look: everything from monkeys to iguanas and more.
Tikal is also a UNESCO World Heritage Site, but it's perhaps better-known as being a filming location for Star Wars!
This guided tour of Tikal includes all the main sightseeing of the ruins complex. With over 3,000 structures in the Tikal area, having a guide to help you narrow down the key things to see is really helpful.
You'll get to see temples, ball courts, plazas, palaces, and pyramids — the largest of which is over 200 feet!
Spend the day cave tubing and/or ziplining.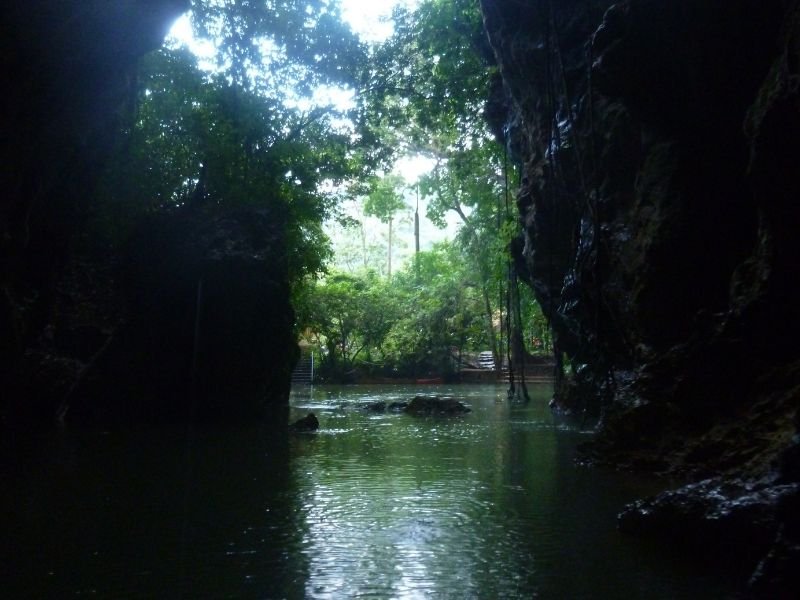 Cave tubing in Belize is a popular outdoor activity to do from San Ignacio, and there is no shortage of tours offering it!
Cave tubing is basically what it sounds like: floating on a river through caves in an inner tube! You'll have to hike to the cave systems before hopping in your tube, but the hike to the river and caves in the Caribbean heat is what makes the dip into the waters so refreshing!
For people who want to pair cave tubing with something a little more adventurous, add a zipline experience! This combo tour of cave tubing and ziplining is the perfect option.
Check out the nearby ruins of Xunantunich.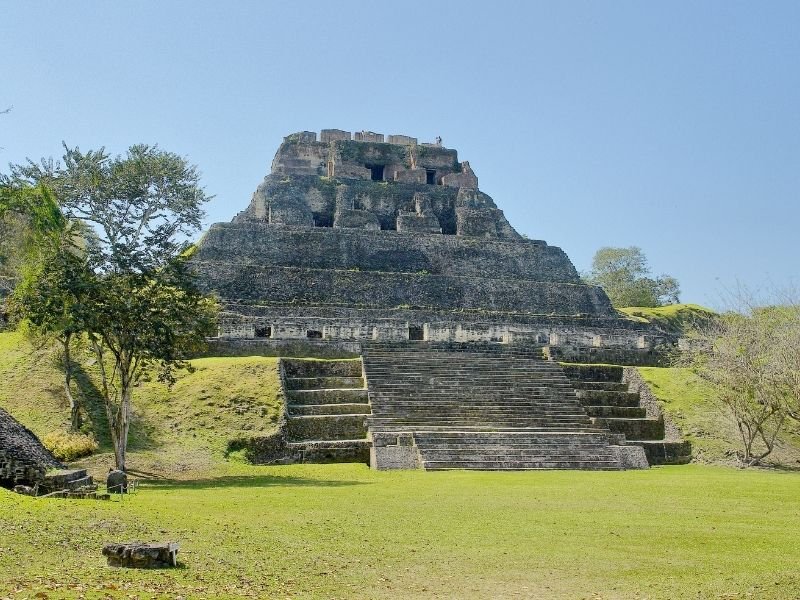 The Mayan archaeological site of Xunantunich is located a short distance from San Ignacio Town, practically on the Guatemalan border.
Xunantunich enjoys a beautiful location on a ridge, looking over the scenic Mopan River. Its name means "Maiden of the Rock" in the Mayan language, but this is a modern name; the original name is unknown. Supposedly, this name comes from the ghost of a woman who haunts it!
Xunantunich was an ancient city, which takes up about one square mile. Its best-known feature is the 130-foot-tall pyramid 'El Castillo', which is the second tallest Mayan structure in Belize (after the temple pyramid at Caracol).
If you want to book a guided tour, this tour is highly rated and you can customize it to meet your interests, adding on either cave tubing, river tubing, or horseback riding for a full-day tour, or just visiting Xunantunich for a half-day trip.
Book your Xunantunich tour with optional combos online here!
Best Time to Visit Belize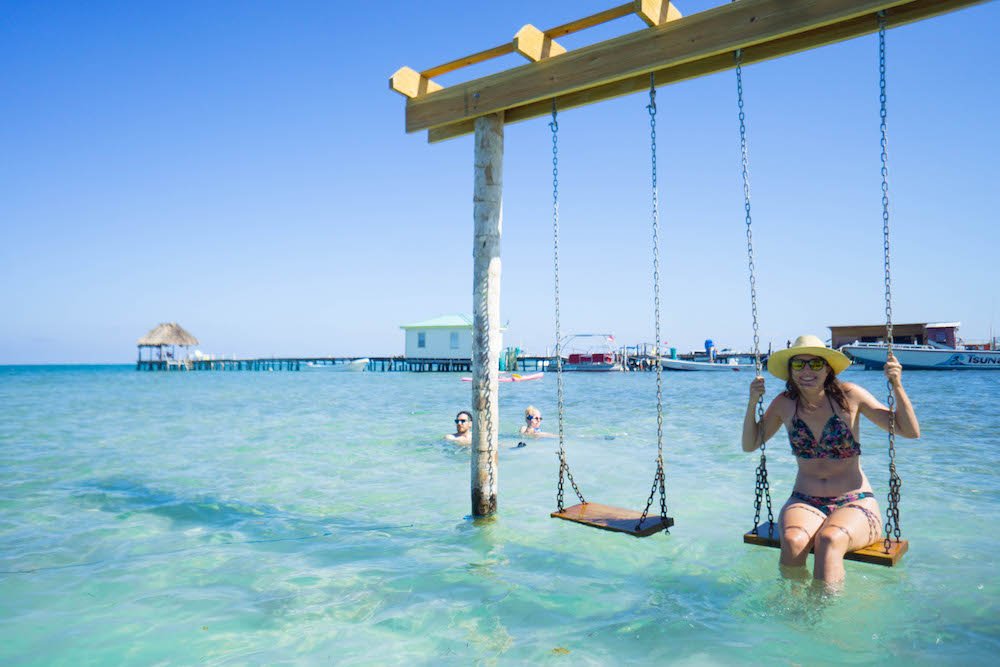 Being a tropical country, Belize has a rainy season and a dry season as opposed to the typical "4 season" model of non-tropical countries.
The wet season is between May and October, where you can expect rain about half the days and scorchingly hot temperatures.
I really don't really recommend traveling Belize during the wet season!
Not only can the rain be a pain, it can also disrupt a lot of tours and activities, such as snorkeling/diving tours and cave tours, due to unfavorable conditions.
Hurricanes can also happen during this time of the year.
Between November and April, it is the dry season in Belize. This coincides with much of Belize's peak travel season.
While there will still be occasional rainfall, storms will be much more dispersed, plus you'll experience shorter periods of rain that are less disruptive to your plans.
Note that Belize can be incredibly popular (and expensive) over Christmas and New Years.
I suggest going during January through March for a better balance between good weather and good prices.
Getting Around San Ignacio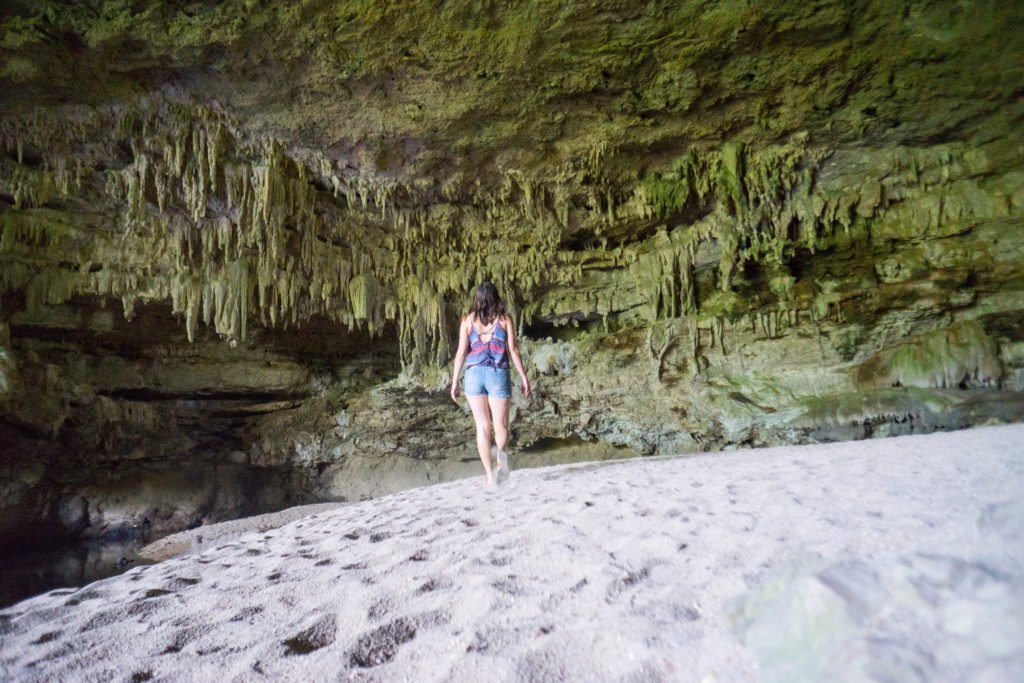 You can rent a car for Belize if you want to do these day trips on your own, or you can opt for a guided tour.
Personally, I've never rented a car in Belize and have always gone with guided tours, as I like the expert touch you get from a licensed tour guide.
I learn more about the history and the culture this way, as your professional guide has to have a fairly encyclopedic knowledge of the history to be a guide in Belize!
It's also a lot less stressful, especially for me as I often travel solo, since they handle pick up, drop off, and often a meal as well.
I tend to book my tours in Belize via Get Your Guide whenever possible, because they offer the best cancellation policy if my plans change (free cancellation within 24 hours of the tour!).
However, if you are traveling as a family or in a large group, you might find that renting a car is better suited for your needs.
If you are renting a car, I suggest picking up your car at Belize City International Airport for the best price. I use and love Discover Cars whenever I'm traveling outside of the United States.
Discover Cars searches through over 500 different car rental providers in order to find the best price for your rental. Check what's available from Belize City Airport here!
Where to Stay in San Ignacio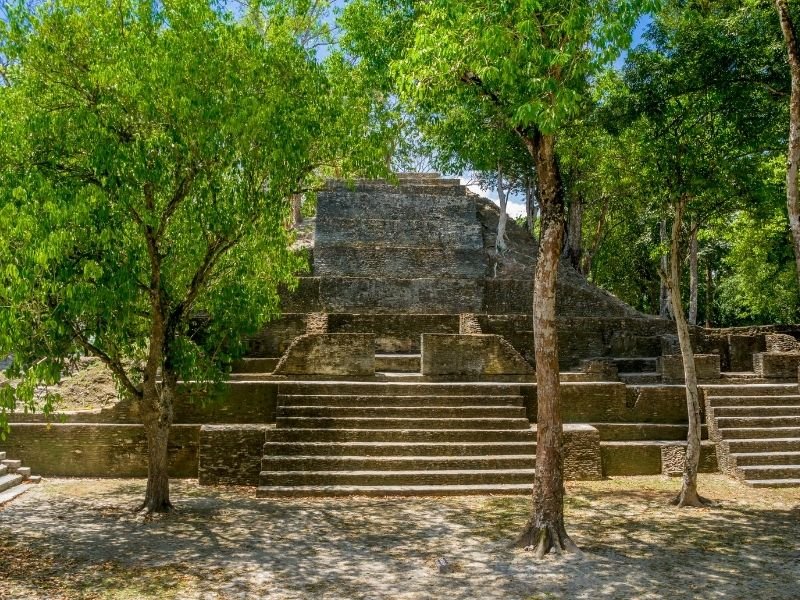 I've written a full guide to the best eco-resorts and jungle lodges in San Ignacio, but here are my quick picks!
BUDGET | Cahal Pech Village Resort:It's a testament to how green Belize is that you barely have to leave the city of San Ignacio to feel like you're in your own personal jungle paradise!
There are lush trees planted everywhere and an infinity-style pool overlooking the river valley below. The Mayan ruins of Cahal Pech are located right nearby the eco-resort, a couple of blocks away!
>> Check availability and prices on Booking.com | Hotels.com | Expedia
MID-RANGE | Mystic River Resort: This resort offers some of the most incredible views you'll ever see. It's located in the jungles of Belize, up on a cliff with stunning views over the beloved Macal River.
Located 7 miles away from San Ignacio, all you need is at your fingertips, including an open-air restaurant, an inventive bar specializing in fun cocktails, a full-service spa, a pool with rainforest surroundings, and a yoga deck.
>> Check availability and prices on Booking.com | Hotels.com | Expedia
LUXURY | The Lodge at Chaa Creek: If you are after a once-in-a-lifetime stay in an eco-lodge in Belize… look no further. Chaa Creek is a next-tier incredible resort that's known for its beautiful natural surroundings.
The rooms are incredibly airy and spacious, with high-ceilinged thatch roofing and thoughtful details like beautiful textiles and local flowers. Outside your bungalow, you'll find countless trees and plant life surrounding you and wake up to the sounds of birds and monkeys in the jungle.
Located on the Macal River, Chaa Creek offers activities like canoeing and kayaking down the river. You can also go for a swim in their infinity pool, try some "jungle cuisine" in their dining room made from local organic produce, or admire the butterflies at their butterfly exhibit.
>> Check availability and prices on Booking.com | Hotels.com | Expedia
What to Pack for a Trip To San Ignacio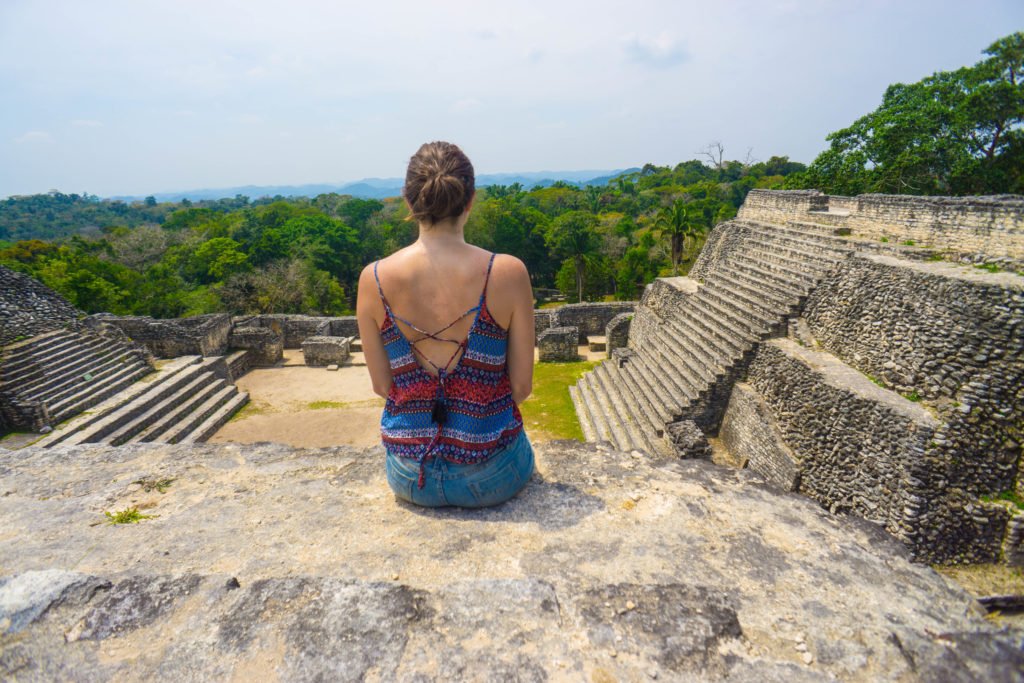 Mosquito repellent: San Ignacio has a tropical climate with mosquitos year-round, particularly in the rainy season. Protect yourself with mosquito repellent. As a backup, I carry around a few mosquito repellent wipes with me in my purse in case I forget to apply spray before leaving or that I can apply after swimming.
Bug bite aftercare: It's also inevitable that you won't be able to get away totally scot-free in terms of bug bites, so bring some after-bite relief too. This is hard to find in Belize, so definitely bring it from home!
Full-size travel towel: Many of these San Ignacio day trips involve water — cave tubing, kayaking, swimming, waterfalls, etc. You'll definitely want to bring a small, foldable, quick-dry towel on any day tour with water activities. This travel towel is full-size but compact, and it dries super quickly even in Belize's humid climate.
A guidebook: I use travel blogs a lot when I'm on the road but I also love having a guidebook to give me more specific, thoroughly researched information. Lonely Planet is my go-to guidebook and the newest Belize guidebook was updated in 2022.
Reef-safe sunscreen: Reef-safe sunscreen isn't just for reefs! The chemicals in sunscreen are bad for every natural ecosystem, like caves and swimming holes. When I know I'll be in any natural body of water, I use a reef-safe sunscreen like Sea 2 Stream, which adheres to the highest eco-friendly standards.
GoPro: If you go cave tubing or ziplining, you're going to want a way to capture all of that action! The Go Pro Hero 11 is the newest, best option in the action camera landscape. Be sure to consider whether you want GoPro accessories like a chest harness or head mount.

Don't forget travel insurance!
Travel insurance coverage helps you recoup your losses in case of emergency, accident, illness, or theft. I rely on SafetyWing for both my travel insurance and travel medical insurance, and it offers great rates and clear, easy-to-read coverage.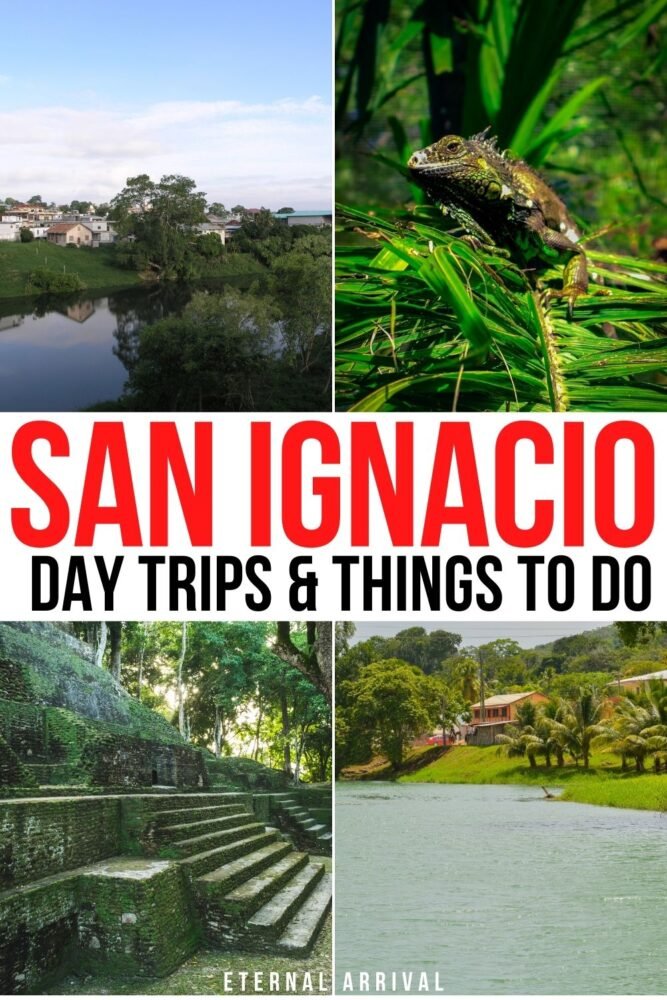 Allison Green is a former educator turned travel blogger. She holds a Masters in Teaching and a B.A. in English and Creative Writing. Her blog posts merge her educational background and her experience traveling to 60+ countries to encourage thoughtful  travel experiences that both educate and entertain. She has been a speaker at the World Travel Writers Conference and her writing, photography, and podcasting work has appeared in National Geographic, CNN Arabic, CBC Canada, and Forbes, amongst others. Now based in the San Francisco Bay Area where she grew up, she has also lived in Prague, Sofia, and New York City.