Belize is one of my favorite countries in Central America.
It's small enough that you can easily see the best of Belize in one week, perfect for a short getaway!
In other Central American countries like Guatemala and Mexico, you'll need at least two weeks at a bare minimum — and still just barely scratch the surface.
Note: This post contains affiliate links, which means I may receive a small commission if you purchase something through one of these links. Thank you for supporting the free content on this site! For more information on affiliate links and cookies, see my disclosure page for more details.
Belize is also a bit of a microcosm of all the different things you can get from Central America!
You can experience Caribbean sunrises, beachside coconuts, and diving one of the world's biggest coral reefs in the morning — and then be in the middle of the jungle just a few hours later.
I've been lucky enough to visit Belize three times over my last decade of travel!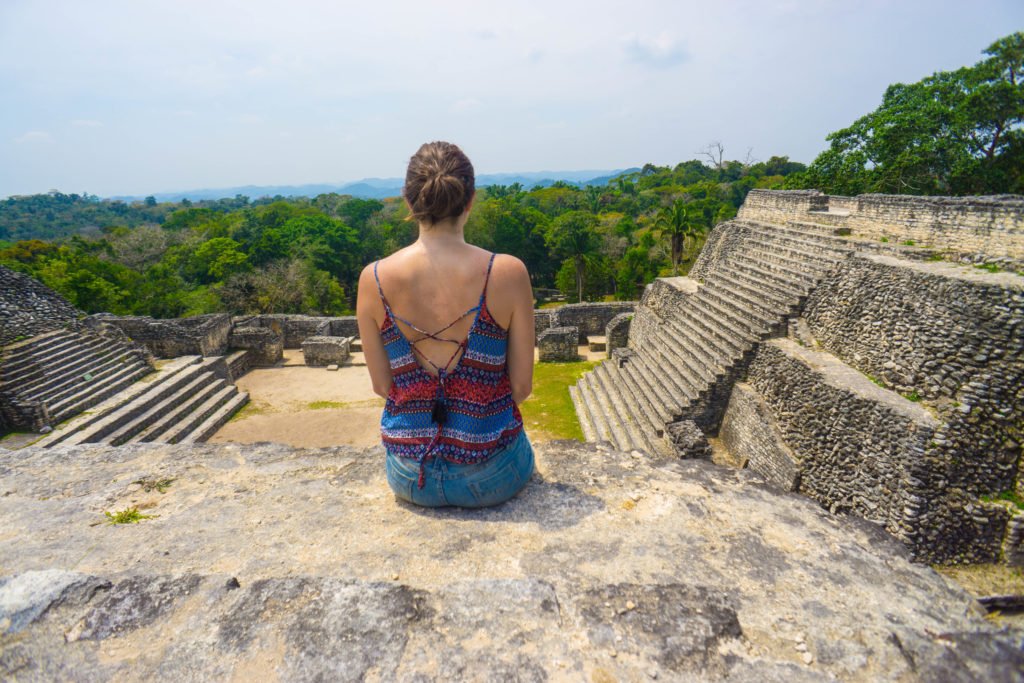 I've researched and written about the country extensively over those visits: this Belize itinerary is the cumulative result of those travels, distilled into one post.
This one week Belize itinerary has you visiting two different islands: Ambergris Caye (aka San Pedro) and Caye Caulker. 
However, you could certainly pick one or the other if you prefer to move around less between accommodations (here's my guide to choosing between the two, if you have to). 
Afterward, my Belize itinerary brings you to Belize's interior, where you can see Mayan ruins, go caving (especially at ATM Cave!), and stay in an eco lodge in the jungle. 
The beautiful jungle town of San Ignacio is a great base for a few days of outdoor adventure after enjoying some time blissed out on Belizean beaches.
Following this itinerary for Belize, you'll get a good sampling of a bit of everything — while still having an appetite to revisit this beautiful country and see even more on your next trip!
This post was originally written after my second trip to Belize in 2017 and updated after my third trip in 2019. It was last updated on September 23, 2023 to reflect changes that have happened since my last visit.
One Week Belize Itinerary: Day by Day Guide
Day 1: Arriving in Belize and heading to San Pedro (Ambergris Caye)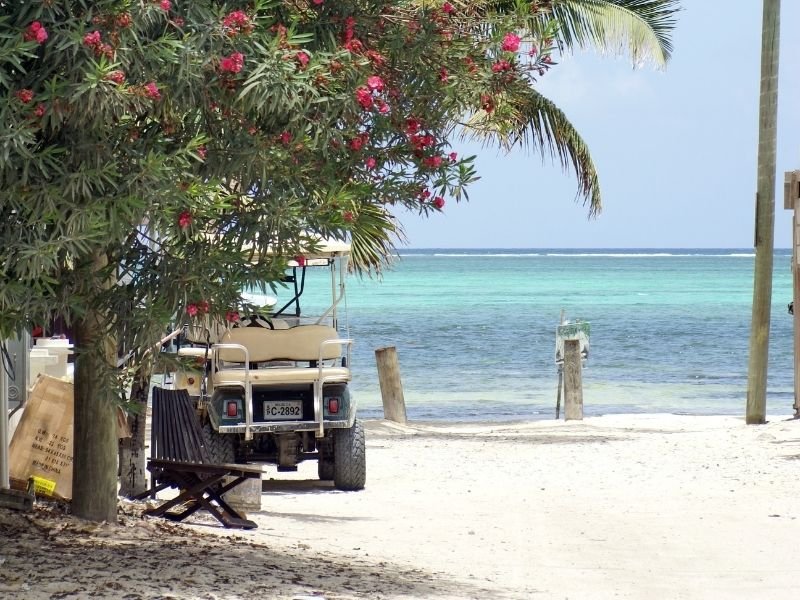 You'll likely start your trip at Belize City International Airport, and it's pretty easy to get to San Pedro from there.
There are two choices, by air or by land and sea.
If you are traveling solo or as a couple, the difference between the plane and the ferry option is not that great, due to the fact that you'll need to take a taxi from the airport to the ferry terminal. 
If you are traveling in a group, the ferry option is cheaper per person for sure.
However, flying to San Pedro is pretty freaking amazing, so I recommend flying one way if you can make room for it in your budget — and at around $84 USD for a one-way fare as of 2023, it's not that insane of a splurge…
Tip: Book your tickets on Maya Island Air's website as far in advance as you can to save the most!
To get to San Pedro by boat, first, a taxi costs $30 USD (you can prebook a transfer here with Welcome Pickups) and a one-way ferry ticket to San Pedro is another $31 USD.
The flight is in a tiny, super informal-feeling plane (think: barefoot pilots), going over water in the most beautiful shades of green and blue that you can imagine.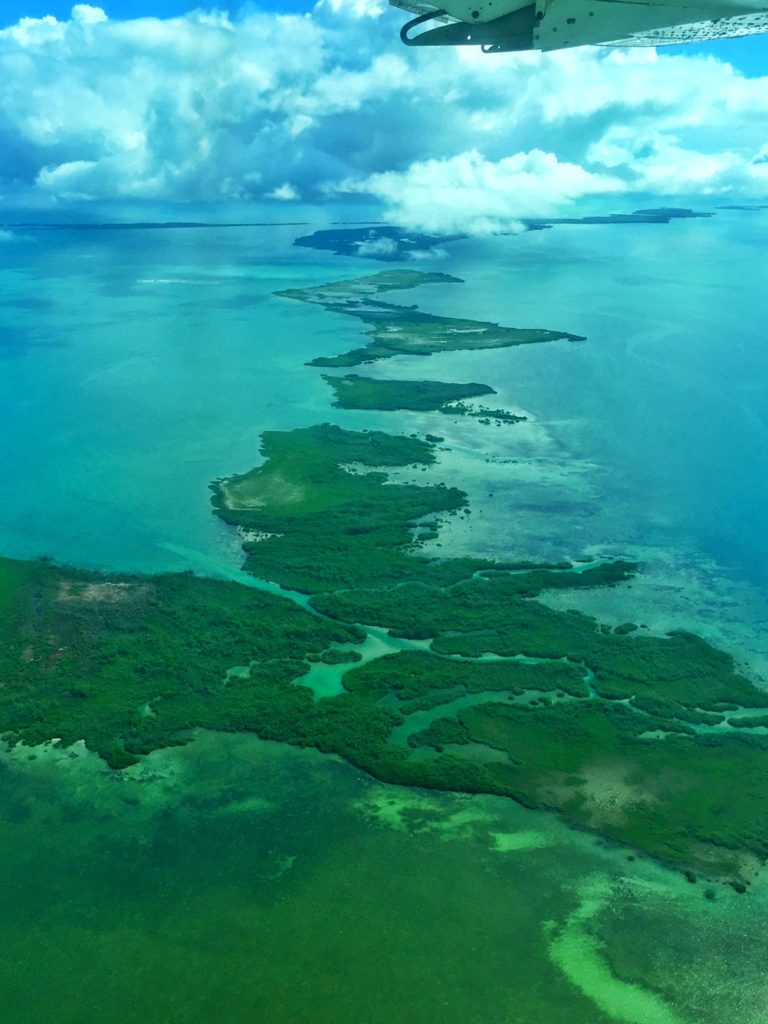 It came close to my amazing Maldives seaplane ride — but the price of a flight in Belize is a teeny-tiny fraction of what a seaplane will cost you there.
Alternately, if you're coming from Mexico overland, there are water taxis from Chetumal or you can go to Belize City by bus first and then take the ferry.
It's cheaper, but quite a pain in the butt, so I really don't recommend it (as someone who has done it — really, just take the water taxi!)
Depending on when you arrive in San Pedro, you might not have a lot of time to get oriented and take advantage of all there is to do there on your first day in Belize.
Check into your hotel, then, for your first day, I recommend getting acquainted with the town of San Pedro, which has a lot to offer. 
Stop off for local chocolate turned into delicious milkshakes at the Belize Chocolate Company.
If you're hungrier, I highly recommend the local pupuseria for delicious Salvadorean treats at Pupuseria Salvadoreño.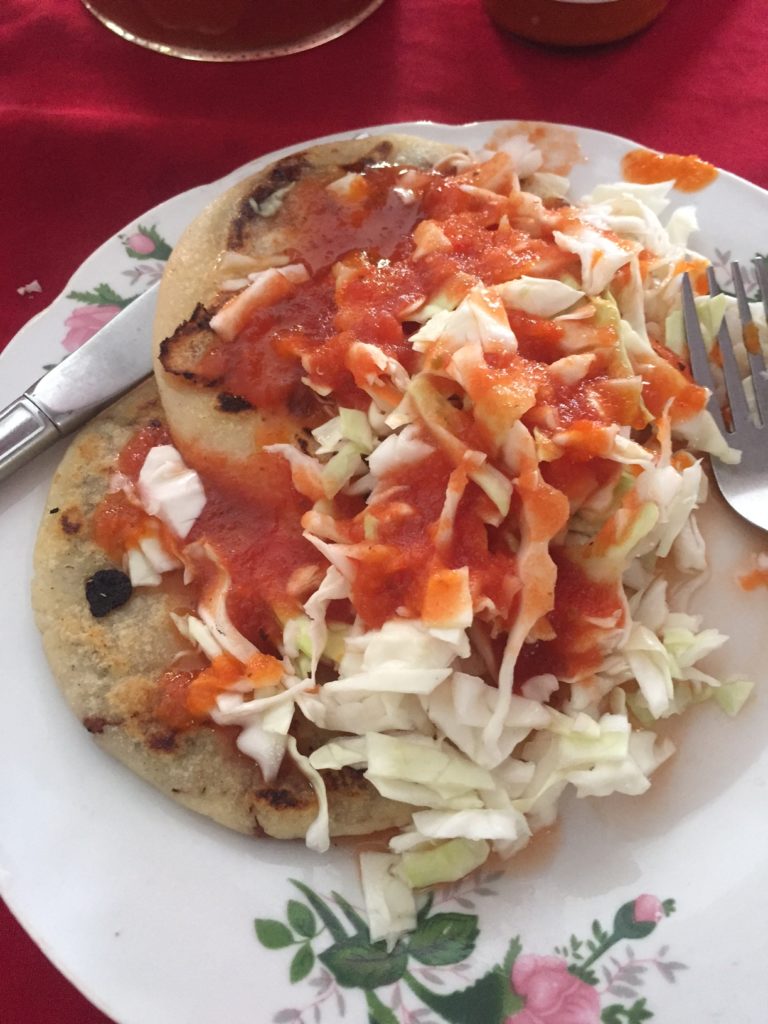 You could rent a bike from Joe's and bike around the island, stopping to take photos of the colorful houses and gorgeous water as you go.
If you wanted to explore more of the island, you could always rent a golf cart and go all the way to Secret Beach, which is no longer a secret at all but rather one of the more popular spots on San Pedro.
If you don't feel like making the bumpy ride, you can always take a taxi, but it'll cost you well over a hundred dollars, so it's a pricy day unless you have a group to split costs.
Or, if you just want to float in an inner tube while drinking a bunch of beer…. check out Palapa Bar, just a short walk from the pier.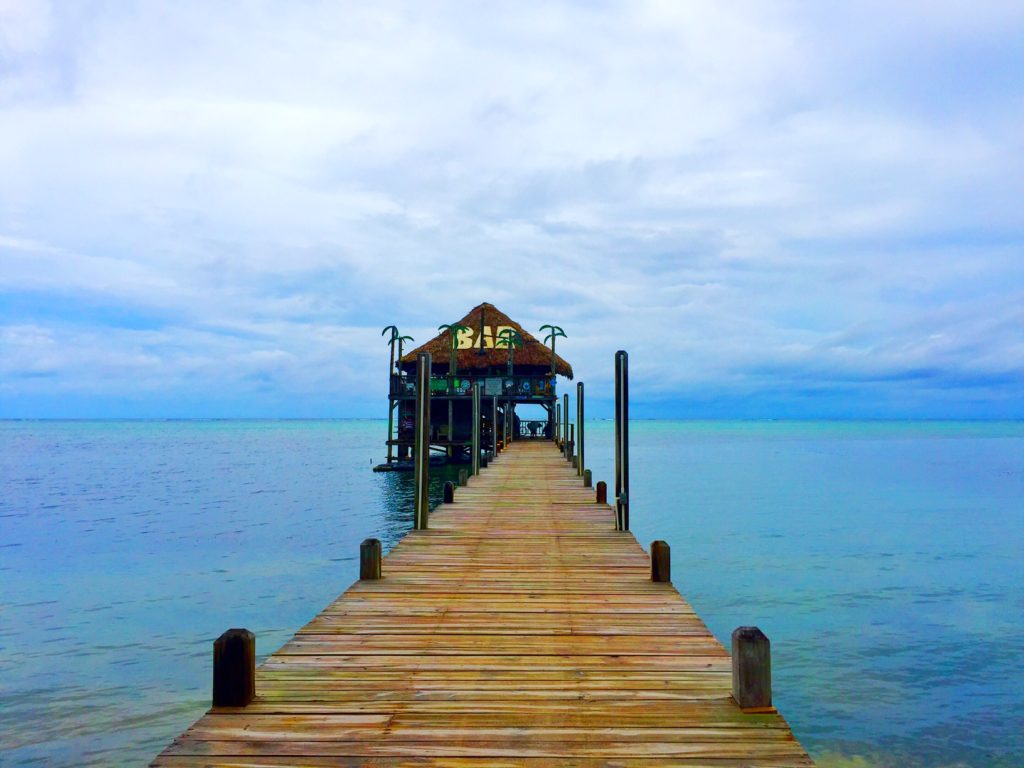 To end your first day of this Belize itinerary, enjoy delicious Belizean cuisine at one of the best restaurants on the island.
After visiting San Pedro three times (I make sure I visit every single time I go to Belize!), I can narrow down my favorite restaurants to just a few.
Elvi's Kitchen is definitely my favorite spot to eat on the island, with some of the best home-cooked Belizean cuisine and a lovely, friendly environment with good service.
Other favorites include the beachfront Blue Water Grill, which has surprisingly great food despite its obvious location, and The Truck Stop for a variety of options (this is a food truck park with various choices, all out of shipping containers!)
Day 2: Spend the day enjoying the Caribbean – on land or sea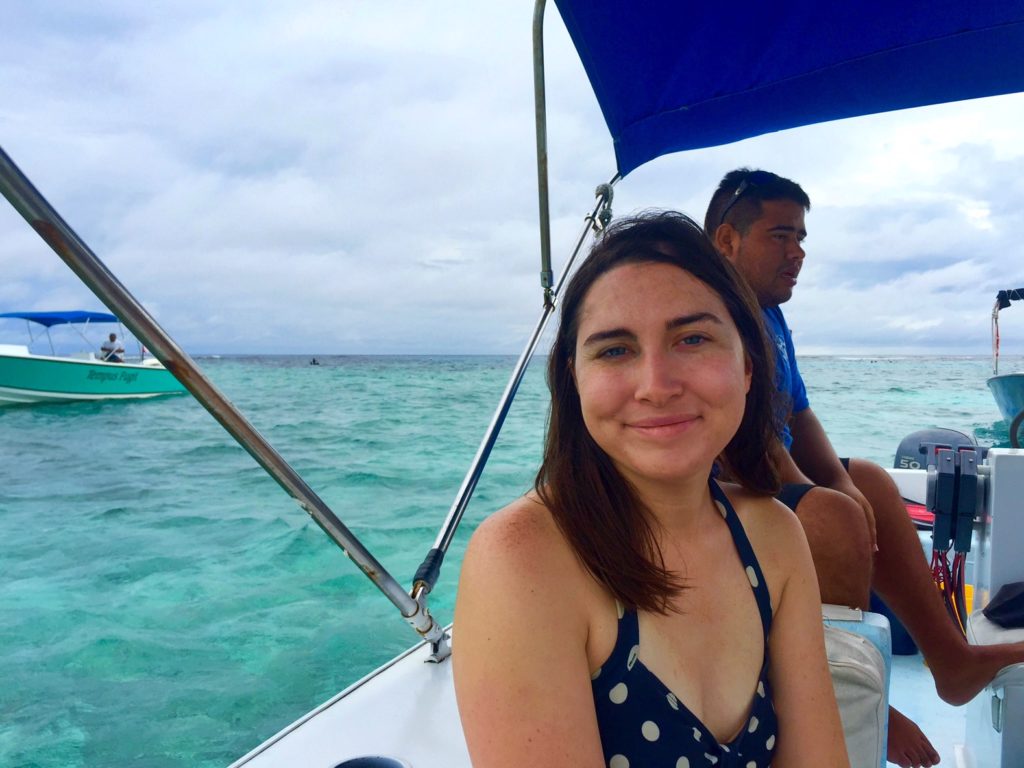 Now that you've settled into San Pedro, take the next day to explore the beautiful Caribbean sea laying just a stone's throw from your accommodations.
If you are PADI-certified, you will likely want to spend the day diving in the amazing Hol Chan Marine Reserve, or if you are an advanced diver you may want to check out the Blue Hole.
There are several dive shops, and Belize Pro Dive Center has the best reputation of them all.
When I visited Ambergris Caye the first time, I didn't have my PADI certification so instead I opted for snorkeling. 
On my second trip, I was traveling with a non-diver so we did a snorkel tour — where I saw this gorgeous spotted eagle ray, which would later inspire a tattoo!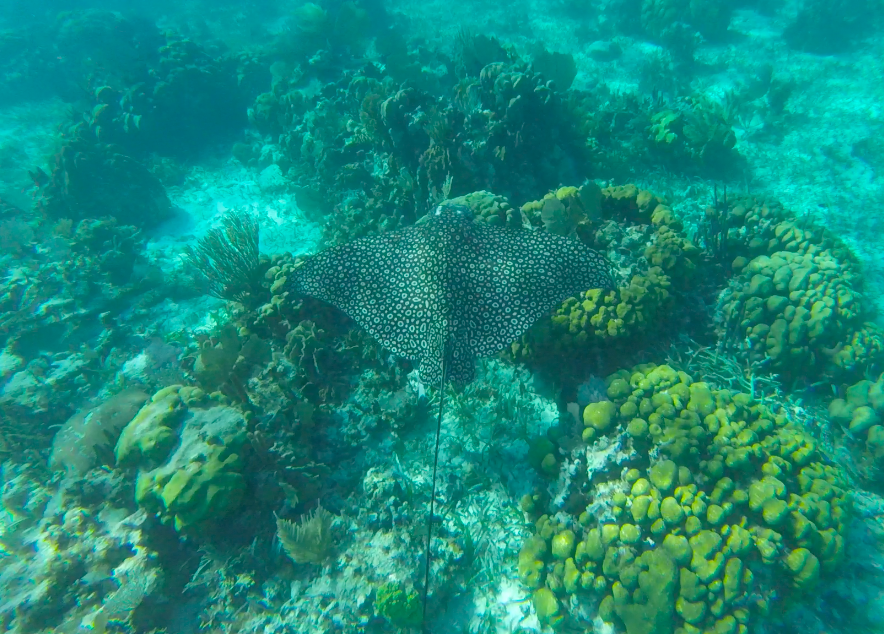 On my third trip, I had an awful cold and wouldn't have been able to equalize my ears.
So while I've gone snorkeling every time I've been in Belize, unfortunately, I haven't checked out the diving scene for myself just yet.
Though, given how much I love diving in other spots along the Meso-American Barrier Reef, like Cozumel and Roatan, I imagine I'd love it!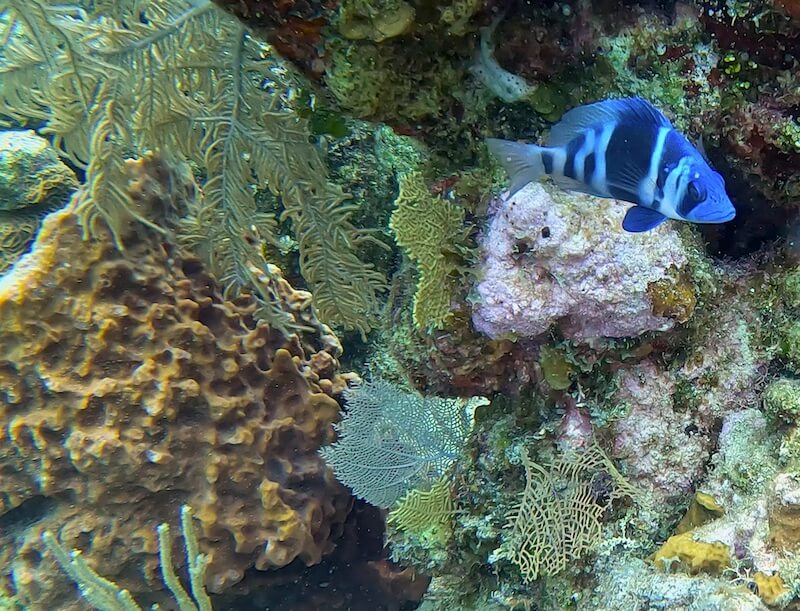 Finally, if you're not interested in snorkeling, then I recommend spending the day at Secret Beach if you didn't do it yesterday.
You'll need to rent a golf cart for the day or take an expensive cab there, but if you're staying a long enough time, it'll definitely be worth it.
Not really a secret in much but name only, Secret Beach has a taco truck, a restaurant, bars, kayak and paddleboard rentals, people offering massages, lounge chairs, etc.
Day 3: Take the boat over to Caye Caulker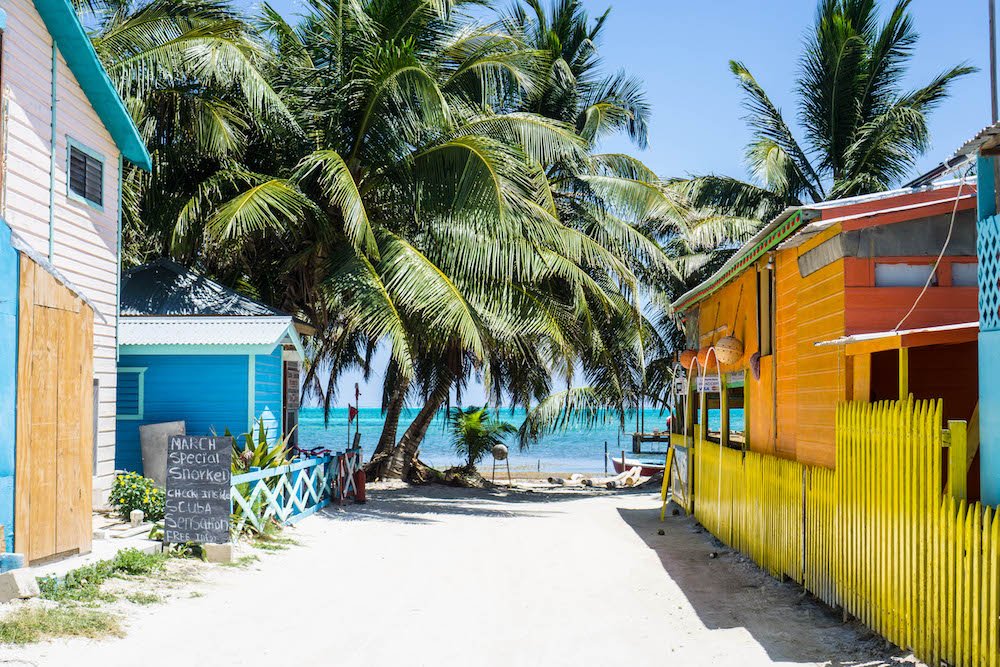 Just a short distance away from San Pedro is its smaller sister island, Caye Caulker.
Caye Caulker is more budget-friendly than Ambergris Caye and has a quieter, more low-key vibe.
Whereas Ambergris Caye is popular with families and travelers seeking a bit of luxury, Caye Caulker is definitely more popular amongst the backpacker crowds.
However, it's definitely worth visiting no matter what kind of travel style you have!
Whereas San Pedro is a proper city (albeit a small one), Caye Caulker is a true sandy, no-shoes-no-news island.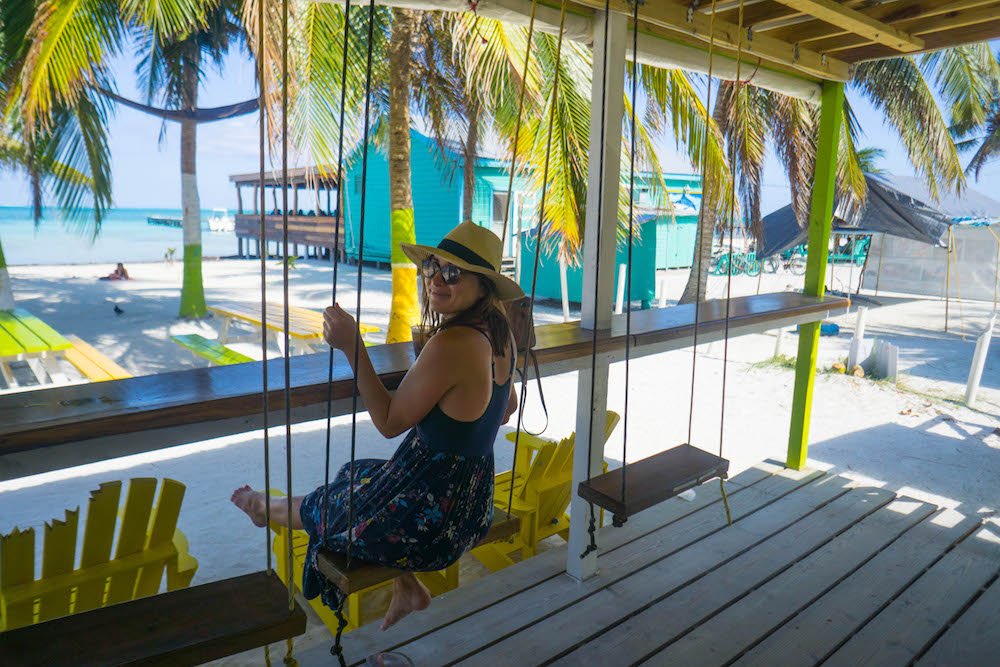 On your first day in Caye Caulker, I recommend walking around and getting your bearings with the island. It's super small after all!
If you want a more active way to enjoy the island, I suggest renting a kayak to paddle your way around the island if you're up to it. 
Or, if you're up for a more relaxing day, head on over to The Split, where you can alternate between lounging in perfectly blue water and drinking mojitos, rum punches, and margaritas at the nearby Lazy Lizard.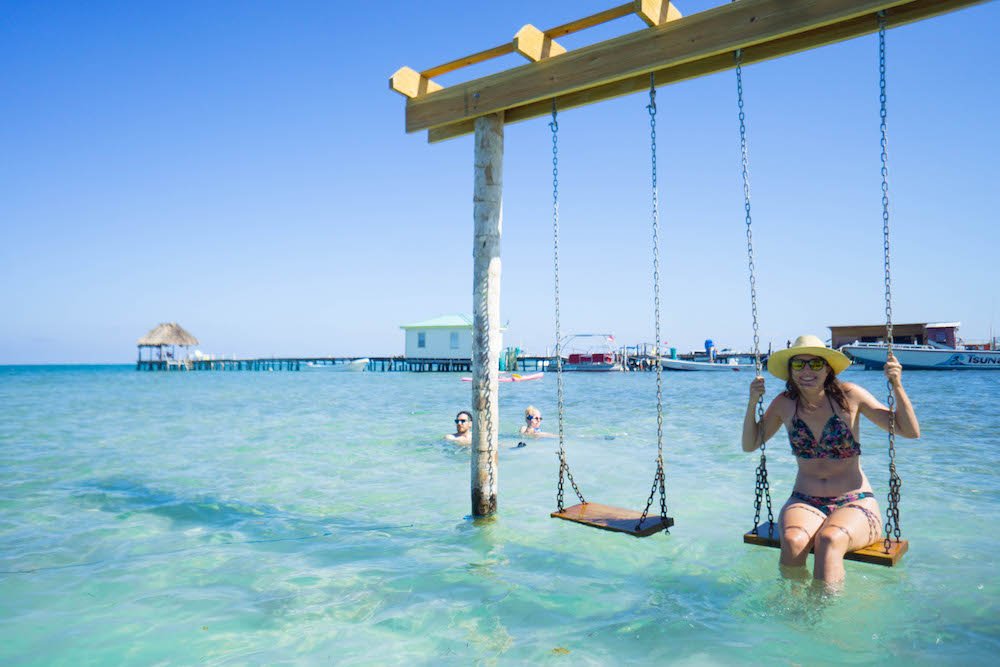 I'm also partial to Sip N' Dip Beach Bar, where I admittedly spent about 70% of my waking hours on Caye Caulker.
I enjoyed hanging out on the swings, inner tubes, and water hammocks while alternating between buckets of Belikin and layers of sunscreen.
Animal lovers will want to stop by the Caye Caulker Animal Sanctuary, where a local man takes care of the island's stray population!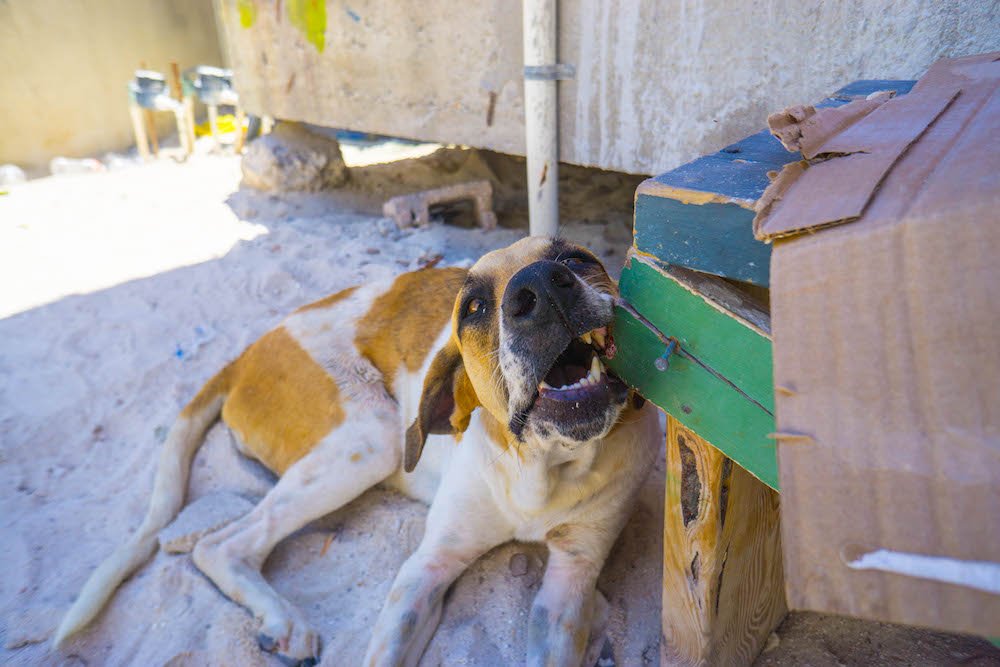 The owner of the sanctuary works tirelessly to find the stray animals homes, keep them fed, and get them medical treatment when needed.
It's entirely self-run and funded, so donate some time or some money if you can.
Tip: Be sure to catch the sunset on the west side of the island – Caye Caulker is way better than San Pedro for sunsets due to the geography of the islands.
After catching sunset, have dinner. My favorite restaurants there are Reina's for typical Belizean fare and Steve's Grill for delicious lobster when it's in season!
Day 4: Swim with sharks, rays, and manatees off Caye Caulker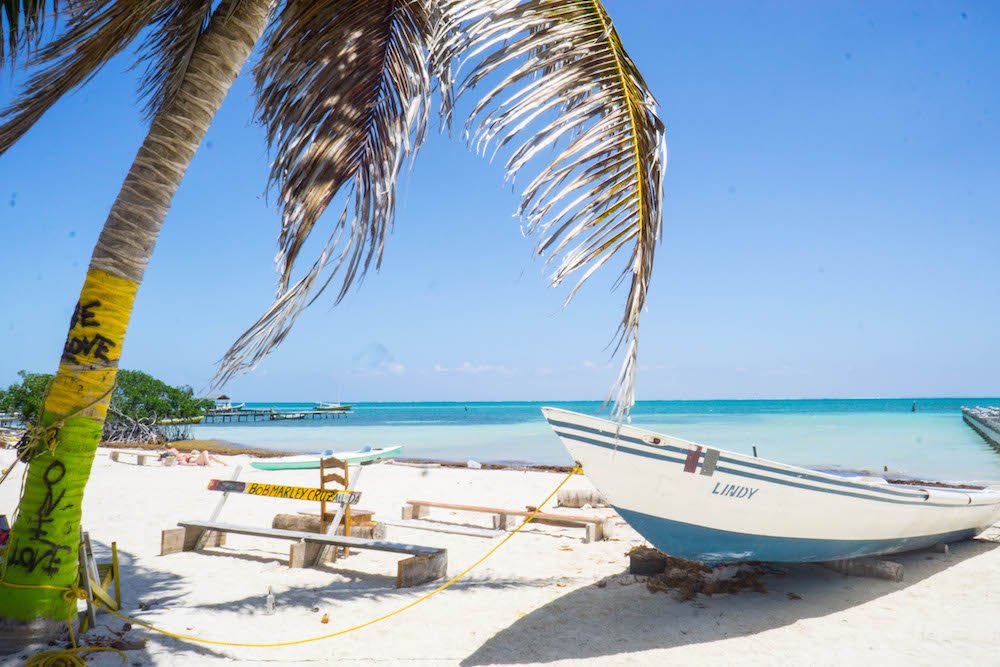 One of the best things to do in Caye Caulker is meet the resident manatees who live just off the island!
Manatees are around all year long, although they can be a little shy and fickle and don't always appear.
However, with some luck this small group 7-stop snorkeling tour will let you meet them up close and personal — from a respectful distance, of course, and never touching the manatees!
Just look at those guys!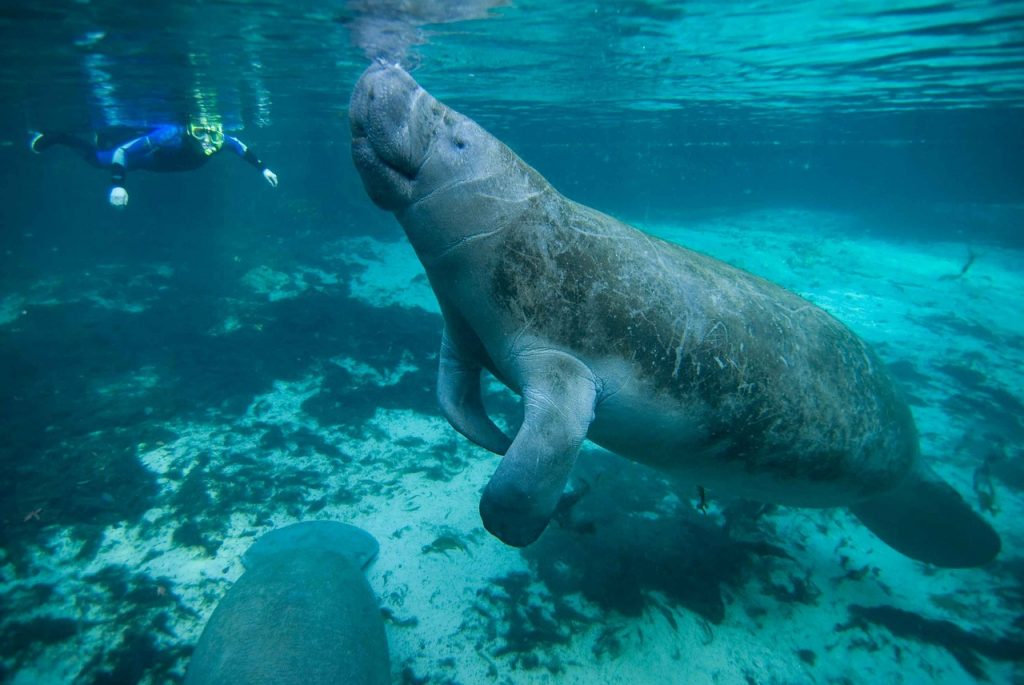 This tour also includes a stop where you go snorkeling in the famous Shark Ray Alley, where you can swim with friendly nurse sharks and sting rays.
Don't let flashes of Steve Irwin or Jaws scare you away from this – both rays and sharks are incredibly docile and only attack when provoked.
The sharks and rays in this area are quite used to seeing tourists in their calm waters.
If you follow your guide's instructions, you will be completely safe.
Trust me, I've done this three times — every time I've been to Belize! — and I've done much more intense shark dives, like this one in Fiji.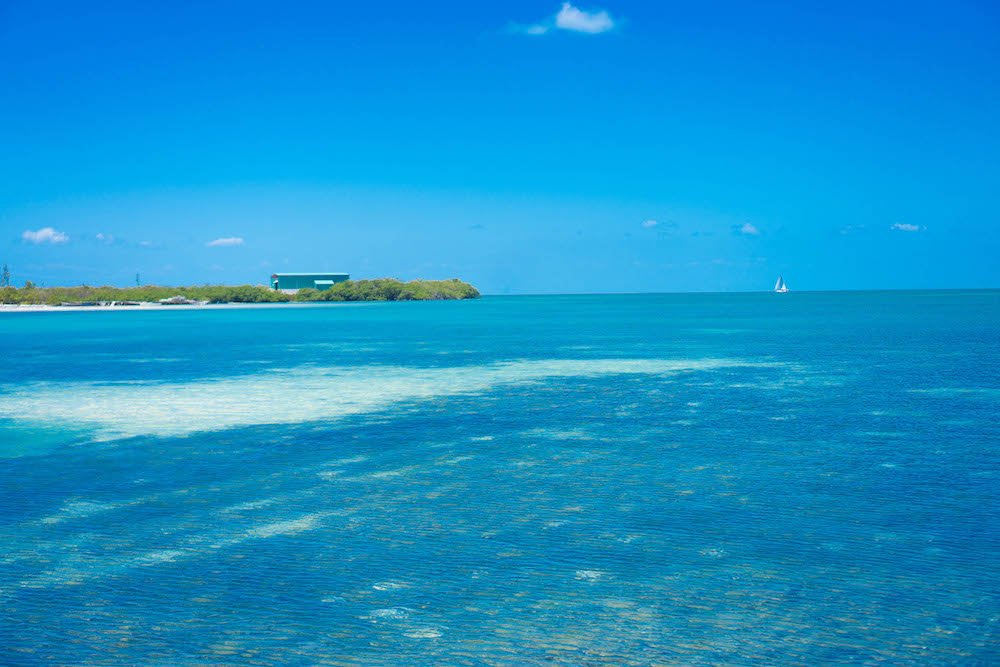 If you don't want to snorkel, you can take a walk around the island or kayak or paddleboard through the crystal clear waters.
Still too active? Laze around at one of the many beach bars and sample delicious jerk chicken and coconut curries at one of the local eateries… 
In short, there's plenty of things to do on Caye Caulker (but doing nothing is also perfectly acceptable).
Day 5: Head over to San Ignacio for a taste of the Belizean jungle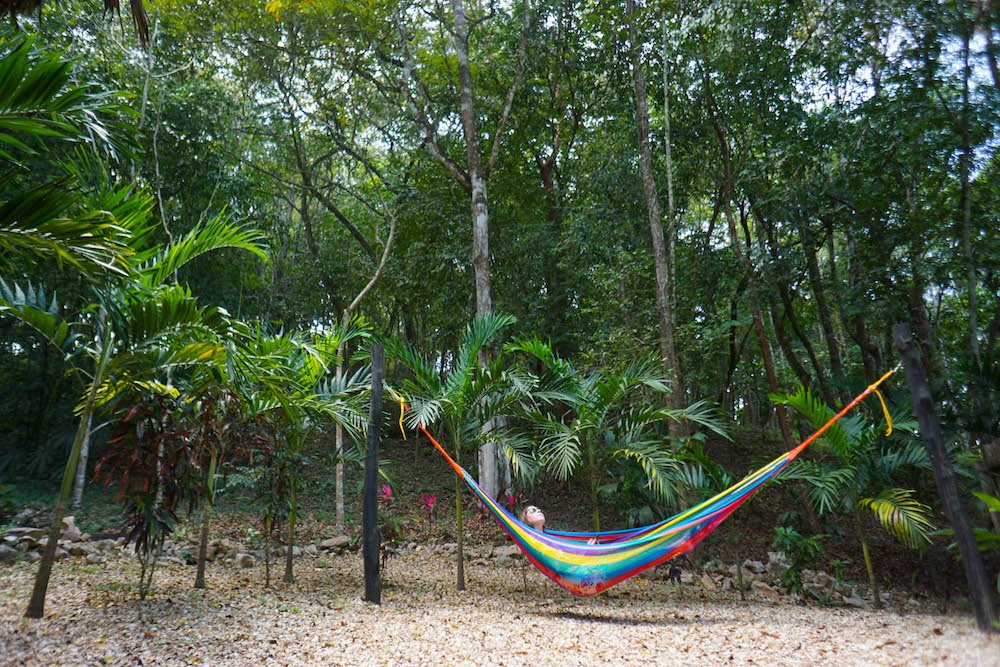 After you've had a solid four days to enjoy the beach and work on your tan, I highly recommend heading to Belize's beautiful interior.
This will be a bit of a long travel day, but ending up at an eco lodge in the middle of the Belizean jungle is a pretty good reward at the end of the day.
To get to San Ignacio, take the water taxi back to Belize City, where you'll disembark at the ferry terminal.
I recommend taking a taxi from the ferry terminal to the bus terminal, as Belize City is a bit rough around the edges.
I've traveled to 60+ countries and while I've been through Belize City three times and never had anything truly bad happen, I've had a few uneasy experiences in the short amount of time I've transited through Belize City.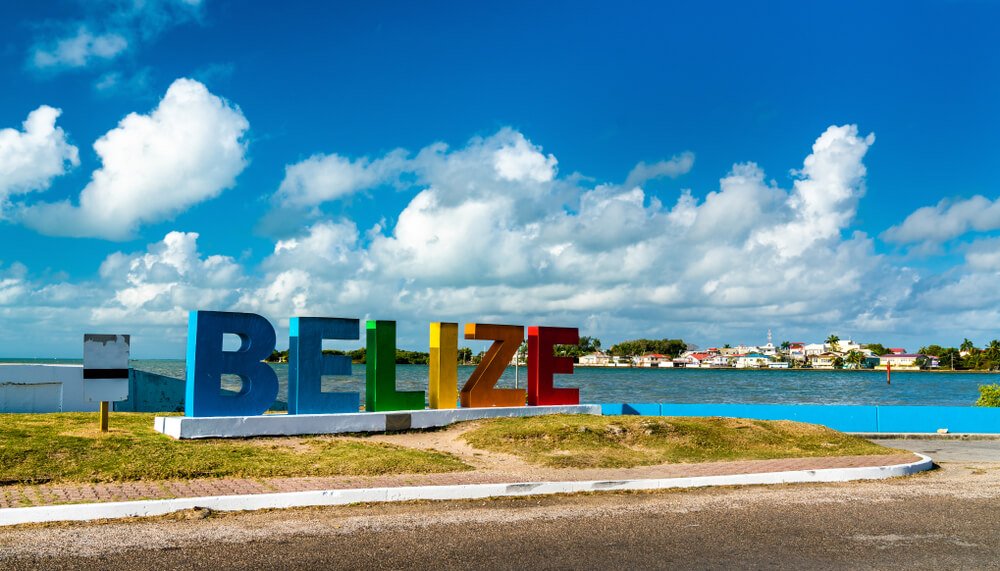 If you are alert, in a group, and keep an eye your belongings, it is also possible to walk between the ferry and the bus.
Again, I don't recommend it, but I'm just letting you know it is walkable. If you do walk, it's about a 20 minute walk.
Once at the bus station, you'll want to board a chicken bus bound towards Benque, which should cost around 8 BZD ($4 USD).
It'll take about 3 hours to get there as the bus will stop every few minutes to let people off. 
It is possible to arrange private transport, though it's definitely more expensive.
You can arrange a shared private shuttle for around $68 per person here.
This will cut down your travel time by quite a bit, since it's an express transfer with no random stops — your travel time should be closer to two hours in this case.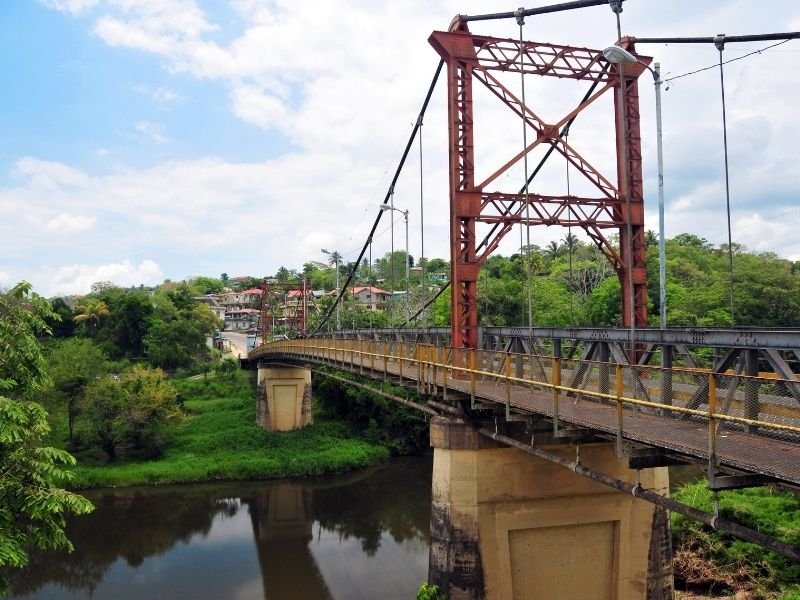 Once you arrive, you'll be in the heart of the Cayo District, in the charming touristic town of San Ignacio.
Once you arrive, I don't doubt you're hungry!
I highly recommend eating at Ko-Ox Han Nah, which is the best restaurant in town in my opinion.
It has delicious Belizean food (as well as some really good Western food if you're craving a burger like I was…!)
Following that, check into your accommodations for the next 3 nights in Belize.
Not sure where to stay? I've written a guide to the best eco lodges in San Ignacio to help you pick the best eco resort in this part of Belize.
Day 6: Wake up in the Belizean jungle and go adventuring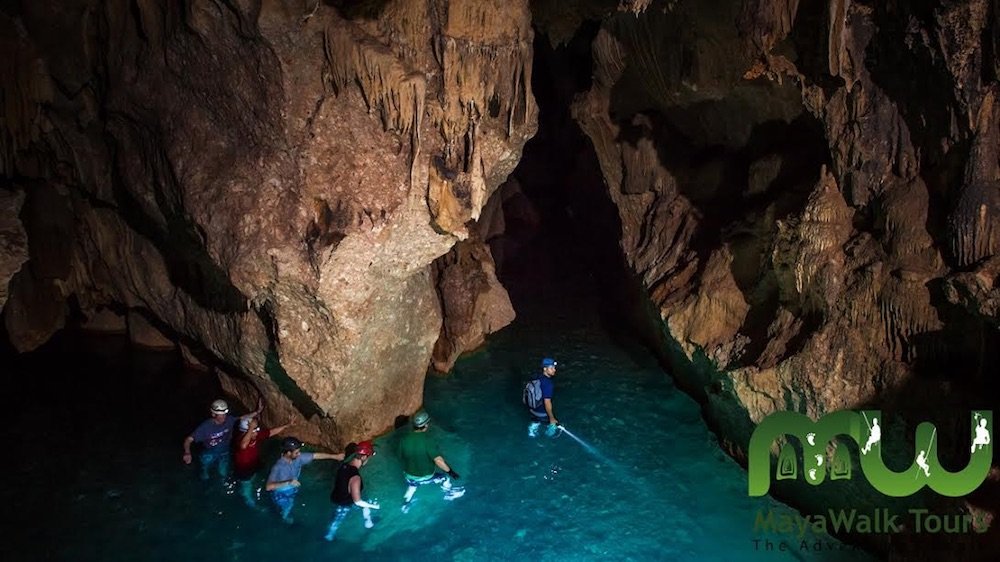 There's something so incredible about waking up to the sound of tropical birds and howler monkeys stirring before the sun has finished rising.
Enjoy an early breakfast and then get ready for one of the most exciting parts of your week-long Belize itinerary: a tour of ATM Cave.
The ATM Cave (which is short for Actun Tunichil Muknal… do you see why it's abbreviated, now?) has been named the #1 most sacred cave in the world by National Geographic — a publication that knows a thing or two about travel superlatives.
So, what is the ATM Cave and why is it so special? 
The ATM Cave is a combination between natural wonder and archaeological site.
Geologically, it's a cave that stretches at least a kilometer deep, winding through a series of narrow slips in the rock until you reach a massive, glittering atrium of crystallized stalagmites and stalactites. 
But that's not the most interesting part: ATM Cave is the resting place of the remains of several human sacrifices.
There are 14 partial and near-whole remains to be precise, including the "Crystal Maiden" – a crystal-covered skeleton in near perfect condition in the heart of the cave. 
In addition to the human remains, there is also countless pieces of pottery which was ceremonially broken into pieces as part of the sacrificing ritual.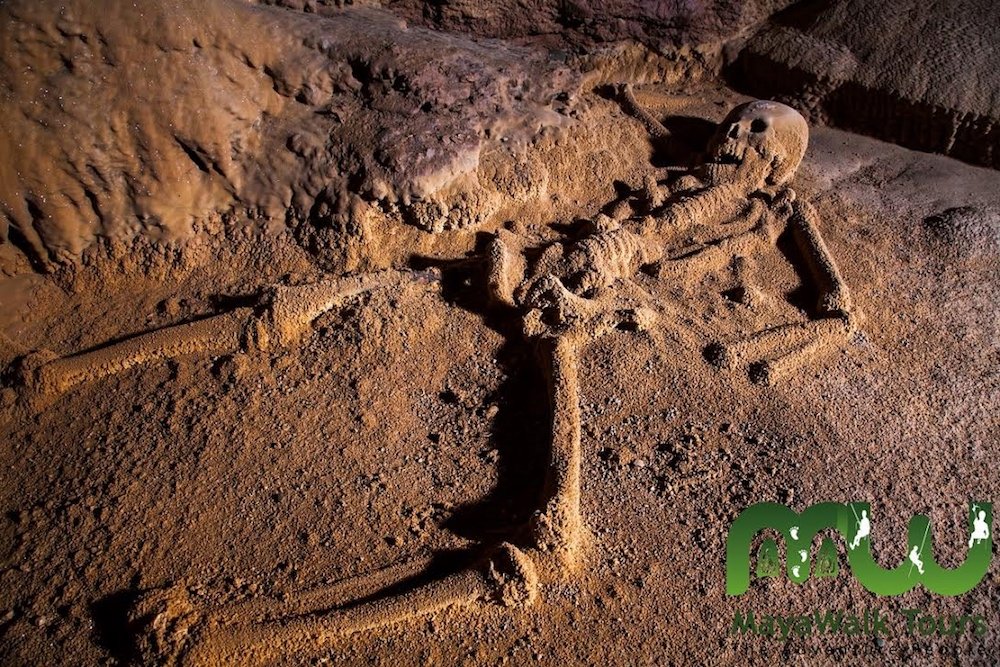 The ATM Cave is highly protected due to its historical significance and fragility, which means there are limited spots and you must plan in advance.
Entering without a tour is strictly prohibited, and tour spots are limited to 125 places per day — and this has not changed at all to meet increased demand.
That means that it's strongly recommended to reserve your spot in advance – once those 125 slots are filled, there's nothing you can do. 
If you don't want to or can't do the ATM Cave tour due to claustrophobia or mobility issues, then I recommend finding another outdoor activity that takes advantage of your prime position in Belize's jungle.
Go birding, horseback riding, hiking, etc. — there are endless options for customizing this Belize itinerary.
Here are my top suggestions besides ATM Cave:
Day 7: Enjoy your last day in San Ignacio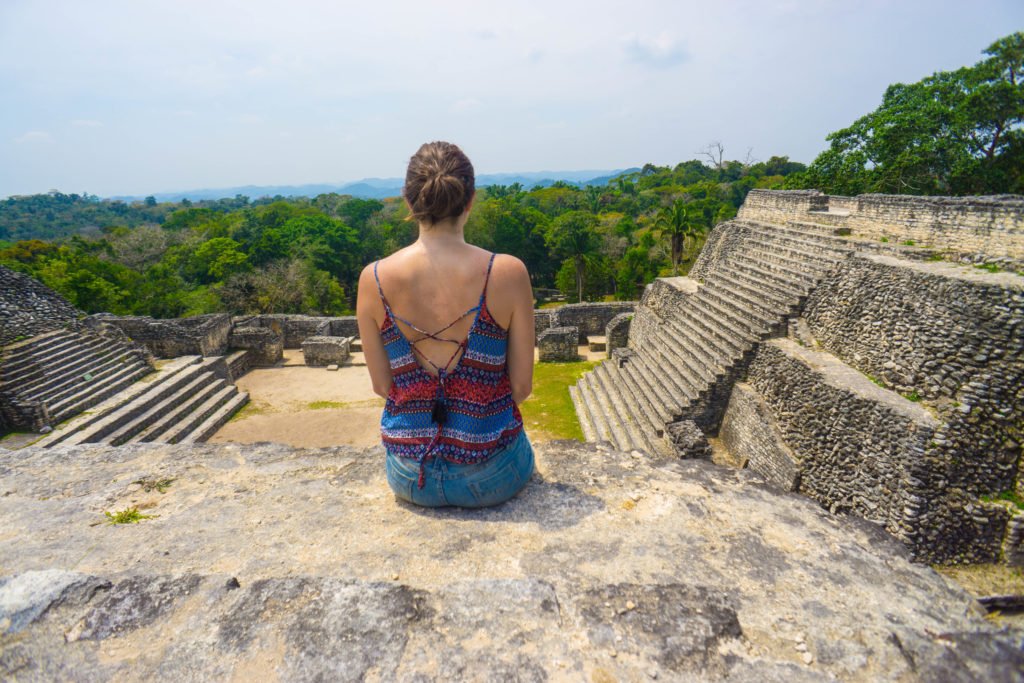 Save something epic for the last day of your Belize itinerary by reserving today to visit some of the least crowded Mayan ruins in the Americas.
I highly recommend visiting Caracol, the largest ancient Mayan city in Belize, complete with pyramids that you can climb and have sweeping views of the jungle canopies around you.
On a clear day, you can ever see well into neighboring Guatemala!
Unfortunately, Caracol is not well-served by public transportation, so if you don't have your own car rented the only way to see it is by going with a guided tour.
The good news is that these guided tours will also include lunch and a stop at the lovely Rio-On Pools, a series of mini-waterfalls and natural pools that you can enjoy while baking in the Belizean sun.
If you want to visit Caracol, you can book a guided tour here.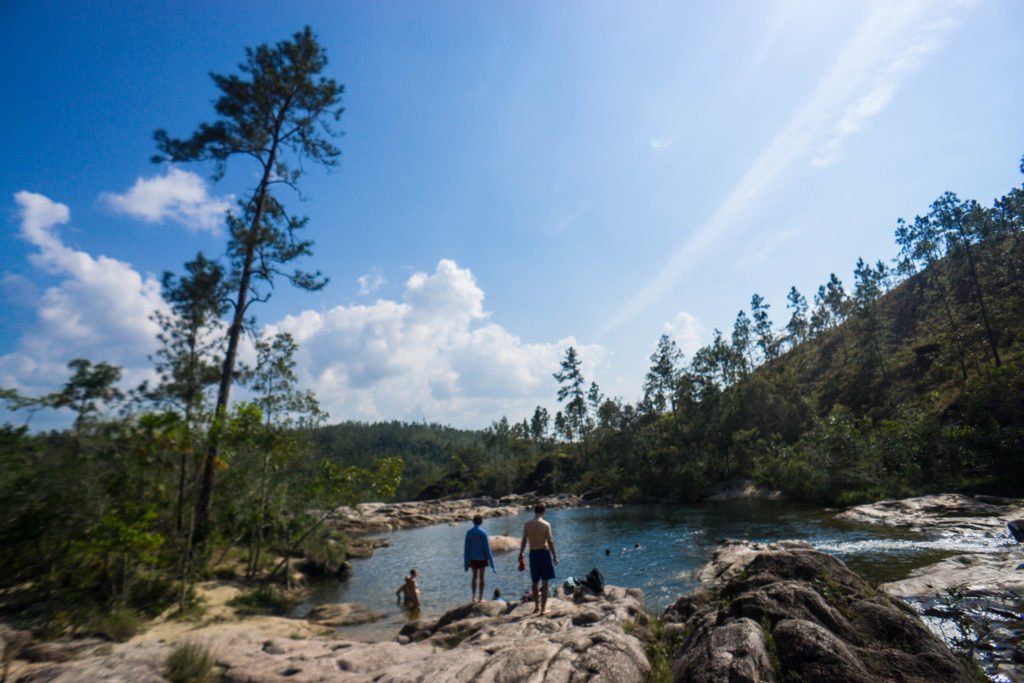 If Caracol is a bit far afield for you, you could also visit the ruins of Xunantunich, which are just a short cab ride from town or can also be visited on a guided tour.
Alternately, there are also the even closer Cahal Pech ruins, which are within walking distance from San Ignacio town and don't require a tour to visit.
This is definitely the cheaper option if you are on a budget!
Best Time to Visit Belize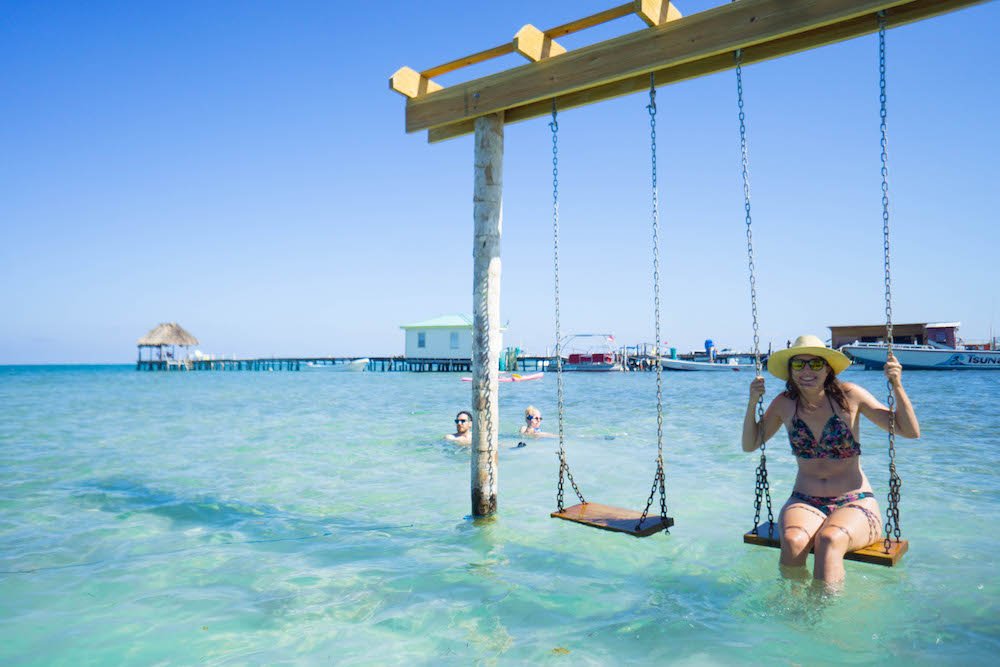 Being a tropical country, Belize has a rainy season and a dry season as opposed to the typical "4 season" model of non-tropical countries.
The wet season is between May and October, where you can expect rain about half the days and scorchingly hot temperatures.
In general, traveling during the wet season isn't the best. Not only can the rain be a pain, it can also disrupt a lot of tours and activities, such as snorkeling/diving tours and cave tours, due to unfavorable conditions.
Hurricanes can also happen during this time of the year.
Between November and April, it is the dry season in Belize. This coincides with much of Belize's peak travel season.
While there will still be occasional rainfall, storms will be much more dispersed, plus you'll experience shorter periods of rain that are less disruptive to your plans.
Note that Belize can be incredibly popular (and expensive) over Christmas and New Years.
I suggest going during January through March for the best balance between good weather and good prices.
Where to Stay in Belize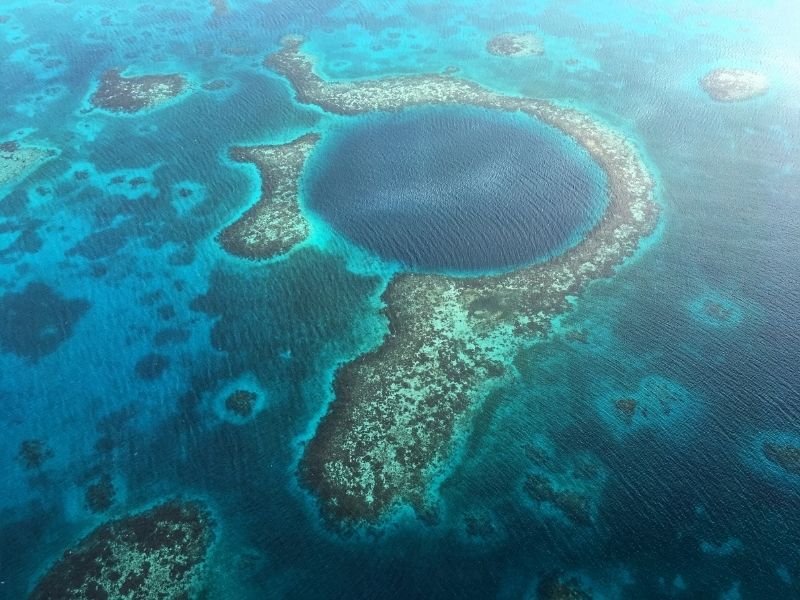 Belize is one of the more expensive countries in Central America – closer to Costa Rica and Panama in terms of prices than neighboring Mexico and Guatemala.
However, that said, you can still find quite good deals on accommodations (tours, on the other hand, are typically the most expensive part of visiting Belize).
I recognize that everyone's budget is different, so I have broken my recommendations into three tiers for each destination on this Belize itinerary.
As a rough guide, budget accommodations are typically hostels and a dorm should cost you less than $25 per night. Mid-range hotels are typically around $50-100 per night. Luxury here is defined as $150+.
However, these prices are just a rough estimate, and it will depend on a variety of factors — time of year being a big one — so use these as estimates and check prices for your actual dates.
San Pedro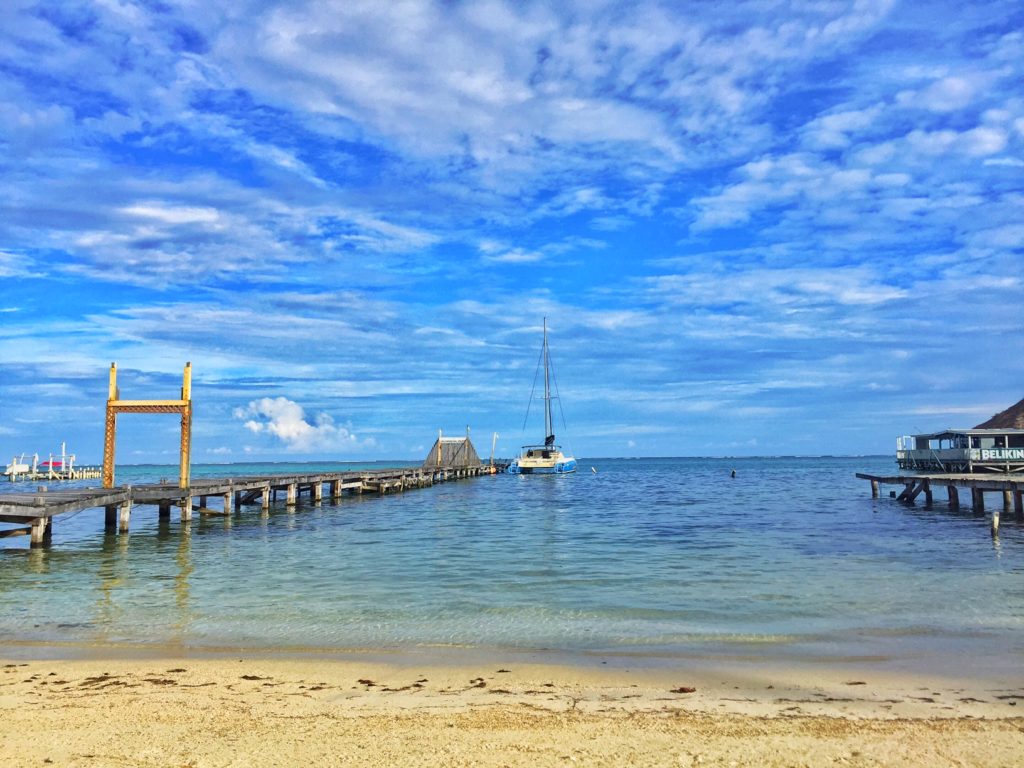 Budget: The excellent and affordable Sandbar Hostel is my personal favorite and where I stayed the first time I was in Belize.
It's walking distance from the pier and has an excellent in-house restaurant that you can enjoy whether or not you're a guest.
The hostel is literally steps from the beach and my favorite bar on San Pedro, Palapa Bar, as well as a nearby snorkeling and dive center.
The dorm is ultra-clean, as the staff comes in seemingly every hour to sweep up sand, and it has nice amenities like privacy curtains and outlets next to each bed.
It also has private rooms which are a little more costly, and it's gotten a really nice facelift since I visited, so it now has its own gorgeous pool area!
Mid-range: San Pedro has plenty of good mid-range options for travelers on a budget who want a little more privacy and comfort than a hostel will give.
Ocean Tide Beach Resort is one of the highest-rated middle-of-the-road hotel options on the island.
Ocean Tide is located right on the beachfront with gorgeous Caribbean views – but is only a 5-minute walk from central San Pedro with its shops, bars, and restaurants.
Rooms are comfortable and clean and include air conditioning, and some come with balconies for an incredible sea view.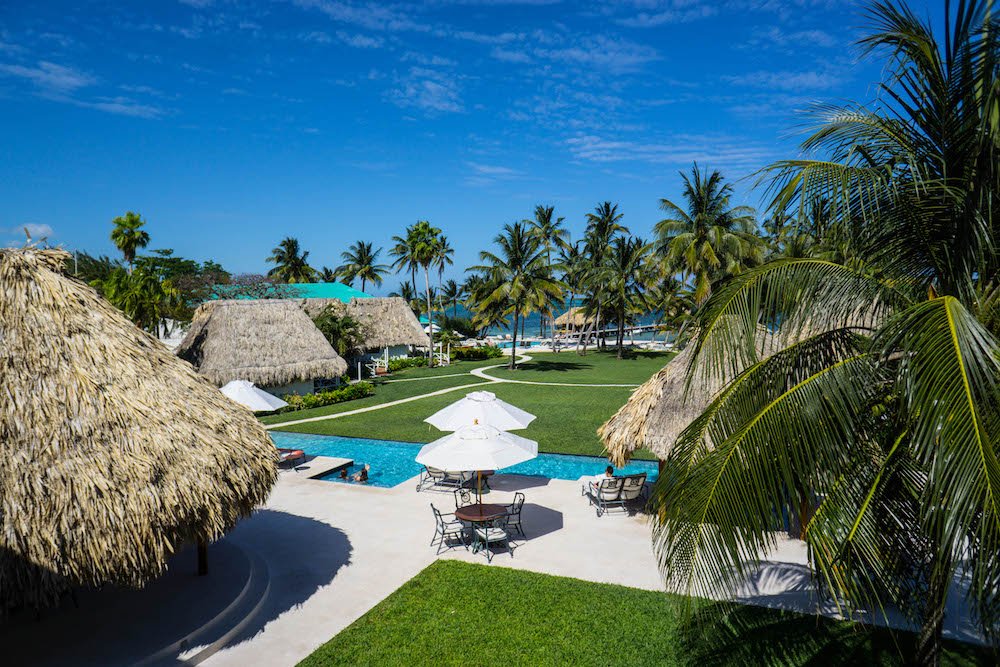 Luxury: I had the opportunity to stay at the magnificent Victoria House when I was in San Pedro.
It's hard to think of a more luxurious place worthy of a special occasion if that's what you're celebrating while planning your Belize itinerary.
We enjoyed a two-story villa with four outdoor areas, an outdoor shower, a massive kitchen, a luxe master bedroom with Caribbean Sea views, and we overlooked what felt like our very own infinity pool!
Victoria House also gives free bike rentals which is perfect for exploring Ambergris Caye at your own pace.
Caye Caulker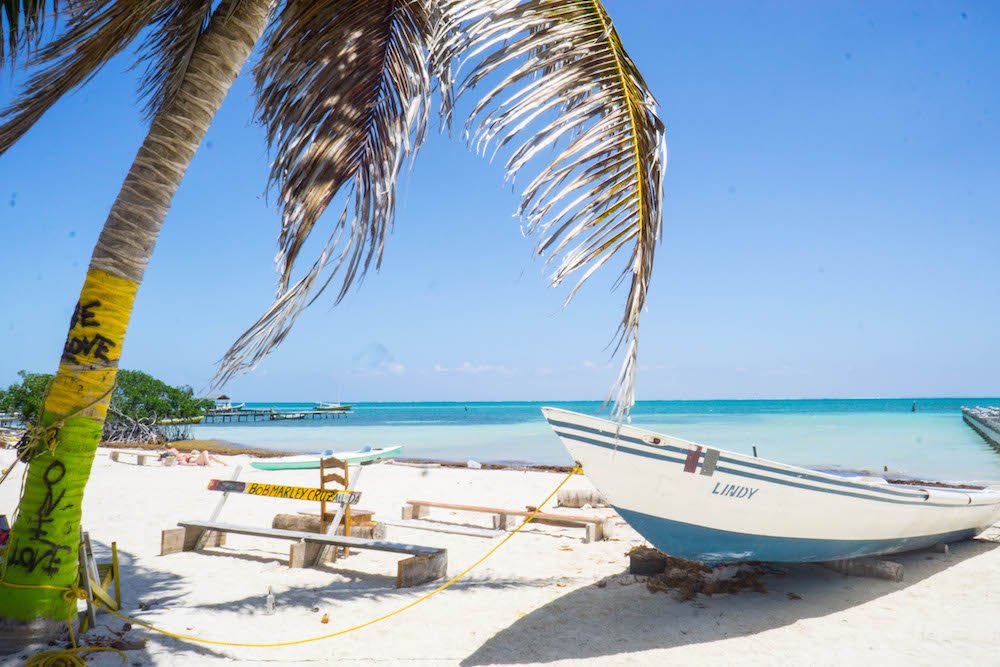 Budget: Caye Caulker is one of the most budget-friendly places in Belize! People on a tight budget will want to pick one of the island's hostels.
I recommend the excellently-rated Go Slow Guesthouse, which is a colorful, friendly hostel located in the heart of Caye Caulker not far from the main road.
There are fan rooms for a cheap price or AC rooms for a slightly higher cost. Solo travelers enjoy the friendly vibe.
Mid-range: If you want the privacy of your own cabana without paying an insane price, Colinda Cabanas is an excellent mid-range choice.
Stay in a joyful yellow and turquoise cabana just a minute walk from the sea!
Free bike and kayak rental, free coffee in the mornings, and other perks will help you feel welcomed and at ease here in Caye Caulker.
Luxury: San Pedro definitely has more luxury options than Caye Caulker.
That said, you can still enjoy a bit of luxury on this more budget-conscious island. The nicest hotel in town is Weezie's Oceanfront Hotel.
With spacious studios and one-bedroom cottages, a lovely pool, friendly staff, and balconies with amazing sweeping Caribbean views, you'll never want to check out of paradise.
And with relatively affordable prices, it'd be easy to overstay!
San Ignacio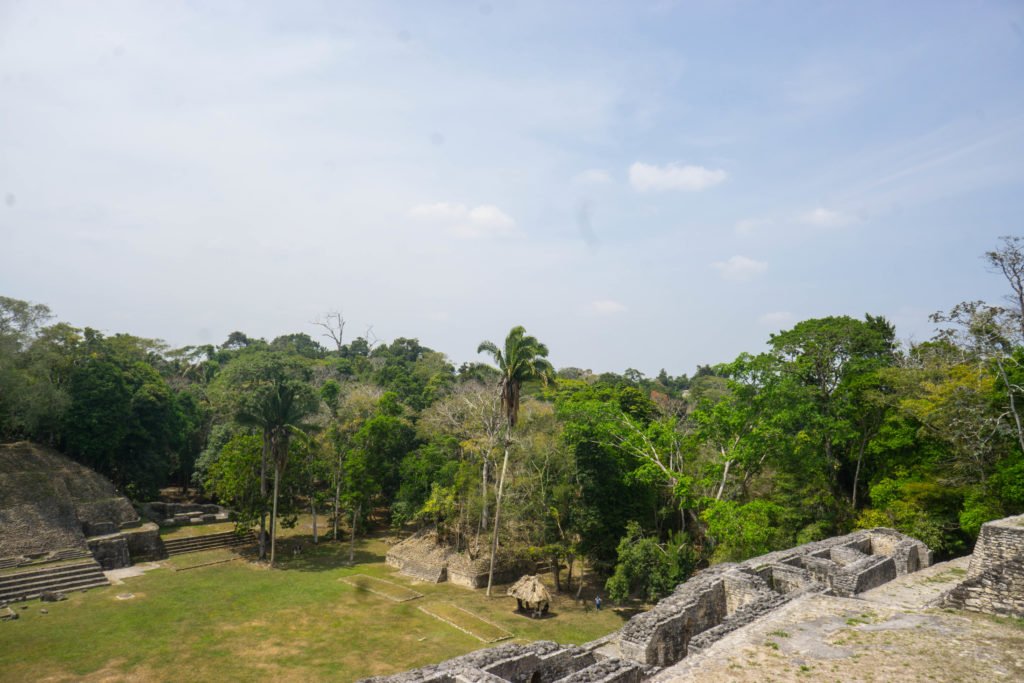 Budget: It's a testament to how green Belize is that Cahal Pech Village Resort is right in San Ignacio.
You barely have to leave the downtown of San Ignacio to feel like you're in your own personal jungle paradise!
There are lush trees planted everywhere and an infinity-style pool overlooking the river valley below.
The Mayan ruins of Cahal Pech are located right nearby the eco-resort, a couple of blocks away!
Mid-Range: Located in the jungle of Belize in the protected Mountain Pine Ridge Forest Reserve, Gaia Riverlodge offers some of the most incredible views you'll ever see.
With free bikes, a terrace for all, a bar and restaurant, WiFi, and stunning views near the river, this is one of the most stylish options in San Ignacio.
Luxury: If you are after a once-in-a-lifetime stay in an eco-lodge in Belize… look no further than The Lodge at Chaa Creek.
This next-tier incredible resort is known for its beautiful natural surroundings, with airy spacious rooms with high-ceilinged thatch roofing and thoughtful details like beautiful textiles and local flowers.
Outside your bungalow, you'll find countless trees and plant life surrounding you and wake up to the sounds of birds and monkeys in the jungle.
Located on the Macal River, Chaa Creek offers activities like canoeing and kayaking down the river.
You can also go for a swim in their infinity pool, try some "jungle cuisine" in their dining room made from local organic produce, or admire the butterflies at their butterfly exhibit.
Protect your travel investment!

Travel insurance coverage helps you recoup your losses in case of emergency, accident, illness, or theft.

I rely on SafetyWing for coverage when it comes to trip interruptions and cancellations as well as accidents and medical emergencies.

It offers great rates starting around $12/week with clear, easy-to-read coverage.
Allison Green is a former educator turned travel blogger. She holds a Masters in Teaching and a B.A. in English and Creative Writing. Her blog posts merge her educational background and her experience traveling to 60+ countries to encourage thoughtful travel experiences that both educate and entertain. She has been a speaker at the World Travel Writers Conference and her writing, photography, and podcasting work has appeared in National Geographic, CNN Arabic, CBC Canada, and Forbes, amongst others. Now based in the San Francisco Bay Area where she grew up, she has also lived in Prague, Sofia, and New York City.