Belize is a gorgeous country with a lovely subtropical climate, making it a joy to visit year round.
As a result, figuring out what to pack for Belize isn't rocket science. The average high temperature year-round is 84° F (29°C), though it is possible to get slightly cooler in winter, with temperatures as low as 60°F (16°C) possible at night.
Every one of the tree times I visited Belize, I visited in the "winter" – once in December and twice in late February.
Both times, the weather was extremely pleasant, about 80° F or 27° C all day and a bit cooler at night.
Like most subtropical and tropical countries, Belize has two main seasons, not four: wet and dry season.
The dry season is from January to May, with far less rain than the rest of the year. June through December is the wet season, with frequent rain and a potential for hurricanes.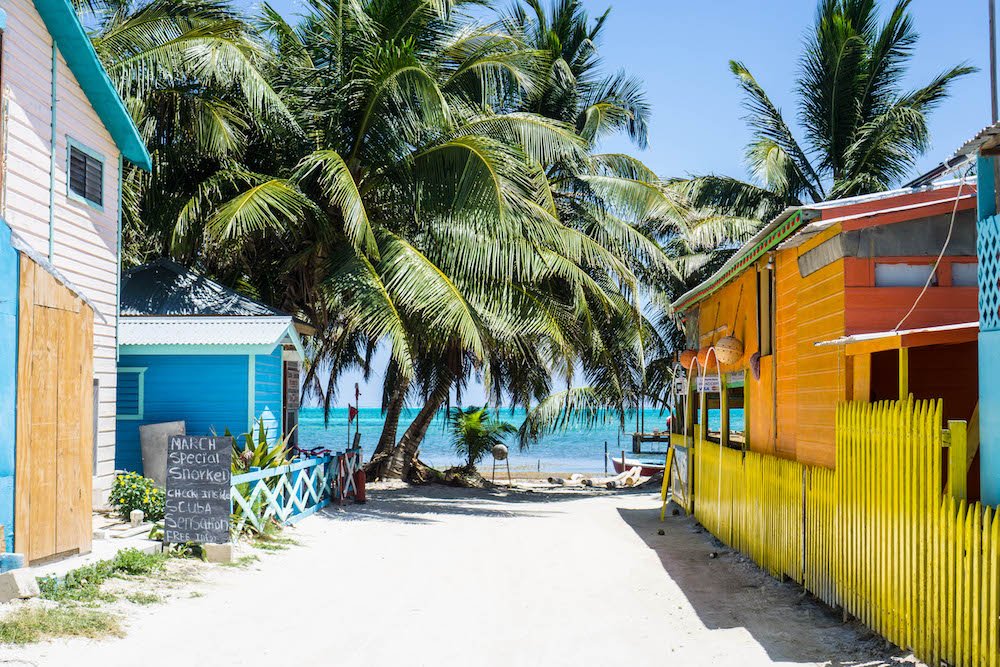 Note: This post contains affiliate links, which means I may receive a small commission if you purchase something through one of these links. Thank you for supporting the free content on this site! For more information on affiliate links and cookies, see my disclosure page for more details.
For most travelers, Belize is ideal from January to May, but this also the most crowded.
If you travel in June or December in the shoulder season, you'll have the benefits of fewer travelers, but the rainy season shouldn't be in full swing yet.
There is some regional variation in temperatures. The cayes of Belize will be hot and sunny, with a bit of an ocean breeze and incredibly high humidity.
Meanwhile, the interior will be far cooler but also a bit more humid due to all the lush vegetation. The interior is more likely to rain than the islands.
Depending on where you go in the country, you may want to adjust your Belize packing list accordingly (more cool weather clothes and sneakers if you go inland, more sandals, dresses, and coverups if you stay on the islands of beaches).
Before we go into the packing list, let's quickly review what is required to visit Belize in 2022, since things have changed a lot!
Visiting Belize Requirements in 2022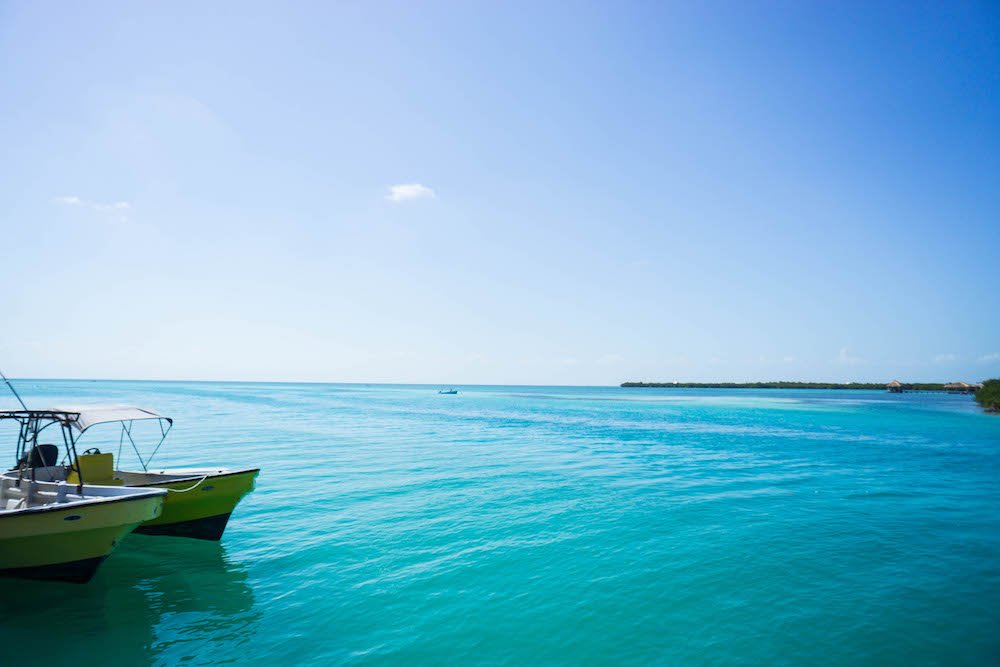 This post was updated May 23, 2022 and is up-to-date as of that day. However, policies may change in the future, so always check with the official Belize website.
Here are the current requirements:
Fully vaccinated travelers do not need to show a negative test to enter Belize, but they must show proof of vaccination.
Unvaccinated travelers must show a negative PCR result from a test taken within 72 hours of arrival or a negative antigen result from a test taken within 48 hours of arrival.
Tests can be administered upon arrival for $50 USD cash — but if you test positive, you will have to enter mandatory quarantine in Belize.
All travelers must purchase Belize travel insurance which you can do so here. It costs $18 USD for 21 days of coverage.
Follow all Belize laws, such as masking in public and adhering to the curfew
Follow any requirements that your home country requires for reentry
Belize Packing List: What You Need for Your Trip to Belize
What to Pack Everything In
Trust me, I've been traveling nearly nonstop for the better part of the last 700 days, and you're going to want a well-organized system for packing or you're going to lose your mind.
You will likely need to unpack and pack again several times, unless you are just staying in one place for your vacation.Having things that help your oganize your belongings makes the packing process a lot smoother.
You don't need any crazy gear, but I do have a few tips for making your packing for Belize more streamlined and organized.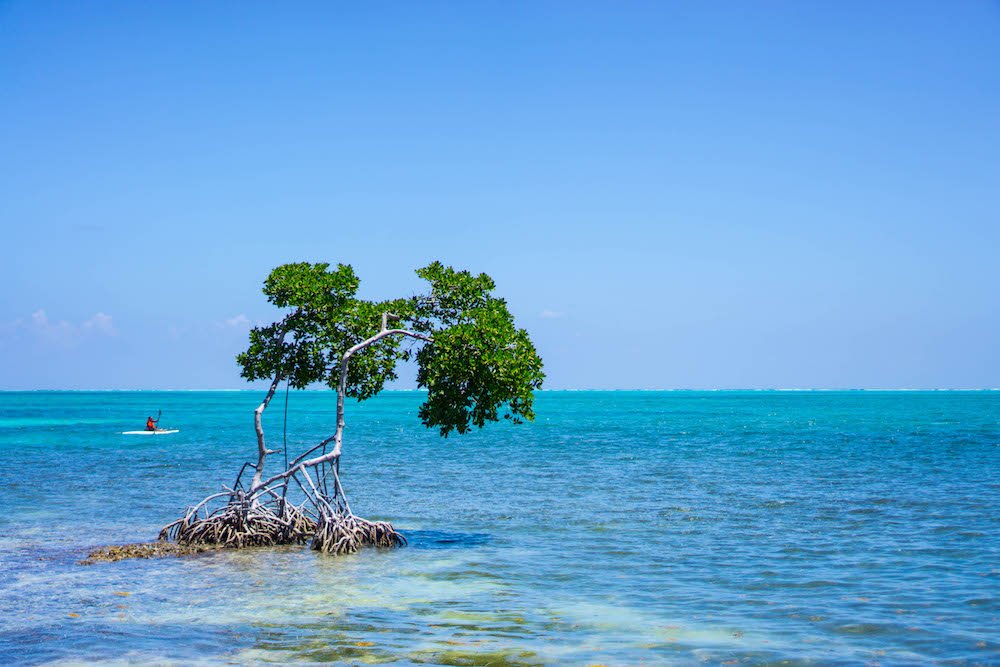 Travel Backpack (carry on size or check-in size): While I do occasionally use a rolling suitcase when I travel in places with good sidewalks like Western Europe, a rolling suitcase just won't work with Belize, especially if you visit the islands. The island roads aren't paved – they are literally just made of packed sand. The jungle interior in Cayo, around San Ignacio, is no better. I tend to pack light and prefer to travel carry-on only, so my Tortuga Backpack is what I swear by. I spent 4 months traversing Central America (including Belize) with it and still didn't use all the things I brought in my pack. I used their original version for 2.5 years before Tortuga recently gifted me their newest version to trial, and I love it even more than the original (which my boyfriend now happily uses – in fact, he was even more excited than I was when I upgraded my Tortuga and he got my old one).
Why do I recommend Tortuga so much? Here's why: this bag is 45L and has got three main compartments: one for a laptop and other flat objects, one giant rectangular compartment perfect for packing cubes stuffed with clothing, and one smaller compartment with pockets for passports, pens, odds and ends, etc. that I stash all my extras in – plus one small outer zipper pocket for anything you want quick access to. It also has a water bottle holder on the outside as well as buckles so that you can strap something like a yoga mat to the outside. Plus, it's quite comfortable to wear, with a padded hip belt and comfort-molding shoulder straps complete with a chest strap so that you can distribute weight perfectly across your body in the event that you need to wear your backpack for longer than usual. Check out more specs and details here.
If you are going on a backpacking trip and want a bigger backpack, I've heard excellent things about the Osprey system and I think that's the only brand I'd trust if I wanted to upgrade my packing capacity., I've been fine with just 45 liters, personally, but I do pack light!
Packing Cubes: If you're going to invest in one thing for packing for Belize, make it packing cubes if you don't have them already. These tidy cubes help you organize your clothing and makes opening your luggage a little less chaotic. Any packing cubes with a rectangular shape and a zipper will do. I personally use these packing cubes and love them. If you don't want to buy packing cubes, some gallon size plastic Ziploc bags work similarly. But since they eventually break down and gap and need to be thrown out, I prefer reusable packing cubes, as I'm always watching my plastic consumption.
Laundry bag: You will sweat more than you ever thought humanly possible in Belize, so bring a separate laundry bag for all your dirty clothes. Like packing cubes, you don't need anything fancy at all. I do like having a cute travel-themed one like this one from Kikkerland though, because I'm impractical.
Hanging Toiletry Bag: I always bring way too many toiletries with me on my travels because I'm a bit of a girly girl. Using a simple hanging toiletry bag (which fits perfectly in the outer pocket of my Tortuga backpack, by the way) is life-changing. It has the perfect number of separators, organizers, and pockets without taking up any excess space. It's kind of like those tents at the Quidditch World Cup in Harry Potter — you'd be amazed how much fits in one little pack.
Day pack with locking zippers : While Belize is relatively safe, petty crime is an issue (less so on the islands than on the mainland). While wearing a shoulder bag is probably the most secure option, as it's hard for thieves to get in, it's just not comfortable if you carry a lot of stuff with you during the day. I swear by PacSafe products and love their PacSafe Citysafe backpack. It's actually pretty cute, and as a huge bonus it has locking zippers so you can relax a little when walking around with valuables like your camera.
Essential Things to Pack for Belize
While much of what you need you can buy in Belize, there are a few things I absolutely insist you bring from home because the options in Belize are not great or they're very expensive to buy.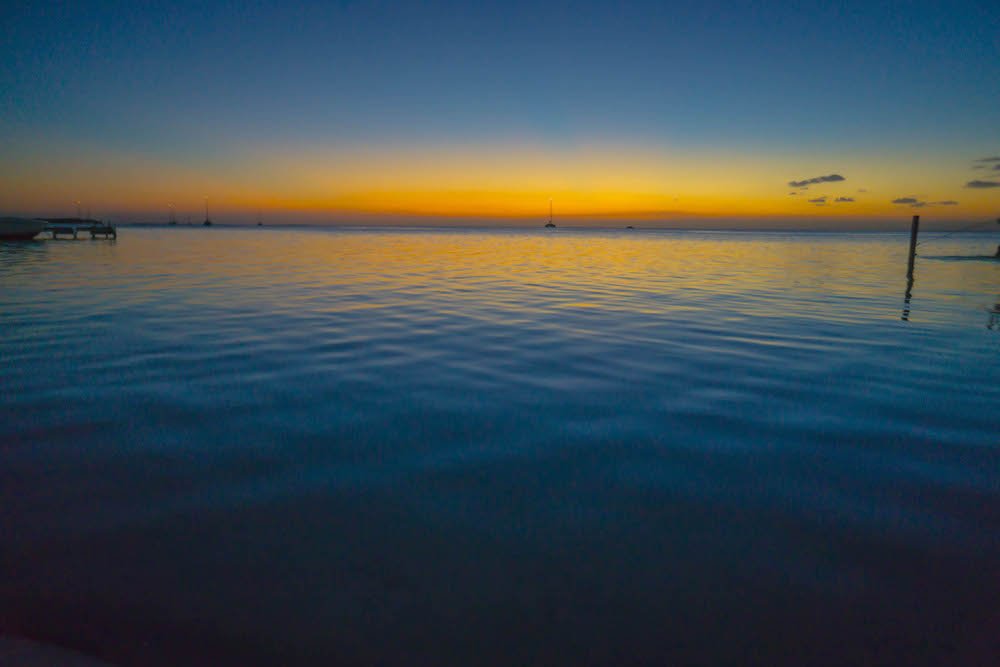 Mosquito repellent: Due to its tropical climate, Belize has tons of mosquitos, especially in the rainy season and just after it. Malaria is present in the country, but it is very low risk. Just avoid mosquito bites as much as possible and you will be fine. However, mosquito repellent is very expensive in Belize and you can't always get the brands you like there. I recommend bringing two bottles of mosquito repellent but I also like to bring some mosquito repellent wipes with me if I need to reapply on the go.
Water bottle with built-in filter: You can't drink tap water anywhere in Belize, so try to bring something to eliminate your plastic bottle usage. I use the Water to Go bottle because the bottle is a convenient size, and it filters out 99.9% of contaminants so that you can drink tap water safely with zero waste. I have a discount code for readers who are interested – type in EA15 at checkout to receive a 15% off discount!
Reusable tote bags: Like many countries in Latin America, there is plastic everywhere in Belize and the facilities for recycling it are not great. Bring your own reusable tote so that you can refuse plastic bags when you shop. I keep one or two small ones in my larger bag and bring them with me daily, plus I use them as beach bags, separating shoes in my bag from my clothes, etc.
Basic medicine: You will be able to find everything you need in Belize, but it's best to be prepared. I carry Pepto-Bismol for standard stomach troubles, Imodium as a nuclear option, some sort of painkiller like ibuprofen for headaches and minor aches, and some sort of motion sickness tablets. That usually covers the bases for me — anything else I need I grab in the country.
Some cash in USD: Just in case your debit card doesn't work or gets lost, it's helpful to have dollars on hand. Because the exchange rate is 2 Belize dollars to 1 US dollar, it's common for establishments to accept USD as payment as well.
What to Wear in Belize
Admittedly, this is a list for female travelers — sorry dudes, but I trust you know how to dress yourselves in summer, so do that.
Women have a bit more to consider when it comes to traveling Belize — especially if you are traveling solo (which I did most of my time in Belize, and for the record, I felt safe in all the places I visited).
However, cat calling is incredibly common in Belize, probably with the most frequency of anywhere in Latin America.
At the same time, I didn't feel particularly uncomfortable or unsafe, as compared to prior experiences in places like New York City and Marrakech where men were a lot more aggressive or physically touchy.
The worst cat-calling I experienced was in Caye Caulker, whereas in inland Belize (San Ignacio), cat-calling was less frequent.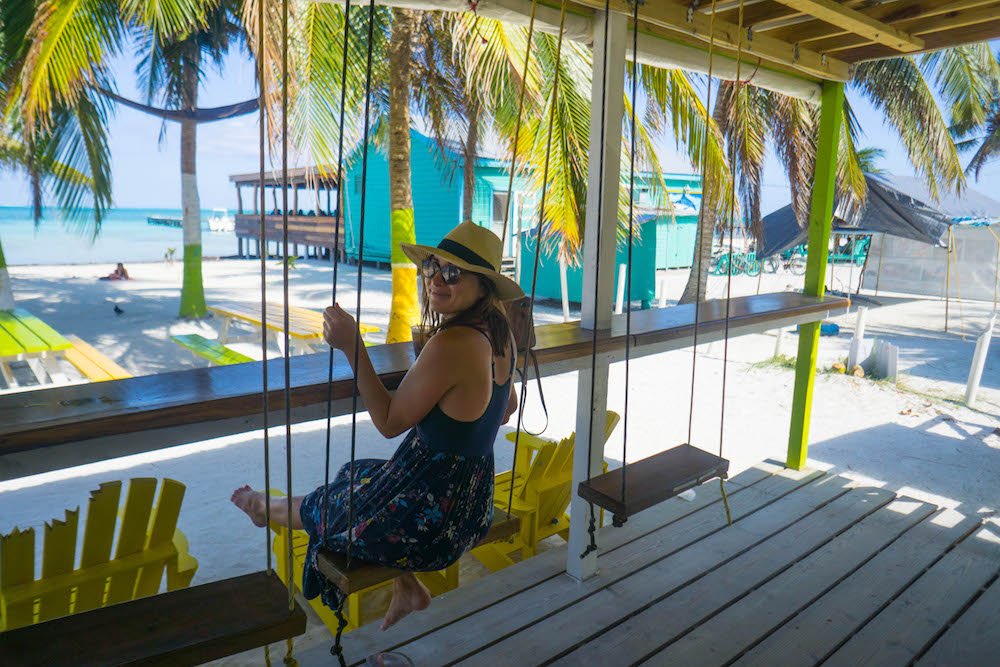 Belize is predominately Catholic, though on the islands the Catholic presence is less noticeable. Culturally, Belize is a bit of a conservative country, but the hot and humid weather means that you should wear what you need to be comfortable without showing excessive skin. On backpacker-heavy islands like Caye Caulker and San Pedro, though, you'll see lots of people walking around in bikinis and shorts, so don't swear it too much.
3-5 lightweight summer dresses, preferably past mid-thigh: Dresses are ideal for keeping yourself cool and comfortable. I recommend packing 1 or 2 maxi dresses as well as they're really comfortable in the heat.
5+ tees & tanks: The more neutral the colors, the better. You will sweat a lot in Belize, so minimize your white – it'll be yellow by the time you're home. I suggest black, gray, and a few bright colors.
1-2 sarongs: These are great for beach coverups or even for using as a lightweight beach towel. Buy them before you go or get one in Belize as a souvenir.
1 pair jeans: While it's too hot many days to wear jeans, if you're in the interior, you'll be glad you brought them. They're also perfect for chilly nights or for when you want to blend in (a lot of Belizean women wear jeans all the time, even when it's over hot as hell outside)
2 pairs shorts: I bring one pair of loose-fitting linen shorts for super hot days, and one pair of denim shorts for when I want to look a little cuter or more casual.
1-2 skirts: I suggest bringing one black skirt and one printed skirt for flexibility. I loved having a midi-length skirt. The extra fabric around your legs traps some cool air, making you feel less hot, and I liked the additional coverage it gave me.
1 sunhat: Not just for the 'gram, you'll want a sunhat as it'll give your face extra SPF and keep the rays off your face.
1 pair sneakers (if you go to the jungle): If you go in the interior of Belize (Cayo District) you'll likely want a pair of sneakers with you. I usually wear a pair of black Nikes as I find they look cute even with my dresses and I like having options. If you're just on the beaches you can skip a pair of sneakers and maybe opt for a cute pair of flats instead.
1 pair sandals: I used to buy cheap-o flip flops all the time, but now I'm obsessed with my Birkenstocks and will never go back. My feet thank me for it daily.
1 rain jacket: Even if you don't plan on traveling in the rainy season, sometimes the weather has other plans. I also used this as a lightweight jacket during the nights in the interior where the weather was a bit colder. I love my Marmot PreCip rain jacket and bring it everywhere with me.
1 cardigan: For when you want a little warmth, but not as much as a rain jacket will give. Most buses won't have AC, but if you take a private shuttle, sometimes they blast the AC and it's good to have an extra layer.
1-2 bras: I trust you're all big girls and you know what you need when it comes to bras. I personally brought 1 regular bra and 1 sports bra and switched between the two because the humidity was crazy.
7+ pairs of underwear: The more underwear you bring, the longer you can go between washes if you're on a big trip. I don't recommend bringing stuff to do your laundry on the road – it's a waste of time and money. There are plenty of laundromats catering to travelers in Belize, plus it's a way to support the local economy.
2 bathing suits: You'll definitely want it, whether you're taking dips in your hotel's pool, sunning yourself on the beach, or snorkeling or diving in the gorgeous Hol Chan Marine Reserve. I'd recommend bringing two as nothing sucks more than putting on a wet bathing suit.
What to Pack for Belize Hostels
If you're staying in hotels only, you can skip this part, but there are a few specialized things you might want to bring in case you are staying in a hostel.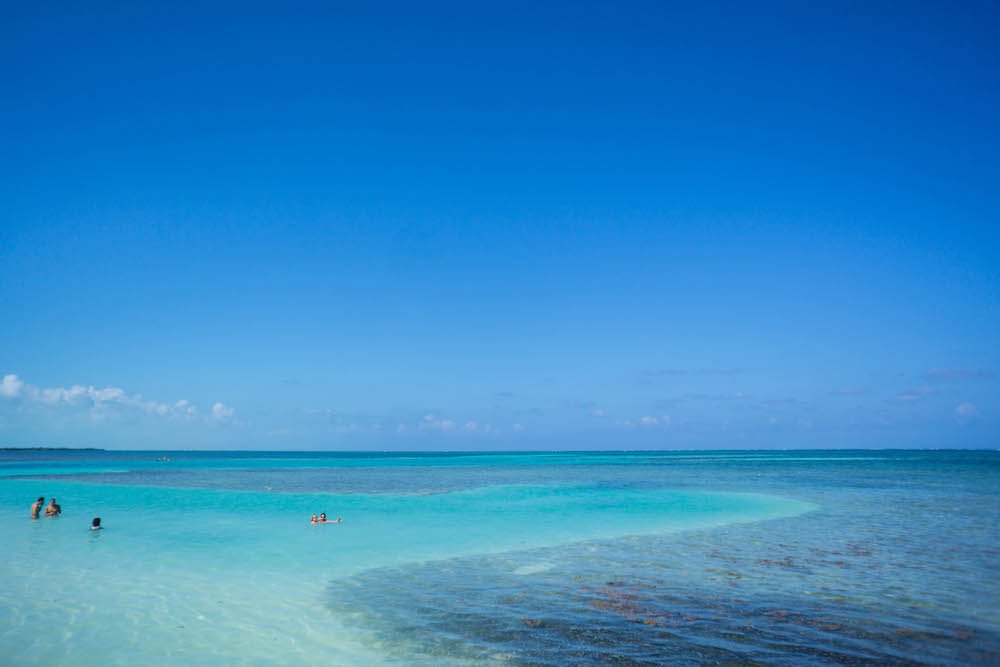 1 pair flip flops: Guys. Athlete's foot is no joke. I've dealt with ringworm before (which is basically athlete's foot on any part of your body that's not your foot) and it is miserable to get rid of. Save yourself the trouble. Buy a pair of cheap rubber flipflops. /end PSA
1 travel towel: Many of the hostels I stayed at did not provide free towels. Bring your own to avoid rental fees.
1 eye mask: I swear by this contoured eye mask as it doesn't put uncomfortable pressure on your eyes but completely blacks out any light. Great for inconsiderate roommates and early nights in when you're beat but your bunkmates have other ideas.
Some earplugs or good noise-canceling headphones: I love Hearos — they're the gold standard for ear plugs. I've also been eyeing these noise-canceling headphones but can't justify the purchase at the moment. One day!
What Toiletries to Pack for Belize
Belize's stores will have most of the things you want and need… but just in case.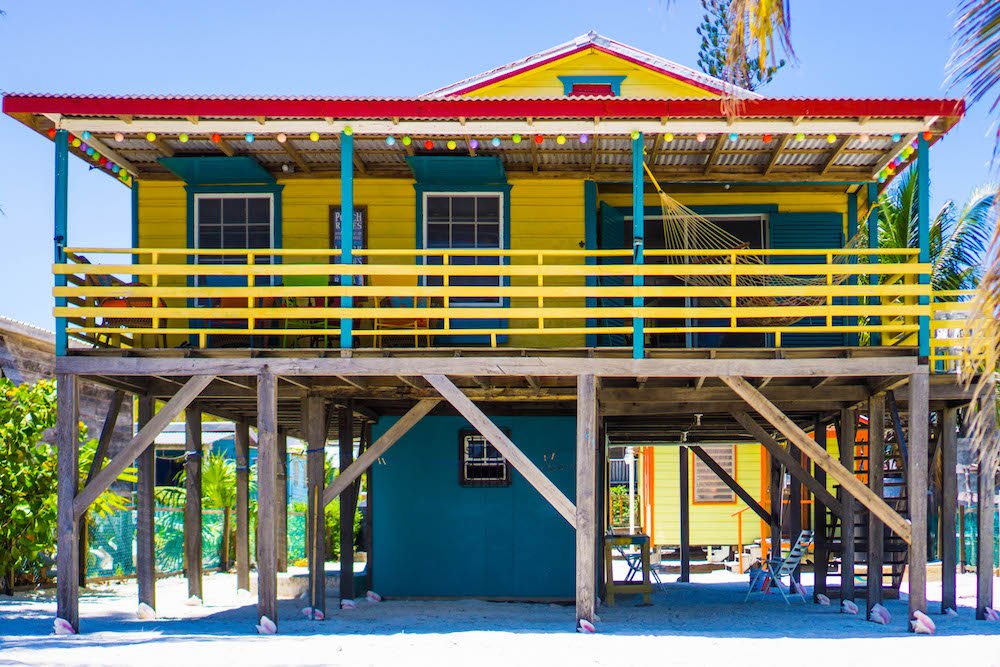 Hand sanitizer: Many public restrooms don't have adequate soap and towels/driers, so having some hand sanitizer is always good.
Kleenex packets: Like above — public restrooms may be lacking in the toilet paper department, so having some Kleenex in a portable sleeve is always good to have
LUSH solid shampoo: Life-changing. Just trust me. Buy online or in store from LUSH and you'll save serious money over Amazon.
Sunscreen: Belize is sunny almost all year round, and even if you have a rare cloudy day, the UV will still be really high. My skin is really sensitive on my face, so I use this fancy Japanese sunscreen to prevent acne, and I use a more standard sunscreen for my body. I recommend bringing a big bottle of sunscreen from home when packing for Belize, unless you are traveling with only a carry-on, as sunscreen is overpriced in Belize.
Travel medications: I listed them above, but just to reiterate — stomach medicine, motion sickness pills, and some sort of painkiller are my standards, plus obviously any medication of your own from home.
What to Pack for Safety in Belize
Belize is fairly safe with the exception of Belize City, which is prone to crime and even violence, which is why I advise all travelers to Belize to avoid the port city as much as they can (there's not much to see there). While I've traveled through Belize City several times and been fine, I've never really felt at ease there and wouldn't choose to spend any more time there than I have to.
Besides avoiding Belize City, I'd also note that you should keep your valuables with you and in your sight if you take a public chicken bus, as they'll often tie your backpacks to the roof of the bus or put them far away from you on the bus. This isn't to be sketchy; it's because the buses are usually quite crowded. That said, I do recommend adding these to your Belize packing list for increased safety.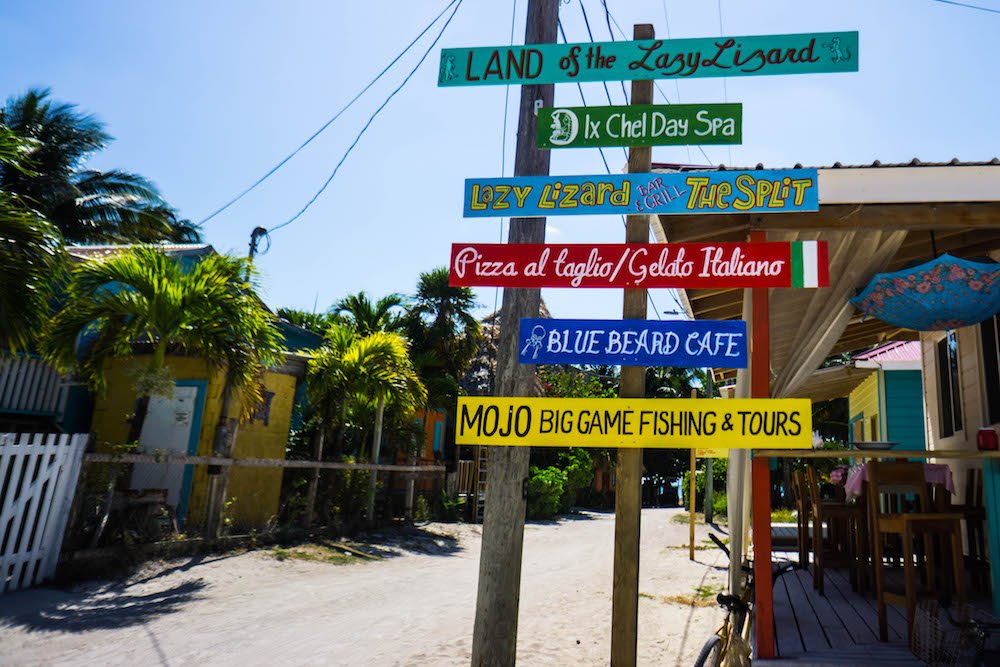 Combination locks: In Belize, you're probably at the greatest risk of theft from your fellow travelers if you stay in a dorm or hostel. Prevent crimes of opportunity with simple measures like having a combination lock and keeping your valuables locked away. If I'm staying in hostels, I always check the reviews on Hostelworld to ensure they have lockers available because I travel with so many valuable electronics.
Daypack with locking zippers: Backpacks are easy targets — I wrote above about how much I love my PacSafe Citysafe backpack. After nearly being pickpocketing while wearing a different backpack in Vietnam, I now carry no other kind of daypack.
Don't bother with a money belt. Thieves know about them, plus you'll likely be wearing so little clothes in Belize that a money belt would be pointless anyway. You're better off carrying your wallet deep in a slash-proof backpack (like the one mentioned above) or in a shoulder bag that's tightly zipped.
One other thing I recommend is to have a second checking account and two debit cards if possible. Keep them in different spots in case you get pickpocketed or in case one of your debit cards gets compromised (it is not uncommon for ATMs in Belize to 'skim' your details). This way you won't be screwed while you wait for your bank to send you another card!

Electronics to Pack for Belize
There are really no special considerations when it comes to packing electronics for Belize except for the one: do not bring a drone. They require permission from the government to fly, and you can only get permission if you have been commissioned from an approved local business or organization in Belize. Your drone may be confiscated if you do not have permisson.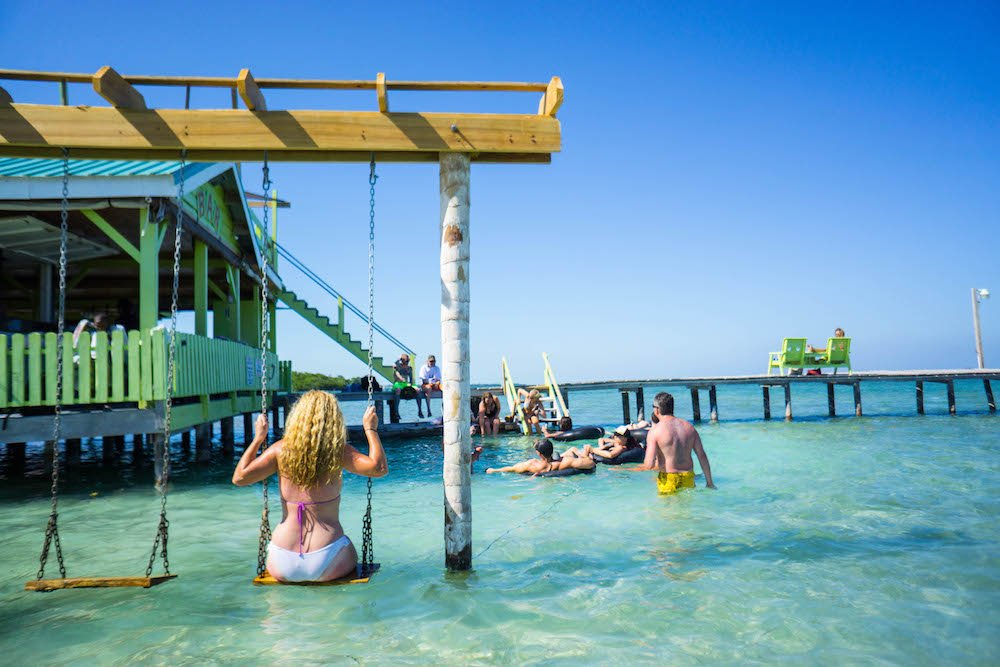 Other than that, bring whatever you're comfortable bringing. As a travel blogger, I bring my entire life with me on the road, which includes a laptop, camera, multiple lenses, smartphone, GoPro, and more. Though these days I prefer to stay at hotels, when I stay at hostels, I always make sure that I stay at hostels with lockers so that I can lock up my valuables. People who are more paranoid/responsible than I am may want to bring a portable safe for peace of mind, but I don't personally.
Laptop, if necessary: I bring my Macbook Air everywhere but other people may prefer a tablet or an inexpensive netbook. I work on the road so a user-friendly, lightweight laptop is a must.
Kindle Paperwhite: I love the Kindle Paperwhite because the screen is glare-free, making it easy to read at the beach or in direct sunlight, and I can never find books I enjoy at airport shops or in tourist destinations.
Travel camera: I use a Sony A6000 because it's lightweight for a professional caliber camera, inexpensive, and a HUGE step up from a smartphone. You may want to replace this or add a GoPro too, especially good for adventure activities like cave tubing and diving (just check to see if you also need an underwater house for your GoPro if you dive, as many of the newer models are only good to 10m — not nearly enough for divers)
Portable charger: As someone who's constantly on her phone, I'm always running out of battery, which can be a pain. Bring a portable charger to save yourself the headache! Anker is a reliable brand and what I personally use.
Adaptor, if necessary: Belize uses the same plugs as America and Canada, so if you're coming from Europe or the UK, you will need an adaptor.
***
Well, that's a wrap – I've finally exhausted what you need to pack for Belize. While I know this all sounds like a lot, I swear that I was able to fit it all into a 44L backpack (carry-on size) and daypack, because I chose lightweight fabrics and packed carefully (rolling my clothes and then putting them in packing cubes)
Is there anything I've forgotten on this Belize packing list? Is there anything else you're wondering if you should bring? Let me know in the comments!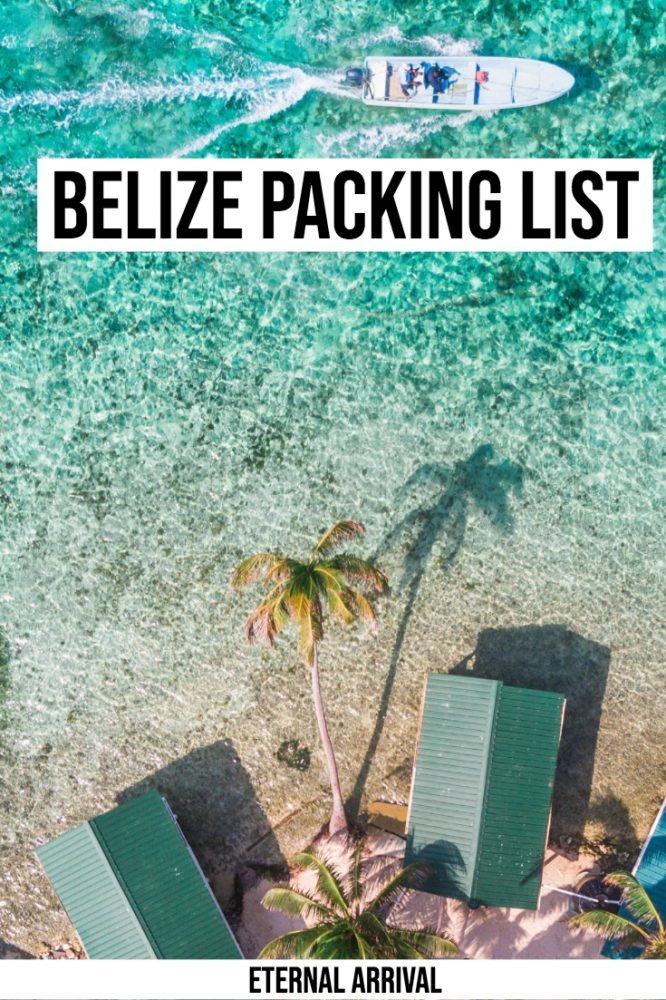 Allison Green is a former educator turned travel blogger. She holds a Masters in Teaching and a B.A. in English and Creative Writing. Her blog posts merge her educational background and her experience traveling to 60+ countries to encourage thoughtful travel experiences that both educate and entertain. She has been a speaker at the World Travel Writers Conference and her writing, photography, and podcasting work has appeared in National Geographic, CNN Arabic, CBC Canada, and Forbes, amongst others. Now based in the San Francisco Bay Area where she grew up, she has also lived in Prague, Sofia, and New York City.