The motto of Caye Caulker may be go slow – but the marine life doesn't seem to have gotten the memo.
As soon as you dive beneath the clear turquoise waters, a riotous world awaits you, with fish speeding around like mad.
If you go snorkeling in Caye Caulker, you'll see countless colors of fish, but that's just the start of it.
You're also guaranteed to see giant-yet-friendly nurse sharks, curious stingrays, a few turtles and if you're lucky — perhaps an elusive West Indian manatee or a spotted eagle ray!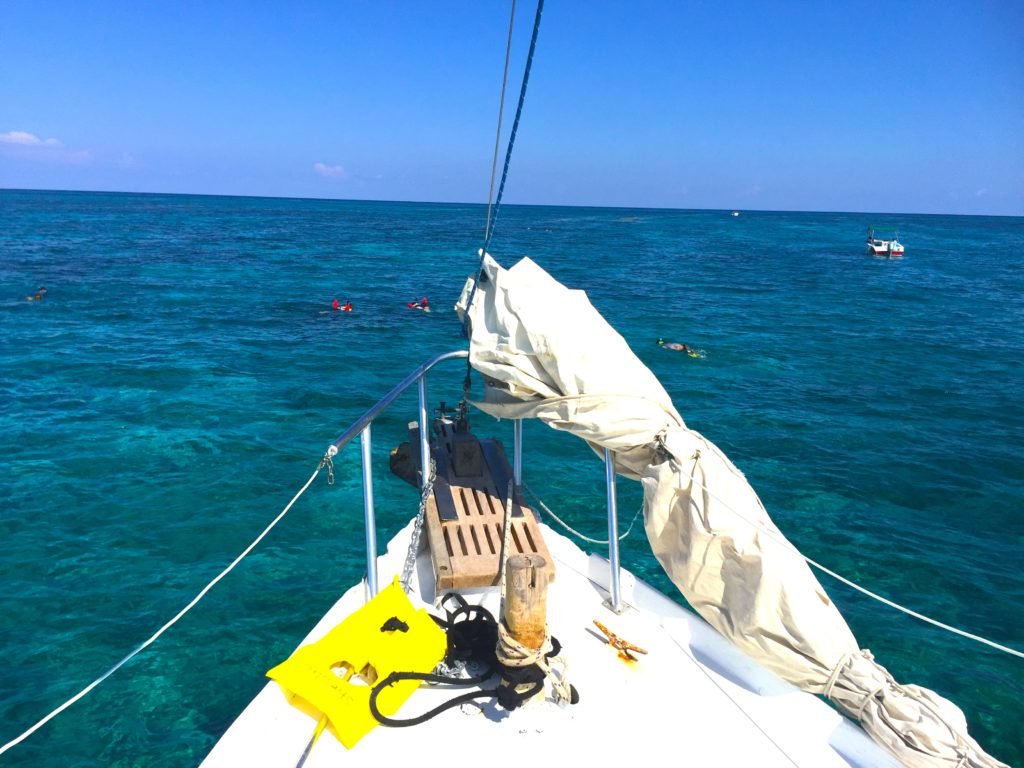 Note: This post contains affiliate links, which means I may receive a small commission if you purchase something through one of these links. Thank you for supporting the free content on this site! For more information on affiliate links and cookies, see my disclosure page for more details.
I've been to Belize three times and wrote this post after my second trip snorkeling on Caye Caulker, and I've recently updated it to make it more helpful for you.
The first time I snorkeled in Belize, I left from Ambergris Caye on a half day trip.
This time, I did a full-day snorkeling tour from Caye Caulker, and it was a wonderful way to spend a day!
Want to join the fun? Here are the top Caye Caulker snorkeling tours I recommend.
What's It Like to Go on a Caye caulker Snorkeling Tour?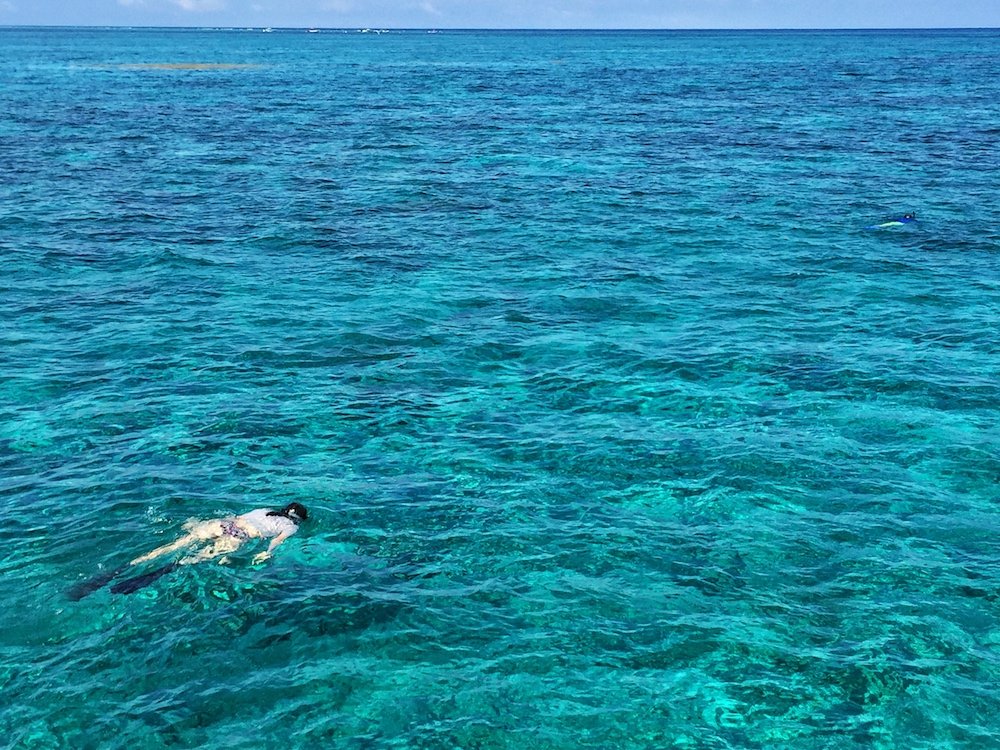 You'll start off the day by slathering yourself in reef-friendly sunscreen, which had the hilarious effect of making you look like a streaky ghosts.
As you probably already know, chemicals in regular sunscreen do immense damage to coral reefs, which are already under siege due to global warming.
You can do your part by switching to reef-friendly mineral sunscreens and avoiding the ingredient oxybenzone as much as possible.
Buy sunscreen in your home country if possible, as you will have less selection abroad.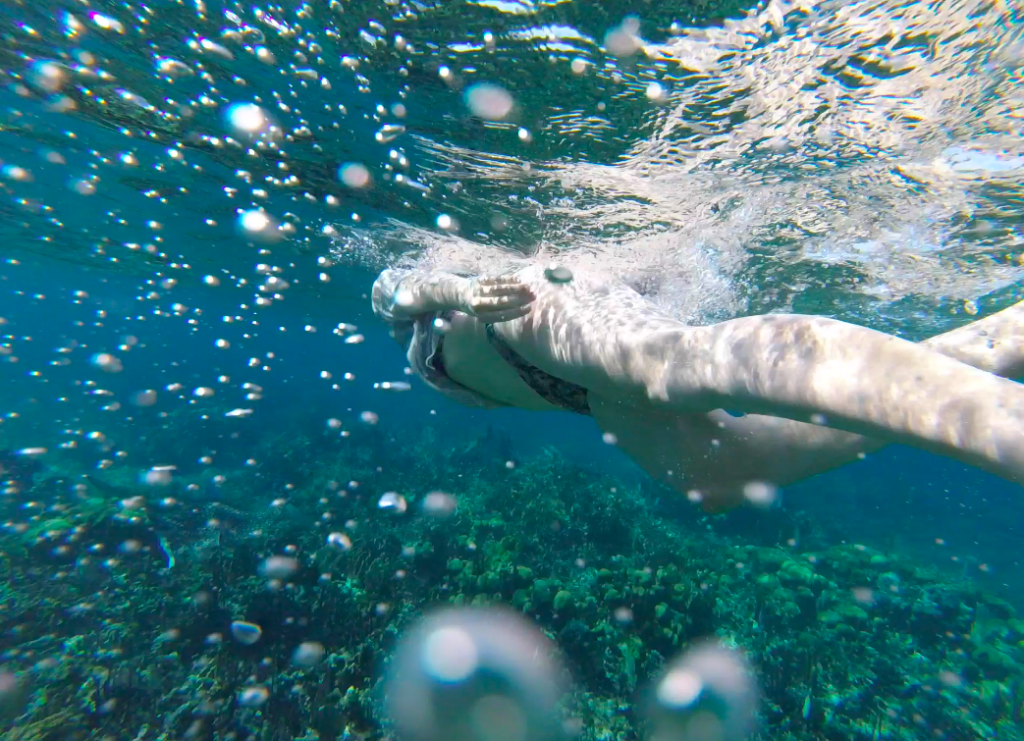 At the first stop, we spotted innumerable colorful fishes, ranging from standard silver to bright yellow, purple, and electric blue.
A few sting rays undulated on the floor below us, unperturbed by us up at the surface.
We hopped back on the boat and about five minutes later, had a crew of sharks patiently trailing us.
Proving Pavlov right, these sharks followed us, tipped off by the hum of the motor. No doubting it: it was shark breakfast time!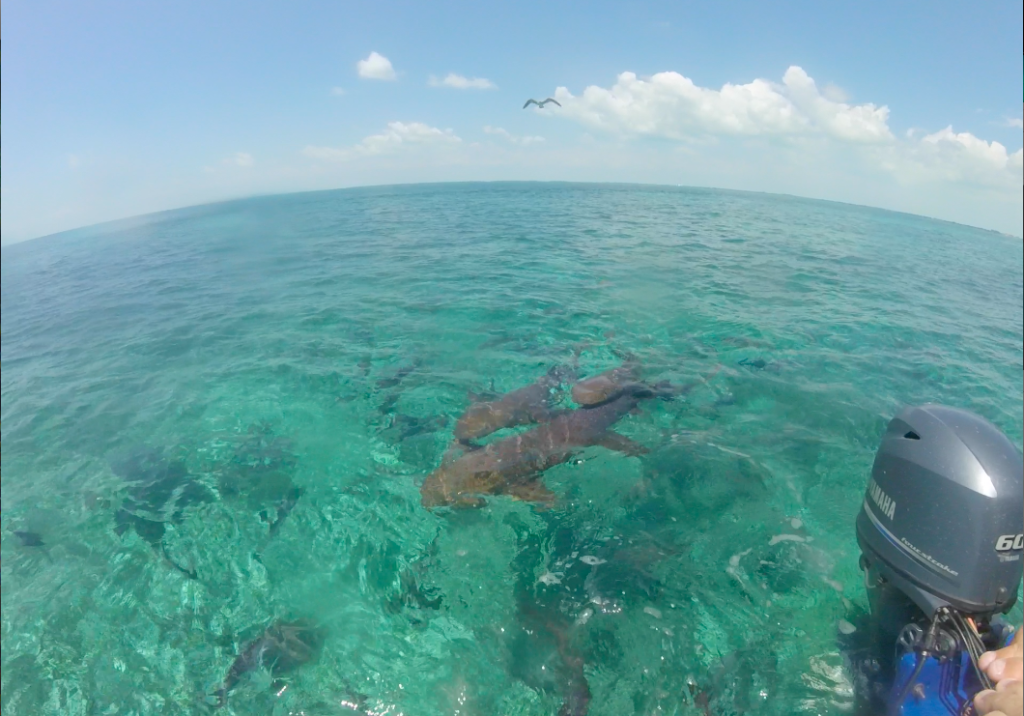 Luckily the squid they feed these sharks are far easier of a catch than tourists!
So don't worry, the nurse sharks (and cheeky jacks) are well-fed and completely uninterested in the people bobbing above them.
I've dived and snorkeled with sharks many times — there's nothing to be afraid of.
And nurse sharks are basically puppies of the ocean, perfectly harmless so long as you don't bother them.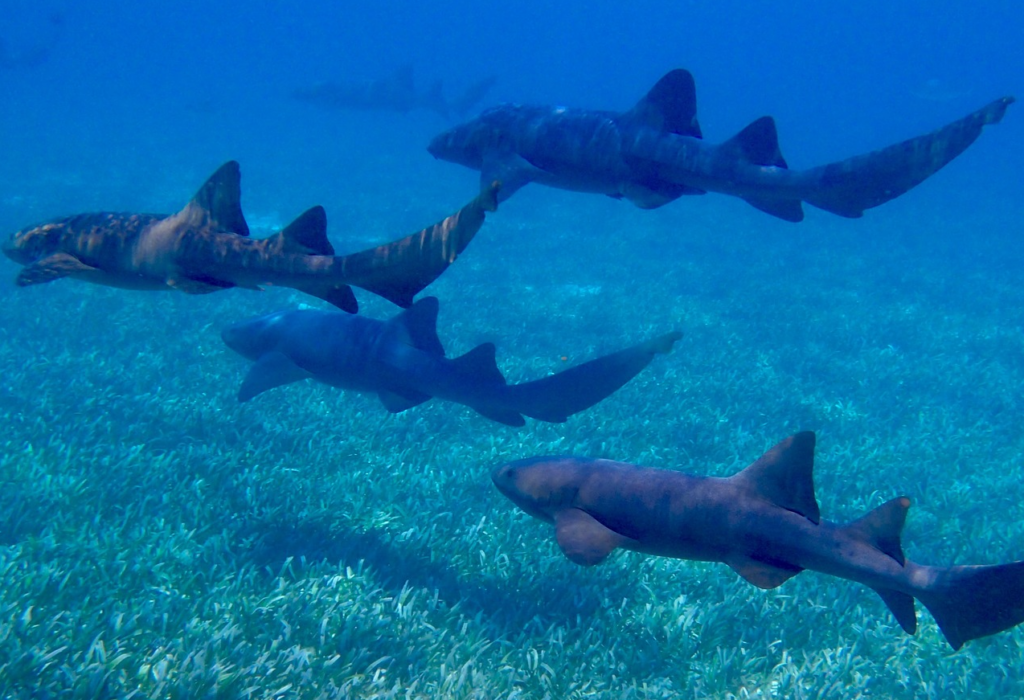 In the history of recording shark attacks, there have only been 5 unprovoked nurse shark attacks… like, ever. And none of those were fatal.
Personally, I reserve my fear only for great white sharks — a leftover fear from growing up near Stinson Beach, shark attack capital of California.
Seeing these sharks is one of the highlights of a snorkeling tour in Caye Caulker so don't let an overblown fear of sharks scare you out of it!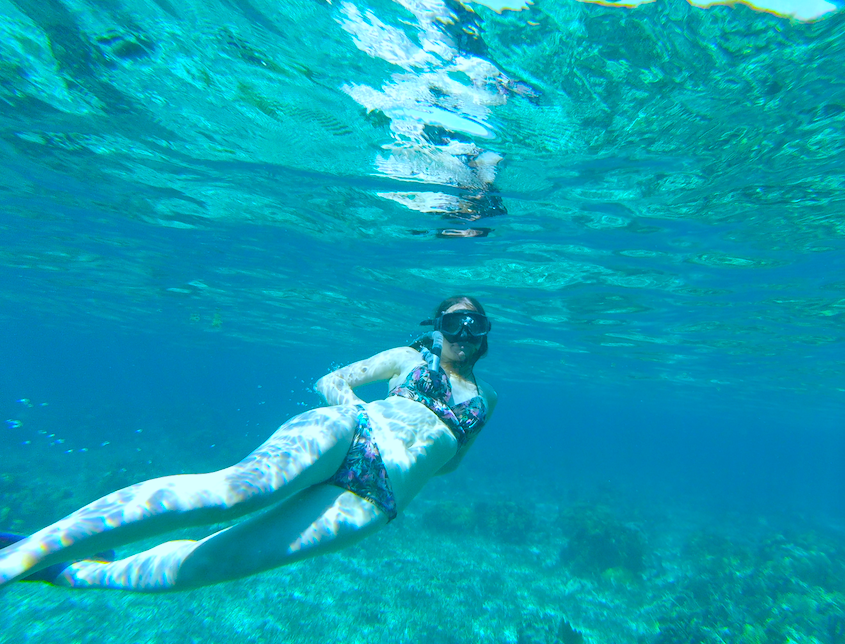 After our stop marveling at the sharks, it was time to visit Hol Chan Marine Reserve, the best place for snorkeling in Belize.
There, our guide dove down and pointed out different species of fish, telling us their names and interesting facts about them.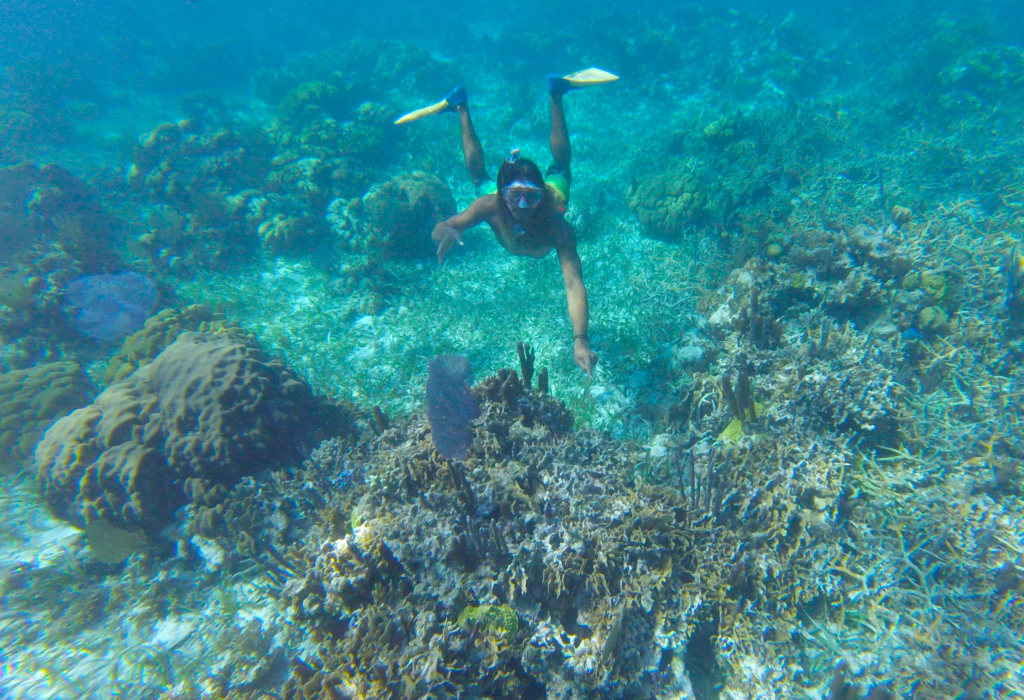 We even got lucky and spotted an adorable sea turtle!
Sea turtles are often quite shy, at least compared to the sharks and rays who are easier to great to visit you.
I see turtles a lot when I'm scuba diving, but rarely when I snorkel, so it's really a rare treat to get to see them — and you have a good chance of it in Hol Chan.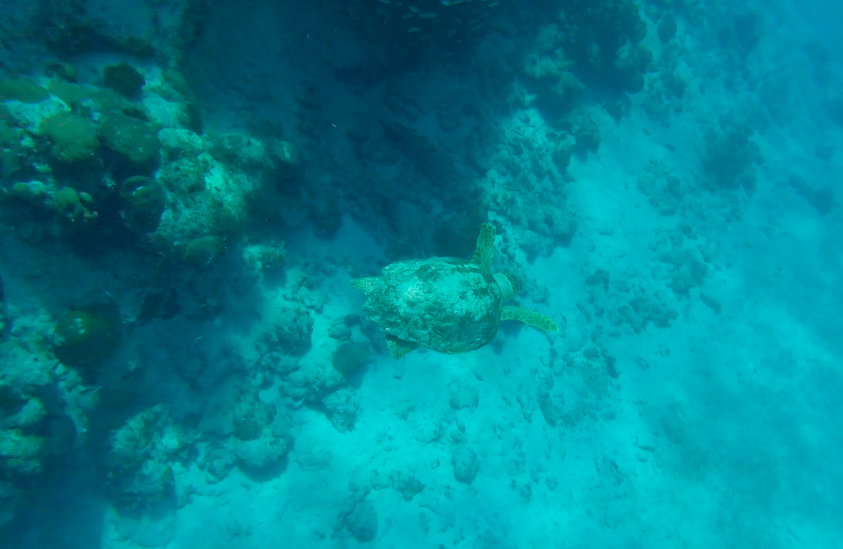 Our last and final stop was snorkeling in the gorgeous Coral Garden.
Here, we admired beautiful coral that looked like hands had spouted everywhere, next to fan coral that waved to us in the ocean current.
Electric blue fish darted into their hiding spots. And then, something amazing happened —
A beautiful spotted eagle ray photobombed me and glided right past.
I followed it for a few minutes, and even managed to snap a few selfies with this gorgeous, elegant creature!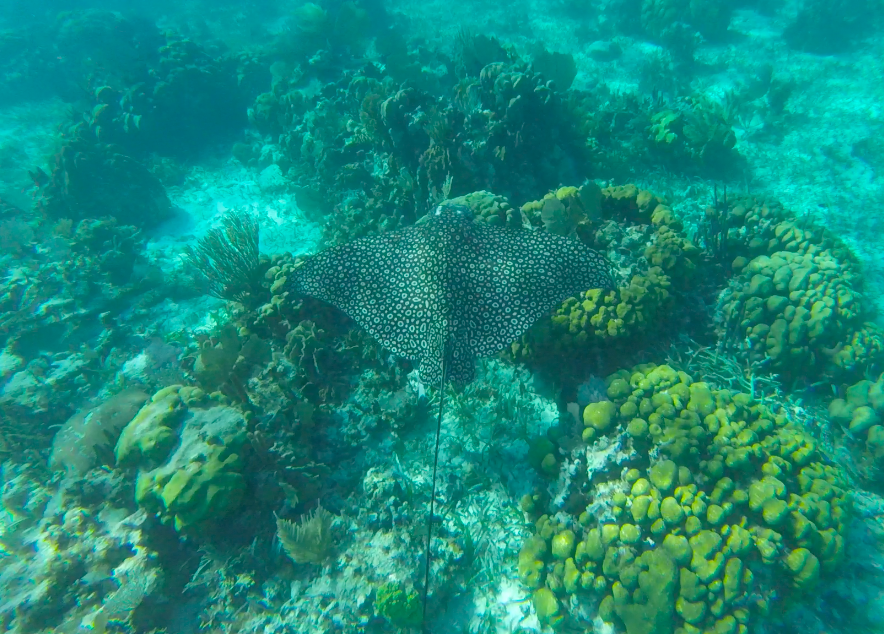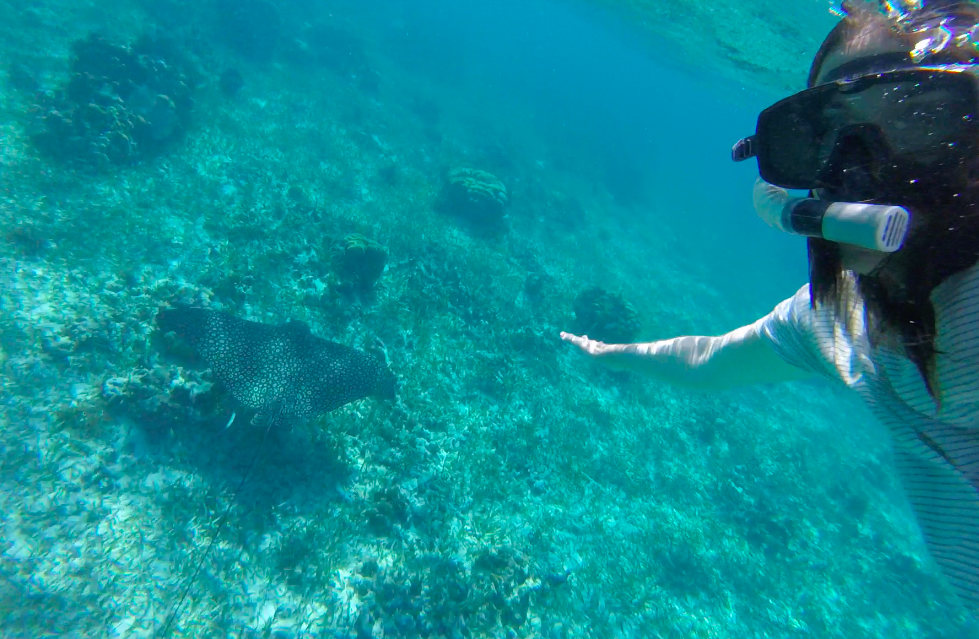 After all that excitement, I tucked into the all-you-can-drink rum punch that they offered on board my snorkeling tour.
Whiiiiich I may have taken a little too literally, judging by the photos that ended up on my camera roll after the tour.
Whoops!
But when in Belize, right?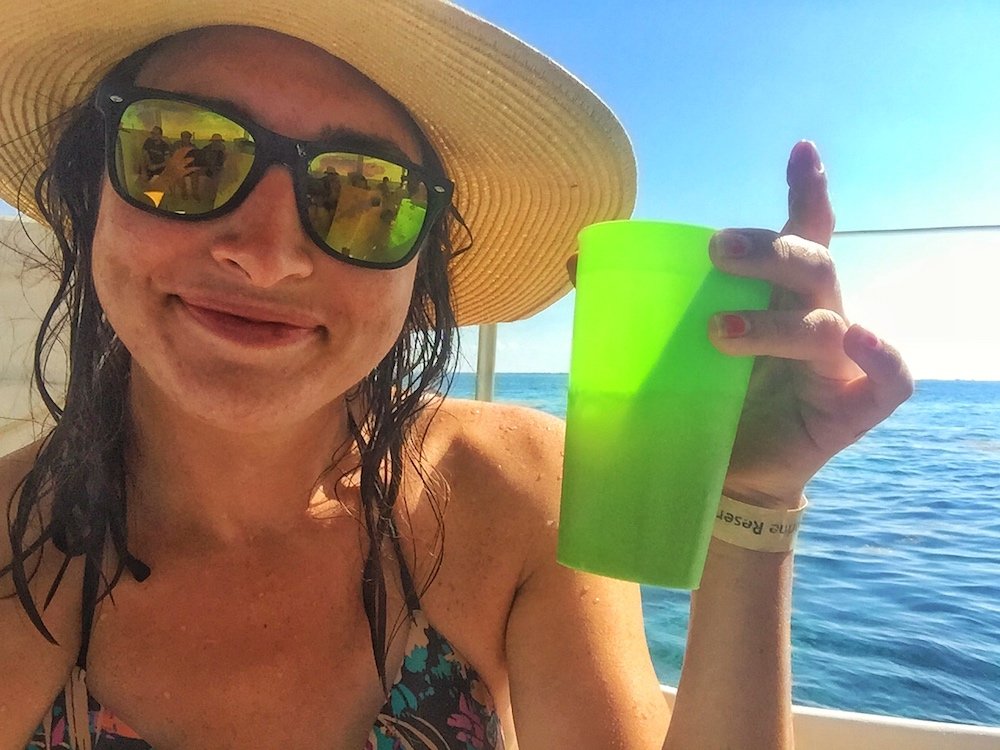 But the highlight of my day snorkeling in Caye Caulker hadn't even happened yet.
No – that was the pod of three wild dolphins who swam alongside us as we sailed home.
They swam in perfect formation, diving into the water and disappearing momentarily only to resurface to the squeals and ahhs of our entire boat.
Dolphins are one of my favorite creatures on Earth — which is saying something, as a massive animal lover — and this was a moment I'd never forget.
Nope, not even after unlimited rum punch.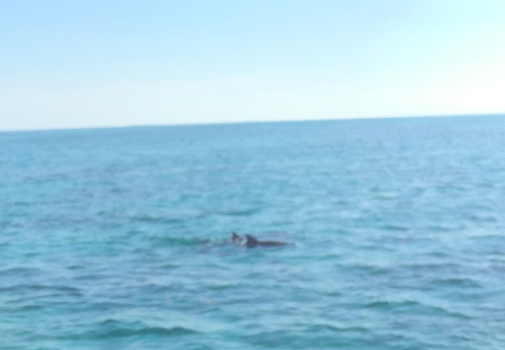 7 Best Caye Caulker Snorkeling Tours
6.5 hours, 5 stars, 475+ reviews
​This Eco-Friendly Hol Chan Snorkeling Tour from Caye Caulker is one of the best ways to immerse yourself — literally! — into the heart of the Belize Barrier Reef.
This snorkeling tour's commitment to the environment reflects in several aspects of the tour.
Say goodbye to single-use plastics—their eco-conscious operations respect Mother Nature and ensuring our undersea friends can continue to flourish for generations to come!
You'll kick off your aquatic adventure with an adrenaline-fueled hour-long visit to Shark Ray Alley, where you'll get the chance to swim with friendly nurse sharks and curious stingrays.
Don't worry — they're friendly and peaceful, and they're very used to visitors!
After Shark Ray Alley, you'll also get to snorkel in a more coral-filled area (since the shark and ray area is sandy with some turtle grass on the bottom) to see some of the amazing fish life that teems around the preserved waters of Hol Chan!
And don't worry if you don't have your own camera, because the guides will capture every gasp-worthy encounter on GoPro, giving you not just memories, but incredible visuals to take home and share.
The best part? It's all complimentary!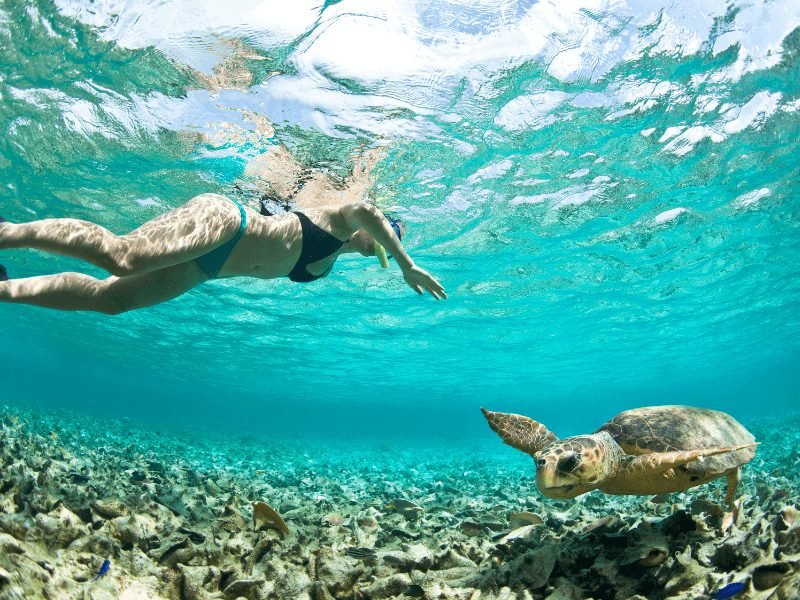 After all that diving and underwater sightseeing, you've probably worked up an appetite.
Savor local flavors as you recount the morning's underwater sightings with your fellow adventurers. But the tour's not done yet!
There are three bonus stops that are sure to make your adventure even more memorable.
Spend 40 magical minutes at each additional snorkeling stop, which can include the Conch Shell Graveyard, a stop that's a favorite gathering place for turtles, and a beautiful coral garden rife with reef fish.
Also, your guide will also do everything in their power to help you spot one of the rare West Indian manatees that loves the waters around Caye Caulker!
Best of all, a portion of this company's proceeds is dedicated to uplifting the Caye Caulker community and making the island better for its inhabitants!
​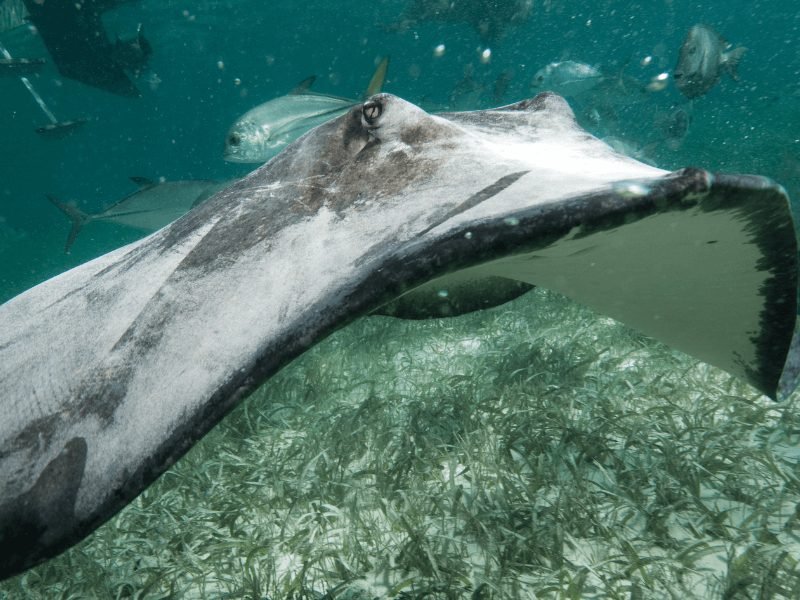 6 hours, 4.8 stars, 130+ reviews
This isn't just another Caye Caulker snorkeling tour — this is a small, intimate group snorkeling adventure, a full day trip limited to 4 to 10 guests.
With seven awe-inspiring snorkeling stops—among them the majestic Hol Chan Marine Reserve and the legendary Shark Ray Alley—you'll be riveted from the moment you step on the speedboat.
You'll kick off bright and early with a 9 AM briefing on safety and marine life respect because we're not just visitors to this water world—we're guests. Take only photos, leave only bubbles!
Once the rules of the underwater road have been covered, it's time to dive in and discover the best places to snorkel around Caye Caulker!
After a short boat ride, slap on some reef-safe sunscreen, don their high-quality snorkel gear, and dive into the first stop: a stunning coral garden rife with a truly impossible-to-count variety of species of fish!
After, you'll get to explore the Shark Ray Alley, where sociable nurse sharks and curious stingrays will greet you.
Then, at noon, you'll break for a hearty local lunch on board, filled with succulent seafood and tantalizing Belizean fare. Refuel and get ready to dive back into those clear waters!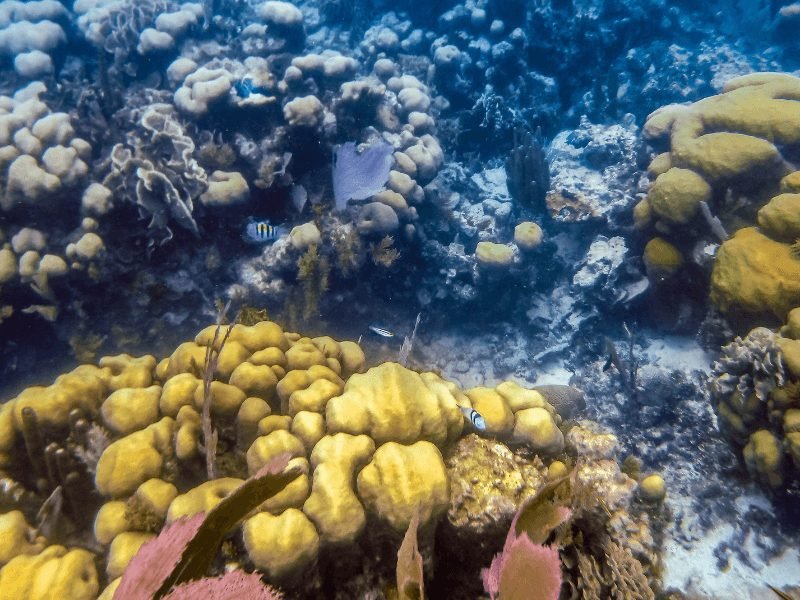 The afternoon will be dedicated to further exploration at different snorkel sites: see the eerie beauty of a sunken shipwreck, witness the technicolor magic of the coral gardens, try to spot elusive manatees and eagle rays, and try to spot turtles in their favorite spot.
One unique feature of this tour that sets them apart is their dedication to spotting one of Belize's smaller creatures: the ever-elusive seahorse.
They offer not one but two bonus sightseeing stops with one aim: spotting these rare, almost mythical creatures. (True story: I've logged 50 dives, and I've only seen a seahorse once. Talk about a treasure hunt!)
Every unforgettable moment will be captured on GoPro. The best part? All the footage will be sent to you for free.
Note that they don't offer hotel pick-ups, but Caye Caulker is a tiny walkable paradise, so meeting them at the tour office is as easy as a stroll down the beach.
Oh, and did I mention the rum punch? Yes, that's right! Enjoy a delightful, rummy wind-down as an added bonus to your snorkeling adventure. Cheers!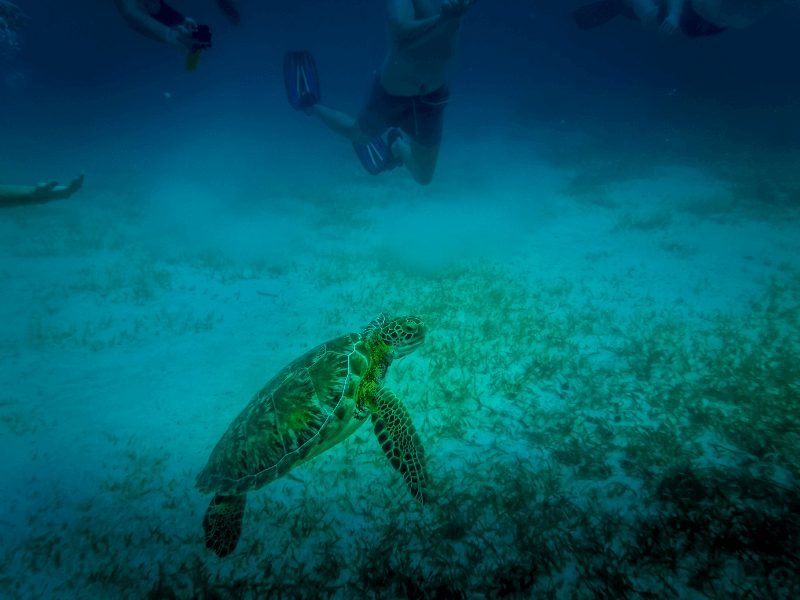 4.5 hours, 5 stars, 270+ reviews
This all-inclusive snorkeling tour of the spectacular Hol Chan Marine Reserve departs right from Caye Caulker and tackles it all — quickly!
With six jaw-dropping sites to visit, this 4.5-hour snorkeling tour from Caye Caulker has you seeing more marine life than you can imagine in a quick span of time.
Of course, no snorkeling tour from Caye Caulker can skip Shark Ray Alley.
In these famous waters, nurse sharks and stingrays glide elegantly beneath the surface, unfazed by humans — they're more into the squid snacks that the boat operators offer each day.
And while sightings of these beautiful creatures are guaranteed, there are other more elusive guests you might just bump into if Poseidon is looking down on you?
Ever swum with a manatee or eagle ray? Here's your chance! (I struck out on manatees, but saw a gorgeous eagle ray — my first ever!)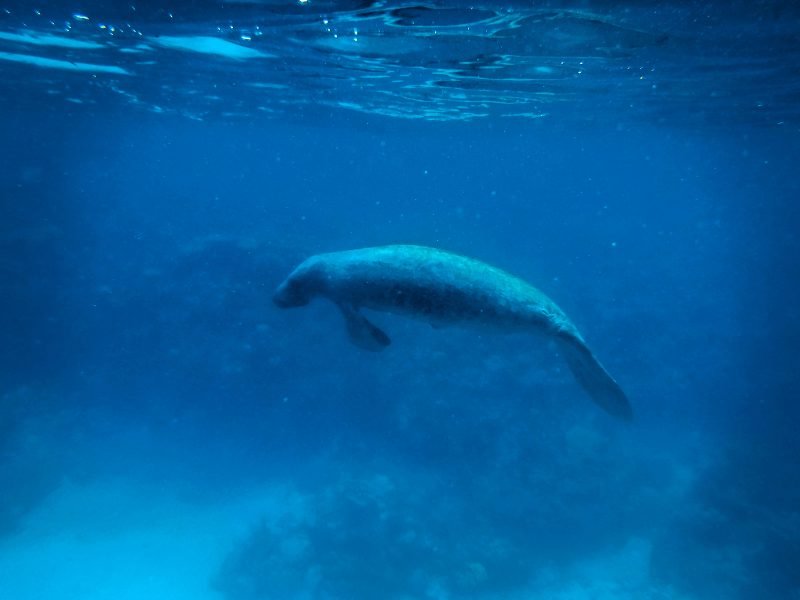 Another epic stop is the sunken shipwreck—a time capsule of sorts, a metal husk now home to an abundance of sea life with coral reclaiming the surfaces.
But even more spectacular are the breathtaking coral gardens, which is basically a bustling city of tropical fish going about their day.
For extra fun, snag a fish identification book before you go and try to spot how many you can! It's like Pokémon for grownups.
And here's the cherry on top: You won't be snorkeling on an empty stomach!
A mouth-watering lunch will be served right on board the boat—delicious local Belizean fare, of course, all while anchored amidst a breathtaking seascape!
The all-inclusive promise rings true: you won't pay an extra penny from pick up to drop off, from the included lunch to the GoPro photos and videos that will be sent your way to renting snorkeling gear and life jackets.
Well, just remember to tip if you enjoyed your tour, that's all!
​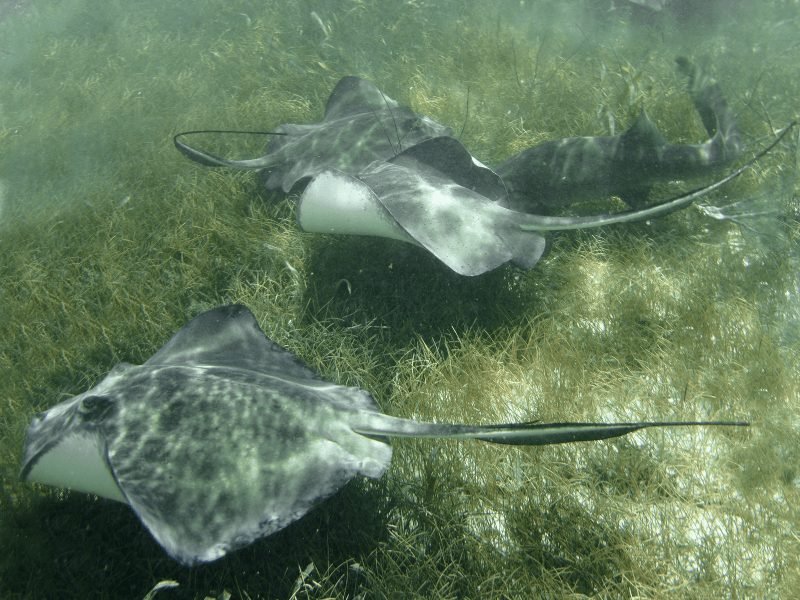 5.5 hours, 4.8 stars, 15+ reviews
Here's another, slightly shorter small group tour, clocking in at 5.5 hours.
Like the other snorkeling tours on this list, snorkeling at Hol Chan Marine Reserve (a protected area) is the key draw to this tour.
But one special aspect of this tour is that the group size is capped at 12 people — and your professional guide, of course.
After congregating at the meeting point, you'll embark on a 30-minute boat ride to Hol Chan, a marine reserve that covers a whopping 7 square miles.
This channel is perfect for snorkeling as it's quite shallow — some areas only about 5 feet deep, and the deepest part at 30 feet deep (barely deep enough for divers to bother with!).
You'll have the chance to make several snorkel stops in the stunning Caribbean Sea on this tour.
Start with a 45-minute snorkel stop at a coral-strewn landscape, identifying a diverse variety of fish species, from pufferfish to angelfish to barracuda and more!
Then, you'll visit Shark Ray Alley for a chance to see (and snap selfies with!) nurse sharks and stingrays.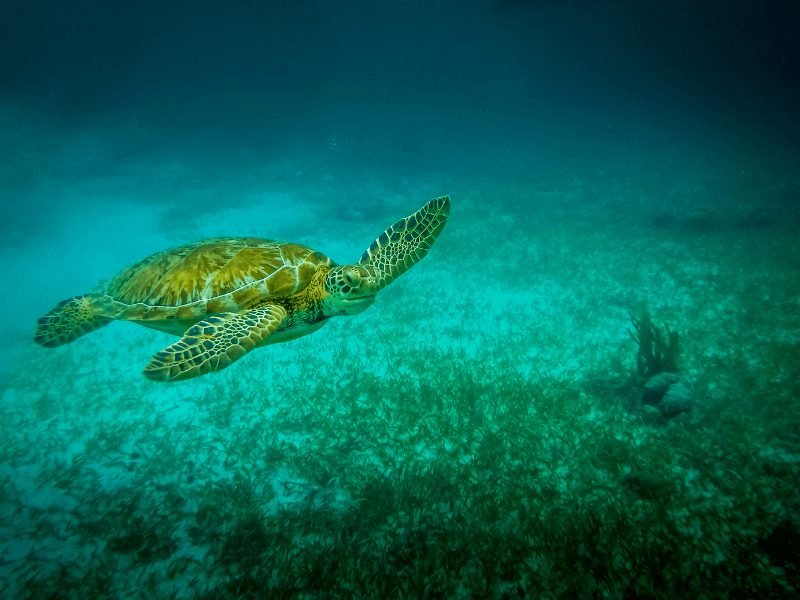 Afterwards, it's time to try to spot the sea turtle, so this snorkeling tour will take you to their favorite hang-out spot.
One unique feature of this tour is that they have WiFi on board, so you can Instagram story to your heart's content in real time!
Like other Caye Caulker snorkeling tours, they'll also take GoPro footage of you underwater and share that with you after your tour, too.
Lunch, fruit, snacks, and water are all included on your tour as well.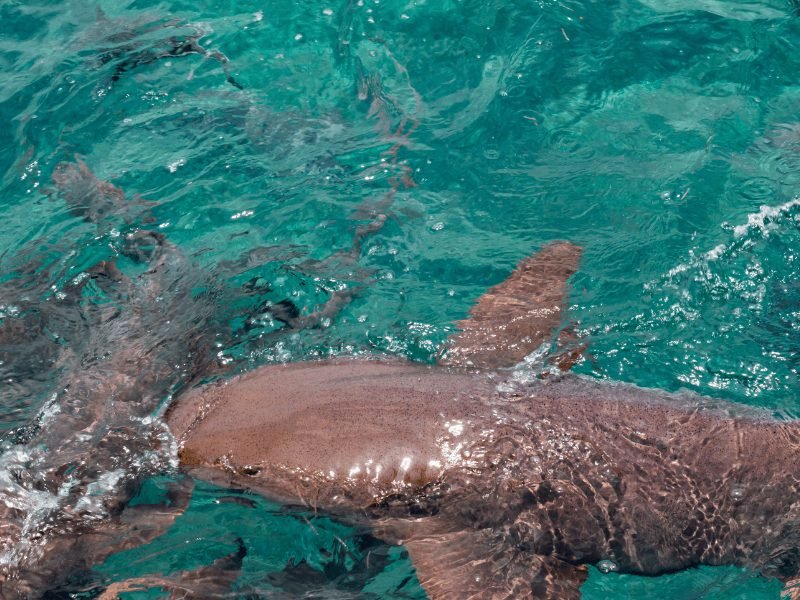 3 hours, 4.8 stars, 10+ reviews
Just want a quick and affordable snorkeling tour from Caye Caulker that hits the highlights?
This tour is only 3 hours long and about half the price of other tours, so it's the perfect choice for those looking to snorkel in Caye Caulker on a budget.
For being a short tour, though, you don't sacrifice on fun!
You'll get the chance to see all of the Belize Barrier Reef's beloved residents: barracuda, snappers, tarpons, moray eels, nurse sharks, and stingrays, among others!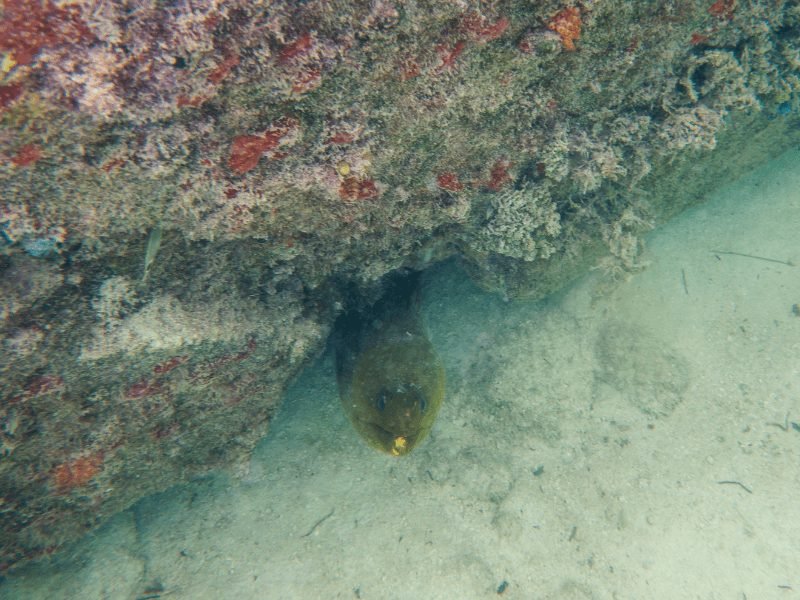 This tour visits the Serene South Channel, where you'll have the chance to see barracudas, morays, and snappers in abundance.
Afterwards, it's a visit to the Shark Ray Alley, because is it really a snorkeling tour in Caye Caulker if you don't visit this legendary snorkel site?
The third stop is the Coral Gardens, where you'll see all sorts of parrotfish and butterflyfish and silly, territorial damselfish protecting their favorite patch of reef — they're the chihuahuas of the sea, with a bark bigger than their bite!
One cool spot this tour takes you to that others don't is the Tarpon Pool, which is an underwater cave where you can find some huge tarpon fish!
While it may have only 3 snorkeling stops whereas other tours have up to 7, you still see quite a variety of marine landscapes in a short amount of time.
This is a great option if you don't have the time or the budget for a full-day snorkeling tour while visiting Caye Caulker.
Plus, since it's only a 3-hour tour, you don't need to have lunch on the snorkeling trip — you can eat wherever you like afterwards.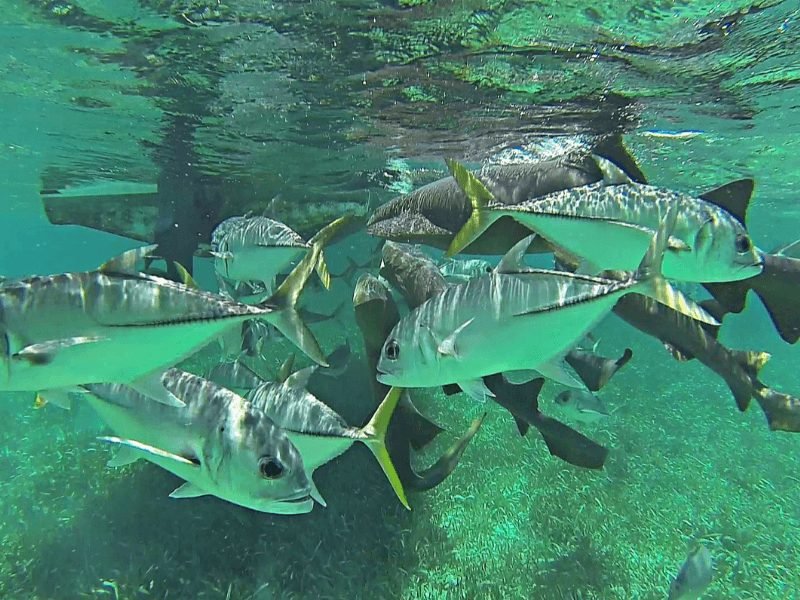 ​Full day, 4.5 stars, 4+ reviews
This full-day Caye Caulker snorkeling tour by speedboat brings you to 7 popular snorkeling spots in the Hol Chan Marine Reserve.
Depart from the sweet, sandy shores of Caye Caulker by speedboat, heading about 20 minutes off the coast of Belize to the Hol Chan marine area.
Enjoy the the sun on your back, the salty breeze in your hair, and the unbelievable feeling of freedom as you cruise through the Caribbean waters!
Your stops will vary depending on the day, but one of the coolest stops you might make include an eerie-yet-interesting small shipwreck that you can snorkel over.
Here, you can see nature reclaiming its own, with colorful coral colonizing the weathered hull, transforming the out-of-use boat into an underwater utopia!
Of course, all trips will include a visit to the world-renowned Shark Ray Alley, where you can swim alongside nurse sharks and stingrays in shallow waters for some uncanny close encounters.
Trust me, sharks and rays may sound scary, but they're extremely friendly — you'll be just fine.
You might also see tarpons (and have the chance to feed these enormous fish) and snorkel in other popular sites, like Chatos Place and the Coral Gardens.
But the most extraordinary stop of all is the opportunity to look for the shy West Indian manatee!
The waters around Caye Caulker harbor the world's largest population of this particular species of manatee, so you have a greater-than-normal chance of spotting them.
Still, these gentle giants are as elusive as they are endearing — so if you do see one, count your lucky stars!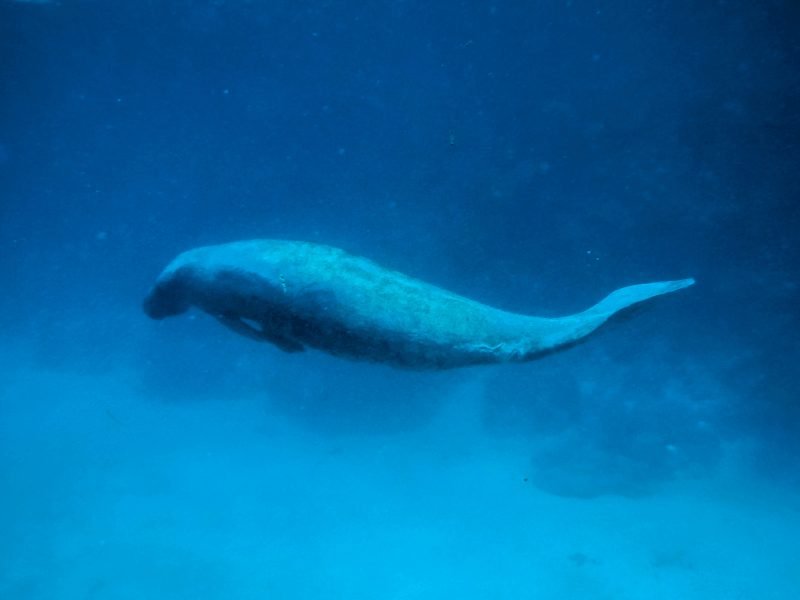 But manatees or not, you'll still get the chance to see all sorts of tropical fish (angelfish, butterflyfish, damselfish, moray eels, you name it, it probably lives here!) and sea turtles living amongst the coral reefs.
Best of all, you don't have to worry about capturing these perfect moments, because this tour offers a complimentary GoPro service! They'll snap photos and take videos of you during the tour and share the footage with you after.
And of course, being a full-day tour, a Belizean lunch is provided, alongside fresh fruit and drinks to keep you sated through your many dips in the sea!
​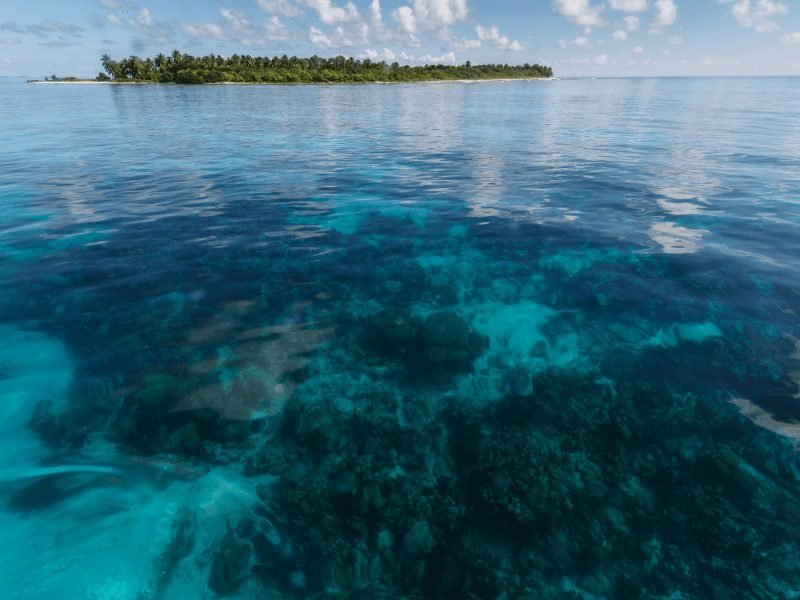 ​This tour is unique in offering not only a visit to the Hol Chan Marine Reserve and all the sites you're used to seeing on this list so far, but also Caye Caulker's neighboring island, Ambergris Caye.
On this 6-hour tour, you'll see a variety of marine landscapes and marine animals in just four snorkel tops.
You'll see the Hol Chan Reserve first, stopping at two different sites in the marine reserve.
Here, a rich variety of marine life can be seen, including adorable damselfish, parrotfish, and schools of fish like blue tang, all against a backdrop of brain coral and fan soft corals waving in the tide.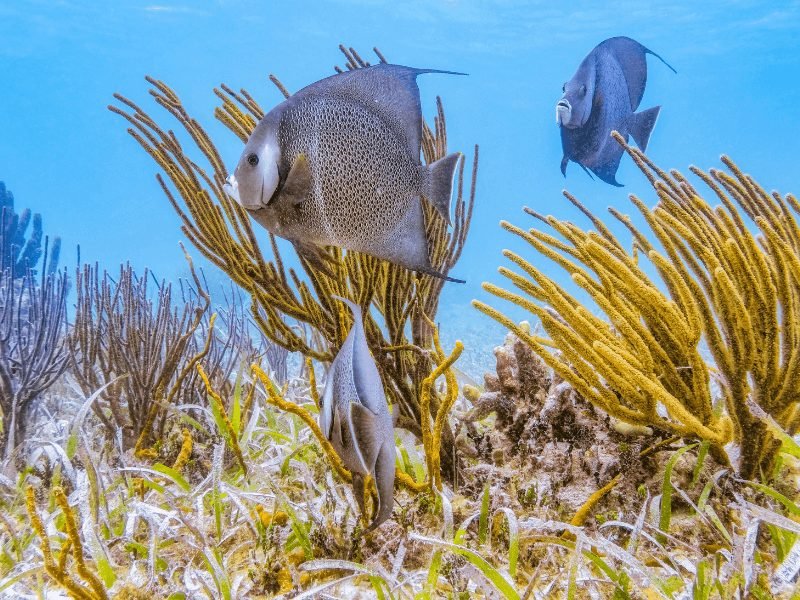 After your first stop, you'll head over to Ambergris Caye and its largest town, San Pedro — the perfect spot to enjoy a group lunch at a restaurant facing the beach!
Then, it's back to the waters, where you'll visit Shark Ray Alley after the morning buzz has subsided a bit, since most snorkeling tours visit this spot before lunch and you're coming after.
You'll end the tour with a snorkel in Coral Gardens, one of the most rich-with-life spots in the reserve.
And you may get a chance to see a manatee or an eagle ray if you're lucky along the way, too!
Note that the tour includes lunch at the beach restaurant, but you'll have to pay for any drinks separately.
Book your Hol Chan snorkeling trip with San Pedro visit here!
***
Recommended Accommodations: Go Slow Caye Caulker
Further Reading: Lonely Planet Belize
Useful Tips: Most companies provide gear, but you could also bring your own snorkeling mask if you want something with a better fit.
Allison Green is a former educator turned travel blogger. She holds a Masters in Teaching and a B.A. in English and Creative Writing. Her blog posts merge her educational background and her experience traveling to 70+ countries to encourage responsible, enriching travel. She has been a speaker at the World Travel Writers Conference and her writing, photography, and podcasting work has appeared in National Geographic, CNN Arabic, CBC Canada, and Forbes, amongst others. Now a full-time traveler, she has lived in Prague, Sofia, New York City, and the San Francisco Bay Area.