Athens' extraordinary ruins, vibrant street culture, and friendly locals make it one of the best city breaks in Europe, and an essential jumping-off point to any Greek islands trip.
The cherry on top of a trip to Greece is, of course, the spectacular food – so why not take a cooking class in Athens?
Let's not mince words: Greek people have a magic touch when it comes to cooking, and you will too (hopefully!) after taking a cooking class in Athens!
With ample naturally vegan and vegetarian options, as well as meat and seafood dishes, Greek cuisine has a little something for everybody.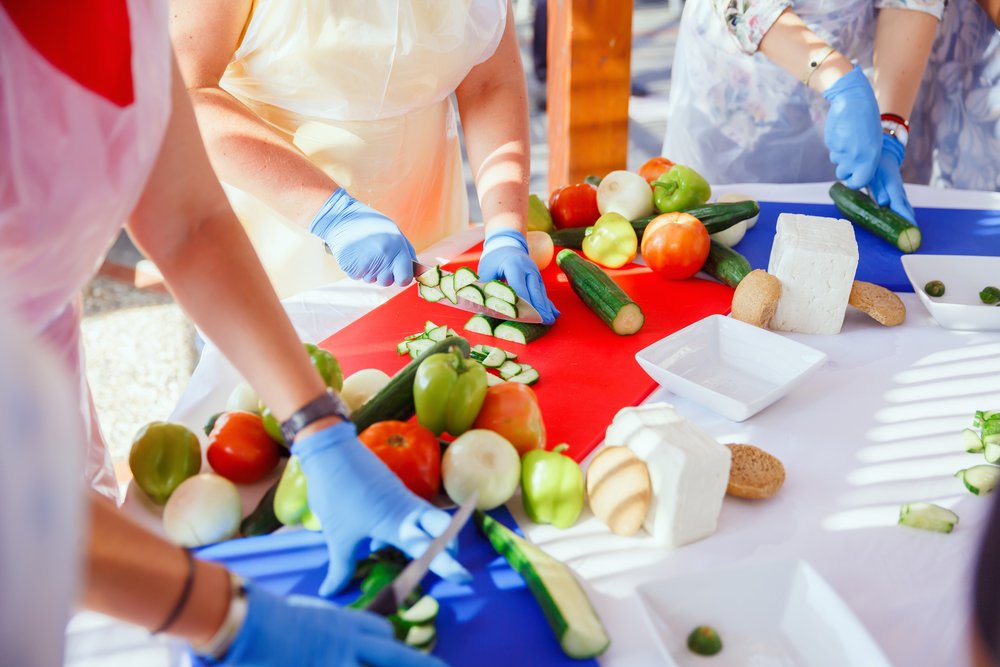 Note: This post contains affiliate links, which means I may receive a small commission if you purchase something through one of these links. Thank you for supporting the free content on this site! For more information on affiliate links and cookies, see my disclosure page for more details.
Not to mention, each meal is just so epic. It's never just about the main course in Greece – a good chef will walk you through all the desserts and appetizers too!
Greek dishes are often imitated but rarely duplicated. So, do your stomach a favor and let a local show you how it's really done!
Besides, who doesn't like Mediterranean food? Take a cooking class in Athens, and the people back home will be begging for moussaka all the time!
The 9 Top Cooking Classes in Athens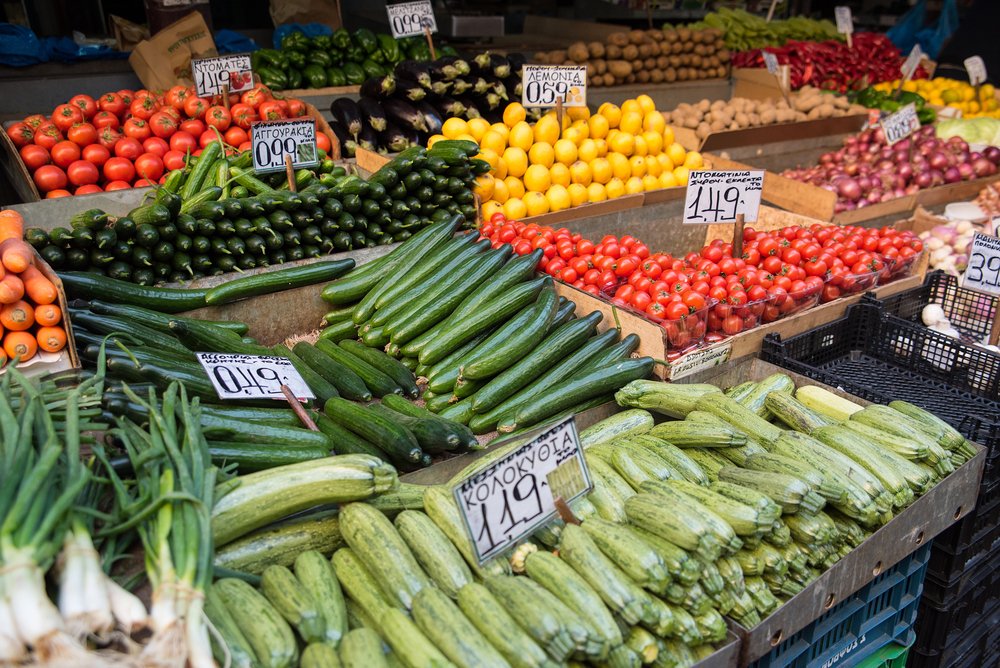 ⌛ Tour Length: 4 hours | 🌟 Rating: 4.8/5 stars (190+ reviews) | 👩‍🍳 Book Now
This cooking class in Athens is one of the best since it's also a mini walking tour of Greece's capital. Even grocery shopping feels exciting here!
The market trip before the class will give you a taste of what Athens has to offer. After buying the ingredients, the host will tell you all about the best places to see in town!
In the cooking studio, you'll be making tzatziki, spanakopita (spinach pie), and a bunch of other traditional Greek dishes.
"The Greek Kitchen was a fun place to have a cooking class. right by the Central Market which allowed us to have a little tour of it and Varis was an excellent teacher. we made stuffed vine leaves, spinach pie, tzatziki and an eggplant dish with orange pie as dessert. all the dishes were fairly easy and we had good conversation while cooking and eating. probably my favorite type of tour to do during travels."

Read More Reviews Here!
The class ends with wine and an enormous feast featuring everything your group has prepared.
For the full Greek experience, you'll also get to try a shot of local liquor to get your blood flowing!
Another great thing is that you can pick the time slot that works best for you.
You can start your day with a morning class and hit some Athenian beaches or check out the Acropolis after lunch!
⌛ Tour Length: 4 hours | 🌟 Rating: 4.9/5 stars (120+ reviews) | 👩‍🍳 Book Now
The best Athens cooking classes let you experience the Mediterranean way of life in the most iconic way possible: its food.
It's hard to pick a definitive winner when it comes to Athens cooking classes, but this one's definitely up there!
You'll learn all about all of the herbs, spices, and vegetables that make Greek food so amazing. Greek food is really about simplicity and high-quality ingredients, after all.
And of course, Greeks love their appetizers (aka meze), and you'll learn to make three or four starters or salads before moving on to the main dish.
Not bad for a 4-hour cooking class, huh?
"Rena was amazing! The class was beyond what I was expecting. She kept everyone engaged with each other and it really felt like a group of friends coming together preparing dinner. She even stayed and enjoyed the food with us. I loved it and the option to purchase beverages (wine, coffee, soda, etc) throughout."

Read More Reviews Here!
The group work tends to get pretty lively, but if you have a large enough group, you can arrange a private cooking class in Athens with your family and friends.
There's a lot to remember during these four hours, but don't worry if your memory has seen better days: you'll go home with a copy of the recipe for every dish you make!
Don't overeat before the class either, as you'll have to eat this several-course meal at the end with some quality wine. The first glass is on the house!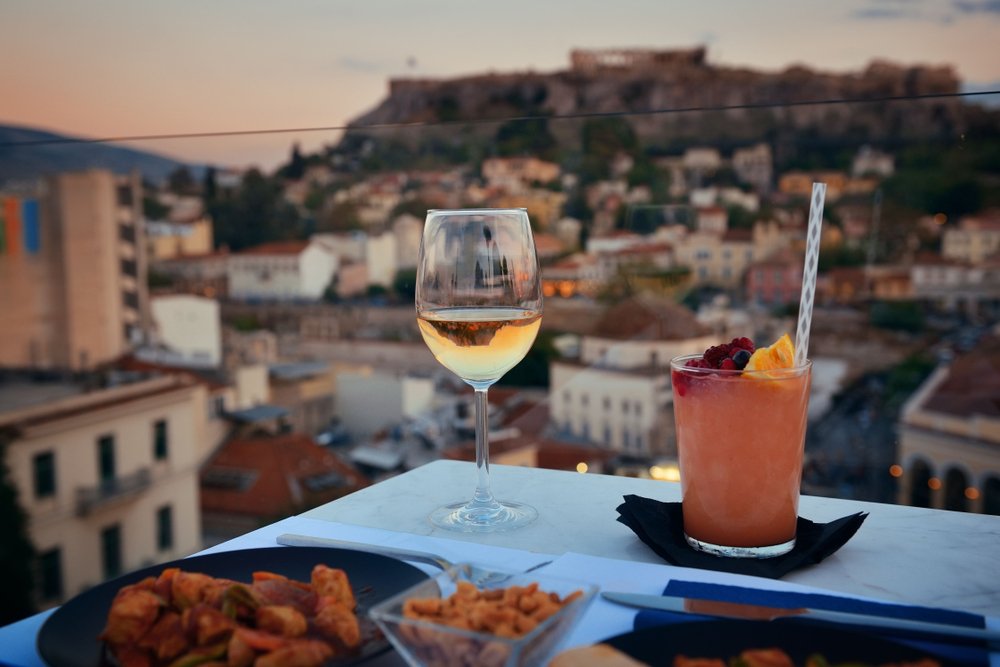 ⌛Tour Length: 3.5 hours | 🌟 Rating: 5/5 stars (190+ reviews) | 👩‍🍳 Book Now
Thorough, affordable, and featuring the most incredible panoramic view of the Acropolis, the crown jewel of the city. What else needs to be said about this cooking class in Athens?
To start with, you'll learn to make traditional spinach pie (spanakopita), tzatziki, and traditional Aegean salads, some of Greece's staple appetizers or meze.
The main course is a mouth-watering moussaka, but the fun doesn't stop there.
You'll even learn how to make galatopita, a simple yet irresistible Greek dessert.
Nobody gets left behind during this class – the groups can feature 10 people at most, so there's plenty of time for everybody!
"The food we made was so tasty, our host made everything super easy and fun and helped us all get to know one another and to feel like we could make this delicious meal ourselves!"

Read More Reviews Here!
Stam is an amazing host, and he'll be happy to go over the history of the amazing dishes you'll be cooking.
Also, considering how many recipes you'll be covering, the class is incredibly budget-friendly!
The highlight here is the rooftop dinner, featuring an unforgettable view of the city, including Nymph's Hill and the breathtaking Acropolis. Be sure to bring a good camera with you!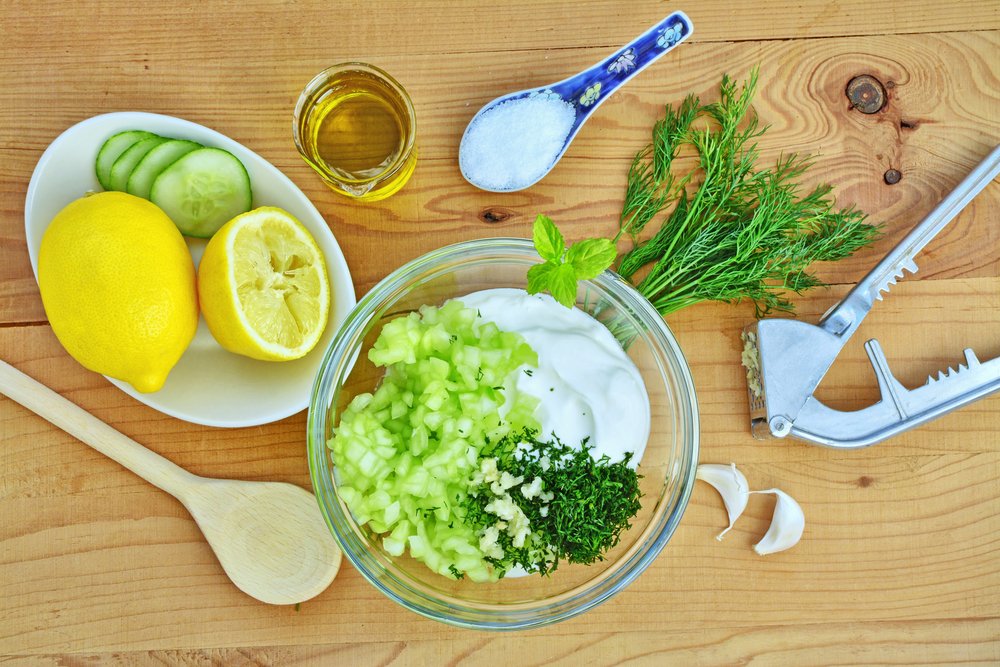 ⌛ Tour Length: 4 hours | 🌟 Rating: 5/5 stars (15+ reviews) | 👩‍🍳 Book Now
This cooking class in Athens is the full package – you'll be shopping, cooking, and enjoying a small afterparty (the true Greek way!) once it's done.
You'll be starting with a market tour, and you'll get to see your guide picking out the best ingredients Greece has to offer. Feel free to speak up if you're a vegetarian!
The class covers quite a few dishes, from tzatziki and dolmades to imam baidli and portokalopita. All the major food groups are represented!
"I had a fantastic time cooking during out lesson. I learned many new things. Our teacher was patient and funny. We learned à few essential tips to Greek cooking but must come back for more!"

Read More Reviews Here!
No great meal is complete without a drink, so Vasia will send you off with a shot of mastiha, made using sap from the island of Chios. Sounds strange, but it's rather tasty!
The class is held in central Athens, so you'll be tempted to jump right into exploring as soon as the class is done!
Best of all, it's easy to fit this Athens cooking class into your schedule. You can do it in the morning or in the afternoon, so there's no excuse not to try it out!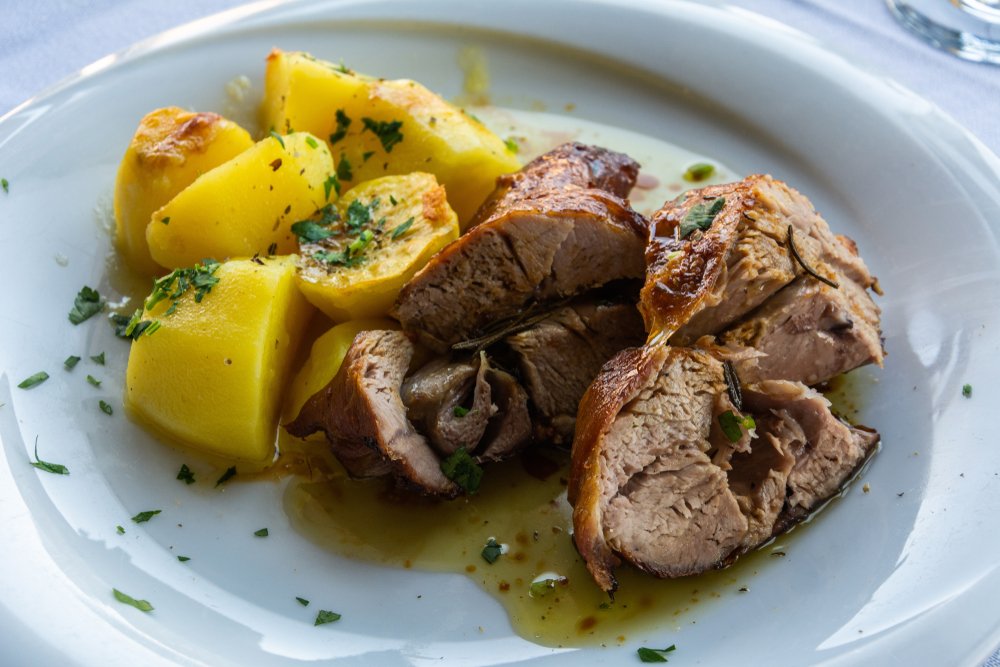 ⌛ Tour Length: 4 hours | 🌟 Rating: 5/5 stars (350+ reviews) | 👩‍🍳 Book Now
One of the highest rated cooking classes in Athens is also one of the cheapest. How can you say no to that?
The class is held at a taverna, and a beautiful one at that. The view you'll have of the Acropolis isn't too shabby, either!
The one catch is that the group can feature up to 16 people. Hence why it's a budget pick!
If you want more hands-on help, consider some of our other picks if you'd prefer something more intimate.
If you do decide to take this cooking class, though, the instructor does an amazing job at getting everybody involved, despite the larger size.
"It was our last night in Athens. The cooking class was amazing. Our chef Niki was a local loved Greek food and health conscious. We learnt a lot and the food was delicious. I will definitely make most of the dishes. Thank you Niki for ending our holiday on a high.."

Read More Reviews Here!
And who knows, you could even meet some new friends and make some travel buddies!
As for the class itself, the main attraction is the roasted lamb with a side of potatoes. Greeks really know how to cook lamb like no one else!
Of course, there's all the classic starters too. You'll learn to make horiatiki, cheese-and-spinach pie, and dolmades!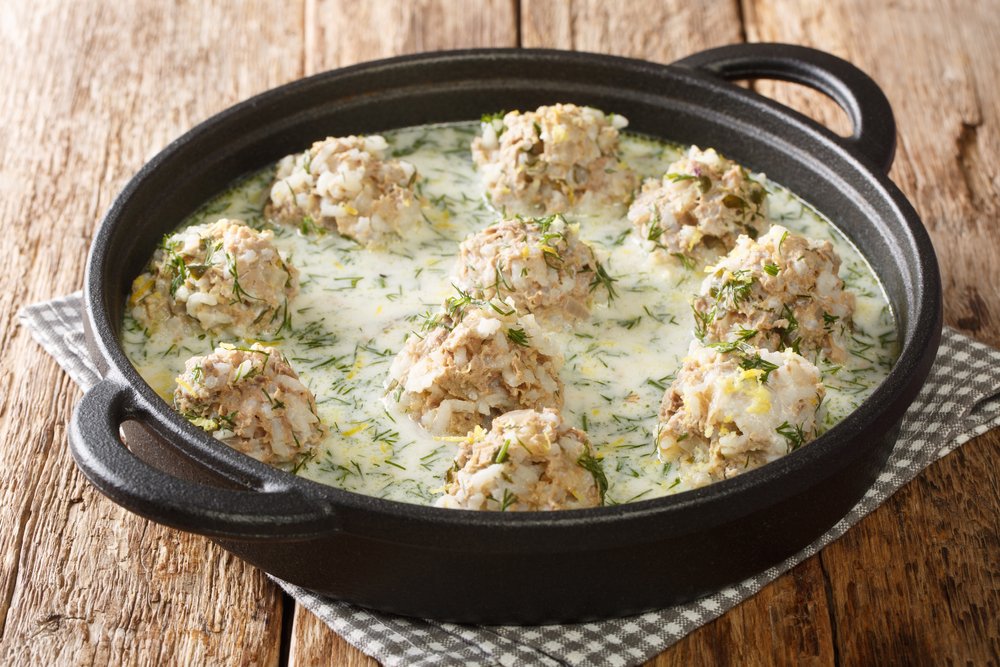 ⌛Tour Length: 3 hours | 🌟 Rating: 5/5 stars (50+ reviews) | 👩‍🍳 Book Now
Unique features:
-Covers a diverse array of dishes, including youvarlakia and pastitsio
-Vegetarian-friendly options for all kinds of eaters
-Amazing Acropolis views and a convenient location

➜ Read more about this cooking class in Athens
Greece has about a million traditional dishes, which can get overwhelming.
When looking for a Greek cooking class in Athens, consider a class like this one that covers all the best dishes.
Your instructor covers five incredible dishes in around three hours. That tells you everything you need to know about her cooking chops: efficient without sacrificing delicious quality!
Dolmades, tzatziki and greek salad are just the beginning. You'll (obviously) go over a moussaka recipe, but there's also pastitsio, which is basically a Greek-style lasagna that is often overlooked.
If you visit in the winter, there's also youvarlakia and pork braised with leeks. Of course, we can't forget about giouvetsi, a mixture of meat, tomato sauce and pasta.
"My daughter and I love Greek food so what better way to spend rainy day than learning how to make our favorite Greek dishes. Marilena was amazing teacher and we had the best time! We made six different dishes from apps to entree and dessert. Food was incredible. I would highly recommend this."

Read More Reviews Here!
If you get lucky, the dessert portion of the lesson might include baklava, among other treats.
When everything is said and done, you can enjoy your meals with a once-in-a-lifetime view of the Acropolis!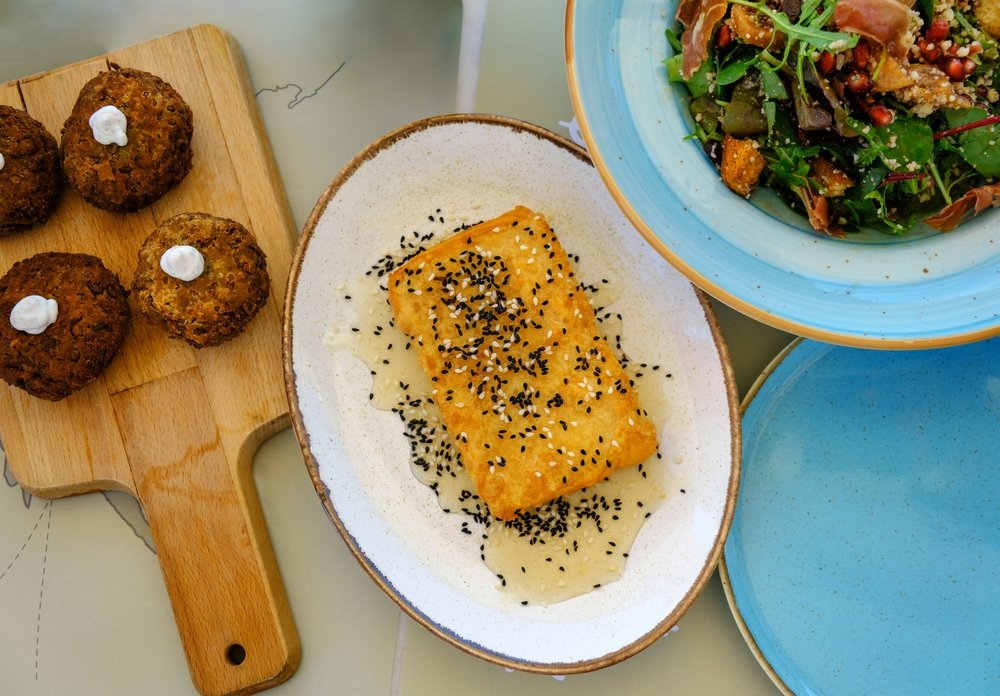 ⌛Tour Length: 3 hours | 🌟 Rating: 55 stars (15+ reviews) | 👩‍🍳 Book Now
We all know the journey can be more important than the destination… and likewise, sometimes, the meze is more important than the main dish. 
That might be the biggest lesson from this amazing Greek meze class in Athens!
In only three hours, you'll go through at least seven recipes (yes, seven!), each more delicious than the last!
Standouts include kolokithokeftedes (zucchini balls) and lemony fried halloumi cheese. My mouth is watering already?
"This was our first cooking class on a vacation and it was AMAZING! Our host was very accommodating, patient and kind for us 'non-cooks' in the class. The food was delicious and we enjoyed eating dinner with new friends from all over the world. HIGHLY recommend!!"

Read More Reviews Here!
Which main courses will you be making? It'd be easier to list the ones you won't be making!
Meatballs, chicken, and sausage stew are usually covered in this class. Most importantly, you'll be learning how to make classic, Greek-style gyros!
The class really gets into the meat of it (no pun intended). Every single participant has to make the dough for the gyros pies themselves!
Obviously, with so many dishes to cover, there are plenty of vegan and vegetarian options too. Just let the hosts know when you're booking the class.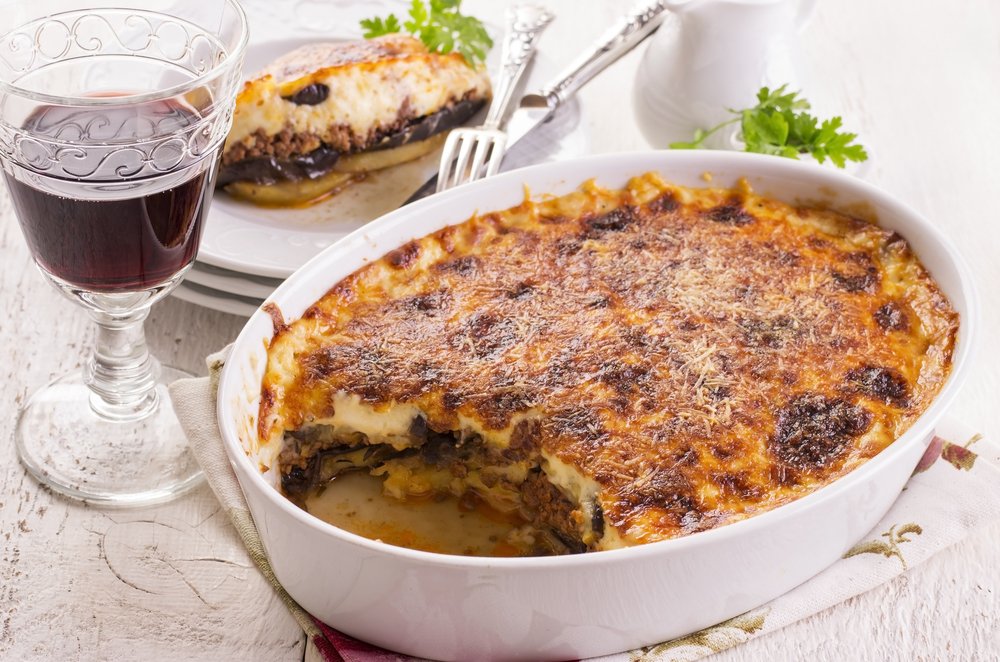 ⌛ Tour Length: 4 hours | 🌟 Rating: 4.5/5 stars (5+ reviews) | 👩‍🍳 Book Now
If you want to make sure everyone in your group gets some one-on-one time to learn, this is the perfect cooking class in Athens.
All the ingredients you'll be using will be local, and the dishes are based on some of Greece's ancient recipes.
You'll be making a four-course meal, starting with cheese pies and Greek salad to work up an appetite.
After that, it's time for moussaka, followed by fruity yogurt for dessert. And yes, you'll be eating all that for dinner, so be sure to do your best!
"Absolutely wonderful!! Would do it again . It was a great way to start our vacation in Greece. Very knowledgeable about the wine and made my favorite Greek meals .. Moussaka , cheese pie and Greek salad etc .. felt like we were all family"

Read More Reviews Here!
What's a Greek dinner without some wine? Whether you like white, red, or rose, your host has you covered!
This class will also help you learn what Greek wines pair best with what dishes, so it's a good Athens cooking class option for wine geeks.
If you like what you taste, you can buy a bottle to take home. There are even some nifty Greek souvenirs to choose from!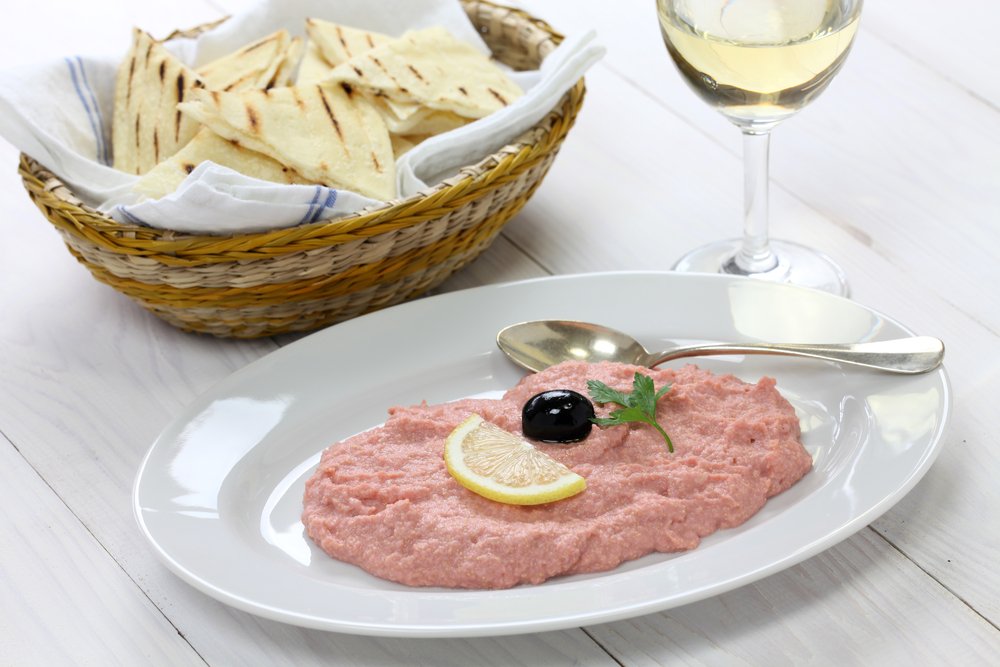 ⌛Tour Length: 3 hours | 🌟Rating: 5/5 stars (1 reviews) | 👩‍🍳 Book Now
Unique features:
-Features dishes not covered by many classes like saganaki, gigantes plaki
-Comfortable, intimate setting in the chef's house
-Wine and dessert provided by the host

➜ Read more about this cooking class in Athens
This brand-new cooking class in Athens feels extremely intimate since it's held at the chef's own home and kitchen.
This means that you and your group will have Angelina all to yourselves for a few hours!
That said, you can only do it as a group, so the class is a no-go for solo travelers. 
"Had a really nice evening in Athens cooking and dinner with Angelina. Moussaka was delicious and appetizers were so tasty. What a great way to taste the authentic greek foods. Thanks for welcoming us into your home."

Read More Reviews Here!
Besides the staple spinach pie of spanakopita, you'll also be making saganaki (a kind of grilled cheese in tomato-based sauce), as well as the distinctive taramosalata.
If "fish roe mayonnaise" sounds intriguing, you should see how it tastes!
The main course is a combination of fish, prawns, lamb, and some unforgettable Greek-style sauces.
Finally, you get to enjoy a sticky walnut cake as a token of Balkan hospitality!
Allison Green is a former educator turned travel blogger. She holds a Masters in Teaching and a B.A. in English and Creative Writing. Her blog posts merge her educational background and her experience traveling to 60+ countries to encourage thoughtful travel experiences that both educate and entertain. She has been a speaker at the World Travel Writers Conference and her writing, photography, and podcasting work has appeared in National Geographic, CNN Arabic, CBC Canada, and Forbes, amongst others. Now based in the San Francisco Bay Area where she grew up, she has also lived in Prague, Sofia, and New York City.