If you're planning a trip to Lisbon, get your camera ready — this is one of the most photogenic cities in all of Portugal, if not Europe!
As a blogger, I've been a victim of the mercurial nature of the Instagram algorithm quite often — but nothing revived my likes quite as much as my trip to Portugal.
People just love this candy-colored city, from its azulejos to its yellow trams to its colorful houses with laundry fluttering in the breeze.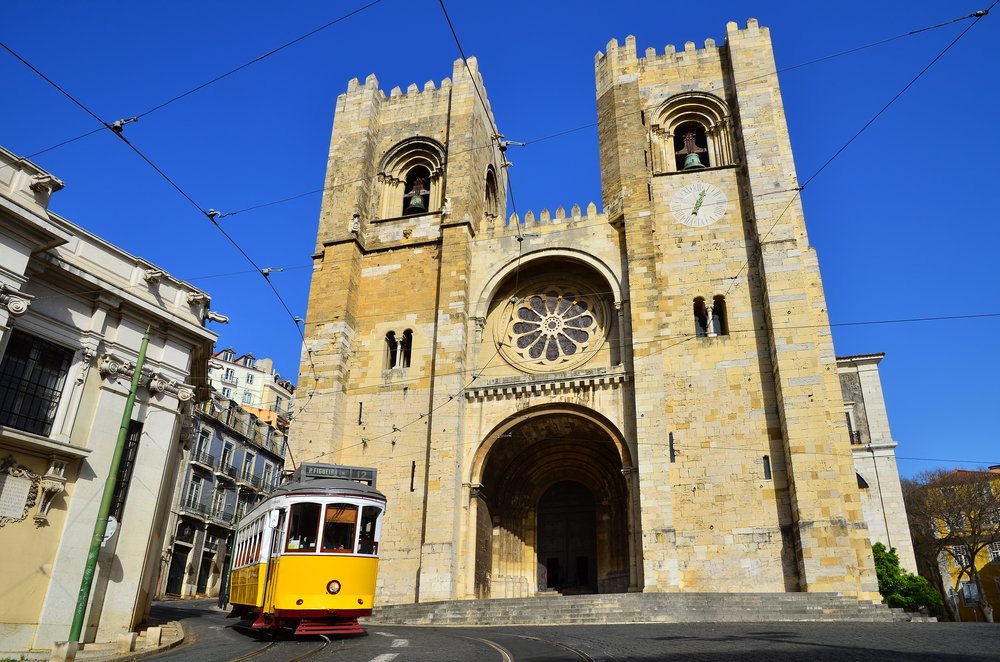 Note: This post contains affiliate links, which means I may receive a small commission if you purchase something through one of these links. Thank you for supporting the free content on this site! For more information on affiliate links and cookies, see my disclosure page for more details.
I've spent a few weeks exploring Lisbon and while I'm not the best Instagrammer out there by a long shot, I have come up with a few of my favorite Instagram spots in Lisbon.
I've also included quite a few off the beaten path Lisbon photography locations you won't find in just any guide.
If you're planning more of your Lisbon trip, be sure to also read my two-day Lisbon itinerary for more tips beyond just photography spots… or one day if you only have limited time.
2022 Entry Requirements for Portugal
Due to the Covid-19 pandemic, there are certain entry requirements in place for entering the country of Portugal.
I've updated this post as of February 9, 2022, and all information was correct at the time of writing.
However, confirm with Portugal's official website, as you've prbably figured out after the last few years of pandemic times… things can change quickly!
Check the list of countries allowed to enter Mainland Portugal on their website. The USA and UK are currently included (note: Canada is not included at the time of writing, but this may change).
You must present one of the following if you are over the age of 12.
A negative PCR test taken with 72 hours
A rapid antigen test taken within 24 hours of boarding
An EU Digital Covid Certificate OR similar certificate from one of the 33 permitted countries. *NOTE: The US is not included.
You must also submit a Passenger Locator Card before departing.
Until recently, the EU digital certificate (Green Pass) was required for staying in hotels and eating at restaurants.
This meant that non-EU citizens who weren't one of the 33 listed countries could effectively enter the country but not dine at restaurants or stay in hotels… making travel very difficult for them!
However, a friend who is residing in Portugal recently informed me that as of the first week of February, this requirement has been dropped within the country and this is no longer required.
Where to Stay in Lisbon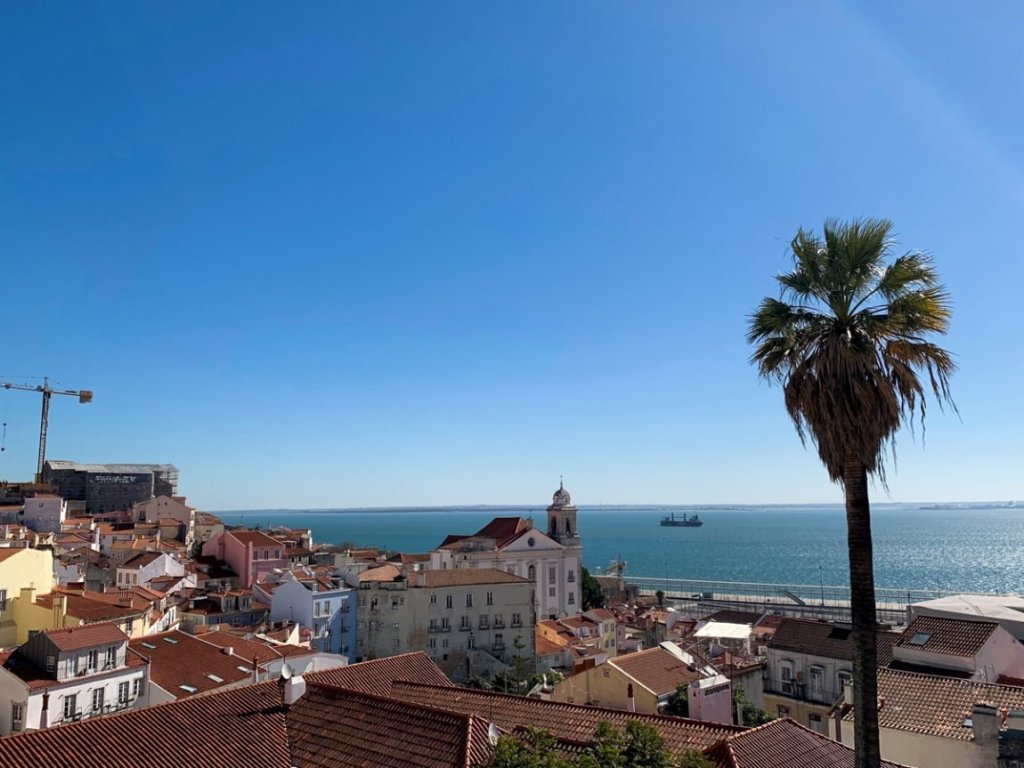 Depending on what your travel style is and your budget, there are plenty of great neighborhoods to choose from in Lisbon.
I detail all my favorite neighborhoods and top recommendations for each neighborhood in my comprehensive Lisbon neighborhood and hotel guide, which you can read here. However, I'll also sum it up here!
I've mostly picked hotels in the hip Baixa-Chiado area, which is easy to get to all points on your Lisbon itinerary from.
Budget: Home Lisbon Hotel
Even if you are on vacation in Lisbon, the feeling and comfort of being home is something that Home Lisbon Hotel wants you to experience!
This hostel gives you a choice of private or shared rooms. The private rooms are quite small, but the amount of space is good enough for backpackers looking for a good private room in Lisbon on a budget.
The décor game is strong here at Home Lisbon, despite the budget prices: perfect for people who want a place to stay in Lisbon that has personality. There are vintage black and white photos as well as colorful prints hung on the wall, which add a retro vibe.
In the shared rooms, the bunk beds have curtains that you can close to ensure privacy when you're sleeping — something that I always enjoy, especially when an inconsiderate dorm-mate turns on the lights upon arriving late at night.
You can also choose a mixed-sex room or an all-female room, as well as rooms as large as quadruples with private bathrooms if you're traveling with friends.
Check out guest reviews, prices, and availability at Home Lisbon Hotel here
Mid-Range: My Story Hotel Rossio
My Story Hotel Rossio wants just that: to tell you a story in every area of the hotel!
It is a four-story building with 46 rooms, which originally dates back to the 18th century.
The hotel makes use of modern and very artistic décor – it is a play between modern and classic pieces, which works in perfect harmony.
They only have soundproofed double rooms, but there is one room where you can have a view of beautiful Rossio Square.
The private bathrooms also feature a hairdryer, a separate shower area, towels, and free Rituals shower gels and shampoos.
The restaurant, Café Portugal, is considered as one of the historic places in the area where you can best taste traditional Portuguese cuisine.
The restaurant also has a very romantic appeal, perfect for a date or special occasion. A must-try is their grilled octopus: tender, charred in all the right places, and so fresh!
Check out guest reviews, prices, and availability at My Story Hotel Rossio here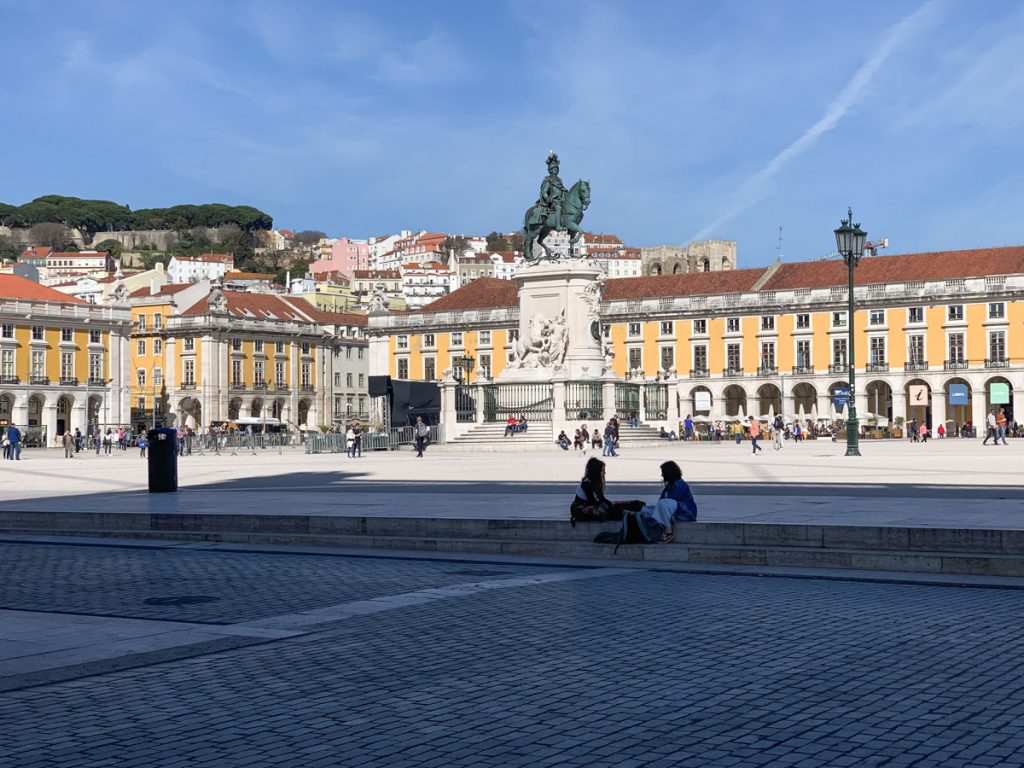 Luxury: Pousada de Lisboa
The word "pousada" literally means an inn, but this 5-star hotel, Pousada de Lisboa, offers way more than that with its 90 fully decorated rooms!
From afar, the building stands out because of its bright yellow color, but the gorgeous design inside is nothing to sneeze at either!
Their private rooms have ensuite bathrooms with designer toiletries and bathtubs, high-speed WiFi internet, and well-stocked minibars.
The floors are made from hardwood, and the headboards are decorated with embossing, flourished with intricately detailed wall panels that scream luxury.
If you're traveling with a larger group or family, they also have a family room that's very extravagant and spacious, which is perfectly lit by a ritzy chandelier and some chicly dim lamps.
On-site dining is definitely a must at Pousada de Lisboa. Their Rib Restaurant specializes in meat dishes – their steaks are a must-try!
They also have other luxury amenities like an indoor and heated pool, a spa with all the amenities you can think of, and a fitness center.
Check out guest reviews, prices, and availability at Pousada de Lisboa here
The 27 Best Instagram Spots in Lisbon
Ler Devagar
Literally "read slowly" in Portuguese, this hip bookstore in the lively LX Factory multi-use space is one of the best Instagram spots in Lisbon.
It's photogenic from nearly every angle, but for the best shot, head to the upper floor and walk towards the front of the building so you can get the best shot of the whole upper and lower levels.
Tip: bring your best wide angle lens for this, or your smartphone will do in a pinch, but you likely don't want any zoom.
Street art at LX Factory
Besides the ultra-Instagrammable bookstore Ler Devagar, there are some other Lisbon Instagram spots at LX Factory that you shouldn't miss before moving onward with your Lisbon itinerary.
Don't miss the opportunity to snap photos of some of the incredible street art decorating LX Factory, which change frequently but always inspire.
"Birds" of LX Factory
One of my favorite art installations in LX Factory are the "birds" which are strung up along the main walkway through the multi-function space, which look as if they are in mid-flight.
Taken against a setting sun, or from a low-to-the-ground angle, it's a wonderfully artistic photo opportunity to explore in Lisbon.
Rooftop at Rio Maravilha
While at LX Factory, try to time it for sunset so that you can enjoy drinks on the rooftop of Rio Maravilha, which has stunning views of the Tejo River and especially of Lisbon's "Golden Gate" Bridge and imitation Christ the Redeemer statue.
Rio Maravilha serves delicious cocktails as well as Portuguese and Brazilian inspired small plates, so it's a great place to watch the sun go down while enjoying one of the best little-known yet ultra Instagrammable places in Lisbon.
Livreria Bertrand
Less well known in terms of Lisbon Instagram spots than Ler Devagar, the beautiful Livreria Bertrand is well worth visiting beyond just its photogenic exterior — it's the oldest continually-running bookstore in the world, even surviving the devastation of Lisbon's 1755 earthquake.
While I love the tile-covered exterior, the interior is a little less photogenic, but it's still well-worth exploring while you're visiting Lisbon.
Azulejos at Miradouro Santa Luzia
Some people can be disappointed that Lisbon doesn't quite have as many azulejos (blue and white Portuguese tilework) as Porto, where they are at seemingly every other turn.
You have to do a little more hunting for the best azulejo Instagram spots in Lisbon, but one of them is located in a super prime location in Alfama — it's a place that's hard to miss.
Cemiterio do Alto do Sao Joao
Only in Lisbon would a cemetery make a list of the most Instagrammable places, but here it is! Of course, let me put the disclaimer here that this is a place of mourning and that you should be respectful when visiting — avoid obnoxious selfies and take photos of the beautiful grounds rather than of yourself.
Cemeteries in Portugal are unique because many mausoleums were built above ground to house the dead. Supposedly, this is due to the risk of earthquakes unearthing the dead – a bit creepy, but the result is quite beautiful and certainly unlike other cemeteries I've visited in my travels.
There are two such cemeteries in Lisbon, Alto do Sao Jaoa and Prazeres, both created after a cholera epidemic which swept through the city. Both are beautiful, so choose whichever one you'd like to visit based on what makes the most sense for where you'll be.
Museu Nacional do Azulejo
Dedicated to the history of this distinctly Portuguese art form, the azulejo, you shouldn't miss this incredible museum in Lisbon which is both informative and one of the best Lisbon photography spots for tilework.
There are countless spots here at this museum that are worthy of being deemed Instagrammable, but the courtyard of the old convent, azulejo-tiled staircase, and wall of the church attached to the museum are my personal favorites. Give yourself at least two hours to explore this museum and take in both its information and its photography spots — it's well worth it!
Lisbon Cathedral
The largest church in Lisbon is interesting to visit from the interior, as inside you can see a small exhibit on the work that was done to restore it after the horrible earthquake of 1755.
However, my personal favorite Lisbon photography tip for the cathedral is to walk a bit down the street from it and wait for one of the iconic yellow trams to come by! Be prepared to wake up really early for this shot if you don't want people in it, as the Lisbon Cathedral is one of the most popular places to visit in the city.
Torre de Belém
One of the most iconic Instagram spots in Lisbon, you simply can't miss visiting the Belém Tower. This is where many of the most famous Portuguese sea voyages started!
Show up really early well before it opens at 10 AM if you want photos like this one, as otherwise it's incredibly crowded.
Mosteiro Dos Jeronimos
While in Belém, don't miss the Mosteiro Dos Jeronimos (Jeronimos Monastery) which is another fantastic photo opportunity as well as a UNESCO World Heritage site in Lisbon.
The historic cloister area is extremely ornate and is one of the best places to take photos. However, it can be quite busy, so I recommend coming here close to when it opens to avoid the crowds, perhaps after photographing the Torre de Belém.
The exterior is also really beautiful, so don't forget to walk around it and take some photos of the outside as well, and be sure to check the small attached chapel where some of the most famous Portuguese heroes such as Vasco de Gama are buried.
Pasteis de Belém
Of course, while in Belém, you can't miss one of the most delicious pastries, the pastel de nata, at Pastéis de Belém.
By chance, the pastel de nata is nearly as Instagrammable as it is tasty — especially when held against a traditional tile wall if you eat inside or with some creative focusing taken from the street.
Padrao dos Descobrimentos
One final Lisbon Instagram spot to see in Belém is the interesting Padrao dos Descobrimentos, an homage to the Portuguese Age of Exploration (and, uh, subsequent violence and colonization, but they kindly leave that part out).
The monument itself is very interesting, as is the mosaic map on the ground near the monument which traces some of the routes of Portuguese explorers most important historical voyages.
Supposedly, the view from the top of the monument is well worth seeing, but I haven't gone up there myself!
Casa do Alentejo
It may look like a palace, but it's actually a restaurant! While the exterior is plain, entering will reveal a gorgeous Moorish-style interior that blends the Arabic and Portuguese influences into its own divine style.
The food served here is from the region of Alentejo and is supposed to be quite tasty, so it's worth a stop during your time in Lisbon, to dine as well as snap photos.
Panteão Nacional
The Panteão Nacional is beautiful itself, but perhaps the best reason to go is for the views over Alfama and the River Tejo from its exterior terrace at the very stop!
You have to ascend a lot of stairs to get to the viewing platform, but I think that you'll agree it's worth it for those Tejo views!
Villa Sousa
While virtually every facade in Lisbon is basically picture-perfect, there's something I especially love about this facade on Rua Largo Graça.
To find it, look for the restaurant O Botequim on Largo Graça 79 – it's just a few doors down.
Miradouro de Nossa Senhora do Monte
Built on the tallest hill in all of Lisbon, the Miradouro de Nossa Senhora do Monte is one of the best places for views in the city.
Not only do you have the most height, you also can see one of the more photogenic elements of the Lisbon skyline – the Castelo do Sao Jorge – prominently from this miradouro!
Miradouro da Graca
Yet another beautiful miradouro, perfect for sunset views over Alfama!
This one is a bit less crowded than other miradouros in the Alfama/Graça area, so it's a nice break from the crowds you'll often find around Portas do Sol.
Jardim da Cerca da Graça
With its beautiful porticos, make a stop at the underrated Jardim da Cerca da Graça.
It's an easy add-on stop while you're at the nearby miradouro for yet another stunning Instagram spot in Lisbon.
Palácio dos Marqueses da Fronteira
This Lisbon hidden gem is little known by tourists but I think it's one of the most Instagrammable places in Lisbon.
Since it's a bit out of the way of the main tourist circuit, located near the Sete Rios neighborhood which is more residential, it's not usually very crowded.
It's located sort of nearby Lisbon's main bus station so if you're heading on a day trip out of the city or are about to go onwards to your next destination, it's an easy place to stop on the way.
Praça do Comercio
If you haven't been to the Praça do Comercio, it's almost like you haven't been to Lisbon. Visiting this praça (plaza) is basically inevitable when visiting Lisbon!
Set at the intersections of the Tejo River and the Rua da Prata, one of the more important streets in Lisbon, the canary-hued and enormous Praça do Comercio is one of the main symbols of the city and it's a beautiful Lisbon Instagram spot! Its grand arch, its yellow buildings on all sides, and its wide-open space guarantee gorgeous photography opportunities abound.
Miradouro das Portas do Sol & Lisbon History Arch
This is a two-for-one Lisbon Instagram spot! Upstairs, you'll find gorgeous views at the Miradouro das Portas do Sol — and a ton of crowds, as this is one of the more popular viewpoints in Lisbon.
Find some stairs to the side of the main miradouro area and go about halfway down and you'll see the history of Lisbon sketched out in comic-strip like panels.
It's a bit of an open secret, but there will be far fewer people snapping photos here and you can do some cool framing (though you will likely have to wait a bit if you want a clear, people-free shot).
Ascensor Da Bica
One of Lisbon's famous elevators, the Ascensor da Bica is, in my opinion, the more photogenic of the two I'll list on this post.
You don't need to ride the elevator to get the good views. Head towards nearby the Palácio de Xabregas on Google Maps and wait for the elevator to pass for some of the best views of the Ascensor da Bica (bonus: there are azulejos near the Palácio de Xabregas!)
Elevador da Gloria
The Elevador da Gloria is another typical Lisbon elevator, but this one goes up and down an open-air graffiti gallery.
It goes between the Miradouro de São Pedro de Alcântara and the Baixa neighborhood, passing the outdoor Galeria de Arte Urbana (GAU) street art exhibitions along the way.
Again, no need to ride it if you don't want to: you can pose by it while it's stopped (…without blocking the flow of people who actually want to ride it please) or walk down along its pathway to see the street art on display.
Gare do Oriente
I wouldn't necessarily say to come out of your way here just because it's a Lisbon Instagram spot, but if you're heading to another destination in Portugal in your trip by train, try to leave from the stunningly modern Gare do Oriente if you can!
I left out of here when heading to Porto from Lisbon and it was definitely worth heading a bit more out of town to leave from here and see the cool train station.
Carmo Convent
The remains of a convent that was largely demolished by the huge Lisbon earthquake has now been converted into an archaeology museum complete with mummies.
Despite being in a popular area of Lisbon, it usually isn't too crowded, and I'm a bit surprised because I find it a really visually stunning place to photograph.
Castelo do Sao Jorge
Of course, the Castelo do Sao Jorge is one of Lisbon's best photography spots…. but I put it last on my list because it's basically the epitome of overtourism in Lisbon.
I hope I've shown you through this post that there are dozens – no, hundreds – of awesome Instagram spots in Lisbon both on and off the beaten path.
There's no reason to go to every spot that everyone else does, especially when stunning buildings, beautiful viewpoints, exquisite tilework, and surprising architecture is basically everywhere you go in Lisbon.
You can go to the Castelo do Sao Jorge, of course – just be aware that there's often over an hour's line to get in and the views from there are no better than at any other miradouro in the city!
Allison Green is a former educator turned travel blogger. She holds a Masters in Teaching and a B.A. in English and Creative Writing. Her blog posts merge her educational background and her experience traveling to 60+ countries to encourage thoughtful travel experiences that both educate and entertain. She has been a speaker at the World Travel Writers Conference and her writing, photography, and podcasting work has appeared in National Geographic, CNN Arabic, CBC Canada, and Forbes, amongst others. Now based in the San Francisco Bay Area where she grew up, she has also lived in Prague, Sofia, and New York City.