I will die on this hill: Greek food is one of the world's greatest cuisines, and I say that as someone who has traveled to more than 60 countries!
As popular as it is amongst tourists, Santorini is one of my favorite Greek islands… and I've visited nearly a dozen Greek islands, since it was an easy trip for me to make back when I lived in Greece's neighbor to the north, Bulgaria.
I actually anticipated being overwhelmed by how touristy Santorini was, but I actually found that it was really easy to find your own charming corner of Santorini (just get out of Thira at cruise ship time, stat, and know that sunsets in Oia are beautiful but chaotic).
But where Santorini shines brightest in my memories is not its white-washed villages, screensaver-worthy sunsets, or dramatic volcanic landscape.
It's the food.
Whereas many touristy destinations often make good food hard to find — at least in the city center — Santorini is a lovely exception.
Perhaps because it's absolute anathema to Greek culture to serve mediocre food: both for their hospitality and their (rightful) pride in their delicious cuisine.
Plus, Santorini has its own unique cuisine, borne of its landscape and isolation from the Greek mainland — but we'll go over Santorini's specialties in just a minute.
So, if you want to be able to take a taste of Greek summers home with you, be sure to make time to take one of these cooking classes in Santorini — you certainly won't regret it.
What You'll Cook on a Santorini Cooking Class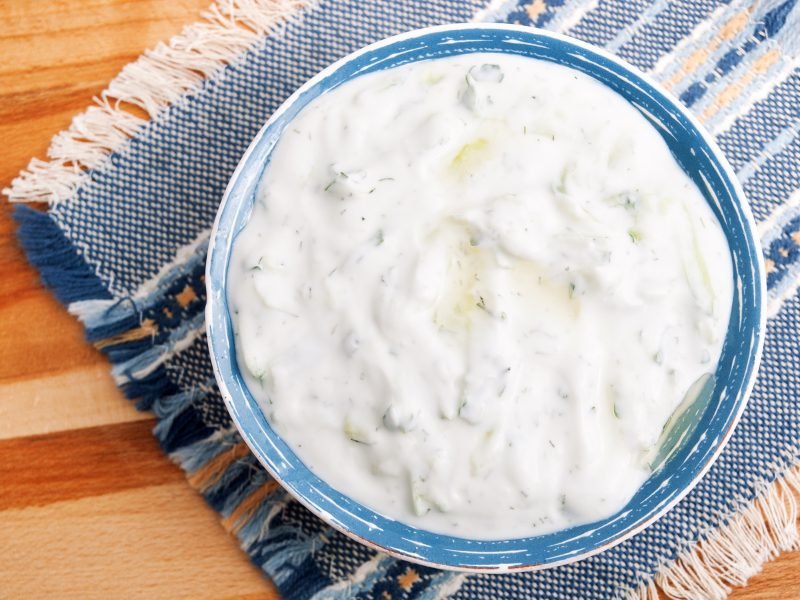 Note: This post contains affiliate links, which means I may receive a small commission if you purchase something through one of these links. Thank you for supporting the free content on this site! For more information on affiliate links and cookies, see my disclosure page for more details.
When reviewing cooking classes in Santorini, I was surprised to see that they all had relatively similar menus.
I suppose this is because Greeks value hyper-local food, and they want to showcase what is particularly special about Santorini in particular as opposed to Greek food in general.
Generally, Santorini cooking classes consist of multiple courses, starting — of course — with meze.
One of the most popular meze dishes in Santorini is fáva, which (confusingly) is not made from fava beans at all, but rather a special yellow split pea that has grown in Santorini for nearly 4,000 years and has a protected destination of origin status!
Another popular meze dish you might make is tzatziki, which is not specific to Santorini but more representative of Greek cuisine in general.
And of course, many Santorini cooking classes include the famous Greek salad — and some put a Cycladic spin by teaching you the lesser-known Santorini salad.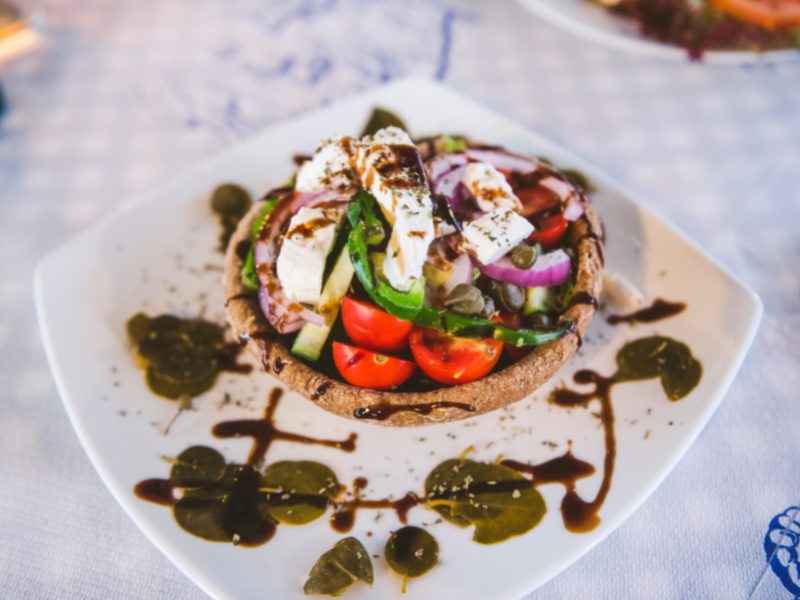 This dish features Santorini cherry tomatoes, local cucumber (katsounia), capers, local chloro goat cheese, and wheat rusks for crunch.
Other starters might include ntomatokeftedes (fried tomato fritters with local Santorini tomatoes) and melitzanokeftedes (fried white eggplant fritters, also local to Santorini).
For main dishes, many chefs choose to feature either the local dish of pork with vinsanto (a locally produced dessert wine) or more classic dishes like shrimp saganaki or Greek moussaka.
Choosing the Right Santorini Cooking Class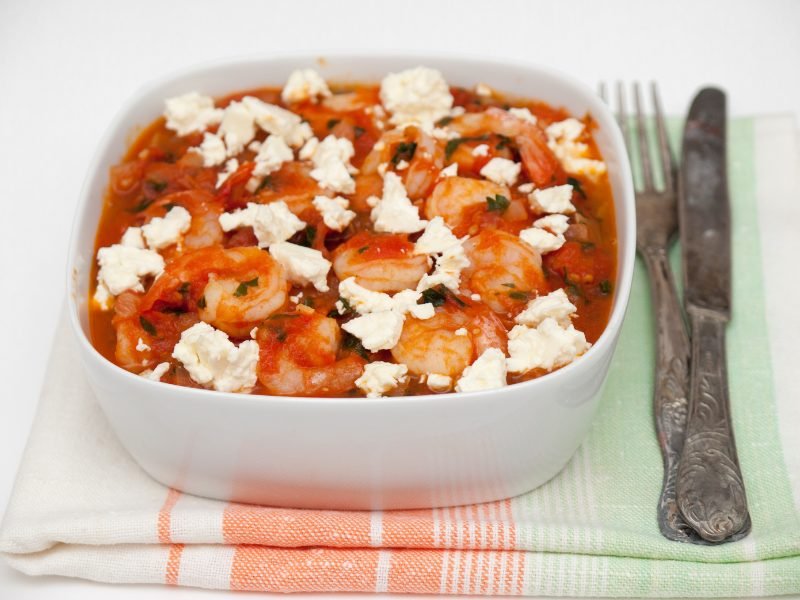 The cooking classes in Santorini all have extremely similar menus — and those menus are subject to change depending on seasonality and availability.
Therefore, I think the best way to pick a cooking class is by determining your budget, any additional experiences you want to have (such as wine tasting), and how large you want your group to be (or if you prefer a private experience).
You might also want to look at the meeting spot of the cooking class, as Santorini is a surprisingly large island!
The Best Santorini Cooking Classes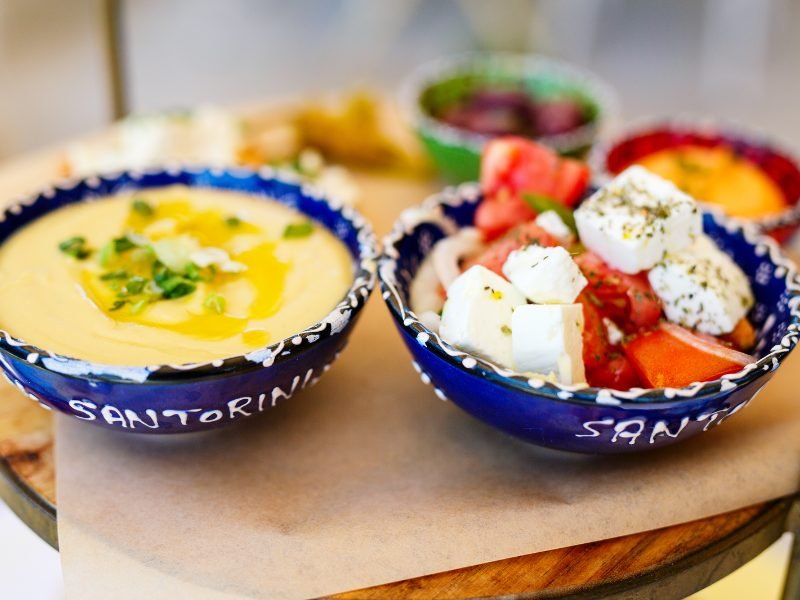 Tour Length: 4 hours | Rating: 5/5 stars with 350+ reviews | Book Now
This Santorini cooking class is the highest-rated and most-reviewed of all on this guide, making it a solid pick for a small group class experience.
That does mean it is a little pricier than some options on the list, but it does have some more generous offerings that make it stand a cut above the rest.
For one, you are served wine and appetizers as soon as you arrive, so you can be sure you won't be hungry while you cook!
For another, you'll learn to cook in an incredible Santorini-style cave house that was built in the 1950s. This is a unique opportunity to see a cave house that hasn't been turned into a hotel!
"What a fun experience!! I was a solo traveller and wanted to experience cooking real Greek dishes. I felt right at home with a large class and endless wine whilst cooking! And the dishes were so delicious!! Giorgos was fun and a joy to learn from and it was a pleasure to experience all the love and passion he has for his food and culture. 100% recommend if you're visiting Santorini." – Gray

Read more reviews here!
Another thing this cooking experience has going for it is that you get to eat your delicious home-cooked meal on a lovely terrace, with free wine, coffee, and dessert served with your meal.
This cooking class is limited to 15 students, and you'll have a chance to get hands-on in the creation of five different delicious Greek dishes.
You might not get to partake in making every single component of the meal since there are up to 15 students at a time, but you'll be given a recipe book at the end so you definitely won't lose out!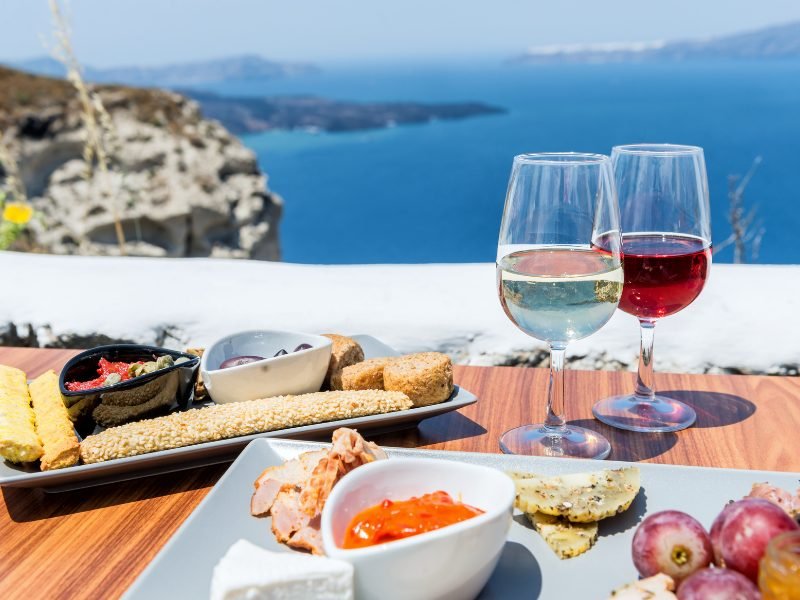 Tour Length: 6 hours | Rating: 5/5 stars with 80+ reviews | Book Now
Want to learn about the wines of Santorini just as much as the gastronomy?
This is the perfect tour for you, combining the two in a masterful lesson with sommelier-guided knowledge, chef-led cooking classes, and so. many. wine. tastings.
At least 8 tastings at two wineries at a minimum, to be precise.
"We have never learned so much on a wine tour while having an amazing time. Aggelos was our tour guide & he was very knowledgeable & made our group bond & have a great time together. We didn't know anyone else but after a few glasses of wine & plenty of laughs, we felt like we have all known each other for years. This tour is a great way to see the wineries of Santorini & learn about Greek food also. The views are spectacular & the wine is some of the best!" – Claire

Read more reviews here!
Wine tasting is often best experienced as part of a guided tour so you don't have to worry about drinking and driving in this combined cooking class and winery tour!
This tour is great for time-savvy travelers who want to do it all but don't want to run themselves ragged: combining a cooking class with a wine tour is smart when it comes to maximizing both time and fun!
Note that while some text on the website and past reviews refer to it as a small group tour, you can only book private tours as of right now.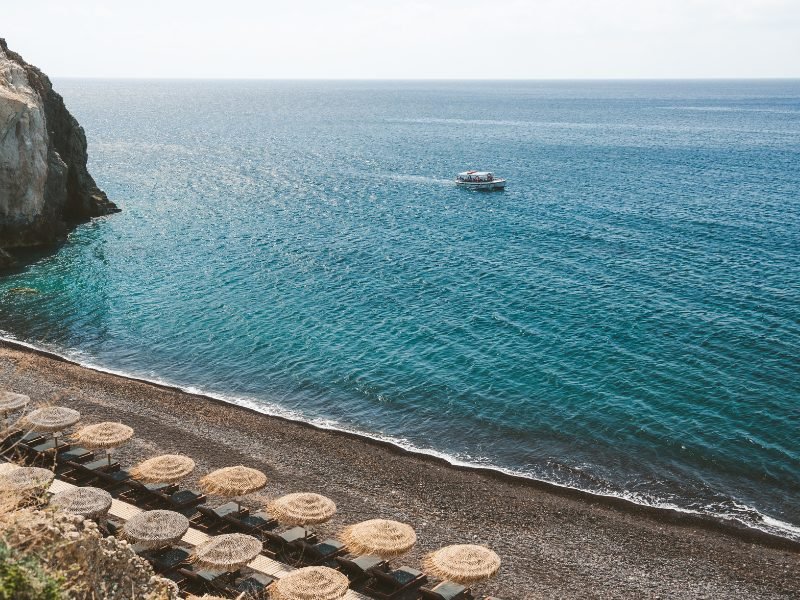 Tour Length: 4 hours | Rating: 5/5 stars with 4+ reviews | Book Now
Are you one of those people who hike to eat? Or do you just like to make the most of your time on vacation?
This tour combines a hike, a dip in the sea, a cooking class, AND a delicious meal — all in one easy, 4-hour outing. BAM.
A cooking class and tour that efficient gives you plenty of time to explore more of Santorini at your own pace, while also giving you insight that independent travel would not.
"Absolutely wonderful! Pick up was so easy, our guide Seb was a ton of fun to hang out with, the hike was beautiful and Seb was so engaging during it. We loved the swim in the Sea before cooking class. And the cooking class was so authentic and tasty with incredible views! I would 100% recommend!" – Kirsten

Read more reviews here!
People love the pacing of the experience, starting with an easy to moderate hike that you can finish off with a dip in the Mediterranean.
After that, you'll dry off and start your cooking class refreshed, excited, and definitely a little hungry.
After all, everyone knows that food tastes better after you've gotten your heart pumping, so your meal is bound to taste even more amazing than it otherwise would.
Allison Green is a former educator turned travel blogger. She holds a Masters in Teaching and a B.A. in English and Creative Writing. Her blog posts merge her educational background and her experience traveling to 60+ countries to encourage thoughtful travel experiences that both educate and entertain. She has been a speaker at the World Travel Writers Conference and her writing, photography, and podcasting work has appeared in National Geographic, CNN Arabic, CBC Canada, and Forbes, amongst others. Now based in the San Francisco Bay Area where she grew up, she has also lived in Prague, Sofia, and New York City.