I had a feeling I would love Porto, the Portuguese city famed for its port wines and beautiful tiles… and after 2 days in Porto, I knew I was right.
This city on the Douro truly lives up to all its hype. Its azulejos were stunning, its food incredible, and its vibe enchanting.
Everything was so supremely walkable that we barely hopped on transportation at all during our 48 hours in Porto.
That was except for the occasional Uber when we got lazy, as we stayed a bit outside of the city center (something I probably wouldn't do on a repeat trip).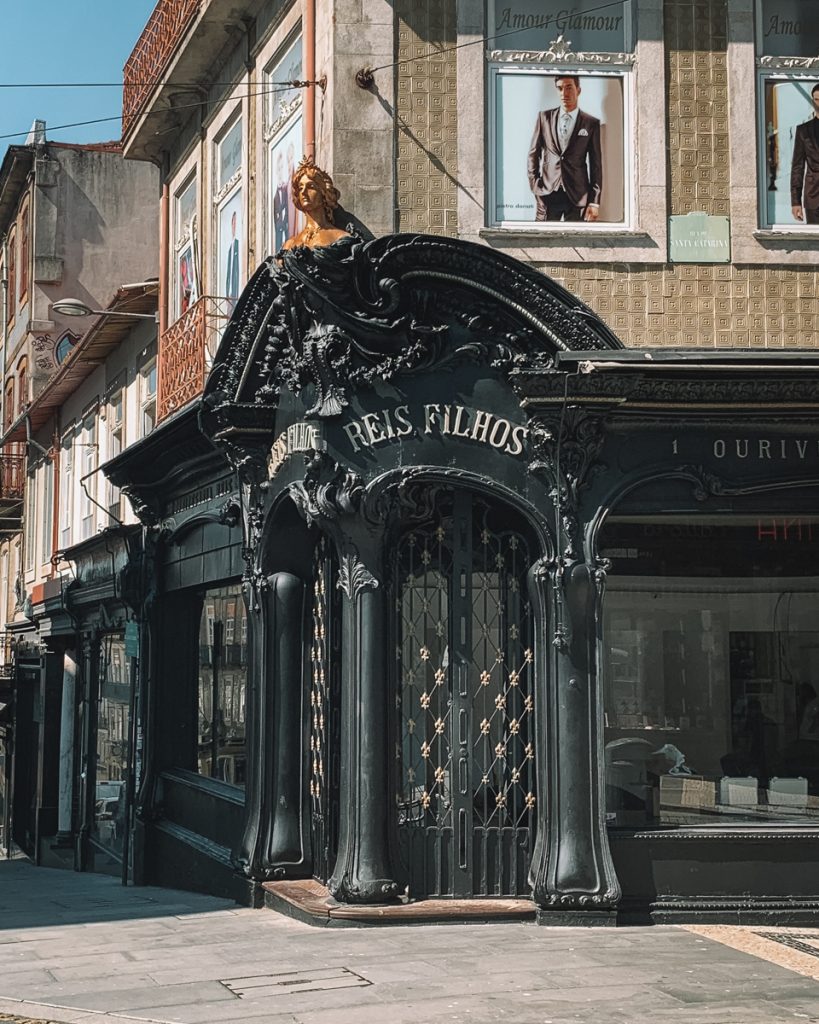 Note: This post contains affiliate links, which means I may receive a small commission if you purchase something through one of these links. Thank you for supporting the free content on this site! For more information on affiliate links and cookies, see my disclosure page for more details.
In the end, I was surprised by how much we were able to do with just 2 days in Porto.
If you'd like to snag my Porto itinerary, I've made it quite easy for you — just follow it below.
Note: Another option is to do one day in Porto and spend the other on a day trip to the Douro Valley for wine tasting, or you can rent a car and go on a road trip!
Where to Stay in Porto
For our trip to Porto, we opted to stay near the train station at Campanhã as it was close to where our friends live.
While it was good for our stay, I wouldn't recommend it to other travelers who only have a few days in Porto.
We stayed across from Quinta Bonjoia and the walk to the metro was about 20 minutes on a street more meant for cars than people – meaning we ended up using Uber basically the entire time we were in Porto!
It wasn't expensive (rides into the city from Campanhã are only about 4-5 euro) but it wasn't exactly optimal. We stayed at Bonjoia Apartments and it was fine, but nothing too special.
I'd recommend instead staying somewhere in the center on the Porto side, as accommodations in Porto really aren't that expensive and there's no need to stay so far away.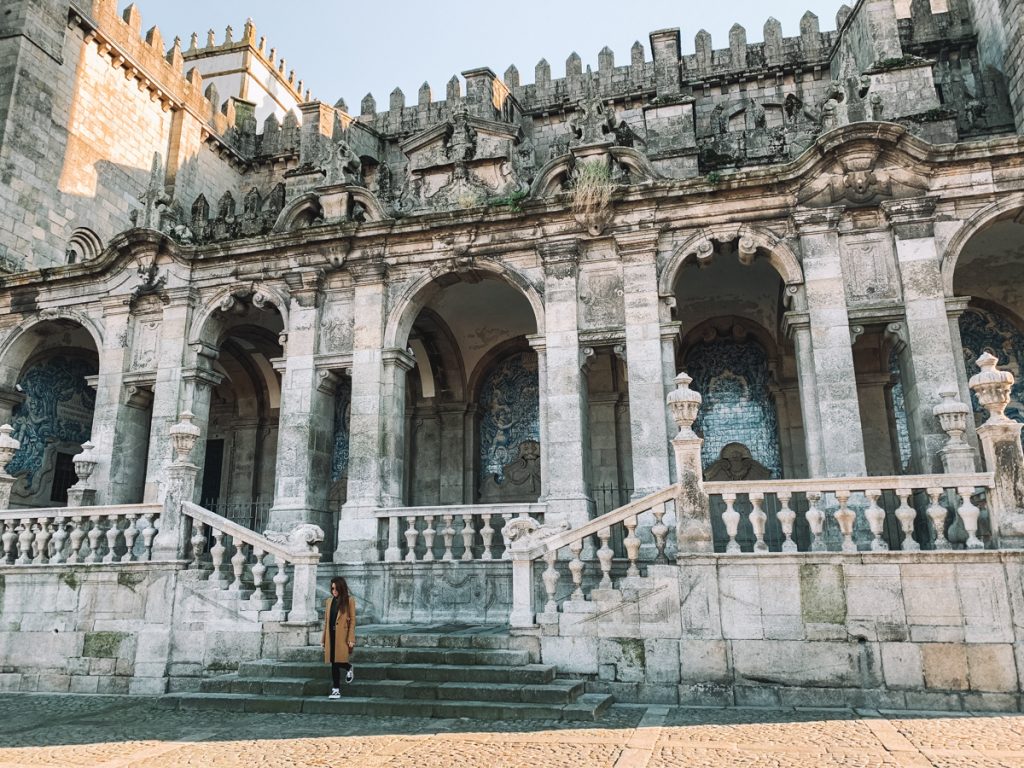 Budget
For a unique place to stay on a budget in Porto I'd opt for Zero Box Lodge. This hipster hotel has a unique design, fun vibe, and rave reviews.
Its design reminds me of a capsule hotel, but with far more privacy as each 'box' is quite large and private and comes with their own en-suite bathroom (no sharing!) and air conditioning in summer.
The location is ultra-central, as São Bento train station and Mercado do Bolhão are only a short walk away.
At the property, you have a fun bar and restaurant as well as several public lounge areas that you can relax in if your room is feeling a bit too basic. For the price and location, it's hard to beat!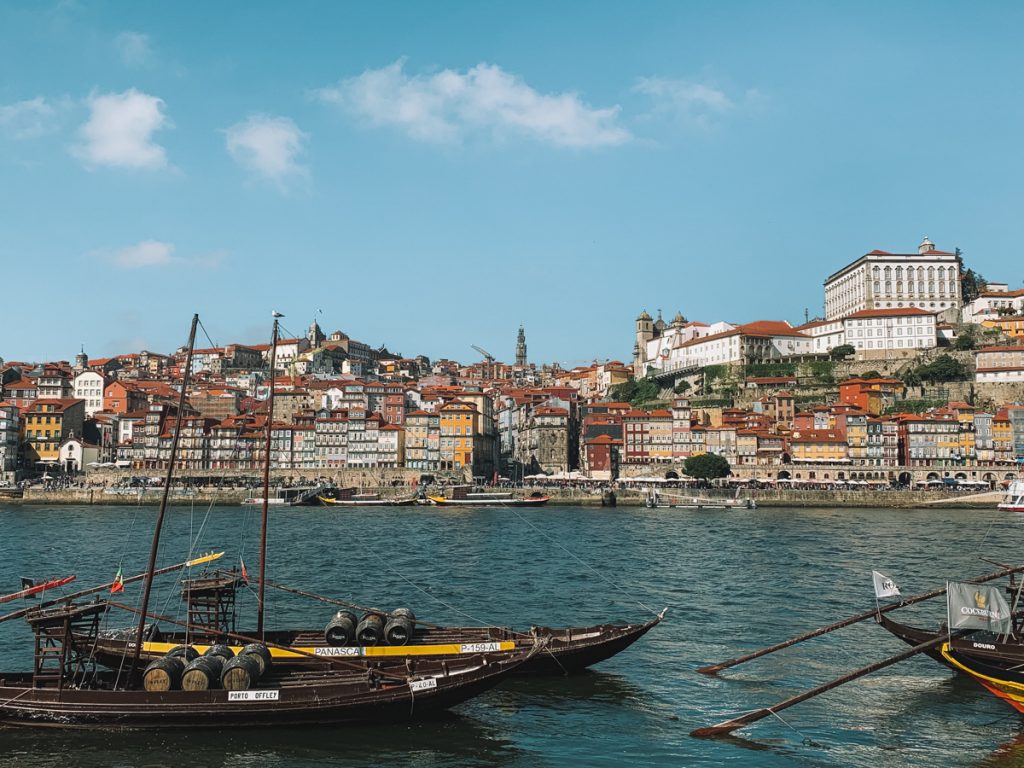 Mid-Range
If you have a little more to spend and want a more traditional hotel experience I recommend staying at Laurear Guesthouse. It's cozy, modern, and ultra-aesthetically pleasing without breaking the bank.
I love the wooden beams in many of the rooms, the natural light, the funky furniture and unique vibe of the place – this is no cookie-cutter Hilton, for sure.
Prices are surprisingly affordable given the quality of the room and the location – it's near Clérigos Tower and Mercado do Bolhão, so it's quite literally in the center of everything.
The more affordable rooms tend to book up early, so check out reviews, photos, and prices here.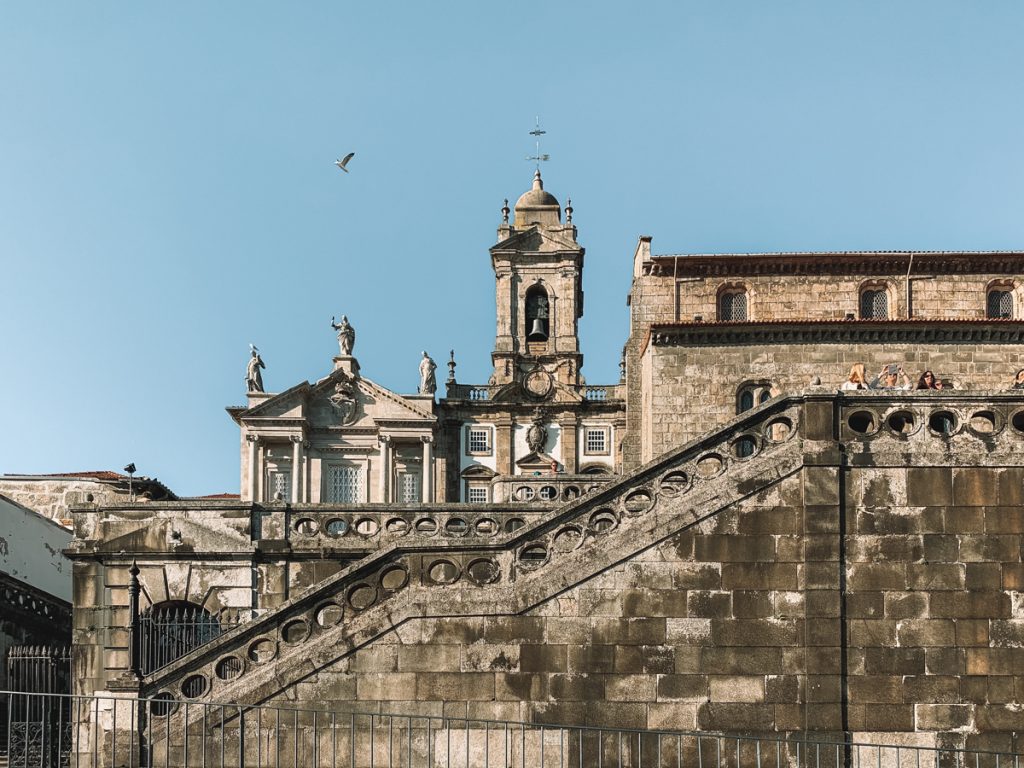 Luxury
Porto is much more affordable than other European cities so when you opt for luxury you'll often end up getting a great deal, as luxury properties cost perhaps half of what you'd pay in places like Barcelona or Paris.
One great example of this is Infante Sagres, a 5-star luxury historic hotel that's a member of one of my favorite hotel groups, Small Luxury Hotels of the World.
Renovated in 2018, the hotel features antique chandeliers and a sundeck with a plunge pool for cooling off on hot days.
The design is quintessentially Portuguese with touches like tilework and neo-Baroque detailing that will make you swoon. Rooms are massive, soundproofed, and offer gorgeous views over Porto, and the location near Aliados couldn't be more perfect as you're a short walk from virtually everywhere in Porto.
The hotel has a variety of rooms that suit a range of budgets, so check out photos, reviews, and prices here.
Best Time to Visit Porto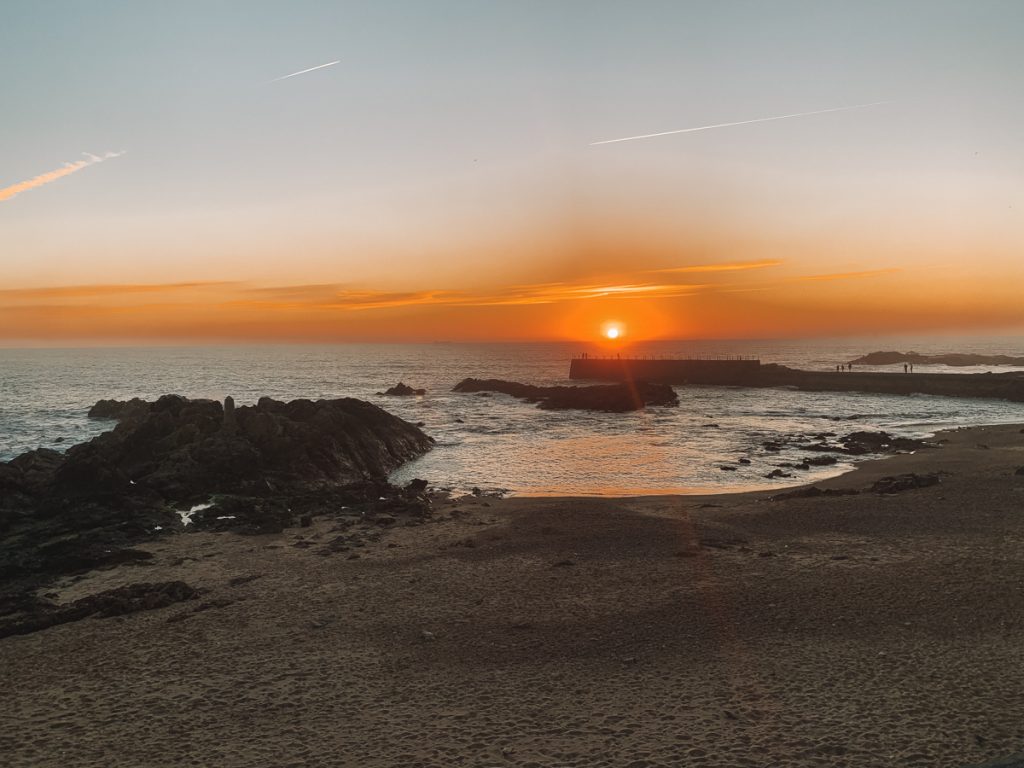 Porto is a beautiful city to visit any time of year, but there are certainly some times to visit that are better than others!
Porto has a long and protracted rainy winter. Friends who live in Porto say that it often rains more than half of the days from October through March!
Personally, I visited in mid-March and had beautiful warm and sunny weather — but March is still very much a crapshoot month when it comes to rain.
April through June is one of the best times to visit Porto. The summer rush has not begun, the rain has subsided quite a bit, and it won't quite have the crowds of July and August.
July and August can be quite hot and humid, and as Europeans travel the most during the months of July and August, Porto can get incredibly busy during this time.
If you're wanting to swim and sunbathe, though, this might be the only time that it's hot enough to enjoy the freezing cold water at Porto's beaches!
In September and early October, Porto again experiences a shoulder season with pleasant weather and fewer crowds, making it another good time to visit Porto.
Two Day Porto Itinerary, Day 1
Start your day at the azulejo-covered Chapel of Souls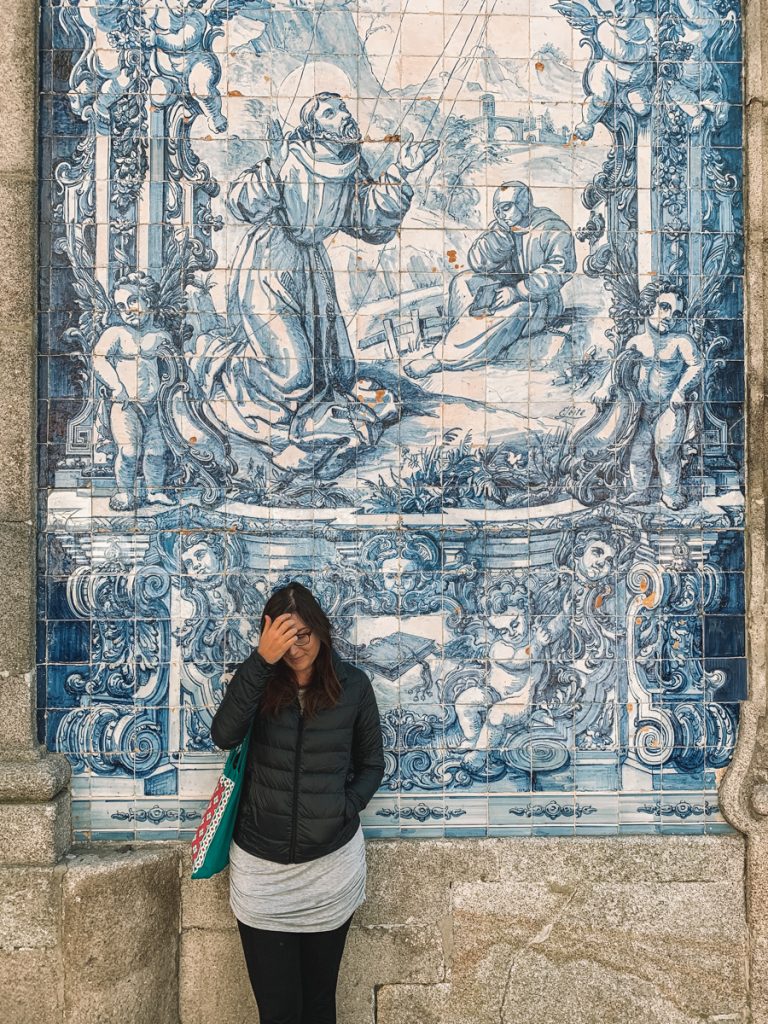 While Porto has no shortage of beautiful tile-covered buildings, one of my favorites is the small but stunning Chapel of Souls (Capela Das Almas).
While its interior is rather plain (it's free to enter!), just your standard church, its exterior is absolutely stunning.
In fact, I'd bet its exterior wall is one of the most photographed walls in all of Porto. It's also a great location to start exploring Porto's center by foot.
Love azulejos, Porto's distinctive blue-and-white tile work? Here are more of the best places for azulejos in Porto.
Visit the (temporarily-located) Mercado do Bolhão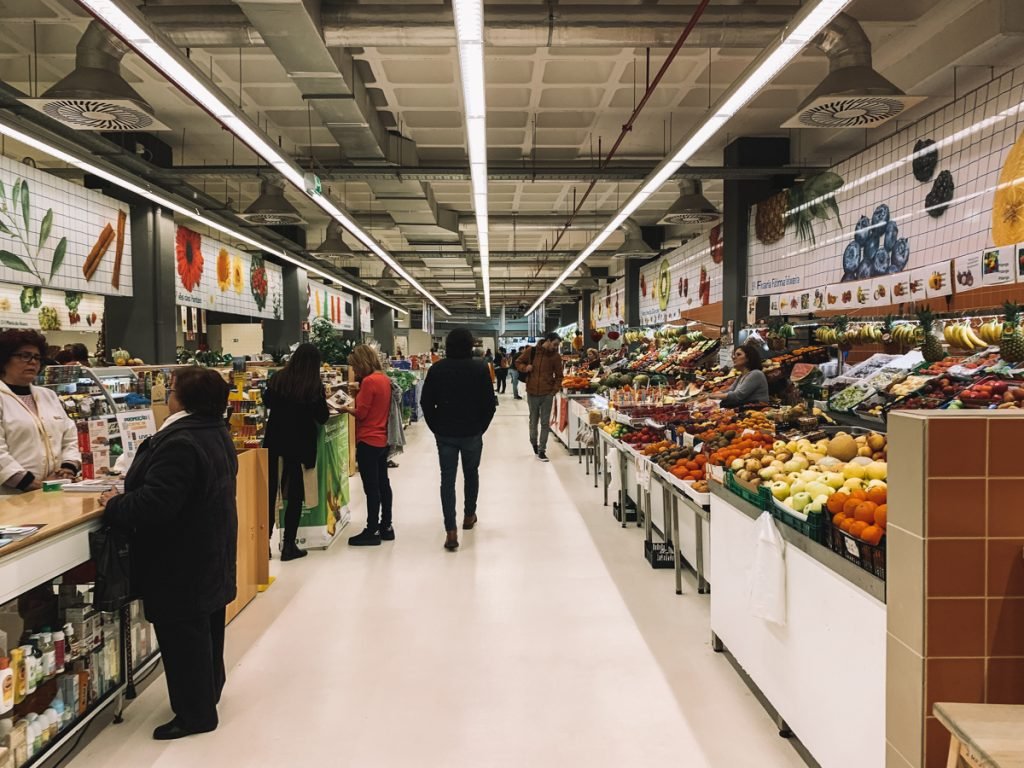 Normally, the Mercado do Bolhão is one of Porto's most famous landmarks!
Unfortunately, its neoclassical building which dates back to the early 20th century is currently being renovated, and it's now housed in a temporary location on the basement level of the La Vie Shopping Center.
Update: This was true during my 2018 visit, and I just checked, and the renovations are still incomplete and it's still in the same temporary location.
Despite its temporary location, I was actually still really impressed by the market and would highly recommend it to travelers anyway.
Sure, you won't get to see the historical building, but I loved sampling port and ginjinha (a cherry liqueur best enjoyed out of an edible chocolate cup), window-shopping for colorful canned fish, and photographing the market.
Check out the traditional shops near Mercado do Bolhão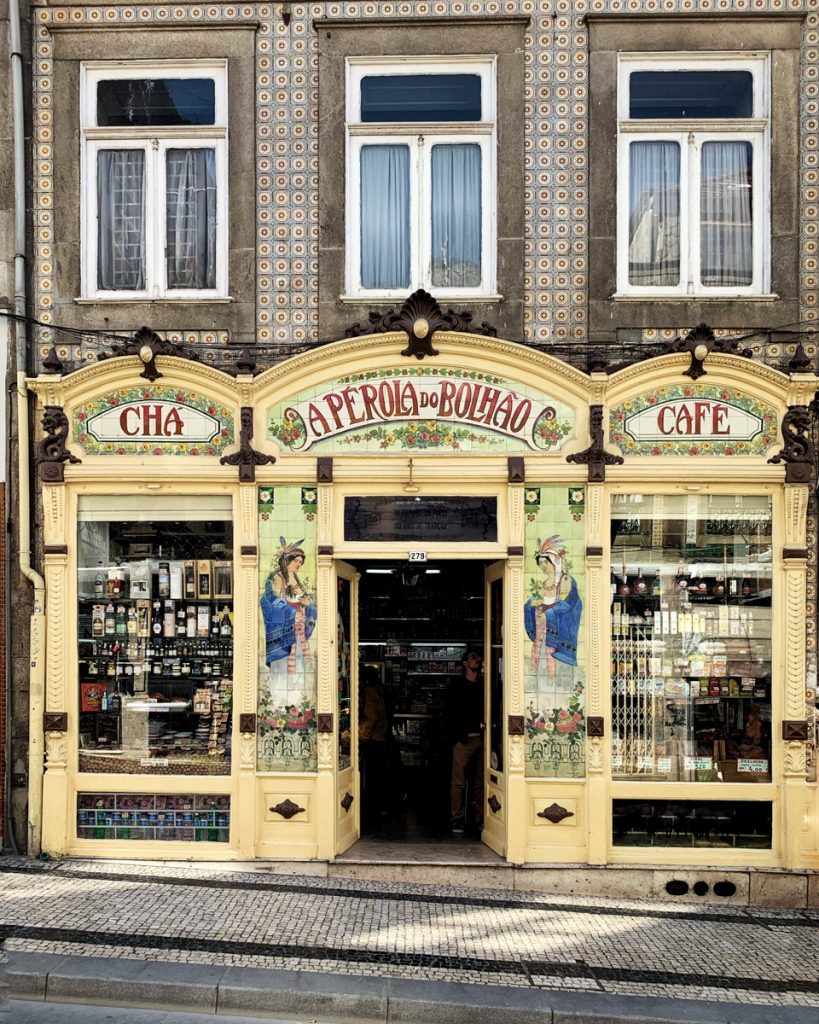 While the market itself is closed, there are several cute stores which exemplify the turn-of-the-century aesthetic of the market — all of which are open during the renovations.
My favorite was the insanely photogenic A Pérola do Bolhão, which is basically a Wes Anderson dream come to life.
The other one nearby, Mercearia do Bolhão, is not quite as photogenic but well worth a wander regardless.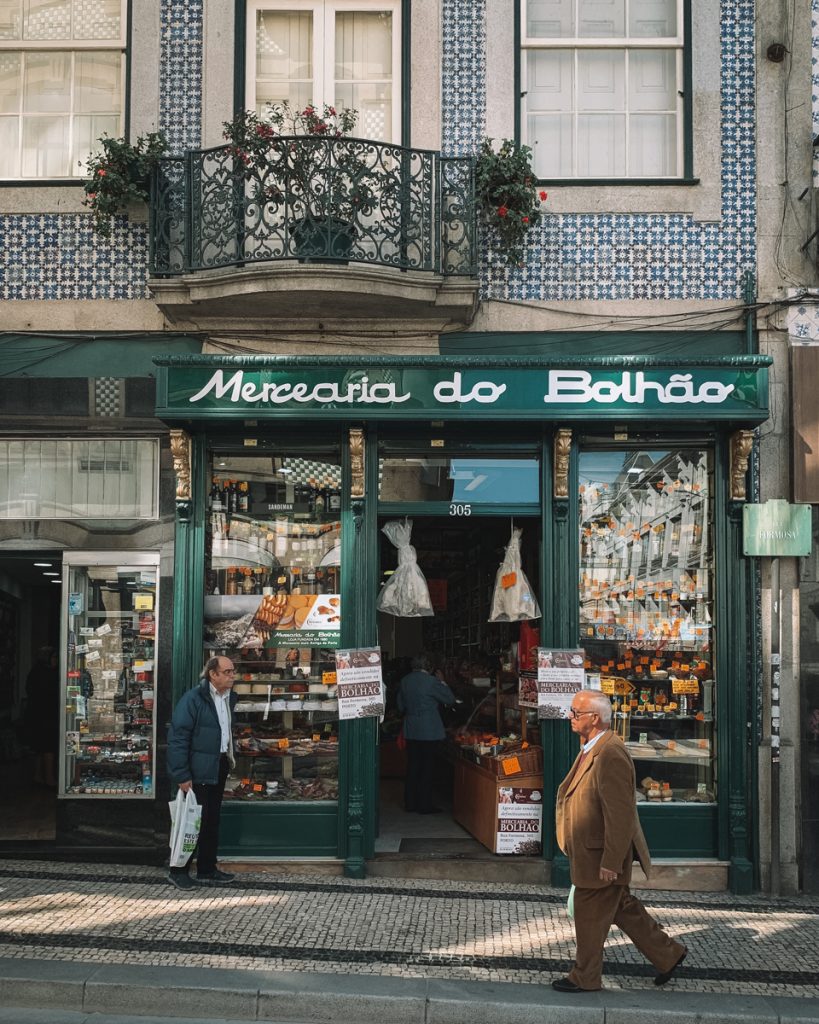 Stroll past the tiled Church of Saint Ildefonso
Not the most beautiful of Porto's azulejo-covered churches but still so centrally located that it's worth a quick gander, the Church of Saint Ildefonso is located right near Batalha Square, one of the busiest squares in Porto.
The church dates back to 1739 and has proto-Baroque architectural detailing. The façade was added in 1932 and features Porto's quintessential azulejos.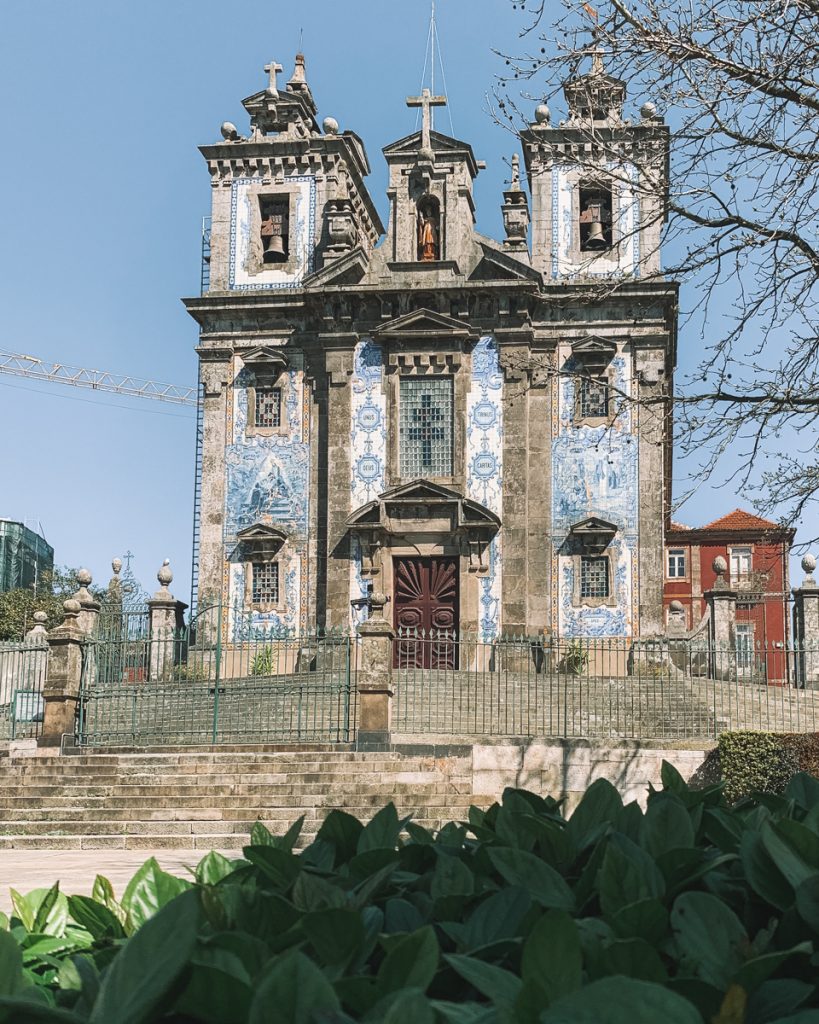 Both times I walked past it, the Church appeared closed, but it's apparently open to visitors and free to enter.
Gape at the most beautiful train station in the world
I love me a gorgeous train station, and boy, does Porto ever deliver!
Covered floor to ceiling with full-scale azulejo murals (seriously, look at me to get some perspective on how huge they are), São Bento is an unmissable stop on any Porto itinerary.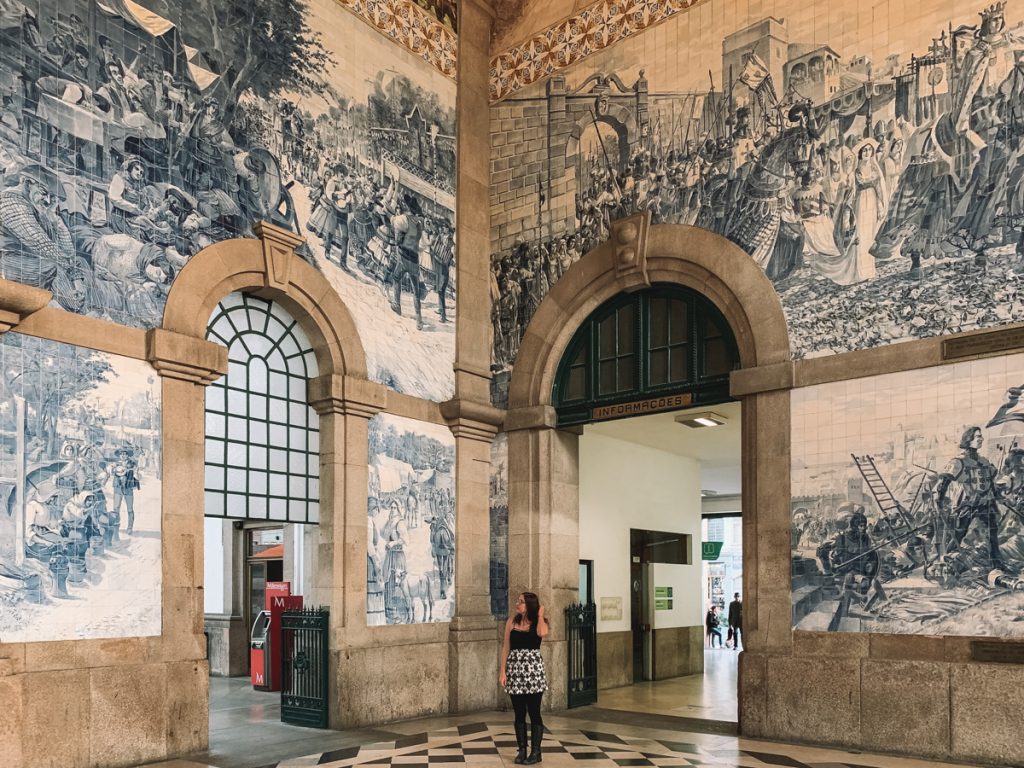 It was completed in 1916, made with tiles from the famous Sacavém factory near Lisbon, one of the best factories for ceramics and tilework in all of Europe.
The 'paintings' of the train station are composed of around 20,000 tiles, all created between 1905-1916 by the azulejo artist Jorge Colaço.
The paintings represent important moments and battles throughout centuries of Portuguese history, from the 1140 Battle of Valdevez to the conquest of Ceuta (the first Portuguese colony) in 1415 and beyond.
Note: This place can get quite crowded, so watch your belongings! Pickpocketing isn't as rife in Porto as it is in Lisbon, but you need to be mindful nonetheless.
While travel in Europe is safe, pickpocketing is a major issue. Thwart would-be pickpocketers with a chic, sleek backpack with double-interlocking zippers, slash-proof construction, & RFID blockers! I've carried this PacSafe backpack to 30+ countries with me, and it's my #1 travel companion. Pick from one of seven colors — I have and love the classic black one!
Walk past the lovely Town Hall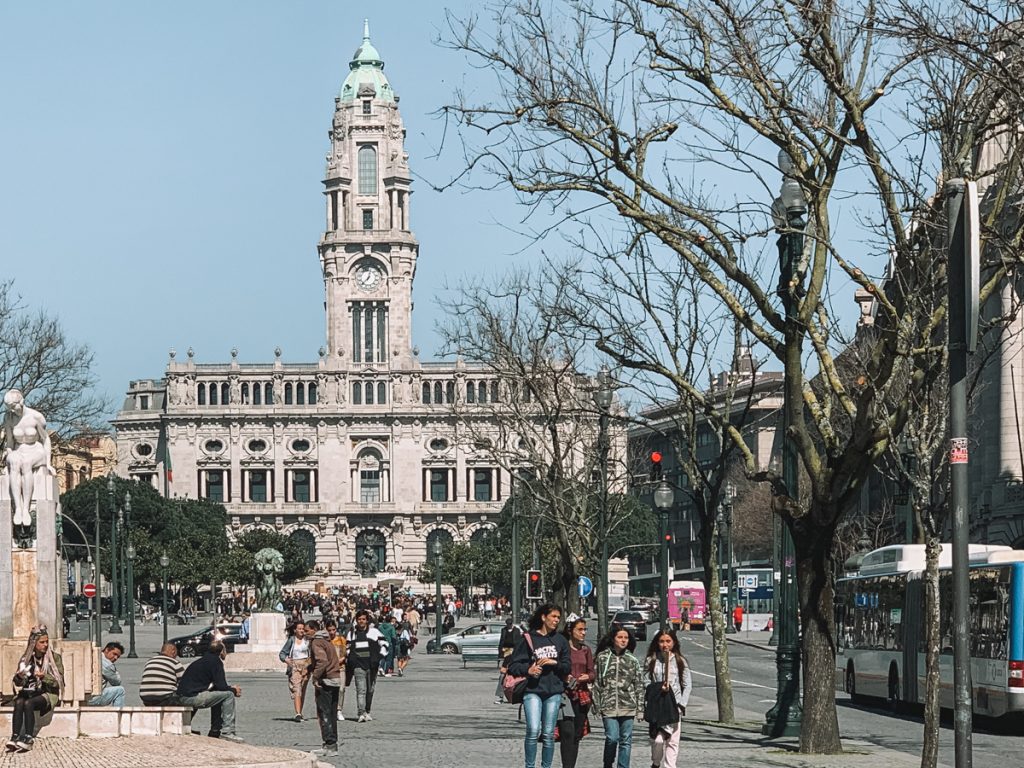 As you cross the main boulevard in Porto, Avenida dos Aliados, you'll notice the Câmara Municipal (Town Hall) front and center.
Its beautiful structure dates back to 1957 and it's a symmetry-lovers dream.
While you could certainly go inside (entrance is free), I was feeling rather hungry and just wandered past it on my walk to lunch… which is up next on this Porto itinerary!
Eat delicious Portuguese food at a churrasqueira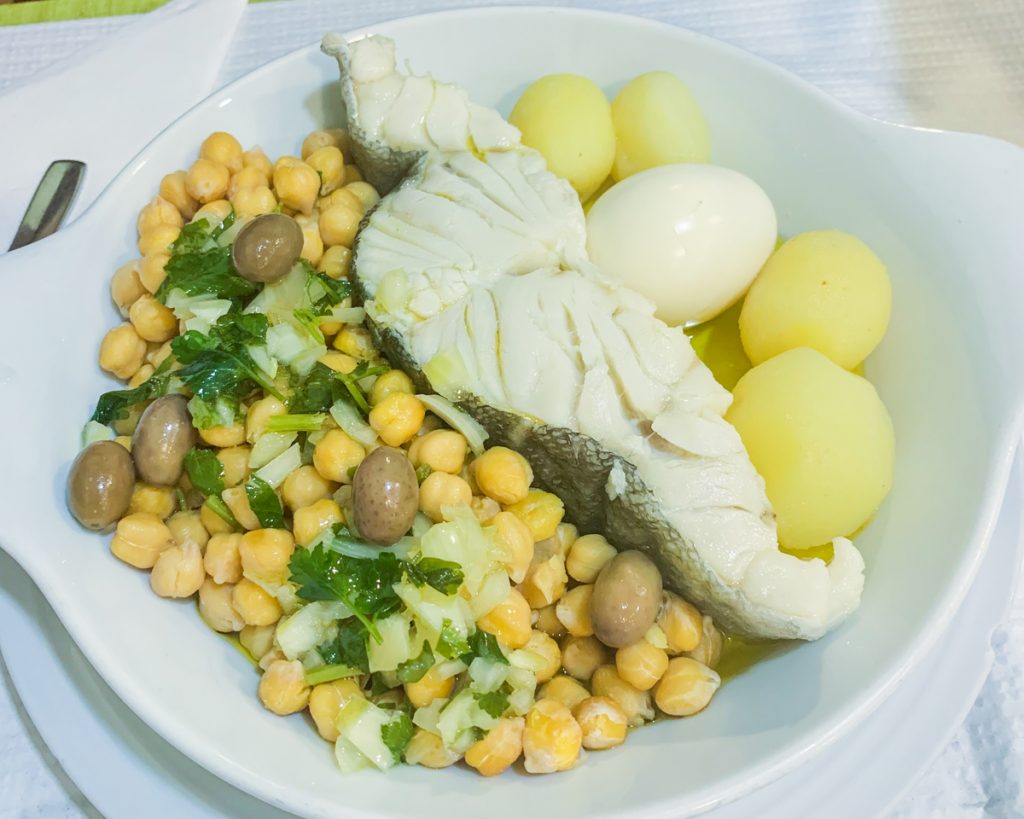 I was visiting Porto with my Brazilian boyfriend, and naturally, getting some churrasco (Brazilian BBQ) was on the agenda… seeing as it can be a bit hard to find in Bulgaria, where I was living at the time.
Halfway through a fit of hanger, I was delighted to find a place on Google maps serving up churrasco – or so I thought, as I accidentally led us to a churrasqueira and not a churrascaria. Whoops?
As far as mistakes go, it was a delightful one, because we ended up eating one of the best Portuguese meals of our trip.
I was in love with the bacalhau with chickpeas and potatoes (and a whole boiled egg, because #Portugal), and the BBQ half chicken we got was also fantastic.
If you want traditional Portuguese food that's not a tourist trap, I highly recommend Churrasqueira Moura Lda.
Just don't tell your boyfriend you found a Brazilian restaurant.
Visit Harry Potter heaven / Instagram hell at Livraria Lello (or don't)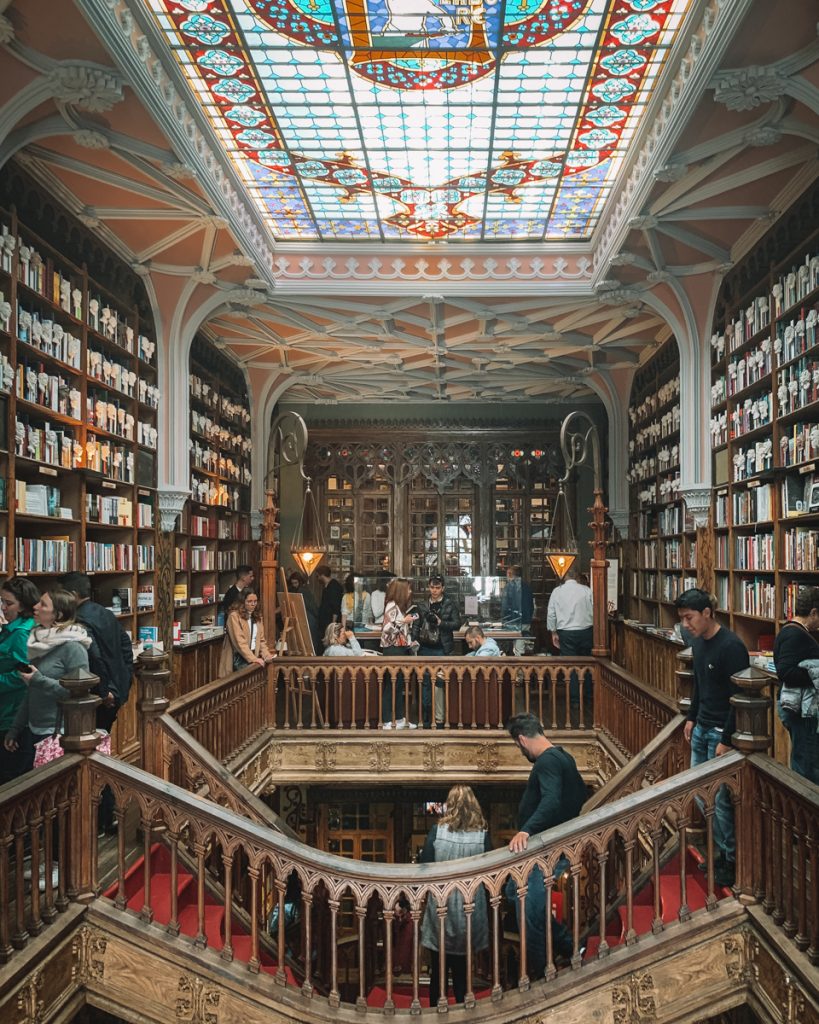 I'm a bit conflicted as to whether to include Livraria Lello on my Porto itinerary as I had mixed feelings about this place. I decided to include it just because others probably will want to go.
My two cents? While the bookstore is absolutely beautiful (and you can see why it inspired J.K. Rowling while she was living in Porto), it's basically a melee of Instagram vultures all angling for ~the shot~.
And unless you visit at the exact opening, you likely won't get "the shot," because it's just so freaking crowded and full of people selfie-ing. Entrance is 5 euros and you have to buy it down the street.
You can use that 5 euros towards buying something, but honestly, I was halfway to an anxiety attack in there because it was so crowded and left without wanting to make a purchase… and everything in there is about 5 euros more than it should be, anyway, so it's not even a good deal.
So, it's on this Porto itinerary just because I know so many people feel like they need to see it, but if you have any reservations about it or any crowd-related anxiety or claustrophobia… just skip it, trust me.
Marvel at the azulejos at Igreja do Carmo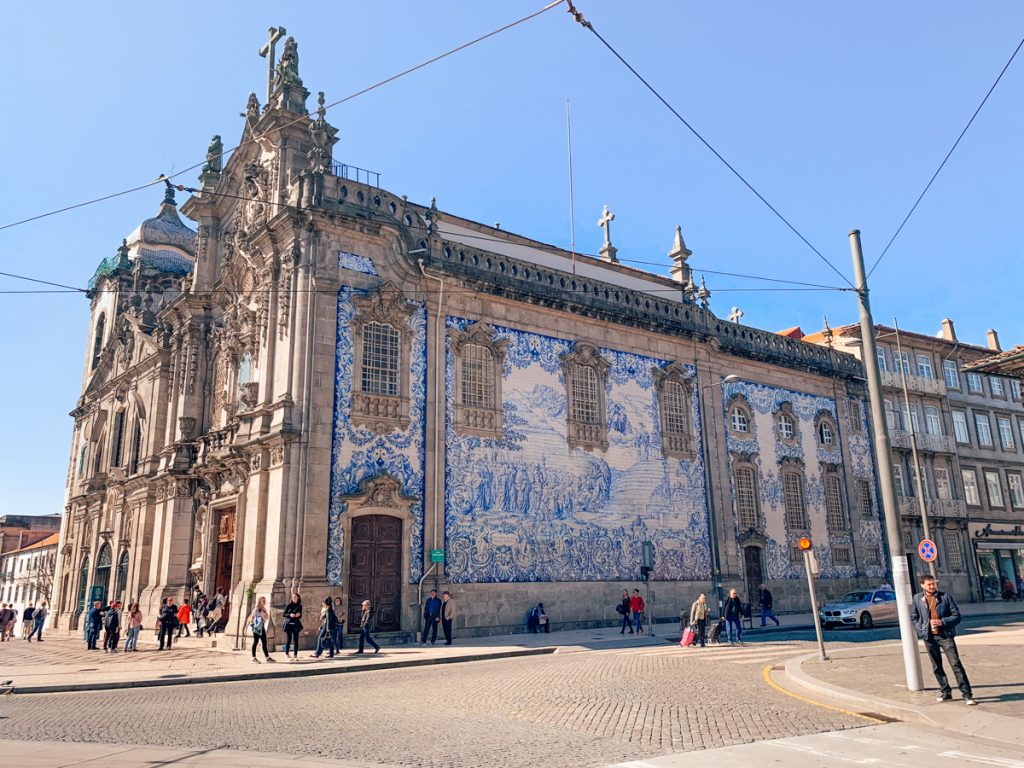 Once you've survived the Instagram Hunger Games… err, I mean Livraria Lello… head towards the stunning Igreja do Carmo.
While it's also a popular photo spot, it's immensely more enjoyable here, probably because you can actually move without getting glared at.
Of all the azulejo-covered church facades, this and Capela das Almas are tied for my favorite, and both are absolutely worth going to.
Ascend the lovely Clérigos Tower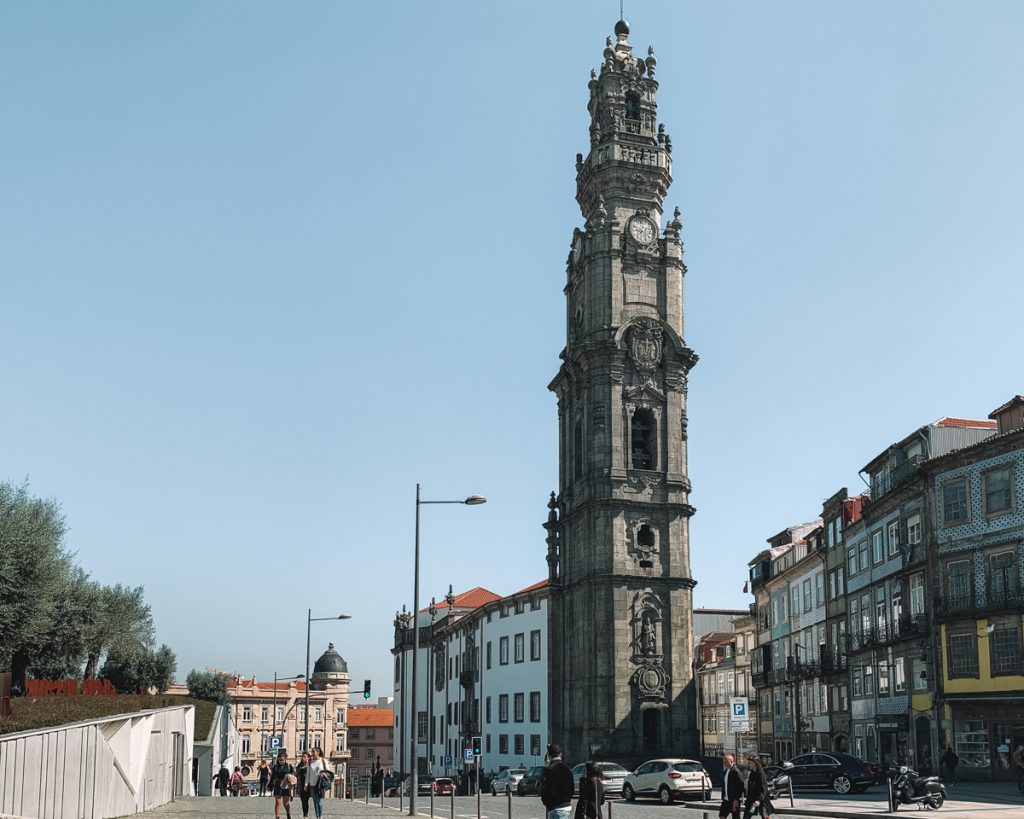 The Clérigos Tower is quite popular amongst travelers and even in March we had to wait about 20 minutes in line to ascend the tower.
I didn't mind the wait as it meant that it wasn't too crowded at the top as they did a good job managing the crowds!
The stairwell up to the top viewing platform is extremely narrow, and sometimes there are other people coming down as you're coming up and vice versa, so it's definitely not for the claustrophobic.
If you can stomach the stairs and the tight fit, though, the views are entirely worth it.
The museum that you can walk through before climbing Clérigos Tower is rather interesting and I really loved the beautiful rose-pink interior of the attached church you can visit.
Entry to the museum and tower costs 5 euros, but you can buy a combined ticket which includes other Porto sights which may be worth it depending on what you want to see.
Take the bus (or Uber) to the Castelo Do Queijo
For those who speak Portuguese… unfortunately, no, the Castelo do Queijo is not indeed made of cheese.
It is, however, a really interesting fortified structure right on one of Porto's beautiful (but frigid) Atlantic beaches, so it is well worth a visit.
It's especially lovely if you can time your visit so that it's close to sunset as we did… but that's easier to do in March when we went than in summer when most people visit Porto.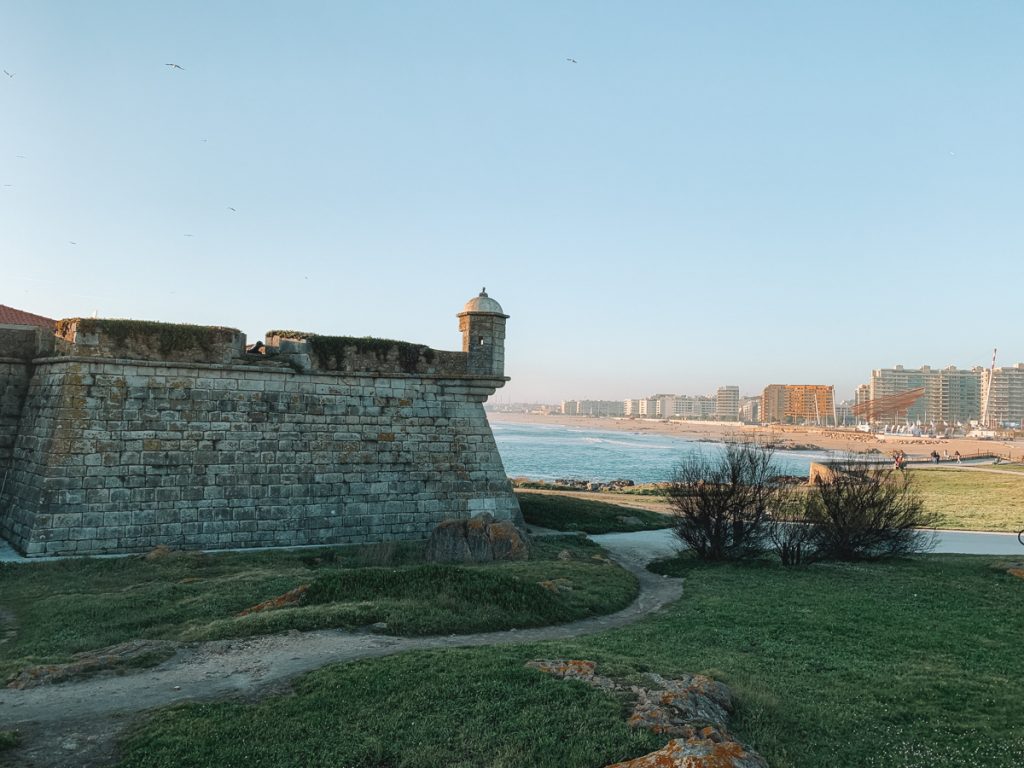 The fort's current structure dates back to 1661 and entry is just 50 cents! It closes at 5 PM, so we just missed visiting inside it, but it was worth walking around the area and checking out the nearby beaches anyway.
If you have time, you can walk up the beach a bit towards the art installation in the neighborhood of Matasinhos, called anémona by locals for its resemblance to a sea anemone.
The real name of the art piece is She Changes and it was created by Janet Echelman in 2005, in deference to the fishing heritage of Porto and Matasinhos.
You can get here by bus (the #500) which leaves from Praça da Liberdade, and it costs €2 per ride.
Walk down the beach to the Pérgola da Foz for sunset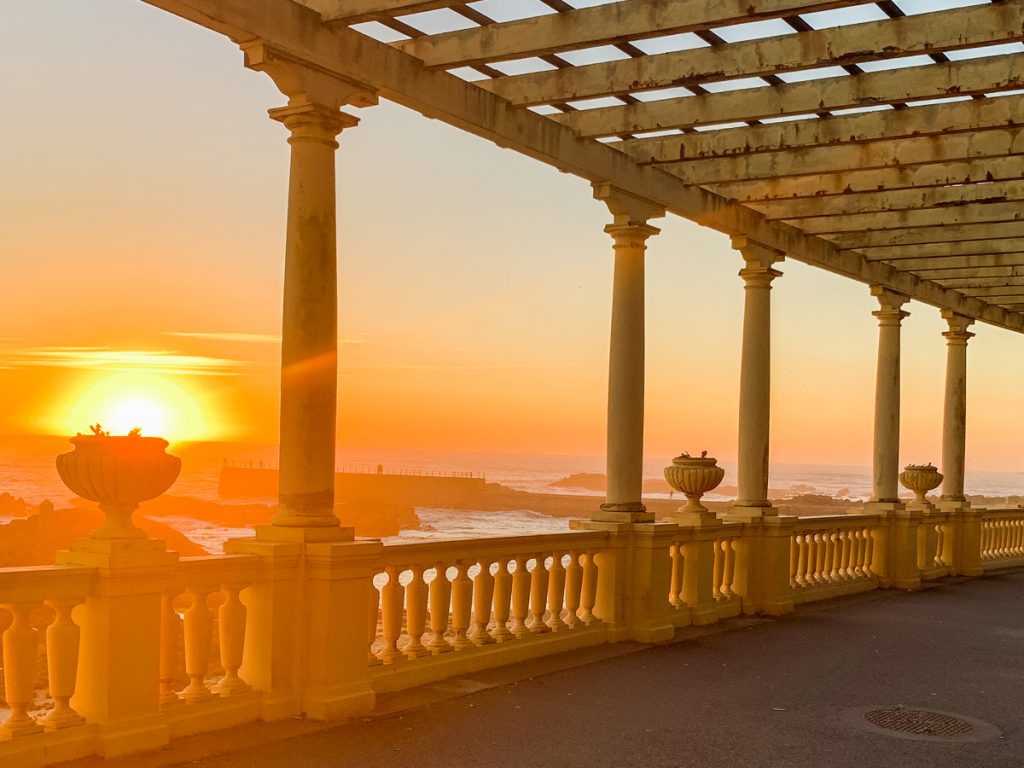 There's something amazing about exploring a city all day and getting to watch the sun sink into the ocean's horizon later that evening.
It's something I loved about growing up in California, and it's something not many other cities in the world can boast.
We watched the sunset from Pérgola da Foz and it was the perfect way to say goodbye to the sun on our first day in Porto.
Head back to the center for a delicious Mozambican meal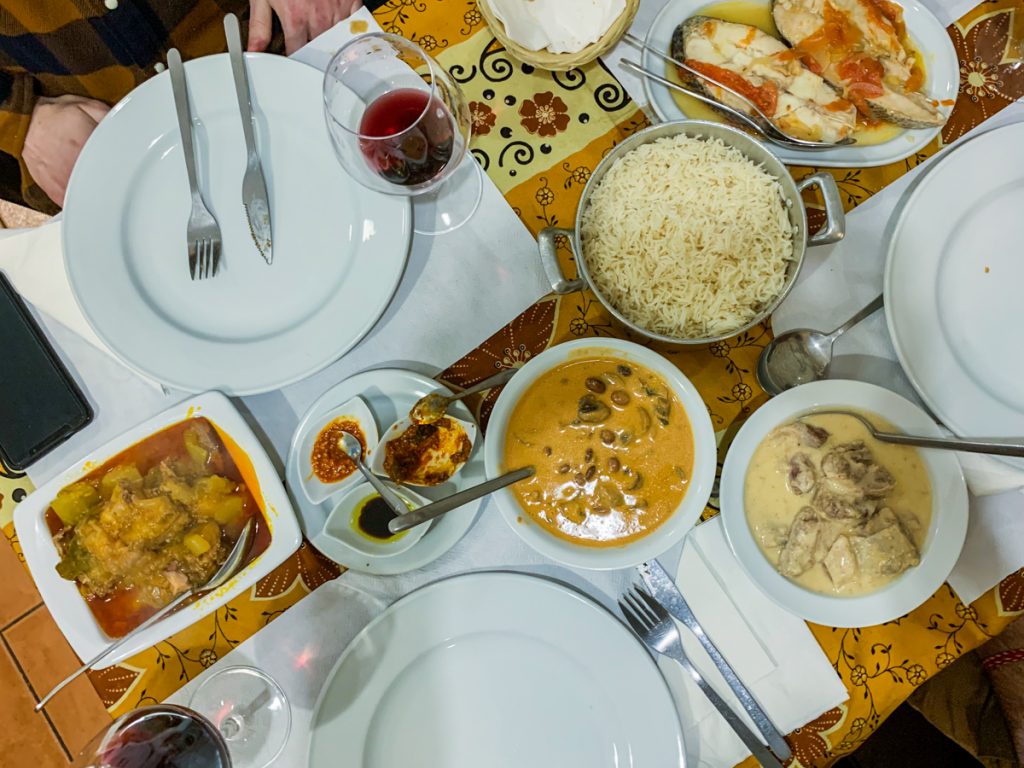 I'll forgive you if you want to eat Portuguese food during your entire time in Porto – I mean, it is delicious.
But one of my favorite things about traveling in other cities is getting to understand the demographic makeup of the city and its immigrants by exploring the ethnic food scene.
Portugal is a great place to try obscure African cuisines that are hard to find elsewhere.
This is due to Portugal's linguistic and historical relationship with its former African colonies that have led many Angolans, Mozambicans, Guineans, and Cape Verdeans to settle in Portugal.
While I've tried some African cuisines in New York and California — mostly Ethiopian, Moroccan, and Nigerian — I had never tried Mozambican food before!
I was delighted to get to know it during my recent trip to Porto, and it was really delicious.
If you haven't tried Mozambican food before and you're an adventurous eater, you really ought to!
Head to Tia Orlanda, where you can eat delicious curries and stews with a variety of meats and vegetables.
My favorite dish was the curry with beans and mushrooms. However good it sounds, it tasted 100 times better!
If you're worried about spice, don't be afraid – the food is relatively mild (this is Europe, after all) and you can add spice to your liking.
Two Day Porto Itinerary, Day 2
Start the day at Igreja do São Francisco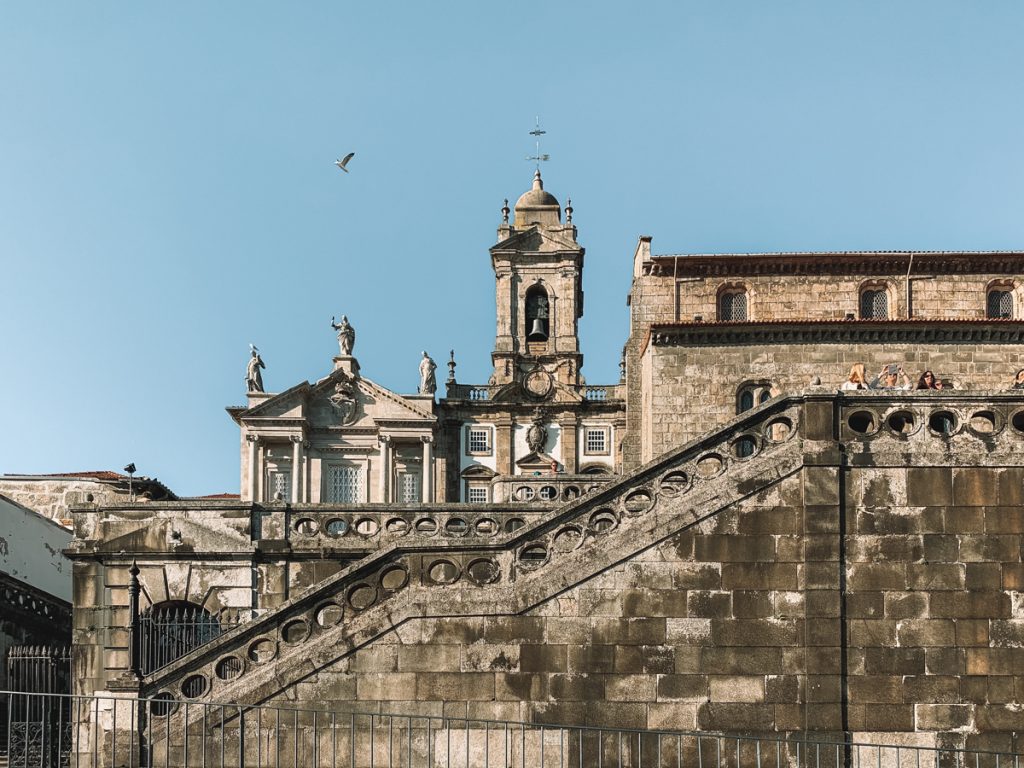 Whereas most of the churches in Porto are known for their azulejo-covered exteriors, the Igreja do São Francisco is not much to look at from the outside.
At first, it appears to be just another Portuguese church. However, the inside of it is spectacular with gold-plated everything.
And when I say everything, I mean everything – an estimated 300 kilos of gold were used for the interior.
In fact, there is so much showiness that it was literally closed for a few years, as it was believed too ornate that it was actually in-your-face for the poverty surrounding the church's area!
Admission costs €6 and includes entry to the church, museums, and catacombs, which has thousands of human bones you can see through a glass floor.
You can save 25% of the cost of admission if you have a Porto card. Keep in mind that photography is not permitted at all inside the church.
Cruise down the Douro in a traditional port boat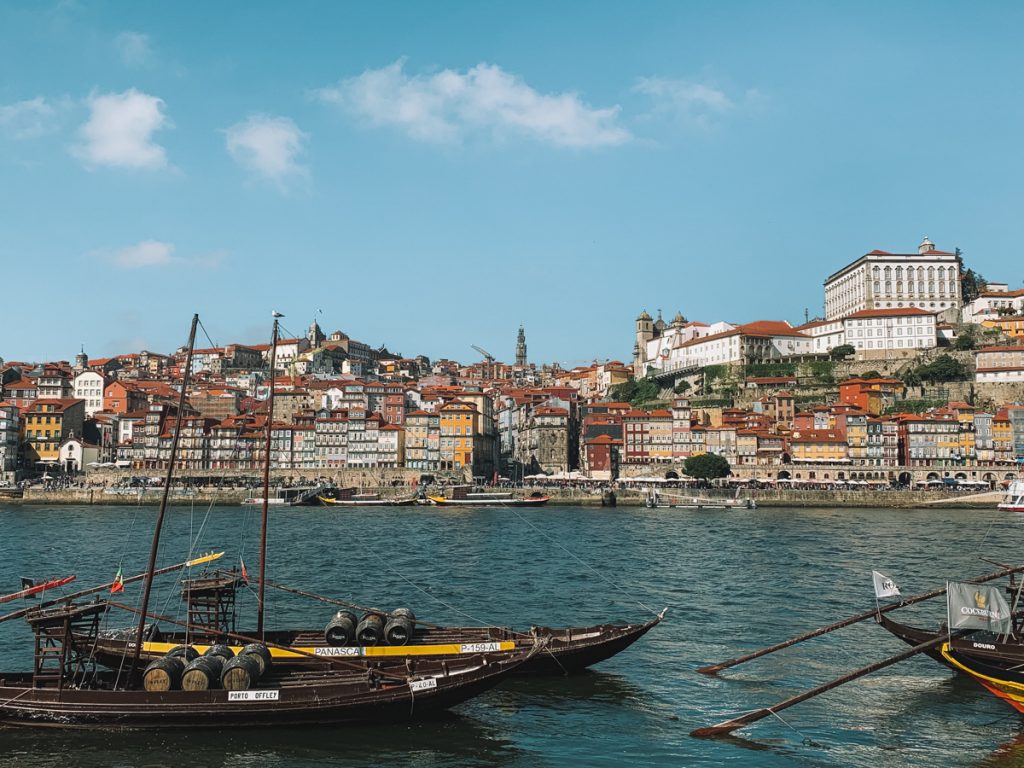 Porto is known for its gorgeous river which bisects Porto and Vila Nova de Gaia (the city on the other side of the river), with six beautiful bridges including the impressive Ponte Luiz I which spans the Douro.
A Douro river cruise through Porto is inexpensive and takes you on a quick 50-minute tour of the Douro, passing Porto's six bridges, on a traditional boat.
The Douro River is the heart of Northern Portugal's wine region — going up it would lead you straight to Portugal's famed Douro Valley wine region.
This tour has departures every 30 minutes between 10 AM and 6:30 PM, so you don't have to commit to a time in advance.
It's right by the Igreja do São Francisco, so it's great to do after you've visited the church.
Check out the Porto Cathedral and its cloisters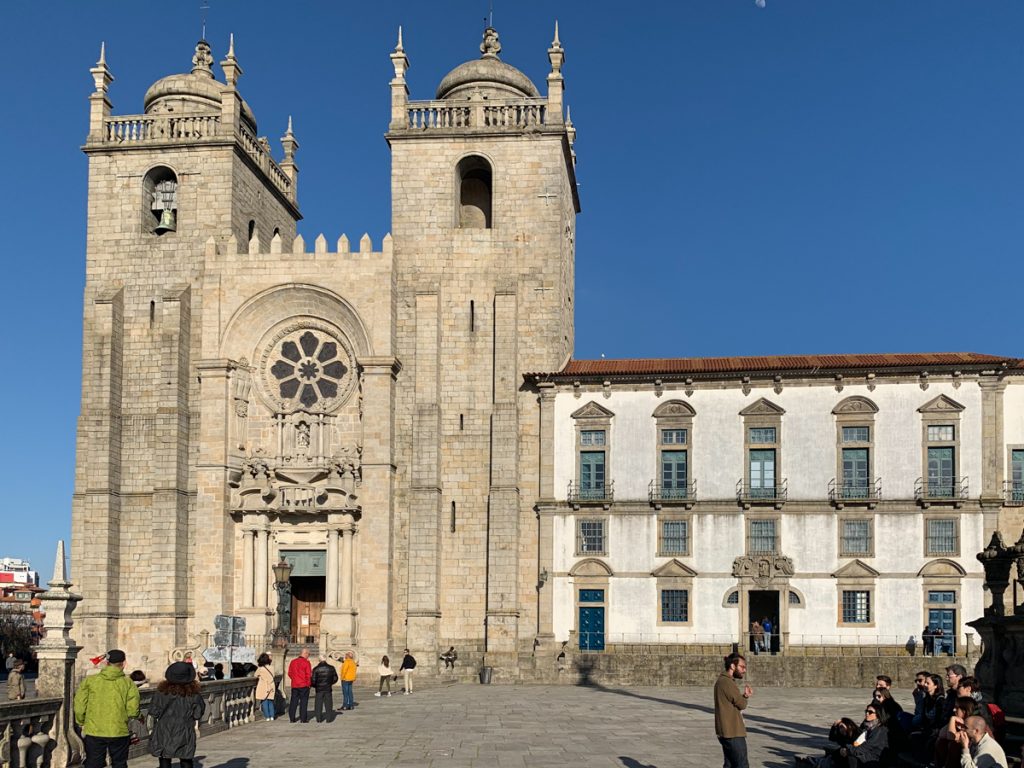 You'd be easily forgiven for thinking I'm a religious zealot for how many churches, chapels, and cathedrals I'm having you visit on this Porto itinerary… but really, I'm not trying to convert you to Christianity (far from it), but rather to my azulejo mania.
While so many of the churches in Porto have gorgeous azulejos, my favorite were in the cloisters of the Porto Cathedral.
Entry to the Cathedral itself is free, but the cloisters have a small 3 euro charge which is entirely worth it.
Personally, I preferred the cloisters to the cathedral as the entry fee dissuaded many tourists from entering (I have no idea why, as 3 euros is quite reasonable) and it was really peaceful and beautiful.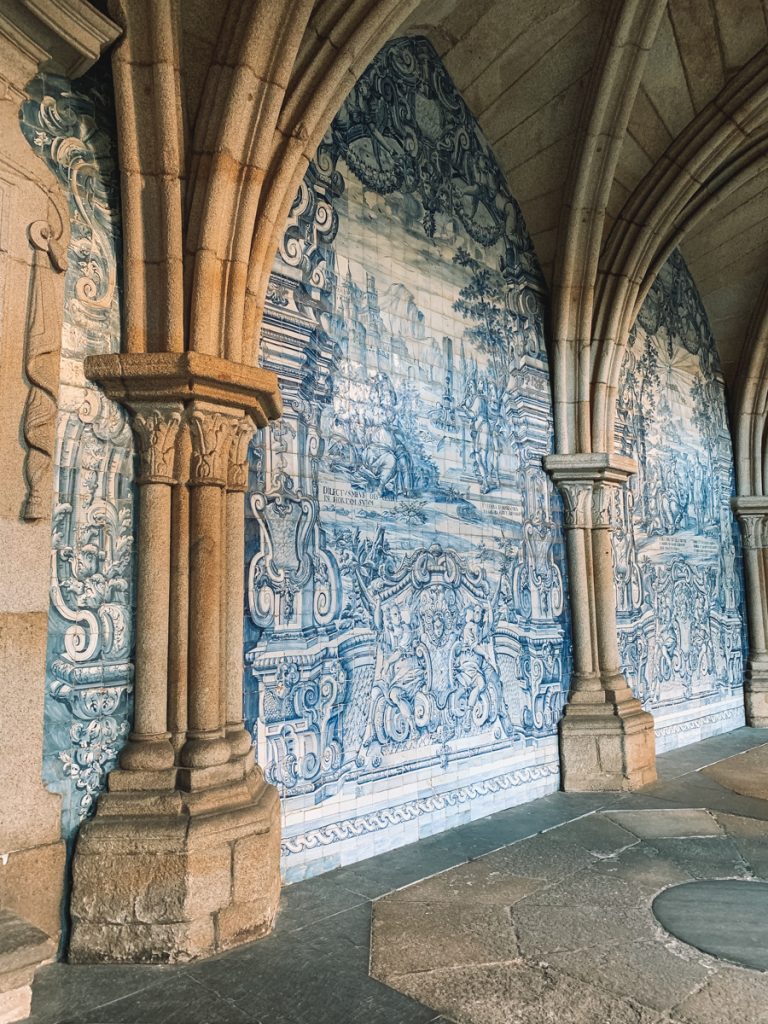 While at the Cathedral, be sure to check out the impressive views literally every way you look!
You'll have a great angle of Porto's bridges and its sister city on the other side of the Douro, Vila Nova de Gaia, from this vantage point.
Cross Porto's most famous bridge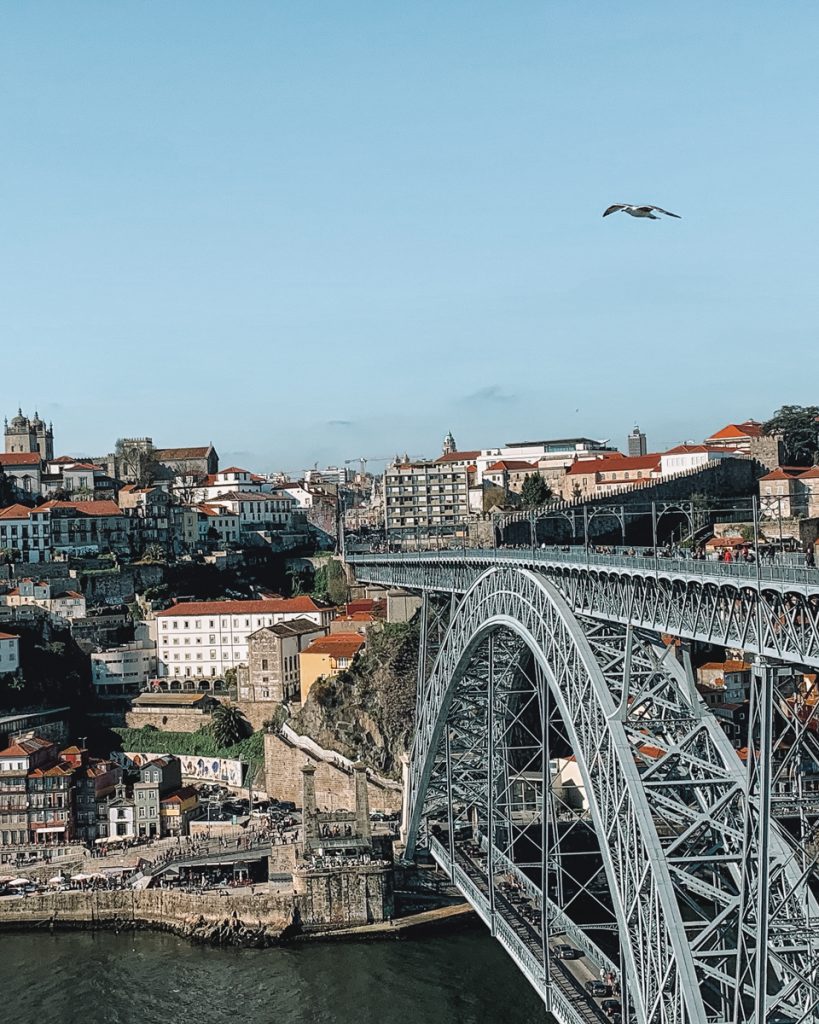 From the cathedral, you're just a short walk from one of Porto's most famous bridges, the Ponte Luiz I.
It's a wonderful bridge to walk across as it drops you off at one of the nicest viewpoints in Vila Nova de Gaia.
On a sunny day, I can't think of any better way to enjoy Porto, as the views are absolutely incredible. Just have a jacket because it can get windy up there!
Relax on the grass, have a coffee, or check out the Mosteiro da Serra do Pilar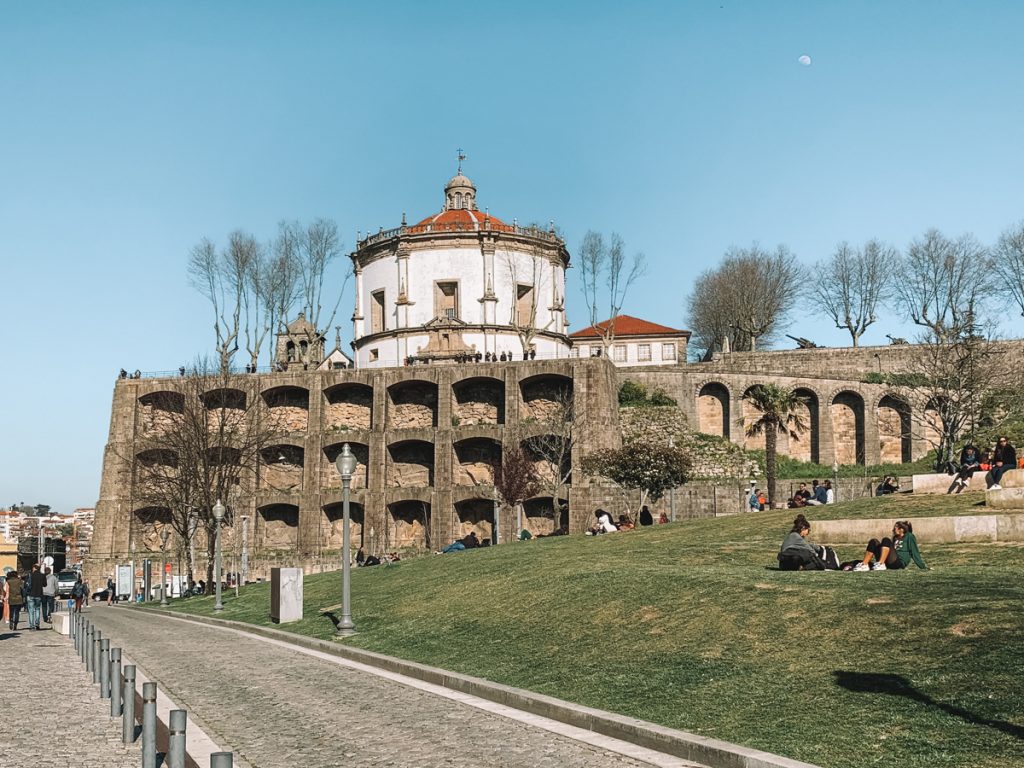 After crossing the bridge into the Vila Nova side of the Douro, there's a large grassy area with lots of benches and a coffee shop with spectacular views.
If your feet are tired or you need a little pick-me-up, this is a great place to pause for a beat and take in some of the best views of Porto's skyline.
Alternately, you can walk about 10 minutes up to the Mosteiro da Serra, which has an even better view of the bridge.
You can also enter the cloister area for an extra charge. I opted to do this and paid the €3 entry fee, but to be honest, I didn't feel like it was worth it.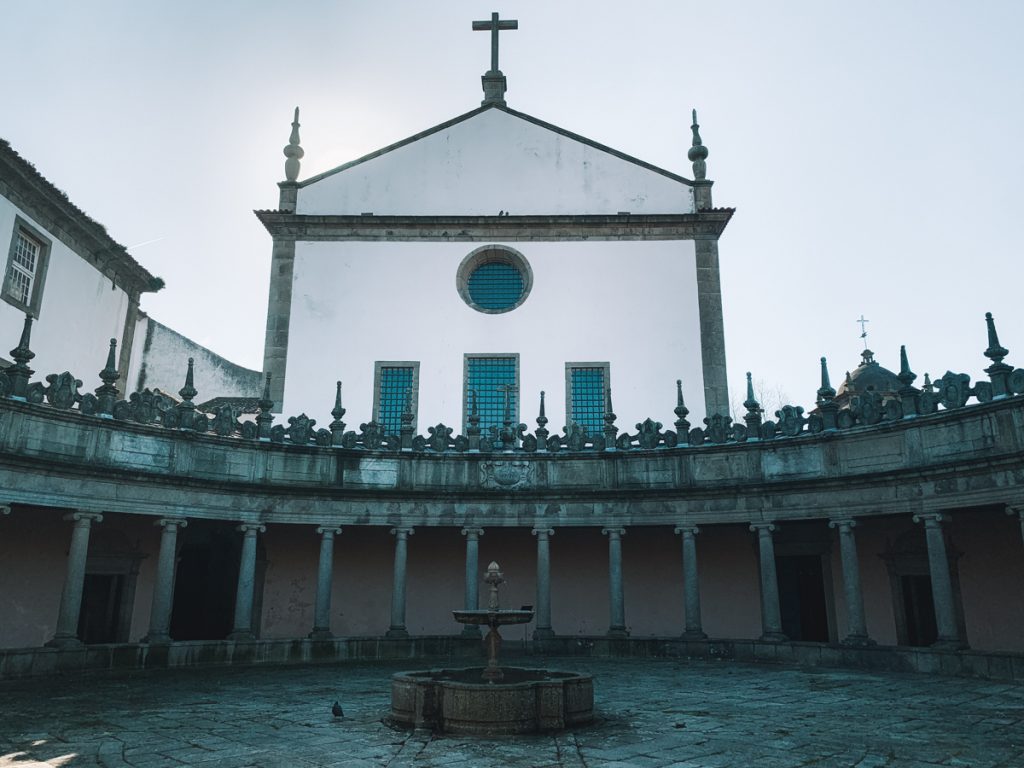 Stroll down to the Market Beira Rio
From the Mosteiro to the Market Beira Rio is about a 20-minute walk.
It's relatively easy, but if you're feeling lazy or have limited mobility, you may want to take the gondola.
It is a bit pricy at 6 euros per person (an Uber would literally be cheaper)… but if you want to do it, go for it.
If you're looking for an interesting place to walk around in Vila Nova before you make your way to the port houses, I recommend the Beira Rio Market.
It's a good place to get a meal if you want to try a lot of different things!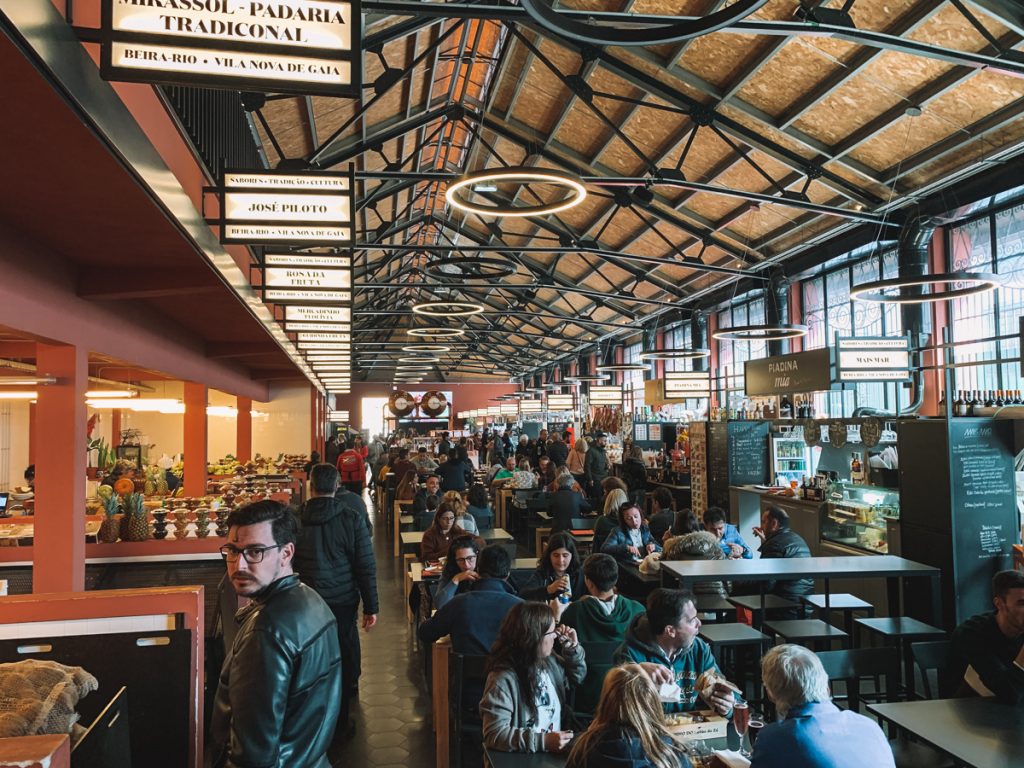 We strolled through here (though after we had gorged on Brazilian food, so we weren't hungry) and it looked awesome.
They even had brigadeiros – one of my favorite Brazilian sweets!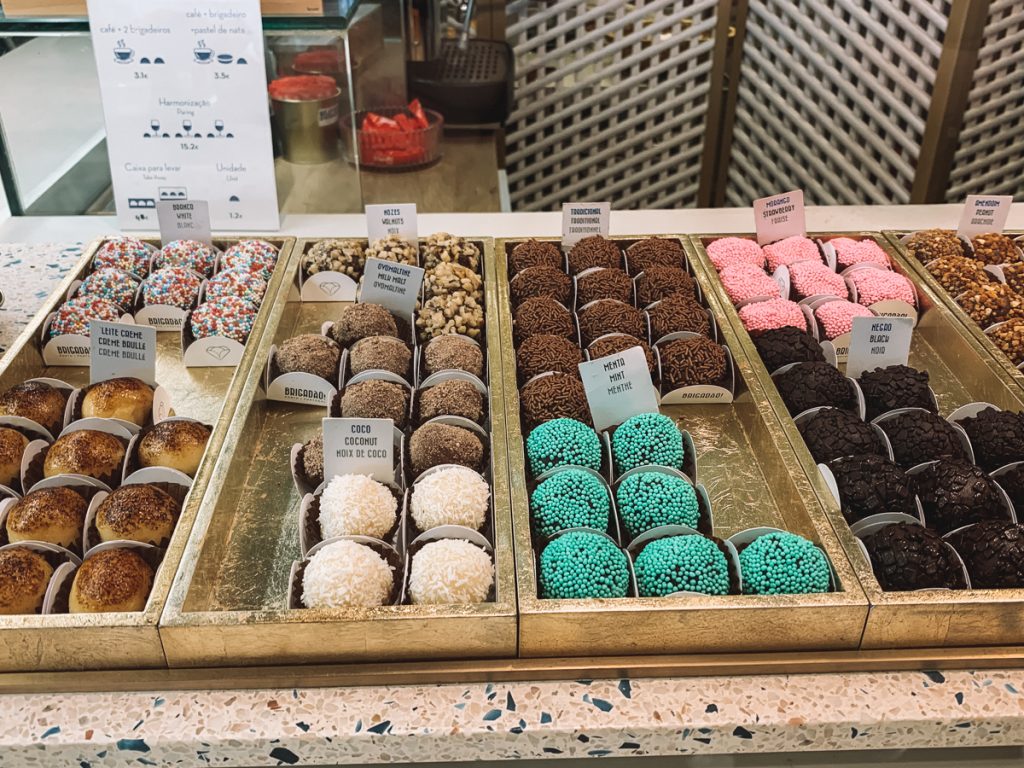 If you want to go for Brazilian food, we ate at Restaurante Mineirão nearby, which offered rodízio, which is basically Brazilian BBQ all-you-can-eat style.
You can get a mini rodízio which means they go around once with each kind of BBQed meat (be sure to ask for extra of the picanha, the last meat at the end – it's incredible!) or just plain rodízio where you can ask for more of anything at the end.
We were happy with the mini, but if you're a real meat lover, you'll want the full deal.
I think we paid around 12 euro each for the mini rodízio which included something like 7 types of meat, greens, coleslaw, beans, rice, and other sides. The full rodízio was around 17 euro, if I recall correctly.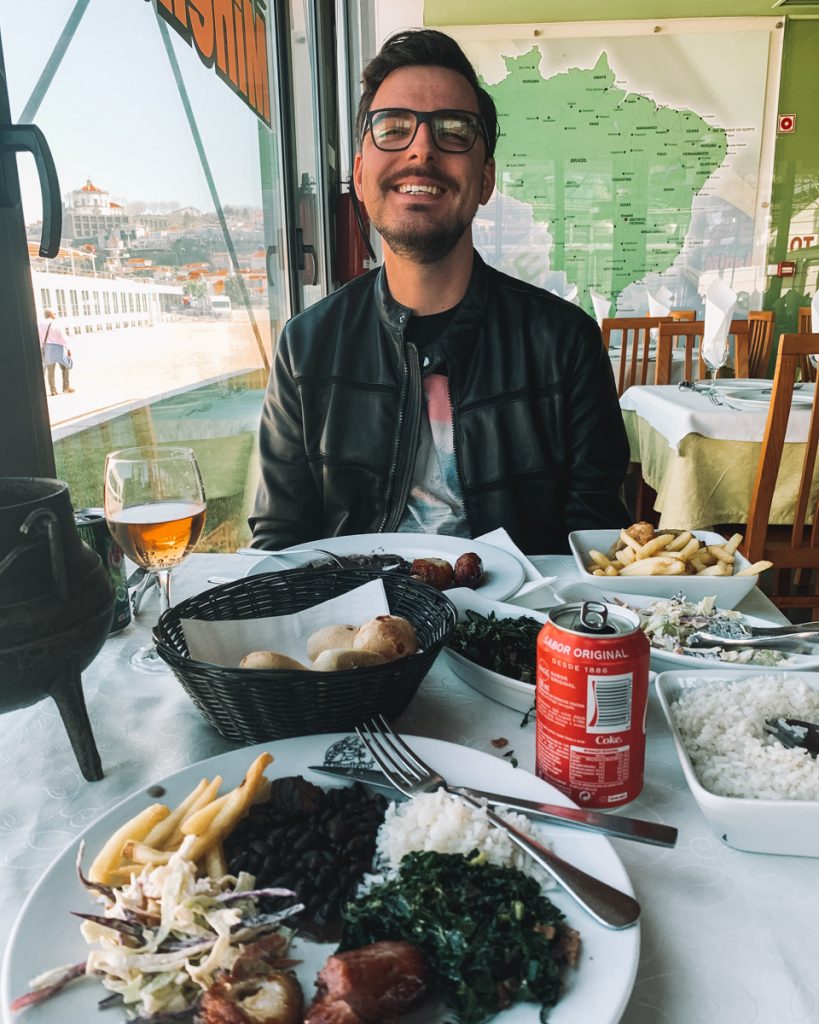 End the afternoon with a port wine tour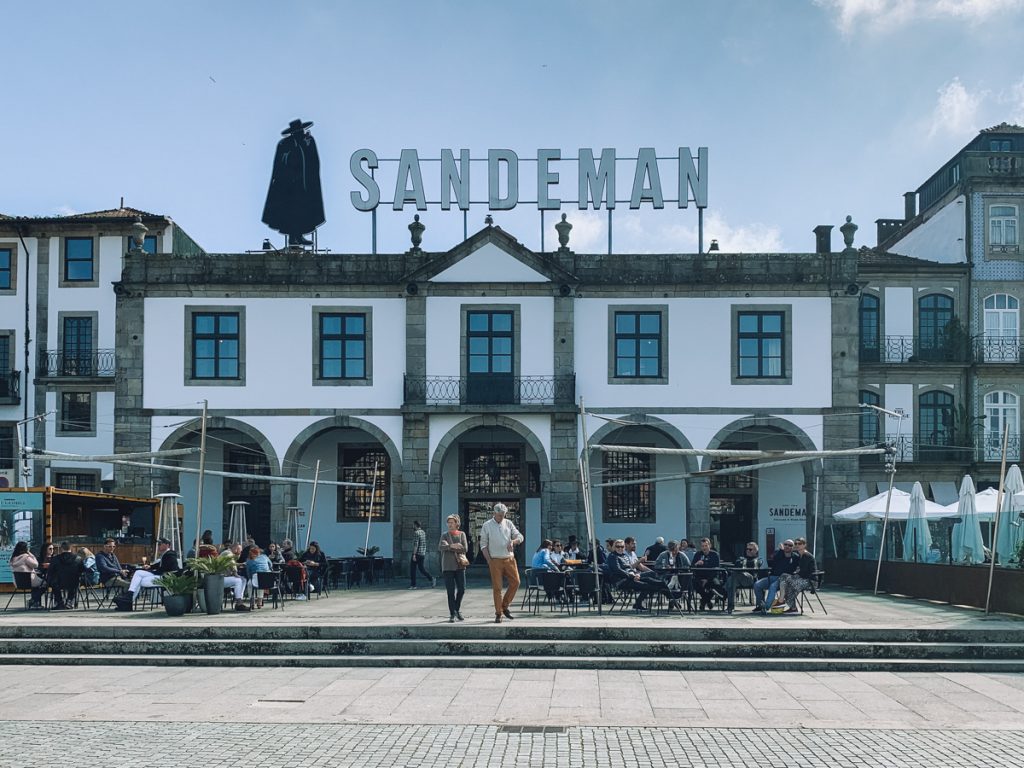 If you're at all interested in wine, you really ought to make time for a tour of Porto's wine houses on the banks of the river, on the Vila Nova de Gaia side of Porto.
I wished I could make time for a visit to the Douro River valley for a proper wine tasting day trip, but I only had 2 days in Porto, so I had to settle for tasting port in the city itself. Luckily, it was pretty delicious!
You can either do a self-guided port wine tour if you have specific wineries you're interested in, or if you're clueless when it comes to port you can check out a guided port houses tour.
I'm a wine geek with a fixation on port, so I wanted to cater my own experience. I went to Quinta do Noval because it's one of my favorite port producers and I wanted to really cater my own experience.
I did a flight tasting of 5 wines, plus a 20-year-old tawny port, for around 25 euros, then added on about 15 euros of additional tastes that I was interested in (a colheira and two white ports).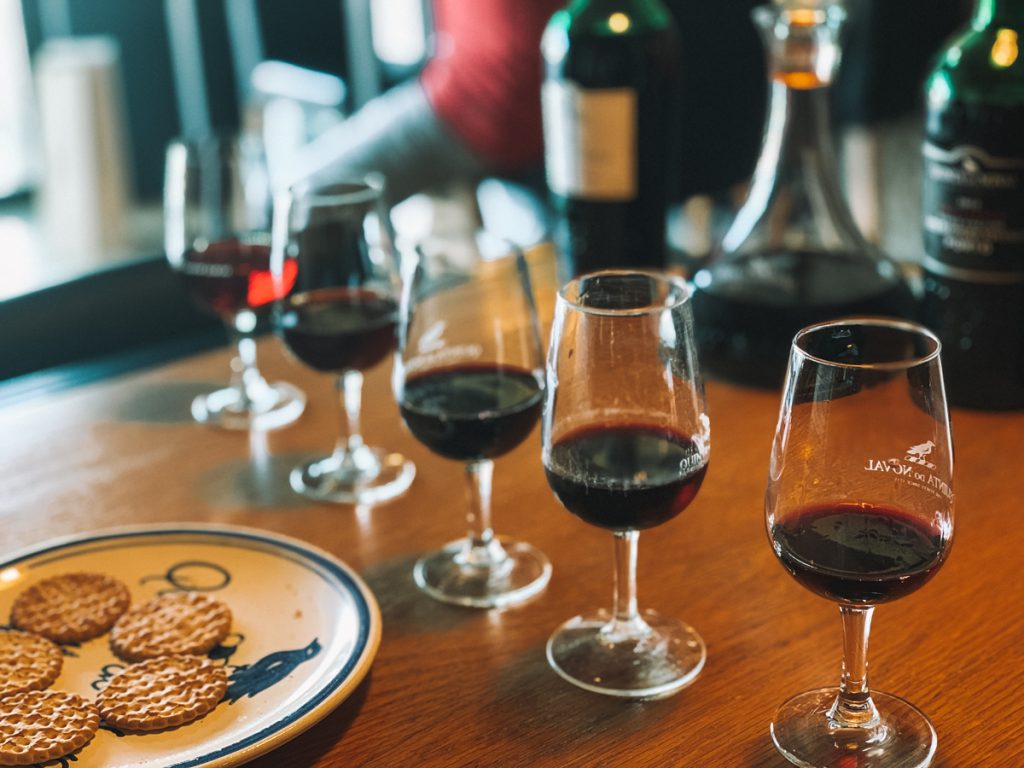 Our host at Quinta do Noval was great at explaining the wines to me and their characteristics, and I loved the personalized 1-on-1 experience.
If you're really interested in port and have previous experience, I recommend picking your own port houses that you love and visiting independently as you get a more individualized experience.
However, if I was a novice to port wine, I think I would have benefited more from a proper tour and tasting, explaining the process of how port is created and stored and what all the different kinds of port are.
This port house tour is inexpensive and covers quite a bit in three hours.
It is actually cheaper than my DIY option, as I spent over 50 euros on tasting at one quinta… but I have pretty expensive taste when it comes to port and wanted to sample some older vintages that I don't usually have access to.
On this tour, you'll get to see one of the largest and oldest port houses in Porto and sample three distinct kinds of port.
Afterward, you'll check out two traditional wine houses, try some dry wines from the Douro Valley, including one of Portugal's best wines – a vinho verde, alongside some cheeses and meats.
It's a great option that provides great value for money, so if you decide to do the tour, leave your afternoon free as it begins at 4 PM.
Check out reviews, prices, and availability of the tour here.
Sop it all up with a francesinha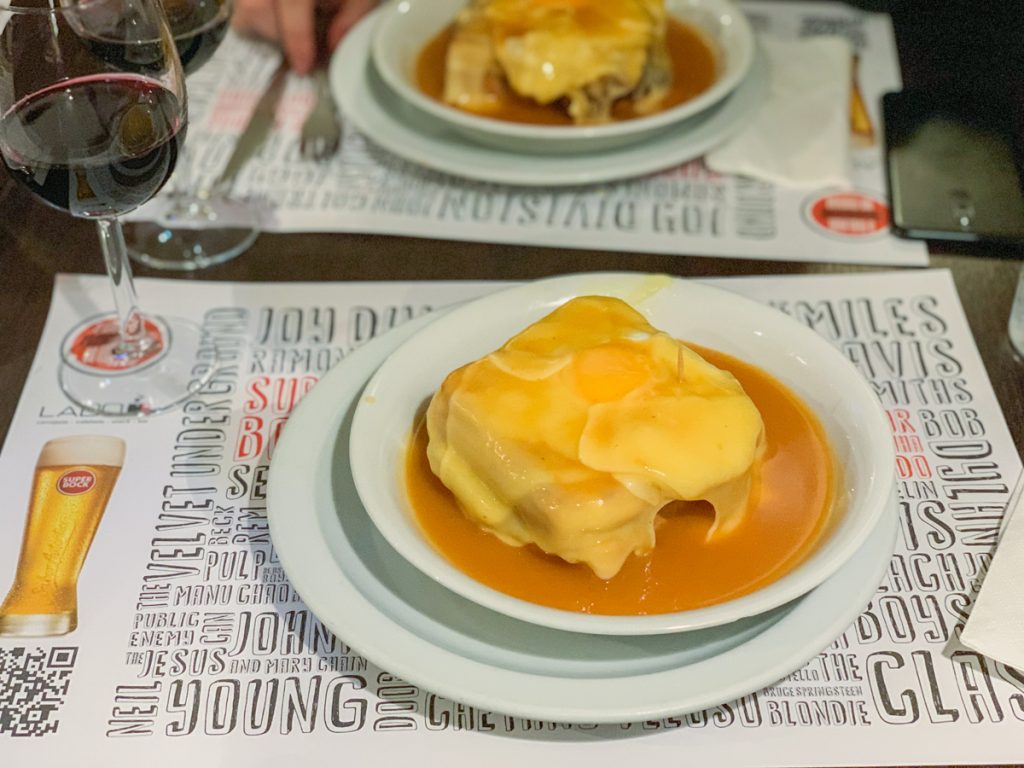 The most famous sandwich of Porto, a francesinha is a must-eat once in your life.
Literally, probably better off just once, as this is probably the most artery-clogging sandwich known to man.
A francesinha is basically a grilled cheese meets a trio of sausage, ham, and steak, meets a heavy tomato-beer sauce on top.
If that's not enough calories, you can opt for it with an egg on top and fries to really bust your belly.
We ate at Lado B (B-Side), as my boyfriend's best friend who we were visiting doesn't eat meat, and they have a vegetarian option that she likes.
My francescinha was delicious…. but I literally never need to eat one again, as I think it took 3 months off my life in a single sandwich.
Worth it? I'll let you know at the end of my life.
More Than 2 Days in Porto?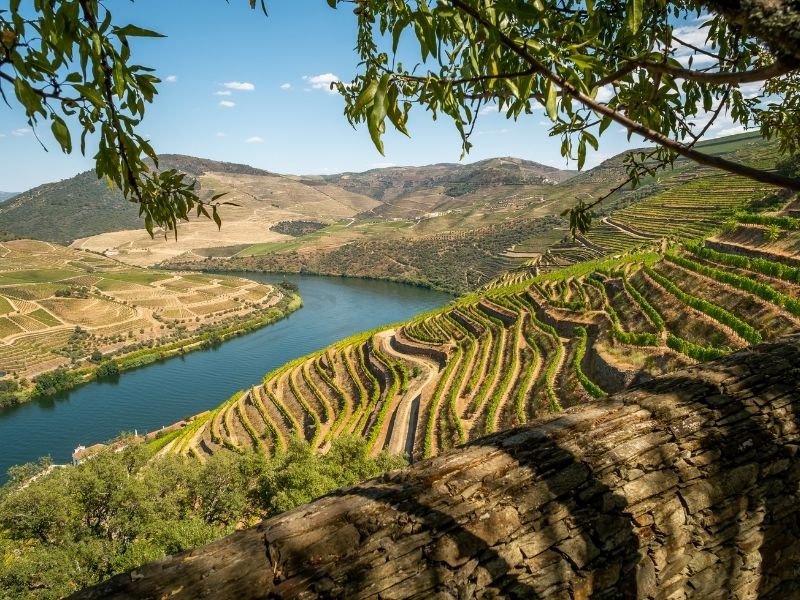 Time for a day trip from Porto, then!
The obvious answer if you're a wine drinker is to take a Douro River cruise and wine tasting tour.
This tour includes a coffee stop at Peso da Régua, transit to the Douro Valley where you can enjoy two vineyards (quintas) and delicious wine tastings full of delicious port and other Portuguese wines.
You'll also get to enjoy a lunch at a local restaurant in the Douro Valley, where you can eat your choice of fish, meat, or vegetarian.
After that, you'll then be taking a boat cruise from Pinhão (after stopping at the beautiful azulejo-covered railway station there), with one final photo stop in scenic Sabrosa on your way back to Porto.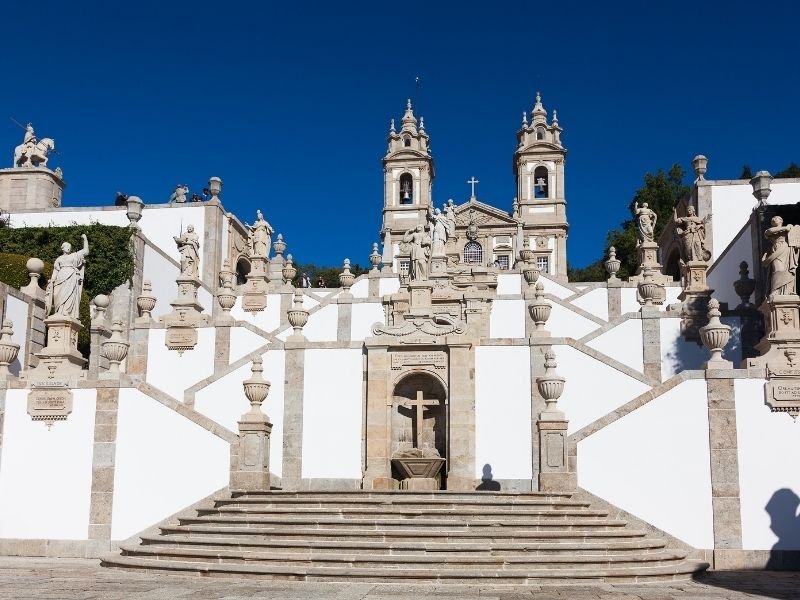 If you're not a wine drinker, then I would suggest this historical and cultural tour of Braga and Guimarães, two beautiful Northern Portuguese small towns with some of the most beautiful churches in the country.
Guimarães is considered to the the "birthplace of Portugal" as it was home to the first-ever king of Portugal. There's a beautiful medieval castle there, and the entire city center is a UNESCO World Heritage Site.
Braga is another gem, rich with history with its cathedrals, historical city centers, and sanctuaries. The Bom Jesus do Monte sanctuary is especially stunning and makes for some unforgettable photos!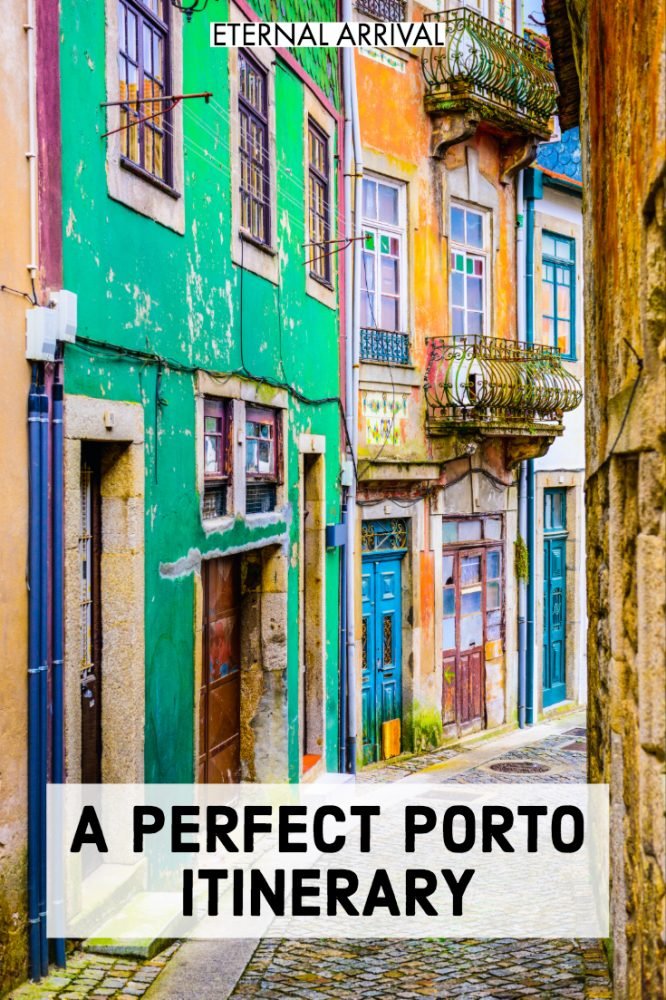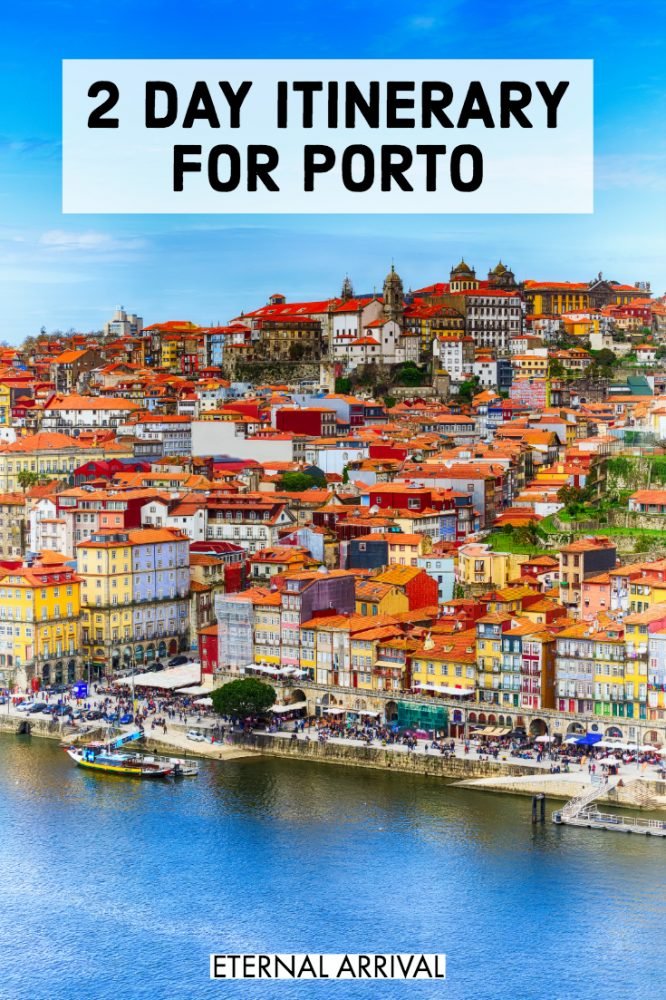 Allison Green is a former educator turned travel blogger. She holds a Masters in Teaching and a B.A. in English and Creative Writing. Her blog posts merge her educational background and her experience traveling to 60+ countries to encourage thoughtful travel experiences that both educate and entertain. She has been a speaker at the World Travel Writers Conference and her writing, photography, and podcasting work has appeared in National Geographic, CNN Arabic, CBC Canada, and Forbes, amongst others. Now based in the San Francisco Bay Area where she grew up, she has also lived in Prague, Sofia, and New York City.