If you're into sustainable tourism, it's likely that staying in a jungle eco lodge in is high on your bucket list.
While there are some places that are known for their eco lodges, like Peru's Amazon lodges, Belize is a big up-and-comer when it comes to upscale jungle lodges!
And with good reason – Belize is becoming one of the world's premier ecotourism destinations for its dedication to preserving biodiversity, reducing waste, and living in harmony with nature.
I stayed in a wonderful Belize jungle lodge during my time in the San Ignacio area and it was a great experience!
There's nothing that quite compares to waking up in the middle of the dense jungle, awoken by the other-worldly alarm of a chorus of howler monkeys.
Well, to be frank, howl is putting the noises they make lightly, but I digress…
There are countless eco resorts in Belize, many of which are well worth a visit!
Picking the right eco lodge in Belize is a matter of considering your budget and what level of luxury you like.
Belize is not a cheap destination the way its neighbors are — but it's also not an insanely expensive one, either.
How Much Does an Eco Lodge in Belize Cost?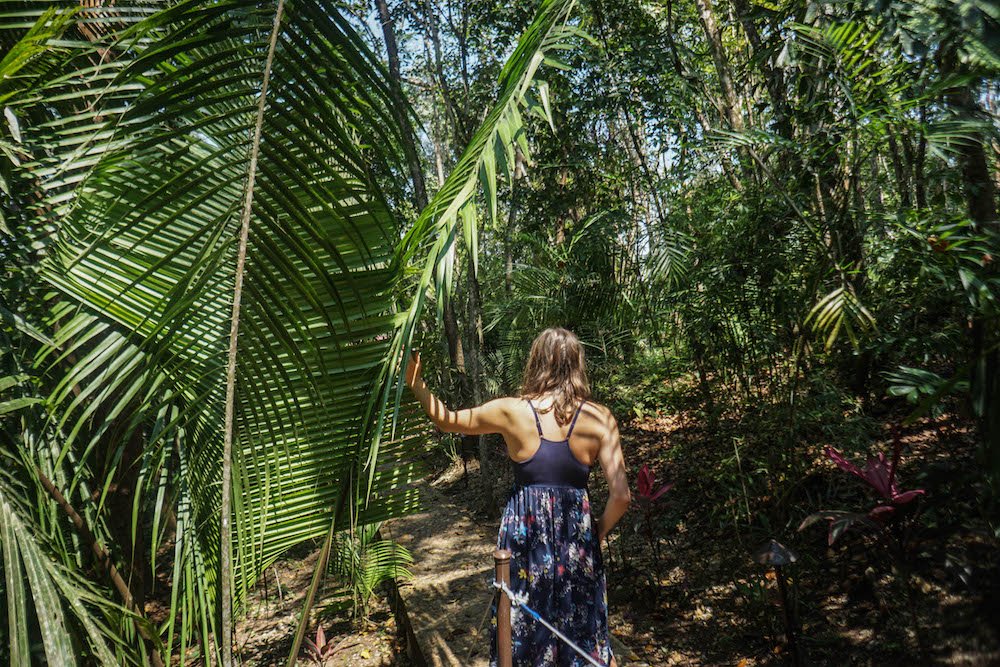 Note: This post contains affiliate links, which means I may receive a small commission if you purchase something through one of these links. Thank you for supporting the free content on this site! For more information on affiliate links and cookies, see my disclosure page for more details.
Budget at least $100 a night for a comfortable, clean eco lodge in Belize, but keep in mind that if you want a luxury eco lodge experience you'll be looking at closer to $300 a night, on par with luxury experiences elsewhere in the world.
Still, no matter what your budget, you're sure to get a memorable experience: beautiful accommodations in the middle of the Belizean jungle.
You'll also be supporting eco-friendly practices while staying in comfort, a stone's throw from countless adventurous activities ranging from caving to horseback riding to tubing and beyond.
Things to Consider When Picking an Eco Resort in Belize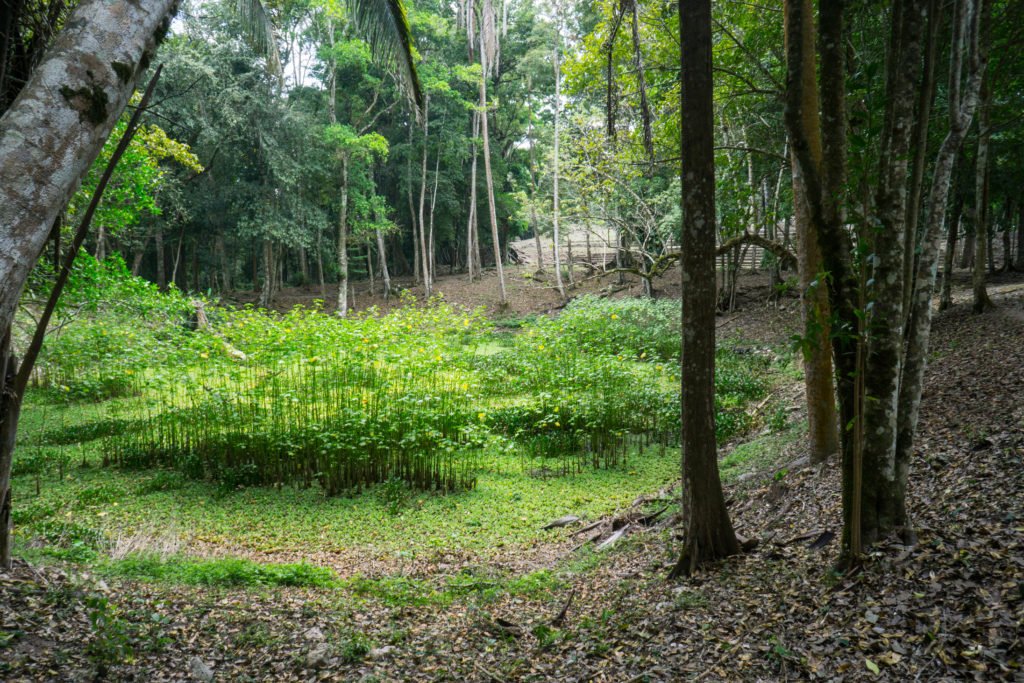 The majority of the eco lodges in Belize are centered in Cayo District, nearby the town of San Ignacio.
San Ignacio is a popular tourist destination for its proximity to several adrenaline-pumping adventure activities and day trips!
Options for day trips leaving from San Ignacio range from cave tubing to exploring the ATM cave to climbing the Mayan ruins of Caracol to horseback riding in the mountains.
The Macal River winds through the Cayo District and it's a popular location for many of the eco lodges in Belize.
There are two major considerations you should keep in mind when picking which eco lodge in Belize is right for you.
Number one: your budget. I've sorted my recommendations into 3 tiers: budget (around $100 a night), mid-range (between $100-250), and luxury ($300 and up).
I still do recommend looking at each hotel individually as prices truly depend on seasonality and availability and you may be able to find a steal, according to the time of year.
Conversely, if you are traveling during the most popular times of the year, you may find that the eco lodges I've recommended don't correlate to the prices I've given… so take these recommendations with a grain of salt.
Prices in Belize are at their highest between December and April, which correlates to both the holiday season (when prices are their highest) and the dry season.
You can get a great deal with likely-to-be excellent weather by traveling in the shoulder season, especially in May and early June when the rainy season hasn't fully started yet but spring break and winter getaways have ended.
The other thing to consider is transportation. Staying in an eco lodge often means getting quite 'off the grid' in Belize, and if you don't have a car rental, this can add up to serious taxi or shuttle costs over the course of a stay.
I recommend looking for places close to San Ignacio if you don't have a car while you are in Belize. Cahal Pech Village Resort and San Ignacio Resort Hotel are both located right in town.
However, the nicest and most authentic jungle lodge experience in Belize will be found outside of the city (of course), so it's a matter of balance.
Best Time to Visit Belize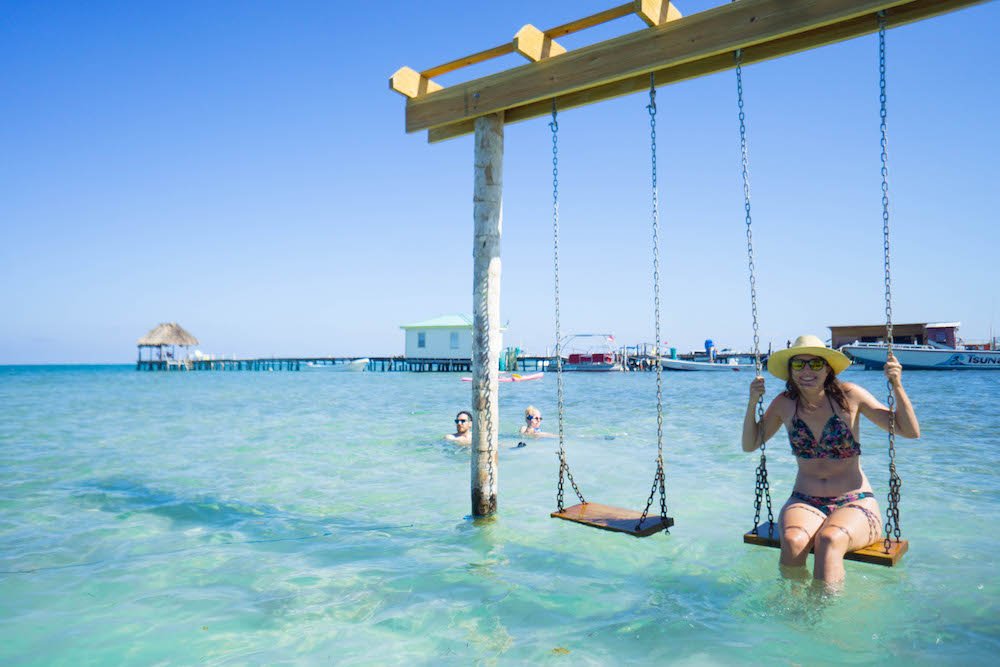 Being a tropical country, Belize has a rainy season and a dry season as opposed to the typical "4 season" model of non-tropical countries.
The wet season is between May and October, where you can expect rain about half the days and scorchingly hot temperatures.
I really don't really recommend traveling Belize during the wet season!
Not only can the rain be a pain, it can also disrupt a lot of tours and activities, such as snorkeling/diving tours and cave tours, due to unfavorable conditions.
Hurricanes can also happen during this time of the year.
Between November and April, it is the dry season in Belize. This coincides with much of Belize's peak travel season.
While there will still be occasional rainfall, storms will be much more dispersed, plus you'll experience shorter periods of rain that are less disruptive to your plans.
Note that Belize can be incredibly popular (and expensive) over Christmas and New Years.
I suggest going during January through March for a better balance between good weather and good prices.
My Top 2 Budget-Friendly Eco Lodges in Belize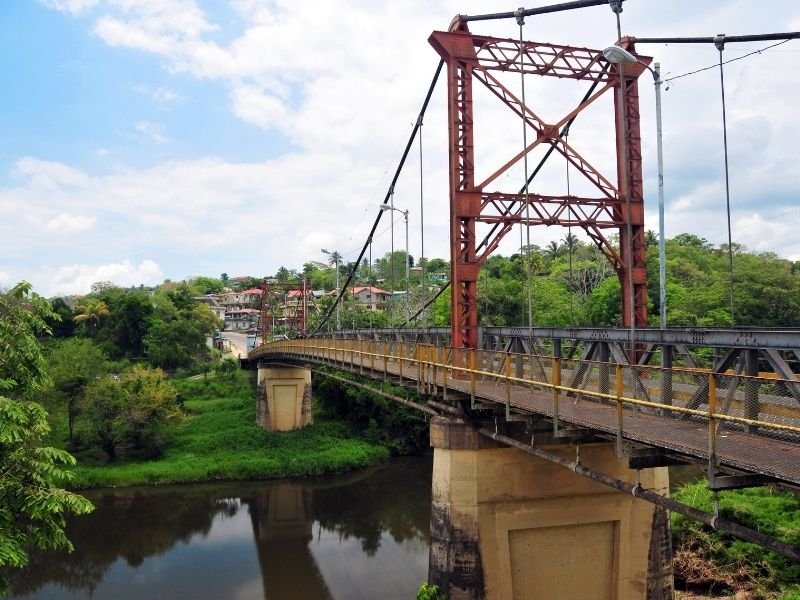 Keep in mind, again, that Belize is not the cheapest destination in Central America.
That said, many properties do still offer a great value, blending economy and comfort in a way that is not fancy or fussed-over, while benefiting the environment around it.
I consider budget-friendly in Belize to be around $100 per night for a simple double-room at an eco lodge; however, be aware that prices will vary based on time of year and availability!
Pine Ridge Lodge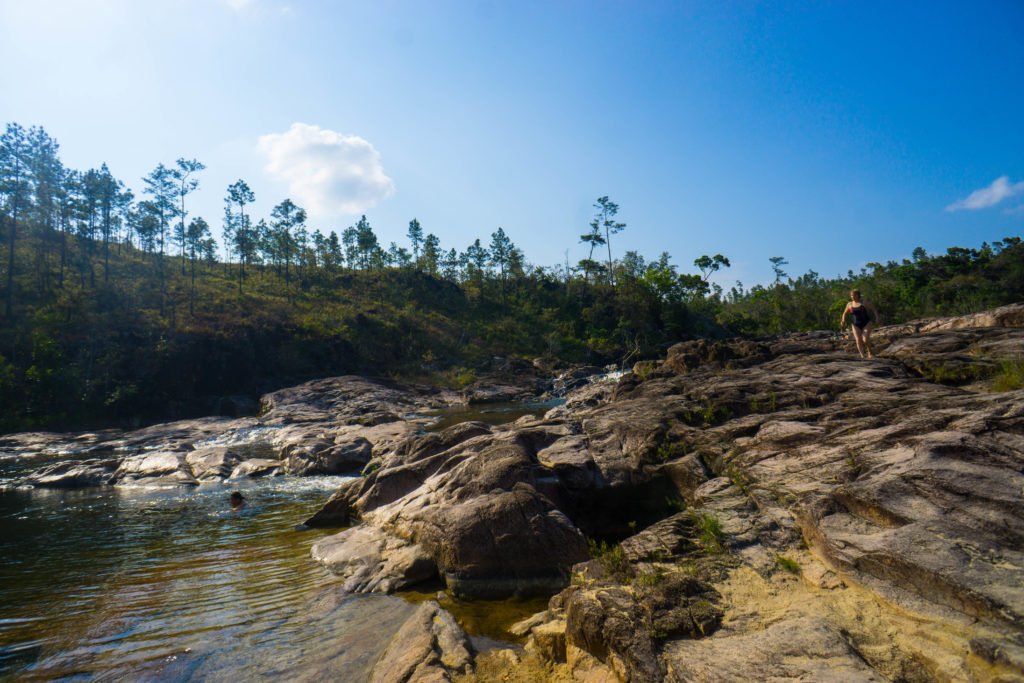 Located within the natural wonder of the Mountain Pine Ridge Forest Reserve, the Pine Ridge Lodge offers a comfortable stay in an eco lodge in Belize at a reasonable price.
Close to the ancient Mayan city of Caracol, an ancient city that archaeologists believe once had a population of 185,000 people, this simple but beautiful resort is perfect for a stay focused on appreciating the outdoors and comfort over luxury.
Their accommodations consist of a number of charming little bungalows that provide beautiful forest views.
Nature lovers will find plenty to love about Pine Ridge Lodge's location: surrounded by many waterfalls and natural pools that are perfect for swimming, excellent hiking trails nearby, and plenty of opportunities to spot birds and other wildlife.
The lodge also has its own orchid garden for guests to enjoy, and there is an in-house restaurant, where you can order meals with fresh ingredients which are gathered from their own organic gardens.
Note that it is located quite far outside the town of San Ignacio, so you will need to either have a car rental (recommended) or arrange for a transfer from town or the airport, which could add on some expenses given the distance.
Check prices, reviews, and availability of Pine Ridge Lodge here.
Cahal Pech Village Resort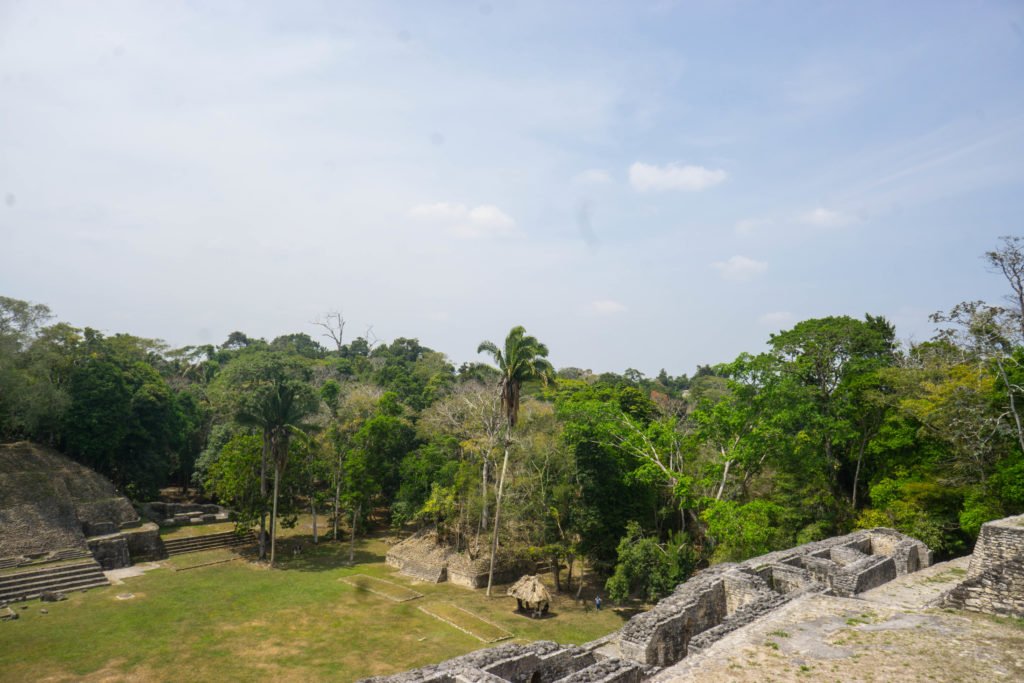 It's a testament to how green Belize is that you barely have to leave the city of San Ignacio to feel like you're in your own personal jungle paradise.
Cahal Pech Village Resort is actually located within the city of San Ignacio but you wouldn't know it from the environs: lush trees planted everywhere, and an infinity-style pool overlooking the river valley below (perfectly oriented for sunset).
The name Cahal Pech comes from the Mayan ruins located right nearby the eco resort: a couple blocks away is the Cahal Pech archaelogical site, where you can find Mayan ruins quite literally in your backyard.
Cahal Pech is well-known for its thatched-roofed cabanas that offer incredible views of the Belizean countryside.
Each one has its own personality and comes with writing tables, private verandas, and hammocks. This resort also features three different fresh water pools, which makes it a great spot for swimming and lazing away in the Belizean sunshine.
The eco resort also has a spa and a restaurant serving authentic Belizean cuisine — or you can simply walk into town and enjoy one of the many excellent restaurants in town (I recommend Ko-Ox Han Nah or Serendib on the main street for excellent – and quite spicy – Sri Lankan cuisine!)
Of course, if you want to explore the Cayo District, Cahal Pech Village Resort has some amazing tours available, which you can organize through their front desk.
There are multiple ruins you can explore, including the homes of former Mayan kings. You can also go horseback riding through the jungle or canoeing down the Macal River.
I recommend the ATM Cave tour (be sure to book places in advance as it can sell out due to limited places).
Check prices, reviews, and availability of Cahal Pech Village Resort here.
Mid-Range Eco Lodges in Belize
As I've defined it, mid-range in Belize will get you a private room in a gorgeous setting for somewhere between $100-250 per night.
These are not quite exactly the top offerings in the country, but they offer amazing amenities at affordable prices. They're perfect for a special stay while still remaining budget conscious and saving money for activities and enjoying Belizean cuisine.
I tend to prefer traveling in the mid-range because I enjoy spending more of my money on experiences rather than accommodations, but of course, your preference will depend on what kind of holiday you're after and what is a comfortable amount to spend on your budget.
San Ignacio Resort Hotel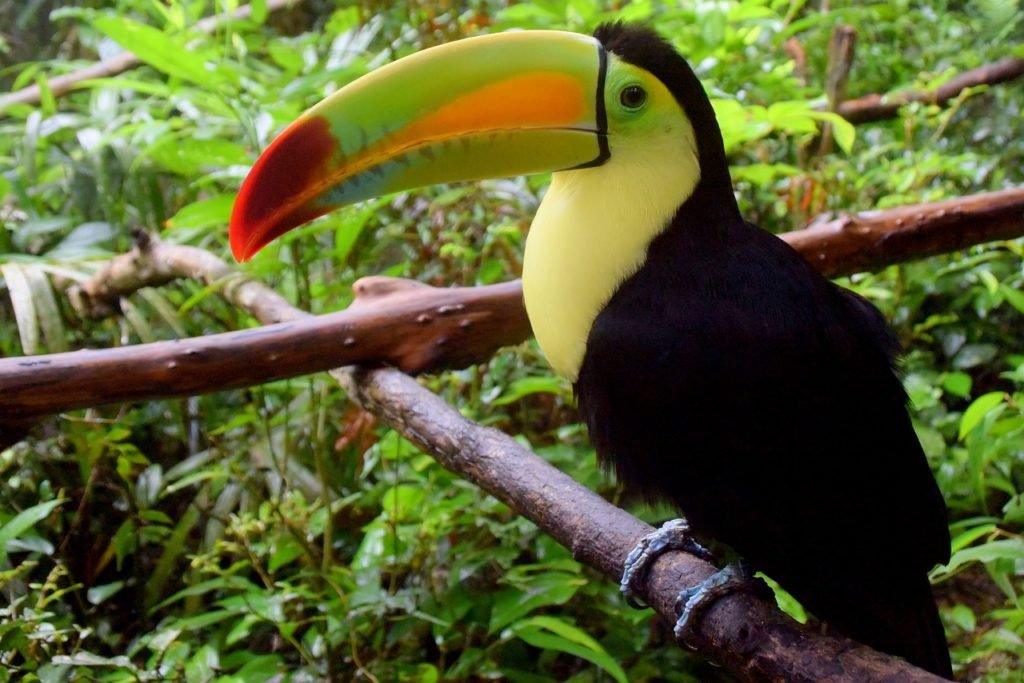 San Ignacio Resort Hotel is an award-winning resort (it won the Best Hotel in Belize award in 2016) that's located within a 17-acre private estate, right in the heart of San Ignacio town proper — perfect if you don't have a car rental during your time in Belize.
The team at San Ignacio Resort Hotel has been providing some of the highest quality accommodation in the country since 1976.
For those just looking to relax, there is also a gorgeous pool with plenty of loungers to relax around, a luxe spa, and a tennis court.
Don't forget to try some Belizean cuisine at the Running W Steakhouse and Restaurant, which received the Best Restaurant of the Year award from Belize's very own tourism board — a high accolade!
Despite its proximity to the city, San Ignacio Resort Hotel can easily help you get out into the Belizean nature by organizing tours in and around Cayo District. Birdwatchers will enjoy their birding tours, where you can spot hundreds of different bird species.
Or if you're looking for a little more excitement, you can go on a ziplining tour through the canopies of the Belizean jungle.
This resort also supports the Green Iguana Conservation Project and has won awards for its participation in helping support Belize's wildlife.
You can learn more about these amazing creatures while supporting their conservation by participating in projects at the eco-friendly resort.
Check prices, reviews, and availability at San Ignacio Resort Hotel here.
Mystic River Resort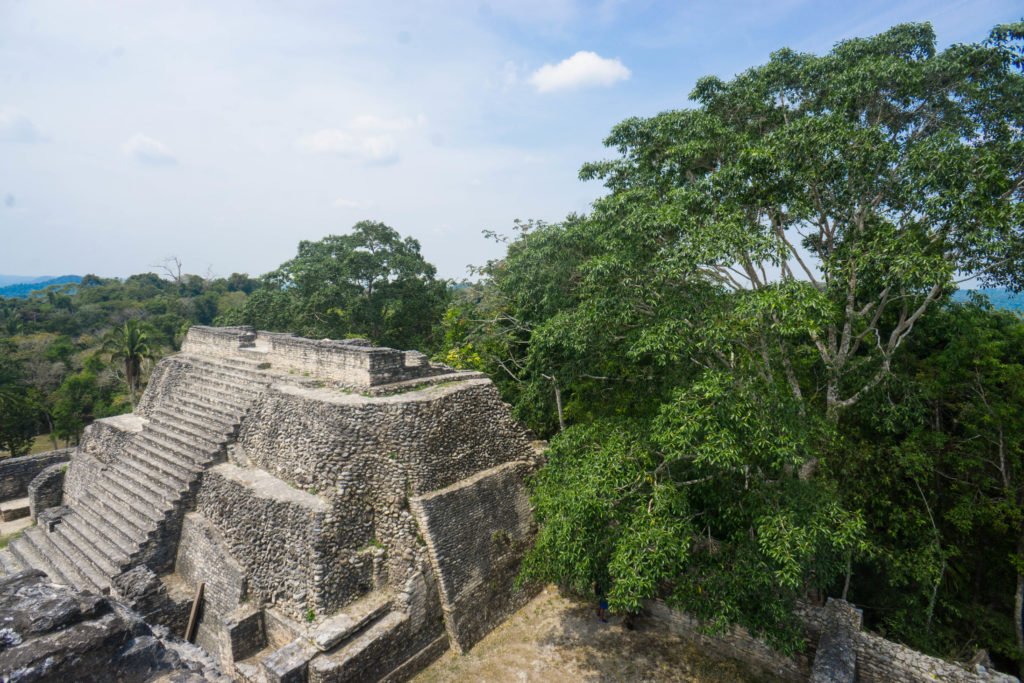 As you might expect from a place called Mystic River Resort, this resort offers some of the most incredible views you'll ever see.
It's located in the jungles of Belize, up on a cliff with stunning views over the beloved Macal River.
Along with its gorgeous rainforest surroundings, Mystic River Resort also specializes in weddings and honeymoons.
Located 7 miles away from San Ignacio, you'll find all you need at the Mystic River Resort, including an open-air restaurant, an inventive bar specializing in fun cocktails, a full-service spa, a pool with rainforest surroundings, a yoga deck, and an "adventure desk" which can help you book tours in the region.
Inside the room, there's plenty of luxury to be had as well: we're talking king-sized beds, patios, and gorgeous forest and river reviews.
The rooms come in a range of options, varying from sensible studios to two-bedroom suites with private pools and outdoor showers.
On top of all this, there are also a great number of adventures you can have when you stay at Mystic River Resort. They have everything from kayaking and birdwatching to exploring ancient caves and ruins.
Of all the eco resorts in Belize, this resort goes above and beyond when it comes to protecting the environment.
They generate their own electricity, purify their own water, and continuously replant trees that have been cut down in the surrounding rainforest, in addition to contributing to several local conservation projects.
Check prices, ratings, and availability at Mystic River Resort here.
The Top 2 Luxury Eco Lodges in Belize
For a truly special occasion, a luxury eco lodge in Belize is the way to go.
These resorts offer superb hospitality and ultimate tailor-made luxury in lush jungle settings.
They're the perfect way to commemorate special events like a honeymoon, anniversary, or birthday.
Most of the top eco resorts in Belize are located just outside the city of San Ignacio, combining the convenience of being close to the city while also providing so many luxury amenities that, frankly, you'd be hard-pressed to find a reason to leave.
Ka'ana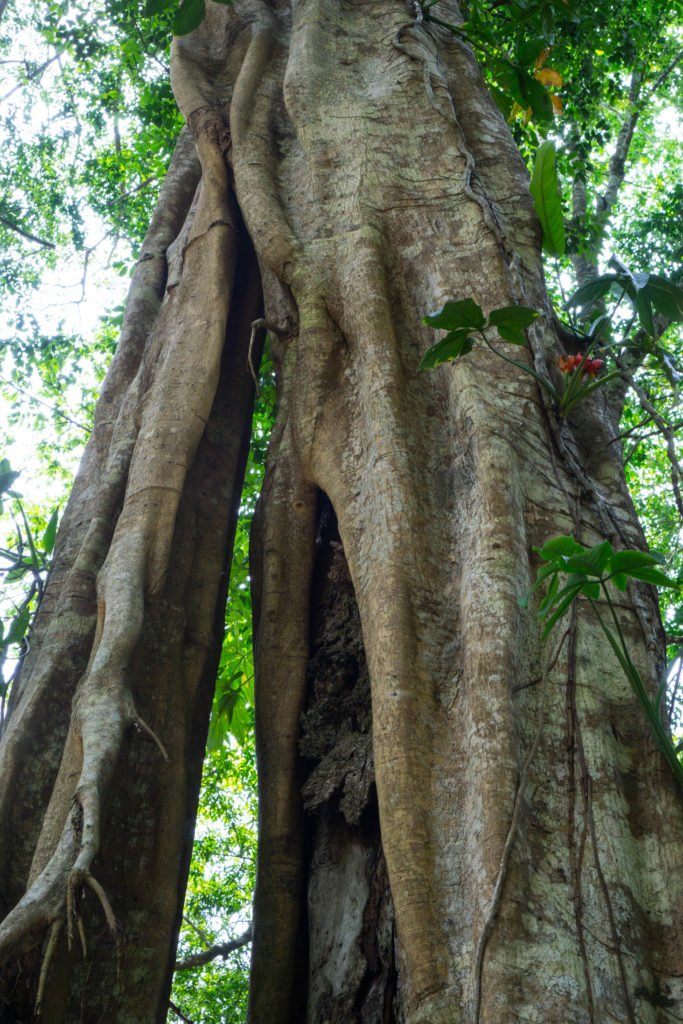 Appropriately nicknamed "the Heavenly Place", Ka'ana is one of the top luxury hotels in Belize.
As a result, this eco lodge has a great number of amenities available, more than most of its competitors in the area.
They have a pool in a lush jungle setting, a spa with luxurious cocoa and coffee treatments, a rave-reviewed restaurant, and a yoga deck where you can perfect your asanas surrounding by the chorus of the jungle.
The food from the restaurant is sourced from their own organic farm, and their creative cocktails also take inspiration from the jungle settings.
Ka'ana also has tour packages available that allow the visitor a closer look at its magnificent surroundings, including the Mayan ruins which are quite literally right next door.
You can also enjoy its many surrounding adventure activities, in particular, exploring the fantastic ATM Cave which is among the best things you can do in Belize.
You can even take a Mayan cooking class during your stay and learn how to use tropical Belizean produce in traditional yet innovative ways.
In keeping with its eco lodge status, Ka'ana has a strong focus on combining sustainability and comfort.
The resort hires locally, sources much of its food from its own organic farm on the premises, and uses energy saving techniques to minimize waste.
Despite its luxury offerings and multiple 5-star awards, you can actually stay at Ka'ana for affordable prices during the off season. I recommend checking it out and seeing if it suits your budget during your stay.
At the same time, if you're after a more luxurious, once-in-a-lifetime kind of stay, Ka'ana also offers private pool villas fit for a honeymoon or special occasion.
The Lodge at Chaa Creek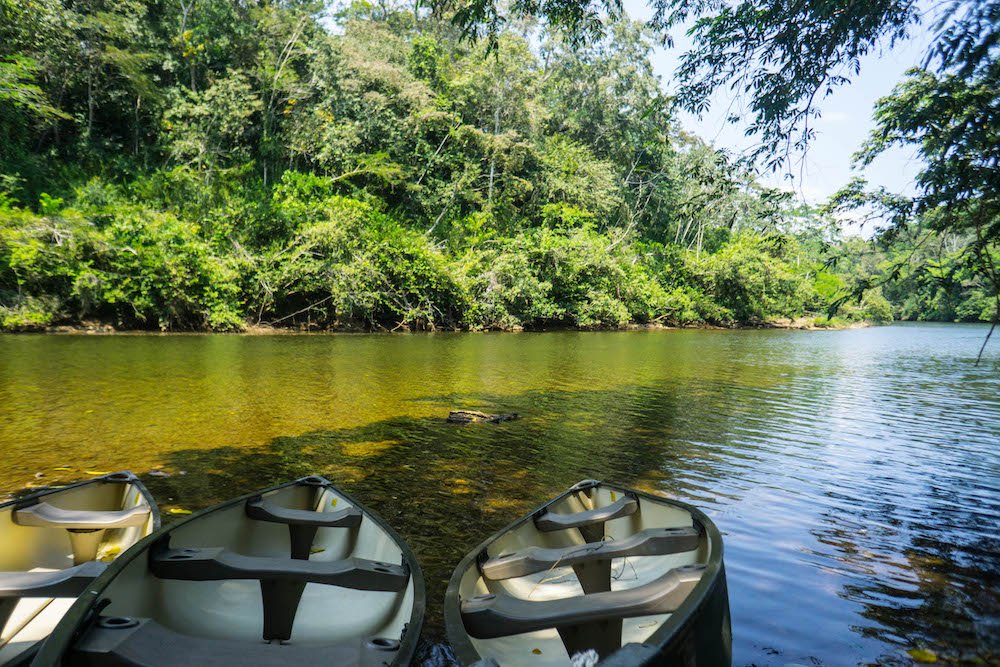 Welcome to the top option for luxury in Belize: it doesn't get any finer than The Lodge at Chaa Creek.
If you are after a once-in-a-lifetime stay in an eco lodge in Belize… look no further (but then open your wallet to match — accommodations here do not come cheap!)
Chaa Creek is a next-tier incredible resort that's known for its beautiful natural surroundings.
The rooms are incredibly airy and spacious, with high-ceilinged thatch roofings for an authentic Belize eco lodge experience. The rooms are tastefully decorated with thoughtful details like beautiful textiles and local flowers.
Outside your bungalow, you'll find countless trees and plant life surrounding you and wake up to the sounds of birds and monkeys in the jungle.
Chaa Creek is perfectly situated on the banks of the Macal River, offering activities like canoeing and kayaking down the river without even leaving the property.
There are many things to see and do at this resort, that you would never even need to leave!
You can go for a swim in their infinity pool, try some "jungle cuisine" in their dining room made from local organic produce, admire the butterflies at their butterfly exhibit, or learn more about the history of the Cayo District in their natural history center.
That said, if you're itching to leave and explore Cayo, Chaa Creek also offers numerous tours of the beautiful Belizean countryside.
You can visit the nearby Mayan ruins, go snorkeling in the Belize Barrier Reef, or explore the Actun Tunichil Muknal caves.
They're also well-known for their commitment to sustainable tourism. When you stay at this resort, 10% of your revenue goes toward projects dedicated to protecting the environment.
They also follow Green Globe practices, including reducing harmful emissions, reducing electricity usage, employing Belizean nationals rather than foreigners whenever possible, purchasing products and produce locally, and countless other practices too numerous to list here.
Allison Green is a former educator turned travel blogger. She holds a Masters in Teaching and a B.A. in English and Creative Writing. Her blog posts merge her educational background and her experience traveling to 60+ countries to encourage thoughtful travel experiences that both educate and entertain. She has been a speaker at the World Travel Writers Conference and her writing, photography, and podcasting work has appeared in National Geographic, CNN Arabic, CBC Canada, and Forbes, amongst others. Now based in the San Francisco Bay Area where she grew up, she has also lived in Prague, Sofia, and New York City.