Have you been dreaming of a unique getaway into the lush Amazon rainforest?
Well, if you're a wildlife fanatic and you haven't, you probably should be — this level of connection with nature can't be found in many other places!
A trip to the Amazon is truly a bucket list experience, one you'll remember for a lifetime.
But first, let's talk logistics.
November through April is the rainy season, when the river runs wider.
You are generally able to see more wildlife during this time, due to the decreased levels of tourism, but some activities might be delayed or canceled.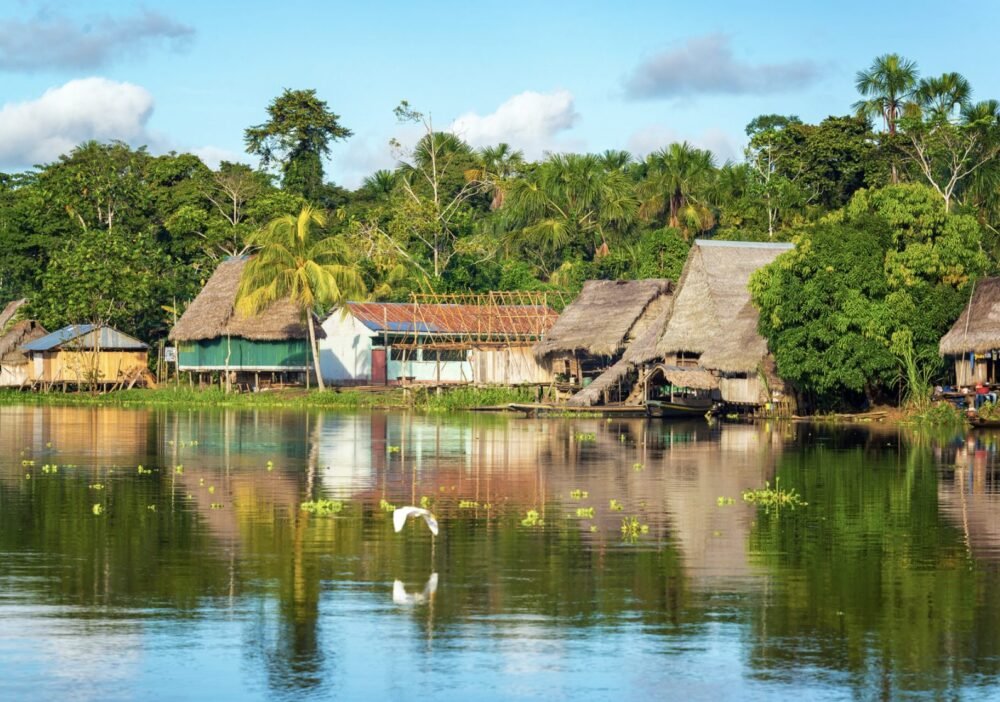 May to October is the drier season, with the weather lending better to outdoor adventures such as hiking.
The coolest months of the year are July and August – but cool is relative for the Amazon, so it'll still be quite humid.
Now, onto deciding where to stay, as the Amazon area in Peru is rather large.
There are two main airports that serve as gateways to the Peruvian Amazon: Puerto Maldonado and Iquitos.
Southern Amazon Lodges in Peru (Puerto Maldonado Region)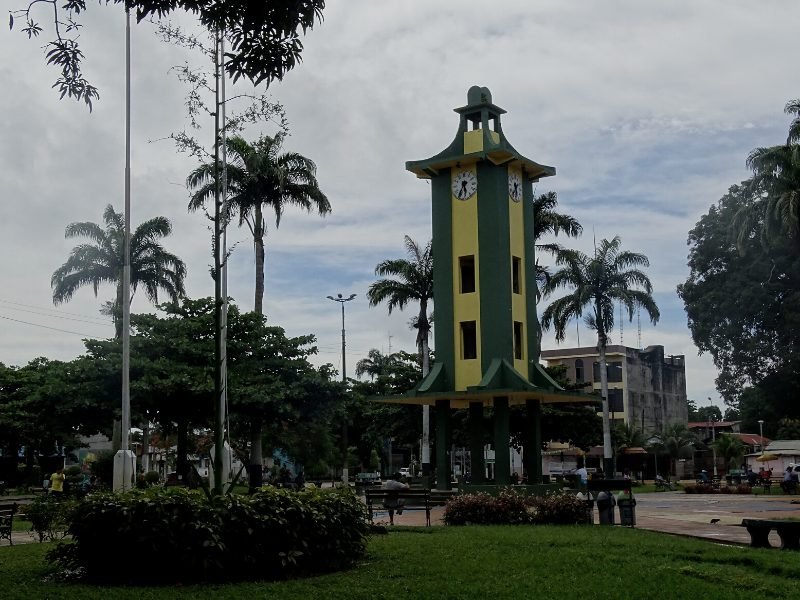 Puerto Maldonado in the southern region of the Peruvian Amazon is one of the most popular areas for Amazon jungle resorts.
Compared to Iquitos, it's a smaller town to base yourself out of, but the benefit is that Amazon excursions and lodges are more easily accessible.
Another thing to note is that these Peru Amazon lodges are not technically on the Amazon River but rather smaller tributaries of the river.
However, you will be in the Amazon Rainforest, just know that the actual Amazon River is located more to the north, where Iquitos is.
That may be a small quibble for some and an important distinction for others, so keep that in mind!
Best for Culture: Posada Amazonas
Posada Amazonas is located 25 kilometers from the town of Puerto Maldonado.
It's a bit of a Goldilocks situation: not too inconvenient to reach but remote enough to offer you a great opportunity to really experience the natural beauty of the Amazon.
Airport pickup is included in the price of your stay for your convenience.
You can simply step off the plane and they'll whisk you out to the property on an epic two-hour journey, first by car and then by boat.
The remote setting ensures you'll be able to appreciate the Amazon in all its glory, while still enjoying some comforts like Wi-Fi and electricity at select times (not all the time, so be prepared to rough it and unplug from time to time!).
The rooms have three walls, so you can see directly out into the rainforest from your bed. Where normally you'd find another wall, you have a giant open space where you can see into the rainforest – no glass to block your view!
You don't have to rough it too hard, though – Posada Amazonas offers spa services, so you can relax after a long day of jungle excursions.
If you're more in the mood for adventure, guides are available to take you on a nature hike or sunset river cruise.
The posada operates on a full-board basis, so the on-site restaurant and bar will provide you with three meals a day.
There's never a shortage of things to do, whether it's climbing canopy towers, visiting nearby Oxbow Lake, trying piranha fishing, or admiring the parrots who stop by to snack on the on-site clay licks.
But most importantly, the native Ese Eja community of Infierno owns the land that the lodge is located on.
Most of the staff is from this Indigenous community, and the majority of the profits go back to them as well, directly benefiting them..
This adds a distinctive and important cultural aspect to your Amazon adventure, remembering that it's not just about the wildlife but also the people who call this jungle home.
I always like to know where my money is going, and 'vote with my wallet' by supporting places I believe in that give back to the communities they're based in.
Best for Families: Refugio Amazonas
Refugio Amazonas is great for families with children, since it's science-focused in a way that will stoke the interest of every young scientist!
There are plenty of opportunities for wilderness exploring and the chance to explore and possibly discover new species with guides!
It also offers a special kid's trail excursion option especially for young ones.
Refugio Amazonas is located in the Brazilian Nut forest, adjacent to the Tambopata National Reserve. It takes about 2.5 hours to arrive from the airport, by a combination of car and boat.
Your "Amazon Refuge" offers the same three-walled rooms described above, as well as massage services and electricity at select hours.
An on-site restaurant will provide you with all of your meals, and all of the excursion options are included as well.
Nearby, there are macaw and parakeet clay licks, so you have ample opportunity to observe these birds flocking to the clay walls for needed nutrients in a way that is in line with their natural behaviors in the wild.
There is also a clay lick accessible that specifically attracts other animals- you could witness deer, wild pigs, anteaters, and even jaguars drawn in to feed here.
You can enjoy some fun activities such as a farm visit and a botanical tour to learn more about the native plants in the region!
Best for Wildlife Viewing: Tambopata Research Center
The charming eco-lodge at Tambopata Research Center is the most off-the-beaten-path, which offers you the best chance of seeing the most wildlife!
Be prepared for a 3.5-hour journey from the airport to reach your destination (luckily, it's easy as it's all coordinated for you by the hotel).
You'll be rewarded for your perseverance though: 4 in 10 guests see a jaguar on the way to the property between the months of July to September!
The Research Center is part of the namesake Tambopata National Reserve, and is the home to much of the scientific research and conservation efforts taking place in the area.
Your neighbors might not just be other travelers, but possibly even scientists working on the Reserve, since it is the only lodge inside the reserve itself.
If you're into birding, you'll be in absolute paradise as you traverse the 300 meters of elevated walkways through the lodge, bringing you to eye level with all sorts of avian life.
Best of all, the clay licks attract the local macaws, some of the area's most colorful and talkative birds!
And best of all, unlike other Amazon lodges in Peru, electricity is available all day in the suites – perfect if you want to unwind after an exhilarating jungle excursion with your favorite comfort show!
Balance, ya know?
Best Guided Tours: Inkaterra Hacienda Concepción
This top pick for Peru Amazon lodges, Inkaterra Hacienda Concepción, is located between the Madre del Dios river and the Tambopata National Reserve.
One major perk is that it's a bit closer than the previous options; your complimentary airport pickup will include a 10 minute shuttle bus, and then a mere 25-minute canoe ride down the river!
Compare that to some of the multi-hour transfer times above!
There are 25 cabanas available, all with hammocks on the porch, as well as 6 rooms available in the main building. If you're looking for a fully enclosed room, this is a good bet.
Internet is only available in the main house, so be ready to disconnect if you choose a cabana.
You can opt to follow the pre-made itineraries of events drawn up by the staff for your convenience, or mix-and-match your own activities.
The tour guides are knowledgeable and friendly, sure to educate you on the Amazon and have you laughing at the same time!
Best for DIY-ing it: La Habana Amazon Reserve
One great thing about La Habana is that it can be driven to, so you don't need to take a boat down the river to arrive at your accommodation.
This makes it a great option for people who are prone to motion sickness or just want a short transfer!
It's about a 25 minute drive into town, so you can easily return to town if there's anything you need while you're there.
This option is less all-inclusive and more do-it-yourself, which helps you cater your stay to fit your budget.
You are still able to book tours and activities through the hotel and eat your meals there if you so choose, but these things aren't required.
If you want to enjoy some free excursions, you can explore the hiking and biking trails around the property, and simply stop to marvel at the beauty of the jungle landscape around you!
The hotel offers bungalows with private bathrooms and hammocks on the front porches, perfect to unwind with after a long day.
There is also a pool to splash around in when the temperatures get hot in the middle of the day and you need to cool off.
The restaurant serves delicious traditional Peruvian food, so while it's not mandatory to eat there, guests rave about the food!.
Overall, it's a good place to relax in a beautiful environment without trekking too far into the jungle.
Best for Yoga: Casa Amazonas
This retreat-style space is a lovely choice to visit with friends for a relaxing getaway that combines wellness and adventure.
Casa Amazonas is located 5 kilometers from the airport and 10 kilometers from the town in a beautiful but not too remote area of the jungle.
Airport pickup can be arranged for a fee upon request, or you can take a taxi or rent a car.
The boutique hotel offers doubles and triples with bunk beds, and feature an open wall to the jungle.
The outdoor bathrooms are a hit – it's a fun way to feel at one with the jungle!
It's also a great place for quiet relaxation, as only children age 7 and older are permitted.
You can practice in the beautiful yoga shala (studio) for daily yoga and meditation classes led by expert instructors.
In addition to typical massage experiences, the spa also offers more alternative wellness treatments, like reiki healing and detox treatments.
For those who love to soak, there is an outdoor pool and a hot tub available for you to relax in at the end of the day.
Something really special about Casa Amazonas is the food!
The kitchen prepares delicious, Ayurvedic vegan and vegetarian friendly meals.
Candlelit dinners overlooking the river are a favorite here, and since the chefs use local ingredients, you'll likely try new kinds of fruits and vegetables not available in other regions – the chefs are truly extraordinary in their creativity!
There are trips you can join from the hotel if you so choose, like kayaking or hiking tours, but note that these experiences are priced separately from your stay.
Northern Amazon Lodges in Peru (Iquitos Area)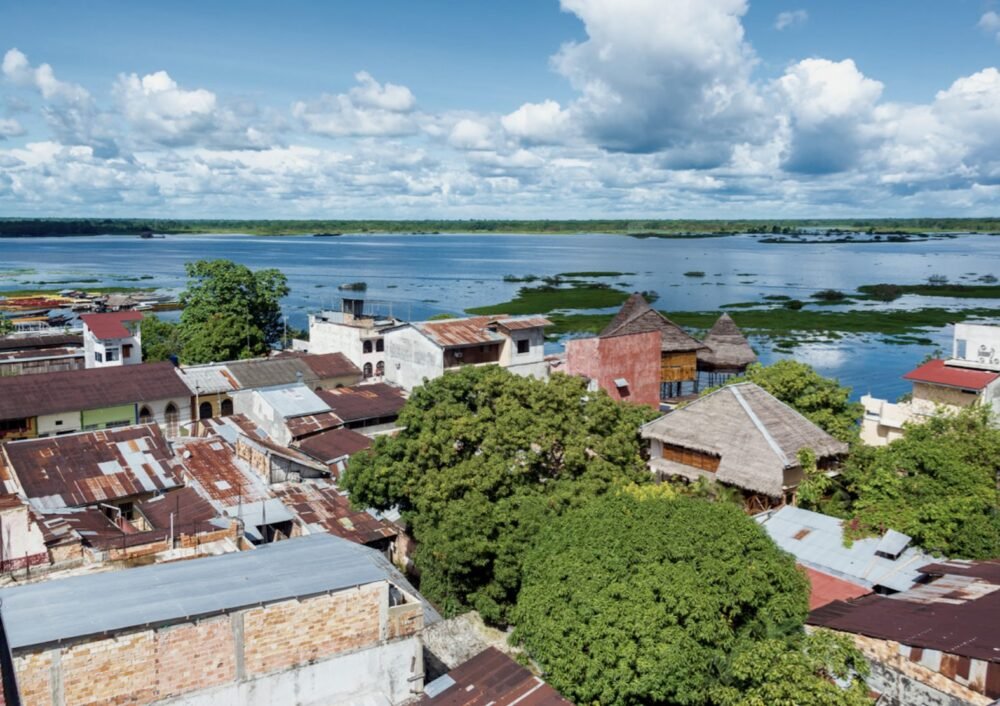 If you've chosen Iquitos, you must be ready for some adventure!
Fun fact: Iquitos is the largest city in the world that isn't accessible by car! You can only arrive by plane or boat.
Despite being so remote, Iquitos is a larger city than Puerto Maldonado, so you can spend a few days in town and immerse yourself in the culture.
Iquitos is a vibrant city known for incredible gastronomy, hectic moto-taxi traffic, and ayahuasca retreats.
These lodges are located on the Amazon River itself, as opposed to Puerto Maldonado, which is actually on a smaller tributary.
That means that what time of year you visit has a bigger effect on the activities, as the water level in the river will change drastically.
One particular draw of the Iquitos area of the Amazon is the chance to see the Amazonian pink dolphins!
Best for Water Activities: Heliconia Jungle Lodge
Heliconia Jungle Lodge is a great choice for all-around family fun!
You will reach the lodge via a 75-minute speed boat trip up the river from Iquitos.
The rooms are basic and functional, but provide everything you need to be comfortable. There are double, triple, or family-size rooms available.
Heliconia offers many diverse options to explore the river and jungle areas.
From fishing to canoeing, hiking to birdwatching, you're sure to find an activity to delight your group.
If your visit falls during the months of October or November, you can take part in releasing baby turtles into the wild!
The lodge offers a swimming pool and a billiards table to fill your downtime, as internet access is not available – so come prepared to disconnect!
Best for Sustainability: Muyuna Lodge
Located in the Tamshiyacu-Tahuayo National Reserve, Muyuna Lodge promises an escape from the outside world.
It's a 3-hour boat ride from the city of Iquitos, but sailing down the Amazon river is hardly a chore.
Once you get to your bungalow, you can relax in your hammock and enjoy a stunning sunset over the Amazon River!
All of the tours and activities are included in your price to make budgeting easy, and you can check out their pre-organized itineraries for 3-6 day visits.
This takes all the stress out of your trip- all you have to do is show up!
If you want to add on even more adventure, paddleboarding and canoeing are popular activities for your free time.
Most of the packages include visits to the nearby village of San Juan de Yanayacu, where you can see the local way of life in a meaningful way.
The lodge has a large emphasis on sustainability and social responsibility to the surrounding community to continue to protect the biodiverse environment and people of the Amazon for years to come.
Best for Luxury: Amak Iquitos EcoLodge
In this luxe Amazon resort, you'll stay in spacious, stilted bungalows, with multiple rooms to spread out in.
You can be picked up from the airport for no additional charge, but be sure to book your flights carefully — pickup is only available at 9 AM and drop off for departure is at 5 PM.
If your flight lands at an unconventional time, you'll have to factor in staying in the city for a night, or renting a private boat to take you there, which can be expensive.
Amak Iquitos has a stand-out restaurant where all of the ingredients are locally sourced from the surrounding area.
There isn't internet access available – a pro for some, a con for others – but there is a lovely spa to unwind at after a long day of exploring.
Some of their offerings include volunteering at a monkey sanctuary, visiting an art museum, and learning about the customs of a local Indigenous Amazonian tribe. 
All of the tours and meals are included in the pricing, and the staff at Amak Iquitos can help you decide which options are best for you.
Best Unique Accommodation: Amazon Oasis Floating Lodge
The floating lodge is located in Iquitos itself, which makes it convenient to get to, though it offers less of a fully immersive jungle experience.
However, these four brightly-colored floating bungalows are definitely something different – you'll literally be sleeping above the Amazon river!
Think overwater bungalows, but Amazon-style!.
Because it's located near the city, it is the only one of the Iquitos Amazon resort options mentioned that provides WiFi access.
There is also a 24-hour reception, which makes arriving at any time a breeze.
This accommodation isn't all-inclusive like the others mentioned above, so you will have to book the tours and excursions separately if you choose to venture into the jungle.
That can be a pro as you are more in charge of your budget, but it does mean you'll have to do some additional planning.
However, there is still a restaurant on-site for your convenience for days when you're too tuckered out from your Amazon explorations to venture out for food!