Seeing the aurora borealis is one of the most common bucket list items out there — and Finnish Lapland is one of the best places to do it!
The Lapland area is home to the largest concentration of glass igloos in Finland, so you have plenty to choose from!
There are also aurora cabins with glass walls, snow hotels with real snow igloos, and more: creative Northern lights hotels in Finland are really something special.
This post will cover all kinds of places to stay in Finland to see the Northern lights
So get ready to enjoy a marvelous winter wonderland at some of the best glass igloo resorts in Finland for observing the Northern lights.
What's It Like to Stay in a Glass Igloo in Finland?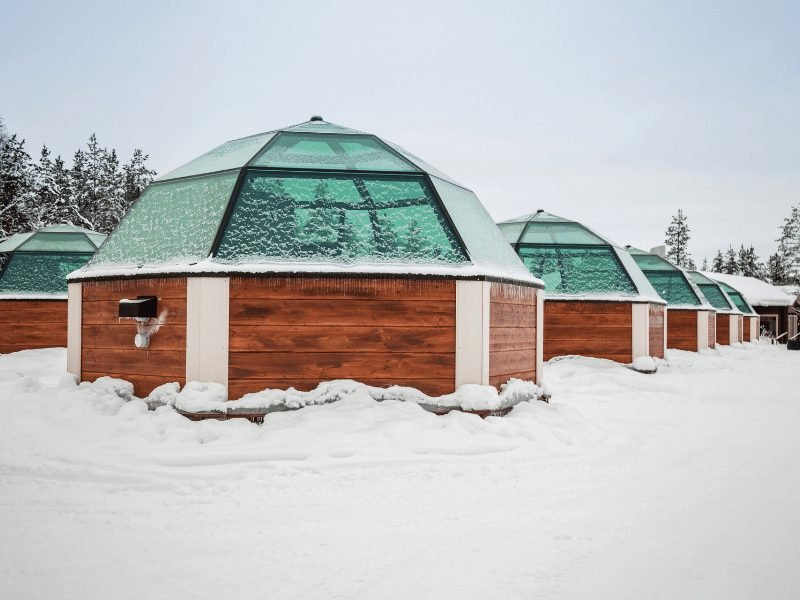 Note: This post contains affiliate links, which means I may receive a small commission if you purchase something through one of these links. Thank you for supporting the free content on this site! For more information on affiliate links and cookies, see my disclosure page for more details.
Don't shiver at the term igloo! These are thermal glass igloos which are well heated.
They are named "glass igloos" because they have the shape of a snow igloo, but instead of ice, there is a see-through glass dome.
This is the perfect place to watch the aurora from!
Many glass igloos are made for two people to stay in.
They will typically have a small kitchen, a private bathroom with shower facilities, and a double bed which you can watch the aurora from.
Typically, there will also be a main building on-site where there is a concierge who will help you book outdoor activities.
Think fun winter activities like snowmobile safaris, cross country skiing, husky sledding, or even a reindeer farm visit.
There is also often a restaurant on-site in a separate building.
Also, free parking is often provided as many of these igloo hotels are rather remote once you leave the Rovaniemi area.
Most glass igloos in Finland will also have other amenities for guest to enjoy, like smoke saunas, an outdoor jacuzzi, its own restaurant, etc.
The best hotels will have all of this and then some!
My Top 3 Picks for Glass Igloos in Finland
No time to read the full article and just want my top picks?
Here are my three favorite glass igloo hotels in Finland to get you started on your search!
⭐️⭐️⭐️⭐️⭐️
Apukka Resort
✔️ Husky and reindeer farm on site
✔️ Unique snow sauna & portable sauna amenities
How Much Does it Cost to Stay in a Glass Igloo in Finland?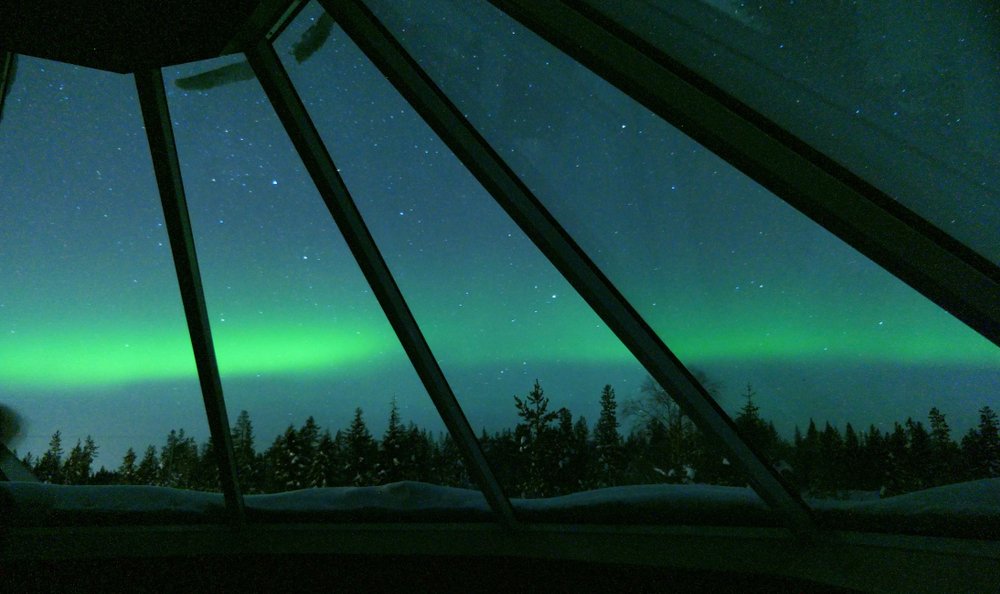 It can be quite expensive, but if you're going all the way to the Arctic Circle for a once-in-a-lifetime experience, it is worth spending a night or two in a famous Finland glass igloo resort.
Glass igloos in Finland typically cost about $600-800 USD per night during peak season — even for a small glass igloo for two.
However, while this is the general baseline price, you might find some to be more expensive.
This is especially true during peak times around Christmas and the New Year, when the cheaper igloos will book up far in advance.
You'll also want to budget for any meals during your Finnish glass igloo stay!
Breakfast is typically included, other meals are typically not.
Keep in mind that many of these glass igloos are in remote parts of Finland, where you will not be able to easily find restaurants nearby.
Luckily, most igloo hotels have on-site a la carte restaurants, so you won't have to worry about that. Some glass igloos even have small kitchens as well if you prefer to save money by booking.
Finally, you'll want to also factor in any activity costs that you want to organize.
If you're staying in a glass igloo near Rovaniemi, it may be cheaper to organize your winter activities independently. 
On the other hand, if you're staying somewhere more remote, you will likely have to organize through your hotel.
Another factor is transit costs to and from your hotel.
Glass igloo hotels sometimes can be quite far from airports!
When you're trying to pick one, I suggest thinking about distance from an airport, as well as whether you plan to rent a car or not.
Also, consider if the glass igloo hotel provides any sort of transfer service.
Lastly, keep in mind that most glass igloo hotels in Finland are open year-round.
While they are very popular during Northern lights season, if you come during the summer months, you can enjoy the magical midnight sun and beautiful Finnish nature.
Best Finland Glass Igloos & Northern Lights Hotels (Broken Down by Region)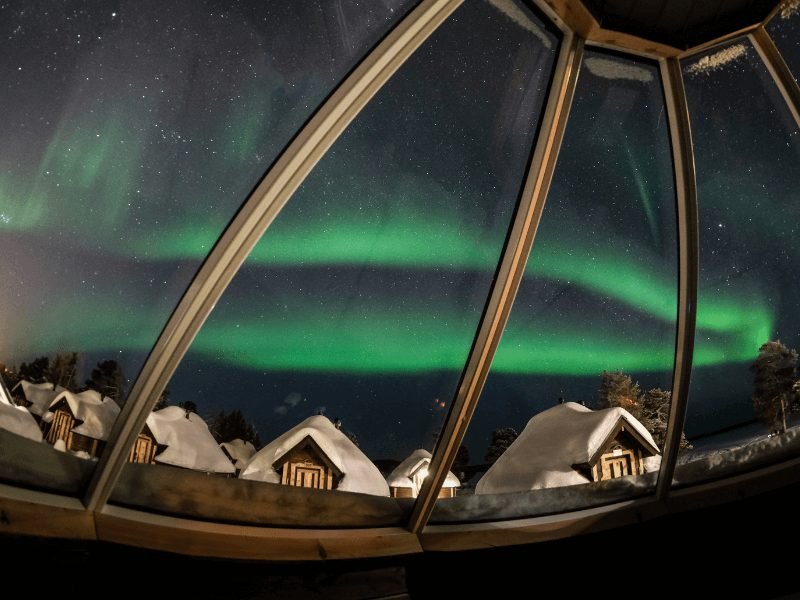 Northern Lights Hotels & Glass Igloos near Rovaniemi
One of the best igloo hotels in Finland can be found right in Rovaniemi, and it's the perfect place to stay in Rovaniemi in winter: Glass Resort, located right in Santa Claus Village.
Each of these glass igloos are climate-controlled, and the location is perfect — just five miles out of central Rovaniemi (shuttle services are provided!).
This is just a short walk to Santa Claus Village's shops and restaurants, yet in a beautiful winter wonderland.
Each igloo includes a private bathroom with a rain shower, bathrobe, and slippers.
They also each have their very own tablet which you can use to contact the front desk with any questions — and also get Northern lights alerts so you can awake to see the lights dancing above without needing to stay up!
They even have a button you can press to defrost the glass for the perfect view — they've really thought of everything.
The premium igloos for two even include a private sauna, and there are also family igloos for four with an alcove for two more people to sleep!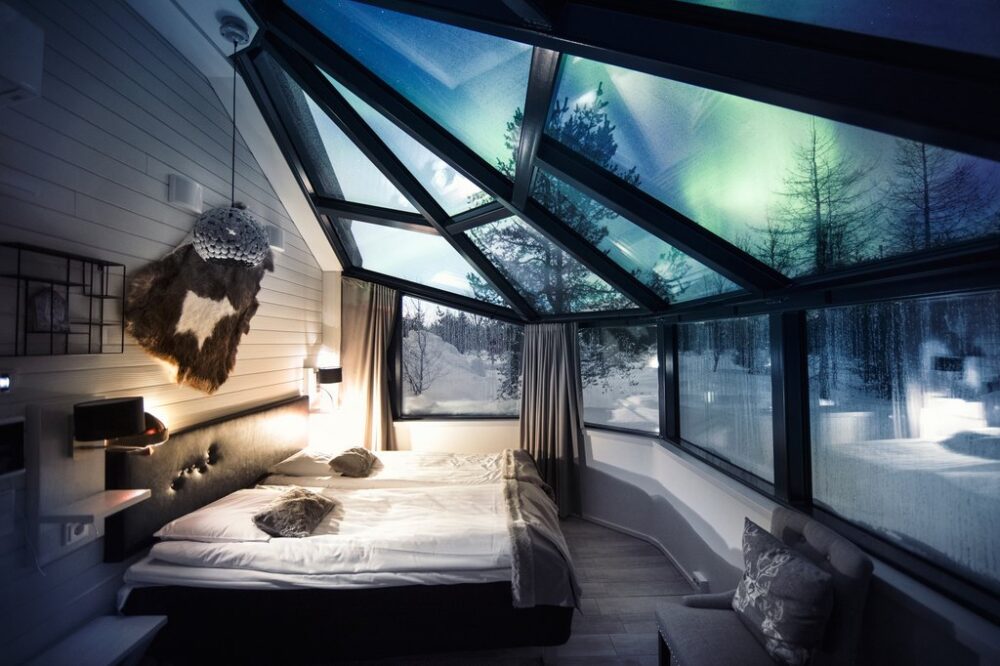 Another glass igloo hotel located in Santa Claus Village, this is a great place to stay for a bucket list experience.
Santa's Igloos Arctic Circle offer everything you want in a Finland glass igloo experience: a wake-up aurora alarm, comfortable rooms with heating and an en-suite bathroom, an on-site restaurant.
These glass igloos are stylishly furnished, more similar to a boutique hotel room than a 'glamping' type experience.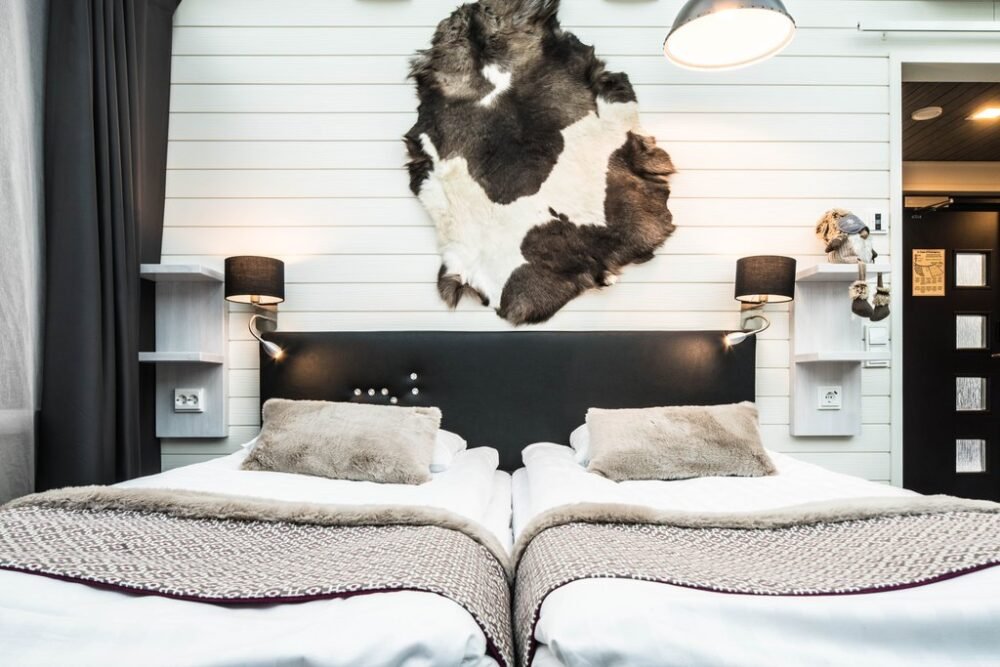 The views of the Northern lights as they dance above, combined with the prime location of the hotel, make this a one-of-a-kind place to stay near Rovaniemi.
It is quite similar to the other option listed above, since they are located very near each other.
I suggest comparing dates and availability to find the best combination of price and amenities to you.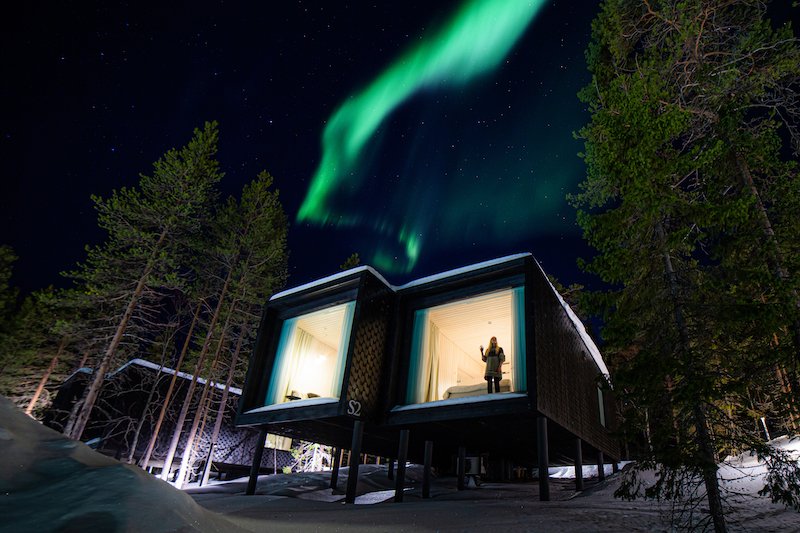 For a unique and memorable stay watching the Northern lights in Finland, the Arctic Treehouse Hotel is hard to beat.
Despite the treehouse name, it has a ton of modern amenities, including all the things you'd expect like WiFi.
So, why treehouse in the name? Well, the Arctic Treehouse Hotel features unique mini-cabins perched on stilts for a perfect unobstructed view.
Each room houses a cozy bed that faces an enormous panoramic window — perfect for watching the Northern lights, even without leaving bed!
Each cabin suite has an en-suite bathroom, and some even have kitchenettes in case you prefer to self-cater during your stay, although there is also an on-site restaurant.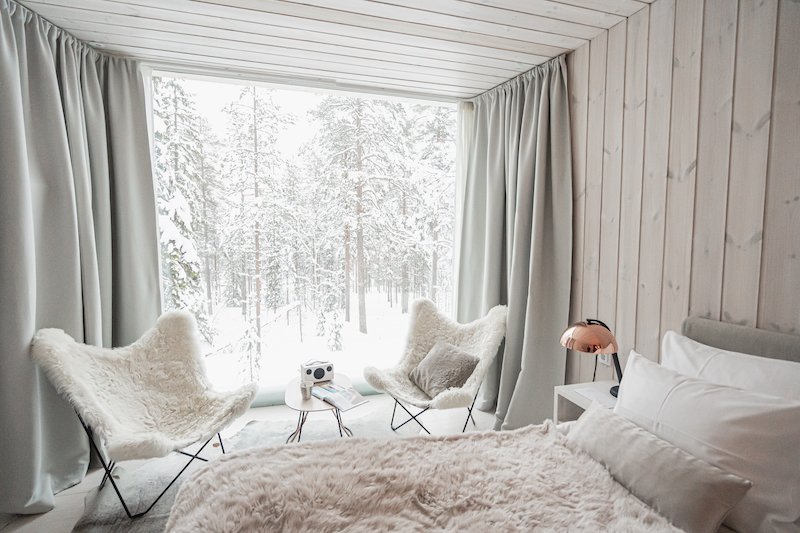 There are also Arctic Glass Houses which are more like a chalet, but with tons and tons of windows so you can see the aurora from any room in the house.
These private chalets also include an en-suite sauna in addition to a kitchenette, two bathrooms, and space for up to four guests.
There's also the Arctic Scene Executive Suite, which has its own private sauna and bathtub — perfect if you're coming to Rovaniemi for a honeymoon, anniversary, or celebration and want an extra special experience!
This hotel is located right next to Santa Park (perfect if you have kids who want to meet 'Santa Claus') and a short distance from all the amenities in town at Rovaniemi, including Santa Claus Village.
The staff is also happy to help you organize all sorts of Finnish winter activities like cross-country skiing, ice fishing, snowmobile rides, dog sledding, and more!
Check reviews, room types, and availability at Arctic Treehouse Hotel here!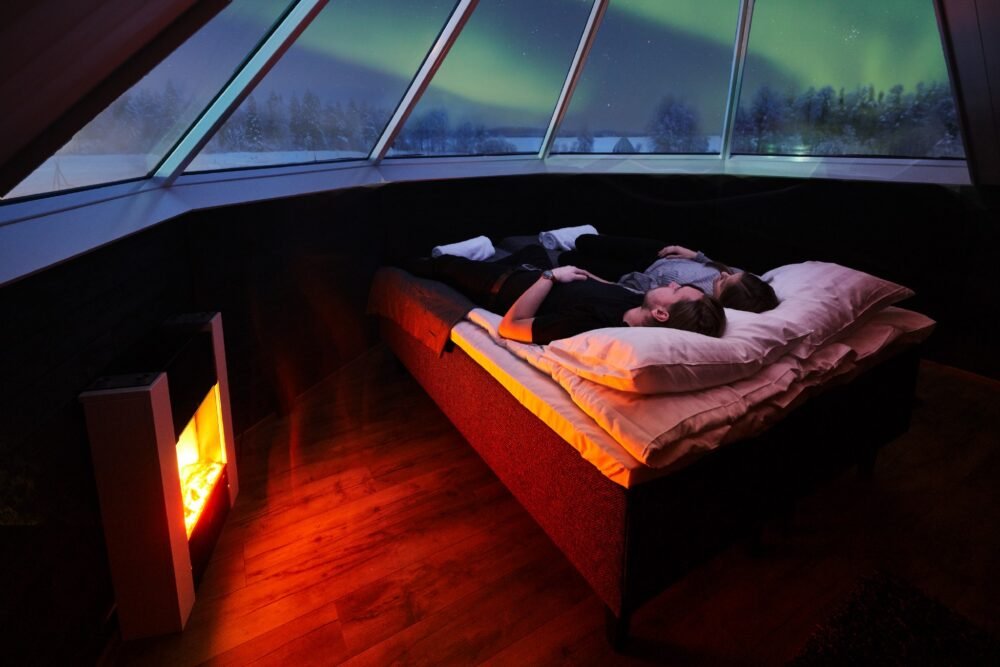 15 minutes away from Rovaniemi is a charming town called Apukka, home to Apukka Resort, a gorgeous lakefront property.
Because it's located a bit outside of the town of Rovaniemi, you'll be able to enjoy beautifully clear night skies without the light pollution of the city. Even if the Northern lights don't dance, you'll love the chance to admire the starry sky!
Apukka Resort is also home to a husky and reindeer farm, so you can go on a husky safari or try a reindeer safari with the reindeer that were — and are — so important to the indigenous Sami people who are the original stewards of this land.
They also offer horse sleigh rides, and you can get a discount on winter activities if you book directly with them.
What sets Apukka apart are all the unique amenities, especially their sauna offerings: we're not just talking glass igloos, but also an ice sauna (what?!) and even moveable saunas that are portable and transported on skis!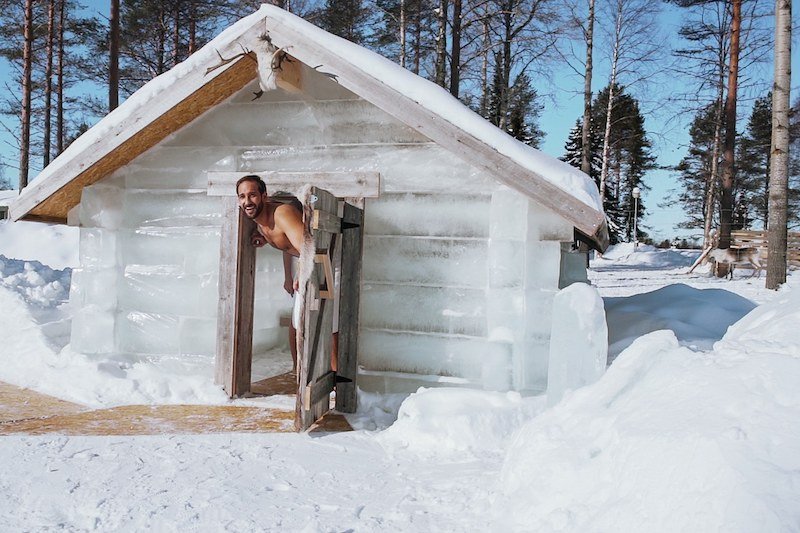 You can also rent a private hot tub and sauna experience, with either an electric sauna or the traditional wood-heated sauna.
The interior of the glass igloos are minimalist but with nice touches that make your stay more comfortable.
They've thought of things like a seating area, an electric fireplace for coziness and warmth, a thermostat so you can control the temperature, and hooks for hanging your winter coat: all these little elements set Apukka Resort ahead!
Best of all, these glass roof cabins (called Aurora Cabins) offer you incredible views of the Northern lights dancing overhead as you lay on your back in bed! It's the perfect way to see the Northern lights.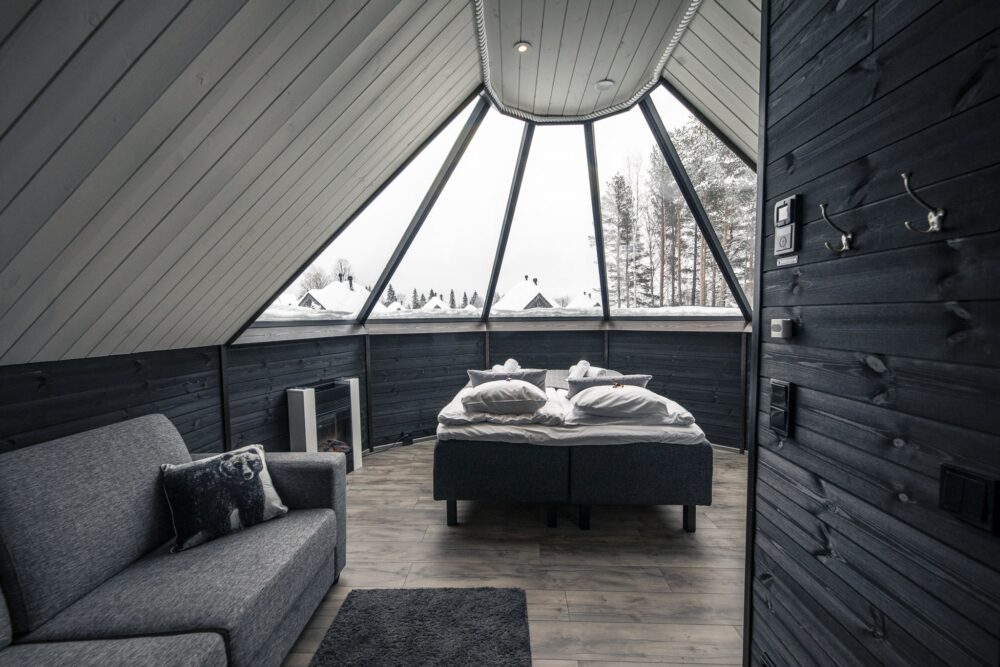 They also have larger suites such as the Lappish Luxury Suite and the Lappish Kammi Suite, which still offer all the views of a glass roof but with more amenities inside.
There are also apartments with wide, panoramic windows offering stunning lake views — many of which also offer sunrise views, as another show after the Northern lights dance all night!
All cabins include an en-suite bathroom so you won't have to worry about going outside in the cold in the middle of the night! A free breakfast is also included.
Check reviews, room types, and availability here at Apukka Resort here!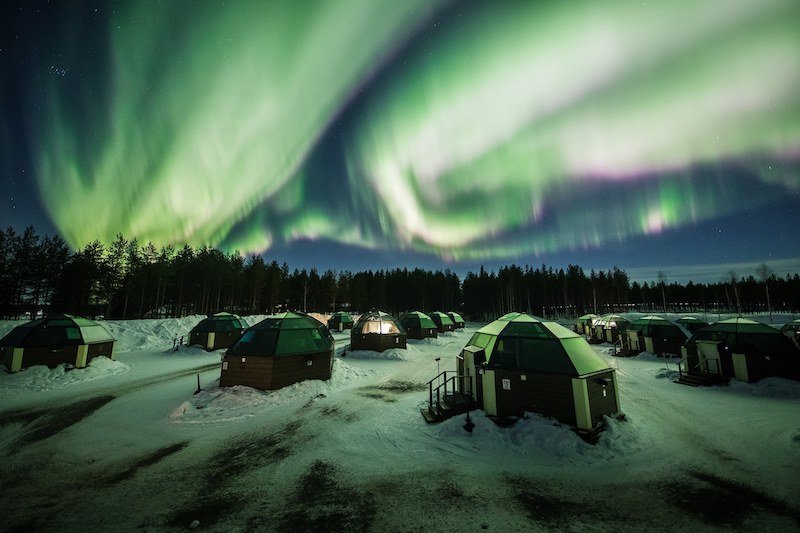 So far we've mostly talked about Finnish glass igloos, but there is another kind of Finland Northern lights hotel that is a truly unique experience: staying in a snow hotel!
These temporary hotels are built entirely of ice and are rebuilt every year — an impressively massive undertaking!
And with Arctic Snow Hotel, you don't have to choose between the two, because the property has both snow rooms and glass igloos.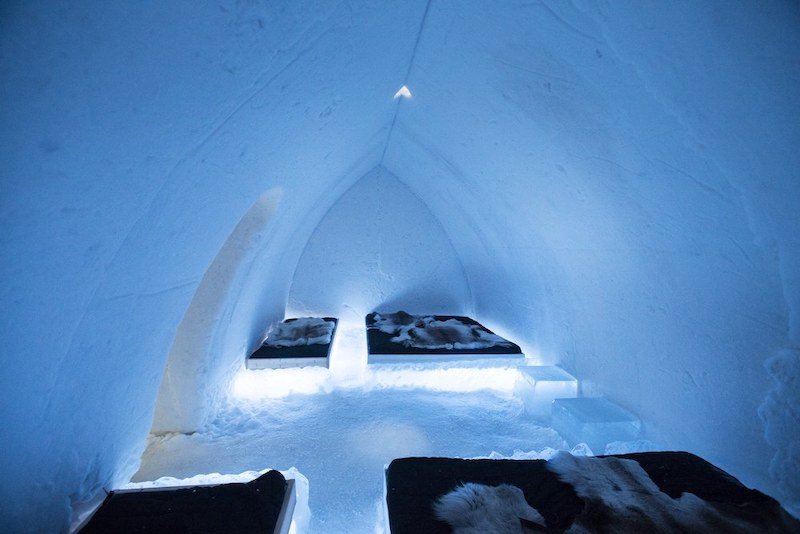 In these hotels, you'll find everything ice related — you can stay in an actual ice room with an ice bed, covered in reindeer pelt, topped with a thermal sleeping bag.
The property also has fun amenities like an on-site ice bar and ice restaurant.
Even if you are not a guest at the hotel, you can visit them as part of a winter day trip from Rovaniemi.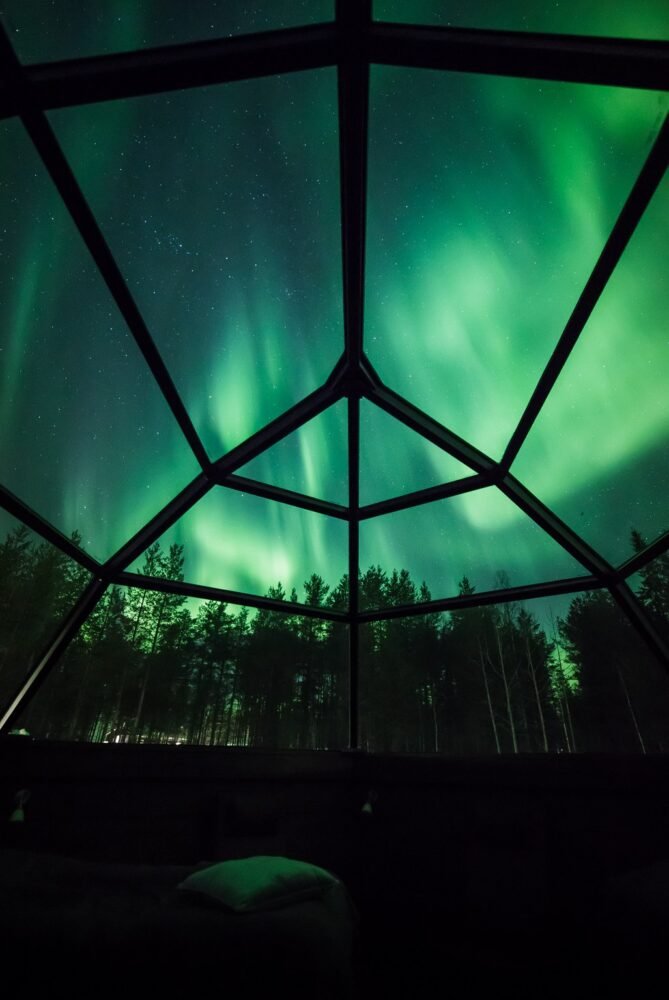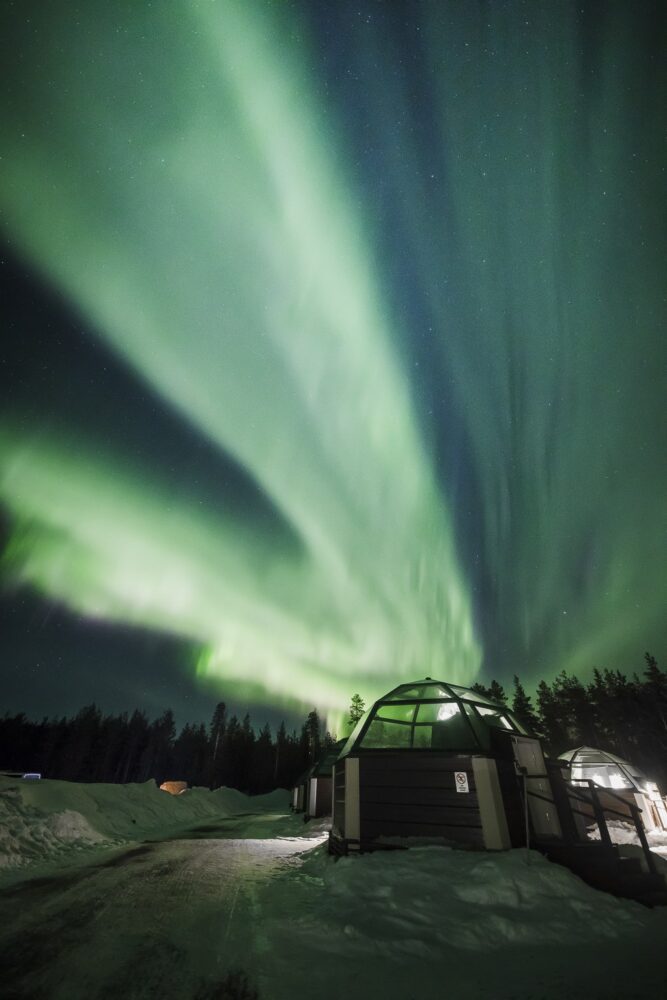 That said, if you're looking for glass igloos, you'll find those here too, designed beautifully to be comfortable, heated, and with an excellent view of the Northern lights anywhere you look.
Best of all, it's very close to all the sights of downtown Rovaniemi so organizing transportation, activities, and meals is all very easy.
Check reviews, room types, and availability here at Arctic Snow Hotel!
Glass Igloos & Northern Lights Hotels Near Levi & Kittilä Airport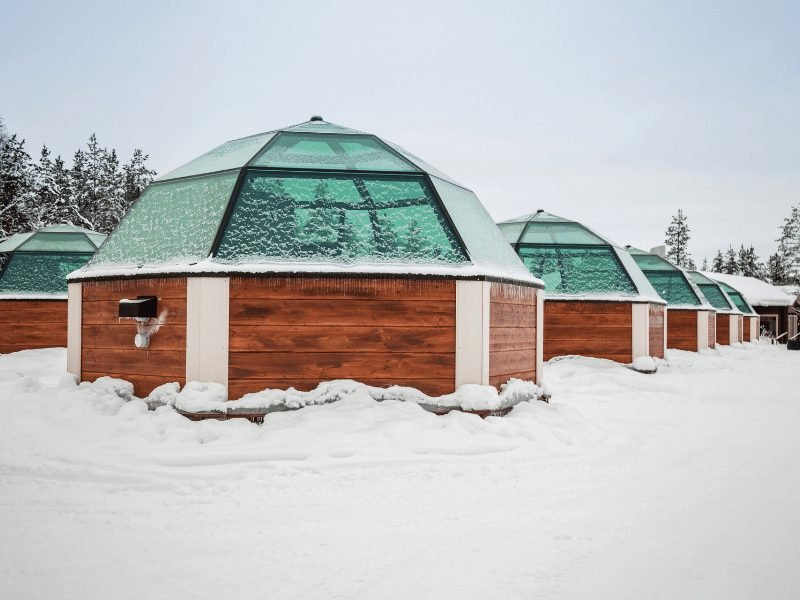 Located a short drive from Levi, one of the main areas for downhill skiing in Northern Finland, Levin Iglut is one of the best spots to stay for epic sky views!
Even though Levi is a big ski destination, Levin Iglut is no average ski resort! It's perfect for Northern lights viewing, with unique igloos with glass ceilings so you can perfectly enjoy the lights from your aurora dome.
The glass ceilings aren't just ceilings, too; there are glass windows as well, giving you practically 360-degree views of the Northern lights (convenient, as sometimes, they might be located to the right or left of you, and rooms that only have one window might not get full views of the sky!).
Of all the igloo hotels in Finland, I think Levin Iglut is one of the most sophisticated. The igloo rooms enjoy decor that would be beautiful even in a standard hotel room, and the private bathrooms are luxurious, almost spa-like.
The on-site restaurant serves fine dining that is elevated so that it looks as beautiful as it tastes!
Despite being a bit far from Rovaniemi area, it's still quite convenient to access: it's just 11 miles from the Kittilä Airport and 5 miles from the Levi Ski Resort.
Check reviews, room types, and availability here at Levin Iglut here!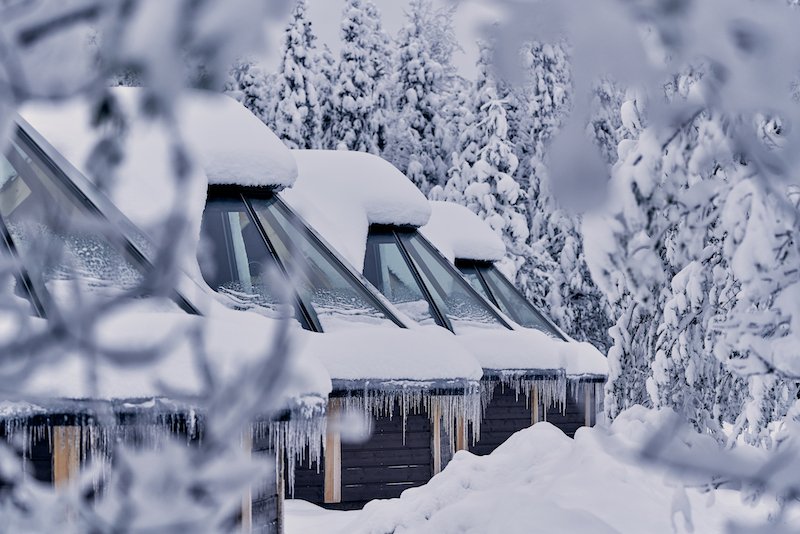 Another great Northern lights hotel option in Levi is Northern Lights Village. It even has its own reindeer paddock, where you can meet the local reindeer!
The rooms feature glass roofs so you can see the Northern lights while you relax in bed.
The Aurora Cabin rooms are designed beautifully, with wood paneling on a large portion of the room, then opening up to several panels of glass.
The glass ceiling is heated, so that even on a snowy day, any snow will melt within 20 minutes!
From these panels, you can enjoy views of the snowy forest by day and hopefully the aurora by night!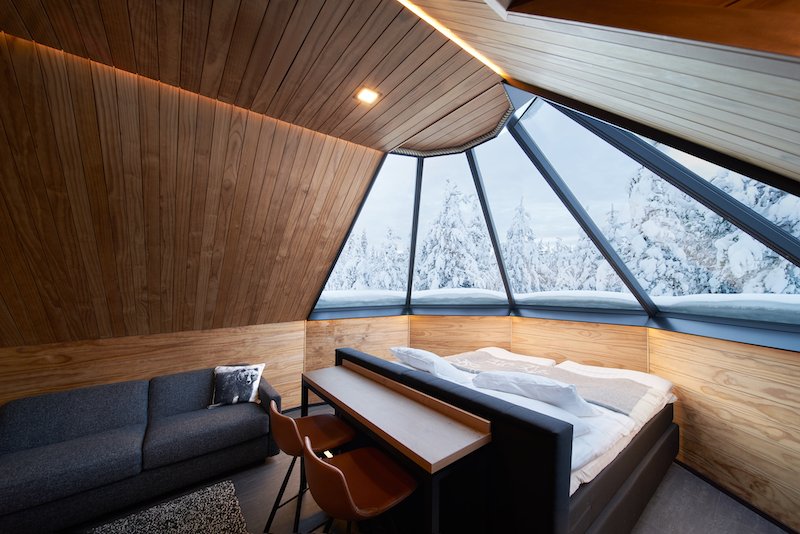 The rooms also have a seating area and en-suite bathroom included in each unit.
On the property, there is also an on-site restaurant specializing in the cuisine of Lapland, so you can eat well without having to trek into town.
Best of all? Dinner is included in your rental price!
There's also an on-site sauna that is available for guests to use — there's no better way to relax after trying to spot the aurora than in a sauna, after all.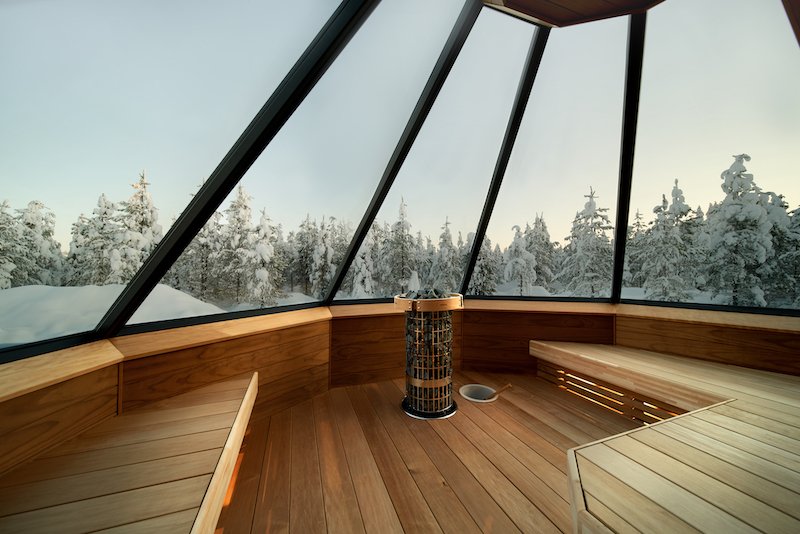 The sauna also has a glass ceiling so the aurora watching doesn't have to stop while you sauna!
There is also an outdoor jacuzzi you can sit into watch the lights. The sauna and the jacuzzi can both be rented for private use.
Check reviews, photos, and availability at Northern Lights Village here!
Arctic Land Adventure – View Property Here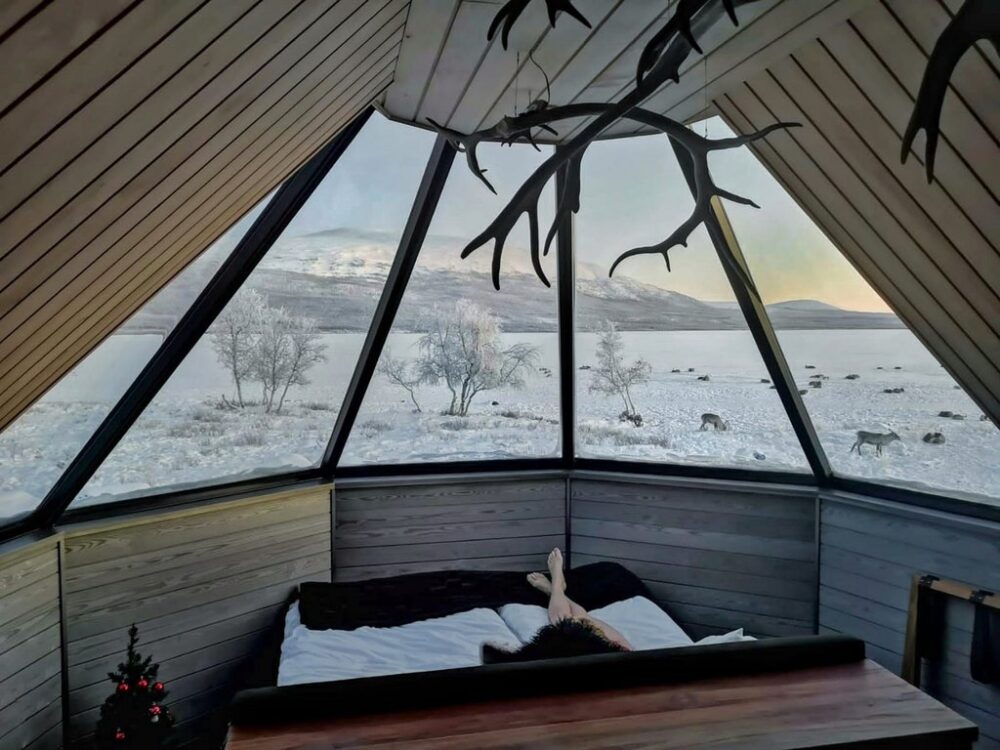 One of the more remote glass igloos in Finland on this list, Arctic Land Adventure is located in Kilpisjärvi, about 250 km from Kittilä Airport.
Connections are provided by thrice-weekly transfers and a daily bus service, but if you land outside of convenient times, private taxis are also available, as is renting a car.
It is actually closer to Tromsø (another fantastic winter destination in the Nordics), about 188 km away, where there is a daily bus that connects Tromsø and Kilpisjärvi.
Depending on your transportation budget and if you are also visiting Norway in winter, this may be one of the better options, despite its remoteness.
Once you get there, you'll see all pains taken to get there are worth it. Their glass igloos are large and can sleep up to 4 guests, and they have all the comfortable amenities you need: smart TVs with Netflix enabled, an en-suite bathroom, a kitchenette, heating, etc.
Some of the rooms even have their own private hot tub to enjoy!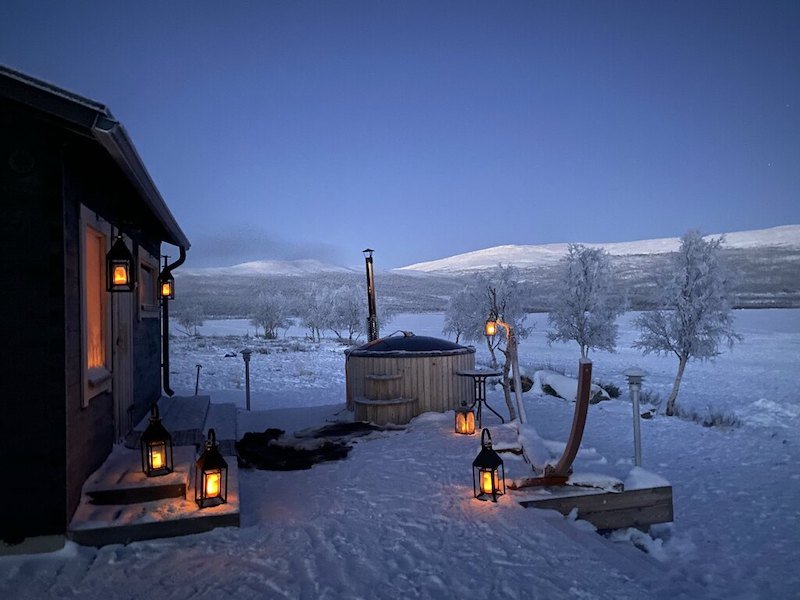 You'll enjoy breathtaking views of the mountains and frozen lake, and the Northern lights dance here more than anywhere else in Finland due to its location.
Past guests raved about the hospitality as well as the delicious on-site restaurant, serving local dishes with Arctic touches like reindeer meat and cloudberries.
As if that wasn't enough of a dream come true, Arctic Land Adventure is also located right on a reindeer farm, and you can even arrange to spend the day with a Sami reindeer herder to see what their life is like.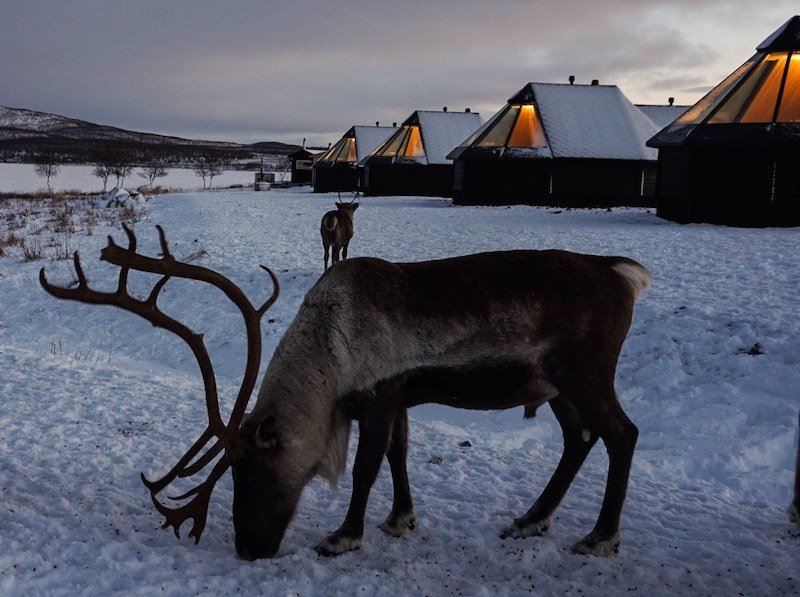 The reindeer are free to roam around your glass igloo so you can often spot them wandering around.
This glass igloo hotel also offer snowmobile rides and all sorts of other outdoor experiences, so you don't have to worry about missing out on anything on your Arctic bucket list just because you're in a remote location.
Check rates, reviews, and availability at Arctic Land Adventure here!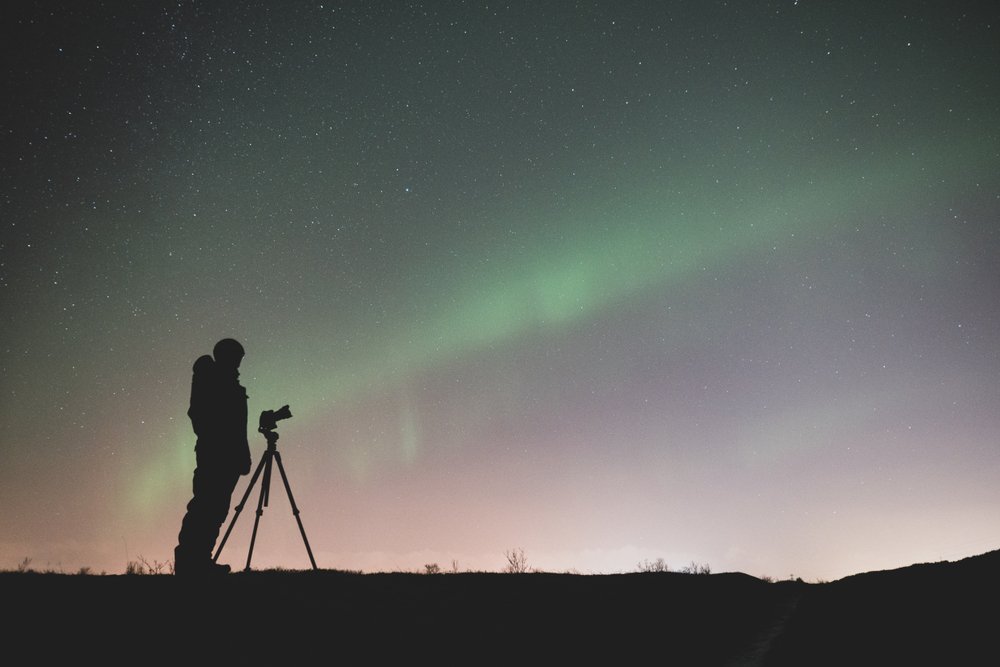 Meet the new evolution of glass igloos in Finland: pyramid glass igloos!
This is one of the more uniquely photogenic glass igloo resorts in Finland at the moment.
This stunning hotel, Aurora Pyramid Glass Igloo, is brand new and already turning heads.
It's located 4 miles from Levi and 11 miles from Kittila Airport, making it a convenient stay especially if you want to do a mixed ski holiday and Northern lights chasing trip.
The glass pyramids feature incredible views from every direction, with amenities like a kitchenette, en-suite bathroom, and seating areas.
Admire the incredible views while being close to all the comforts that Levi offers!
Check reviews, photos, and availability at Aurora Pyramid Glass Igloo here!
Glass Igloo Hotels in Finland Near Ivalo Airport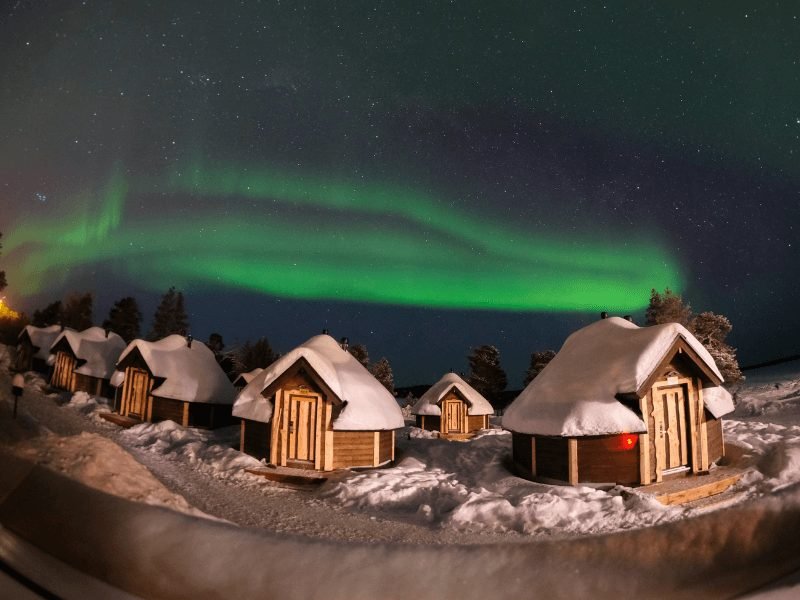 Ivalo is a quiet, remote area of Finland located about 21 miles from Saariselkä and 25 miles from Inari.
Aurora Village Ivalo is located just 8 miles away from the Ivalo Airport, though, making it relatively easy to get somewhere so remote!
This stunning property has the unique cabins with glass roofs, allowing you to watch the spectacular views of the Northern lights undulate overhead while you're lounging in bed.
There is an on-site restaurant serving up new Nordic cuisine. The dishes are absolutely exquisite, using local ingredients and beautiful plating.
If you need help planning any winter activities, a tour concierge who can help you plan the Finnish Lapland trip of your dreams — from dog sledding to snowshoeing, the Finnish winter wonderland is right at your doorstep.
There's also a glass sauna — yes, you can watch the Northern lights from a sauna at Aurora Village Ivalo!
This is a unique offering I haven't seen at any other Northern lights hotels in Finland (or anywhere else, for that matter, but nothing gets between a Finn and their sauna).
There's also an outdoor hot tub which is another fantastic place to spot the lights.
The cabins all have their own coffee machine, seating area, and en-suite bathroom with toiletries and hair dryer — it's amazing how much fits into these small but scenic cabins!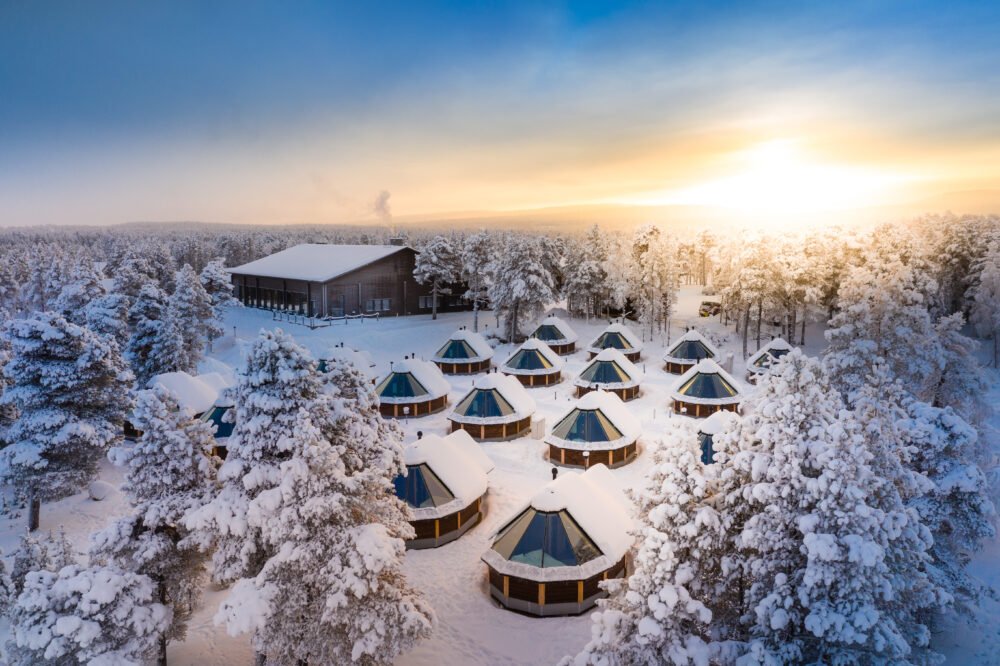 For a beautiful, remote lakeside stay, Wilderness Hotel Inari & Igloos is a fantastic choice.
The hotel takes inspiration from the Sami culture which informs much of Northern Norwegian life and culture, in its food, decor, and architecture.
There are several options for the kind of accommodation at this hotel.
The most affordable room style is the Wilderness Room, which is your typical hotel room with Scandinavian and Nordic design elements. It's comfortable and has an en-suite bathroom, but isn't as unique an offering as the other room types at this hotel.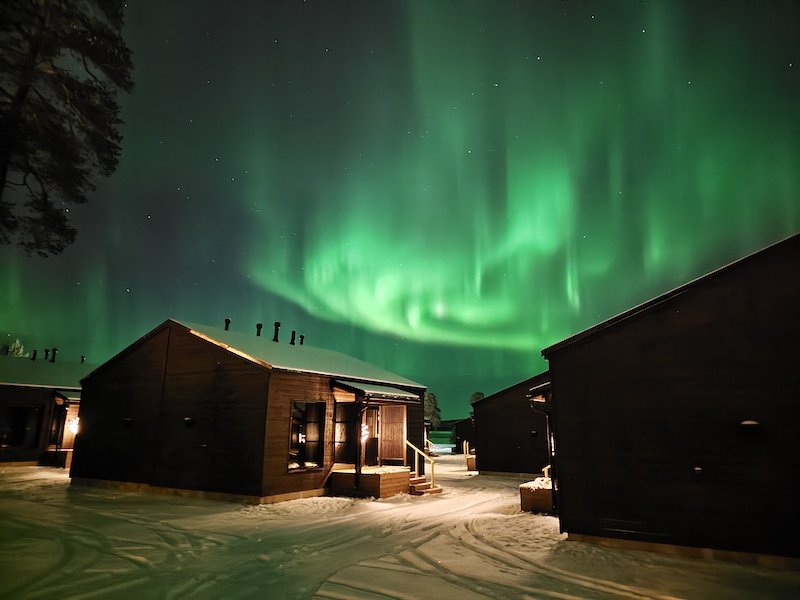 Another great choice are the Arctic Chalets with large panoramic windows for seeing the Northern lights from your window — and these come complete with a private sauna! These are also quite reasonably priced.
Another option are their Log Cabins, which include a cabin and a fireplace, which can sleep six — you'll have to inquire directly with the hotel regarding this, as it's not available on the booking website.
But the reason most people come to Wilderness Hotel Inari is for their Aurora Cabins, which feature several panels of glass shaped similarly to a Sami lavvo (similar to a tipi).
This is where you've seen those viral photos of a person in bed with the Northern lights dancing all around them through the paneled glass windows.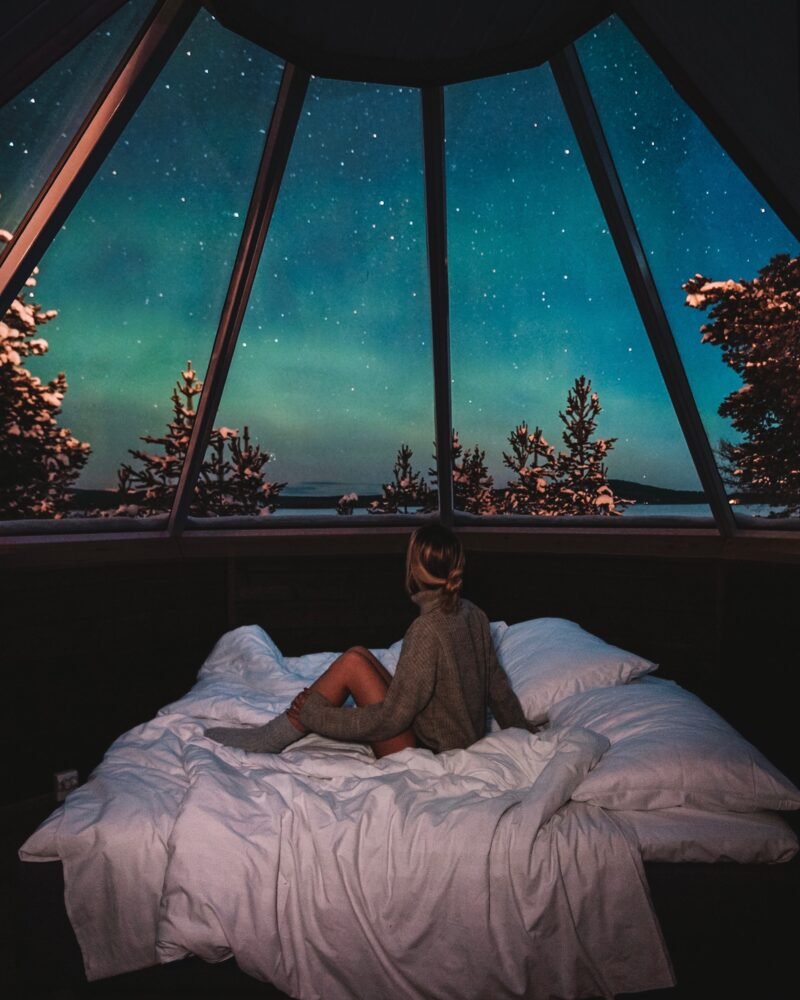 In terms of amenities, there is an onsite restaurant that serves Northern Finnish cuisine including dishes like reindeer and moose, well as an on-site sauna for communal use.
All sorts of activities are also on offer here, including snowmobiling, husky safaris, ice fishing, cross-country skiing, and aurora chasing tours.
Check reviews, room types, and availability here at Wilderness Hotel Inari here!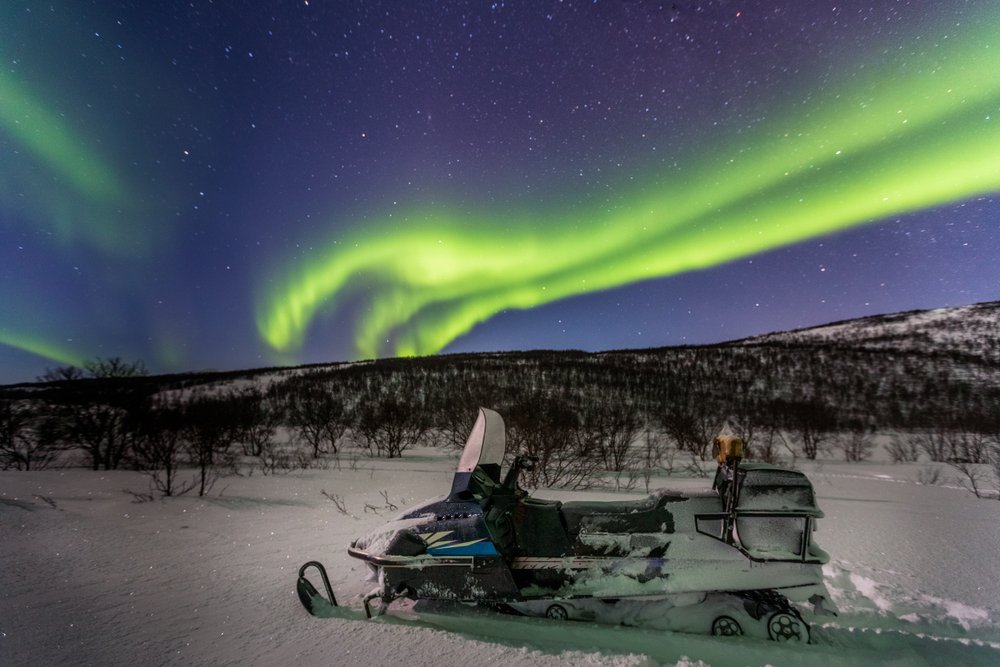 Located on top of a beautiful mountain, you can enjoy some of the best views of the aurora you can possibly imagine at Star Arctic Hotel!
Just 17 miles from Ivalo Airport and yet feeling like another world atop beautiful Kaunispää Mountain, the property has everything you need to feel at home and tick seeing the Northern lights off your bucket list.
This hotel doesn't have "glass igloos" per se but it does have Aurora Cabins, which feature pyramid-shaped glass roofs that give a similar 360-degree effect from the bedroom portion of the cabin.
There are also View Suites which do not have the glass roof, but do have large panoramic windows, as well as View Suites that also come with en-suite saunas!
As with all the other Finland Northern lights hotels on this list, they can assist you with any winter activity bookings you want to make, from dog sledding to snowmobiling and beyond!
Check reviews, room types, and availability here at Wilderness Hotel Inari here!
Kakslauttanen Arctic Resort Igloos and Chalets – View Property Here
One of the classics of Northern lights hotels, Kakslauttanen Arctic Resort is one of the most famous glass igloo hotels in Northern Finland.
In fact, when you think of glass igloos in Finland, this is probably the property that comes to mind.
Located way in the North, far from light pollution, you can enjoy pristine skies many nights of the year at Kakslauttanen Resort.
However, since this is the original, it is one of the more expensive offerings. That said, they have updated what they offer so that it does have some unique qualities that other glass igloo resorts in Finland don't have.
Their newest room type, the Kelo-Glass igloos, combines a log cabin feel with the standard glass aurora dome you are used to seeing in a Finland glass igloo.
These rooms sleep up to six so it's perfect if you need an extra bed or two for kids or other people in your party, as many glass igloos only sleep two people comfortably.
Check reviews, room types, and availability here at Kakslauttanen Arctic Resort here!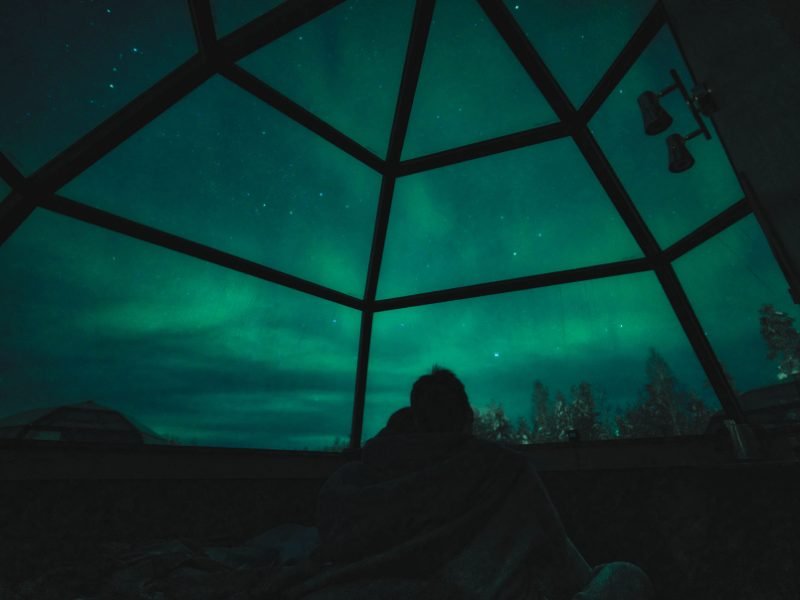 Other Northern Lights Hotels in Finland
While located in Kemi — not technically part of Lapland — the Seaside Glass Villas are another possible choice for a Northern lights hotel.
These villages feature glass windows on the ceiling, in front of the bed, and on one full side of the bedroom area (all the side windows can be covered up with curtains for privacy), with one wooden-paneled wall.
There's also a cozy sauna to enjoy and walks along the seaside can be spectacular.
However, do note that Kemi is further south than Rovaniemi, not to mention other Northern lights hotels which are even further north (and therefore, a lot more likely to get better aurora displays!)
Therefore, I wouldn't recommend this as my top choice for a Northern lights hotel, even though it does look spectacular, simply because Kemi is not the most predictable place to see the Northern lights.
Check reviews, rooms, photos, and availability at Seaside Glass Villas here!
FAQs About Glass Igloos in Finland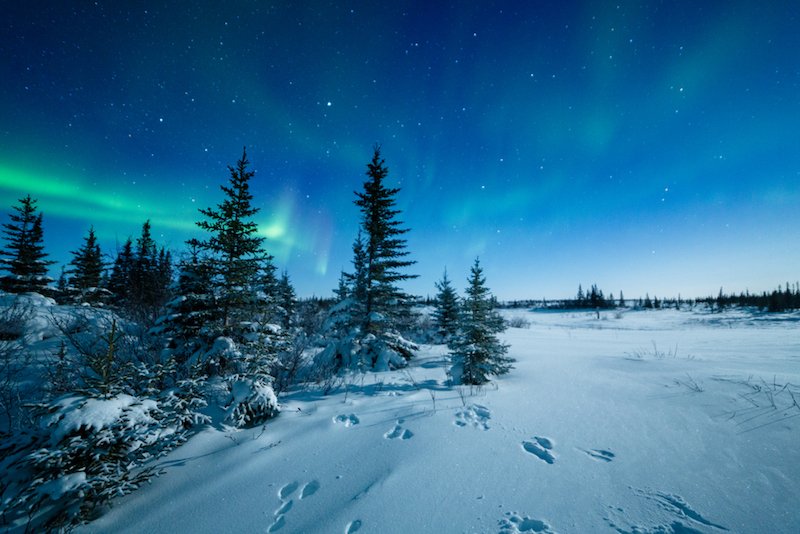 Where can I find glass igloos in Finland?
Generally, you'll find glass igloos around Rovaniemi and points further north, as those are part of the Arctic Circle.
There is the most selection around Rovaniemi itself, but there are also some choices in area around Kittilä Airport (Levi, etc.) and Ivalo Airport (Saariselkä, etc.)
Can I see the Northern Lights from a glass igloo?
Yes – that's kind of the whole point!
The igloos have glass roofs that are heated to help melt any snowfall, so it doesn't pile up and obstruct your view.
You'll have to keep all your lights off and not look at bright lights (put that phone away!) to adjust your eyes to see the aurora properly, but if it's strong, you can see it from bed!
What time of the year is best to stay in a glass igloo in Finland?
Every season has its benefits! Of course, it's most popular to stay in a glass igloo in the winter because of the aurora.
But these glass igloos are also really marvelous to stay at in the summer, when there's midnight sun (don't worry — there are blackout curtains!)
Early spring and fall also have some possibility of seeing the aurora, so these may be the most affordable time to stay in a glass igloo and still see the Northern lights.
What facilities are available in a glass igloo?
Generally, a glass igloo will have everything that a regular hotel room has (and sometimes more!).
All these Finland glass igloos are very high-tech. They all have a modern, en-suite bathroom, and some have kitchenettes.
Every glass igloo will be well-heated and have privacy curtains that you can draw closed when you need to.
Some igloos come with aurora alarms and a member of the staff who will alert them if the Northern lights are putting on a show!
How to Get to Finnish Lapland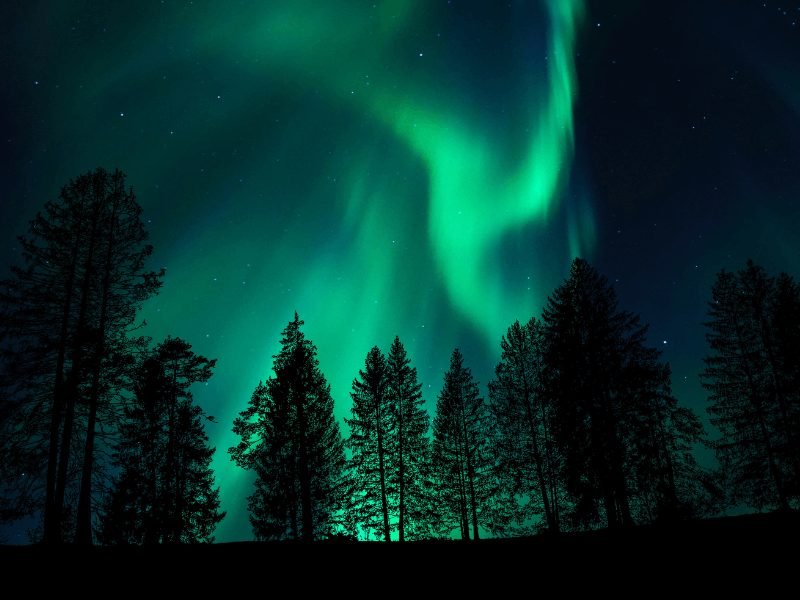 The best way typically is to fly into Helsinki (which is also a great winter destination!).
Then you can take a connecting flight to one of the three major airports in Finnish Lapland: Rovaniemi Airport, Kittila Airport, and Ivalo Airport, listed in order from southernmost to northernmost.
Rovaniemi is the most popular base for Finnish Lapland adventures because it's home to Santa Claus Village — but that also means it is the busiest and most light-polluted area, so you'll want to stay outside of the city center for a better chance of seeing the skies.
As you go further and further north, the Northern skies will be clearer and afford you more spectacular aurora displays!
I've broken down this post into three sections, corresponding to the nearest airport for each, since that is a big factor when planning your trip.
Another question people often ask is do you need to rent a car? Frankly, it depends.
Unless you're a seasoned (ha) winter driver, I would say no — it's safer and likely more economical to simply book transfers or taxis from the airport to your destinations.
Once at your Finland Northern lights hotel, many of the activities are organized on-site, and you won't have to worry about transportation.
However, if you prefer the comfort and freedom that having a rental car gives you, it may be a good choice. If you do opt to rent a car, Rovaniemi Airport will have the most options and the best prices on car rentals.
I recommend searching with Discover Cars, which browses through a database of over 500 rental car agencies to find the best price for your rental.
What to Pack to Take Photos of the Northern Lights
Mirrorless or DSLR Camera | Personally, I prefer mirrorless cameras because they are really lightweight. Ever since I started blogging in 2016, I've been using the Sony mirrorless series.
I now use a Sony A7 II camera body, which is a step-down from their top-tier full frame camera, but it is still professional grade. Before that, I was using a Sony A6000, which is a more affordable option.
Wide Angle Lens | Besides your camera body, you'll also want to make sure you have a wide-angle lens (like this one for the Sony full frame series, or this one for the Sony crop sensor cameras).
As a rule of thumb, full frame camera gear tends to be pricier than crop sensor gear, but you will be able to capture a lot more of the night sky with a full frame camera with a wide angle lens than you will with a crop sensor, which has a magnifying effect.
Lens Warmer | If you have a large camera lens, you may want to grab a lens warmer which will keep your camera from icing up.
Sounds weird, but trust me, it happens a lot when shooting the Northern lights (take it from me!)
Hand Warmers | It gets super cold while waiting for the Northern lights a lot of the time!
These rechargeable hand warmers are great to keep in your gloves or mittens, or in your pocket to keep your batteries warm!
Extra camera batteries | Be sure to have lots of extra batteries with you, fully charged.
The cold will zap the battery way faster than you are used to! This four-pack of Sony-compatible batteries will serve you well.
Tripod | You'll absolutely want a sturdy tripod to stabilize your camera for Northern lights photos in Finland. I suggest setting up a two-second delay on taking photos, so that there is no camera shake from you pressing the shutter button.
The Sony cameras also have a feature where you can control snapping photos with your smartphone, which will also reduce the potential shake but allow you more control of when exactly you snap the photo, so you don't miss anything.
You don't need a super expensive tripod, but it does need to have a little heft to it so that wind does not shake it and blur your photos, so resist the urge to buy the cheapest possible Amazon option.
Allison Green is a former educator turned travel blogger. She holds a Masters in Teaching and a B.A. in English and Creative Writing. Her blog posts merge her educational background and her experience traveling to 60+ countries to encourage thoughtful travel experiences that both educate and entertain. She has been a speaker at the World Travel Writers Conference and her writing, photography, and podcasting work has appeared in National Geographic, CNN Arabic, CBC Canada, and Forbes, amongst others. Now based in the San Francisco Bay Area where she grew up, she has also lived in Prague, Sofia, and New York City.